Gluten Free Banana Muffins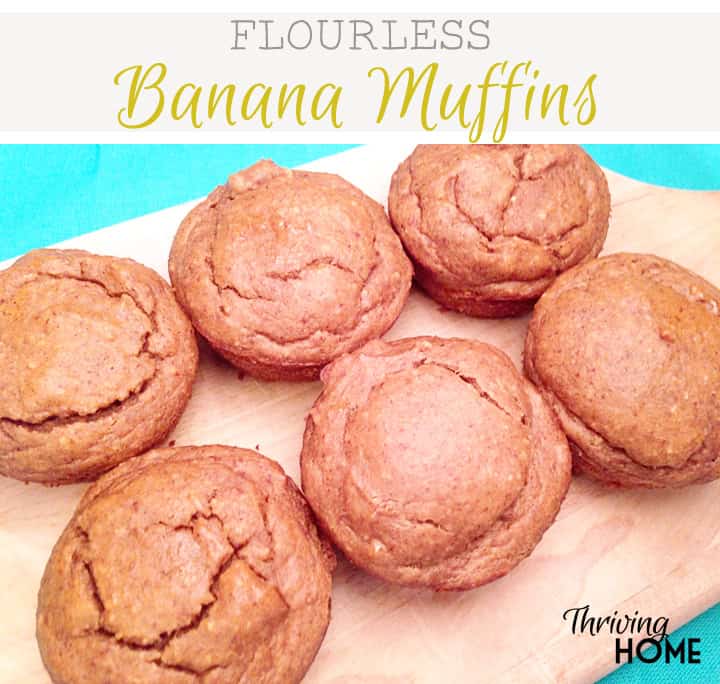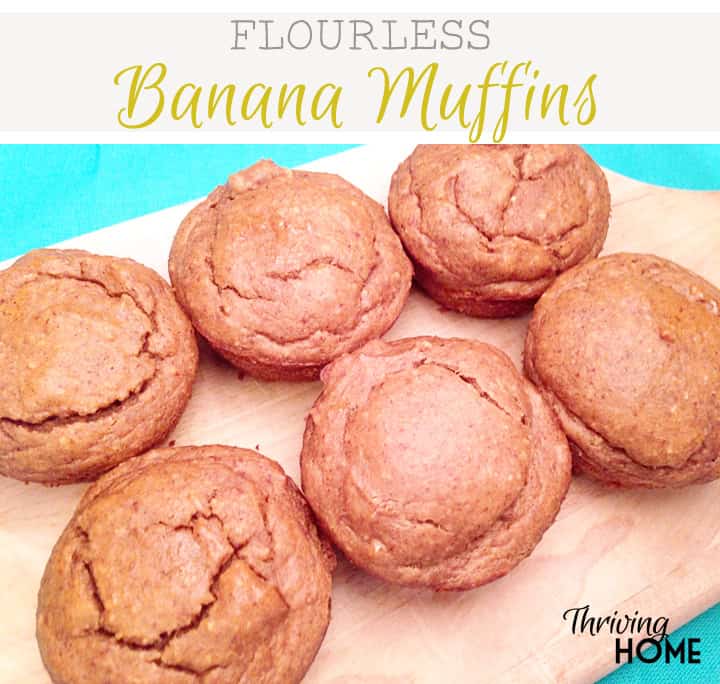 Warning: This post may introduce you to some ingredients that you don't recognize. But, let me assure you that it's worth giving these Gluten Free Banana Muffins a shot because they are absolutely moist and delicious!
Plus, Gluten Free Banana Muffins are thrown together in the blender in no time, which means fewer dirty dishes. And, they are packed full of protein, fiber, and so much more goodness. So, don't toss this recipe out because it sounds weird. Hang with me here as I walk you through a few of these ingredients and why they are worth trying.
P.S. Did I mention these are GOOD?
Let's Talk Almond Flour
The first ingredient you might not recognize, but that is gaining huge popularity in the Paleo diet realm, is almond flour, also known as almond meal. This ingredient is just finely ground almonds. I always have a bag of almond meal in my fridge, as it's a simple way to add in protein and nutrition to things like smoothies, oatmeal, pancakes and waffles, Powerball Cookies or homemade granola bars. It also works surprisingly well as a gluten-free flour in baked goods, like this recipe.
Perhaps most convincing to me of almond flour's worthiness is to look at all the health benefits. Raw almonds are a good source of:
Monounsaturated Fats: These are the GOOD fats associated with lowering your risk of heart disease.
Protein: This helps satisfy hunger and may aide in weight loss.
Magnesium: A fourth cup of almonds contains almost 25 percent of the daily recommended amount of magnesium, which improves the flow of blood, nutrients and oxygen through the body.
Antioxidants: One-fourth cup of raw almonds contains 45 percent of the daily recommended intake of the antioxidant vitamin E, which helps protect your skin from harmful free radicals.
B vitamins: These include riboflavin, niacin, thiamin, B-6 and folates, which support the body's process of cellular metabolism. (source)
Now, you may be asking, where do you find Almond Flour? I find it cheapest at Trader Joe's in the baking aisle, but any health food store/section and even my Target carries it. Or you can make your own. I've made it in my Vitamix Blender several times by blending up leftover almonds from the pantry, using the pulse button. Be careful not to over-blend and turn it into almond butter.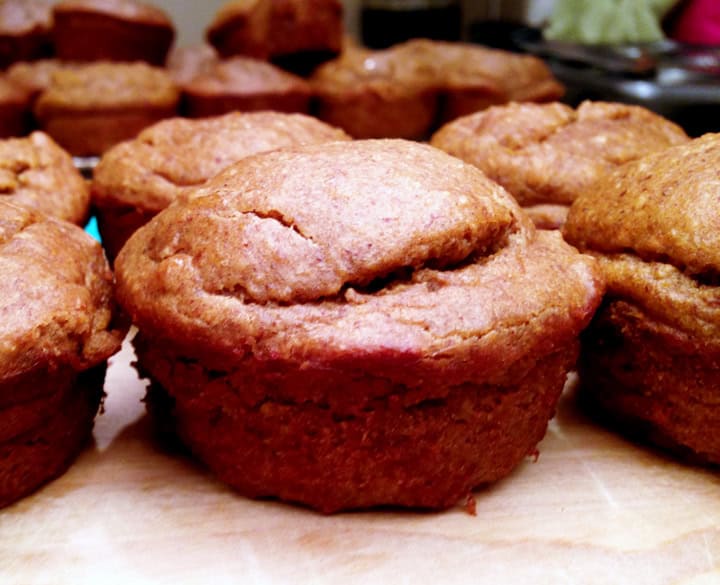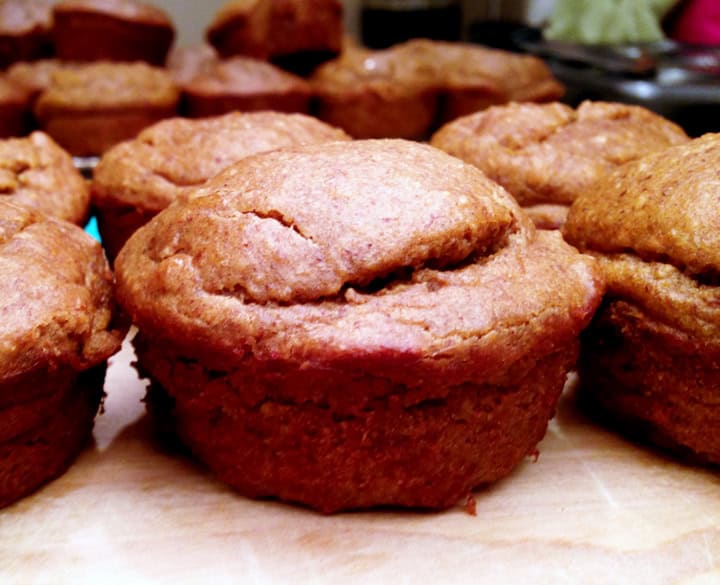 Let's Talk Other Ingredients in This Recipe
Ground flaxseed may be another health food you've heard of but not tried. Again I always have a bag of this in my fridge and use it in many of the same ways that I use almond meal. Read this post to find out more about this versatile and incredibly healthy ingredient.
You'll also notice I've used almond butter in these muffins. I love, love, love almond butter for it's deep flavor, as well as, for all the health reasons I listed above. However, if you only have peanut butter on hand, that will work. In fact, I tested these muffins with PB and they turned out delicious. They just have a more…well…peanutty flavor.
Oats–old-fashioned or quick oats–work for this recipe. This grain can be gluten-free, if you buy the specifically GF ones in the health section. Oats provide another way to add fiber and protein in a whole grain form.
Lastly, I've used only all-natural forms of sugar like honey (not much really) and bananas to sweeten these guys. No refined sugar needed here. These Flourless Banana Muffins are truly naturally sweet.
Now, after a trip to the store to grab your new and exciting ingredients, snatch your blender and a muffin tin and you're ready to get started. Hopefully you won't eat as many as I did at 9:30 p.m. while making these for breakfast the next day!
P.S. Here's another one of my favorite gluten-free muffin recipes.
Did you make this? Snap a photo and tag us on Instagram at @thrivinghome so we can see your creations and cheer you on!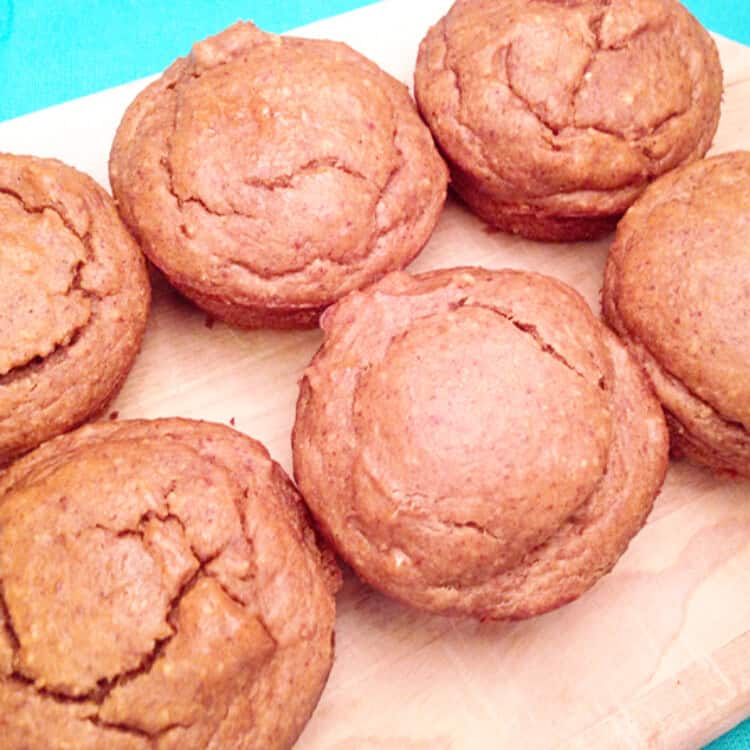 Gluten Free Banana Muffins
You will never miss the wheat flour in these muffins! They are deliciously moist and packed with protein, fiber, and other health benefits.
Prep:
15 minutes
Cook:
12 minutes
Total:
27 minutes
Ingredients
1

cup

rolled oats, plus 1/4 cup more for optional garnish (look for gluten-free oats, if avoiding gluten)

1/2

cup

almond flour/meal

1/4

cup

ground flaxseed

1 teaspoon

baking soda

1

–

2

teaspoons ground cinnamon

2

eggs

1/4

cup

honey

1/2

cup

almond butter* (sub: any nut butter)

4

ripe or overripe medium bananas (or

3

large)

2 teaspoons

vanilla extract
Optional garnish: 2 tablespoons mini chocolate chips (I like Enjoy Life Dairy-Free Mini Chocolate Chips.)
*I used a creamy roasted almond butter that has salt added. If you use a plain almond butter, add in a pinch of salt to the recipe.
Before You Begin! If you make this, please leave a review and rating letting us know how you liked this recipe! This helps our business thrive & continue providing free recipes.
Make It Now:
Preheat oven to 375° F. Spray a muffin tin with cooking spray and/or line the tin with cupcake liners. (See Cooking Notes below for tips about the tin.)
To a large blender, add the oats and blend until fairly smooth. Then, add the rest of the ingredients to the blender. Secure the lid and blend, starting low and increasing speed until the wet ingredients are well blended and batter is smooth and creamy. You will likely have to stop and stir a few times.
Pour or scoop the batter into the muffin tin, filling each cup until almost full (about a heaping 1/4th cup of batter per muffin.) Sprinkle a pinch of rolled oats or mini chocolate chips on top of each muffin, if desired. If you really scrape out as much batter as you can, you'll end up with 15 muffins.
Bake for about 15 minutes, until the tops of your muffins are set and a toothpick inserted into the middle comes out pretty clean (you may see just a few crumbs on the toothpick). Note that silicone pans may require about 5 minutes more of bake time. 
Allow muffins to cool in pan for about 10 minutes before removing to a cooling rack. Once they are fully cooled, store in an air-tight container for up to a week in the fridge or freeze using directions below.
Freeze For Later: Bake muffins as directed in recipe. Let cool completely. Once cool, place muffins in freezer safe bag or container, squeeze out as much air as possible, and seal tightly. Freeze for up to 3 months.
Prepare From Frozen: Thaw desired amount of muffins overnight in the refrigerator or warm them slightly in the microwave.
---
Notes/Tips
If using a metal pan, I recommend using paper or silicon muffin liners for easier clean up. 
Cooking Time: If using a silicone pan, my tests showed these need to bake 2-3 minutes longer to get done.