This post may contain affiliate or sponsored links. Please read our disclosure policy.
These Chocolate Banana Muffins are not only moist and delicious, but they are packed with sneaky nutrition. They are a kid-favorite and freeze beautifully. Serve as an easy, make-ahead healthy breakfast.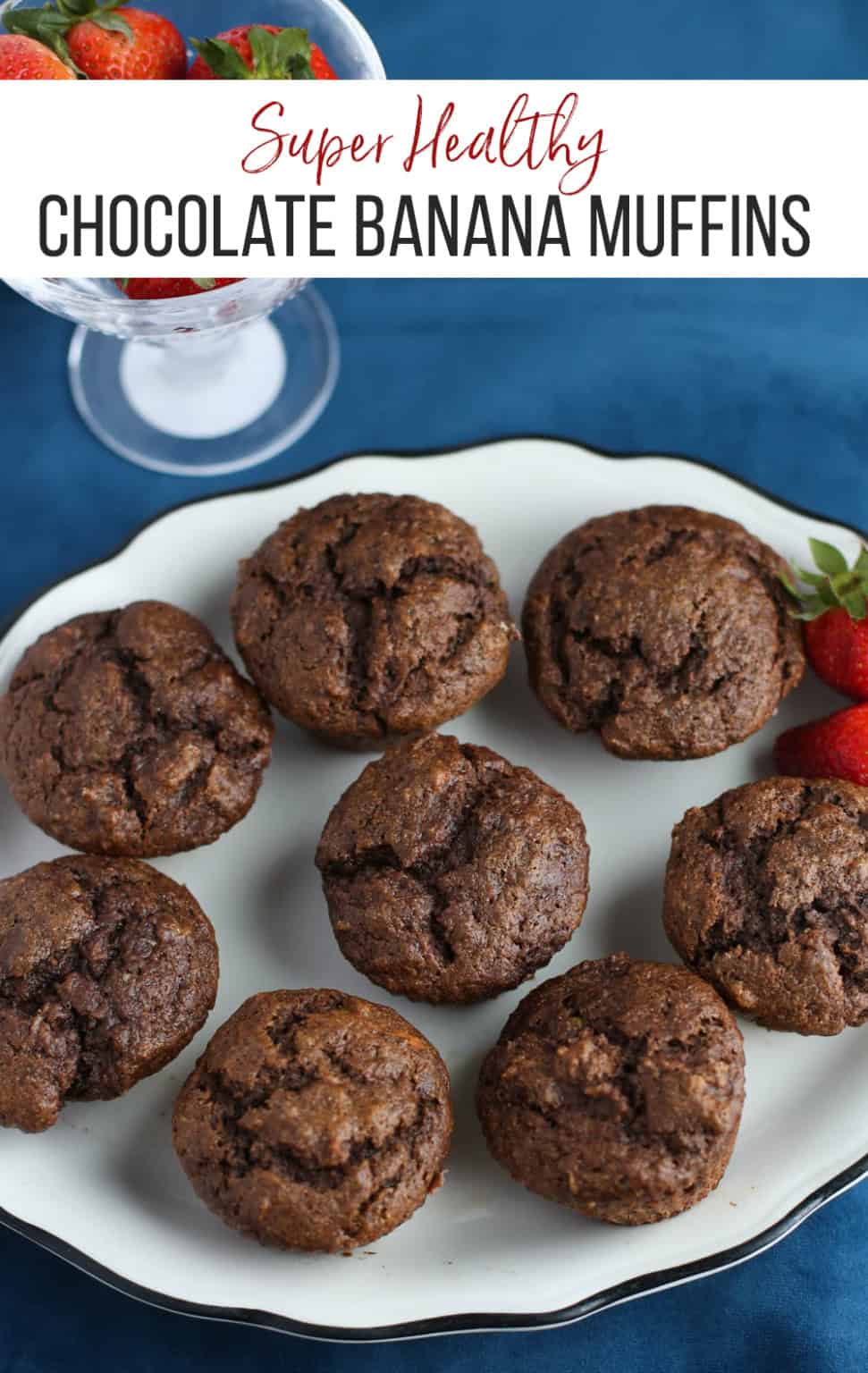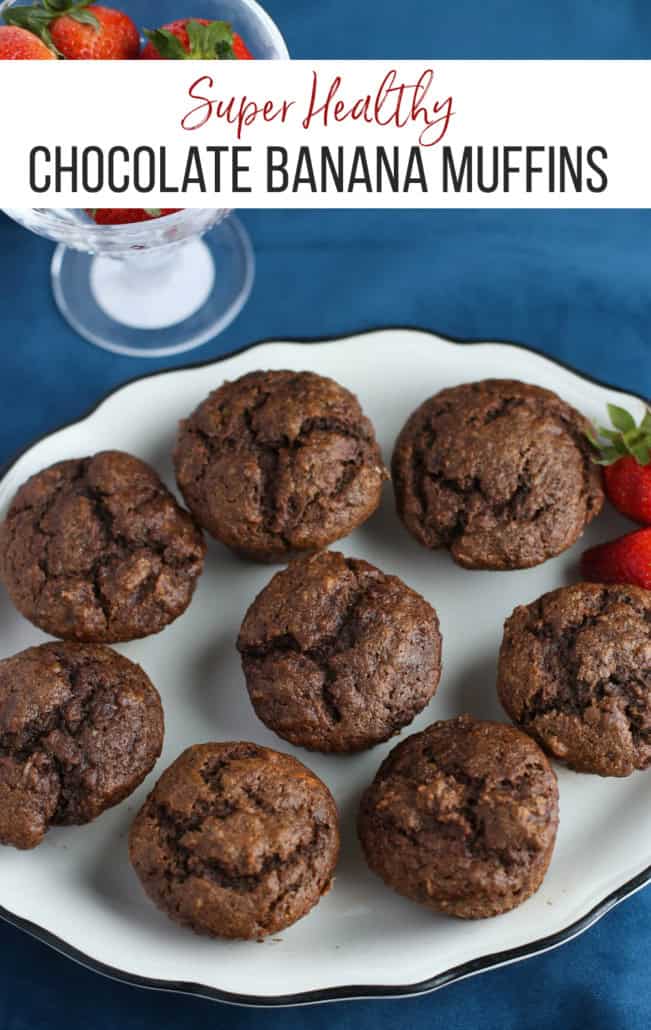 About The Recipe
"Mom, can you make the brown muffins again? Those are so good!"
It's not often that I can find a healthy breakfast that my kids beg for. These Chocolate Banana Muffins are one of those rare recipes. I love them and so do my kids!
I have found that they are a great way to use up ripe bananas or cooked sweet potatoes. You can always toss either of those items in the freezer until you want to make these muffins so don't toss them! I often use this as a freezer meal for new moms, too.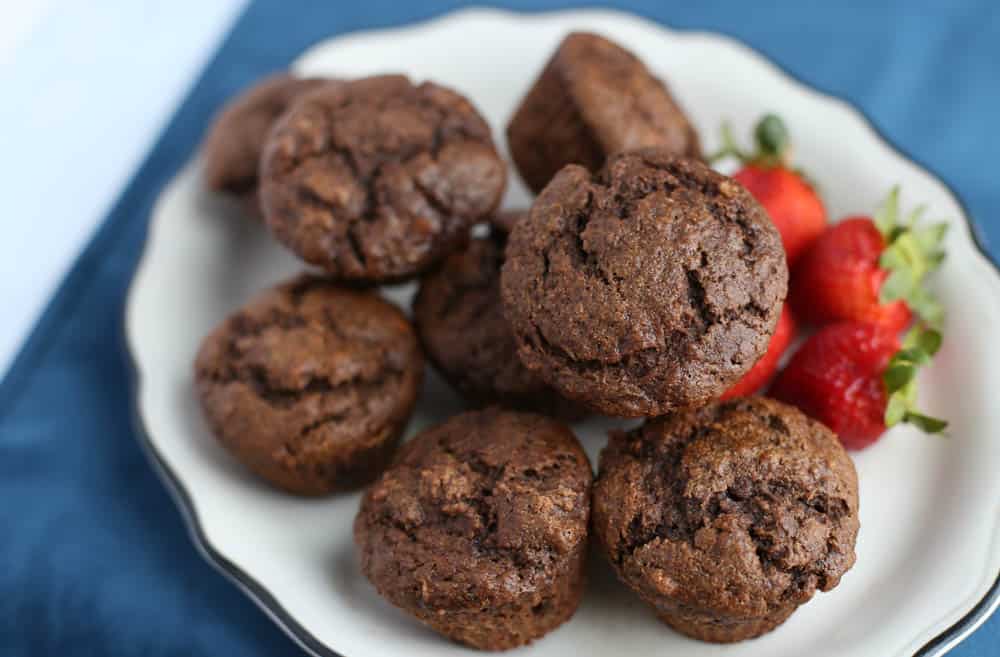 What Makes These Chocolate Banana Muffins Healthy?
We find great joy in sneaking vegetables into kid-favorite recipes. This muffin recipe is no exception. While they look chocolaty and delicious on the outside, the inside is full of nutritional ingredients like:
They not only make a great breakfast but I use them as an on-the-go snack idea, too.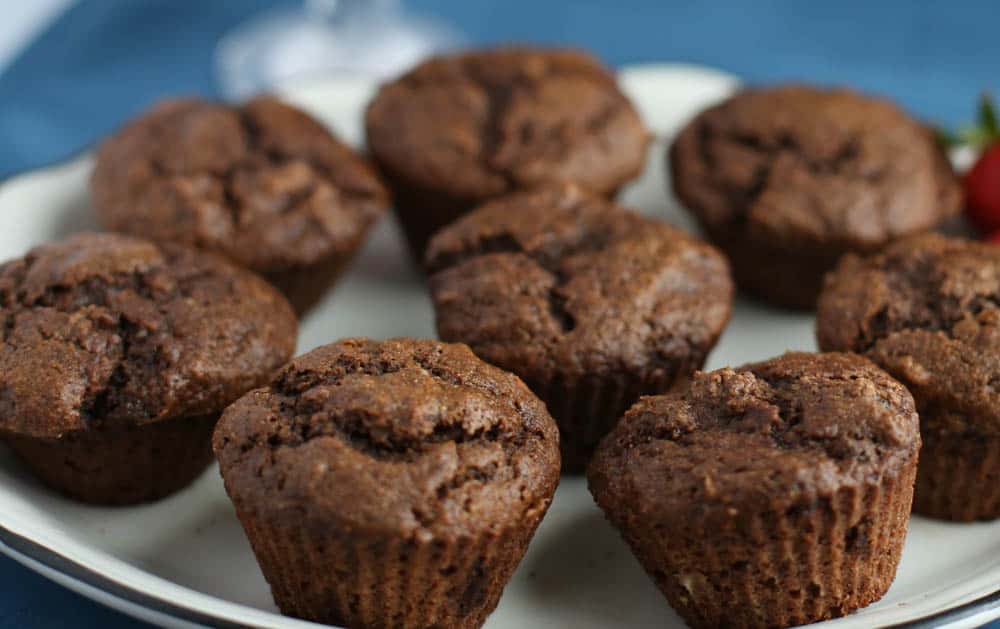 Muffin-Making Tips
I've made a lot of muffins in my life. They are a go-to healthy breakfast for me, and I almost always have a stash in my freezer. Here are some pro-tips I've learned over the years:
Double and freeze! If you already have all of the dishes and ingredients out, you might as well make two batches and save some time in the future. Here are more tips on how to freeze muffins.
Don't over mix the batter. To keep them light and fluffy, only mix the batter to the point where all the dry ingredients are combined.
I like to use silicone baking cups when making muffins. I do have the handmwash them after, but I think it's easier than scrubbing out a pan.
Use ripe bananas for the best flavor. The bananas bring a lot of sweetness to this recipe so make sure they are nice and ripe!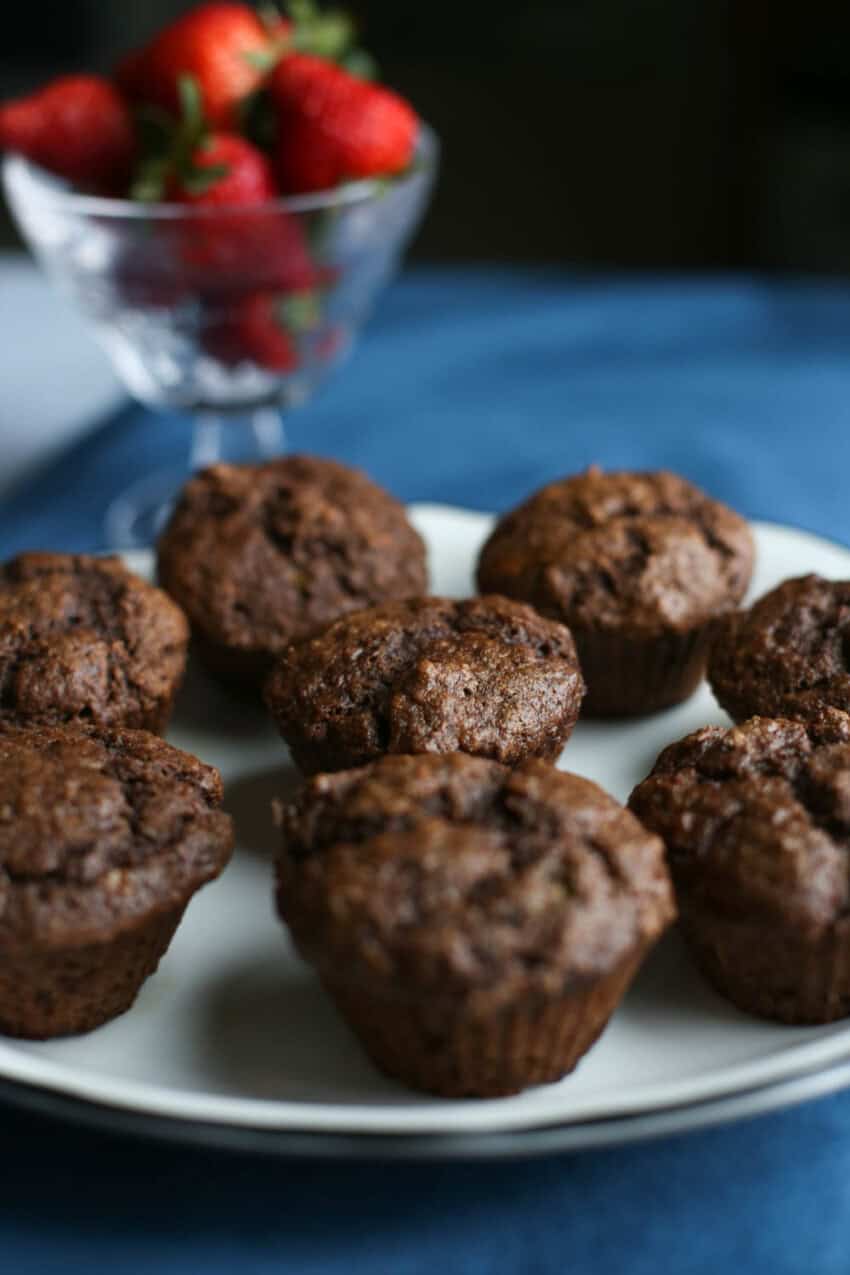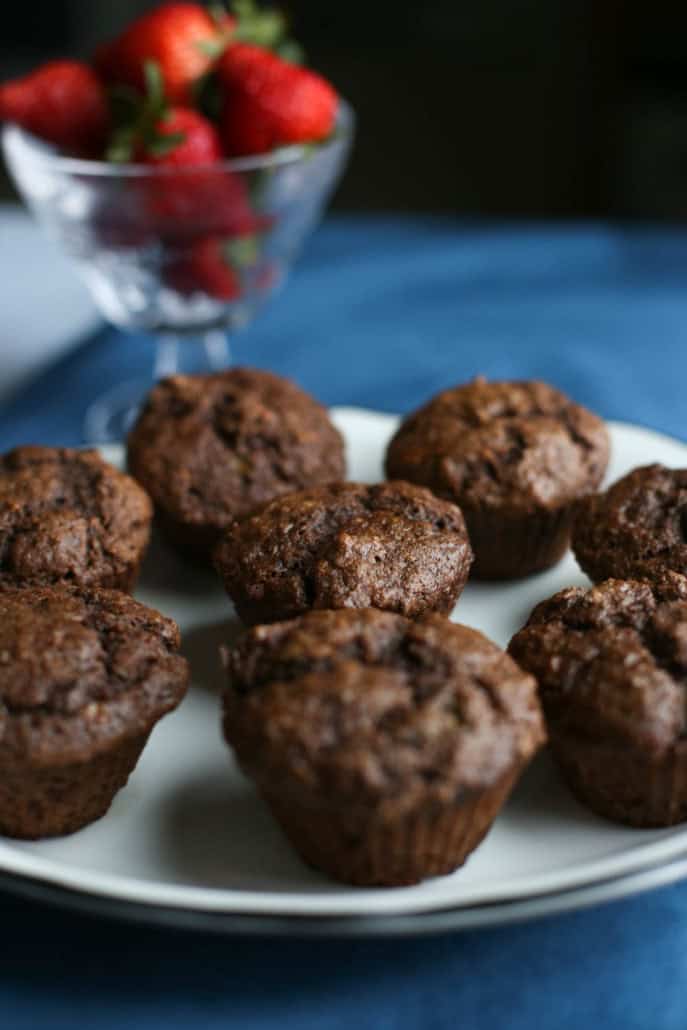 Can I Turn These into a Chocolate Banana Bread?
Good news! This recipe works great as a muffin but also as a bread. Just hop over to our Chocolate Sweet Potato Banana Bread to see how it's done.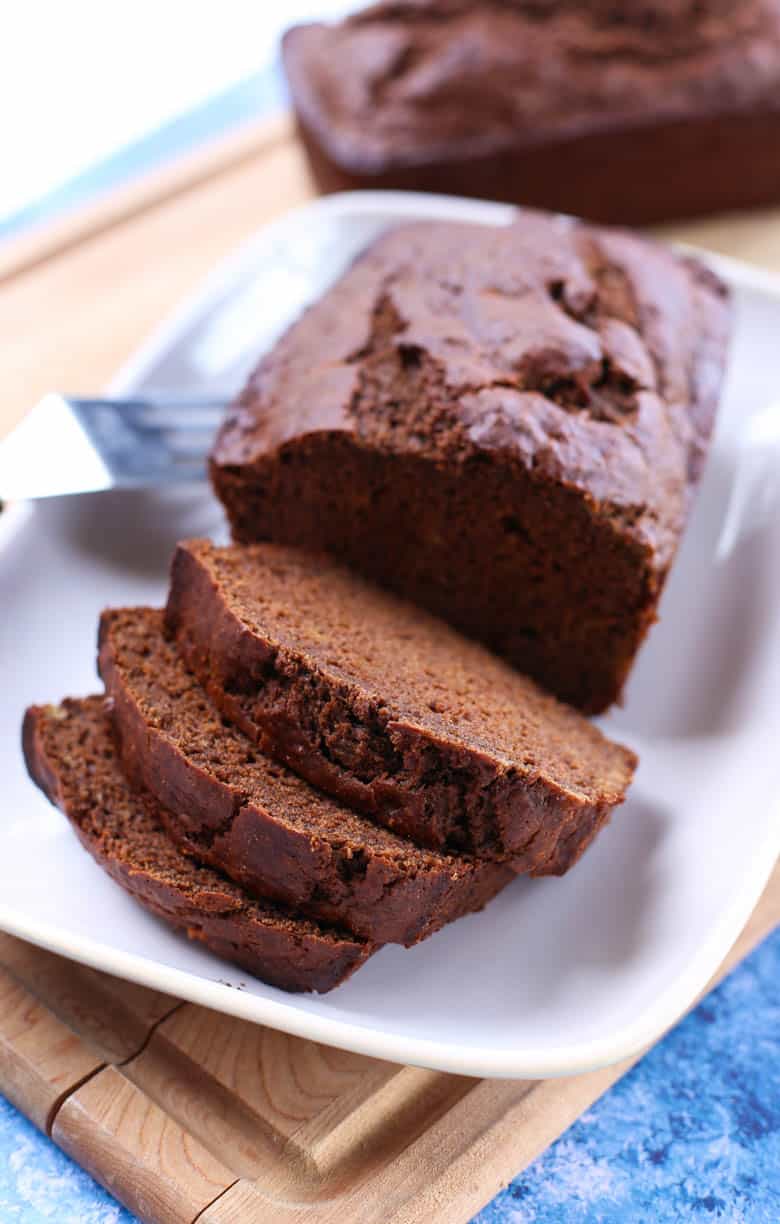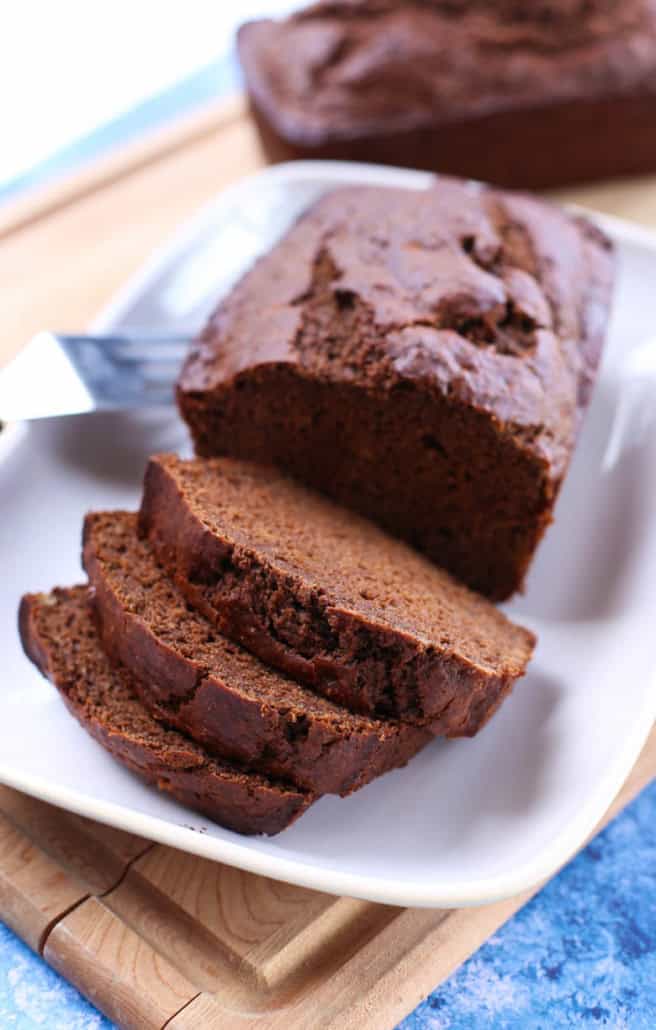 Happy muffin-making!
Did you make this? Snap a photo and tag us on Instagram at @thrivinghome so we can see your creations and cheer you on!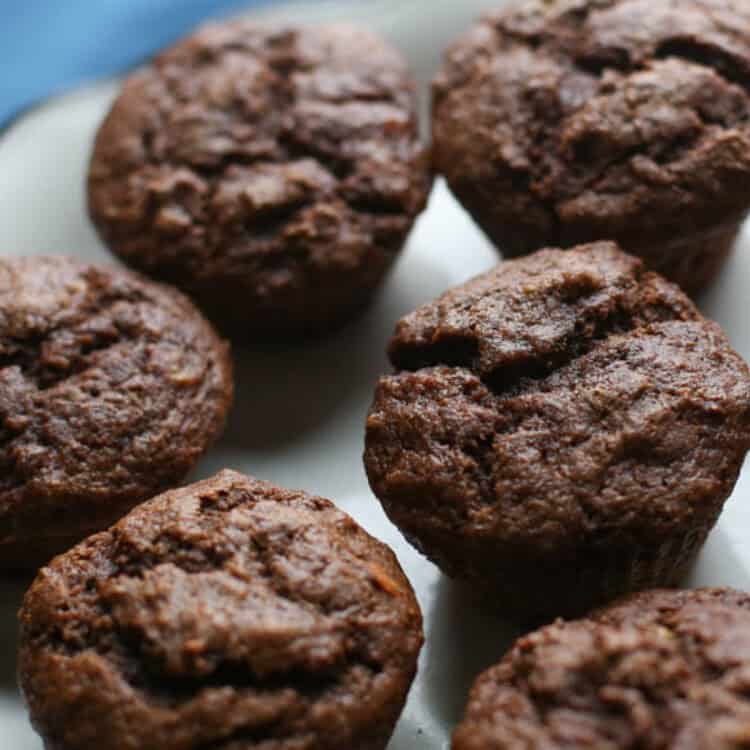 Whole Wheat Chocolate Banana Muffins
These Whole Wheat Chocolate Banana Muffins are packed full of nutrition and flavor. Feel good about feeding your family these for a quick breakfast!
Prep:
10 minutes
Cook:
20 minutes
Total:
30 minutes
Ingredients
1 1/2

cups

whole wheat flour (I prefer white whole wheat)

1/4

cup

ground flaxseed (or sub flour) Why eat flaxseed?

1/4

cup

cocoa powder

1/3

cup

sugar (I like coconut sugar, since it has more nutrients.)

1 teaspoon

baking soda

1/2 teaspoon

salt

1/2 teaspoon

ground cinnamon

1

cup

mashed ripe bananas

1/2

cup

pureed pumpkin or pureed sweet potato

1/3

cup

plain yogurt

2

large eggs, beaten

1 teaspoon

vanilla

1/3

cup

honey

5 tablespoons

coconut oil, melted (Sub: butter or avocado oil)
Before You Begin! If you make this, please leave a review and rating letting us know how you liked this recipe! This helps our business thrive & continue providing free recipes.
Instructions
Make It Now:
Preheat oven to 350°F.
In a large mixing bowl, whisk together the flour, ground flax, cocoa powder, sugar, baking soda, salt, and cinnamon.
In medium-sized bowl, stir together the mashed bananas, pumpkin or sweet potato puree, yogurt, eggs, vanilla, honey, and oil until combined.
Add the wet mixture to dry ingredients. Stir just until mixed. Do not over mix.
Pour batter into greased muffin tins or silicone liners.
Bake for 15-18 minutes, until a wooden toothpick comes out clean.
Remove from oven and let the muffins cool on wire rack.
Freeze For Later: Bake muffins as stated in directions. Place muffins on cookie sheet lined with waxed (or parchment) paper. Flash freeze the muffins long enough to harden them up. Once frozen, transfer them to freezer safe bag or container. Store up to 3 months.
Prepare From Frozen: Let them thaw at room temperature or in the refrigerator. You can also stick them in the microwave for a brief time to warm them up.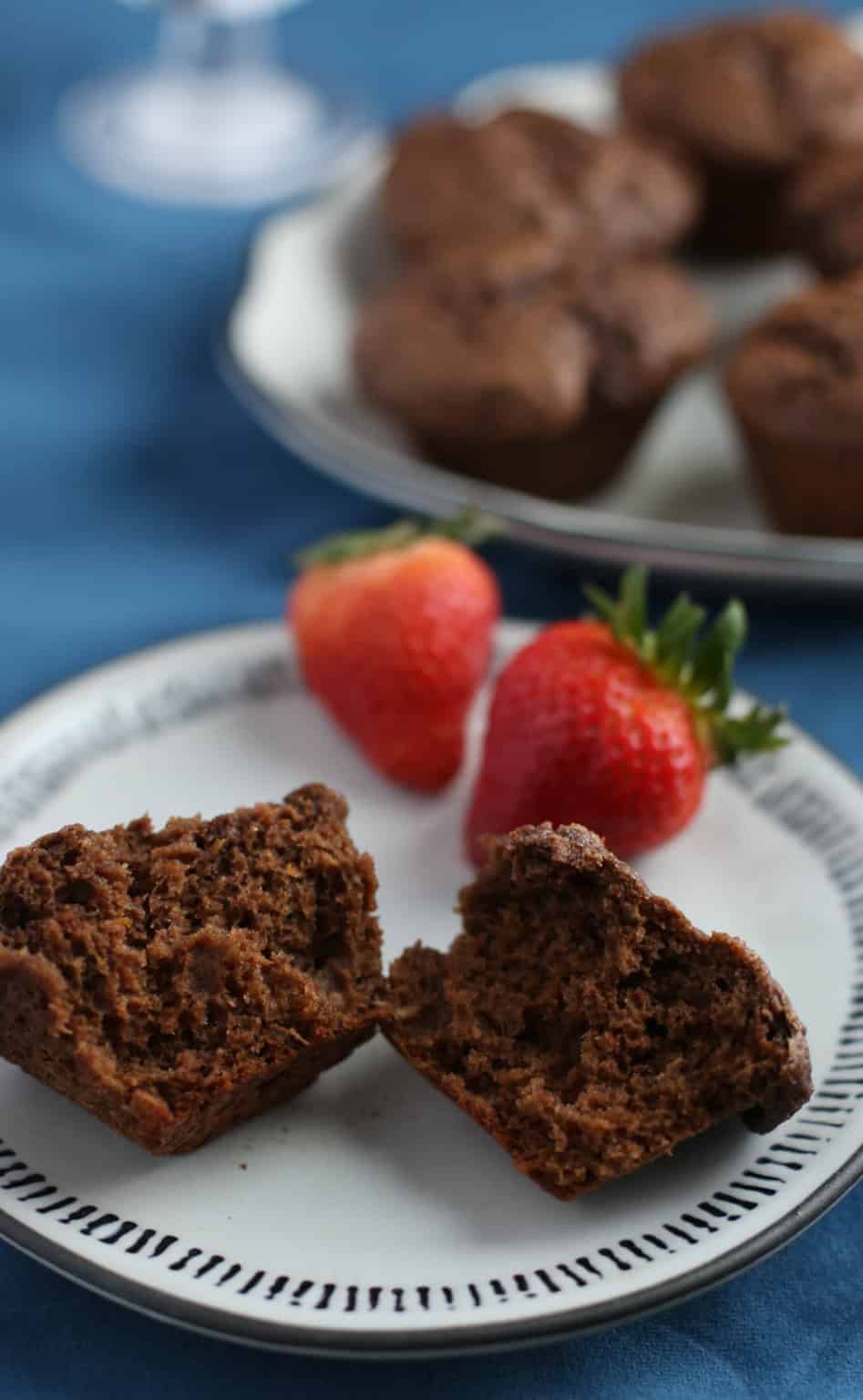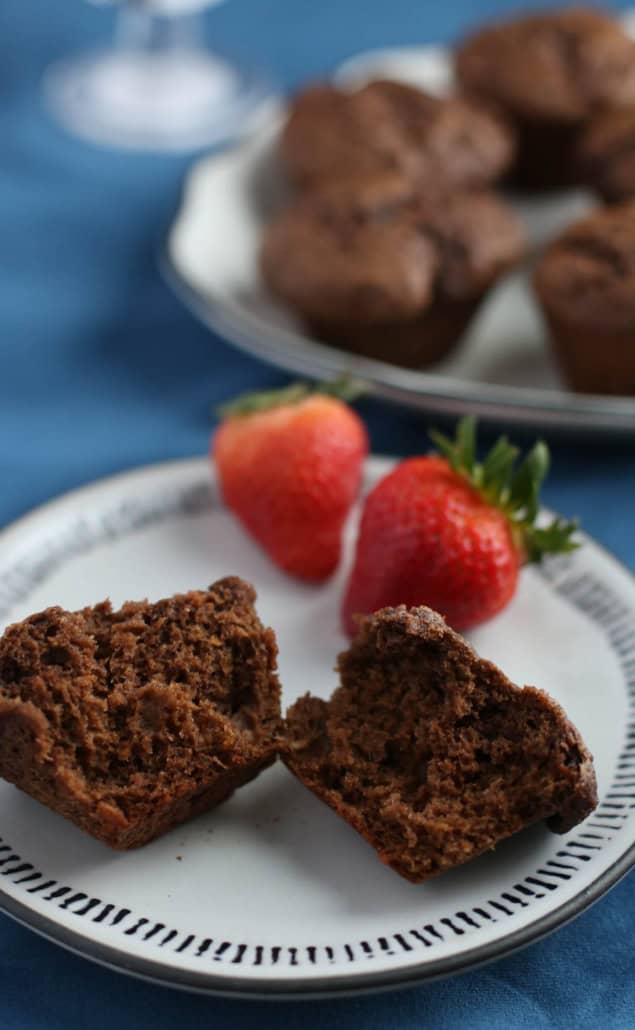 More Easy Breakfast Ideas You Might Like:
How to Turn Pancake Mix into Waffle Mix
7 Smoothie Freezer Pack Recipes
If you liked this recipe, you might like these 10 other recipes that use up ripe bananas. You'll never throw away brown bananas again!