Chocolate Sweet Potato Banana Bread
This post may contain affiliate or sponsored links. Please read our disclosure policy.
Ah, sweet breads. Forgiver of all added-in leftovers and hidden fruits and veggies. Your family is going to love this pretty darn healthy Chocolate Sweet Potato Banana Bread!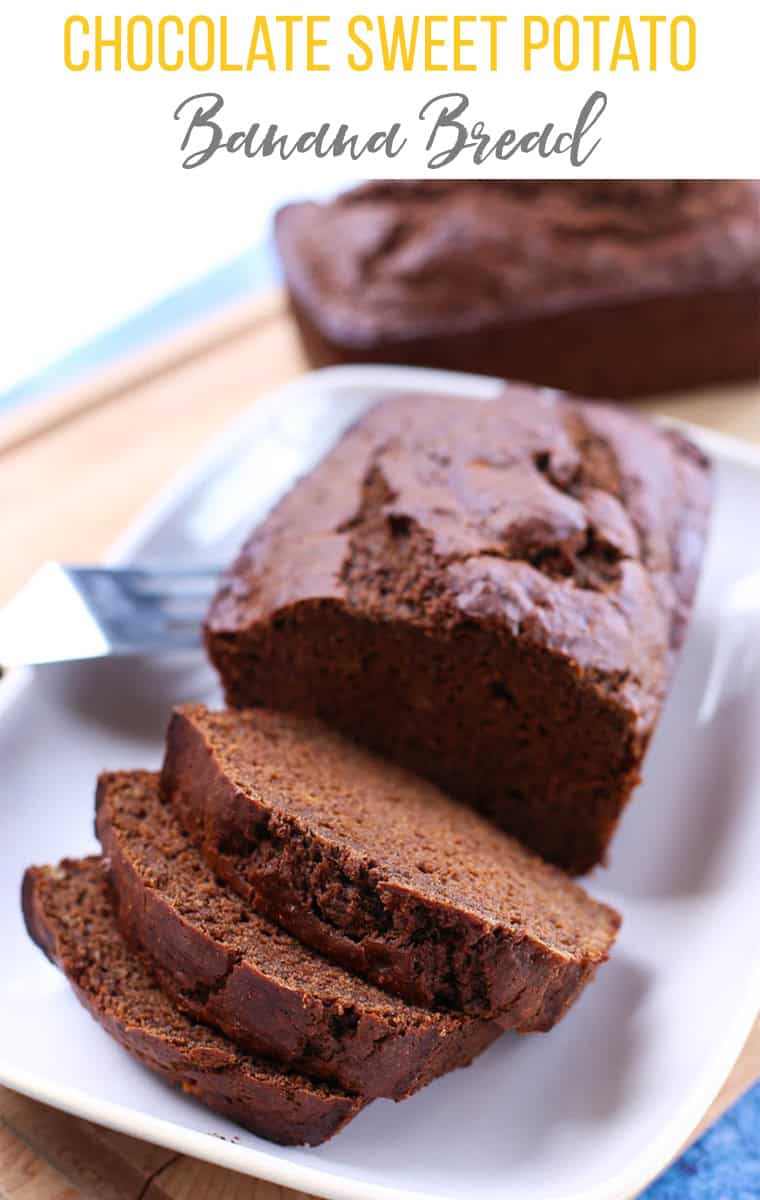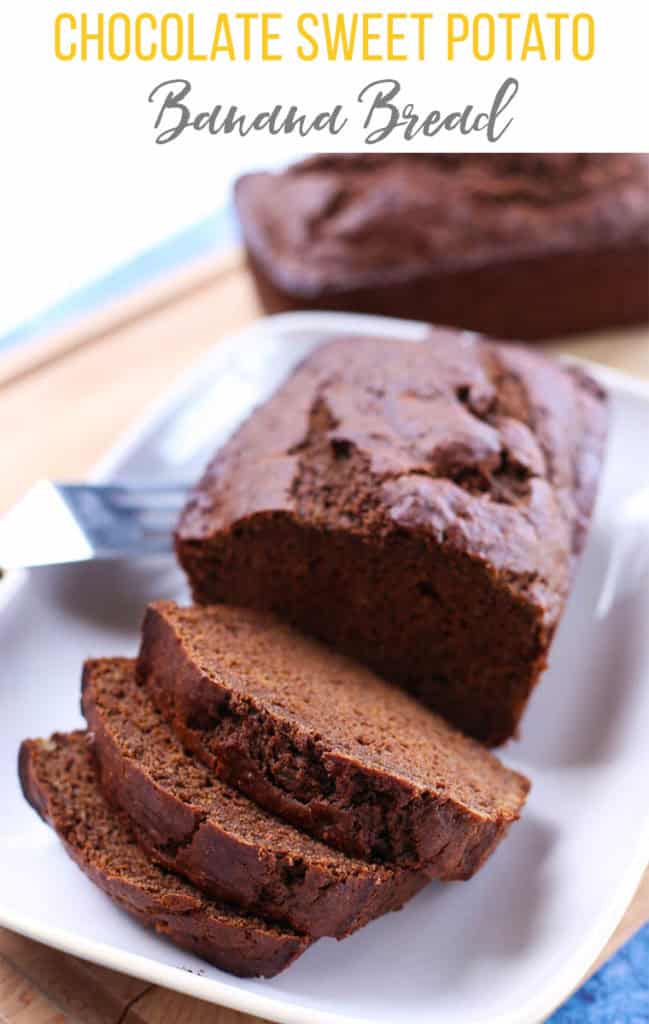 About This Recipe
I had leftover pureed sweet potato and several overripe bananas in the freezer to use up recently. (Yes, you should definitely freeze leftovers like that to save money.) Anyway, this delicious banana bread was the result! It's similar to my Banana Pumpkin Bread but with some added cocoa and a sweet potato twist.
In the recipe, I suggested several substitutions to make this bread even healthier (if you want):
For 100% whole wheat bread, use the white whole wheat variety in place of both flours.
Want a dairy-free loaf? Substitute canned coconut milk for the yogurt and use coconut oil instead of butter.
To make this recipe a bit lower on the glycemic index, use coconut sugar in place of the other sugars. Also don't add the chocolate chips. 🙂
I also love using cocoa powder (or raw cacao powder, which is even healthier!) in recipes like this because: a) it adds chocolatey decadence without the added fat and sugar of chocolate chips, b) it's actually full of antioxidants, and c) it masks the flavor of any hidden veggies.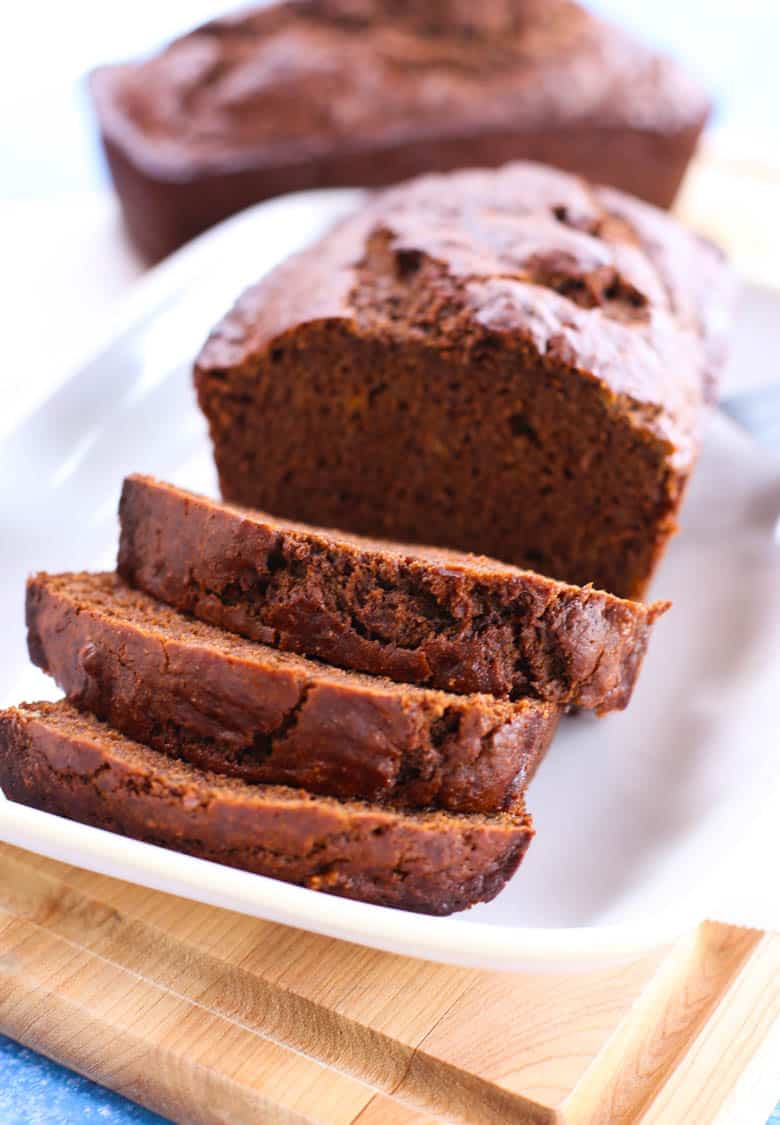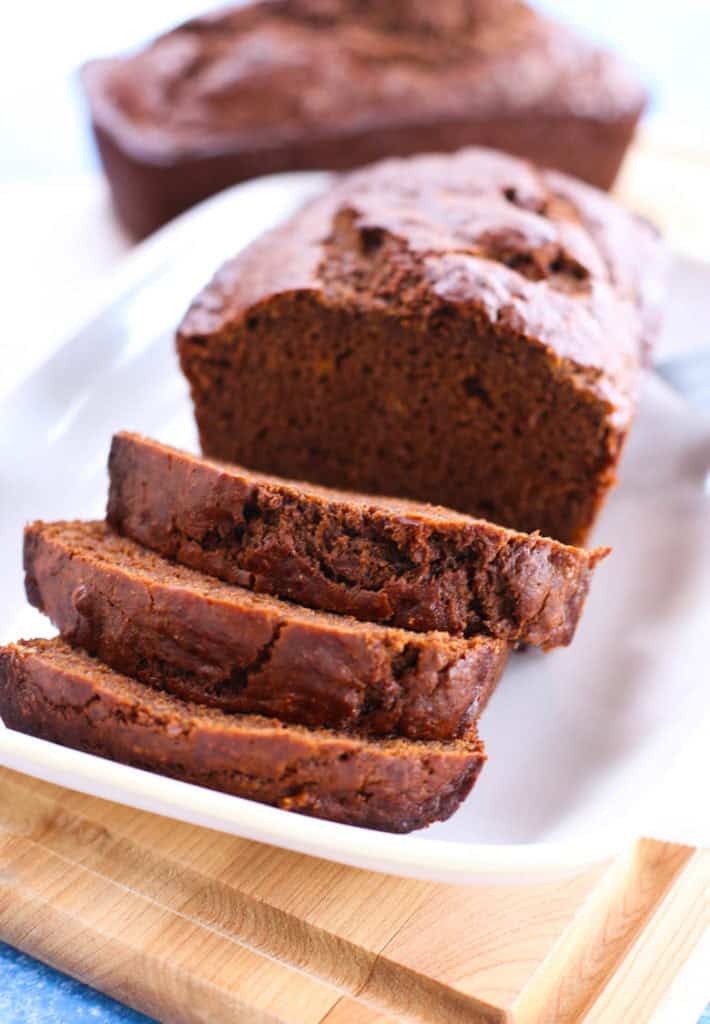 As I write this post, I'm enjoying a piece of this warm-from-the-oven bread with some butter (Can you freeze butter? Yes! Here's how.) and hoping I'm going to be able to stop with just one. Chocolate Sweet Potato Banana Bread is absolutely decadent and healthy. My favorite kind of snack!
More Sweet Bread Recipes
If you like this healthy, moist quick bread, then we'd love for you to try some of our other top sweet breads:
How to Store Overripe Bananas for Later
P.S. If you have more overripe bananas than you can use in this recipe, did you know you can freeze them? Here is the best way to freeze bananas for later.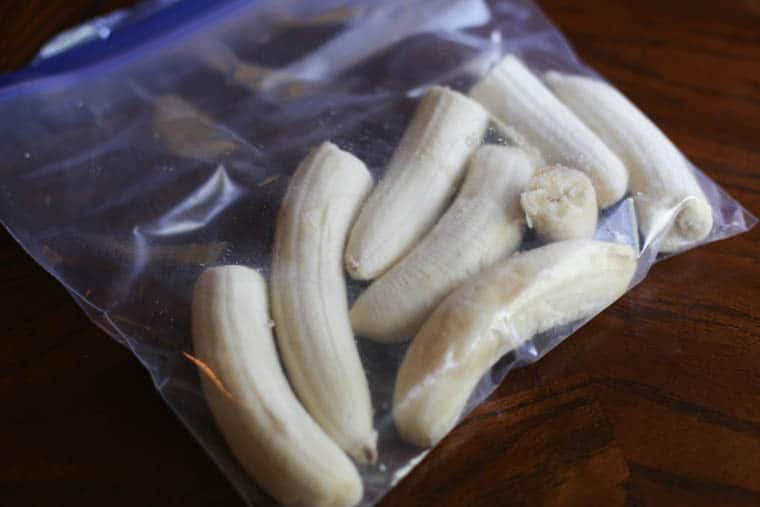 Did you make this? Snap a photo and tag us on Instagram at @thrivinghome so we can see your creations and cheer you on!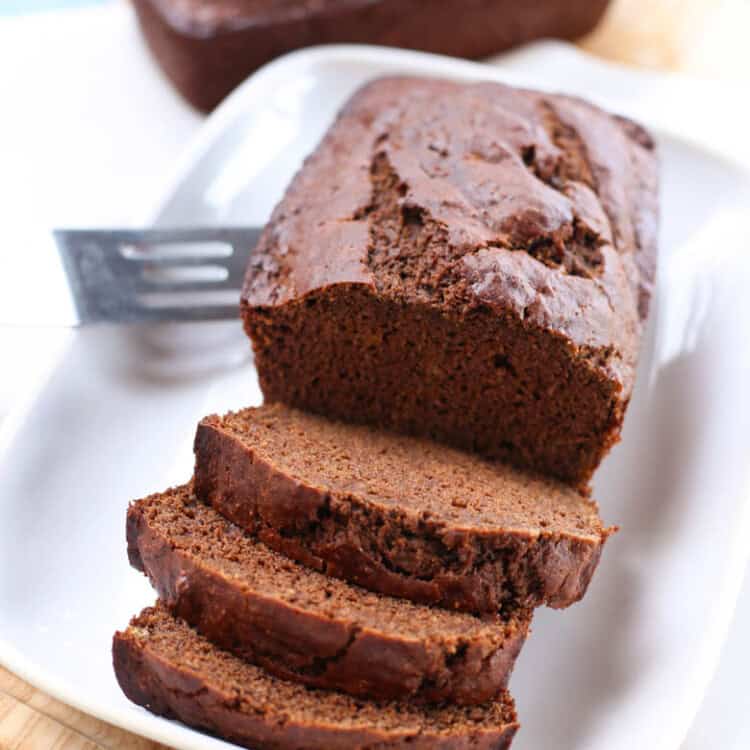 Chocolate Sweet Potato Banana Bread
Feel good about what you're feeding your family. This bread is chock full of hidden veggies, antioxidants, and loads of other good-for-you ingredients.
Yield:
1

bread loaf or

12

muffins

1

x
Prep:
15 minutes
Cook:
55 minutes
Total:
1 hours 10 minutes
Ingredients
1

cup

smashed overripe bananas (about one banana)

1/2

cup

smashed or pureed cooked sweet potato (sub: pumpkin puree)

1/3

cup

plain yogurt (sub: coconut milk from the can)

5 tablespoons

melted coconut oil (or butter)

2

large eggs

1 teaspoon

pure vanilla

1/3

cup

granulated sugar (sub: coconut sugar)

1/3

cup

brown sugar (sub: coconut sugar)

1

cup

unbleached all-purpose flour (sub: white whole wheat flour)

1/2

cup

whole wheat flour (sub: white whole wheat flour)

1/4

cup

ground flaxseed

1/4

cup

cocoa powder (sub: cacao powder)

1 teaspoon

baking soda

1/2 teaspoon

salt

1/2 teaspoon

ground cinnamon
Optional: 1/3 cup mini chocolate chips
Before You Begin! If you make this, please leave a review and rating letting us know how you liked this recipe! This helps our business thrive & continue providing free recipes.
Instructions
Make It Now:
Preheat oven to 350° F. Grease a 9×5 inch loaf pan or standard-sized muffin pan with cooking spray.
In a large bowl using a hand mixer or stand mixer, add the banana, sweet potato, yogurt, coconut oil, eggs, and vanilla and beat at medium speed until combined. Add sugars; beat again until combined.
In a medium bowl, stir together the all-purpose and wheat flours, flaxseed, cocoa, baking soda, salt, and cinnamon. (Tip: Lightly spoon the flour into a dry measuring cup and level with a knife to measure correctly.) Add the flour mixture to the banana mixture and stir by hand just until blended.
Optional: Gently stir in the mini chocolate chips. Do not over mix.
Pour batter into the greased loaf pan or muffin tin and place on the center rack of the oven. For bread: Bake for 45-55 minutes or until a wooden pick inserted in center comes out clean. For muffins: Bake for 15-18 minutes until a wooden pick comes out clean.
Remove from the oven and let cool in the pan on a cooling rack for 10 minutes or so and then turn the bread or muffins out onto the rack. You may have to run a knife around the edges to help the bread or muffins come out more easily.
Freeze For Later: Follow entire recipe, letting the bread or muffins cool completely. Wrap the bread in a few layers of plastic wrap and/or foil and freeze. Or, place the muffins in a freezer bag, squeeze out as much air as possible, seal, and freeze. Store in the freezer for up to 3 months.
Prepare From Frozen: Thaw the bread loaf or desired number of muffins on the counter or using the defrost setting on the microwave briefly.