Chocolate Chip Zucchini Bread
This post may contain affiliate or sponsored links. Please read our disclosure policy.
This healthy Chocolate Chip Zucchini Bread is made with all whole food ingredients and is moist and delicious!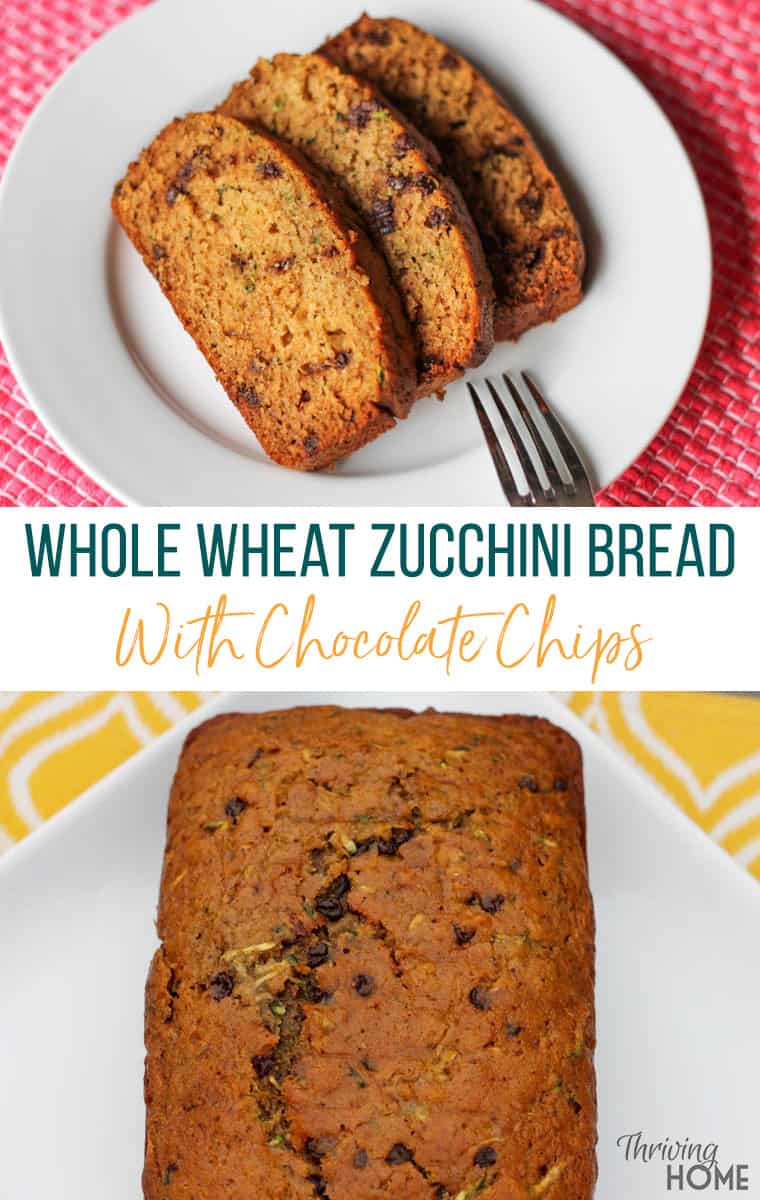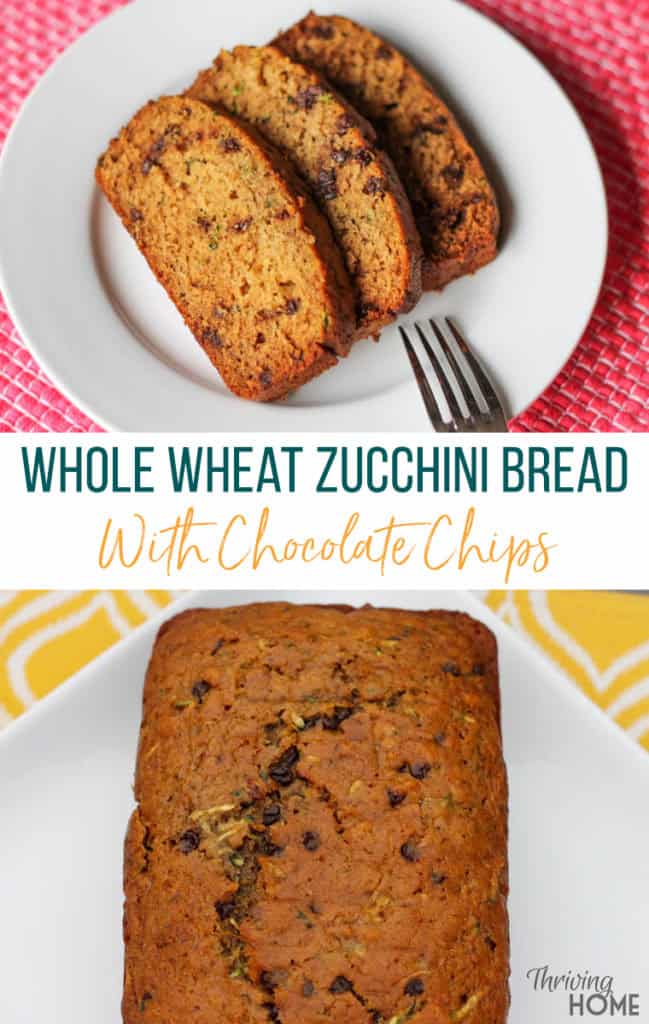 Zucchini grows in abundance around here in the summer time. It's incredibly healthy and pretty tasteless, so I like to sneak it into as many meals as I can. Often times I make Zucchini Chocolate Chip Breakfast Cookies, Zucchini Flaxseed Muffins, or Chocolate Zucchini Waffles.
If I'm not feeling inspired, I just freeze zucchini using this hack. That way I have it on hand for later.
On this particular morning, I went for this Chocolate Chip Zucchini Bread instead. Friends, this bread did not stay on our counter for long. It's completely moist, naturally sweet, and just the right amount of chocolatey.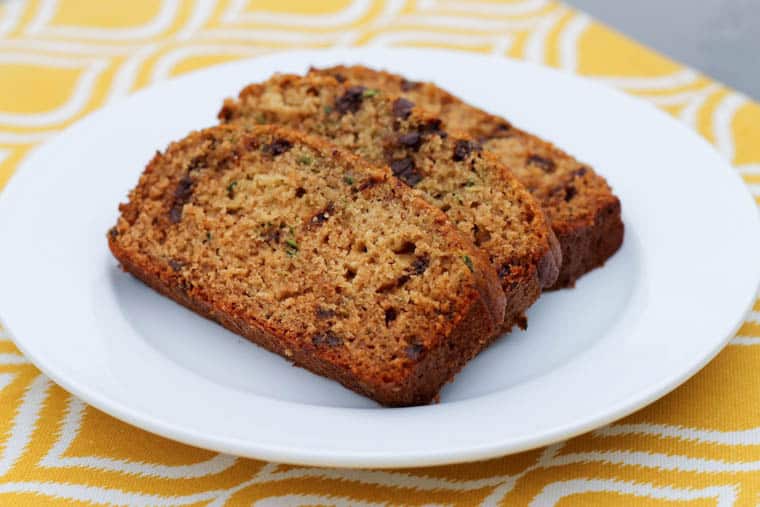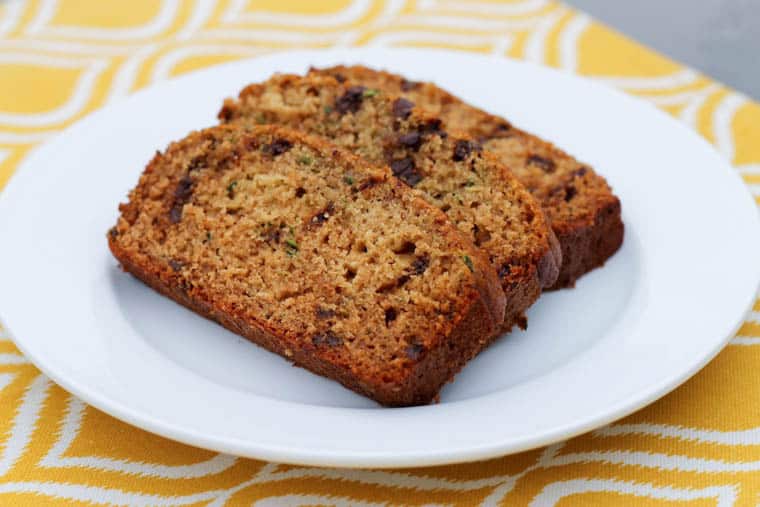 What's in Chocolate Chip Zucchini Bread?
This sweet bread is a snack or quick breakfast you can feel good about. After all, it's chock full of 100% whole wheat, zucchini, and all real food ingredients. Here is what you'll need:
White whole wheat flour – I highly recommend using white whole wheat flour, like King Arthur or Prairie Gold. It makes the bread turn out much lighter than the usual whole wheat flour (made with red wheat).
Baking soda – For leavening.
Ground cinnamon – Adds warm flavor.
Salt
Melted coconut oil or avocado oil
Honey
Eggs
Milk – Any kind of milk will work.
Vanilla extract – Here's how to make your own vanilla.
Grated zucchini – Pro tip: Use paper towels to squeeze out excess moister from the grated zucchini.
Mini chocolate chips – I've also used dark chocolate chips.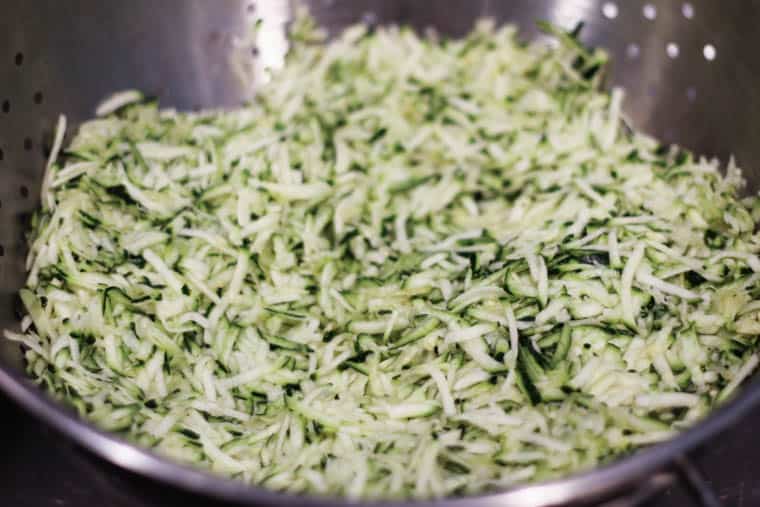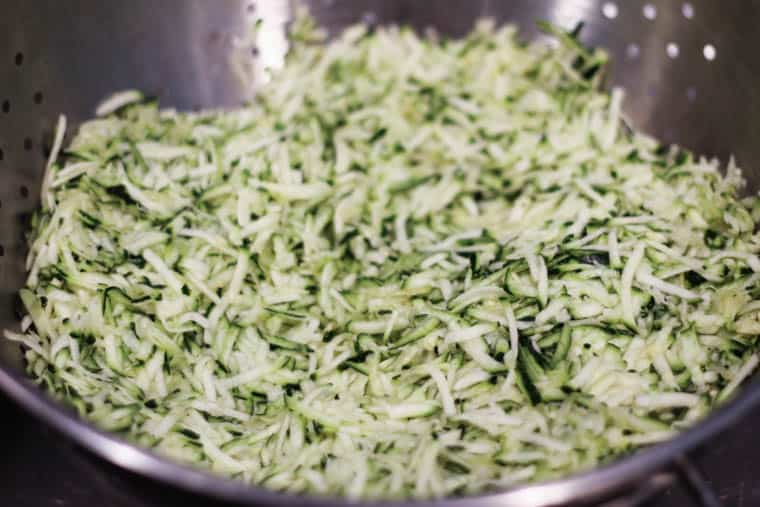 Can You Freeze Zucchini Bread?
You betcha! I almost always bake two loaves so my family can enjoy one now and I can freeze one for later.
To freeze it well, be sure to let the bread cool completely. Then, wrap it in several layers of plastic wrap and a layer or two of foil, squeezing out any extra air. Label it and place it in the back of the freezer. It should be good to go for 1-3 months.
To thaw, just set it in the fridge or the counter. Warm slices in the microwave with a little butter on top.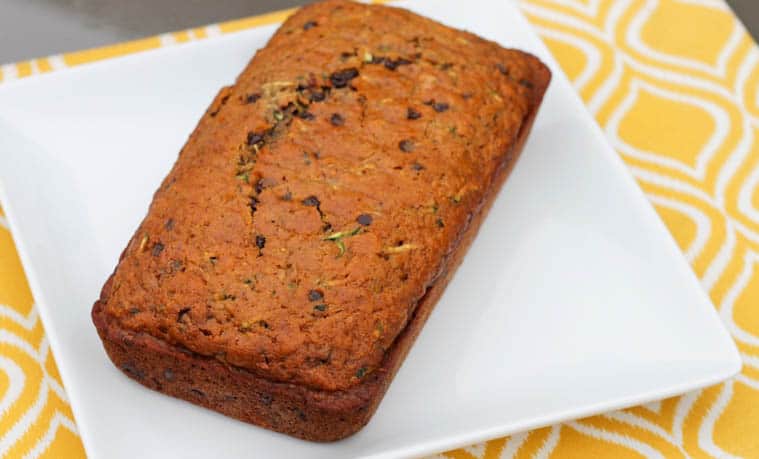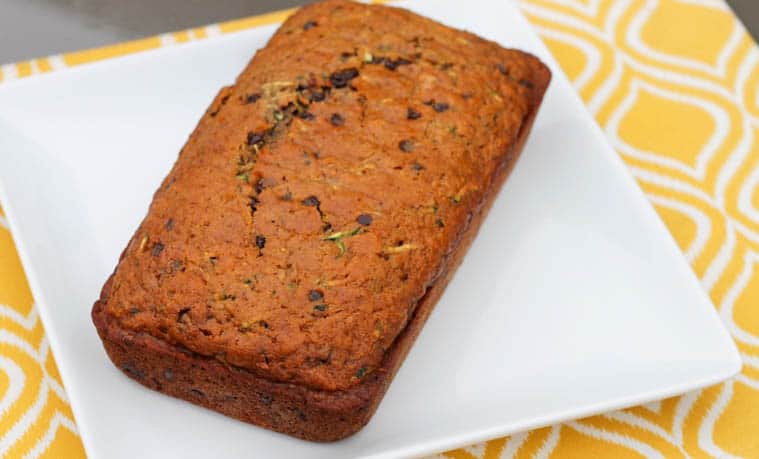 More Healthy Sweet Breads
If you like this recipe, be sure to try these other nutritious quick breads…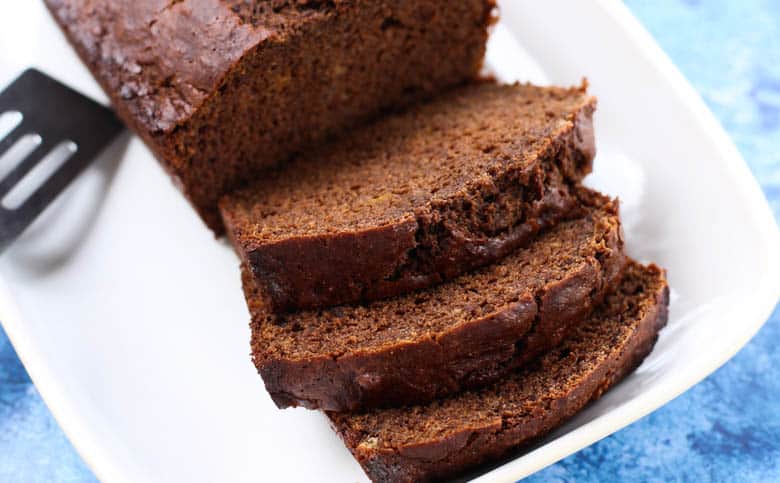 This Banana Pumpkin Bread is moist, nutritious, and delicious! Learn how to freeze it for later or make it into muffins, too.
Prepare to "fall" in love with Cinnamon Applesauce Bread. Using mostly pantry staples, you can bake up this nutritious, mouth-watering sweet bread in no time.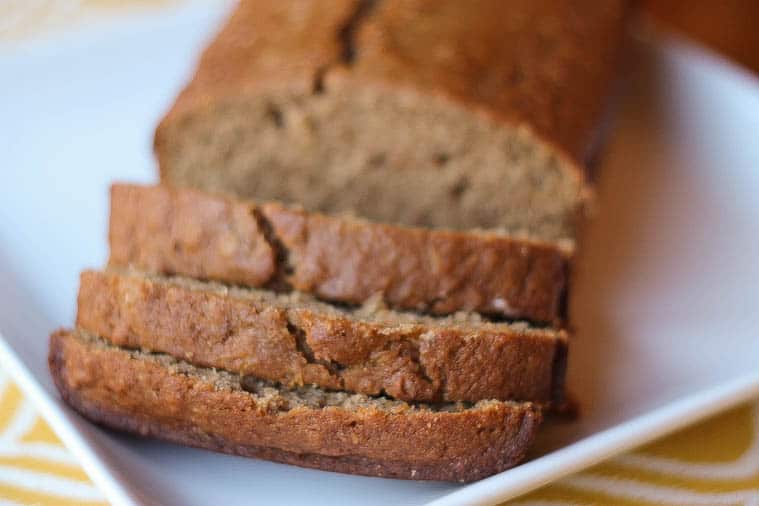 What to Serve with Chocolate Chip Zucchini Bread
A healthy zucchini bread like this recipe would go great with so many breakfast recipes. Here are a few to get you started:
Did you make this? Snap a photo and tag us on Instagram at @thrivinghome so we can see your creations and cheer you on!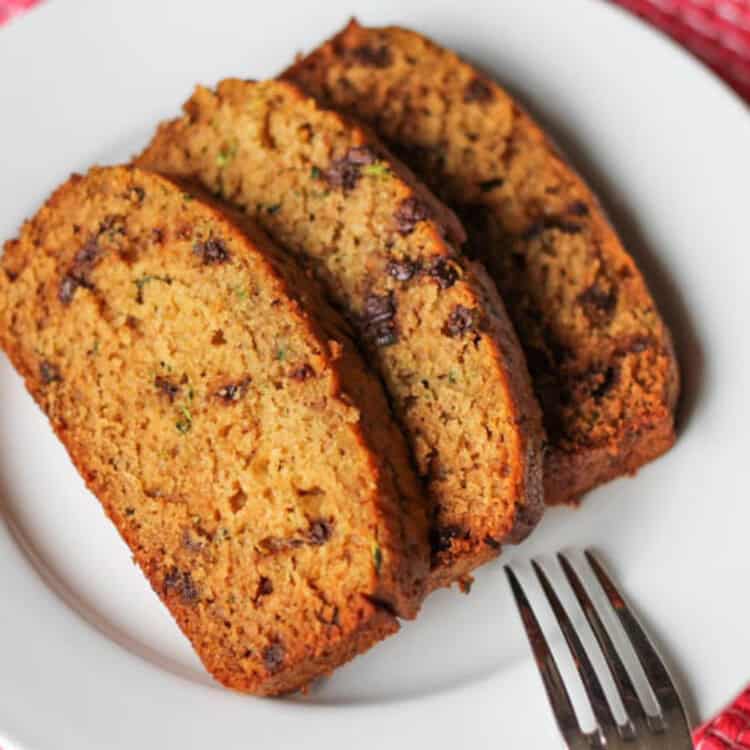 Whole Wheat Chocolate Chip Zucchini Bread
Healthy Whole Wheat Zucchini Bread with Chocolate Chips is moist, naturally sweet, and just the right amount of chocolatey. 
Prep:
15 minutes
Cook:
55 minutes
Total:
1 hour 10 minutes
Ingredients
1 3/4

cups

white whole wheat flour

1 teaspoon

baking soda

1 teaspoon

ground cinnamon

1/2 teaspoon

salt

1/3

cup

melted coconut oil (sub: avocado oil)

1/2

cup

honey (sub: maple syrup)

2

large eggs

1/2

cup

milk (any kind)

2 teaspoons

vanilla extract

1 1/2

cups

finely grated zucchini (that's had all the excess moisture squeezed out*)

1/3 cup

mini chocolate chips, plus more to sprinkle on top if desired
*To squeeze out the moisture, place zucchini in a dish towel and squeeze over the sink.
Before You Begin! If you make this, please leave a review and rating letting us know how you liked this recipe! This helps our business thrive & continue providing free recipes.
Preheat oven to 325°F. Grease a 9" x 5" loaf pan to prevent the bread from sticking. Tip: You can also drape a sheet of parchment paper over the long sides and bottom, so it's easier to remove the loaf after baking.
In a large mixing bowl, whisk together the flour, baking soda, cinnamon, and salt. Drizzle the coconut oil over the dry ingredients and stir. (This will prevent it from solidifying.)
In a medium mixing bowl, whisk together the honey, eggs, milk, and vanilla extract. Stir in the zucchini.
Gently stir the wet ingredients into the dry ingredients just until combined. Stir in the chocolate chips.
Pour the batter into the loaf pan. Bake for 50-55 minutes. (Note: a glass pan may take longer), or until a toothpick inserted into the center comes out clean. Let the bread cool in the loaf pan for a few minutes, then transfer it to a wire rack to cool before slicing it with a serrated knife.
Wrap tightly and store on the counter for 2 to 3 days at room temperature, in the refrigerator for 5 to 7 days, or in the freezer for up to 3 months or so.
Freezer Meal Instructions:
To Freeze: Bake according to directions. Cool completely. Wrap tightly in plastic wrap and foil and freeze. Or cut into individual slices, wrap in foil, and stick in a gallon-sized freezer bag so you can grab out one piece at a time.
To Prepare From Frozen: Thaw the loaf completely in the refrigerator. Or unwrap individual pieces and warm in the microwave in 20 second intervals until warmed through. Serve with a little butter on top.