This post may contain affiliate or sponsored links. Please read our disclosure policy.
This easy, healthy Green Machine Smoothie is a great way to start the day, especially if you've worked ahead and made a few freezer smoothie packs. Simply blend up your powerhouse ingredients (avocado, mango, kale, chia seeds, and liquid of choice), and you'll be charged up for a great day.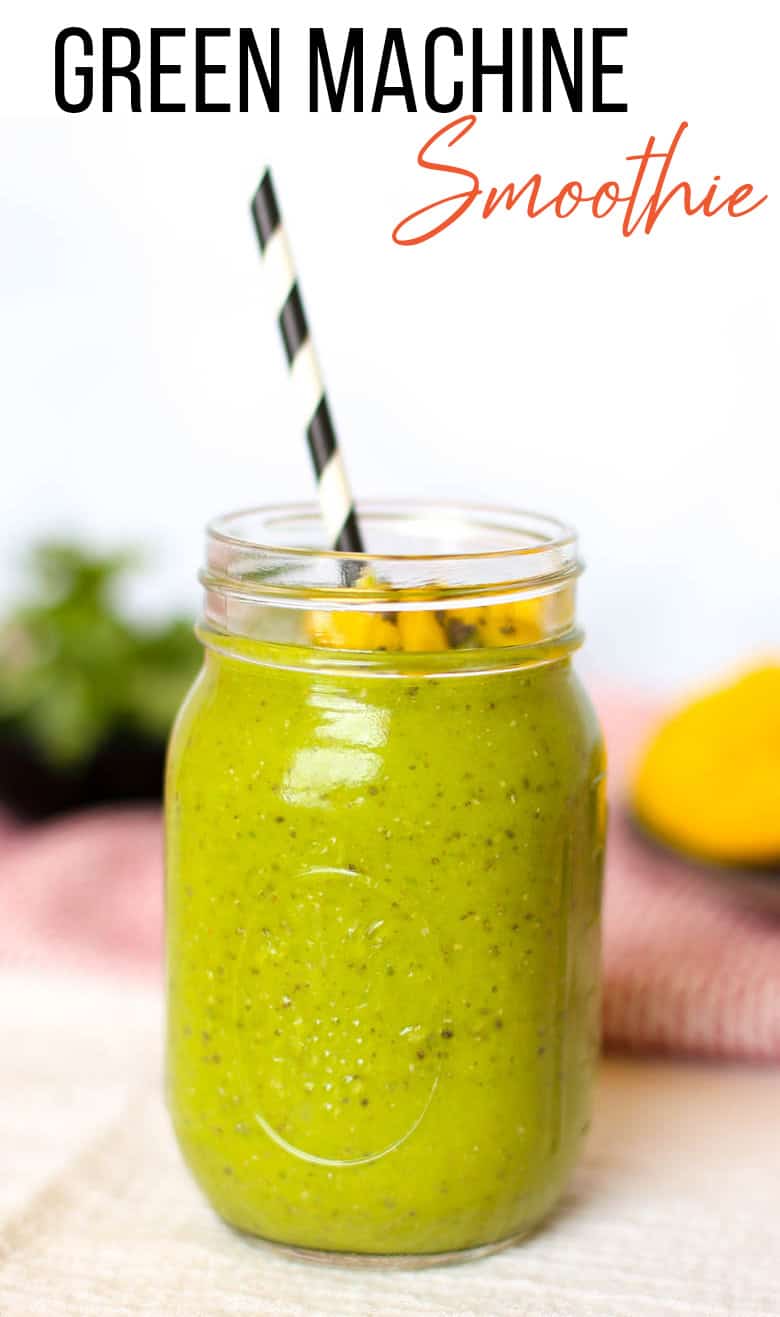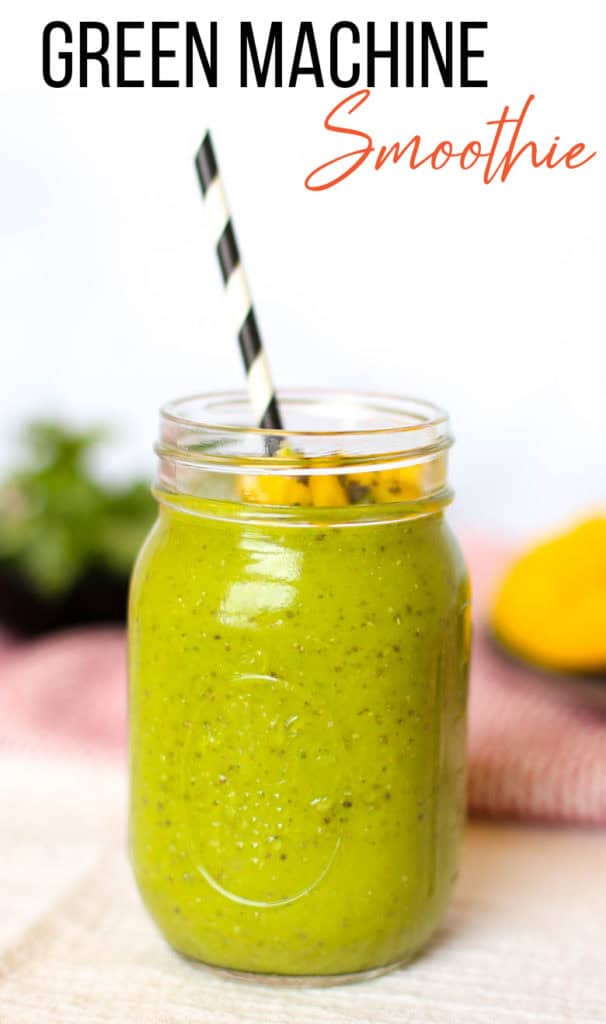 Did you know that, according to the CDC, only 1 in 10 adults gets the recommended amount of fruits and vegetables per day?? Since we all (at least 9/10 of us) need a little boost in the produce department, this green smoothie is a great jumpstart to getting all of the nutrition your body needs. And the best part is, it tastes good doing it!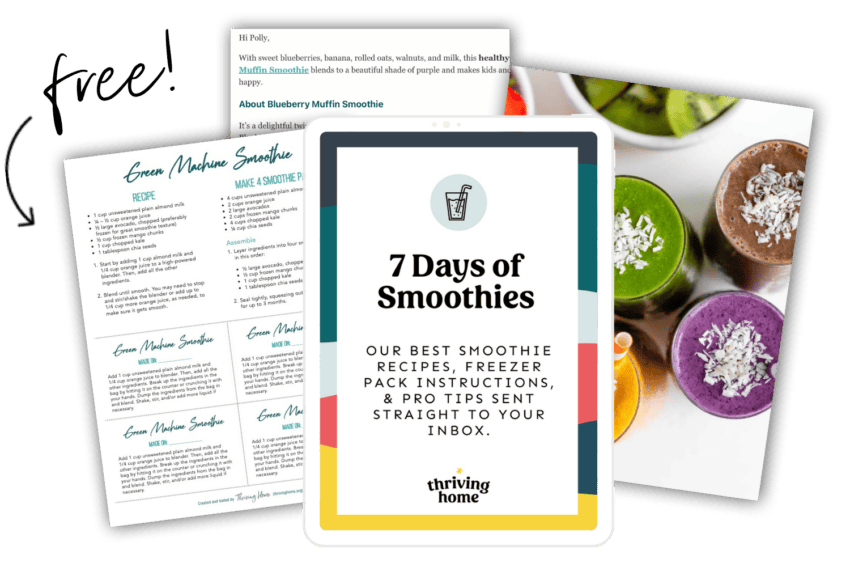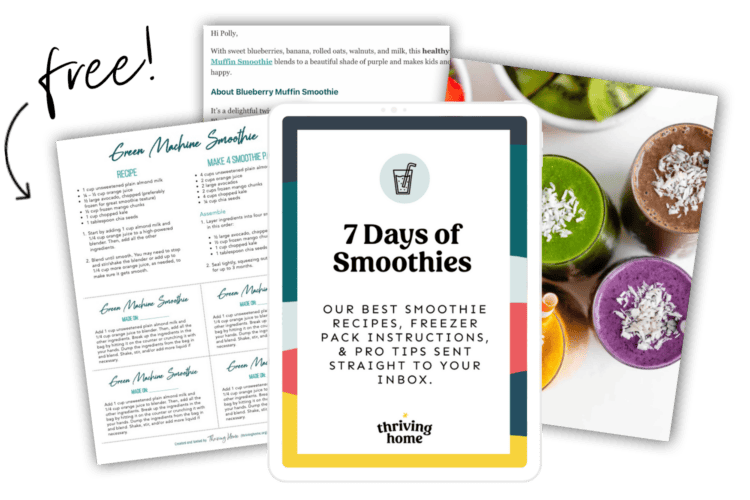 7 Must Have Smoothie Recipes
Get our best smoothie recipes, freezer pack instructions, & pro tips sent straight to your inbox.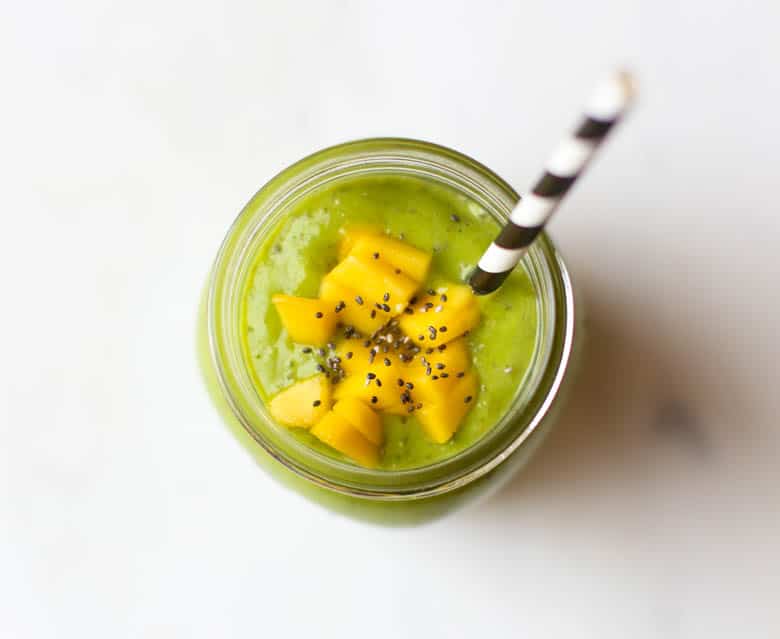 Some of the links in this post are affiliate links. We are a participant in the Amazon Services LLC Associates Program, an affiliate advertising program designed to provide a means for us to earn fees by linking to Amazon.com and affiliated sites. Here's our full disclosure.
About The Green Machine Smoothie
Even though the Green Machine Smoothie is packed with superfood veggies, the mango and orange juice (or coconut water) bring in a perfect balance of sweetness to this veggie smoothie.
Thanks to the virtually tasteless avocado and the sweet mango that drowns out the kale, you'll hardly know you're consuming a hearty amount of leafy green vegetables in the morning. You'll also be getting healthy protein and fats from the avocado and chia seeds to keep you satiated for hours.
Toss in a cute biodegradable paper straw to make the smoothie sipping even more fun!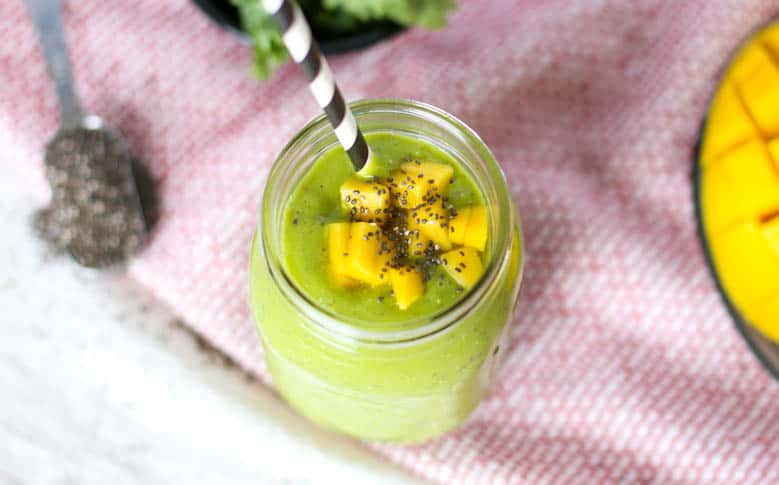 Ingredients You'll Need for the Green Machine Smoothie
Almond milk – Or your milk of choice
Orange juice – you can also use coconut water like we do in our Tropical Smoothie Recipe
Avocado – preferably frozen for great smoothie texture
Mango chunks – This brings some serious flavor!
Kale – So good for you! Can also sub for spinach.
Chia seeds – You could sub this for your favorite raw nuts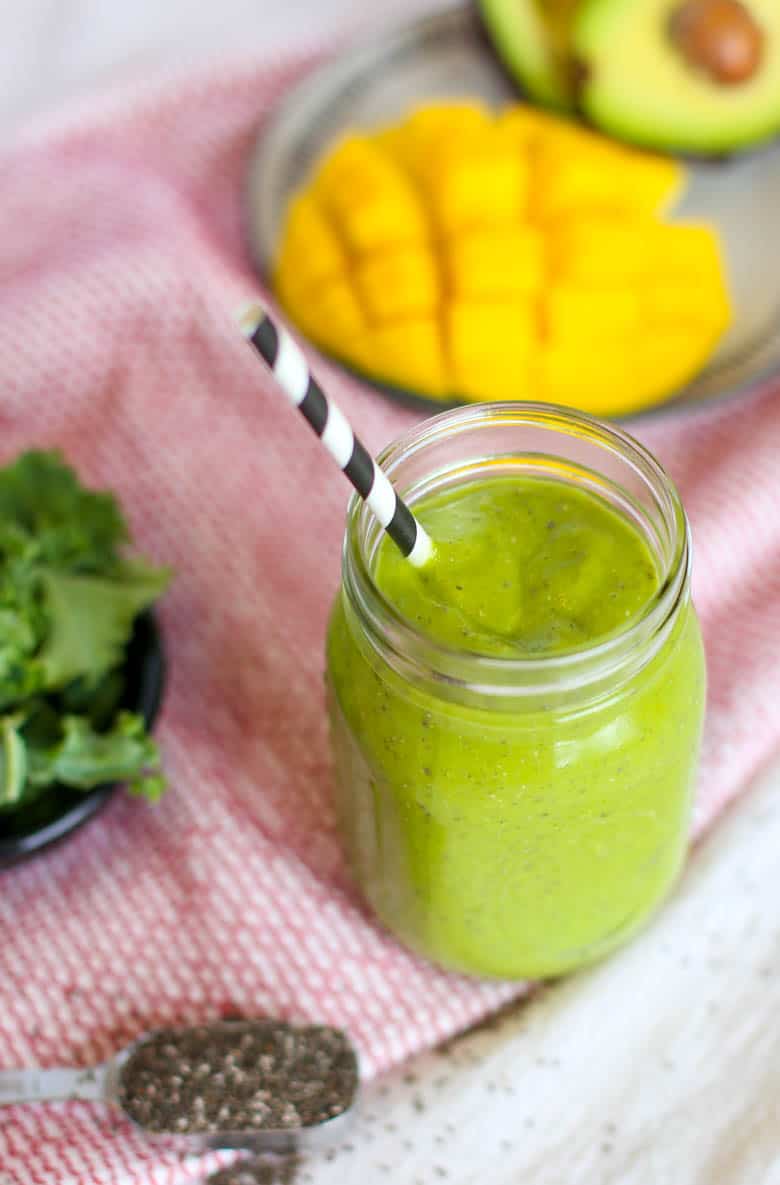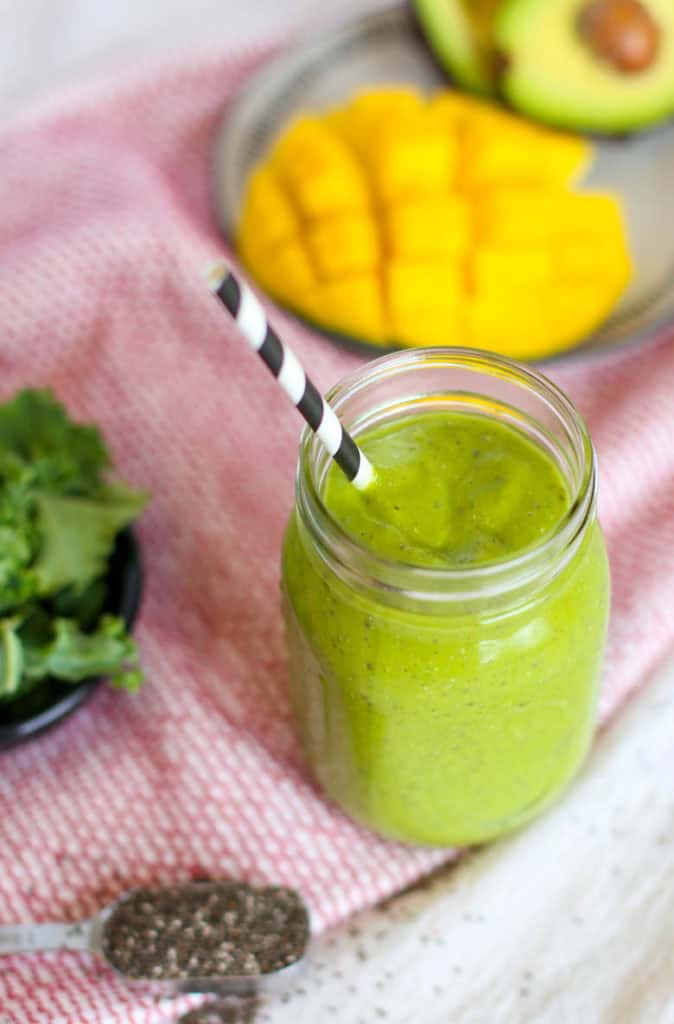 How to Make a Tropical Smoothie Freezer Pack
What are freezer smoothie packs?
Only the best, most genius idea ever. You'll simply toss most of your smoothie ingredients in a freezer bag/container to have on hand in the freezer. (Be sure to follow our layering instructions.) Then you can throw together a delicious, nutrient dense smoothie for breakfast, as a snack, or as a meal replacement anytime.
Having the main ingredients for your smoothie on hand in the freezer in individual packs means healthy eating is right at your fingertips anytime. Both of us have become smoothie addicts since starting to prep freezer smoothie packs ahead. Just be sure to follow our instructions in the recipe to layer them perfectly.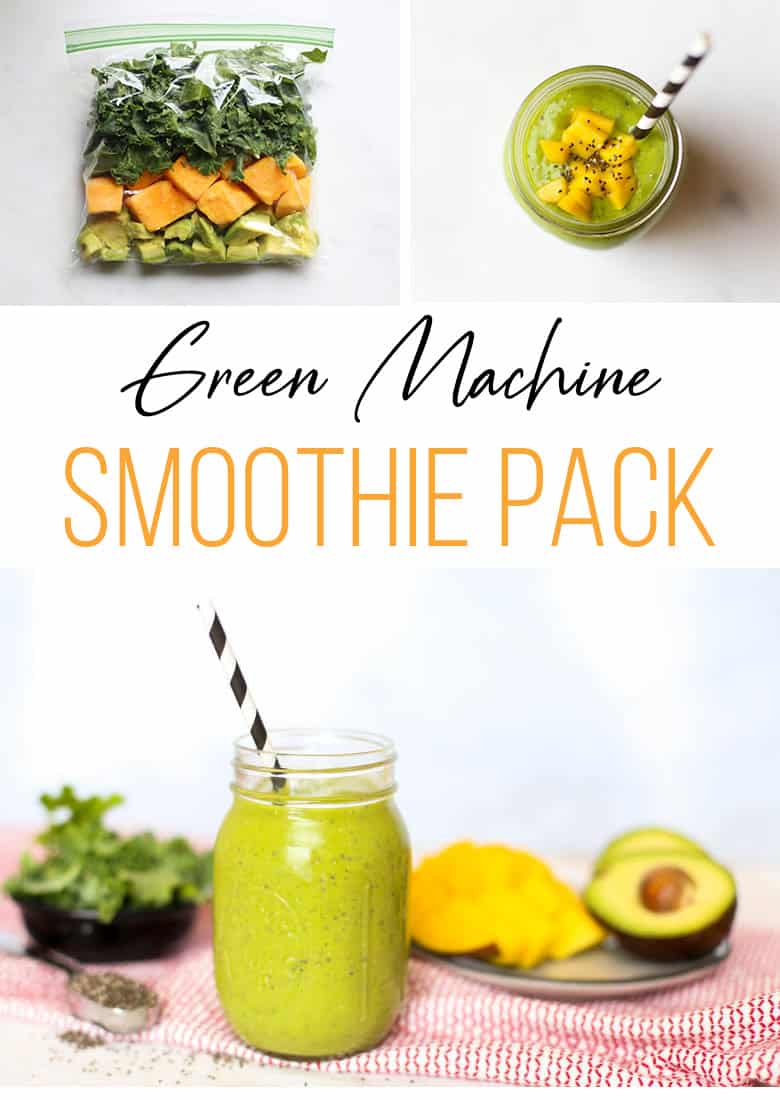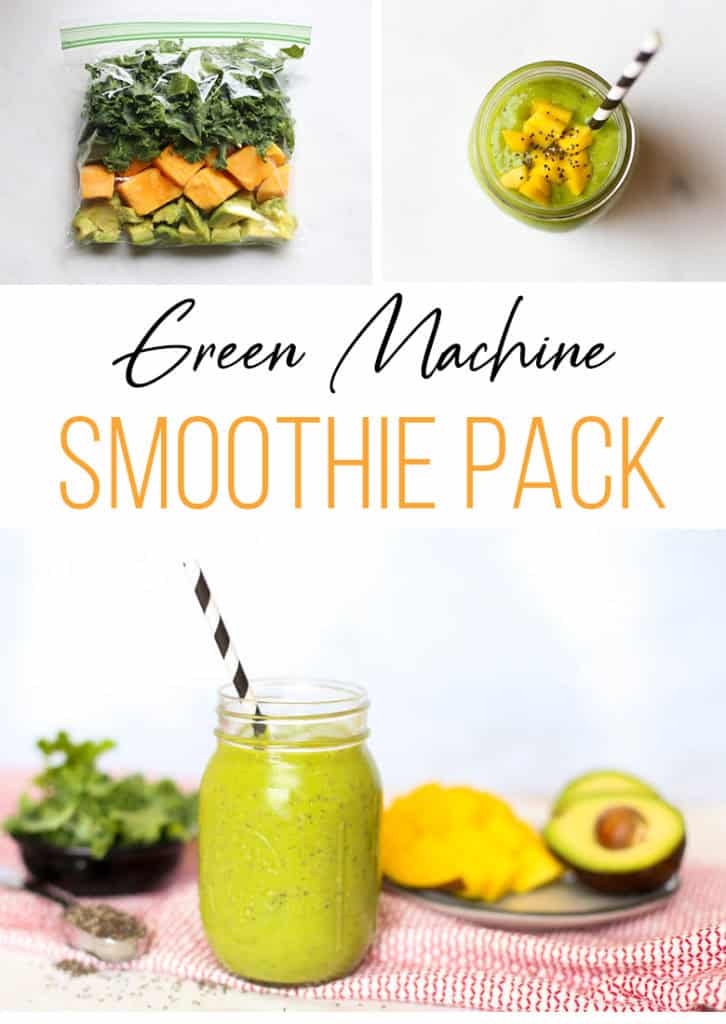 If you're trying to cut down on plastic bag use like we are, try these reusable silicone bags. We've personally tested these bags for weeks now. I've found them to be easy to rinse out and dry, and they do not leak. They seem well made and worth the investment.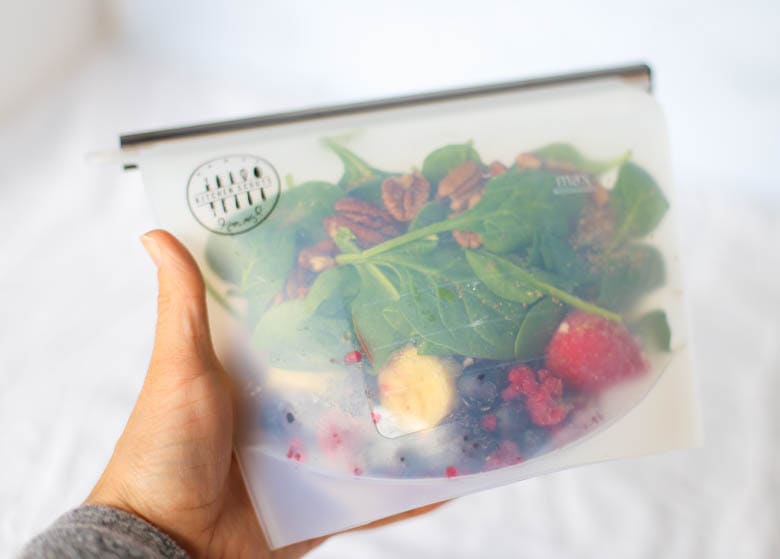 As with all of our healthy smoothie recipes, if you like things sweeter, just add a dollop of honey, pure maple syrup, or agave nectar until you get the flavor you desire. I encourage you to start with no added sweetener, though, and see if you can train your taste buds to love the natural sweetness of fruit and veggies first.
Ready to turbocharge your day? Let's do this!
7 Easy, Healthy Smoothie Recipes
To get all those recommended vegetables day in and day out, we've found that daily smoothies and make-ahead freezer smoothie packs are a huge help. That's why we've been sharing 7 easy, healthy smoothie recipes that you can make ahead and freeze as freezer smoothie packs.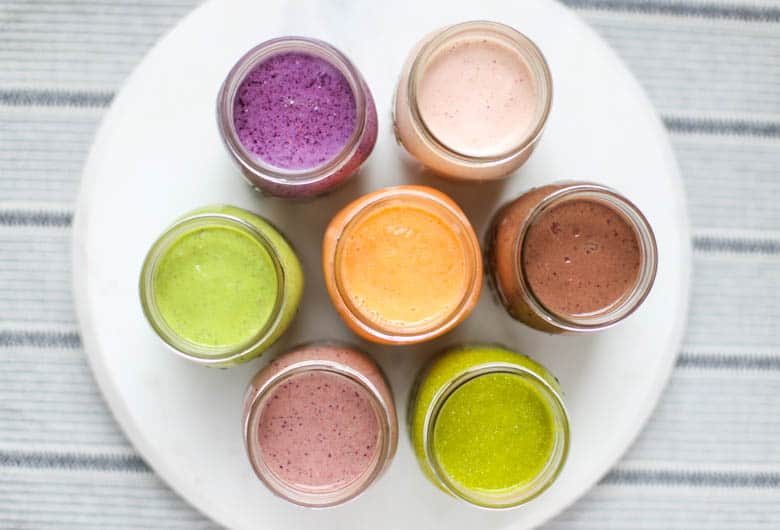 We've loved hearing how you all are using these smoothies in your homes!
Some are making smoothie packs for new mamas. Others are stocking up for afternoon snacks. We've heard from a stellar grandma who made packs for when she watched her grandsons. We love this feedback, so thank you!
In addition to Green Machine, don't miss out on our healthy smoothie recipes…
Did you make this? Snap a photo and tag us on Instagram at @thrivinghome so we can see your creations and cheer you on!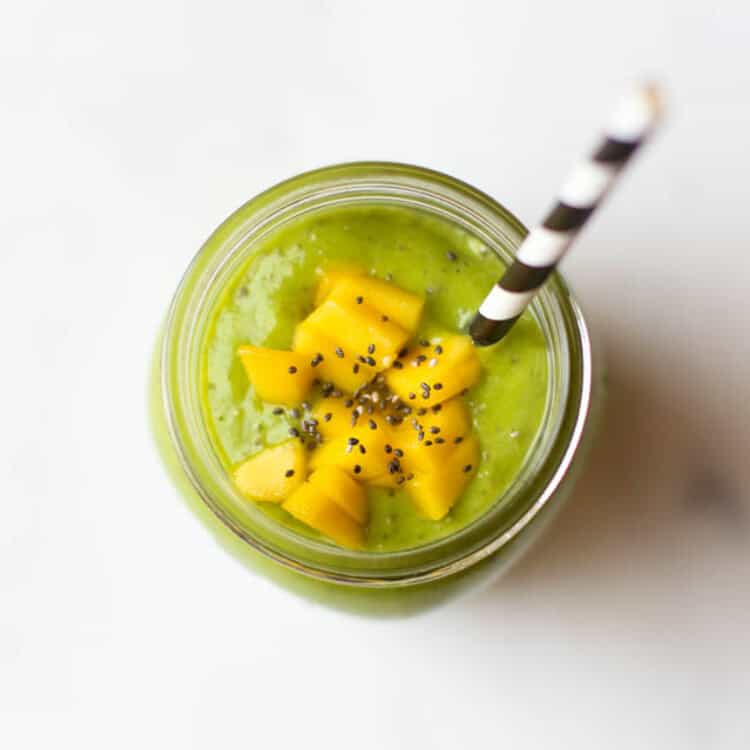 Green Machine Smoothie
This easy, healthy Green Machine Smoothie is a great way to start the day. Especially if you've worked ahead and make a few freezer smoothie packs. Simply blend up your powerhouse ingredients and be charged up for a great day.
Yield:
One (16 ounce) smoothie
Prep:
3 minutes
Total:
3 minutes
Smoothie Packs Delivered to Your Door!
If you want to make life really simple, try SmoothieBox. We love these frozen smoothie packs that are delivered to your door.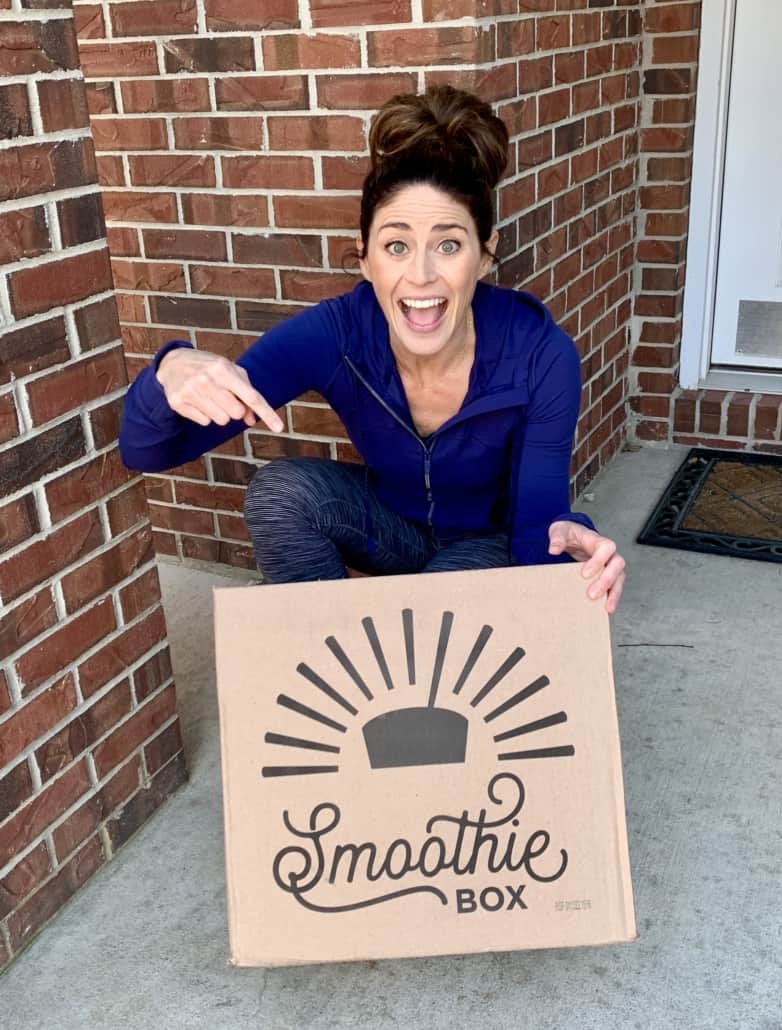 In fact, you can read my full honest review of SmoothieBox here. I love having these in the freezer for days when I just don't have time to whip up a smoothie on my own.