This post may contain affiliate or sponsored links. Please read our disclosure policy.
Banana Breakfast Cookies are jam-packed with nutrition and flavor. All ages love them, and they make a great grab-and-go breakfast. Double the recipe so you can stock the freezer with them!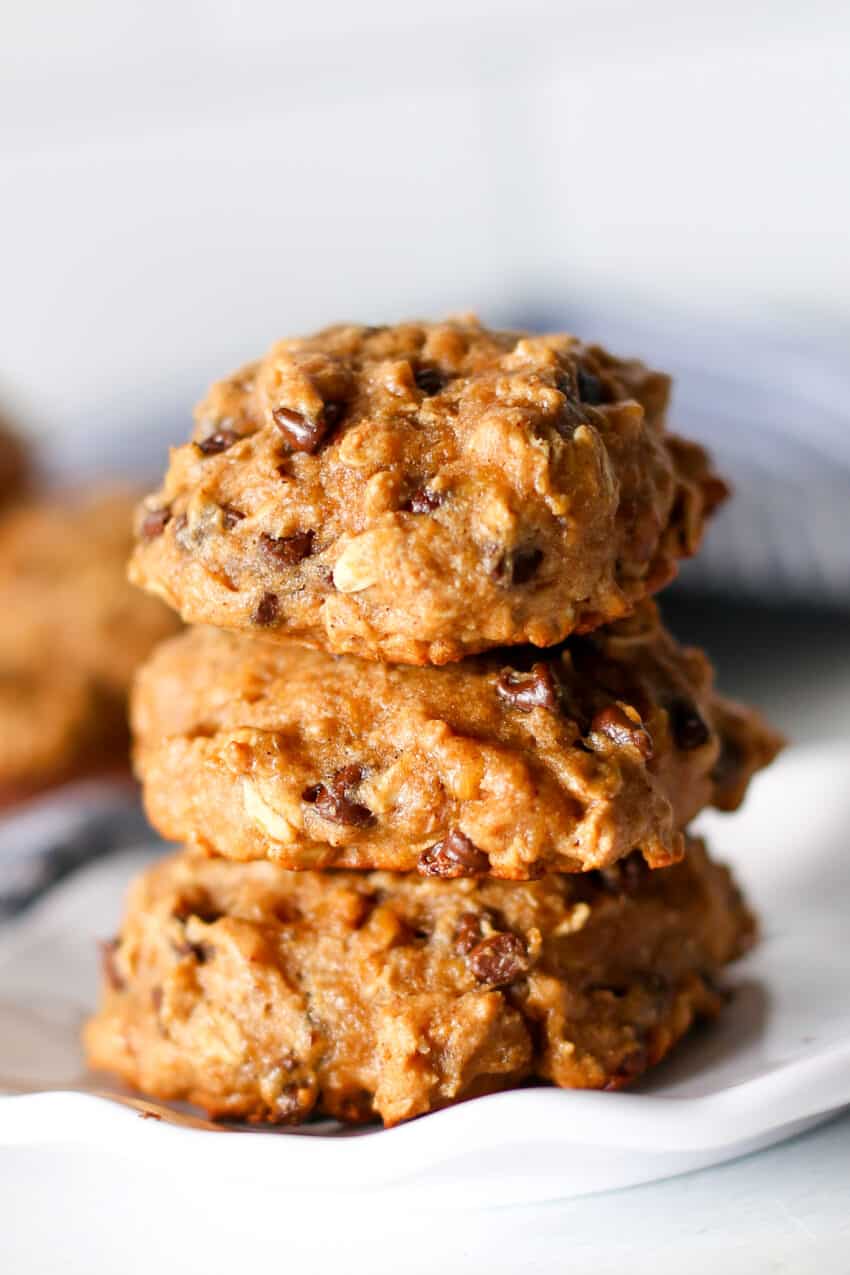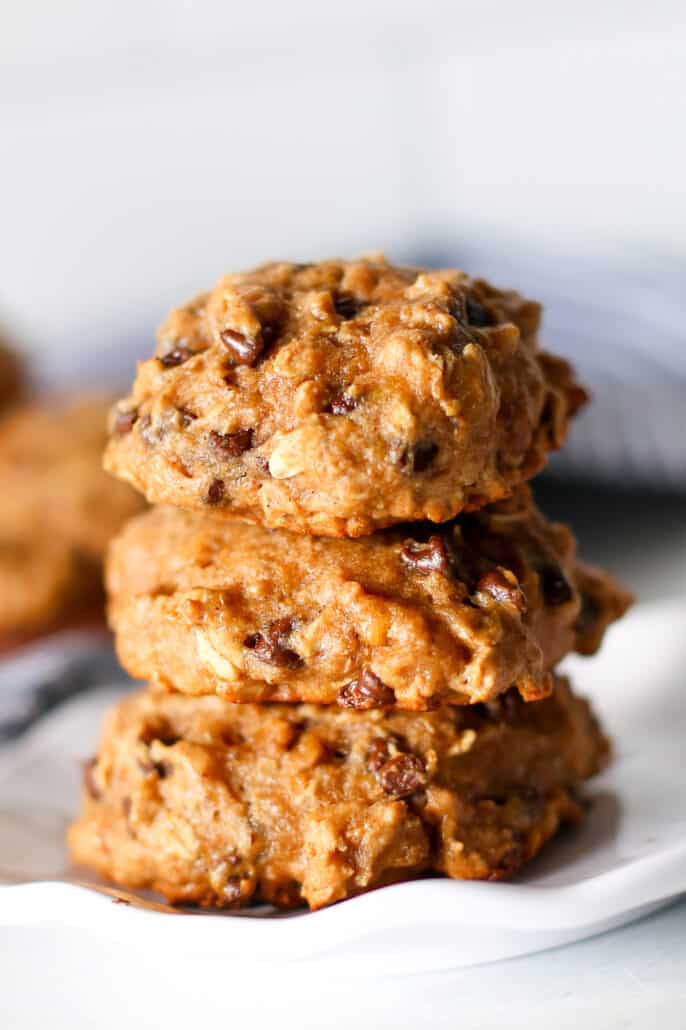 Why You'll Love This Breakfast Cookie Recipe
Packed with protein, potassium, and fiber, as well as being TASTY.
Lower in sugar than your average cookie or muffin.
Freezer-friendly. Perfect for a grab-and-go breakfast.
Keeps you full! Thanks to the fiber and protein, you won't be feeling hungry hours later unlike many baked goods.
Perfect as an after school snack.
Easy to tweak the recipe to your liking. Add nuts, dried fruit, coconut, etc. if you want!
This recipe comes together FAST.
Great snack to take to a new mom. I recently took some up to a friend who was in the hospital for other reasons. She loved that she could have a nutritious snack instead of something from a vending machine.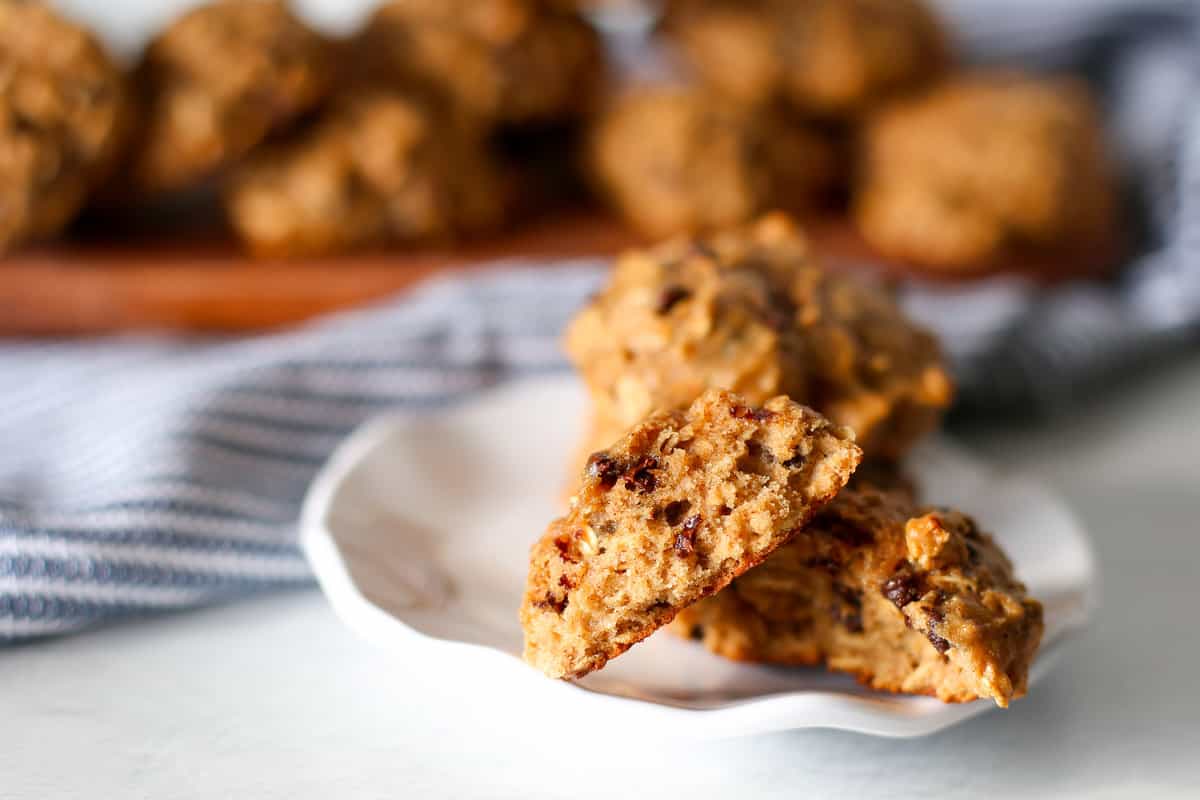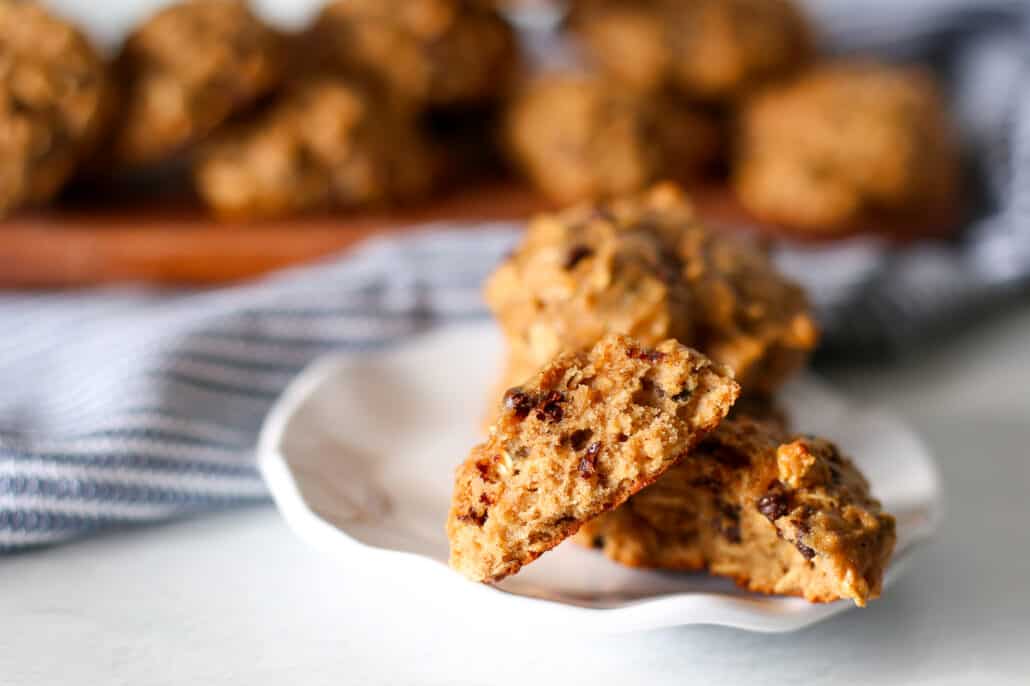 Ingredients in Banana Breakfast Cookies
Let's talk about the ingredients you need…
Ripe Bananas – The riper the banana, the sweeter it will be. I almost always have a stash of frozen bananas for recipes like this.
Peanut Butter – You can use smooth or chunky peanut butter or substitute almond butter instead.
Honey – Local is always best!
Brown sugar – Brown sugar brings in a bit more moisture and molasses flavor than white sugar. A little healthier substitute would be to use coconut sugar.
Vanilla – Here is how to make your own vanilla.
Rolled oats
White whole wheat flour – White whole wheat flour yields light, fluffy results while still retaining maximum nutrition. However, you can sub in half all-purpose flour and half whole wheat flour instead. For gluten-free, use 1:1 gluten-free baking flour (like Bob's Red Mill).
Ground flaxseed – A great way to sneak in omega-3s and fiber into baked goods.
Unsweetened protein powder – If you don't have this, some substitute options are almond flour/meal, dried milk powder, or you can just use more flour. An affordable, dairy-free, gluten-free, and "no sugar added" protein powder option is Orgain Organic Protein Powder. I've found this at Walmart.
Baking soda
Cinnamon
Mini chocolate chips – If you want dairy-free chips, we highly recommend Enjoy Life brand.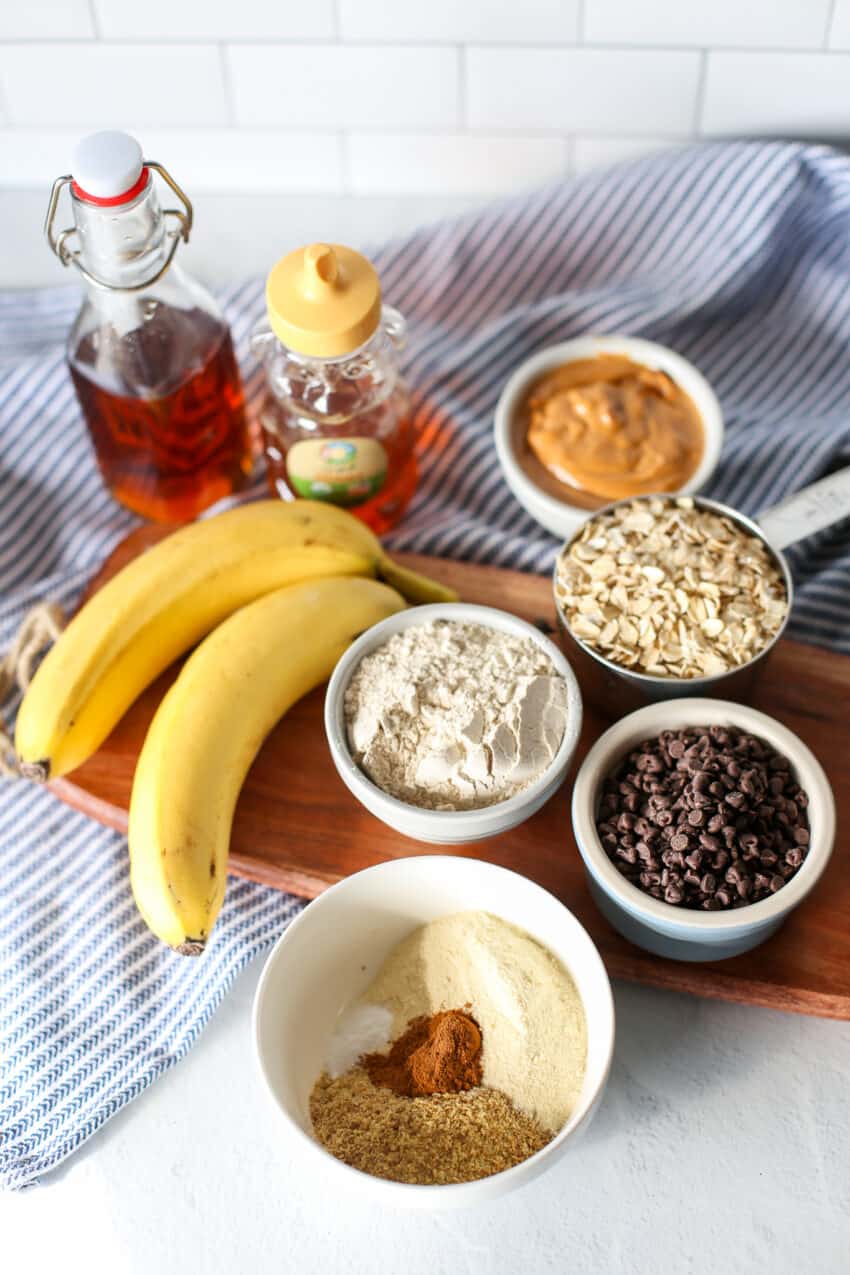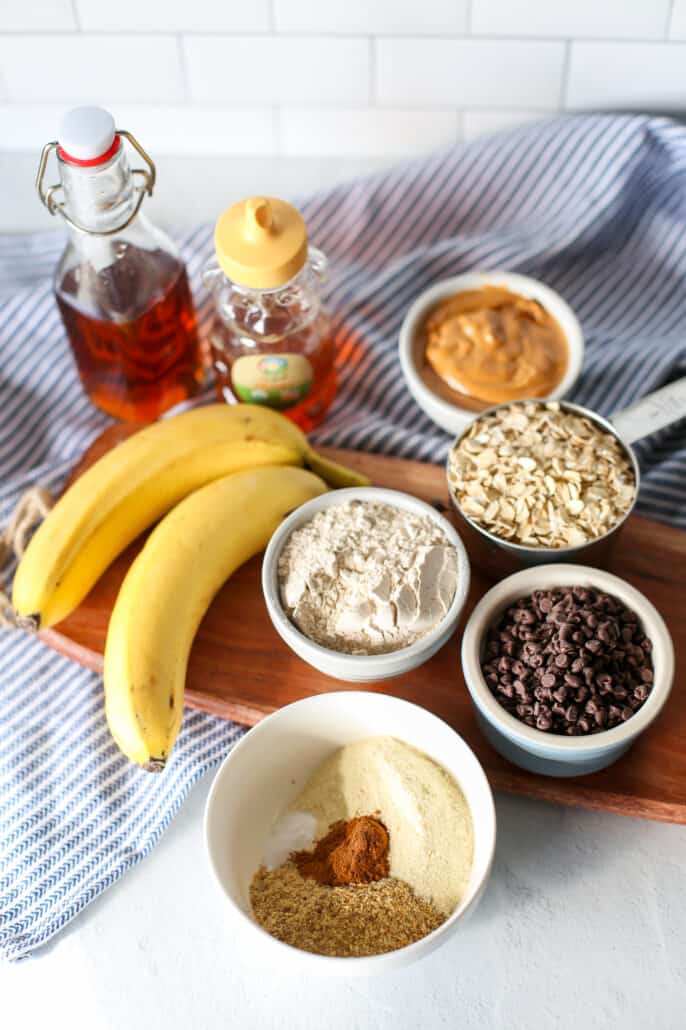 Looking to Cut Sugar?
If you want to cut back on the sugar in these cookies, either leave out the chocolate chips or use carob nibs/chips instead. You can also use a little less honey and a little less brown sugar. Lastly, coconut sugar is slightly lower on glycemic index, using that as a substitute might help as well.
How to Make Banana Breakfast Cookies
If you skip this step, there will be little chunks of banana in your cookies. I personally don't mind this but my kids do. Give it a good squish before adding it to the batter.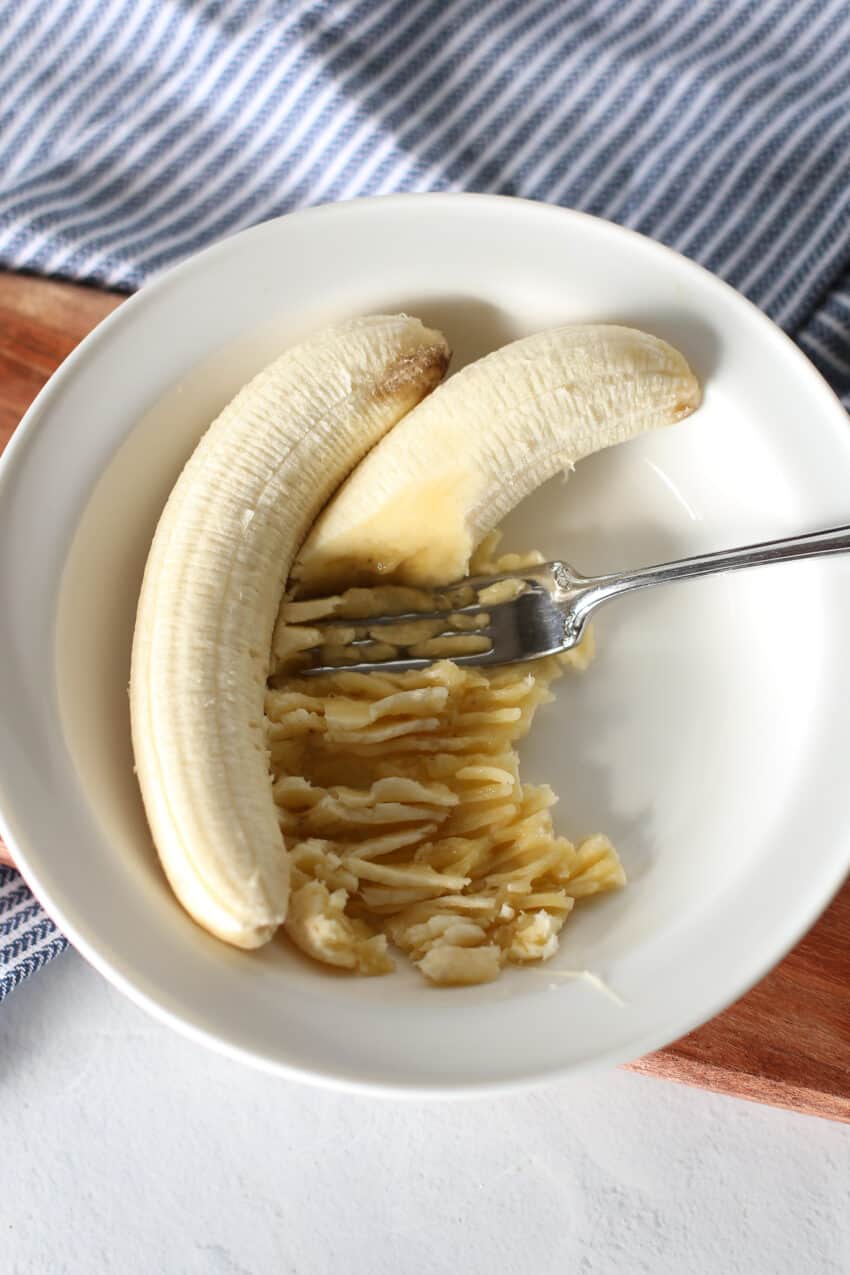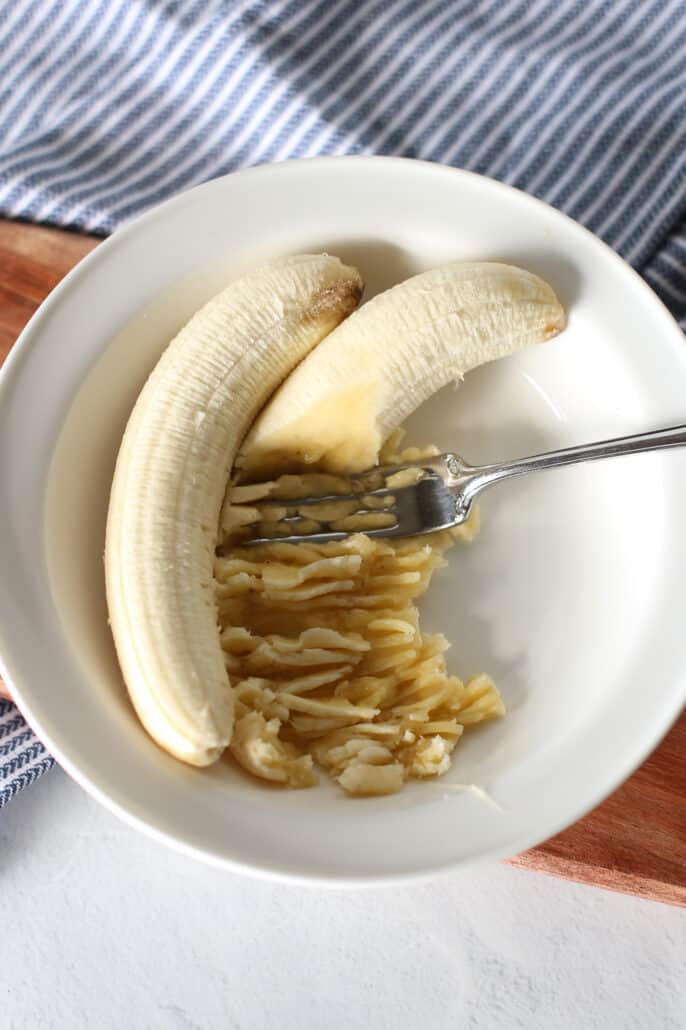 In a large mixing bowl or stand mixer, add the banana, peanut butter, honey, brown sugar, and vanilla. Mix it together until well combined.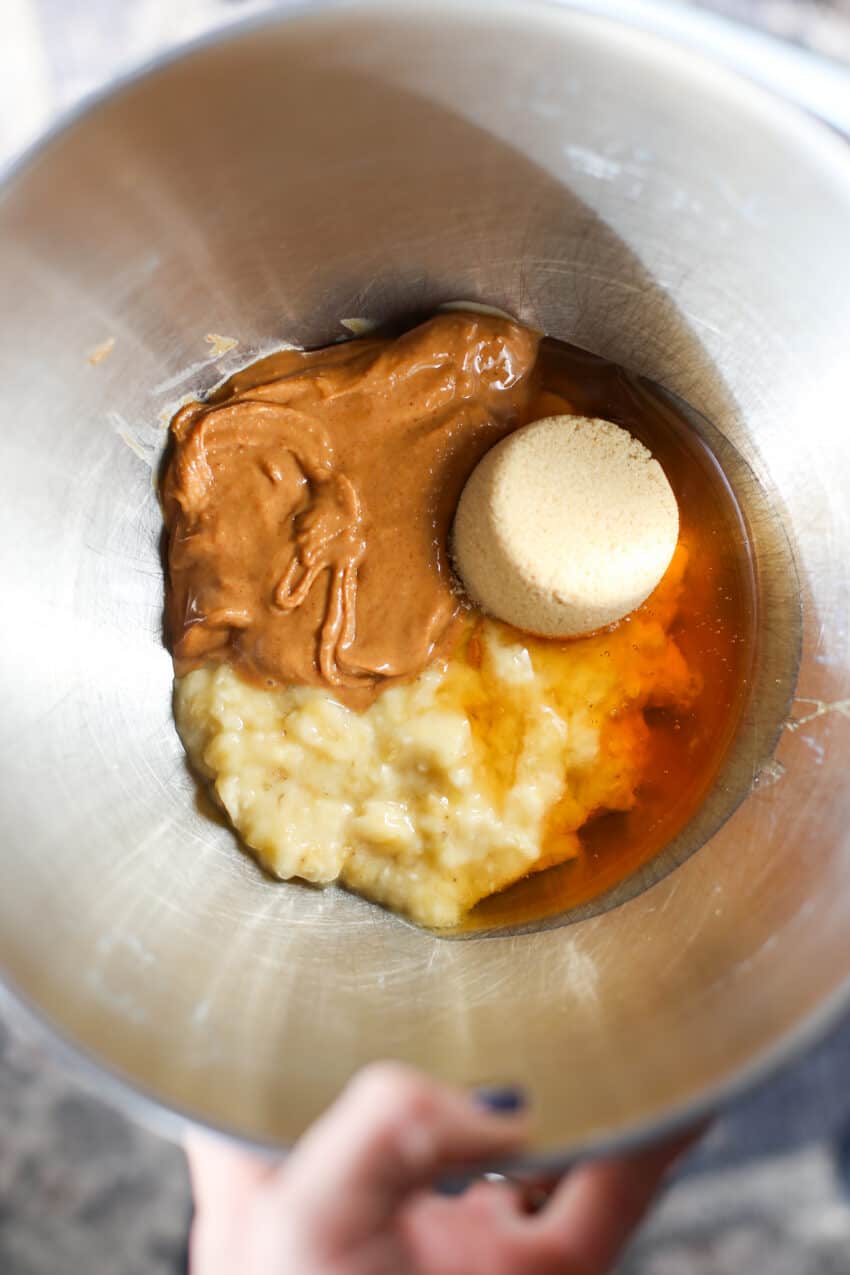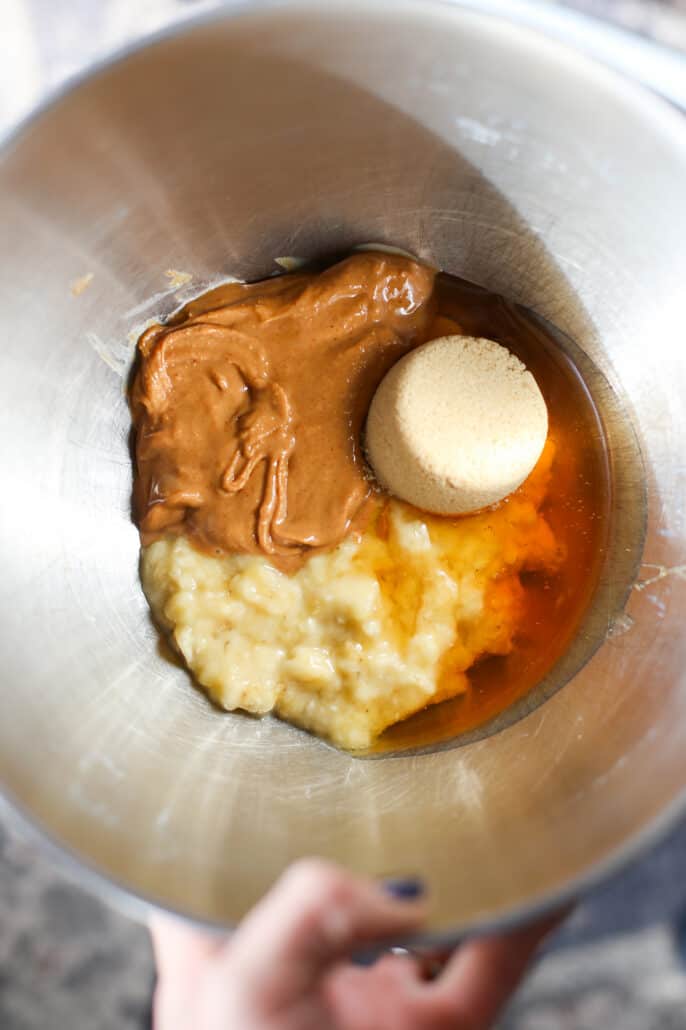 Combine the Dry Ingredients
In a medium bowl combine oats, flour, flaxseed, milk powder or protein powder, baking soda, and cinnamon. Give it a whisk until well combined.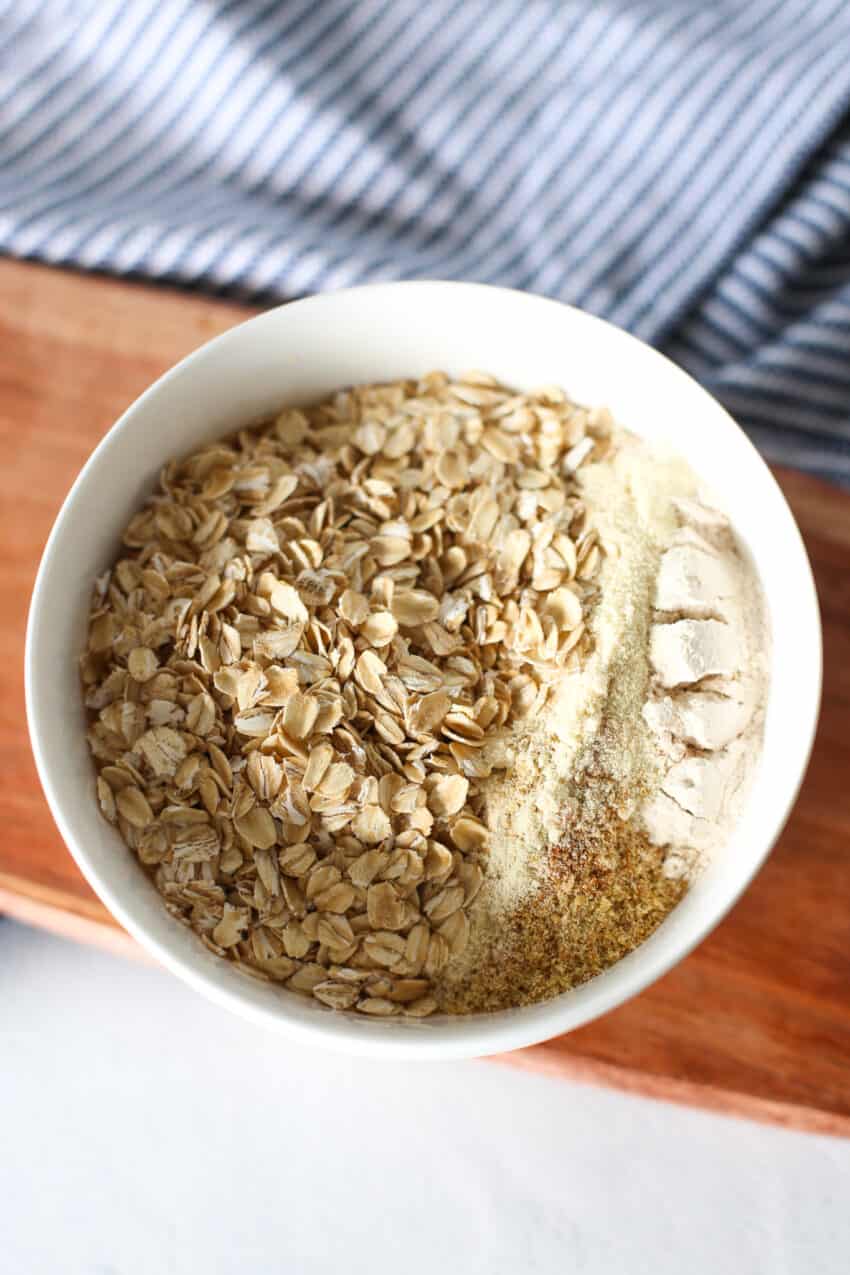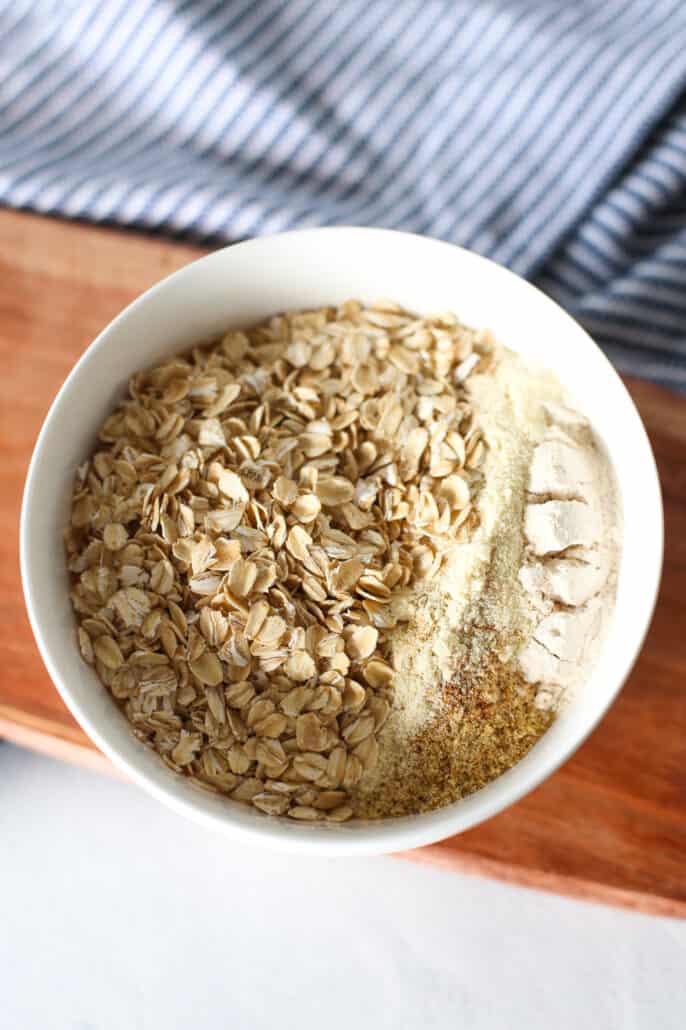 Slowly add the dry ingredients to the wet. Stir until the dough just starts to come together and then add in the chocolate chips. Stir a little longer until chocolate chips are evenly distributed.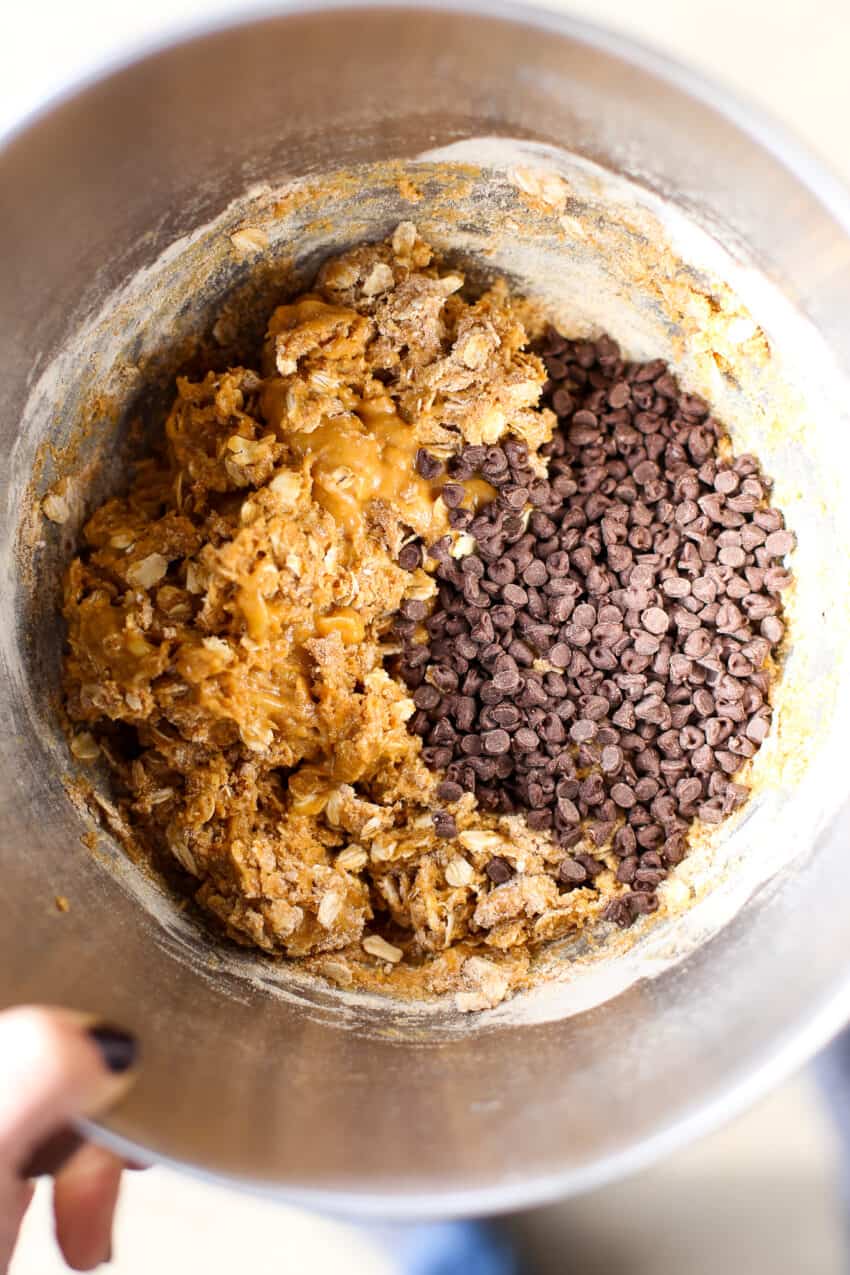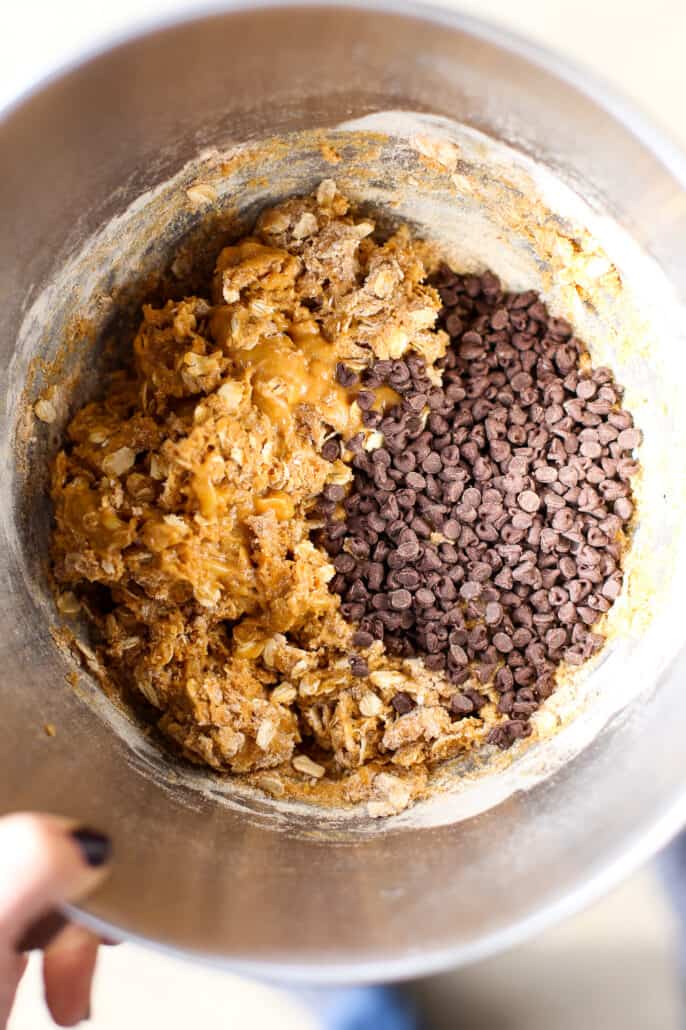 Here's what the Banana Breakfast Cookie dough will look like. It's a bit more moist than typical cookie dough.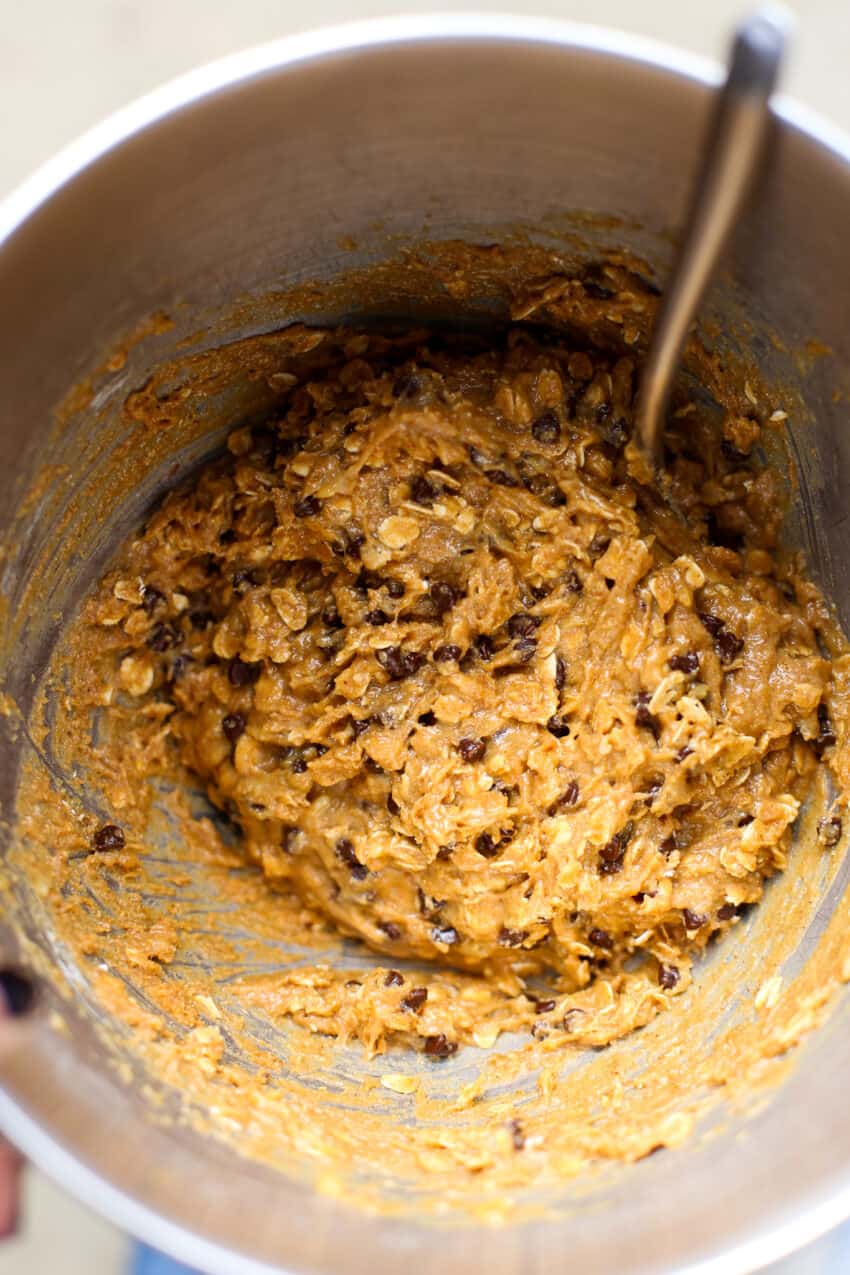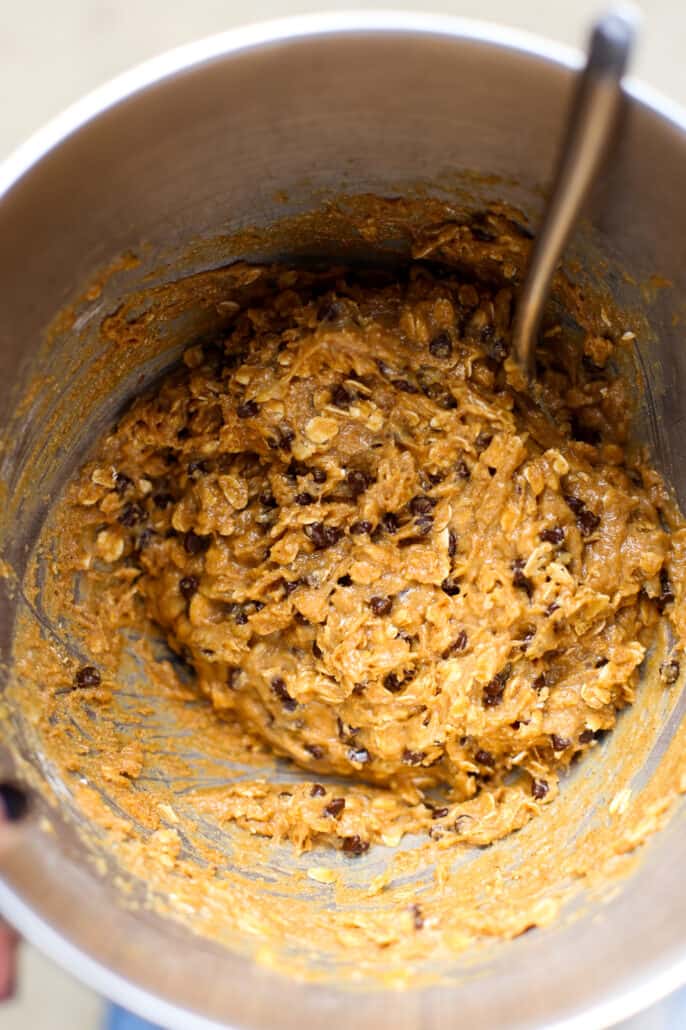 Using a cookie scoop or tablespoon, drop heaping tablespoon-sized mounds of dough roughly 2 inches apart onto prepared baking sheets.
Flatten and spread each cookie a bit if you want.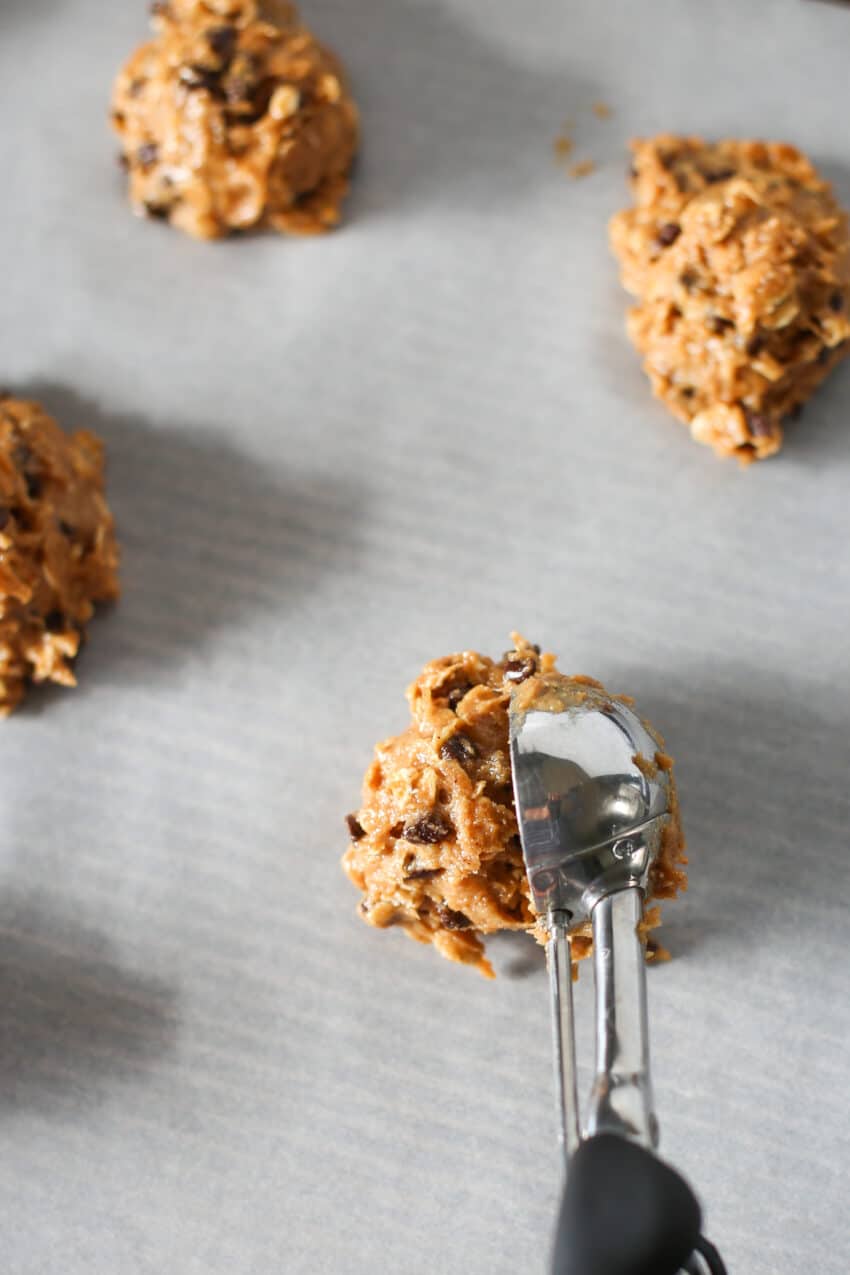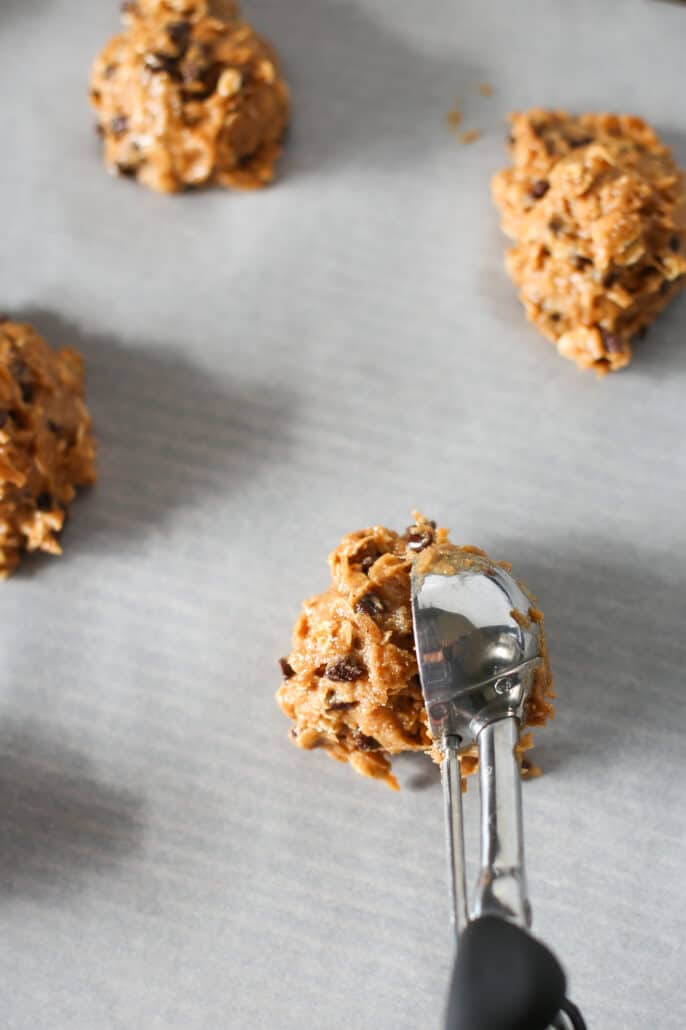 Bake the cookies for 12-14 minutes or until they start to brown around the edges. Remove them from the oven and let them cool before handling.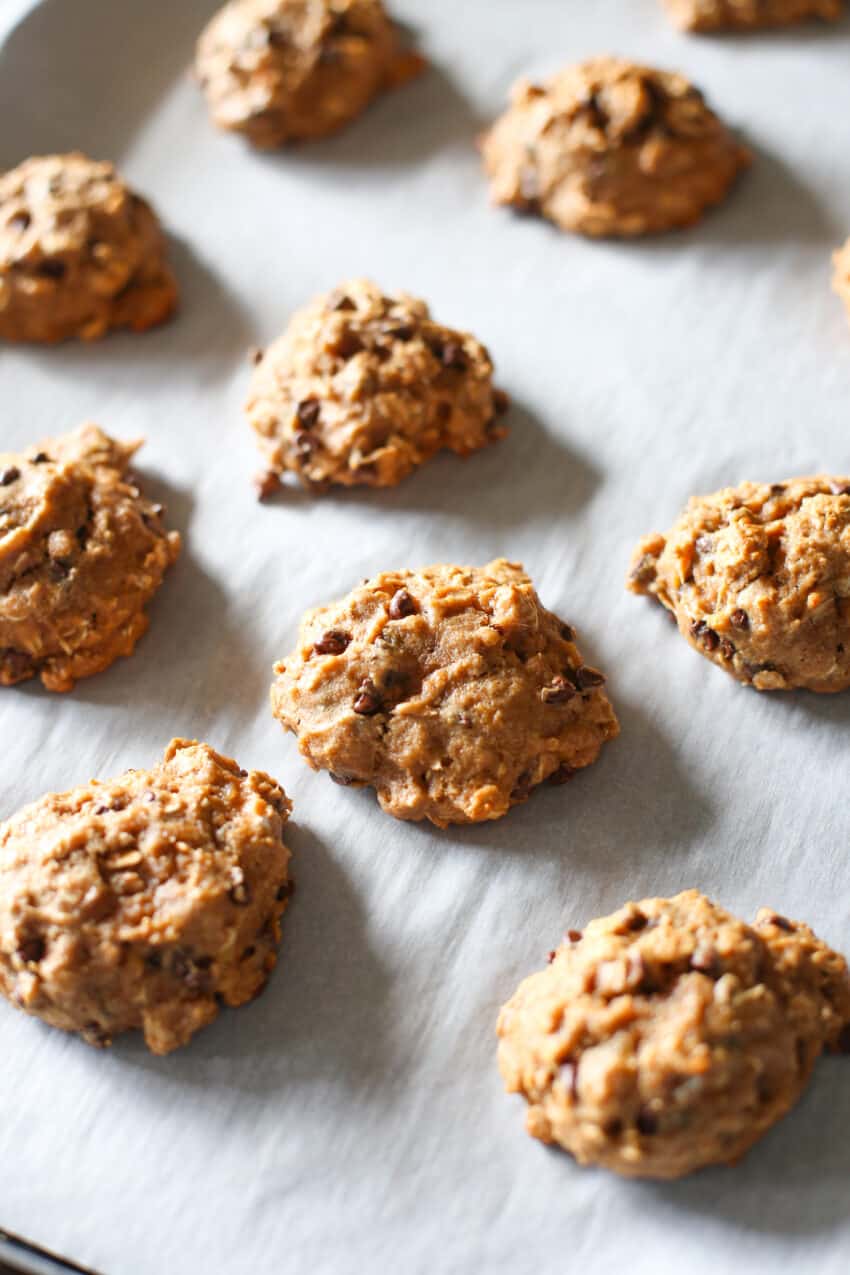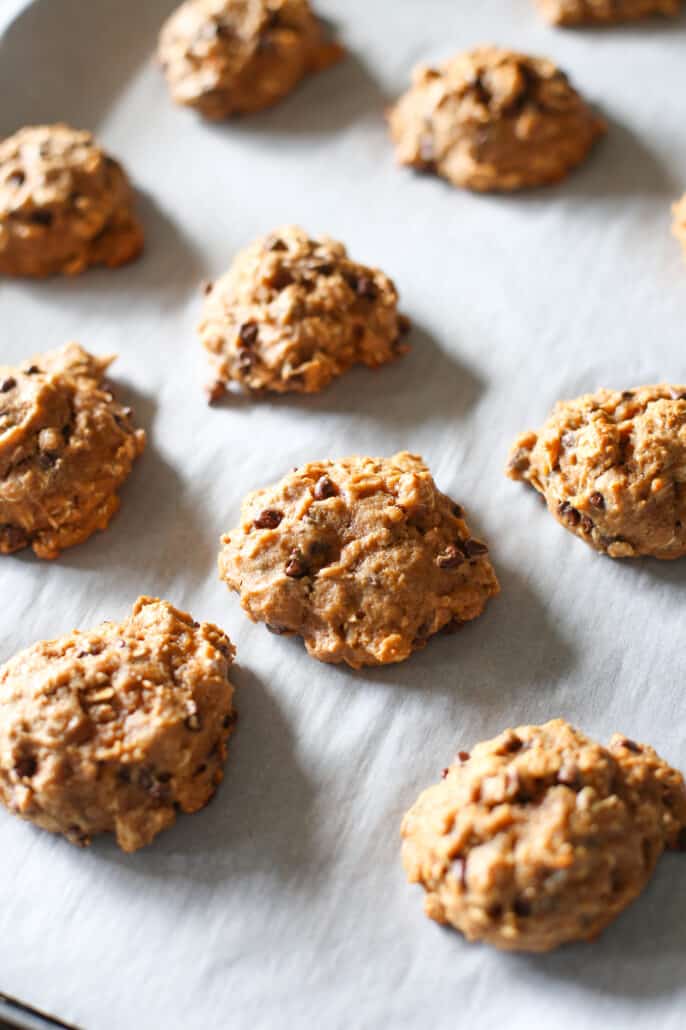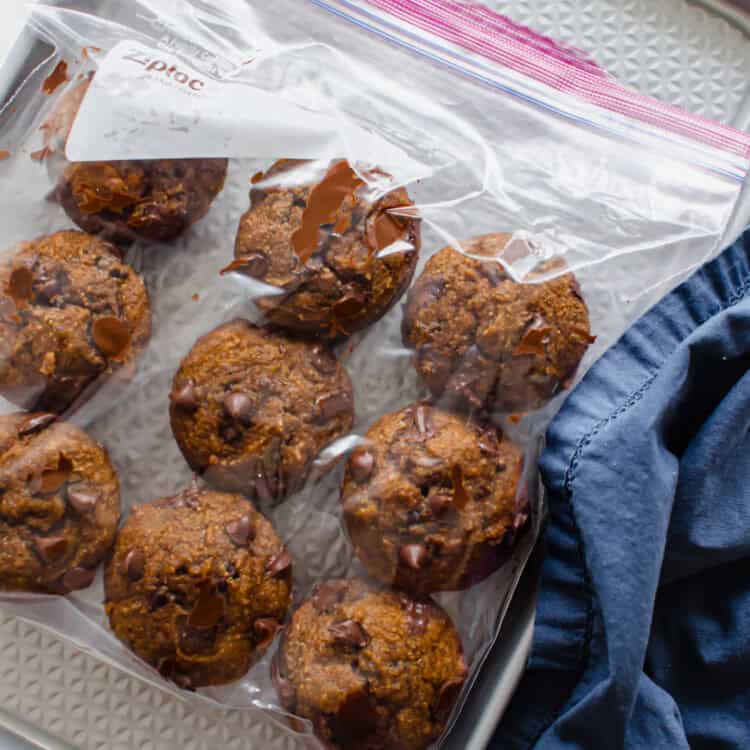 10+ Make Ahead Breakfast Ideas
Foolproof make-ahead breakfast recipes that will help you start your morning the right way.
We've been using these freezer meal breakfast recipes for years and years.
See More Make Ahead Breakfasts
Are Breakfast Cookies Gluten-Free?
The recipe as written is not. However, you can make these gluten-free by using 1:1 gluten-free baking flour in place of the white whole wheat flour. Also, make sure your protein powder is labeled gluten-free.
"Mix It Up" Ideas
There are lots of ways to customize your breakfast cookies. If you want to play with the recipe, consider replacing the 1/2 cup of mini-chocolate chips with these:
Pecans
Dried fruit
Raisins
Dark Chocolate Chips
Shredded coconut
Almonds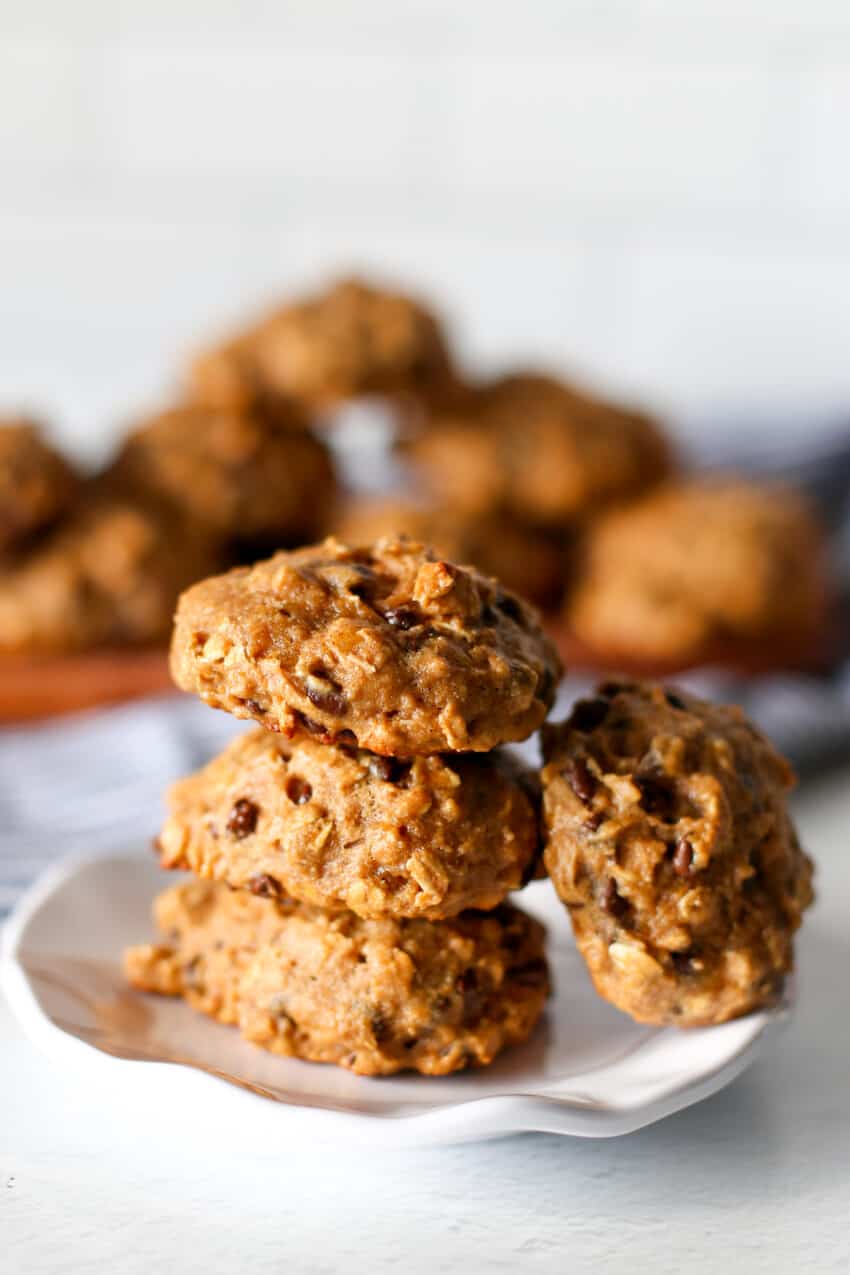 Can You Freeze Breakfast Cookies?
Heck ya! These make a great breakfast freezer meal. In fact, I always double the recipe so I can have lots to put in the freezer.
Freeze For Later: Store in airtight container or freezer bag and freeze.
Prepare From Frozen: Thaw in the fridge, on the counter, or using the defrost setting on the microwave.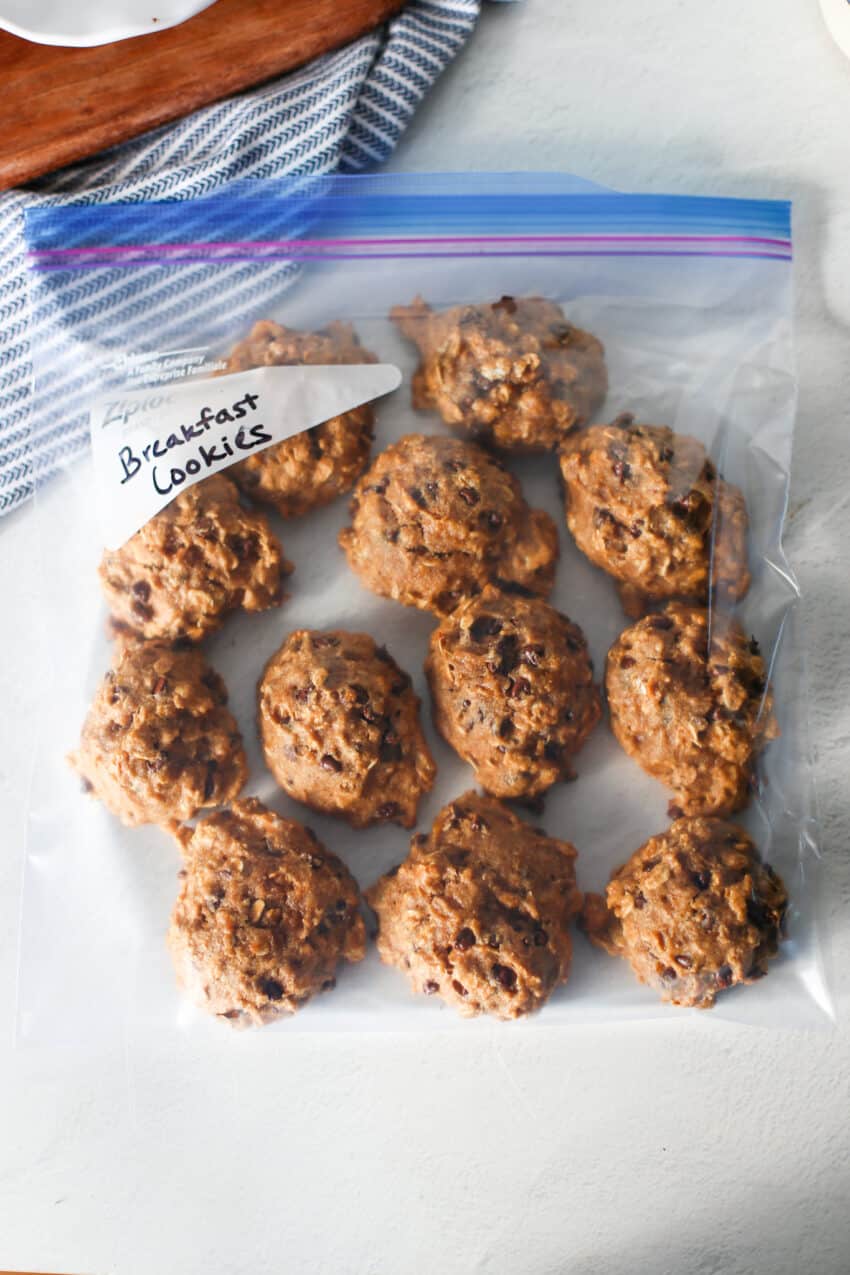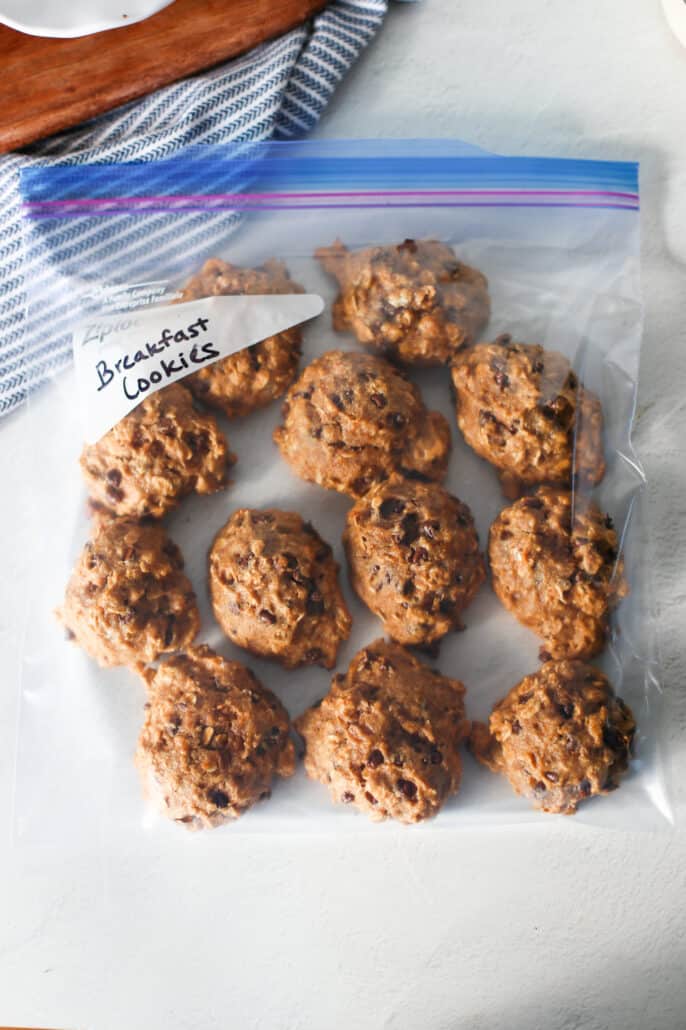 More Make Ahead Breakfast Recipes
Check out our recipe index for more healthy breakfast ideas!
Did you make this? Snap a photo and tag us on Instagram at @thrivinghome so we can see your creations and cheer you on!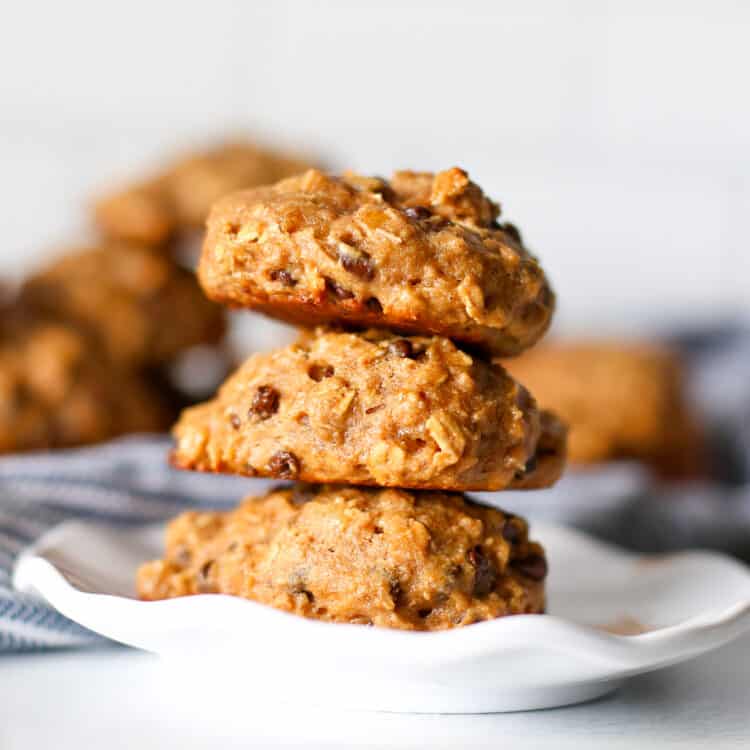 Breakfast Cookies
Wow your kids by making them breakfast cookies! Packed with fiber, potassium, and protein, your family is sure to love these!
Prep:
10 minutes
Cook:
15 minutes
Total:
25 minutes