Sweet potato, clementines, carrots, and bananas create the base of this easy orange smoothie that's a healthier version of the orange sherbet push-up pops from childhood. Yum! Freezer smoothie pack instructions included so you can prep these smoothies ahead of time.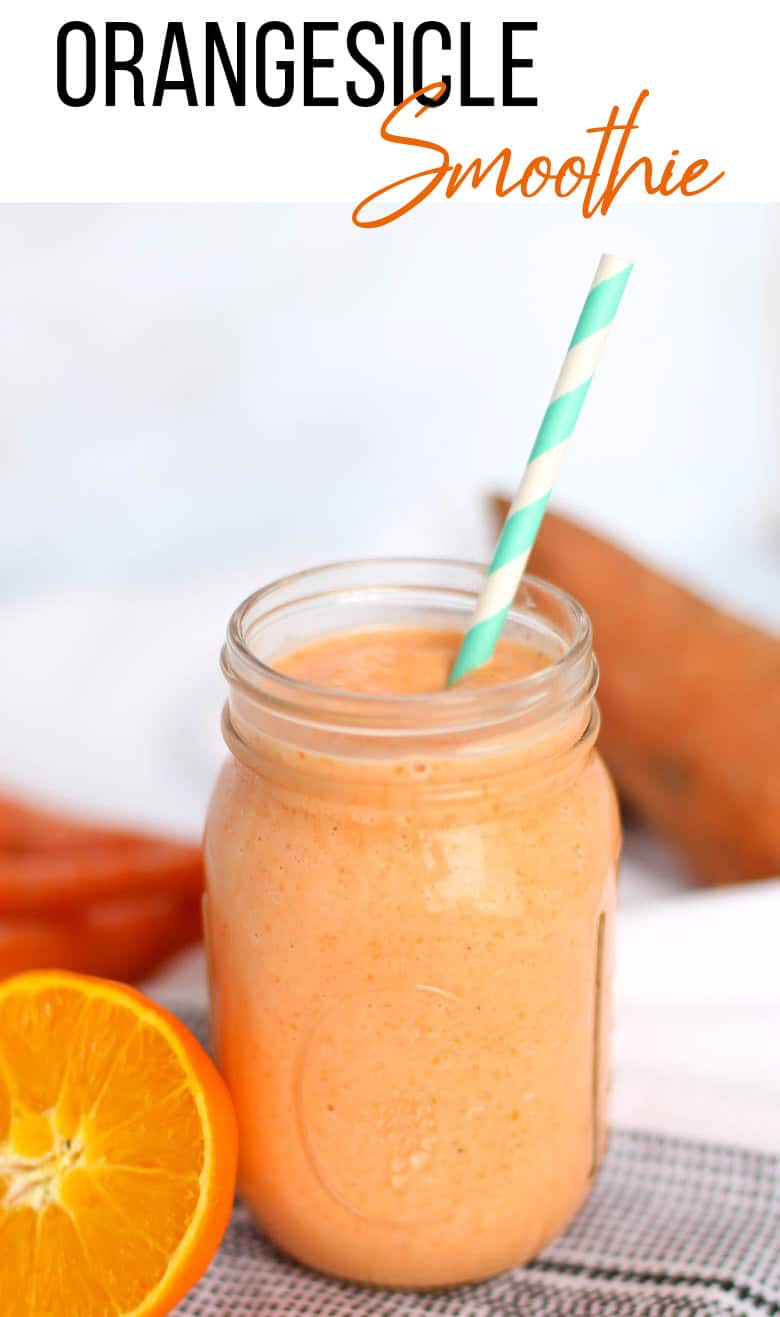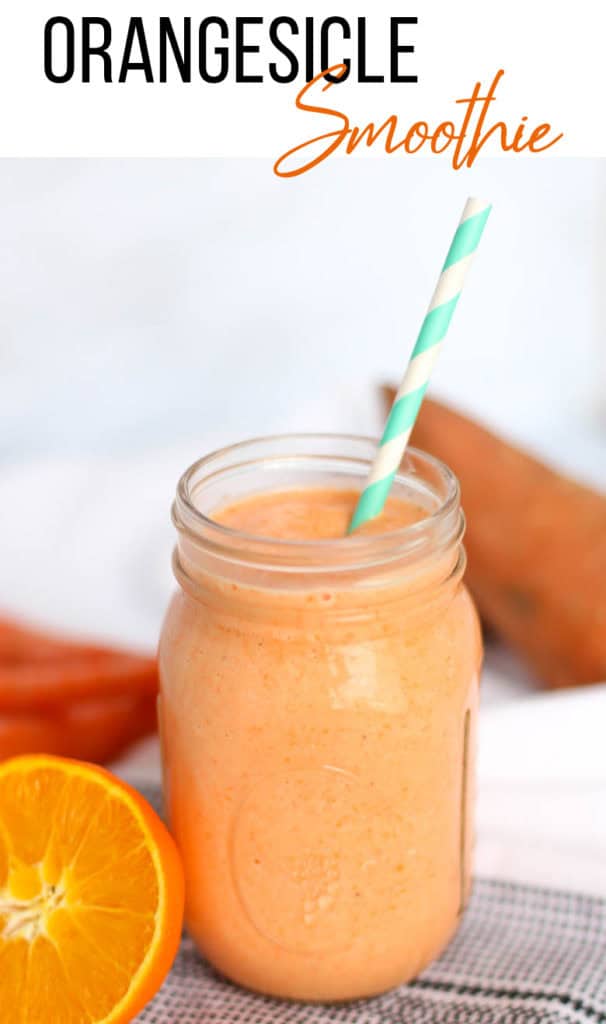 About the Orange Smoothie Recipe
Not only is this "Orangesicle Smoothie" recipe a throw back of one of my favorite childhood treats–the Creamsicle pop–, but it's full of veggies and fruits that provide an abundance of Vitamins C and A, as well as, good ole fiber.
It may surprise you to know that raw sweet potatoes and carrots blend seamlessly into this frothy orange drink and also freeze well in the smoothie packs.
YES – you actually do put RAW sweet potatoes in the smoothie. Crazy right?! But, with a good blender (more on that below) you won't even know that powerhouse ingredient is there.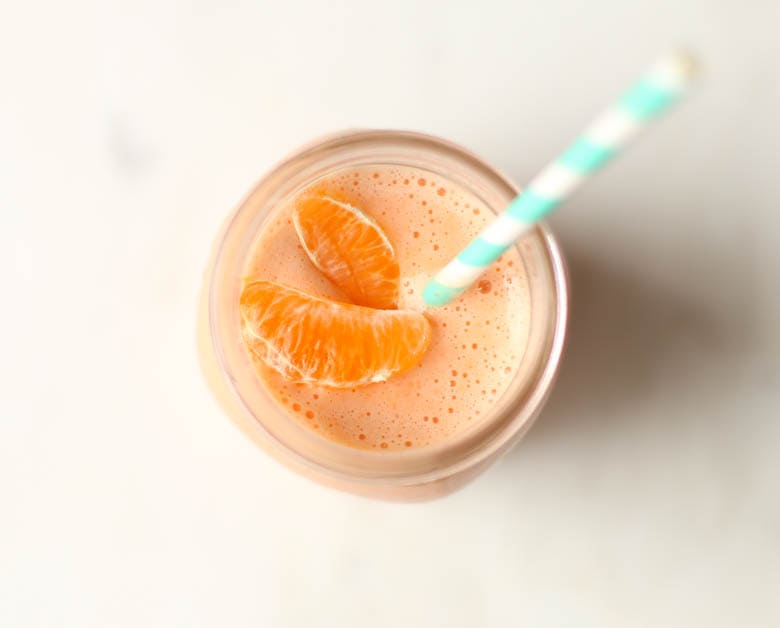 Some of the links in this post are affiliate links. We are a participant in the Amazon Services LLC Associates Program, an affiliate advertising program designed to provide a means for us to earn fees by linking to Amazon.com and affiliated sites. Here's our full disclosure.
Ingredients for the Orange Smoothie Recipe
Here is what you'll need to make your own Orange smoothie:
Unsweetened plain almond milk (or your milk of choice) – I often choose this kind of almond milk to avoid extra dairy and sugar, but feel free to use whatever kind of milk you like.
Orange Juice – look for 100% pure, fresh squeezed orange juice
Vanilla Greek yogurt – I recommend Siggi Vanilla Whole Milk Yogurt because it only has all natural ingredients, it's lower in sugar, and contains a wide variety of probiotics.
Raw Carrot – Yes, raw!
Raw Sweet Potato – Yes again, raw. Trust us, it works!
Banana – The more ripe the better
Clementine or orange
I think smoothies are even more fun to drink when you have some cute paper straws on hand like these to top off your beverage.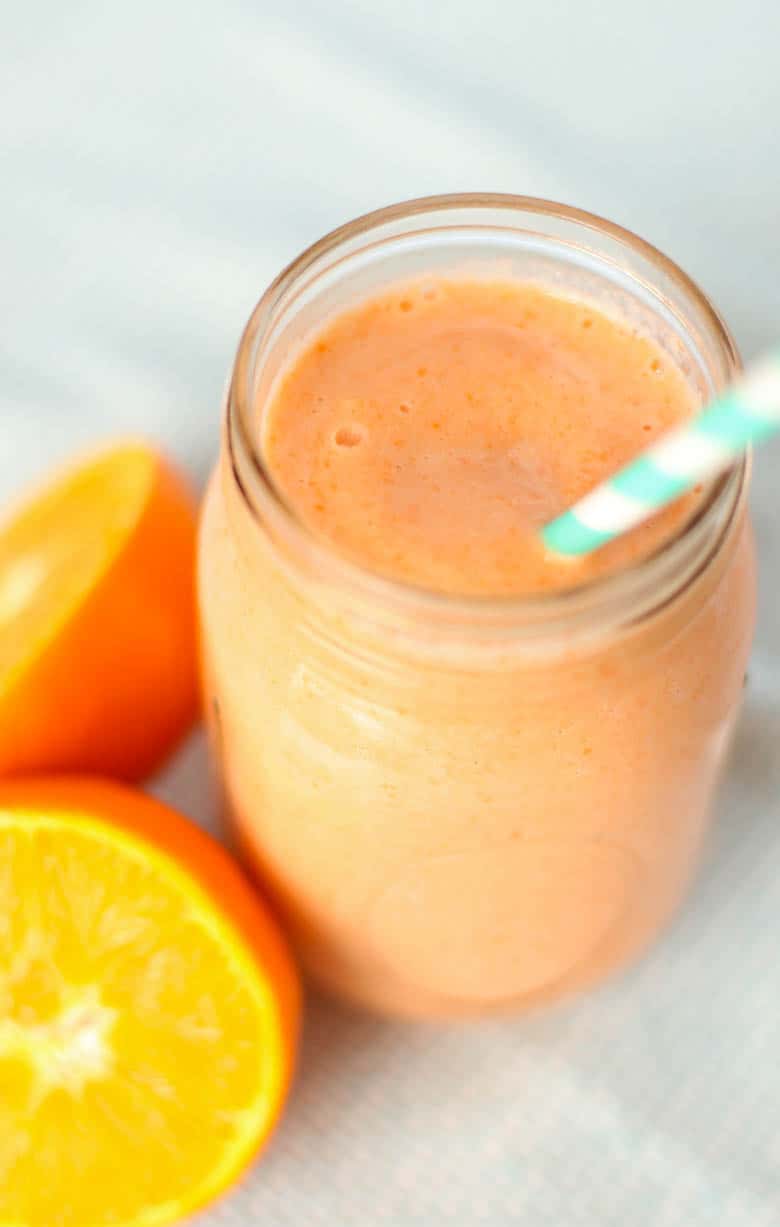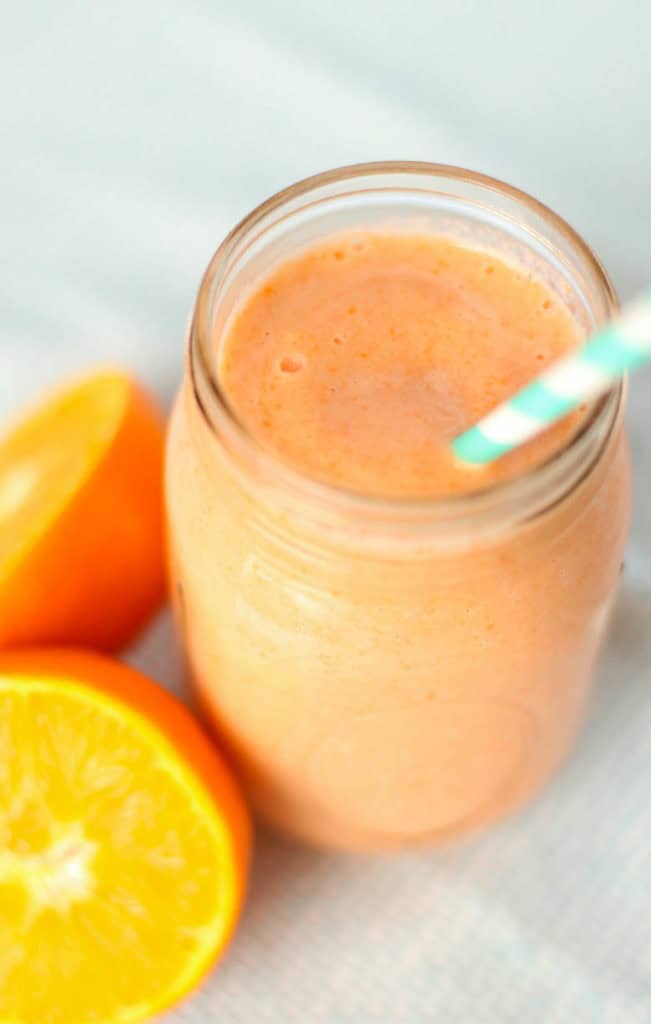 What are Freezer Smoothie Packs?
Having the main ingredients for your smoothie on hand in the freezer in individual packs means healthy eating is right at your fingertips anytime.
Both of us have become smoothie addicts since starting to prep freezer smoothie packs ahead. Just be sure to follow our instructions in the recipe to layer them perfectly.
If you're trying to cut down on plastic bag use like we are, try these reusable silicone bags. We've personally tested these bags for weeks now. I've found them to be easy to rinse out and dry, and they do not leak. They seem well made and worth the investment.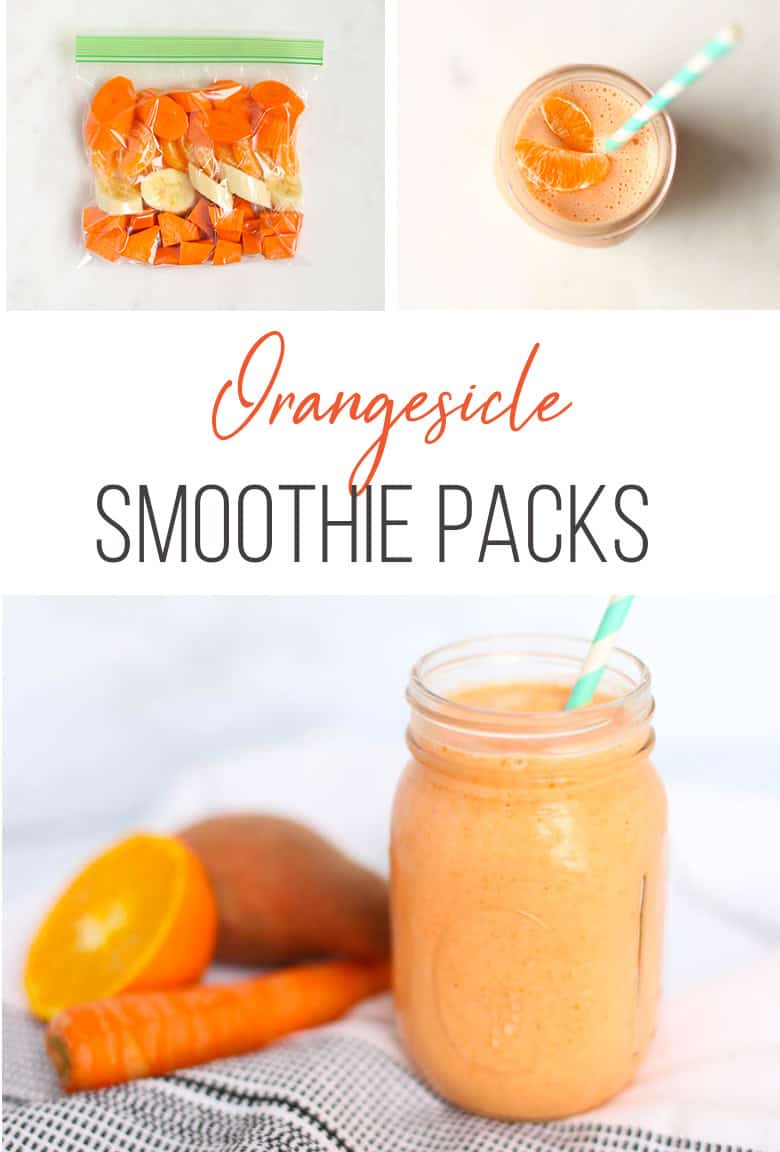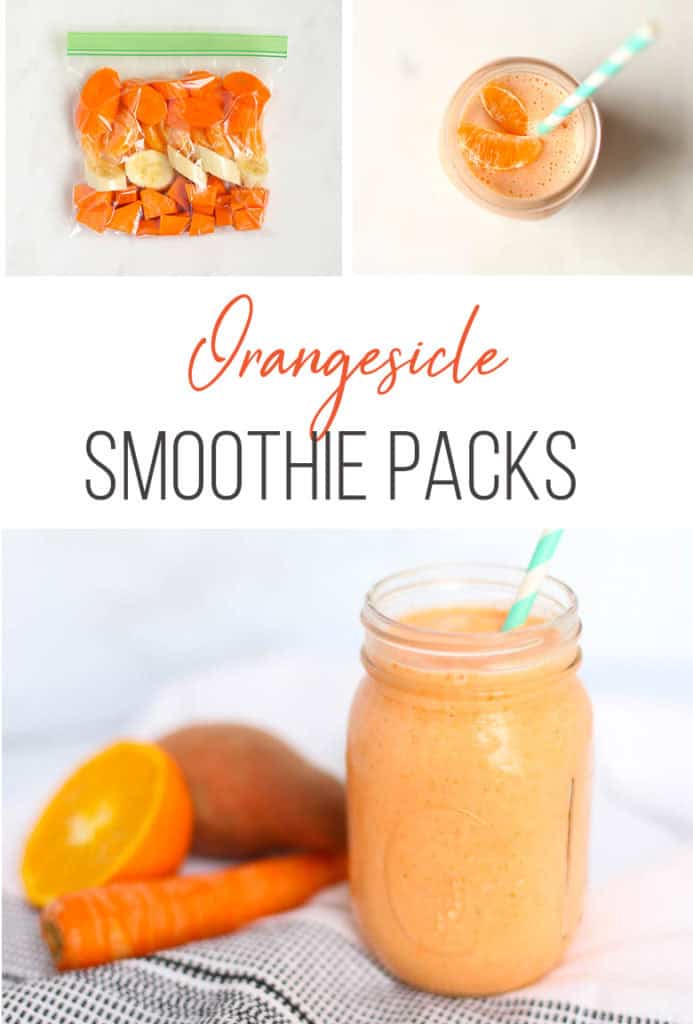 What Blender Do I Need?
If you're committed to consuming more smoothies, we'd recommend investing in a high powered blender. Cheaper blenders can sort of do the job, but you'll get a much better texture with a high-powered blender. My affordable single serving Ninja blender works very well for our single serving smoothies recipes, since it pulverizes everything and fits the ingredients perfectly.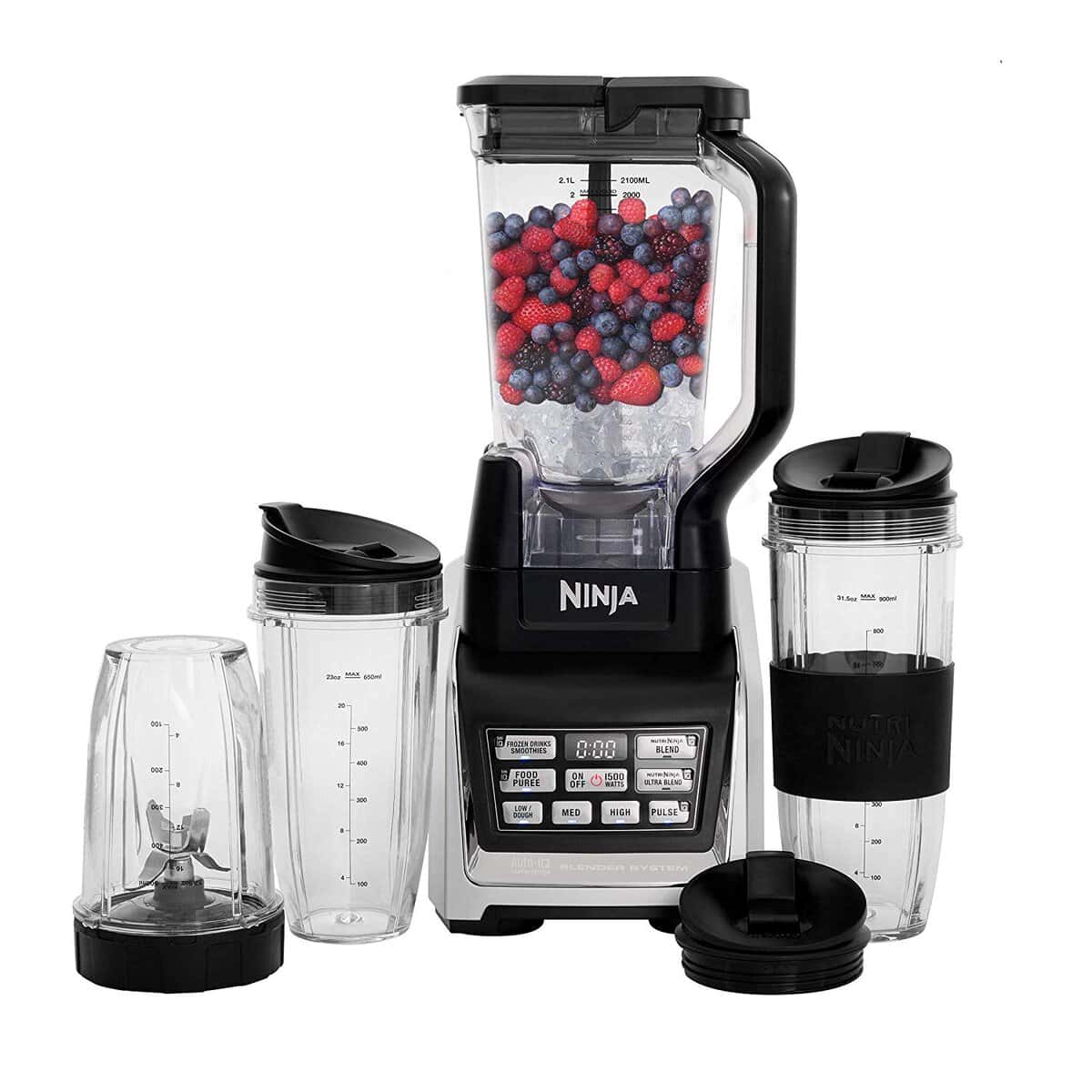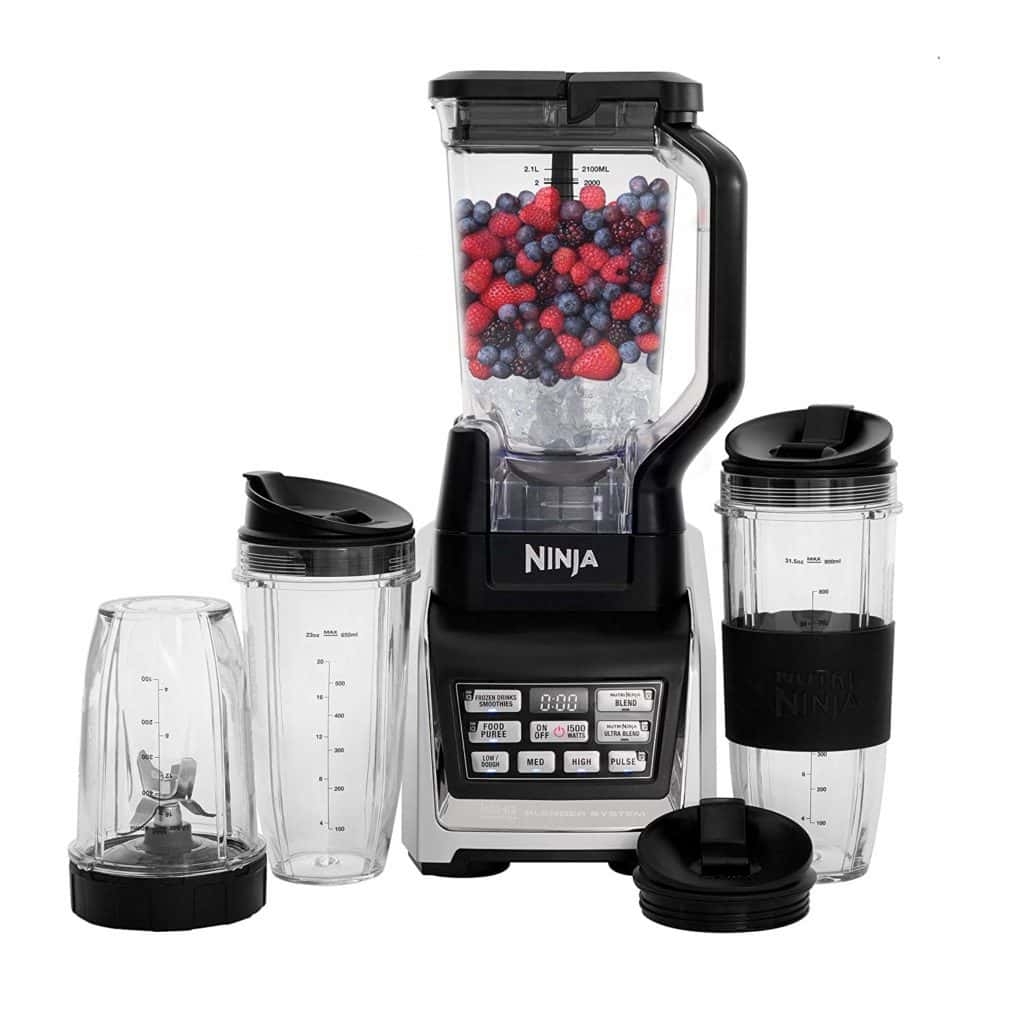 If you want to make large batches of smoothies, I'd recommend saving up for the Vitamix blender. You can find very good refurbished versions on Amazon that will last a long time. My basic refurbished Vitamix lasted over five years with daily use.
Orange Smoothie Pro Tip:
As with all of our healthy smoothie recipes, if you like things sweeter, just add a dollop of honey, pure maple syrup, or agave nectar until you get the flavor you desire. I encourage you to start with no added sweetener, though, and see if you can train your tastebuds to love the natural sweetness of fruit and veggies first.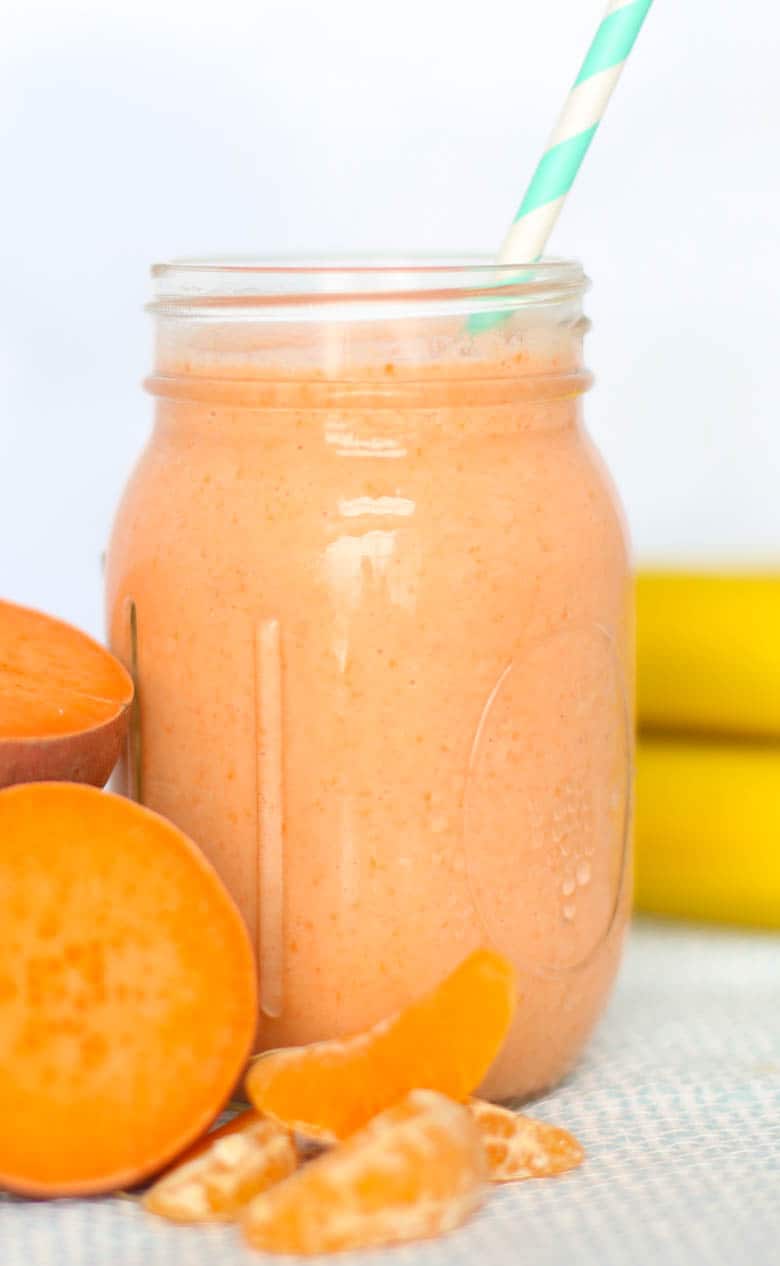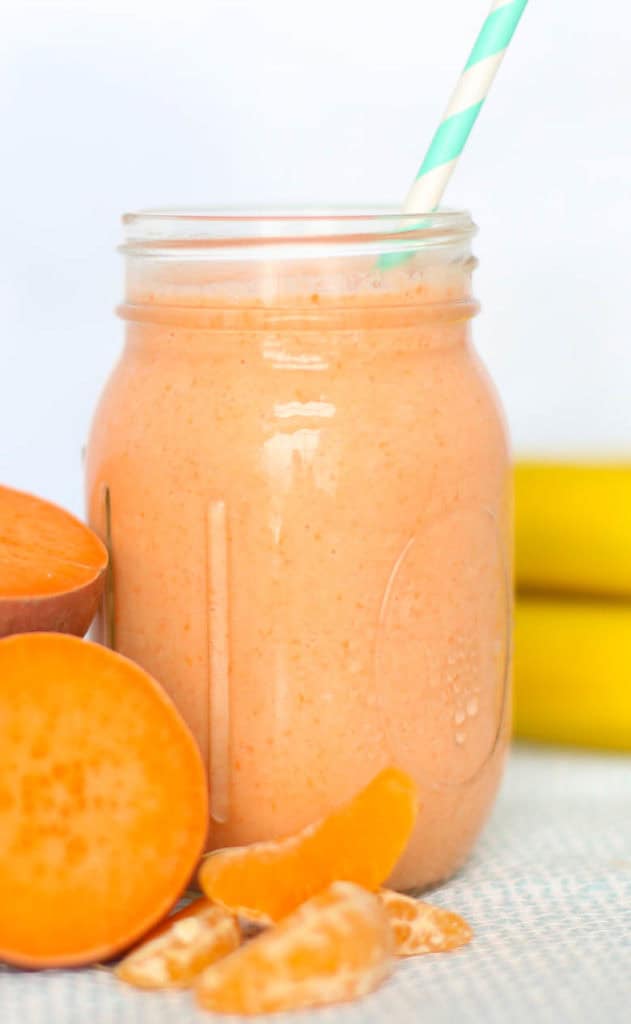 7 Easy, Healthy Smoothie Recipes
We have so many delicious healthy smoothie recipes that you can make ahead and freeze as freezer smoothie packs.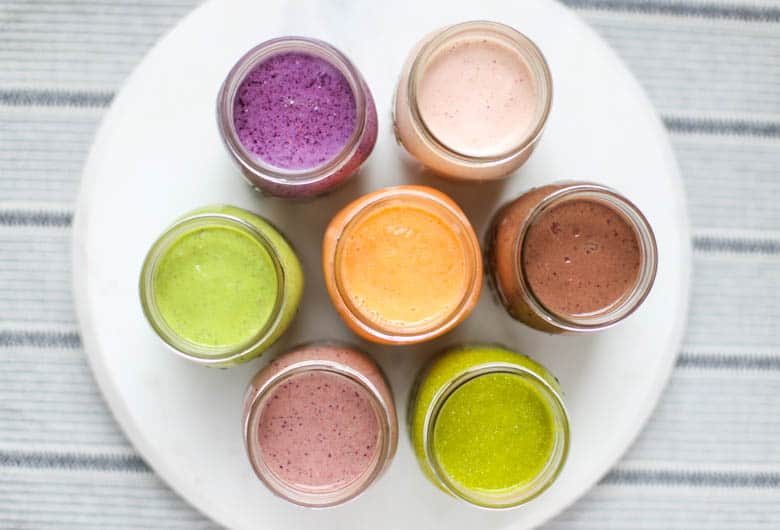 You may want to try (or Pin for later) these others smoothies we've shared so far.
Did you make this? Snap a photo and tag us on Instagram at @thrivinghome so we can see your creations and cheer you on!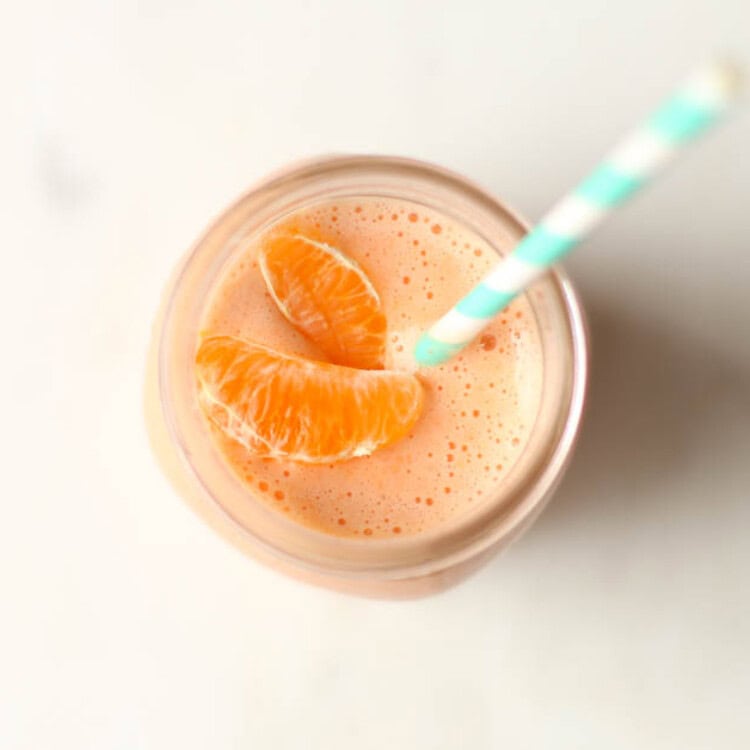 Orangesicle Smoothie
Sweet potato, clementine, carrot, and banana create the base of this easy, heathy smoothie that is reminiscent of the old orange sherbet push-up pops. Yum!
Yield:
One (16 ounce) smoothie
Prep:
3 minutes
Total:
3 minutes
Ingredients
1/2

–

1

cup

unsweetened plain almond milk (or milk of choice)

1/2

cup

orange juice

1/4

cup

vanilla Greek yogurt (recommend Siggi brand)

1/2

cup

RAW peeled, diced sweet potatoes*

1/2

banana, sliced*

1

large clementine, in segments (sub:

1/2

an orange)*

1/2

cup

RAW sliced carrots*
*The smoothie texture is best if these ingredients are frozen beforehand in a freezer smoothie pack. If you don't have time to freeze them, then add a 1/2 cup of crushed ice or more to achieve desired consistency.
Before You Begin! If you make this, please leave a review and rating letting us know how you liked this recipe! This helps our business thrive & continue providing free recipes.
Make It Now:
1. Start by adding 1/2 cup almond milk and 1/2 cup orange juice to a high-powered blender. Then, add all the other ingredients.
2. Blend until smooth. You may need to stop and stir/shake the blender or add up to 1/2 cup more of almond milk, as needed, to make sure it gets smooth.
Make Freezer Smoothie Packs for Later:
1. Layer ingredients in small freezer bags in this order:
½ cup peeled, diced sweet potatoes
½ banana, sliced
1 large clementine, in segments (sub: ½ an orange)
½ cup sliced carrots
2. Seal tightly, squeezing out the air, and freeze for up to 3 months.
3. To Blend: Start by adding 1/2 cup almond milk, 1/2 cup orange juice, and the yogurt into a high-powered blender first. Break up the ingredients in the bag by hitting it on the counter or crunching it with your hands. Dump the ingredients from the bag in and follow blending instructions above.
---
Notes/Tips
Smoothie Packs Delivered to Your Door! If you like the idea of frozen smoothie packs but don't have time, give SmoothieBox a try. I wrote a full review of this smoothie pack delivery service here.
Try All Our Smoothie Pack Flavors:
Smoothie Packs Delivered to Your Door!
If you want to make life really simple, try SmoothieBox. We love these frozen smoothie packs that are delivered to your door.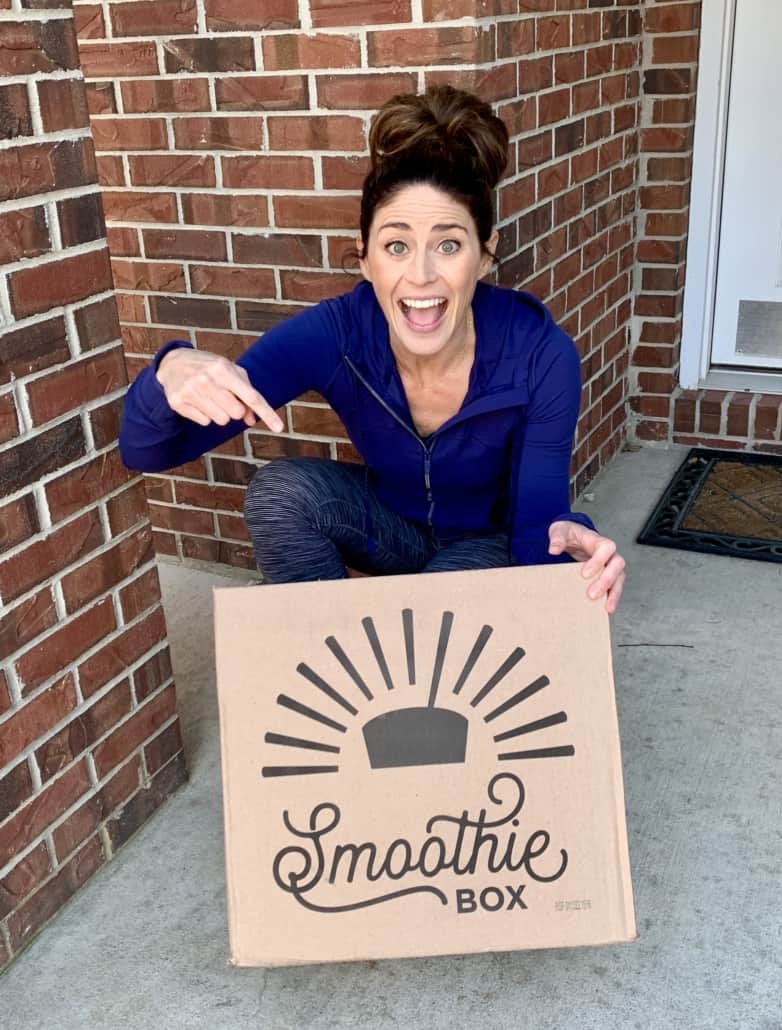 In fact, you can read my full honest review of SmoothieBox here. I love having these in the freezer for days when I just don't have time to whip up a smoothie on my own.