Chocolate Covered Cherry Smoothie
This post may contain affiliate or sponsored links. Please read our disclosure policy.
This easy, healthy Chocolate Covered Cherry Smoothie recipe tastes like a chocolate shake (seriously!) but is chock full of antioxidants and protein thanks to spinach, dark cherries, almond butter, cocoa powder, and more. It's dairy-free, gluten-free, and we teach you how to make it into a freezer smoothie pack for later.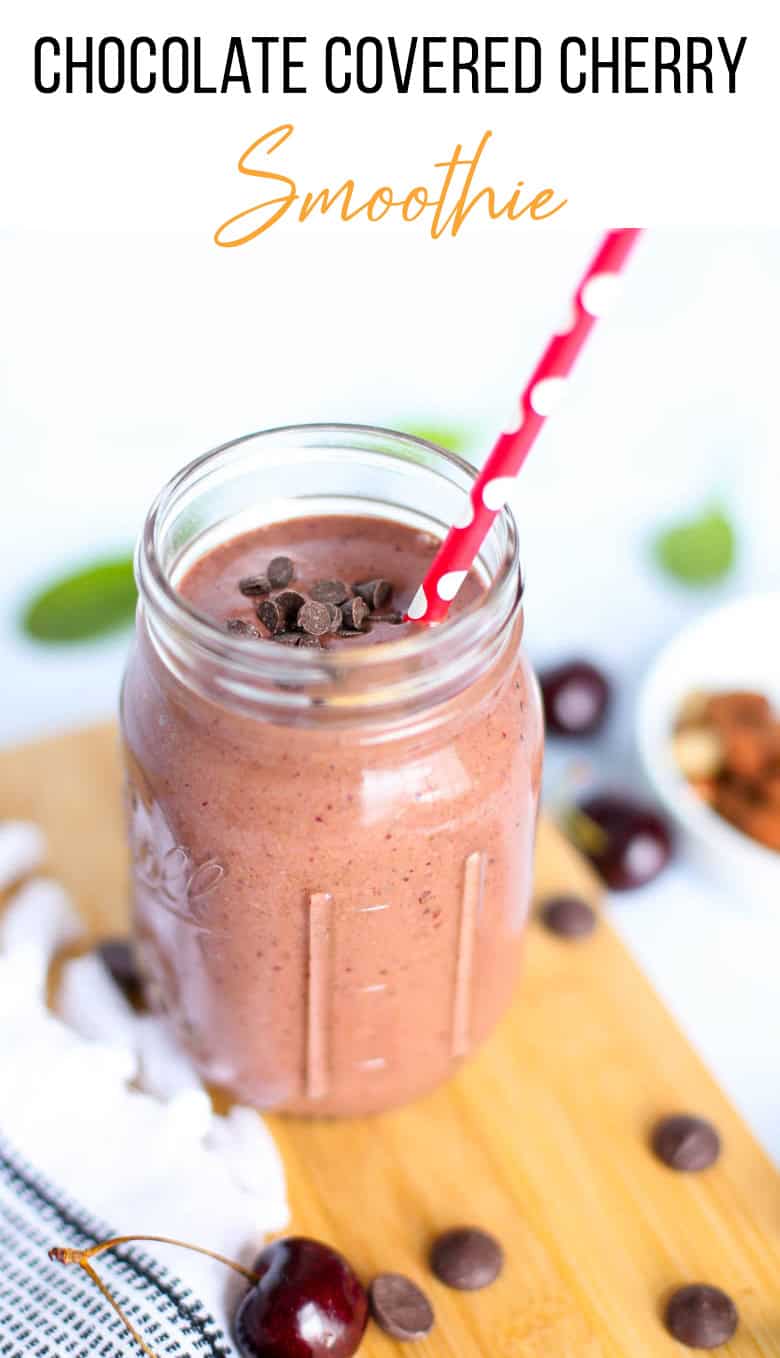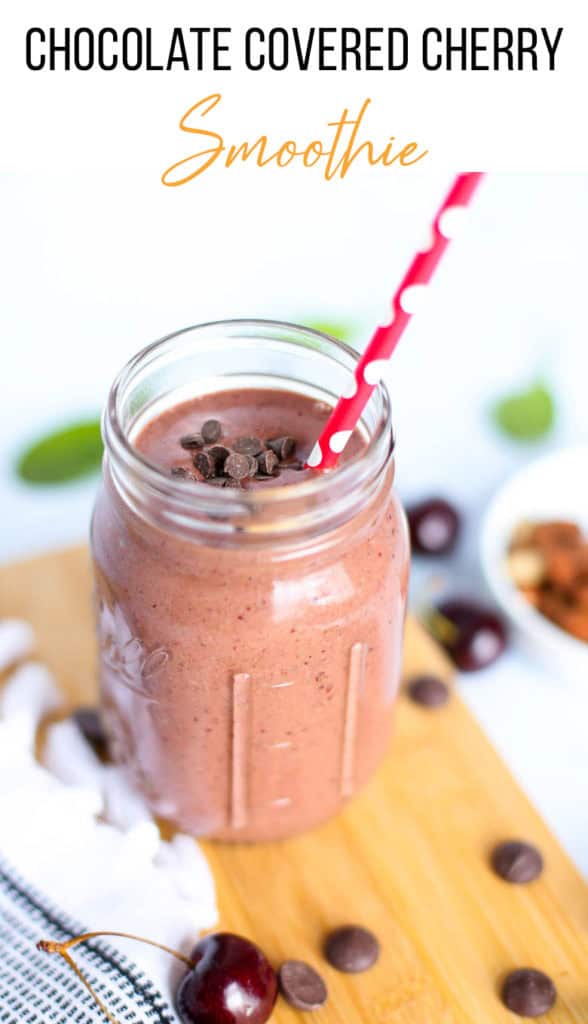 How to Make a Chocolate Covered Cherry Smoothie
This cherry smoothie is hands down, this is the best smoothie recipe I've ever made. In fact, I stopped halfway through writing this blog post to make one! How is that for putting my money where my mouth is!?
It's actually very easy to throw together once you have all the ingredients on hand.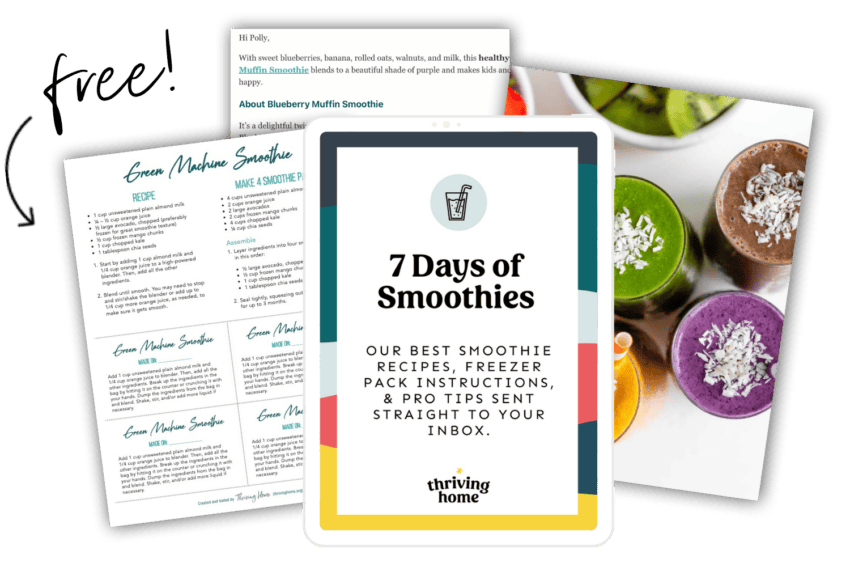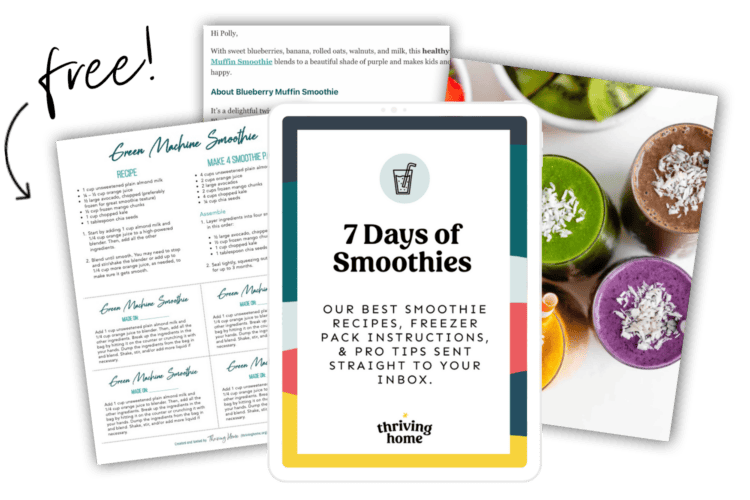 7 Must Have Smoothie Recipes
Get our best smoothie recipes, freezer pack instructions, & pro tips sent straight to your inbox.
Cherry Smoothie Ingredients:
Almond milk (or substitute your favorite milk of choice)
Banana (preferably frozen in slices to create the perfect smoothie texture)
Frozen dark sweet cherries (NOT tart red cherries) – Check out the health benefits of cherries!
Baby spinach (I prefer organic, which is easy to find)
Almond butter (or substitute your favorite nut butter)
100% cocoa powder or cacao powder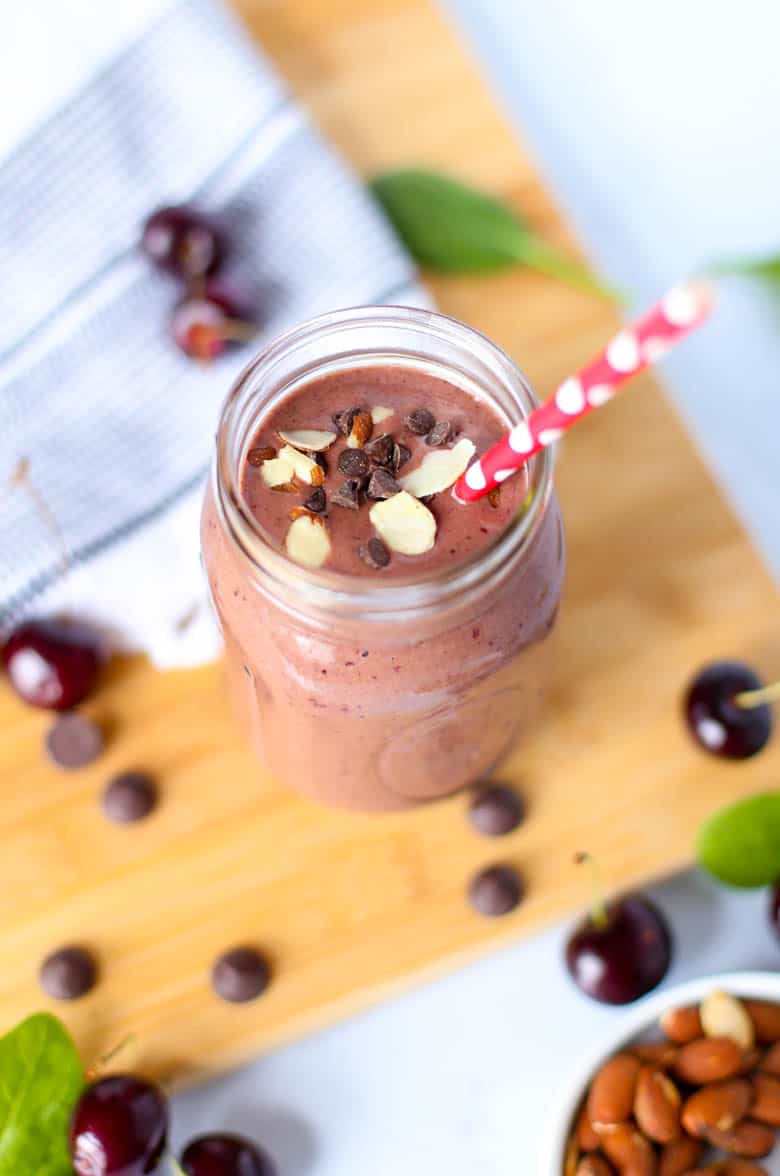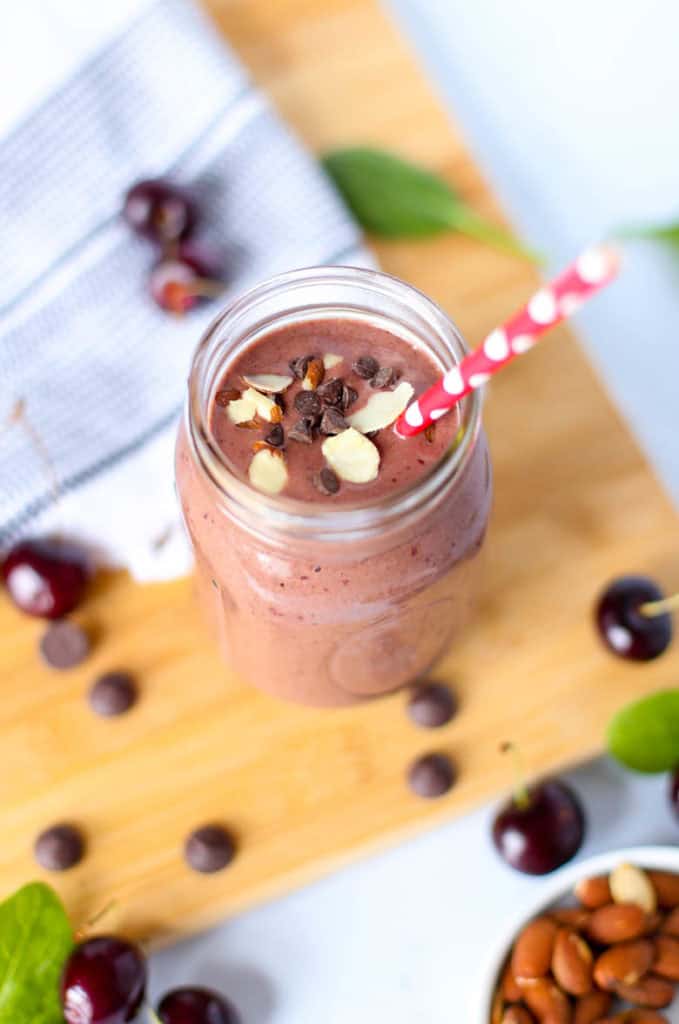 What Type of Cherries Should I Use for a Cherry Smoothie?
It's important to note that you will need the dark, sweet cherries. I tested this with the tart red version, as well as strawberries, and it just wasn't the same. Neither of those fruits were as sweet.
You may have to hunt a bit to find which store carries them. They can also be pricey so try to buy in bulk when on sale if possible!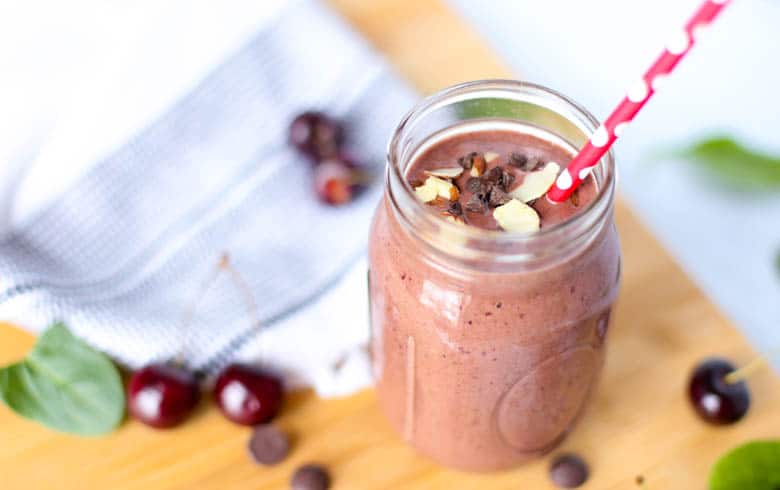 Cherry Smoothie Pro Tips
If you really like things sweet, you may want to add a dollop of raw honey.
You will NOT taste the spinach but still enjoy all the health benefits of slurping up your greens.
Peanut butter does NOT work as a great substitution to the almond butter. It's got too much salt and throws the taste off.
You could sub kale for the spinach.
Make smoothie packs with this recipe! See instructions below.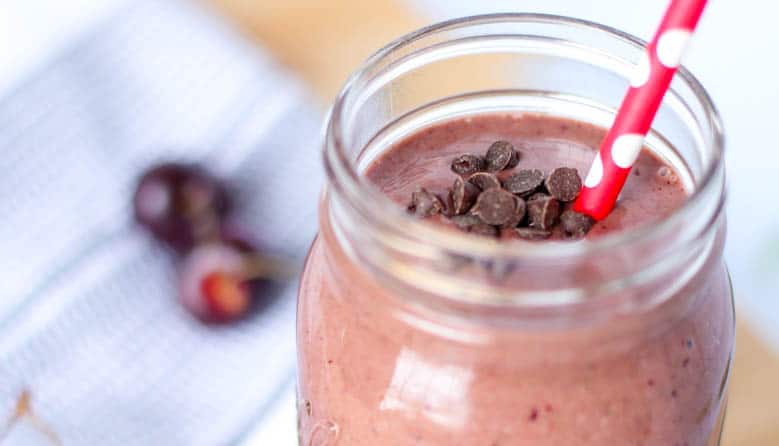 What Blender Do I Need to Make this Cherry Smoothie?
Now, let's talk blenders for a minute. Not all of them are created equal.
I've owned a lot of brands over the years–Frigidaire, Cuisinart, Ninja, Vitamix, and Oster. To really pulverize the freezer smoothie packs, you'll need a high-powered blender.
The two blenders that stand out as clear winners from my experience are:
The Vitamix because it is very high-powered, super simple, and will last for an eon. We both have this blender and it's the BEST.
A more affordable option is the Nutri Ninja Personal and Countertop Blender. This makes smooth smoothies and allows me to make single serving smoothies. The big blender doesn't pulverize as well as the smaller containers do or the Vitamix, just so you know. We use the single-serving blender daily!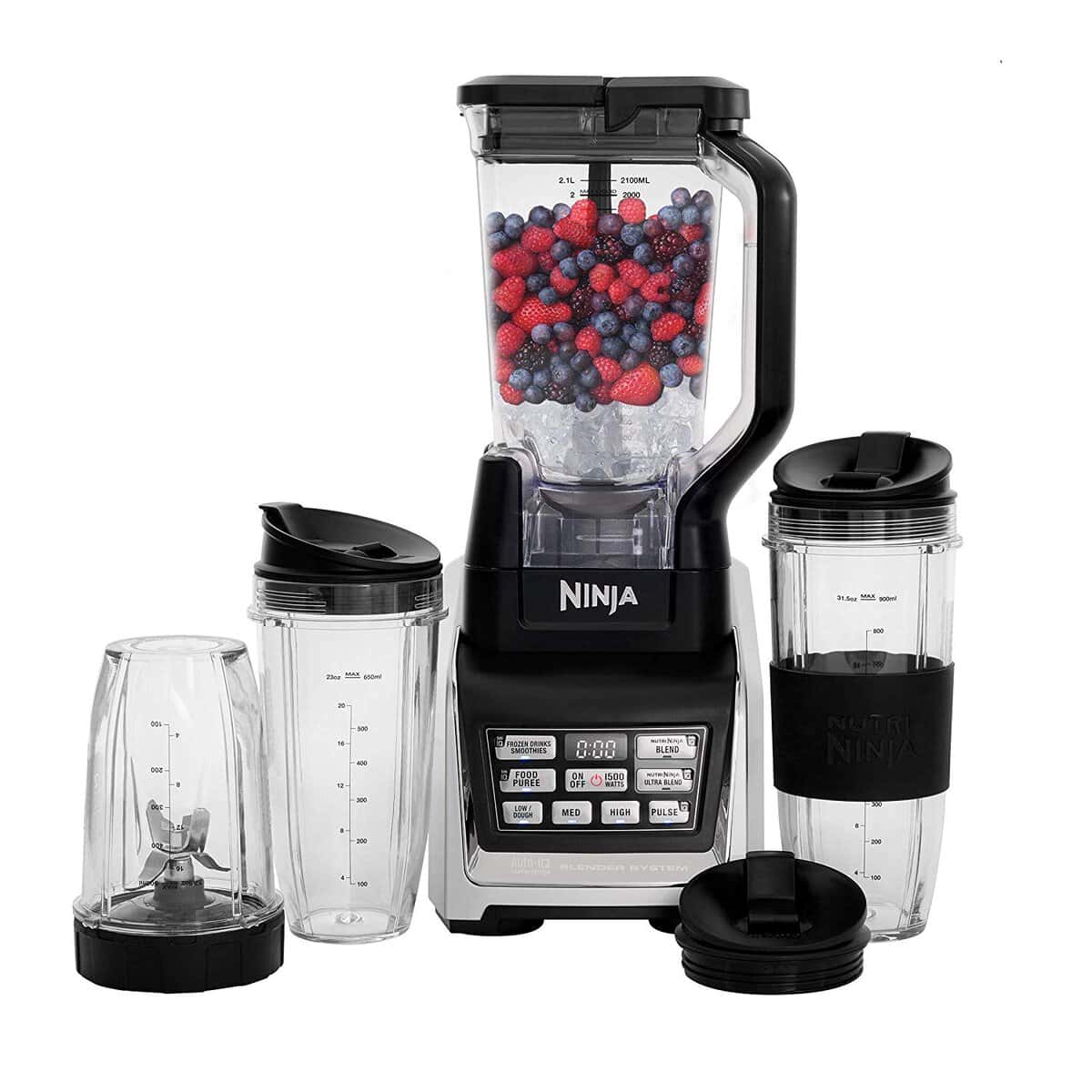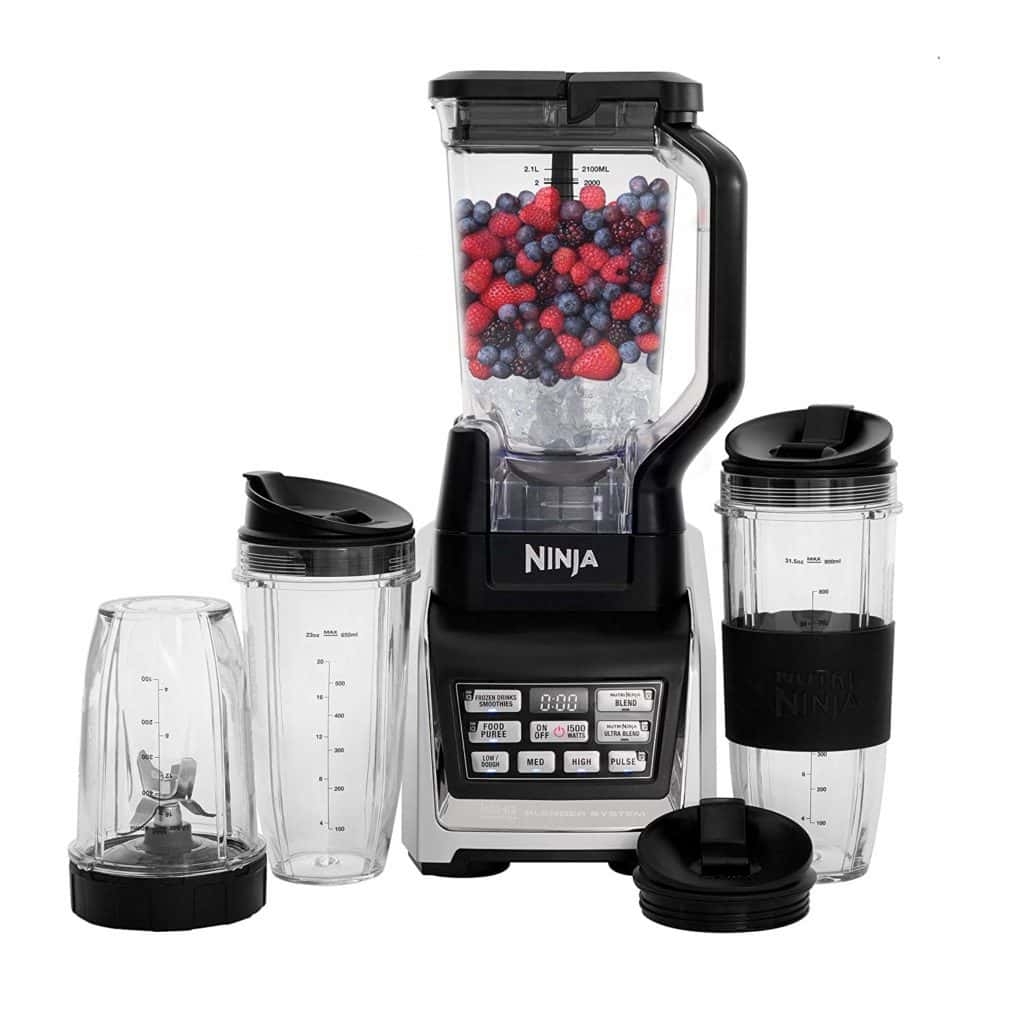 Alright now, if you've got your blender and ingredients on hand, it's time to make your delicious chocolate shake…I mean your healthy Chocolate Covered Cherry Smoothie!
Or, spend a few minutes dividing up ingredients and make some freezer smoothie packs for later.
How to Make It into a Freezer Smoothie Pack
What are freezer smoothie packs?
Only the best, most genius idea ever. You'll simply toss most of your smoothie ingredients in a freezer bag/container to have on hand in the freezer. (Be sure to follow our layering instructions below.) Then you can throw together a delicious, nutrient dense smoothie for breakfast, as a snack, or as a meal replacement anytime.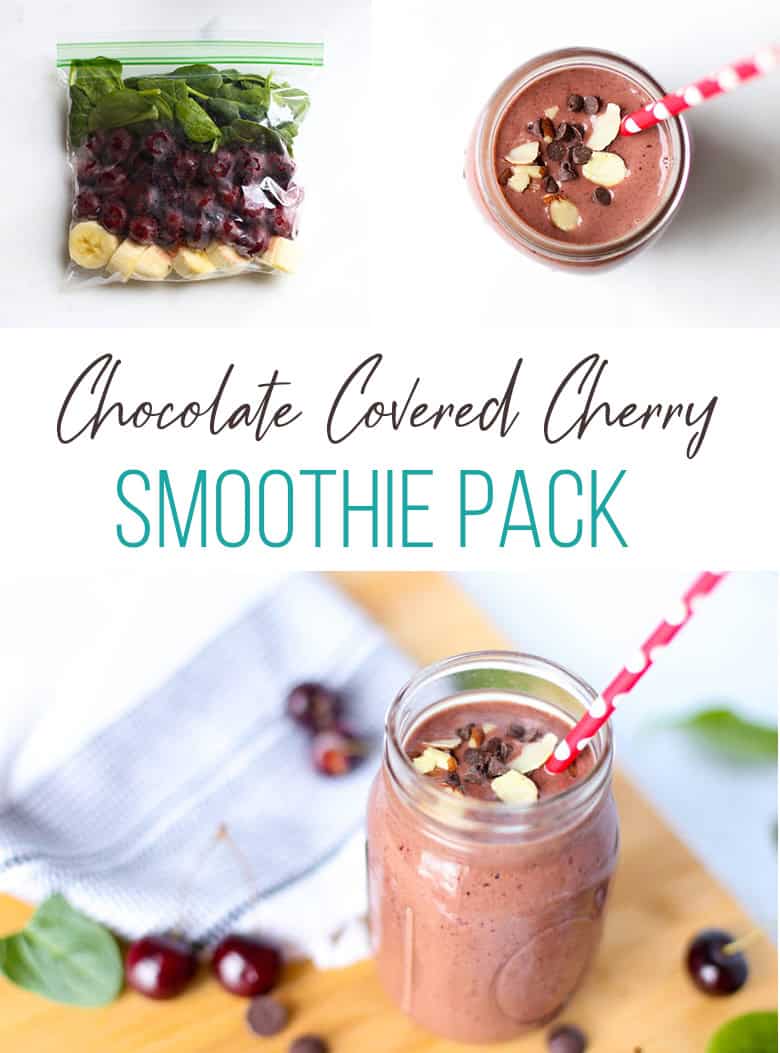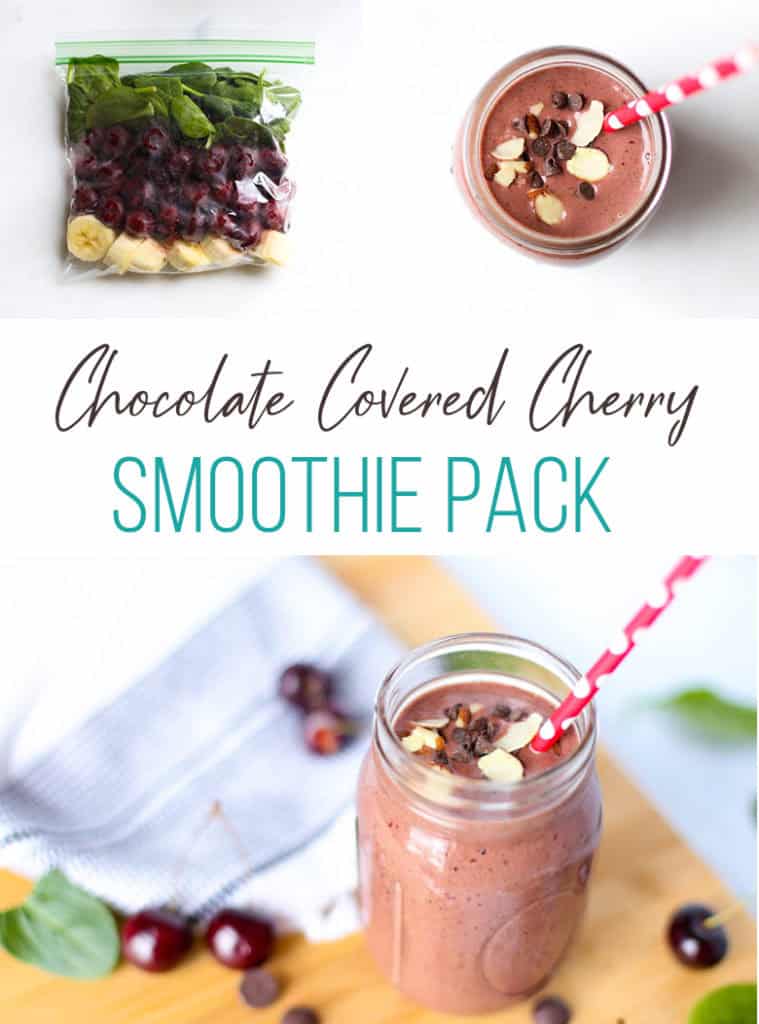 Amazingly, all of the fruits, vegetables, and add-ins that we've tested from frozen have worked well in a smoothie. That's not always the case when you freeze certain fruits/vegetables for other uses, however. Smoothies are very forgiving!
More Smoothie Recipes:
Try making these other smoothies that we've shared in this series or Pin them for later:
Did you make this? Snap a photo and tag us on Instagram at @thrivinghome so we can see your creations and cheer you on!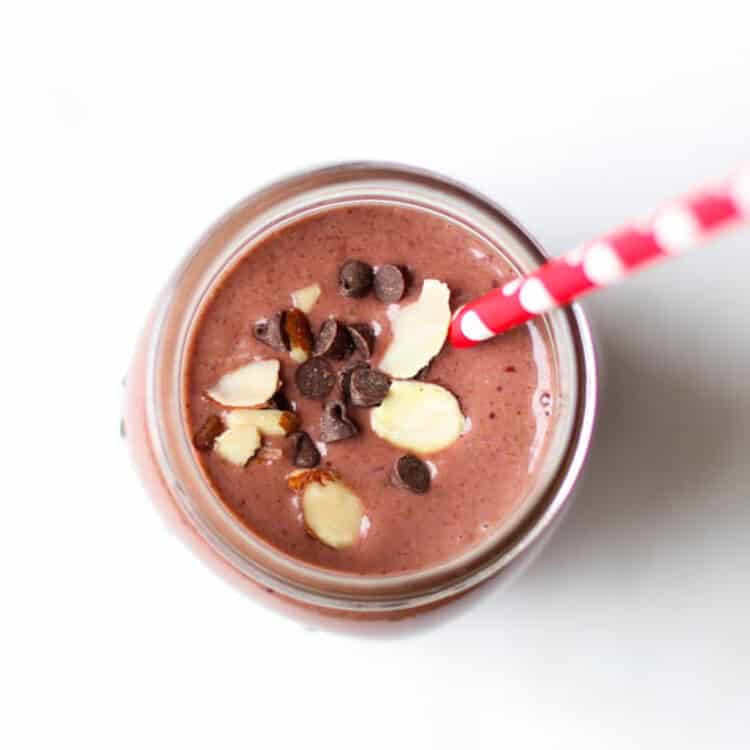 Chocolate Covered Cherry Smoothie
This Chocolate Covered Cherry Smoothie tastes like dessert but is chock full of antioxidants and protein thanks to spinach, dark cherries, almond butter, cocoa powder, and more. Easy, single serving smoothie that can be made into a smoothie pack, too.
Yield:
One

16 ounce

smoothie (or two

8 ounce

smoothies)

1

x
Prep:
3 minutes
Cook:
0 minutes
Total:
3 minutes
Smoothie Packs Delivered to Your Door!
If you want to make life really simple, try SmoothieBox. We love these frozen smoothie packs that are delivered to your door.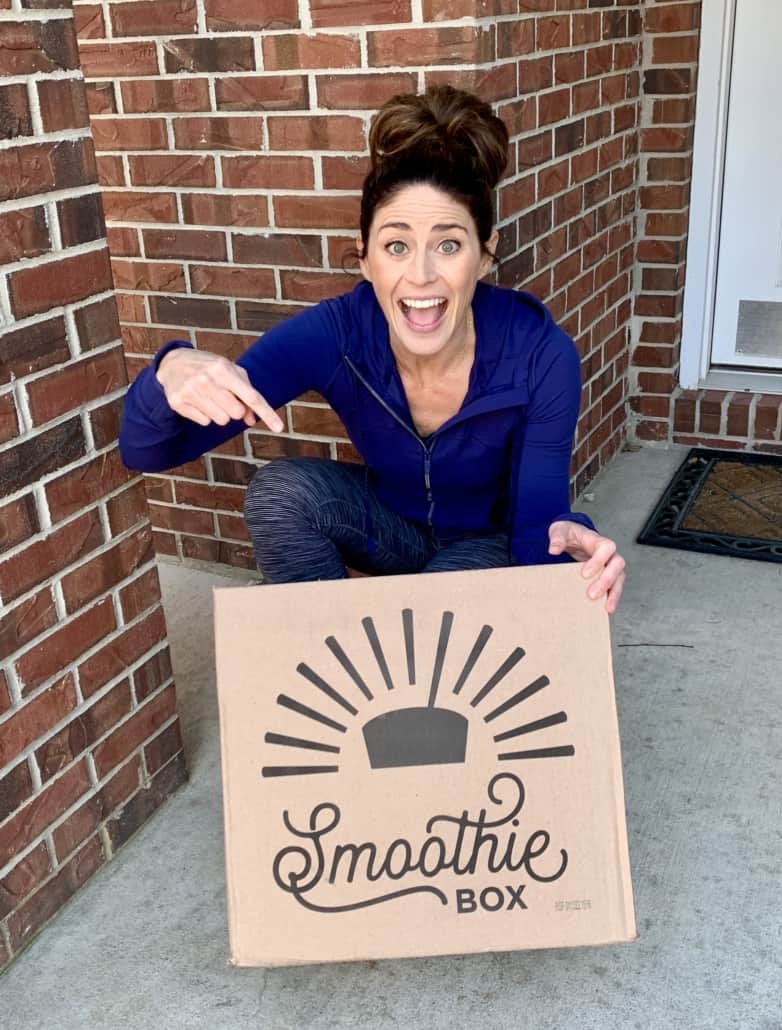 In fact, you can read my full honest review of SmoothieBox here. I love having these in the freezer for days when I just don't have time to whip up a smoothie on my own.