Chocolate Protein Mug Cake
This post may contain affiliate or sponsored links. Please read our disclosure policy.
This decadent-tasting chocolate and peanut butter protein mug cake satisfies your hunger and sweet tooth without the guilt. It only takes a few ingredients and just 2-3 minutes in the microwave.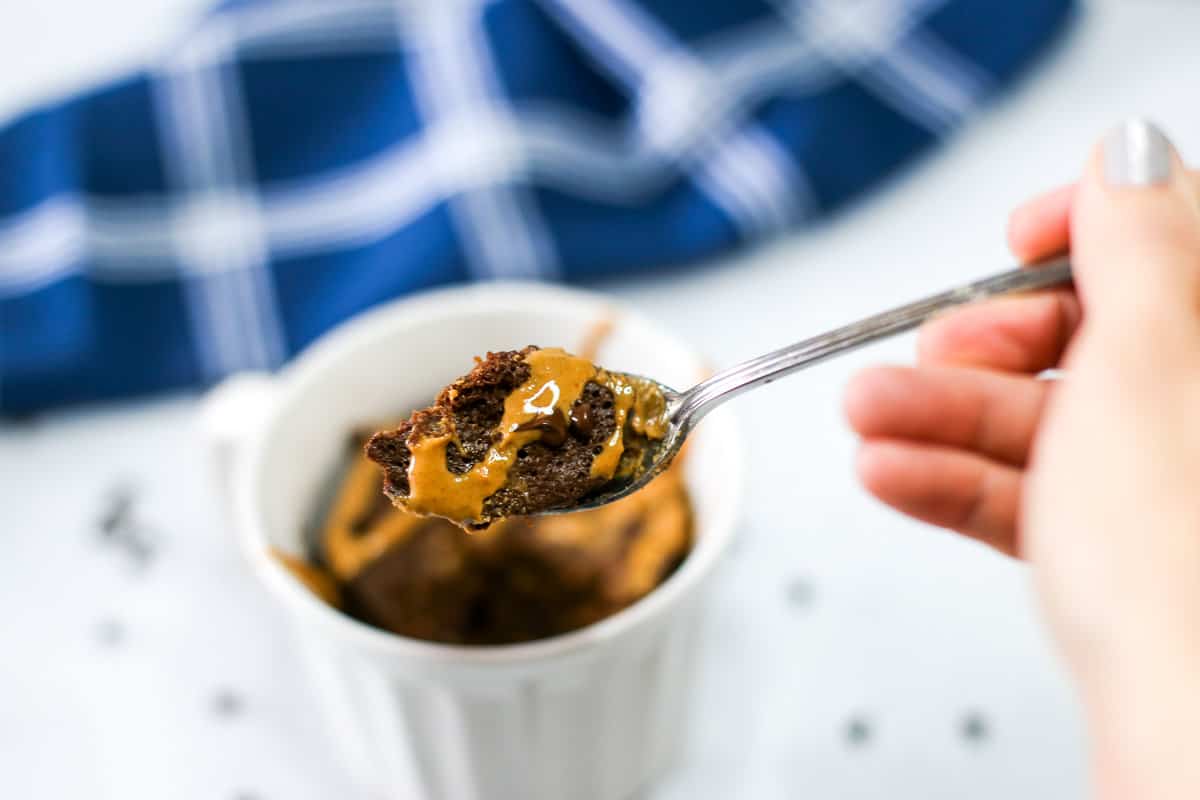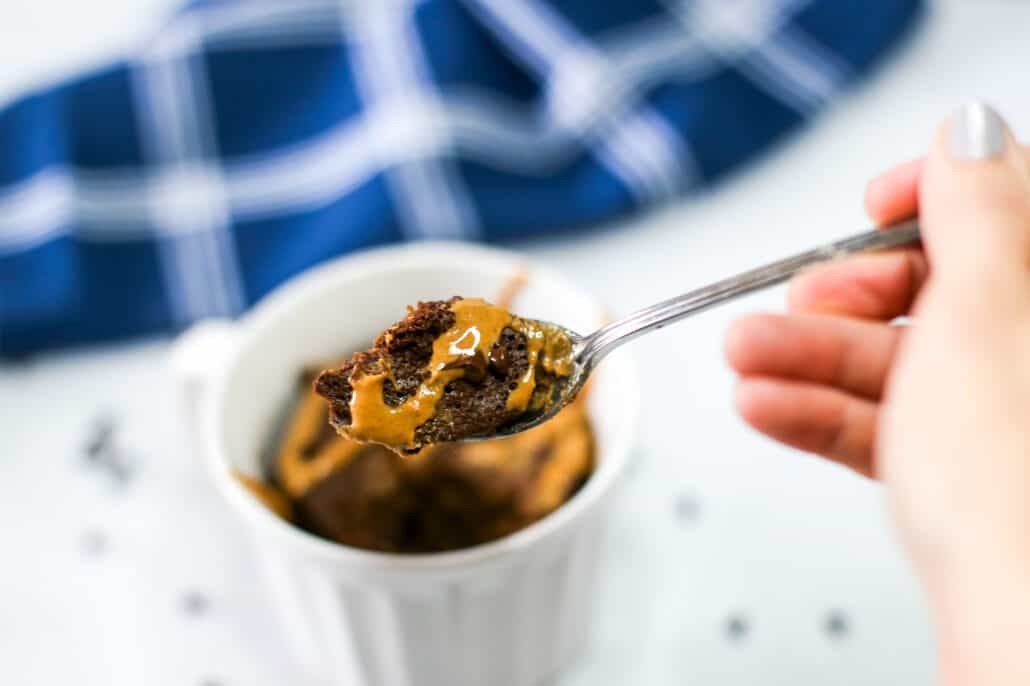 Why My Junk-Food Loving Teen Developed This Recipe
My 16-year-old son developed this recipe after weeks and weeks of testing. His story might give other parents hope when it comes to a junk-loving teen.
He runs anywhere from 30-40 miles per week with his cross country team and also lifts weights or does calisthenics 5x/week on his own. This kid has always been disciplined when it comes to exercise, but diet? Not so much. He's a typical American teen boy after all.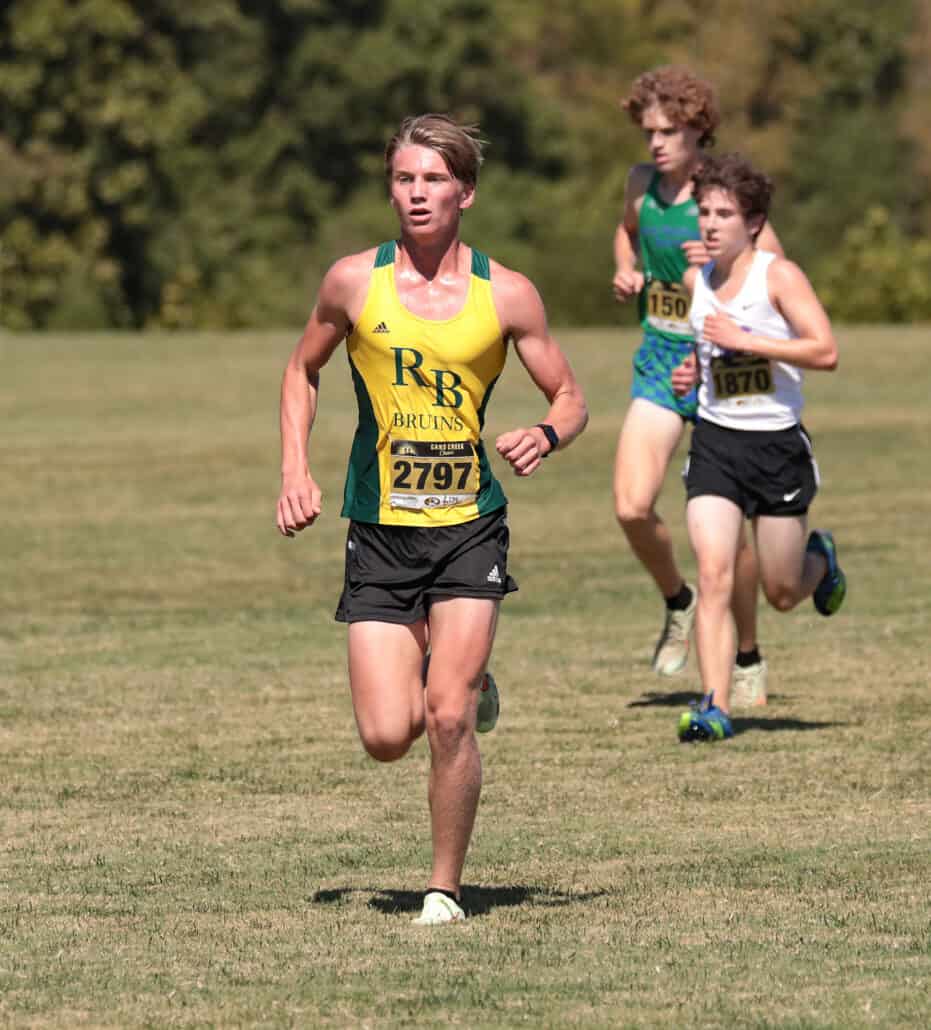 About 8 months ago, he began researching how diet would affect his training and–lo and behold–learned that what his mom had been telling him for years: what we put into our bodies affects how we feel and perform. 😉 During that time, he made a commitment to cut out most junk food from his diet, giving himself one cheat day per week.
In an attempt to replace dessert with something that would be better for his body, he started experimenting with different mug cake recipes. Within a few weeks, he had perfected his own version–making sure it tasted good but was low in sugar and had extra protein for his training needs.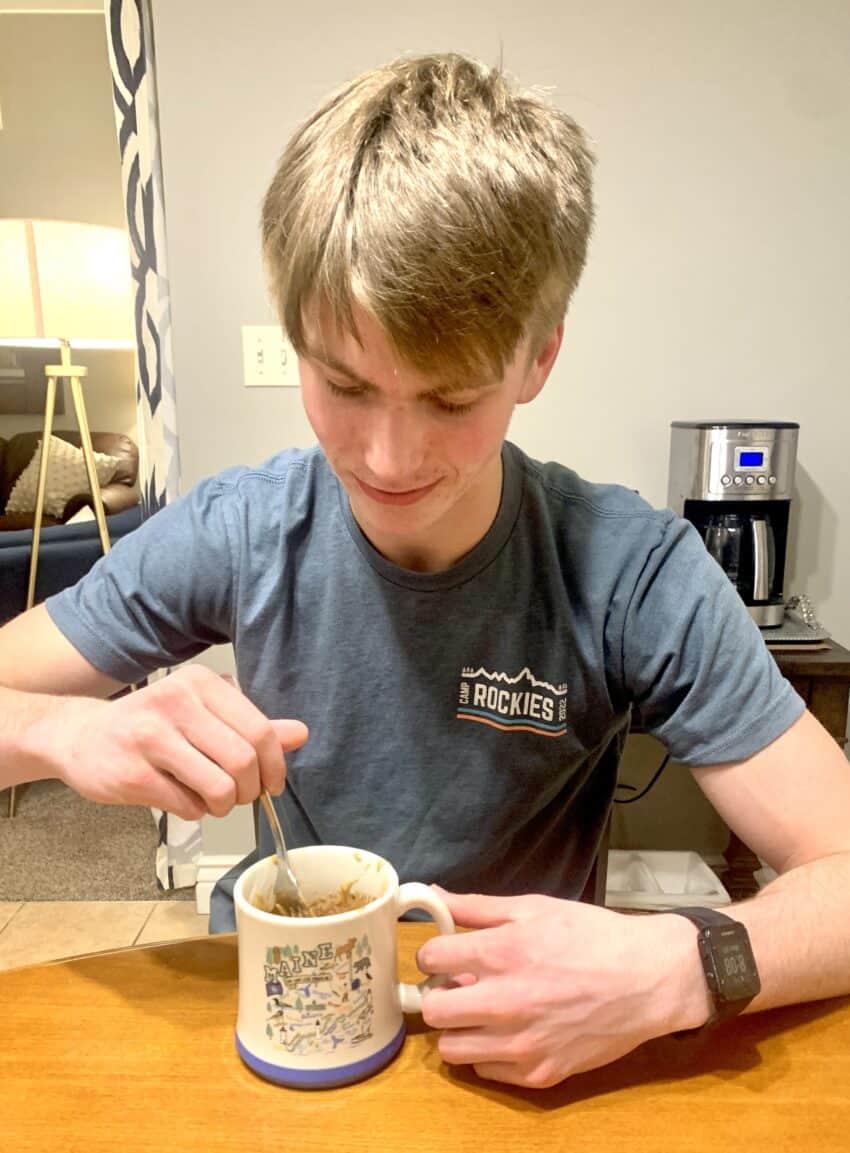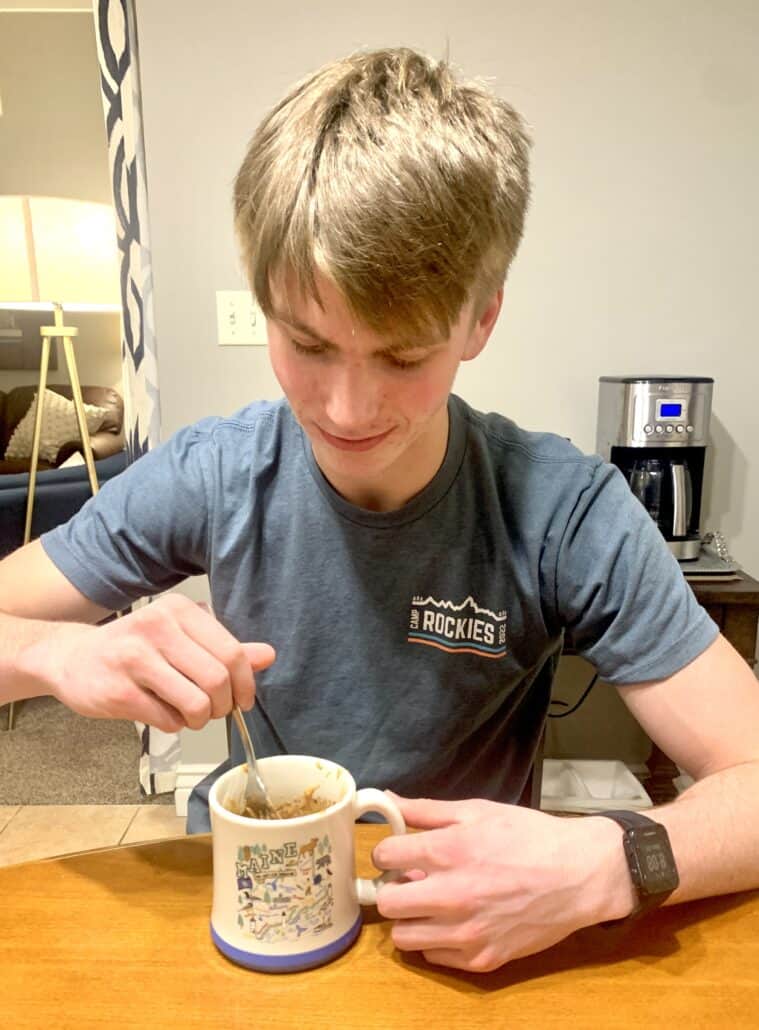 He now makes this mug cake 3-4x/week and says it satisfies his cravings for something chocolatey and sweet. His favorite way to eat it is with lots of melty peanut butter over the top.
The best part: my son said he can feel the difference in his training since giving up most added sugars and dairy. As an aside, his skin has cleared up significantly as well.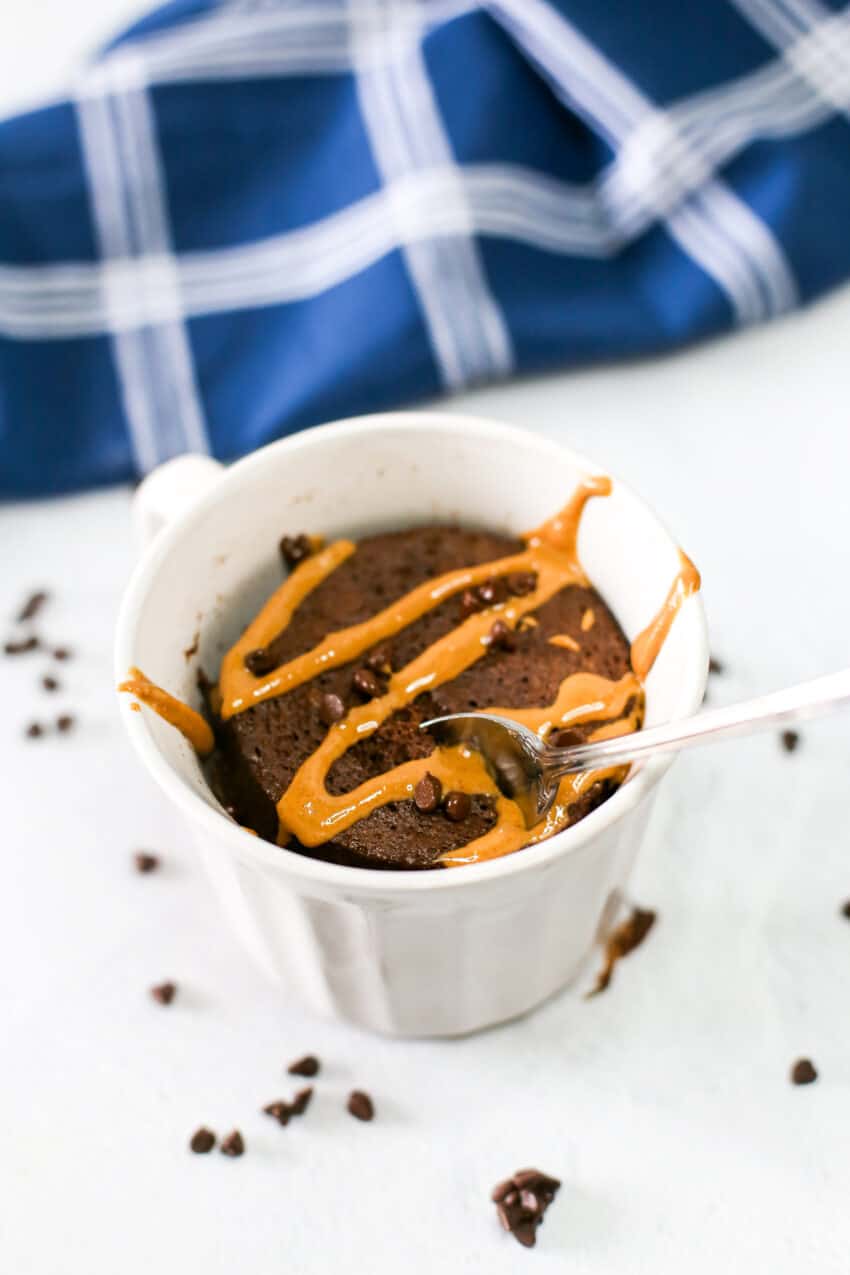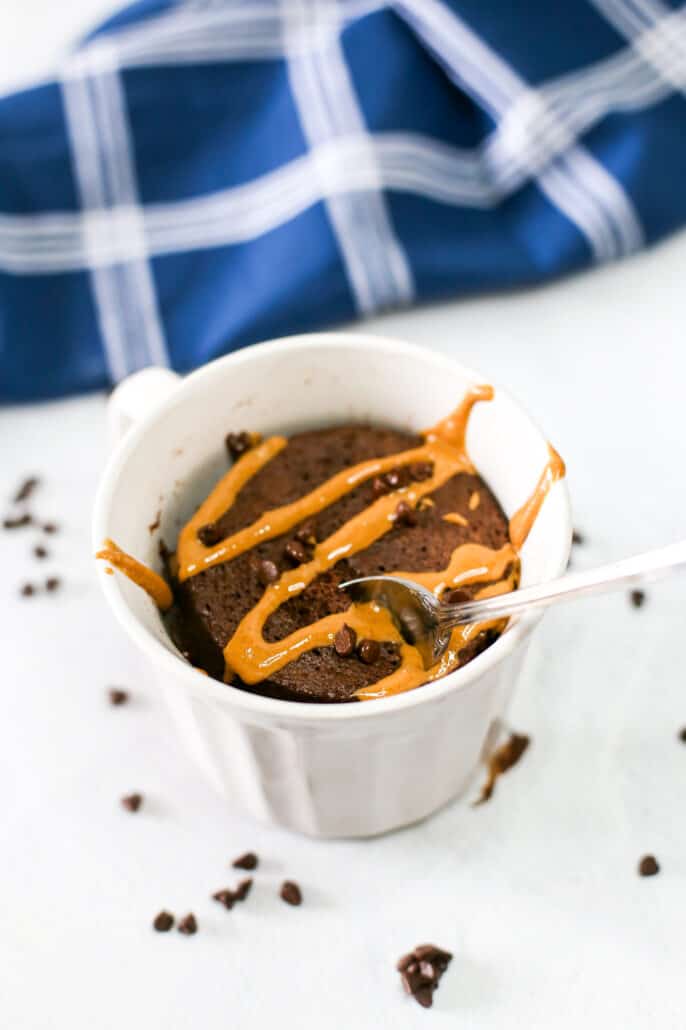 Now, here are the ingredients you'll need on hand to make this super quick "dessert".
Egg
Milk – Any kind will work, so it's easy to make this a dairy-free mug cake.
Chocolate protein powder* – I use Orgain brand, which has no added sugars but has 5g Erythritol.
All purpose or white whole-wheat flour
Cocoa powder or cacao powder
Baking powder
Sugar – Only 1 tablespoon but it's optional. Not all protein powders have sweeteners in them, so you might have to add sugar depending on your protein powder.
Peanut butter – I find that this is an essential ingredient to drizzle over the top. Not only does it add more protein, but it pairs perfectly with the chocolate. Almond butter or sunbutter will work, too.
Mini chocolate chips – This is optional, but it's fun to sprinkle a few chocolate chips on top.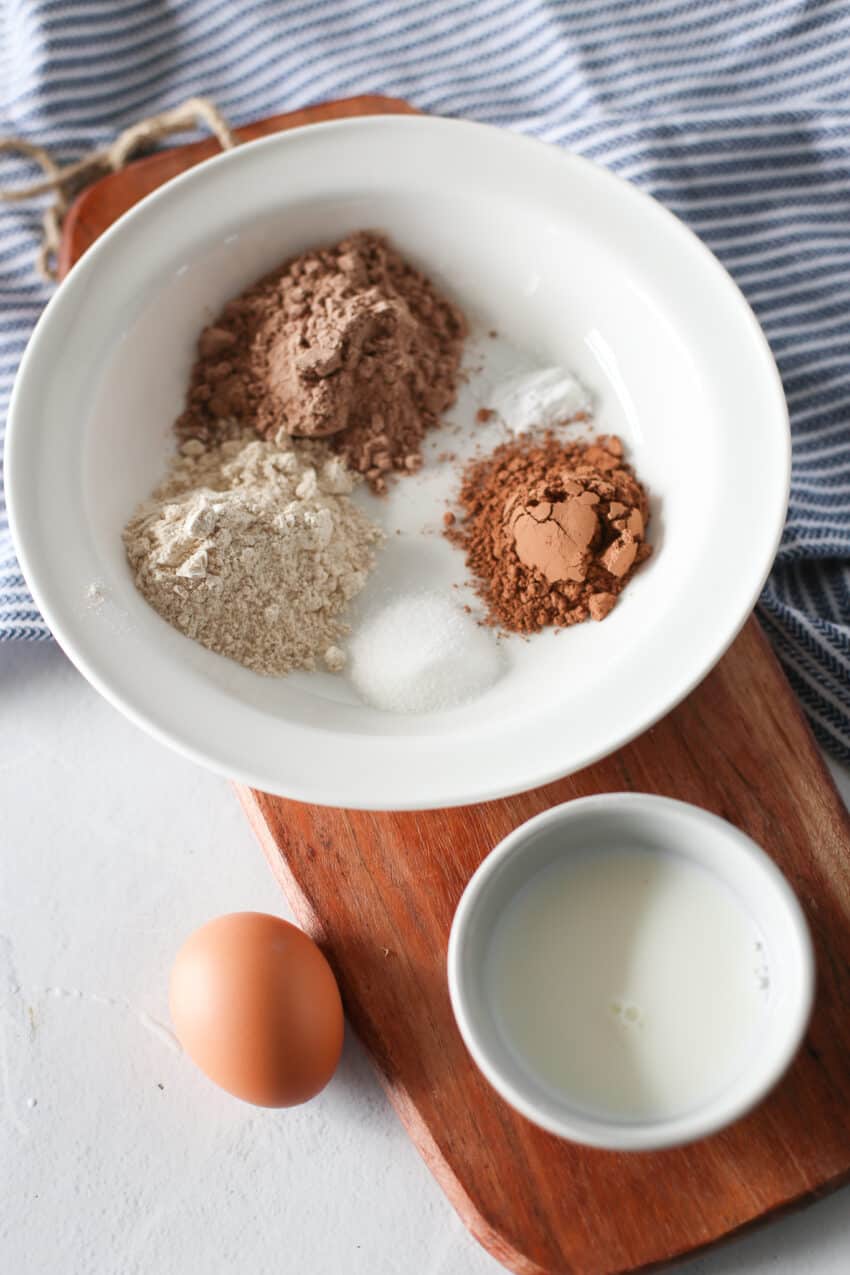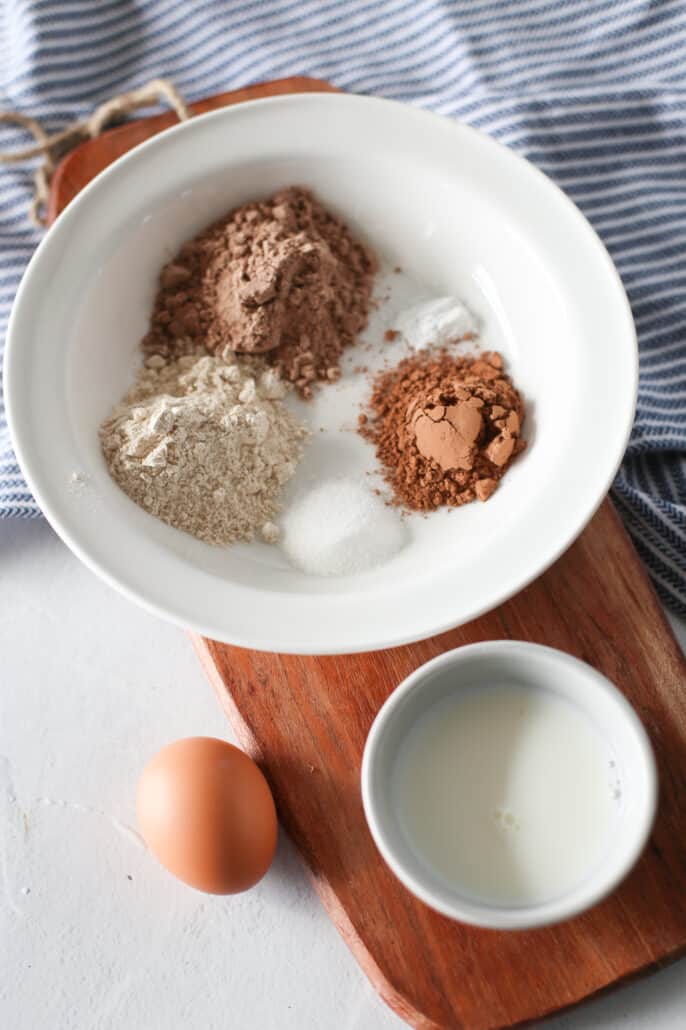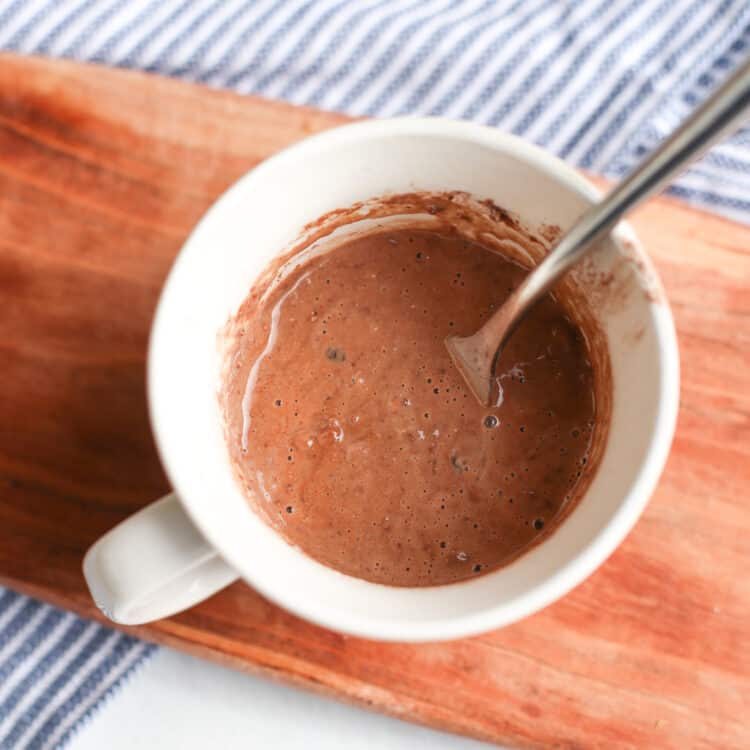 The Best Type of Mug to Use
It's important to choose a larger mug, 16 ounces is a good size, since the cake does expand significantly while it is in the microwave.
It's also important to source where you get your mugs from, since some contain heavy metals like lead and cadmium.
We like these lead-free, cadmium-free, microwave-safe ceramic mugs. 
16 Ounce Safe Mugs
Step-by-Step Tutorial
This recipe is fast and simple enough for kids to make. Here's how it goes down.
Grease Mug & Add Wet Ingredients
Spray a larger mug with cooking spray. Add the egg and milk, and whisk together until combined.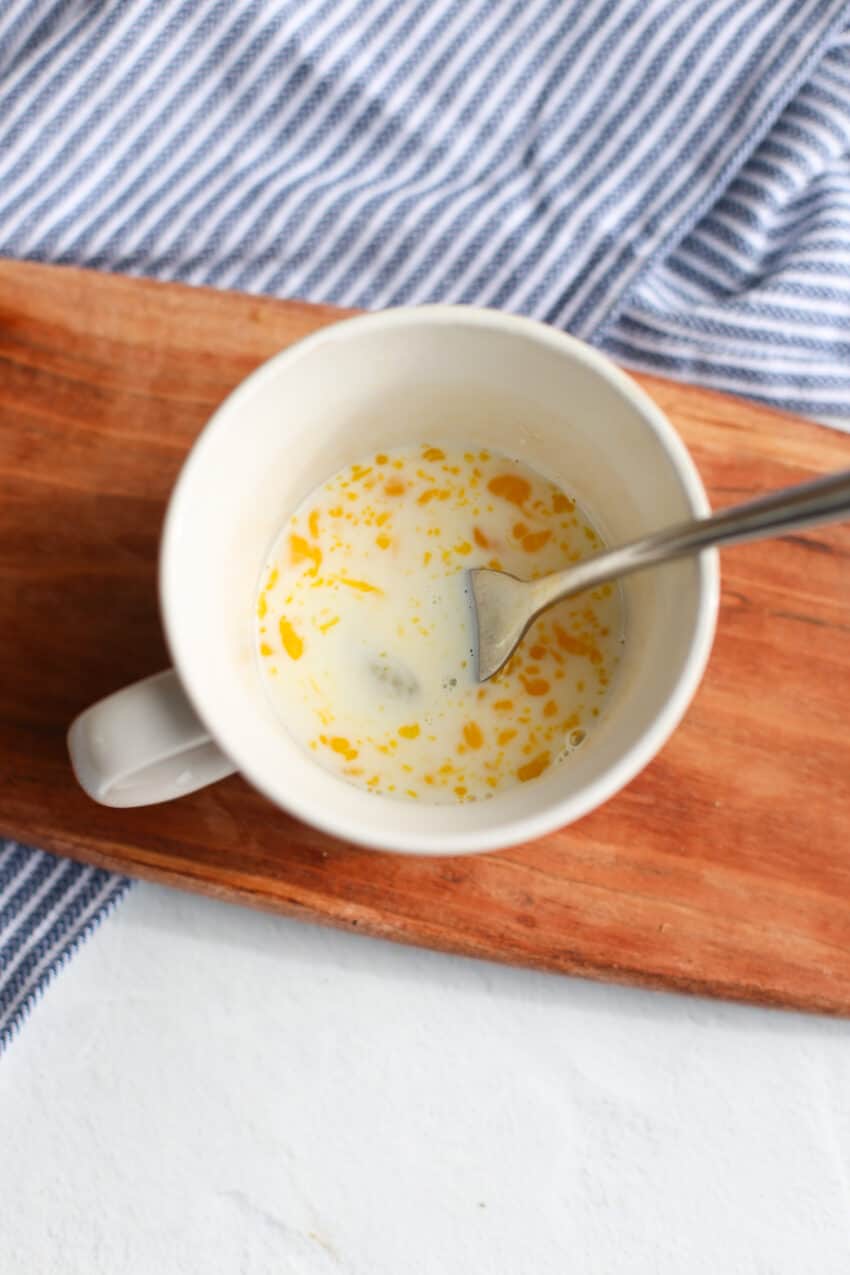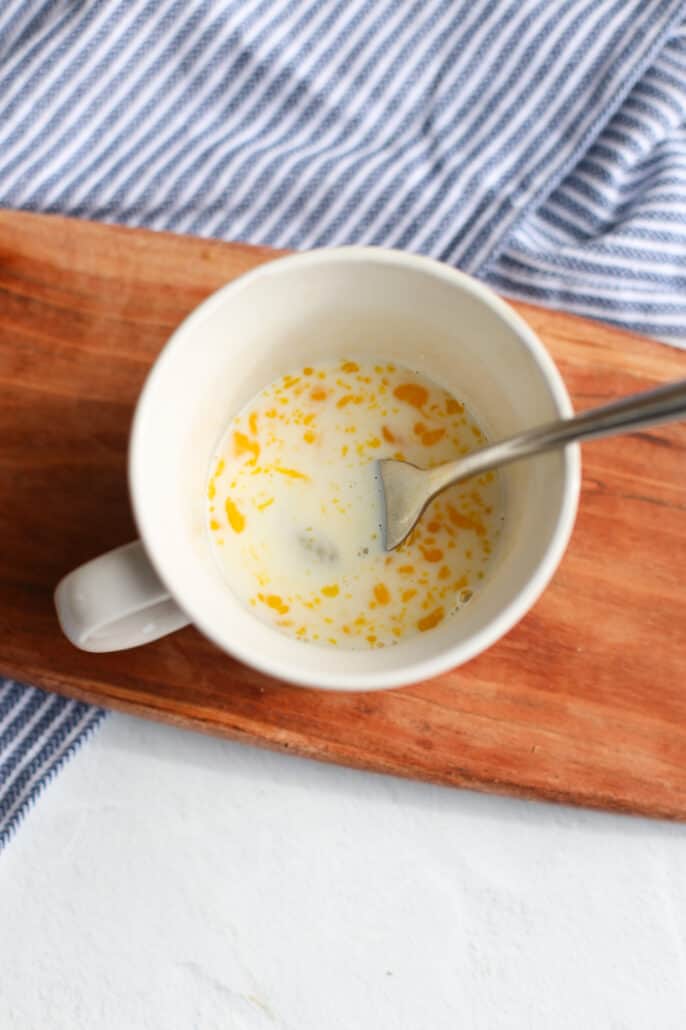 Add the protein powder, flour, cocoa powder, baking powder, and sugar (optional).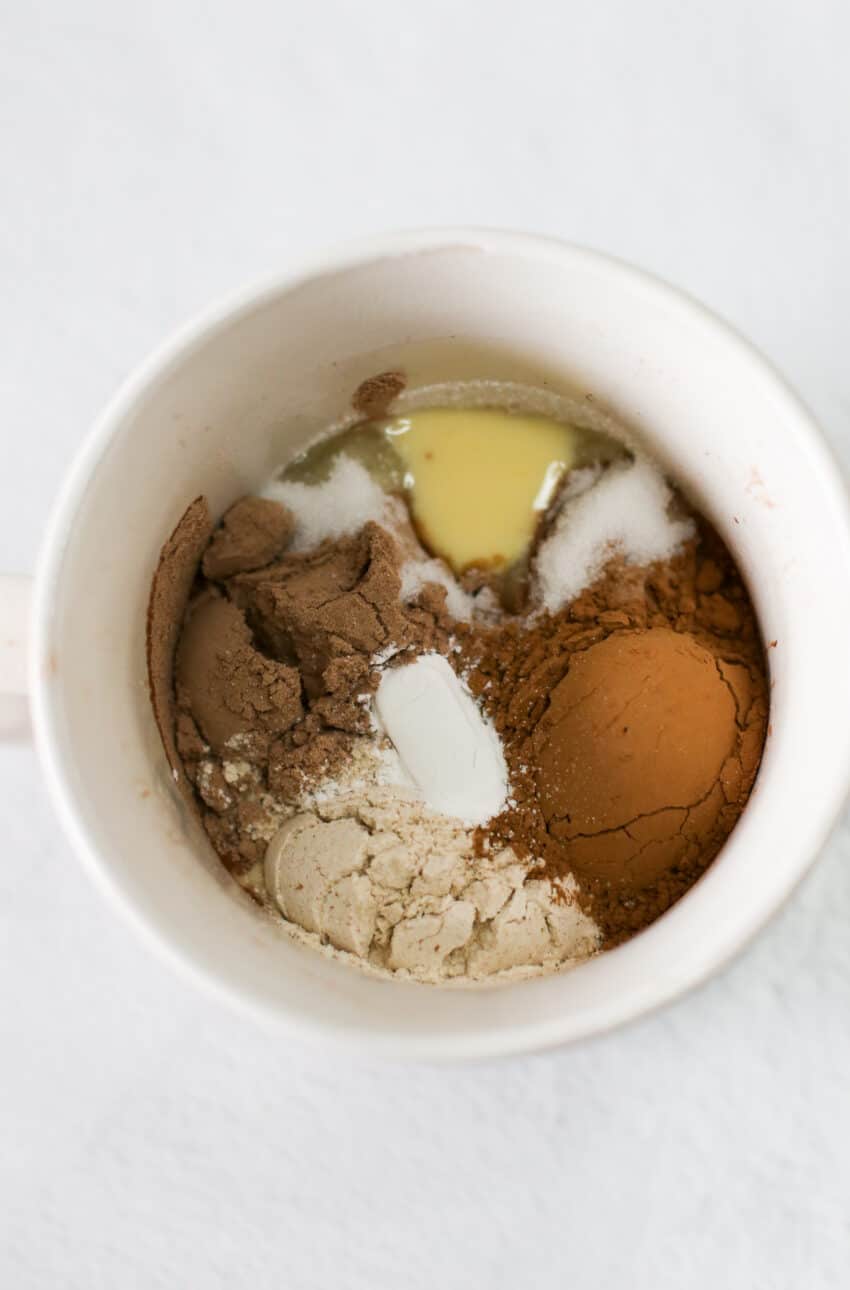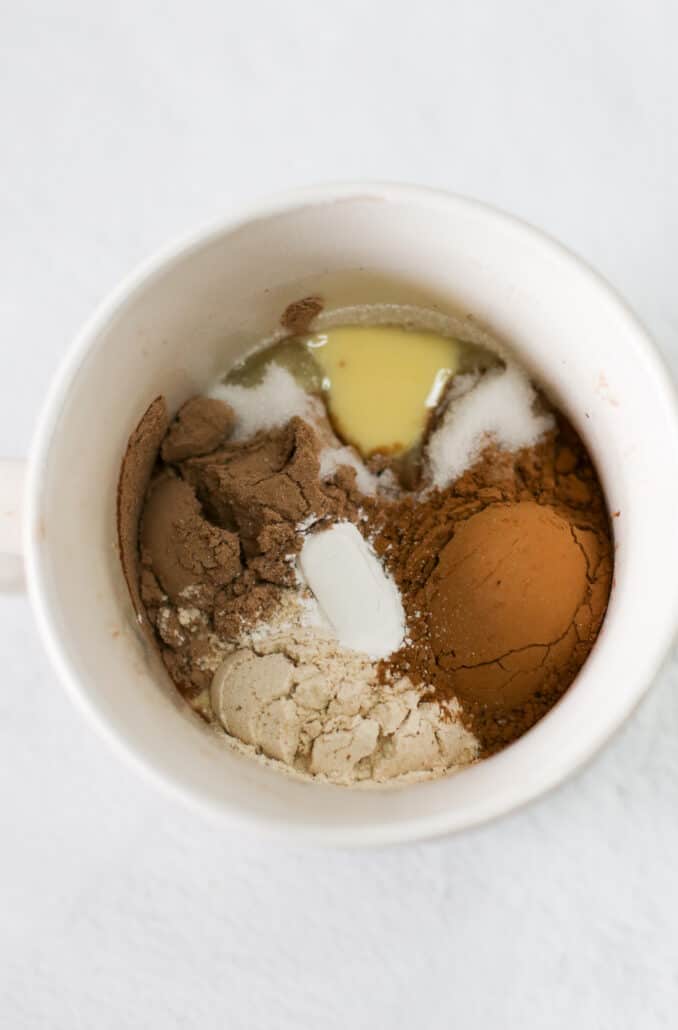 Stir thoroughly until the ingredients are completely combined.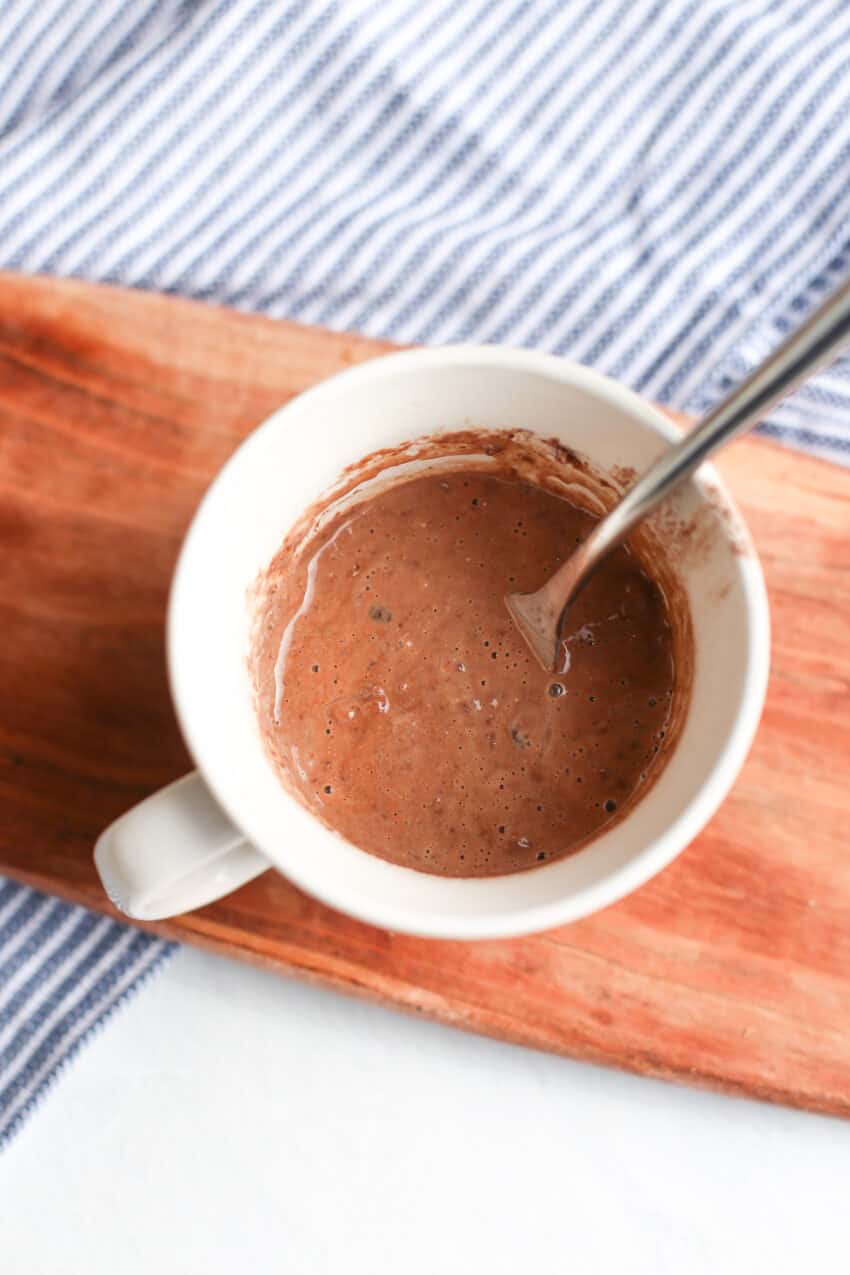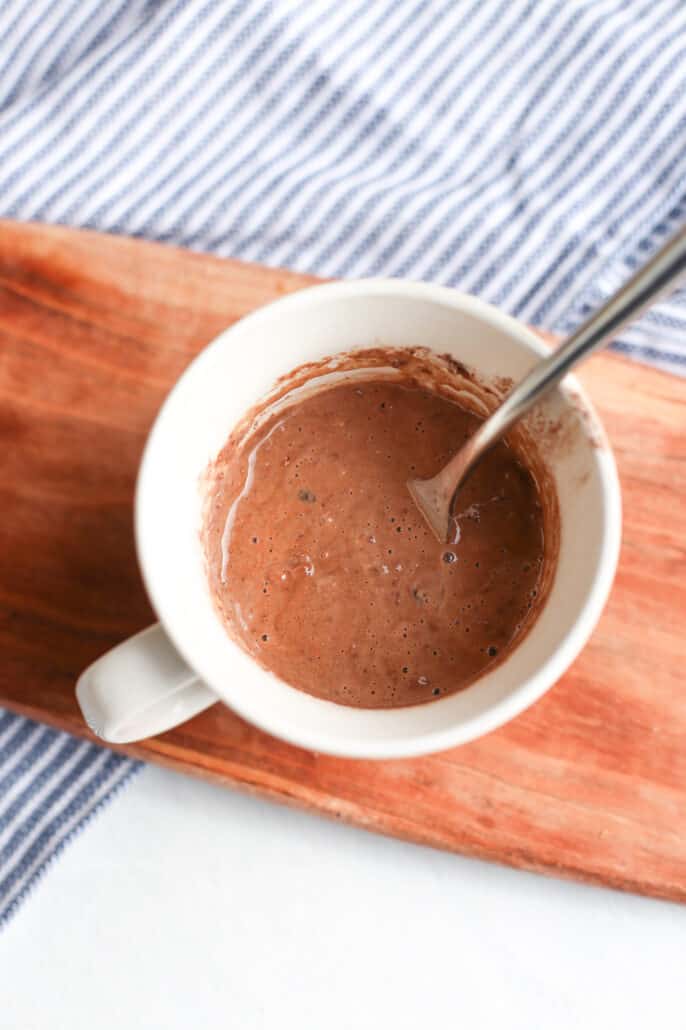 Microwave uncovered for about 2 ½ minutes or until the cake is cooked through (different for each microwave). It's done if the cake springs back when you press gently in the middle.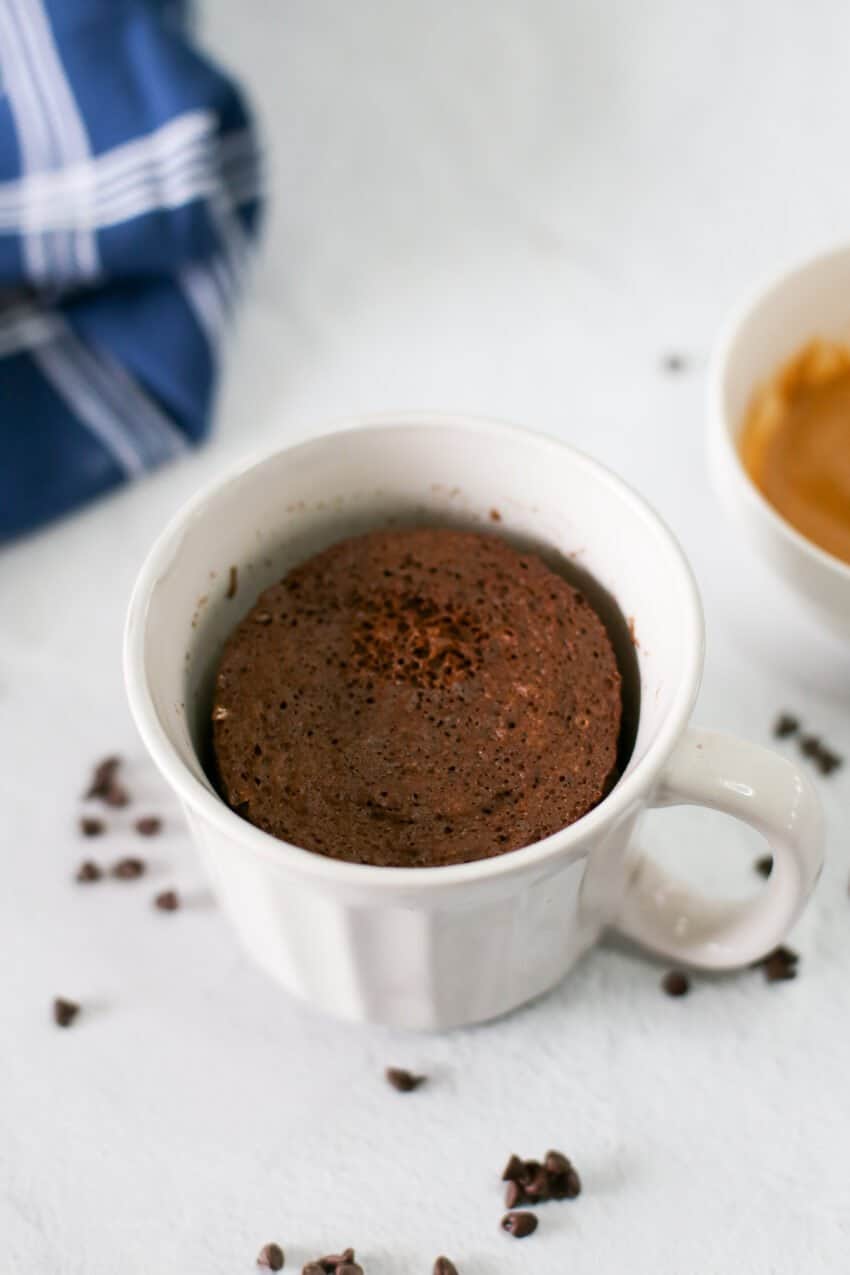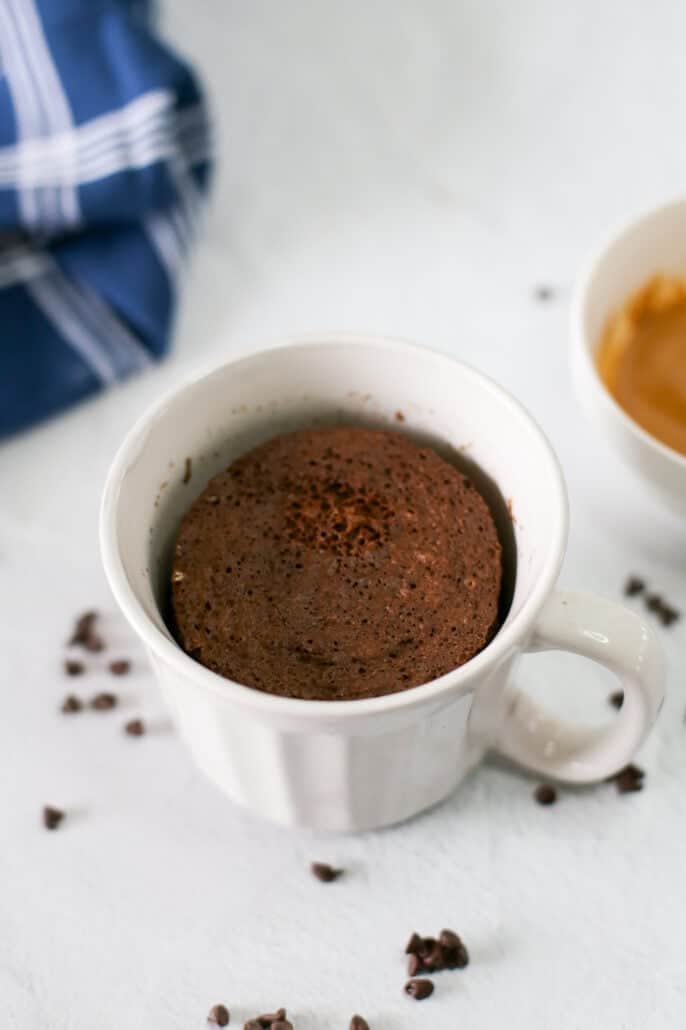 Now, this step is really important! Top the warm mug cake with some peanut butter (my son uses a LOT–like 3 tablespoons!) and mini chocolate chips, if desired. Cover the cake with a napkin to help the topping melt. Allow 3-5 minutes to cool before eating.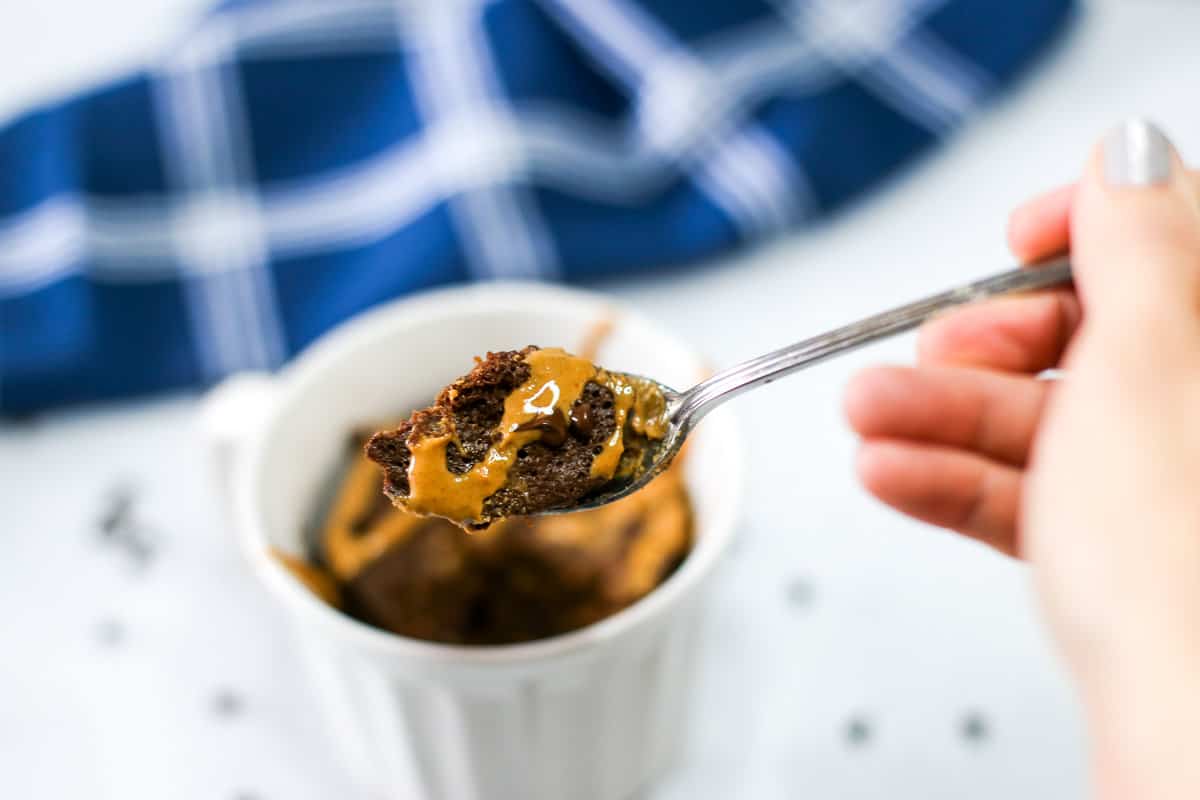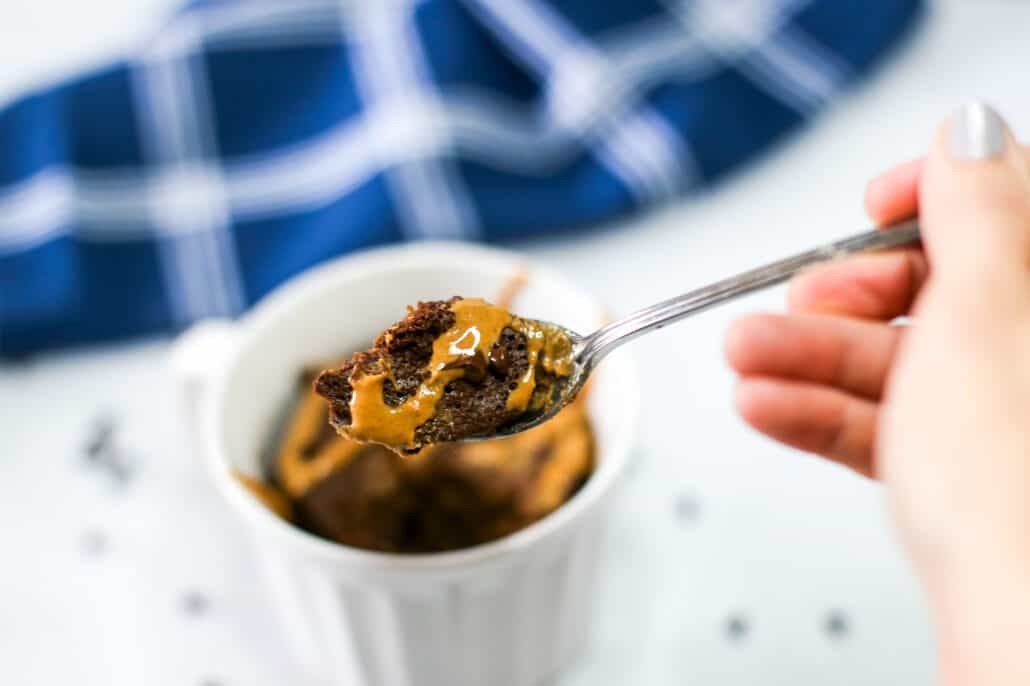 How Much Protein Is in This Mug Cake?
This answer depends on the exact ingredients you choose to use in the recipe. However, if you use these exact ingredients below…
1 large egg = 6 grams
1/3 cup 2% milk = 2.5 grams
1 scoop Orgain protein powder = 10.5 grams
1 tablespoon cocoa powder = 1 gram
2 tablespoons whole wheat flour = 2 grams
2 tablespoons peanut butter = 8 grams
…you'll yield a whopping 30 grams of protein per mug cake!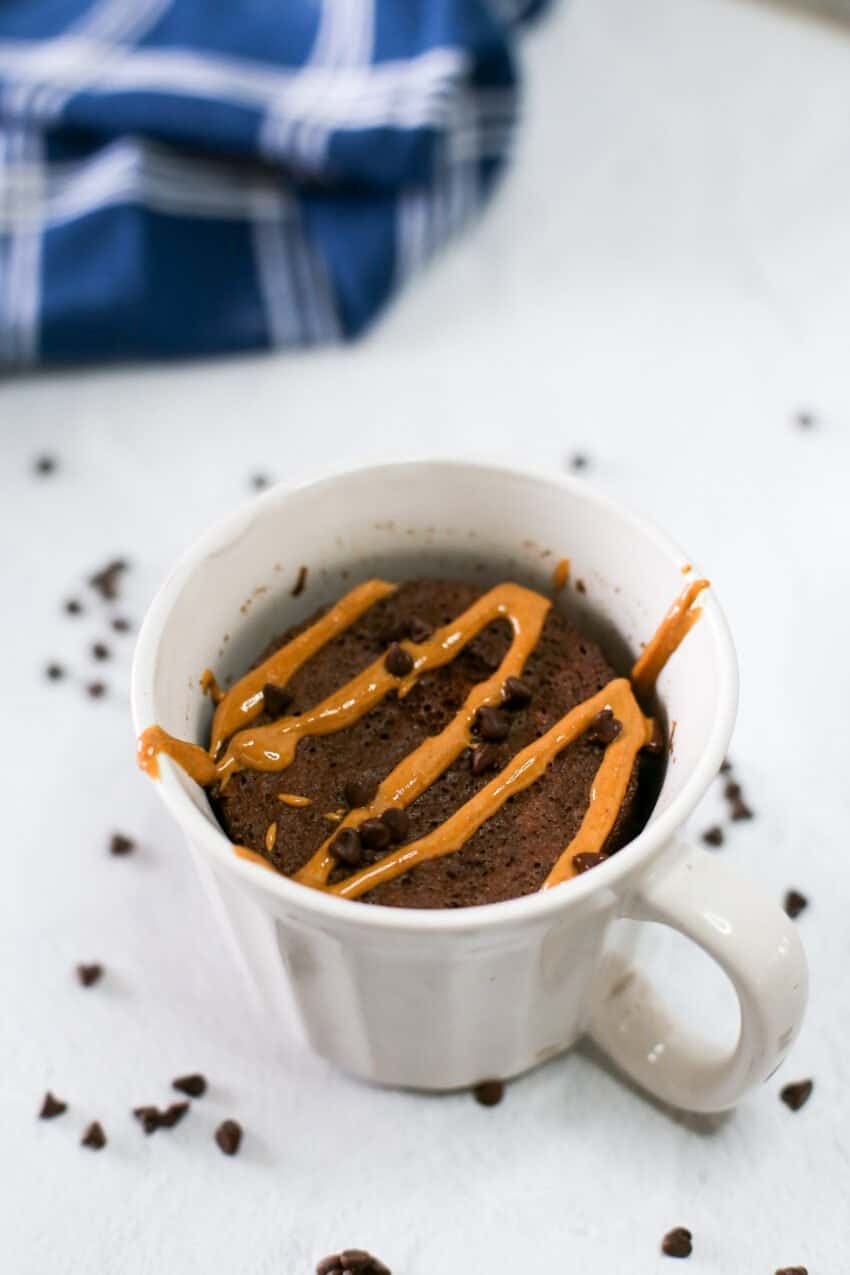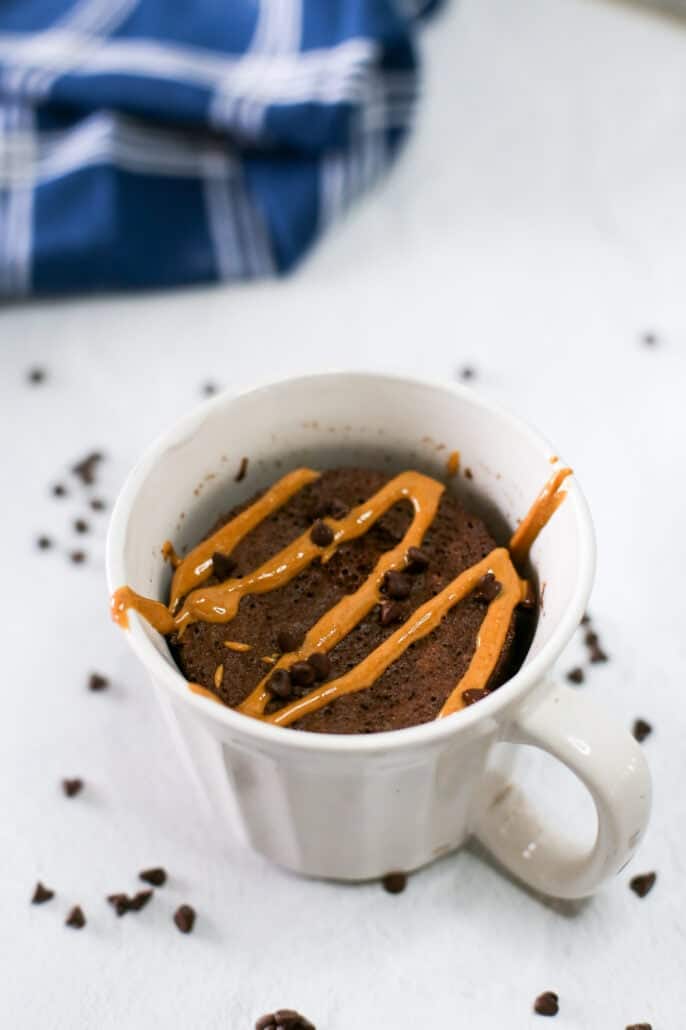 More Healthy Snack Ideas
Looking for more satisfying but healthier snacks? Try a few of these…
If you try this recipe, let my son know in the comments. He's really excited that we decided to share his creation. 🙂
Did you make this? Snap a photo and tag us on Instagram at @thrivinghome so we can see your creations and cheer you on!
Protein Mug Cake
This chocolate and peanut butter protein mug cake will satisfy your sweet tooth and hunger without the guilt.
Prep:
2 minutes
Cook:
2 minutes
Total:
10 minutes