4-Ingredient Tropical Smoothie
This post may contain affiliate or sponsored links. Please read our disclosure policy.
This easy, healthy 4 Ingredient Tropical Smoothie recipe tastes like you're sitting on the beach in the Caribbean. (Yes, that's a flavor.) Try this dairy-free, gluten-free, low calorie way to pack in some extra Vitamin C, fiber, and protein into your diet. We'll teach you how to make it into a freezer smoothie pack for later, too.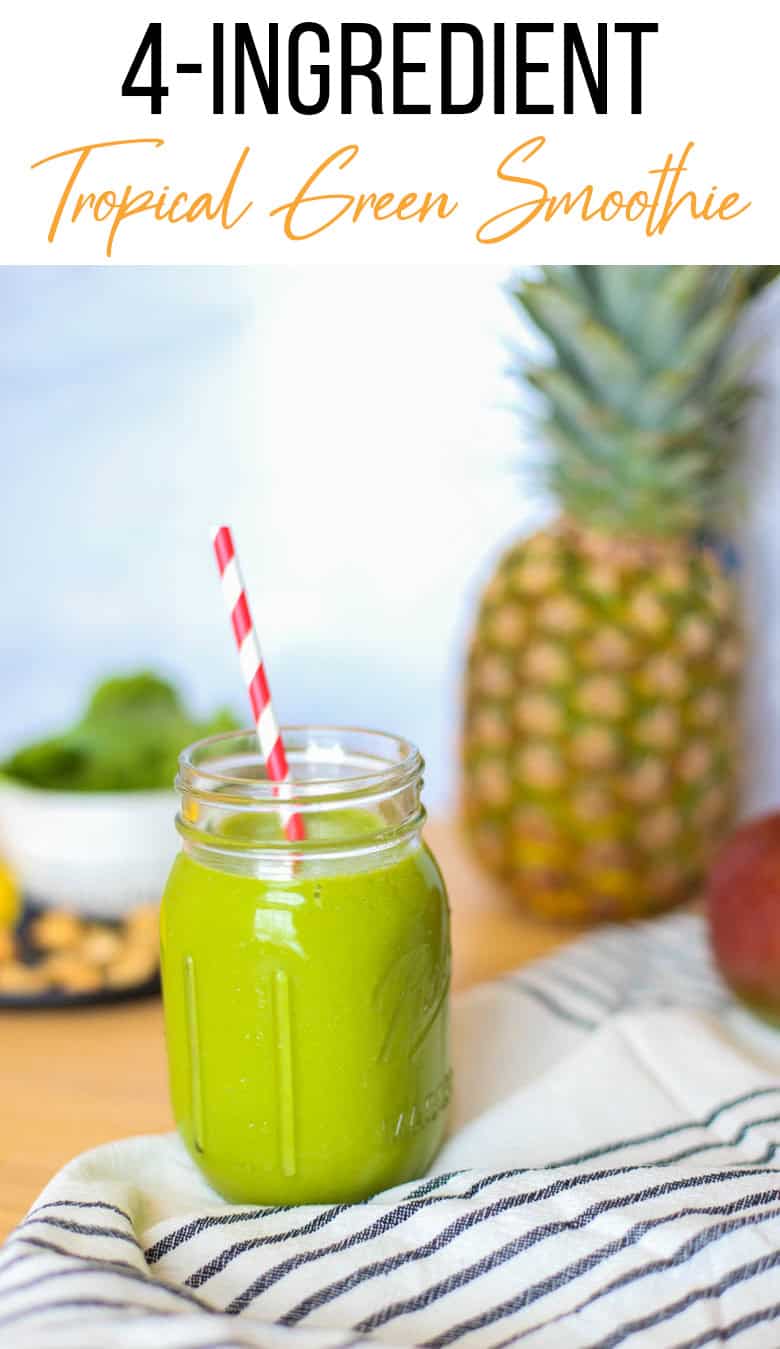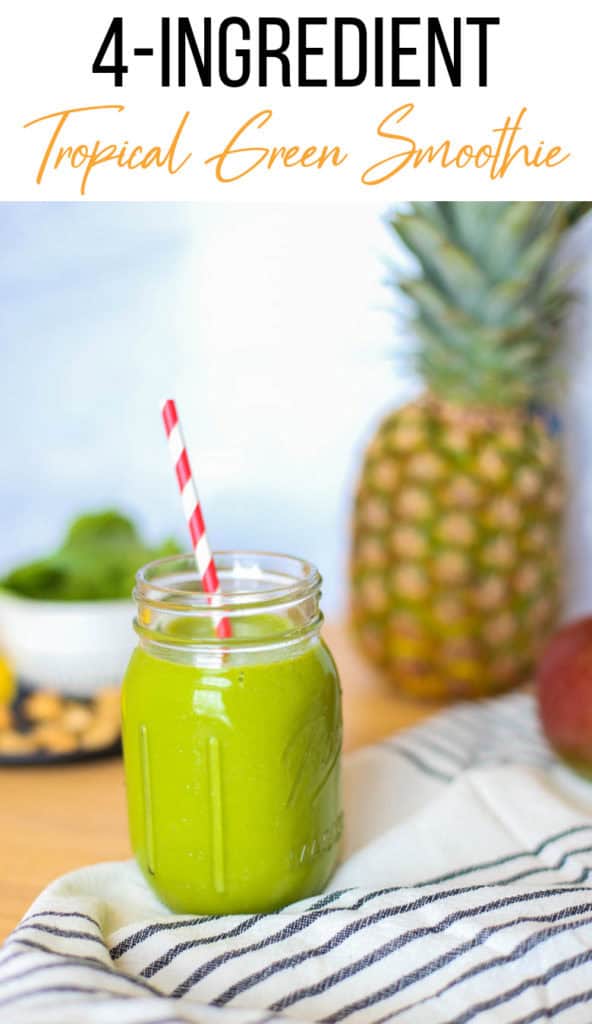 It's the dead of winter here. So much so that school was canceled today because of the wind chill outside! All I can think about is sitting on the beach sipping a tropical drink.
Good thing I have the four simple ingredients needed for today's Caribbean-inspired tropical green smoothie–the second of 7 smoothie recipes we are sharing on the blog right now.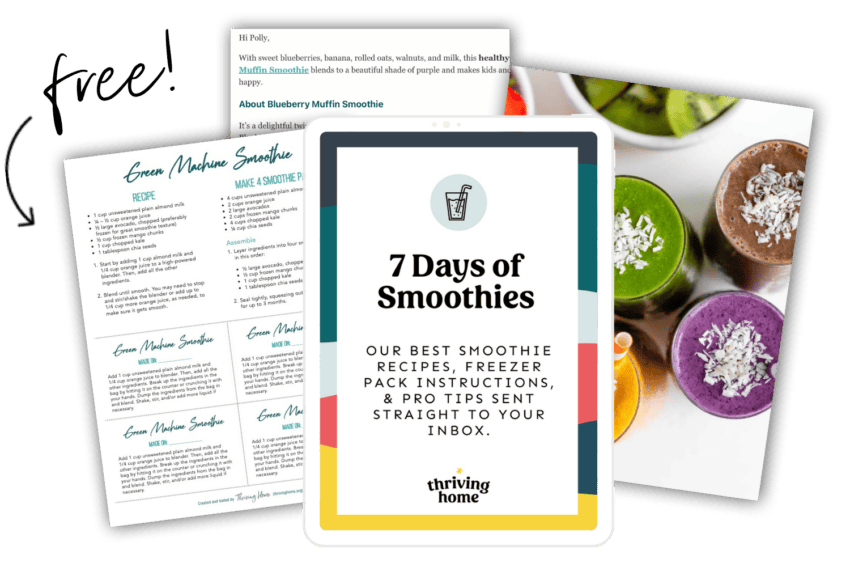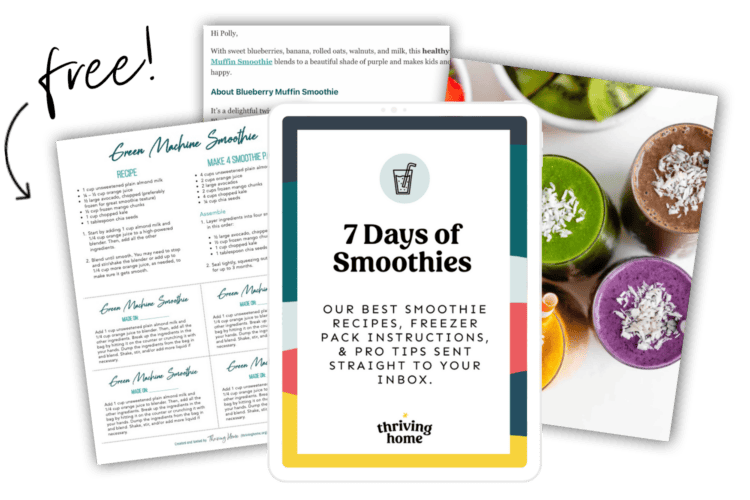 7 Must Have Smoothie Recipes
Get our best smoothie recipes, freezer pack instructions, & pro tips sent straight to your inbox.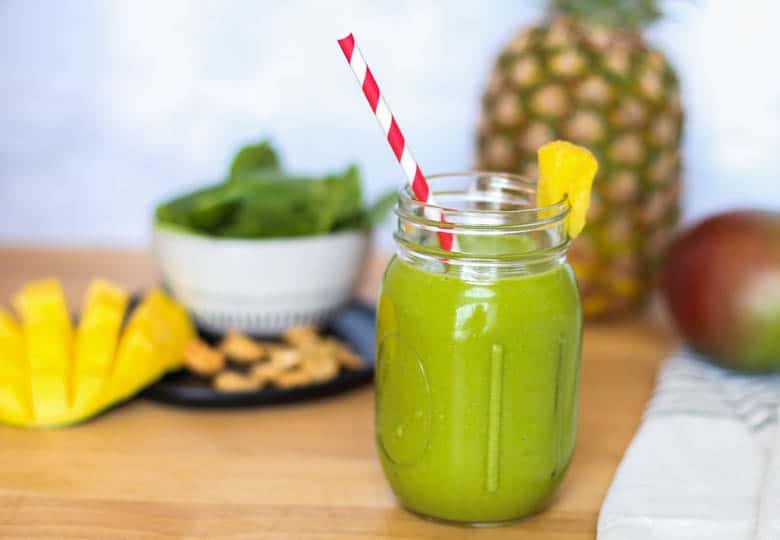 Some of the links in this post are affiliate links. We are a participant in the Amazon Services LLC Associates Program, an affiliate advertising program designed to provide a means for us to earn fees by linking to Amazon.com and affiliated sites. Here's our full disclosure.
About our Tropical Smoothie Recipe
With only four ingredients required, this may be our easiest smoothie of all! Like our other smoothies, you'll start with the liquid–coconut water this time–and then add the solids–frozen fruit, spinach, and cashews. The cashews add protein and healthy fat to balance out the sugars in the smoothie and keep you full.
Ingredients for Tropical Smoothie
100% pure coconut water – read the label to avoid any added sugars
Frozen tropical fruit blend – i.e. pineapple, mango, papaya
Baby spinach – I prefer organic, which is easy to find
Raw cashews – sub: raw almond or macadamia nuts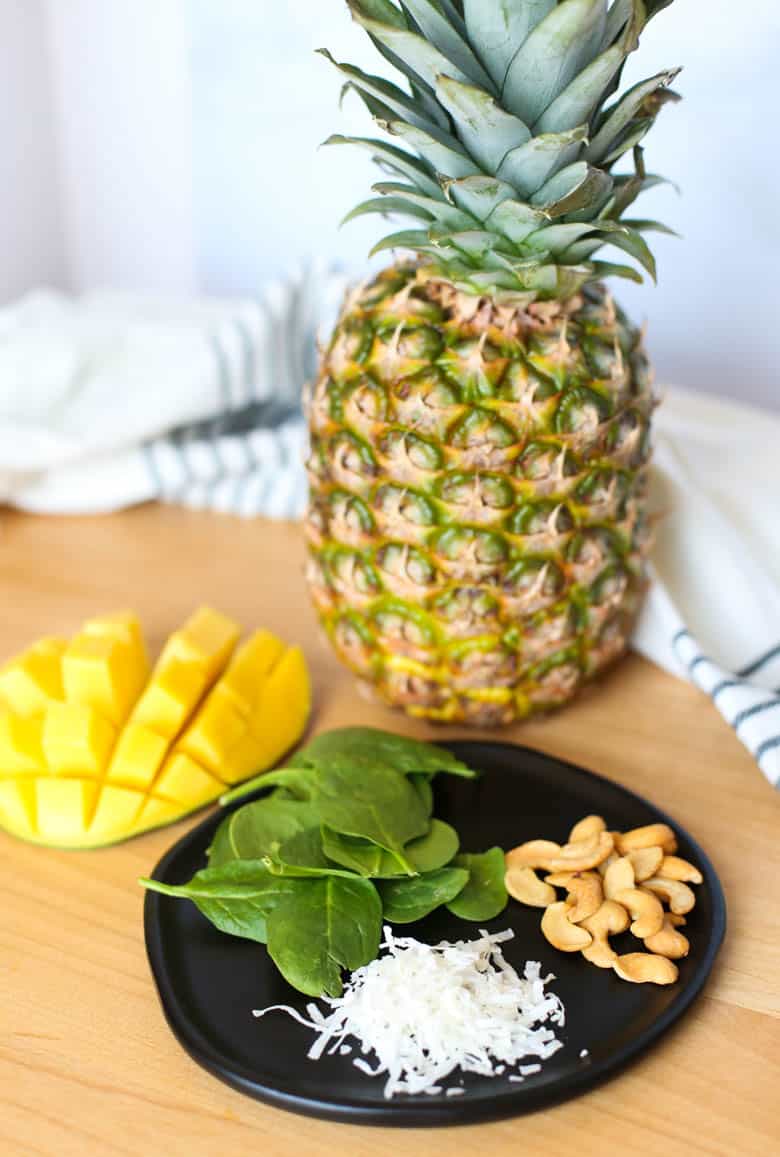 Once you have everything in the blender, blend until smooth (about 1 minute or less). Sometimes this requires stopping and shaking or stirring the contents. You may even need to add a splash more liquid. Hop to our Shop our Favorites page to see which blender we recommend.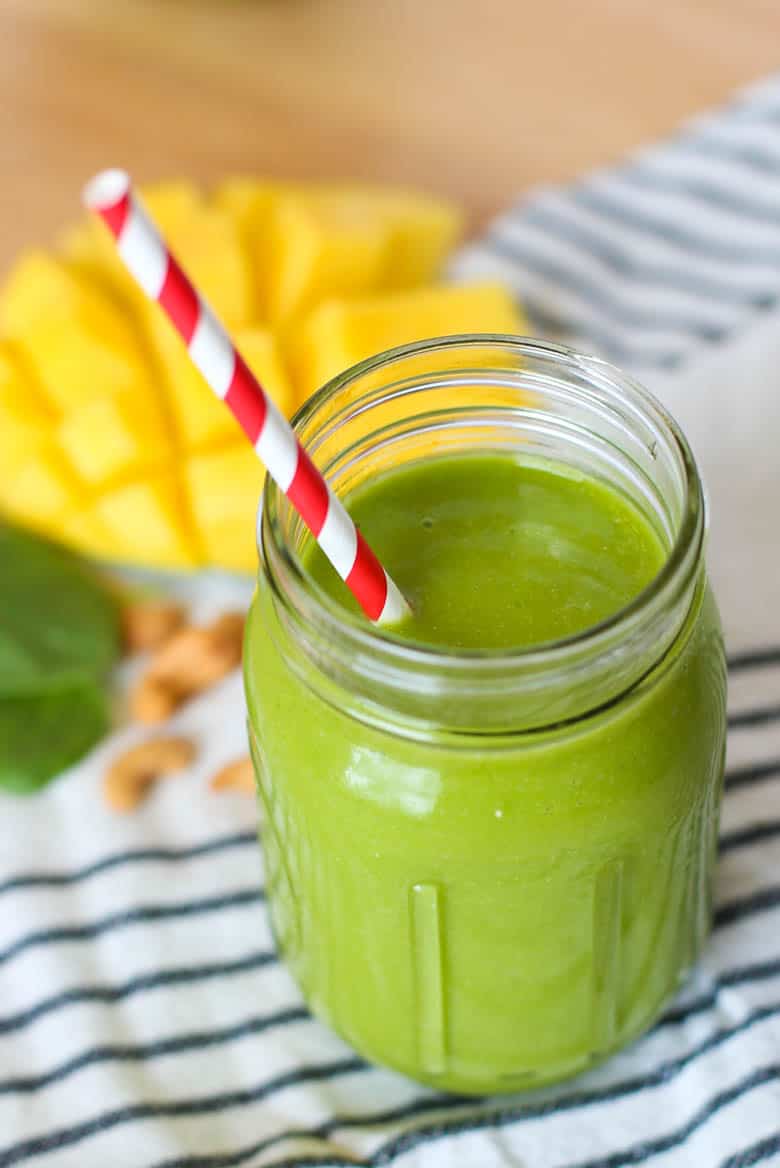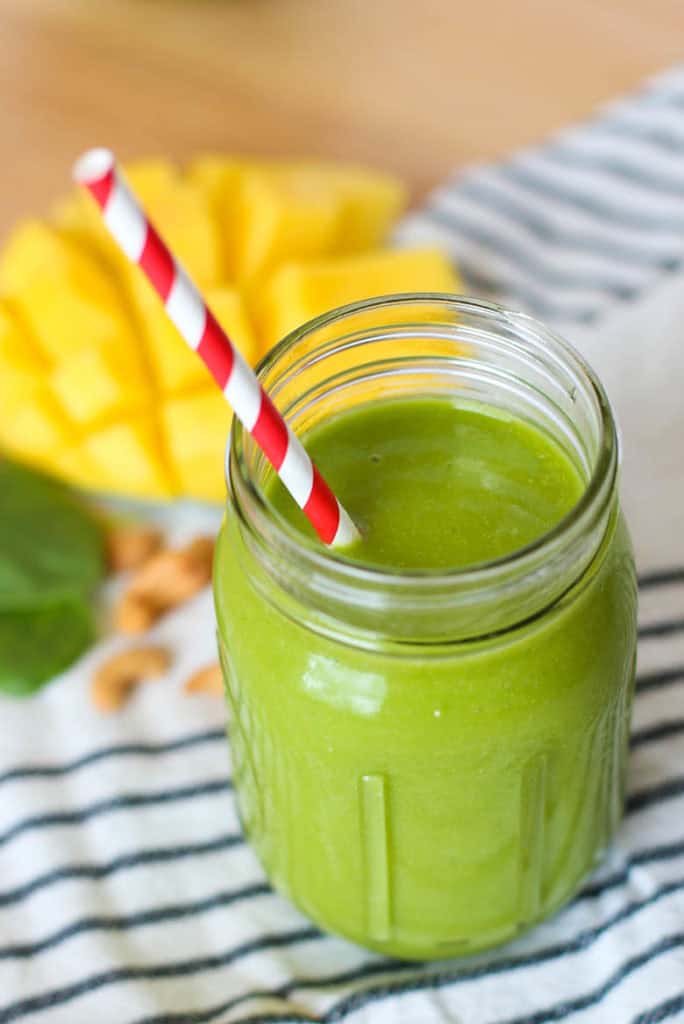 How to Make Tropical Smoothie Freezer Pack
What are freezer smoothie packs?
Only the best, most genius idea ever. You'll simply toss most of your smoothie ingredients in a freezer bag/container to have on hand in the freezer. (Be sure to follow our layering instructions.) Then you can throw together a delicious, nutrient dense smoothie for breakfast, as a snack, or as a meal replacement anytime.
I personally love that you can freeze the spinach and nuts in this Tropical Smoothie recipe alongside the fruit.
We've found that freezing all kinds of ingredients for smoothies, from nut butters to greens to bananas, works well because smoothies are very forgiving! To make this recipe a smoothie pack, simply follow our freezing instructions given below in the recipe.
I prefer to make 4 smoothie packs at a time to save time and money.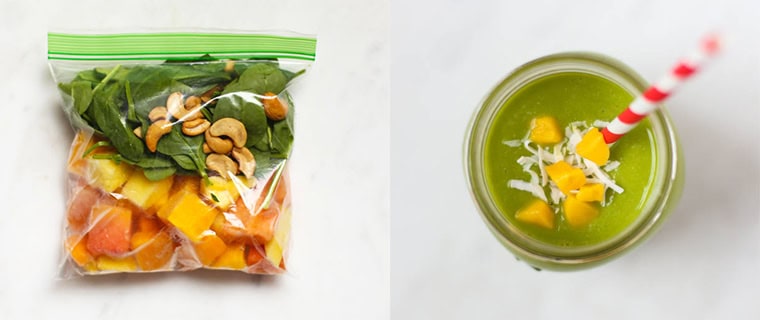 Why Use Coconut Water in Smoothies?
You may not be familiar with coconut water yet, but you should get to know this sweet, nutty flavored water found in the center of a young, green coconut. Don't confuse it with coconut milk, though, which is made by adding water to grated coconut meat.
Coconut water is a fantastic ingredient for smoothies because it contains less sugar and calories than fruit juice and no fat. It also adds a few key nutrients including potassium (1 serving is more than four bananas!), magnesium, and manganese. Be sure to only buy 100% pure (unsweetened) coconut water to avoid added sugars.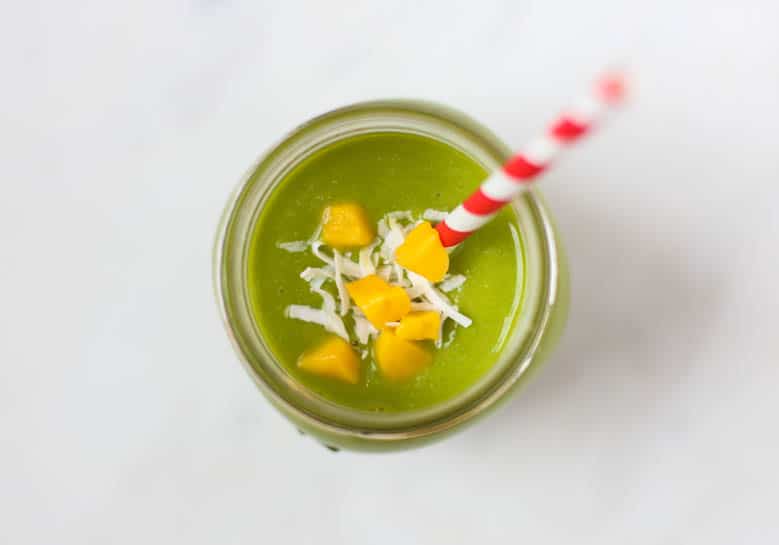 What Blender Works Best for Smoothies?
Now, let's talk blenders for a minute. Not all of them are created equal.
I've owned a lot of brands over the years–Frigidaire, Cuisinart, Ninja, Vitamix, and Oster. To really pulverize the freezer smoothie packs, you'll need a high-powered blender.
Two Blenders We Recommend:
The Vitamix because it is very high-powered, super simple, and will last for an eon. We both have this blender and it's the BEST.
A more affordable option is the Nutri Ninja Personal and Countertop Blender. This makes smooth smoothies and allows me to make single serving smoothies. The big blender doesn't pulverize as well as the smaller containers do or the Vitamix, just so you know. We use the single-serving blender daily!
More Easy, Healthy Smoothies
Be sure to try (or Pin for later) all of our delicious, healthy smoothies that include instructions for making them into freezer packs.
Browse All
Alright, friend! It's time to blend, kick back with your tropical drink, and dream of the beach while you sip on your greens. Or, spend a few minutes dividing up ingredients and make some freezer smoothie packs for later. Cheers!
Did you make this? Snap a photo and tag us on Instagram at @thrivinghome so we can see your creations and cheer you on!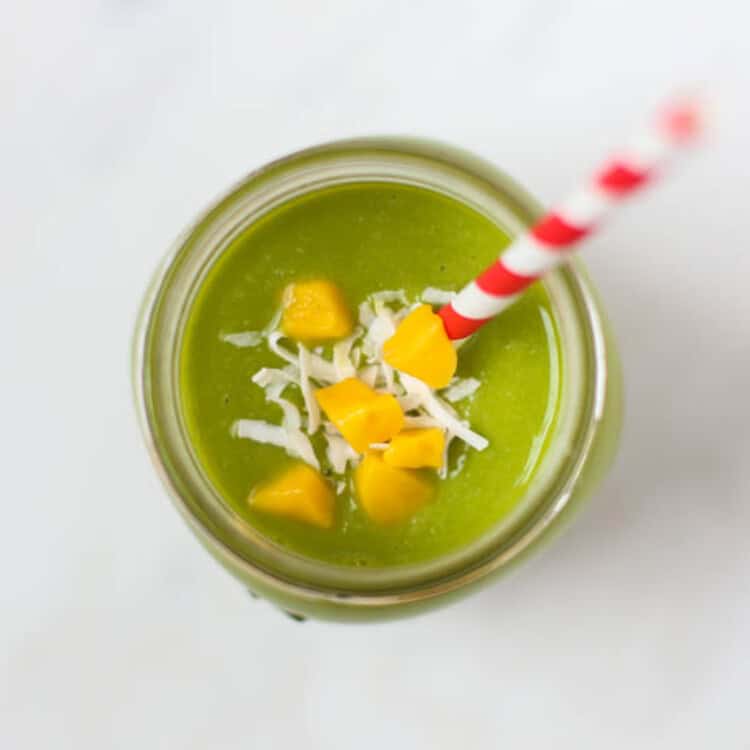 4-Ingredient Tropical Green Smoothie
This easy, healthy green smoothie only requires 4 simple ingredients. A delicious low calorie way to pack Vitamin C, fiber, and protein into your diet. Freezer smoothie pack instructions included.
Yield:
1

(approx. 16 ounce) smoothie

1

x
Ingredients
1

–

1 1/2

cups

100% pure coconut water

1 1/2 cups

frozen tropical fruit blend (any combo of pineapple, mango, papaya)

1

packed cup baby spinach (preferably organic)

1/4 cup

raw cashews (sub: raw almonds or macadamia nuts)
Before You Begin! If you make this, please leave a review and rating letting us know how you liked this recipe! This helps our business thrive & continue providing free recipes.
Make It Now:
1. Start by adding 1 cup coconut water to a high-powered blender. Then, add all the other ingredients.
2. Blend until smooth. You may need to stop and stir/shake the blender or add up to 1/2 cup more of coconut water, as needed, to make sure it gets smooth.
Make Freezer Smoothie Packs for Later:
1. Layer ingredients in small freezer bags in this order:
1 ½ cups frozen tropical fruit blend (any combo of pineapple, mango, papaya)

1 packed cup baby spinach

1/4 cup raw cashews (sub: raw almonds or macadamia nuts)
2. Seal tightly, squeezing out the air, and freeze for up to 3 months.
3. To Blend: Pour 1 cup coconut water into a high-powered blender first. Break up the ingredients in the bag by hitting it on the counter or crunching it with your hands. Dump the ingredients from the bag in and follow blending instructions above.
---
Notes/Tips
Smoothie Packs Delivered to Your Door! If you like the idea of frozen smoothie packs but don't have time, give SmoothieBox a try. I wrote a full review of this smoothie pack delivery service here.
Try All Our Smoothie Pack Flavors:
Smoothie Packs Delivered to Your Door!
If you want to make life really simple, try SmoothieBox. We love these frozen smoothie packs that are delivered to your door.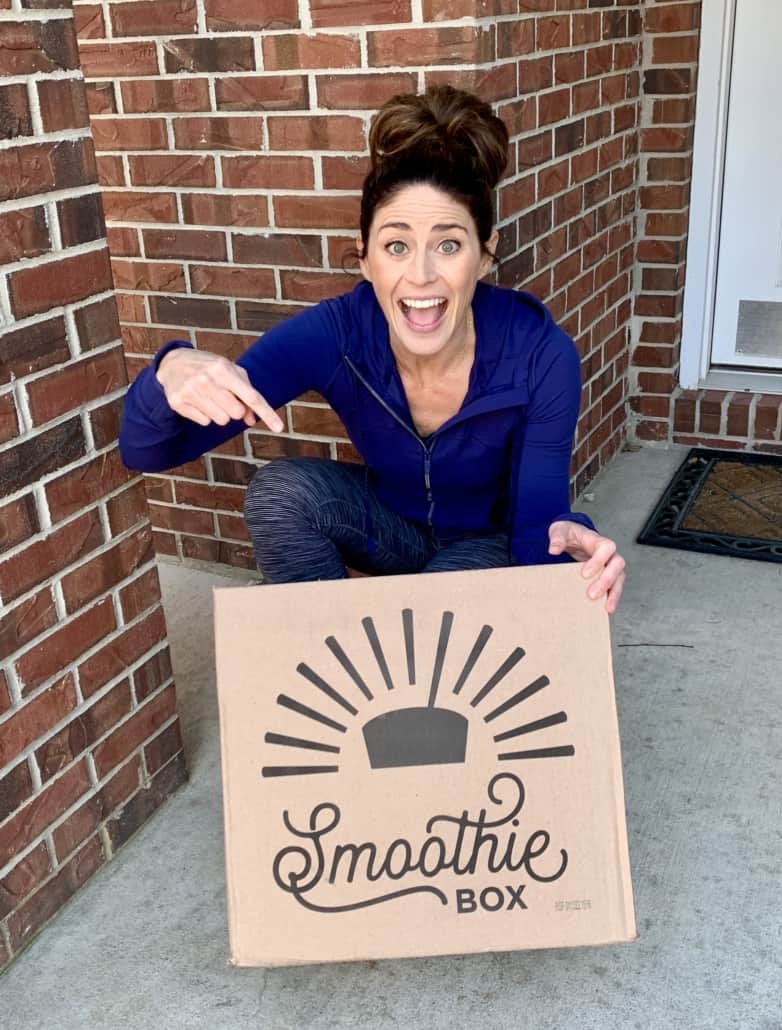 In fact, you can read my full honest review of SmoothieBox here. I love having these in the freezer for days when I just don't have time to whip up a smoothie on my own.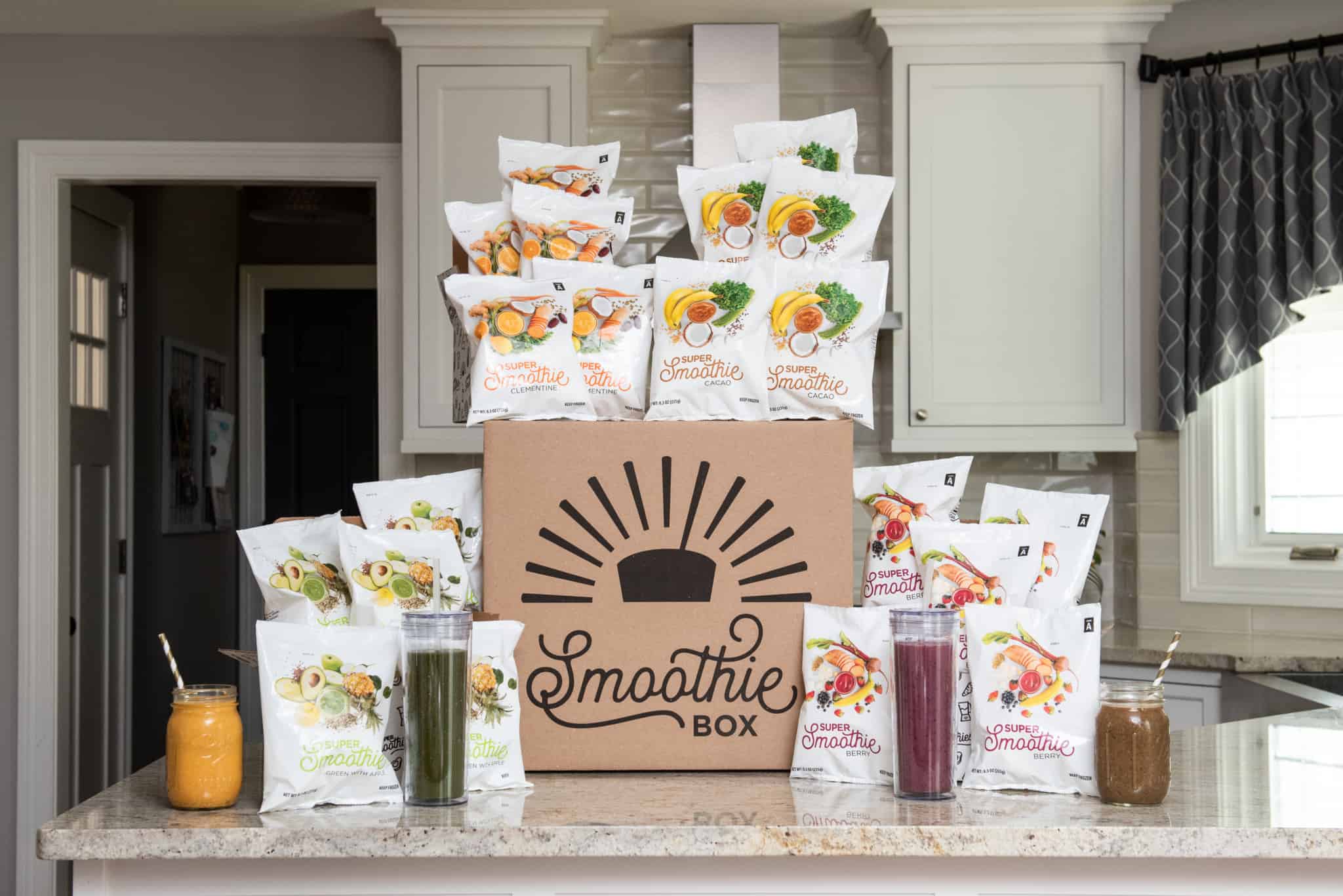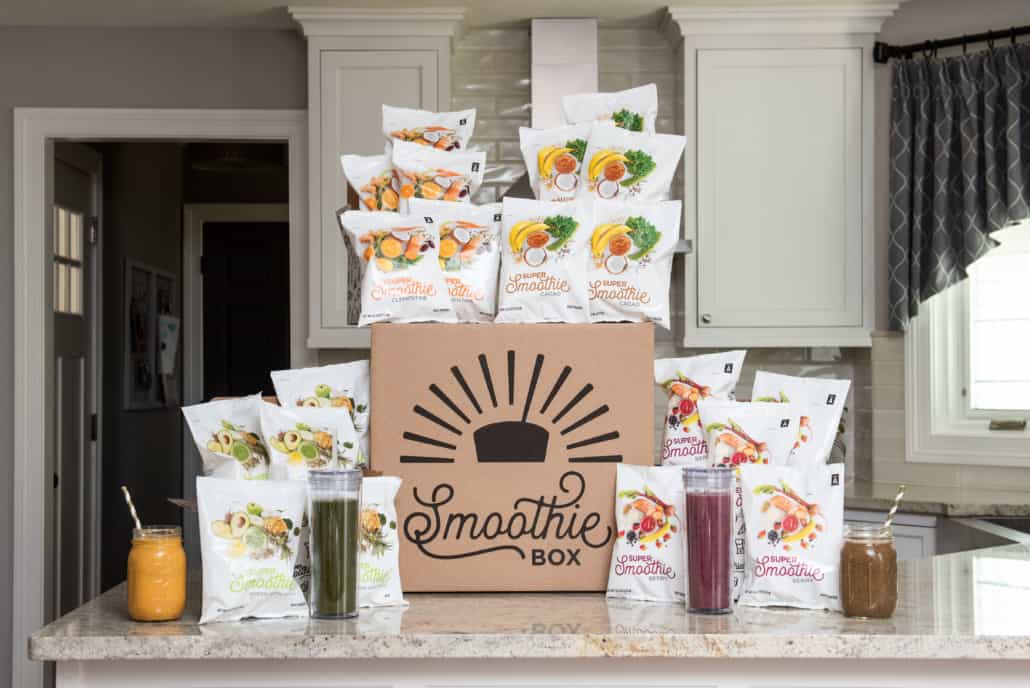 More Easy, Healthy Smoothies
Be sure to try (or Pin for later) all of our delicious, healthy smoothies that include instructions for making them into freezer packs.
Browse All