Sheet Pan Sausage and Veggies
This post may contain affiliate or sponsored links. Please read our disclosure policy.
This sheet pan sausage and veggies dinner only requires 3 main ingredients and is nutritious and satisfying. Under 30 minutes from start to finish and perfect for weekly meal prep!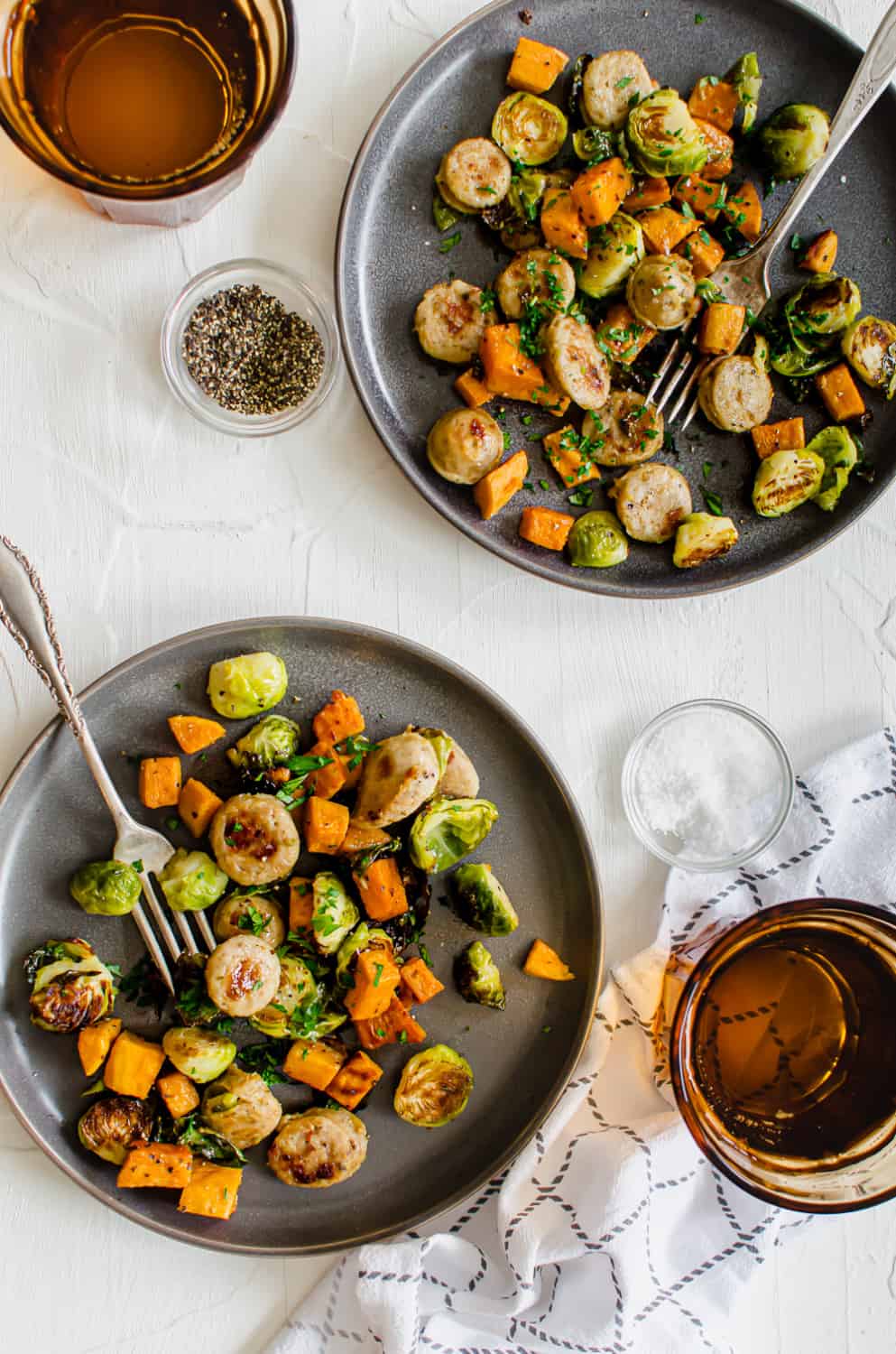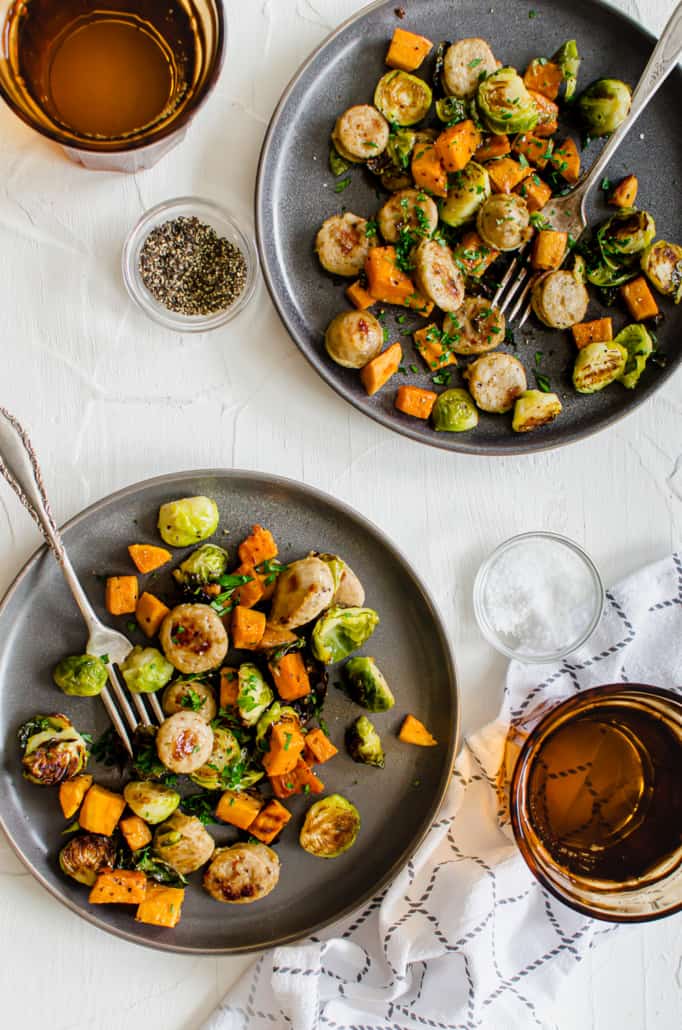 About This Recipe
Roasted veggies, WHY? WHY are you so dang good?!
You have transformed the vegetables that I have snubbed for at least half of my life and turned them into something I crave. CRAVE, I tell you.
Roasted veggies, you rascals, what have you done to me?
As of late, I have found a way to make roasted veggies into a full blown meal. By simply adding sliced up fully cooked sausage to the sheet pan before roasting, I leave lunchtime a very happy lady.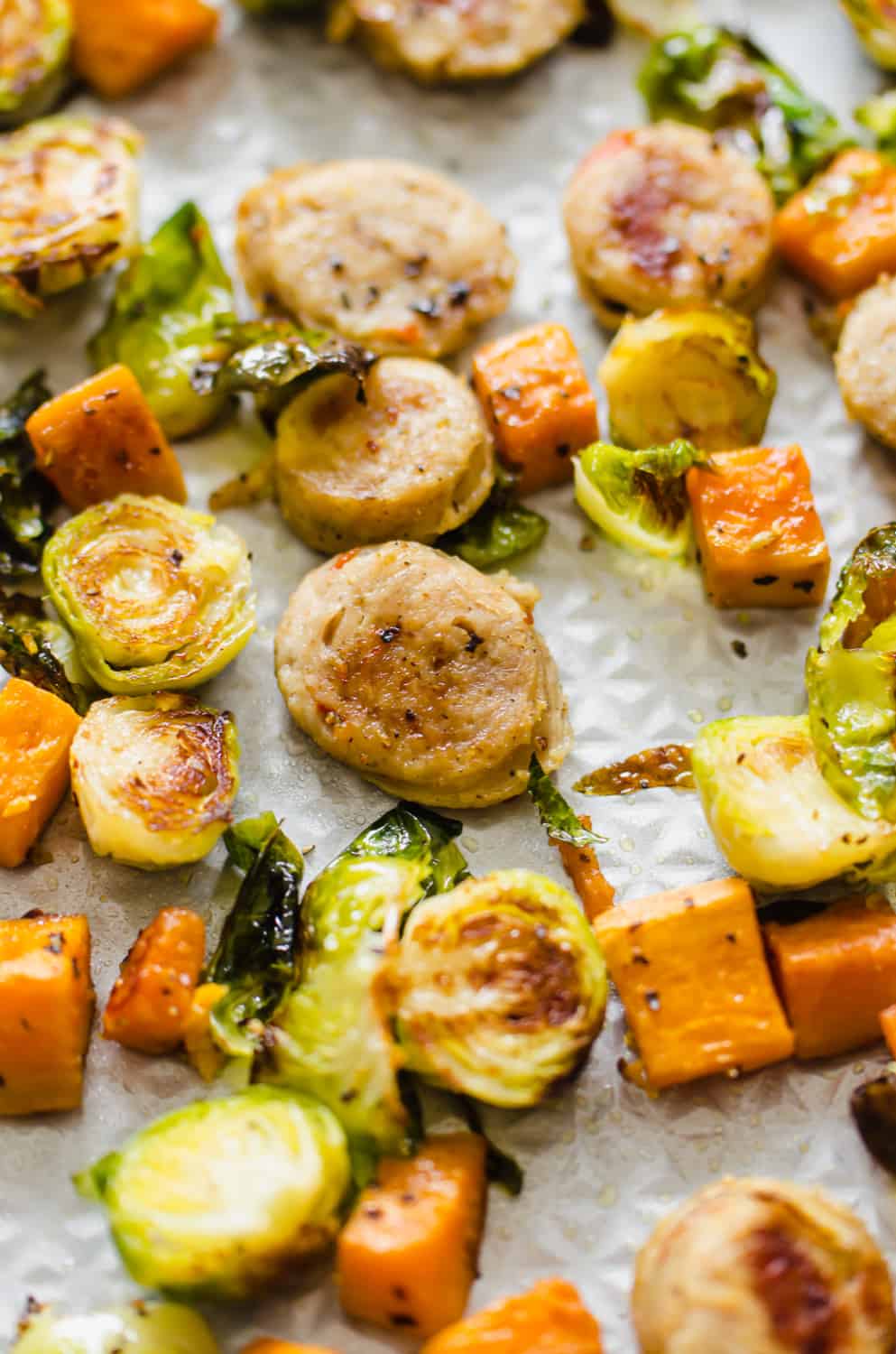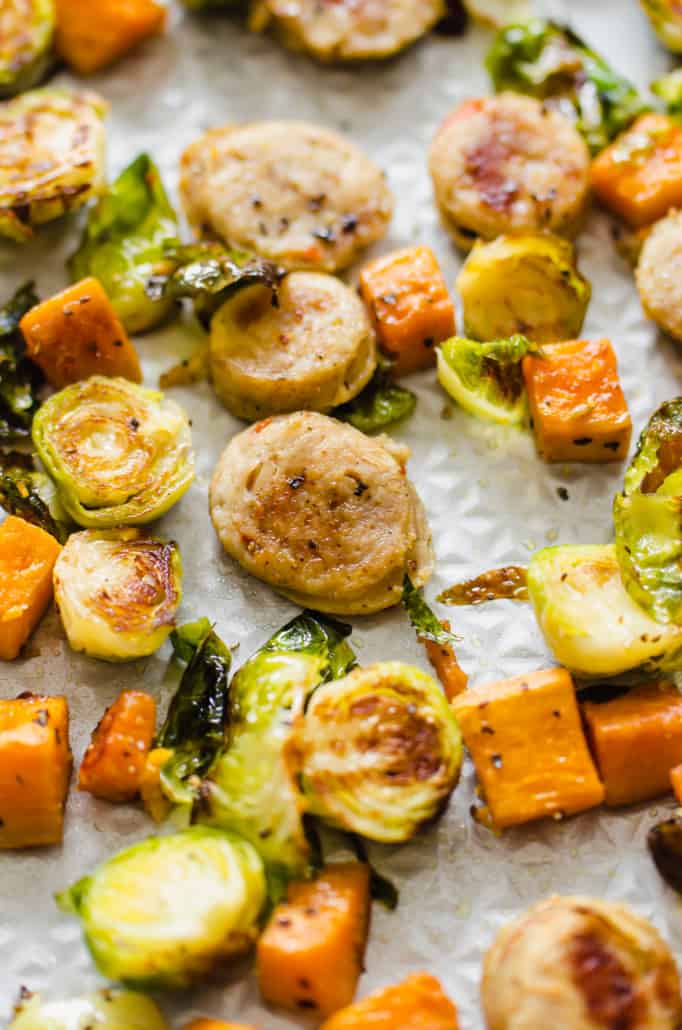 Only 3 Ingredients Needed
The beauty of this healthy sheet pan dinner lies with just 3 main ingredients.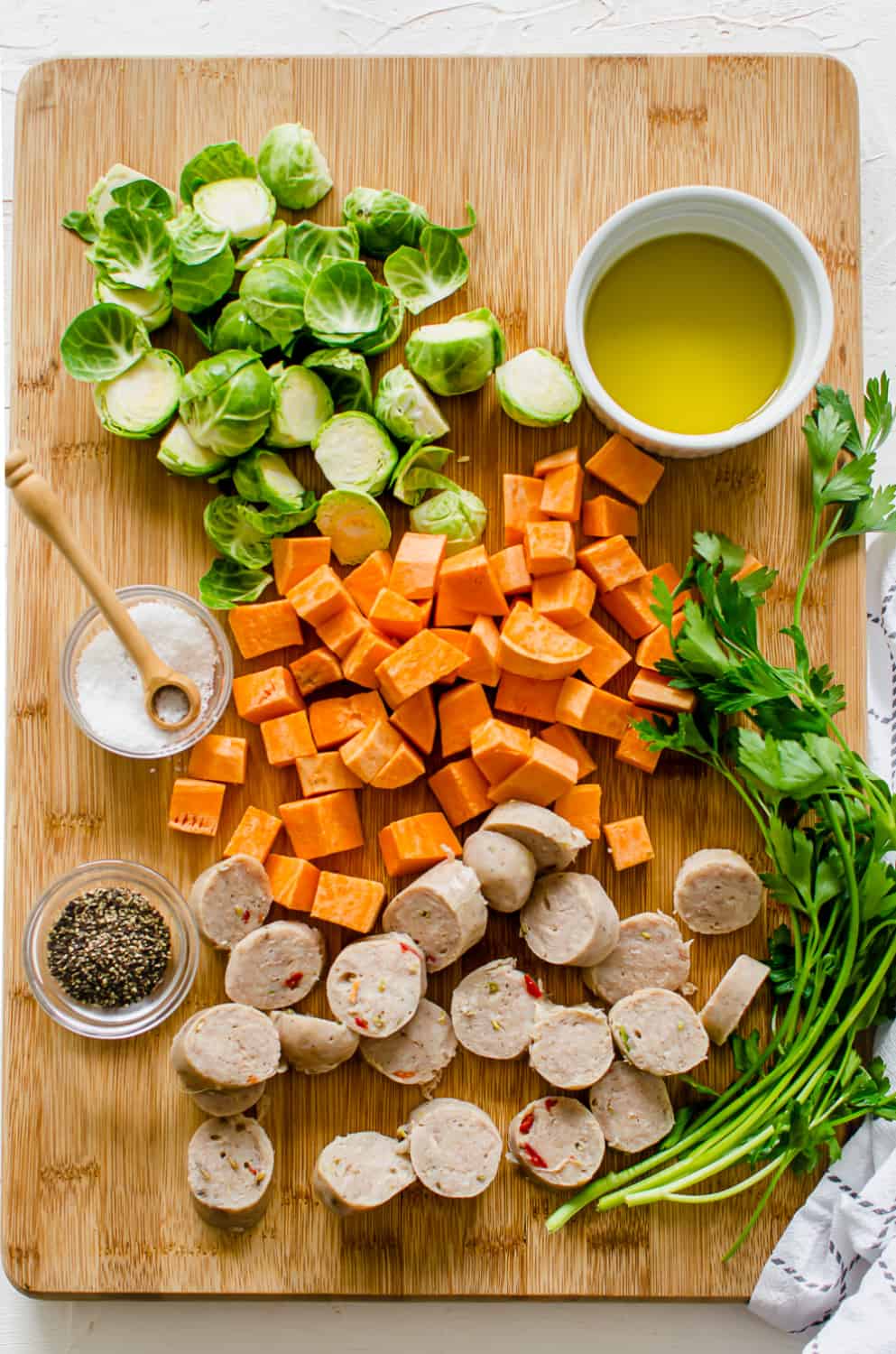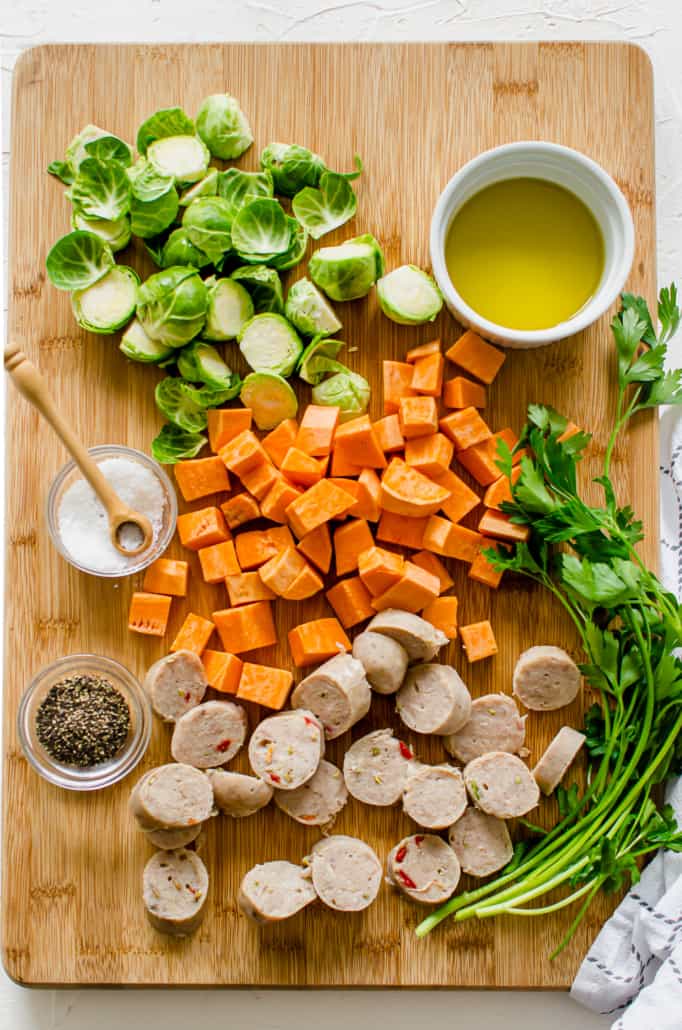 Brussels sprouts
Sweet potatoes
Chicken sausage (or fully cooked/smoked pork sausage)
We like the Aidells or Applegate Chicken Sausages, since they are all natural and usually gluten-free and dairy-free (check the labels). They come in various flavors, so just choose your favorite.
From your pantry, you'll also need olive oil or avocado oil, salt, and pepper.
Couldn't be easier!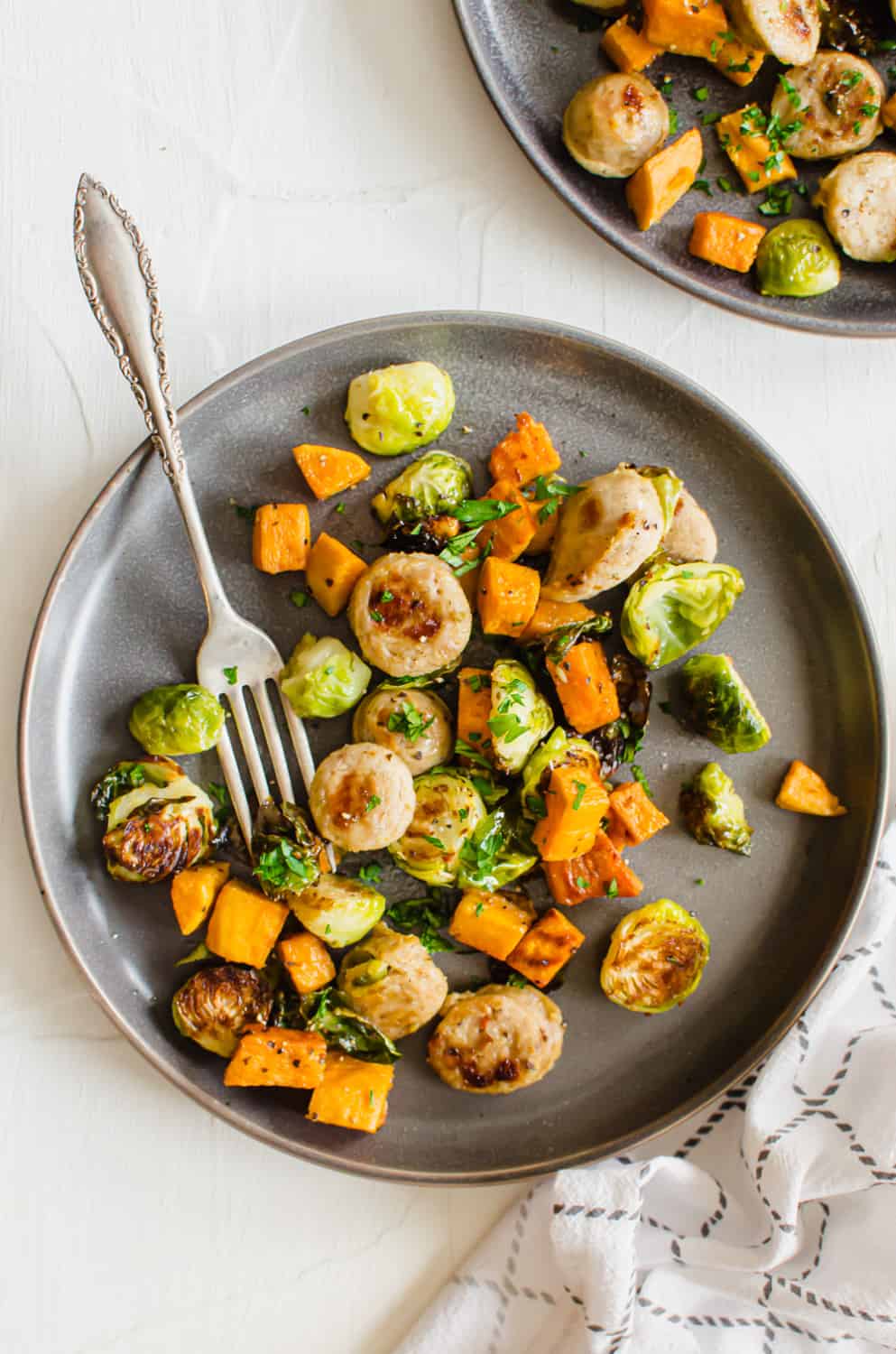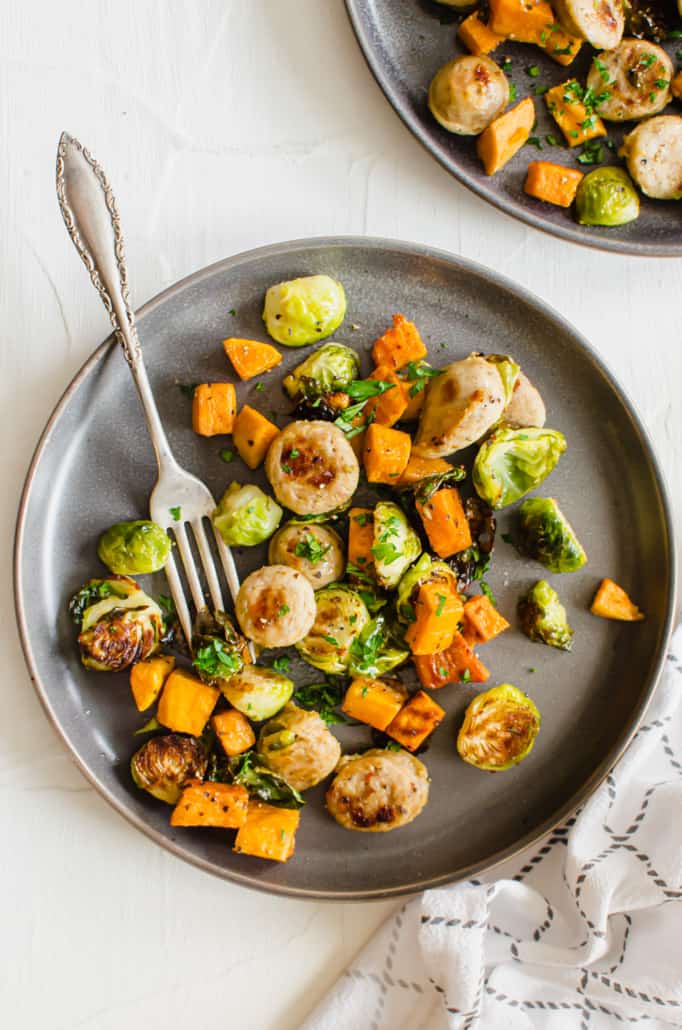 Step-by-Step Instructions
Preheat the oven to 425°F and place a rimmed baking sheet in the oven to start getting hot. This is the rimmed sheet pan set I have and use all the time. It's warp resistant, very large, and conducts heat well. I also like that there is a baking/cooling rack that fits on top of the pan, which can be used for many purposes (like baking bacon).
Place the sliced Brussels sprouts, diced sweet potato, and sliced chicken sausages in a mixing bowl.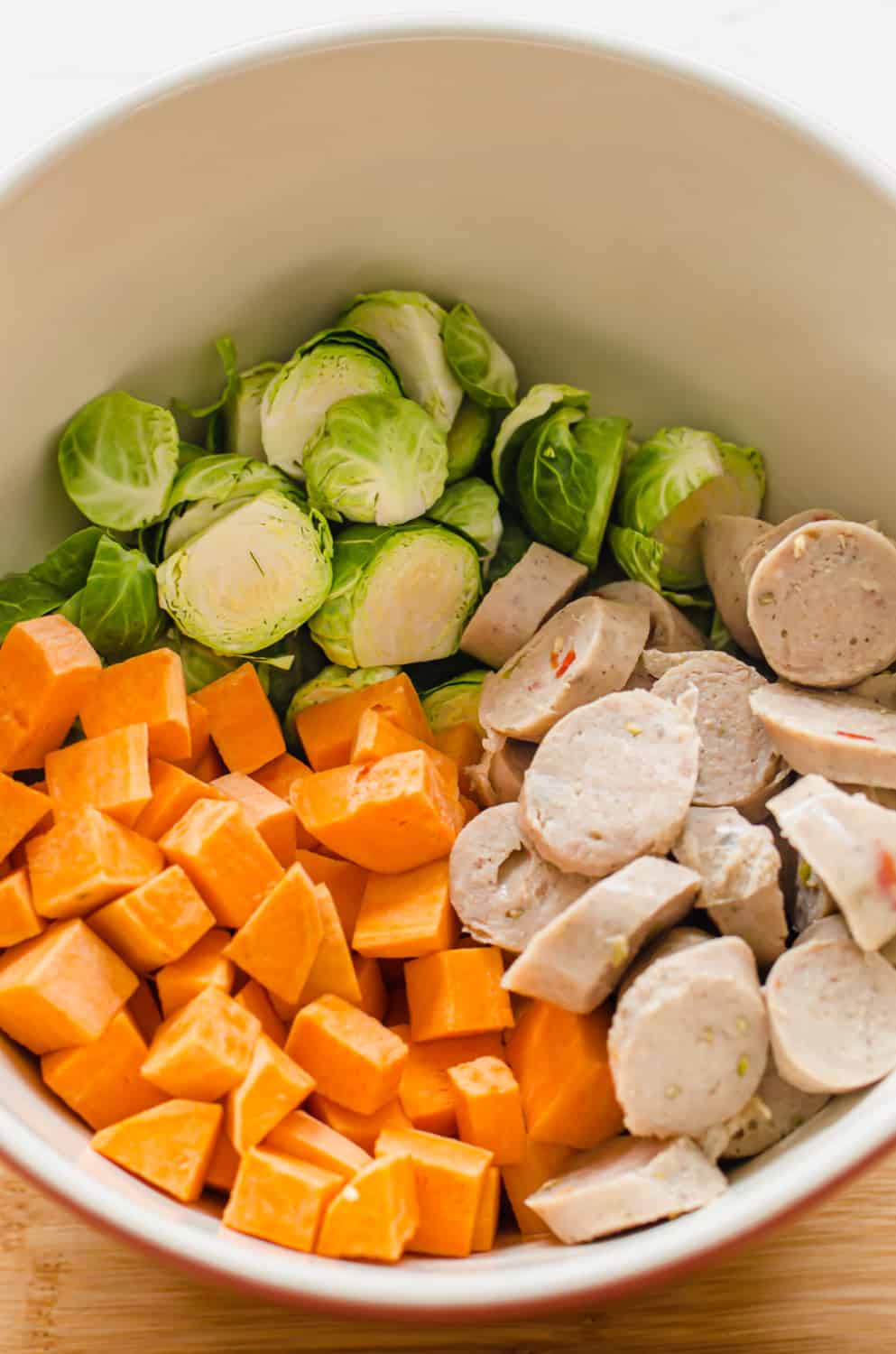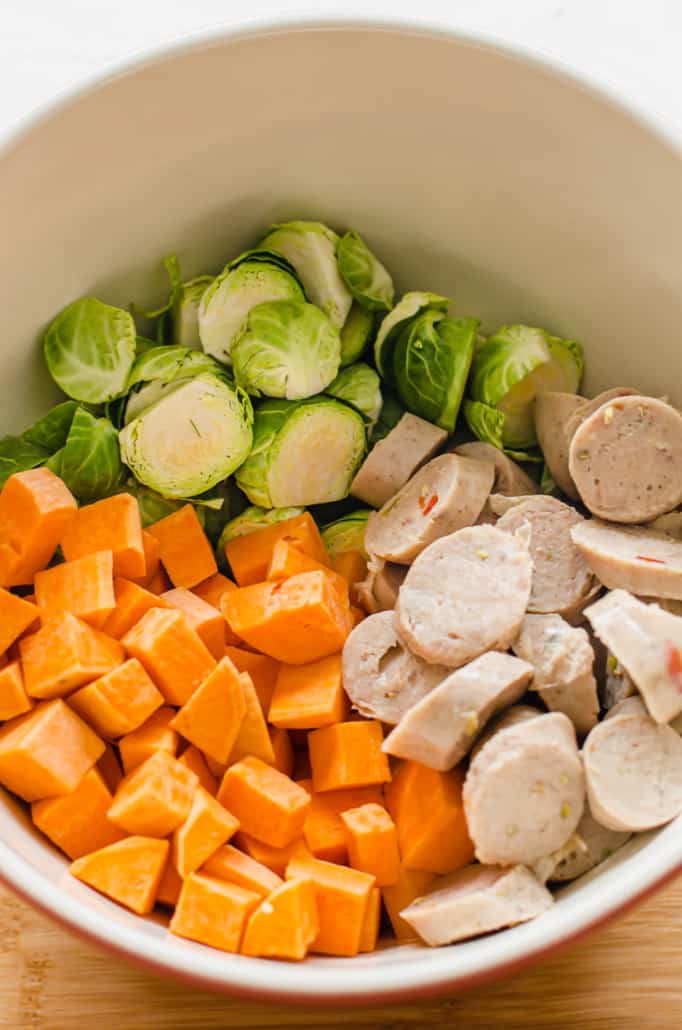 3. Add the oil, salt, and pepper and stir to combine.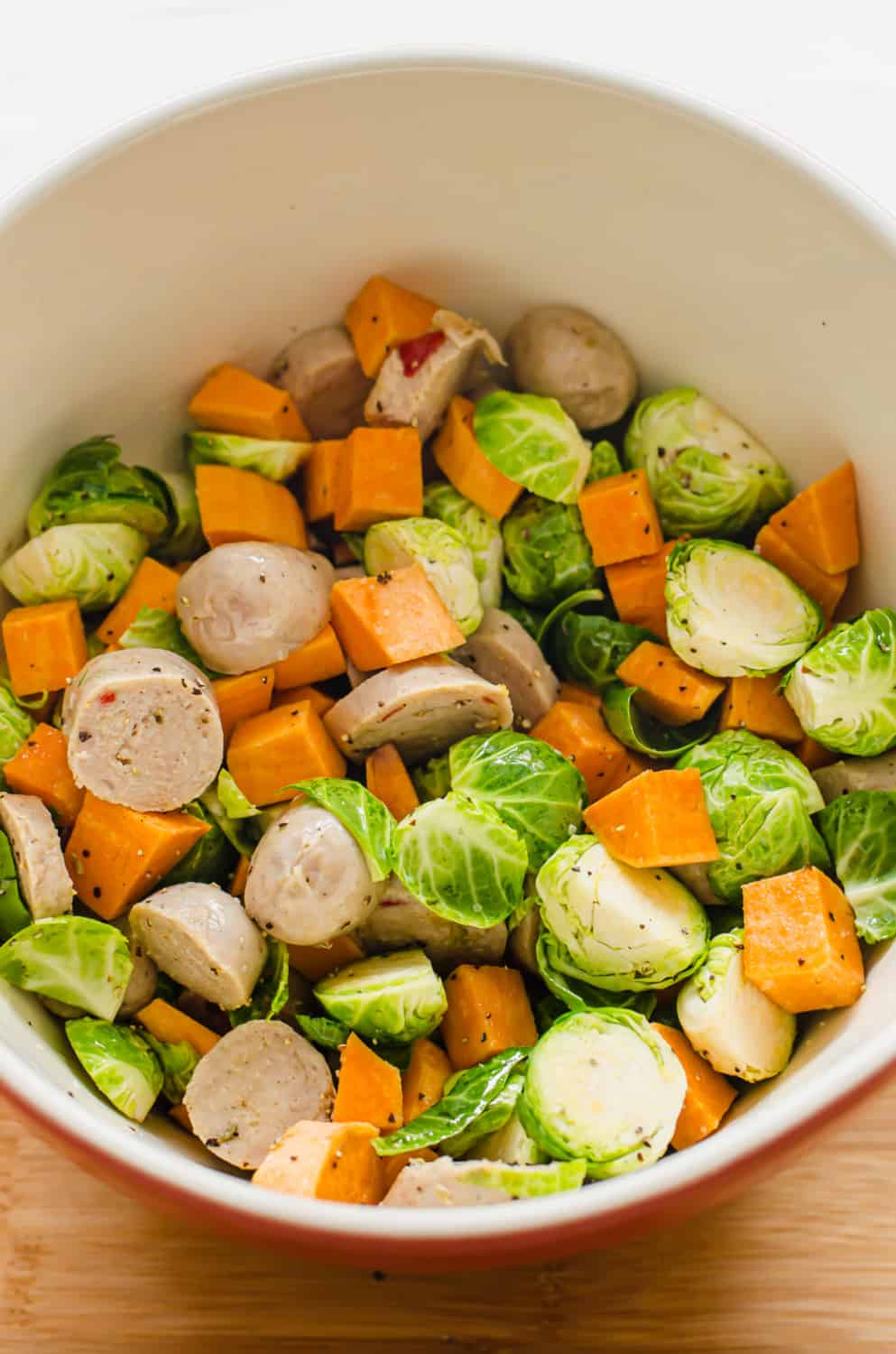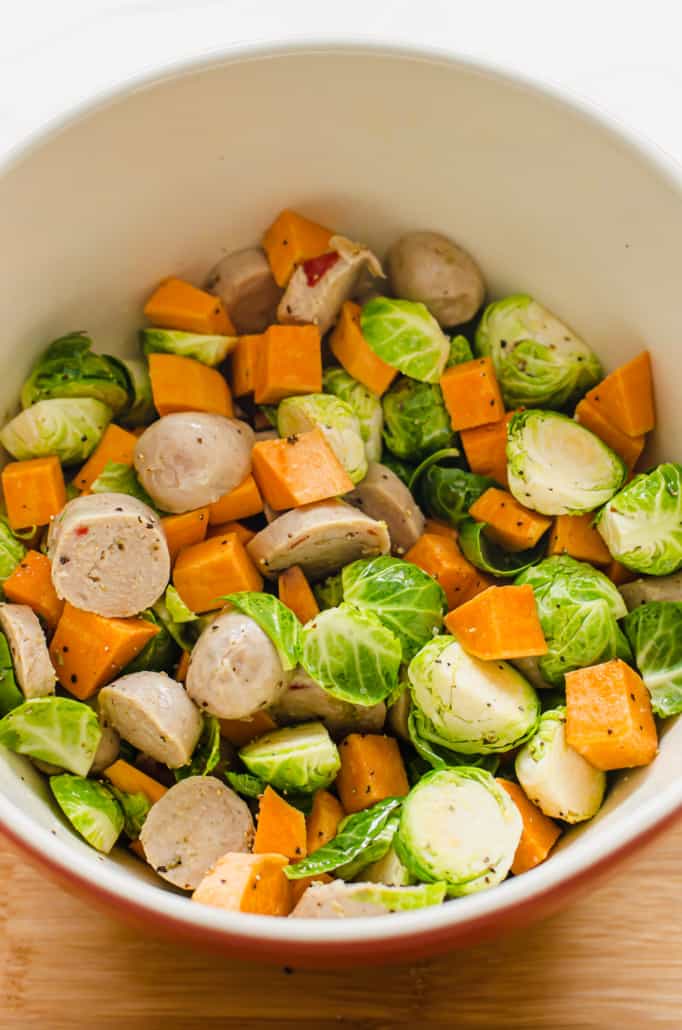 4. Carefully remove the hot sheet pan. Dump the sausage and veggie mixture on it and shake the pan (or use a spatula) to spread everything out so the pieces aren't crowded together. This will help them roast rather than steam.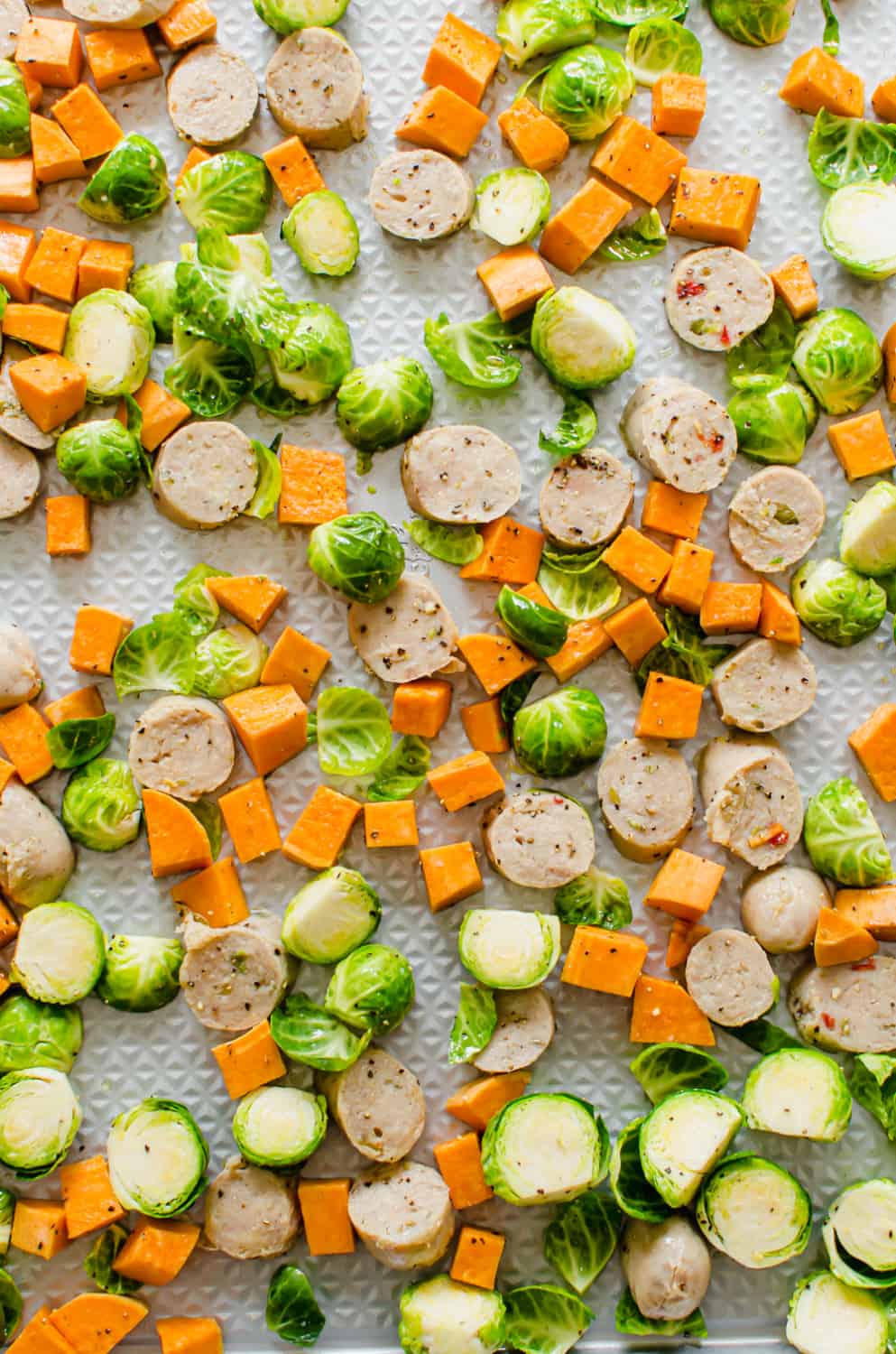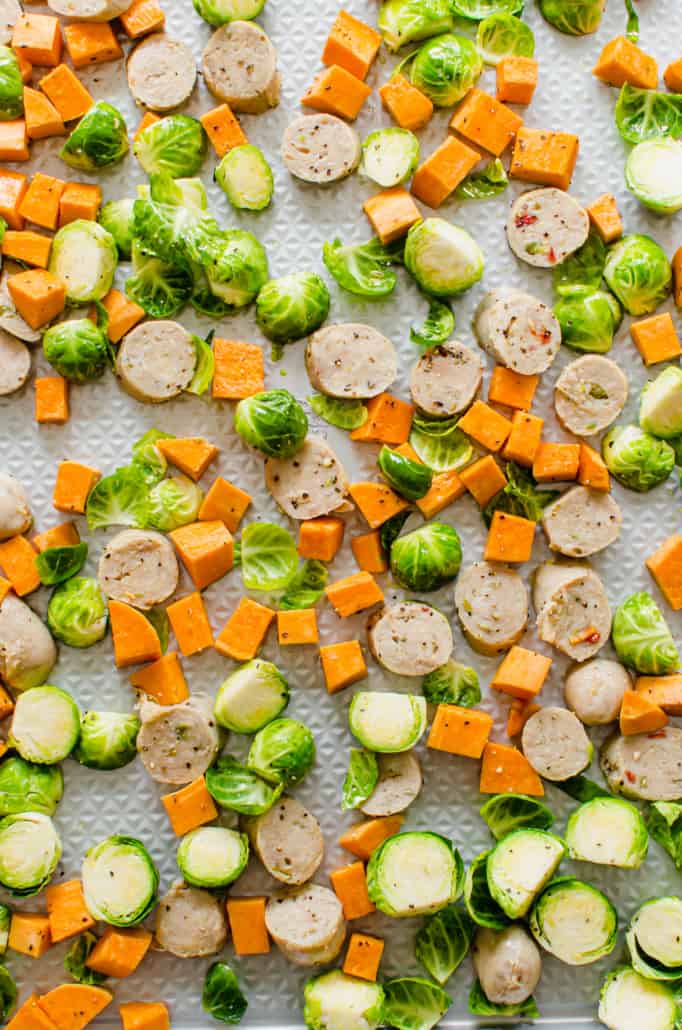 5. Bake for about 15 minutes, stirring halfway through the time.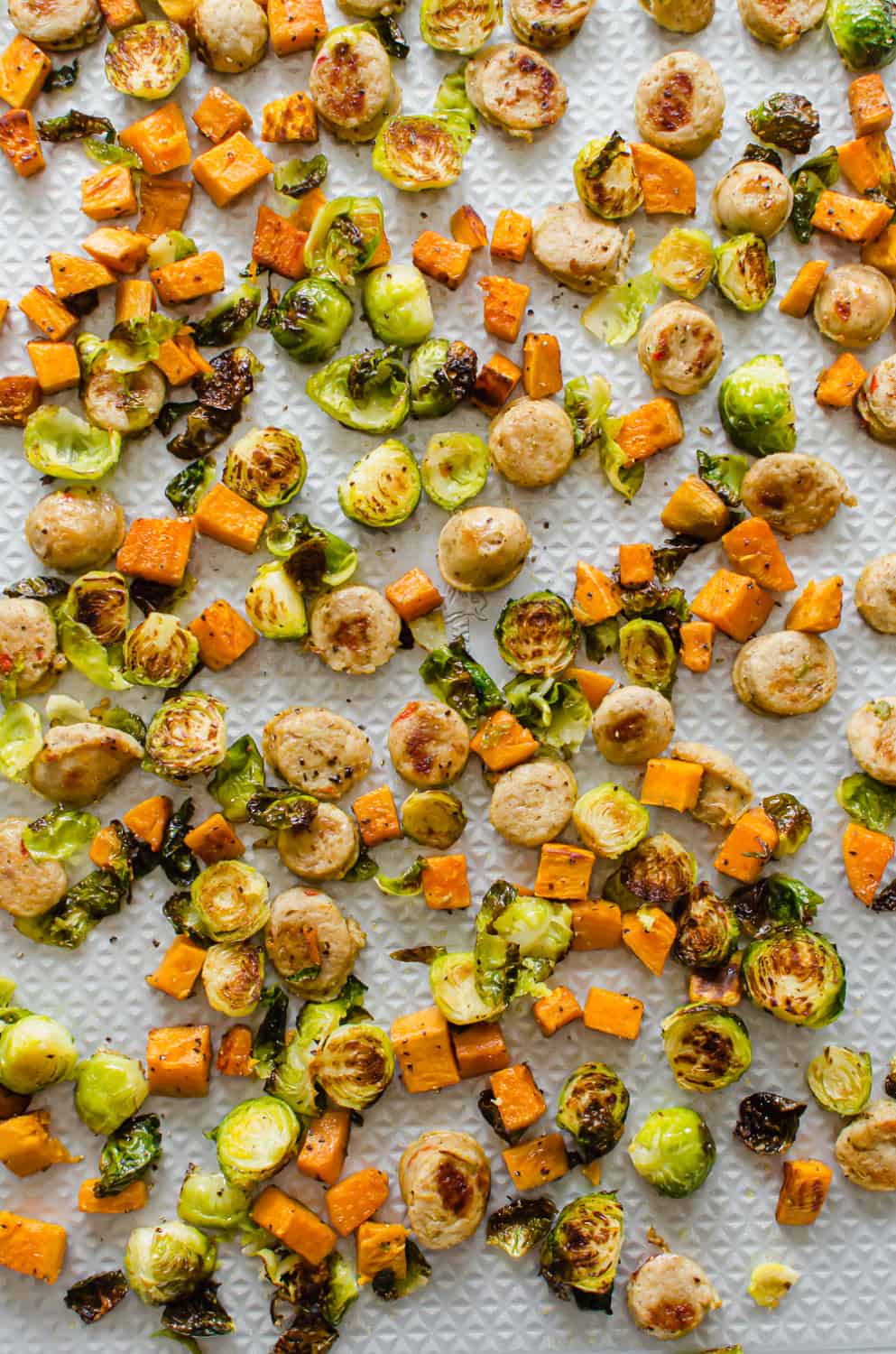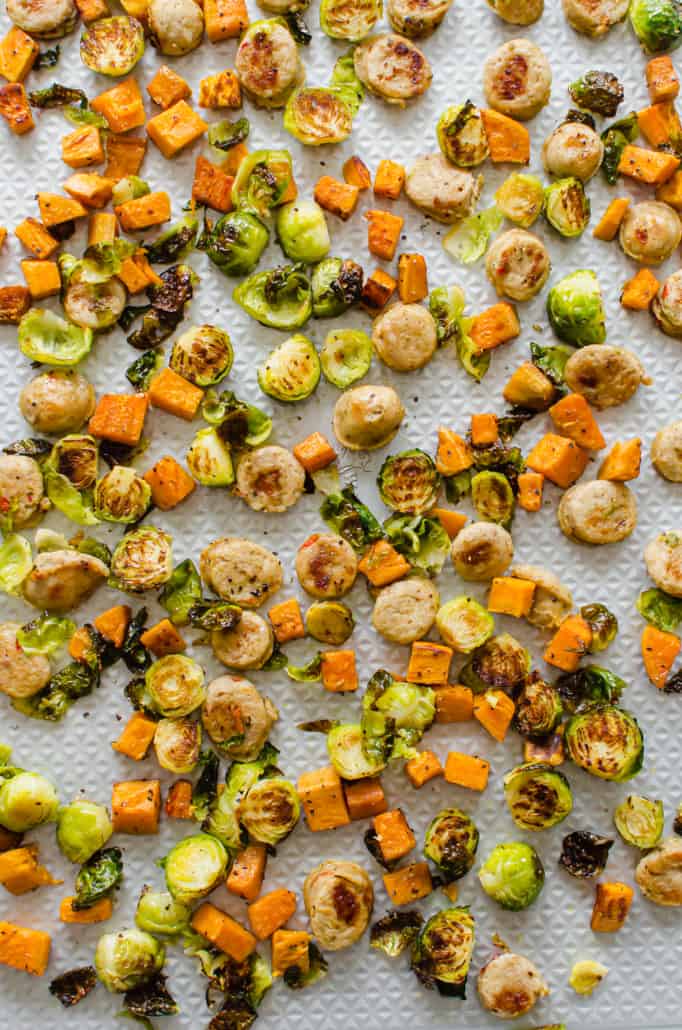 6. Eat while it's warm. You may want to add more salt and pepper, some fresh chopped parsley, or some freshly grated Parmesan on top. Strangely enough, I actually really enjoy dipping the pieces in ketchup!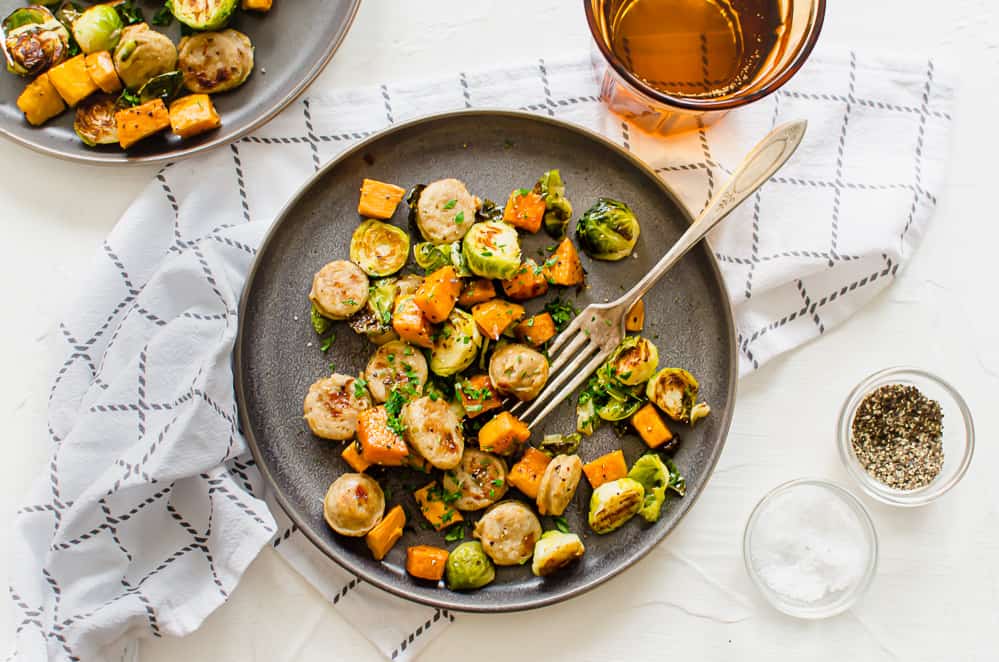 How to Meal Prep This Dish
This recipe works well to prep for individual meals for the week. We like these oven safe, microwave safe glass dishes that are pictured below.
Simply double the recipe using two sheet pans or working in two batches. After cooking and cooling, divide the sausage and veggies into individual storage containers and place in the refrigerator. Leftovers will store well in the fridge for 3-4 days.
When you're ready to eat your meal, reheat it in the oven at 350°F for about 5-10 minutes on a sheet pan (or use a toaster oven), microwave it, or just eat it cold.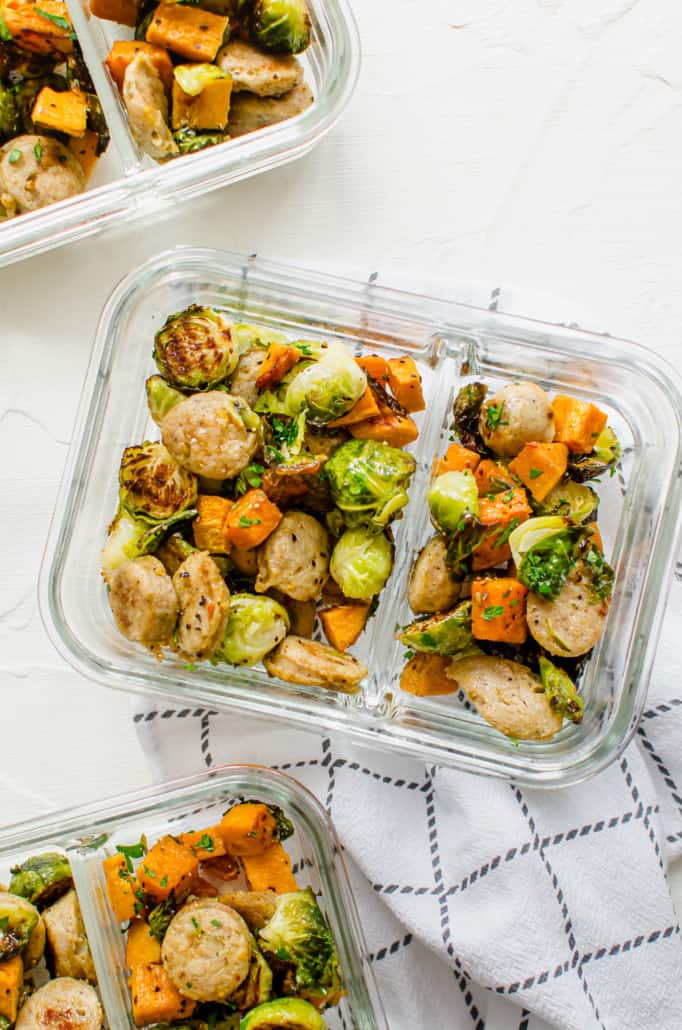 Want More Roasting Recipes?
Did you make this? Snap a photo and tag us on Instagram at @thrivinghome so we can see your creations and cheer you on!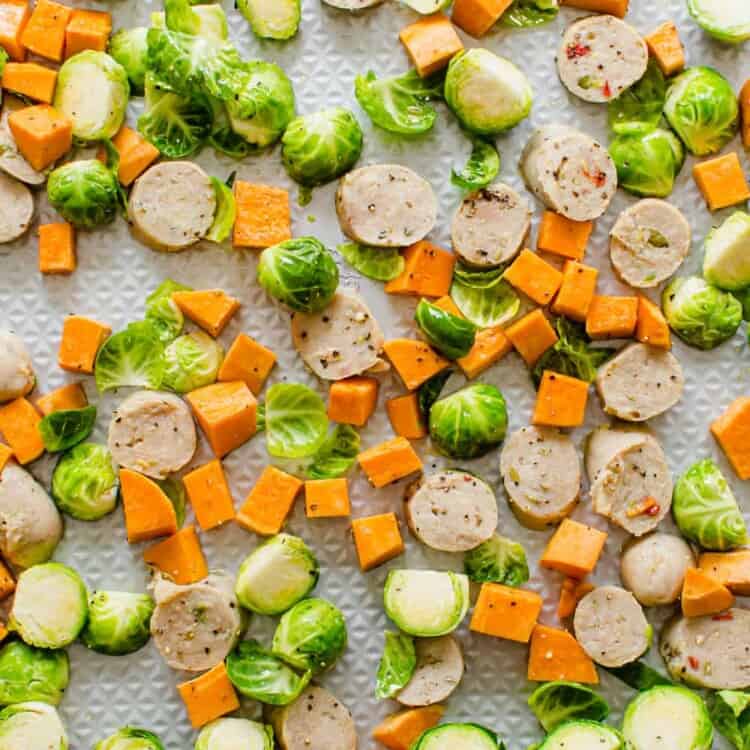 Sheet Pan Sausage and Veggies
This sheet pan dinner with sausage, sweet potato, and Brussels sprouts is simple, fast, and nutritious, too.
Prep:
10 minutes
Cook:
20 minutes
Total:
30 minutes
Ingredients
2

medium sweet potatoes, peeled and diced into 1/2 inch cubes (about

2 cups

)

2

cups

of Brussels Sprouts, stemmed and cut in half (about 3/4 lb)

2 tablespoons

avocado oil (sub: olive oil)

1/2 teaspoon

salt, plus more to taste

1/4 teaspoon

pepper, plus more to taste

12

-ounce package of all-natural Smoked Chicken & Apple Sausage or Italian Style Smoked Chicken Sausage cut into

1/2

-inch slices*
*Look for the sausages with the fewest additives/preservatives in the ingredient list. I usually have luck finding all-natural ones, like what we linked to in the ingredient list above, in the health food section. If making this gluten-free and/or dairy-free, be sure to check the packaging and ingredients to avoid both.
Before You Begin! If you make this, please leave a review and rating letting us know how you liked this recipe! This helps our business thrive & continue providing free recipes.
Instructions
Place a large rimmed baking sheet in the oven and preheat to 425°F.
Meanwhile, place the diced sweet potatoes and sliced Brussels sprouts in a mixing bowl. Add the oil, salt, and pepper and stir until coated with oil. 
Using oven mitts, carefully remove the hot sheet pan. Dump the veggie mixture onto the pan. Sprinkle the sliced sausage around the pan to equally distribute among the veggies. Shake the pan or use a spatula to spread everything out so each piece is touching the pan and not too crowded.
Bake for about 20 minutes, stirring halfway through. Taste and season with more salt and pepper, as needed. Note: The Brussels sprouts and sausages will be browned on both sides and the sweet potatoes will be softened when done. See more about sweet potatoes below.
---
Notes/Tips
To Get Crispier Sweet Potatoes: If you want the sweet potatoes to be crispier, you'll have to start roasting them about 5 minutes earlier than the rest of the ingredients. Or, add the sweet potatoes to a separate pan so they can spread out and roast faster. 
Gluten-Free Version: Be sure to buy gluten-free sausages. Some have hidden ingredients that contain gluten.
Other Vegetable Options: You can substitute fairly thin carrot slices (or 1/2-inch diced carrots) for the sweet potatoes. You can use broccoli or cauliflower florets for the Brussels sprouts, but you'll need to add those with only 15 minutes left of cook time (they roast faster than the sprouts).
Can I Use Raw Sausages? Yes, you can add them sliced or whole. However, they may take up to 25 minutes to get fully cooked. So, we would recommend starting those first and then adding the vegetables after 5 minutes. Then, continue to cook everything for another 20 minutes, stirring halfway through. 
To Add More Heat: Stir in a pinch of red pepper flakes to add more spiciness.