Roasted Chicken and Vegetables
This post may contain affiliate or sponsored links. Please read our disclosure policy.
Simple, fresh ingredients yield a moist, flavorful Roasted Chicken and Vegetables meal that your whole family is sure to love.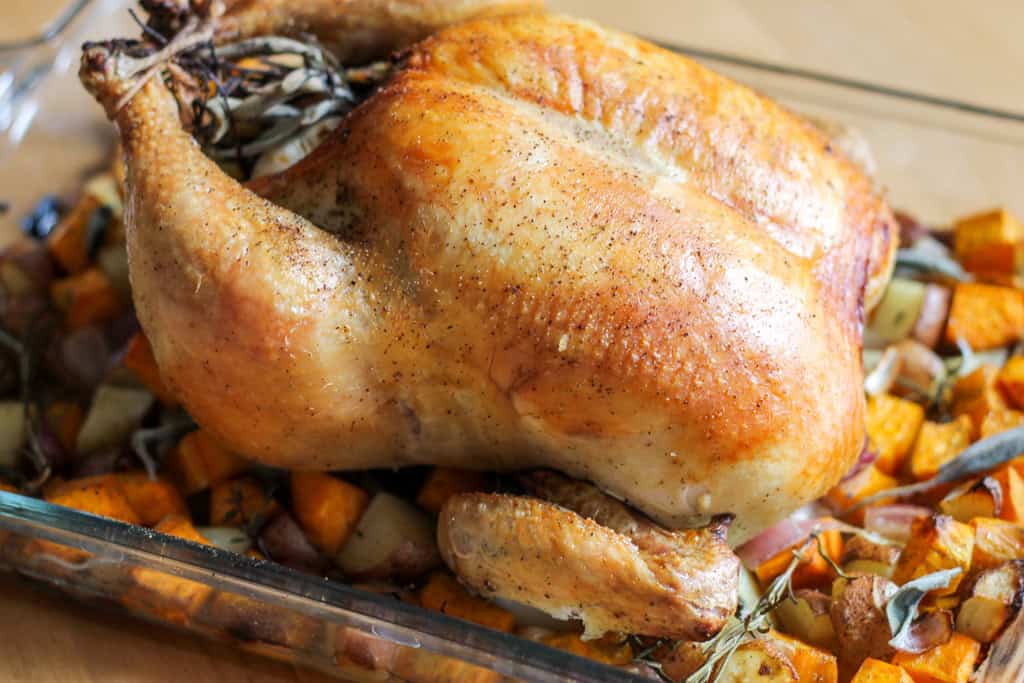 About This Recipe
Whole chicken is a very economical and healthy meal to prepare for your family or for company. While it does take a little work to infuse flavor on the front end, the beauty of this recipe is that it's a one-pan wonder that's full of amazing flavor. Plus, the leftovers can be stretched even further by using them to make chicken stock later.
The chicken turns out extremely moist with crispy skin on the top. You can taste the citrusy, garlicky, herbaceous flavor in every bite. The vegetables end up the consistency of crockpot vegetables since most of them sit under the chicken and absorb the juices. So, don't expect the traditional roasted vegetable crispiness, but I think they are delicious with a bite of chicken dredged in the juices on the same fork.
What's in Roasted Chicken and Veggies?
One of the best ways to be efficient in the kitchen is to lay out all your equipment and ingredients before you begin preparing a recipe. The French call this "mise en place", which literally means "everything in place" before starting.
In this recipe, you'll use a variety of simple, fresh ingredients. Here's what you'll need:
1 – 1.5 lbs red potatoes
1 large sweet potato, peeled
2 large carrots
1 red onion
1 lemon
1 head of garlic
olive oil
salt and pepper
1 (4-5 lb) whole roasting chicken (we get our chicken from here)
1 large bunch of fresh herbs (recommend a mixture of any of the following: sage, rosemary, parsley, and/or thyme)
What Equipment Do I Need?
Then, grab this equipment to have on hand…
How to Make Roasted Chicken with Vegetables
The basic method for this Roasted Chicken and Veggies recipe is this:
Step 1: Dice root vegetables, like sweet potatoes, red potatoes, carrots, and red onion, and place in the bottom of a roasting dish. Toss them some oil and season well with salt and pepper.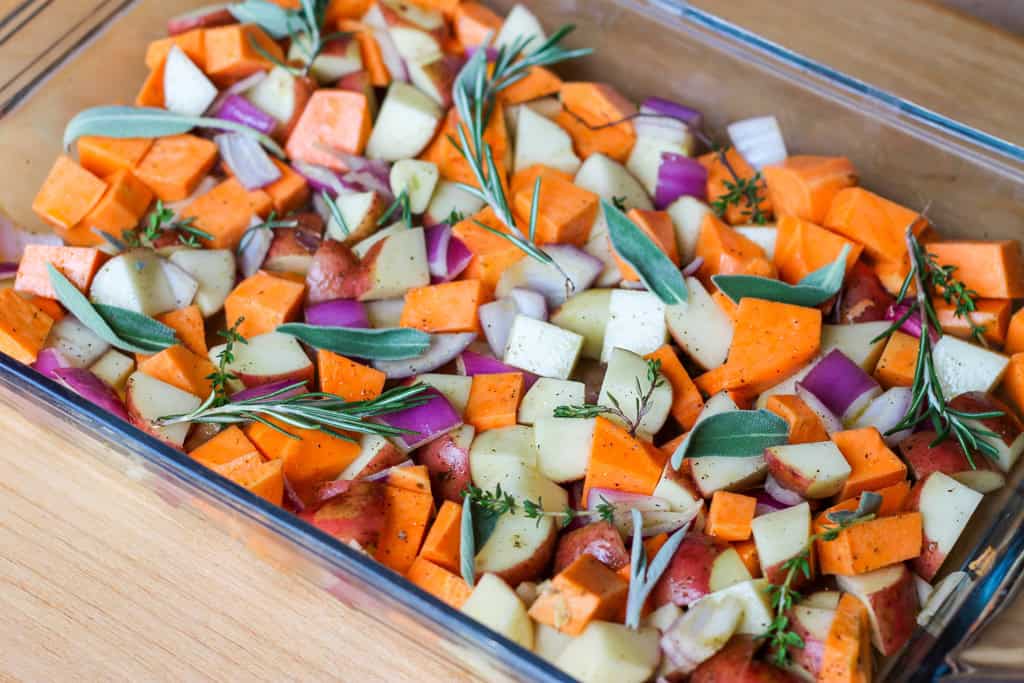 Step 2: Then, oil, season (generously!), and stuff your chicken with lots of aromatics, including fresh herbs, garlic, red onion, and lemon, that will create a delicious sauce that drips over your chicken and roasted vegetables. Be sure to tie the legs together using some kitchen twine and tuck the wings under the bird to make sure it roasts evenly.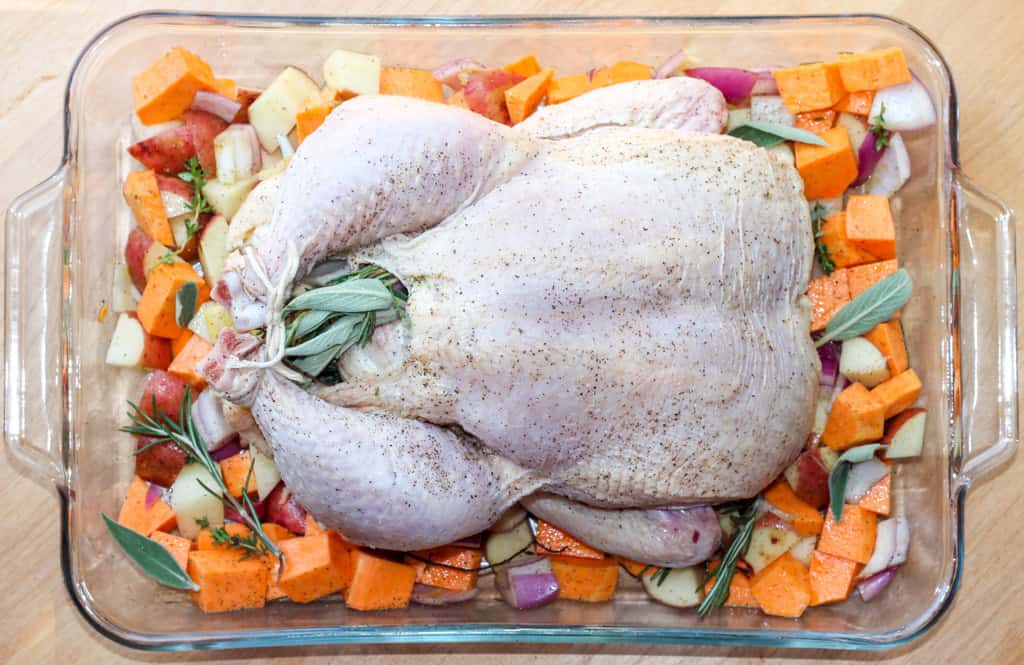 Step 3: Roast the chicken, breast side up, in a 425°F oven for about 1 to 1 1/2 hours, until done.
Step 4: Let it rest at least 20 minutes, so the juices can redistribute throughout, before slicing.
How Do I Know When the Roasted Chicken is Done?
The general rule is that it takes about 15 minutes per pound of chicken, so a 4 pound chicken is going to take at least 1 hour. But, you'll still need to check to make sure your chicken is done. Here are a two ways to check for doneness:
Use a meat thermometer. This is the most accurate way to determine when to take out your chicken and make sure it doesn't get overcooked. You'll find our favorite meat thermometer here. The chicken is done when it register 165°F internally. Take the temperature of the chicken in the deepest part of the thigh, where the leg and thigh meet.
Check the juices and drumsticks. Insert a knife into the area between the breast and thigh. If the juices run completely clear, it's done. If the juice is still pink, then it needs to roast longer. If using this method, you should also shake the drumsticks. If they wiggle easily, that's another indicator that your chicken is done.
I would suggest reserving a total of 2 hours to prepare this meal–about 1 hour of hands-on time for prep and clean up and 1 1/2 hours of hands-free time while the chicken roasts and rests.
What Should I Do with the Leftovers?
Don't waste a single part of your whole chicken! Whole chicken can really stretch a buck when you use all the leftovers.
Use the carcass (and the neck you removed earlier!) to make Homemade Chicken Stock. Not only is homemade stock delicious, economical, and freezer-friendly, but it's is super healthy, too.
You can also use leftover chicken in our Lemon Chicken Orzo Soup or to top a salad like My Favorite Cobb Salad or Asian Slaw. Yum!
If you want to make a special chicken dinner that's good enough for company, this one-pan wonder will do the trick!
Did you make this? Snap a photo and tag us on Instagram at @thrivinghome so we can see your creations and cheer you on!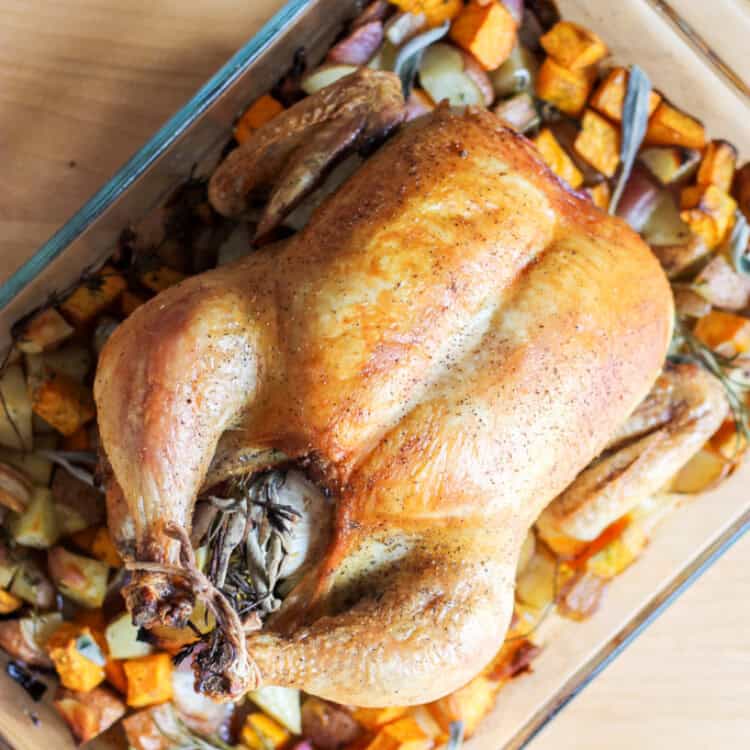 Roasted Chicken and Vegetables
Simple, fresh ingredients yield a moist, flavorful one-pot chicken meal. Shhh…the roasted vegetables might just be the star of the show.
Prep:
30 minutes
Cook:
1 hour 30 minutes
Total:
2 hours
Ingredients
1

–

1 1/2

lbs

red potatoes

1

large sweet potato, peeled

2

carrots, peeled

1

red onion

1

lemon

1

head of garlic
olive oil
salt and pepper

1

(4-5 lb) whole roasting chicken (we get our chicken from here)

1

large bunch of fresh herbs (recommend a mixture of any of the following: sage, rosemary, parsley, and/or thyme)
Equipment Needed:
Paper towels
Kitchen twine
Foil
Before You Begin! If you make this, please leave a review and rating letting us know how you liked this recipe! This helps our business thrive & continue providing free recipes.
Instructions
Preheat the oven to 425°F.
Prep the Veggies:

On a large cutting board, chop the potatoes, sweet potato, and carrots into 1 inch pieces. Trim the ends off the onion, peel off the skin, and quarter it. Set aside half of the onion to stuff the chicken later. Then, dice the other half into 1 inch (or smaller) pieces. 
Cut the lemon in half and the garlic head in half lengthwise and set aside for stuffing the chicken later, as well.
Place all the 1 inch diced veggies in a 9×13 inch casserole dish (or large roasting pan). Drizzle them with a little olive oil (about 2-3 tablespoons). Season well with salt and pepper. Toss to coat. Divide the herbs in half. Tear half of them into smaller pieces and place on top of the vegetables evenly (you will remove any with stems after cooking). You'll use the other half to stuff the chicken.

Prep the Chicken:

Place the chicken, breast side up, on top of the veggies in the casserole dish. Pull the neck and gizzard out of the chicken cavity. (Note: They are often inside the chicken in a bag. You can save the neck and use it in our chicken stock recipe.) Then, pat the whole chicken dry on all sides with paper towels.
Coat the skin with oil, rubbing it all over. Then, season it liberally with salt and pepper on the outside and inside the cavity, too. Don't be shy with seasoning here!
Stuff the chicken cavity with the remaining herbs, the lemon halves, the garlic halves, and the remaining onion pieces. (If they don't all fit, that's ok. Just stuff in as much as you can.)
Using some kitchen twine, tie the legs of the chicken together. Tuck the wing tips underneath the body of the chicken. Both of these steps help with even cooking.

Roast the Chicken: Place the chicken and veggies on the center rack of the oven. Set the timer for 60 minutes and do not disturb. The chicken is done when it registers 165°F in the thickest part of the thigh, when the wings and legs wiggle loosely, and when the juices run clear. This will likely take anywhere from 1 to 1 1/2 hours, depending on the size of your chicken (mine took 1 hour and 15 minutes). If it's not ready, keep roasting in 10 minute increments until done.
Rest and Serve: Remove from the oven, tent with foil, and let rest for 20 minutes before slicing and serving. Carve the chicken into the breasts, thighs, and drumsticks, and serve with some veggies.