Crock Pot Whole Chicken with Gravy
This post may contain affiliate or sponsored links. Please read our disclosure policy.
This low-prep, budget-friendly Crock Pot Whole Chicken (with gravy!) turns out moist and flavorful every single time. The fresh herbs, garlic, and onion hidden inside the bird bring big flavor as they slowly marry with the chicken juices. The drippings at the end are used to create a delicious gravy to serve on top.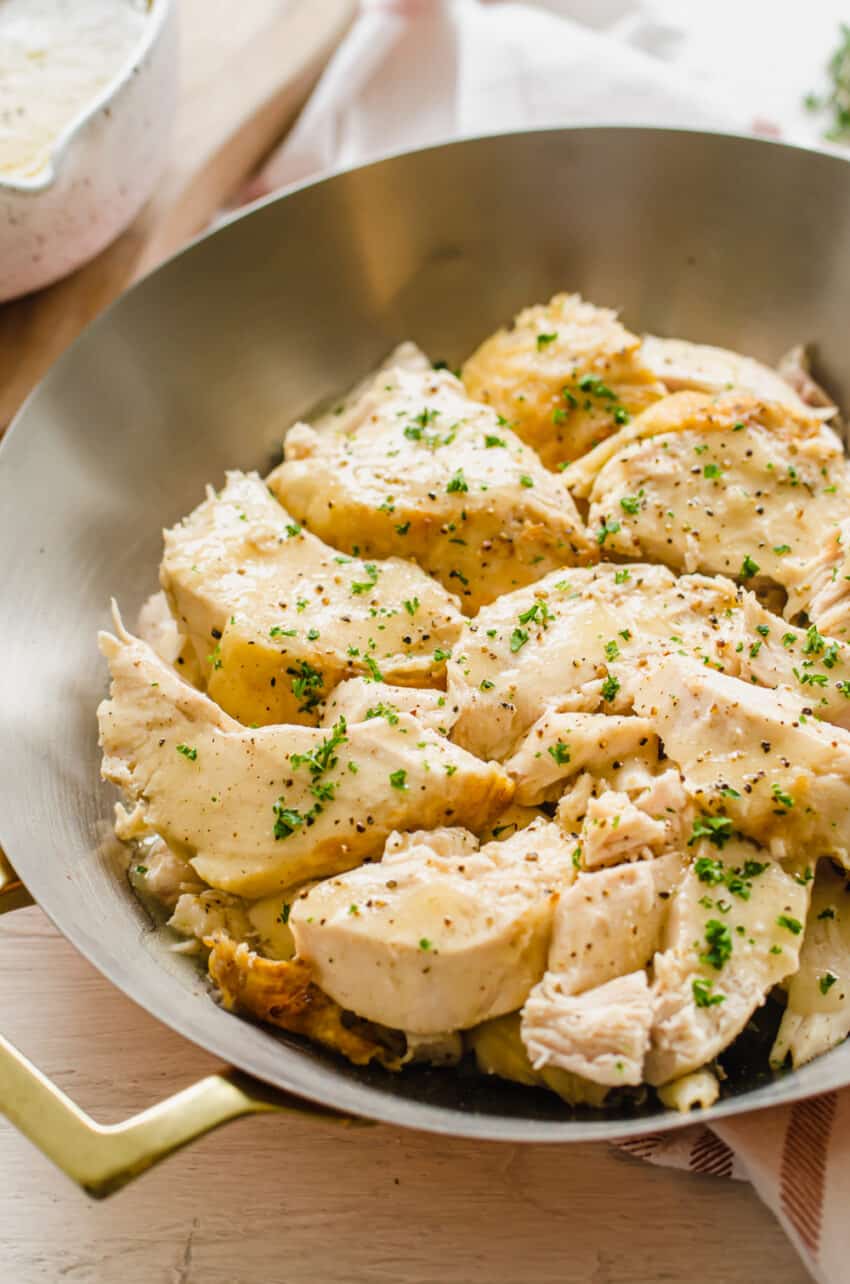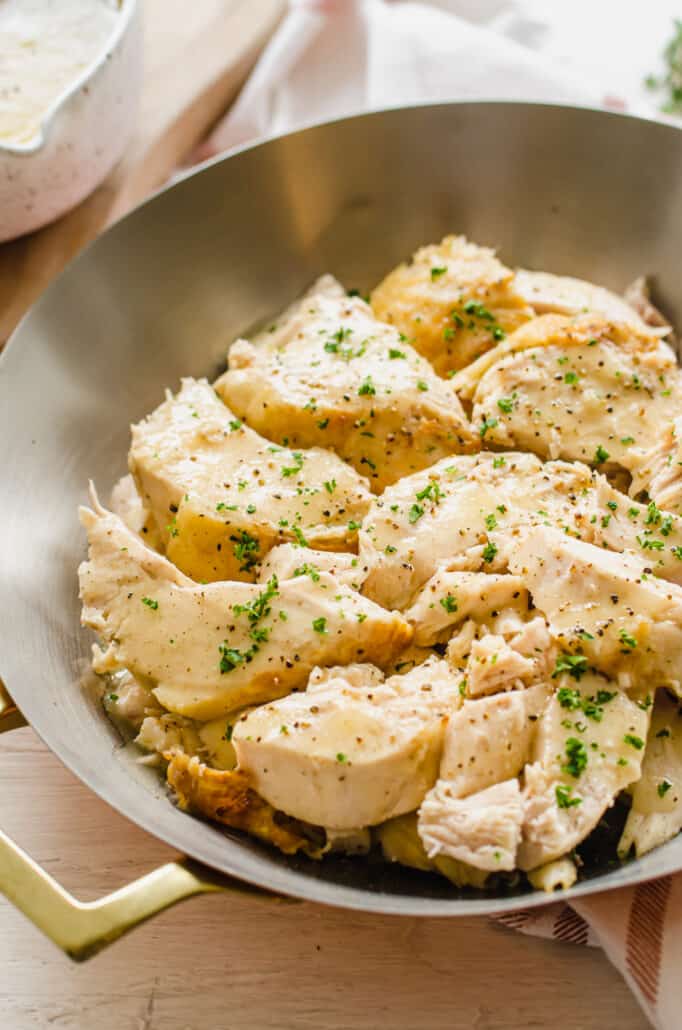 Ingredients
Only a few fresh, whole foods ingredients are needed for this healthy and flavorful chicken meal.
For the Chicken
1 (4-5 lb) whole chicken (we get our chicken here)
Butter (or olive oil)
Salt and pepper
Fresh thyme sprigs
Fresh rosemary sprigs
Fresh parsley
Fresh garlic head
Onion
For the Gravy
Butter
Unbleached, all-purpose flour
Salt and pepper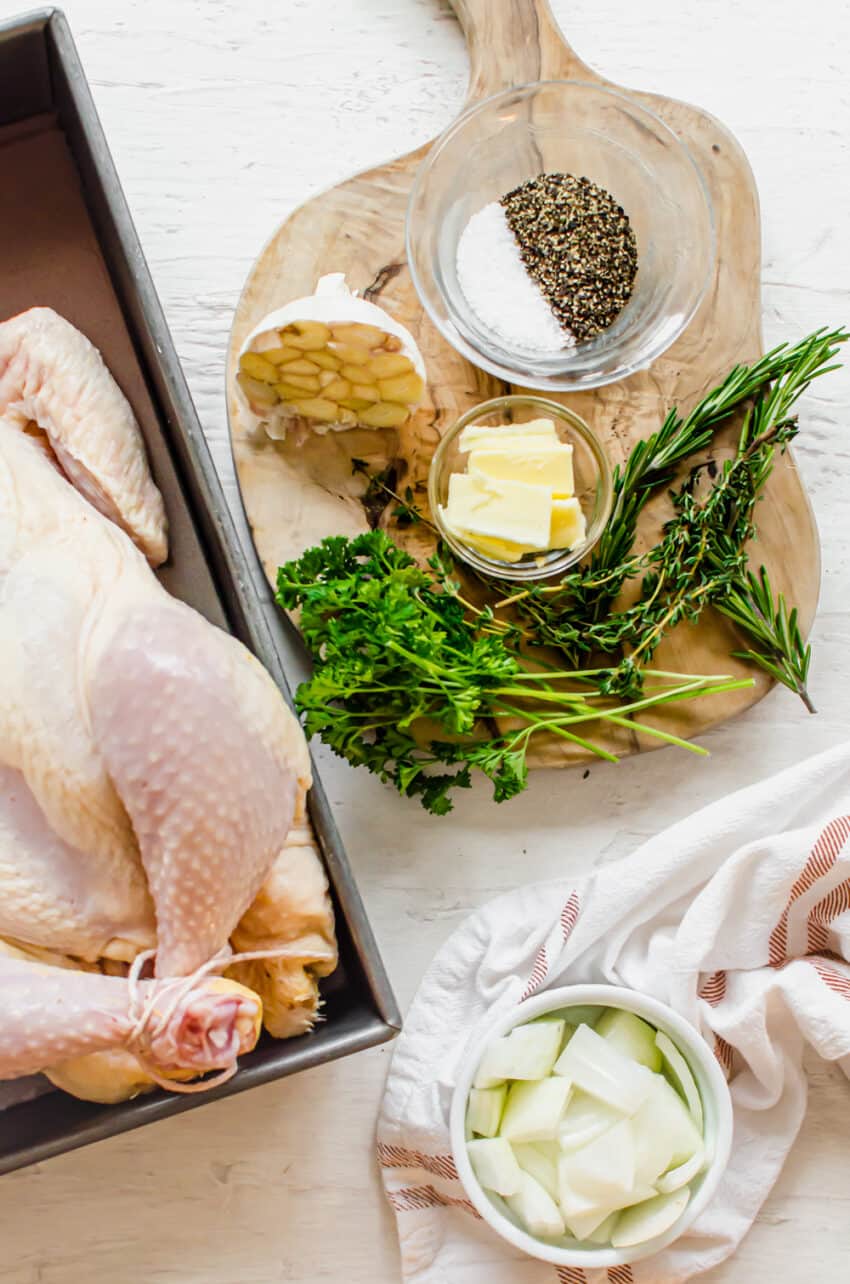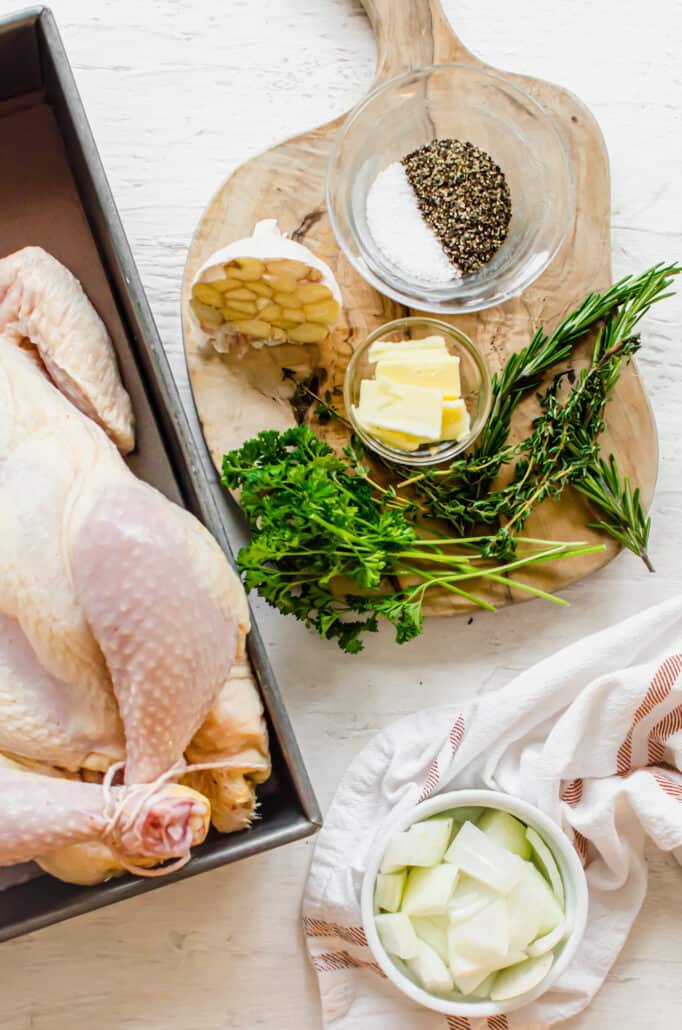 Step-by-Step: How to Cook a Whole Chicken in a Crock Pot
Season the outside and inside generously with salt and pepper and stuff the bird with onion, garlic, and fresh herbs. Tie the legs together with kitchen twine to help with even cooking.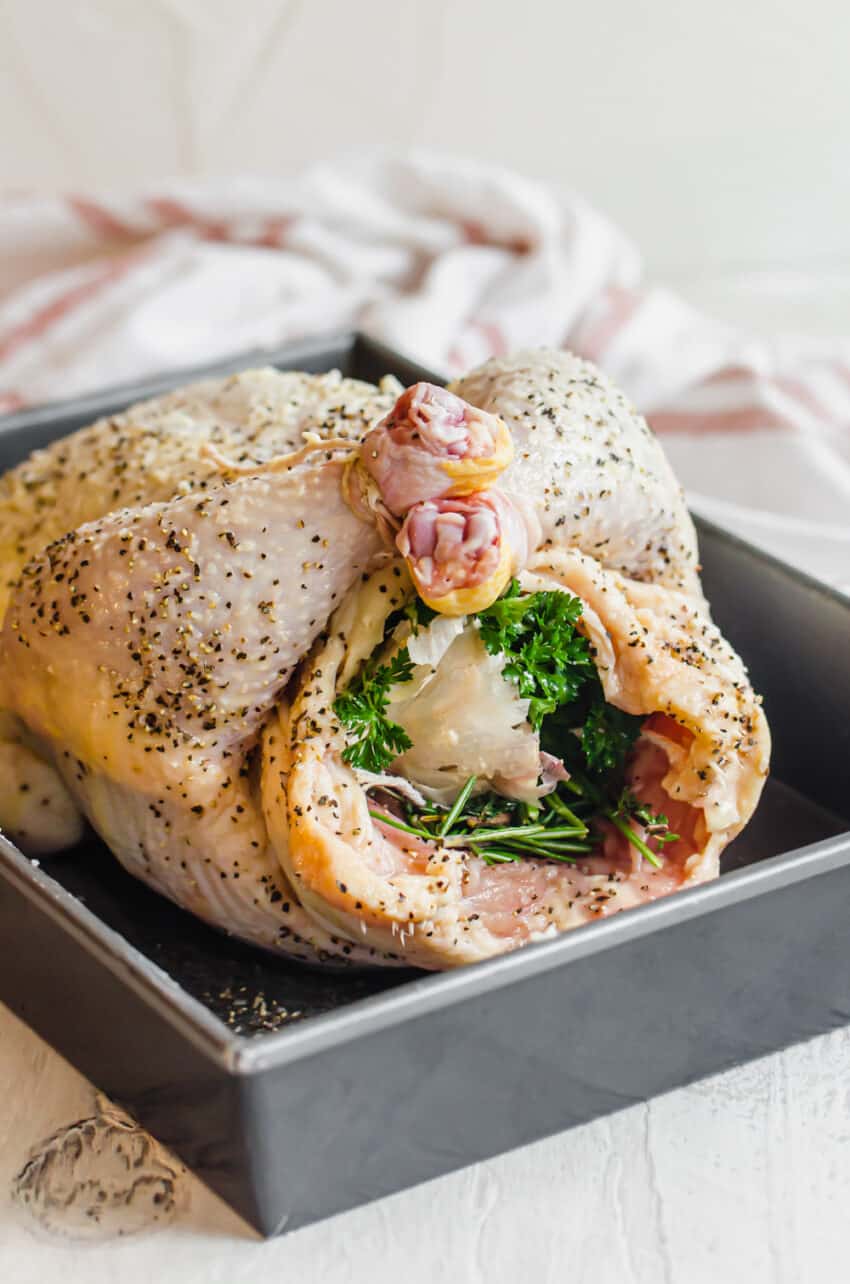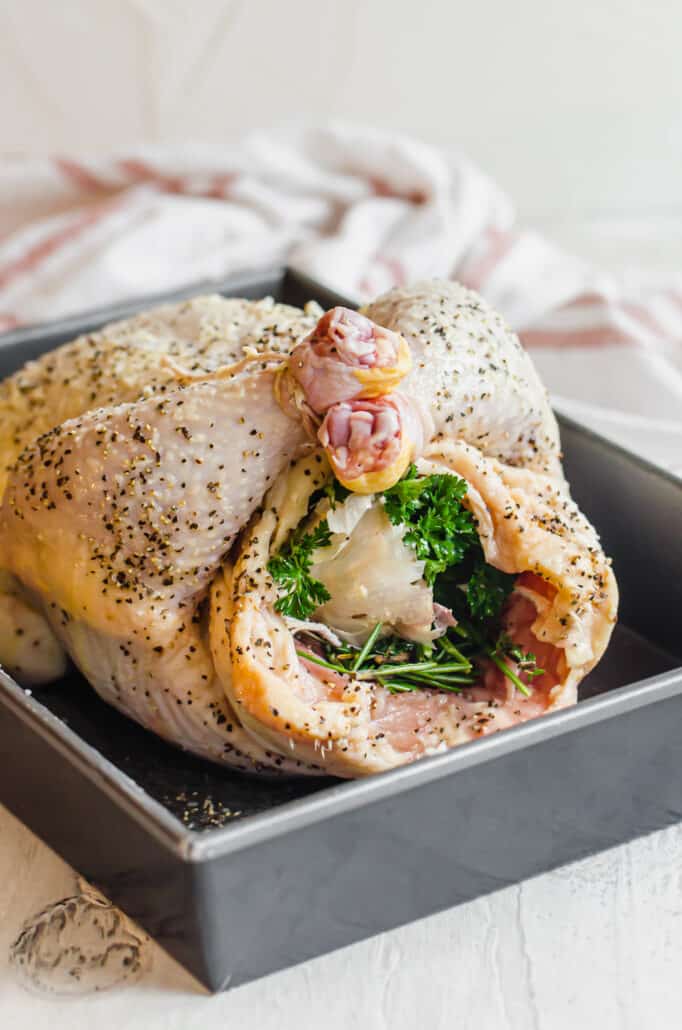 Tip: Make Chicken Stock
Your whole chicken will likely have the neck and giblets inside the cavity. Remove these before cooking but don't pitch them! You can make healthy, delicious stock using them and your leftover chicken carcass. Try our Chicken Stock recipe.
Chicken Stock Recipe
Place the chicken breast-side down in the slow cooker. Cover and cook on Low for 4 to 6 hours, until the chicken is cooked through. (The chicken is done when it registers 165°F near the inner thigh, between the leg and breast.)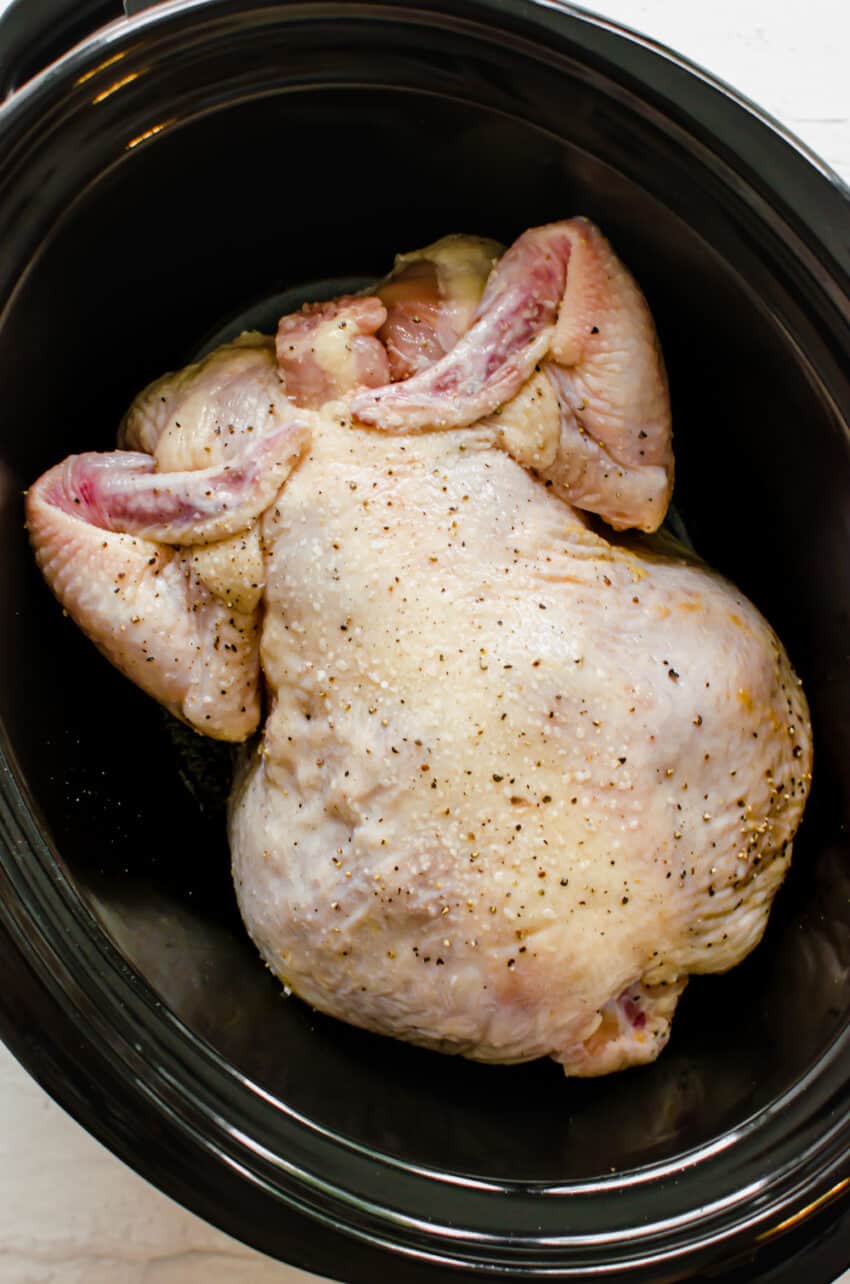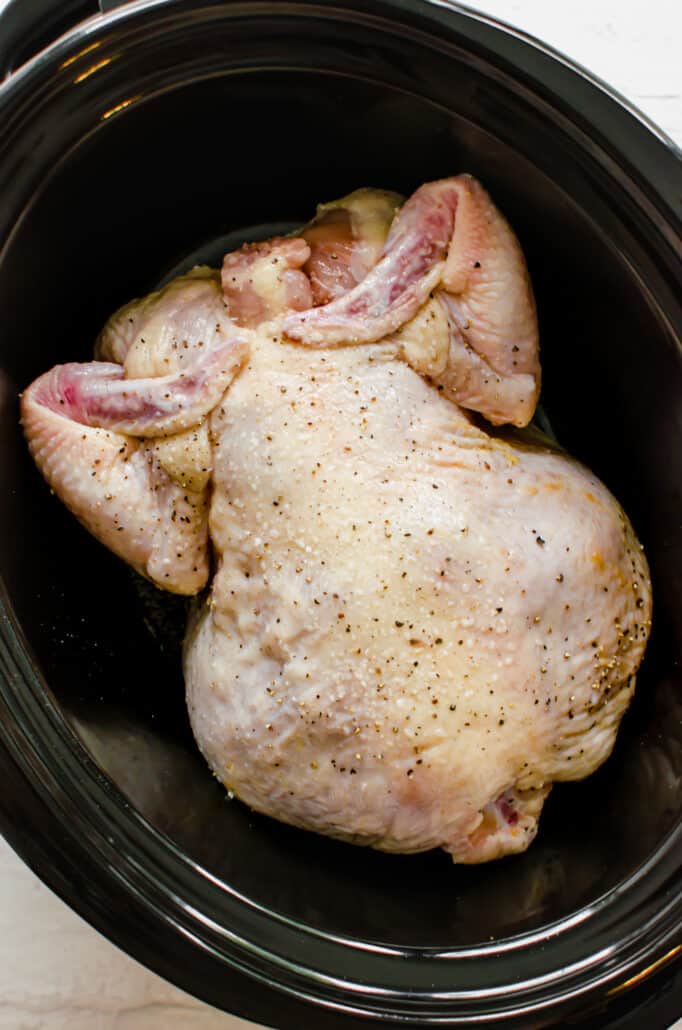 Broil Until Crispy on Outside
Transfer the chicken to a baking dish, breast-side up. Broil for 5-10 minutes, until crispy and golden brown, keeping a close eye on the chicken so it doesn't burn. Tent with foil and let rest for about 20 minutes.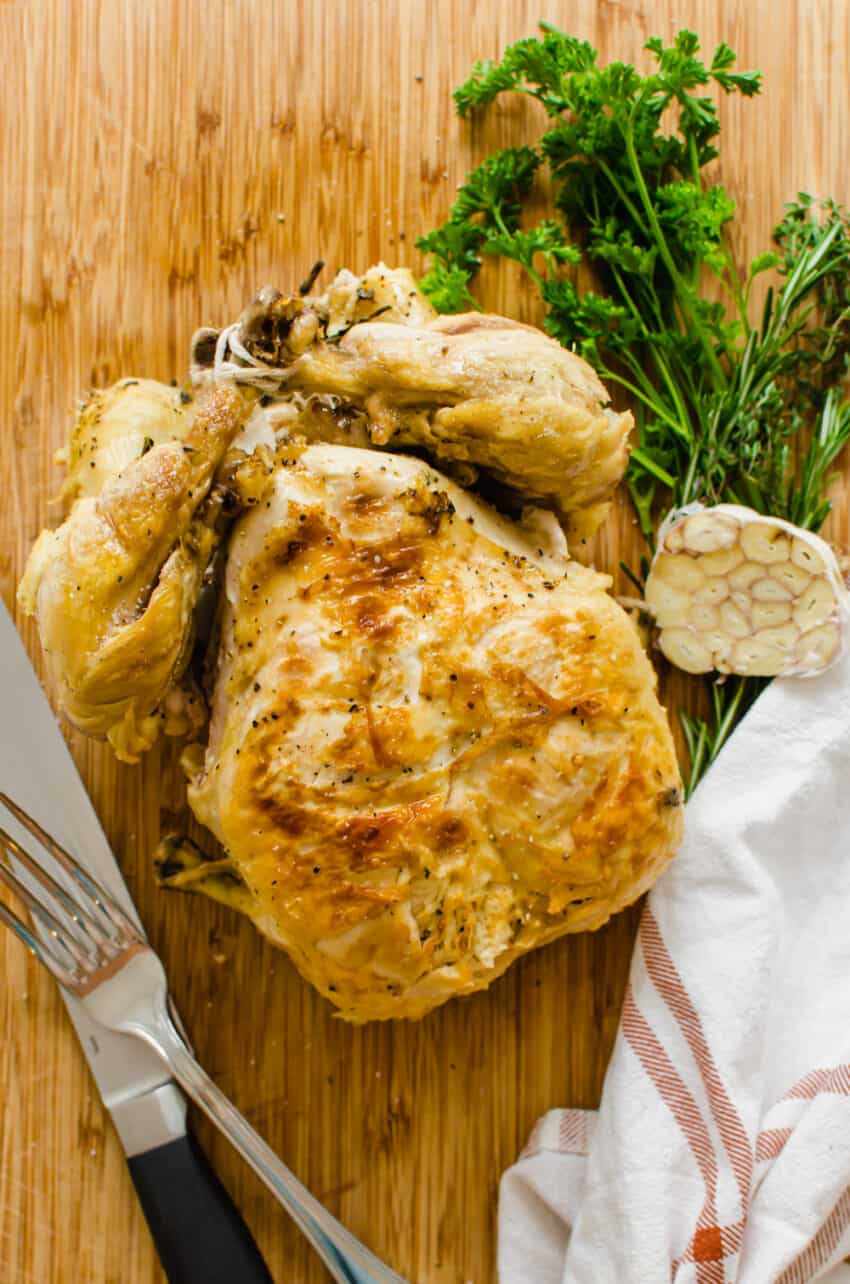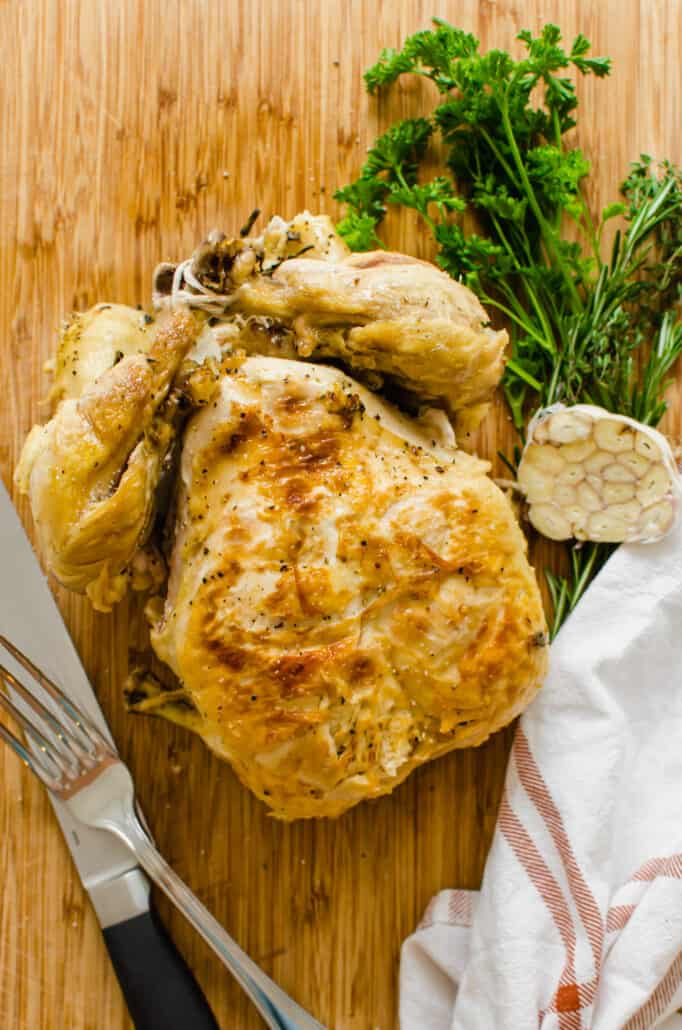 While the chicken rests, make the gravy in a sauce pan on the stove using the leftover juices, flour, and butter. Season to taste with salt and pepper. This just takes a few minutes!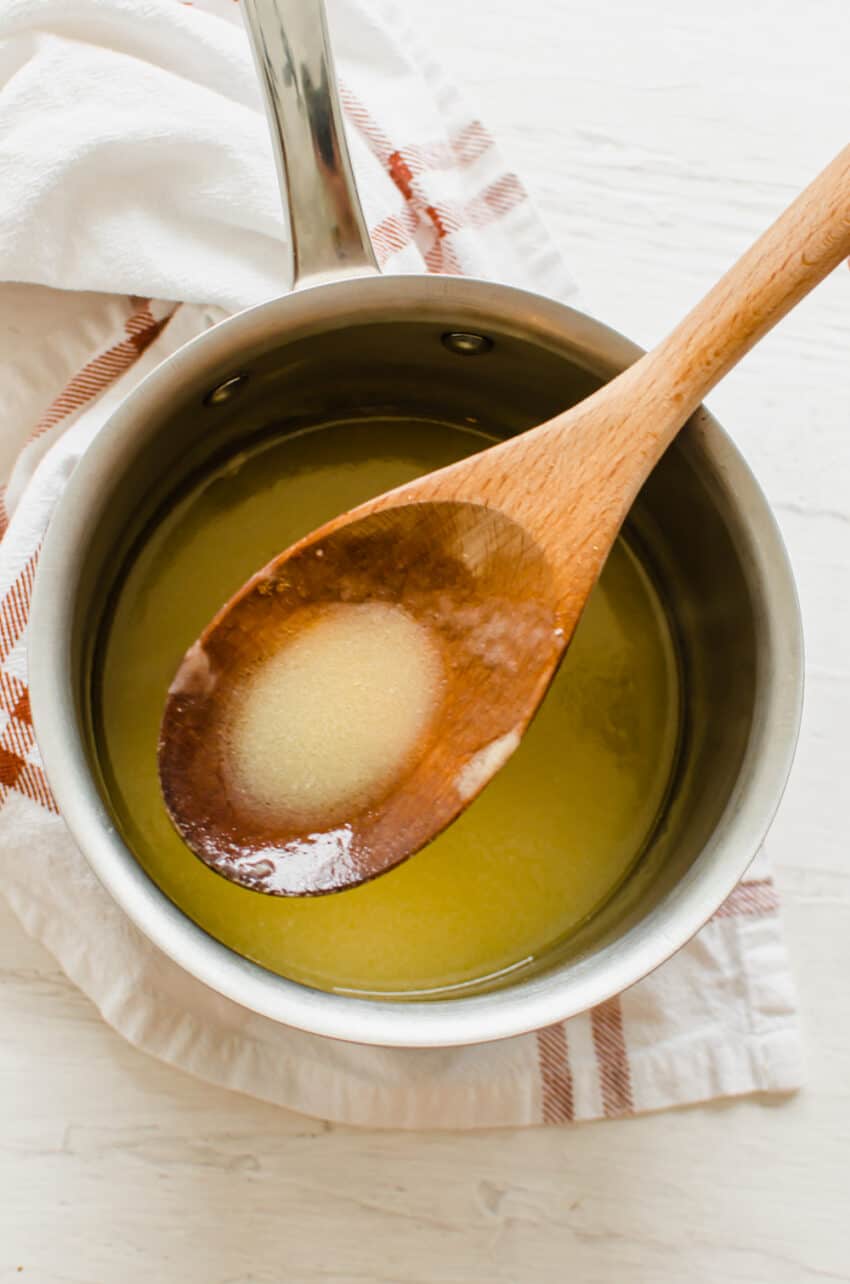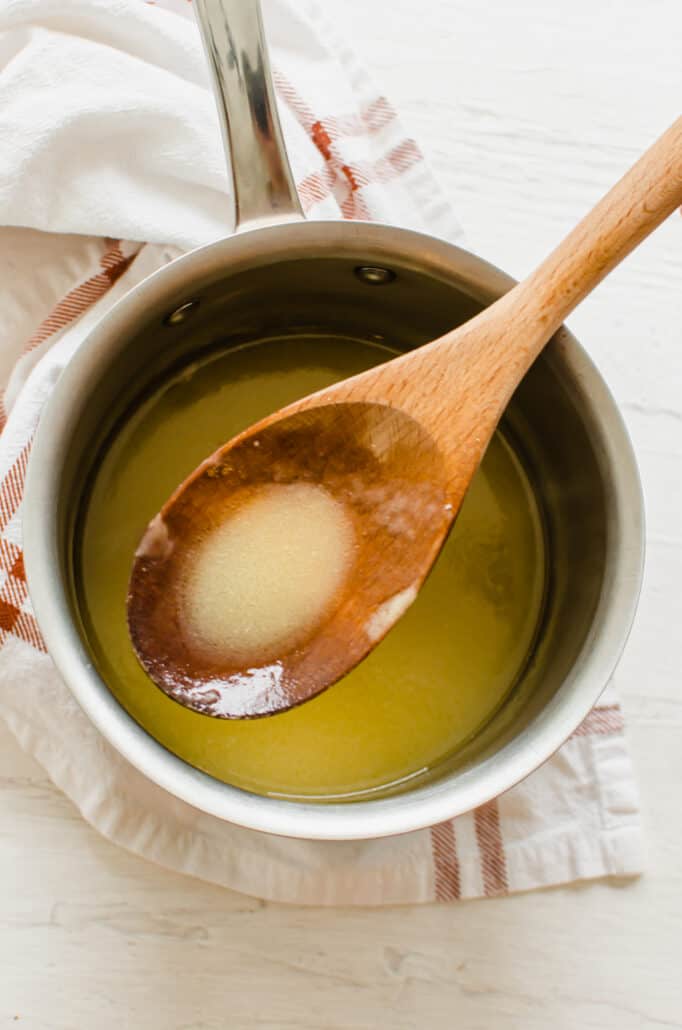 Slice and Serve with Gravy on Top
Carve the chicken and serve with gravy. We love it on top of mashed potatoes.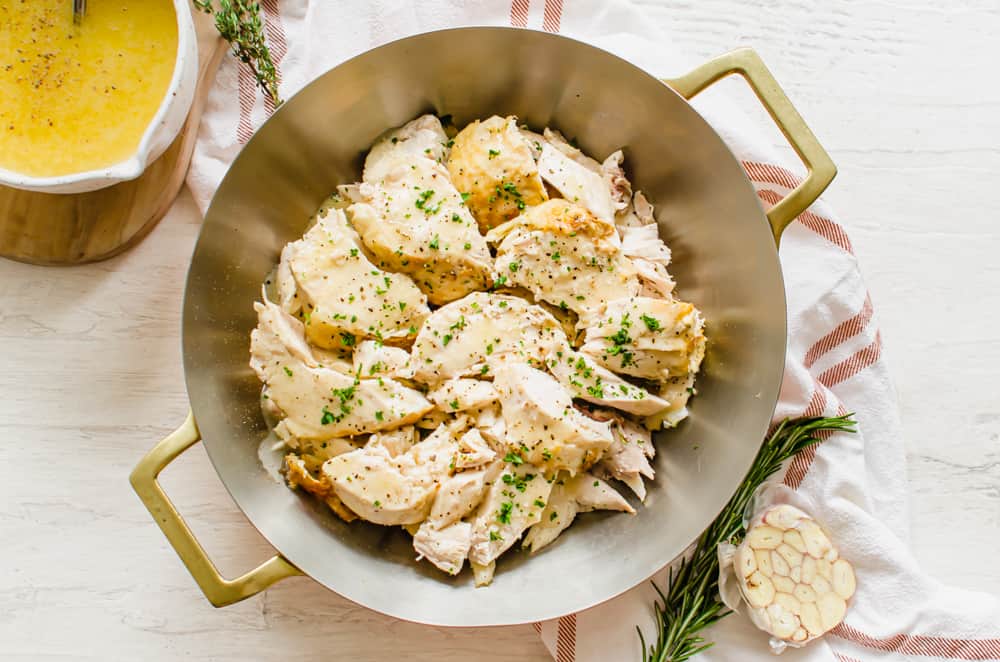 Make It a Freezer Meal
Freezer meal prep is our specialty! (Did you know we've published two popular cookbooks with our best freezable recipes in them?)
The beauty of this particular recipe is that you can prep two chickens at the same time, make one for dinner, and freeze the other for another day.
Here's how to make Crock Pot Whole Chicken into a freezer meal:
Freeze For Later: Follow Step 1 in the recipe below. Place the seasoned/stuffed chicken in a gallon-size or two gallon freezer bag (have someone help you by holding the bag open), or wrap it tightly in a few layers of plastic wrap and then a few layers of foil. Freeze.
Prepare From Frozen:Note: You will need to have butter, flour, salt, and pepper on hand to complete this meal. Thaw the chicken fully in the refrigerator for about 48 hours. Follow Steps 2-6.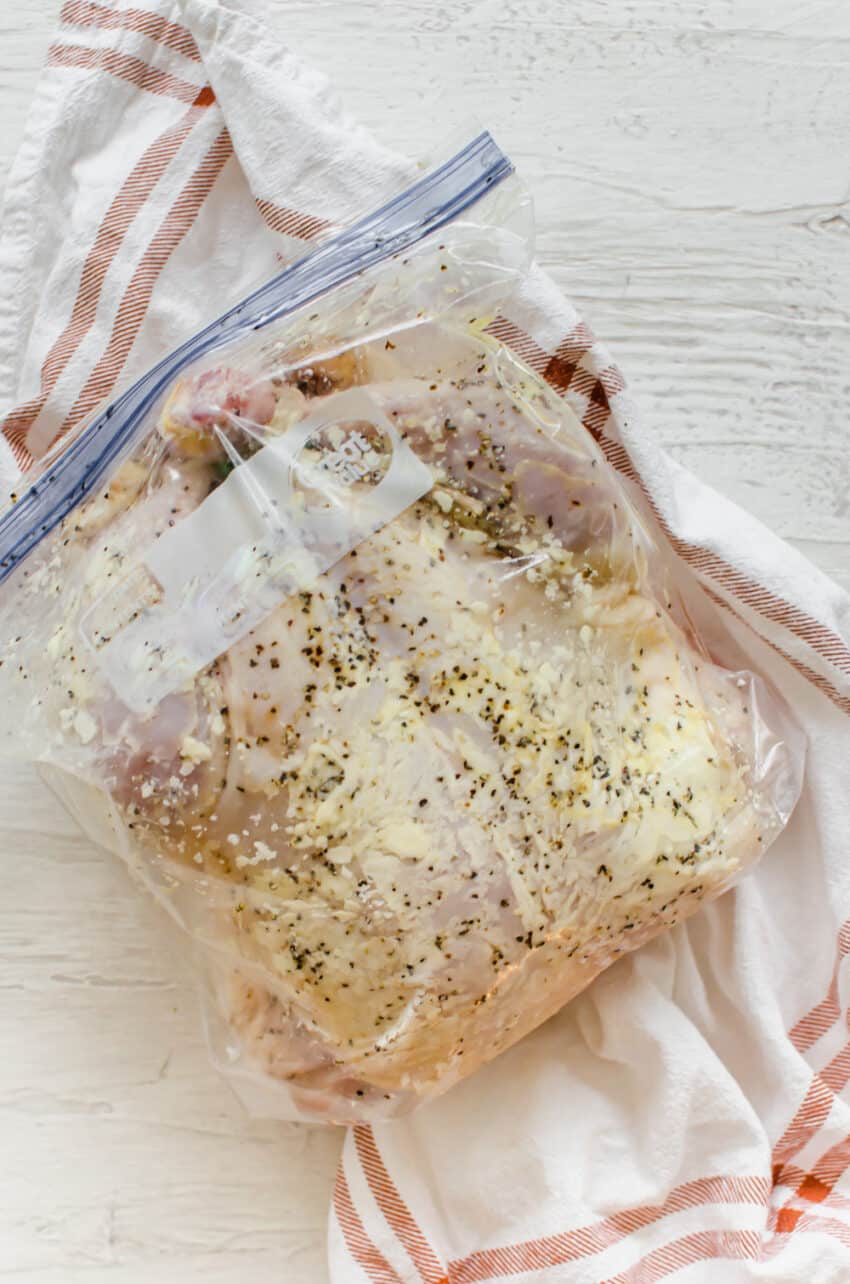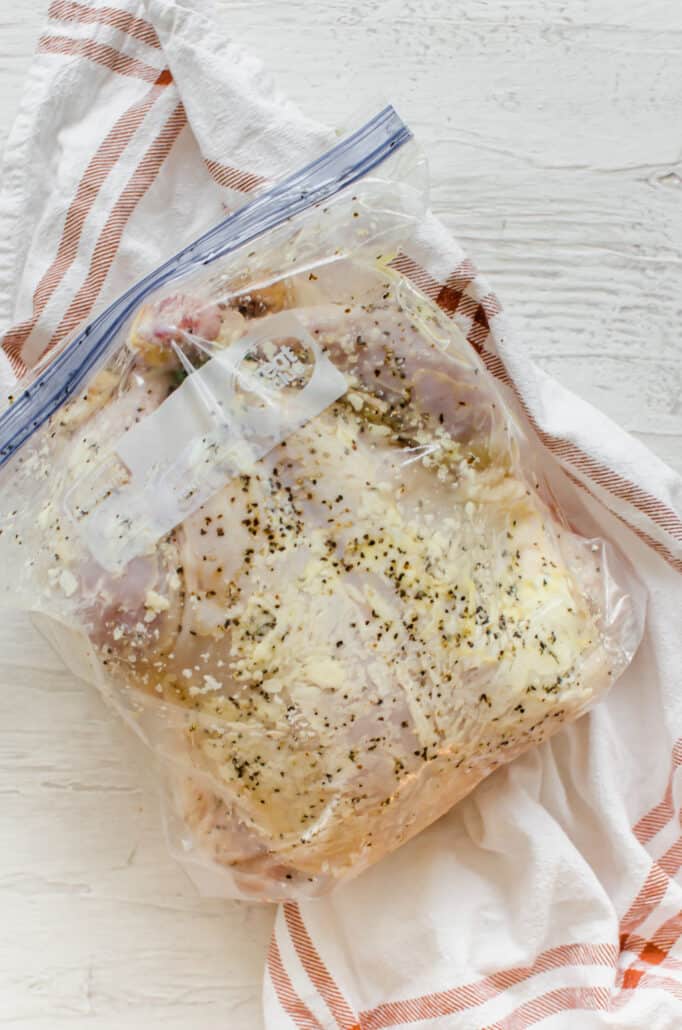 Side Dish Ideas
Wondering what to serve with your chicken? Give some of these recipes a try.
How Long to Cook Whole Chicken in the Crock Pot
I can assure you, we've done our homework on this question! For two years we researched, tested recipes, and wrote From Freezer to Cooker, our second cookbook filled with Crock Pot and Instant Pot recipes. During that time, we honed in on the perfect slow cooker cook times for whole chicken.
Here's what we found through our tests:
A (4-5 pound) whole chicken takes 4-6 hours in the slow cooker on LOW. (The chicken is done when it registers 165°F near the inner thigh, between the leg and breast.)
Do not cook the chicken on high, as it will dry out the meat.
Make sure the chicken is fully thawed. According to the USDA, placing frozen food (especially a dense one like a whole chicken) can take too long to come up to the safe temperature, allowing bacteria to proliferate quickly. Here's how to safely thaw chicken.
To get a crispy exterior, place the bird under the broiler at the end for a few minutes and rotate, as needed.
Be sure to grab our free Crock Pot Cooking Times Chart to hang up in a cabinet!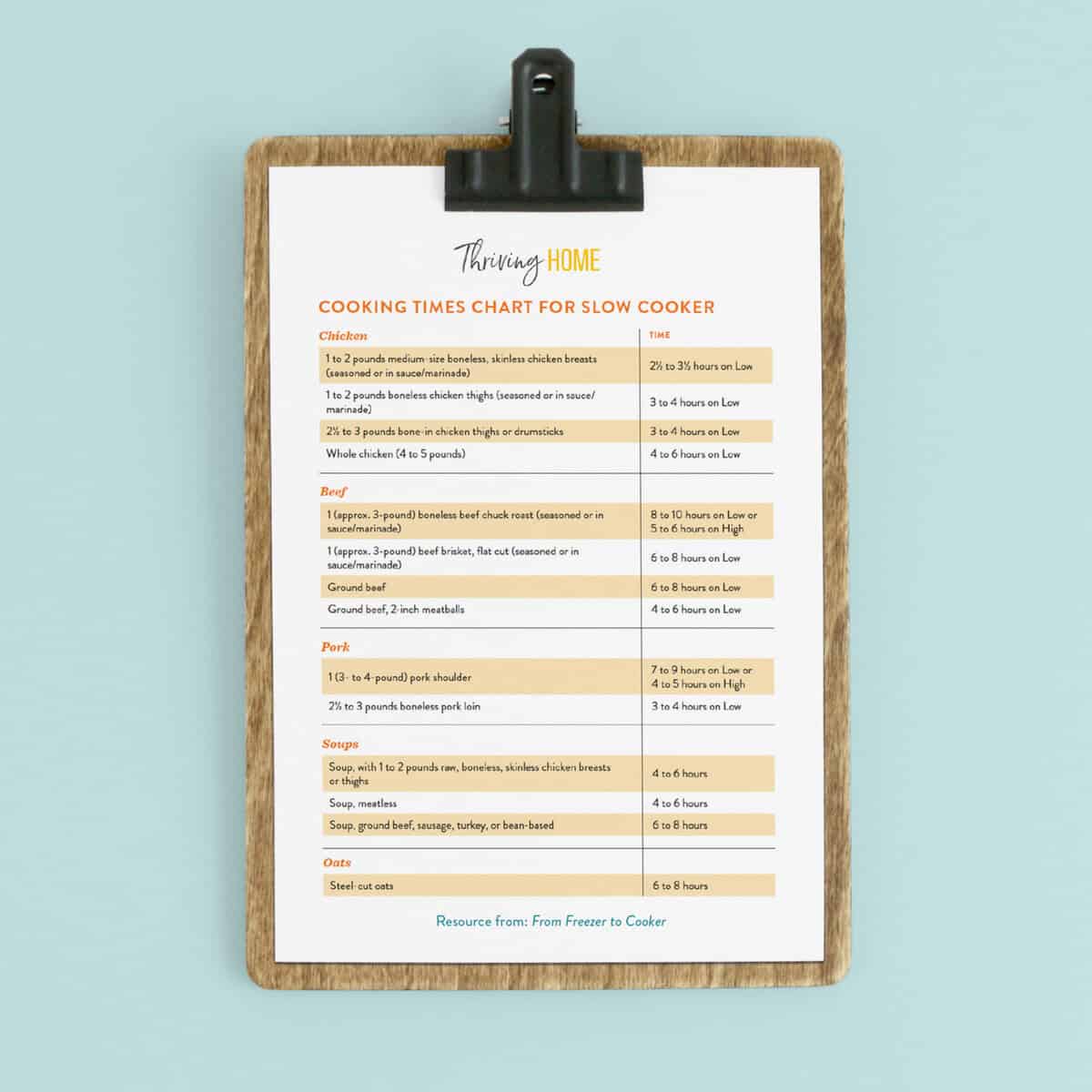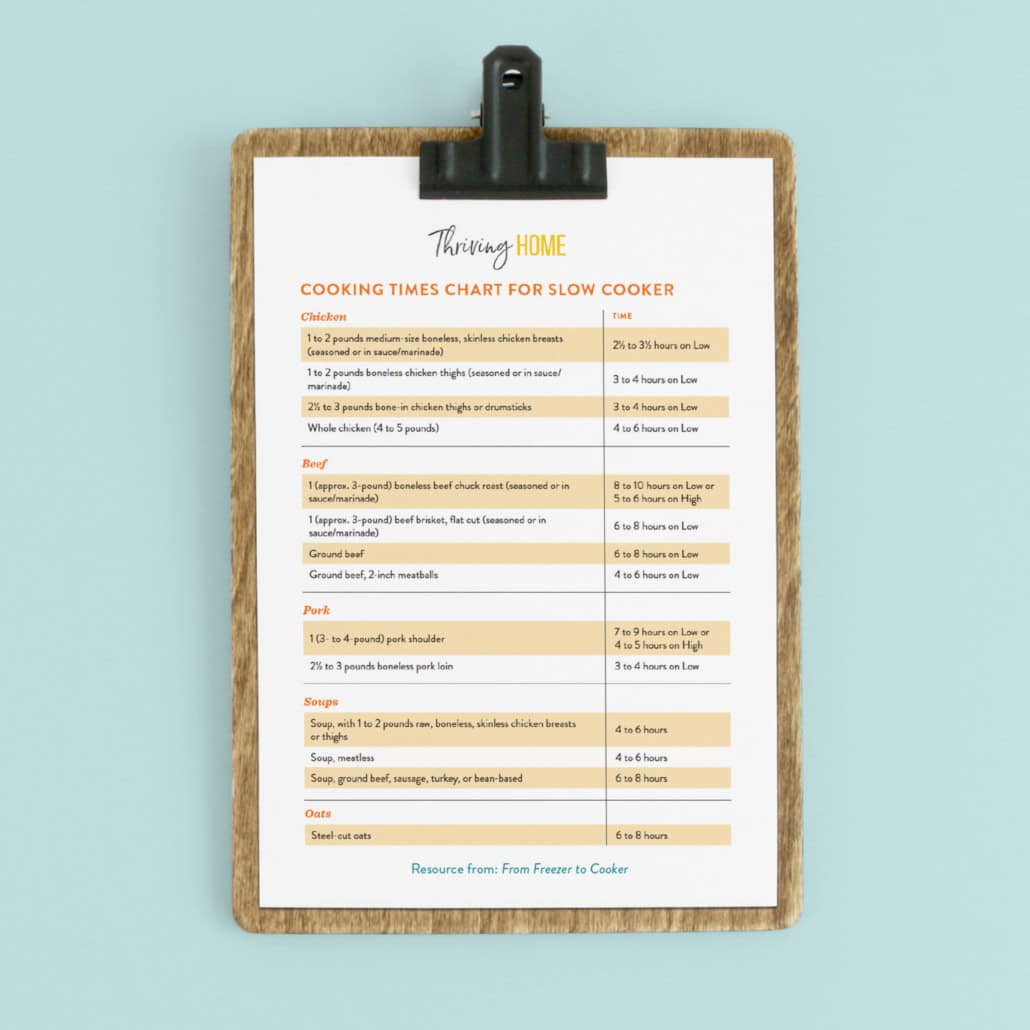 Can I Make Whole Chicken in the Instant Pot?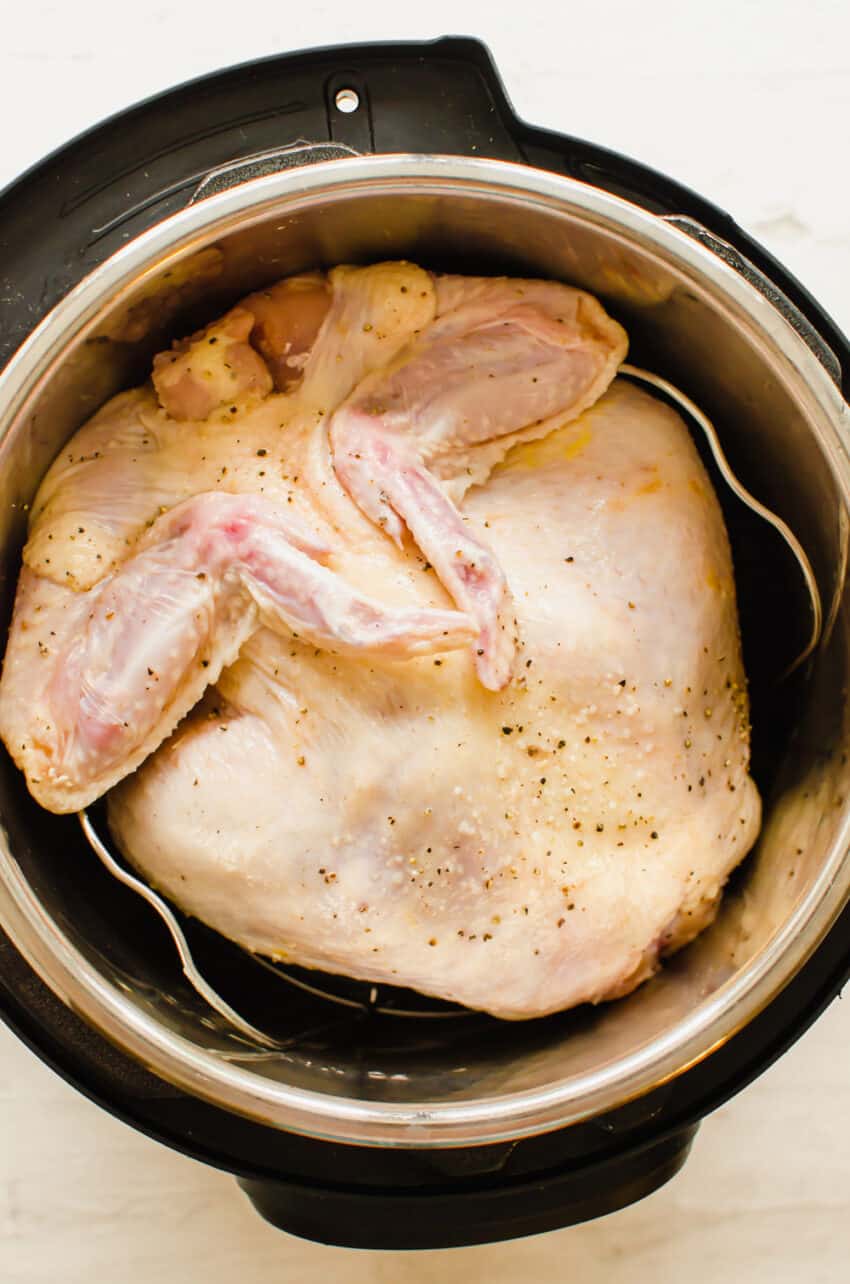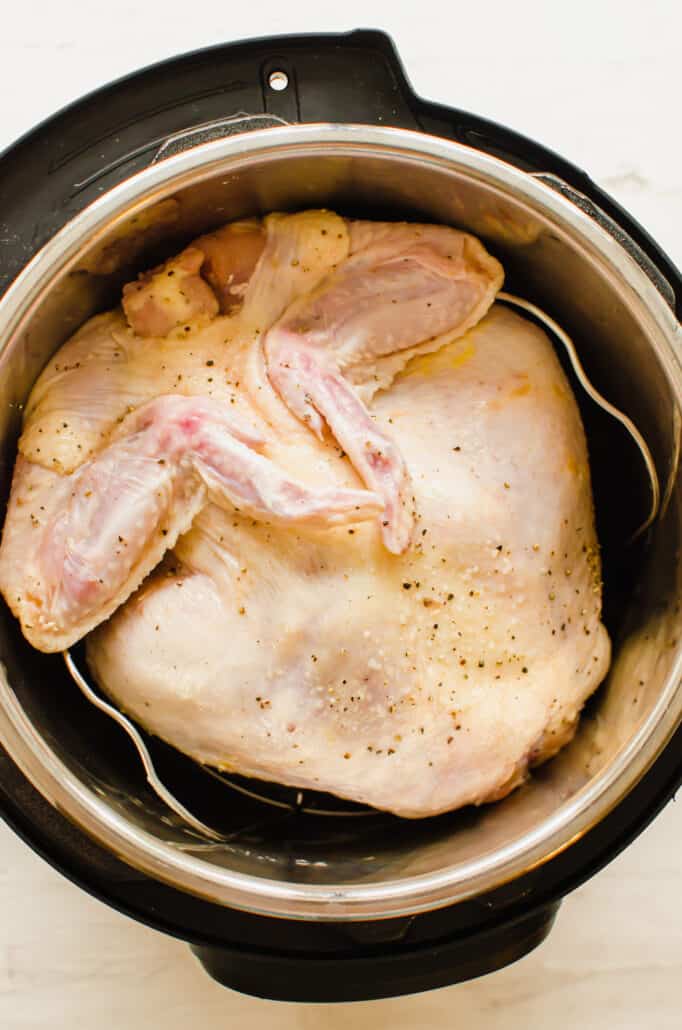 Absolutely! We've rigorously tested the Instant Pot version of this recipe, too. You can find that recipe here…
Did you make this? Snap a photo and tag us on Instagram at @thrivinghome so we can see your creations and cheer you on!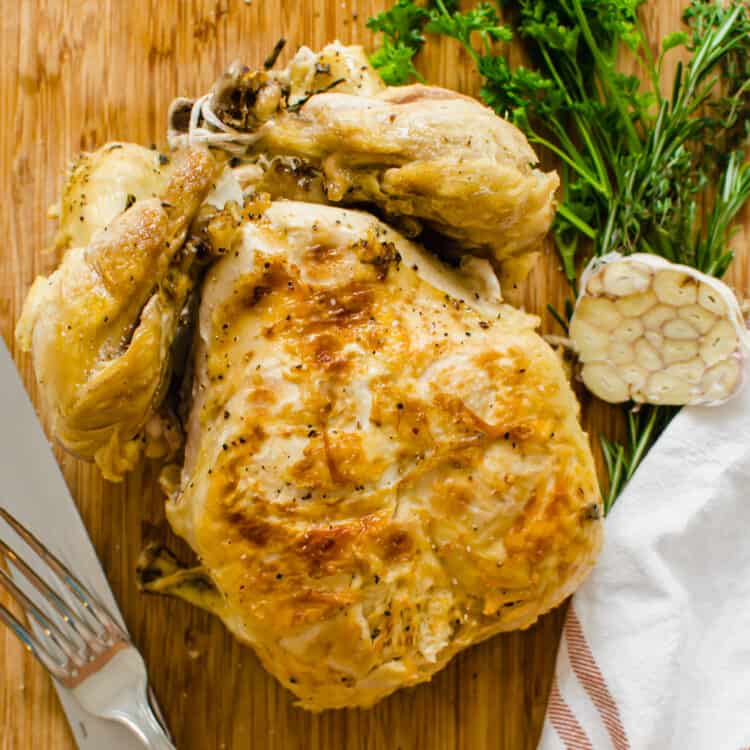 Crock Pot Whole Chicken with Gravy
The slow cooker version of this whole chicken recipe results in moist, super flavorful meat and delicious pan juices for making a 5 minute gravy. This is one of our family's favorite dinners, especially when served over mashed potatoes.
Prep:
20 minutes
Cook:
4 hours
Total:
4 hours 20 minutes