This post may contain affiliate or sponsored links. Please read our disclosure policy.
This easy Chicken Tortellini Soup is a delightful twist on chicken noodle soup that will bring some serious comfort food to your table without much fuss. It's kid-friendly, freezer-friendly, and delicious. Make it on the stove, in the crockpot, or as Instant Pot Chicken Tortellini Soup!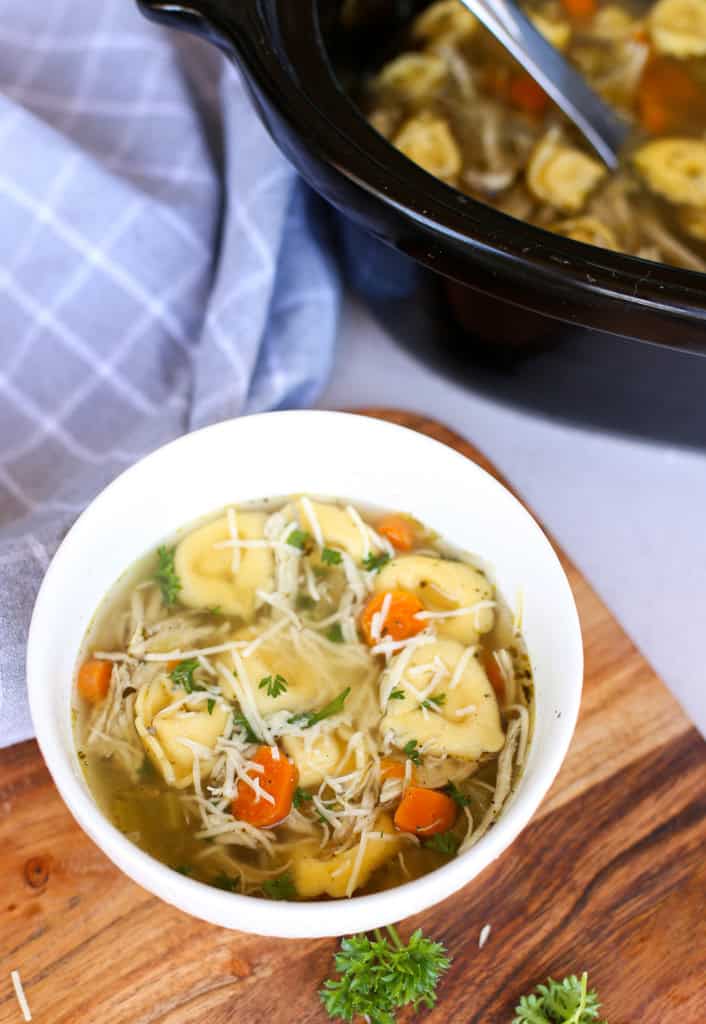 What's to Love About This Soup
Besides the versatility of cooking method, what I love about this soup is, similar to our super creamy Crockpot Tortellini Soup with Sausage, it is an easy it is to make on a weeknight. Plus, it's pretty darn healthy–lots of veggies and lean protein, but my kids think the cheese tortellini is a treat.
Be sure to double the batch for leftovers or to make into a freezer meal, because I think your crew will like this one.
Here's what you'll need on hand to throw this together:
Avocado oil or olive oil
Diced carrots
Diced celery
Diced onion
Salt and ground black pepper
Pre-minced garlic
Low-sodium chicken broth, homemade or store-bought
Water
Poultry seasoning
Boneless, skinless chicken breasts
Frozen or fresh cheese tortellini – Tip: Check the package to find one with the most recognizable and least amount of ingredients.
Optional toppings: Fresh chopped parsley and freshly grated Parmesan cheese
Step-by-Step: How to Make Chicken Tortellini Soup
Whether you make this soup on the stove, in the slow cooker, or in the Instant Pot, you'll follow these three basic steps:
Step 1: Sauté the veggies
Pre-cooking veggies adds depth of flavor and ensures that they are fully cooked. No one wants to bite into an undercooked veggie in their soup.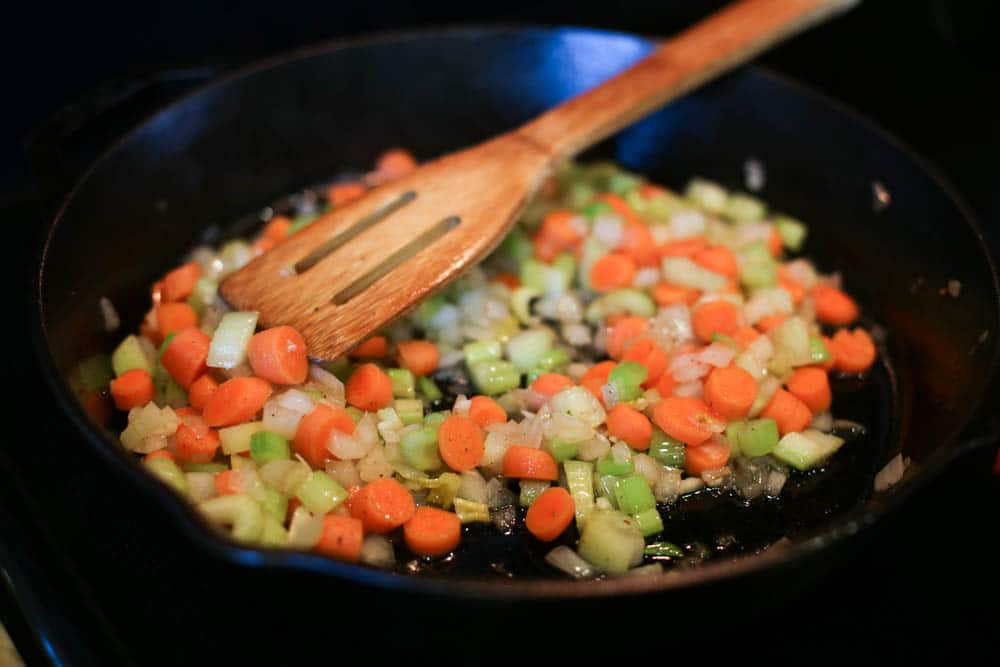 Step 2: Cook the soup (including the chicken) and shred the chicken.
After veggies are sautéed, you'll add the rest of the ingredients (minus the tortellini) and cook it. Once the chicken is fully cooked, you'll remove it and shred it.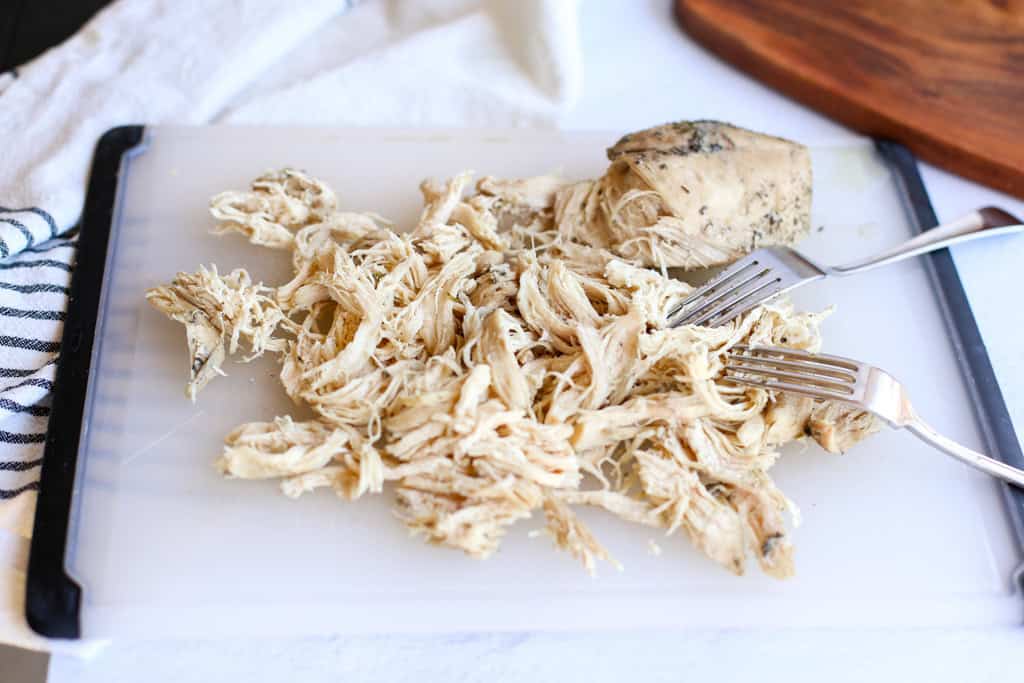 Step 3: Cook the tortellini in the soup at the end.
Tortellini cooks so fast so you will simply add it at the end!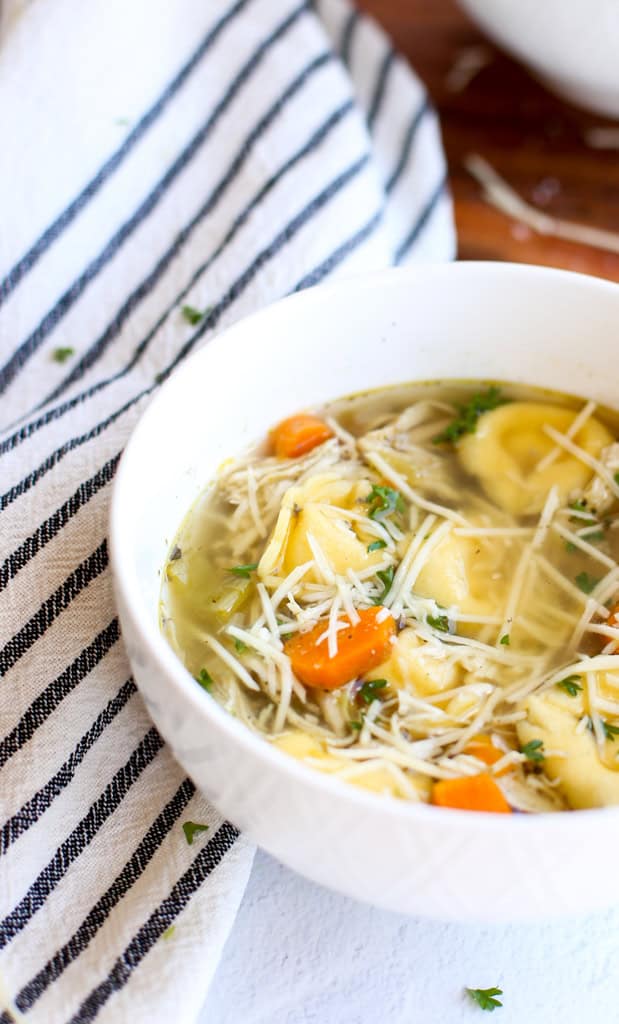 Can You Freeze Chicken Tortellini Soup?
Yes, this soup can be frozen with some caveats.
—–
OPTION 1: Freeze Before Cooking (Preferred Method)
If you want your soup to taste like a fresh meal on the other end, this is the best method for freezing. It ensures that your chicken doesn't get tough and that your pasta doesn't get mushy.
Freeze For Later: Follow step 1. Let the veggies cool, then transfer them to a gallon-size freezer bag or round container. Add the chicken, broth, water, Italian seasoning, poultry seasoning, 1/2 teaspoon salt, and 1/8 teaspoon pepper. Seal and freeze alongside a bag of 3-4 cups frozen tortellini. Tip: Double bag the soup to help prevent leaks and freeze flat.
Prepare From Frozen: Thaw the soup (but not the frozen tortellini). Add to a large pot (or the slow cooker) and follow Steps 3-6.
——
OPTION 2: Freeze After Cooking
The caveat to this method is that the pasta will get a bit mushy in the freezer, but my kids still enjoy it this way! So, I often freeze leftovers in SouperCubes or 2-Cup Pyrex bowls for lunches. Let thaw in the refrigerator for 24 hours and then rewarm in the microwave or over medium heat on the stovetop.
Note: Because the pasta soaks up the liquid overnight and expands, you may need to add more broth or water to any leftovers.
Can I Make This Soup in the Crockpot?
Absolutely! To make this in the crockpot, the steps will be a tad different.
In a large skillet, sauté the veggies is directed in the recipe below. Transfer the vegetables to the slower cooker and add the chicken, broth and seasonings.
Slow Cook & Shred the Chicken
Cover and cook on Low for about 3 hours. (The chicken is done when it is no longer pink inside and/or registers 165°F internally.) Shockingly, this is how long to cook chicken in the slow cooker!
Transfer the chicken to a cutting board and shred with two forks or dice. Set aside.
Cook the Tortellini on High
Set the slow cooker to High. Add the tortellini to the cooker, stir, cover, and cook for 15 minutes more, or until the tortellini are cooked all the way through.
Stir the chicken into the soup. Taste and season with salt and pepper. Serve immediately, garnished with parsley and topped with freshly grated Parmesan, if desired.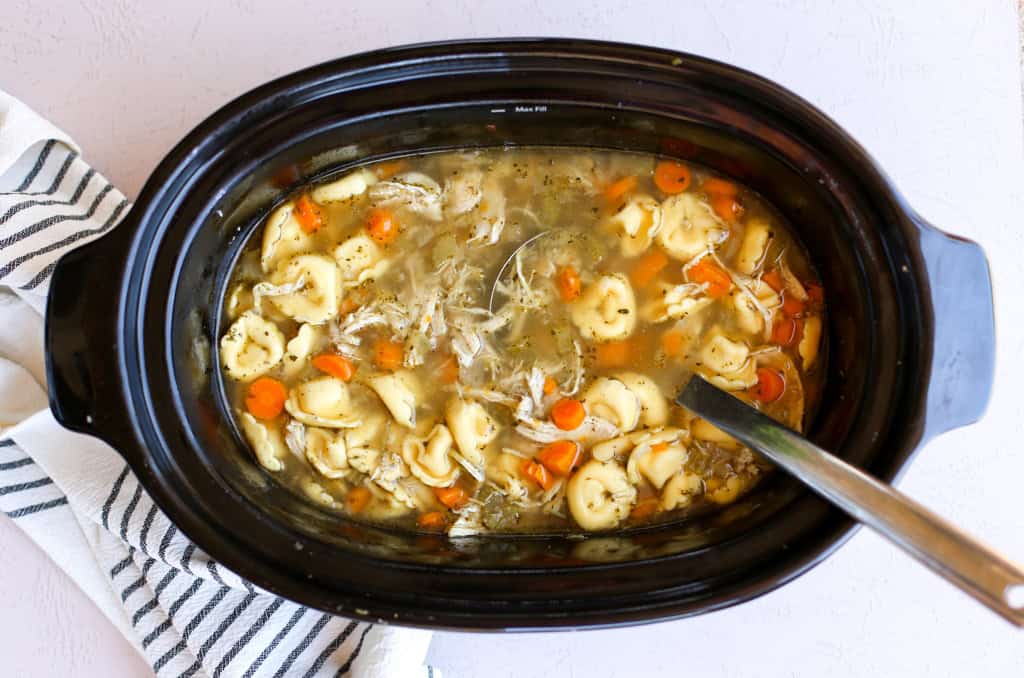 Can I Make This Soup in the Instant Pot?
Yes! We actually have an entire post on how to make Instant Pot Chicken Tortellini Soup. If you are interested in that, hop over and grab the recipe!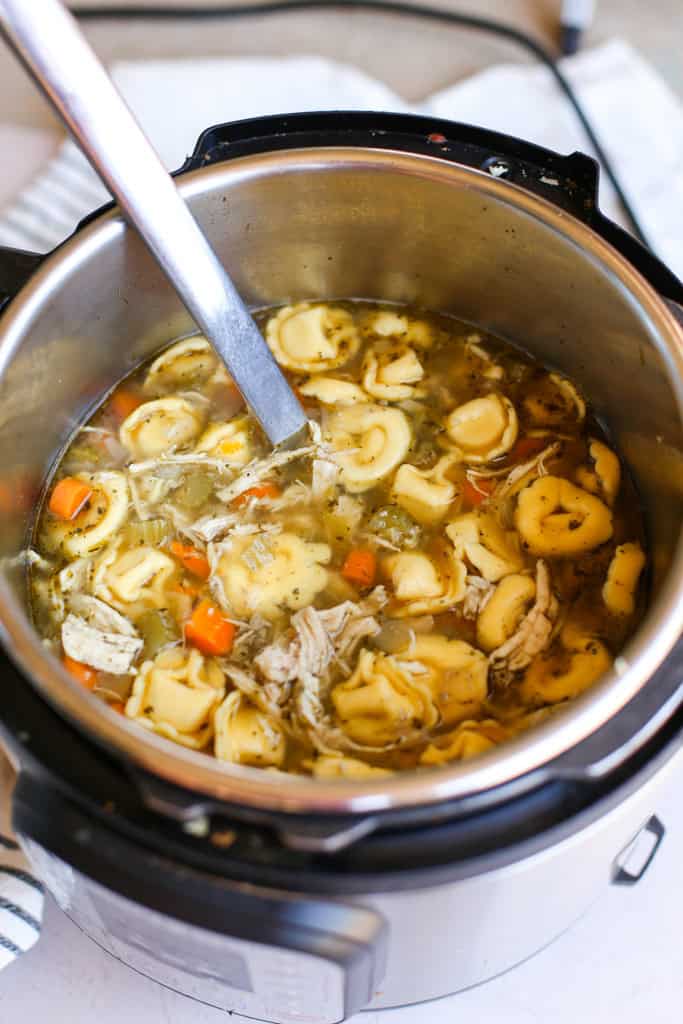 How to Serve Chicken Tortellini Soup
Top with some freshly grated or shredded Parmesan cheese and chopped parsley (for some color).
Try this soup with a side dish like one of these ideas…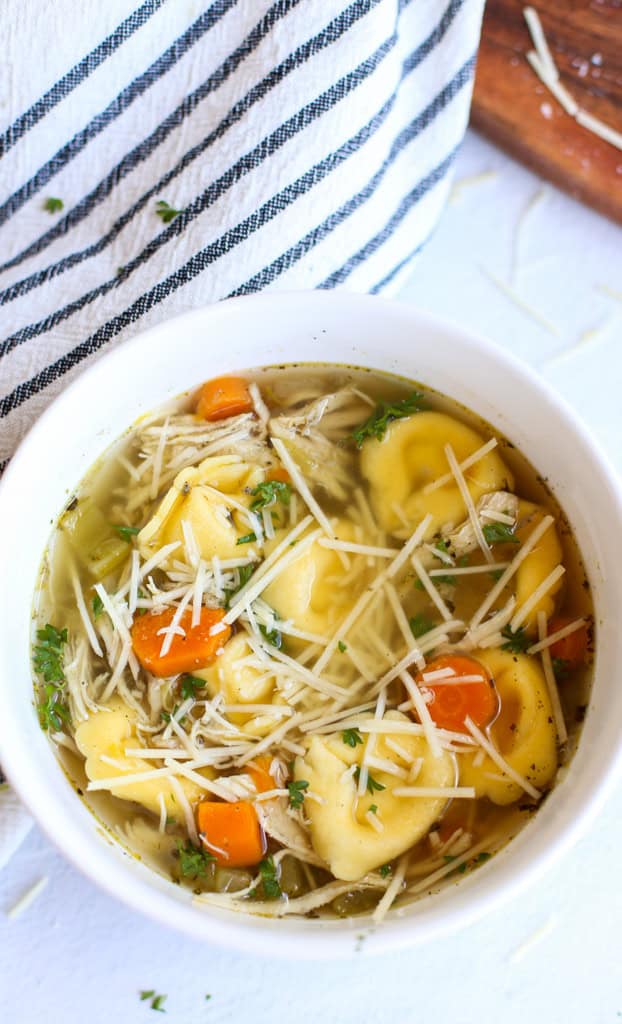 More Chicken Soups You'll Love
If you like the simplicity of this soup, be sure to save or Pin a few of our other favorites.
Did you make this? Snap a photo and tag us on Instagram at @thrivinghome so we can see your creations and cheer you on!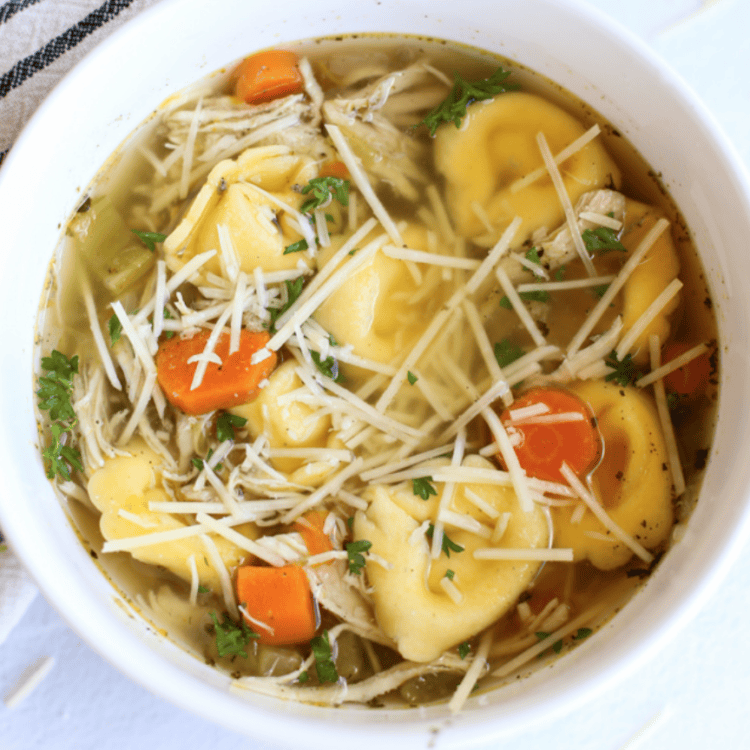 Chicken Tortellini Soup
A delightful twist on chicken noodle soup that will bring some serious comfort food to your table without much fuss.
Prep:
10 minutes
Cook:
30 minutes
Total:
40 minutes