Homemade Whole Wheat Egg Noodles
This post may contain affiliate or sponsored links. Please read our disclosure policy.
These homemade whole wheat egg noodles are cheap, healthy, and melt-in-your-mouth delicious. All my favorites in one recipe!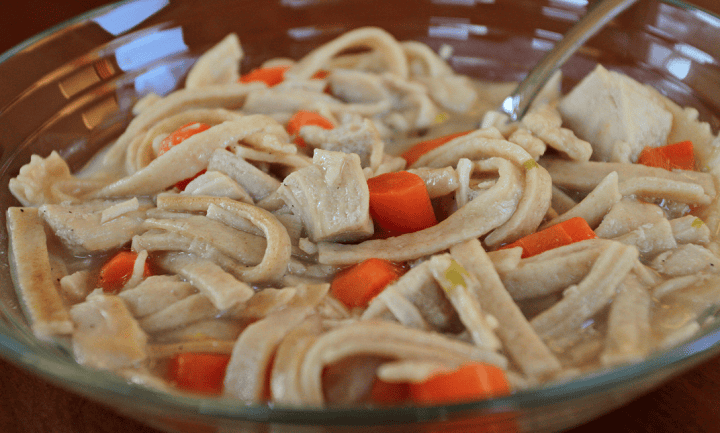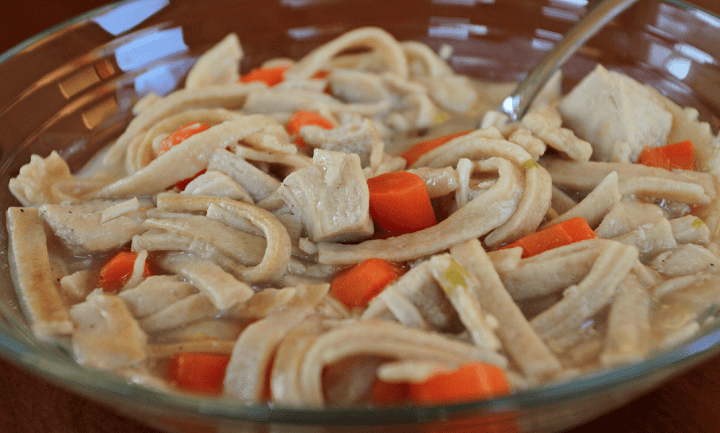 My 5-year-old daughter and I threw these together one afternoon in about 15 minutes. I know it looks fancy or difficult, but I ASSURE you that you can do this.
Check out just how easy it is to make Homemade Whole Wheat Egg Noodles…


My kids took several helpings of the chicken noodle soup we made with these. And, the leftovers were even better the next day. We'll be making them again soon!
Did you make this? Snap a photo and tag us on Instagram at @thrivinghome so we can see your creations and cheer you on!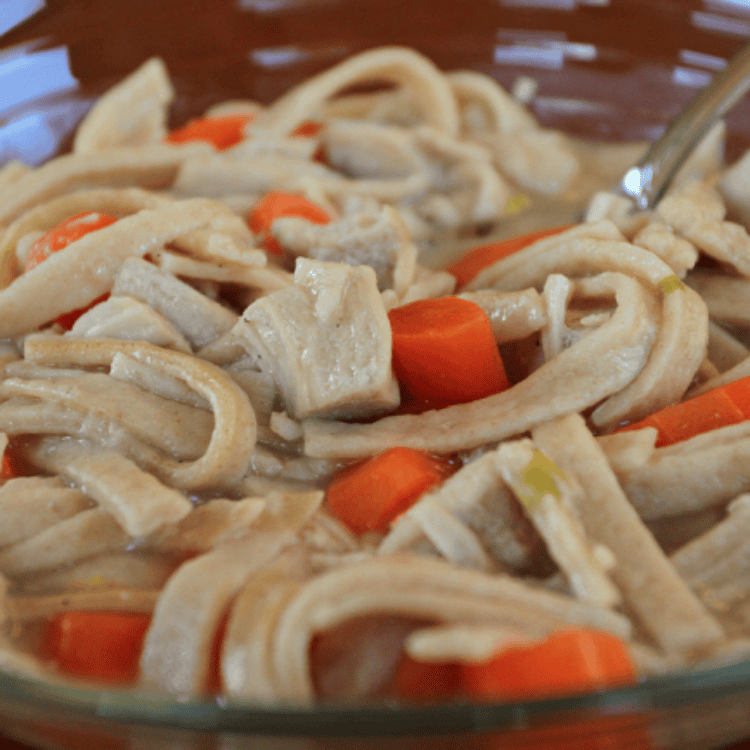 Homemade Whole Wheat Egg Noodles
Homemade whole wheat egg noodles are delicious and simple! Make them from scratch and enjoy the fantastic flavor in Chicken Noodle Soup or as pasta with sauce on them.
Prep:
25 minutes
Cook:
0 minutes
Total:
25 minutes
Ingredients
2 1/3

cups

whole wheat flour (I recommend white whole wheat flour for lighter noodles.)

1/2 teaspoon

sea salt

2

large eggs, beaten

1/3

cup

water, plus more as needed

1 teaspoon

olive oil
Before You Begin! If you make this, please leave a review and rating letting us know how you liked this recipe! This helps our business thrive & continue providing free recipes.
Instructions
Make the Noodles:
In a large mixing bowl, whisk together the flour and salt. Then, make a "well" in the middle using your finger.
Whisk together the eggs, water, and olive oil in a separate small bowl or glass measuring cup. Pour this wet mixture into the "well" in the middle of the dry mixture. Stir with a spoon until the ingredients are mostly combined. Add a little more water if it is too crumbly and not coming together like a dough.
Generously dust flour over a clean countertop. Dump the dough out onto the well-floured surface and knead it with your hands a little bit to get the ingredients combined well. Form into a round disc-shaped dough ball. Sprinkle with a little more flour.
Use a well-floured rolling pin and roll out your noodle dough until it's very thin, about 1/8 inch in thickness. If needed, add more flour under the dough to keep it from sticking to the counter. This is very important!
Use a pizza cutter to cut long strips of noodles as thin or thick as you like and any length you like, but try to keep them a uniform size.
Cook the Noodles:
Simmer your homemade egg noodles in a big pot of salted water until noodles are fat and tender to the bite (aka al dente). Drain in a colander. Or, try using them directly in this Chicken Noodle Soup.
Store the Noodles for Later:
Option 1 (Freezing the Dough): After Step 3, place the dough in a freezer bag, seal, and freeze until ready to use. The dough will be good for about 3 months. When you're ready to use it, thaw the dough in the refrigerator for 24-48 hours and follow the instructions, beginning with Step 4.
Option 2: (Drying and Storing the Noodles): Complete the recipe through Step 5. Spread the cut noodles on a wire cooling rack and let dry for about 2 hours. Store in an air-tight container in the pantry for up to a month.