This post may contain affiliate or sponsored links. Please read our disclosure policy.
With a few simple ingredients, this hearty Crockpot Spaghetti Sauce couldn't be easier or tastier! Serve over pasta, zoodles, or spaghetti squash for a delicious and healthy dinner. It's dairy-free, gluten-free, and freezer-friendly.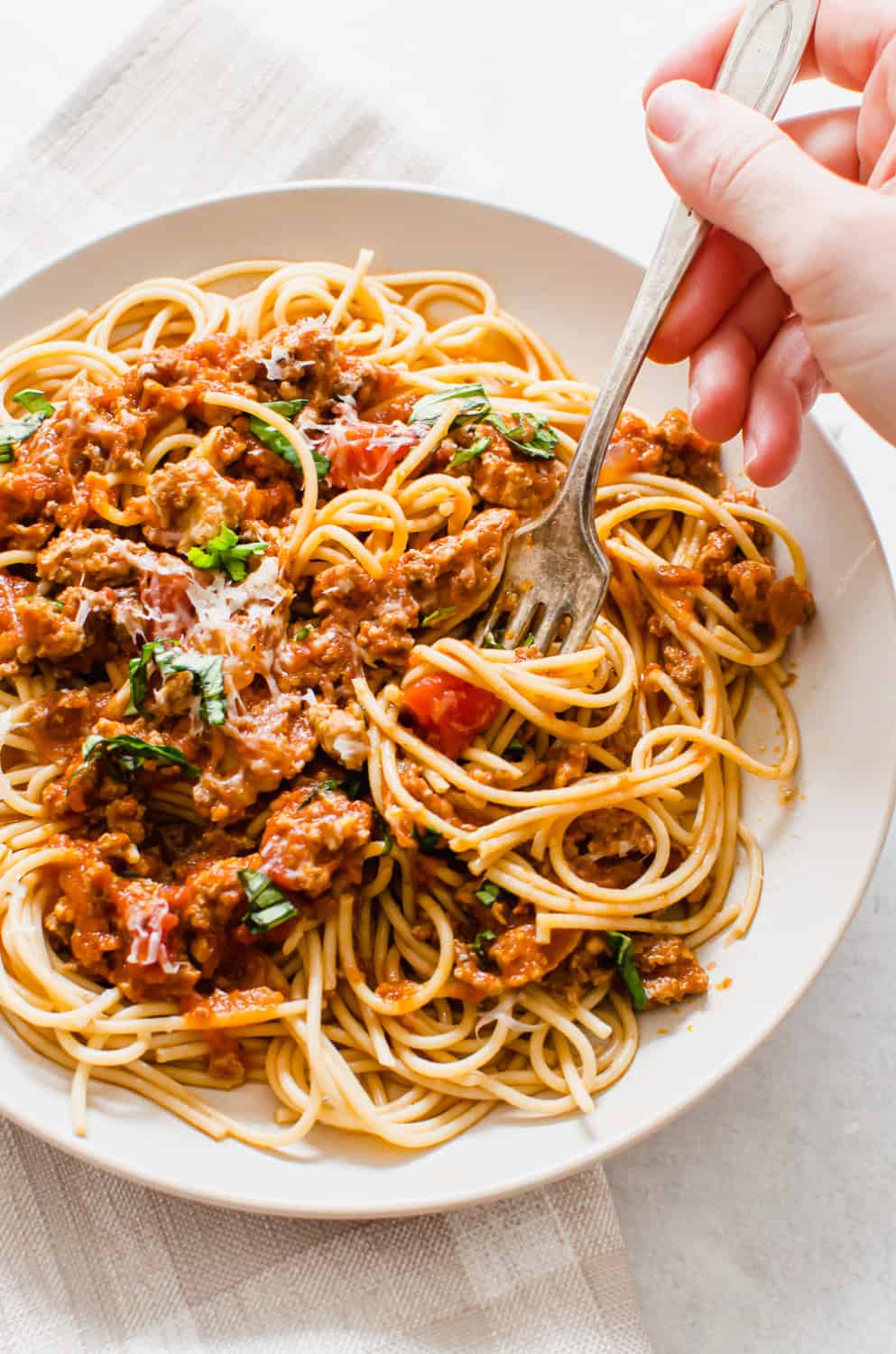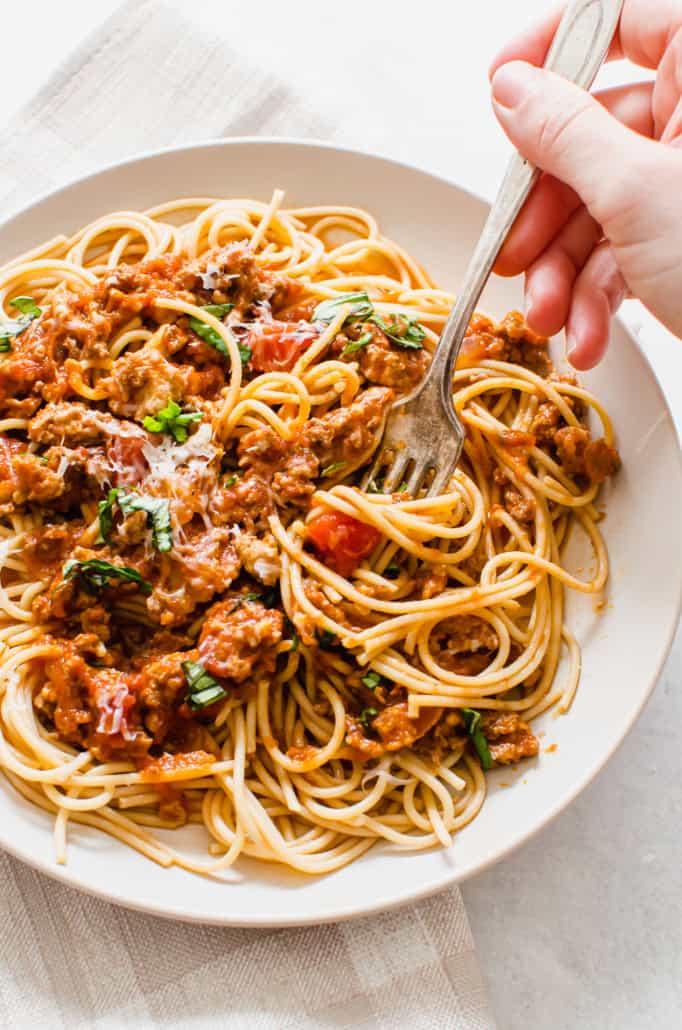 Disclaimer: This post was created in partnership with Hy-Vee (Columbia).
This is one of those dinners that makes everyone in my home happy. So, I make a double batch at least once a month, serve one that night, and freeze one for later. It's a great use of my time in the kitchen and my future self is always thankful. 🙂
What's to Love About This Recipe
Here's why I think you're going to enjoy this slow cooker spaghetti sauce, too…
Hearty, Nutritious Dinner: Serve over whole grain pasta, zoodles, spaghetti squash, or even quinoa. Sometimes I toss in some chopped spinach, too, and no one even knows.
Slow Cooks All Day: Brown the meat in just a few minutes and then toss everything in the crock pot. It will be ready as you walk in the door. (Your home will smell amazing, too!)
Only 6 Main Ingredients: Requires only 6 main ingredients, including a short-cut from the store (jarred marinara sauce).
Freezer-Friendly: Just double and freeze the second batch for another meal. (See our freezing instructions below.)
Gluten-Free and Dairy-Free: For those with allergies or sensitivities.
Leftovers Are Great: Use for lunches or "leftover night" dinner.
Don't be fooled into thinking this is a boring sauce just because it's simple. Check out the heavy-hitting lineup of complex flavors of these 6 ingredients!
Yellow Onion – You'll start building big flavor right off the bat by sauteing diced onion. The high heat brings out the sugars in the onion.
Fresh Garlic – What pasta sauce can go without garlic? Add this in at the end of sautéing the onion for a little pungent kick.
Lean Ground Beef – I use grass-fed, organic lean ground beef, but you can easily sub ground turkey or ground chicken.
Ground Italian Sausage – Oh man, sausage takes this sauce to a whole new level! You can use mild or spicy Italian pork sausage, but make sure it's ground (not pre-cooked in a link). You can also substitute ground turkey or chicken sausage here.
Red Pepper Flakes – This is a favorite pantry seasoning for me. It easily adds a little heat to sauces, soups, and dry rubs. Feel free to add more than the recipe calls for if you like your food spicy.
Marinara Sauce – Woo hoo for store-bought short cuts! This is one you can feel good about if you select a sauce that's all-natural or organic. Be sure to read the ingredients and try to avoid "natural flavors", a lot of added sugar, and other weird ingredients you're not familiar with. I personally love Newman's Own Marinara Sauce. Or, try making your own with our Slow Cooker Marinara Sauce recipe. It's cheap, budget-friendly, freezable, and amazing!
Where to Get Your Ingredients
We suggest grabbing these ingredients at your local Hy-Vee. If you have this store nearby, you know what a gem you have under your nose–especially if you're a parent who knows all of these hacks!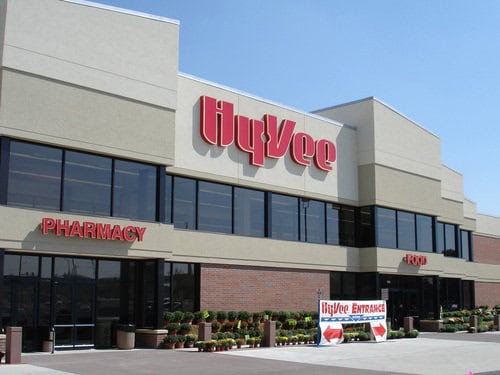 Hy-Vee is a "one stop shop" for anything you might need, from high-quality ingredients to grab-and-go meals to their pharmacy and much more. We pop in there at least once or twice a week.
To make things easy for you, we started a custom online shopping cart with the Crockpot Spaghetti Sauce ingredients…
How Long to Cook Spaghetti Sauce in Crockpot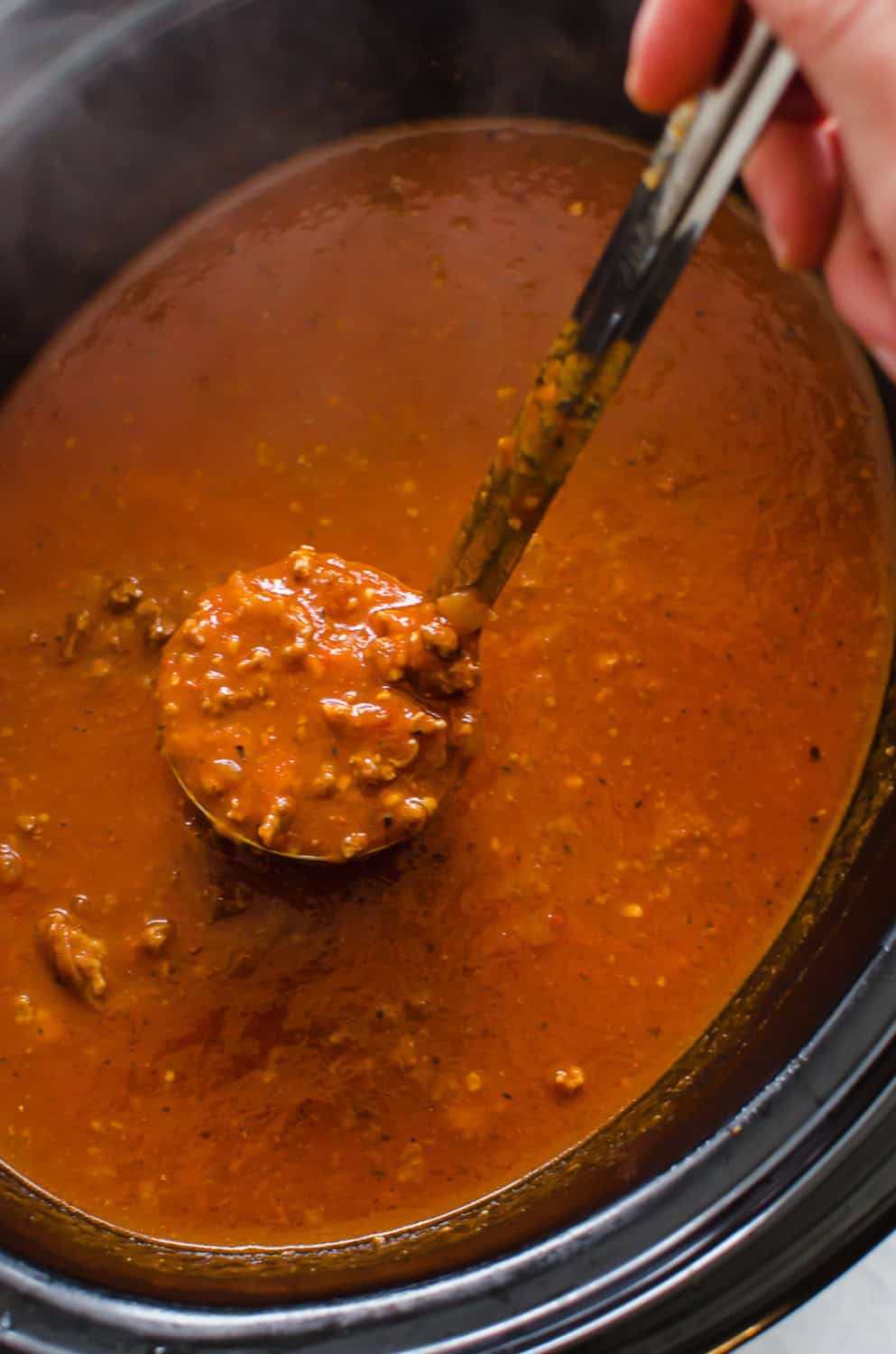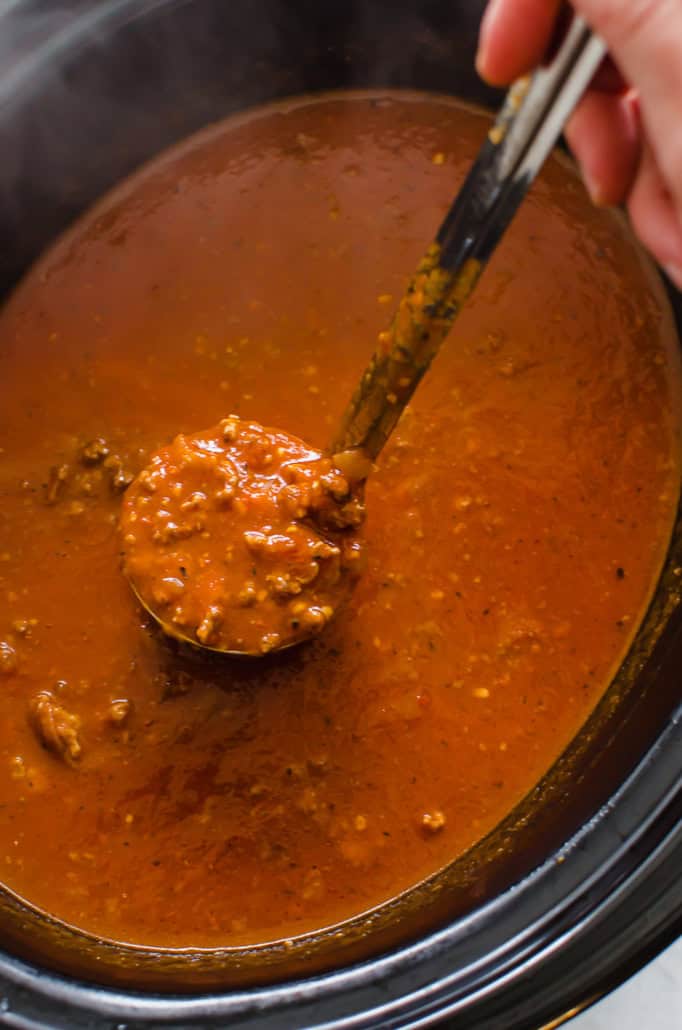 This is an all-day slow cooker recipe. You'll need to do about 20 minutes of work ahead of time to build flavor, including chopping and sautéing the aromatics (onion and garlic) and browning the meat. Then, dump all the ingredients into the crockpot and let them gently simmer away all day long–about 8 hours–on LOW. Your home will smell amazing by dinner time!
How to Make This Recipe Into a Freezer Meal
This is one meal that you'll definitely want to double, so you can freeze a batch for later. It's a smart use of your time in the kitchen.
How to Freeze For Later:
Option 1 (Uncooked): Saute the onion/garlic and then brown the meat with red pepper flakes on the stovetop. Let the meat mixture cool, then transfer it to a gallon-size freezer bag or container and pour in the marinara. Seal, gently toss to combine, and freeze flat.
Option 2 (Fully Cooked): Let the sauce fully cool. Then, freeze in a gallon-size freezer bag or container.
How to Prepare From Frozen:
Thaw using one of our safe methods. (Never place frozen food in the slow cooker! It's unsafe according to the USDA.)
Option 1 (Uncooked): Transfer the sauce to the slow cooker and cook on LOW for 6-8 hours.
Option 2 (Fully Cooked): Warm on the stovetop or in the crockpot over low heat untiled warmed through, stirring occasionally.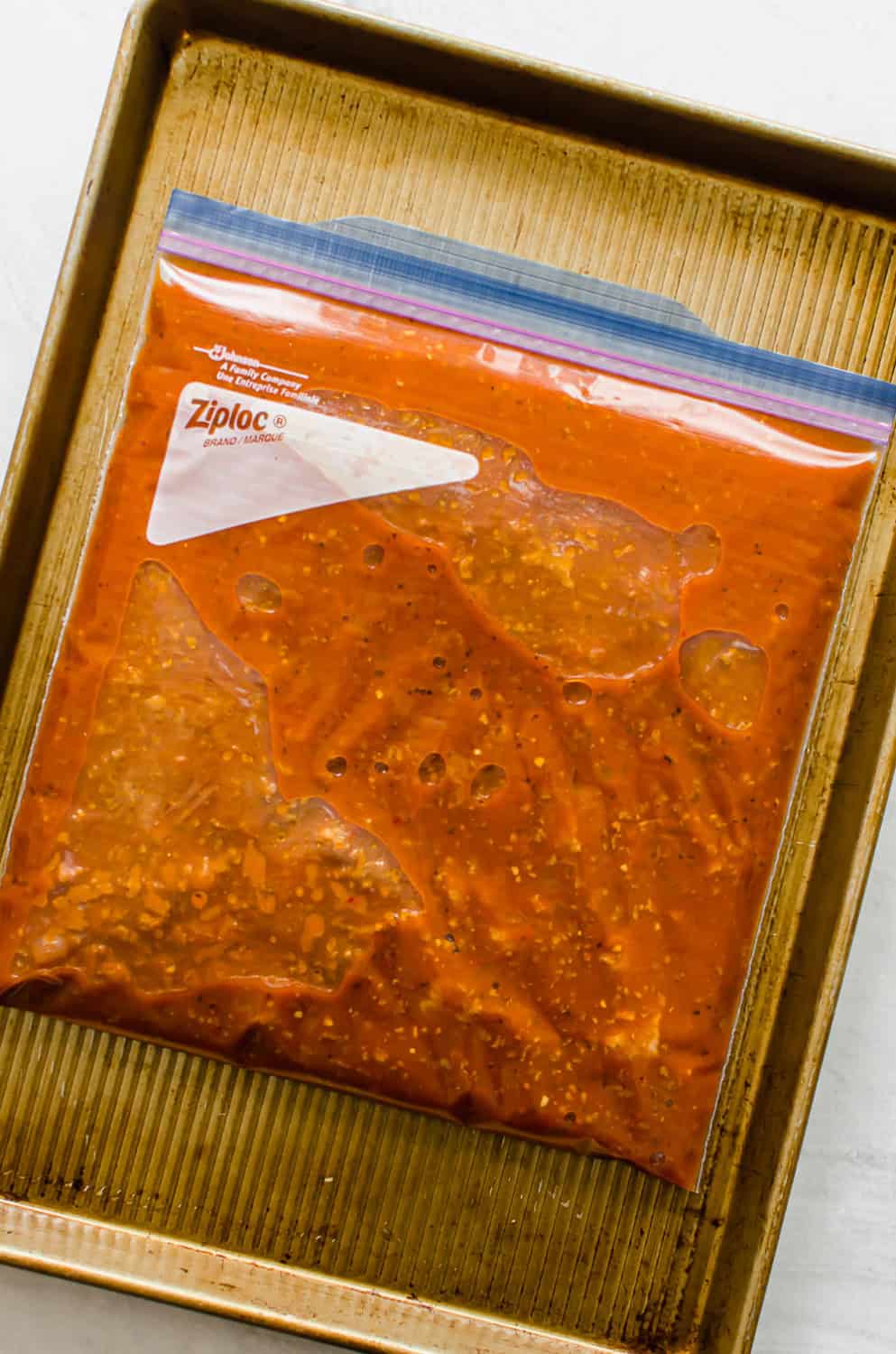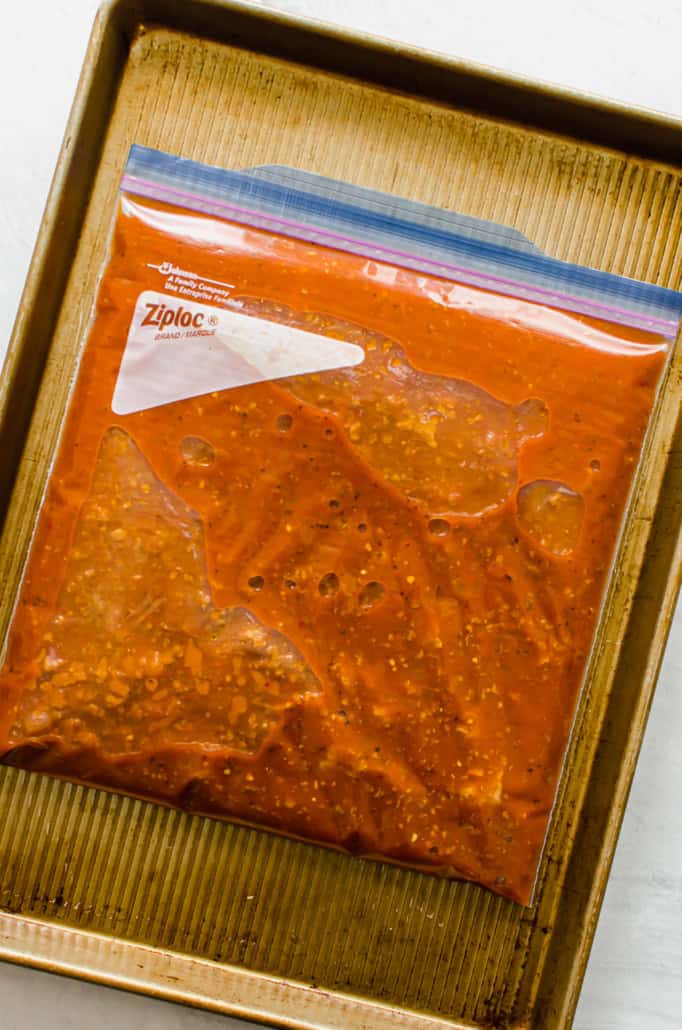 Freezing Tip: It's helpful to freeze the bag of sauce on a rimmed baking sheet to prevent spills and to freeze until it's flat. Once it's frozen solid, remove the pan and the meal will stack easily in the freezer.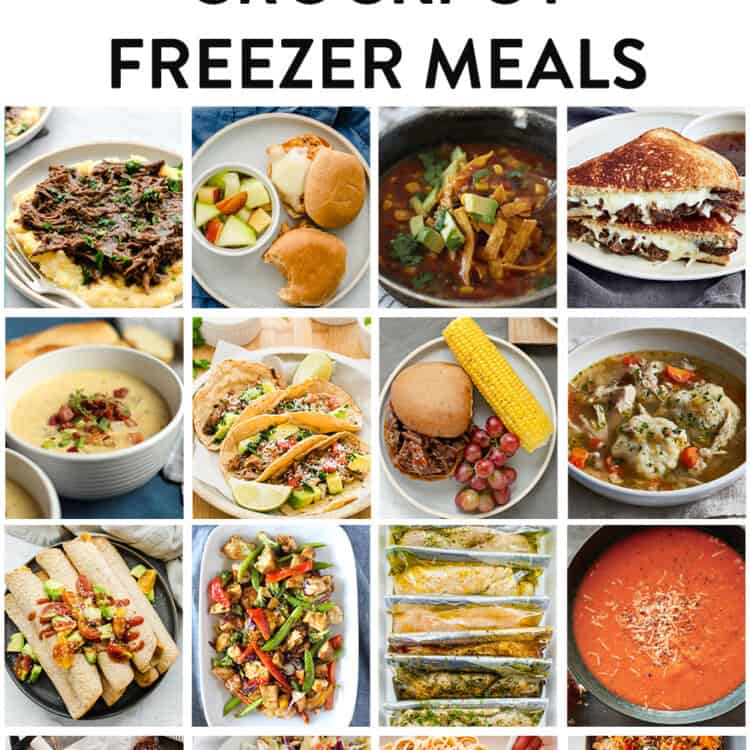 Want More Freezer-Friendly Crockpot Meals?
We have SO many to choose from in this round-up our best freezer-friendly slow cooker meals. Make sure to hop over and browse around.
20+ Crockpot Freezer Meals
Can You Make Spaghetti Sauce in the Instant Pot?
Yes! In fact, you can cook the entire meal, including the sauce and spaghetti(!!), in your Instant Pot. Use the directions in our Instant Pot Spaghetti Sauce blog post.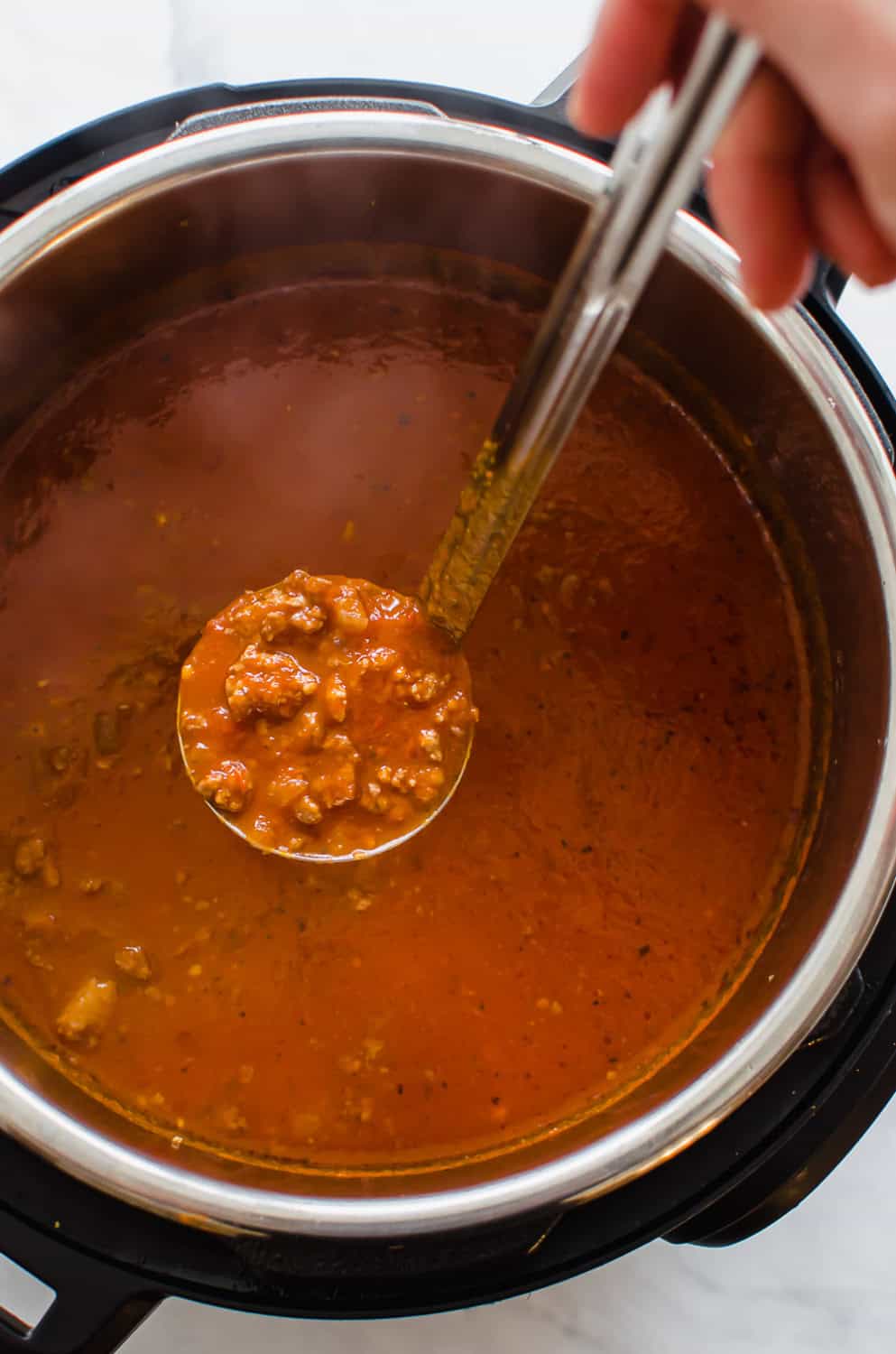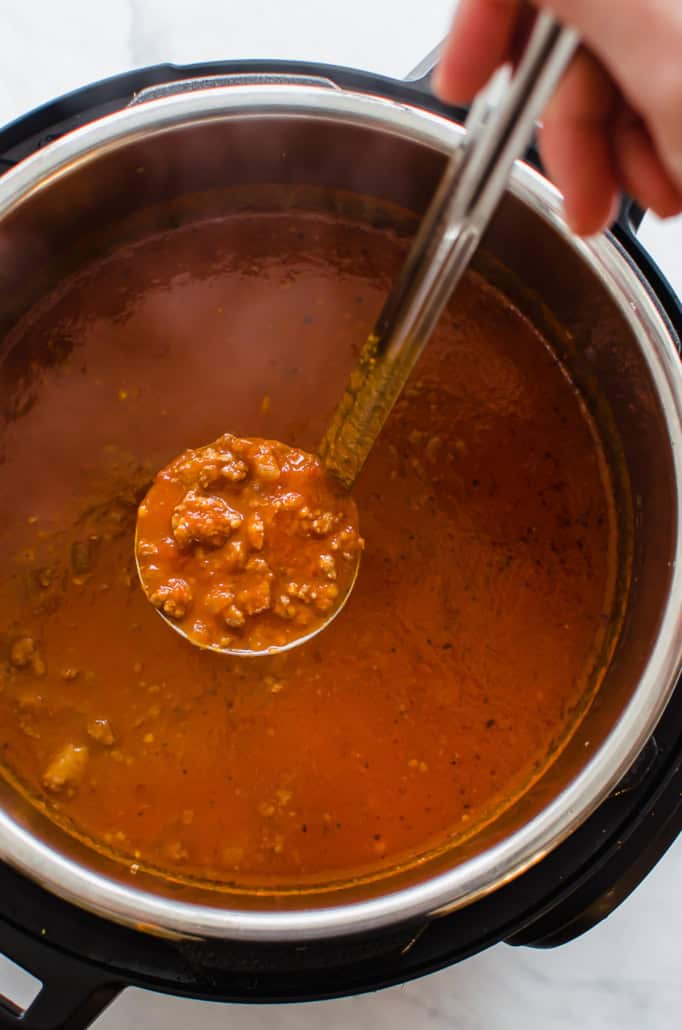 How to Serve Crockpot Pasta Sauce
Serve warm over any pasta, zoodles, spaghetti squash, or even quinoa. It's super versatile!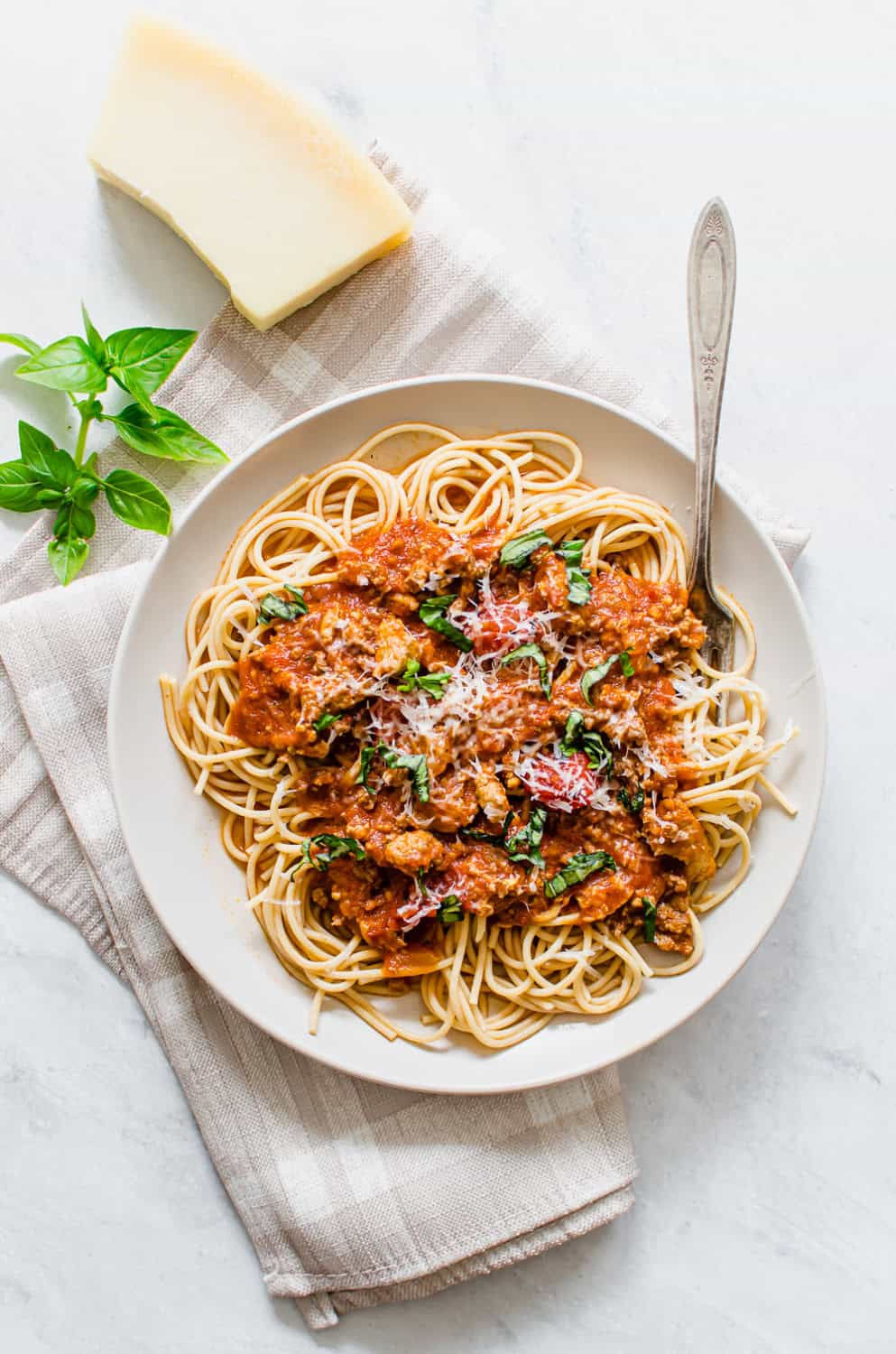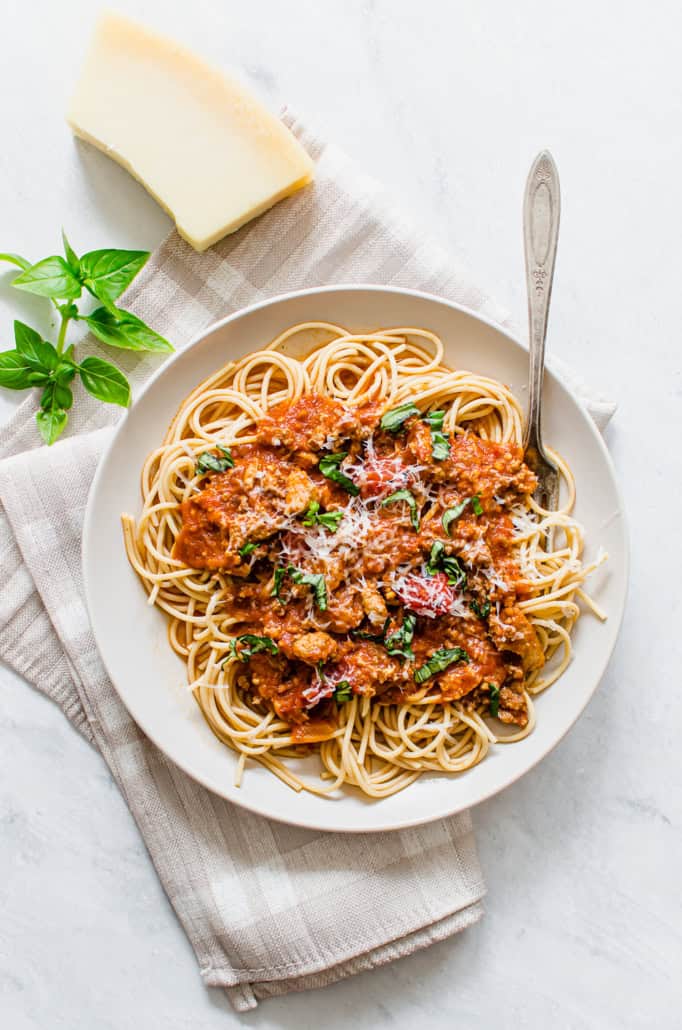 Side Dish Ideas
Here are a few ideas of side dishes to serve along with your main dish…
Whether you want a healthy, kid-friendly dinner or a freezer meal on hand for later, we think you'll love the simplicity and the all-day flavor of this Crockpot Spaghetti Sauce!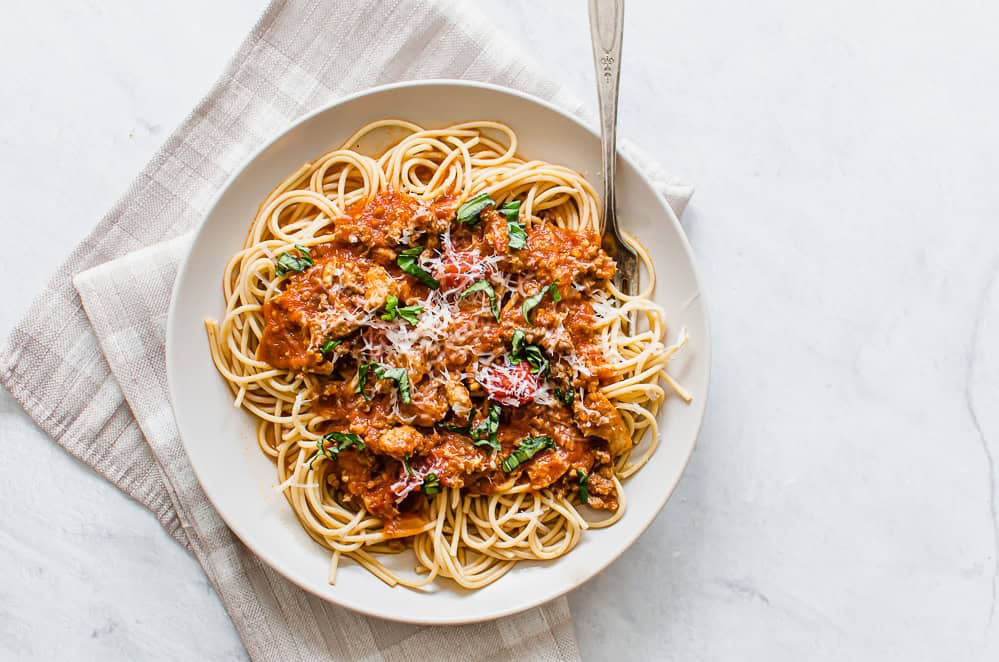 Did you make this? Snap a photo and tag us on Instagram at @thrivinghome so we can see your creations and cheer you on!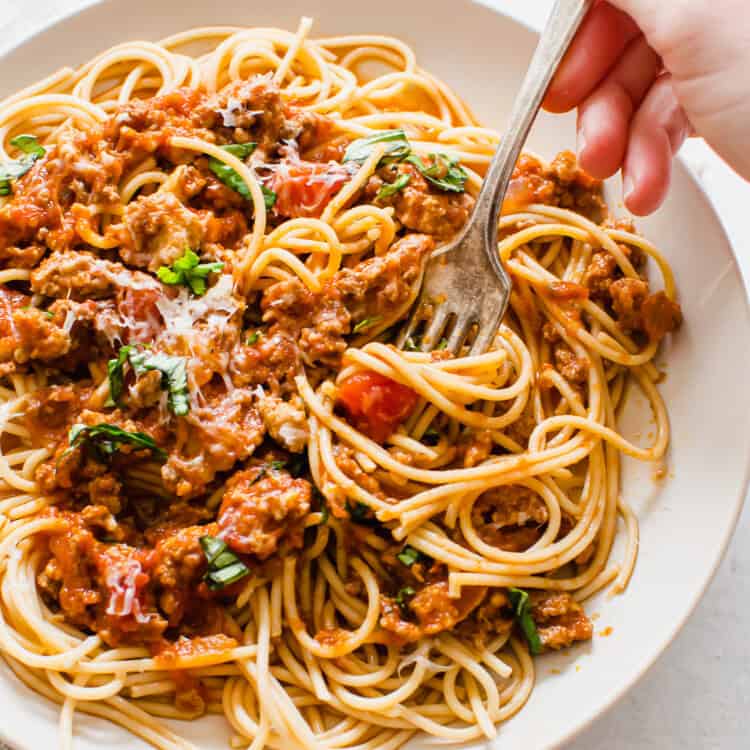 Crockpot Spaghetti Sauce
With a few simple ingredients, this hearty Crockpot Spaghetti Sauce couldn't be easier or tastier! Serve over pasta, zoodles, or spaghetti squash for a delicious and healthy dinner. Double and freeze a batch for later using our freezing instructions.
Yield:
6

servings of sauce

1

x
Prep:
20 minutes
Cook:
8 hours
Total:
8 hours 20 minutes
Don't forget that we started a custom online shopping cart with the Cheddar Chive Egg Bites ingredients…