Beefy Baked Ravioli: An Easy Fake-Out Lasagna
This post may contain affiliate or sponsored links. Please read our disclosure policy.
This Beef Ravioli is a dinnertime favorite in my home. This fake out lasagna is very easy to make too! It's super filling and makes a great beef freezer meal. My kids love it.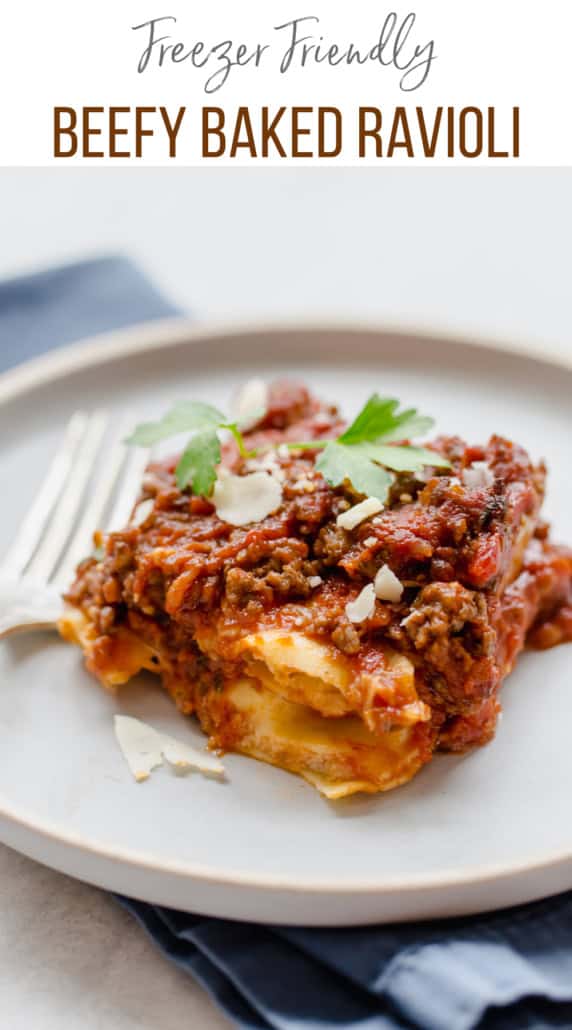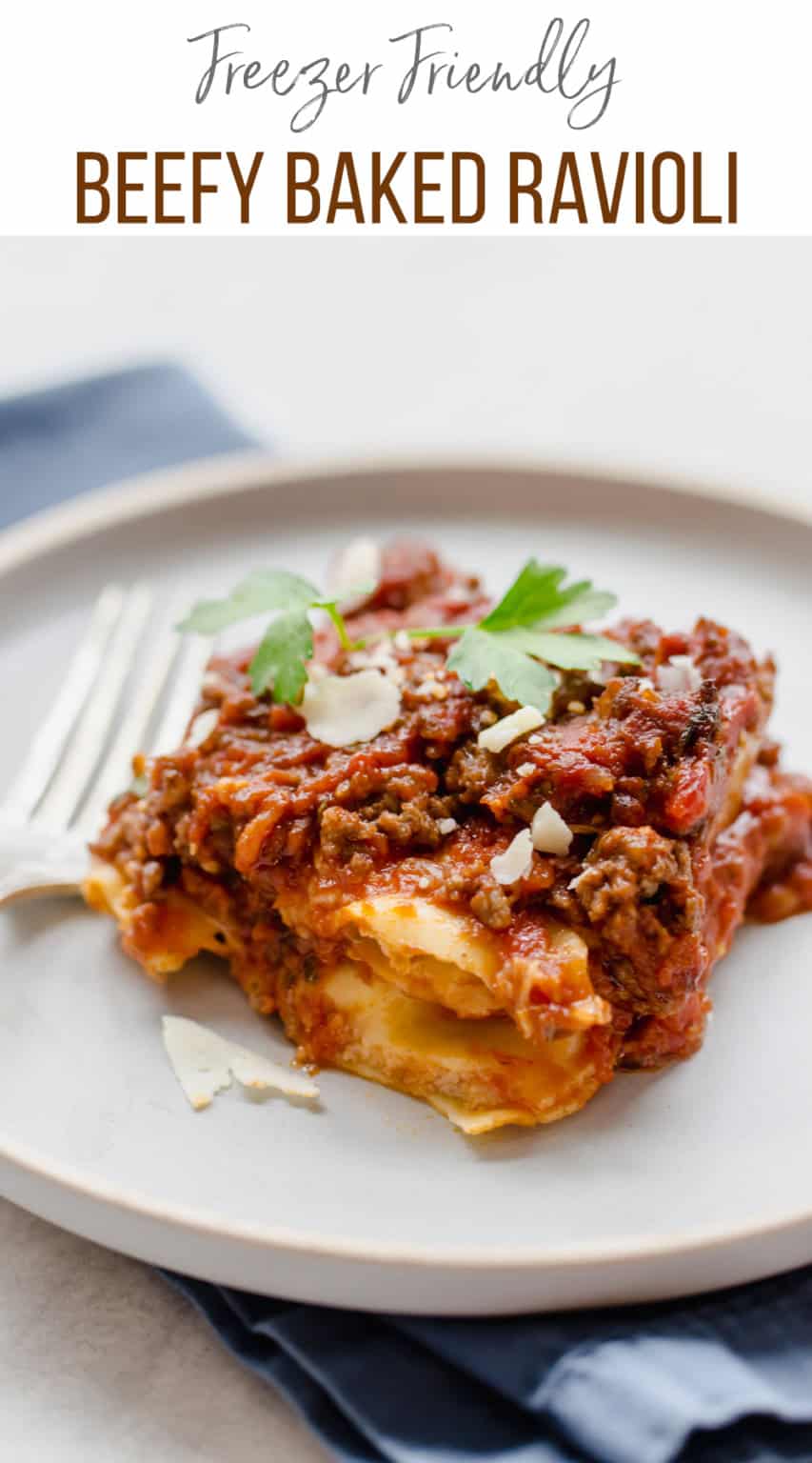 Since my grass-fed, organic beef was delivered a few weeks ago, I've been thumbing through some "oldies but goodies" beef recipes and came upon Beefy Baked Ravioli.
This recipe is one that my freezer club–that's my small group of friends who cook and swap healthy freezer meals for each other once a month–has been making for years. I don't know a man, woman, or child alive who wouldn't like this lasagna of sorts.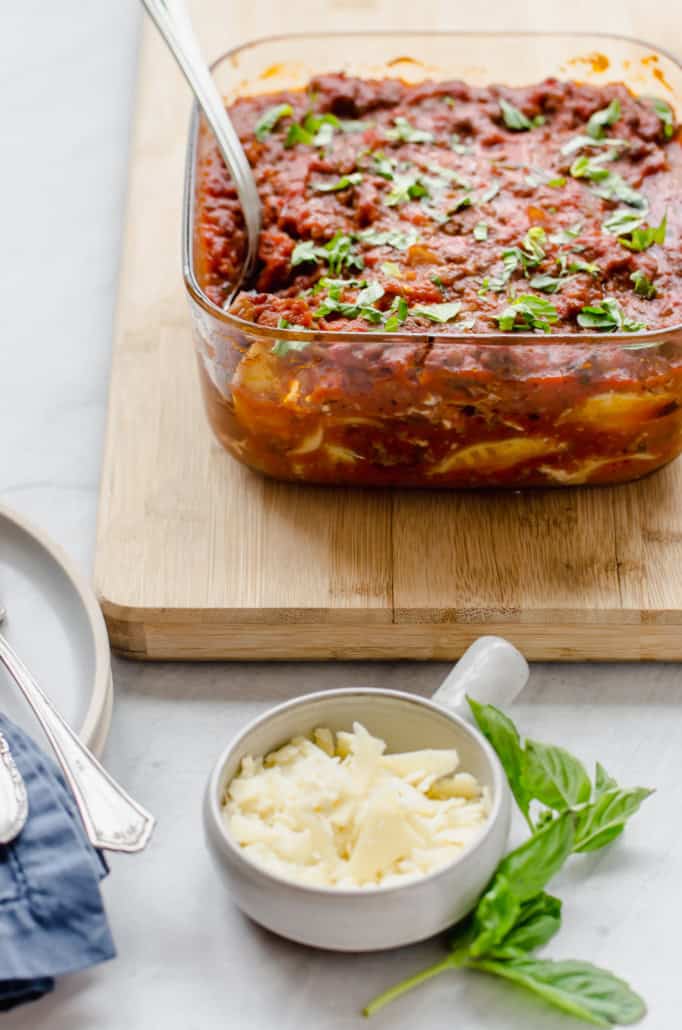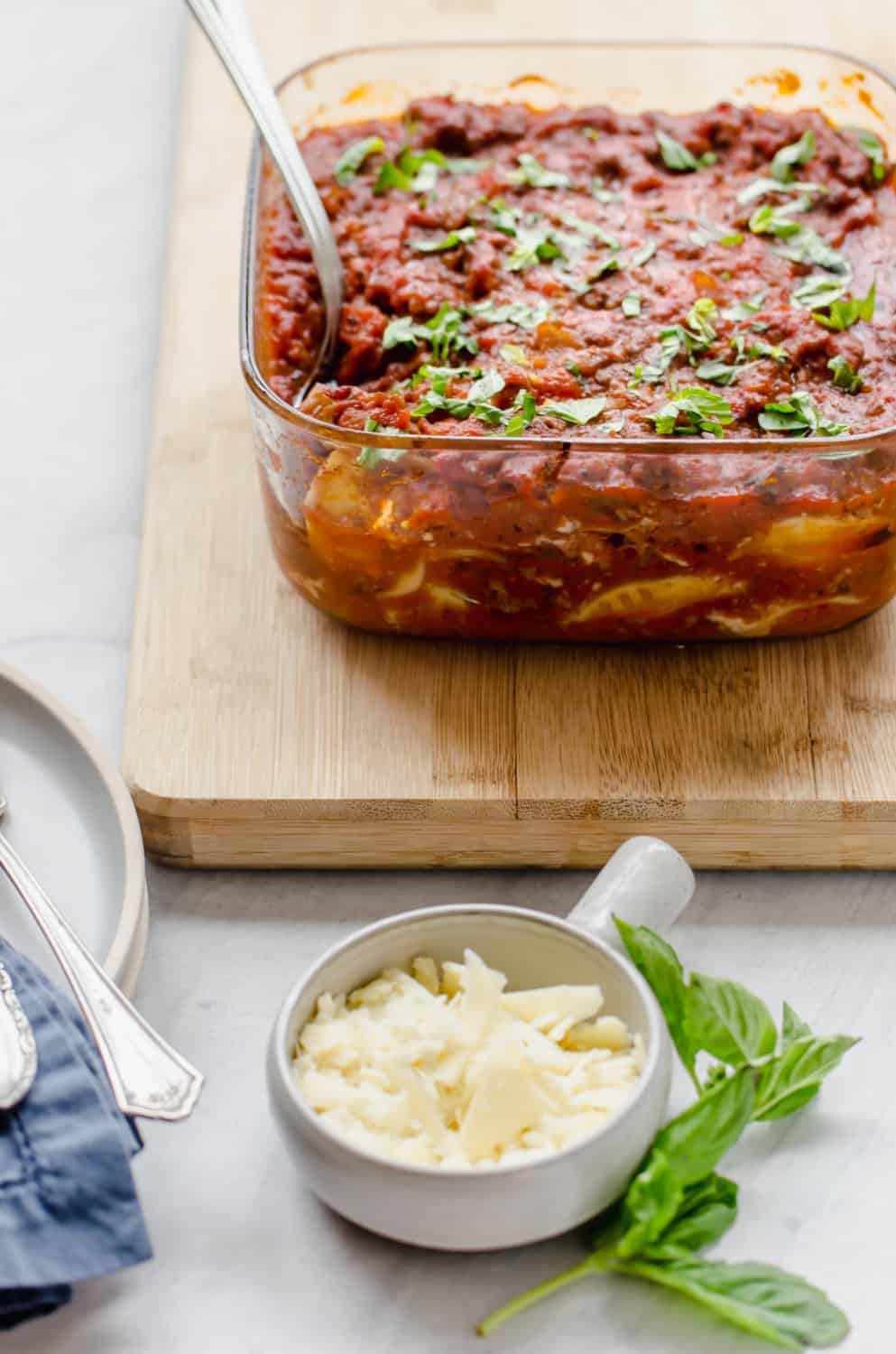 What Makes Beef Ravioli a Winner Dinner
There are several things I think you'll love about this recipe, besides that it's comfort food at its best…
1 – Using the cheese ravioli enables you to skip the ricotta cheese/egg mixture step which saves time and mess. I buy the fresh or dried cheese ravioli at Trader Joe's because there are no additives or preservatives unlike many of the frozen varieties. The ingredients are simple, pantry ingredients that you likely already have.
2 – You can easily transform Beefy Baked Ravioli into a cheaper, easier, and vegetarian meal by leaving out the meat and adding in some chopped spinach, thus making it similar to my Spinach Lasagna Roll-Ups. You might need to rename it, though. 🙂
3 – It makes a great freezer meal!! That means it's easy to make in bulk for your own family or to share with a friend, neighbor, or new mom who could benefit from a meal.
How to Make Beef Ravioli a Freezer Meal
Turning this recipe into a freezer meal is a cinch. Simple follow the cooking instructions right up until the point you bake it but STOP. DON'T BAKE IT! Wrap it tightly and freeze it for up to 6 months (even longer if you are able to package it correctly.) When you want to make it, use one of our safe thawing instructions to prepare it.
It may have to thaw in the fridge for 24-48 hours. Baking time may take longer because it will be so cold, so factor in another 20-30 minutes to the cooking timeBoom, you now have a fabulous ground beef freezer meal ready to roll on a busy night.
How to Assemble
Like to see things before you do them? Here is a layout of the steps you'll be doing to make this yummy dinner.
Here's a shot of our Beefy Baked Ravioli after we devoured most of it for dinner…
What Storage Container to Freeze the Meal In
We recommend using a freezer-friendly, resealable glass container or dish. While it may be easier to buy disposable plastic containers, it really makes sense to stock up on some quality, safe dishes that you can bake AND store in. After searching long and hard, here are the freezer storage containers we recommend. We both have collected a huge stash of them over the years!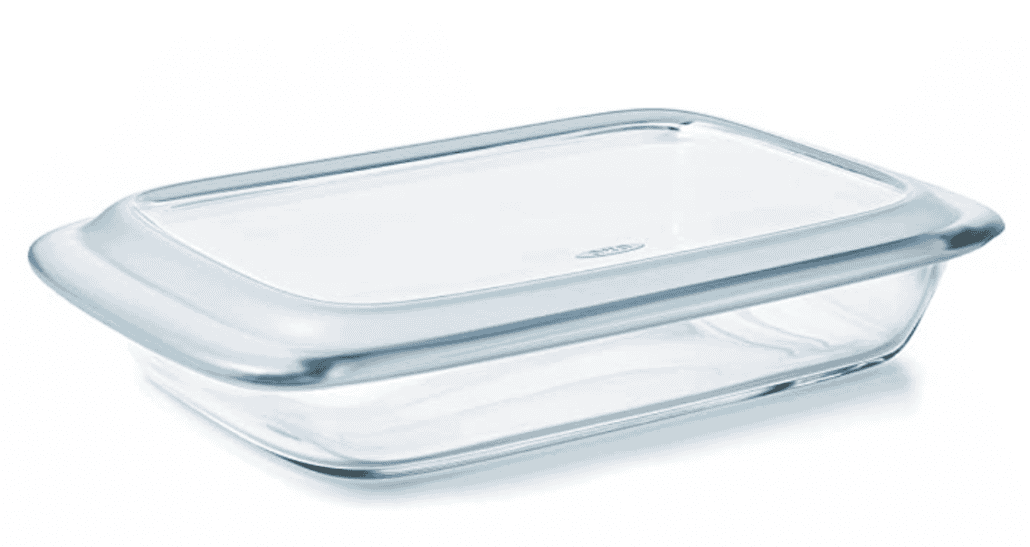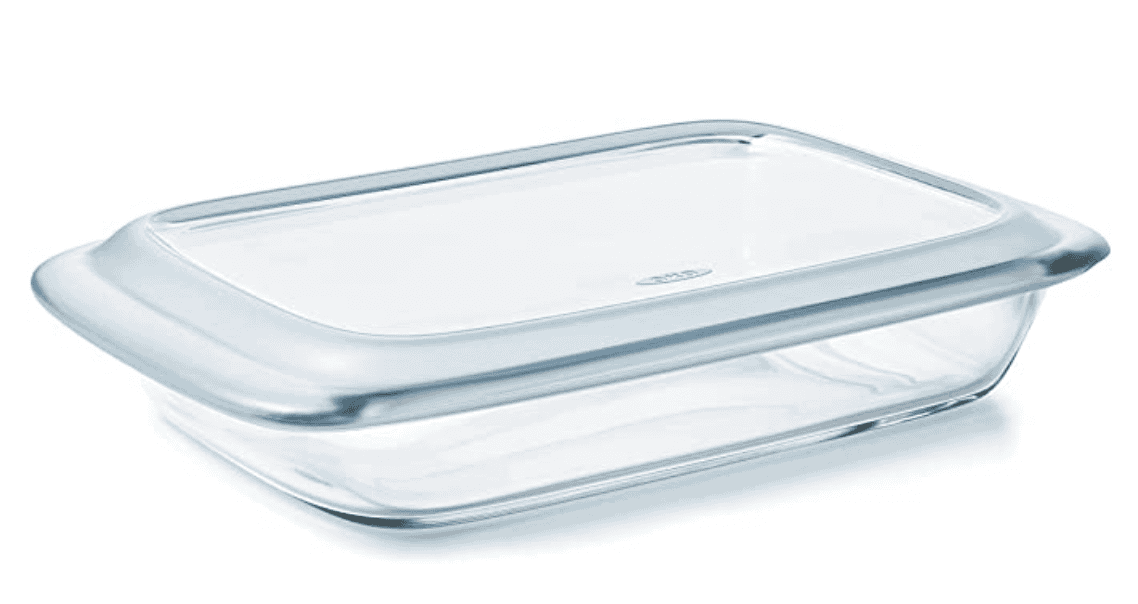 Make life simpler with this easy, fake-out lasagna tonight. Your family will thank you for this one.
Did you make this? Snap a photo and tag us on Instagram at @thrivinghome so we can see your creations and cheer you on!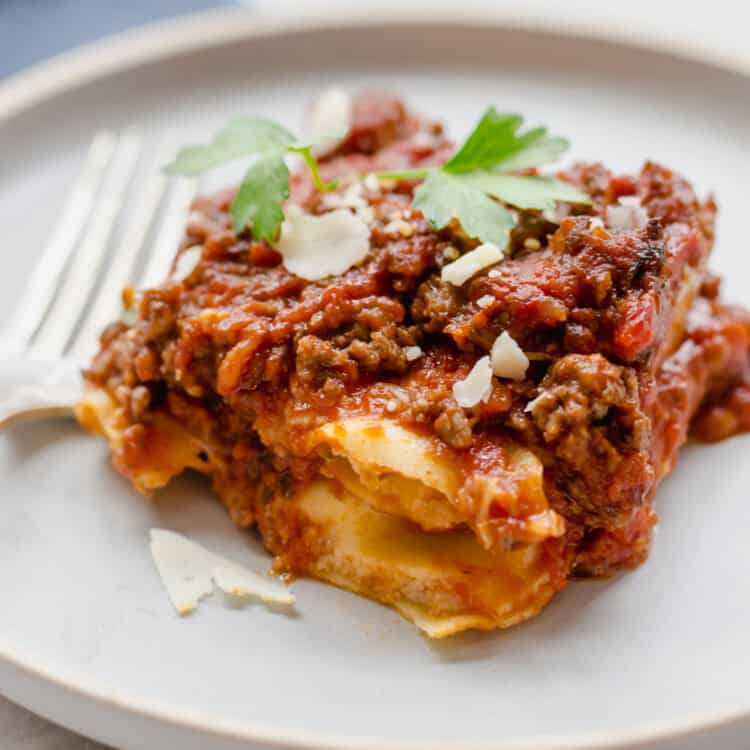 Beefy Baked Ravioli: An Easy Fake-Out Lasagna
This fake-out lasagna is a dinner time favorite in my home. Very easy to make, super filling and is freezer friendly. My kids love this meal!
Prep:
10 minutes
Cook:
60 minutes
Total:
1 hour 10 minutes
Ingredients
*Note: Our original recipe called for 1 can (15-ounce) crushed Italian tomatoes, but in further tests we found it to be too saucy. We removed this ingredient.
Before You Begin! If you make this, please leave a review and rating letting us know how you liked this recipe! This helps our business thrive & continue providing free recipes.
Make It Now:
Preheat oven to 375°F. Spray a 9×13 inch pan (or two 8×8 inch pans) with cooking spray.

In large skillet over medium-high heat, saute onions until soft, about 4 minutes. Add garlic and stir for 1 minute but don't let it burn. Next, add beef and sausage to the onion mixture and turn up the heat to medium-high. Cook until browned and no longer pink, breaking it up with a wooden spoon as it cooks. Drain off the grease, then stir in the sauce and remove from heat.
In the baking dish(es), spread a thin layer of the meat sauce into the bottom. Arrange a layer of half the ravioli over the sauce. Sprinkle about 1 cup of the mozzarella cheese and about 1 cup of the Italian cheese over the ravioli. Pour half of the remaining sauce over the cheese and spread it with the back of a spoon. Repeat layers, ending with the rest of the sauce on top. (Freezing instructions begin here.)
Cover tightly with aluminum foil. Bake for 45 minutes until hot throughout. Take foil off and bake about 15 minutes more or until bubbly at edges.
Let rest for about 10 minutes before slicing. Sprinkle with Parmesan cheese before serving.
Freeze For Later:
Prepare the casserole through Step 3, but do not bake. Wrap the unbaked casserole(s) tightly with plastic wrap and foil before putting in the freezer, making sure to squeeze out any excess air.
Prepare From Frozen:
Thaw in the fridge (may take up to 48 hours) or thaw in the microwave on defrost setting. Bake according to instructions, beginning with Step 6.
If cooking directly from frozen state, baking time will increase.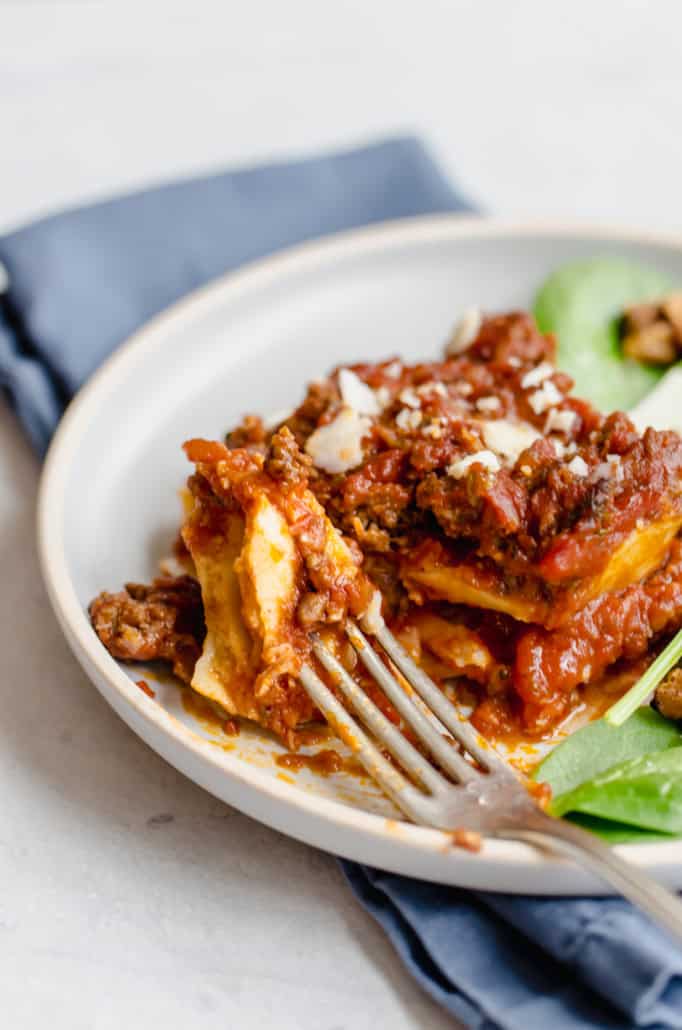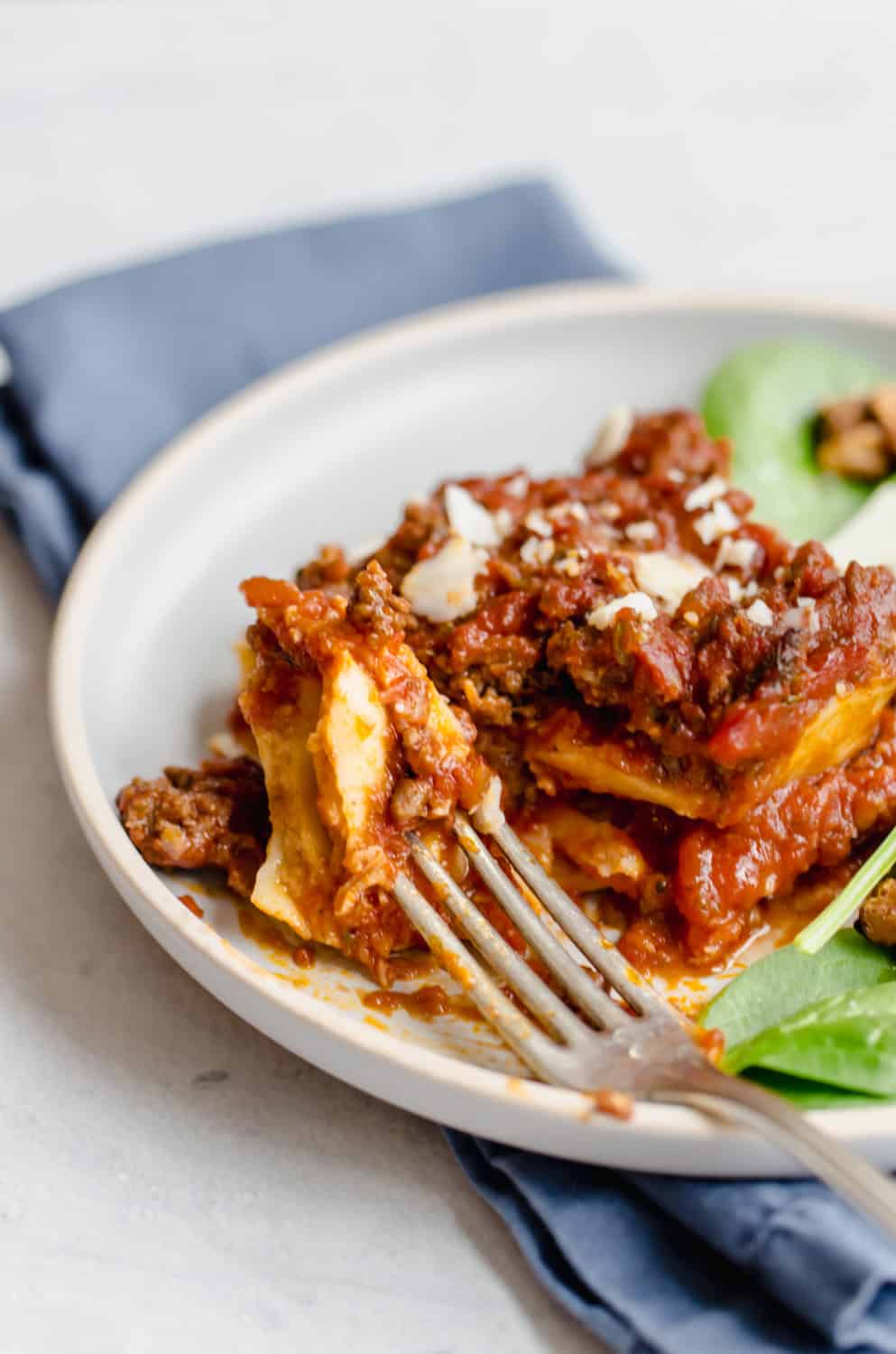 Looking for more ground beef recipes?
Check out our Top 10 Ground Beef Freezer Meals!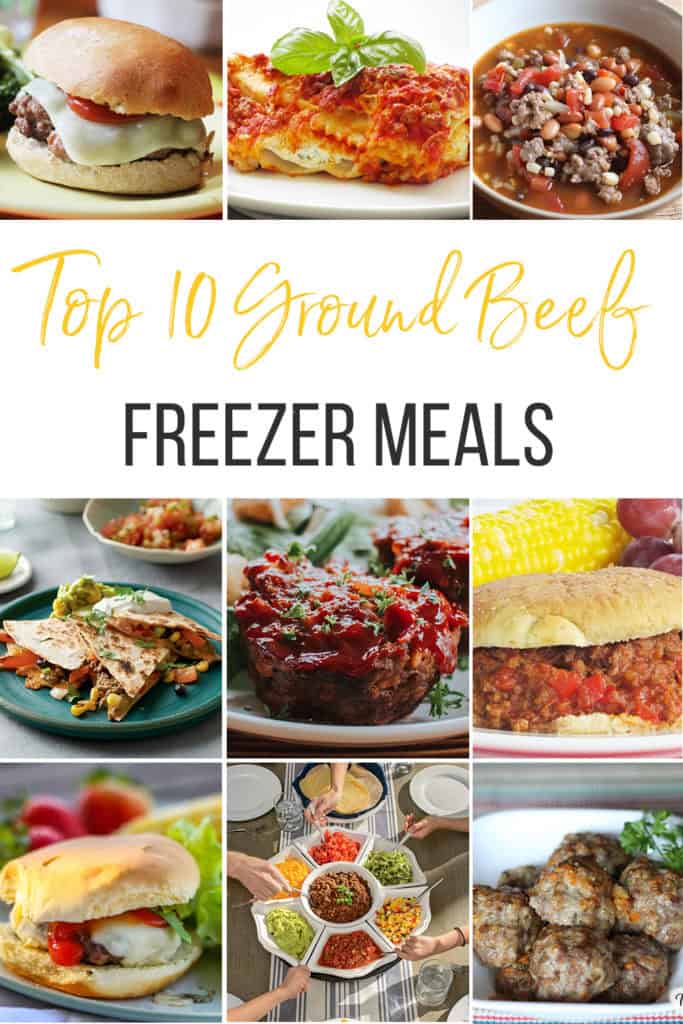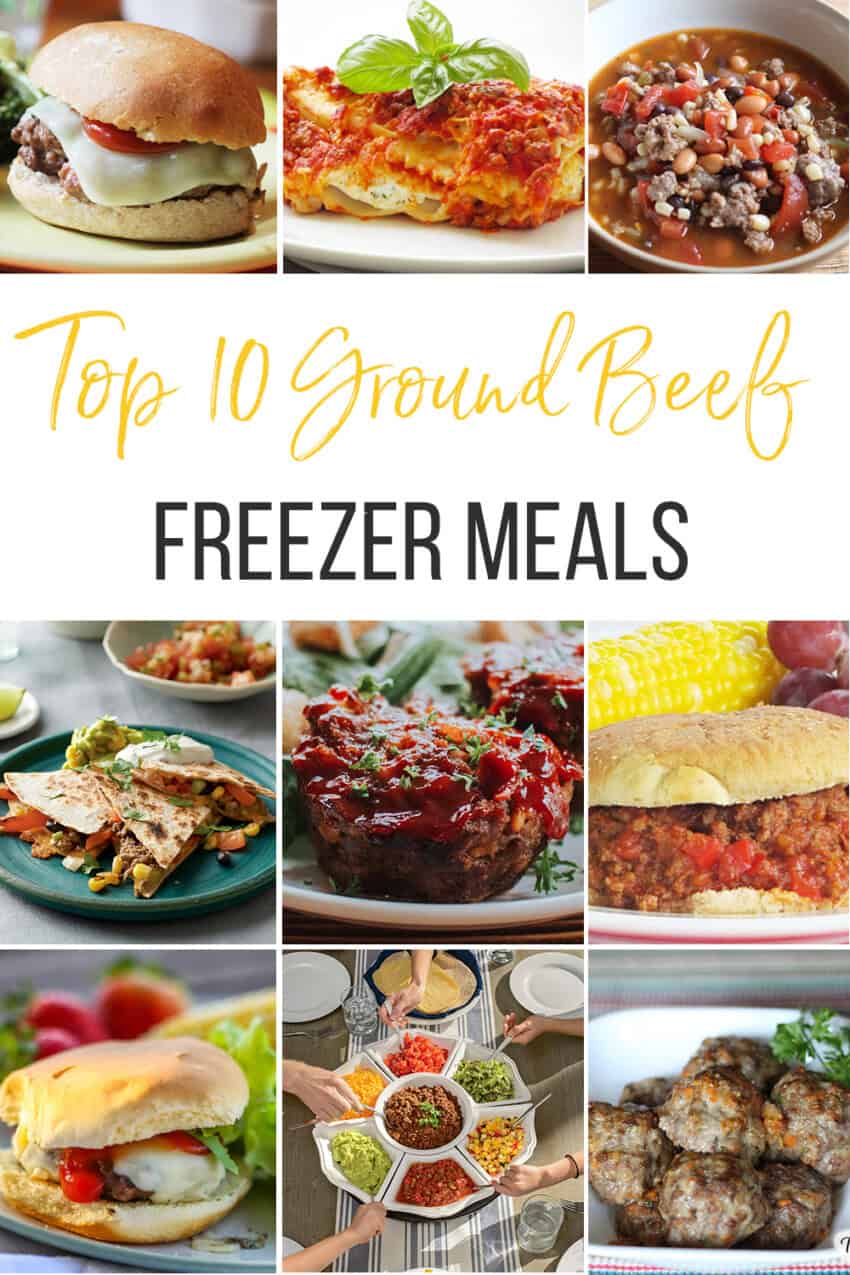 *Posts may contain affiliate links. If you purchase a product through an affiliate link, your costs will be the same but Thriving Home will receive a small commission. This helps cover some of the costs for this site. We appreciate your support!