4-Ingredient Baked Tortellini
This post may contain affiliate or sponsored links. Please read our disclosure policy.
Need a super easy 4-ingredient dish for dinner that everyone will love? Baked Tortellini (with sneaky spinach to up the nutrition) is it. This comforting casserole is the perfect weeknight meal!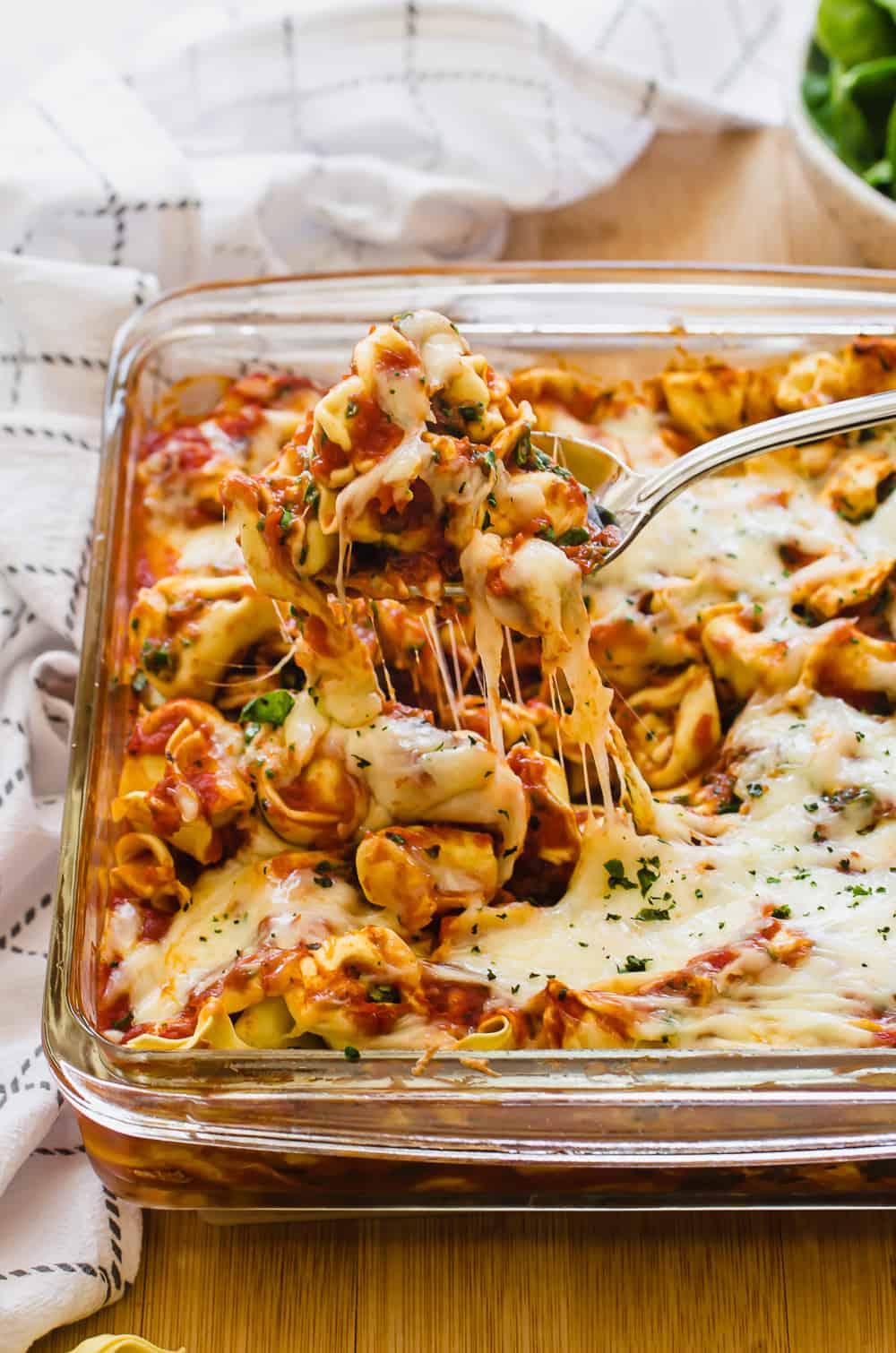 Why You'll Love this Recipe
Baked Cheese Tortellini is a vegetarian spin-off of my Baked Beef Ravioli. It's meatless but cheesy and oh-so-filling. Plus, it's also a great way to use up leftover fresh spinach and sneak in more nutrition into some comfort food.
Plus, we love using tortellini in recipes like our Crockpot Tortellini Soup with Sausage and Chicken Tortellini Soup. It's a simple ingredient that adds a lot of heartiness without much effort.
Using only 4 ingredients (or maybe 5), you've got a family-pleaser for sure.
Marinara sauce – Buy it at the store or use our delicious and healthy Homemade Marinara Sauce.
Frozen cheese tortellini – Look for the one with the fewest ingredients. There are also gluten-free ravioli available if needed.
Baby spinach – Add in for extra nutrition. Be sure to finely chop it. If your kids will throw a fit about this, it can be omitted.
Shredded mozzarella cheese
Uncured pepperoni (optional) – Chop this up and add in for more flavor. We love Applegate Uncured Turkey Pepperoni.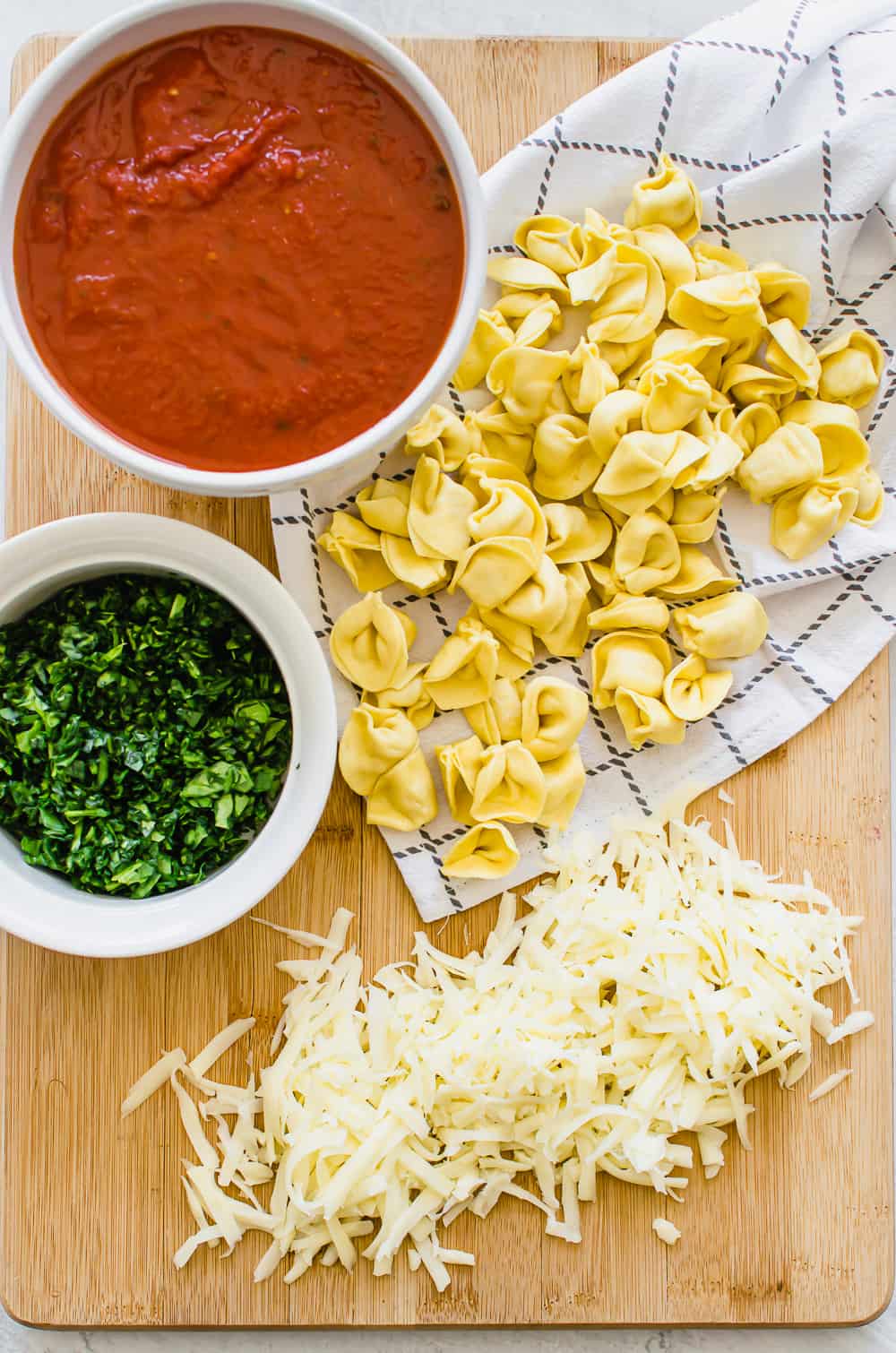 How to Make Baked Tortellini
This recipe is so simple, I don't even need many words to explain it. Follow the visual steps below!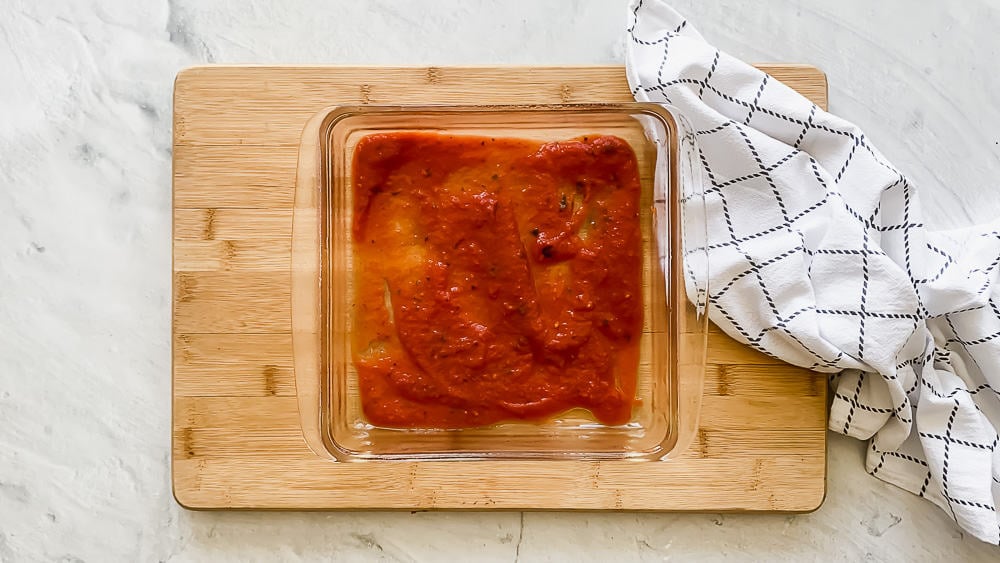 How to Freeze Baked Tortellini
Like many of our amazing freezer meals, you prep this recipe all the way up until cooking it. Stop there and freeze it!
Freeze For Later: Cover the dish with foil. Label and freeze.
Prepare From Frozen: Thaw completely in the refrigerator (will take around 24 hours) and bake for 20-25 minutes covered and then another 10-15 minutes uncovered. This is shorter than the recipe below because the tortellini will be thawed.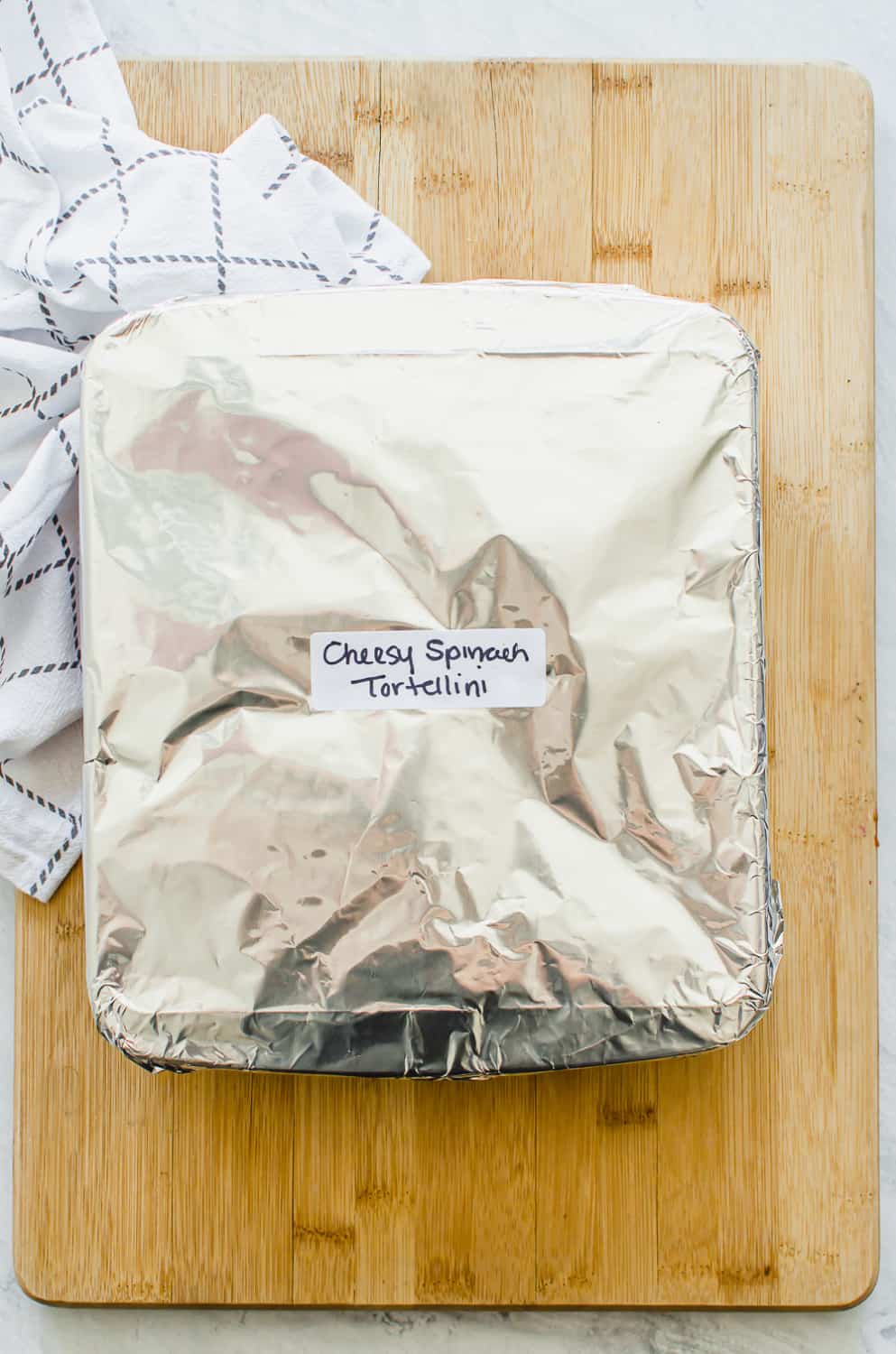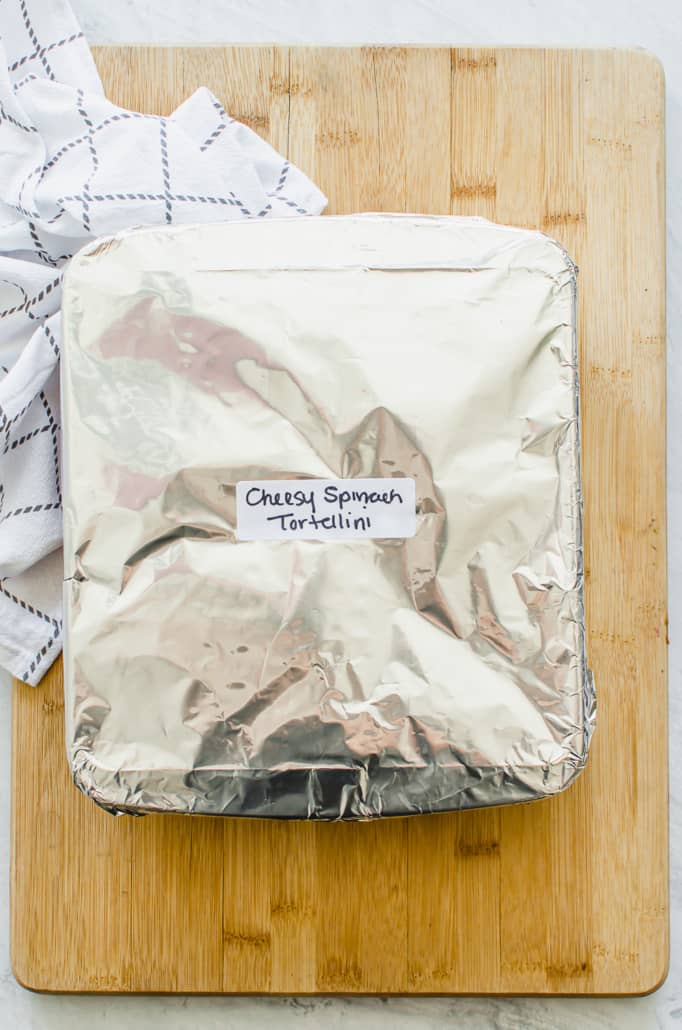 FAQ
Can I use gluten free tortellini?
Yes! One reader said, "This recipe worked well with gluten-free tortellini. We used Wegman's brand gluten-free egg pasta tortellini and everyone ate it up!"
Can I add seasonings to it?
Sure! It's hard to mess this one up. Throw in your favorite fresh or dried herbs.
Can I prep it in advance and keep it in the fridge?
Yep! This is a great make ahead recipe.
What to Serve with Baked Tortellini
Did you make this? Snap a photo and tag us on Instagram at @thrivinghome so we can see your creations and cheer you on!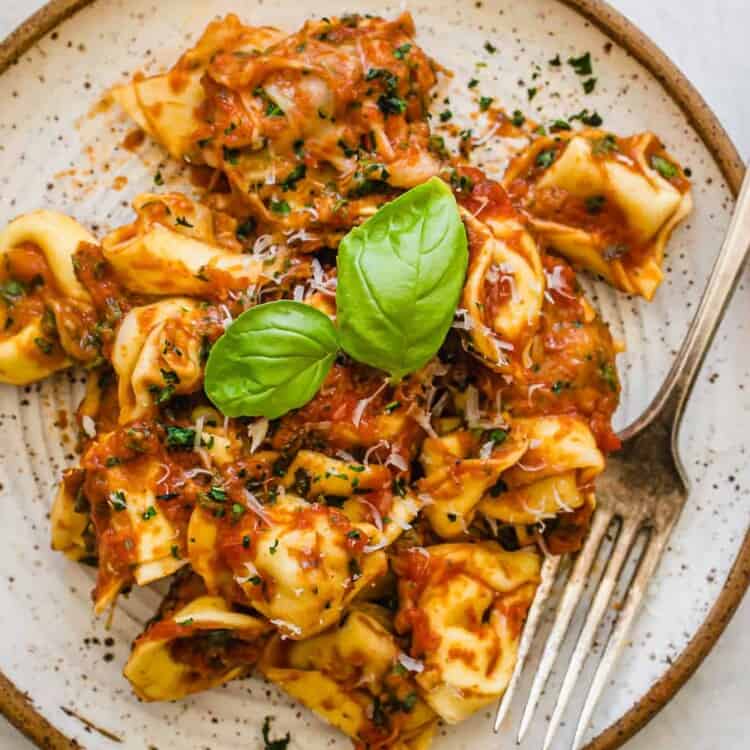 Baked Tortellini
This easy and oh-so-cheesy baked pasta is a great way to use up leftover veggies, likefresh spinach. Even your meat-lover will dig this one!
Prep:
10 minutes
Cook:
50 minutes
Total:
1 hour
Ingredients
1

(24-ounce) jar marinara sauce (or

3 cups

Homemade Marinara Sauce)

1

package (19 oz.) frozen cheese tortellini (look for the

one

with the least ingredients)

2

cups

loosely packed baby spinach, finely chopped

2

cups

shredded mozzarella cheese
Optional:

4

ounces

uncured pepperoni, chopped (We love Applegate's Uncured Turkey Pepperoni.)
Optional: Grated Parmesan cheese, for serving
**All these ingredients are already loaded in a custom Hy-Vee shopping cart for you here!**
Before You Begin! If you make this, please leave a review and rating letting us know how you liked this recipe! This helps our business thrive & continue providing free recipes.
Instructions
Make It Now:
Preheat oven to 375°F. Spray an 8×8 inch casserole dish with cooking spray.
Spread thin layer of marinara sauce into bottom of baking dish. Arrange half of the frozen tortellini over the sauce, trying to get them in a single layer as much as possible. Top with 1/2 of the chopped spinach (and pepperoni), 1/2 of the sauce (use the back of a spoon to move the sauce around and make sure it covers all the tortellini), and 1 cup of mozzarella cheese. Repeat layers in Step 2, ending with the last of the cheese on top. (Freezing instructions begin here.)
Tent lightly with a layer of foil; try to avoid touching the cheese. (Tip: Spray with cooking spray on the inside of the foil to help prevent the cheese from sticking.)
Bake for about 40-45 minutes until bubbly on the edges (if using fresh tortellini, bake 20-25 minutes). Take off the foil and bake about 10-15 minutes more, or until golden on top and hot throughout.
Let rest for 10-15 minutes before serving. Top each serving with grated Parmesan, if desired.
Freeze For Later: Spray an 8×8 inch casserole dish with cooking spray. Follow Step 2. Cover the dish with foil and a few layers of plastic wrap or foil. Label and freeze.
Prepare From Frozen: Thaw in the refrigerator. Preheat the oven to 375°F. Bake for 20-25 minutes covered in foil and then another 10-15 minutes uncovered. 
---
Notes/Tips
If using fresh tortellini, this will only take about 20-25 minutes to bake.
You can also make this with frozen cheese or beef ravioli, but you'll have to make it in three layers instead of two so that each ravioli layer is flat and they aren't overlapping. Then, bake covered for 45 minutes and uncovered for 15 minutes.