This post may contain affiliate or sponsored links. Please read our disclosure policy.
Homemade Texas Toast is a quick and easy side dish that all ages love. It is crisp and crunchy on the outside and buttery and soft on the inside.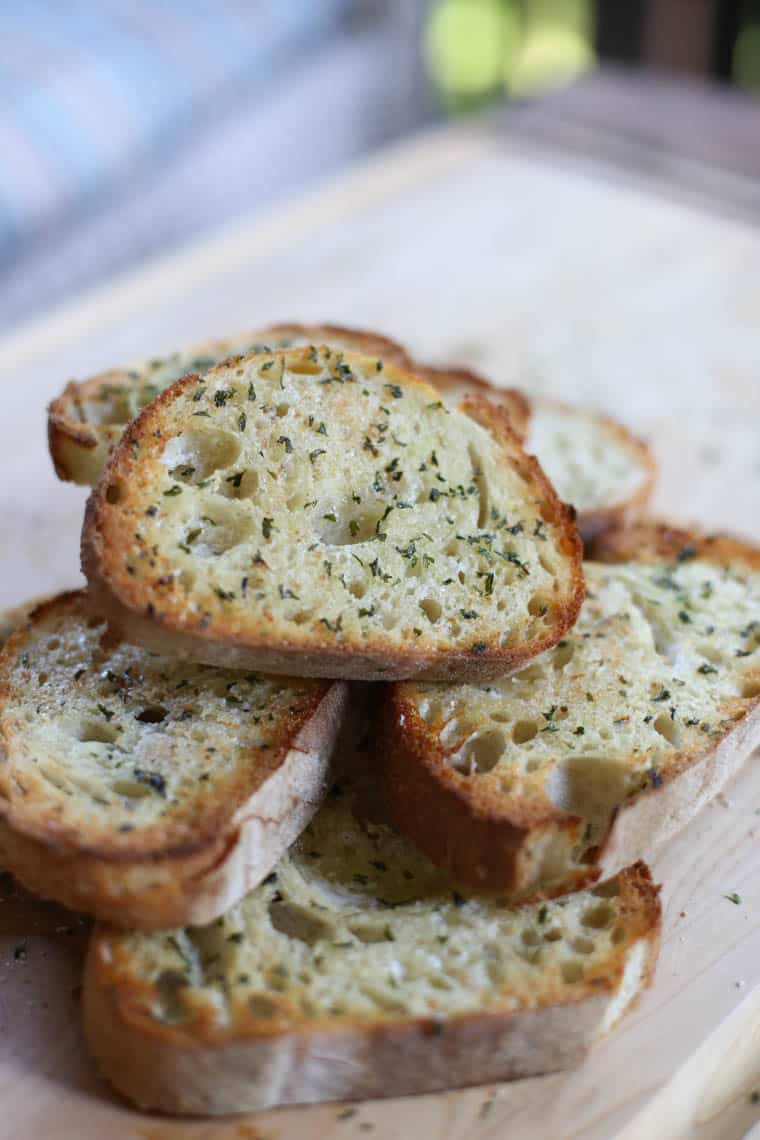 About This Recipe
It tastes SO much better when made at home plus you're skipping over loads of additives and preservatives that come with the store-bought version. Check out how easy it is to make homemade Texas Toast garlic bread below!
When I learned to make Texas Toast at home, it took my garlic bread game to a whole new level. It's my go-to side dish with most Italian dishes like
Is Texas Toast the Same thing as Garlic Bread?
Well, yes and no.
Texas toast is a toasted bread that is typically made from sliced bread that has been sliced at double the usual thickness of normal sandwich bread. It's prepared by slathering butter on both sides of the bread and then broiling or grilling it until golden brown.
According to Wikipedia, this side dish is considered "Texas Toast" because it got its start in Beaumont, Texas, when a bakery sliced some bread too thick. The bread was so large it wouldn't fit in the toaster. So the cook thought he would butter the bread and put it on a griddle.
This recipe has you cooking it in the oven but it still creates that crispy, garlicky outside and fluffy inside.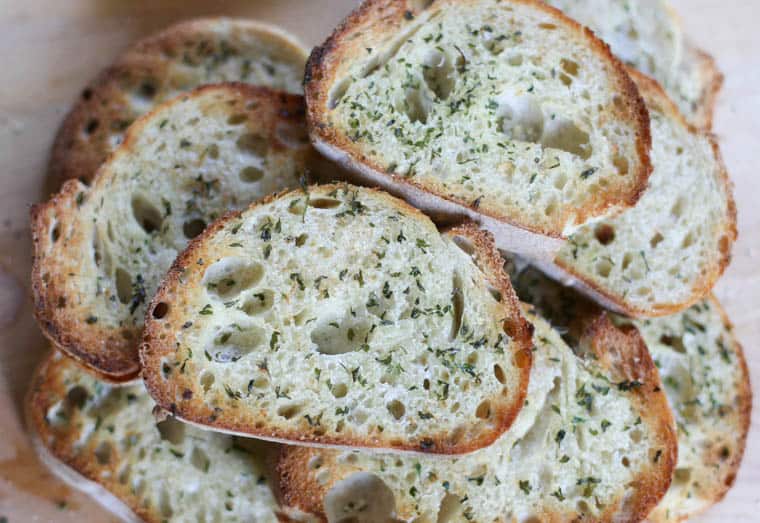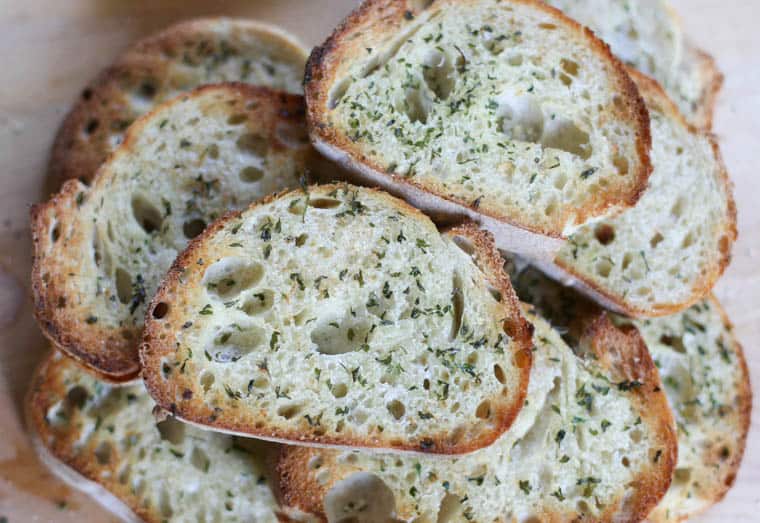 What Type of Bread Do I Need?
My favorite bread to use is a big french loaf. However, I will take a stand and say any bread will work using this method. It'll still be good! Just call it garlic bread instead of Texas Toast so the chefs in the world don't come at me.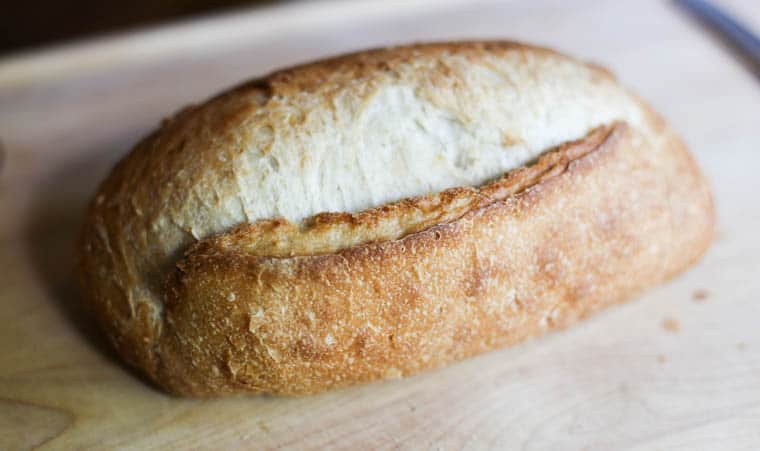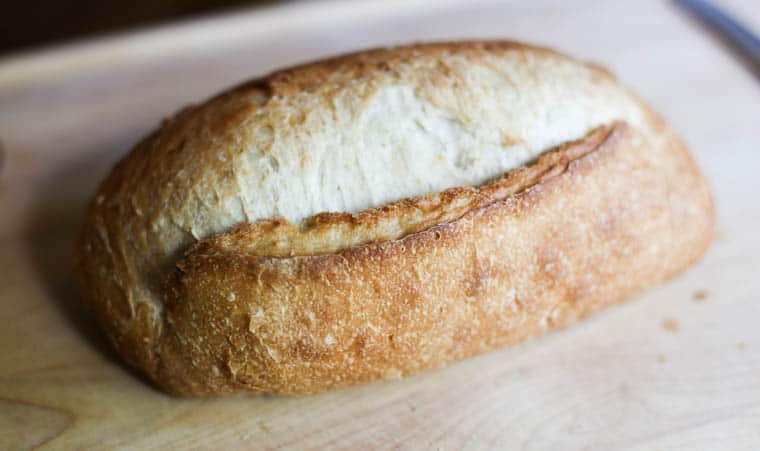 To prepare it for this recipe, slice and dice that puppy up into about 1/2-1 inch wide pieces.
A bread knife will be your best friend for this task.
Tip: Ask Your Bakery to Slice the Loaf!
Oftentimes the bakery where you purchased the  bread will slice it for you. Just be sure to clarify you want 1/2-1 inch wide pieces.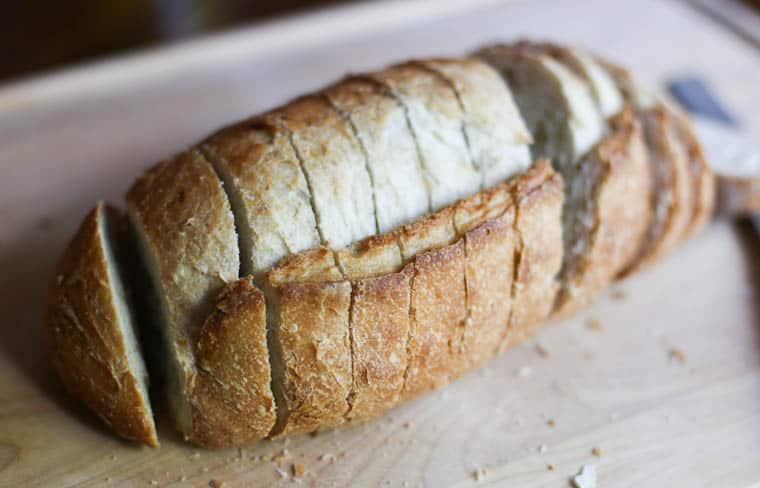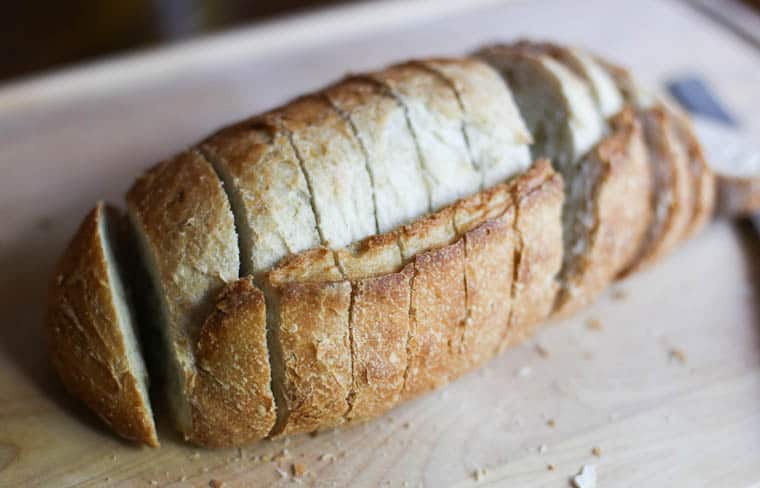 How to Make Texas Toast at Home
Adjust the top oven rack to be about 6 inches from the top heating element. Preheat the broiler.
Lay the bread slices on a baking sheet. Tip: Cover the sheet pan with parchment paper or foil for each clean-up.
Using softened butter, spread a generous amount over each piece until the surface is pretty much coated.
Tip: How to Soften Butter
To soften cold butter, stand it up in the microwave, zap it for 5 seconds. Flip it the butter over (so it's still standing up but on the other end) and zap it again for another 5 seconds.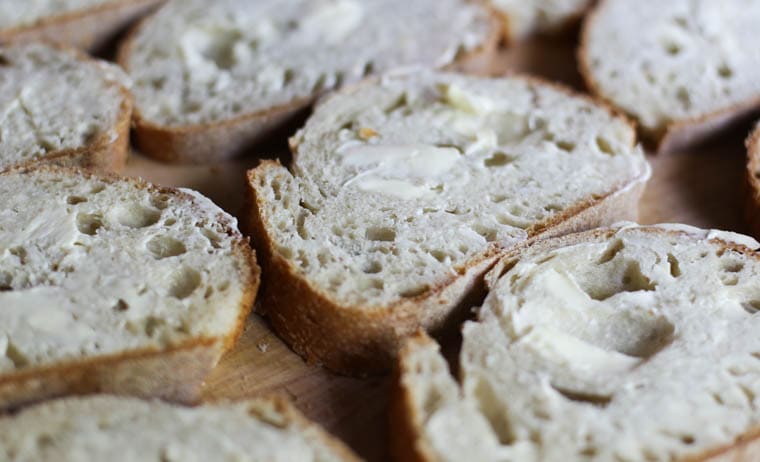 Then, sprinkle a little bit of garlic salt over the top followed by a bit of dried parsley flakes. If you want to get even fancier, sprinkle some Parmesan cheese on each piece, as well.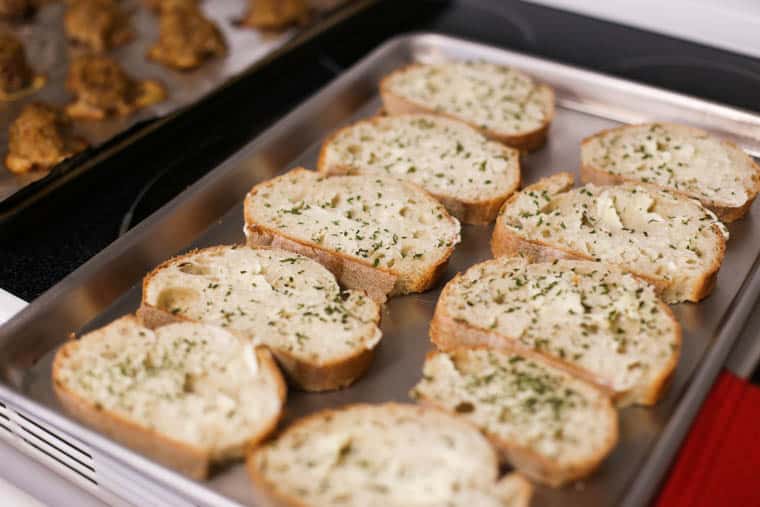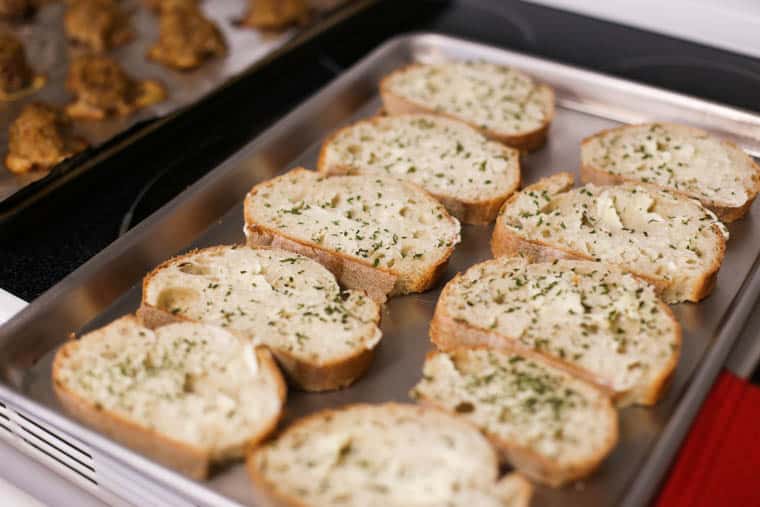 Broil until just starting to brown, about 2 minutes. Keep an eye on them though! Take them out when the tops start to get brown and crispy.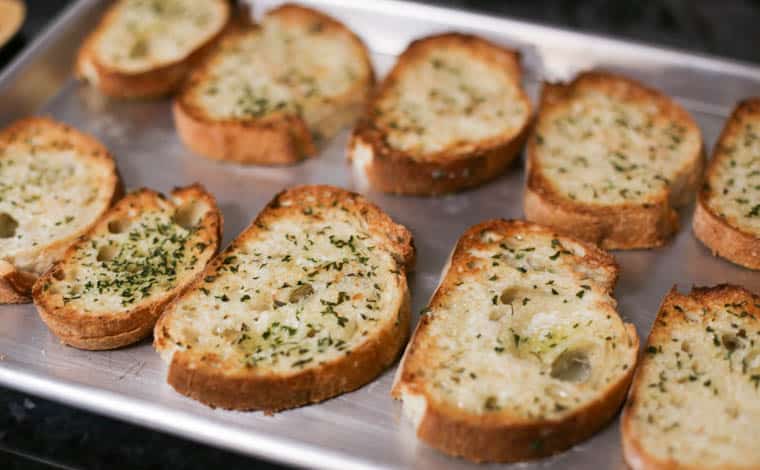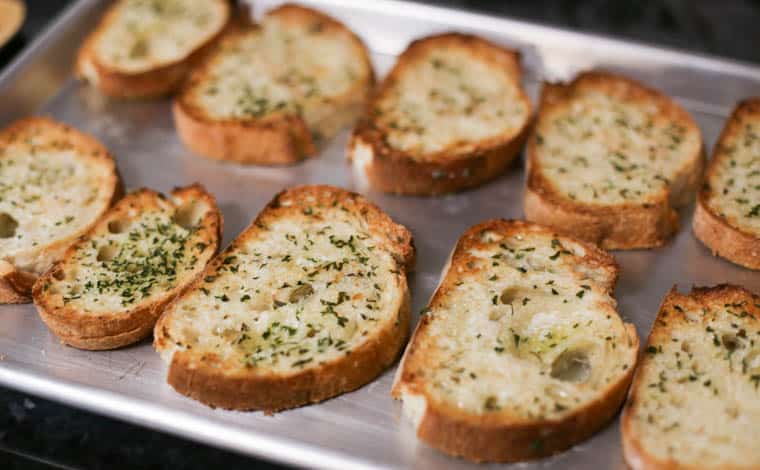 Perfect.
Recipes that Go Well with Texas Toast
Texas Toast will play nice with loads of recipes! Here are a few ideas to get you started.
Did you make this? Snap a photo and tag us on Instagram at @thrivinghome so we can see your creations and cheer you on!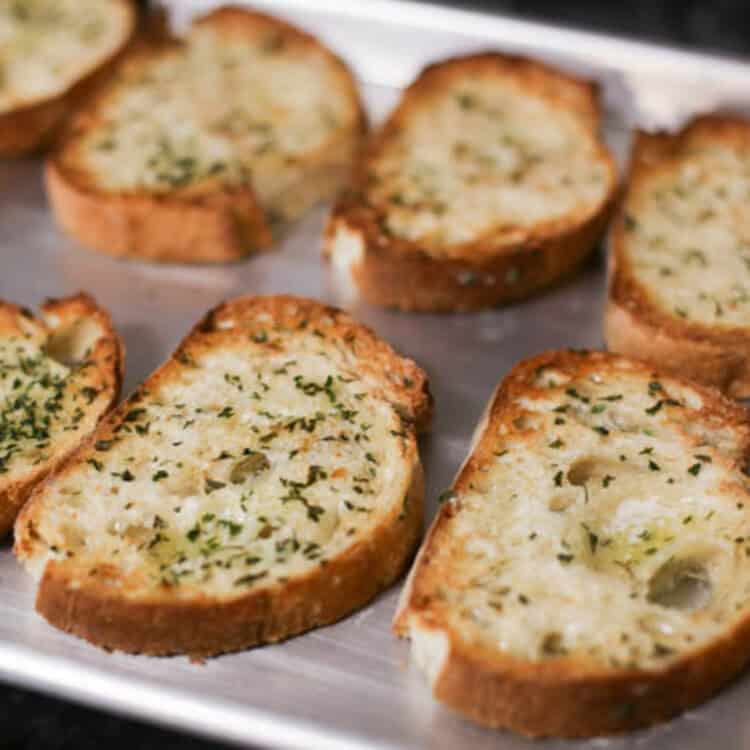 Texas Toast
Texas Toast is one of those tried and true side dishes your family will always love. Crispy & garlicky on the outside, warm and fluffy on the inside. To easy too!
Prep:
10 minutes
Cook:
5 minutes
Total:
15 minutes
Ingredients
1

french loaf, sliced into

1/2

– to 1-inch thick pieces

4

–

6

tablespoons softened butter

1/2

–

1

teaspoon garlic salt

1/2 teaspoon

dried parsley flakes
Before You Begin! If you make this, please leave a review and rating letting us know how you liked this recipe! This helps our business thrive & continue providing free recipes.
Instructions
Adjust the top oven rack about 6 inches from the top. Preheat the broiler.
Lay bread slices out on a baking sheet. Spread softened butter over the top of each slice. Sprinkle garlic salt and parsley flakes evenly over the tops.
Place pan on the top rack and broil until the bread starts to brown, about 2 minutes. Watch closely so they don't burn!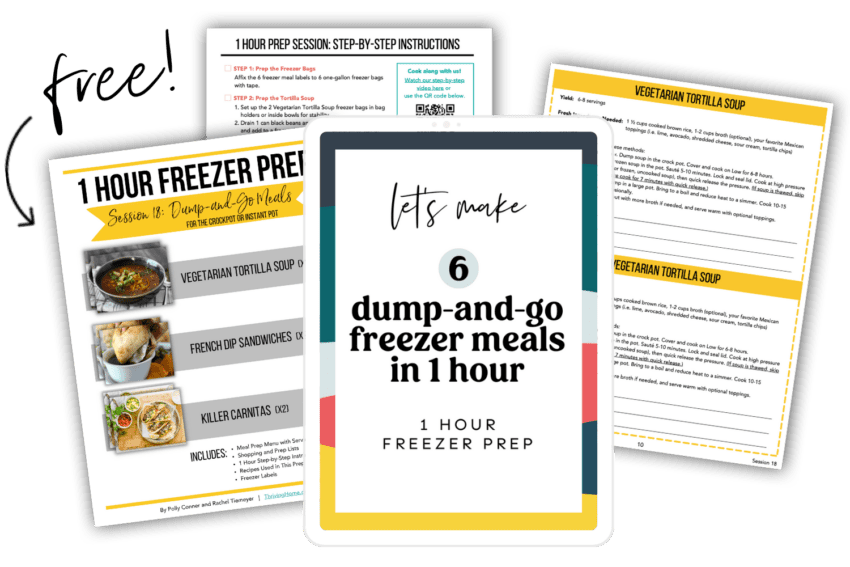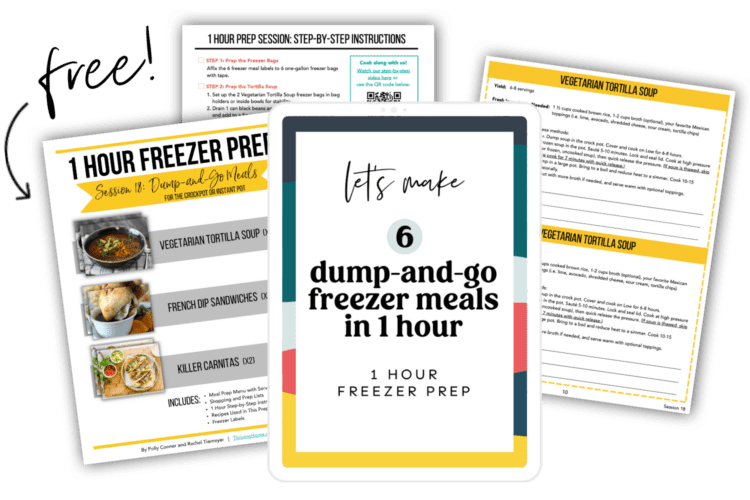 Make 6 Dump-and-Go Freezer Meals in 1 Hour!
Try a 1 Hour Freezer Prep Session ($6.99 value) for FREE!
Includes:
Shopping & equipment lists
Step-by-Step instructions & video tutorial
Serving suggestions & dietary substitutions & more