This post may contain affiliate or sponsored links. Please read our disclosure policy.
Print or save this Crock Pot Taco Soup recipe right now, because this hearty, comforting, and healthy soup is about to become your best friend! Make it for a weeknight family meal or when hosting a crowd.
Or try our Instant Pot Taco Soup.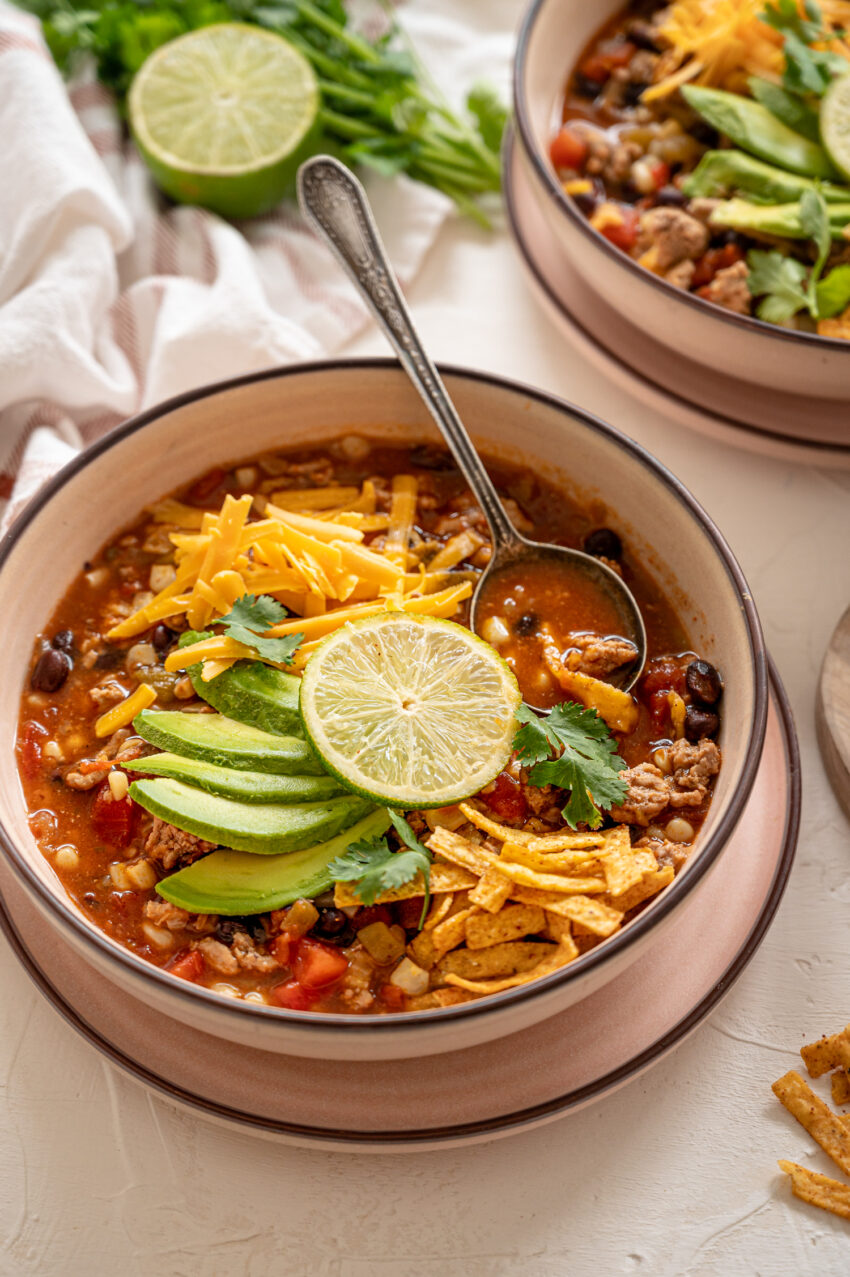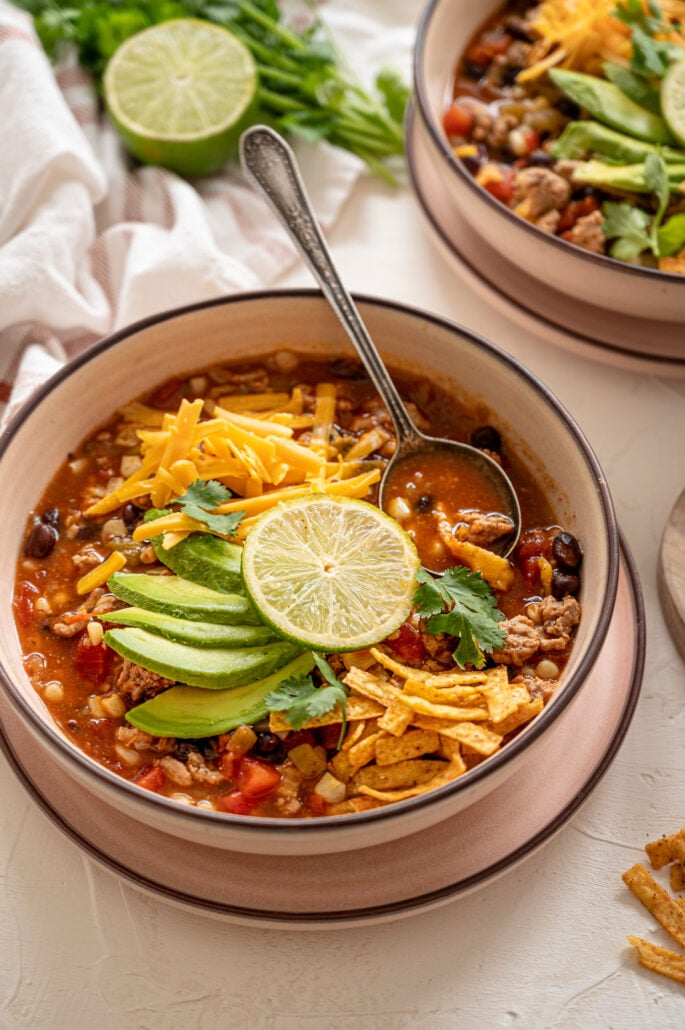 Why We Love This Soup
Imagine walking into your home after a long day at work and being welcomed by the aroma of this comforting, healthy dinner. It takes minutes to prep in the morning and then cooks all day in the slow cooker. Everyone in the fam can individualize their bowls with Tex-Mex toppings, too.
Also, cooking recipes low and slow in the crock pot is an easy way to get dinner on the table. It's one of the many reasons we love recipes like Crock Pot Whole Chicken, Crock Pot Marinara Sauce, and Crock Pot Chicken Pot Pie. See all of our Slow Cooker Recipes here.
Ingredients
Here are the simple ingredients you'll need on hand…
1 tablespoon avocado oil or olive oil
1/2 large yellow onion, diced
Salt and pepper
1 pound lean ground beef (sub: ground chicken or turkey) (where to find meat you can trust)
2 cloves garlic, minced
3-4 tablespoons taco seasoning (or 1 store-bought packet)
1 (15 oz) can petite diced tomatoes, juices and all (Tip: Use fire-roasted tomatoes for more flavor.)
1 (4 oz) can diced green chilis, juices and all
1 (11 oz) can shoepeg white corn, drained (sub: yellow corn)
1 (15 oz) can black beans, drained and rinsed (sub: pinto beans)
2 cups chicken broth
1/2 cup mild salsa (use medium if you like spice!)
Juice of 1 lime, plus more lime wedges for serving if desired
Optional Toppings: Shredded cheese, crushed tortilla chips, diced avocado, salsa, sour cream or plain Greek yogurt, diced red onion, sliced green onions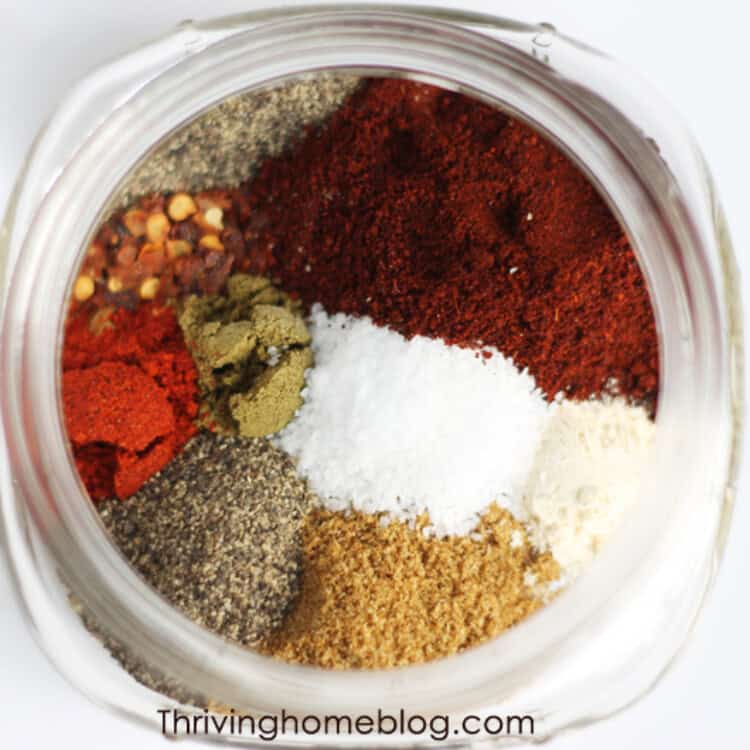 Make Homemade Taco Seasoning
You probably have everything in your pantry needed to make your own taco seasoning for this soup. It's healthier and cheaper! Use our Homemade Taco Seasoning recipe.
How to Make Taco Soup
Let's walk through a bird's eye view of how to make this soup in the crock pot.
In a large skillet, heat oil over medium-high heat until shimmery. Add the onions and cook, stirring, for about 4 minutes, seasoning lightly with salt and pepper while they cook.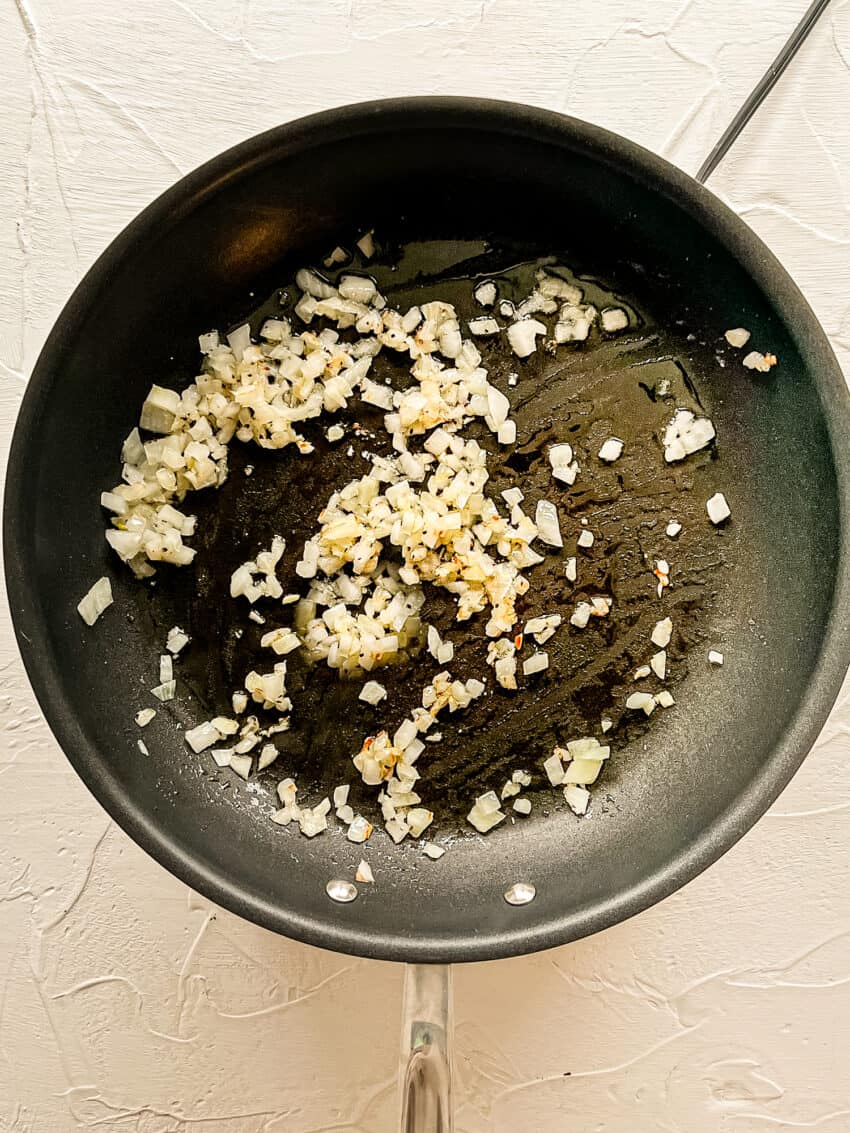 Saute the Ground Beef and Garlic
Add in ground beef and garlic and cook, stirring and breaking up the meat as it cooks, until the meat is cooked through (5-7 minutes.) Drain the grease from the meat.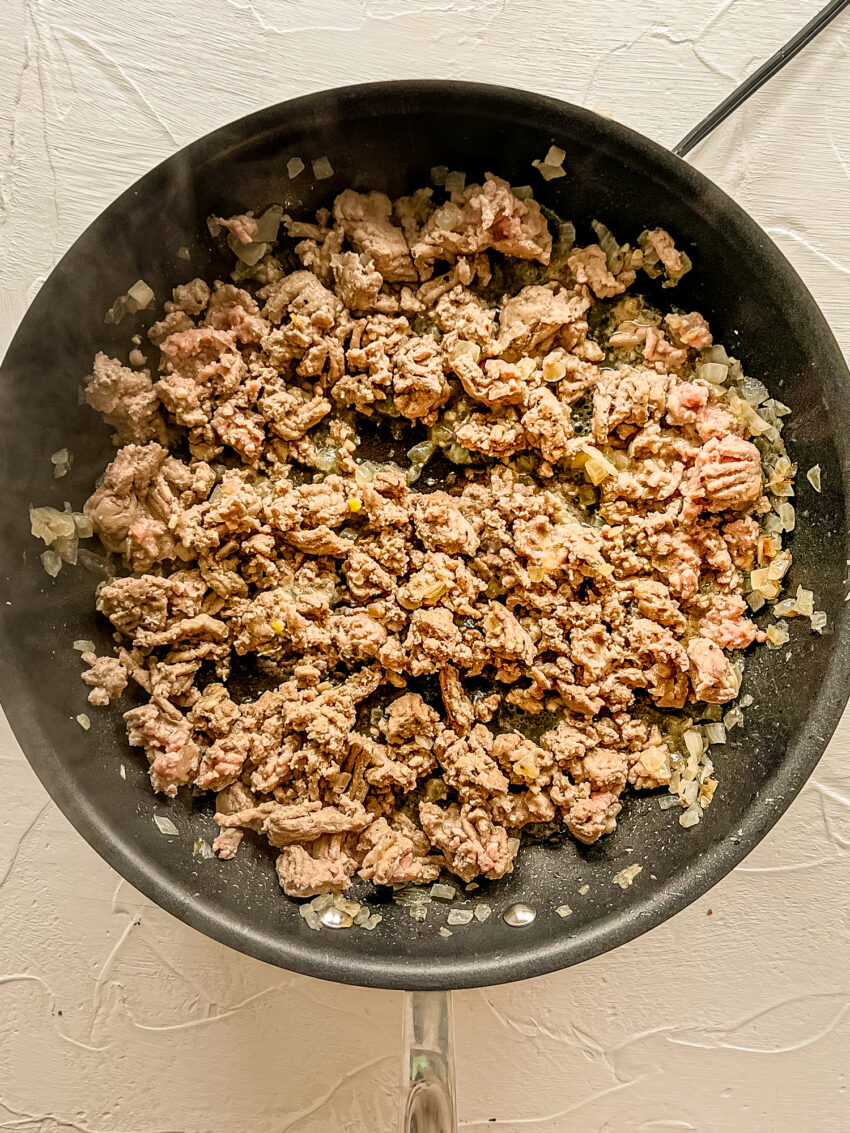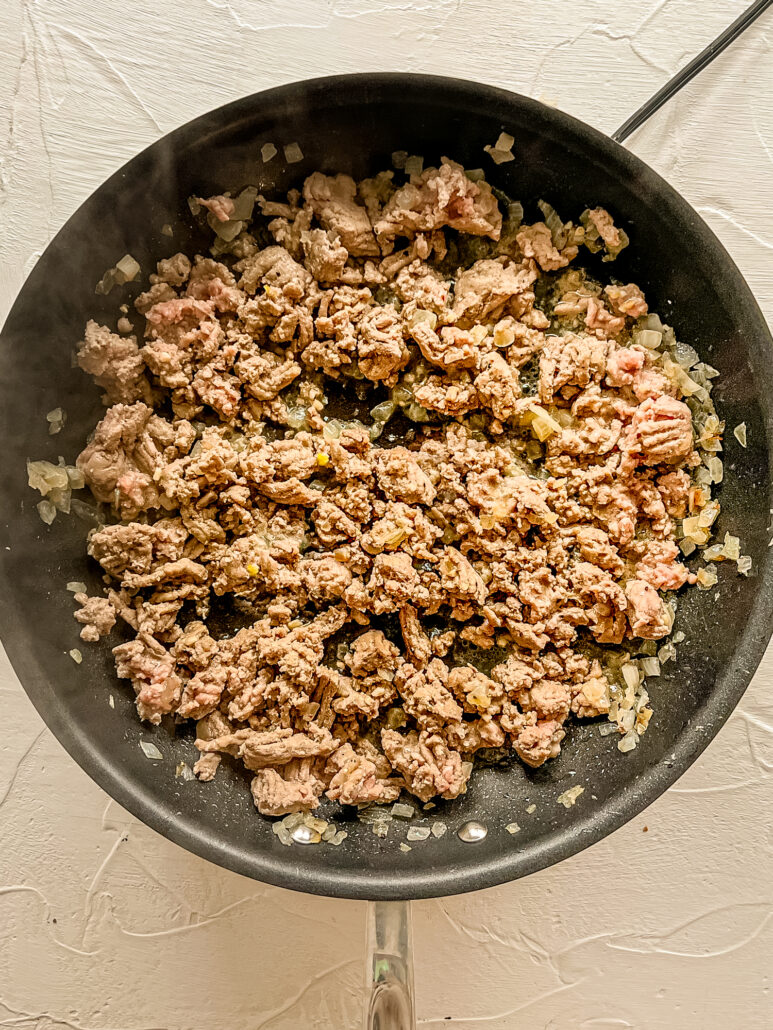 Add the meat mixture, taco seasoning, diced tomatoes, green chilis, corn, beans, broth, and salsa to a 6 quart slow cooker and stir until combined. Cover and cook on LOW for 6-8 hours (or HIGH for 3-4 hours).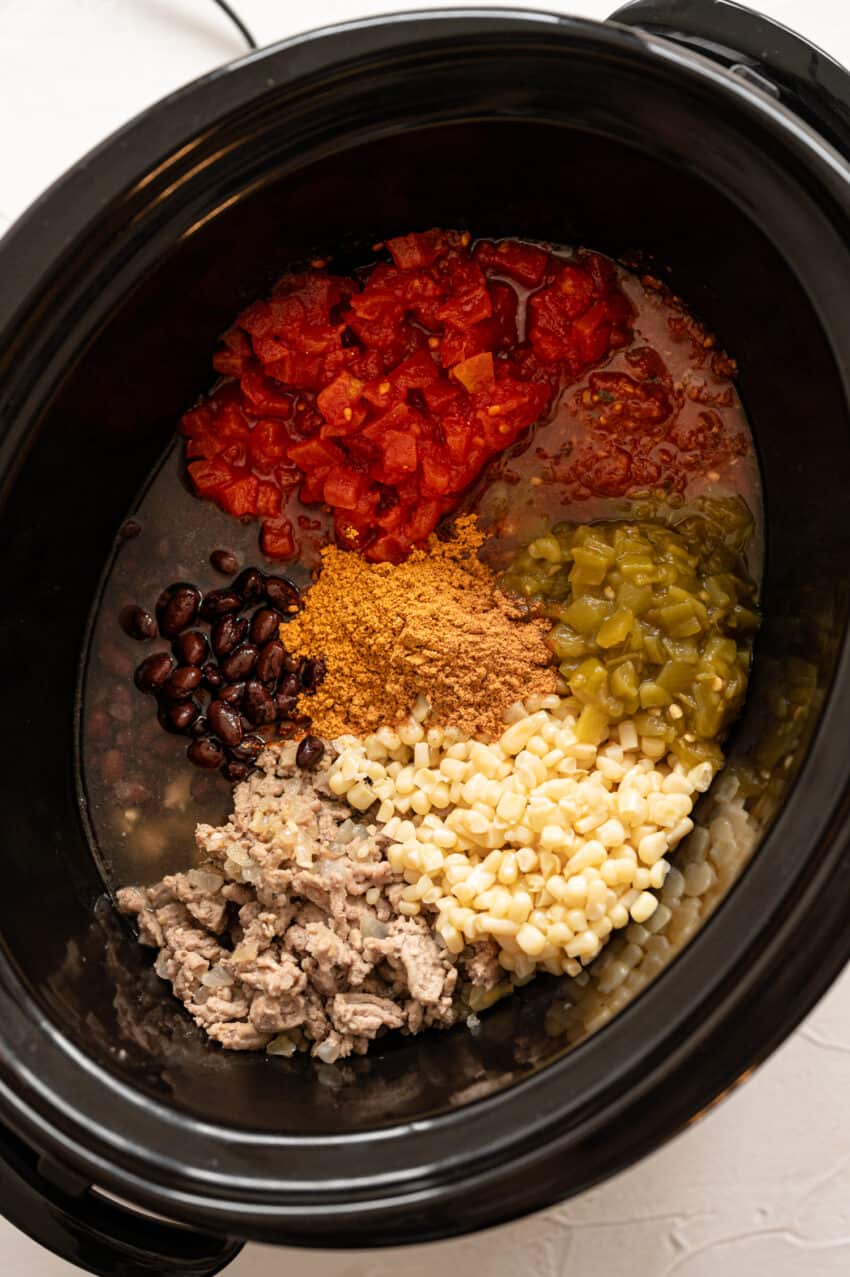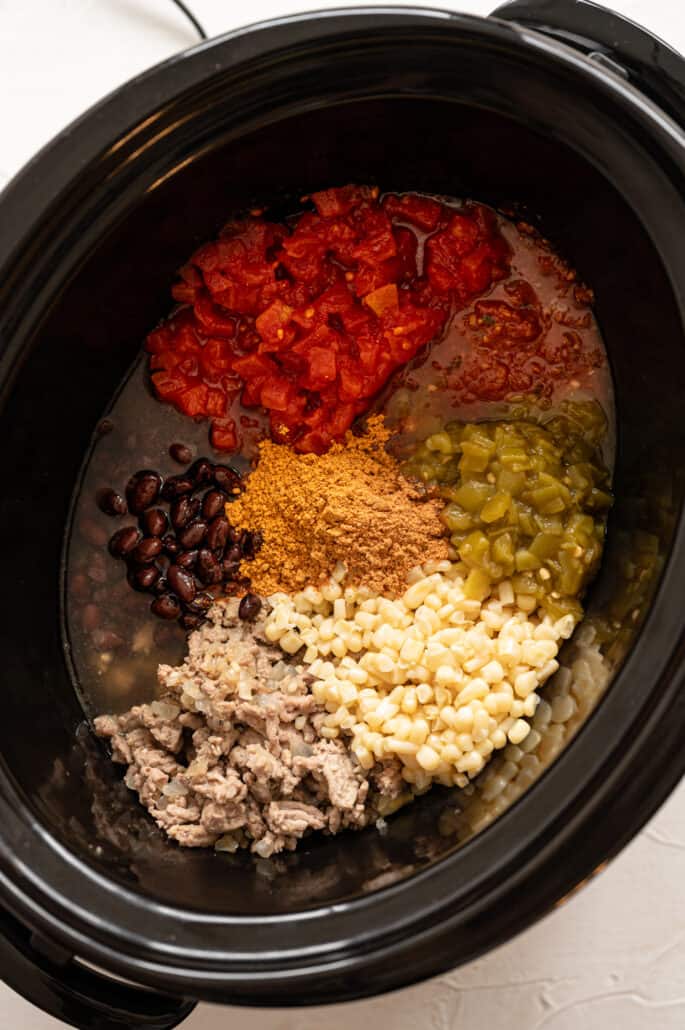 Add in juice of 1 lime and stir. Serve warm with your favorite Tex Mex toppings.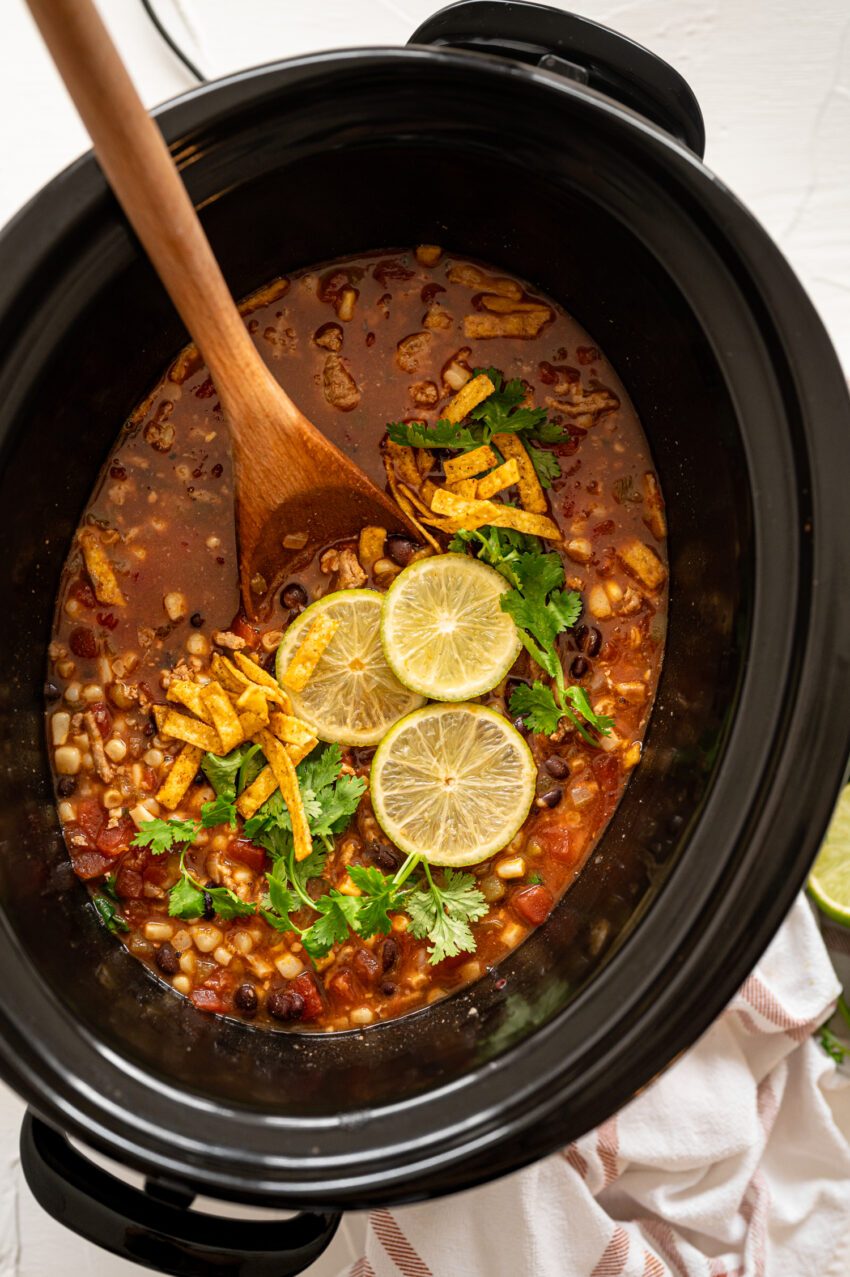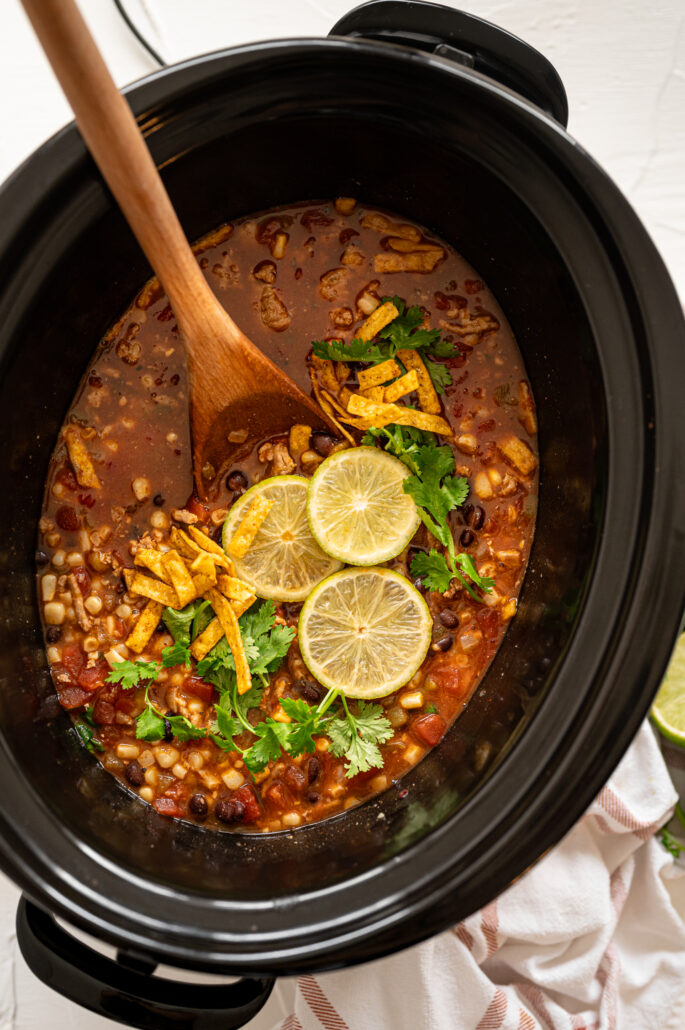 What to Serve With Taco Soup
What do you eat with taco soup? Although the soup is a one-pot-wonder, you can serve it with other Mexican-inspired appetizers and side dishes like cornbread, guacamole and chips, or our Mexican Chopped Salad.
Can You Freeze Taco Soup?
Yes, taco soup freezes well either before or after cooking it. As freezer meal experts and cookbook authors, we've honed in on the very best methods to do this.
Freeze For Later:
Option 1 (Before Cooking): Follow Steps 1-2 in the recipe. To a gallon-sized freezer bag or container, add the taco seasoning, diced tomatoes, green chilis, corn, beans, broth, salsa, and the meat/onion mixture (once it has cooled down a bit). Seal tightly, squeezing out excess air, and freeze.
Option 2 (After Cooking): Follow all of the cooking instructions in the recipe. Let the soup cool and then freeze in airtight freezer containers.
Prepare From Frozen:
Option 1 (Before Cooking): Let the soup thaw completely using one of these safe methods. Follow Steps 3-4.
Option 2 (After Cooking): Let soup thaw completely. Then just warm up in the microwave, on the stove on low, or in the slow cooker on low, until warmed through.
Check out all of our delicious, easy, and healthy freezer meals recipes and our freezer meal cookbooks.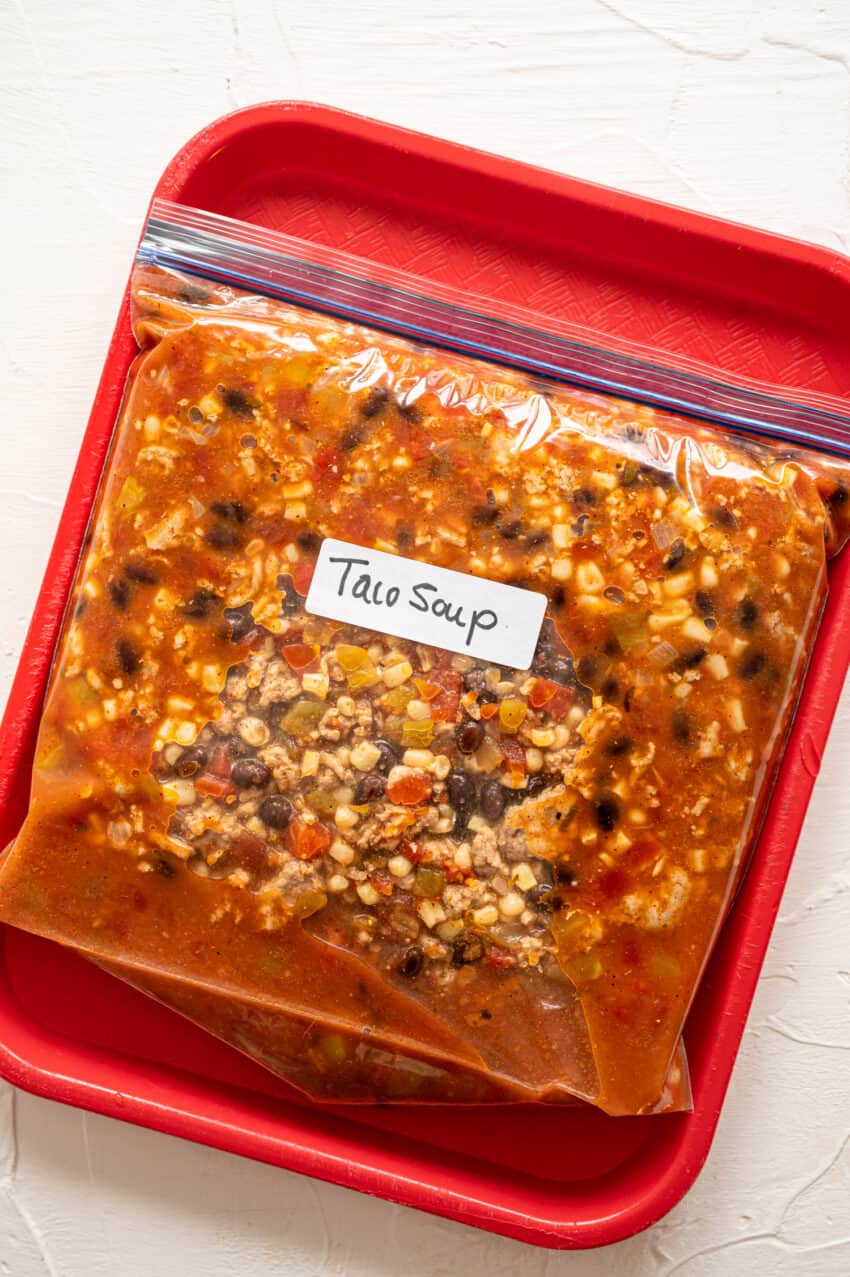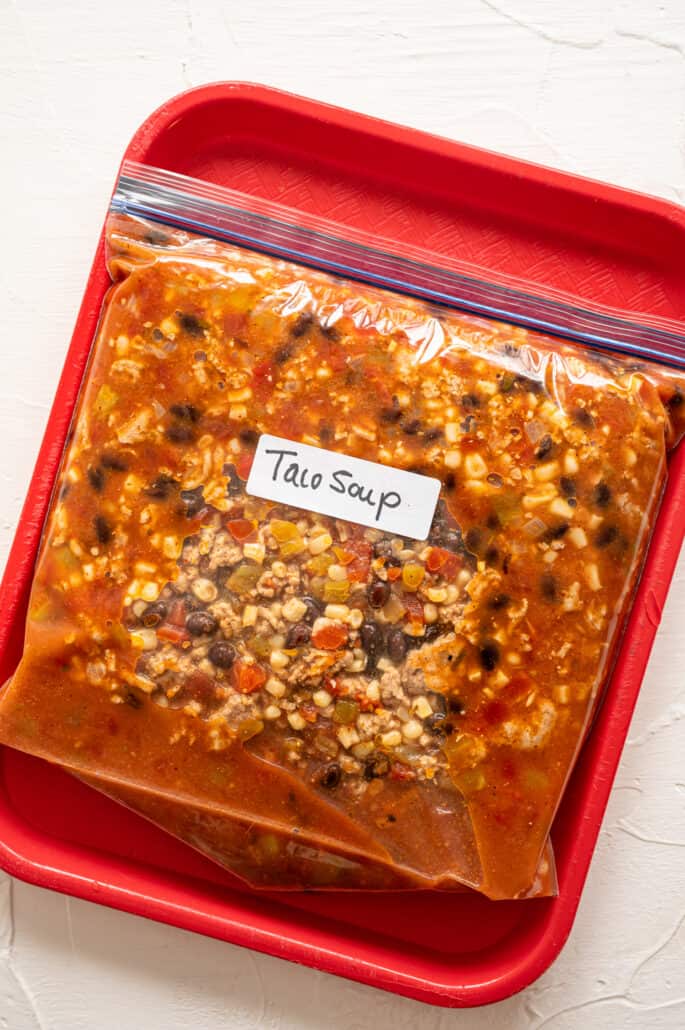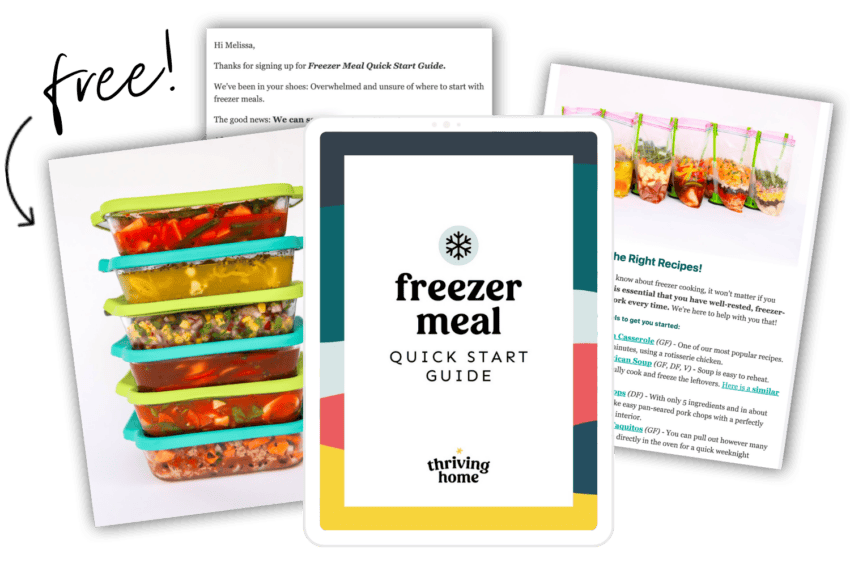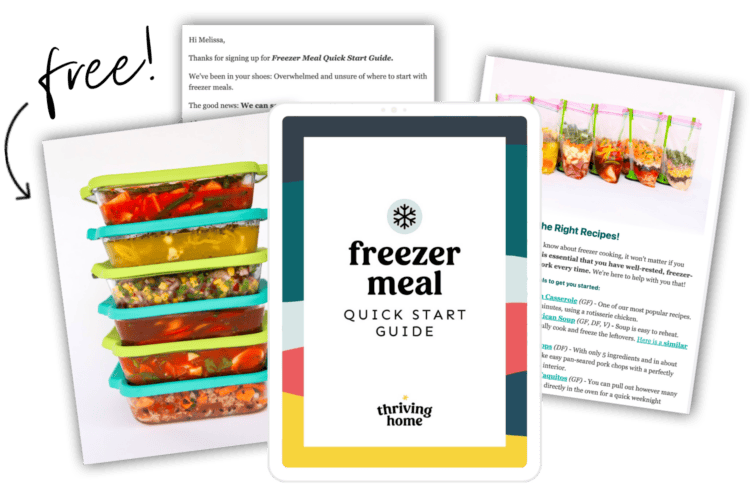 Start Here!
Freezer Meal Quick Start Guide
Get the best of the best recipes, tutorials, and freezer meal expertise straight to your inbox. A $9.99 value for free!
Can I Make This Soup in the Instant Pot?
Absolutely! Use our Instant Pot Taco Soup recipe to whip this up in the pressure cooker. It's faster and uses less dishes than our crock pot version.
Is taco soup healthy?
Our version is healthy! We've created a taco soup recipe that's filled with high-quality protein and packed with veggies. It's relatively low in fat and carbs, too.
If you're watching your salt intake, be sure to use low-sodium broth and "no salt" corn, black beans, and tomatoes.
Lastly, to kick up the nutritionally value, add in some healthy toppings such as diced avocado, plain Greek yogurt, a squeeze of fresh lime juice, diced green or red onion, and fresh cilantro.
How long does taco soup last in the fridge?
You may be wondering, "how long is taco soup good for?" The USDA says that most leftovers, if refrigerated properly, are safe to eat within 3-4 days.
You can also freeze the soup and it will be safe indefinitely, although it will taste best if eaten within about 3 months.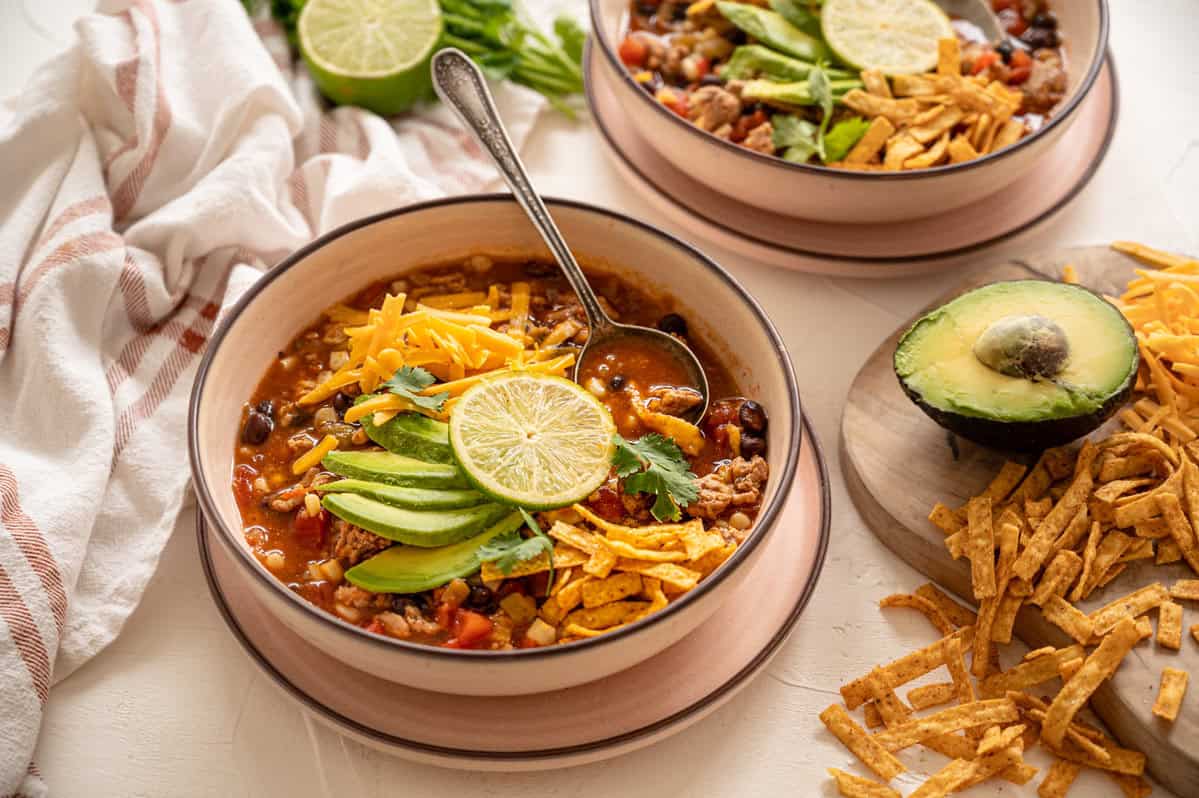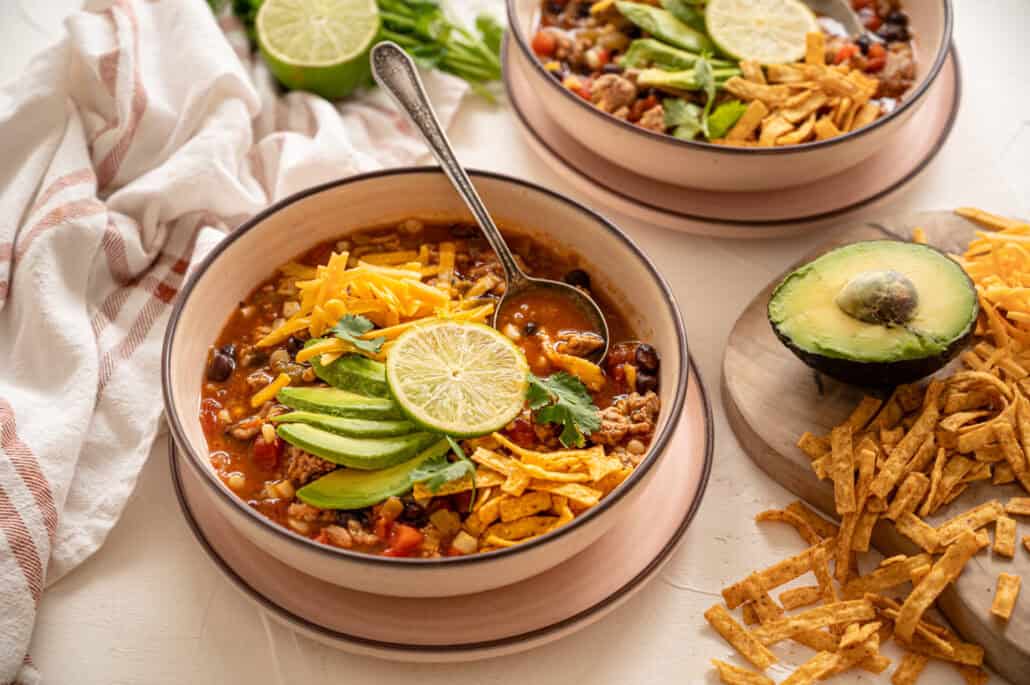 More Cozy Soups to Try
Be sure to Pin or bookmark these other popular soups on our site:
Did you make this? Snap a photo and tag us on Instagram at @thrivinghome so we can see your creations and cheer you on!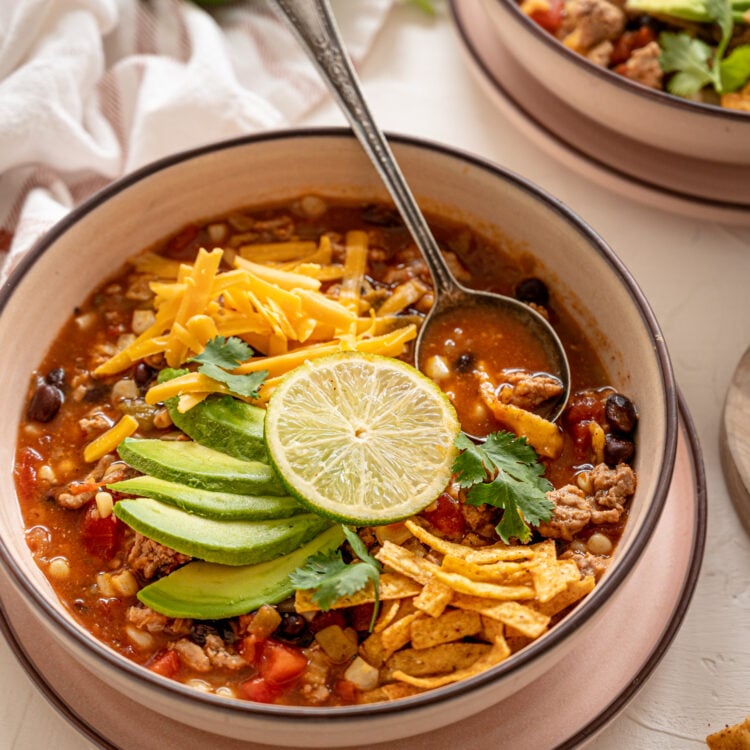 Crock Pot Taco Soup
This hearty, comforting, and healthy Taco Soup recipe is about to become your best friend! Make it for a weeknight family meal or when hosting a crowd. Everyone can customize their bowl with their favorite Mexican toppings, too.
Prep:
15 minutes
Cook:
6 hours
Total:
6 hours 15 minutes