10+ Crockpot Soup Recipes
This post may contain affiliate or sponsored links. Please read our disclosure policy.
The ultimate collection of crockpot soup recipes all in one place. Every delicious recipe includes freezing instructions.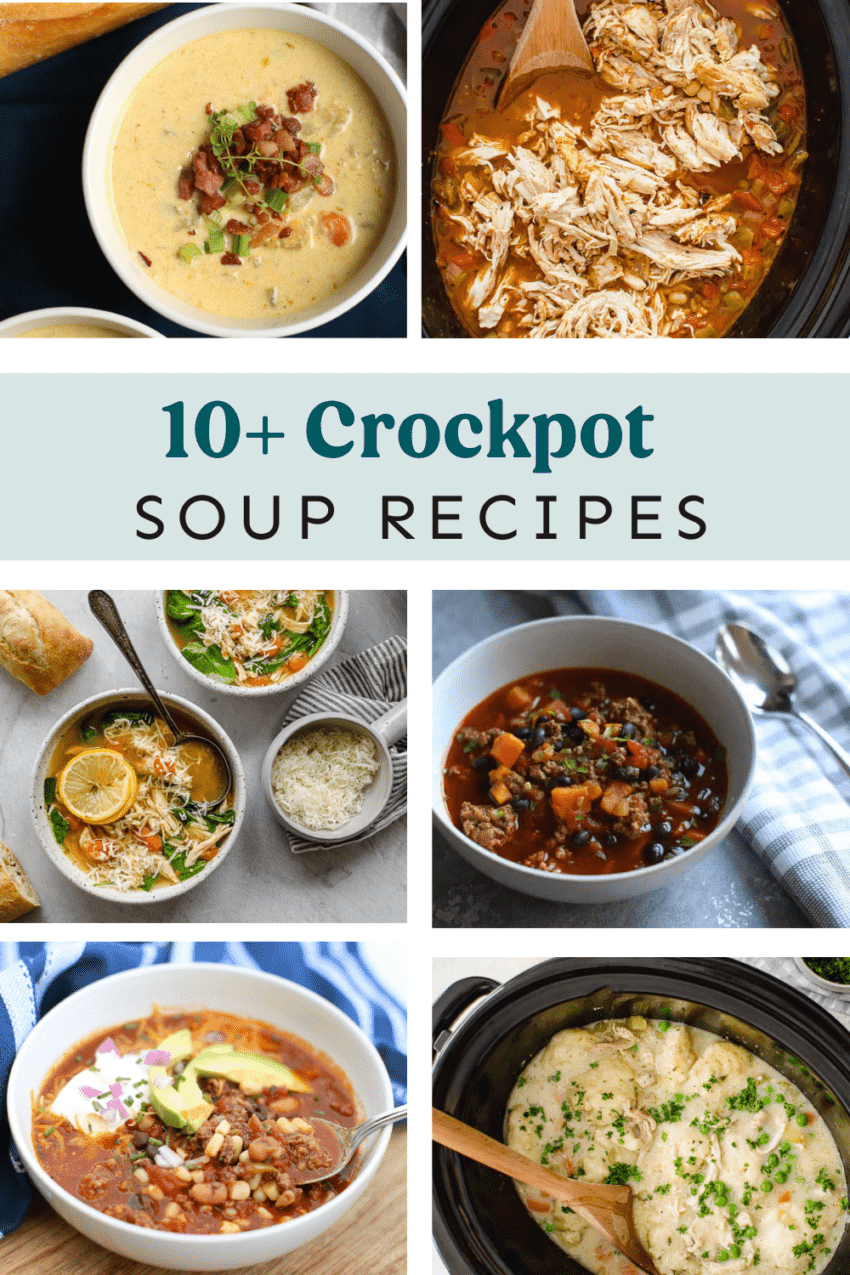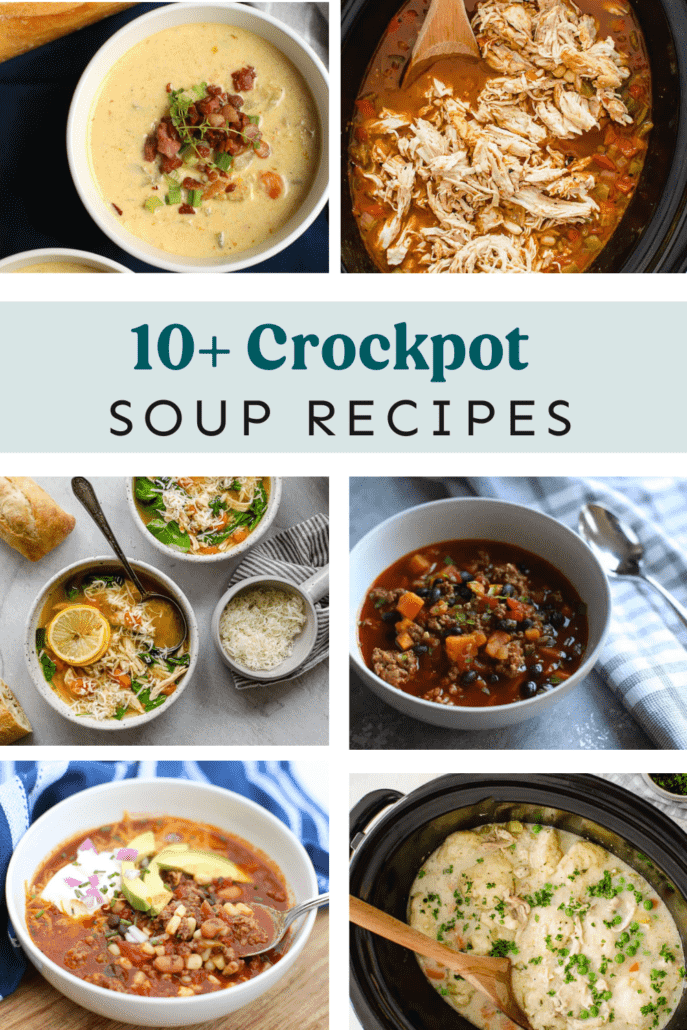 Why You'll Love this Roundup
After testing hundreds of crockpot recipes for our cookbook, From Freezer to Cooker, we have learned what makes a great slow cooker soup recipe. The good news for you is we've put together the ultimate collection of crockpot soup recipes, as well as tips for cooking and freezing them, all right here!
How Long Do I Cook Soup in the Crockpot?
Despite what other resources might tell you, there's not a one size fits all approach to cooking soup in the slow cooker. Different recipes require different cooking times.
The good news is, we have created a 1 page cheat sheet with all of the slow cooker cooking times you will need. It's free too!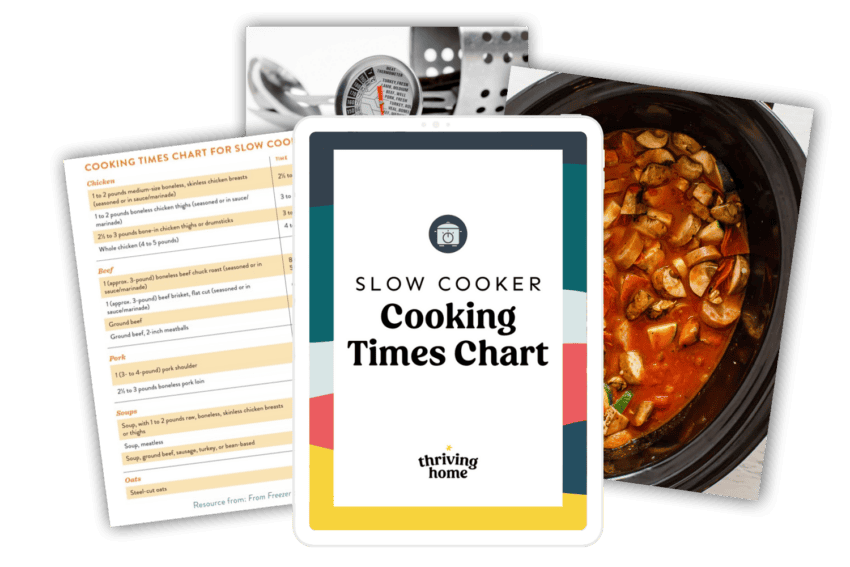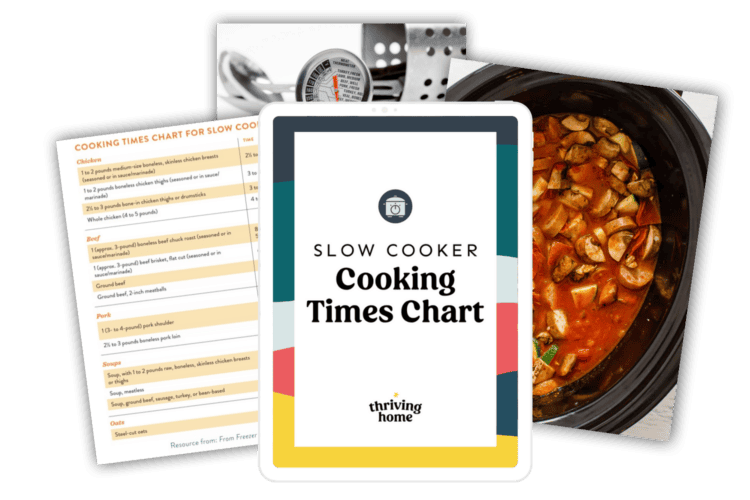 Download our Slow Cooker Cooking Times Chart
After testing hundreds of recipes over the years, we've narrowed down the best cooking times for all types of recipes.
As long as you follow some basic guidelines, soup is one of the very best foods to freeze. Whether you freeze it before cooking or after, most frozen soups end up tasting just like fresh. Here are two options for freezing soup:
Freezer Meal Option 1: Assemble the recipe and freeze it before cooking.
Oftentimes when making a soup recipe, I will simply double the batch. I will cook one for our meal and then freeze the other batch. I find it easiest to use a gallon-size freezer bag for this method. When you want to cook it, simply use one of our safe thawing methods and then follow the recipe directions.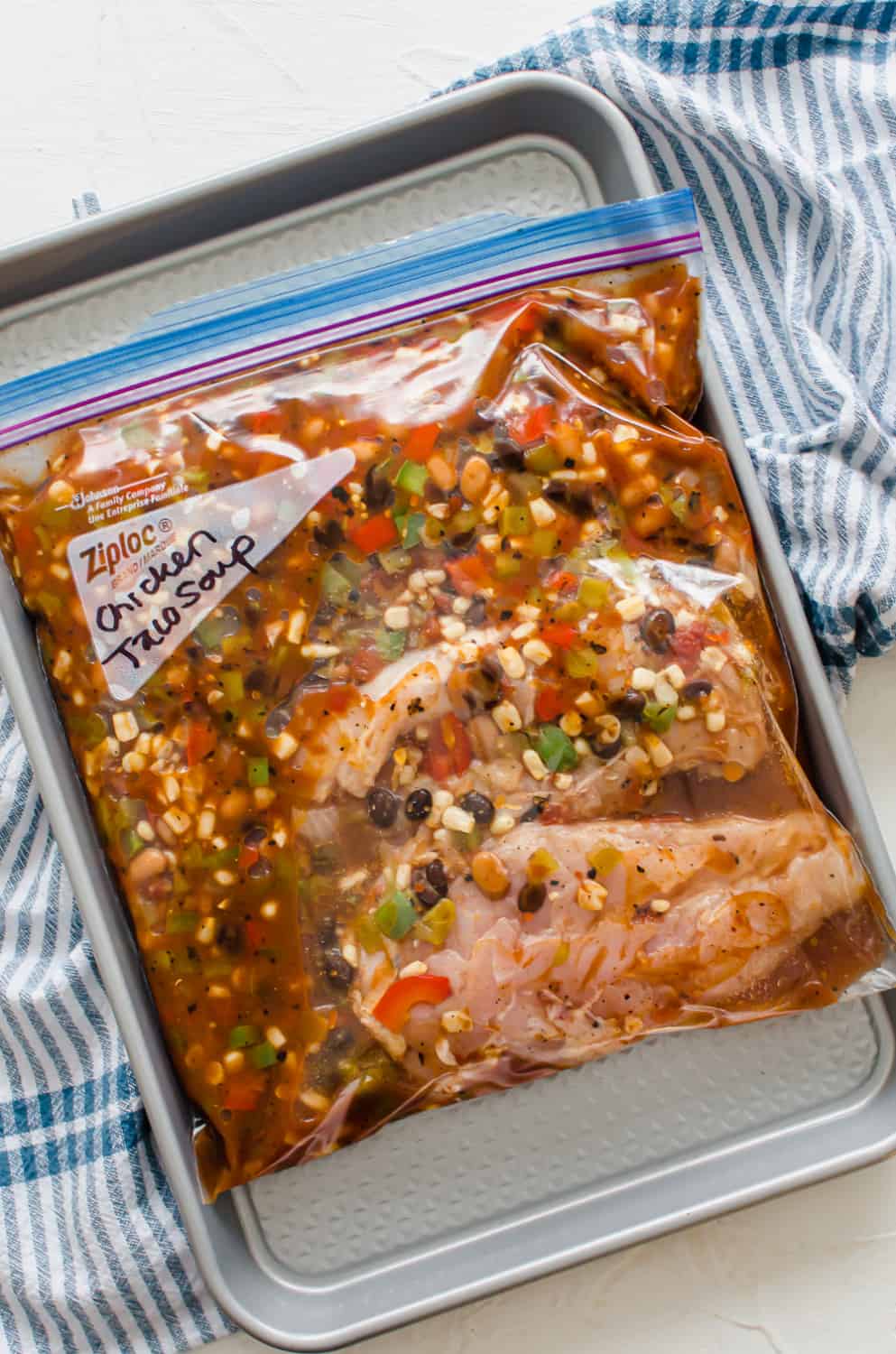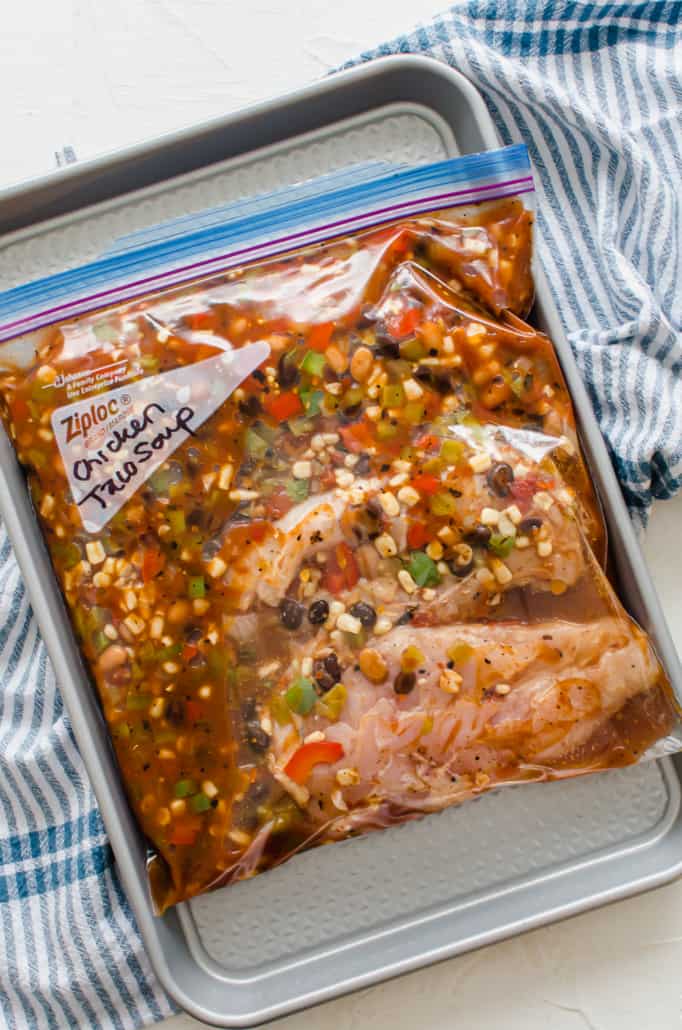 Freezer Meal Option 2: Cook the soup recipe but freeze leftovers.
This is my personal favorite method of stocking up on soup. Since I like to have soup for lunch, this method allows me to just warm up one or two portions in the microwave or on the stove without wasting the rest of the batch.
I LOVE using Souper Cubes (pictured below) for this type of freezing.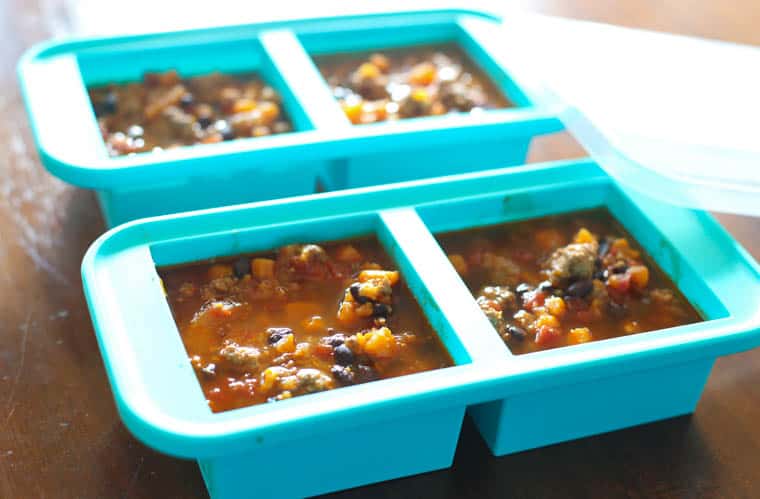 Freezer Meal Pro Tip
Let the soup cool completely before putting them in containers. By letting the soup cool, you'll avoid the freezer meal's worst enemy: freezer burn. It's also important not to put hot soup into a plastic freezer bag or container, as the heat can leach chemicals from the plastic into your food. Let it cool on the counter no more than two hours and then place in the refrigerator after that, if needed.
10+ Amazing Crockpot Soup Recipes
Now, on to the main event: slow cooker soup recipes. We make all of those on repeat in our homes and our readers love them, too.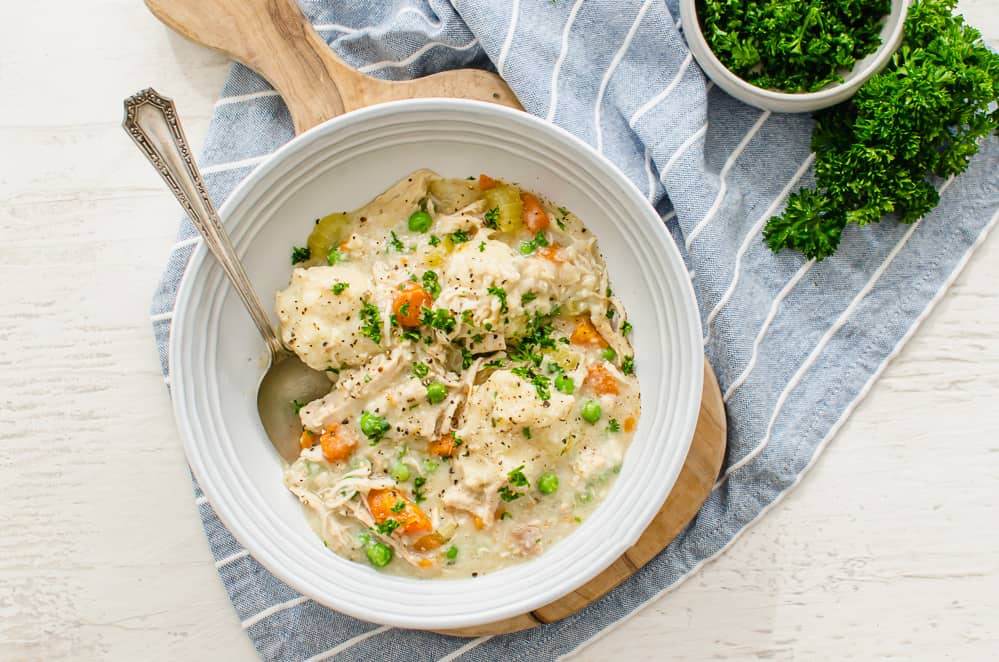 Crockpot Chicken and Dumplings
Chicken and Dumplings in the crock pot? Yes! It can be done! This classic comfort food will fill your home with delicious smells as it simmers for hours in the slow cooker.
Chicken and Dumplings
Chicken Taco Soup
This delicious, Slow Cooker Chicken Taco Soup is not only gluten free and dairy free, but it freezes beautifully either before cooking or after cooking. Packed with fresh flavor, the veggies give it that fiesta vibe that everyone will love. Take this big-batch soup along to tailgate parties or freeze in small portions for future healthy lunches.
Chicken Taco Soup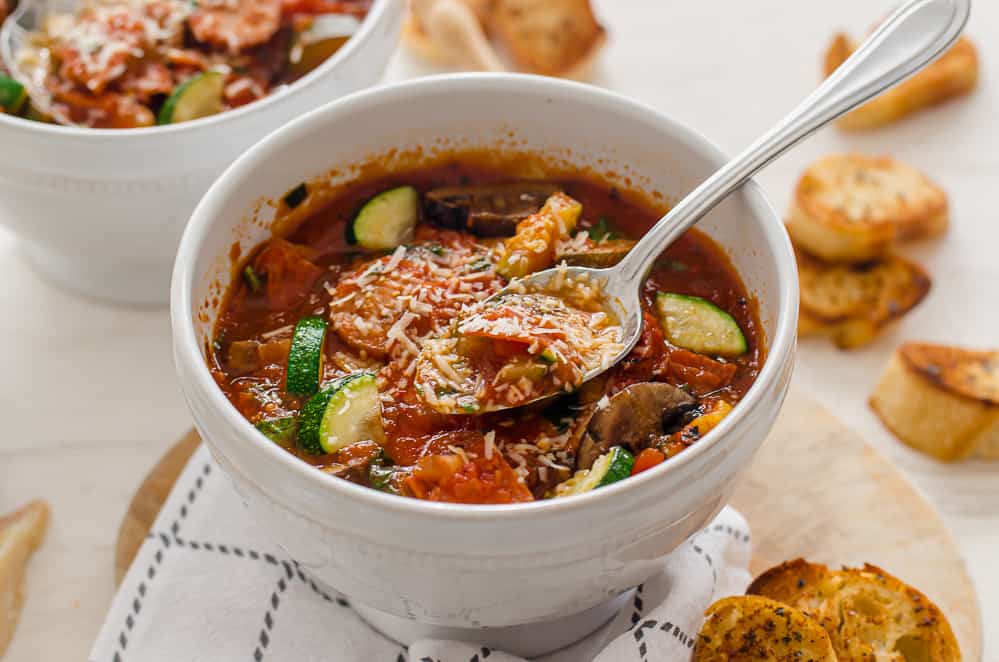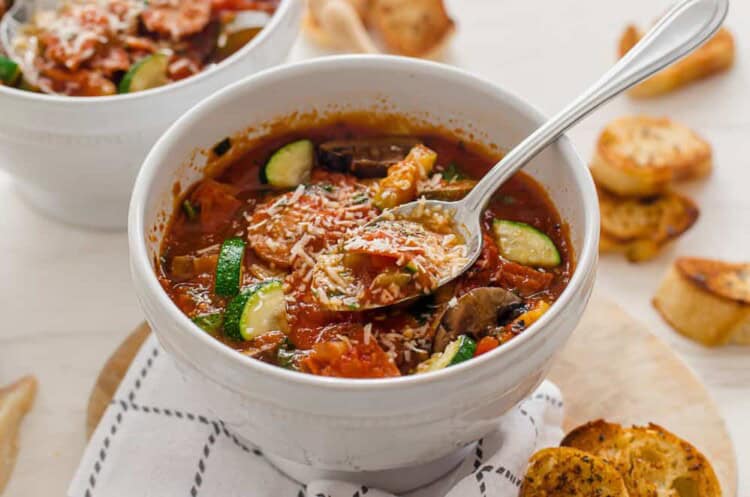 Pizza Soup
Two of our favorite meals–pizza and soup–come together in this gluten-free, dairy-free Pizza Soup recipe to create a meal that's healthy, filling, and incredibly tasty. It's absolutely delicious and can be prepped as a freezer meal.
Pizza Soup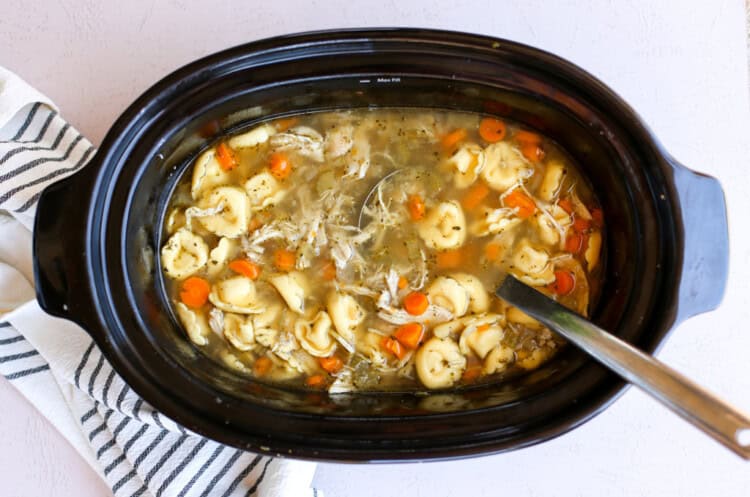 Chicken Tortellini Soup
Chicken Tortellini Soup is a delightful twist on chicken noodle soup that will bring some serious comfort food to your table without much fuss. It's kid-friendly, freezer-friendly, and delicious. Make it on the stove, in the slow cooker, or in the Instant Pot!
Chicken Tortellini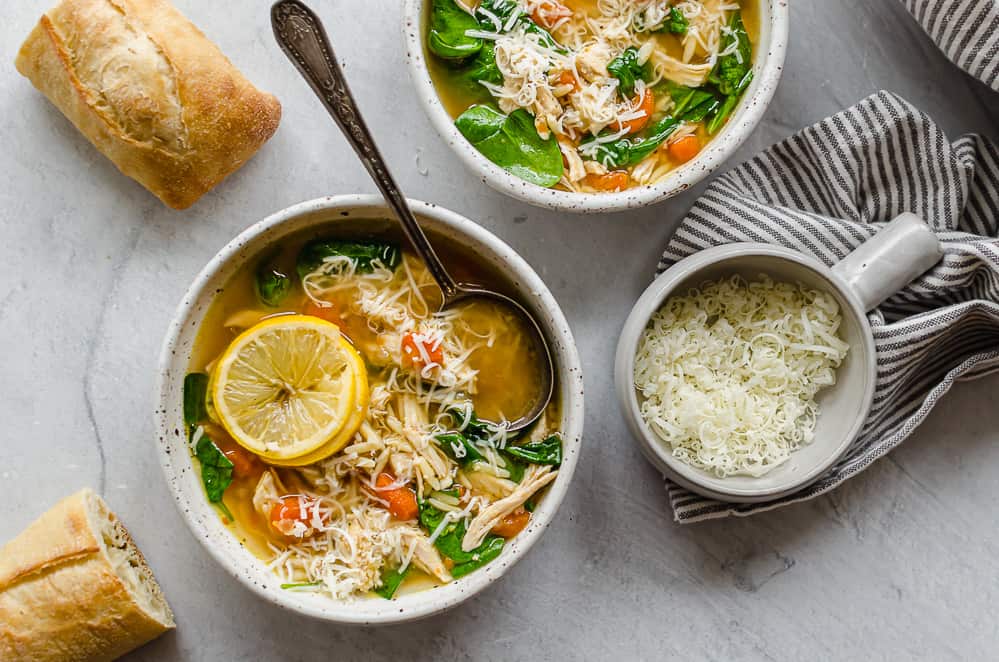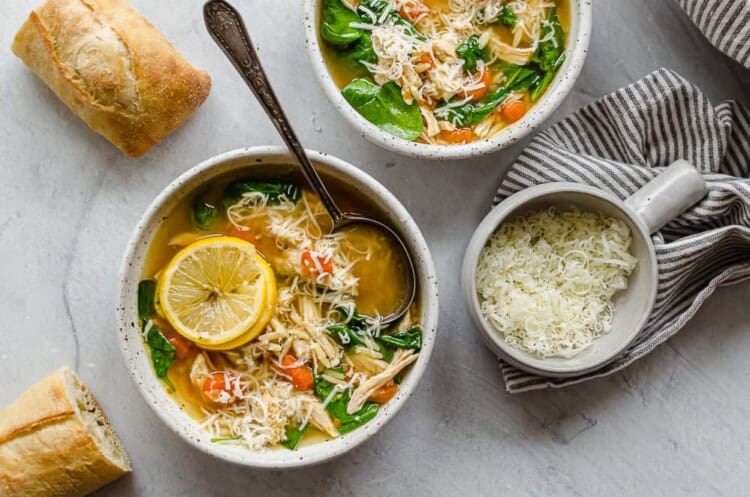 Lemon Chicken Orzo Soup
Featured in People Magazine! This colorful, healthy lemon chicken orzo soup can be made in either the slow cooker or Instant Pot.
Lemon Chicken Orzo Soup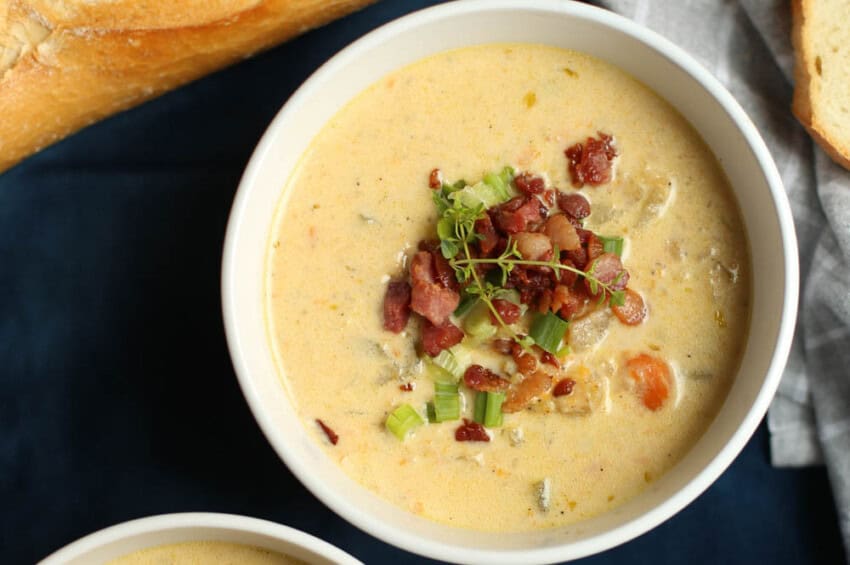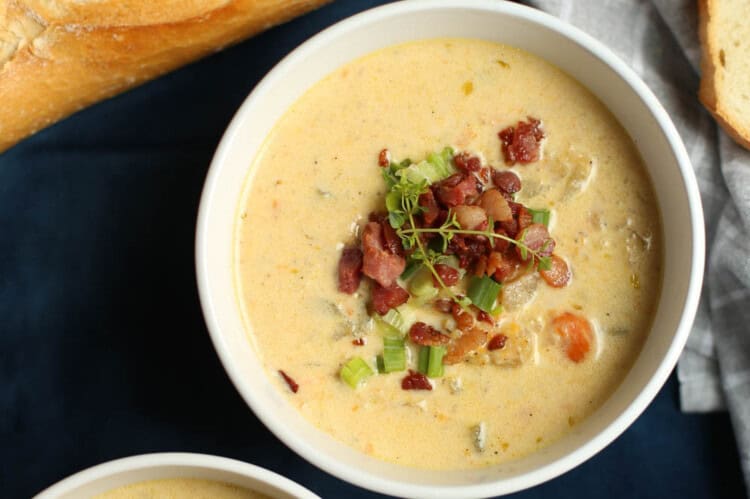 Cheddar and Bacon Potato Soup
When the air turns crisp and the leaves start to change, making a comforting batch of Cheddar and Bacon Potato Soup is mandatory. Using the slow cooker means your home will smell cozy and delicious, too!
Cheddar and Bacon Potato Soup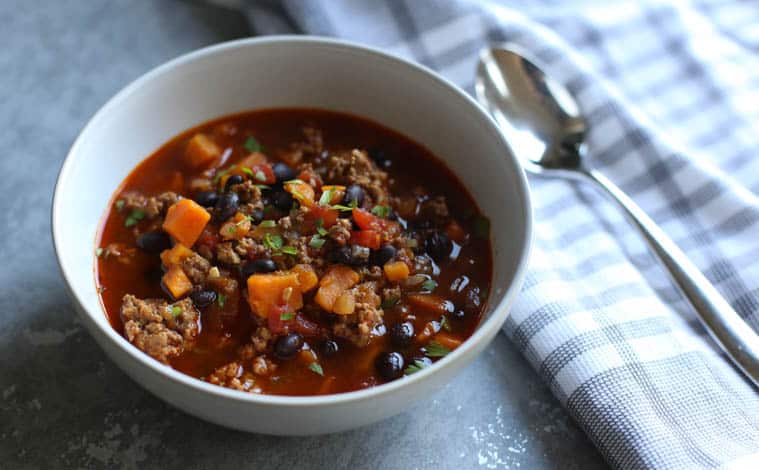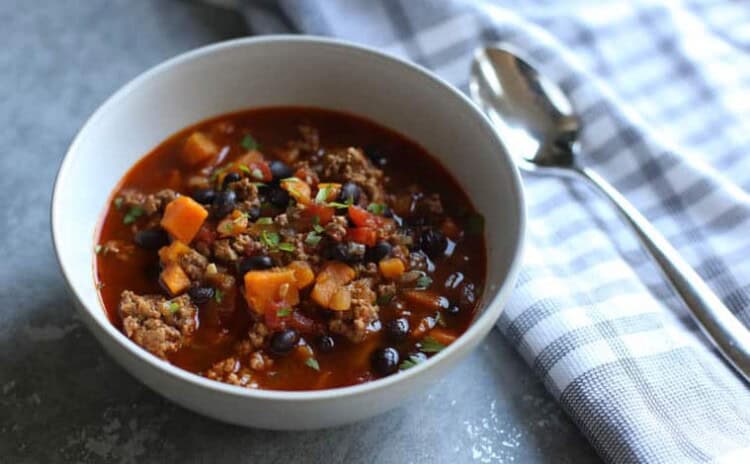 Turkey Chili with Sweet Potato and Black Beans
This lean, healthy turkey chili is not only hearty and absolutely delicious, but it's also chock full of fiber, protein, and nutrients. It's also gluten-free & dairy-free! This crockpot chili is delicious fresh but is also a great make ahead meal.
Turkey Chili with Sweet Potato and Black Beans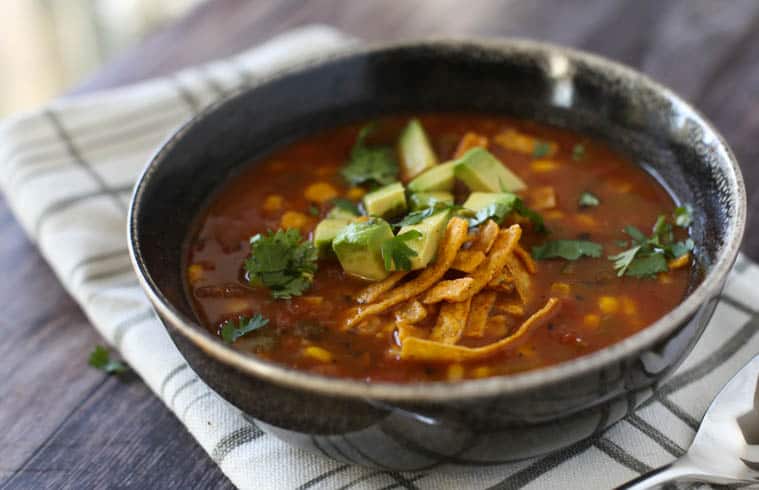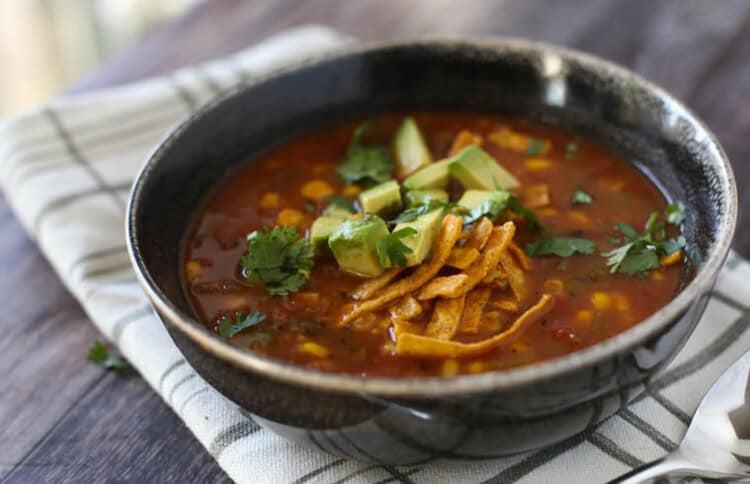 Vegetarian Tortilla Soup
This pantry staple Vegetarian Tortilla Soup recipe is a meatless "one pot wonder" that I've been making and freezing for years for my family. Filled with beans, tomatoes, chilis, corn, and more, it only gets better the longer it sits in the fridge.
Tortilla Soup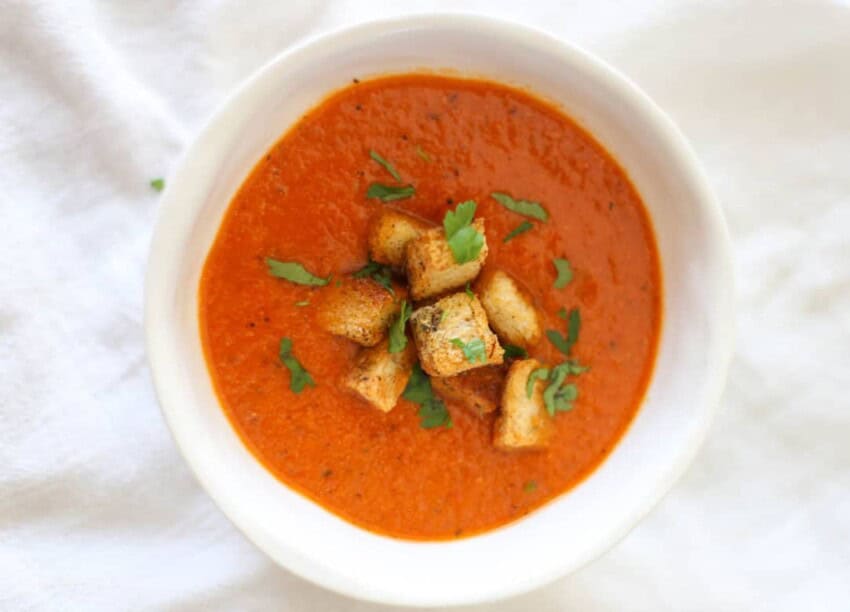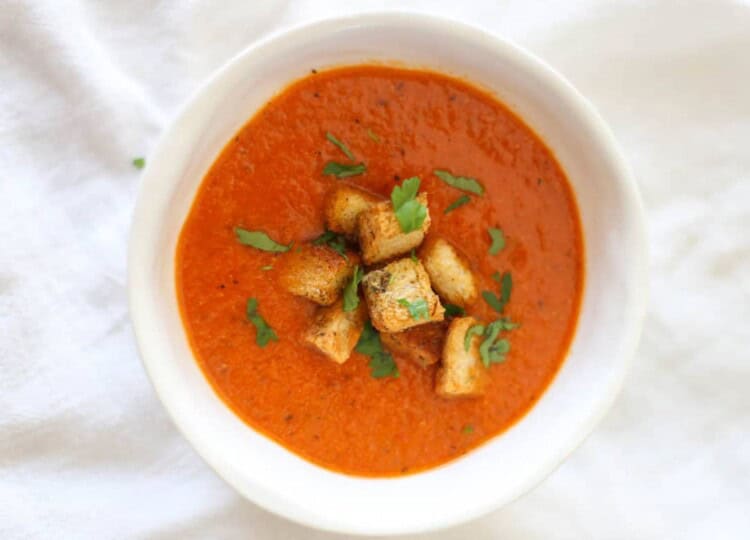 Tomato Soup
This meal works well for large groups or simply to freeze as leftovers in small portions for lunches down the road. It's made for the Instant Pot but Crockpot Instructions are included.
Tomato Soup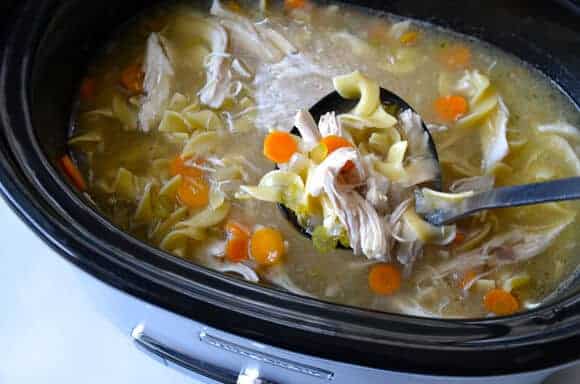 Chicken Noodle Soup
Fresh veggies, garlic and seasonings go for a swim, along with an entire roasting chicken, which is cooked low and slow to tender, juicy perfection. And to put the "noodle" in our chicken noodle soup, all that's left to do is turn off the slow cooker, stir in your pasta of choice and let the rich, hot chicken broth work its magic. Simple, satisfying slow-cooked success.
Chicken Noodle Soup