Cheesy Chicken and Rice Casserole
This post may contain affiliate or sponsored links. Please read our disclosure policy.
This chicken and rice casserole is healthier than most–filled with veggies, brown rice, and chicken–but still creamy, cheesy, and comforting!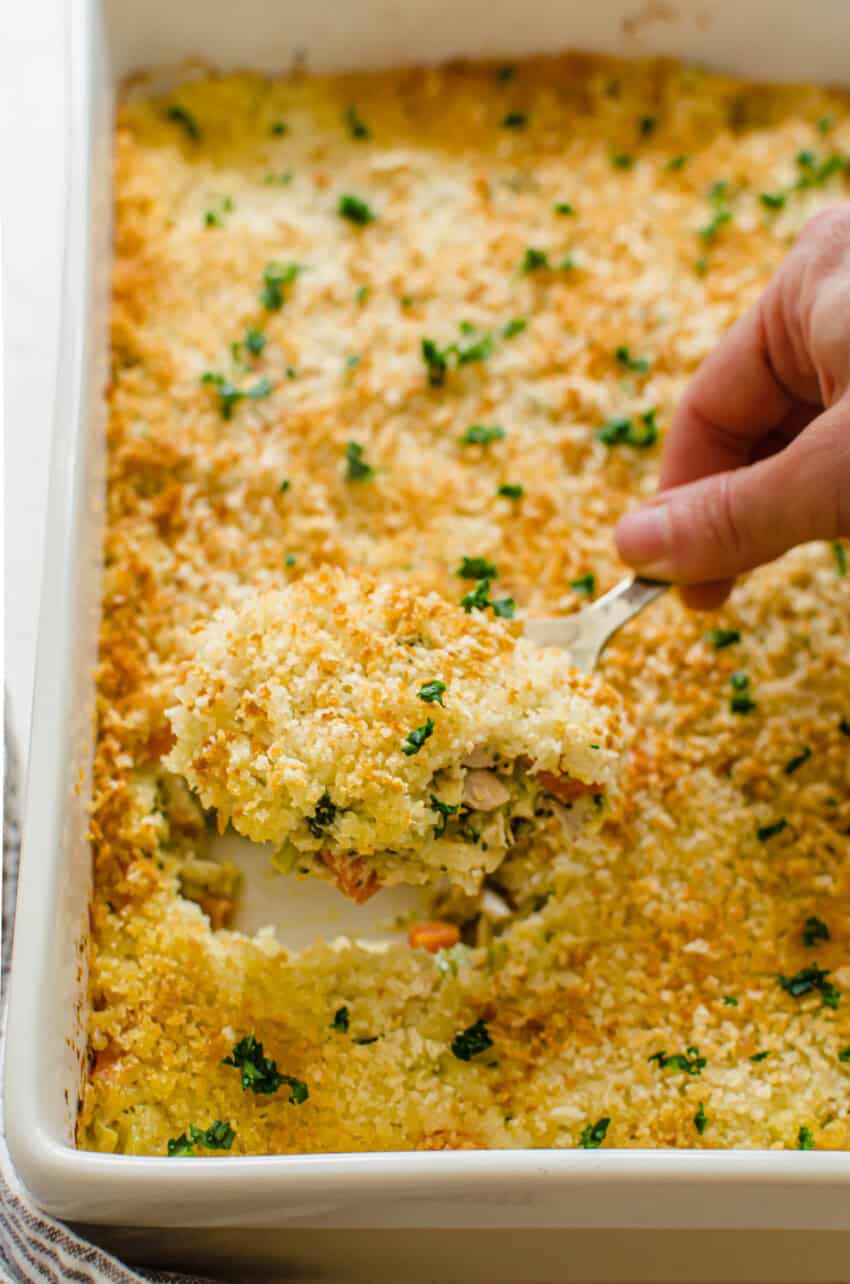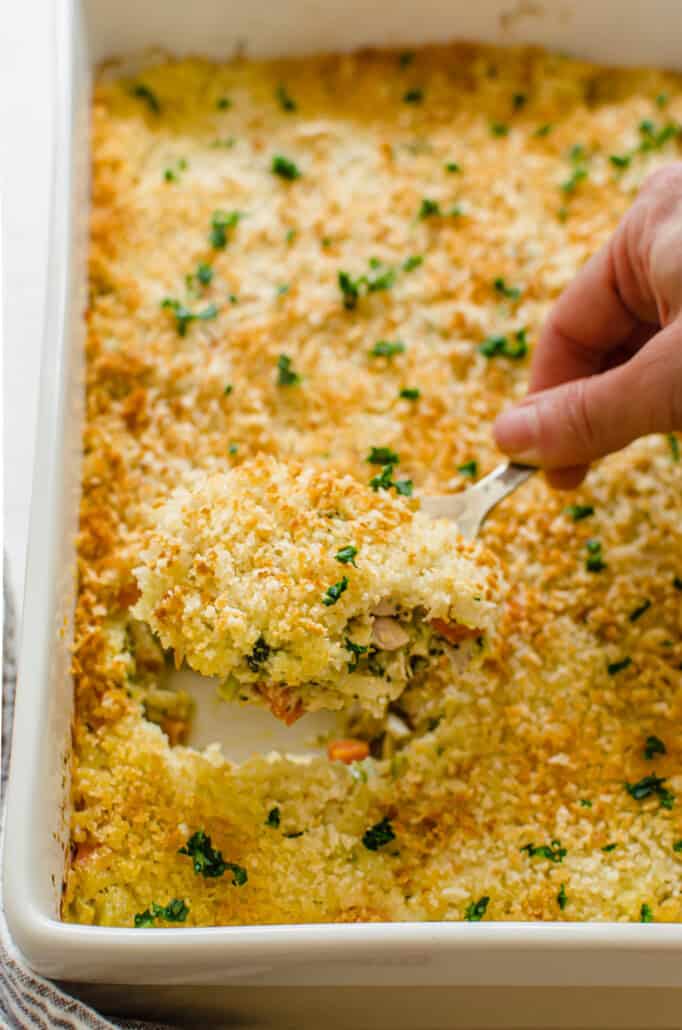 About This Recipe
Looking for a delicious casserole that DOESN'T include canned soup or other junky ingredients? This is it!
I worked hard (many, many tests and tweaks over the years!) to include lots of veggies and real food ingredients yet make sure this casserole lives up to its traditional reputation as comfort food.
This chicken casserole has the perfect balance of creaminess, comfort, crunch, and healthiness, in my humble opinion.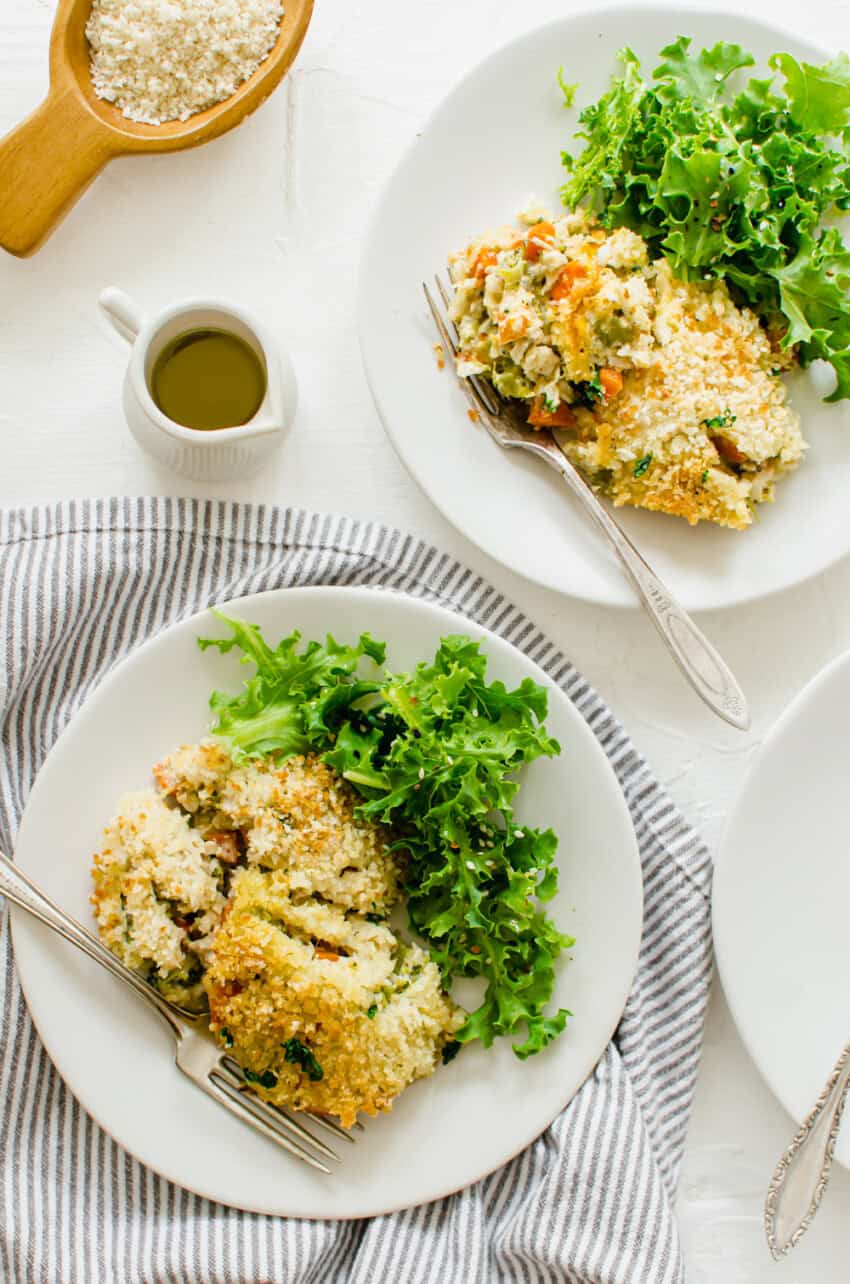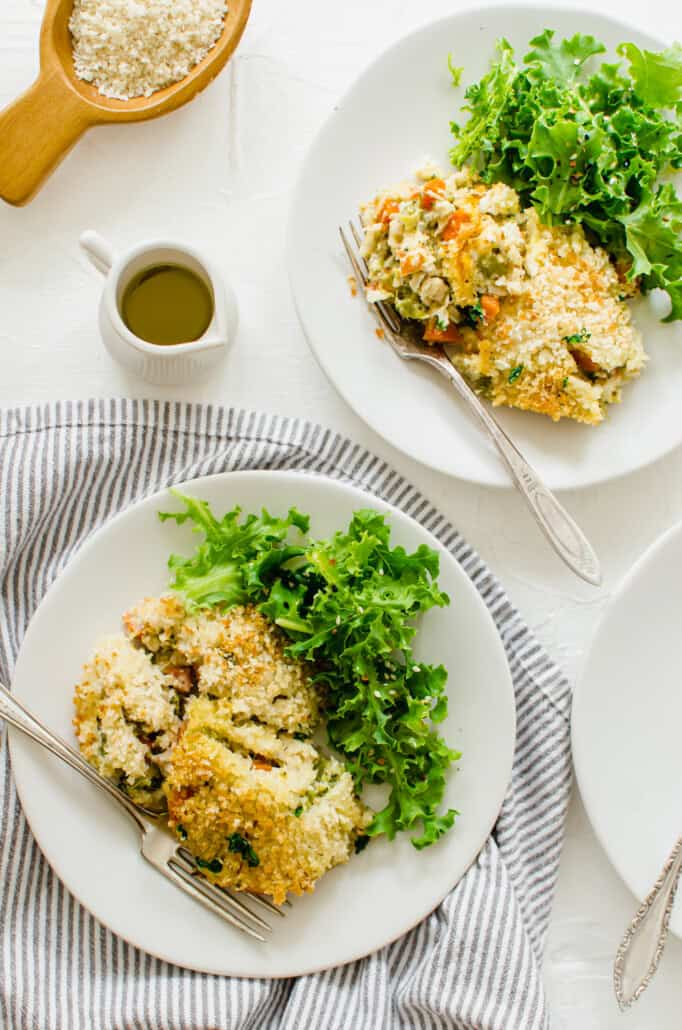 Ingredients in Chicken and Rice Casserole
Like I mentioned, the old school chicken and rice casserole of yore included canned cream soup filled with additives, preservatives, salt, and sugar that's pretty terrible for your body. But…this casserole sacrifices none of the flavor you remember while being filled with good-for-you ingredients!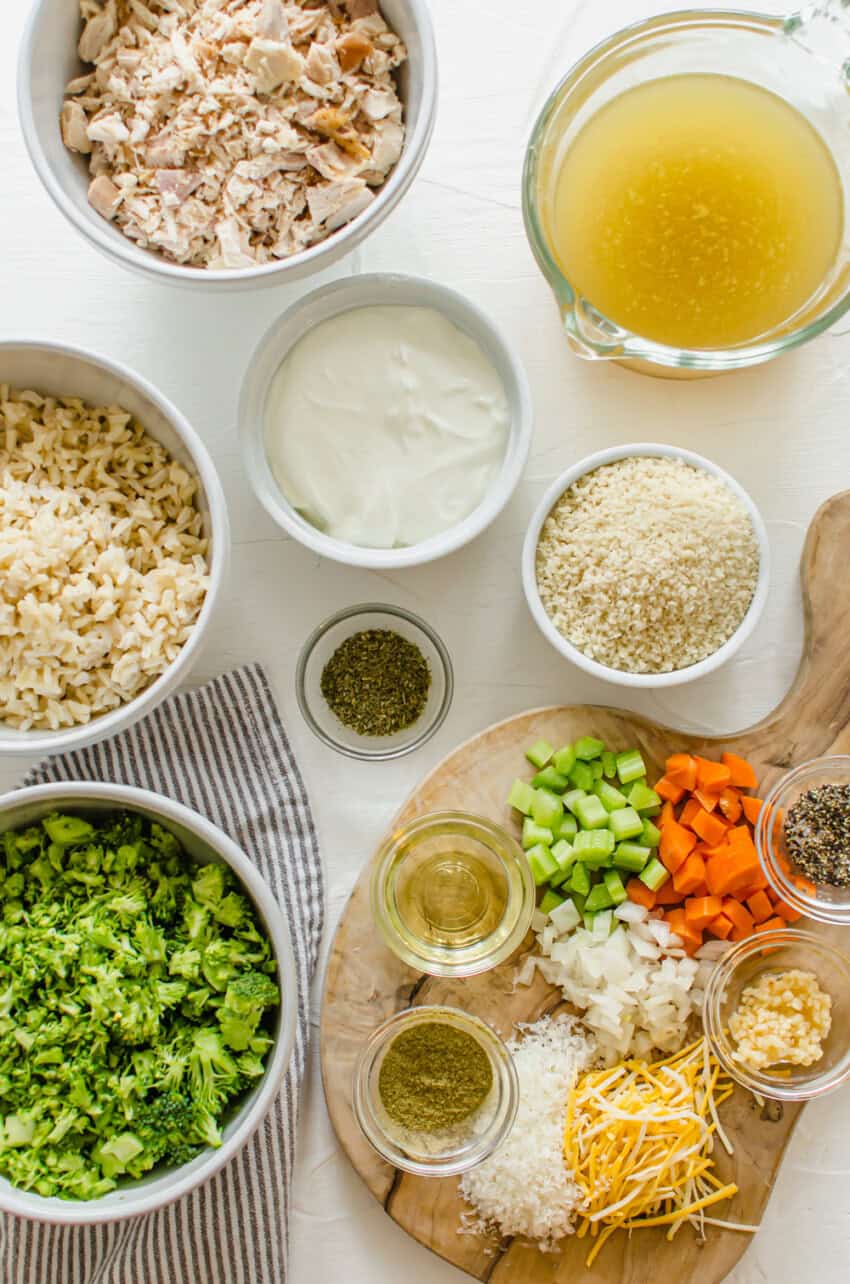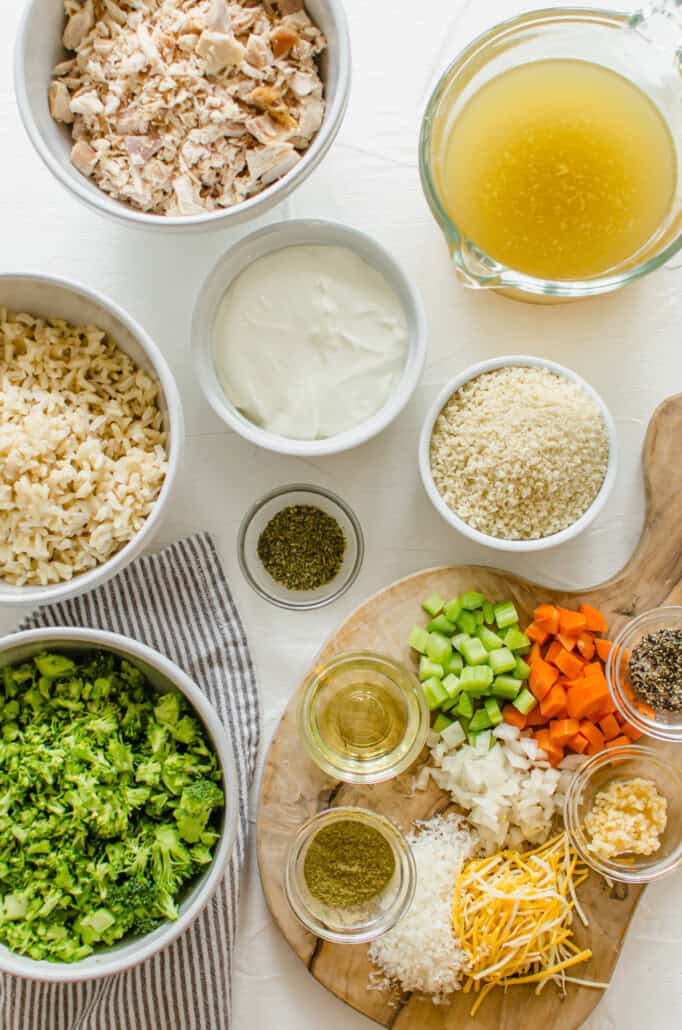 Here's what you'll need on hand…
Veggies: onion, carrots, celery, broccoli, & garlic
Seasonings: poultry seasoning, Italian seasoning, salt, and pepper
Cooked chicken
Cooked brown rice
Sour cream
Shredded cheddar cheese
Parmesan cheese
Panko breadcrumbs – I like to use whole wheat. You can also make your own breadcrumbs.
Video: How to Make Chicken and Rice Casserole
Before getting started, check out how this delicious meal comes together…
Step-by-Step Overview of the Recipe
Now, let me give you a visual walk-through of this recipe so you're armed and ready to create this luscious casserole yourself.
Step 1: Saute & Season the Veggies
Chop all the veggies fairly small and uniformly and then saute until soft. You'll season them with salt, pepper, poultry seasoning, and Italian seasoning. Set them aside.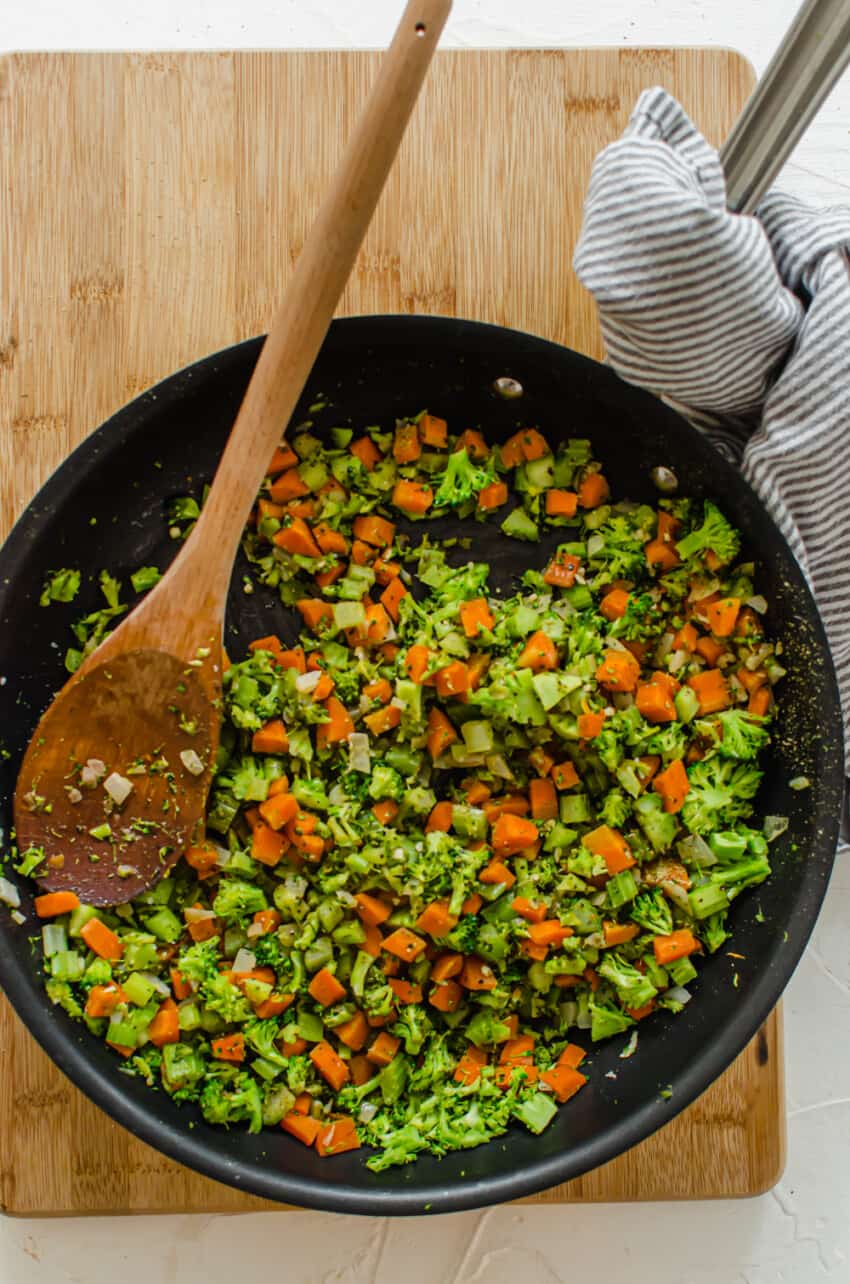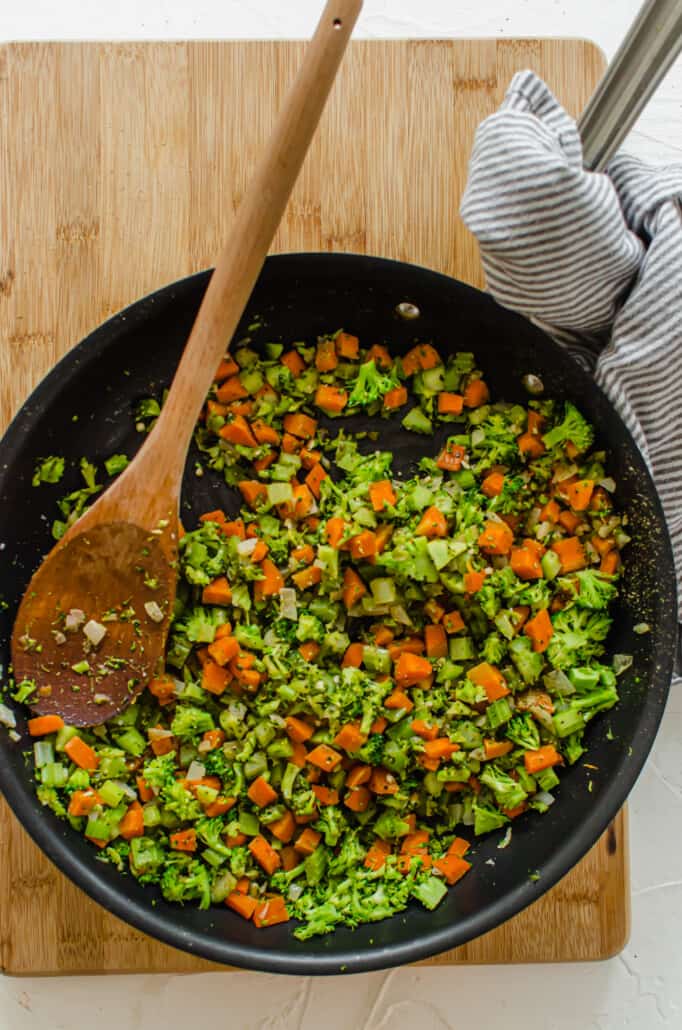 Step 2: Mix Together the Wet Ingredients
Here's comes the comfort factor! In a large mixing bowl, you'll stir together broth, sour cream (or plain, full-fat Greek yogurt would work), shredded cheddar cheese, and grated Parmesan cheese.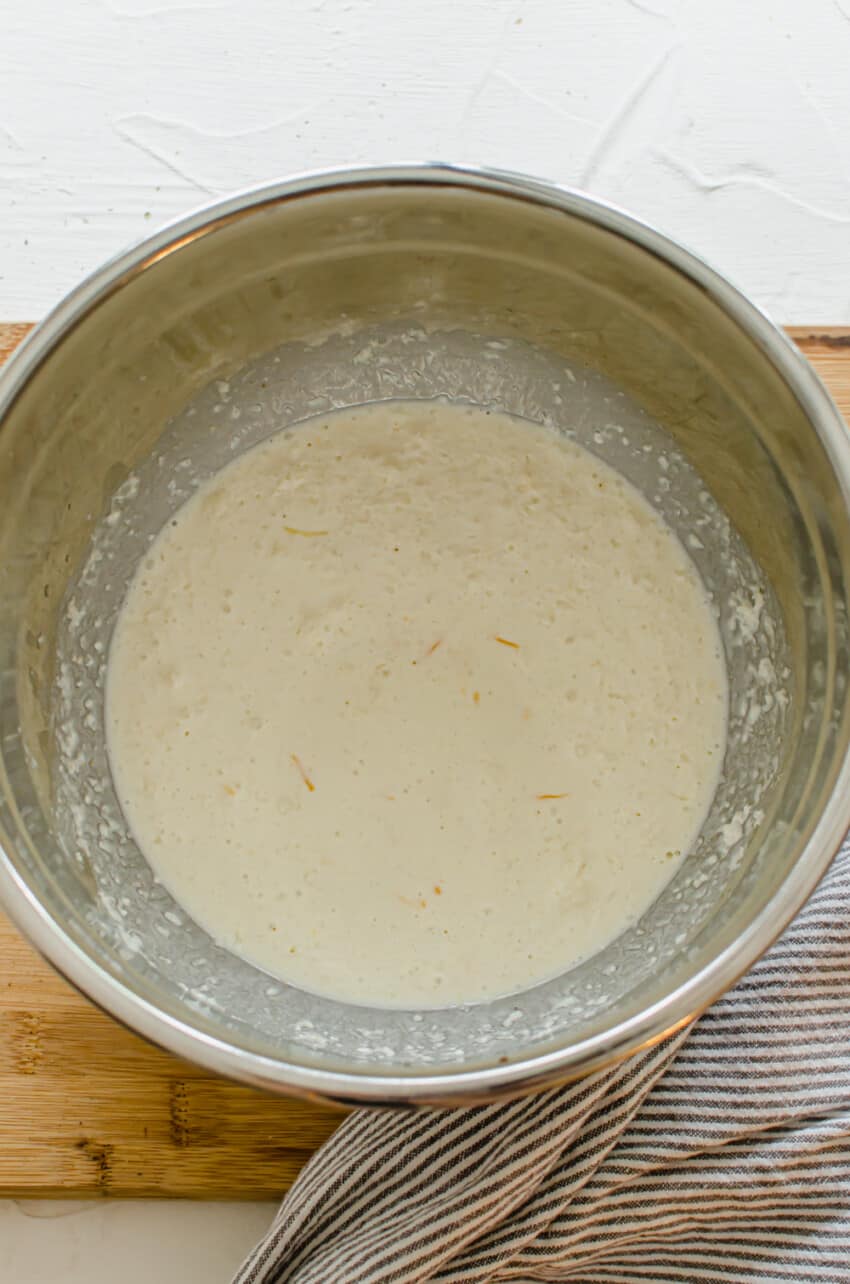 Step 3: Stir in the Chicken, Veggies, and Brown Rice
Add in the cooked chicken, sautéed veggies, and cooked brown rice to the wet ingredients and stir to combine.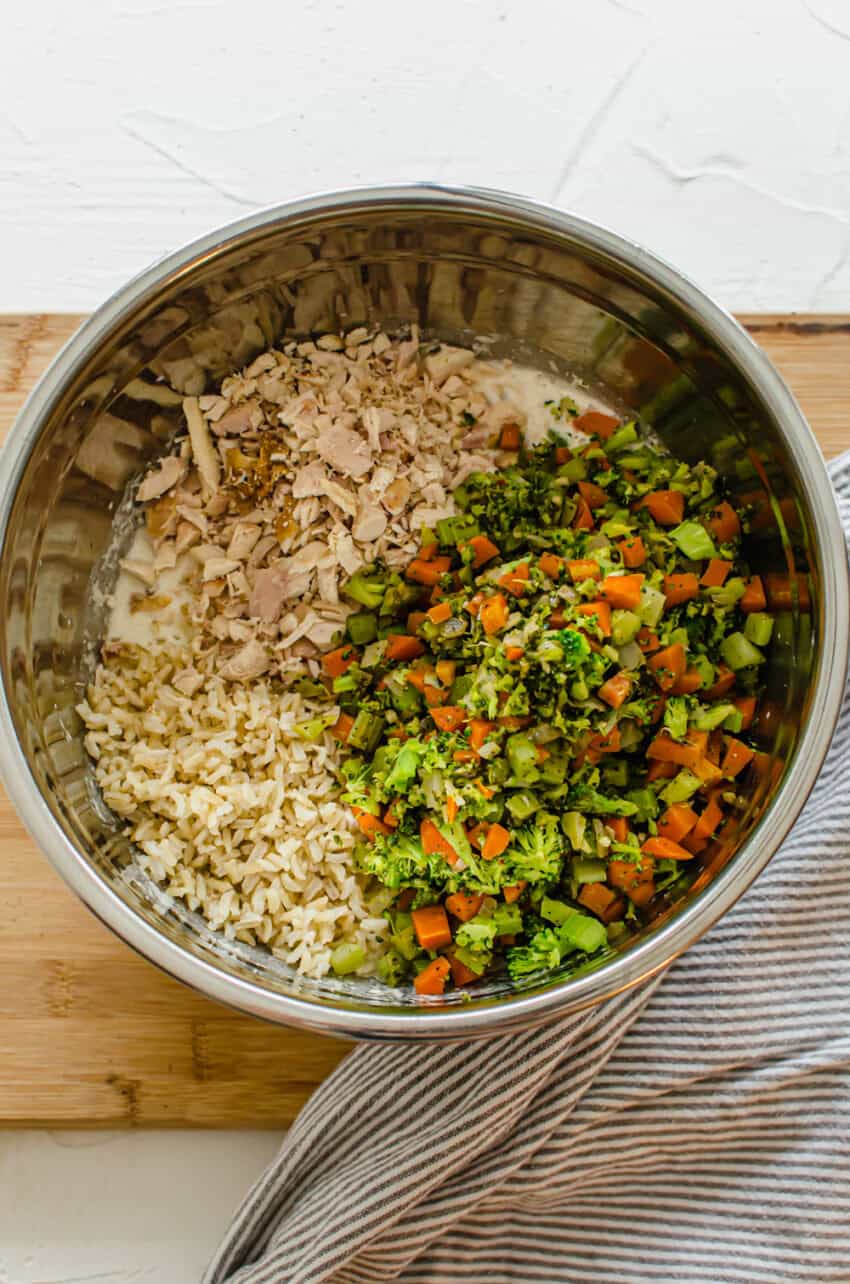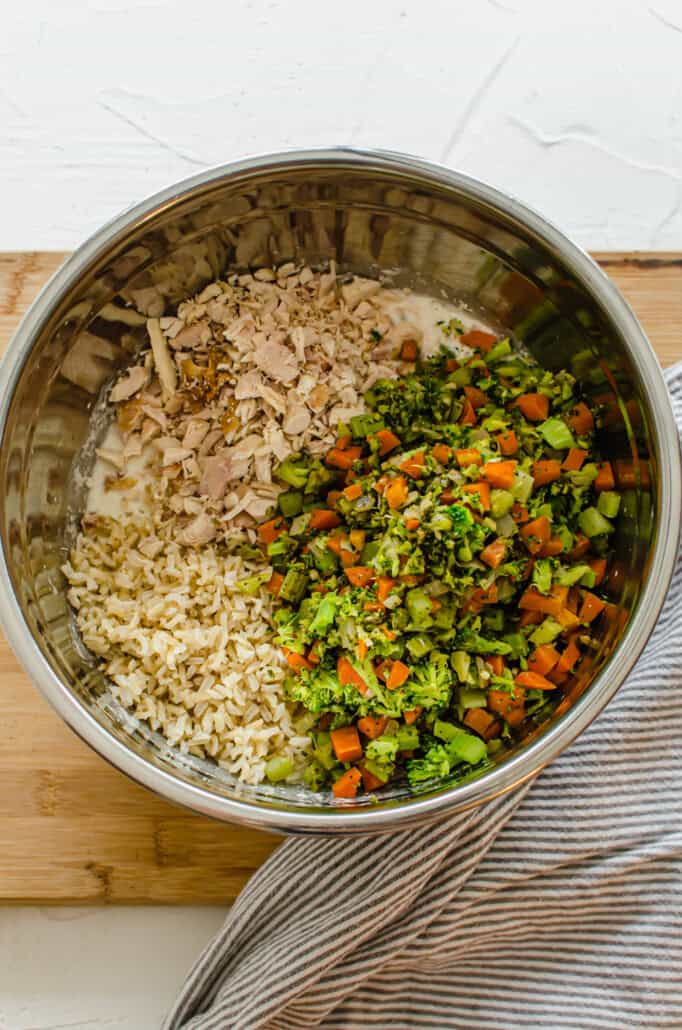 Step 4: Combine Everything in Casserole Dish
Add the mixture to a greased 9×13 inch casserole dish.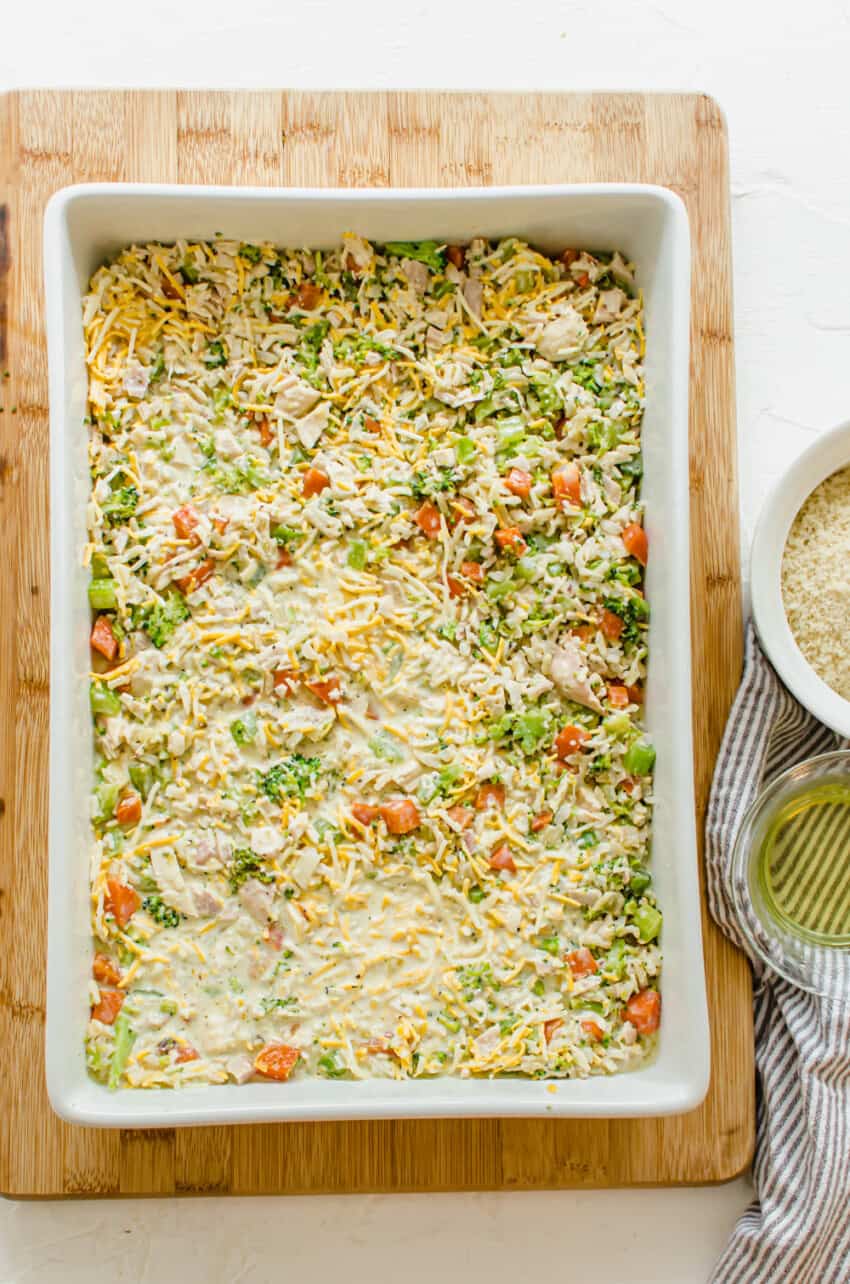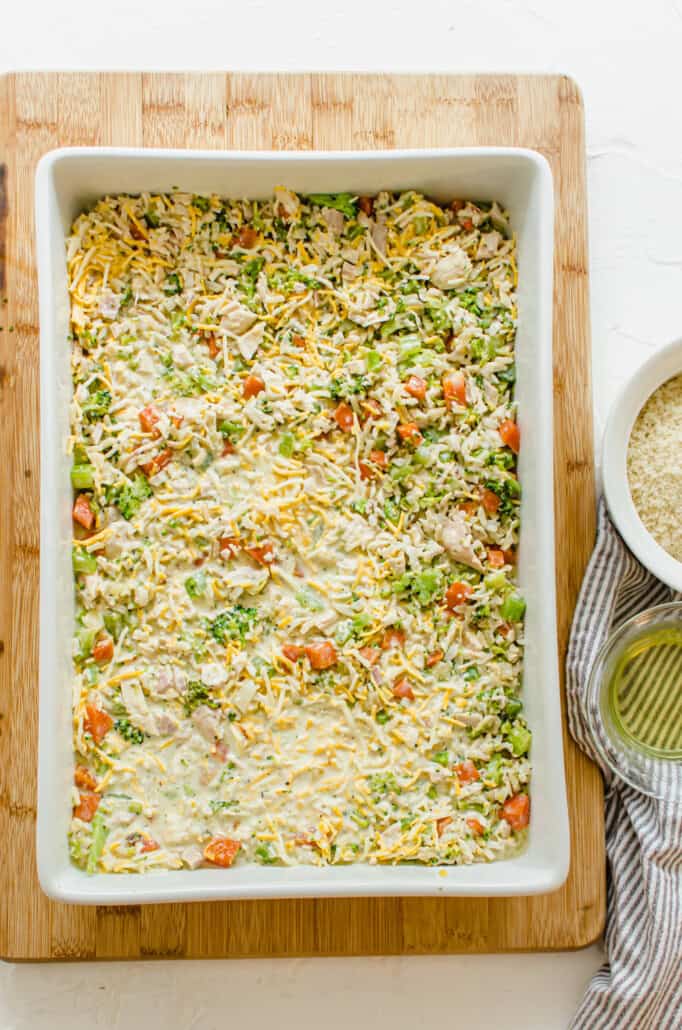 Mix Panko Breadcrumbs with Oil
Stir a little bit of olive oil into the Panko. The oil will ensure that they brown up in the oven. You can use whole wheat Panko or gluten-free dry breadcrumbs if you prefer.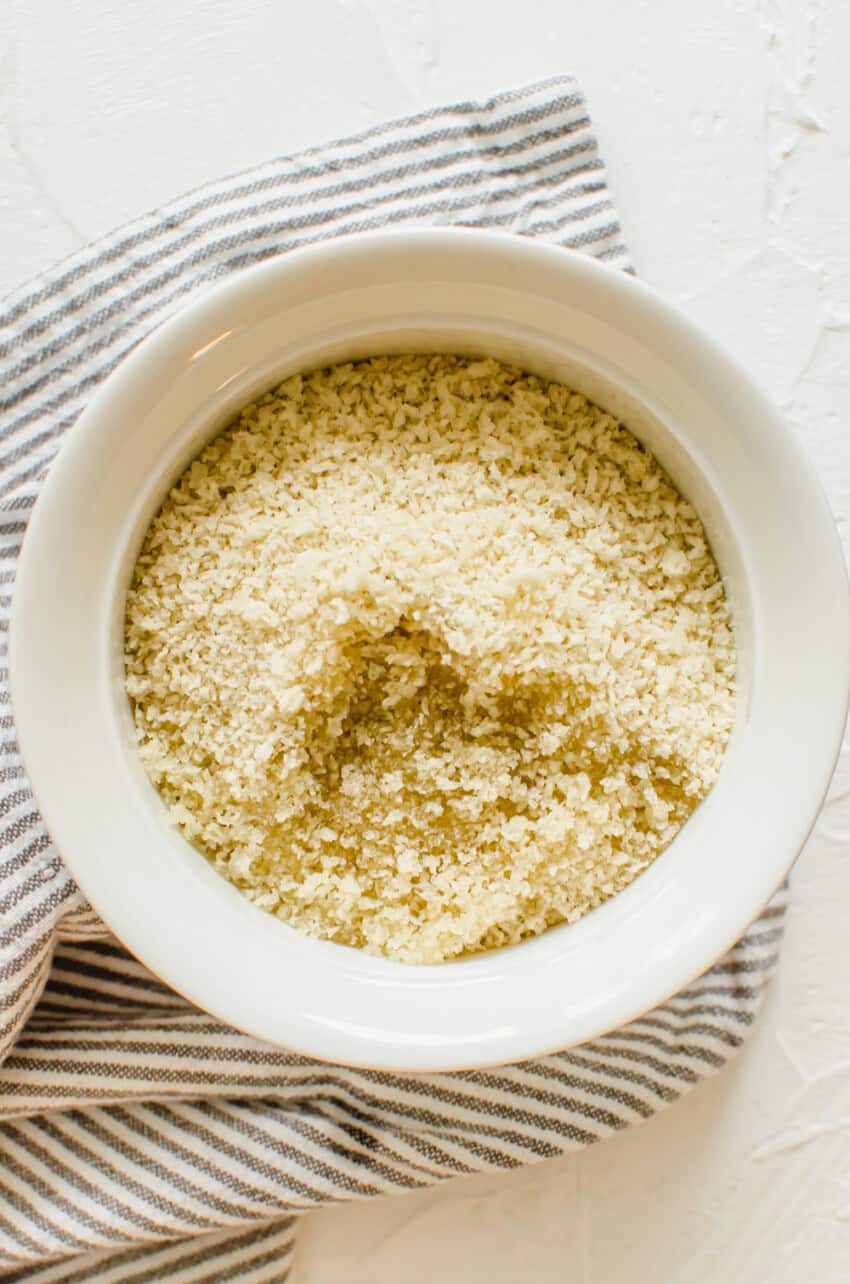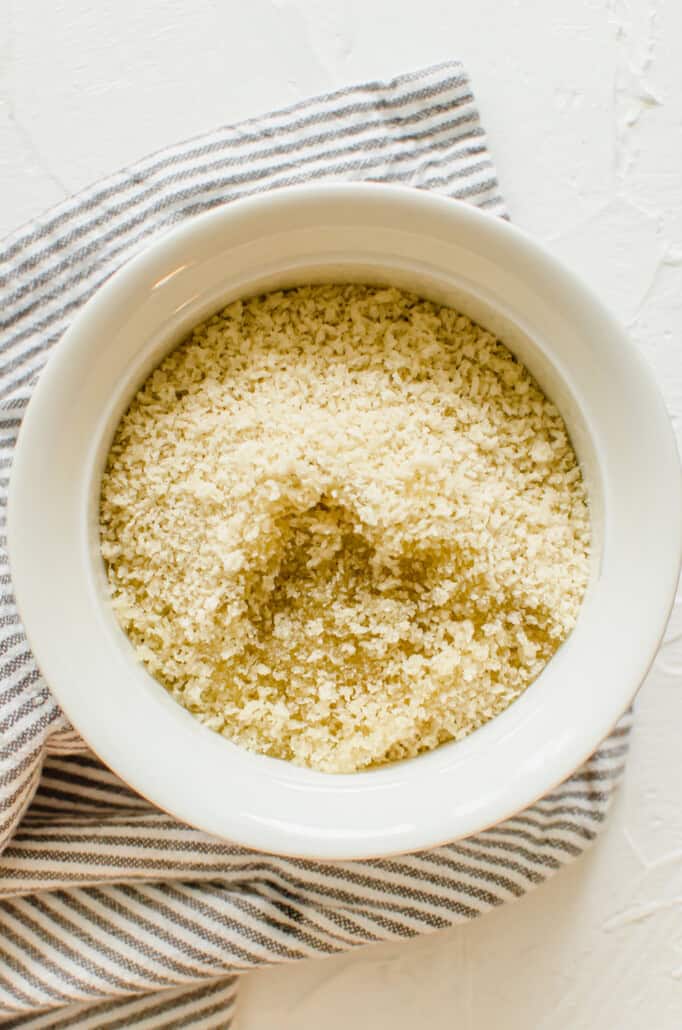 Step 6: Top with Panko Breadcrumbs
Top the casserole with an even layer of the breadcrumbs. This will provide a little crunch on top.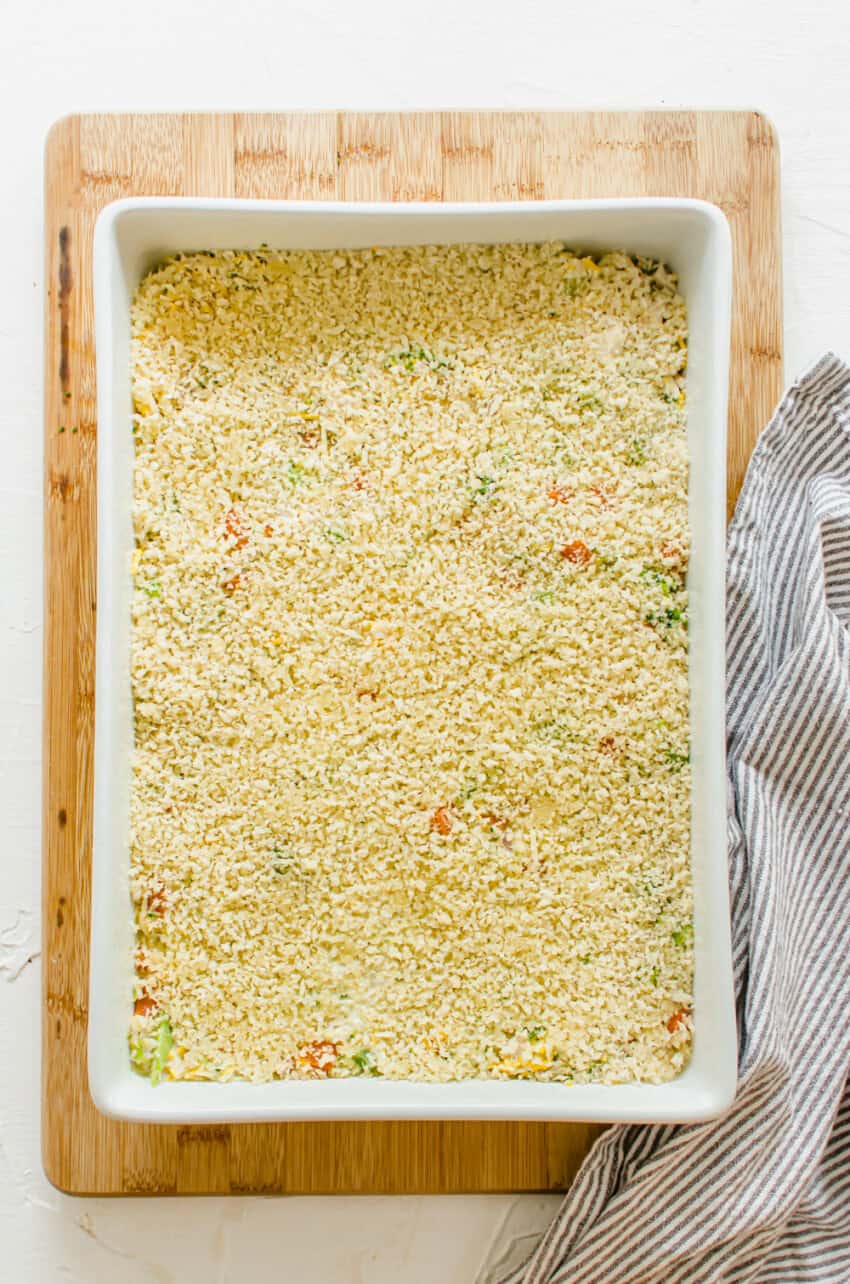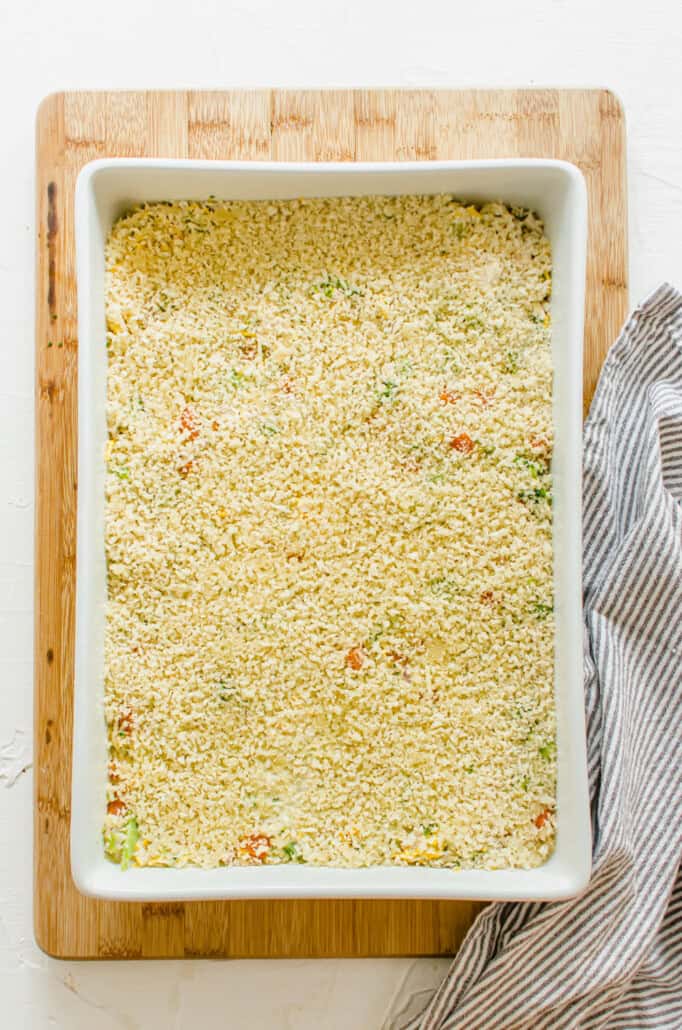 Bake at 375°F for about 25-30 minutes or until it's golden on the top and the sides are bubbly.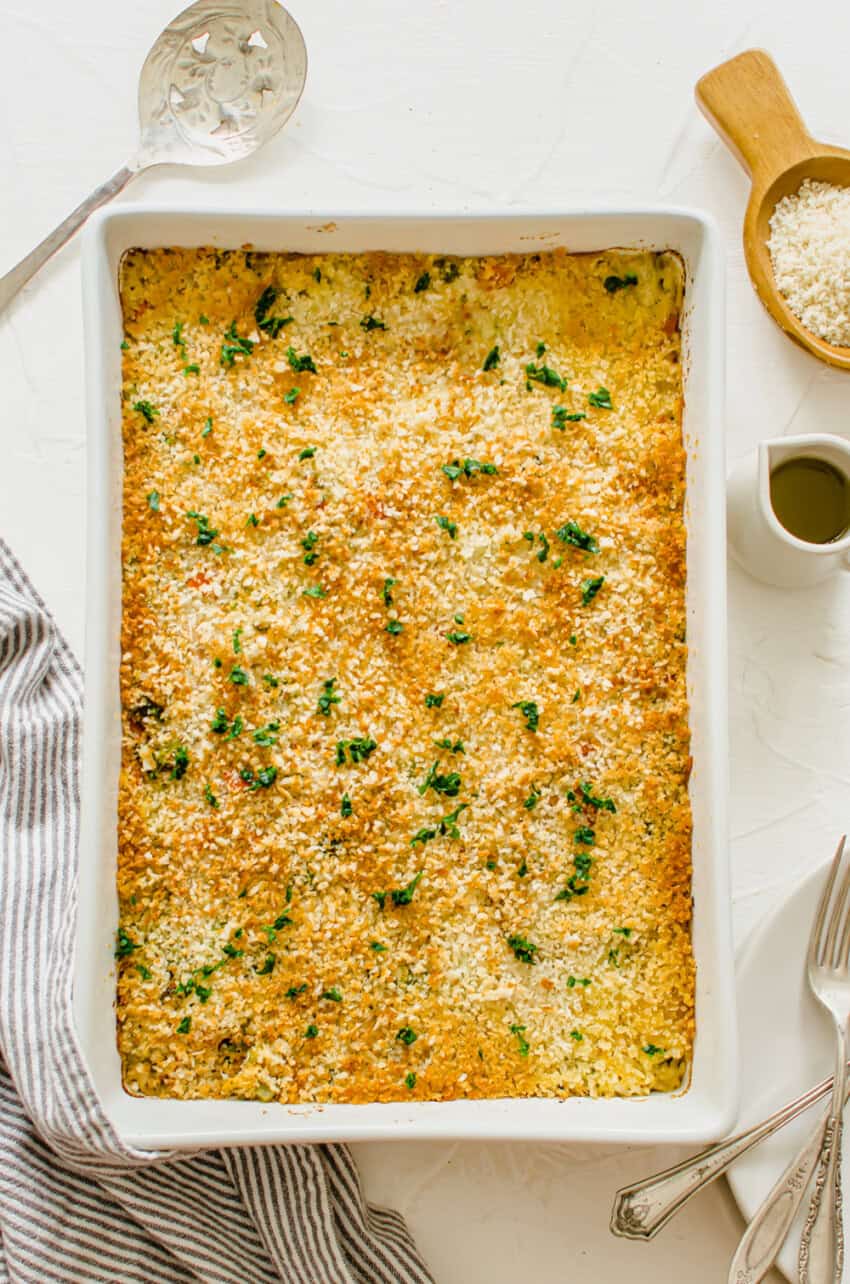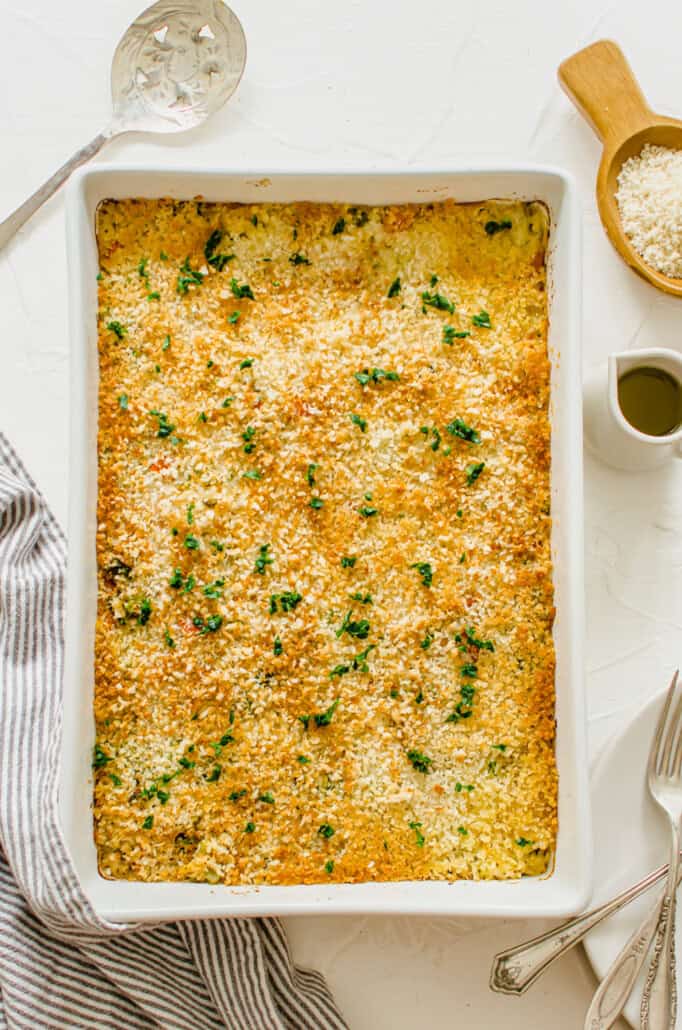 Serve warm with a simple side salad for a delightful, family-friendly dinner!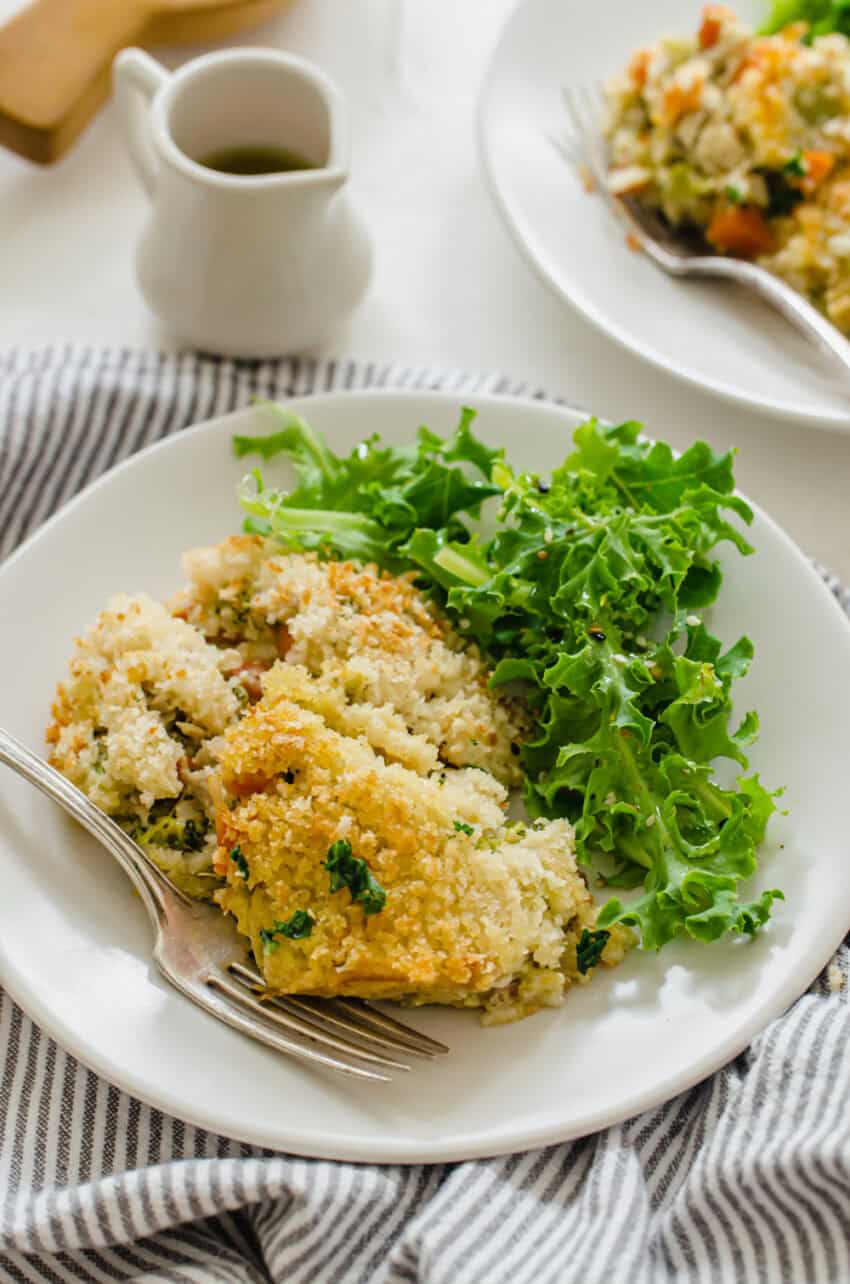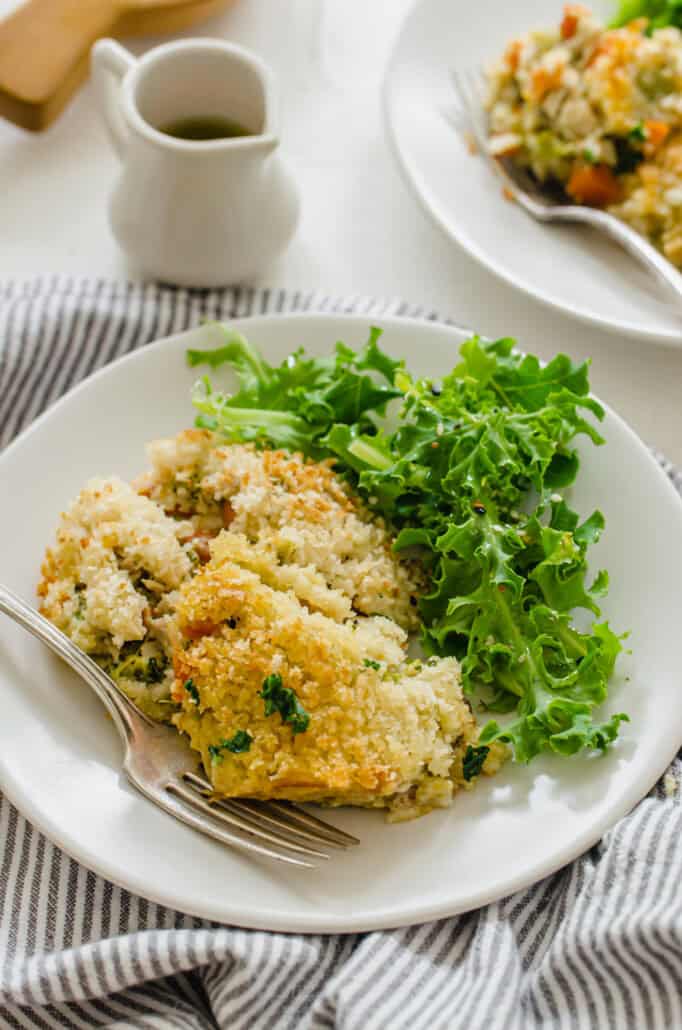 Can You Freeze Chicken and Rice Casserole?
Absolutely! Like all of our freezer meal recipes, we offer freezing instructions for the best result. We've learned that it's ideal to freeze casseroles before baking so they turn out tasting fresh.
How to Freeze For Later: Follows Steps 2-5 in the recipe below. Do not bake the casserole. Tightly wrap the dish in a few layers of plastic wrap or foil, pressing out any air. Freeze.
How to Prepare From Frozen: Thaw the casserole completely (24-48 hours in the fridge is best). Set the casserole on the counter and preheat the oven to 375°F. Follow Step 6 in the recipe.
Be sure to double this recipe while you're at it and freeze one for later. What a great use of your time in the kitchen!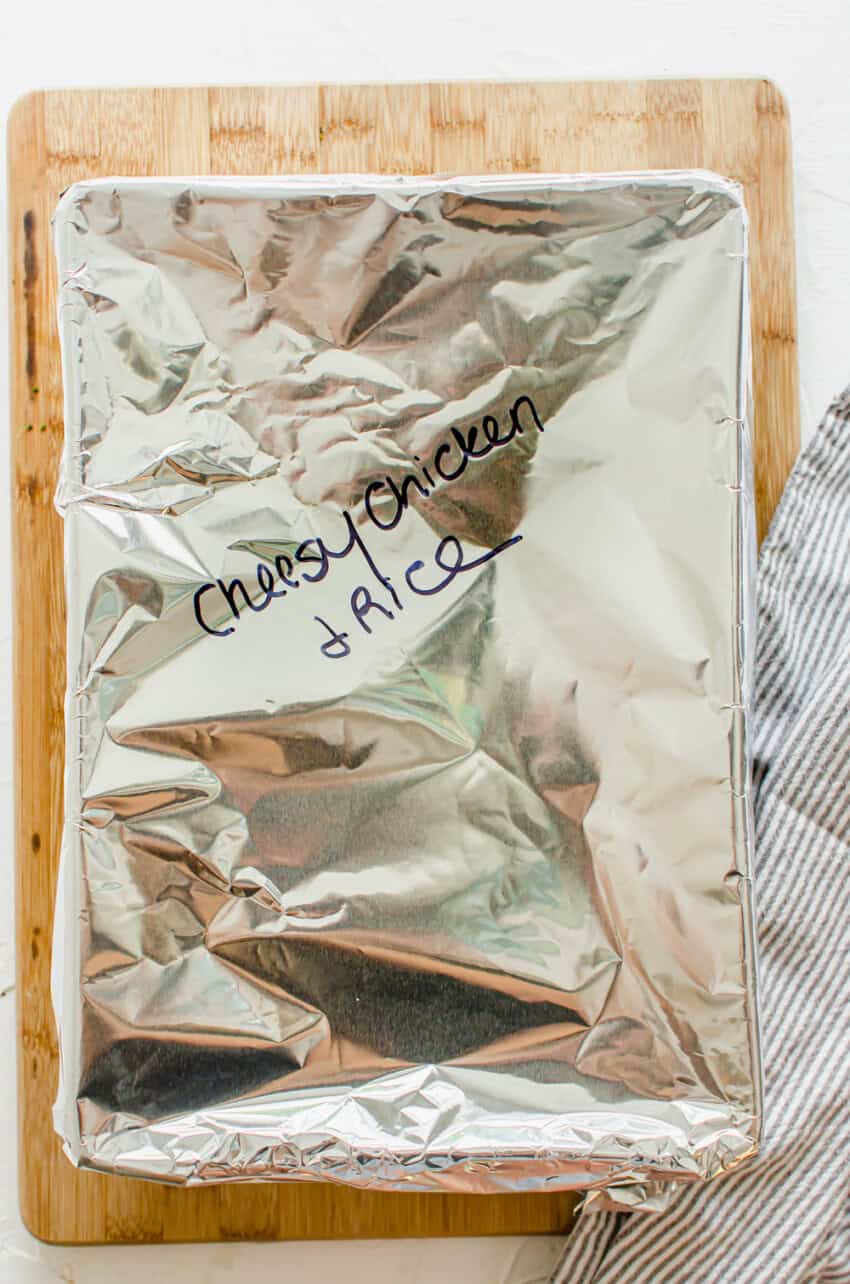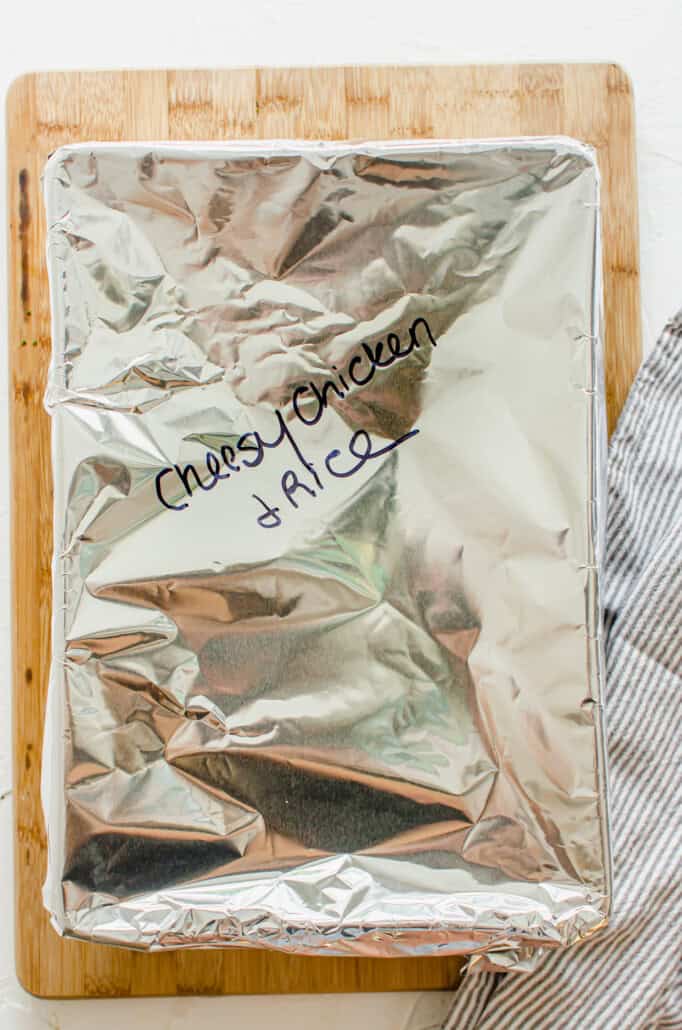 What to Serve with Chicken and Rice Casserole
From salads to other sides, here are some tasty serving suggestions.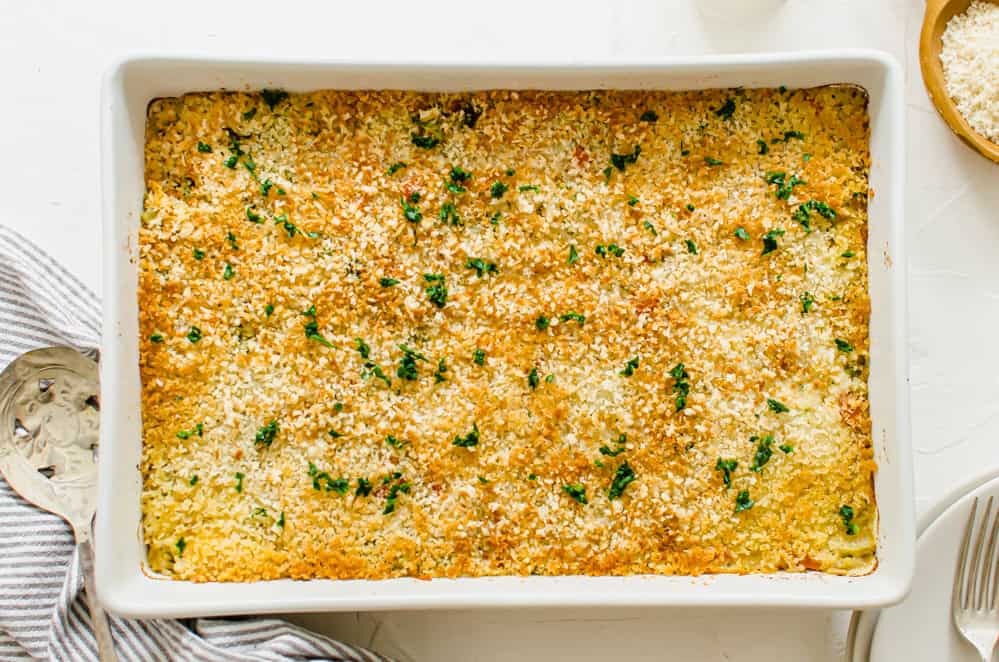 Did you make this? Snap a photo and tag us on Instagram at @thrivinghome so we can see your creations and cheer you on!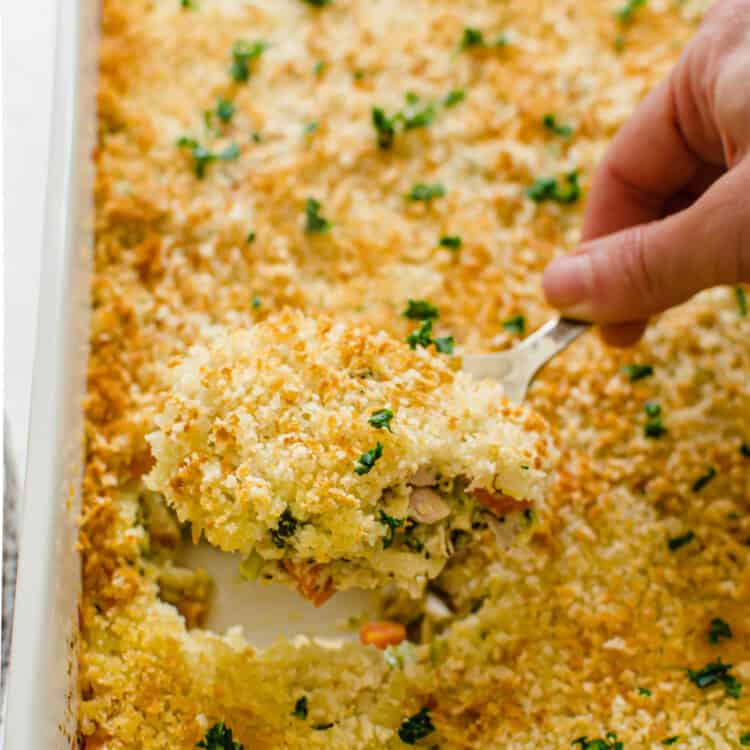 Cheesy Chicken and Rice Casserole
A fantastic, healthy way to use up some leftover broccoli and chicken. Try this casserole and win over your family!
Prep:
20 minutes
Cook:
30 minutes
Total:
50 minutes