This post may contain affiliate or sponsored links. Please read our disclosure policy.
Let's talk about how to make bread crumbs! Once you grasp this simple method to make your own homemade bread crumbs, you'll wonder why you ever paid more for lower quality ones from the store.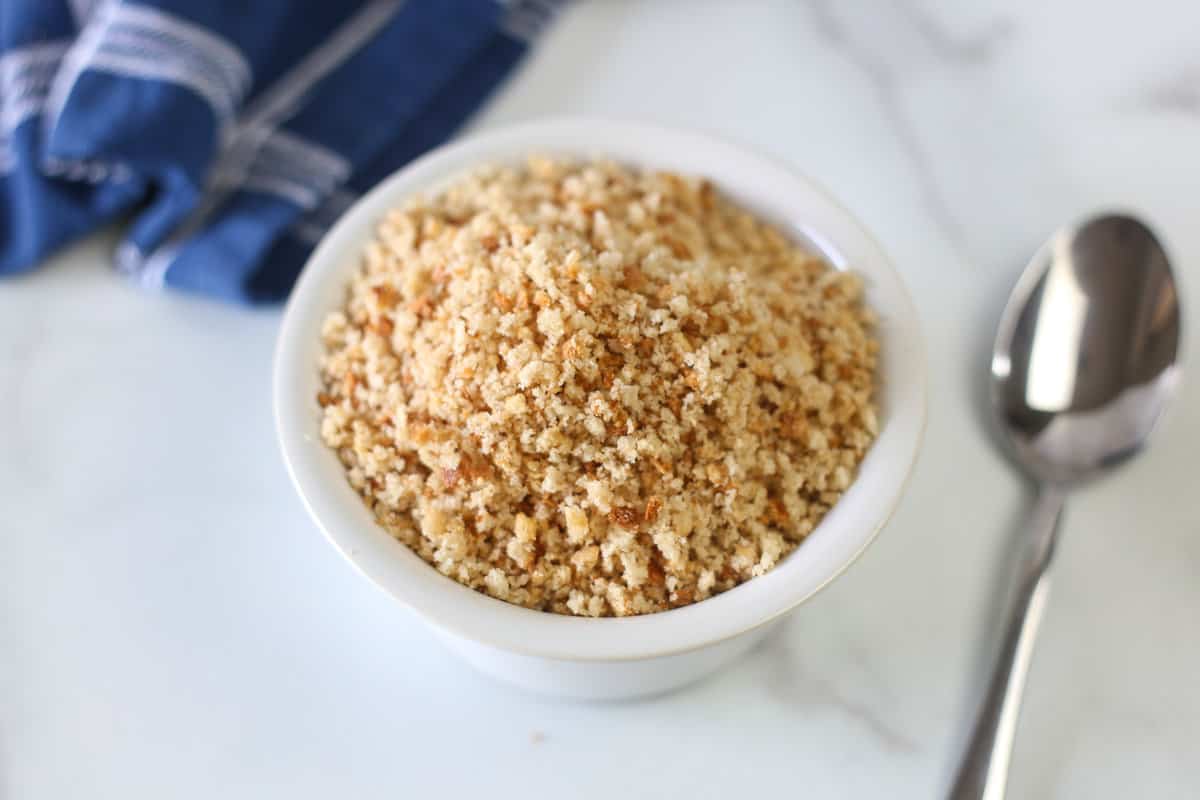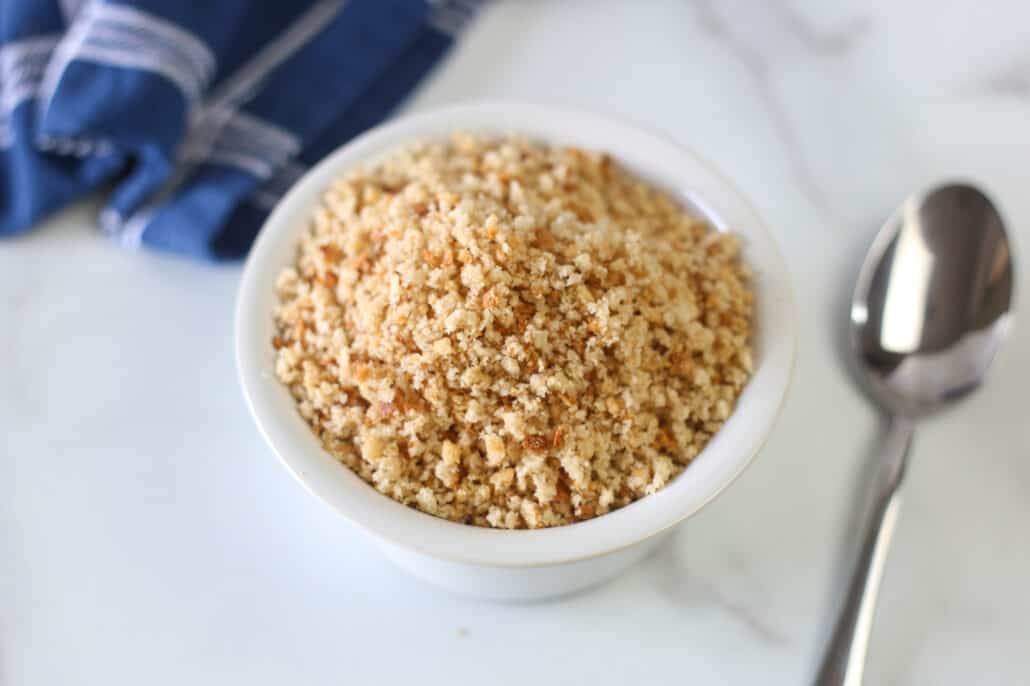 4 Reasons Homemade Bread Crumbs Are Better
Making homemade breadcrumbs offers several advantages over store-bought options:
Freshness and Quality Control: You can choose high-quality bread, ensuring the best taste and texture for your recipes. I also always select a whole grain loaf of bread to use, so it's a little healthier too.
Cost Savings and Less Food Waste: Making your own allows you to save money by utilizing leftover bread that might be otherwise tossed out.
Reduced Additives and Preservatives: Most store-bought breadcrumbs contain additives, preservatives, or artificial ingredients. By making your own, it's a little easier to avoid these.
Flexibility and Versatility: Whether you prefer a fine or coarse texture, you can easily adjust the breadcrumbs based on your preference or the requirements of your recipe.
Ingredients Needed
Good news! You only need ONE ingredient for this recipe. Yep, just one.
If you don't have stale bread on hand, just bake or toast some bread until it's crispy and let it cool.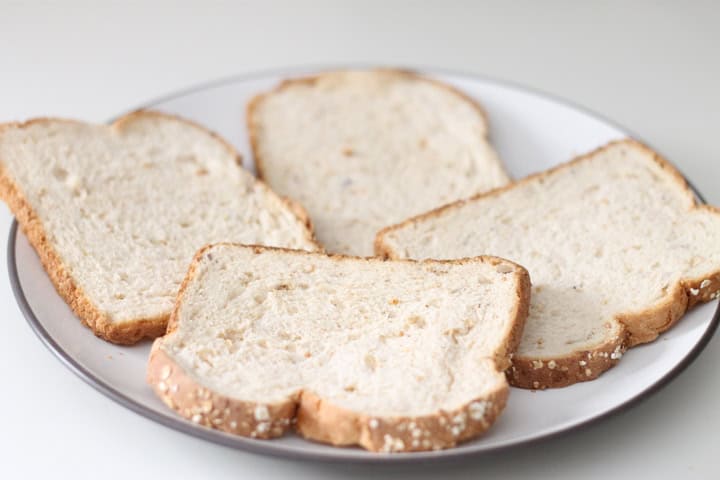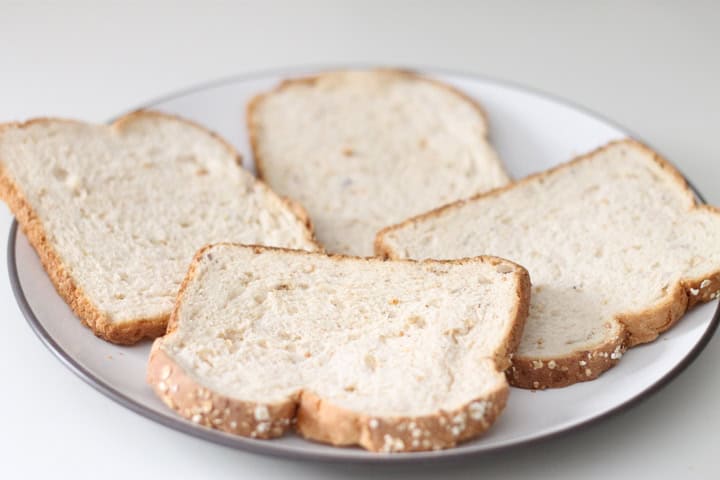 I prefer to use a 100% whole grain loaf, since it has more fiber and nutrients. Be sure to read the ingredient list and avoid any weird additives or preservatives. If you can't pronounce and/or don't recognize the word, there's a good chance it shouldn't be in your bread. 😉 Using fresh baked bread from a bakery or homemade bread is the best idea!
Tip: Never Throw Away Bread
Never throw away stale bread or the heels again! Tear them into little pieces and place them in a gallon-sized freezer bag in the freezer. Then, use them for bread crumbs next time you're ready to make some. I've actually done this with completely frozen pieces of bread and it works.
How to Make Bread Crumbs
Whether it's the heels of past loaves that have collected in the freezer or slightly stale bread (not moldy though!) from the counter, you've got the perfect ingredient for bread crumbs on your hands. If it's not very stale or dry, you can always toast it for a little extra crisp. Tear the bread into small pieces.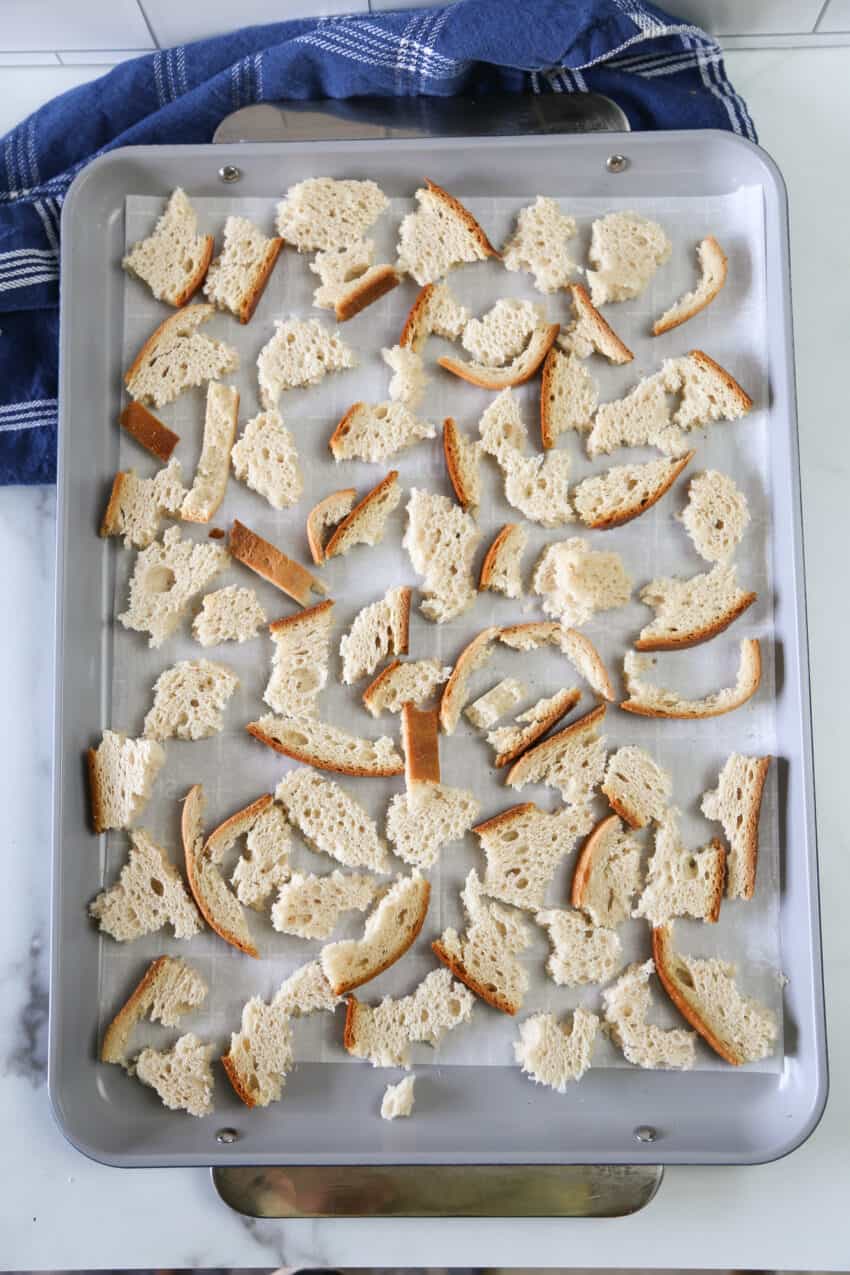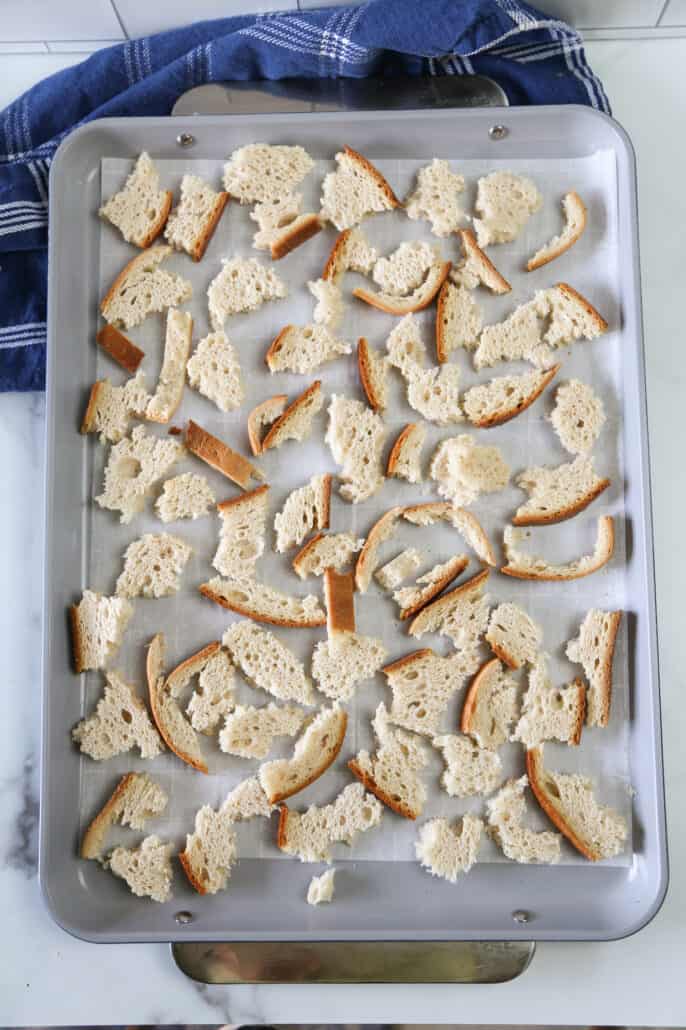 Place the stale bread pieces in the food processor or a blender. Process/blend until the crumbs are the texture you prefer.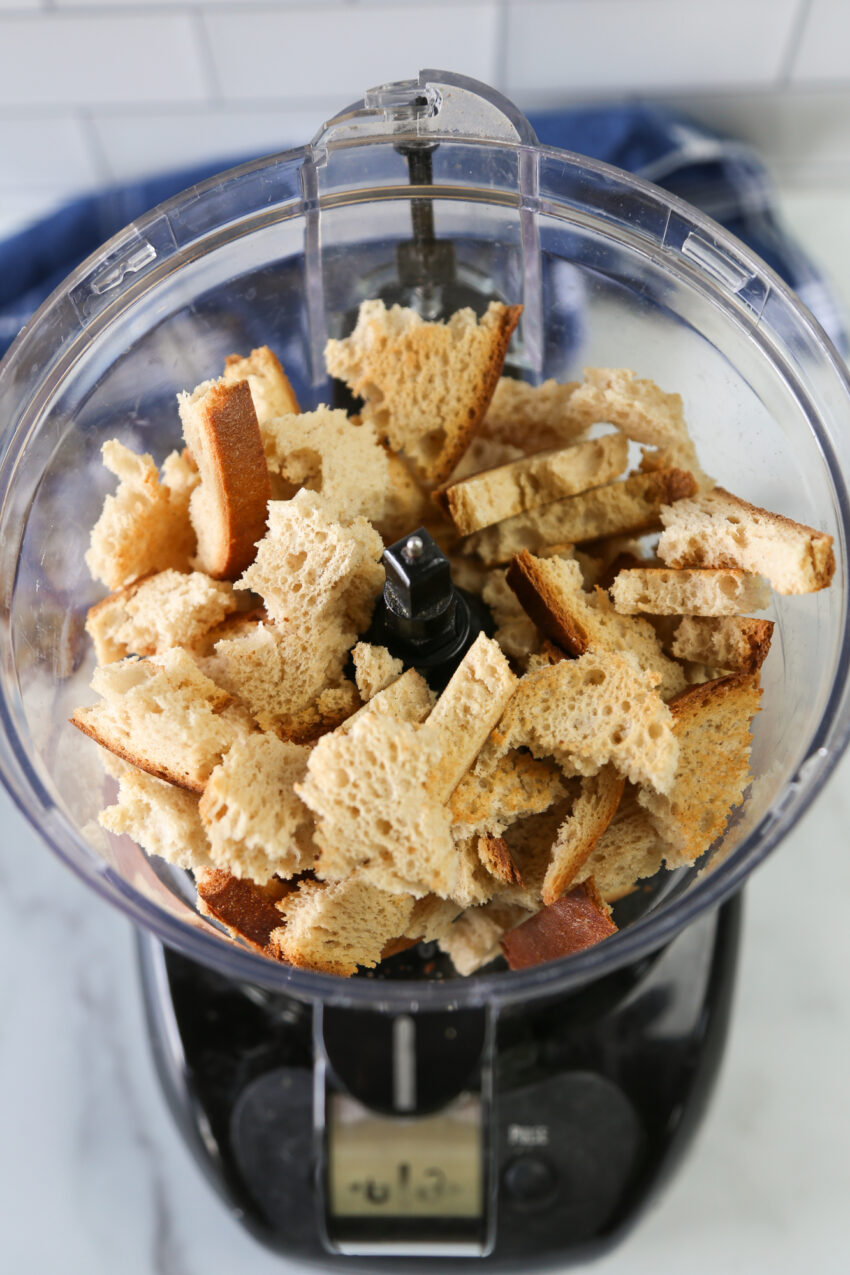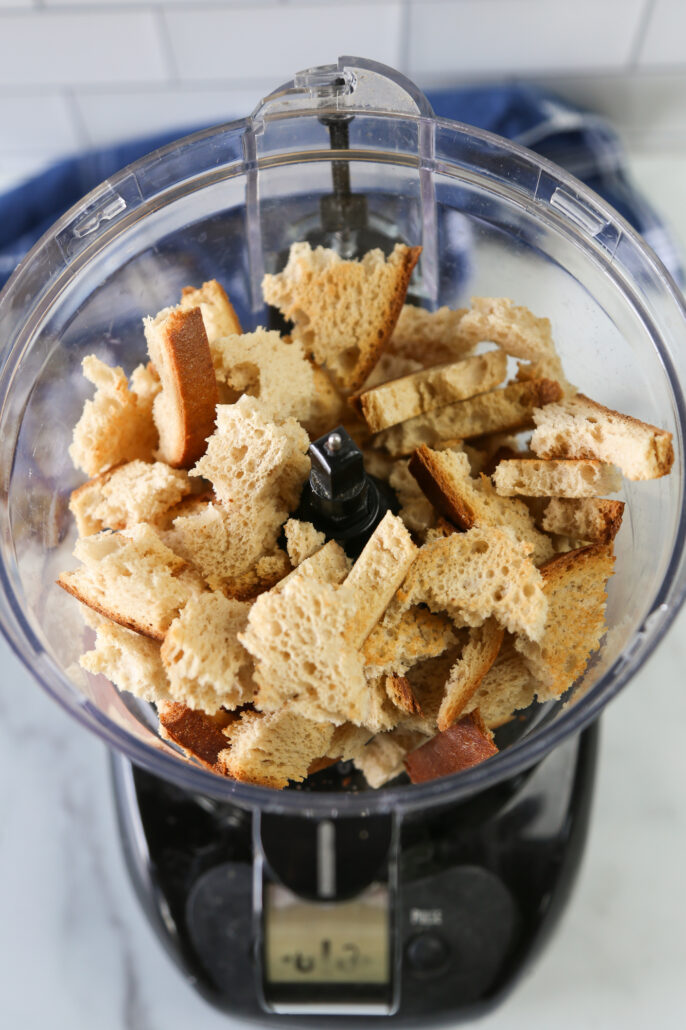 You've now got fresh bread crumbs on your hands. Read on for how to use them and store them.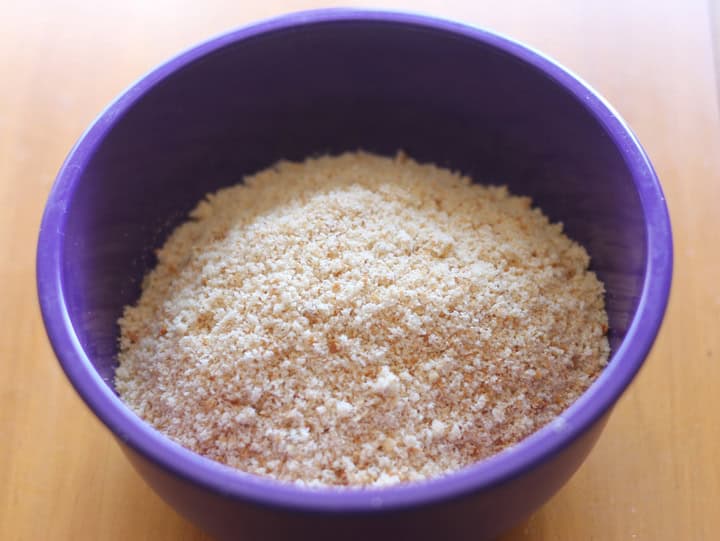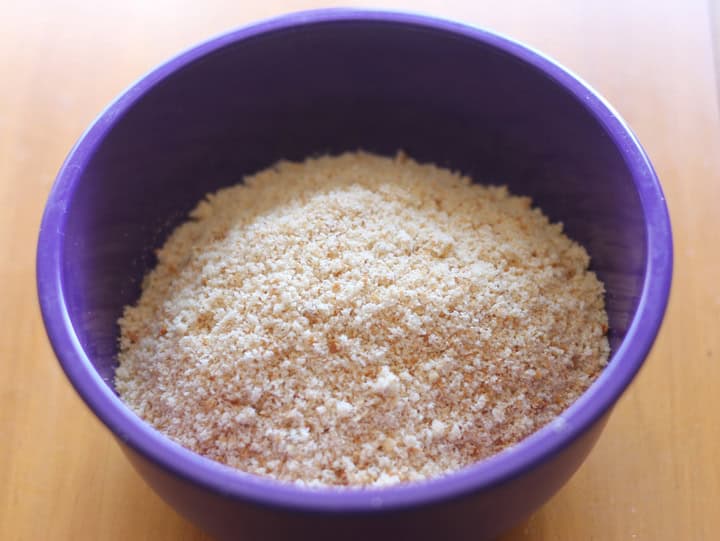 How to Store Homemade Bread Crumbs
If you don't plan to use your crumbs right away, here's how to store them:
Store in the Fridge: Store in an air-tight bag or container in the refrigerator for 1-2 weeks.
Store in the Freezer:
Place them in a freezer-safe bag, squeezing out as much air as possible.

Label the container with the name, amount of breadcrumbs, and the freezing date.
Freeze the breadcrumbs on a flat surface, so they don't all clump together in the freezer, for up to 3 months.
When you're ready to use your frozen breadcrumbs, either thaw them overnight in the fridge or use the defrost setting on the microwave to quickly thaw them.
Recipes That Use Bread Crumbs
Use up your freshly made crumbs in one or more of these recipes. You can even freeze most of these meals using our freezing instructions.
Do bread crumbs go bad?
Yes, bread crumbs can go bad if they are not stored properly or kept for too long. Moisture, exposure to air, and the presence of microorganisms can cause them to become stale, moldy, or clump together. To extend the shelf-life of the store-bought kind shelf life, store them in a cool, dry place in an airtight container. If using homemade bread crumbs, we suggest storing the fridge or freezer instead. Discard them if you notice any signs of spoilage like a bad smell, unusual texture, or mold.
How long do bread crumbs last?
The shelf life of bread crumbs can vary depending on factors such as storage conditions and the presence of additives or preservatives. In general, commercially packaged bread crumbs typically have a recommended shelf life of about 6 to 12 months from the date of production. Our homemade bread crumbs recipe will last 1-2 weeks in the refrigerator or up to 3 months in the freezer.
Where are bread crumbs in the grocery store?
Bread crumbs are typically found in the baking or pantry section of the grocery store. They are often located near other baking supplies such as flour, sugar, and cake mixes. In some stores, they might also be grouped with other breadcrumbs, coating mixes, or seasonings for convenience. If you're having trouble locating them, don't hesitate to ask a store employee for assistance.
Can I make these gluten-free?
Yes, we have a recipe for Gluten Free Bread Crumbs that's just as easy as this one!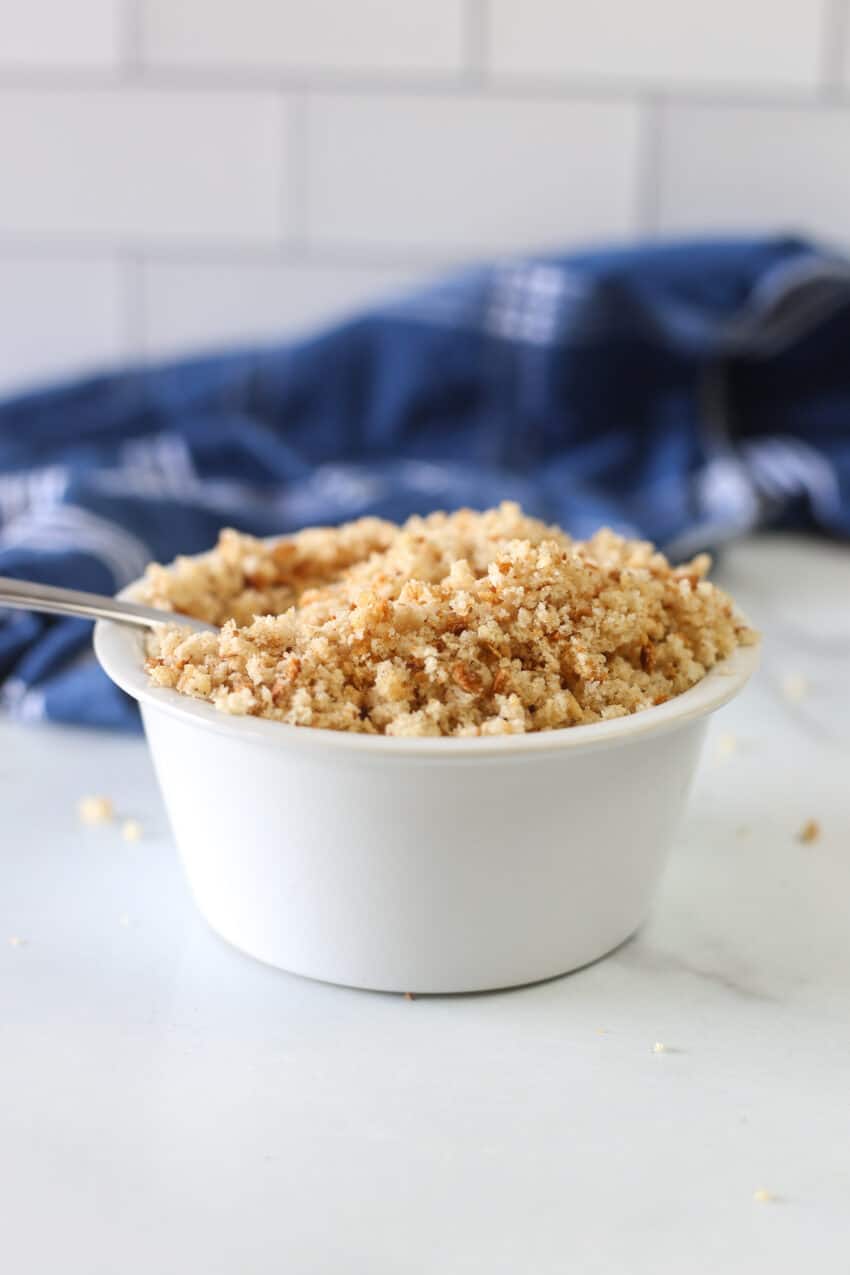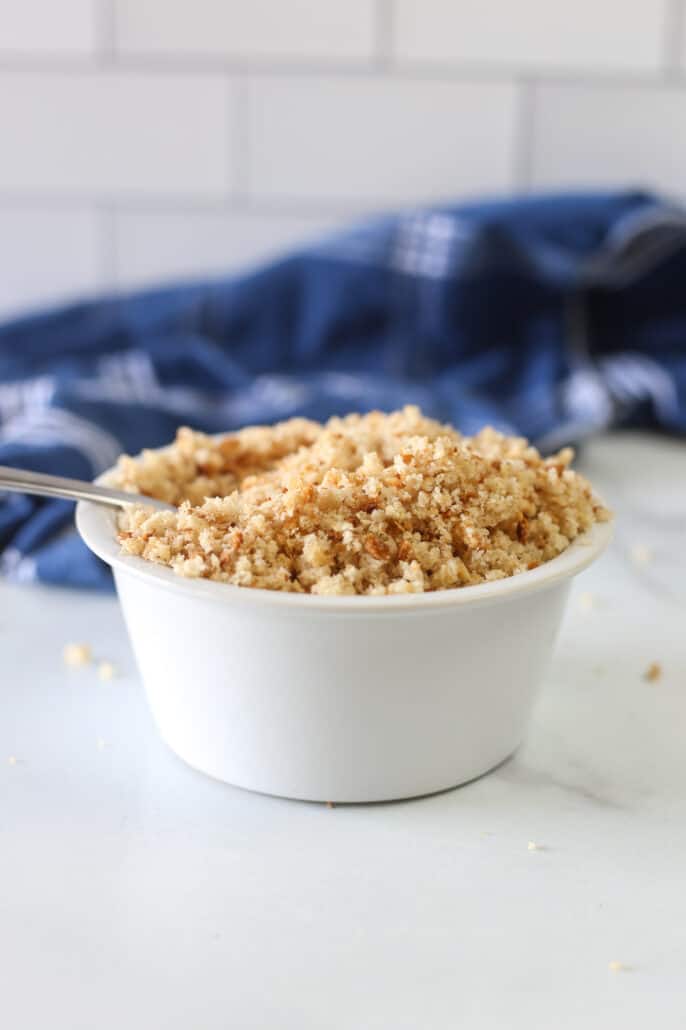 To sum it up, making your own bread crumbs is easy, economical, and lets you add your own personal touch. With just a few steps, you can turn leftover bread into flavorful crumbs that will elevate your cooking and help reduce food waste.
Did you make this? Snap a photo and tag us on Instagram at @thrivinghome so we can see your creations and cheer you on!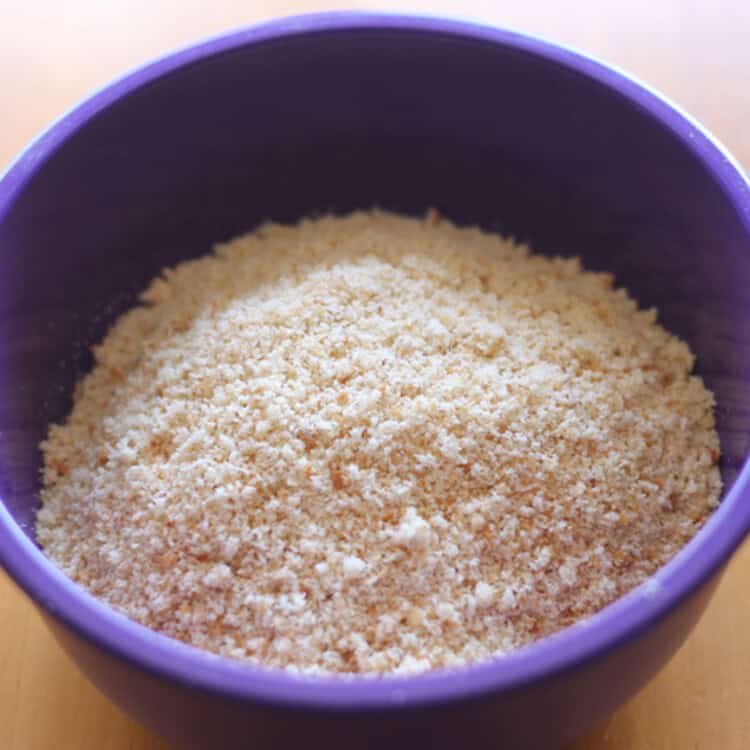 Homemade Bread Crumbs
Do you have any idea HOW easy it is to make homemade bread crumbs? Think of the many things you could do with them. This recipe shows you how to effortlessly make delicious bread crumbs.
Prep:
5 minutes
Total:
5 minutes
Ingredients
4

–

6

slices of leftover bread, stale or toasted (and cooled)
Before You Begin! If you make this, please leave a review and rating letting us know how you liked this recipe! This helps our business thrive & continue providing free recipes.
Instructions
Tear up the bread into smaller pieces and put in the food processor.
Process until the bread is all broken into little bitty pieces-otherwise known as breadcrumbs. You can choose the texture you prefer for your recipe (larger or smaller crumbs).
Use the bread crumbs right away or store them for later. Store in an air-tight bag or container in the refrigerator for 1-2 weeks. Store in a freezer bag in the freezer for 3 months.