Crispy Chicken Cutlets with Lemon Butter Sauce
This post may contain affiliate or sponsored links. Please read our disclosure policy.
This Crispy Chicken Cutlets with Lemon Butter Sauce recipe might very well be my favorite way to eat chicken breasts. Lemons provide a vibrant citrus base for the silky sauce, giving this dish a light, bright feel. The butter–oh the butter!–lends a velvety richness that perfectly balances the acidity of the lemon juice and white wine.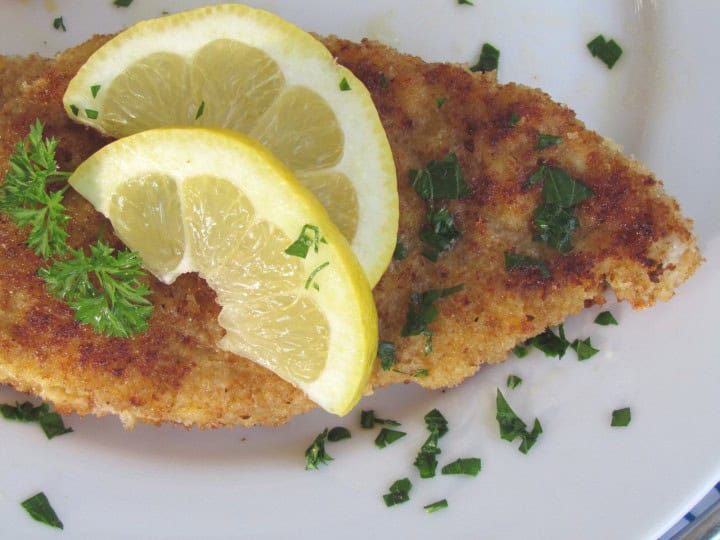 With each bite, you get crunchy breading, tender chicken inside, and a burst of citrus flavor from the sauce. It's worth the work!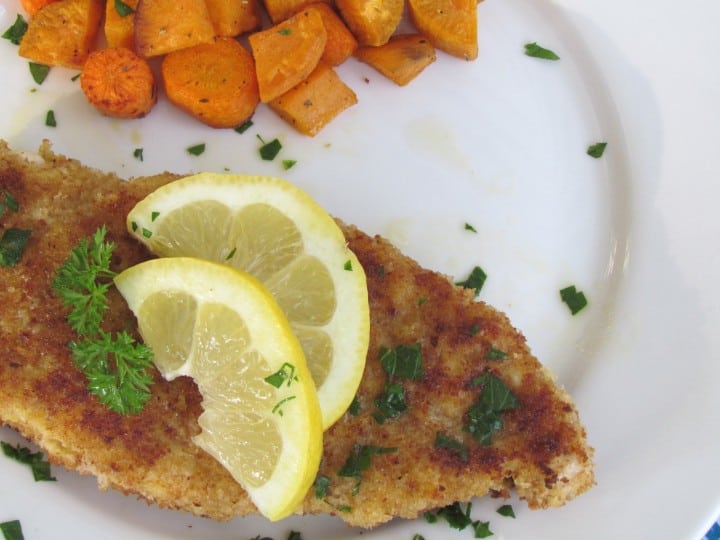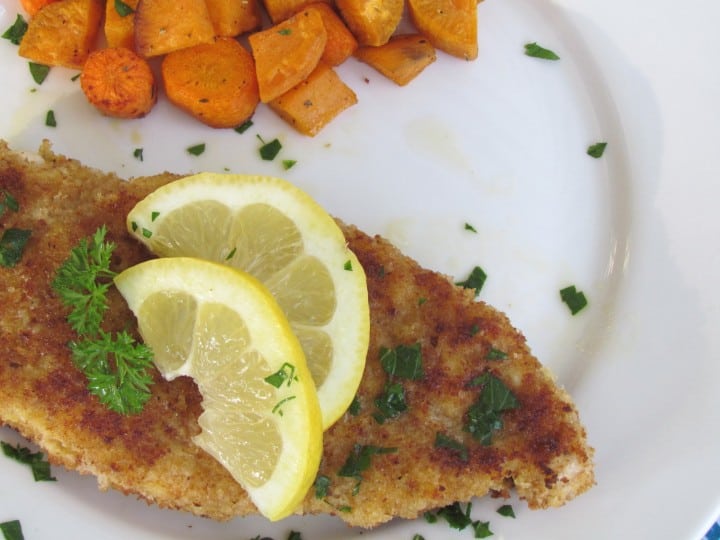 This recipe was a winner with my family and is probably my favorite Freezer Club meal we've had so far. I often serve it on top of whole wheat angel hair pasta, but tonight we had it with Basic Roasted Vegetables. Unforgettable.
Did you make this? Snap a photo and tag us on Instagram at @thrivinghome so we can see your creations and cheer you on!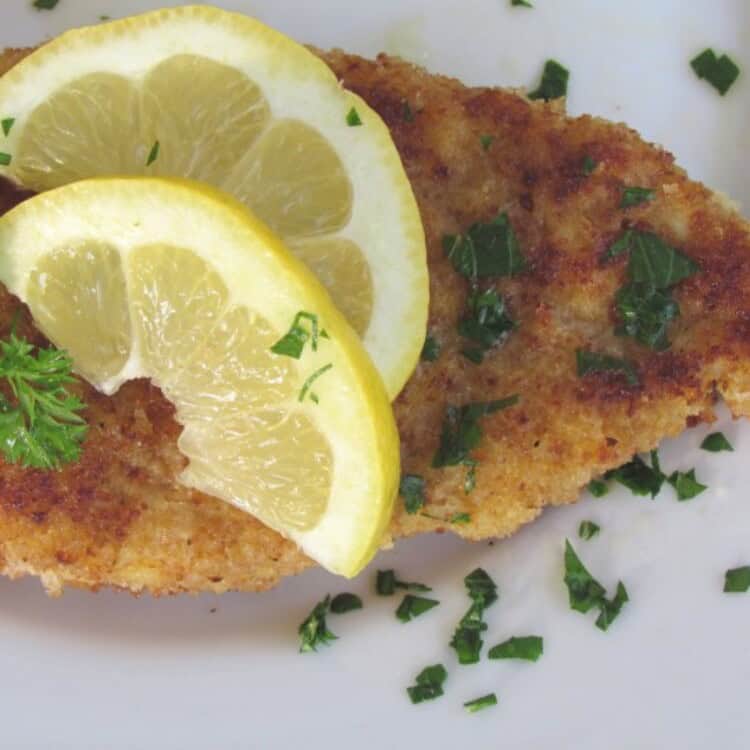 Crispy Chicken Cutlets with Lemon Butter Sauce
Try this light, fresh-tasting twist on breaded baked chicken breasts. It is sure to become a family favorite.
Prep:
25 minutes
Cook:
20 minutes
Total:
45 minutes
Ingredients
4

boneless, skinless chicken breasts
Salt and freshly ground black pepper

1/2

cup

whole wheat flour (sub: all-purpose flour or gluten-free flour)

2

large eggs

1 tablespoon

water

1 1/2

cups

Panko breadcrumbs

4 tablespoons

olive oil

6 tablespoons

unsalted butter, divided

1 tablespoon

minced garlic

1/3

cup

fresh lemon juice (about 2 lemons)

3/4

cup

dry white wine (sub: unsalted chicken broth)

1/4

cup

finely chopped fresh parsley leaves, for serving
Sliced lemon, for serving
Before You Begin! If you make this, please leave a review and rating letting us know how you liked this recipe! This helps our business thrive & continue providing free recipes.
Instructions
Make It Now:
Prep: Preheat the oven to 400°F. Line a sheet pan with parchment paper.
Set Up Breading Stations: Mix the flour, 1/2 teaspoon salt, and 1/4 teaspoon of pepper in a shallow plate. On a second plate, beat the eggs and 1 tablespoon of water together. Pour out the bread crumbs onto a third plate.
Pound Chicken: Place each chicken breast between 2 sheets of parchment paper or plastic wrap and pound out to 1/4-inch thick. Sprinkle both sides with salt and pepper.
Dredge Chicken: Dip each chicken breast in the flour, then shake off the excess, and then dip in the egg and bread crumb mixtures. (Freezing instructions begin here.)
Saute Chicken: Coat the bottom of a large saute pan with a thin layer of oil (about 2 tablespoons) and heat over medium to medium-high heat until shimmery. Add two of the chicken breasts and cook for 2 minutes on each side, until browned. Place them on the sheet pan. Wipe out the pan and add more olive oil to coat the bottom. Saute the remaining two chicken breasts for 2 minutes on each side. Place on the sheet pan with the others.
Bake Chicken: Bake for 5 to 10 minutes while you make the sauce. Chicken is done when it registers 165°F internally or there's no pink in the middle.
Make Sauce: For the sauce, wipe out the saute pan with a paper towel. Over medium heat, heat 2 tablespoons of the butter until bubbly and hot. Add the garlic and cook for 1 minute. Then add the lemon juice, wine, 1 teaspoon salt, and 1/2 teaspoon pepper. Cook for 2-3 minutes. Turn off the heat, add the remaining 4 tablespoons of butter and swirl to combine. 
Serve: Place a chicken breast on each plate. Spoon some sauce over it, top with a little fresh parsley, and serve with a lemon slice on the side. 
Freeze For Later: Follow Steps 2-4. Place breaded chicken in a flat freezer bag in single layers divided by parchment paper. Prepare sauce in Step 7, cool, and place in freezer safe container. Freeze chicken and sauce together as a meal kit.
Prepare From Frozen: Let chicken and sauce thaw in refrigerator. Follow Steps 5-7.
---
Notes/Tips
Recipe update on 3/20/23: I added garlic, reduced white wine by 1/4 cup, and removed the instruction to include the lemon halves while cooking the sauce to knock back some of the lemon flavor.