Blueberry Muffin Smoothie (+ Freezer Pack Instructions)
With sweet blueberries, banana, rolled oats, a few walnuts, and milk, the easy, healthy Blueberry Muffin Smoothie blends to a beautiful shade of purple and makes kids and adults alike happy. After all, who doesn't love a Blueberry Muffin?! Psst…it's also packed to the brim with gluten-free, dairy-free nutrition!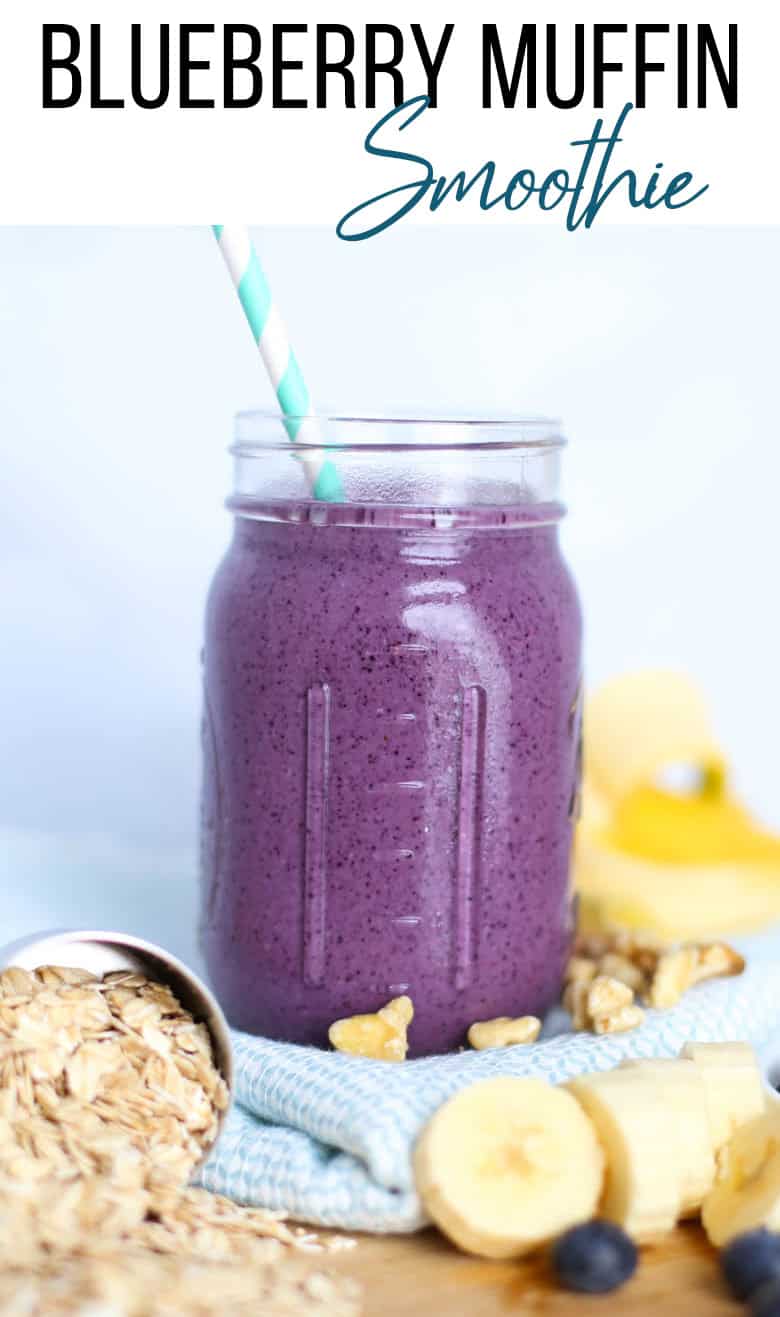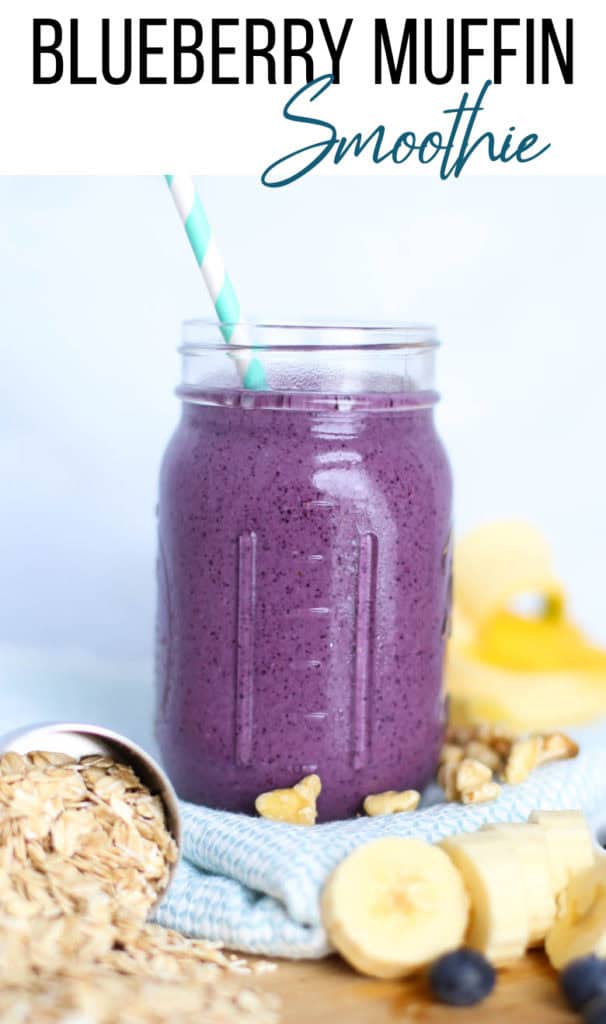 Blueberries are a powerhouse of nutrition, if you haven't heard. They are believed to have one of the highest antioxidant levels of all common fruits and vegetables. Several studies suggest that blueberries reduce DNA damage, which is a leading driver of aging and cancer. Regular blueberry intake is tied to lower blood pressure in numerous studies and the antioxidants in blueberries seem to benefit your brain by aiding brain function and delaying mental decline. (Source)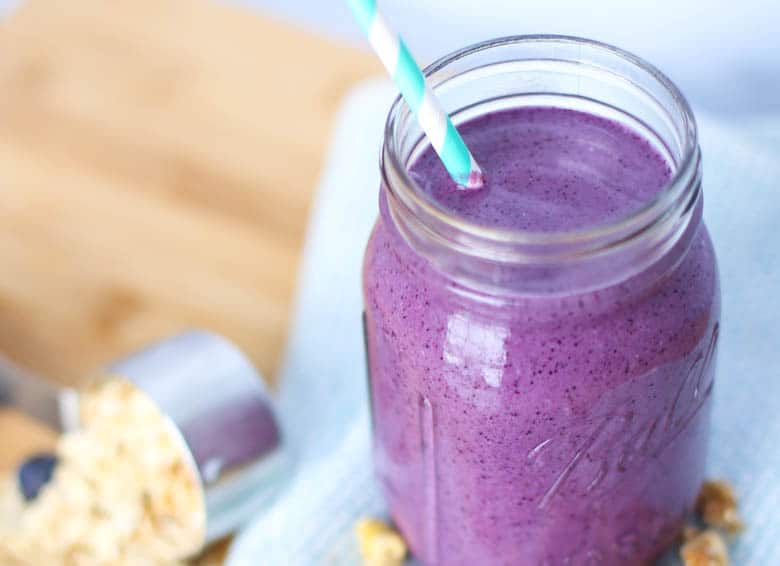 Seriously. Today's Blueberry Muffin Smoothie is SO good for you. You've got your superfood blueberries, of course, but it also comes with protein-and-fiber-rich, cholesterol-lowering oats and raw walnuts, which get blended smooth so you hardly notice them.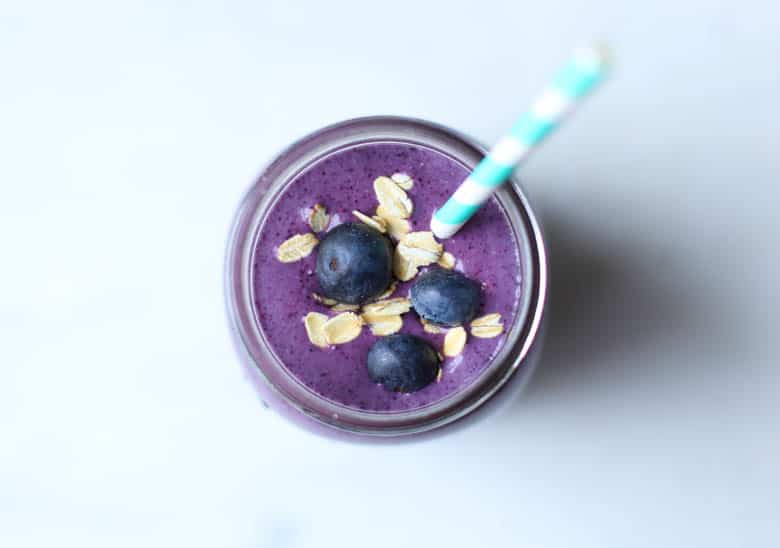 It's more than just a healthy way to start your day, though. It's also one of our most popular smoothie recipes with kids! A poll between various smoothie flavors was taken of our own children and some neighbor kids (ranging from ages 8-14) and this one rose to the top as the fave. That's because we've taken our blueberry smoothie game to the next level by adding basic ingredients of the much loved Blueberry Muffin itself.
7 Easy, Healthy Smoothie Recipes
This Blueberry Muffin Smoothie is part of our series of 7 easy, healthy smoothie recipes that you can make ahead and freeze as smoothie packs.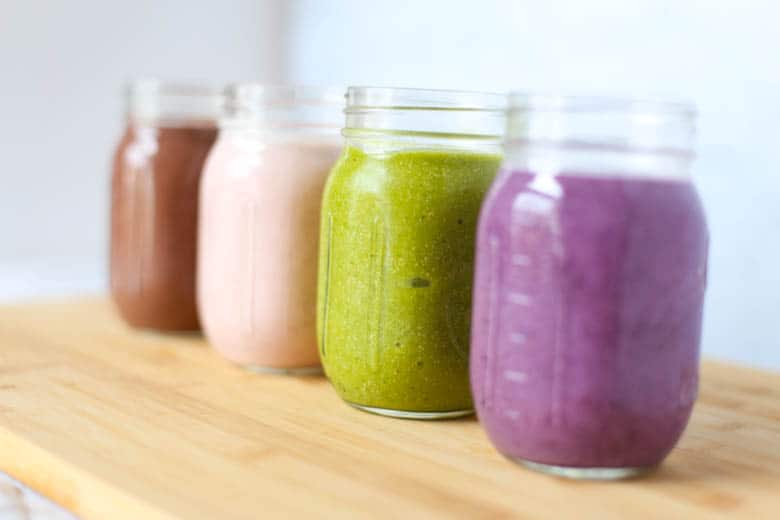 Did you have a chance to try the other smoothies from our series yet? They are SOOO good and good for you.
All of the easy, healthy smoothie recipes we are sharing have a few things in common. Each recipe:
Tastes good! Yes, these smoothies are SUPER HEALTHY but we wanted to make sure they didn't taste like weeds from the backyard.
Includes only simple real food ingredients that you can find in just about any grocery store.
Makes a single-serving (approx. 16 ounce) smoothie, which can work as a meal replacement. Or, divide it up among family members.
Includes fruits and/or vegetables for an easy, delicious way to get more nutrition.
Includes at least one source of protein and healthy fats to keep you full and satisfied.
Includes freezer smoothie pack instructions so you can prep several of them ahead of time to have on hand.
How to Make Freezer Smoothie Packs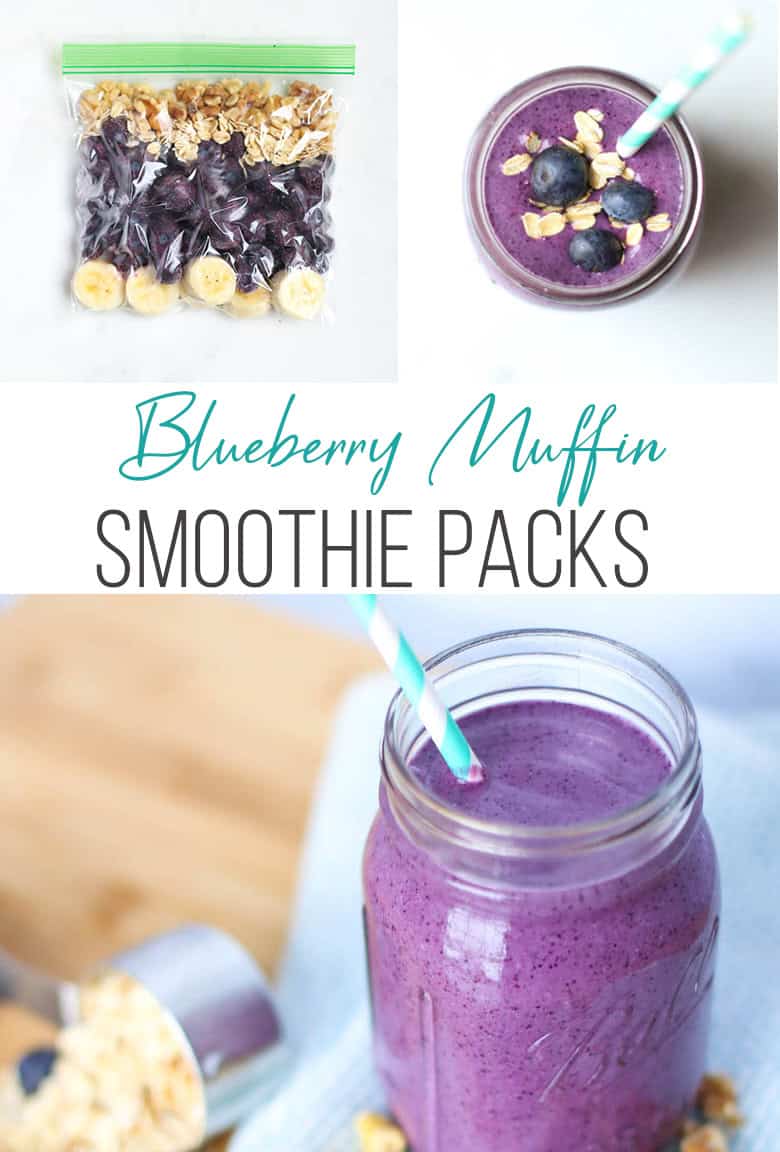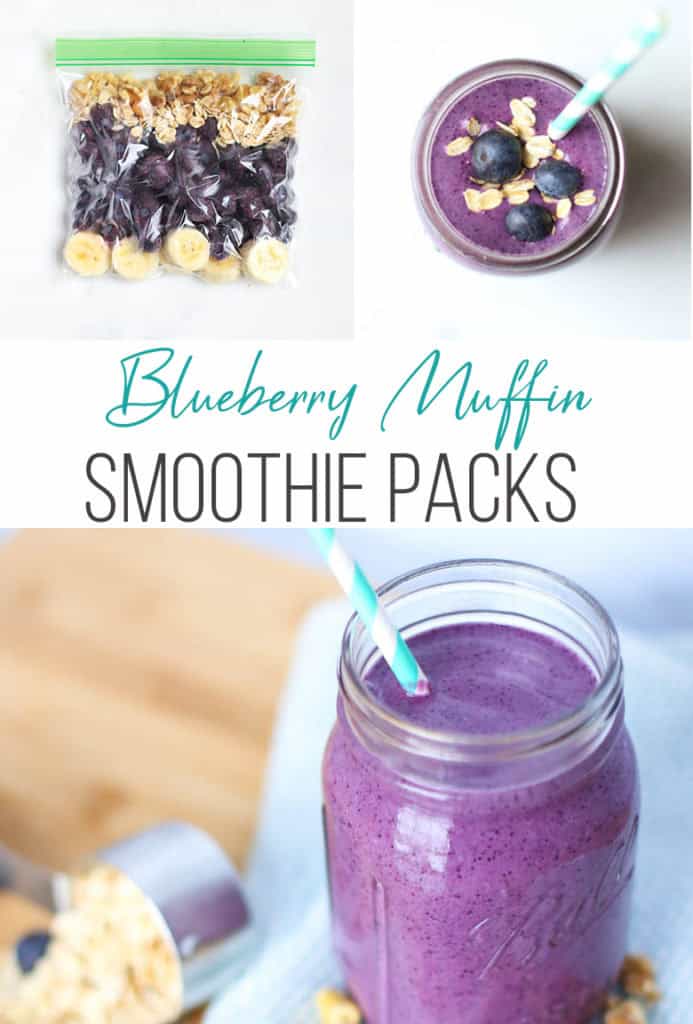 Since we are tongue and cheek, "freezer cooking evangelists", it shouldn't be a surprise that we have mastered the art of making smoothie packs in bulk and freezing them. This smoothie-making hack will save you a lot of time and money in the long run. We also find that we are much more likely to make a smoothie when the ingredients are already pulled together and all we have to do is add liquid.
To make this recipe a smoothie pack, simply follow our freezing instructions given below in the recipe. We prefer to make 4 smoothie packs at a time to save time and money.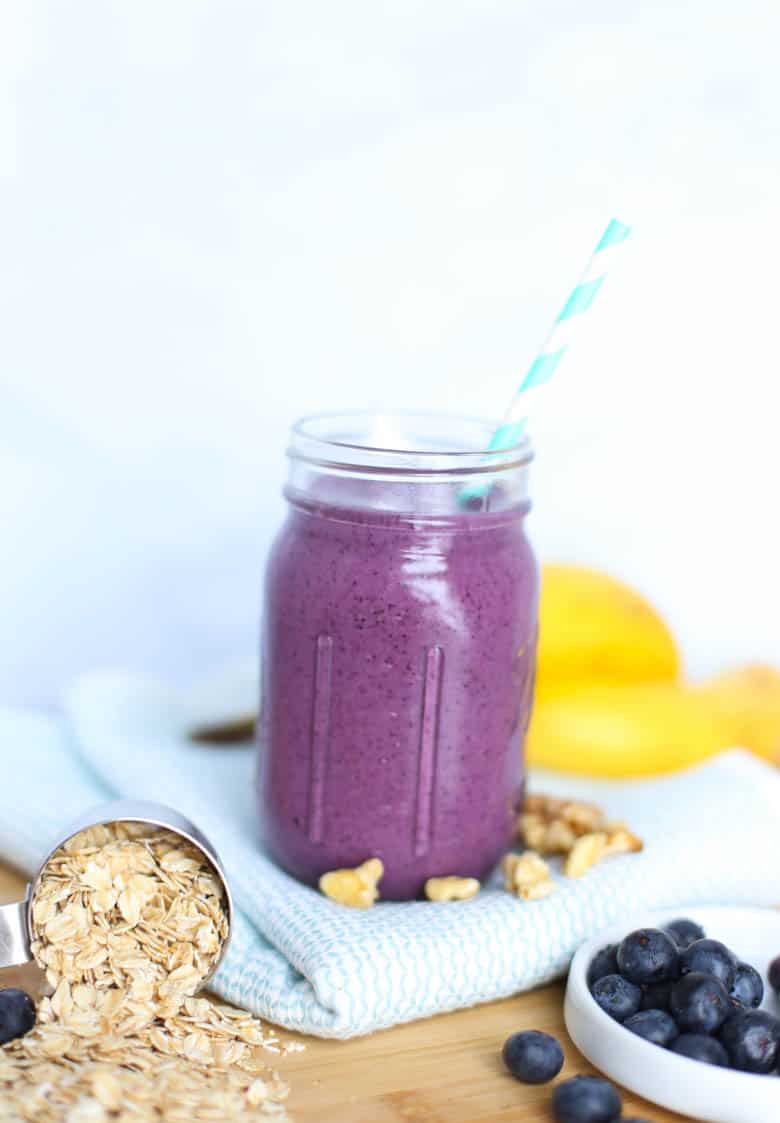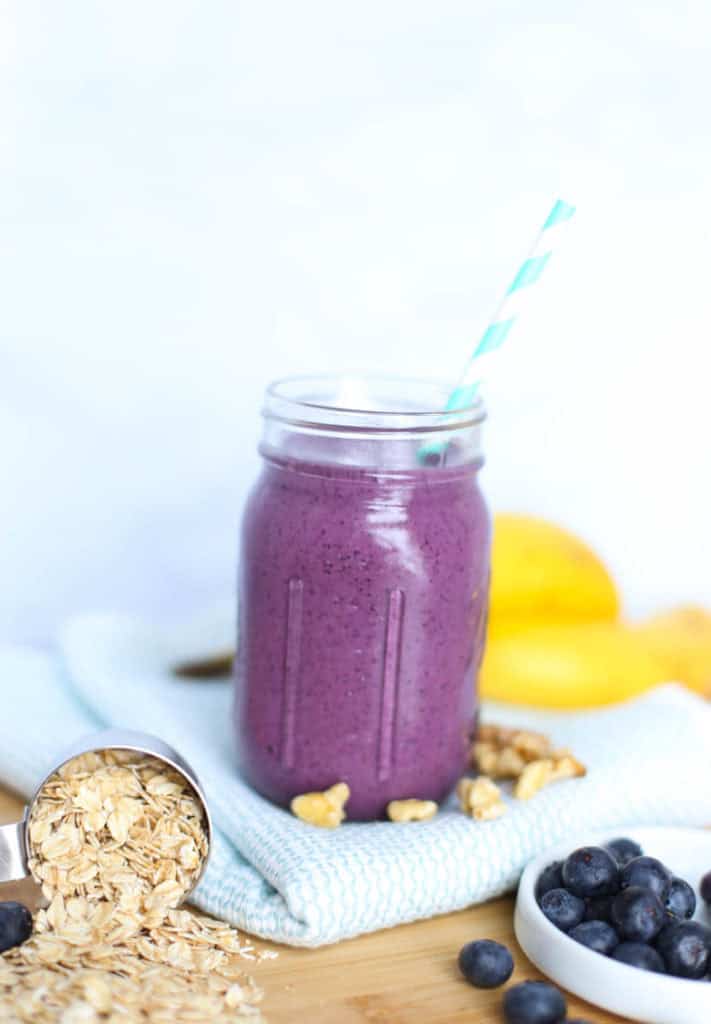 If you're trying to cut down on plastic bag use like we are, try these reusable silicone bags. We've personally tested these bags for weeks now. I've found them to be easy to rinse out and dry, and they do not leak. They seem well made and worth the investment.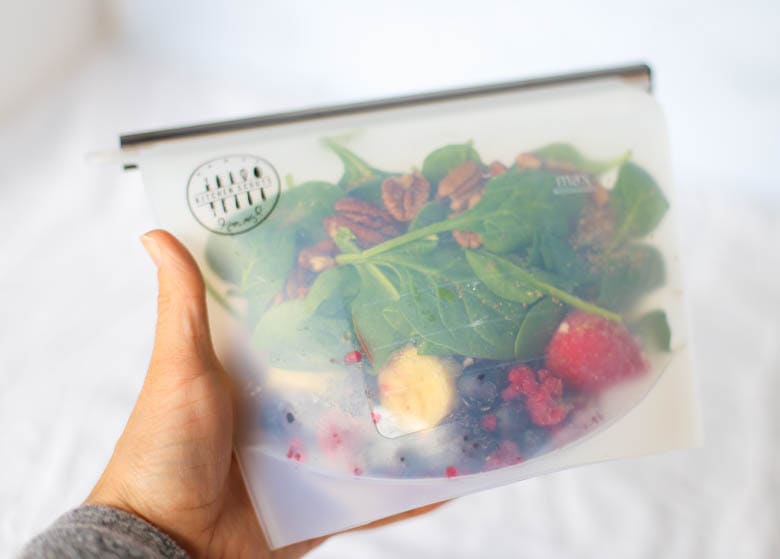 With a high-powered blender like this one or this one on hand, along with a few simple ingredients, your family will enjoy this easy, healthy smoothie for breakfast or a snack anytime.
Print

Blueberry Muffin Smoothie
Author:

Prep Time:

3 minutes

Total Time:

3 minutes

Yield:

Approx. one (16 ounce) smoothie

Category:

Smoothies

Method:

Blender

Cuisine:

American
---
Description
With sweet blueberries, banana, rolled oats, a few walnuts, and milk, this beautiful and nutritious purple smoothie really does taste like a Blueberry Muffin. It's gluten-free, dairy-free, and includes freezer smoothie pack instructions.
---
Ingredients
1

–

1 1/2

cups unsweetened plain almond milk (sub: your choice of milk)

½

banana, sliced (preferably frozen for best texture)

1 cup

frozen blueberries

2 tablespoons

old-fashioned rolled oats (for GF: look for gluten-free oats)

2 tablespoons

chopped raw walnuts (sub: chopped raw pecans or almonds)
---
Instructions
Make It Now:
1. Start by adding 1 cup almond milk to a high-powered blender. Then, add all the other ingredients.
2. Blend until smooth. You may need to stop and stir/shake the blender or add up to a 1/2 cup more of almond milk, as needed, to make sure it gets smooth.
Make Freezer Smoothie Packs for Later:
1. Layer ingredients in small freezer bags (or reusable silicone bags) in this order:
½ banana, sliced 
1 cup fresh or frozen blueberries
2 tablespoons old-fashioned rolled oats (for GF: look for gluten-free oats)
2 tablespoons chopped raw walnuts (sub: chopped raw pecans or almonds)
2. Seal tightly, squeezing out the air, and freeze for up to 3 months.
3. To Blend: Pour 1 cup almond milk into a high-powered blender first. Break up the ingredients in the bag by hitting it on the counter or crunching it with your hands. Dump the ingredients from the bag in and follow blending instructions above.
https://thrivinghomeblog.com/wp-content/uploads/2019/01/Blueberry-Muffin-Smoothie-web-13.jpg
1092
780
Polly Conner
https://thrivinghomeblog.com/wp-content/uploads/2019/10/thrivinglogo.png
Polly Conner
2019-02-04 10:00:00
2021-04-06 11:33:46
Blueberry Muffin Smoothie (+ Freezer Pack Instructions)