This post may contain affiliate or sponsored links. Please read our disclosure policy.
Raspberries and lemon zest star in this delicious, make-ahead Raspberry Overnight Oats recipe that just takes minutes to put together and lasts for days in the fridge. Whip up a few batches when fresh raspberries are in season or make them anytime with frozen raspberries.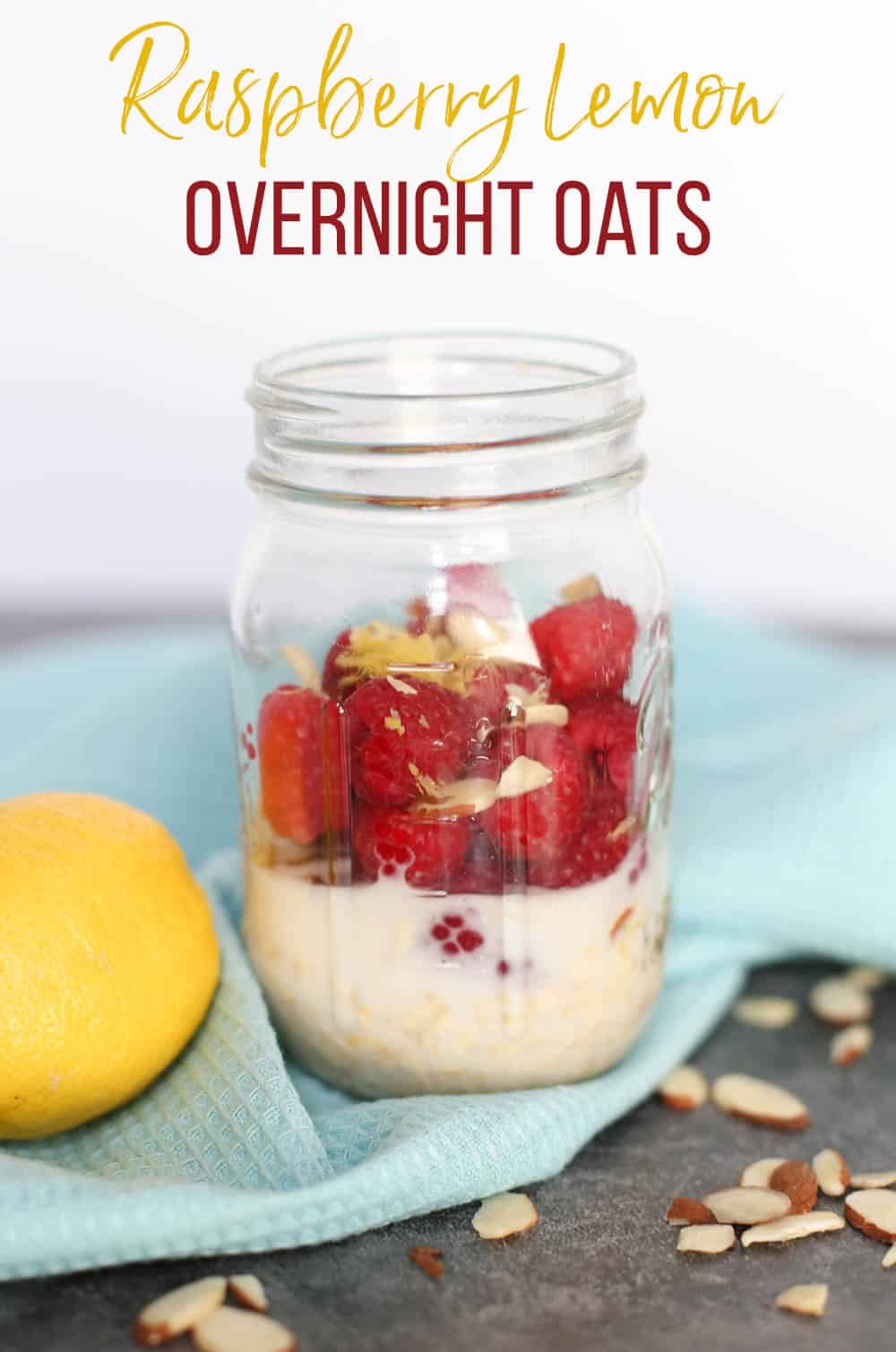 Benefits of Overnight Oats
Super Tasty: This version of overnight oats is light and bright and full of flavor. The lemon zest really adds something special to raspberry overnight oats.
Make-Ahead: Similar to our 7 Smoothie Freezer Packs, you can whip up several of these on the weekend and have breakfast ready to go for the week. They just take minutes to put together.
No Cooking Involved: The oats soften in the liquid as it sits in the refrigerator, which means no cooking is needed. Powerball Cookies are another popular no-cook recipe on our site.
Super Healthy: Breakfast doesn't get much healthier than this! Just check out all the benefits of oats alone, according to Harvard School of Public Health. The combo of fresh or frozen fruit, whole grains, and other nutritious add-ins provides fiber, protein, antioxidants, and valuable minerals.
Eat On the Go: Whether you have just a few minutes before you leave for the day or need to eat breakfast in the car or at your desk, this breakfast-in-a-jar fits the bill! Eat these overnight oats cold or warm. (Read on for tips for serving.) Check out more Healthy On-the-Go Snacks.
Ingredients
In addition to vanilla Greek yogurt and some milk, here's what you'll need for this particular version of overnight oatmeal: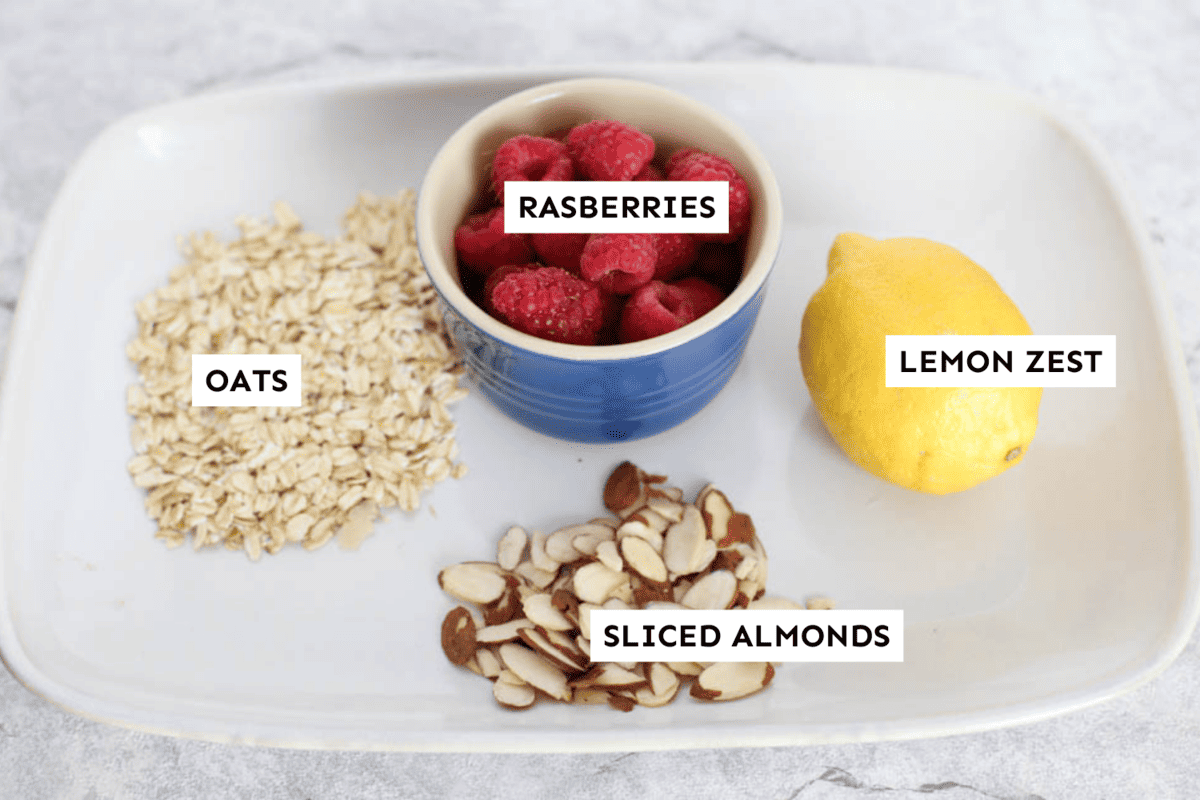 Ingredient Notes:
Oats – Rolled oats (or old-fashioned) work best for this recipe. However, if you only have quick oats, you can use them. They won't take as long in the fridge and they will be a mushier texture than rolled. You can also use steel-cut oats, but they will take longer to soften and you may need to add more liquid.
Almonds – We like the variety of texture and added protein of the sliced almonds, but you can replace them with any chopped nut like pecans, almonds, pistachios, or walnuts.
Milk – Feel free to use any plain milk you want for this recipe. I've tested with 2% milk and almond milk and both work well.
How to Make Raspberry Overnight Oats
In just 4 simple steps, you can throw together your overnight oats and be ready for the week. Here's the basic method:
1 – Build the Base: In a 12- to 16-ounce Mason jar, pour in your favorite (unsweetened) milk. Add old-fashioned or rolled oats and your all-natural sweetener of choice (pure maple syrup or honey).
2 – Add Fruit: Raspberries are the starring fruit in this version, which adds more sweetness, flavor, and nutrition.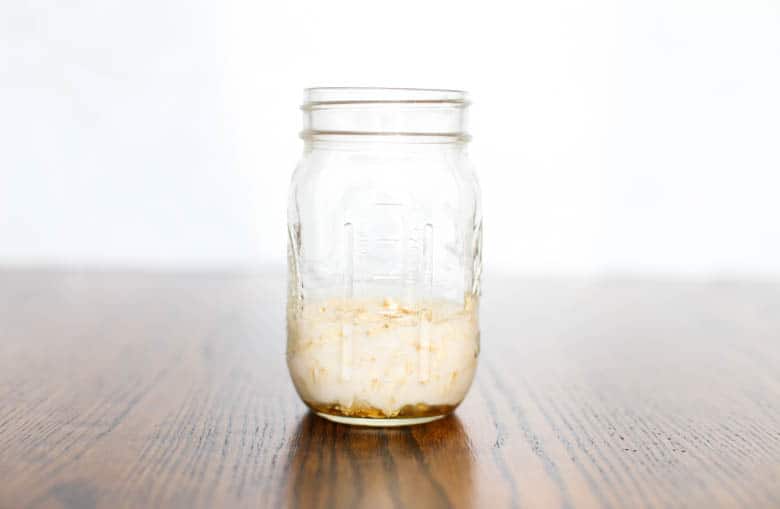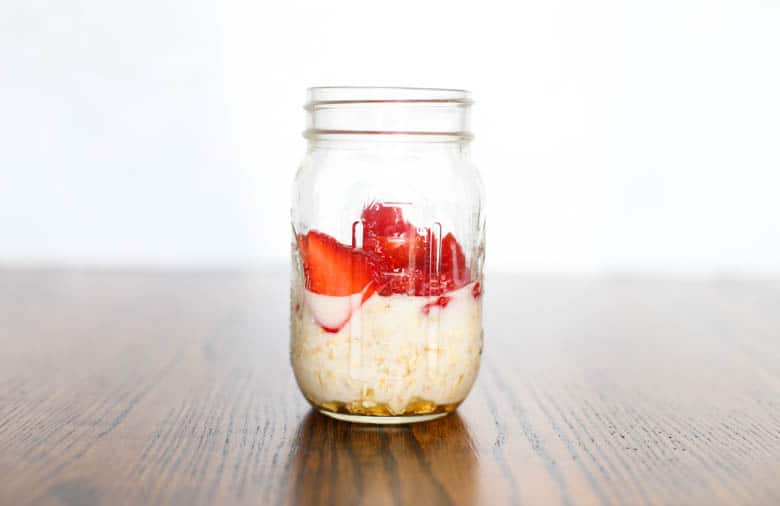 3 – Add Toppings: Pour in the remaining add-ins. For this recipe, it's lemon zest, sliced almonds, and Greek yogurt.
4 – Shake and Refrigerate: Seal and shake. Set in the refrigerator for up to 3 days for this version.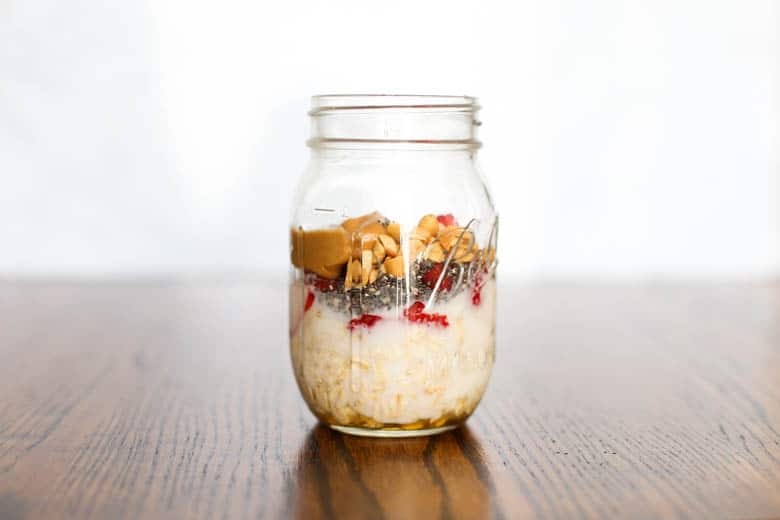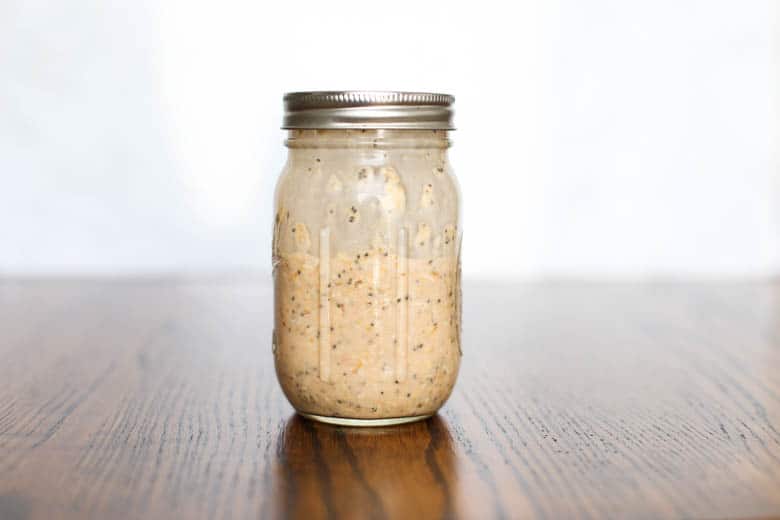 Do I Eat Overnight Oats Warm or Cold?
We hear this question a lot. The best way to serve overnight oats is…whatever you like best! Eating them cold or warm works.
Serve Overnight Oats Cold: Shake the jar. Stir in a little extra milk if it's too thick and more sweetener if you'd like. Grab a spoon and eat your oats cold. This is the perfect solution for those mornings when you're on the run!
Serve Overnight Oats Warm: This is our preferred way to serve overnight oats. Shake the jar and then remove the lid. Warm the oats in the microwave for about 45 seconds. Stir. Add more milk or sweetener as needed. Warm up even more, if desired.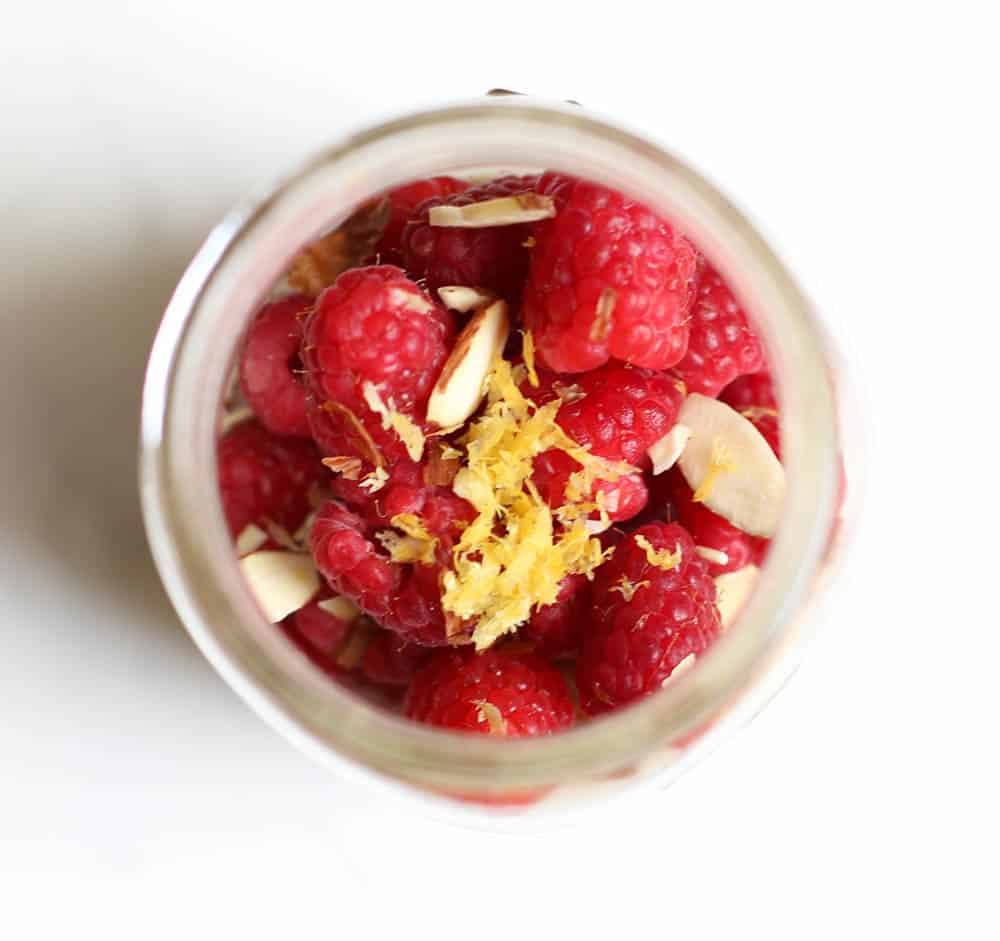 Can I use steel cut oats for overnight oats?
While rolled oats are the most commonly used oats for overnight oats because they soften more quickly, you can use steel cut oats. However, you'll need to increase the soaking time and may want to use more liquid to ensure they soften adequately.
Can I use quick oats instead of rolled oats?
Yes, but the texture will be much mushier, almost porridge-like.
What kind of liquid can I use for overnight oats?
You can use various liquids like plain cow's milk, almond milk, soy milk, or coconut milk, depending on your dietary preferences and taste.
How long do overnight oats have to sit in the refrigerator before I can eat them?
If using rolled oats, they ideally need to sit at least 4 hours but are even softer and better after 6-8 hours in the fridge.
How long do overnight oats last in the refrigerator?
It's best to eat overnight oats within about 3-5 days, especially if you added in fresh or frozen fruit. After that, the texture and quality of the oatmeal deteriorate.
Can I leave out the yogurt?
Yes, you can leave out the yogurt but do add in a splash of vanilla extract if you do. If you just want to avoid dairy, try using a dairy-free yogurt instead.
Can I add protein powder to overnight oats?
Sure! Adding protein powder will increase the protein and calories. If using a sweetened protein powder, be sure to cut back on the sweetener in the overnight oats recipe. You may also need to add more liquid
More Overnight Oats Recipes
We are obsessed with overnight oats! Prep a few of these overnight oats ahead of time and enjoy healthy, hearty breakfasts throughout the week.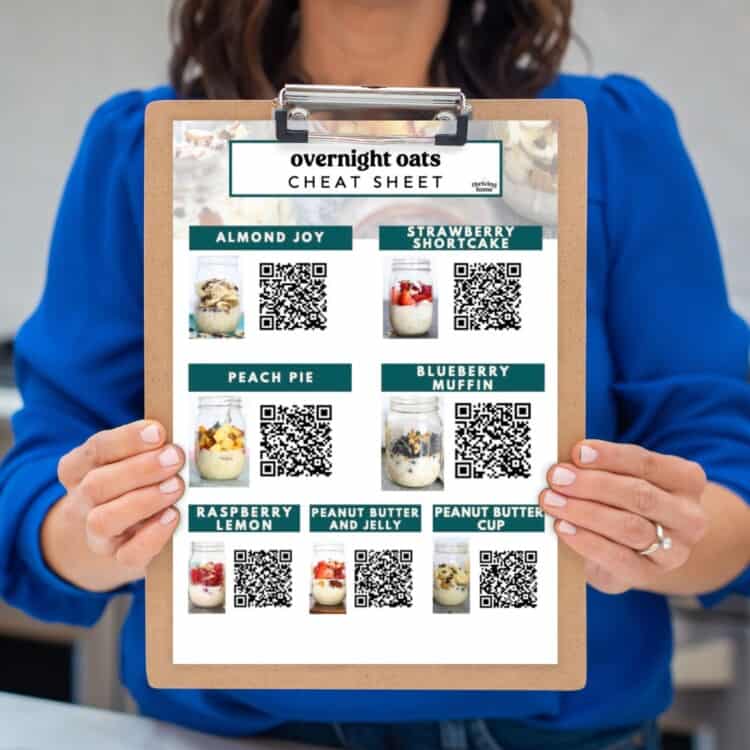 7 Overnight Oats Cheat Sheet
We'll send you all 7 of our popular overnight oats recipes, so you can have them in one place. Download and print it for free!
Download the Cheat Sheet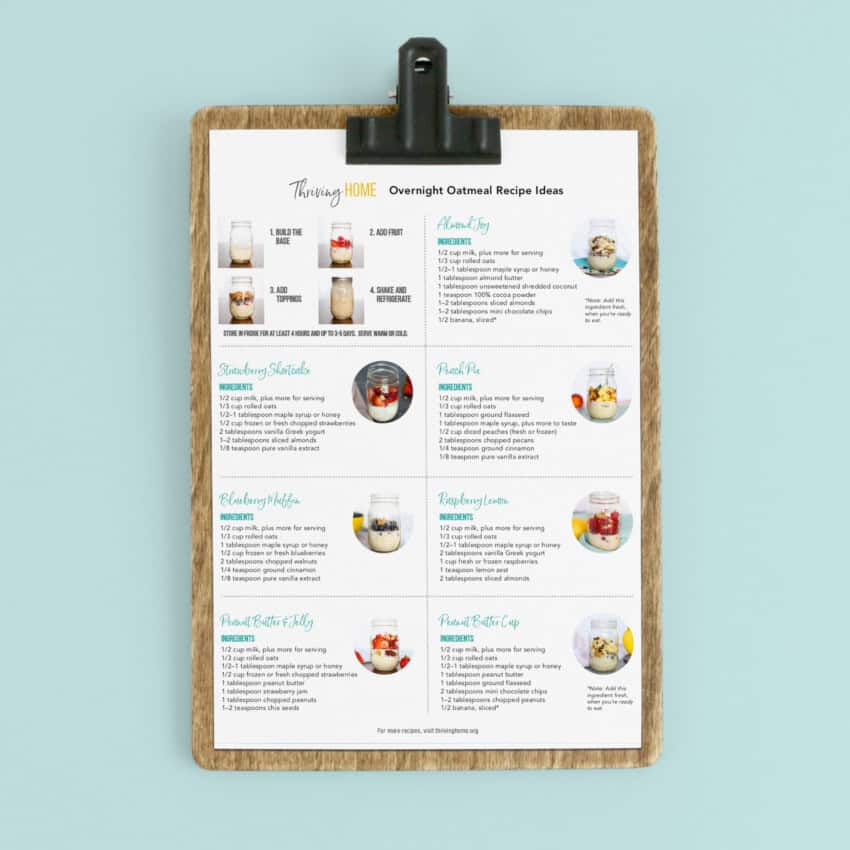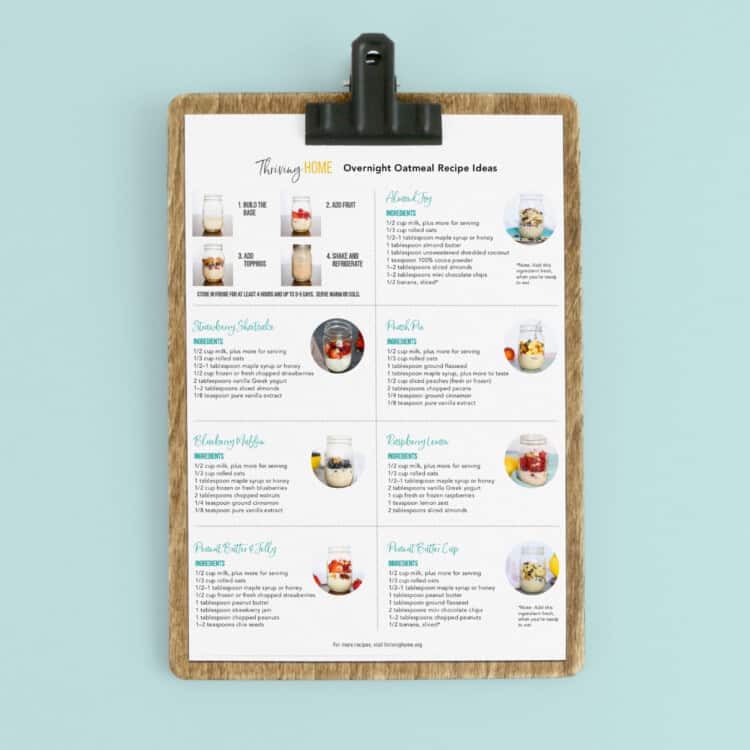 Did you make this? Snap a photo and tag us on Instagram at @thrivinghome so we can see your creations and cheer you on!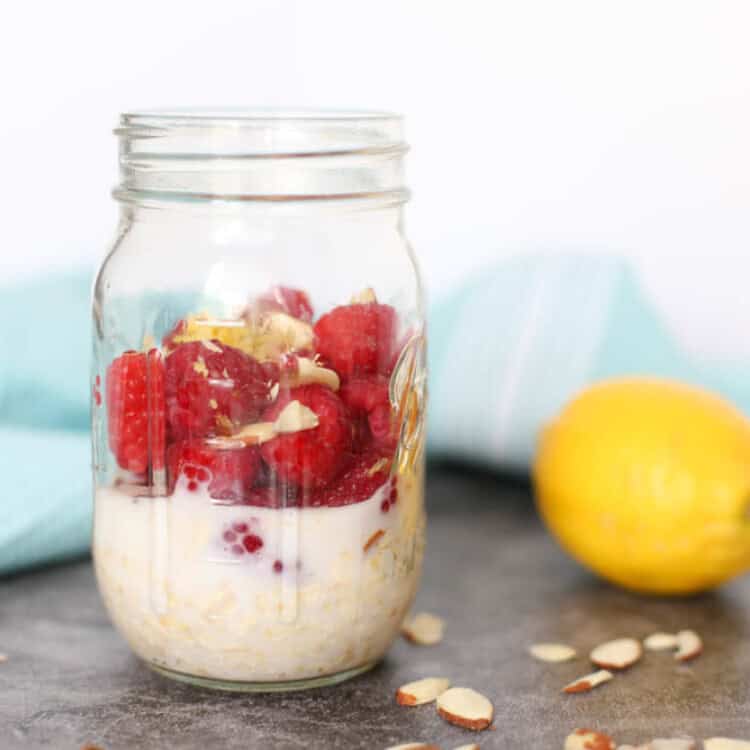 Raspberry Overnight Oats
Raspberries and lemon zest star in this delicious, make-ahead Raspberry Overnight Oats recipe that takes just minutes to put together. 
Prep:
5 minutes
Cook:
4 hours
Total:
4 hours 5 minutes
More Lemony Recipes You Might Like