This post may contain affiliate or sponsored links. Please read our disclosure policy.
This Monster Cookie recipe has been tucked away in my recipe stash for years. You'll find that this cookie is easy to make and your people will gobble them up.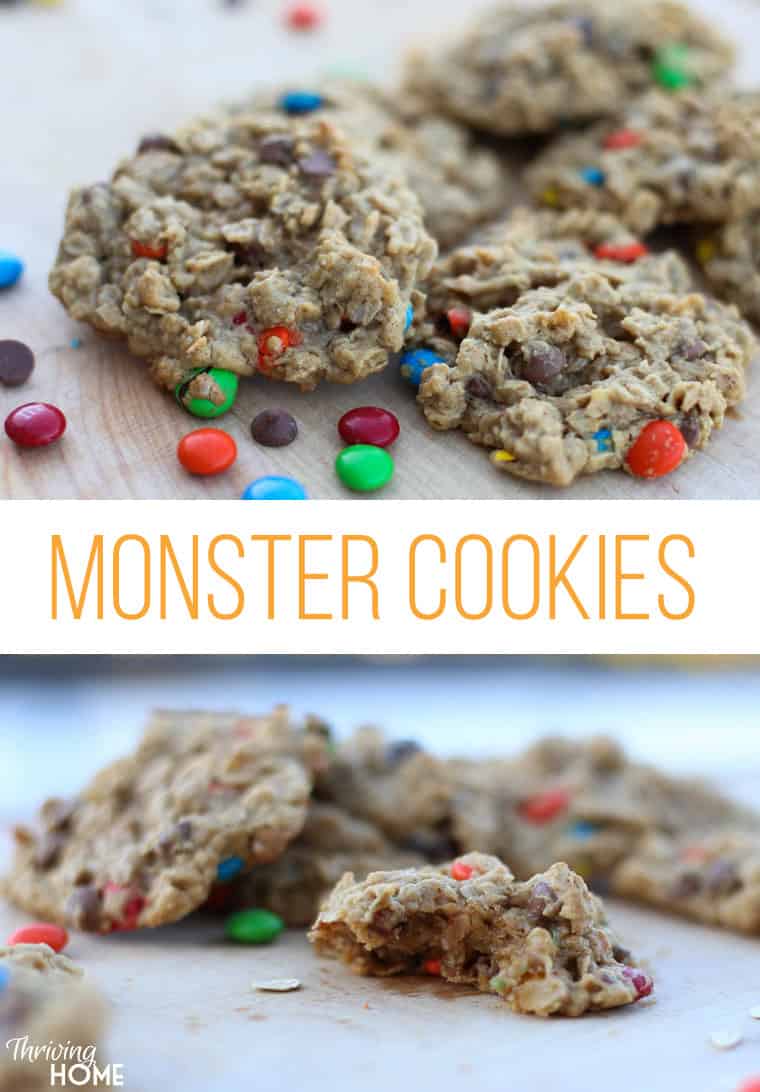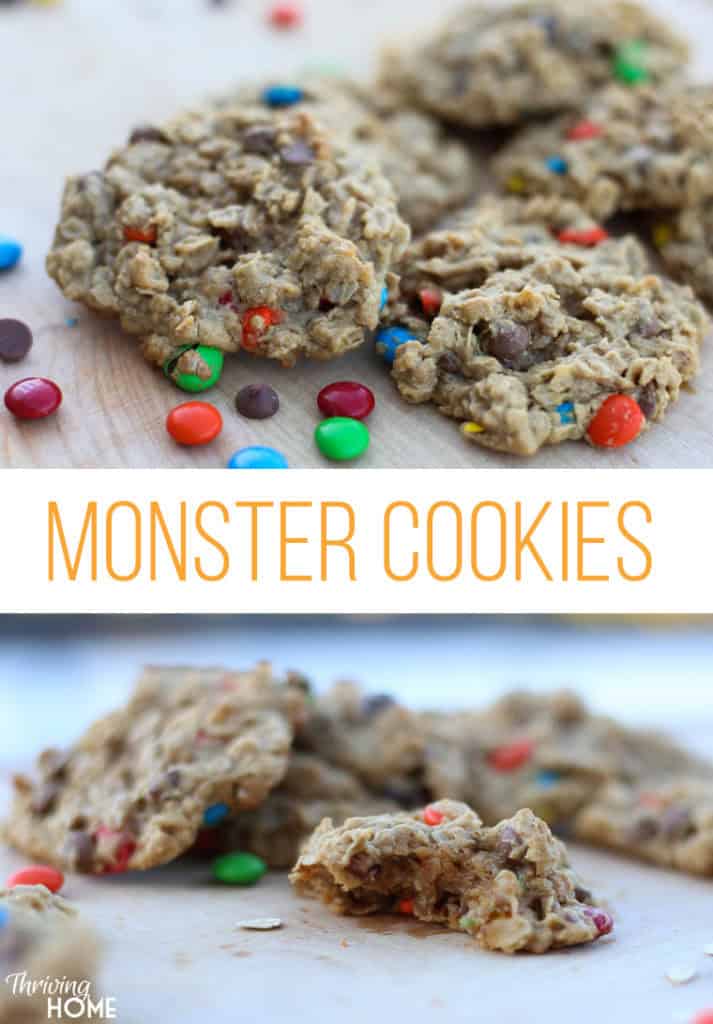 About This Recipe
My memory is a little fuzzy on where I originally got this recipe. I think I snagged it at my friend, Jeanna's wedding shower many years ago. She might be scratching her head as she reads this and text me to tell me I'm crazy. I blame the mom brain.
While I'd love to give proper credit to the originator of this recipe, Jesus knows who you are. I don't. God bless you for sharing it with me so I can share it with the world.
Because guys, these cookies are good.
REAL good.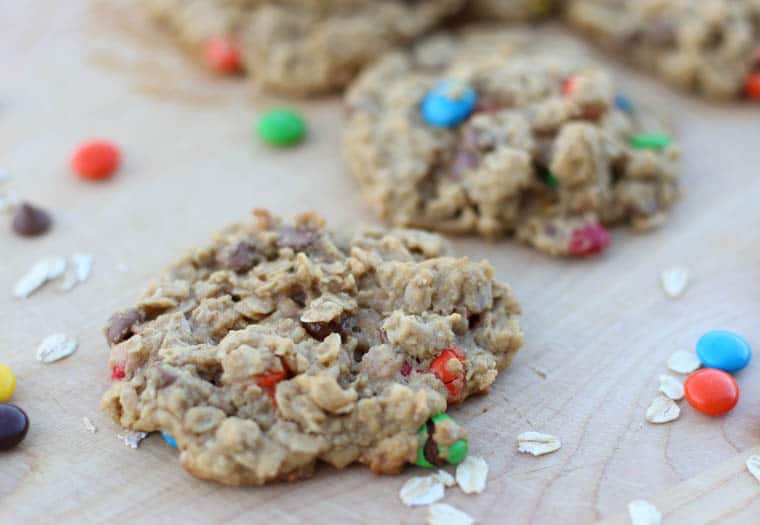 What's in Monster Cookies?
What's interesting to me about these Monster Cookies is that there is no flour in the recipe. Nada. Just a lot of oats, peanut butter, and sugar. Shocker, I know.
It's a super simple recipe to make too. Just mix together all of the ingredients minus the chunky stuff.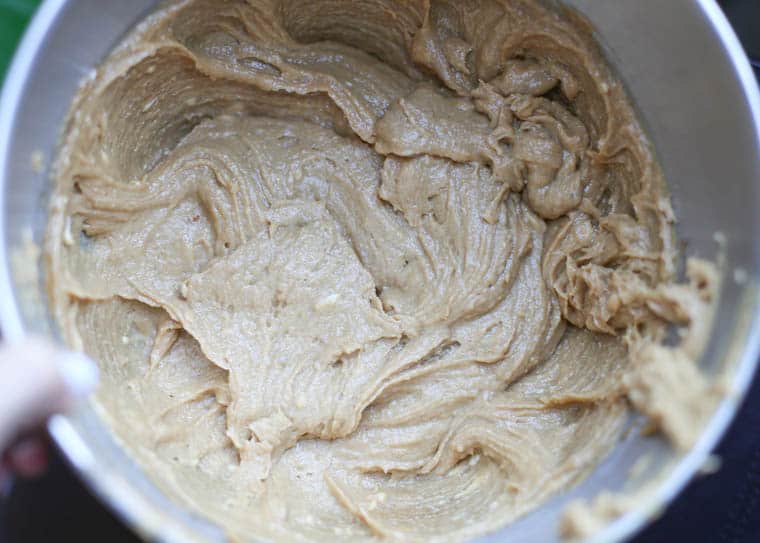 What's the chunky stuff I'm referring to? Oh you know, just all the things good in the world. See below.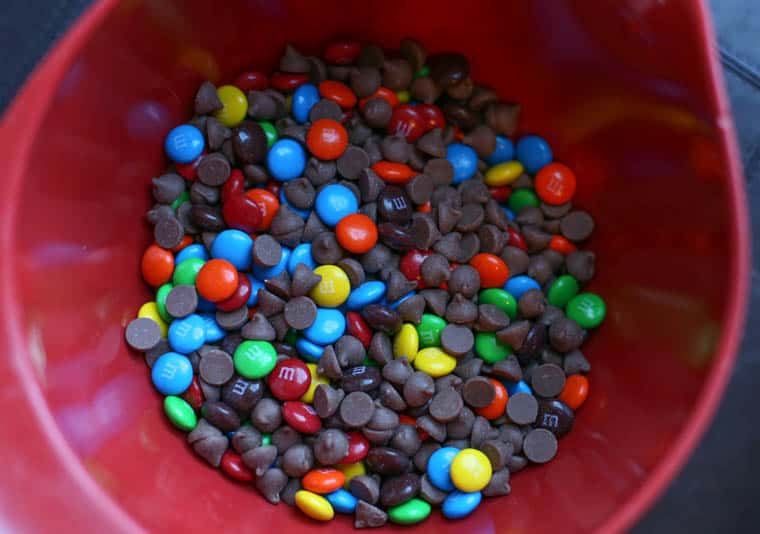 After that, stir in 4 1/2 cups of old-fashioned oats. Not a typo. Lots of oats. Probably why the recipe can get away with no flour.
Stir it up.
Try not to eat.
At least too much.
Think: 3 raw eggs in this mix.
As if that's ever stopped me before.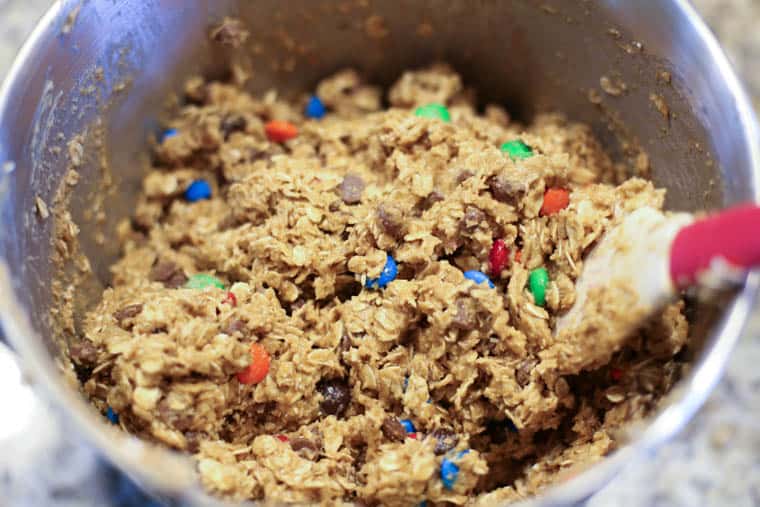 I digress.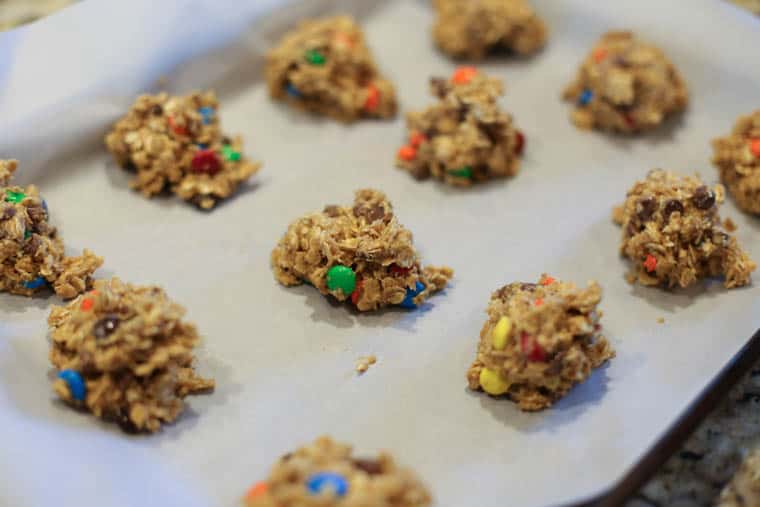 I found that using a 1/4 measuring cup to scoop these out on a sheet was about right. Plop them on there and don't worry about squishing them down. They'll mellow out on their own.
How Long do I Bake Them?
Now here is the key to taking these to the next level. Only bake them for 10-12 minutes. At 12 minutes you are going to think, "These don't look done. That blogger is wrong. I need to cook these longer."
Wrong wrong wrong.
Take them out!
BUT. You must let them cool down for at least 30 minutes. If you try too early, they will fall apart and you will send curses my way. Patience, my friend.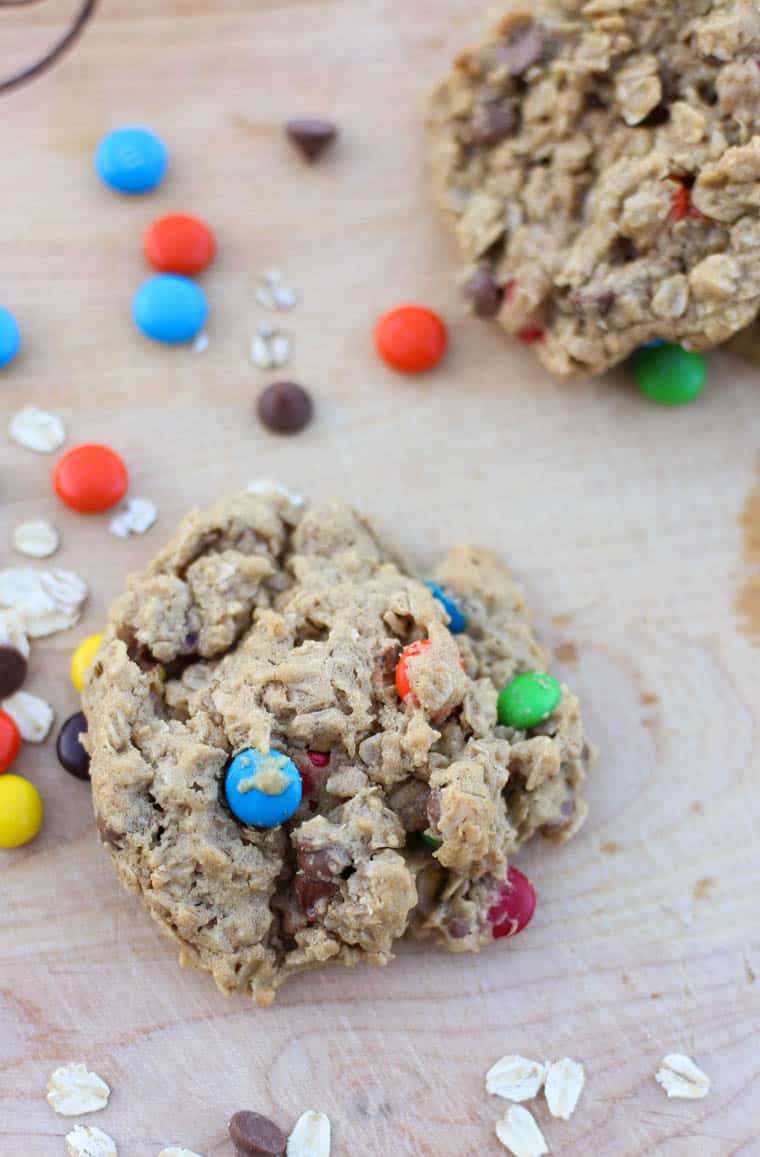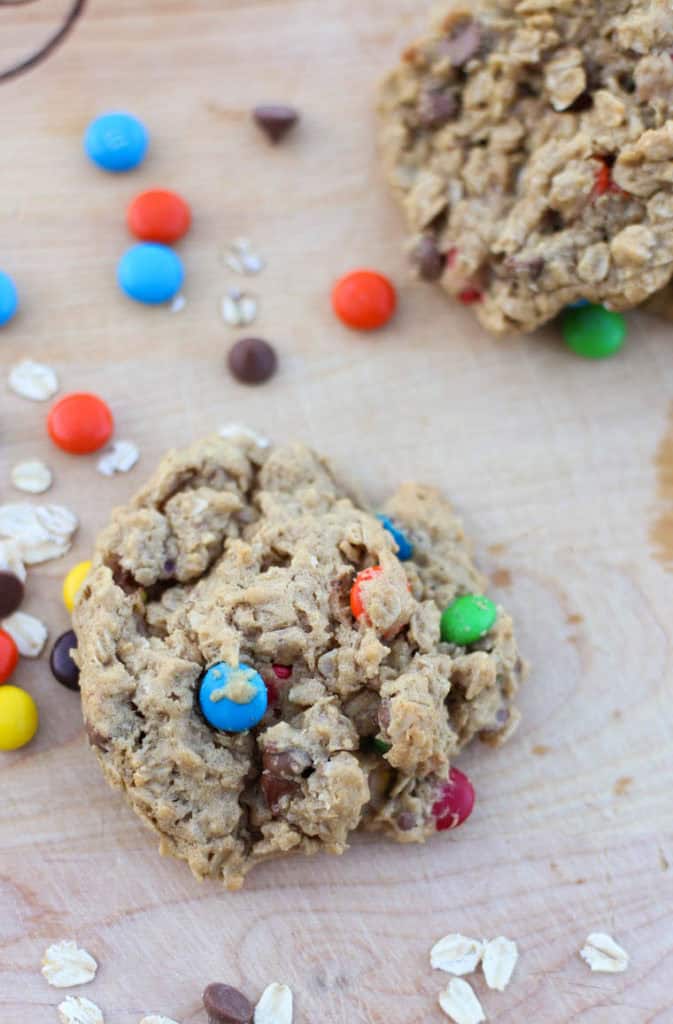 How Long do They Last?
Another thing I love about these cookies is that they don't dry out very quickly. You know how most cookies the next day are just, meh. Not so with these beauties. They stay moist and will beckon to you night and day for a good 2 days.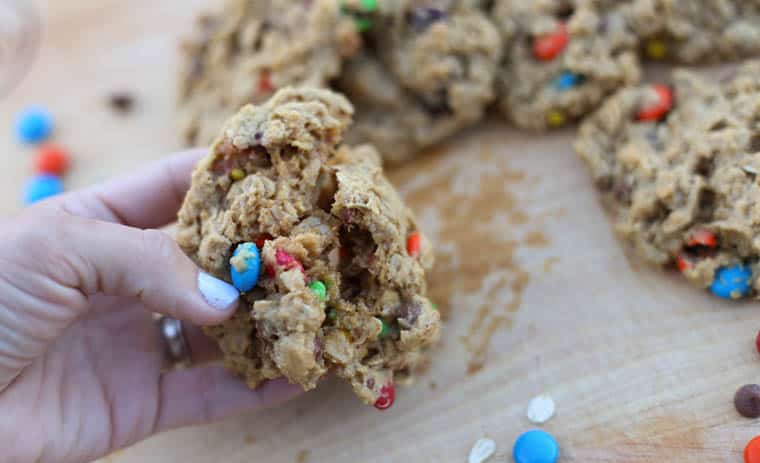 Good luck.
Are Monster Cookies Gluten-Free?
If you try to avoid gluten in your diet, here's the good news: Oats are naturally gluten-free. However, they are oftentimes processed in a factory where cross-contamination can happen. Look for a "certified gluten-free" label on your oats, if avoiding all gluten is important to you.
MORE COOKIES TO TRY
If you like these cookies, try one of our other yummy recipes.
Did you make this? Snap a photo and tag us on Instagram at @thrivinghome so we can see your creations and cheer you on!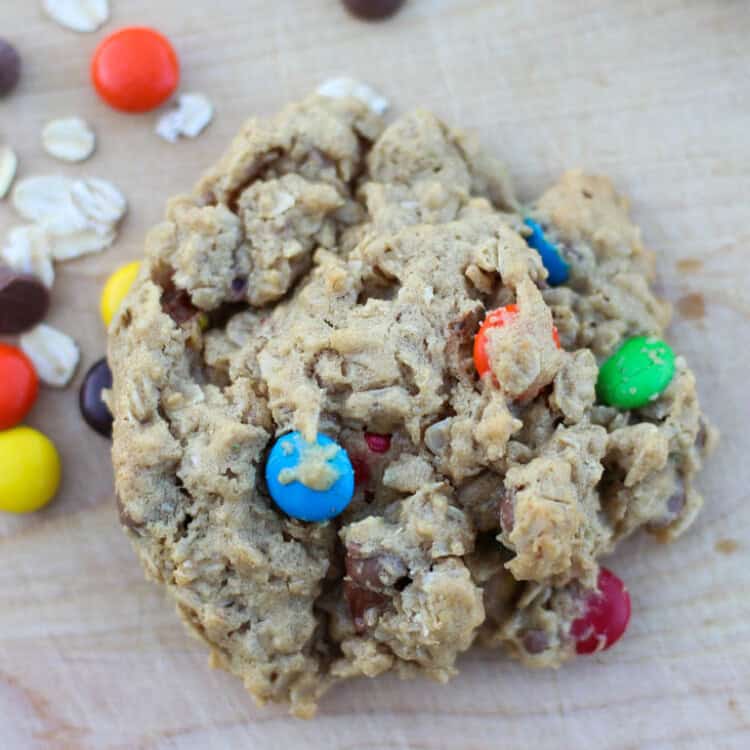 Monster Cookies
Monster Cookies are the all-in-one kind of cookies to bring happiness in every bite.
Prep:
10 minutes
Cook:
12 minutes
Total:
22 minutes
Ingredients
1/2

cup

butter (1 stick), softened

1 1/2

cups

peanut butter

1

cup

brown sugar

1

cup

white sugar

2 teaspoons

baking soda

3

eggs

2 teaspoons

vanilla

1

cup

M&M's

1

cup

chocolate chips

4 1/2

cups

old-fashioned oats (Quick oats will work in a pinch.)
Before You Begin! If you make this, please leave a review and rating letting us know how you liked this recipe! This helps our business thrive & continue providing free recipes.
Instructions
Preheat the oven to 325°F and line two large baking sheets with parchment paper (or spray the sheet pans with cooking spray).
In a large mixing bowl combine butter, peanut butter, brown sugar, white sugar, baking soda, eggs, and vanilla. Stir until well combined.
Stir in the M&Ms, chocolate chips, and the oats.
Using a 1/4 measuring cup to scoop dough onto lined baking sheets.
Bake for 10-12 minutes (depending on size). They will appear a tad gooey but that's ok!
Let cookies cool for at least 30 minutes on baking sheets before removing them. 
---
Notes/Tips
While oats are naturally gluten-free, oftentimes they're processed in a factory where cross-contamination can happen. Look for a "certified gluten-free" label on your oats, if avoiding all gluten is important to you.
Can I Freeze Monster Cookies?
If you find that this batch is much more than you wanted to make all at once, just freeze the dough using this tutorial. So easy!