This post may contain affiliate or sponsored links. Please read our disclosure policy.
Heaven help me, these Blueberry Crumble Bars are SO good. With a buttery sweet crust, blueberry filling, and crumble topping, this dessert will rise to the top of your list in the summer months. It can be made ahead and is even better on day 2!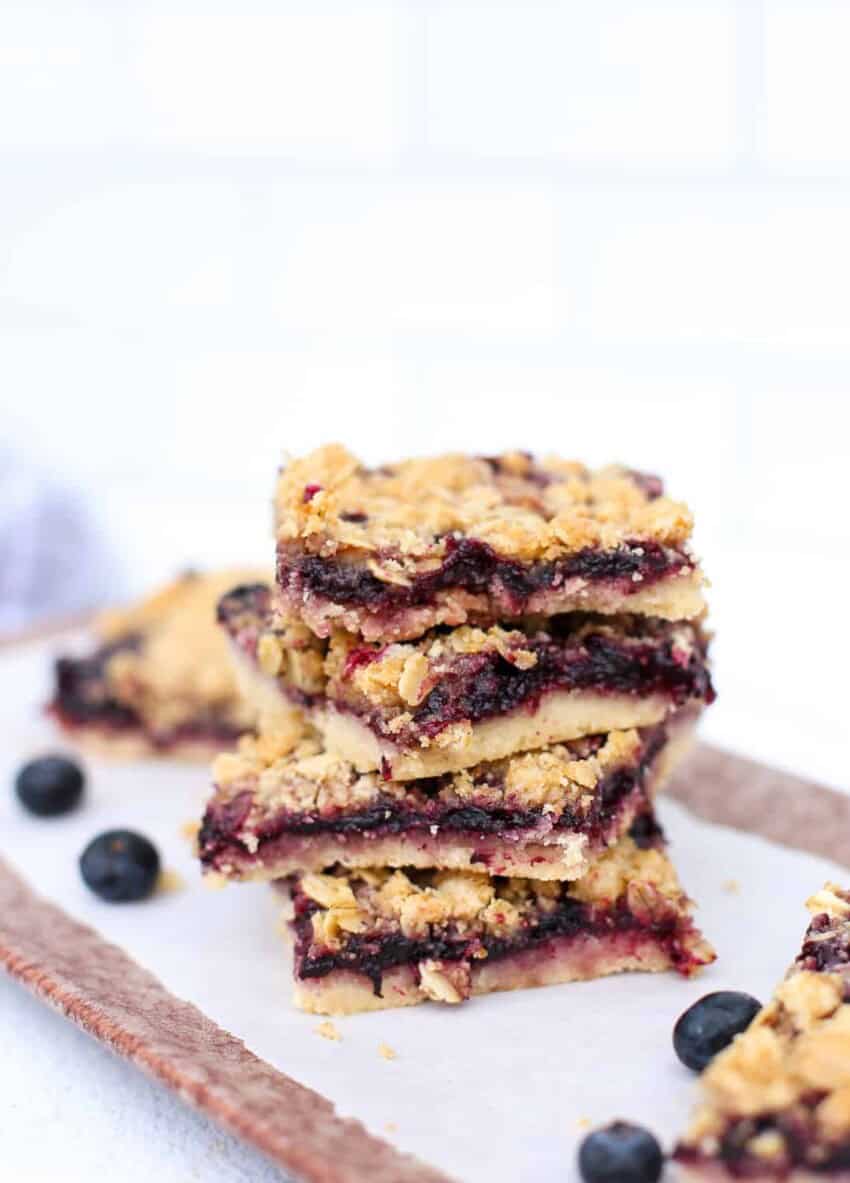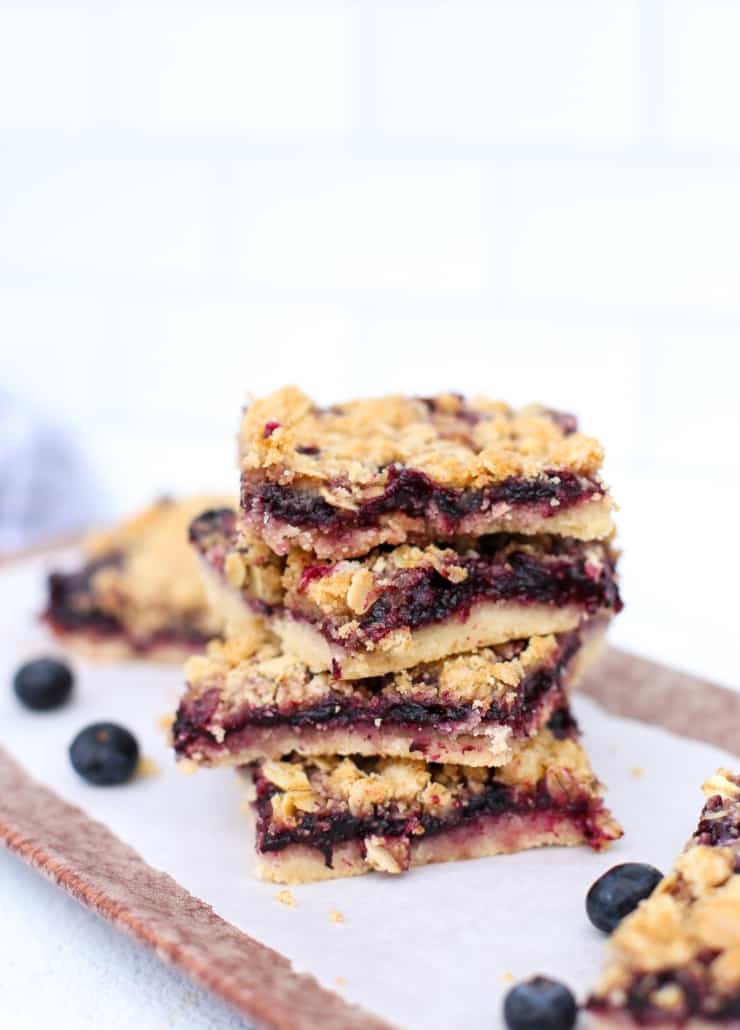 These Blueberry Crumble Bars are made of a buttery shortbread that cuts easily for sharing. On top of the shortbread is a sweet, but not too sweet, blueberry filling topped with an oat crumble topping.
I also love that they were easily portable and a great dessert to take to a gathering of friends.
Ingredients Needed
Let's talk about what you will need to make these. For such a delicious, complex-looking recipe, they are actually quite simple!
The Shortbread:
Flour – All-purpose
Sugar
Salt
Butter – Unsalted
The Filling:
Blueberry preserves – Jam will work too.
Fresh blueberries – I haven't tried frozen yet but if you do, thaw them and remove excess moisture if possible.
Lemon Juice – Fresh is always best!
The Crumble Topping:
Old-fashioned oats – Not quick oats.
Dark brown sugar – Light brown sugar will work if that's all you have on hand. Here's the difference between the two, if you're wondering.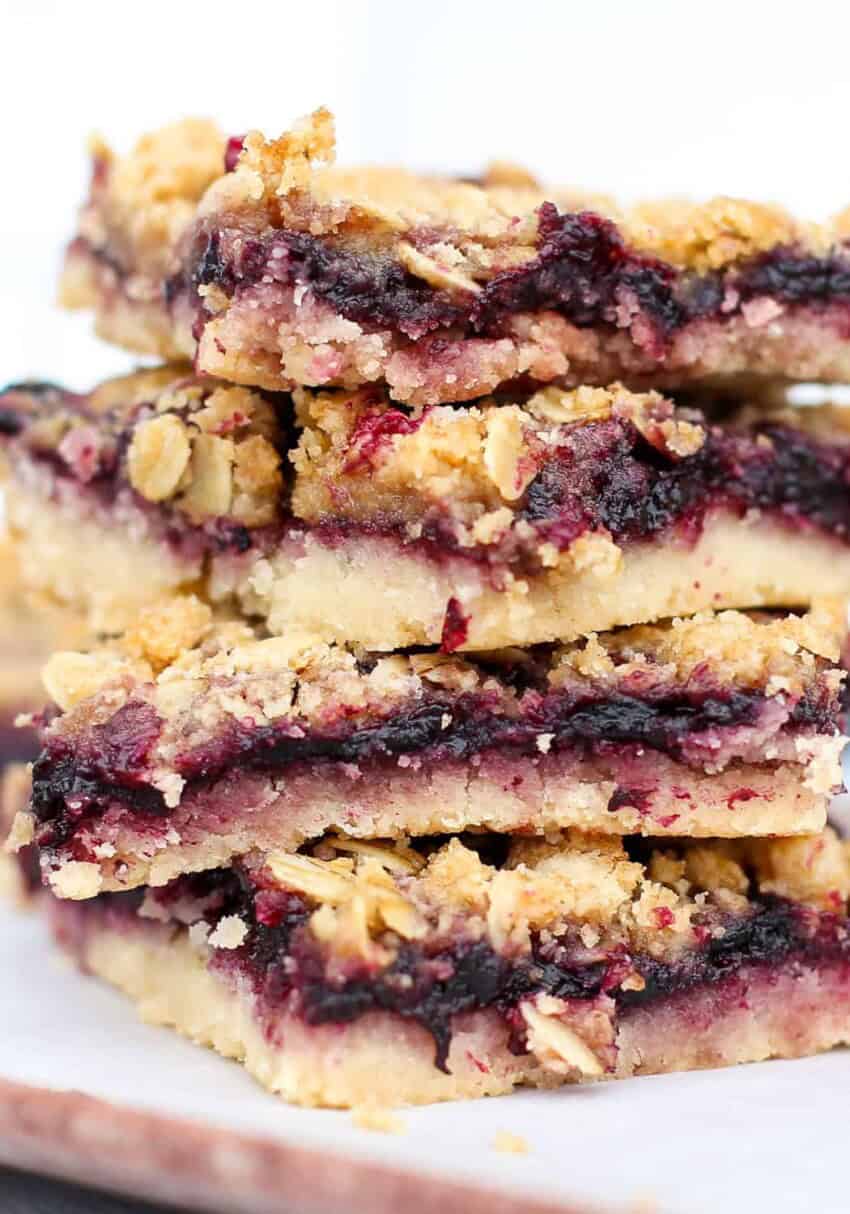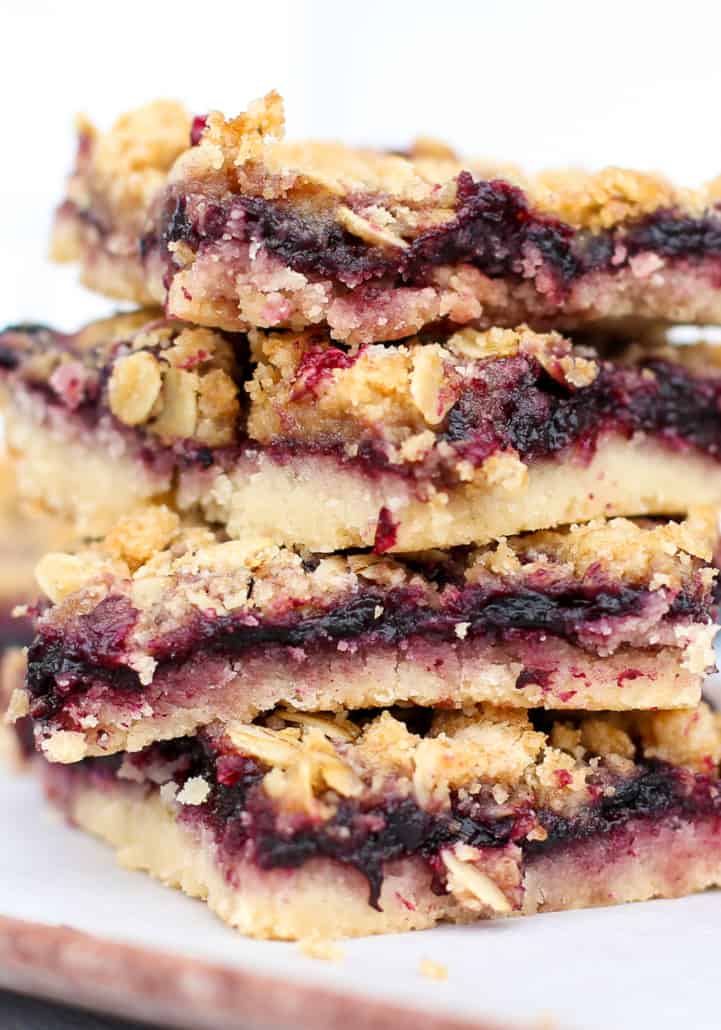 How to Make Blueberry Crumble Bars
While this recipe isn't as simple as Oreo Fluff or Blondie Brownies, the few steps it takes to get the crumble assembled are totally worth it. It's done in 3 main layers:
Shortbread Crust
Blueberry Filling
Crumble Topping
Make the Shortbread Crust
Start by lining a baking dish with foil or parchment paper, leaving an overhang on opposite sides to use as "handles" to lift the bars out afterward.
Add the flour, sugar, and salt to the bowl of a stand mixer. Give it a little stir.
Now it's time to cut in the butter. With the mixer on low, add 16 tablespoons (2 sticks) of butter, one small piece at a time. Continue mixing on low speed until the butter has been broken down into small pieces and the mixture resembles wet sand (shouldn't take much longer than a minute or two).
This is important and easily missed: Transfer 1 1/4 cups of this crust mixture to another bowl and set aside.
Dump the remaining crust mixture into the prepared pan and press into an even layer over the bottom of the pan. Like in the picture below. Kids love to help with this step!
Bake the crust for about 15 minutes.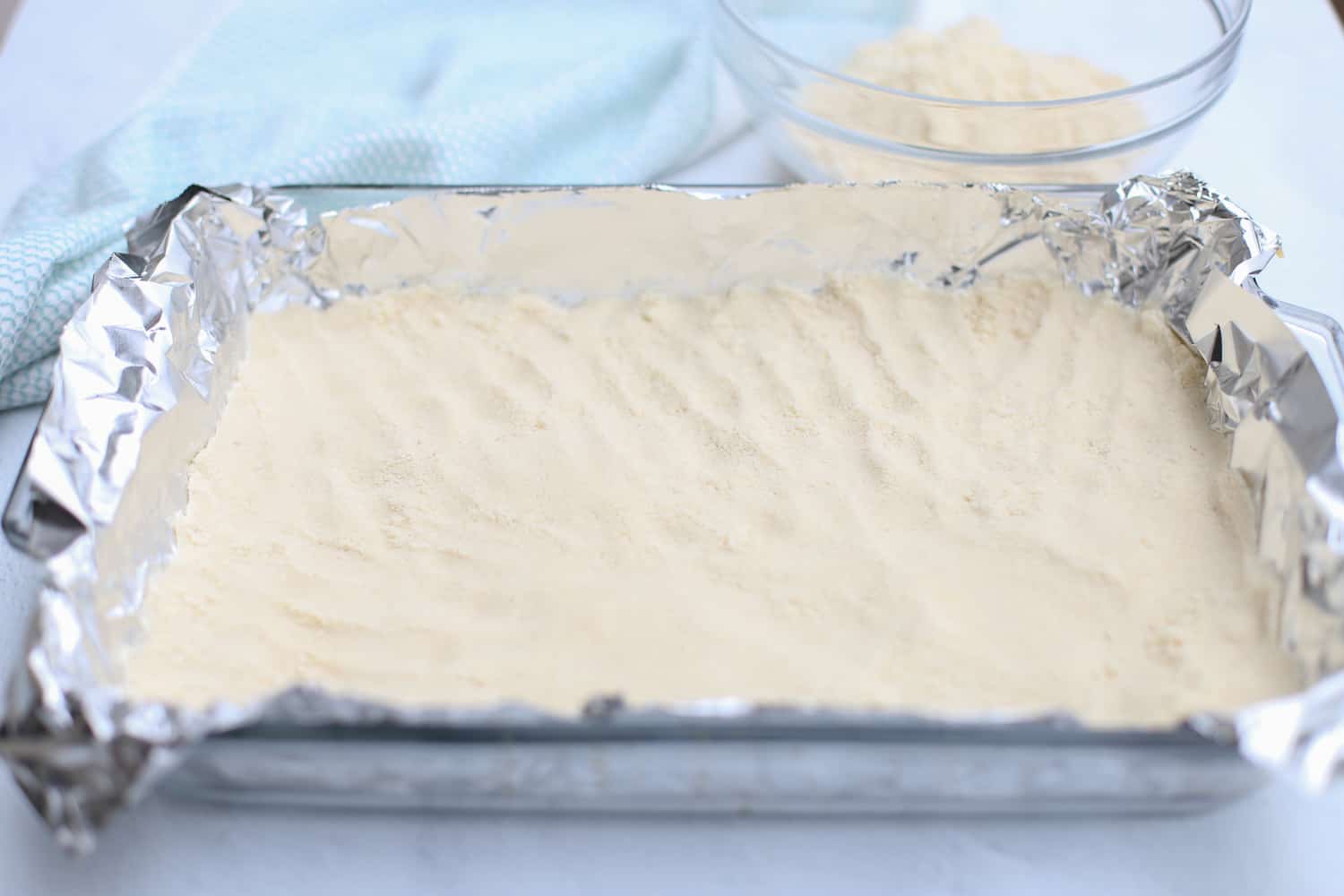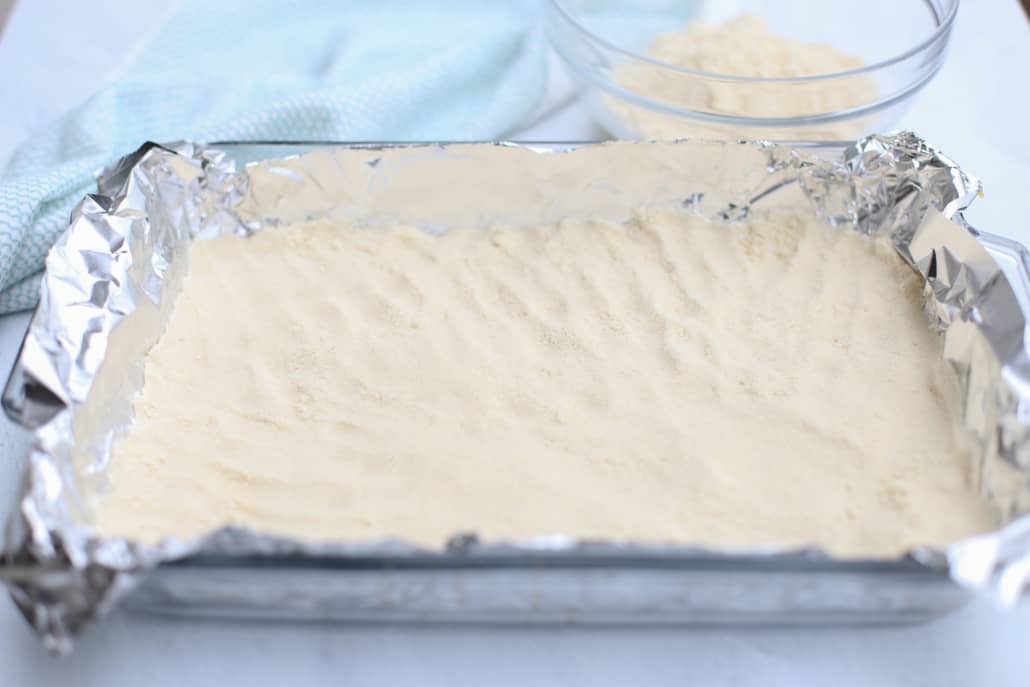 Make the Blueberry Filling
While the crust is baking, combine the blueberry preserves/jam, fresh blueberries, and lemon juice in a bowl. Mash the blueberries – you want to break them down some, but still leave some chunks resembling berries.
I used a potato masher for this step. Set aside.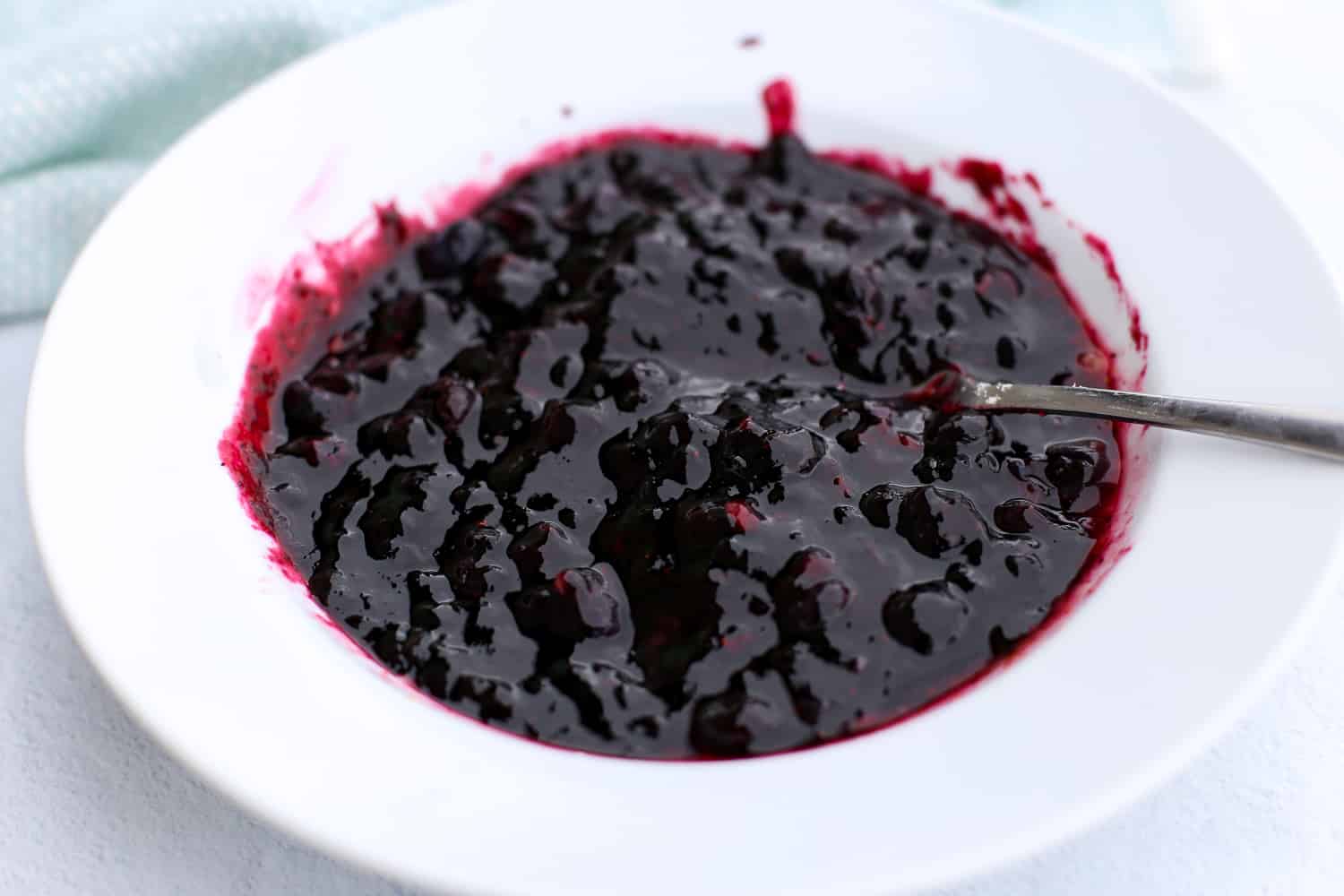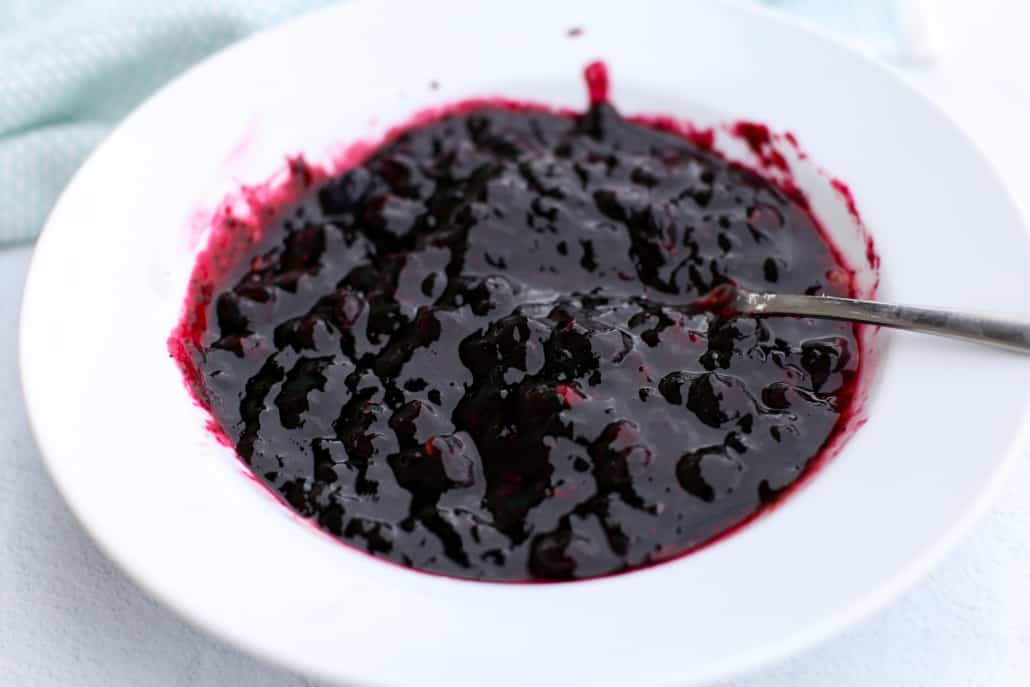 I'm a sucker for any recipe with a crumble topping (i.e. Pumpkin Spice Muffins, Blueberry Avocado Muffins, etc).
This recipe is no different. The crumble topping is a must and so easy to make. Simply add the oats and brown sugar to the bowl with the reserved crust mixture.
Stir to combine. Add the remaining two tablespoons of butter to the bowl and use your fingers (or a pastry cutter) to work the butter into the dry ingredients until combined.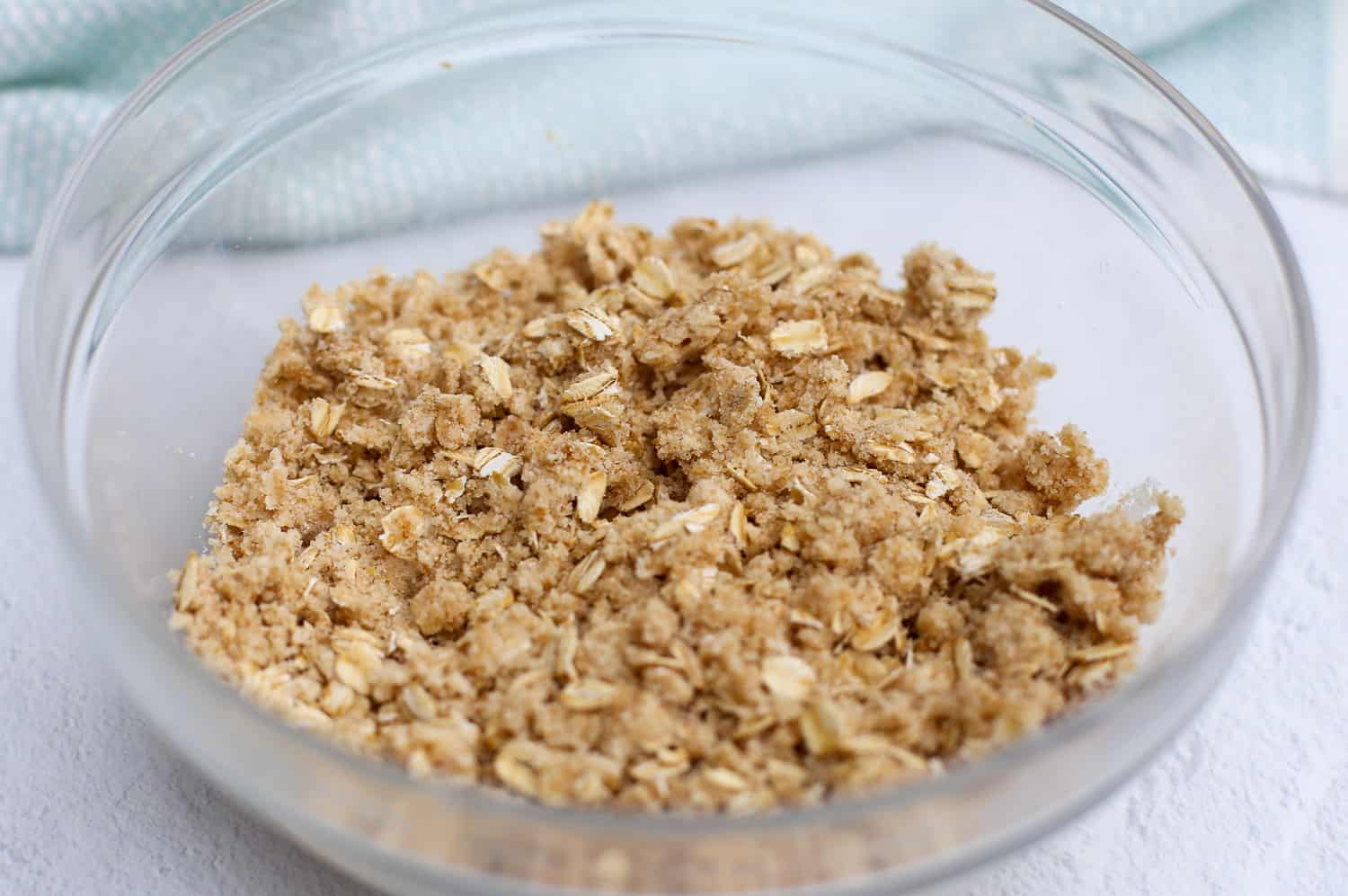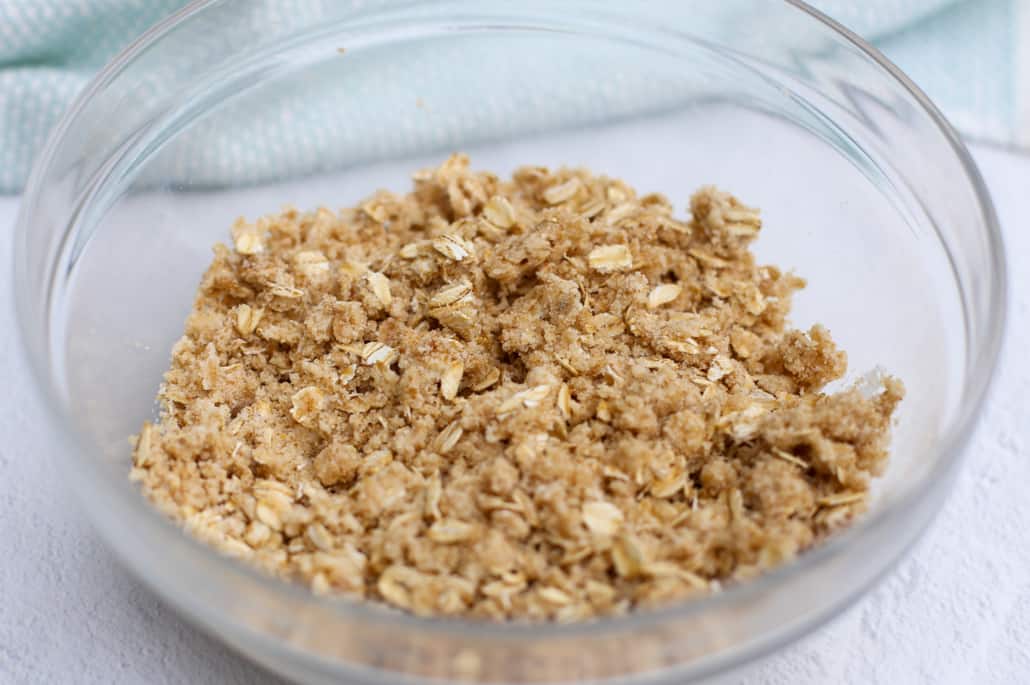 Now you're done with the 3 layers and ready to assemble.
When you remove the crust from the oven, add the filling directly on top of the hot crust. Spread in an even layer.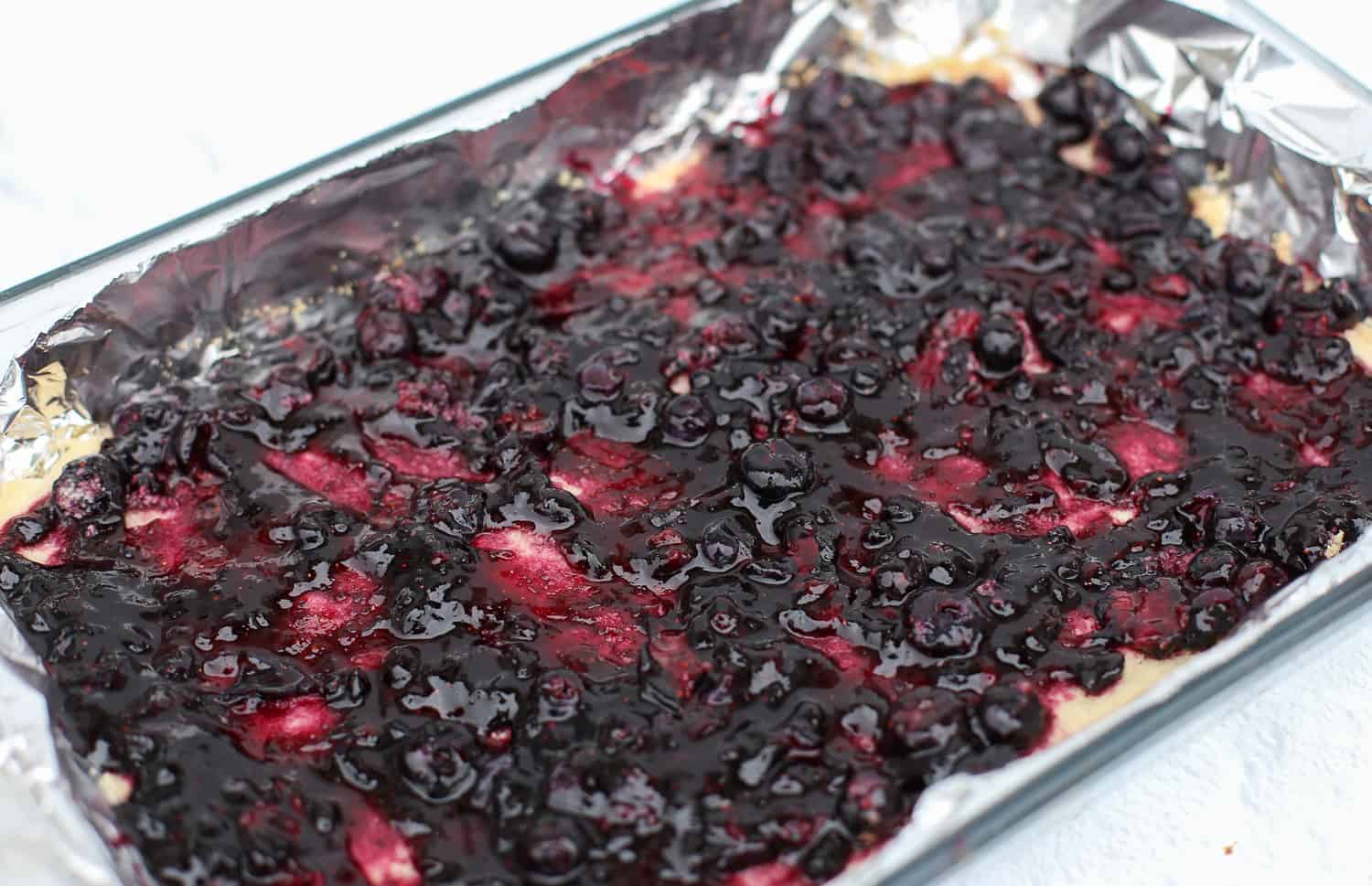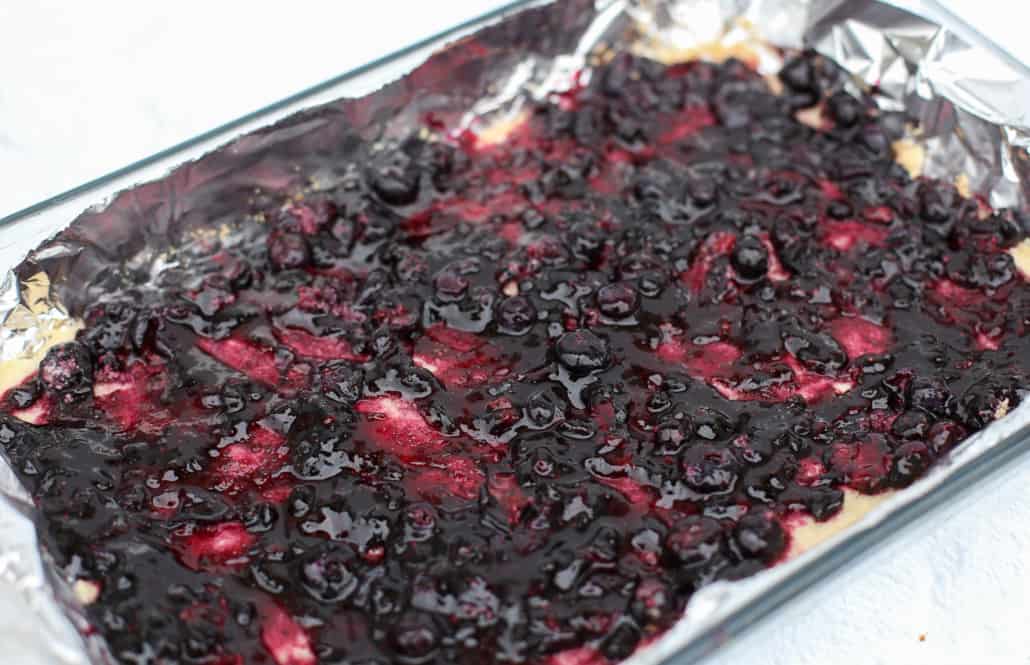 Sprinkle the streusel crumb topping over the filling. I grabbed a handful and sprinkled it on top of the filling. Don't press the streusel into the filling!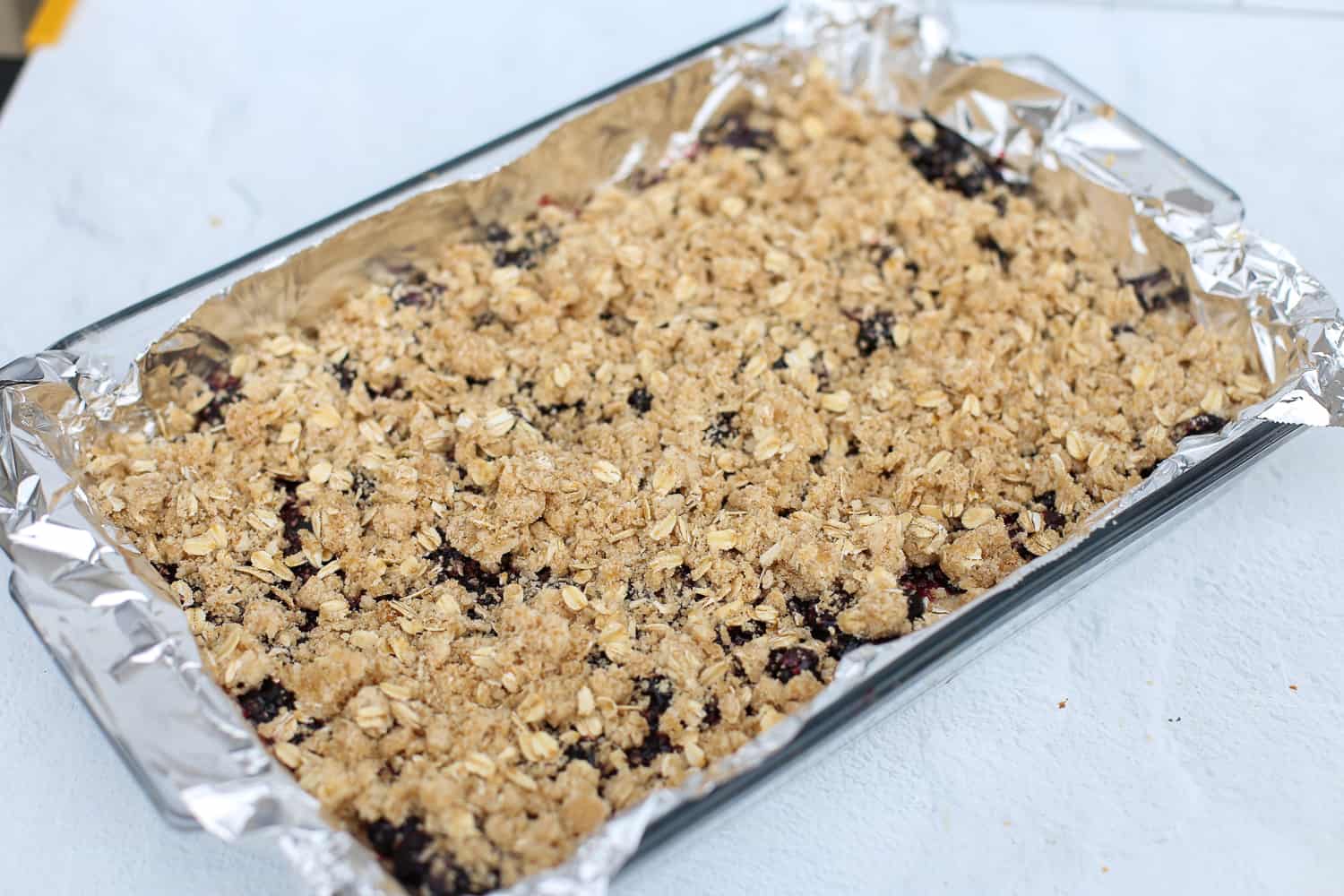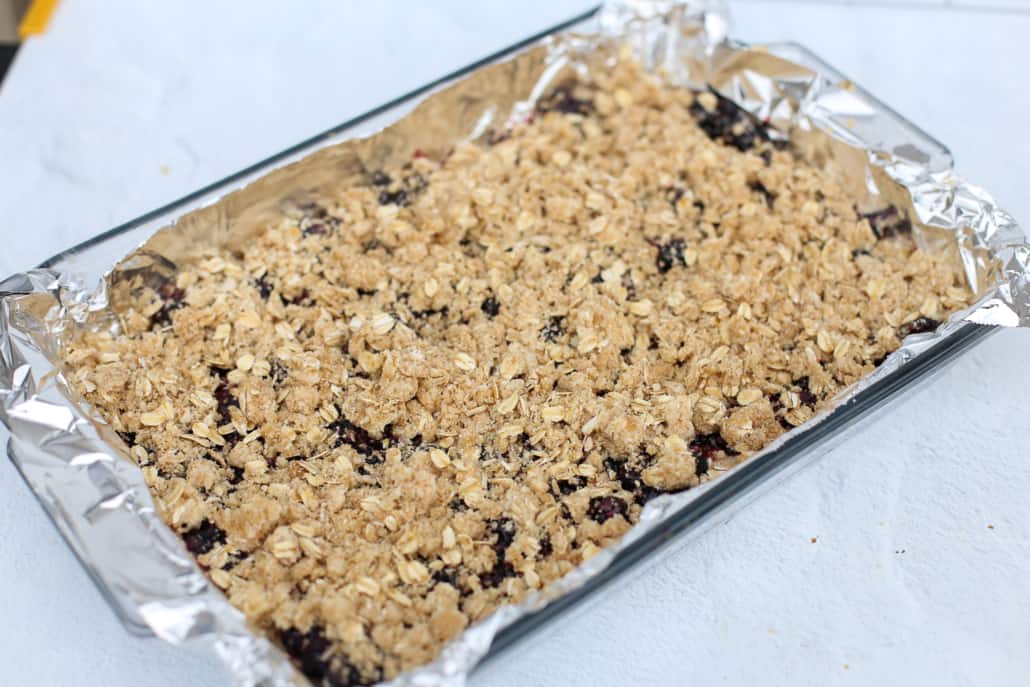 Bake for about 20-25 minutes, or until the filling is bubbling and the streusel has browned.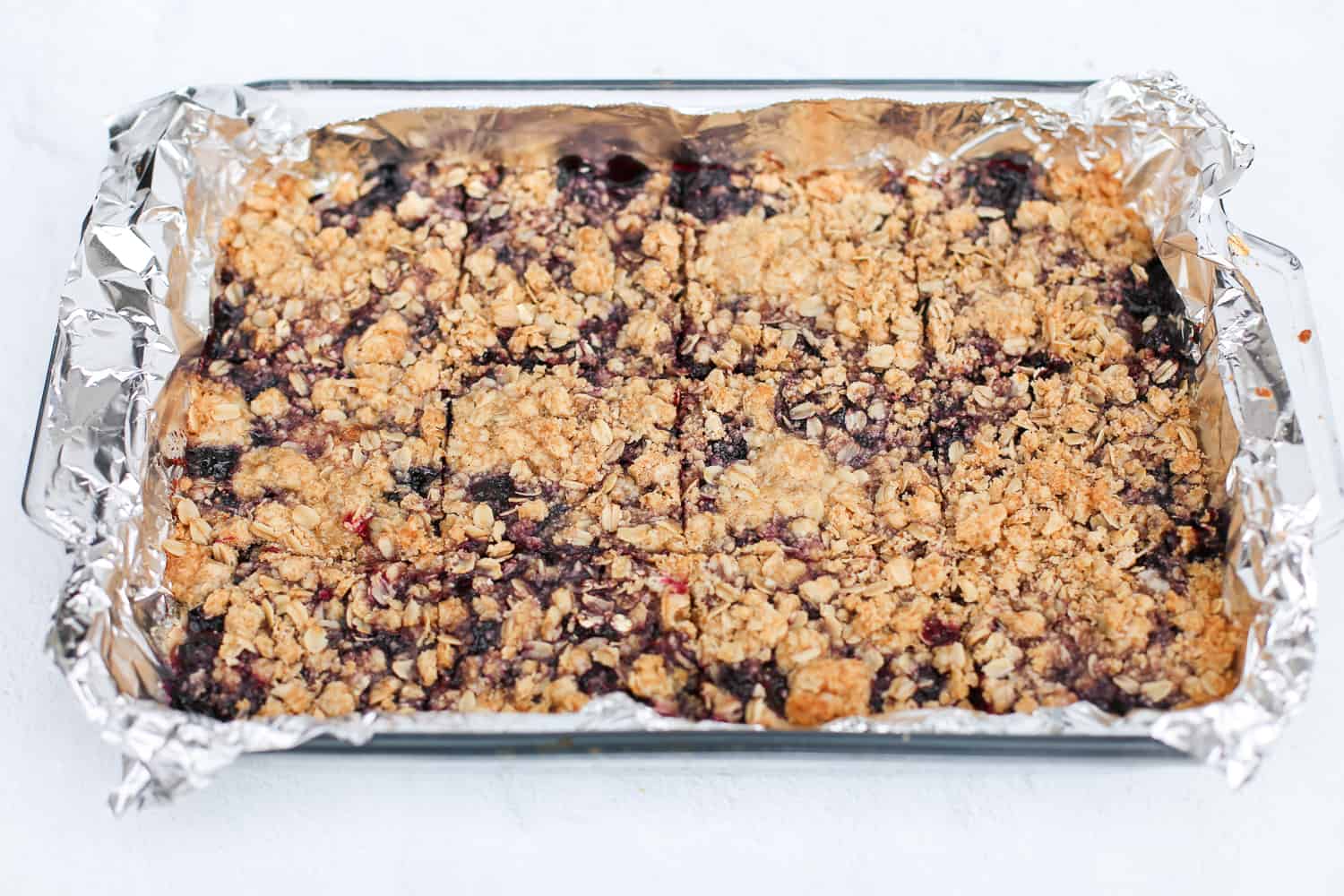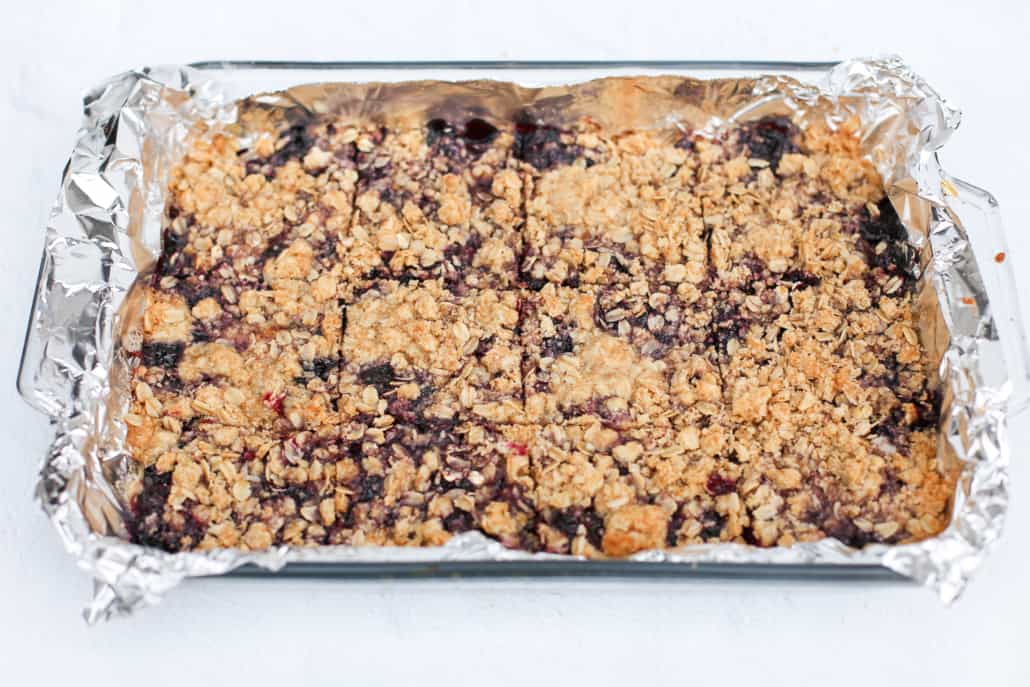 Remove the pan and let the bars cool to room temperature, about 1-2 hours. If you try to serve it before it's cooled, it will fall apart more easily.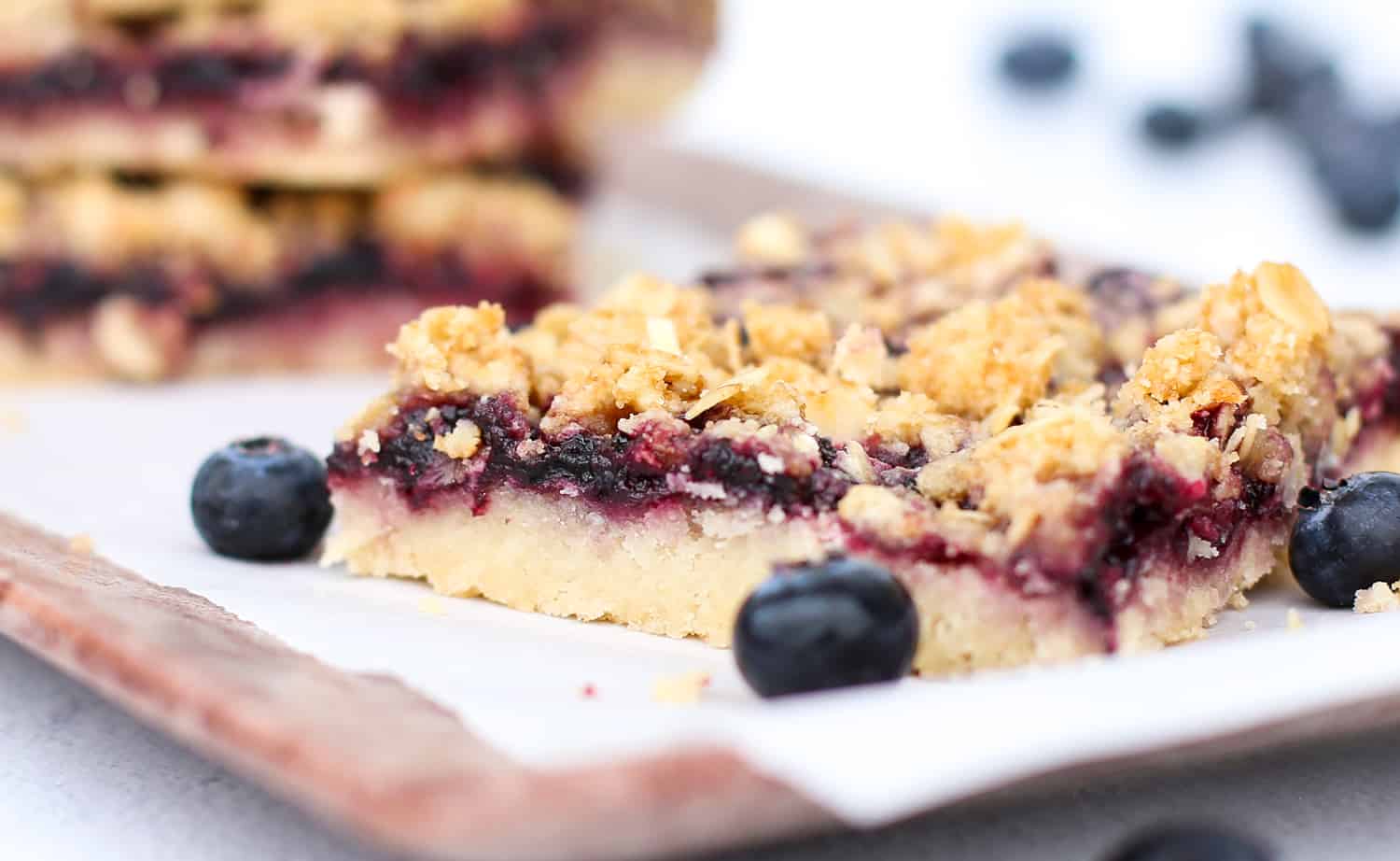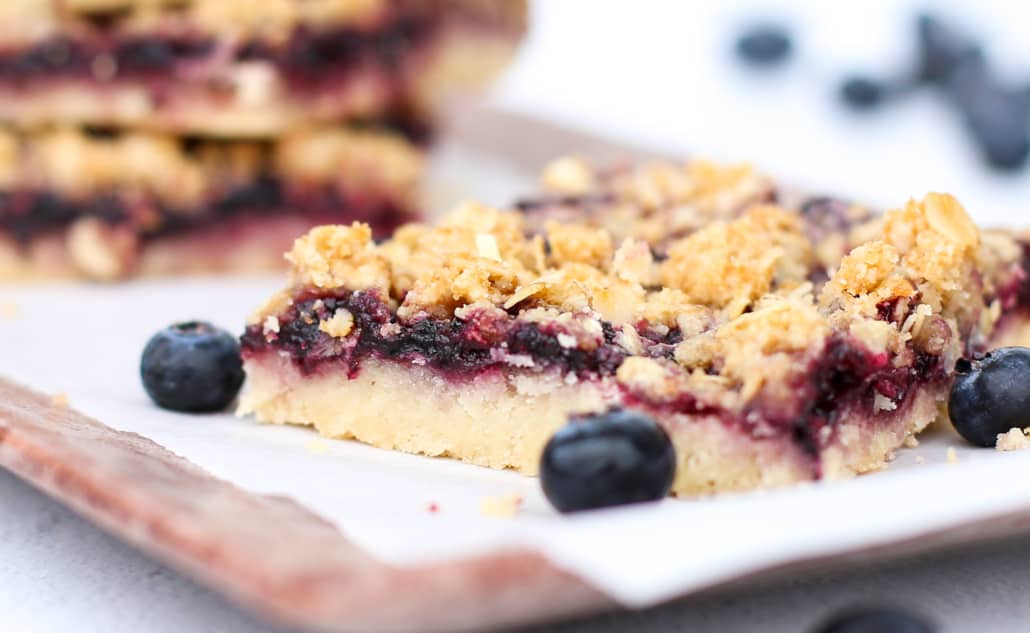 Can I Make These Ahead of Time?
While many desserts are best served fresh, this recipe just gets better as it sits.
At least for the first day or two! This is why it is a great recipe for groups of people or for a birthday dinner.
How to Freeze Blueberry Crumble Bars
Freeze For Later: Bake bars according to recipe directions. Let cool completely. Once cool, cut bars apart. Store in freezer bag or wrap tightly with plastic wrap and freeze.
Prepare From Frozen: Remove desired number of bars. Thaw overnight in the refrigerator or warm in 10 second increments in the microwave.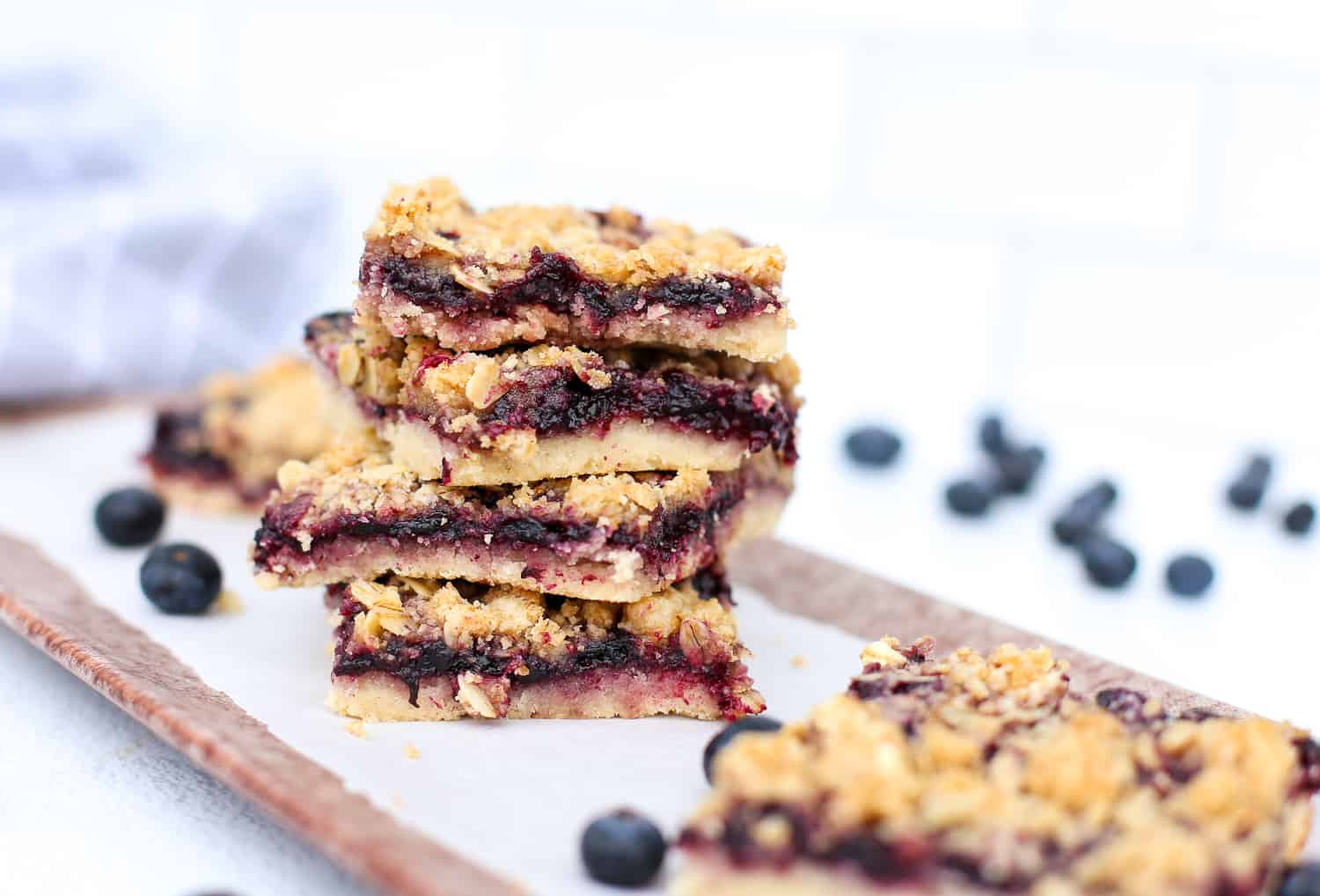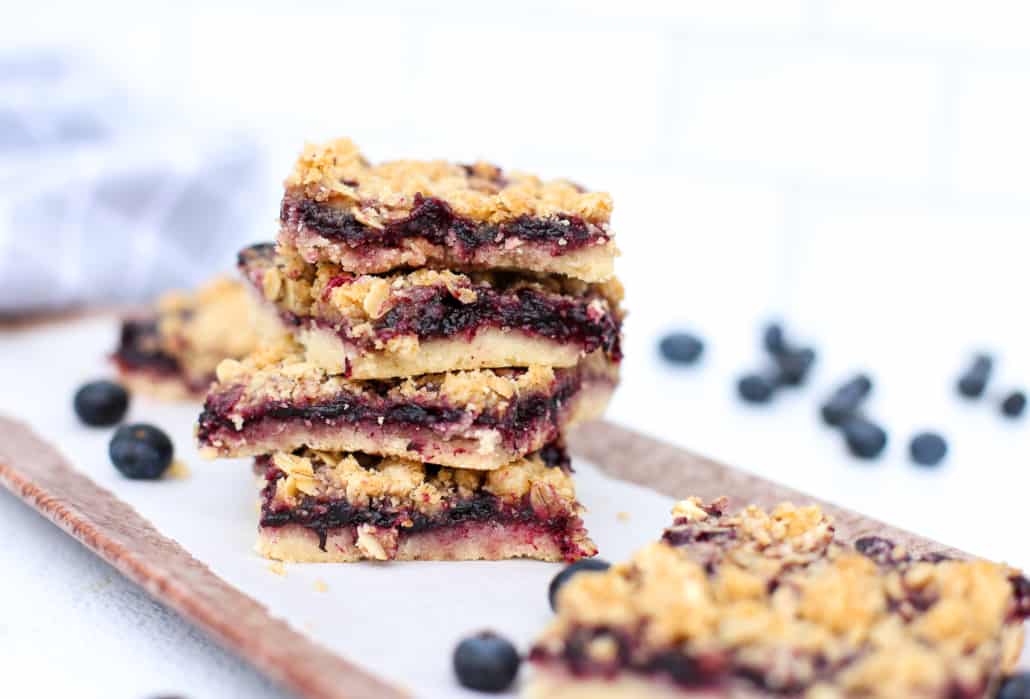 More Blueberry Recipes
If you love blueberries as much as we do, give some of these other easy and health-ish recipes a try.
Hope you like this Blueberry Crumble Bars recipe as much as I do!
More Fruity Dessert Ideas
Did you make this? Snap a photo and tag us on Instagram at @thrivinghome so we can see your creations and cheer you on!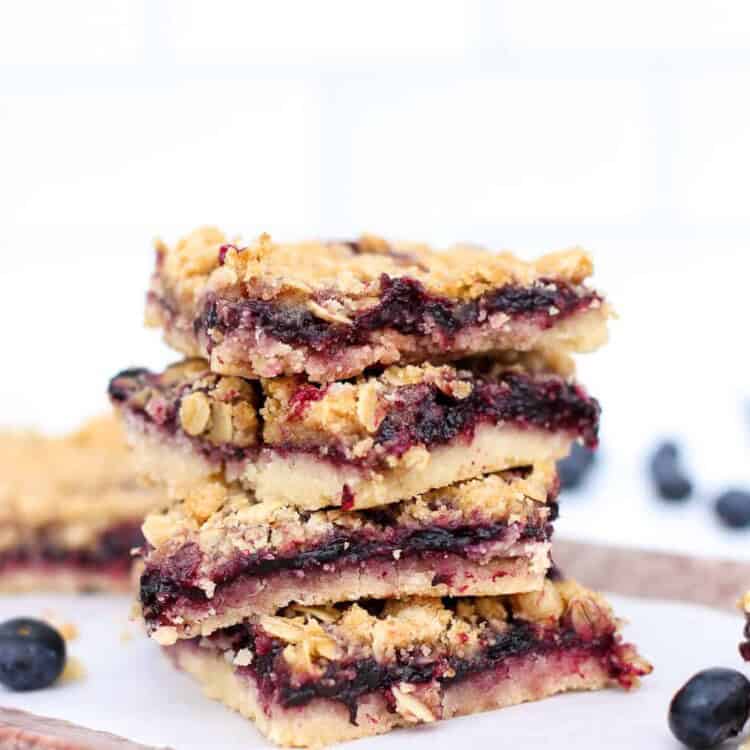 Blueberry Crumble Bars
These blueberry crumble bars have a buttery shortbread that cuts easily for sharing. On top of the shortbread is a sweet, but not too sweet, blueberry filling topped with an oats crumble topping.
Prep:
20 mins
Cook:
40 mins
Total:
1 hour