Honey Garlic Chicken Kabobs
This post may contain affiliate or sponsored links. Please read our disclosure policy.
This 5-ingredient marinade for chicken kabobs is sweet, savory, and incredibly easy! With just a few simple pantry ingredients, you can take your chicken kabob game to the next level.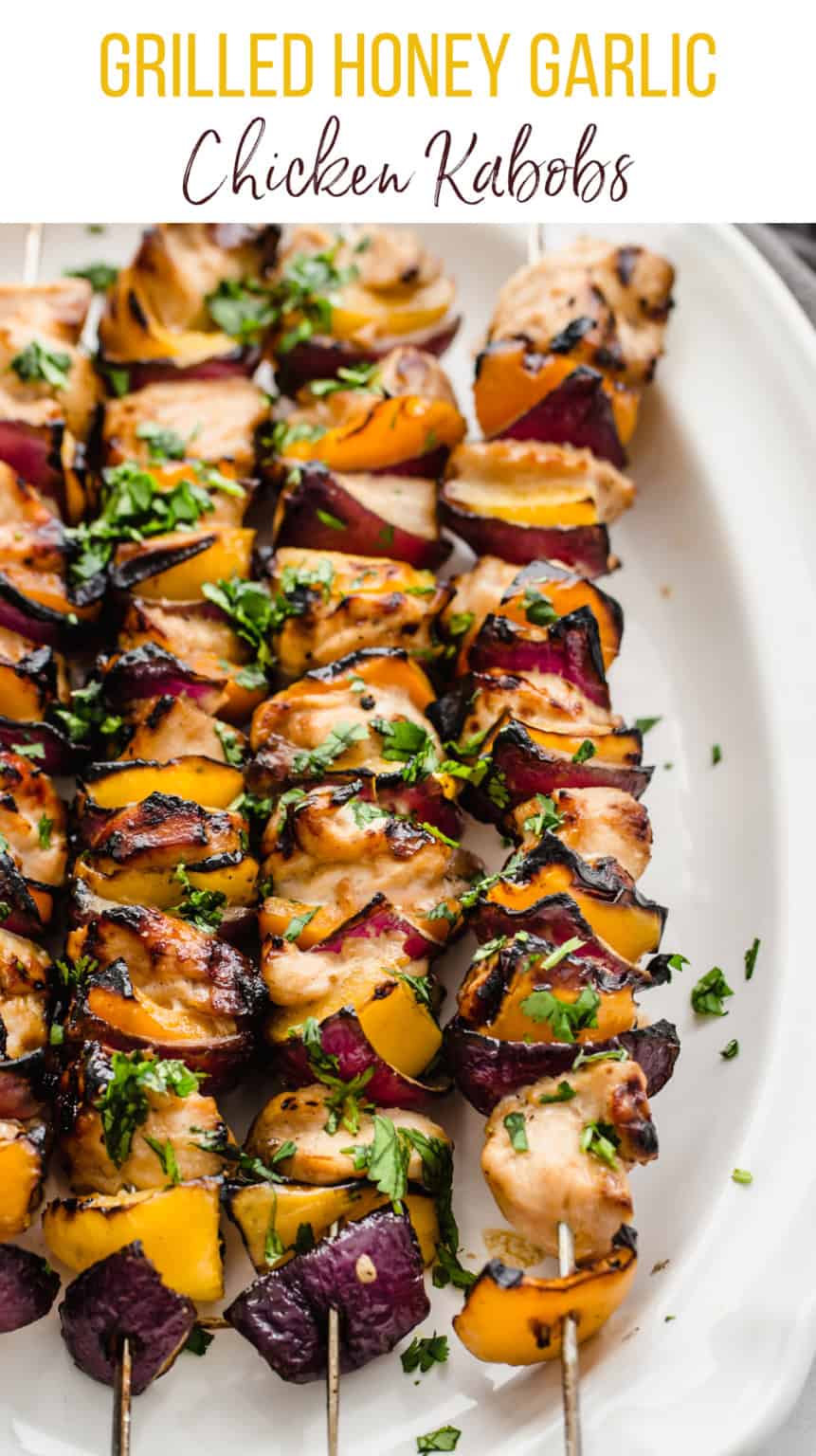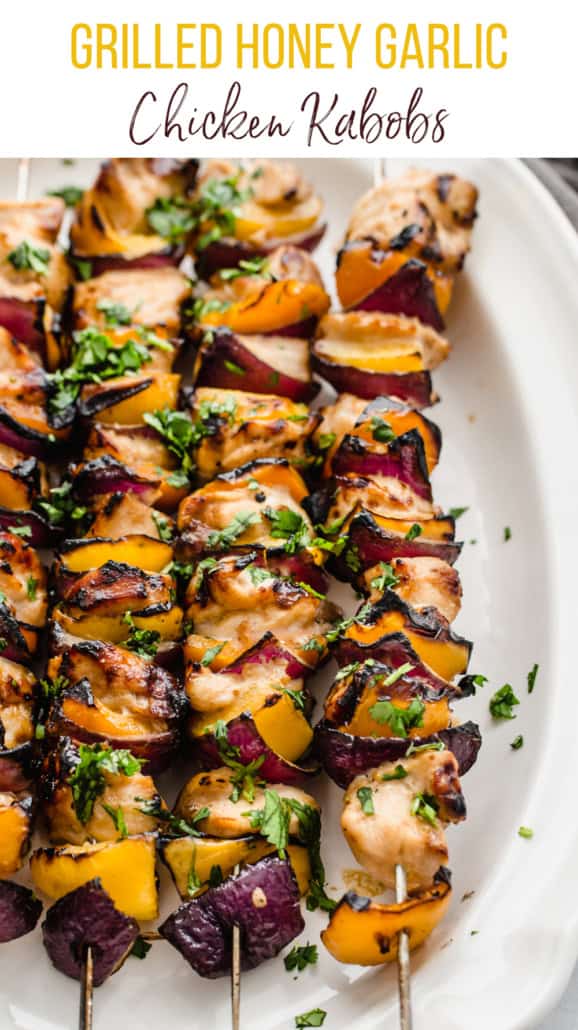 "I've made this several times for us and guests and all who have tried it have loved it!" ⭐️⭐️⭐️⭐️⭐️ – Karen
Ingredients
Chicken Kabob Marinade
Here's what you'll need to infuse flavor into your chicken and veggie kabobs...
Oil – I prefer avocado oil or olive oil.
Soy sauce – If you're gluten-free, use coconut aminos, or Tamari gluten-free soy sauce.
Honey
Ground black pepper
Minced garlic
Chicken Kabobs
Boneless, skinless chicken breasts – Here is where we get organic chicken from.
Bell peppers – Use a variety of colors if possible.
Red onion – Red onion is much better than white for this recipe. It adds a lot more flavor.
Seriously. So simple, right? After whipping up the marinade, you'll just need some chicken and veggies. I like sweet bell peppers and red onion. Try to chop them up in similar sizes.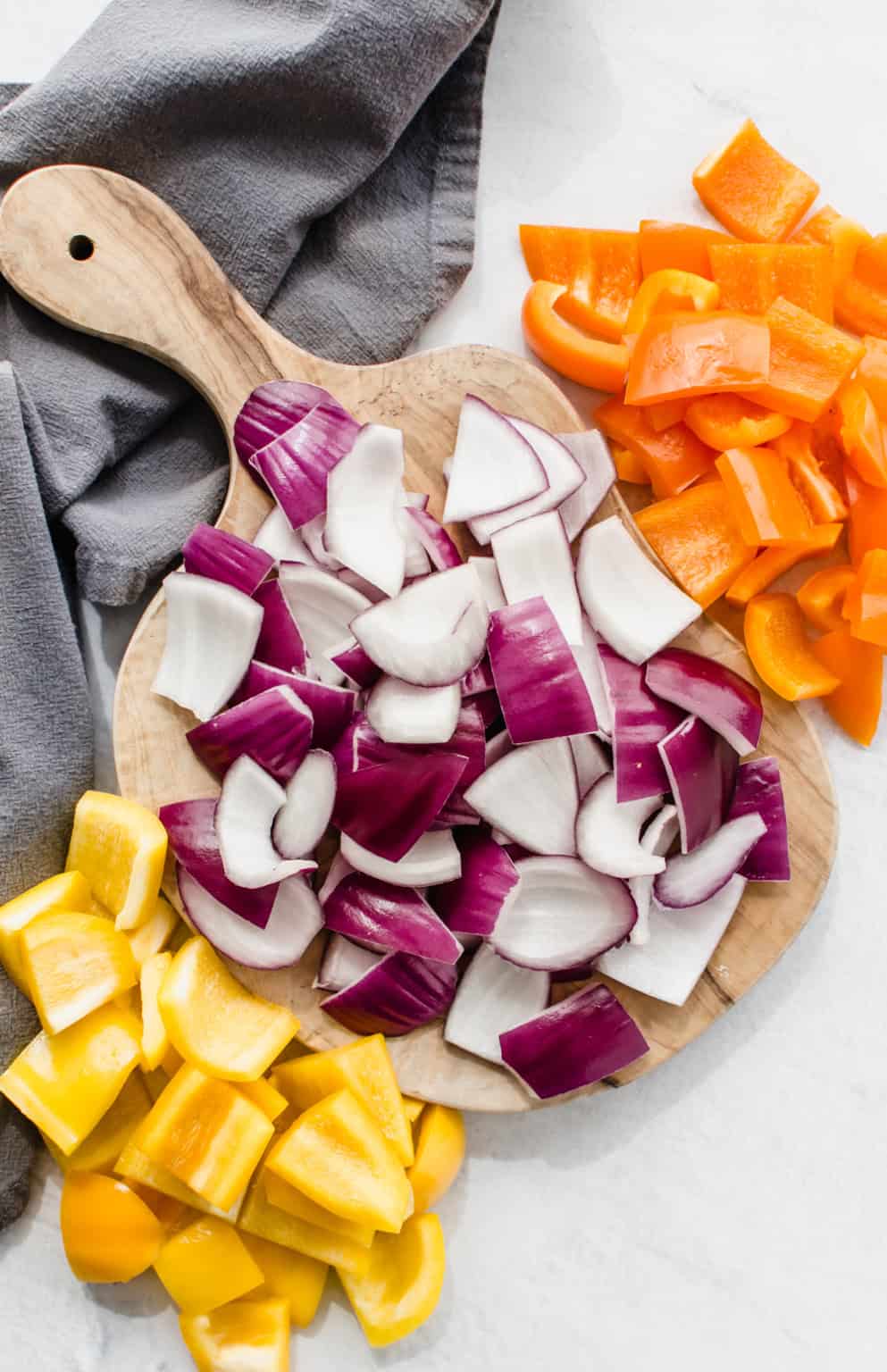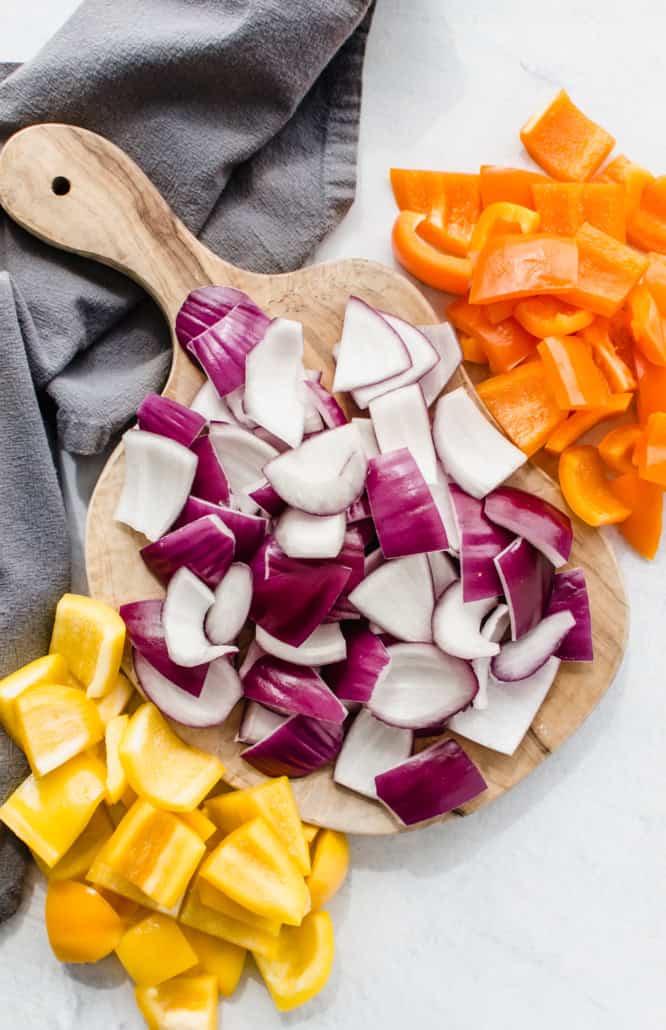 How long do I marinate the chicken and veggies?
Place the marinade, chicken, and chopped veggies into a container and let them sit for about 2 hours.
Once they've done their fair share of marinating, it's time to get those puppies on skewers! Your hands will get down and dirty during this process, so just embrace it and wash up well after.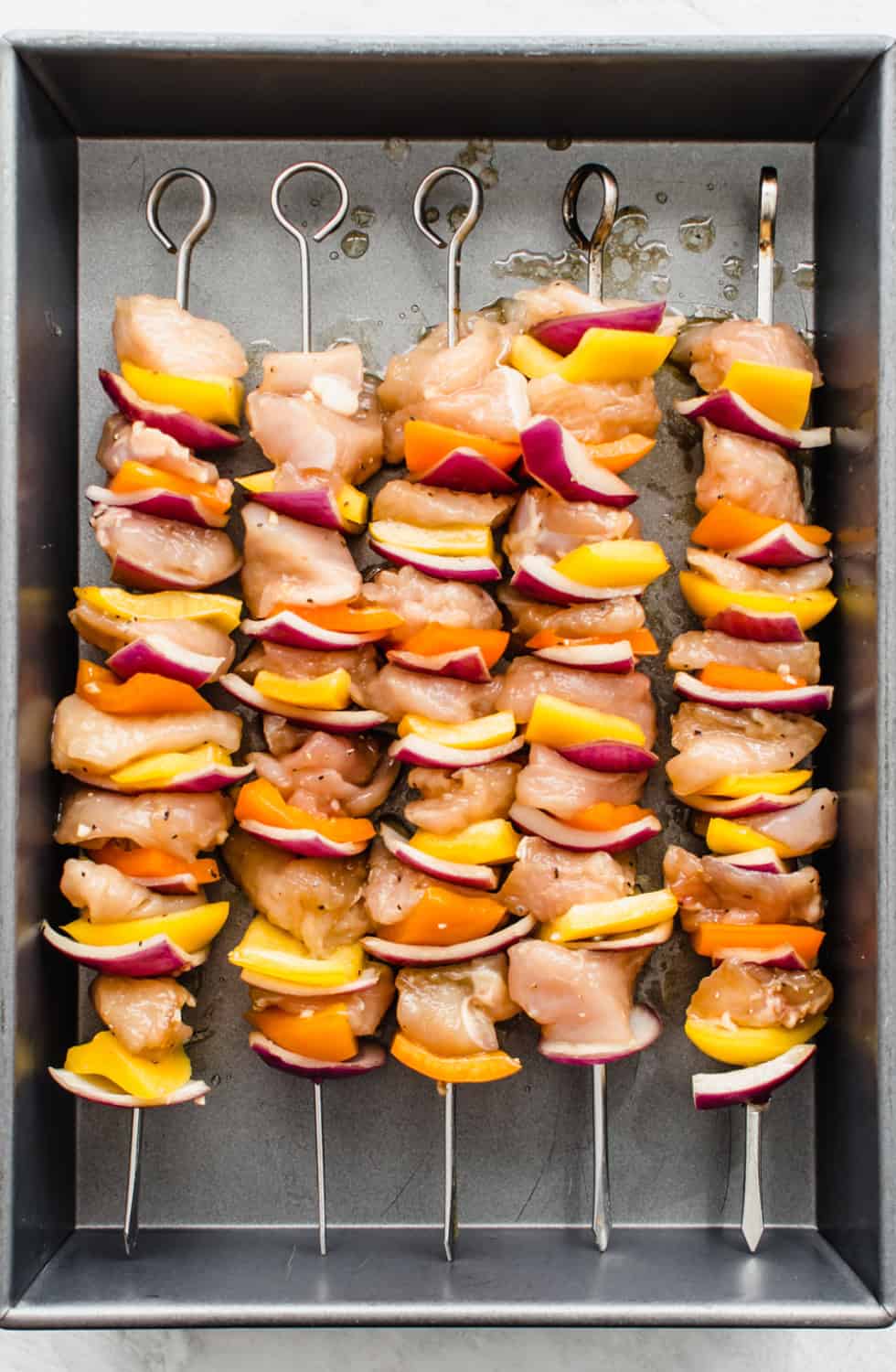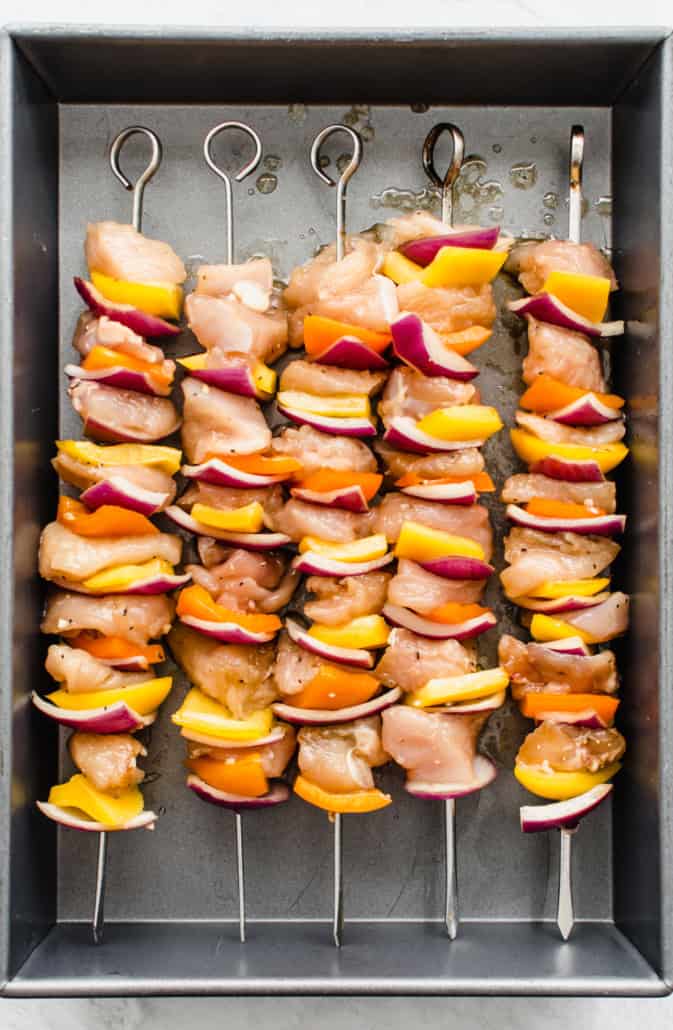 How long do I grill the kabobs?
Since chicken is lean and the chicken and veggies pieces are fairly small on the kabobs, it's easy to overcook them.
You'll only need to grill your kabobs for 12-15 minutes over medium heat, or until the chicken registers 165°F internally.
It's important to use a meat thermometer to cook them perfectly.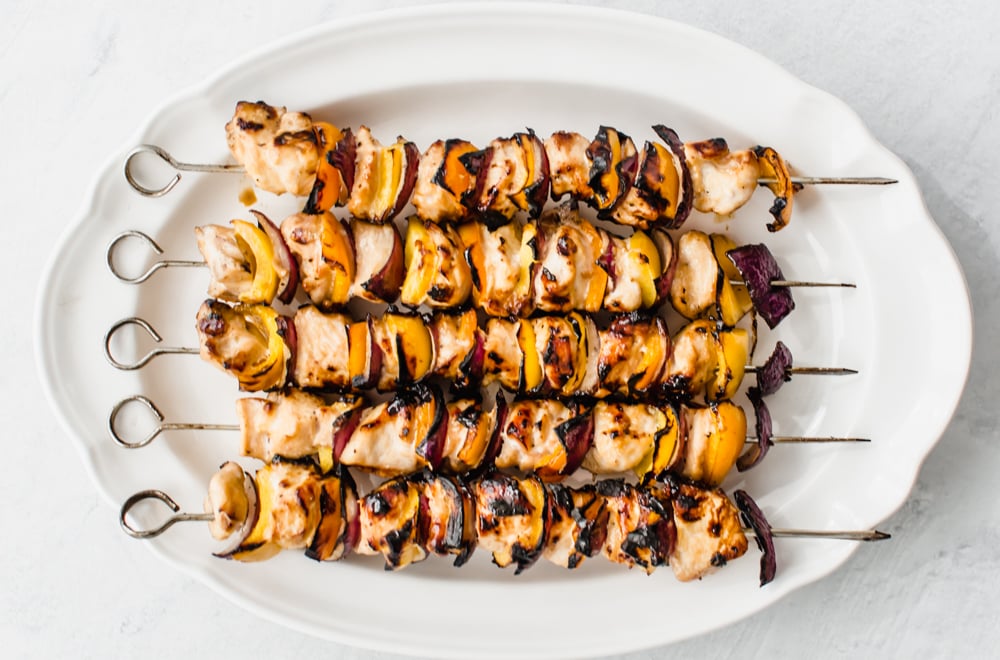 Can you freeze chicken kabobs?
Great question! If you want to make this a freezer meal, we recommend freezing the cut up, uncooked chicken in the marinade without the veggies.
Because of the high water content in the bell peppers and onions, they won't hold up well on a skewer after being frozen and thawed.
To prepare, simply thaw the chicken using one of our safe thawing methods and then add them to the skewers with fresh veggies.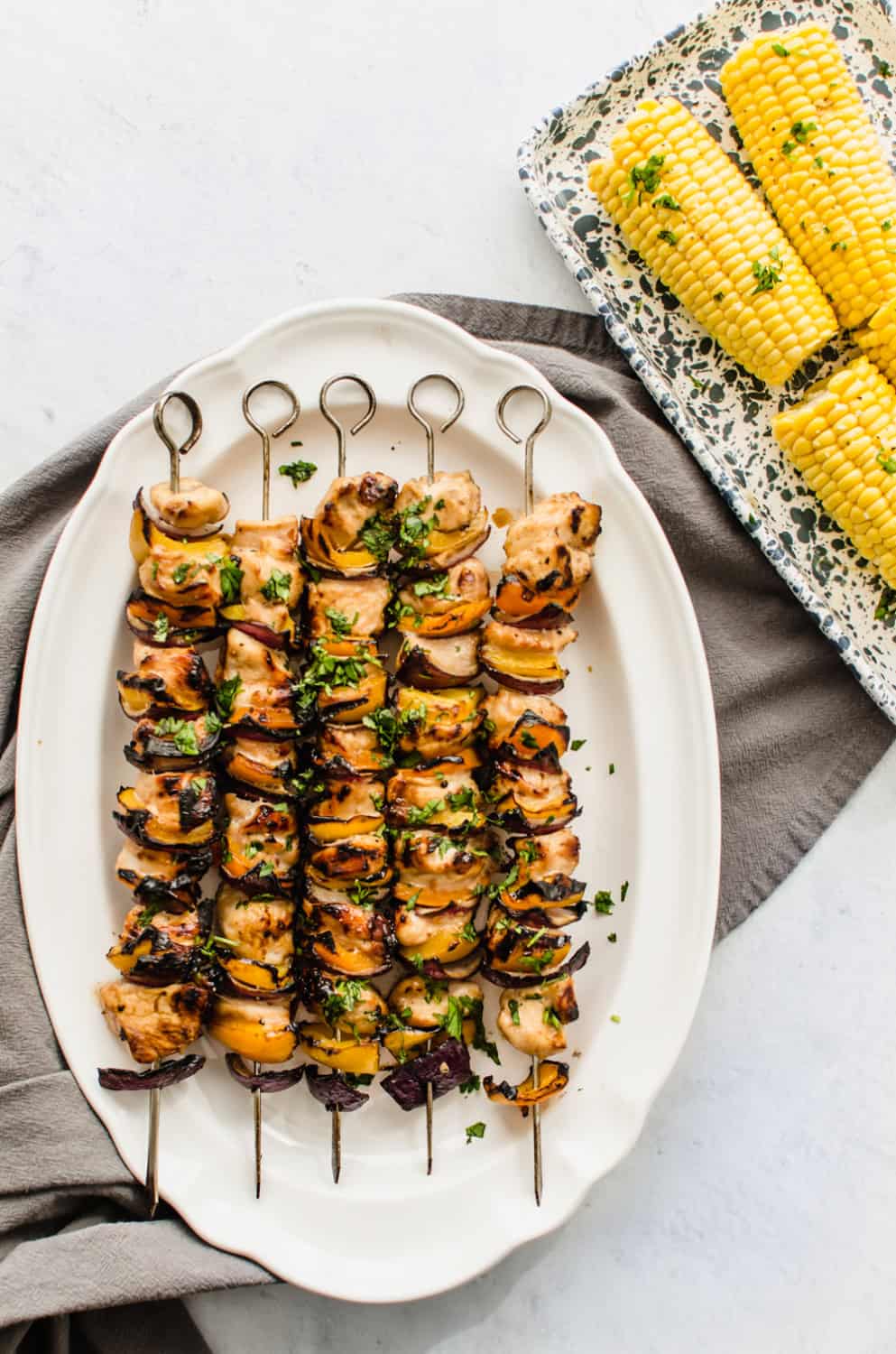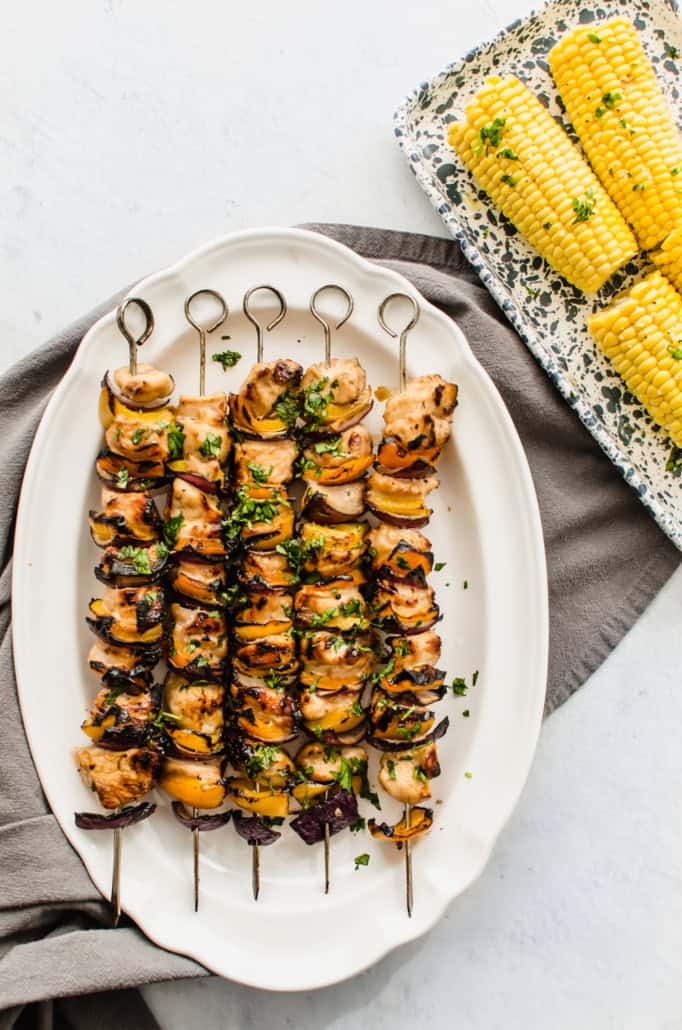 Be sure to double this recipe and invite some friends over. We think you're going to love it!
Did you make this? Snap a photo and tag us on Instagram at @thrivinghome so we can see your creations and cheer you on!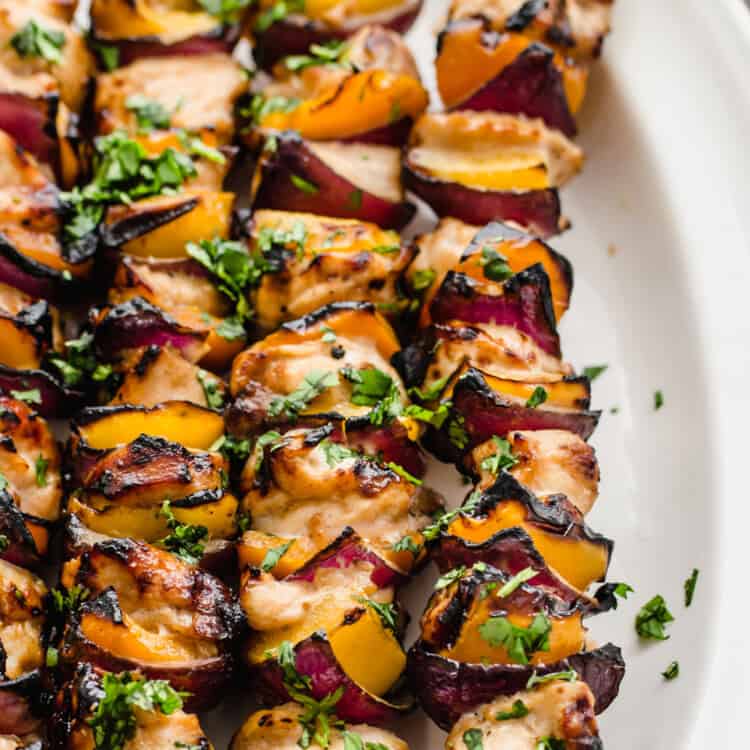 Honey Garlic Chicken Kabobs
This 5-ingredient marinade for chicken kabobs is sweet, savory, and incredibly easy! Just marinate cut-up chicken and veggies, thread them on skewers, and grill in minutes.
Prep:
15 minutes
Cook:
15 minutes
Total:
2 hours 30 minutes
Ingredients
1/4

cup

avocado oil or olive oil

1/3

cup

soy sauce (Gluten-free option: Use coconut aminos or gluten-free Tamari soy sauce.)

1/3

cup

honey

1/4 teaspoon

ground black pepper

2

cloves garlic, minced

1 1/2

pounds

boneless, skinless chicken breasts, cut into bite-sized pieces

2

–

3

bell peppers, seeded and cut into bite-sized pieces (any color)

1

red onion, cut into bite-sized chunks
Before You Begin! If you make this, please leave a review and rating letting us know how you liked this recipe! This helps our business thrive & continue providing free recipes.
Instructions
Make It Now:
In a mixing bowl or shallow casserole dish, whisk together the oil, soy sauce, honey, black pepper, and garlic.
Add the chicken and veggies to the marinade, cover, and marinate in the refrigerator for about 2 hours.
Preheat grill to medium heat (around 350-400 degrees). (Be sure to clean the grates well before grilling.)
Thread the veggies and chicken on skewers and discard the remaining marinade.
Grill for 12-15 minutes, until the chicken is cooked through (at least 165°F or no longer pink inside). Do not overcook the chicken.
Freeze For Later: To a gallon-sized freezer bag or container, add all the ingredients except the peppers and onions. Seal and toss gently to combine. Freeze.
Prepare From Frozen: Note: You will need the chopped peppers and onions on hand to complete this meal. Thaw completely using one of these safe methods. Add the fresh chopped peppers and onions to the bag and toss in the marinade. Follow Steps 3-5.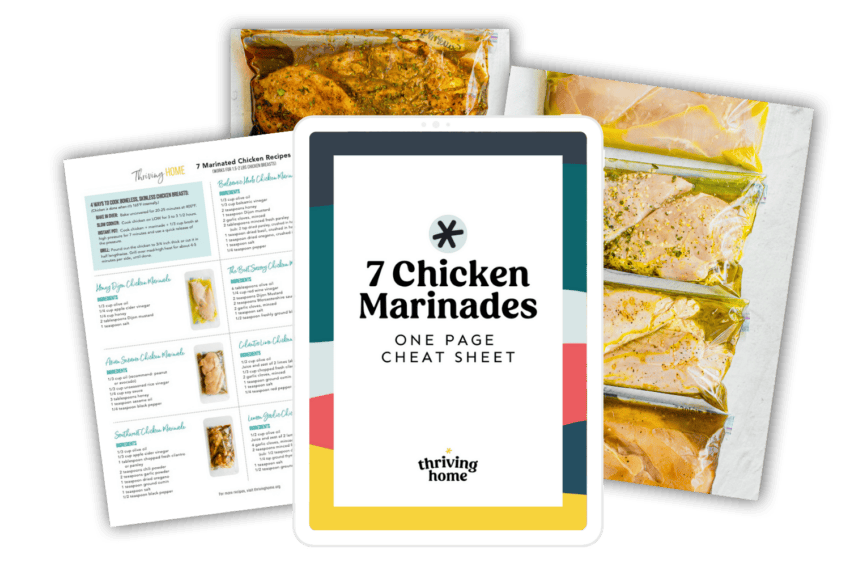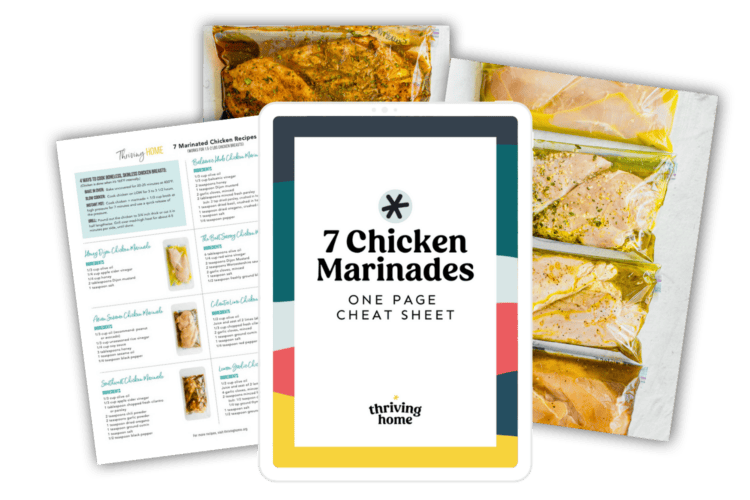 Get 7 of Our BEST Chicken Marinades Sent to Your Inbox!