Honey Garlic Chicken Kabobs
This post may contain affiliate or sponsored links. Please read our disclosure policy.
This 5 ingredient marinade for chicken kabobs is sweet, savory and incredibly easy! With just a few simple pantry ingredients, you can take your kabob game to the next level.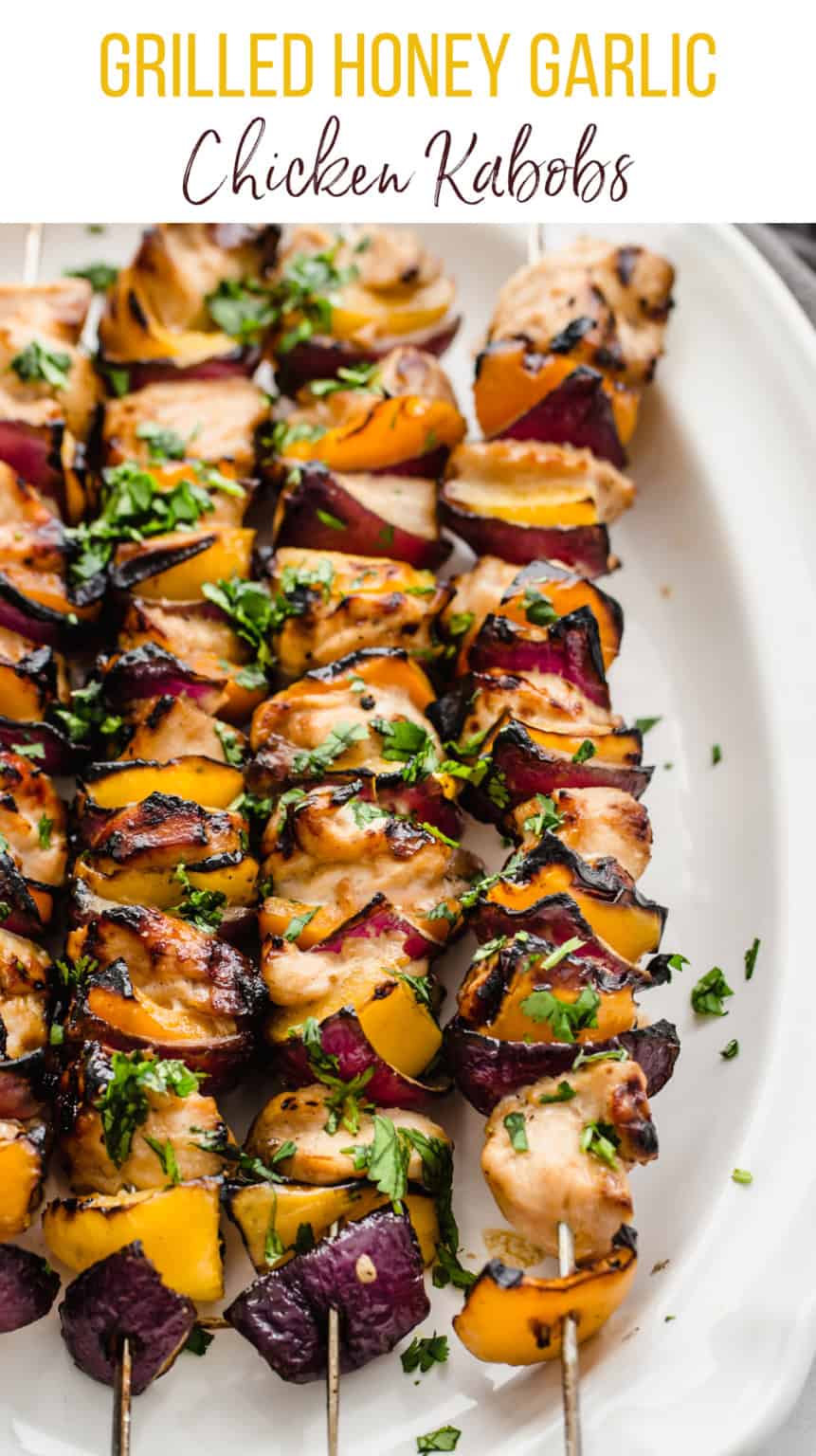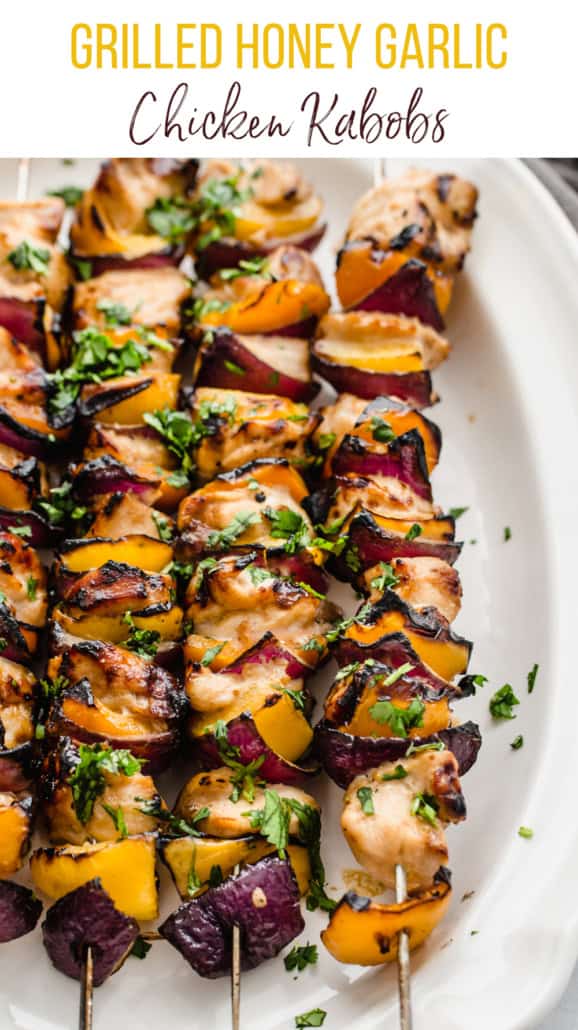 Disclaimer: This post was created in partnership with Hy-Vee (Columbia).
Grilling season is my jam.
I really feel like I eat healthier when a grilled recipe is on the menu plan. Having a simple marinade for chicken kabobs like this one makes it even easier. And when I say simple, I really mean it!
Chicken Kabob Marinade–Just 5 Ingredients
Here's what you'll need to infuse flavor into your chicken and veggie kabobs...
Oil – I prefer avocado oil or olive oil.
Soy sauce – If you're gluten free, use coconut aminos or Tamari gluten-free soy sauce.
Honey
Ground black pepper
Minced garlic
Seriously. So simple, right? After whipping up the marinade, you'll just need some chicken and veggies. I like sweet bell peppers and red onion. Try to chop them up in similar sizes.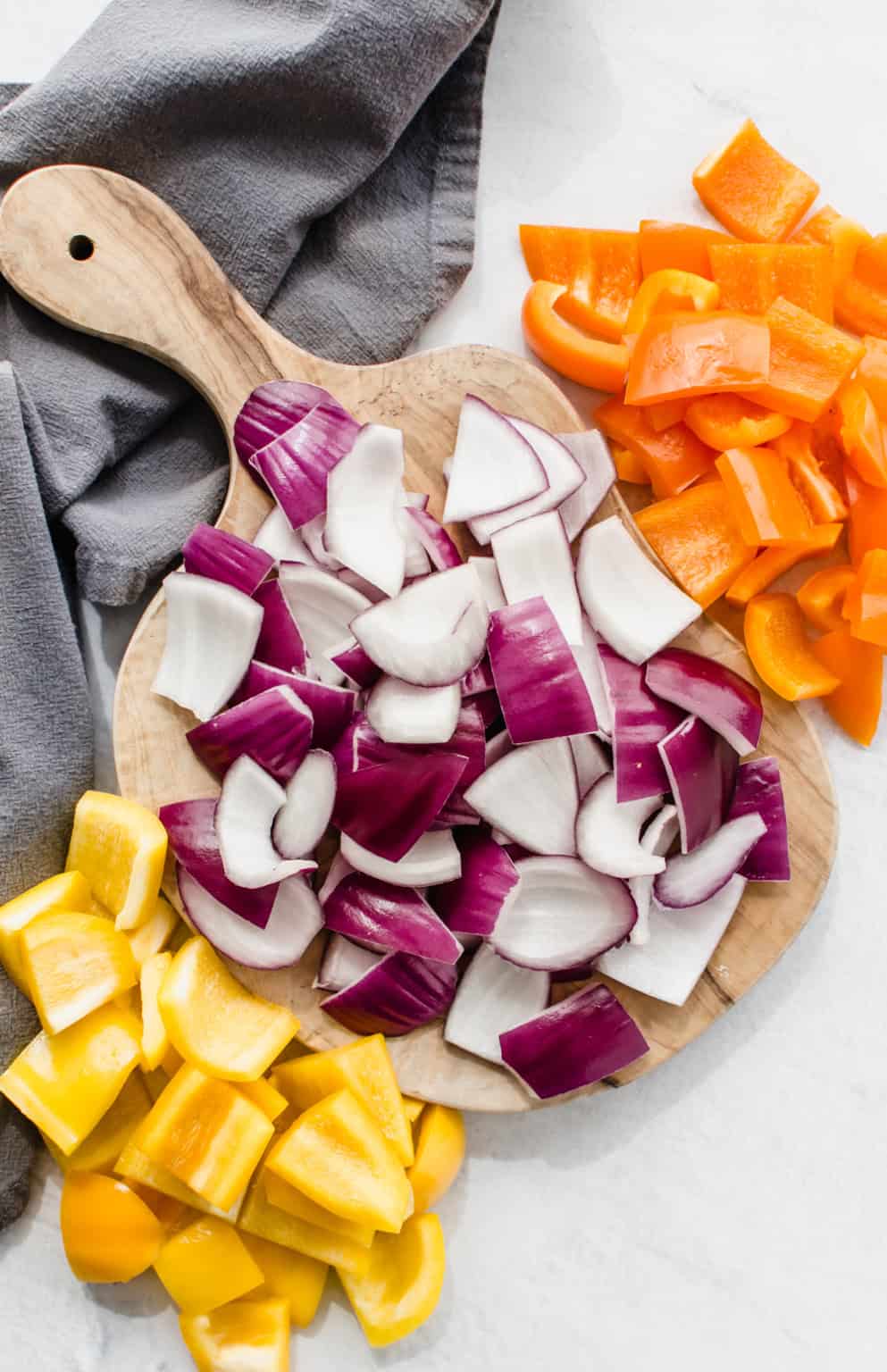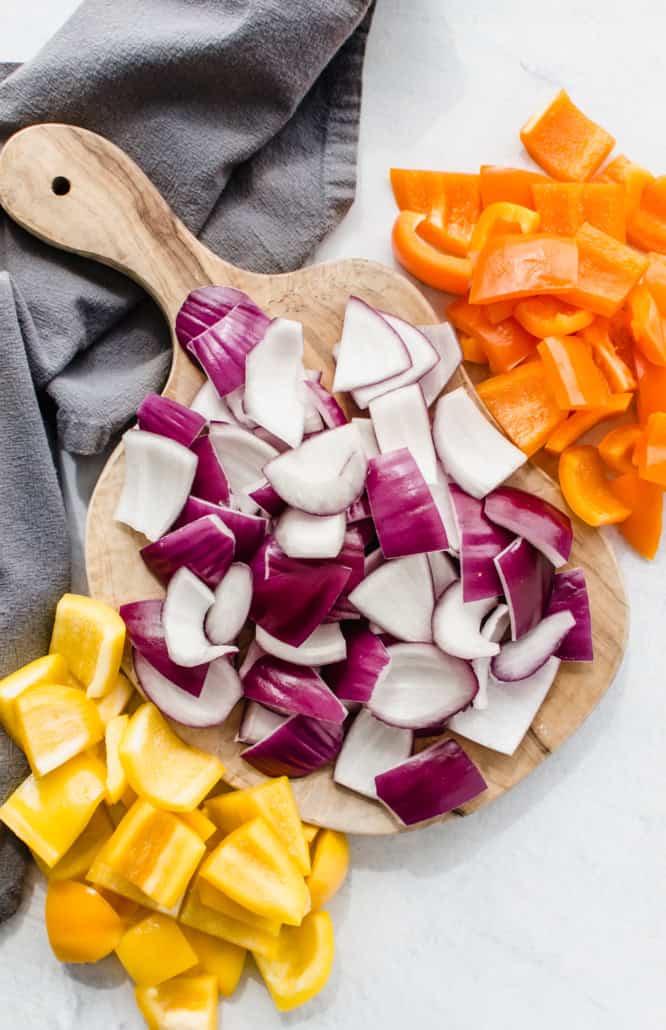 Where to Get Your Ingredients
We suggest grabbing all your ingredients at your local Hy-Vee grocery store or using their Aisles Online to have your groceries delivered or prepared for pick up. They are always well-stocked and offer the best meat and produce around.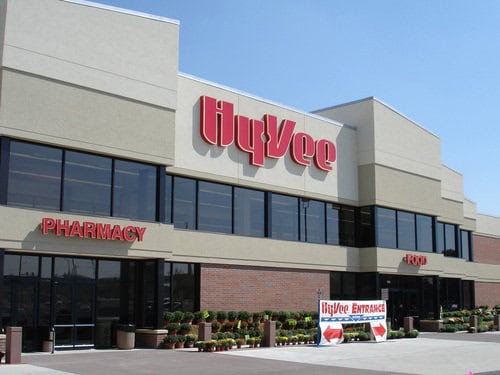 To make things easy for you, we started a custom shopping cart with the Chicken Kabobs ingredients…
How to Make Honey Garlic Chicken Kabobs
Your hands-on time for this recipe is minimal. Check out how easily it comes together…
How Long Do I Marinate the Chicken and Veggies?
Place the marinade, chicken, and chopped veggies into a container and let them sit for about 2 hours.
Once they've done their fair share of marinating, it's time to get those puppies on skewers! Your hands will get down and dirty during this process, so just embrace it and wash up well after.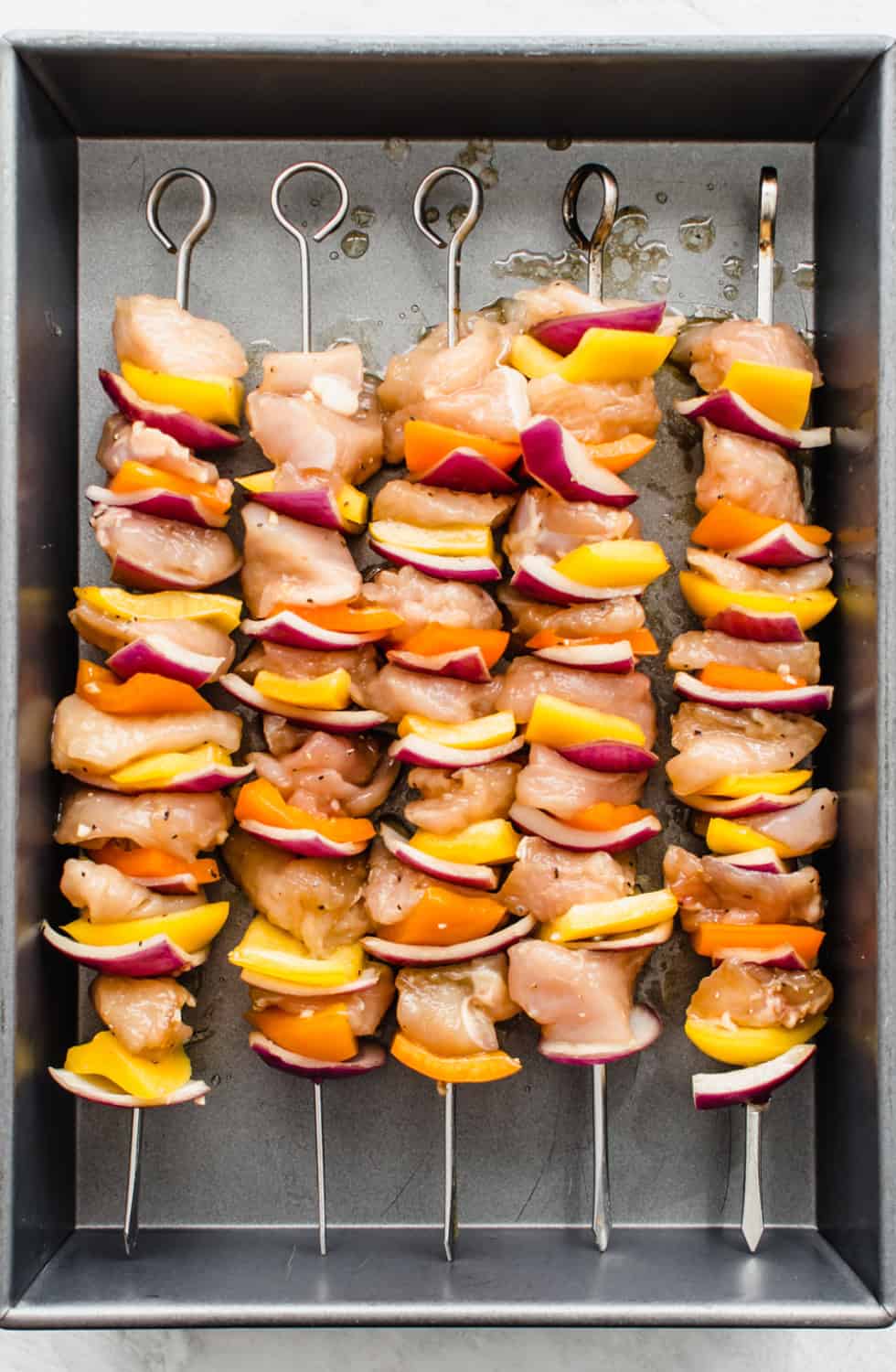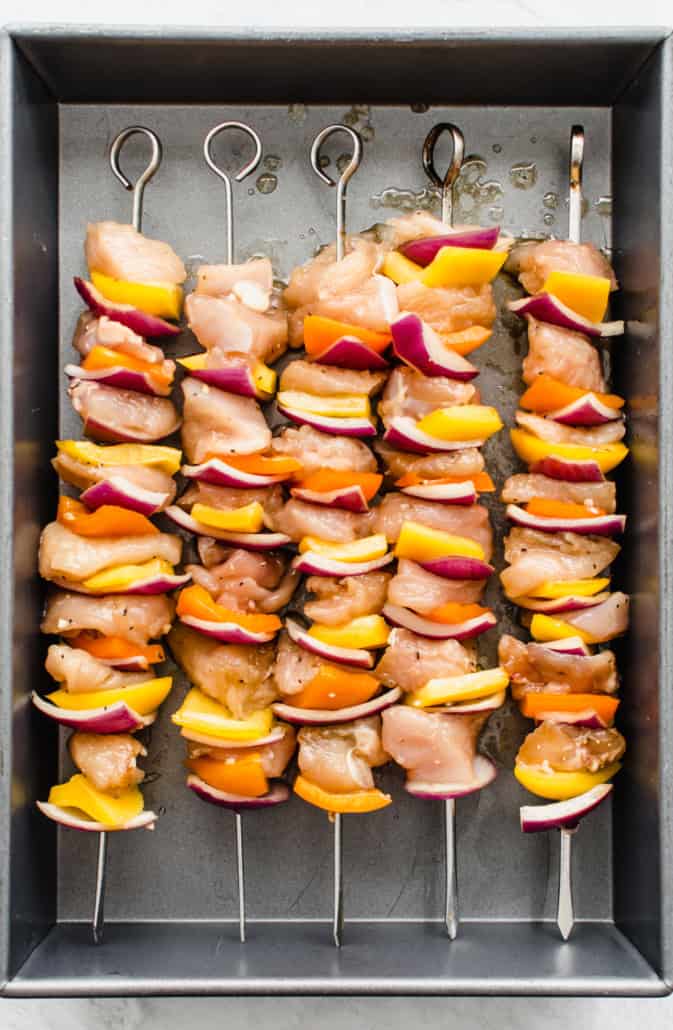 How Long to Grill Chicken Kabobs
Since chicken is lean and the chicken and veggies pieces are fairly small on the kabobs, it's easy to overcook them. You'll only need to grill your kabobs for 12-15 minutes over medium heat, or until the chicken registers 165°F internally. It's important to use a meat thermometer to cook them perfectly.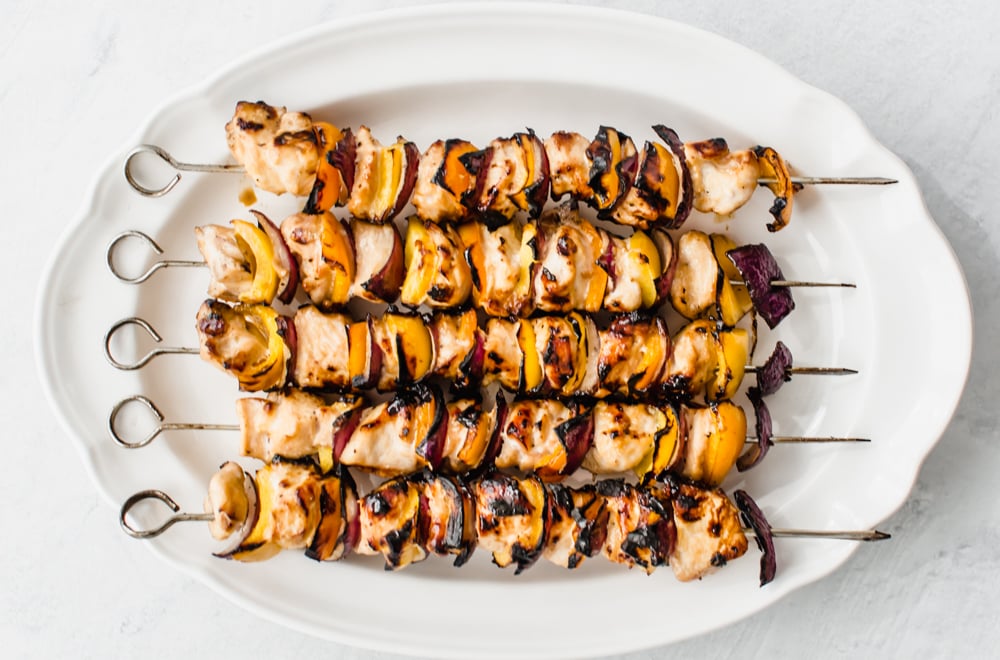 Can You Freeze Chicken Kabobs?
Great question! If you want to make this a freezer meal, we recommend freezing the cut up, uncooked chicken in the marinade without the veggies. Because of the high water content in the bell peppers and onions, they won't hold up well on a skewer after being frozen and thawed.
To prepare, simply thaw the chicken using one of our safe thawing methods and then add them to the skewers with fresh veggies.
What to Serve with Honey Garlic Chicken Kabobs
While the chicken and veggies are enough for a meal on their own, here are some ideas to beef up your meal: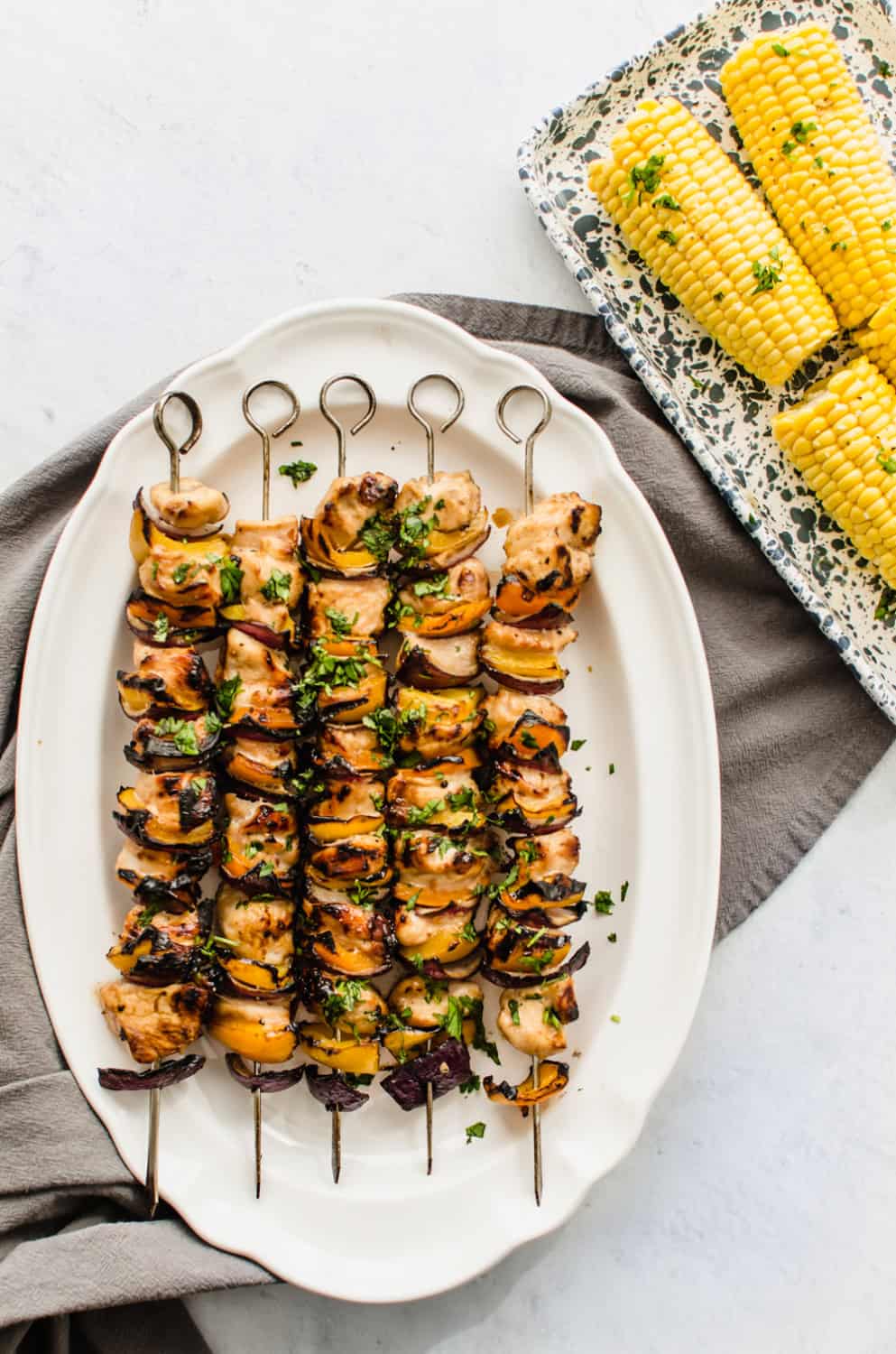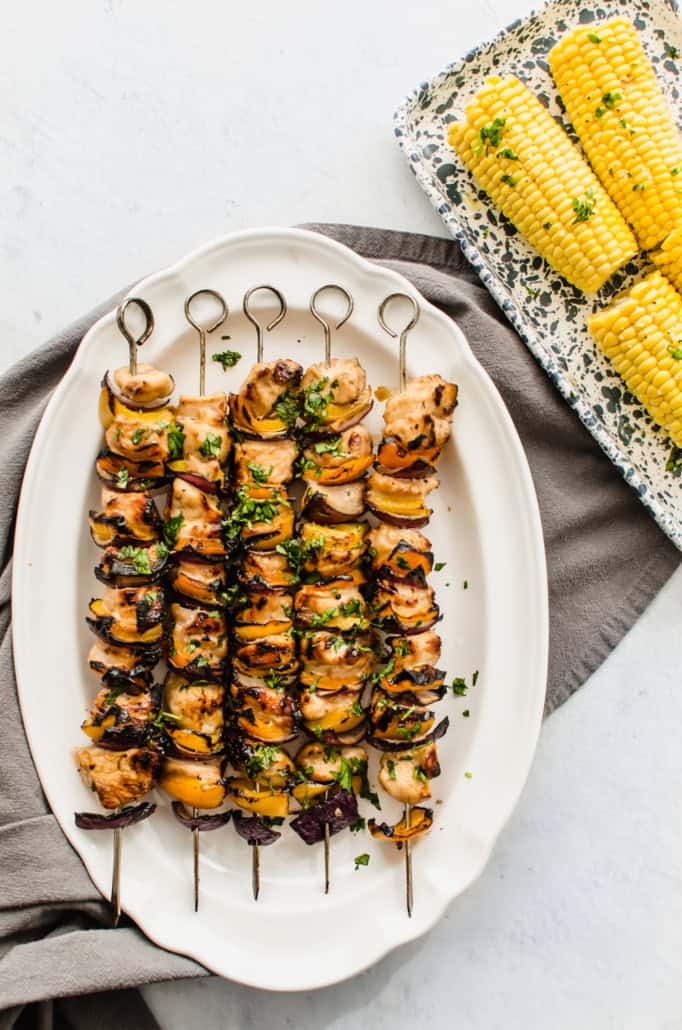 Be sure to double this recipe and invite some friends over. We think you're going to love it!
Did you make this? Snap a photo and tag us on Instagram at @thrivinghome so we can see your creations and cheer you on!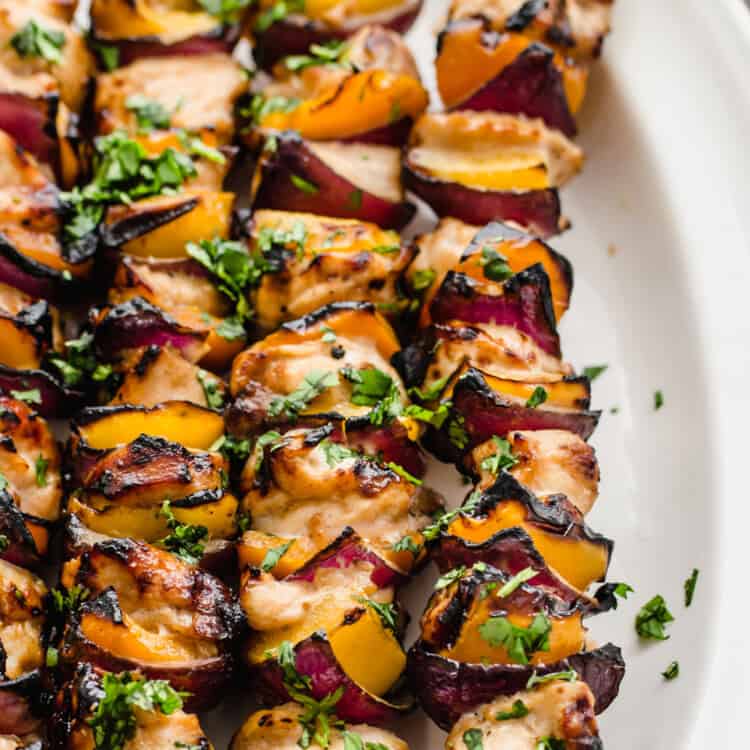 Honey Garlic Chicken Kabobs
This 5 ingredient marinade for chicken kabobs is sweet, savory and incredibly easy! Just marinate cut-up chicken and veggies in the marinade, thread them on skewers, and grill in minutes.
Prep:
15 minutes
Cook:
15 minutes
Total:
2 hours 30 minutes
Don't Forget About Your Custom Cart!
To make things easy for you, we started a custom shopping cart at Hy-Vee with the Chicken Kabobs ingredients to save you time…
Want More Chicken Marinade Recipes?
Be sure to check out our 7 Best Chicken Marinades. We even have a printable cheat sheet, so you never run out of chicken marinade ideas again!