This post may contain affiliate or sponsored links. Please read our disclosure policy.
Pineapple Salsa is a fun, fresh, colorful condiment or appetizer that's not only healthy but absolutely delicious! Serve as a dip with chips or on top of recipes like our Hawaiian Grilled Pork Tenderloin.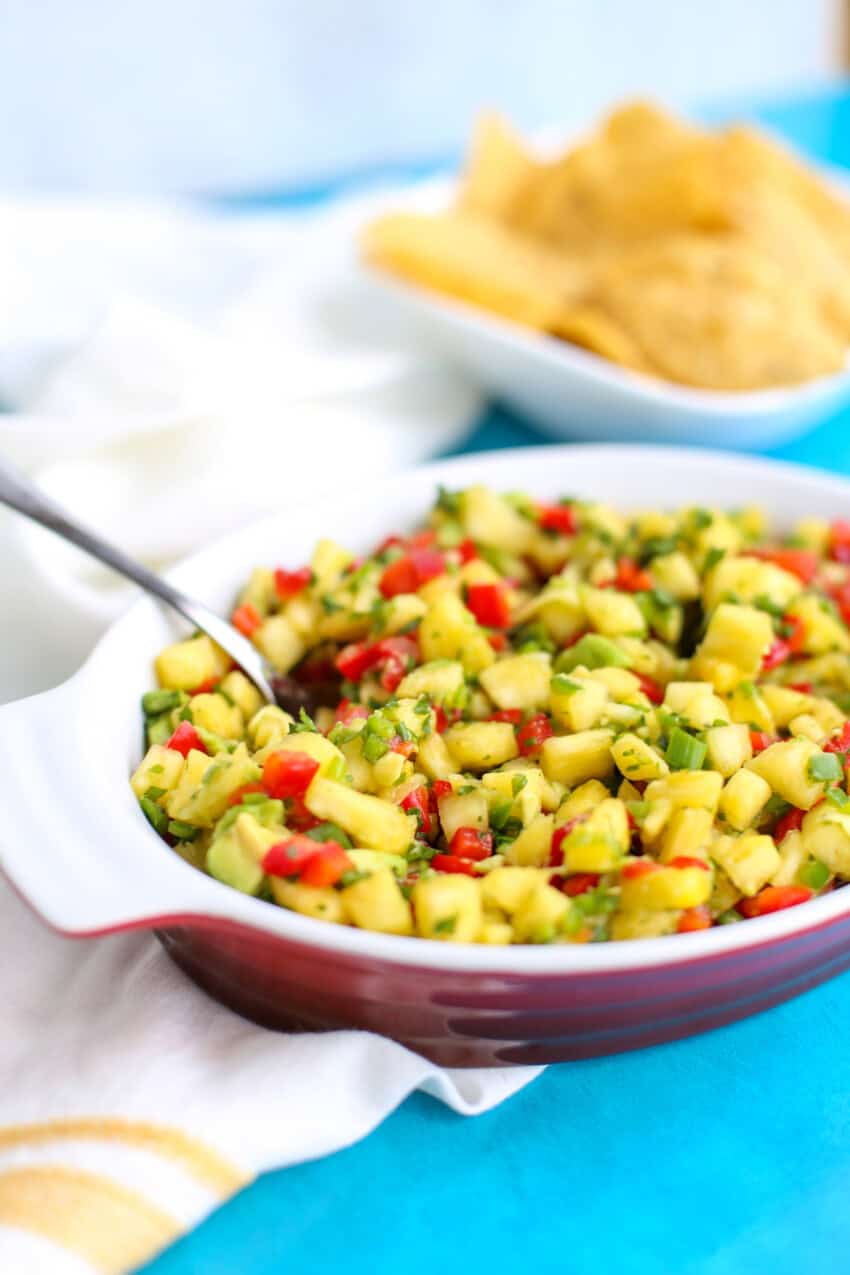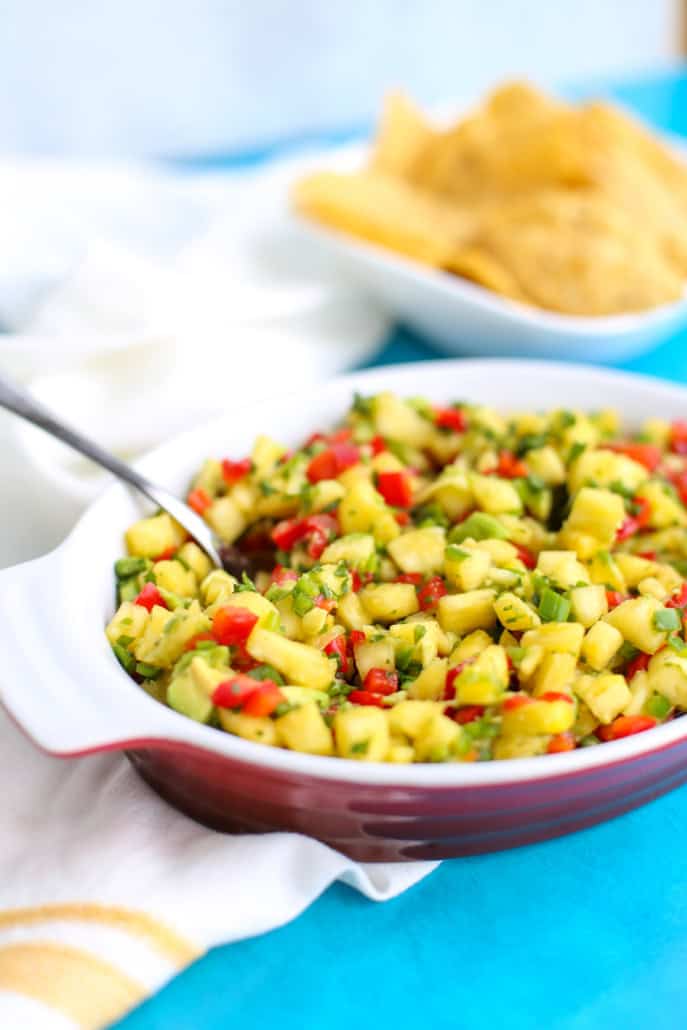 Ingredients
There are many variations of Pineapple Salsa out there. You'll see a lot of the same main players in most of the recipes. After testing out a few different variations, we landed on these outstanding ingredients:
Pineapple – Fresh is best. Please avoid canned!
Red bell pepper – Adds color and crunch.
Jalapeno – Don't worry it won't be too spicy. You will seed, devein, and mince the pepper.
Green onions – Brings a mild onion note and fresh pops of green color.
Chopped cilantro – You can sub fresh parsley if you don't cilantro.
Lime Juice – Use fresh limes if possible!
Salt – Just a touch.
Sriracha sauce, or cayenne pepper, to taste – Add as much heat as you want.
Optional: Rip avocado – We found adding in some chopped avocado at the end lends creaminess, but it also means the salsa doesn't last as long before oxidizing (turning brownish). So, we leave this option up to you.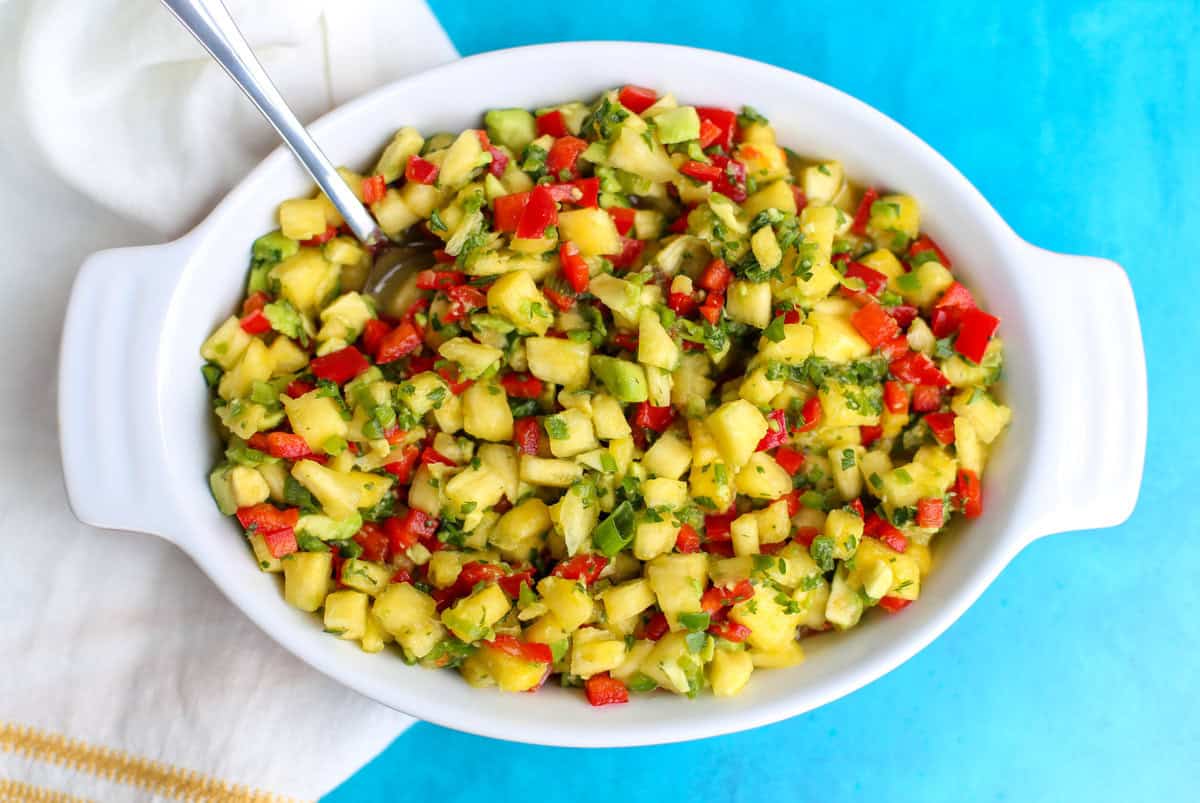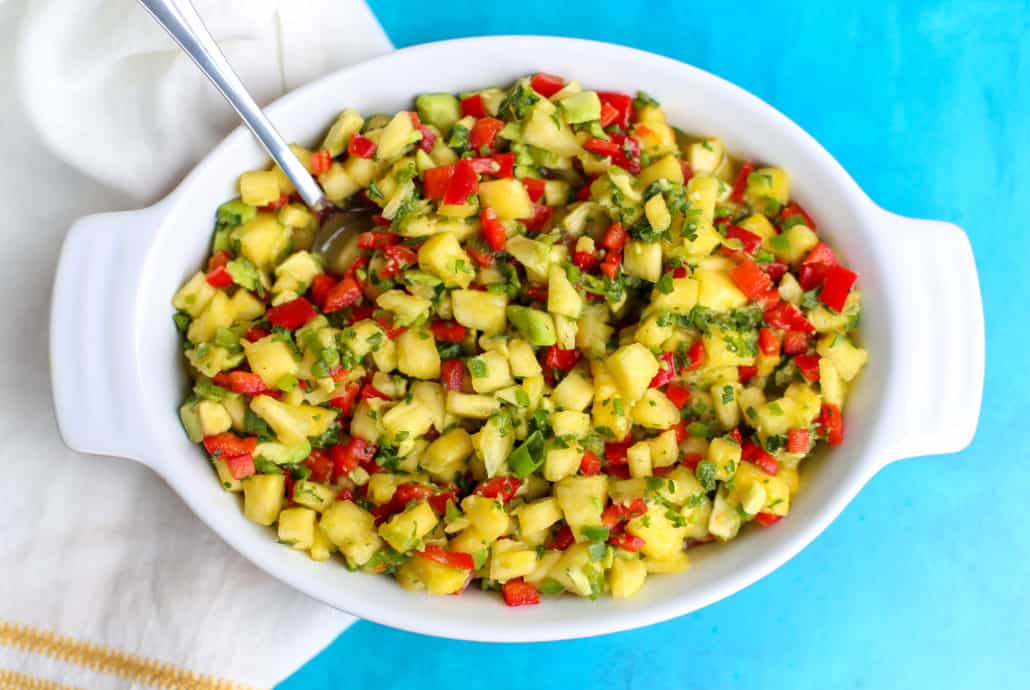 How Long Can It Stay in the Fridge?
Like most fresh salsa recipes, it will be good for 3-5 days in the fridge. That being said, Pineapple Salsa is best when served really fresh. It has the most texture and fresh flavor this way. Ideally, you'd prep it ahead a few hours in advance instead of days in advance.
Don't try to freeze this one. Because of the high water content in the ingredients, the texture will end up mushy and watery on the other end of its freezer stay.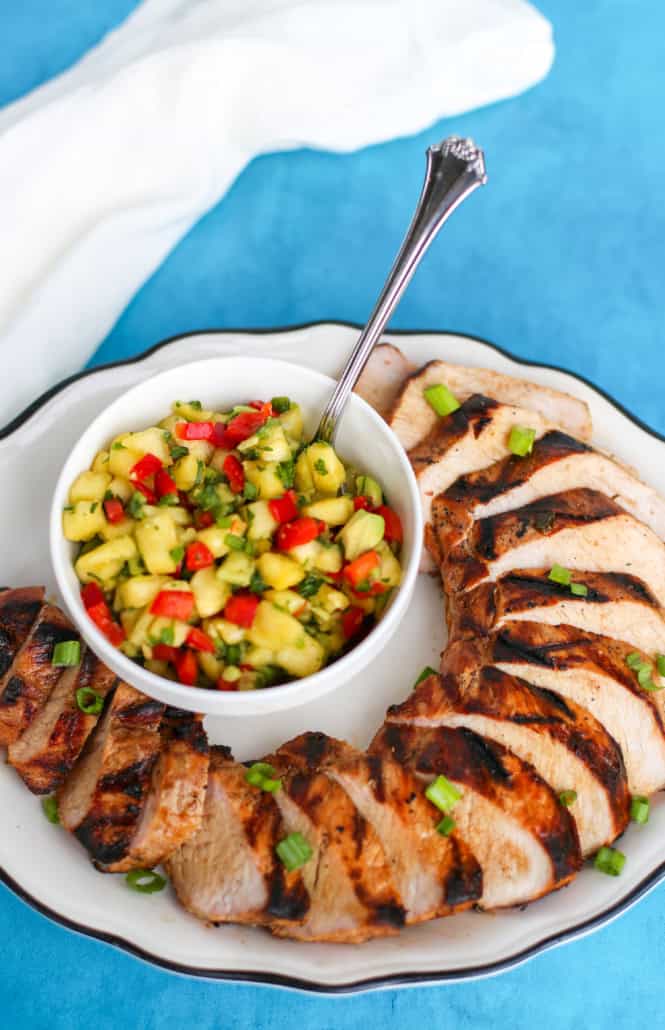 Best Ways to Use Pineapple Salsa
Need some ideas of ways to use Pineapple Salsa?
Pork Tenderloin – Pair with this Grilled Pork Tenderloin Marinade. The flavors of our Hawaiian-flavored grilled pork and this Pineapple Salsa were created to go together!
Grilled Chicken – It would be delicious with this Asian Chicken Marinade or our Southwest Chicken Marinade.
Serve with Slow Cooker Carnitas – Add this to the line-up of toppings for Carnitas.
DIY Burrito Bowl – Serve in a Burrito Bowl with Instant Pot Cilantro Lime Rice, veggies, black beans, and guacamole.
Bacon-Wrapped Shrimp and Pineapple Kabobs – A perfect pairing!
Tortilla Chips – Entertaining a crowd? Just set out some tortilla chips and your people will be good to go.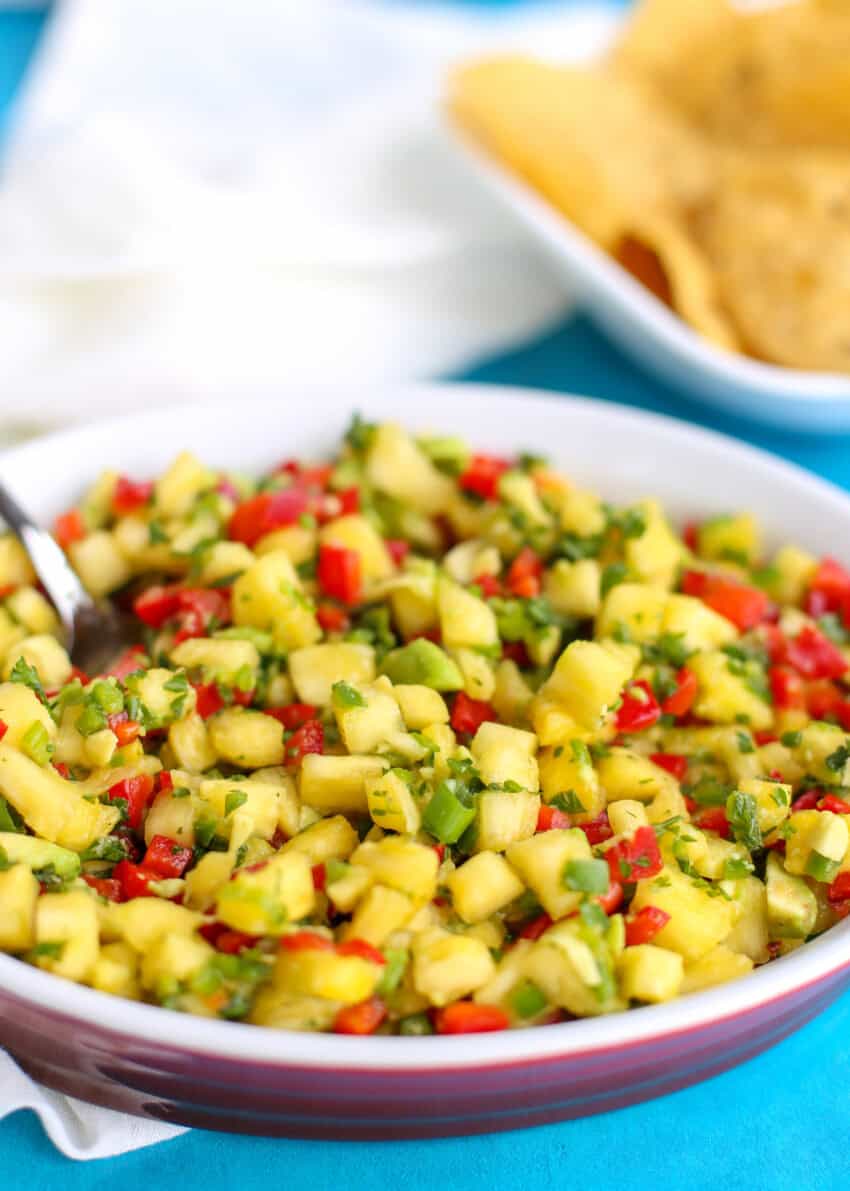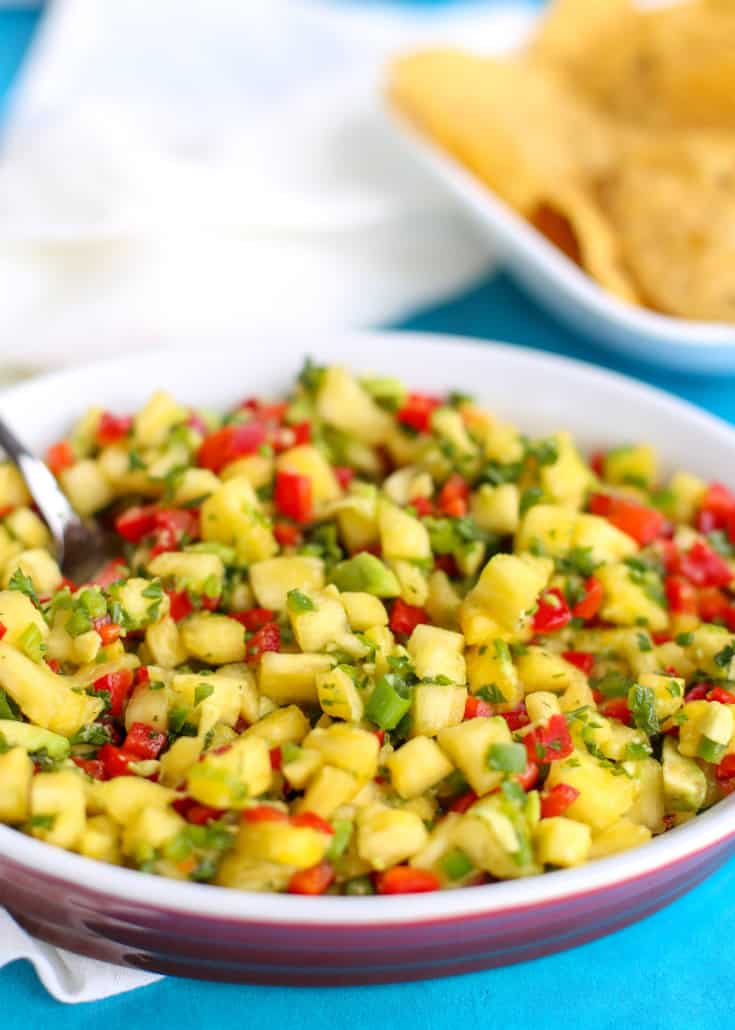 Pro Tips:
How to Pick the BEST Pineapple
According to Healthline, "A ripe pineapple should have a firm shell but be slightly soft with a bit of give when you squeeze it. Pineapples that are completely solid or hard when squeezed are unlikely to be fully ripe." We've also found that once they start to turn a little darker brown (and smell ripe when you sniff the bottom), they are just right!
Buy Pre-Cut Fresh Pineapple Spears
Since this recipe involves a lot of chopping, don't be afraid to cut some corners. For example, you can buy a package of fresh pineapple spears, already peeled and sliced. You'll still need to dice the pineapple up, but it saves quite a bit of time to have some of that grunt work done for you.
Sharpen Your Knife Before Starting
You'd be amazed at the difference between chopping with a freshly sharpened knife vs. a dull one. Since this recipe requires a lot of chopping, taking the extra minute to sharpen your knife will really pay off.
Did you make this? Snap a photo and tag us on Instagram at @thrivinghome so we can see your creations and cheer you on!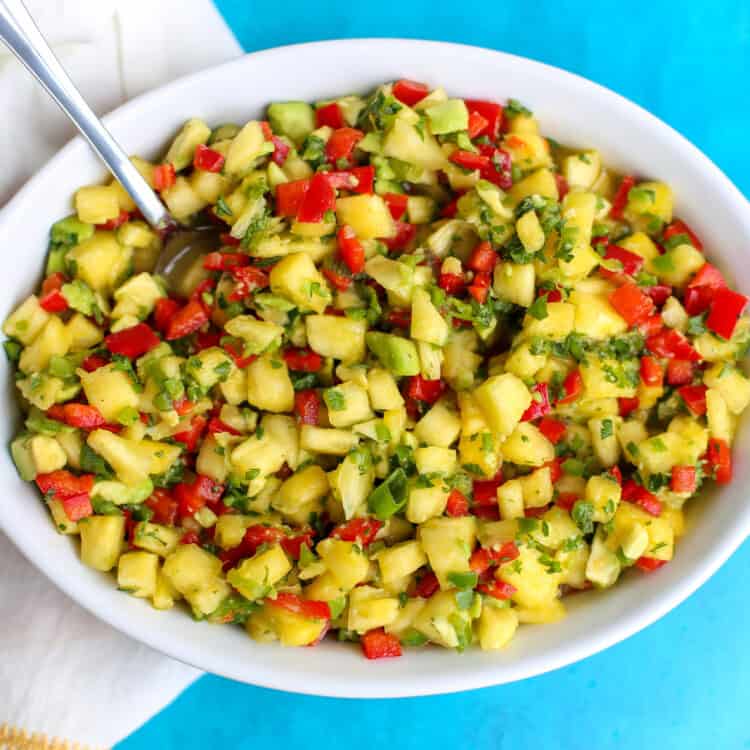 Pineapple Salsa
Pineapple Salsa is a fun, fresh, colorful condiment or appetizer that's not only healthy but absolutely delicious! Serve as a dip with chips or on top of recipes like our Hawaiian Grilled Pork Tenderloin.
Prep:
30 minutes
Cook:
0 minutes
Total:
30 minutes
Ingredients
1

medium fresh pineapple, cored and finely diced (about

3 cups

)

1

red bell pepper, finely diced (about

1 cup

)

1

medium to large jalapeno, seeded, deveined, and minced (about

3 tablespoons

)

1/2 cup

thinly sliced green onions

1/4 cup

finely chopped cilantro (sub: fresh parsley)
Juice of

2

limes (about

4 tablespoons

)

1/4 teaspoon

salt, plus more to taste

Sriracha sauce or cayenne pepper, to taste

Optional: 1-2 ripe avocados, chopped
Before You Begin! If you make this, please leave a review and rating letting us know how you liked this recipe! This helps our business thrive & continue providing free recipes.
Instructions
Combine all the ingredients in a bowl. Let it sit in the fridge for about 30 minutes before serving so the flavors start to combine. 
---
Notes/Tips
Using fresh, ripe pineapple is the key to this recipe. We strongly urge you not to use canned or frozen pineapple. 
This salsa is best served fresh but keeps well in the fridge for 3-5 days.