Bacon-Wrapped Shrimp Kabobs
This post may contain affiliate or sponsored links. Please read our disclosure policy.
Look no further for the perfect shrimp kabob recipe. Our Bacon-Wrapped Shrimp and Pineapple Kabobs are every bit as tasty as they sound. The sweetness of grilled fresh pineapple pairs perfectly with the smoky saltiness of the bacon.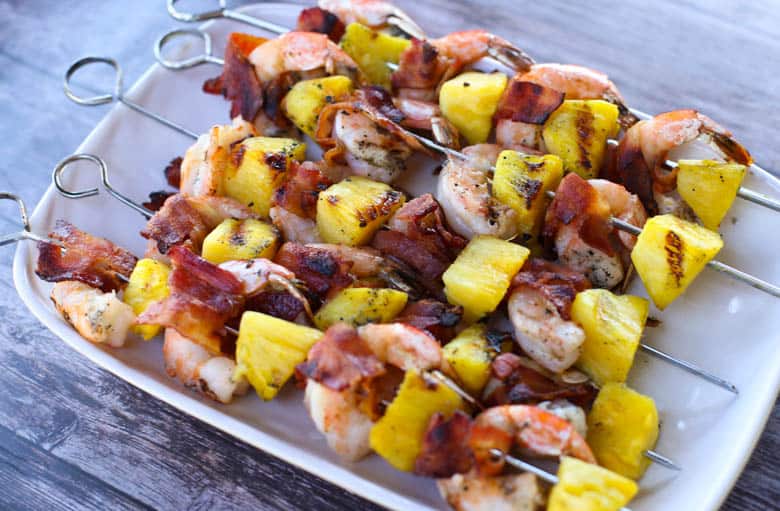 "These Shrimp and pineapple kabobs are the best….mmmm….I will be making them again. Thank you! ⭐️⭐️⭐️⭐️⭐️" – Mattie
Ingredients
Have you noticed that we love kabobs around Thriving Home? We already have tasty chicken kabobs and steak kabobs, so we were in need of a killer shrimp kabob recipe. Boy, oh boy, I think we did it with this combo.
All you really need are three simple, fresh ingredients to pull off these kabobs:
Peeled, deveined shrimp – Just lightly salted and peppered.
Bacon – We get most of our meat from Butcher Box.
Fresh pineapple – Please don't use canned pineapple unless you really have to. It won't hold a candle to the fresh version.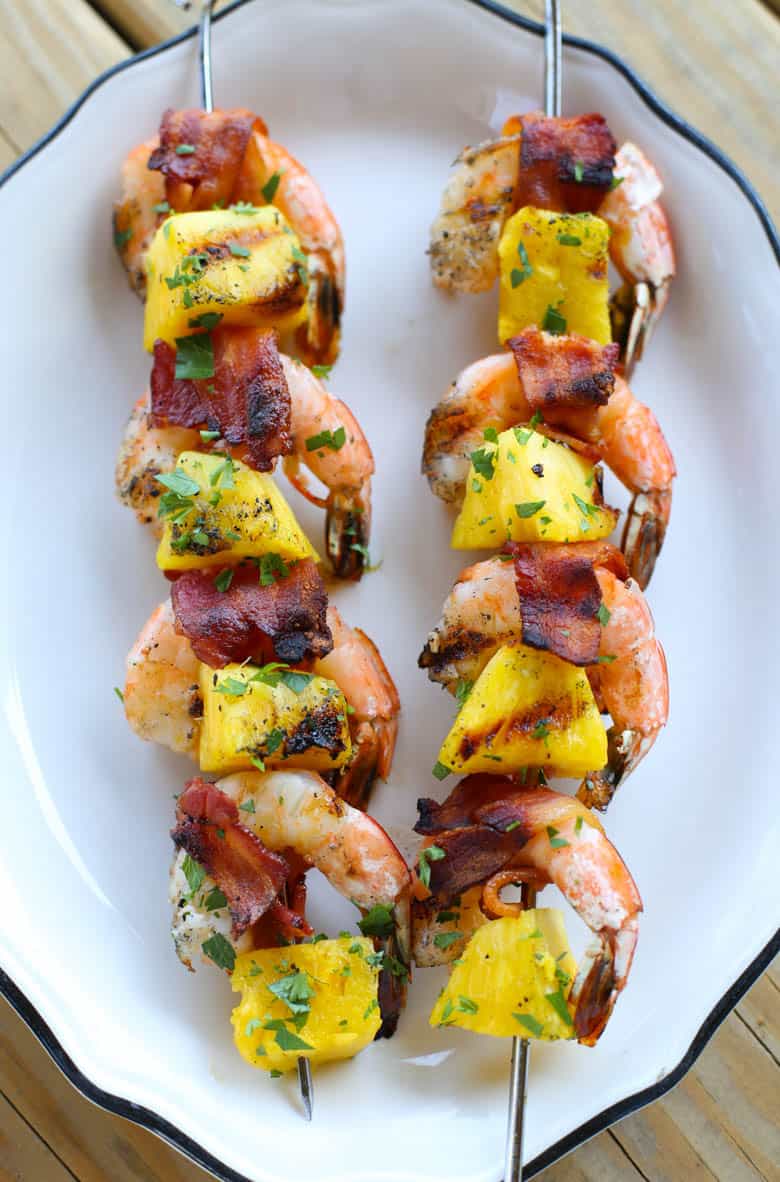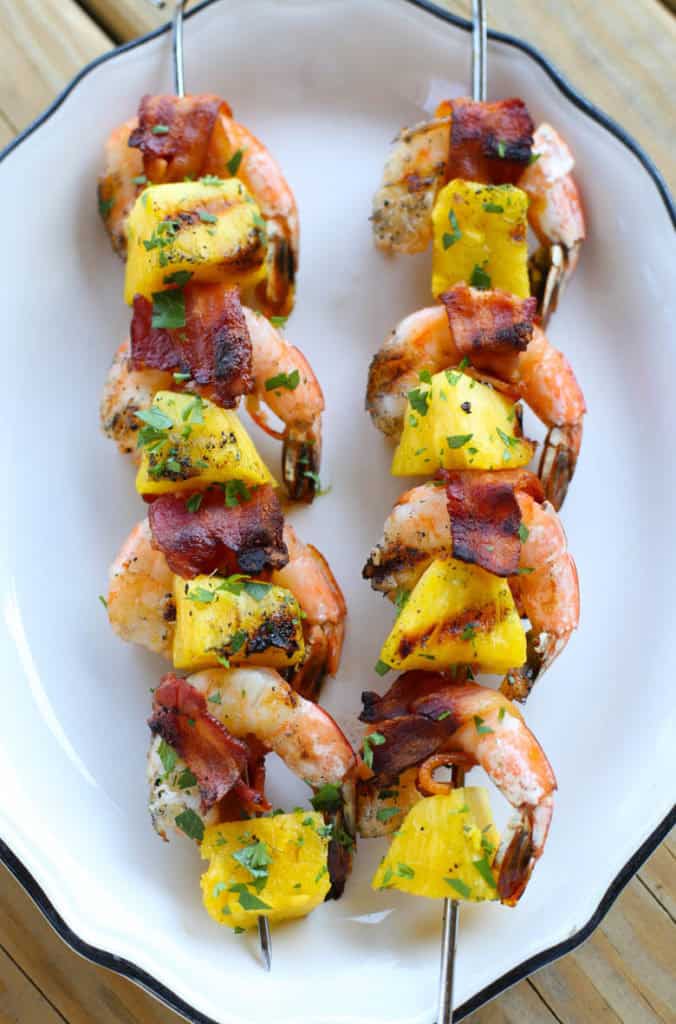 Check out how easy it is to throw these kabobs together!
Tips for Assembling the Shrimp Kabobs
Let's address one kabob problem (and our solution) upfront.
Sometimes when grilling kabobs, the ingredients cook at different rates and you end up with some overcooked and some undercooked parts.
We've solved that in our recipe below, though! The key is to first partially cook the bacon before wrapping it around the shrimp. That way the pineapple, shrimp, and bacon are all done (not overcooked) within the same grilling time.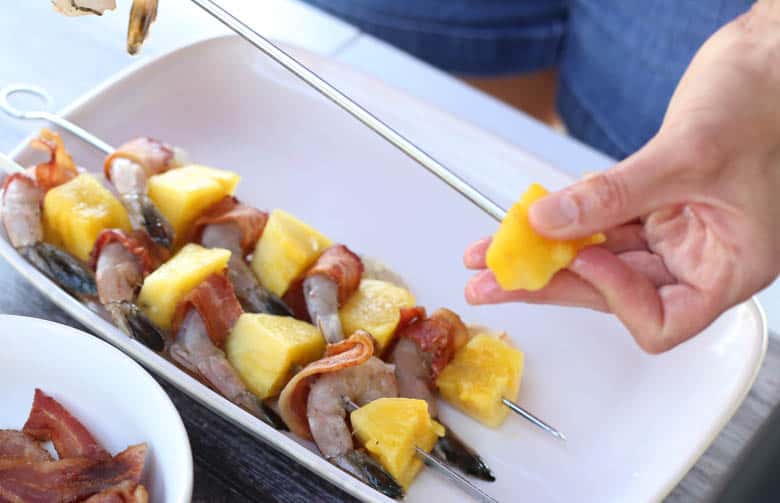 After you par-cook the bacon, you'll alternately thread pineapple and bacon-wrapped shrimp onto the skewer. If your bacon isn't staying on, use toothpicks to secure it.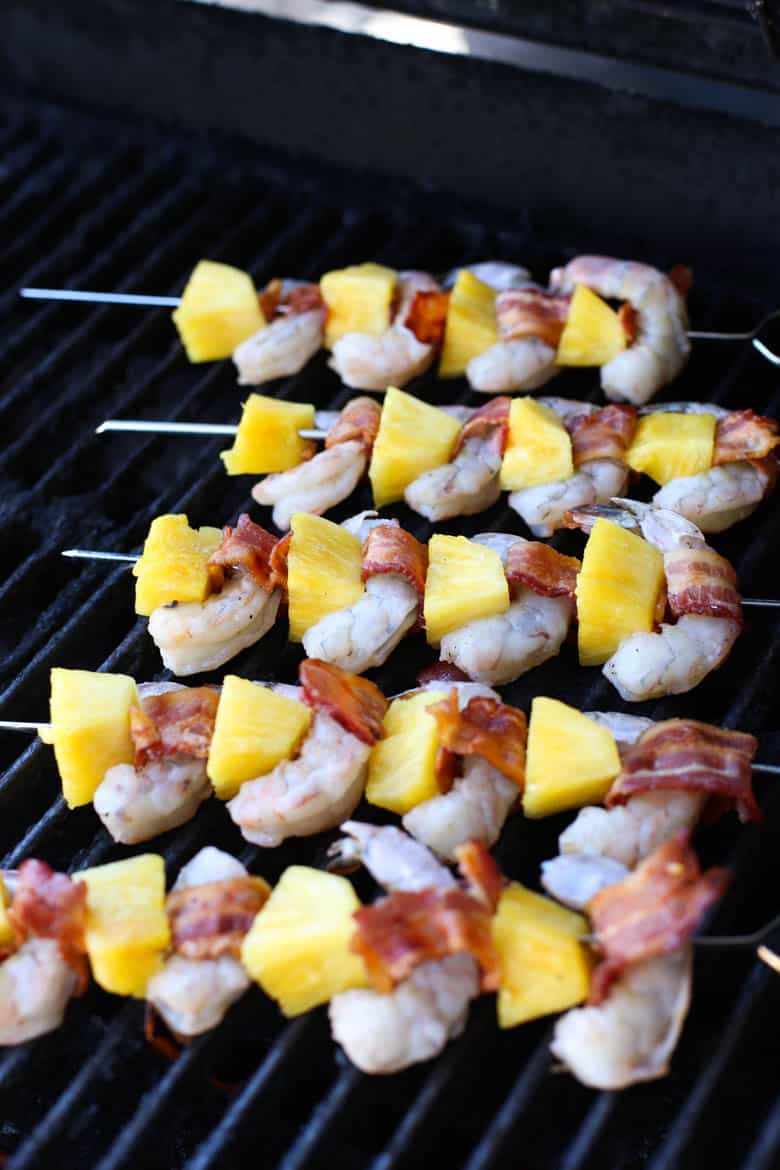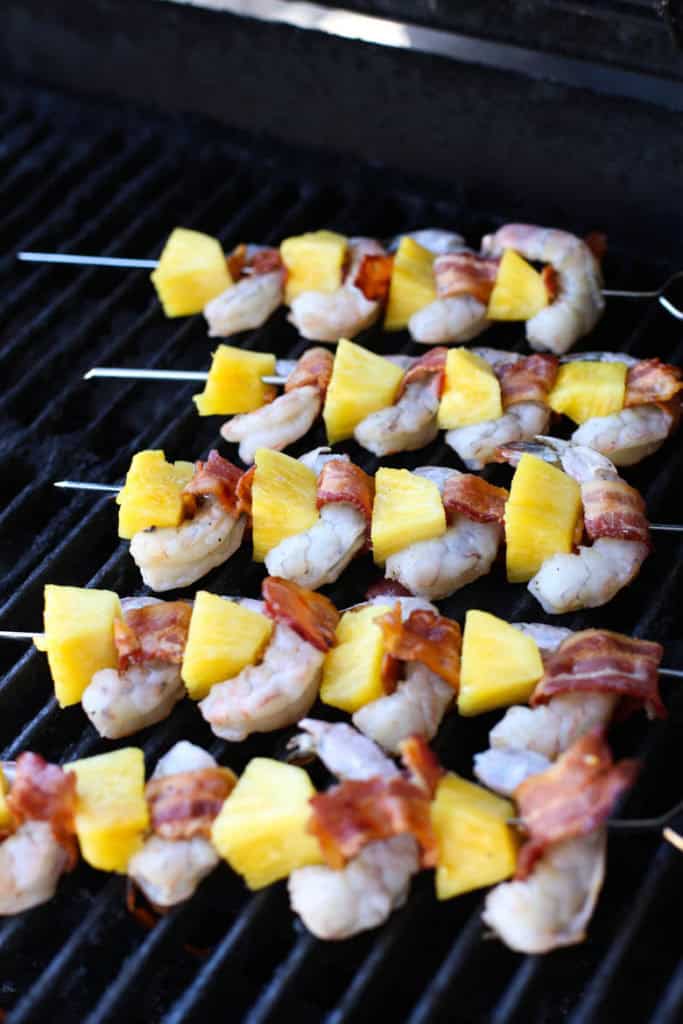 Time to Grill!
Preheat your grill to medium-high heat.
Using grilling tongs and/or a turner, place the skewers on a hot grill.
Grill for only 2-3 minutes per side. Be careful not to overcook the shrimp, as they can become tough and rubbery.
You'll know it's done when the shrimp turns pink and is no longer translucent.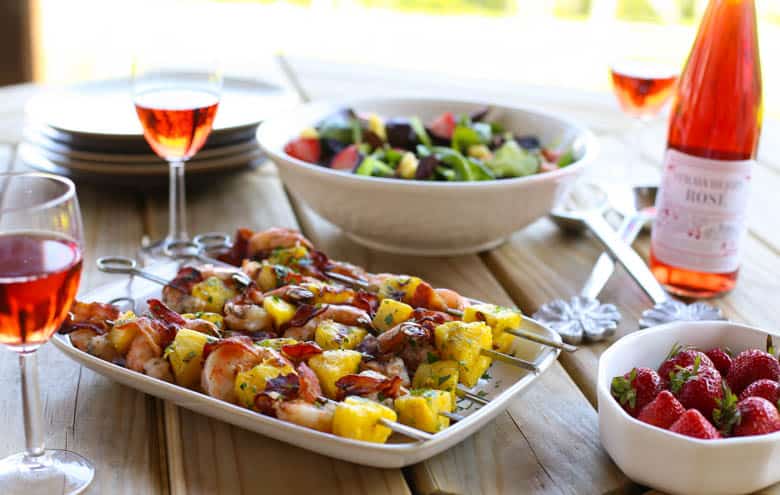 FAQ
Can I use frozen shrimp for grilled shrimp kaboabs?
Yes, you can use frozen shrimp, but be sure to thaw them first before grilling. You can thaw the shrimp in the refrigerator overnight or in a bowl of cold water for about 30 minutes.
How do I prevent the shrimp from sticking to the grill?
Brushing the shrimp and skewers with oil before grilling can help prevent sticking. You can also use a non-stick grill mat or spray the grill with cooking spray.
Can I cook shrimp kabobs in the oven?
Yes, you can bake shrimp kabobs in the oven. Preheat your oven to 425°F, and place the skewers on a baking sheet. Bake for 8-10 minutes or until the shrimp are pink and cooked through.
How do I know when the shrimp are done?
Shrimp cook quickly, so be sure to watch them closely. When they turn pink and opaque, and the flesh is firm to the touch, they are done. Overcooked shrimp will become tough and rubbery, so it's better to undercook slightly than overcook.
Can I use different vegetables on the skewers?
Yes and no. Because shrimp cooks so fast, vegetables likely won't be fully cooked by the time the shrimp is. Therefore, if you want to grill vegetables as well, put them on a different skewer and cook them separately. Just make sure to cut them into similar-sized pieces so they cook evenly.
Can I use a gas grill or charcoal grill for grilling shrimp kabobs?
You can use either a gas grill or a charcoal grill. Just make sure to preheat the grill before adding the shrimp kabobs.
Did you make this? Snap a photo and tag us on Instagram at @thrivinghome so we can see your creations and cheer you on!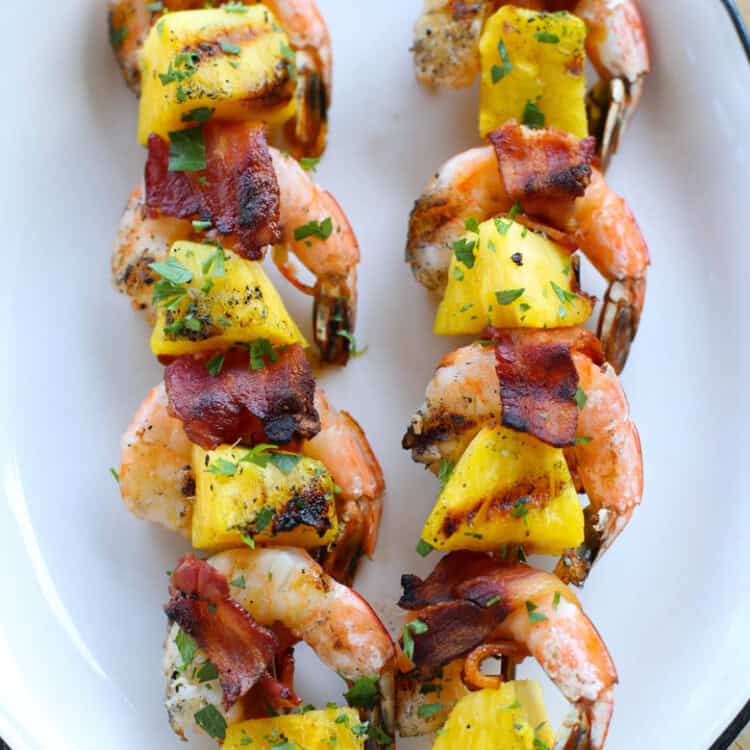 Bacon-Wrapped Shrimp Kabobs
Our Bacon-Wrapped Shrimp and Pineapple Kabobs are every bit as tasty as they sound. The sweetness of grilled fresh pineapple pairs perfectly with the smoky saltiness of the bacon.
Prep:
15 minutes
Cook:
12 minutes
Total:
27 minutes
Ingredients
12

ounces

(about 10 slices) bacon
Salt and ground black pepper

1

pound

16/20 count (jumbo) shrimp, peeled, deveined, with tails on

1

fresh pineapple, peeled, cored, and cut into

1

-inch chunks
Before You Begin! If you make this, please leave a review and rating letting us know how you liked this recipe! This helps our business thrive & continue providing free recipes.
Instructions
Cook the bacon until just done but still flexible (not crispy!). The easiest method is cooking it in the microwave in 2-minute increments. Thinner bacon will take about 3-4 minutes and thicker bacon may take 4-6 minutes, depending on your microwave. Or, use our No Fail Method in the oven, but take it out a few minutes early. Set the bacon aside on a wooden cutting board to cool. Then, cut the slices in half.
Preheat a grill to medium-high heat. 
Set up a work station with the skewers (metal or wooden), shrimp, par-cooked bacon, pineapple chunks, and a dish or large plate to hold the finished skewers. To build the kabobs, wrap a shrimp in a half piece of bacon and thread it on the skewer followed by a pineapple chunk. Each kabob will hold four bacon-wrapped shrimp and four pineapple chunks. Place the kabobs in the dish. Tip: Thread any extra pineapple on skewers to grill along side the shrimp, too.
Wash your hands well. Using tongs, place the kabobs on the grill. Let them cook for 2-3 minutes on the first side and then flip to the other side. Grill for 2-3 minutes, until done. Shrimp should be pink and opaque when done. Remove to a clean platter. (Alternate cooking method: Broil on a sheet pan for 2-3 minutes per side.)
Garnish with fresh chopped parsley, if desired.