This post may contain affiliate or sponsored links. Please read our disclosure policy.
When you grill a pork tenderloin instead of baking it, you still get the flavor and moistness but the bonus is the extra char-crispiness that coats the outside of the tenderloin.
Below you'll see how long to grill a pork tenderloin as well as tips and a recipe to make it delicious!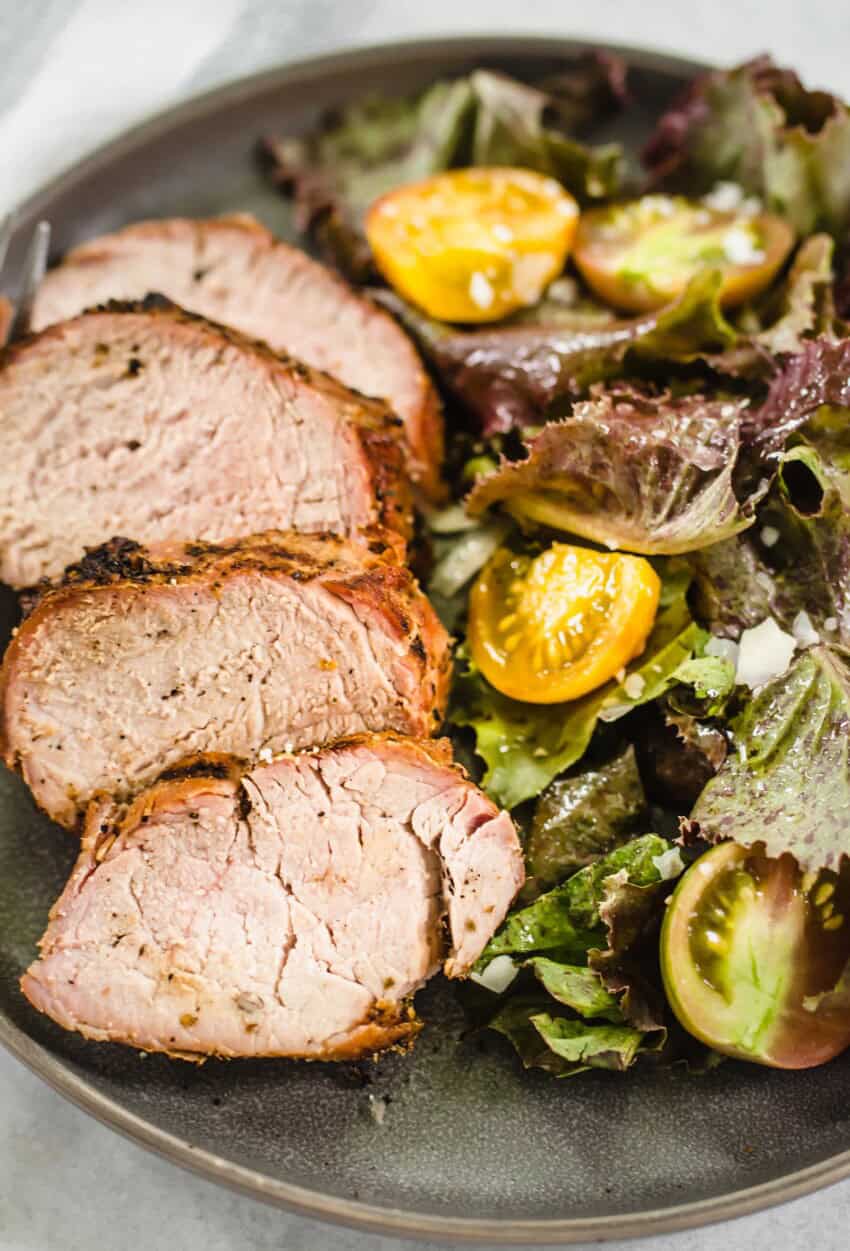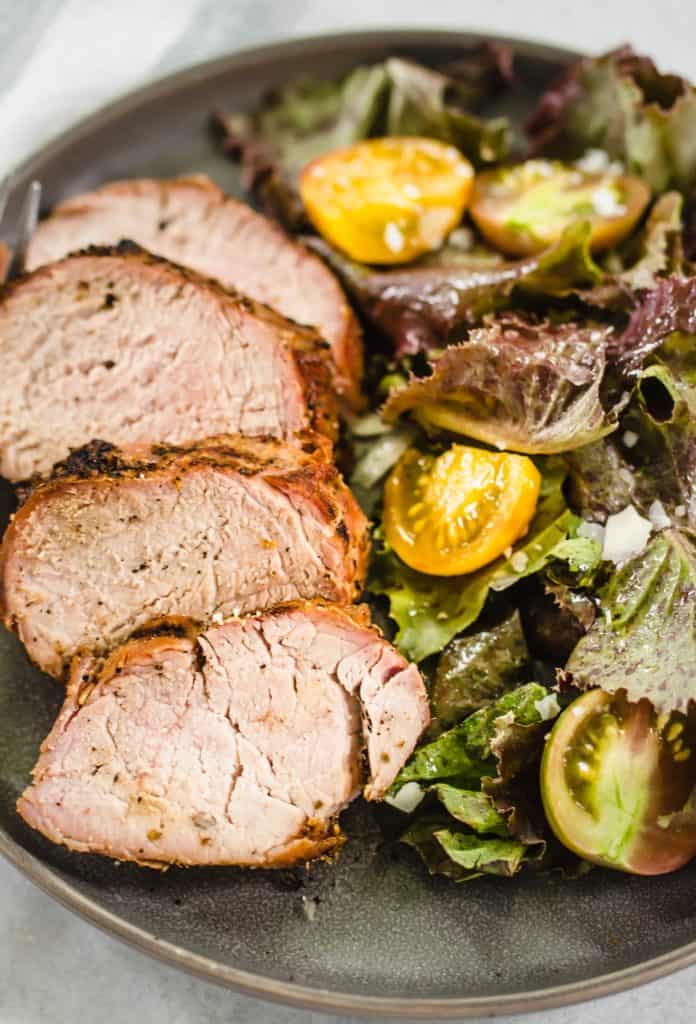 Reasons You'll Love Grilled Pork Tenderloin
It's SO easy. With just a few simple ingredients, any type of cook can make this recipe.
It's freezer friendly. More on this below but this recipe is a great one to double and freeze. Like most of our freezer meals, it's prepped right up until cooking. That way you simply thaw it before cooking so it tastes fresh.
Grilling it brings out more flavor. While baked pork tenderloin is delicious on its own, something about the open flame makes magical things happen. Once you grill it, you won't go back!
It's kid-friendly. If your kids will eat meat (some don't because of texture), they will likely like this.
It's very affordable. People often overlook how cheap pork tenderloin is!
It's healthy! Pork tenderloin is a lean cut of meat and a great source of lean protein.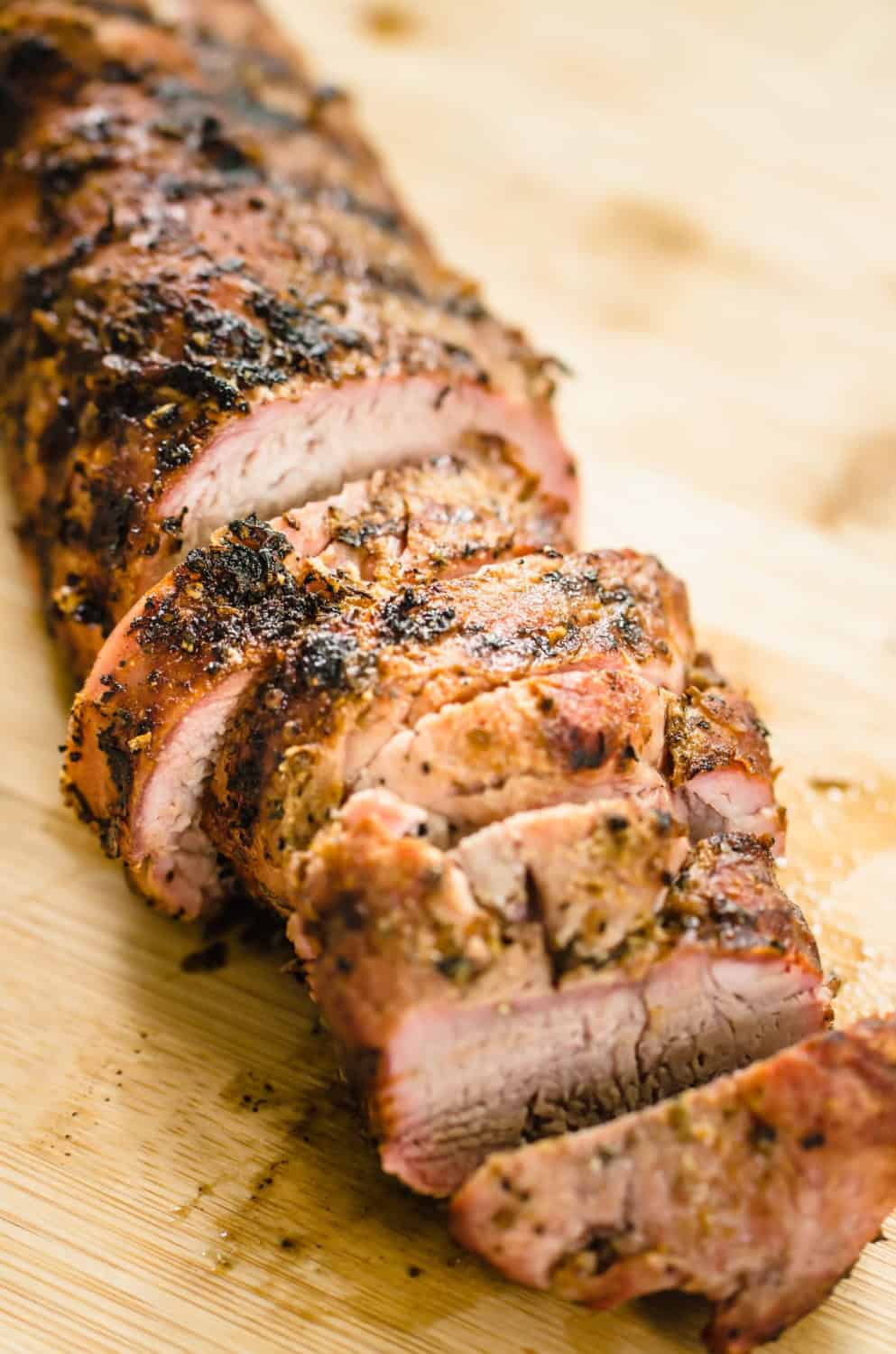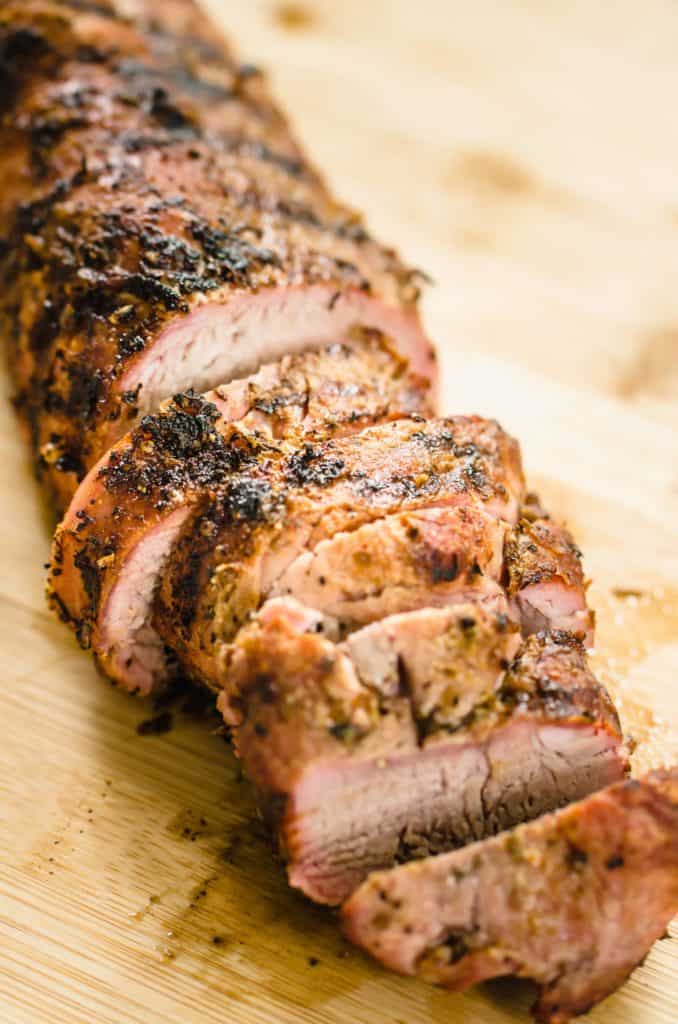 How Long to Grill Using the 7-6-5 Method
Anyone can cook pork tenderloin this way by following these step-by-step directions. While this timing has served me well over the years, every pork tenderloin is a touch different.
Let the meat thermometer be your guide on when it's fully done.
Simply preheat the grill to 450°F degrees.
Place your seasoned tenderloin on the grill and let it sizzle with the lid shut for 7 minutes.
Flip.
Shut the lid and then let it grill for 6 more minutes.
Now turn the heat off, and leave the lid closed for 4-5 minutes.
Remove tenderloin from heat and let rest for 7-8 minutes before slicing.
Safety Note:
According to the USDA, the pork tenderloin needs to reach 145 degrees internally to be safe to eat.
We recommend using a meat thermometer inserted at the thickest part at this point to check that it's 145 or just slightly under, as it will carry-over cook while resting.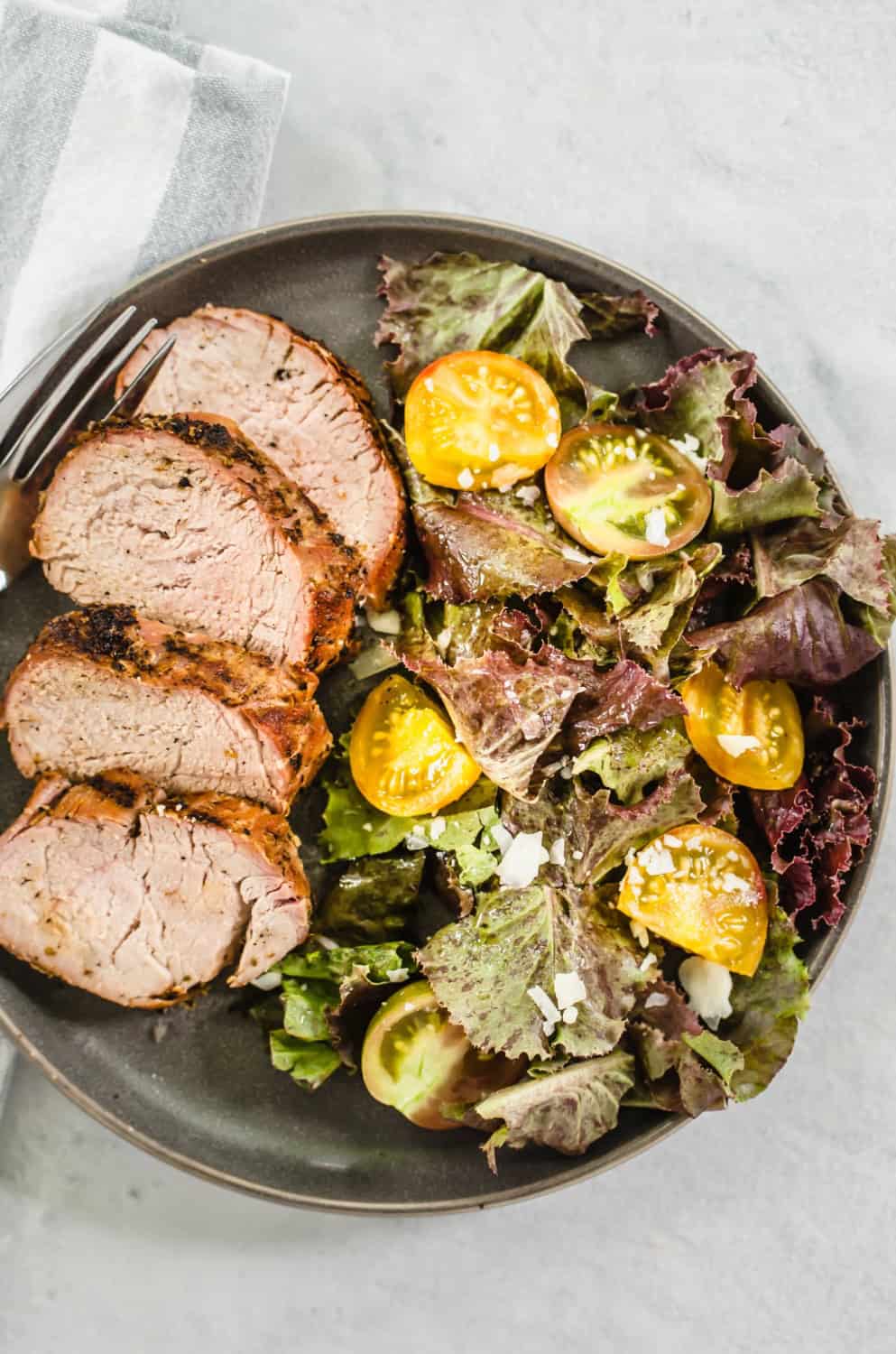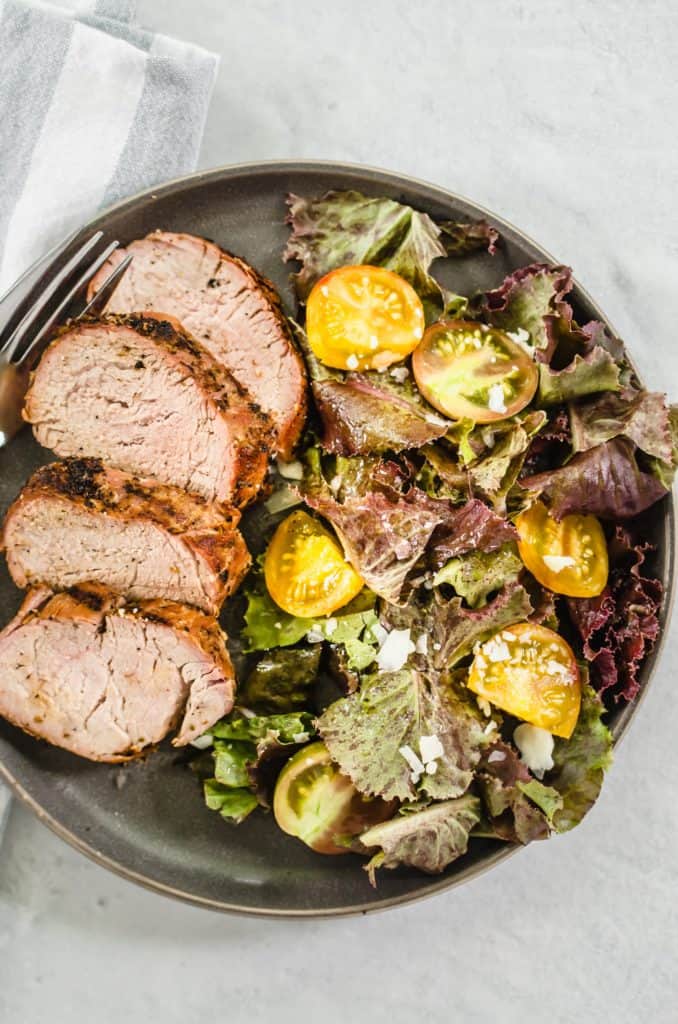 Can You Freeze Pork Tenderloin?
Yes! It takes almost no extra time to double this recipe and freeze one for later.
After writing two freezer meal cookbooks and testing hundreds and hundreds of freezer meal recipes over 10+ years, we've narrowed down the best recipes and methods for making healthy freezer meals for your family.
Our freezer meal recipes and methods are well-tested and delicious and this pork tenderloin recipe is no different.
How to Freeze Pork Tenderloin
Freeze For Later: Place the seasoned pork tenderloin in a gallon-sized freezer bag, squeeze out the air and seal tightly, and freeze for up to 3 months.
Prepare From Frozen: Thaw the meal using one of these safe thawing methods. Then, roast in the oven or grill according to recipe directions, making absolutely sure to cook until it reaches the USDA's recommendation of a safe internal temperature (145° F).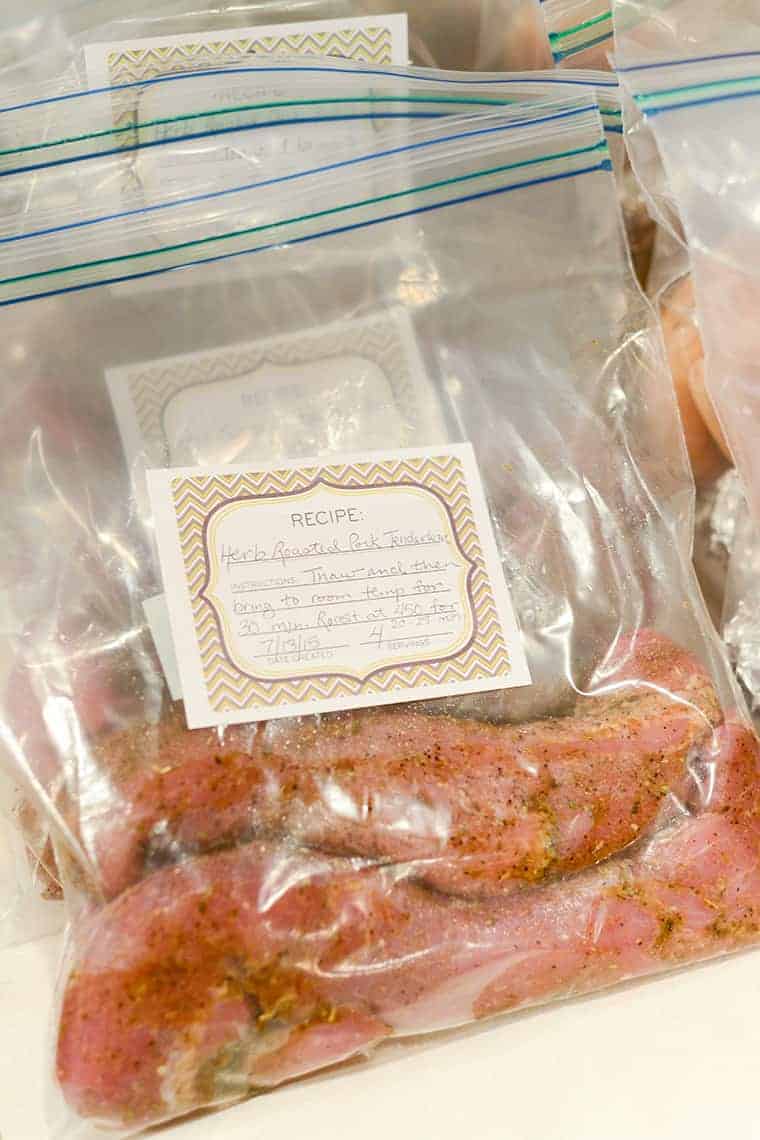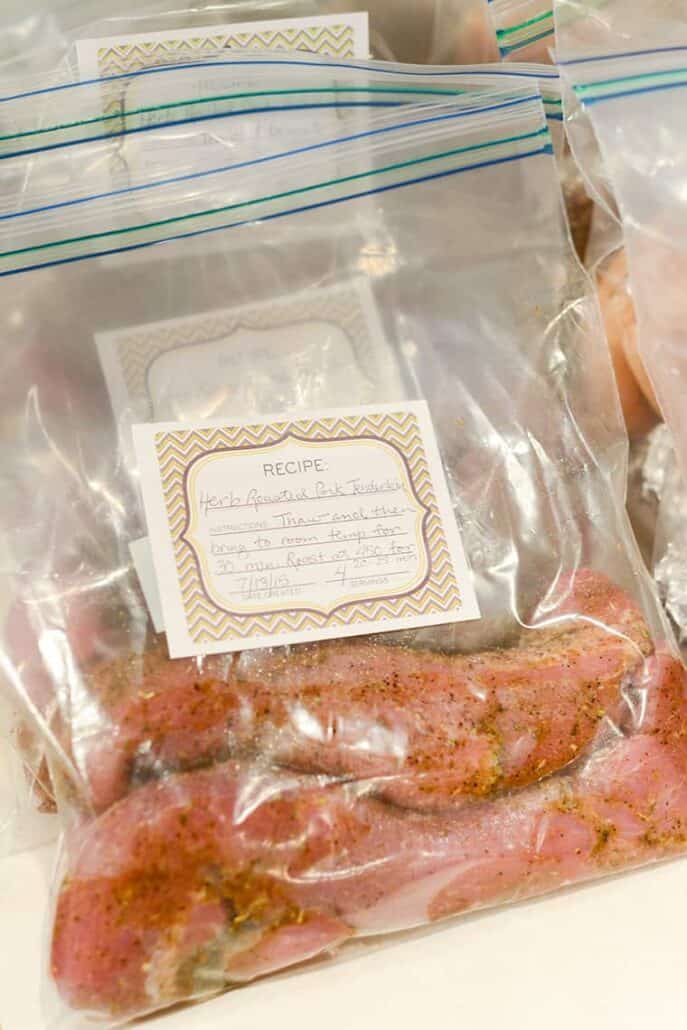 What other ways can you cook a pork tenderloin?
Because pork tenderloin cooks so fast, it's easy to dry out while using the slow cooker or Instant Pot.
If you don't want to grill the pork tenderloin, we highly recommend this incredibly simple and tasty Oven Roasted Pork Tenderloin.
If you do want to use your slow cooker, this Slow Cooker Pork Loin with Maple Glaze would be a great option. Pork loins (vs pork tenderloins) are a wider cut and are usually covered with a thicker fat cap. They do much better in the crock pot and even in the Instant Pot than a leaner cut like a pork tenderloin.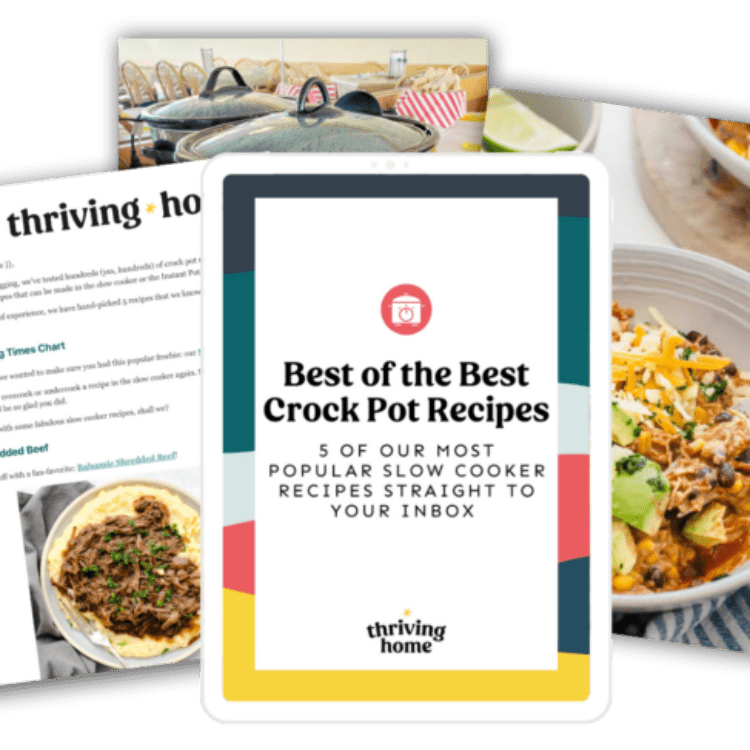 Want our Top 5 Crock Pot Recipes?
Sign up and get 5 days of our
most popular
 slow cooker recipes sent straight to your inbox.
Send Them My way!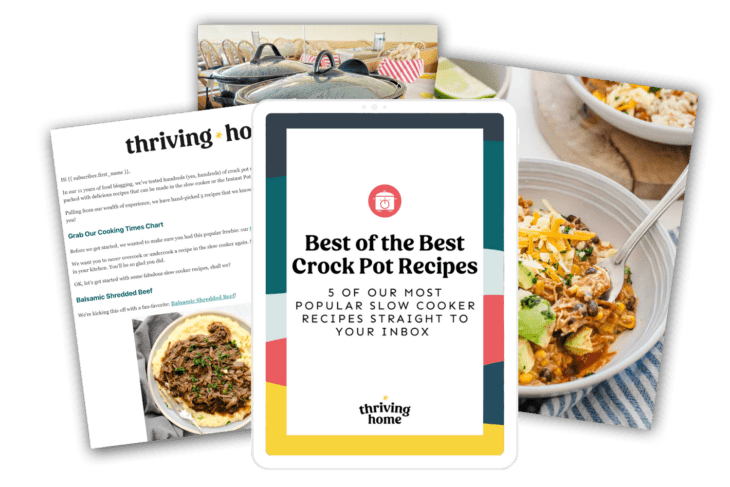 Did you make this? Snap a photo and tag us on Instagram at @thrivinghome so we can see your creations and cheer you on!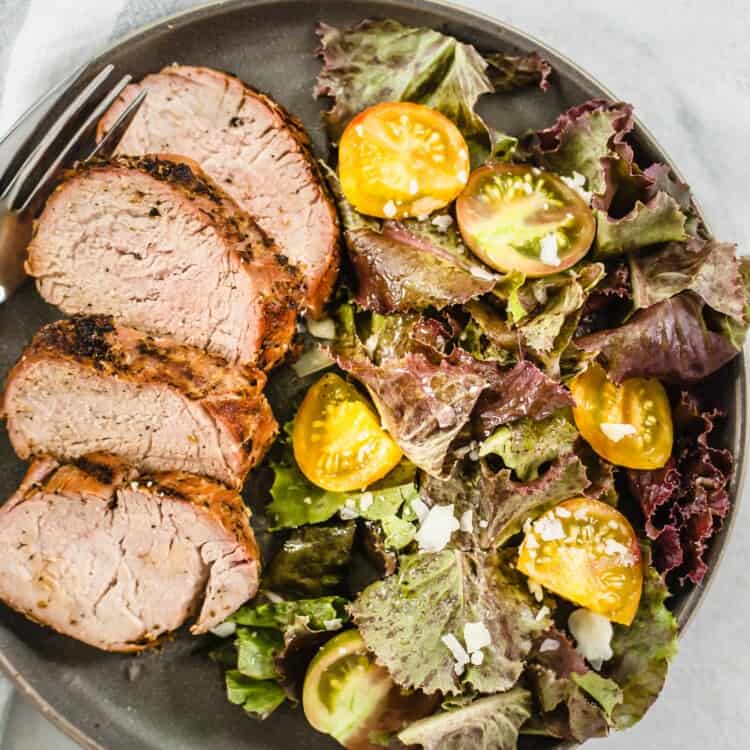 Grilled Pork Tenderloin (7-6-5 Method)
A GREAT tip on how to grill pork tenderloin. You'll never go back to baking it after you try the 7-6-5 method. This seasoning method produces a super flavorful tenderloin, too.
Prep:
10 minutes
Cook:
20 minutes
Total:
30 minutes
Want More Grilling Recipes?
Check out these 15+ Amazing Grilling Recipes for more ideas. Yum!