Oven Roasted Pork Tenderloin
This post may contain affiliate or sponsored links. Please read our disclosure policy.
Just 6 pantry seasonings completely transform the humble pork tenderloin into a meal that's one of our family's top 5 favorites. I've made this Oven Roasted Pork Tenderloin with a dry rub seasoning for well over a decade now, and it turns out perfectly every time.
"I would make this again! The spices were perfect. Just delicious!"
– Holly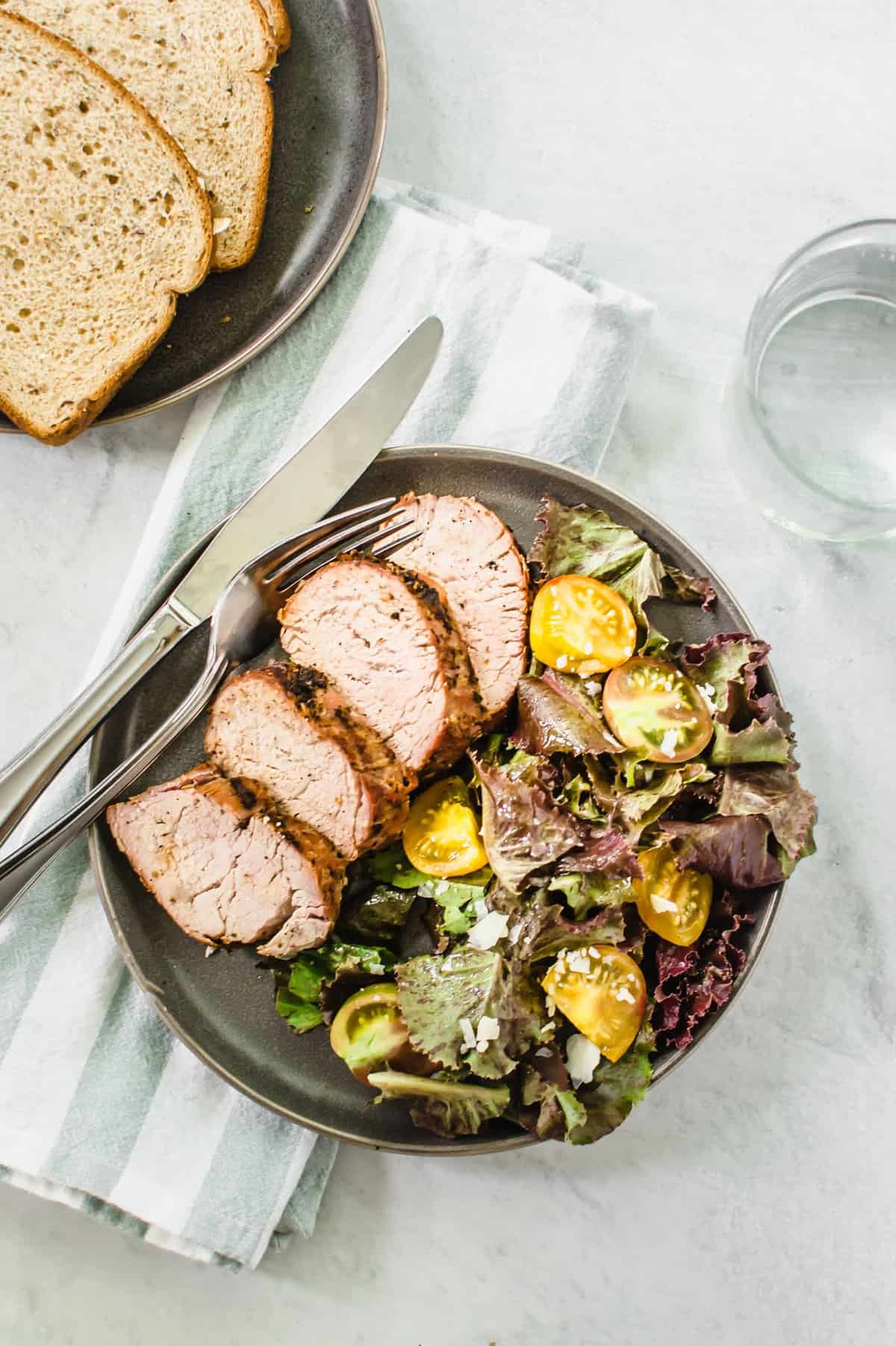 Disclaimer: This post was created in partnership with Hy-Vee (Columbia).
Reasons We Love This Recipe
As one of the most popular freezer meals on Thriving Home, this pork tenderloin recipe is requested over and over by my family. I've been testing and making pork tenderloin recipes for well over a decade now, and here's why this one is so great:
Fast and easy: Mix up the pork tenderloin rub, season the meat with it, and pop it in the oven. Done in 30 minutes or less. (Testing Note: I've tested this recipe numerous ways, including pan-searing before baking. Pan searing gave a bit more color to the outside but did not affect the taste or texture enough to warrant the extra time/effort it takes.)
Unbelievably delicious: Even though the pork tenderloin seasoning and cooking method are simple, it packs a big flavor punch and turns out moist. You may want to serve it with our Homemade BBQ Sauce for dipping, but this pork easily stands on its own.
Kid-friendly: Most kids will go for this main dish. My children like it dipped in ketchup. 🤷🏻‍♀️ For more recipes your kids will like, check out our list of top kid-friendly freezer meals.
Healthy: This is a lean cut of meat and a good source of protein.
Versatile: While this recipe is written to roast in the oven, you can also easily grill it. Read more about how to grill pork tenderloin. Plus, you can use leftovers in a variety of ways (see below).
Important Notes about Pork Tenderloin
Do Not Confuse It with Pork Loin: Pork tenderloin is NOT to be confused with pork loin. Pork tenderloin is a long, narrow, boneless cut of meat. Pork loin is wider and flatter and can be purchased boneless or bone-in. They are two different cuts of meat that cannot be used interchangeably because they won't cook at the same rate.
What to Look For When Buying: Always read the ingredients on any pork tenderloin package. You're looking for one that has no additives, preservatives, or marinade included. Many you'll find are filled with extra salt, sugar, and unnatural ingredients.
Where to Buy Pork Tenderloin: It's hard to find truly all-natural pork tenderloin in my local grocery stores. So, I get my pork tenderloins from ButcherBox, but you may also find good ones at your local farmer's market or health food store.
Seasoning is Key: Whether you make marinated pork tenderloin or use a pork tenderloin dry rub like this recipe, seasoning this cut of meat is essential because it's fairly bland on its own. Even a good coating of Kosher salt and cracked black pepper will go a long way.
Where to Get Your Ingredients
We suggest grabbing all your ingredients for overnight oats at your local Hy-Vee. If you have this store nearby, you know what a gem you have under your nose–especially if you're a parent who knows all of these hacks!
Hy-Vee is a "one-stop shop" for anything you might need, from high-quality ingredients to grab-and-go meals to their pharmacy and much more. I especially love their Health Market selection.
How to Make Pork Tenderloin with Dry Rub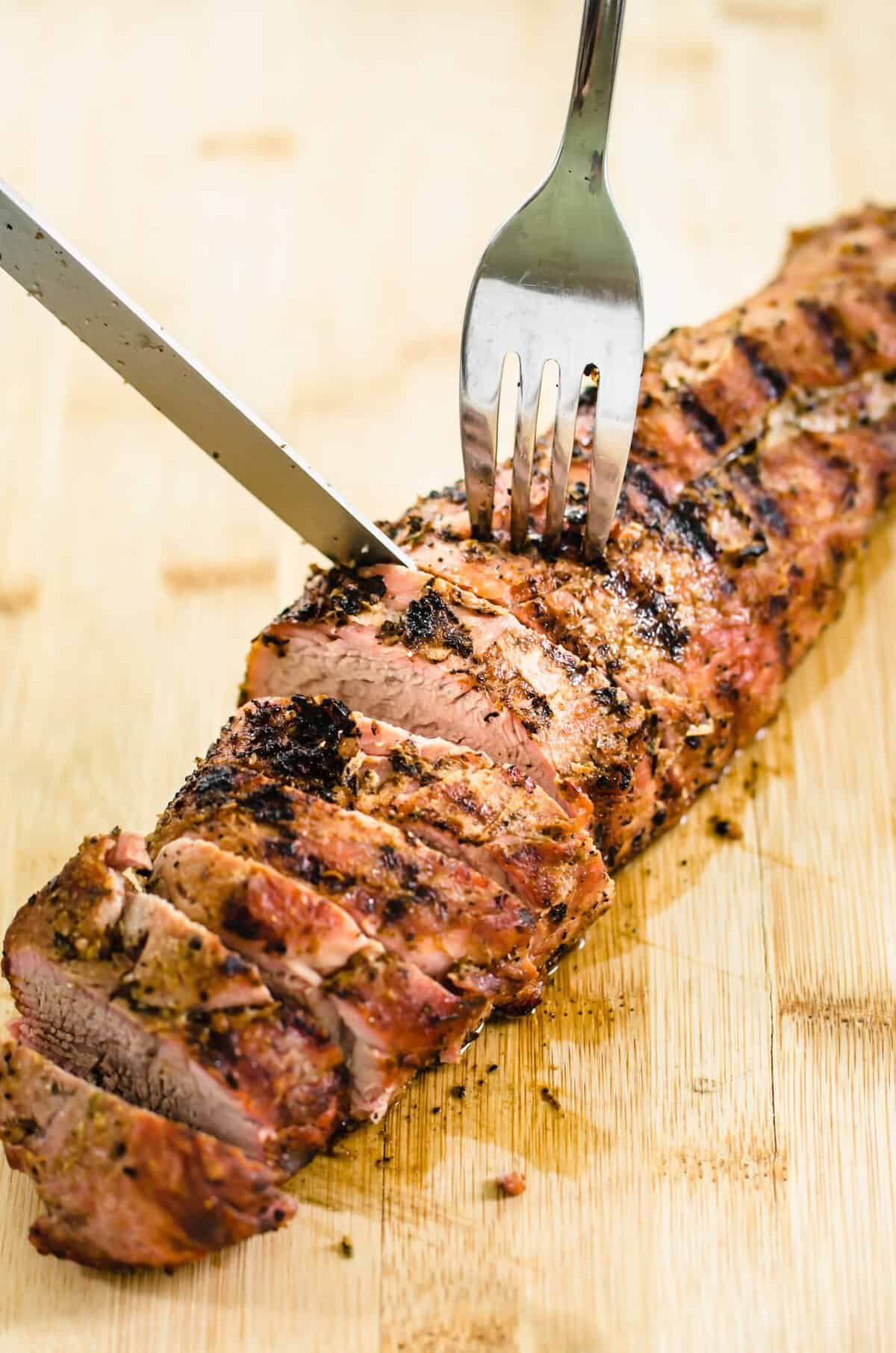 This recipe couldn't be simpler, so be sure to double and freeze one batch for later!
Mix up the pork tenderloin seasoning in a small bowl.
Place the pork on a rimmed baking sheet that's lined with parchment or foil. Pat the pork dry with paper towels and rub the seasoning on all sides, pressing it in so it sticks.
Roast at 450°F for about 20 minutes.
That's it!
Variations for Serving This Pork Tenderloin
While you can certainly enjoy the pork slices "as is", here are a few ideas to dress it up.
Offer BBQ sauce on the side for dipping the pork tenderloin in. (We prefer our Homemade BBQ sauce!)
Spread some chimichurri sauce on top of the pork; you can find recipes online or in either of our cookbooks.
Use leftover sliced pork for BBQ pork sandwiches. Serve warm on toasted buns or bread with BBQ sauce.
Chop up the leftover pork and use in quesadillas, tacos, or on top of your favorite salad. Use it in place of chicken in our Southwest Chicken Salad.
Sides for Pork Tenderloin
This delicious pork tenderloin recipe can be served with a variety of side dishes. Here are some ideas to get you started…
See all Side Dish Recipes
How do you cook pork tenderloin without drying out?
It's important to not overcook pork, like most of us have done over the years. Otherwise, you'll end up with a dry, tough dinner. Yuck!

Several years ago, the USDA lowered their safe cooking temperature recommendation for pork, which means we don't have to overcook it anymore! Pork tenderloin is done at 145°F, so be sure to use an internal meat thermometer to get it just right.

We suggest roasting or grilling your pork tenderloin at a high temp of 450°F for a short time, only about 20 minutes, depending on the size. It's essential to use an internal meat thermometer to remove it at the exact right temp (140-145°F).
How long do you cook pork tenderloin in the oven?
Roast your pork tenderloin in the oven at a high temp of 450°F for a short time, only about 20 minutes, depending on the size of your cut. It's essential to use an internal meat thermometer to remove it at the exact right temp, which is 140-145°F.
Can you freeze pork tenderloin?
Oh yes! When prepped correctly, pork tenderloin freezes and thaws well.

The key is good results is freezing before cooking the pork tenderloin. Wrap it tightly in a freezer storage bag or in a few layers of plastic wrap or foil, squeezing out all the excess air. You can freeze pork tenderloin with a rub on the outside or in a marinade. Thaw the frozen pork using one of these safe thawing methods and cook right away.

Our tests showed that freezing cooked pork tenderloin doesn't work well. It tends to become dry and chewy when rewarmed.

Frozen pork tenderloin recipes can make wonderful meals to take to new moms or easy vacation meals to prep ahead. In fact, this particular recipe comes together so fast, we included it in our 1 Hour Freezer Prep Sessions!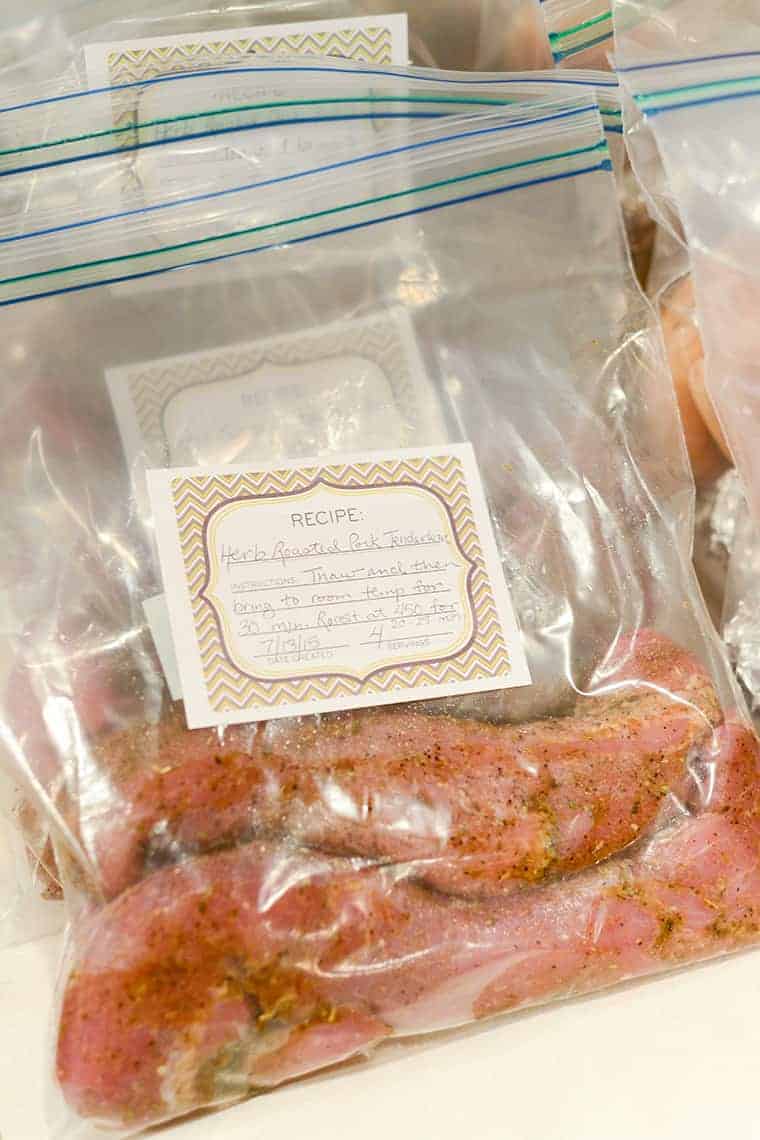 Did you make this? Snap a photo and tag us on Instagram at @thrivinghome so we can see your creations and cheer you on!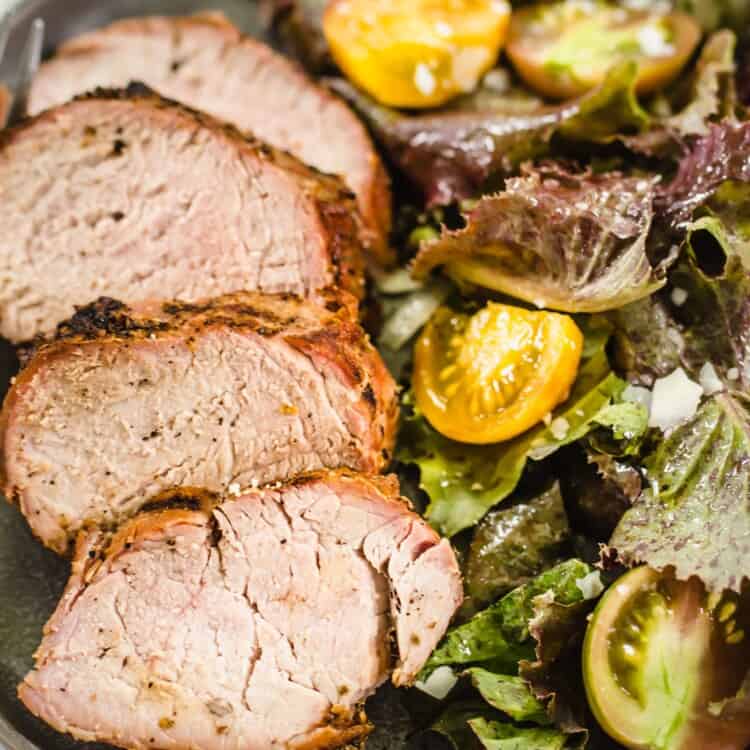 Oven Roasted Pork Tenderloin with Dry Rub
This Oven Roasted Pork Tenderloin recipe is one of our family's top 5 favorites! Thanks to the flavorful mix of seasonings in the dry rub and our easy cooking instructions, this recipe turns out perfectly every time.
Prep:
10 minutes
Cook:
20 minutes
Total:
30 minutes