This post may contain affiliate or sponsored links. Please read our disclosure policy.
With a balance of sweet, tangy, umami, and just the right amount of salty flavor, this Hawaiian pork tenderloin marinade hits all the right palette spots. The marinade comes together quickly and works perfectly for oven roasted or grilled pork tenderloin. Serve it with our Pineapple Salsa for a colorful and flavorful dinner!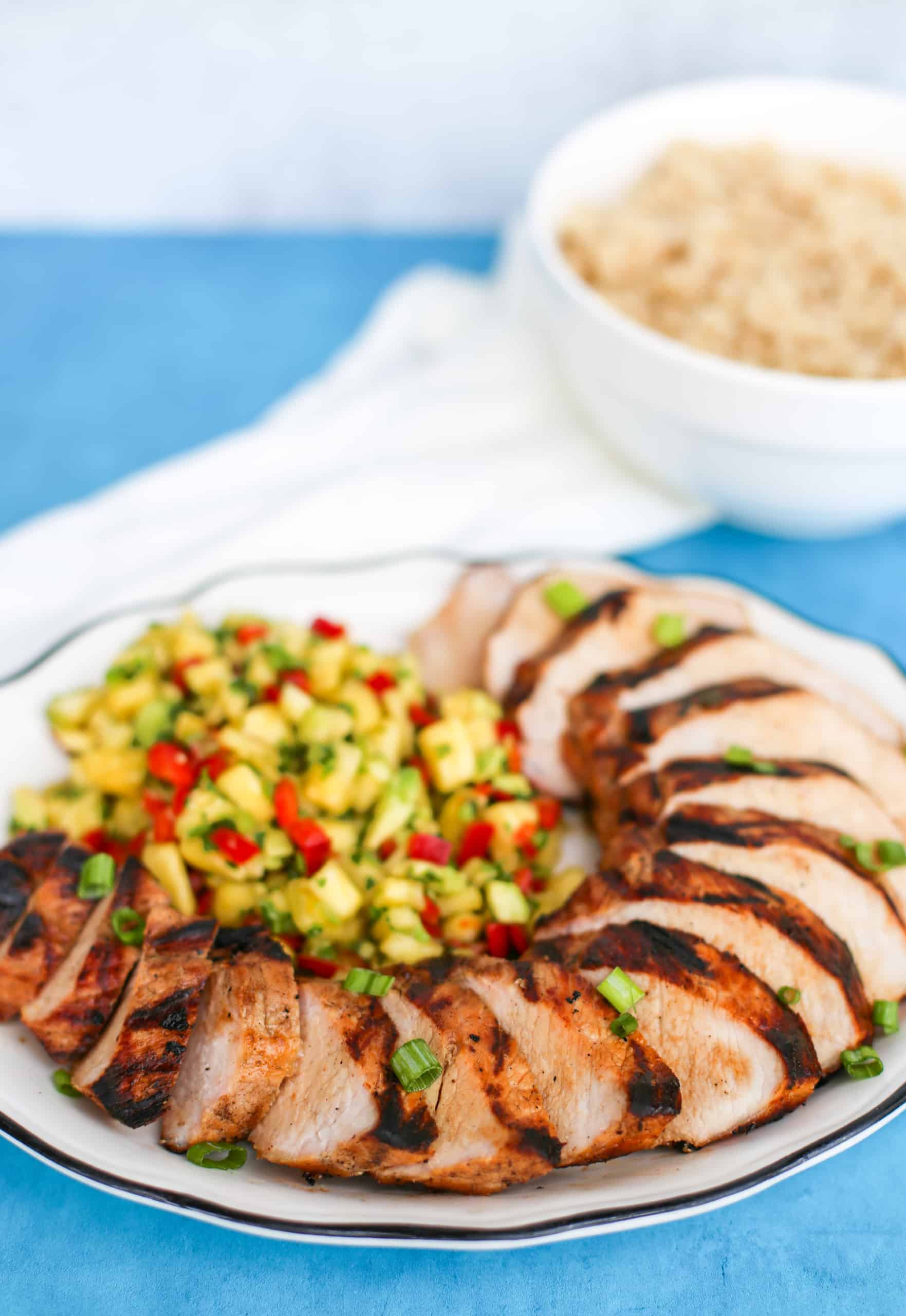 4 Reasons to Make This Recipe
It's gluten-free AND dairy-free. We know how much readers with these restrictions appreciate gluten-free dinner recipes AND dairy-free recipes like this one. Serve over Instant Pot Brown Rice or Instant Pot Cilantro Lime Rice with our Pineapple Salsa on the side for an entirely GF and DF meal.
It's kid-friendly. Young and old alike enjoy this sweet-savory marinade, which cooks down and becomes a delicious sauce to drizzle over the finished dish.
It's a good beginner recipe. The instructions are super simple but the flavor will make you feel like a pro! Similar to our Oven Roasted Pork Tenderloin or Grilled Pork Tenderloin, this one is a good recipe to start out with if you've never cooked this cut of meat.
It only takes 30 minutes of hands-on time. The marinade takes just a few minutes to whip up, which you can make up to 24 hours in advance (or way ahead if you're planning to freeze it). Grilling or roasting pork only takes about 20 minutes after the pork marinates.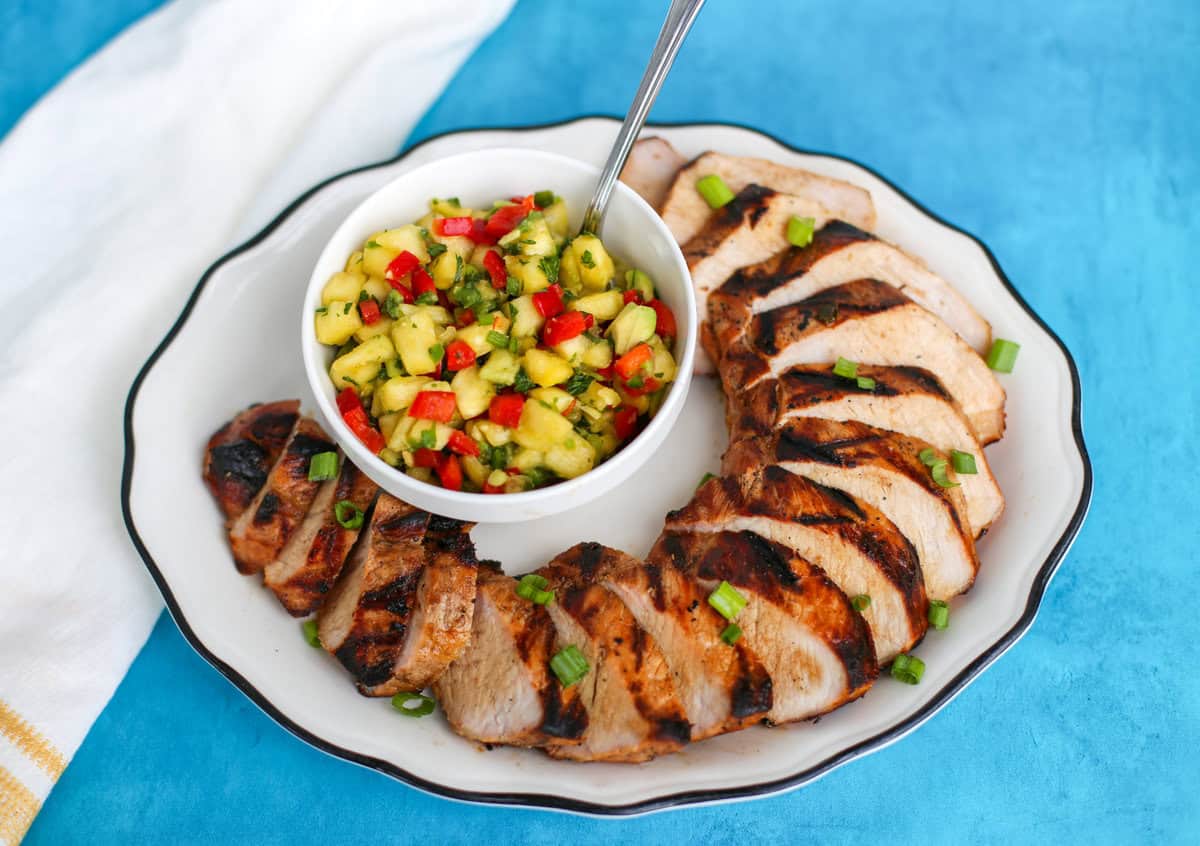 This complex-tasting marinade for pork tenderloin includes a few pantry items like brown sugar, soy sauce, avocado oil, abd red pepper flakes. It also includes these items of note:
Pineapple juice – Look for this ingredient in the juice aisle or the easier option is to use the juice from 1 (20-ounce) can of pineapple chunks in 100% juice. The canned pineapple is easy to find and cheaper than a whole bottle of pineapple juice.
Green onions – Slice these finely or use minced chives to add a little pungency and some color.
Fresh ginger – This is one of my favorite ingredients! Fresh ginger (NOT the ground ginger in your pantry) is a must for this marinade, in my opinion. Buy a small knob of it and don't bother peeling it. Use a grater or microplane to grate it and then place the leftover ginger in a freezer bag in the freezer. It will last up to a year in the freezer and is even easier to grate when frozen.
Garlic cloves – I always keep pre-minced garlic in my fridge as an easy short cut but feel free to peel and mince fresh garlic cloves.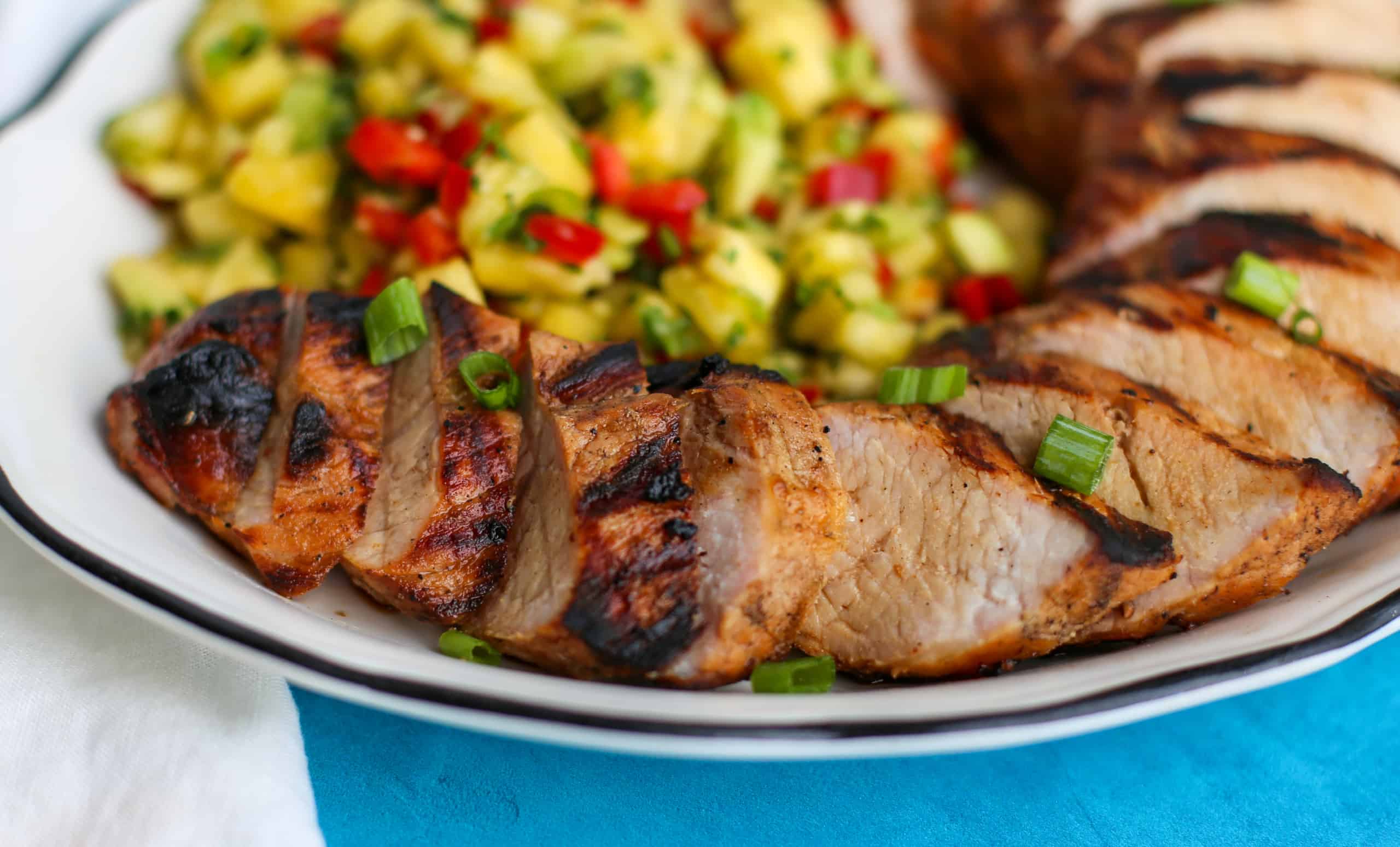 Important Notes about Pork Tenderloin
Now, when it comes to buying pork tenderloin, it's important to keep these tips in mind.
Do Not Confuse It with Pork Loin: Pork tenderloin is NOT to be confused with pork loin. Pork tenderloin is a long, narrow, boneless cut of meat. Pork loin is wider and flatter and can be purchased boneless or bone-in. They are two different cuts of meat that cannot be used interchangeably because they won't cook at the same rate.
What to Look For When Buying: Always read the ingredients on any pork tenderloin package. You're looking for one that has no additives, preservatives, or marinade included. Many you'll find are filled with extra salt, sugar, and unnatural ingredients.
Where to Buy Pork Tenderloin: It's hard to find truly all-natural pork tenderloin in my local grocery stores. So, I get my pork tenderloins from ButcherBox, but you may also find good ones at your local farmer's market or health food store.
Seasoning is Key: Whether you make marinated pork tenderloin or use a pork tenderloin rub like Oven Roasted Pork Tenderloin, seasoning this cut of meat is essential because it's fairly bland on its own. Even a good coating of Kosher salt and cracked black pepper will go a long way.
How to Cook Marinated Pork Tenderloin
We offer two options for cooking this pork tenderloin after it marinates for 2 to 24 hours. Remove the pork from the marinade (but reserve it for the last step!) and cook using one of these methods: 
Grill: Preheat the grill to medium-high to high heat (about 450°F degrees). Use tongs to remove the tenderloins from the marinade and place on the grill. Shut the lid and grill for 7 minutes. Flip the pork to the other side and shut the lid. Then, let it cook for 6 more minutes. Now turn the heat off, and leave the lid closed for 4-5 minutes, until done (at least 140-145°F internally). We recommend using a meat thermometer inserted at the thickest part to check on doneness (there will still be a little pink inside). If it's still not up to temperature, turn the grill back over medium and cook for another 2-3 minutes. 
Roast in the Oven: Preheat the oven to 450°F. Cover a rimmed baking sheet with foil or parchment paper and place the pork tenderloin on it. Bake for about 20 minutes or until the pork reaches an internal temperature of 145°F (it will still be slightly pink inside).Remove the tenderloin from the heat and place on a wooden cutting board, cover with foil, and let rest for 5-10 minutes before slicing. Meanwhile, turn the marinade into a sauce.
After cooking your pork, use the reserved marinade to create a sauce by bringing it to a boil, straining it, and adding a cornstarch slurry to thicken it.
How to Serve Hawaiian Pork Tenderloin
Drizzle with the easy-to-make sauce and top with either our freshly made Pineapple Salsa or a store-bought fruit salsa of your choice.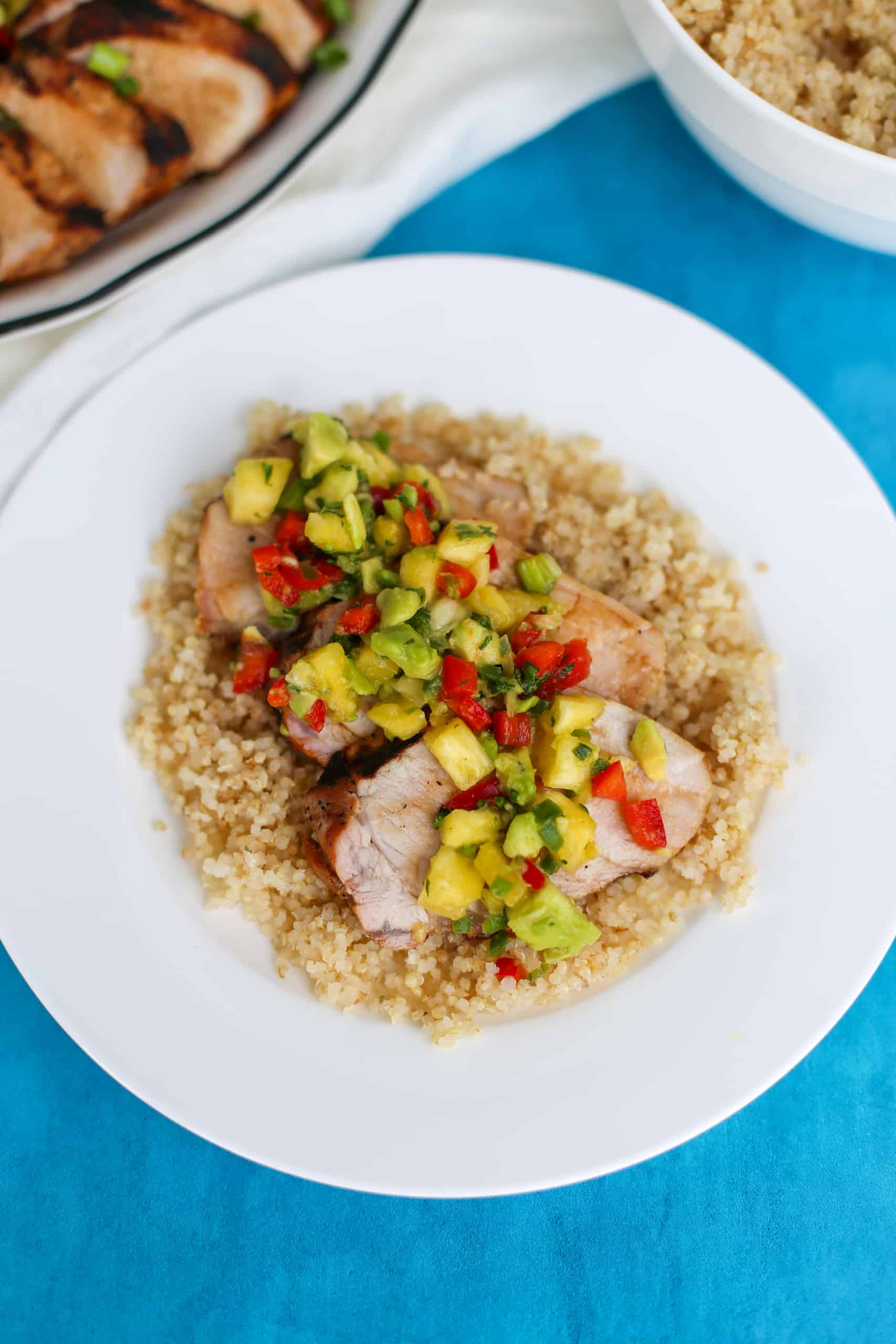 Make It a Freezer Meal
Marinated pork tenderloin freezes really well, so be sure to double your batch and freeze one for later. It's a great use of your time. Here's how:
Freeze For Later: In a gallon-sized freezer bag, add the pork tenderloin, pineapple juice, soy sauce, avocado oil, brown sugar, green onions, ginger, garlic, and red pepper flakes. Seal and toss to combine.
Prepare From Frozen: Thaw completely (use one of these safe thawing methods). Follow cooking instructions starting at step 3.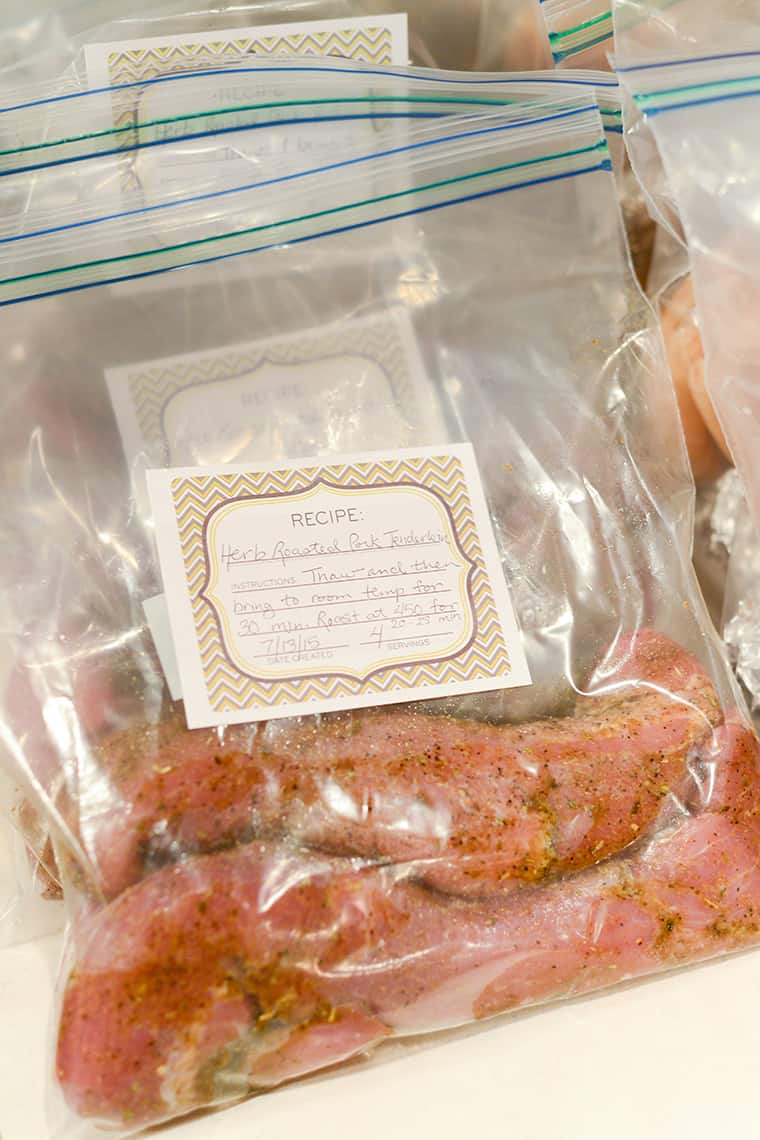 Can I use this marinade for other cuts of meat?
Yes, this Hawaiian-inspired marinade is great for pork chops, pork loin, and chicken breasts or thighs, as well.
How long should I marinate the pork tenderloin for best flavor?
For optimal flavor, marinate the pork tenderloin for at least 2-4 hours, but overnight marinating can provide even better results. If you marinate it longer than 24 hours, it can begin to break down and change texture which is not ideal.
Similar Recipes to Try
Did you make this? Snap a photo and tag us on Instagram at @thrivinghome so we can see your creations and cheer you on!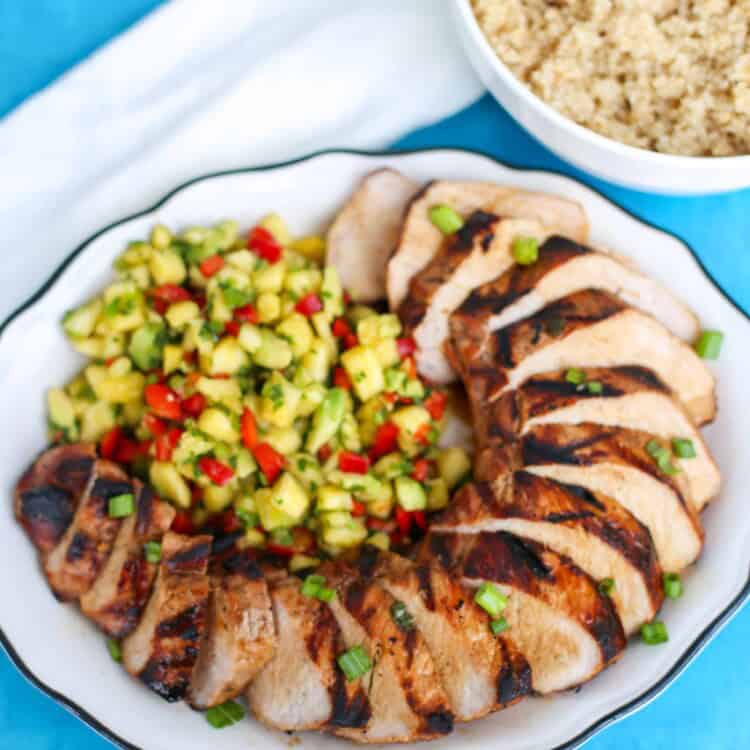 Hawaiian Pork Tenderloin
With a balance of sweet, tangy, umami, and just the right amount of salty flavor, this Hawaiian pork tenderloin marinade recipe hits nearly all the palette spots at once! Grill or roast your pork tenderloin, slice, drizzle with the simple-to-make sauce.
Prep:
10 minutes
Cook:
20 minutes
Total:
30 minutes