This post may contain affiliate or sponsored links. Please read our disclosure policy.
With a balance of sweet, tangy, umami, and just the right amount of salty flavor, this grilled pork tenderloin marinade hits all the right palette spots. The marinade comes together quickly and works perfectly on the grill (or in the oven).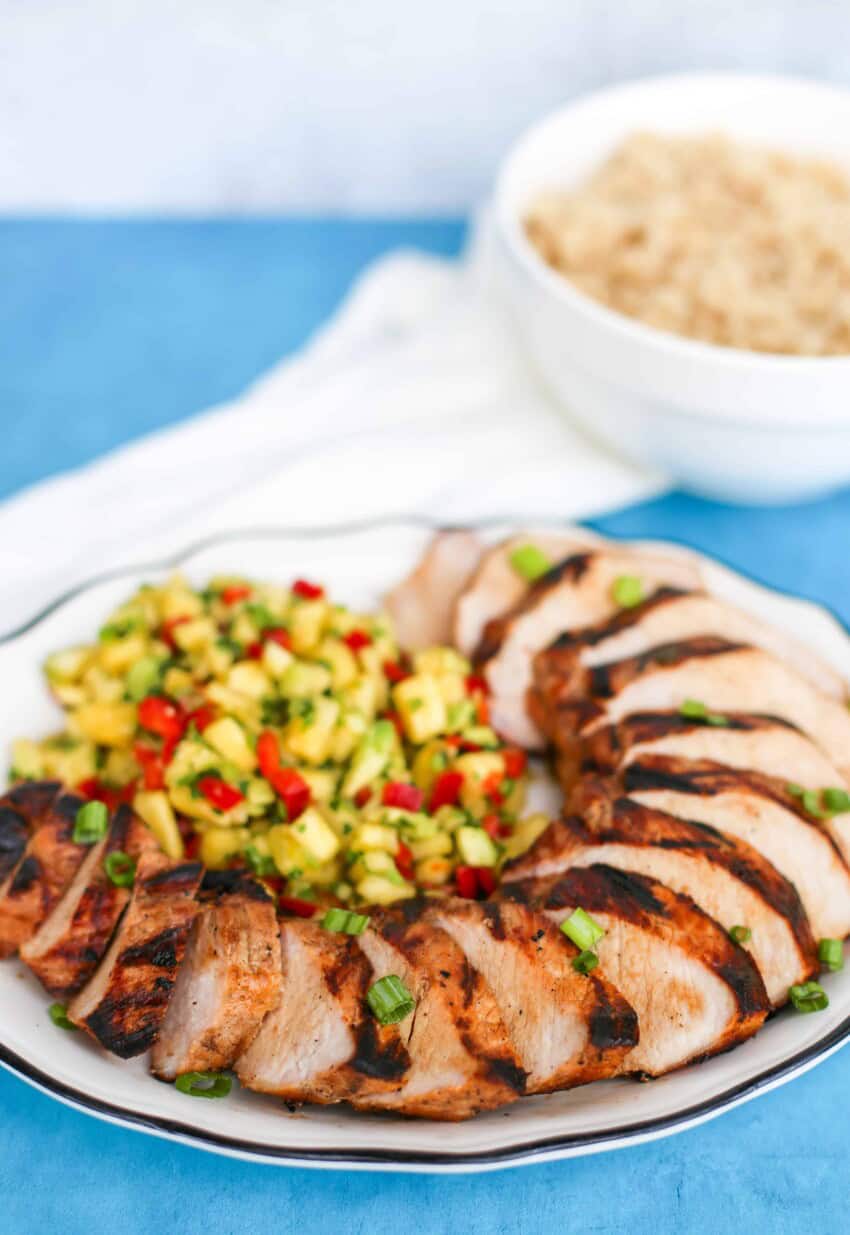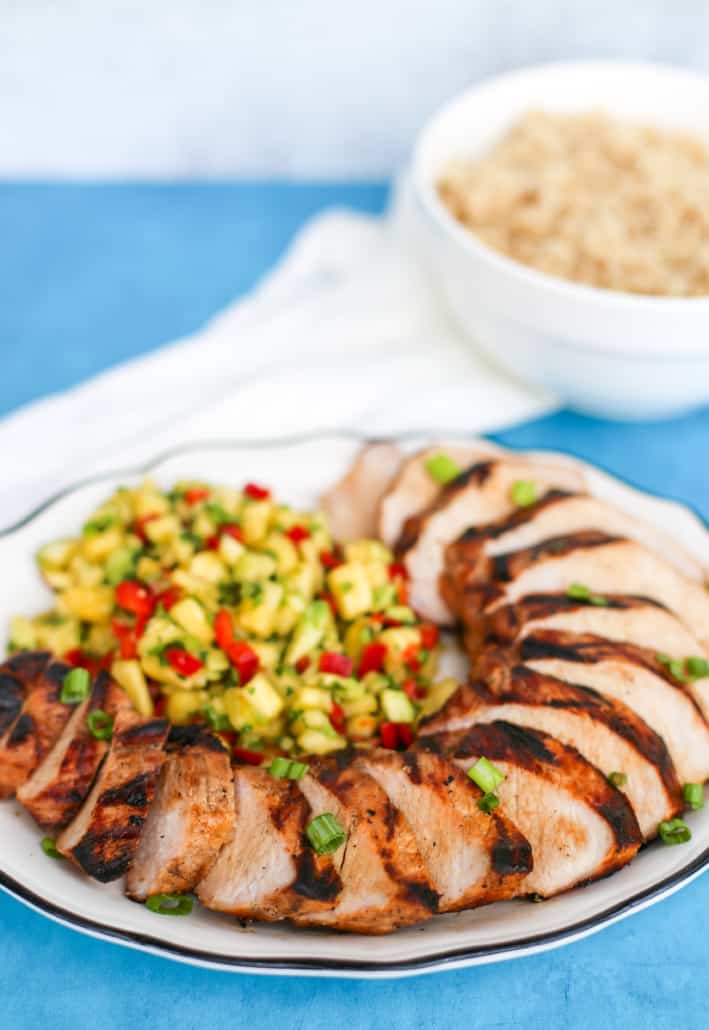 Hawaiian Pork Tenderloin is an easy, yet impressive recipe that your people will love. Serve it with our Pineapple Salsa for a delicious, easy dinner!
About Hawaiian Pork Tenderloin
It's gluten-free AND dairy-free.
We know how much readers with these restrictions appreciate recipes that are both gluten-free AND dairy-free. The ingredients in this grilled pork tenderloin marinade are both of those! It's a great grilling recipe for groups of people because of this.
It's kid-friendly.
Hawaiian Grilled Pork Tenderloin is kid-friendly yet has an interesting flavor-and-texture profile for adults, too. All ages will enjoy it!
The instructions are super simple but the flavor will make you feel like a pro! Similar to our seasoned pork tenderloin, this one is a good recipe to start out with if you've never cooked this cut of meat.
It only takes 30 minutes.
Not including the time for marinating, this recipe only requires about 30 minutes of hands-on cooking. The marinade takes just a few minutes to whip up, which you can make up to 24 hours in advance (or way ahead if you're planning to freeze it). Grilling or roasting pork only takes about 20 minutes.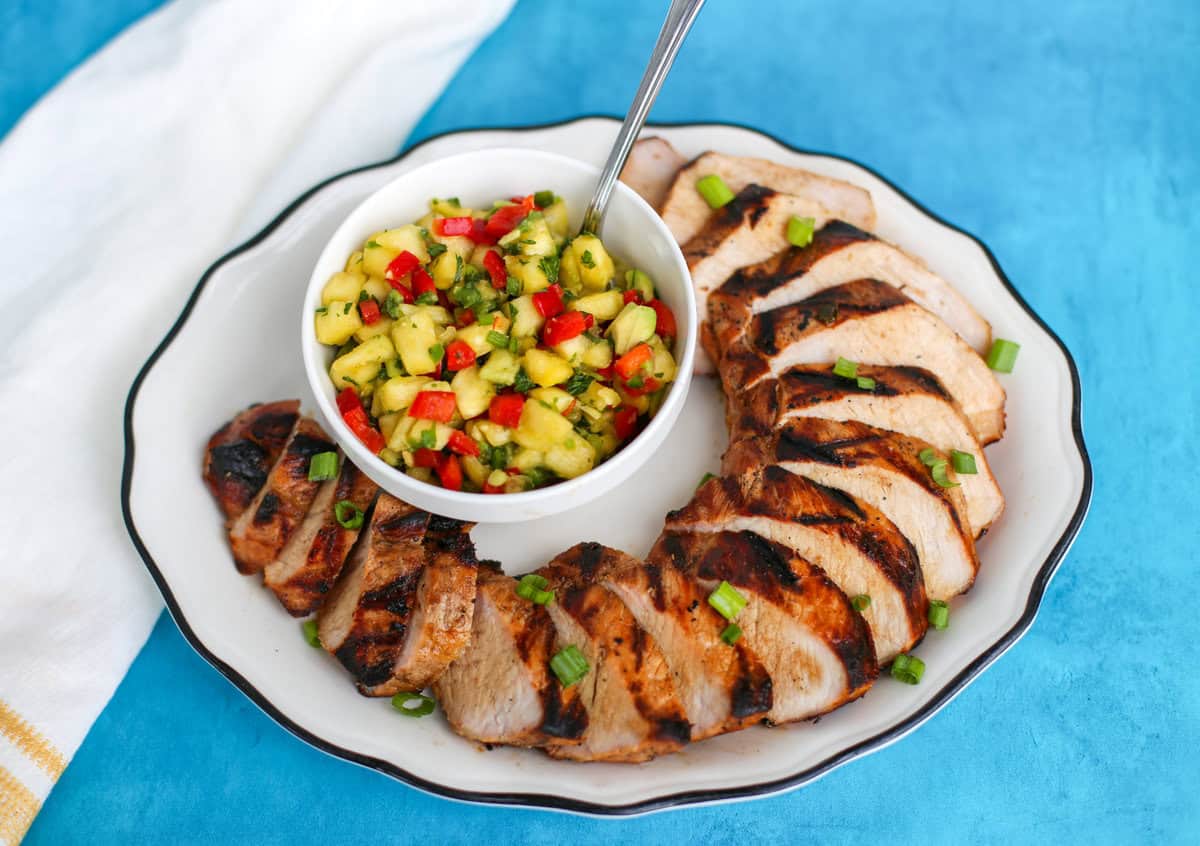 What's in This Grilled Pork Tenderloin Marinade?
Similar to our Chicken Marinade Recipes, the ingredients are not hard to find. You likely have them in your pantry already! Here is what you'll need:
Pineapple juice

(or the juice from canned pineapple chunks might be easier to find)
Reduced-sodium soy sauce (Gluten-free option: gluten-free Tamari soy sauce or coconut aminos)
Avocado oil (Sub: olive oil)
Brown sugar (Sub: coconut sugar)
Green onions
Fresh ginger
Garlic
Red pepper flakes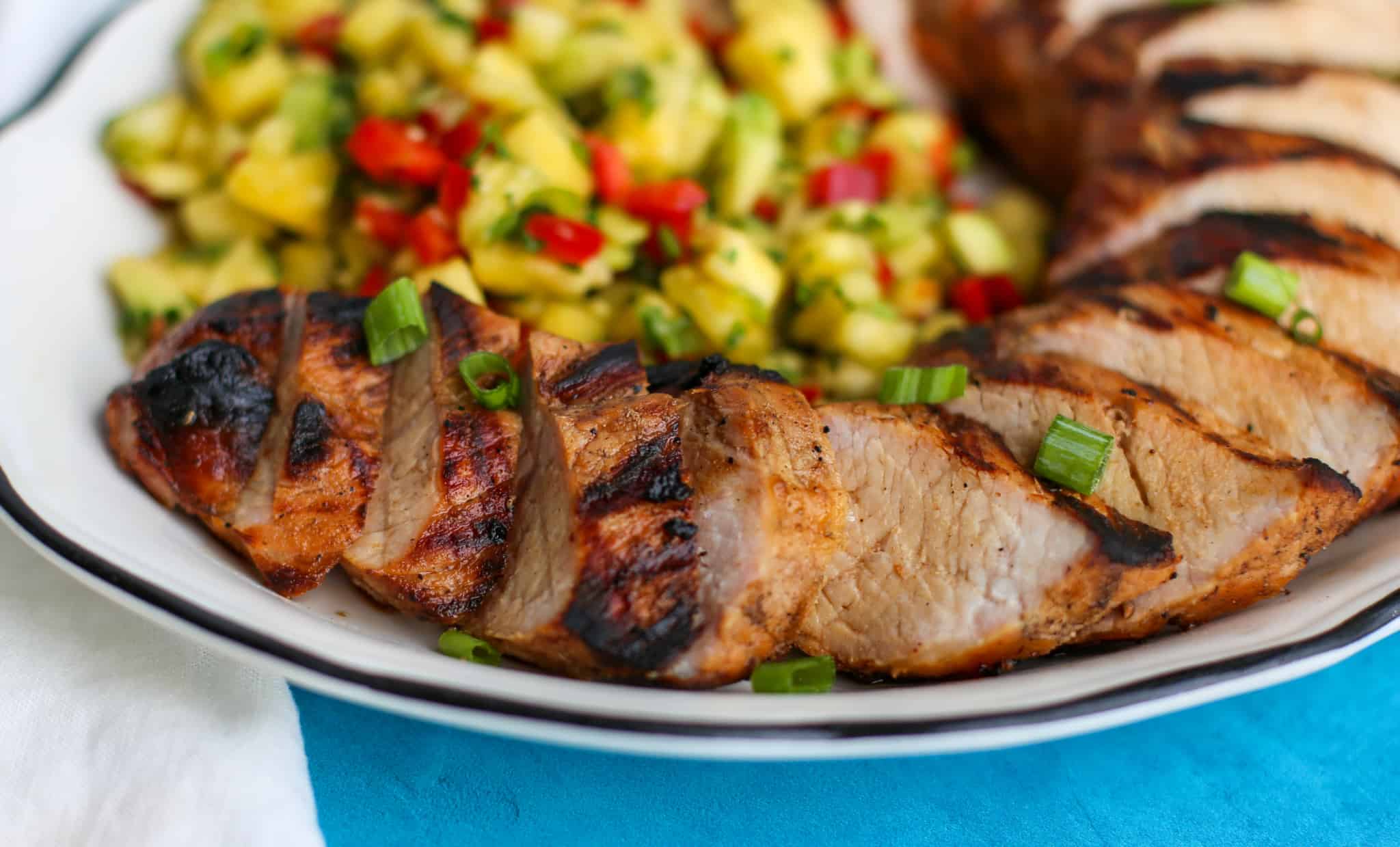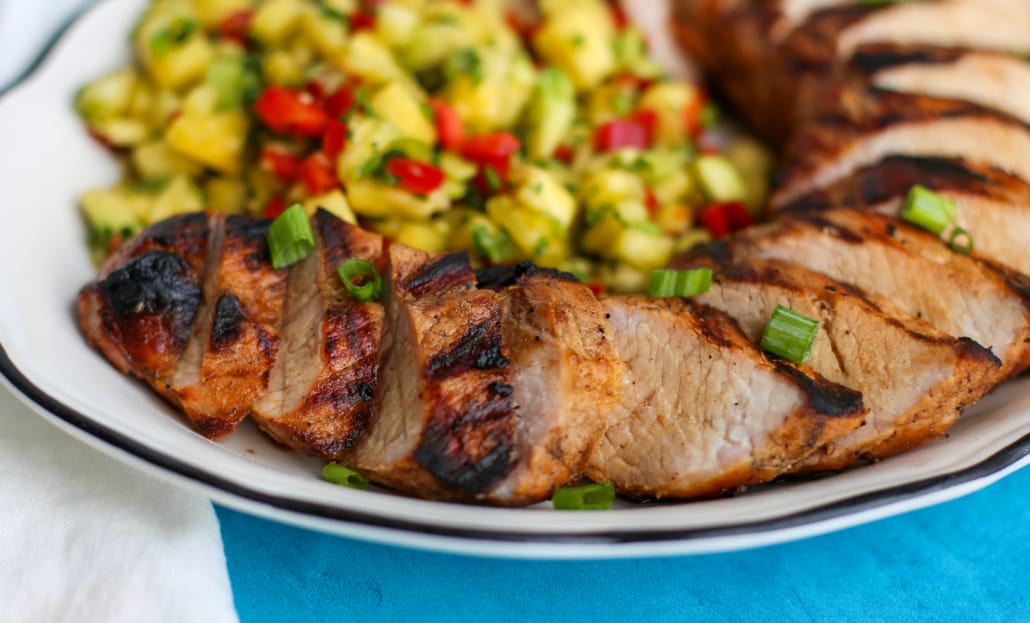 Tips for Grilling Pork Tenderloin
While I do love oven-roasted pork tenderloin, grilling it is my preferred way to go. In fact, we have an entire post about how to grill pork tenderloin if you want to read up on it.
Use our 7-6-5 Grilling Method.
Preheat the grill to medium-high to high heat (about 450°F degrees). Use tongs to remove the tenderloins from the marinade and place on the grill.
Shut the lid and grill for 7 minutes. Flip the pork to the other side and shut the lid. Then, let it cook for 6 more minutes. Now turn the heat off, and leave the lid closed for 3-5 minutes, until done (at least 140-145°F internally).
We recommend using a meat thermometer inserted at the thickest part to check on doneness (there will still be a little pink inside). If it's still not up to temperature, turn the grill back over medium and cook for another 2-3 minutes.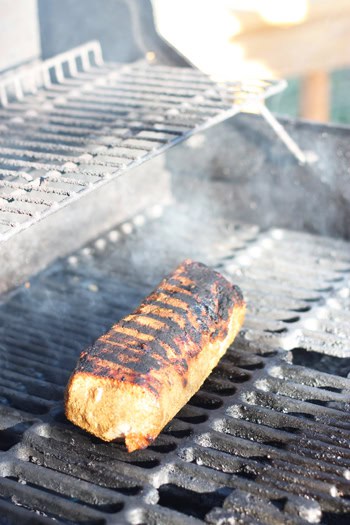 Turn Grilled Pork Tenderloin Marinade Into a Freezer Meal
Marinated pork tenderloin freezes really well, so be sure to double your batch and freeze one for later. It's a great use of your time. The image below is for our Herb Roasted Pork Tenderloin but the instructions are exactly the same.
To Freeze
In a gallon-sized freezer bag, add the pork tenderloin, pineapple juice, soy sauce, avocado oil, brown sugar, green onions, ginger, garlic, and red pepper flakes. Seal and toss to combine.
Prepare From Frozen
Thaw completely (use one of these safe thawing methods). Follow cooking instructions starting at step 3.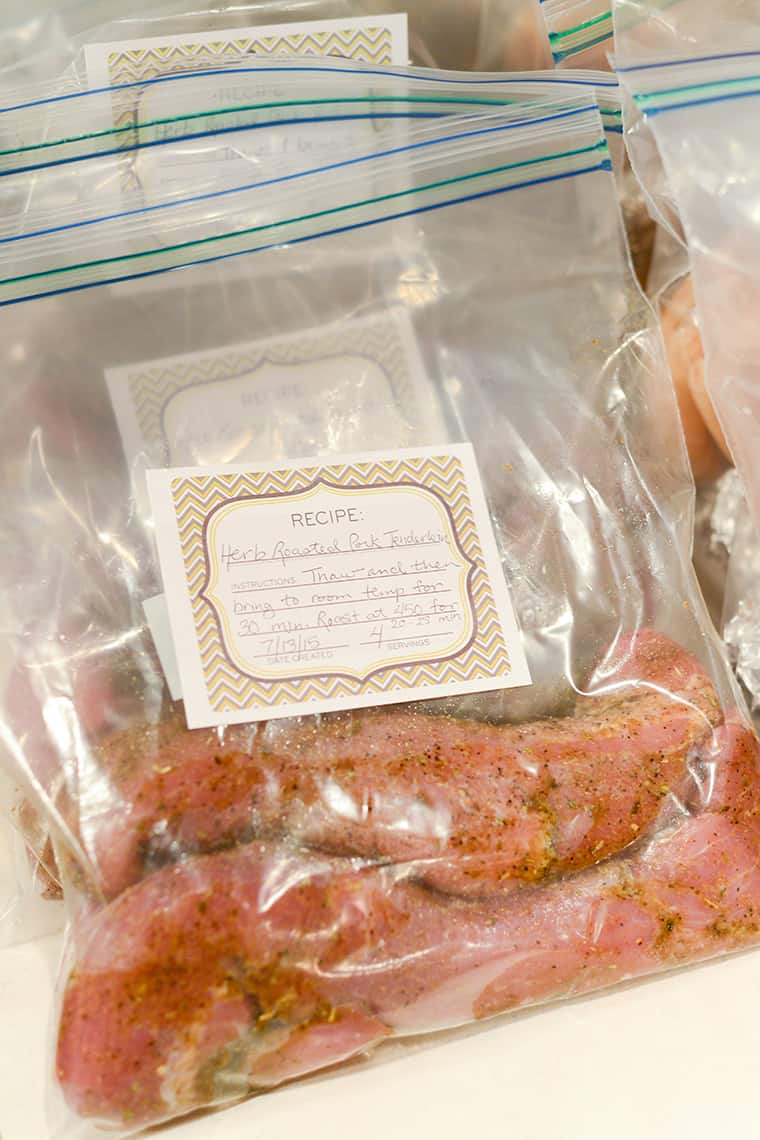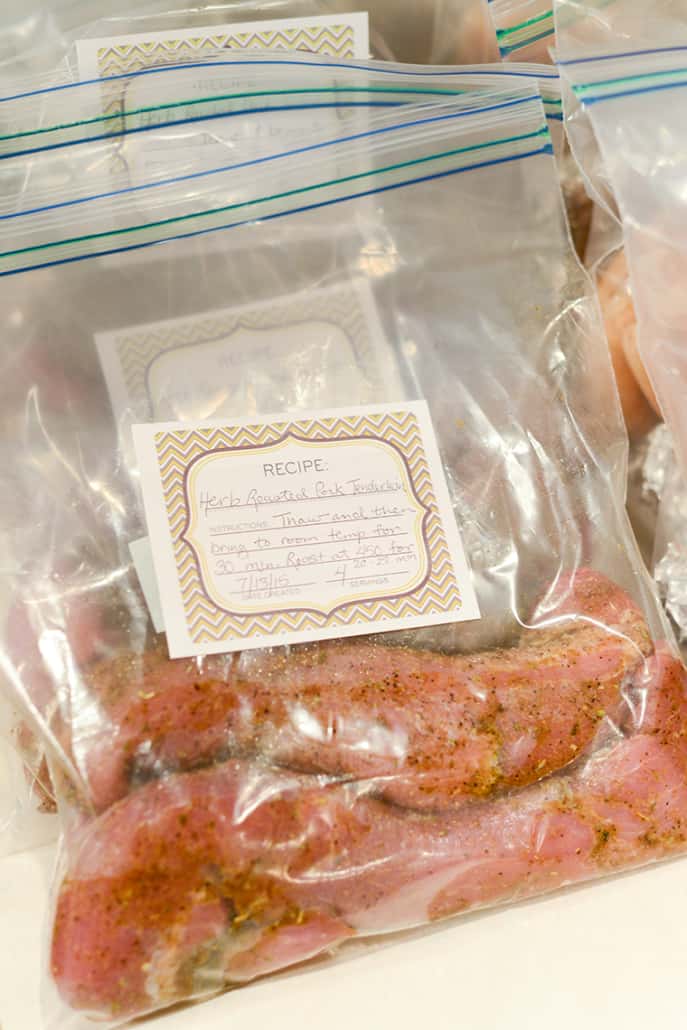 How to Serve Hawaiian Pork Tenderloin
We suggest serving the sliced pork tenderloin on a bed of rice, couscous, or quinoa. Drizzle with easy-to-make sauce and top with either our freshly made Pineapple Salsa or a store-bought fruit salsa of your choice.
Asian Slaw would go well as a side dish, too.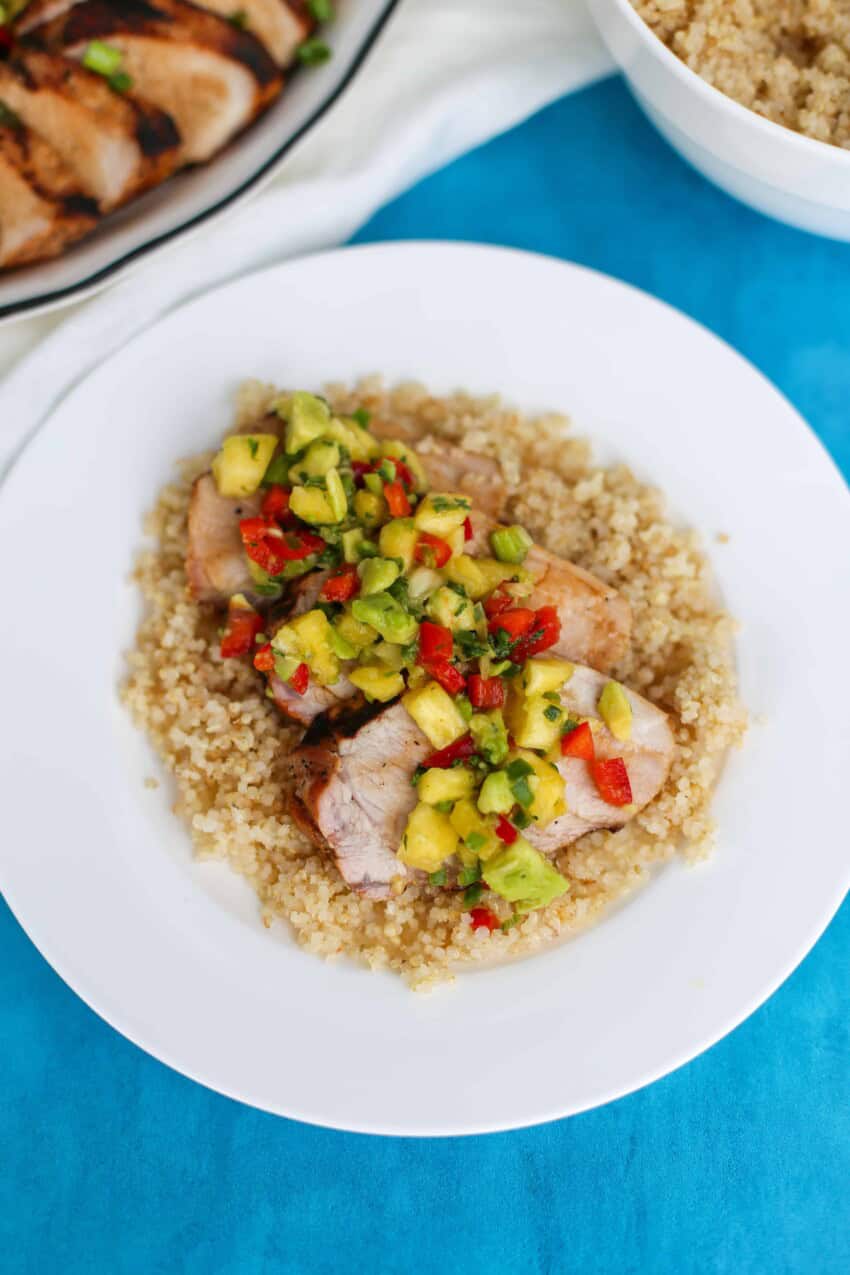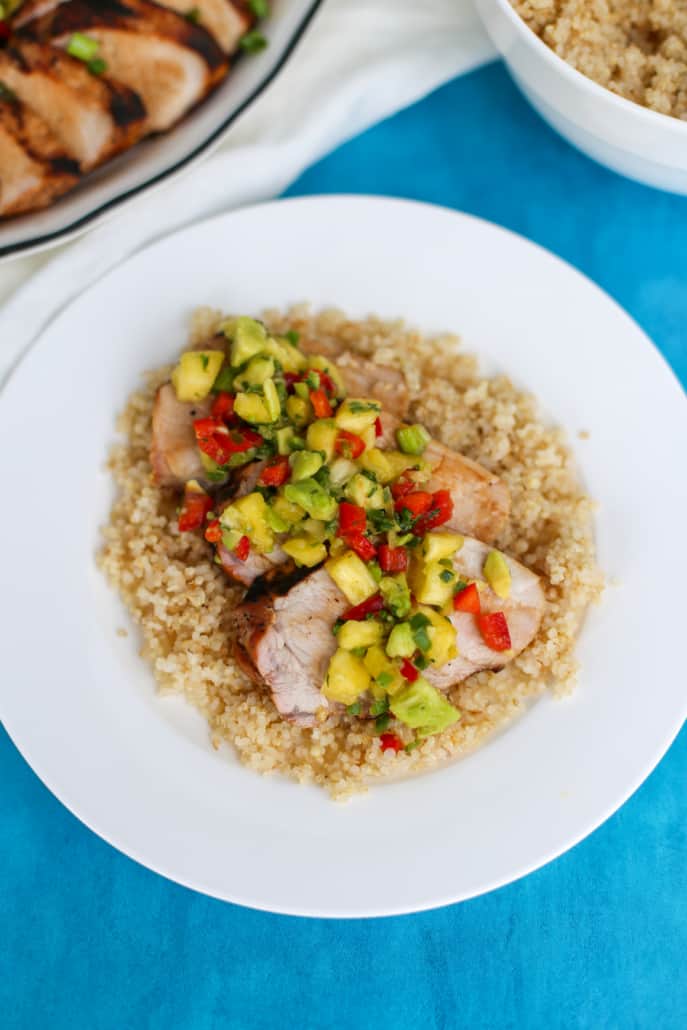 Did you make this? Snap a photo and tag us on Instagram at @thrivinghome so we can see your creations and cheer you on!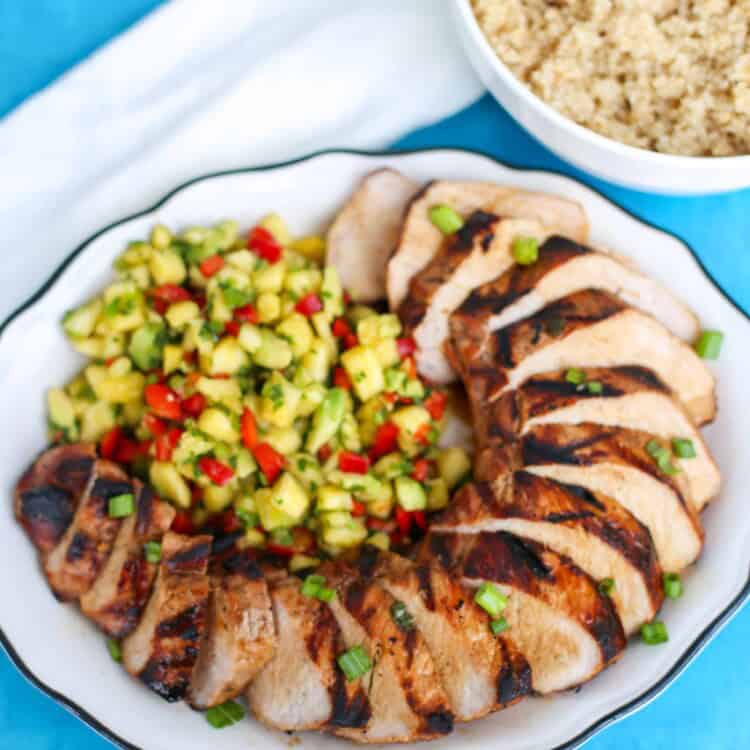 Hawaiian Pork Tenderloin
With a balance of sweet, tangy, umami, and just the right amount of salty flavor, this pork tenderloin marinade recipe hits nearly all the palette spots at once! Grill or roast your pork tenderloin, slice, drizzle with the simple-to-make sauce, and top with our fresh Pineapple Salsa (or a store-bought fruit salsa). Easy yet impressive!
Prep:
10 minutes
Cook:
20 minutes
Total:
30 minutes
Similar Recipes