Asian Salmon (aka Sweet & Savory Salmon)
This post may contain affiliate or sponsored links. Please read our disclosure policy.
With the perfect marriage of sweet and savory marinade ingredients, this baked Asian Salmon recipe turns out moist and full of complex flavors. Just 5 minutes of prep, 30 minutes of marinating, and 15 minutes to bake.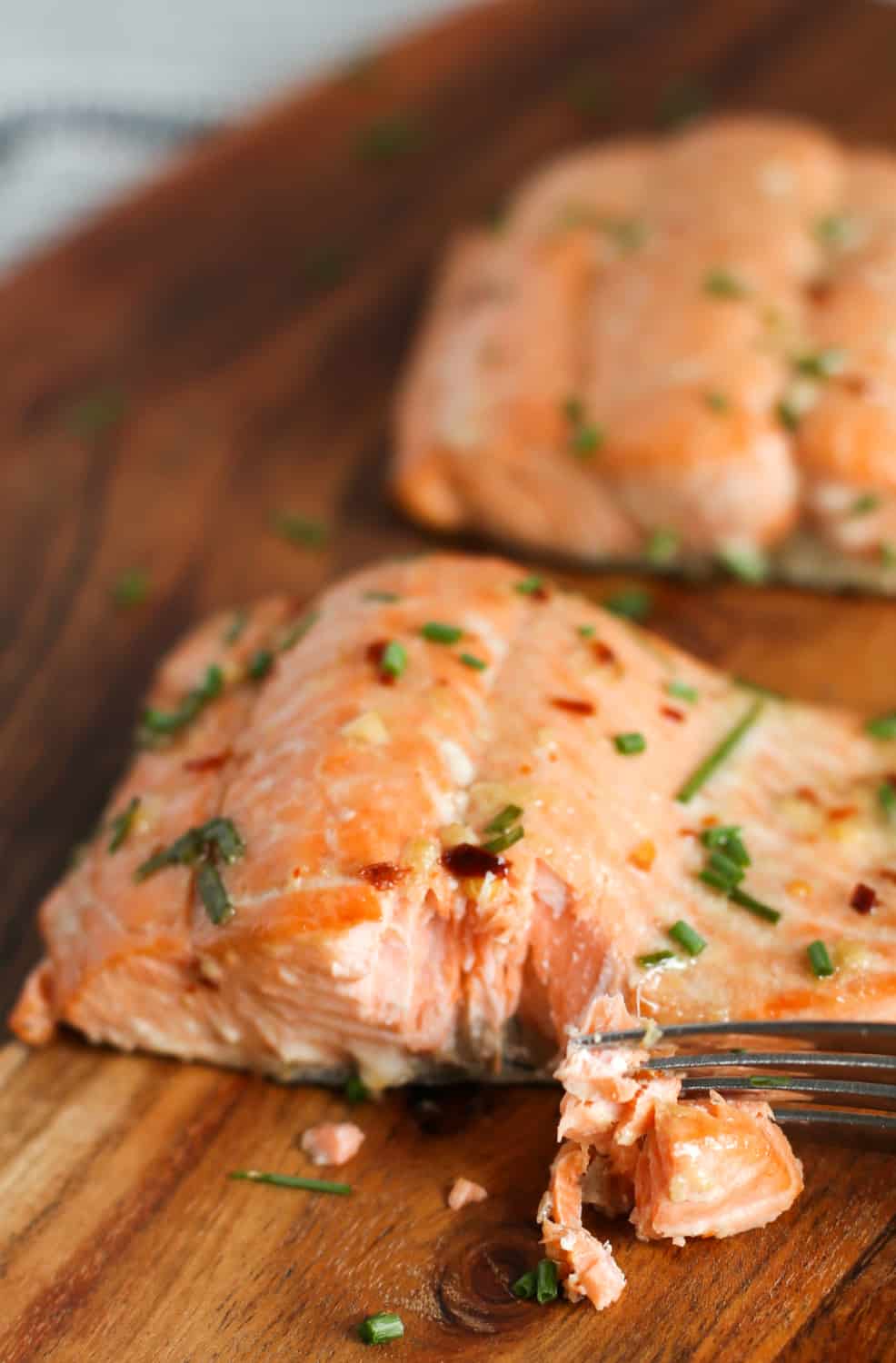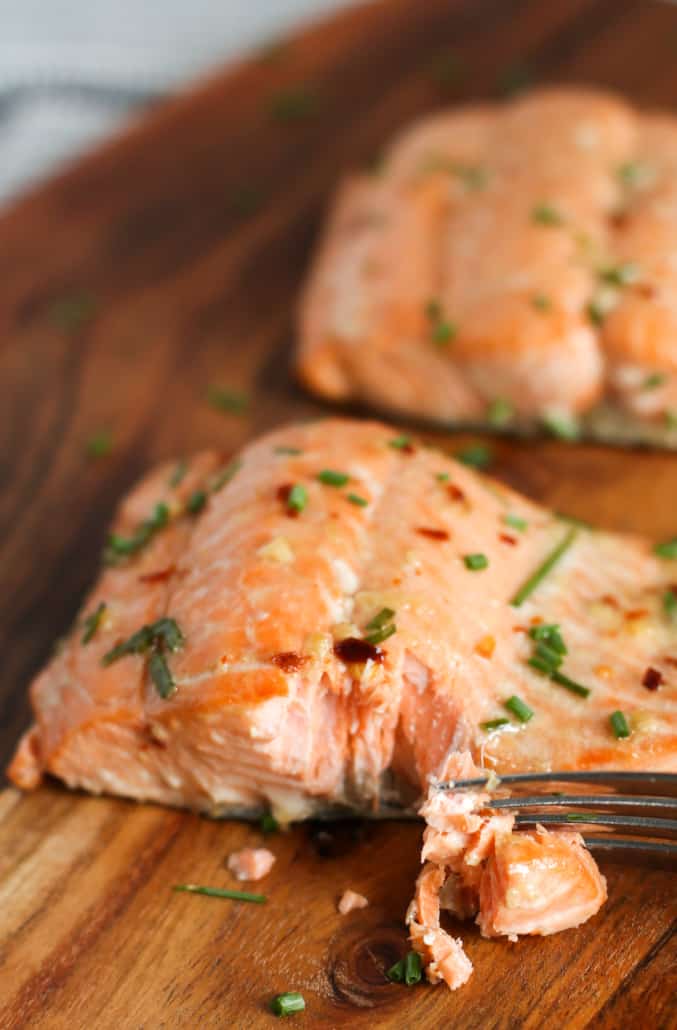 About This Asian Salmon Recipe
This is my go-to salmon recipe around here. It's simple, fast, moist, and quite delicious!
Difficulty Level: I would say this is an EASY recipe. Even novice cooks could make this one.
Taste: Mmmm. The flavor of this Asian Salmon is complex. It has a sweetness to it but it isn't…sweet. It also has savoriness from the soy sauce, nuttiness from the sesame oil, and a little heat from the fresh ginger and red pepper flakes.
Cooking Method: I love how easy this recipe is to throw together. It takes 5 minutes to prep the marinade, then the salmon marinates for 30 minutes on the counter, and finally it bakes for about 15 minutes. You can also broil the salmon toward the end of the cook time to help caramelize it on top, if you want. We also suggest boiling the marinade for 2-3 minutes, which turns it into a thickened sauce to drizzle over each piece at the end. Don't skip that step, as it really adds so much more flavor in at the end.
Serving Size: This recipe makes 6-8 servings and is easy to pull off, so it would make a great main dish to serve when you're having company. But, if you're just cooking for yourself or a few people, you can definitely cut the recipe in half.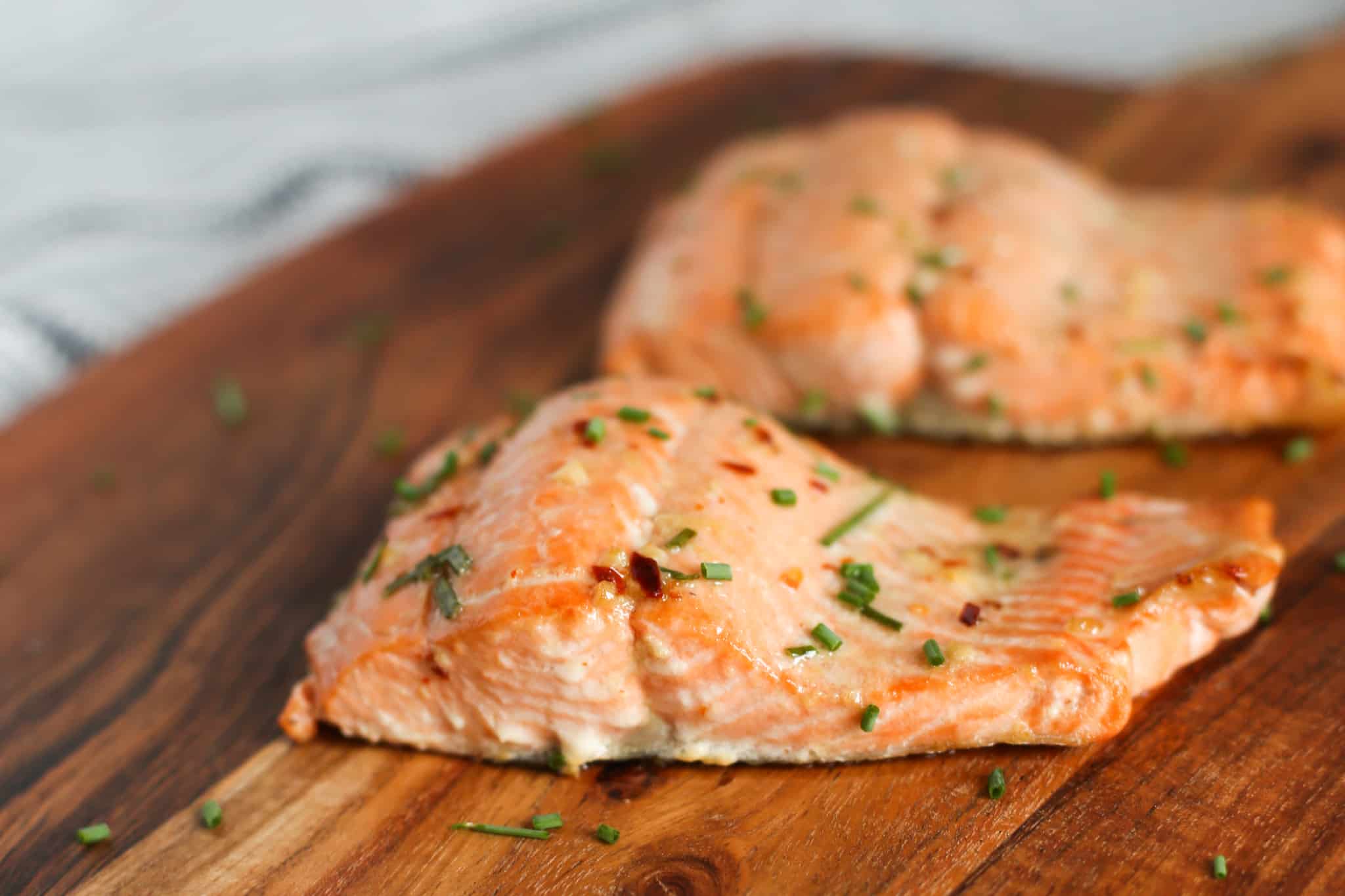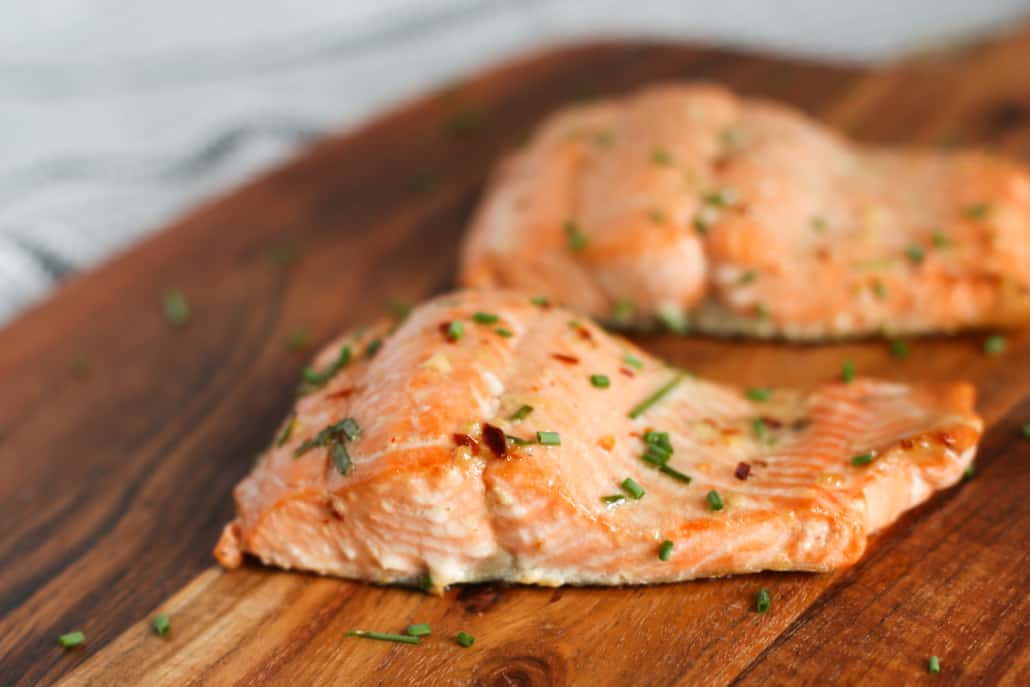 Ingredients in Asian Salmon
The marinade for this salmon is really what makes it a winner, so don't skimp on fresh ginger and green onions. Every ingredient here counts…
Soy sauce (Gluten-free option: coconut aminos or gluten-free Tamari soy sauce)
Rice vinegar (do not buy seasoned rice vinegar)
Sesame oil
Honey
Fresh ginger – I store mine in the freezer after peeling it.
Garlic cloves or pre-minced garlic
Green onions or chives
Black pepper
Red pepper flakes
1 1/2 pounds of salmon – You can buy one large filet or individual salmon filets, preferably thick (5-6 oz) filets and with skin on to keep them moist.
Step-by-Step: How to Make Asian Salmon
1. In a gallon sized bag, combine soy sauce, rice vinegar, sesame oil, honey, ginger, garlic, green onion, red pepper, and pepper. Zip shut and shake to combine.
2. Add salmon filets to the marinade and seal the bag. Set on the counter for about 30 minutes, turning once or twice to evenly distribute marinade. (Tip: This is a good time to get some side dishes started, like rice and veggies. See ideas below.)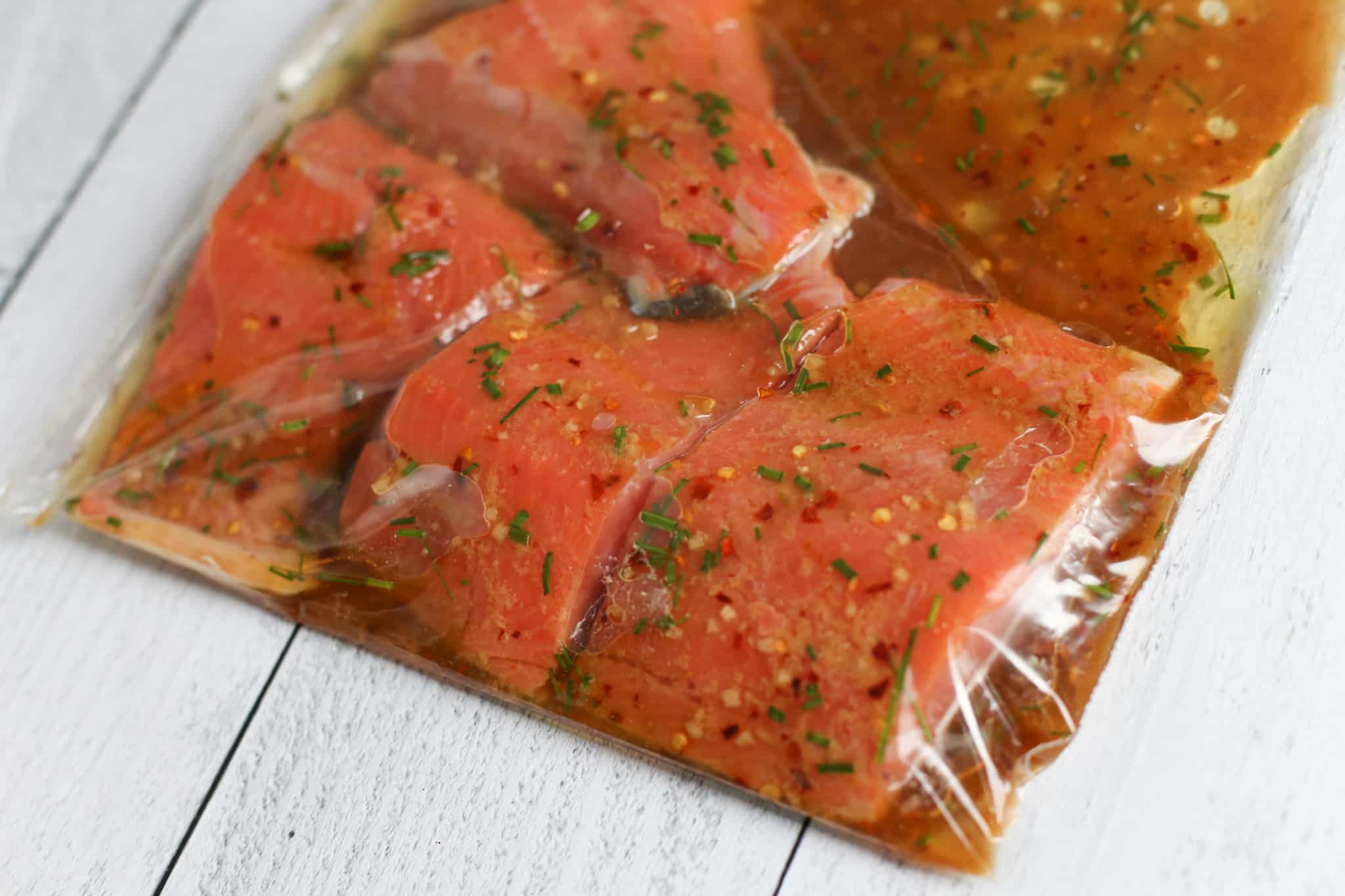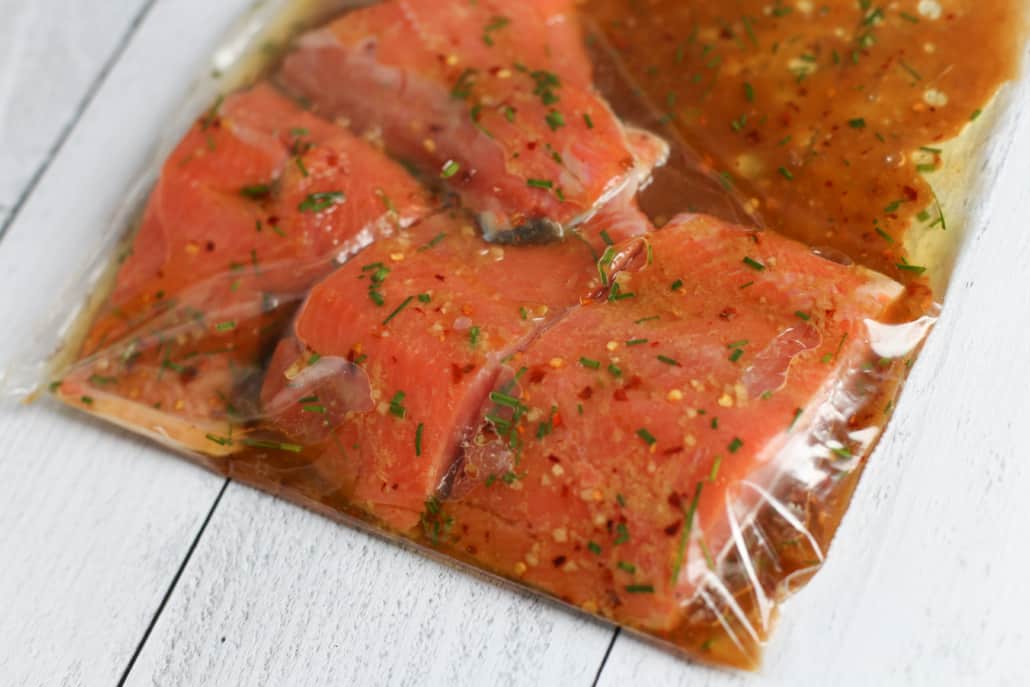 3. Preheat oven to 375° F. Line a rimmed baking sheet with foil for easy clean up.
4. Remove the salmon from the marinade with tongs and place it on the prepared baking sheet, skin side down. Bake until cooked almost through, about 15 minutes.*
5. Meanwhile, pour the rest of the marinade in a small pot and boil for 2-3 minutes (this kills any bacteria and reduces it into a sauce). Watch closely so it doesn't overflow. Set aside to cool and thicken slightly.
6. Serving Suggestion: Serve the salmon warm over brown rice. Drizzle some of the boiled sauce over the top.
What Sides to Serve with This Dish
Like I mentioned, my preferred way to serve this salmon is over brown rice (try our easy Instant Pot Brown Rice recipe) with a drizzle of the reduced sauce. You could also saute some stir-fry veggies to have on the side.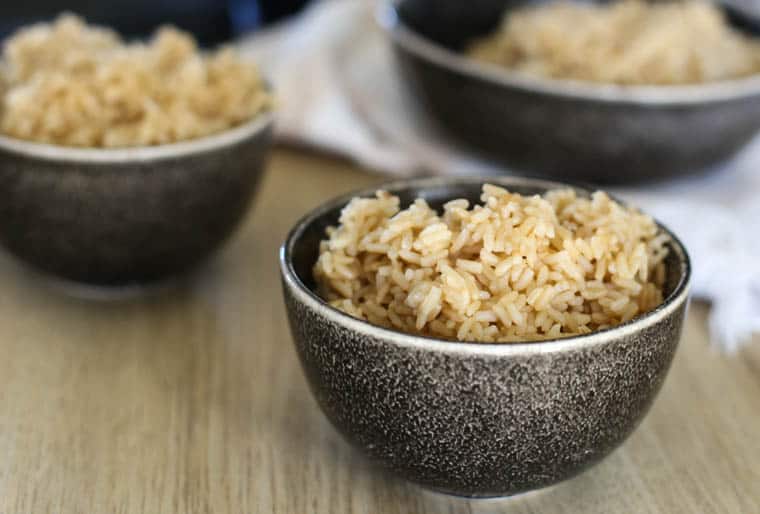 Here are some other side dish ideas that could go well with this salmon recipe…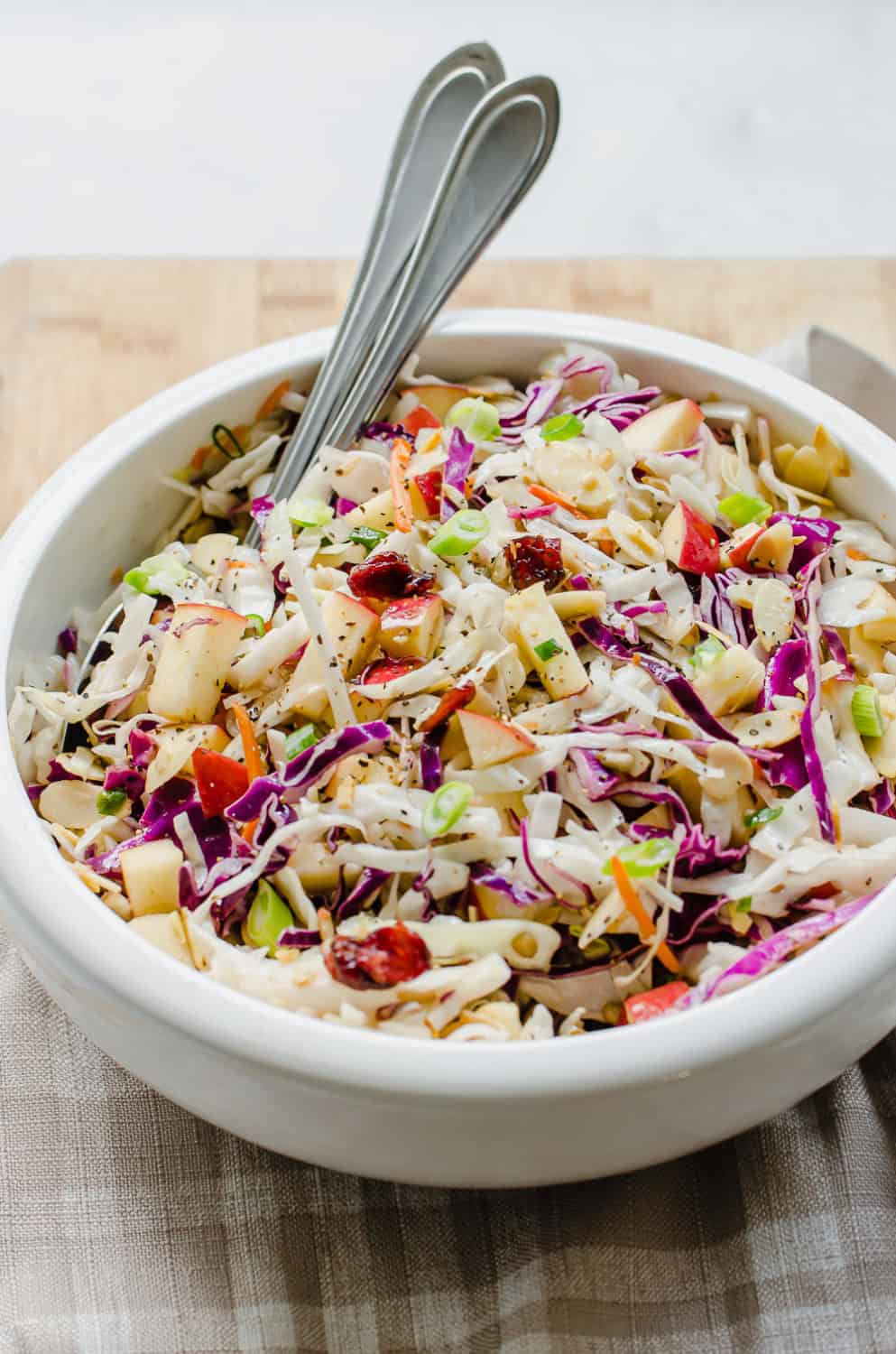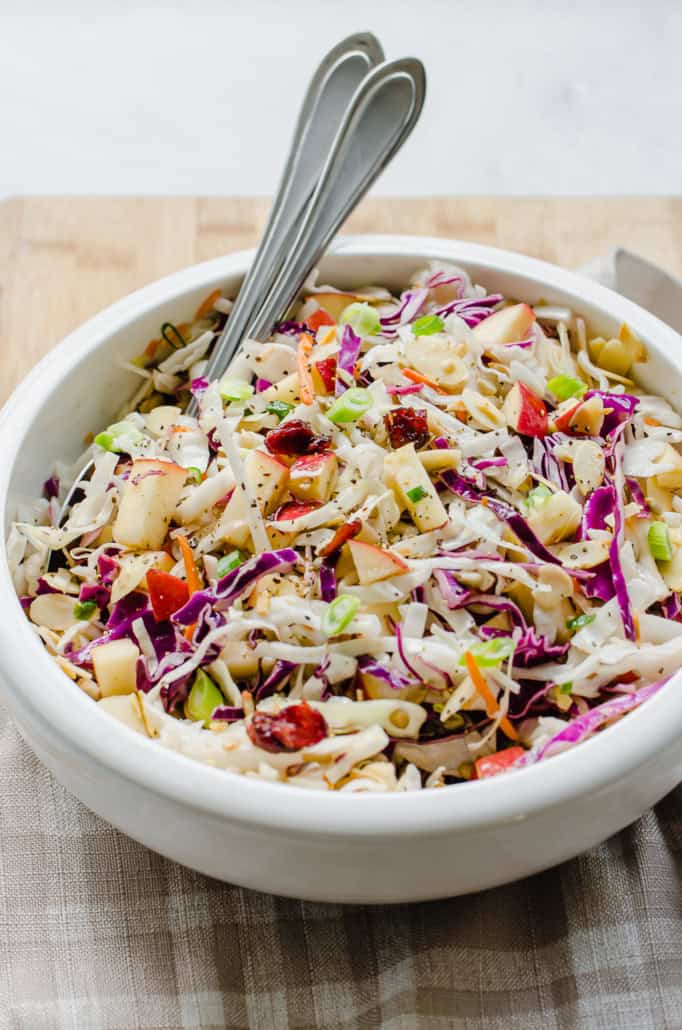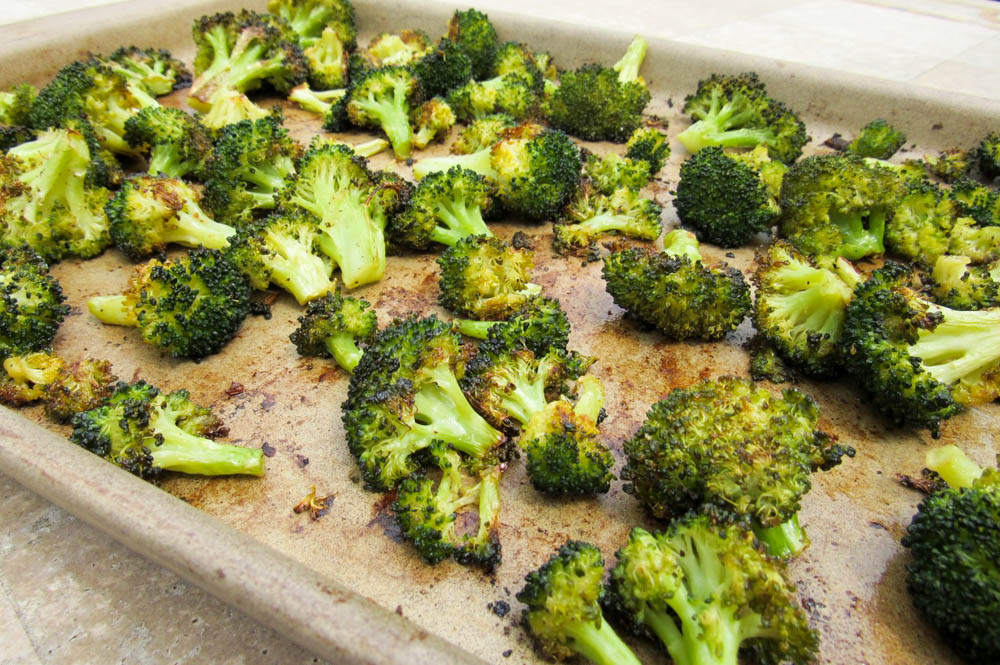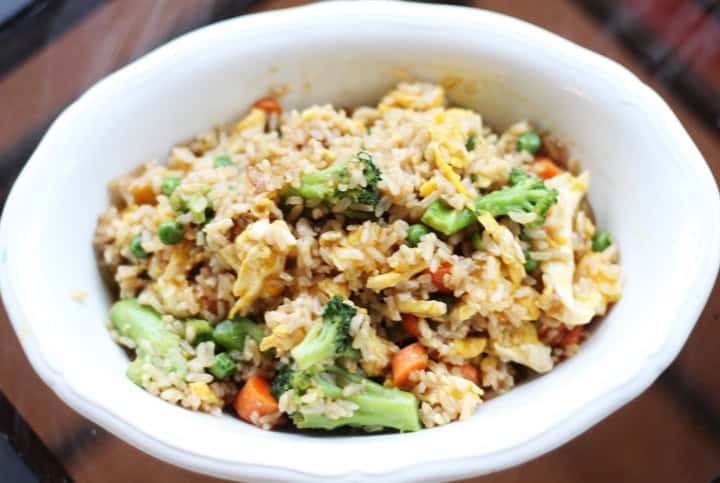 Word of Caution When Buying Salmon
Be sure to buy WILD salmon, NOT farm-raised salmon. That's because a study has shown there are 10 times as many PCBs in farmed fish. Dr. Sanjay Gupta in an article here says,
"Basically, that's a reflection of how much pesticides, antibiotics, other contaminants are used in raising these farmed fish. There's higher pesticide levels in the farmed fish….They actually raise these farmed fish (with large numbers in pens) … You actually have to give them antibiotics. And a lot of the PCBs and toxins are all part of the farming process that are used to try and keep these fish free of disease….sometimes even inject fish like salmon with red dye or pink dye to make them look more pink, more like their wild counterparts."
Wild salmon is readily available and affordable in most grocery stores now, but the tastiest wild salmon I've had is from ButcherBox. It's where I get all of my meat, because they offer affordable, healthy (and delicious!) meat from small farmers that is delivered to my doorstep on my schedule. Cancel any time. Check out their latest deal here.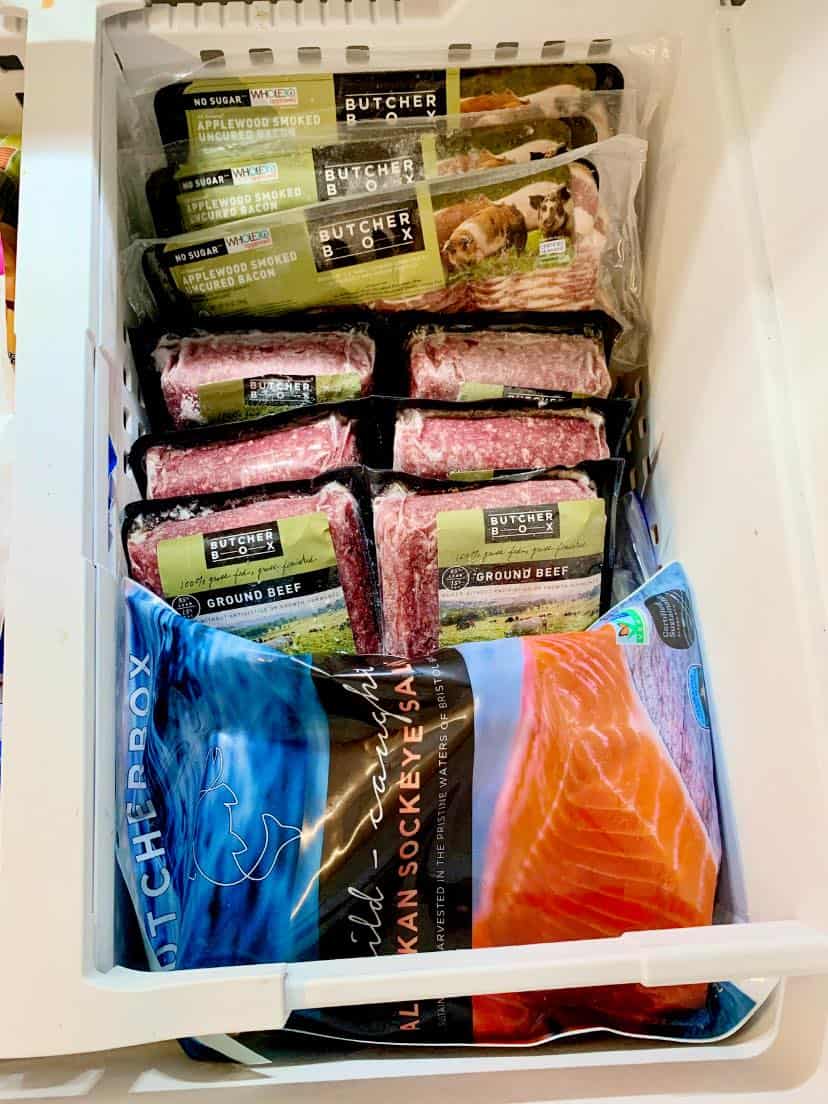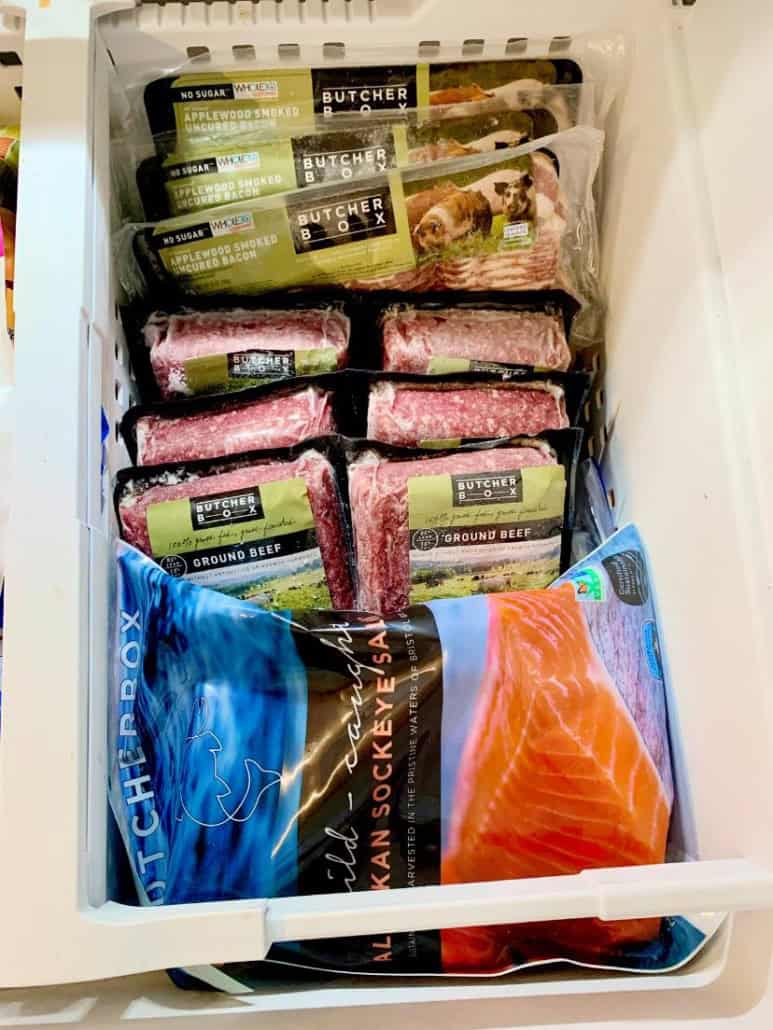 Lastly, you can use the frozen wild salmon filets from the store (they are much cheaper than fresh!), but just know that they are usually about 4 ounces each and rather thin. You'll need to keep a close eye on them in the oven as they will cook much faster than the thicker, fresh salmon filets.
More Salmon Recipes You Might Like
Here are few more salmon recipes from our collection you might enjoy…
Did you make this? Snap a photo and tag us on Instagram at @thrivinghome so we can see your creations and cheer you on!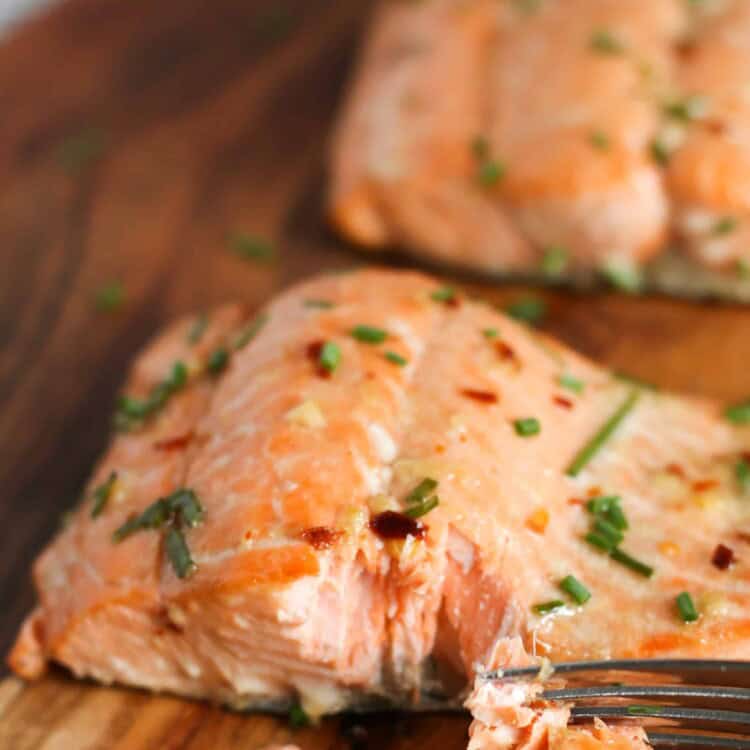 Asian Salmon (aka Sweet & Savory Salmon)
A perfect marriage of sweet and savory Asian marinade ingredients, leaves salmon moist and full of complex flavors. Broiling at the very end helps caramelize the top.
Yield:
6

(4 ounce) servings

1

x
Prep:
5 minutes
Cook:
15 minutes
Total:
50 minutes