Sweet & Savory Baked Boneless Pork Chops
This post may contain affiliate or sponsored links. Please read our disclosure policy.
A few simple ingredients can bring a simple pork chop to life! These Sweet & Savory Baked Boneless Pork Chops not only come together in a flash but can also be prepped as a make ahead freezer meal.
Make sure to reduce the marinade into a delectable, sticky sauce to drizzle over the top just before eating. A great weeknight meal that everyone will love!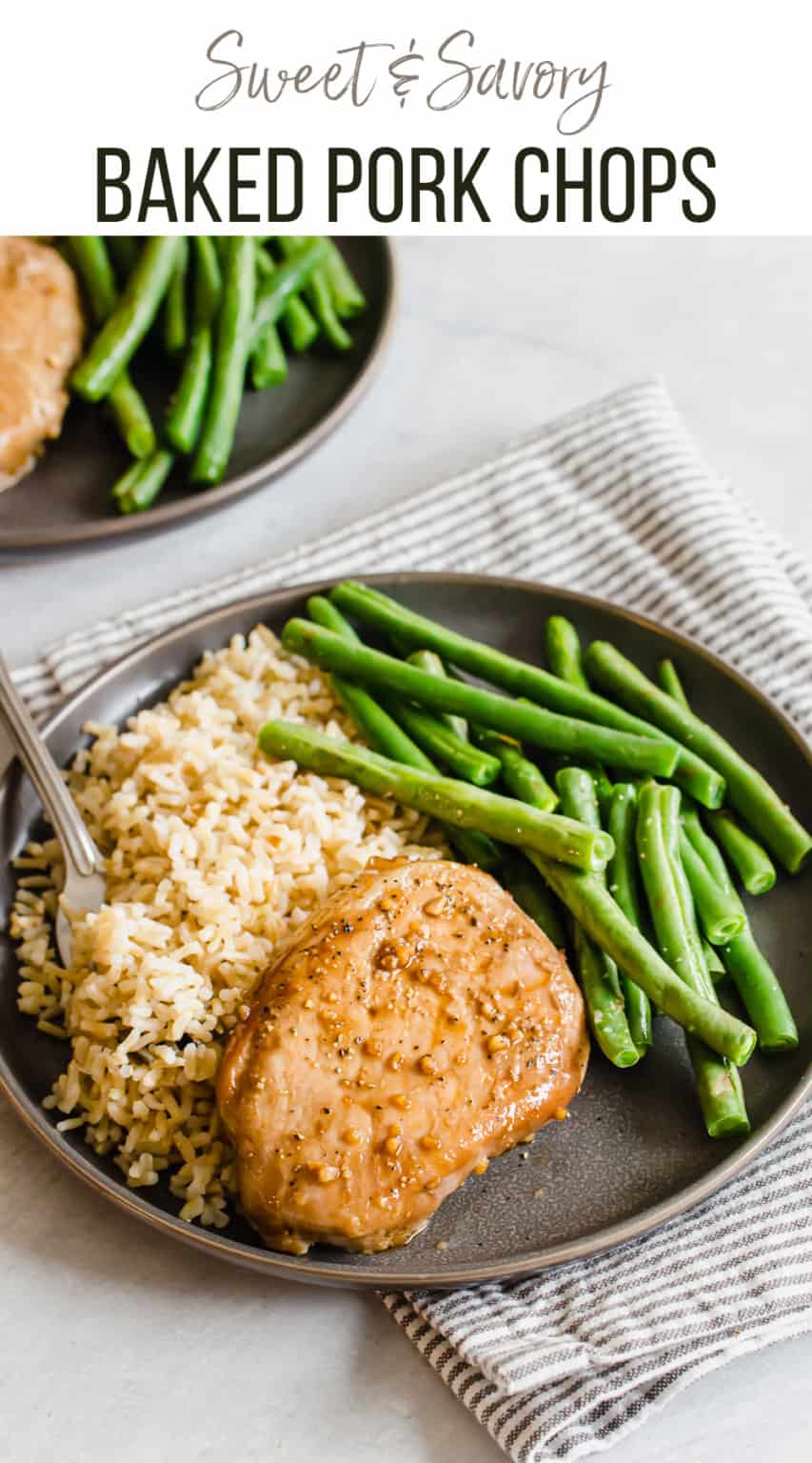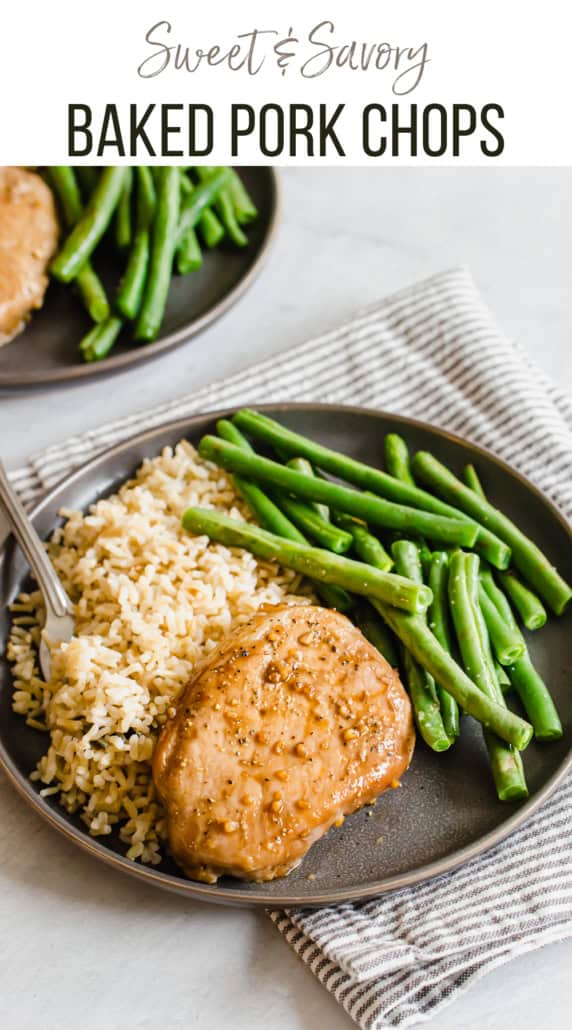 "My teens barely eat pork chops anymore-but there were NO complaints or leftovers when I made this! Will definitely be making again & again!
Very simple recipe. Served with wild rice & bacon wrapped asparagus.
⭐️⭐️⭐️⭐️⭐️" – Mary
After researching and testing various boneless pork chop recipes, I found that simple is better. (This is probably why our Pan Seared Pork Chops are such a hit!)
The marinade for this tasty oven-baked pork chop recipe only has 4 ingredients! On top of that, it can be cooked in the oven OR on the stovetop. Versatility in a recipe is always a win in my book.
Here is what goes into the pork chop marinade. I bet you even have these in your pantry!
Pork Chops – Choose chops that are at least 1 inch thick. Thin chops tend to always dry up when baked. And yes, you can use bone-in or boneless pork chops for this recipe with great success.
Soy Sauce – use coconut aminos for a gluten-free alternative
Honey – local is best! Here is why.
Minced garlic – We use pre-minced garlic to save time.
Red pepper flakes – Optional but they add a little heat and depth of flavor.
That's it. Seriously.
Important: Let the Pork Chops Marinate
It's important to let the pork chops marinate for at least 2 hours.
You can marinate them up to about 24 hours in the fridge to help them soak up flavor, but don't overdo it. Marinating too long can cause the meat to break down and get mushy at a certain point.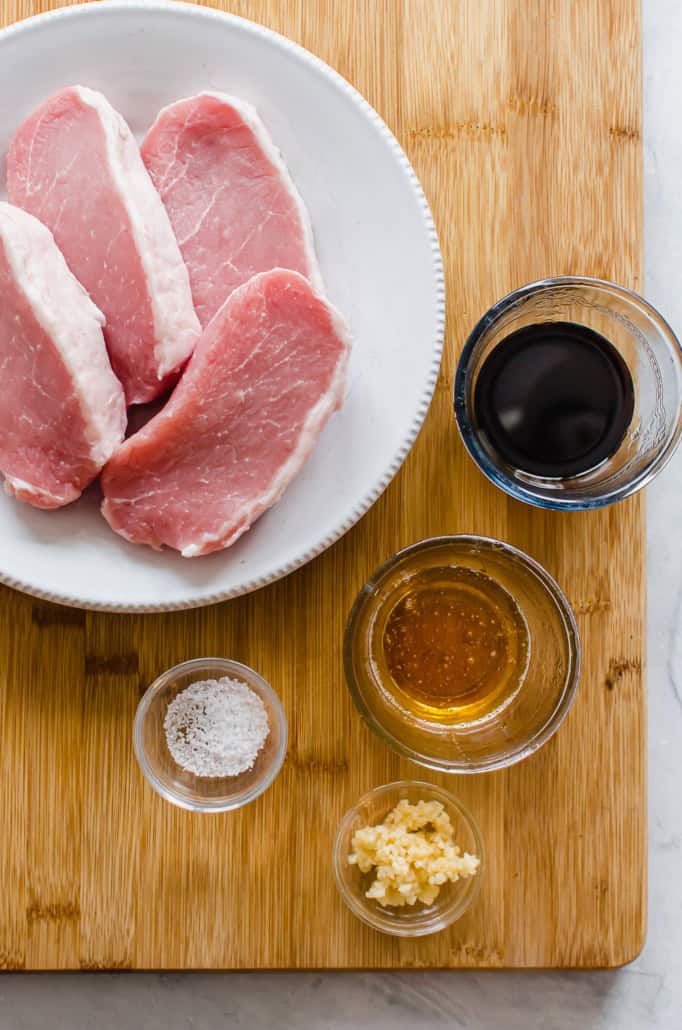 Pork Chop Success Tips
The USDA lowered the safe doneness temperature for pork several years ago…meaning we don't all have to cook our pork until it's a piece of cardboard anymore! Cooking to this lower doneness temp is a game changer.
The right marinade is important, since pork runs lean and bland on its own. The marinade for this recipe is spot on and only requires a few pantry ingredients.
While baking pork chops works beautifully, pan-searing them works well too. It creates a crust on the outside while keeping it moist on the inside.
Adjust cooking time if needed. All pork chops are not created equal. Some are thinner, thicker, have extra fat on the edges, etc. Think of our suggested cooking time as a guideline. To ensure a perfectly cooked chop, you need to check the internal temperature with an internal meat thermometer a few times during the last part of the baking.
Remove the pork chops from the oven when they reach an internal temperature of 140°F and allow them to rest for 5 minutes. While it's resting, the temperature will rise to 145 degrees, which is the USDA's safe temperature guideline for consuming pork chops.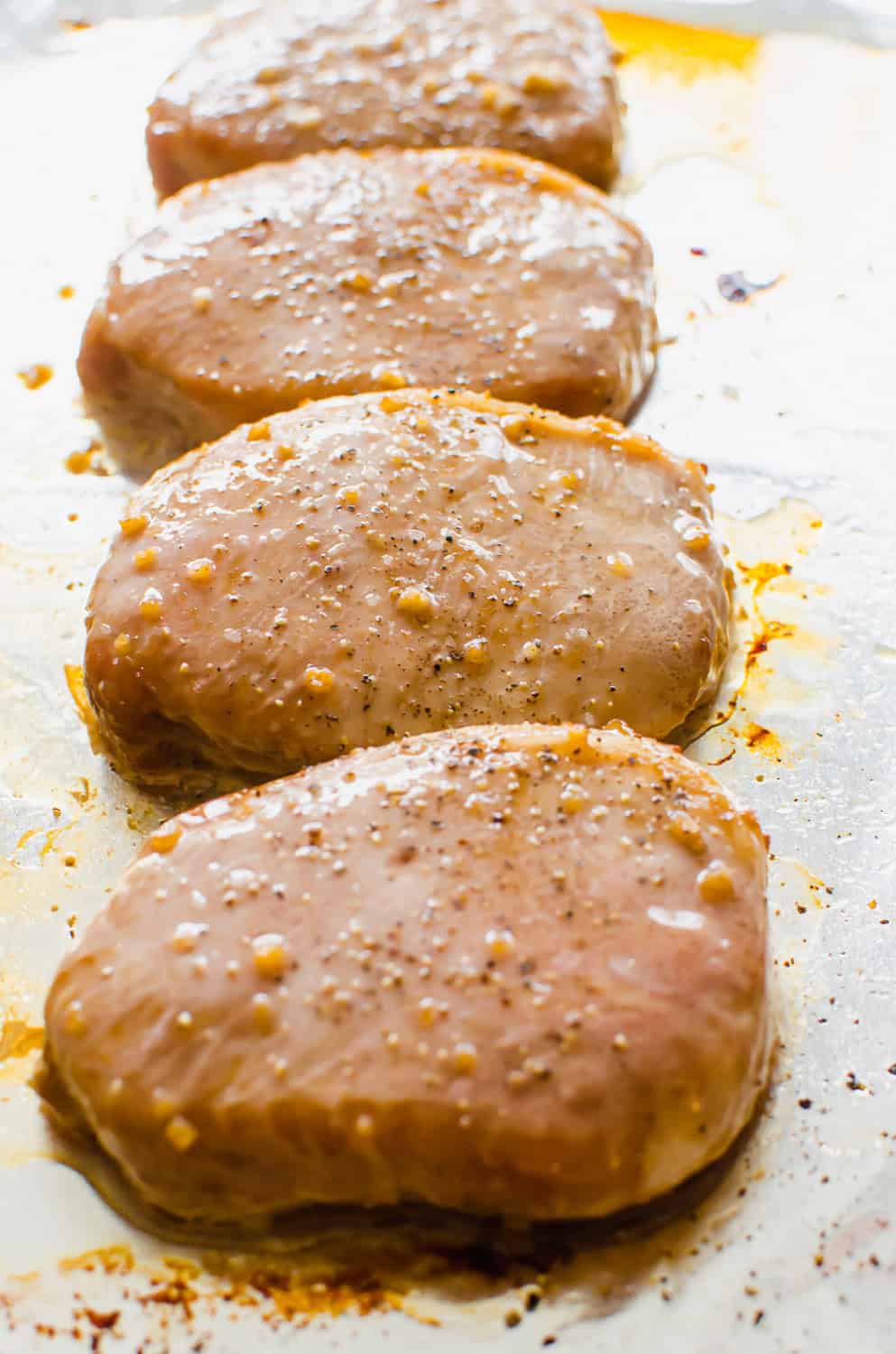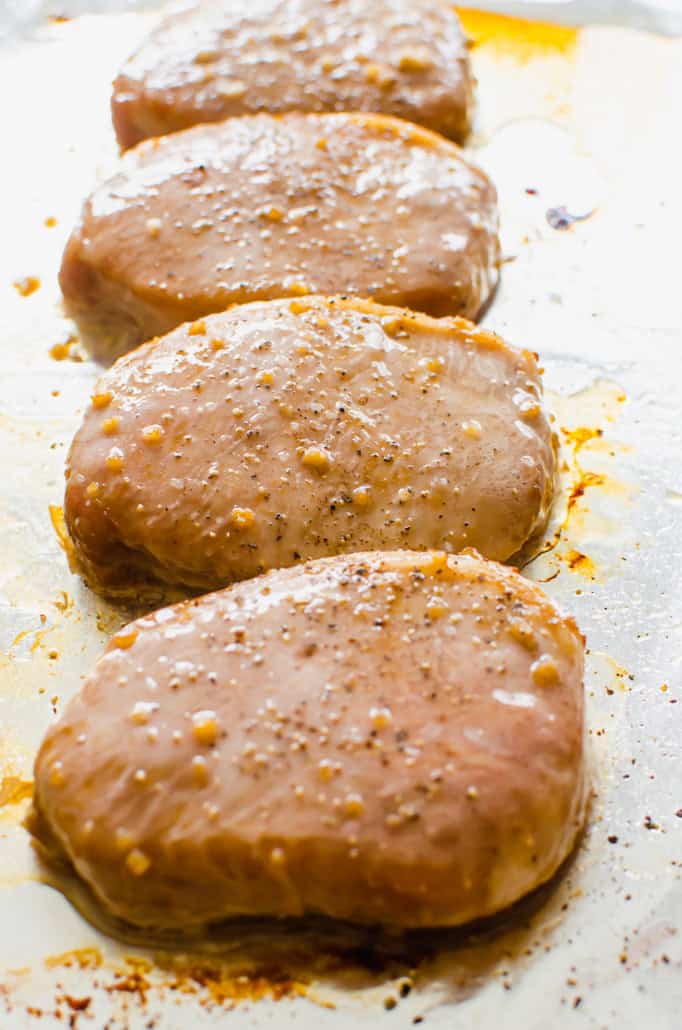 How long do I cook boneless pork chops in the oven?
Many think baking pork chops will produce dry, tough, and tasteless meat. The truth is that baked pork chops can be amazingly tender and juicy if you cook them at the right temperature and the right time.
For 1-inch thick, boneless pork chops, cook them at 350°F for 15-20 minutes, or until a thermometer inserted in the center of the chop registers 140-145°F.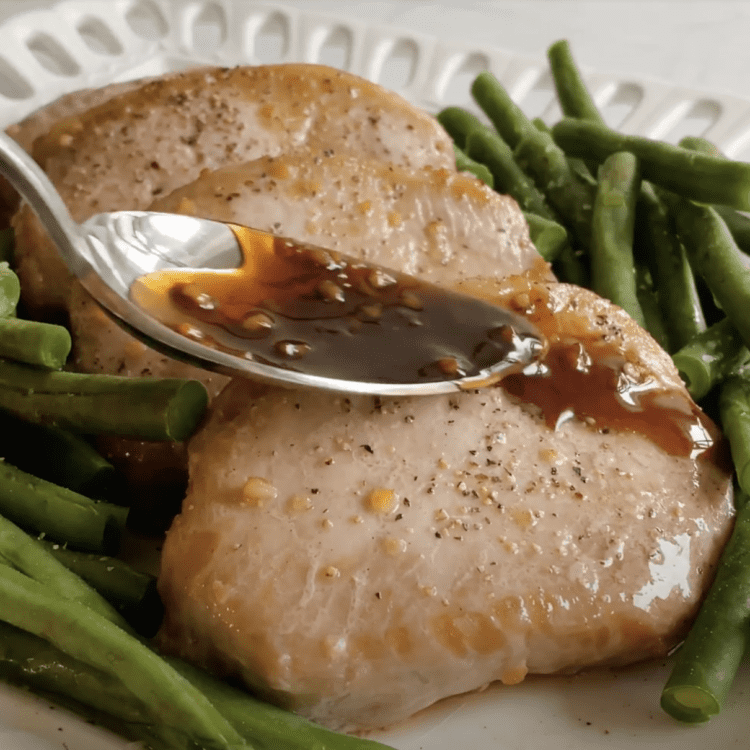 Pro Tip: Repurpose the Marinade
To make these pork chops a sweet & savory delight, be sure to reduce the marinade at the end and drizzle it over the top of those chops. You won't regret it.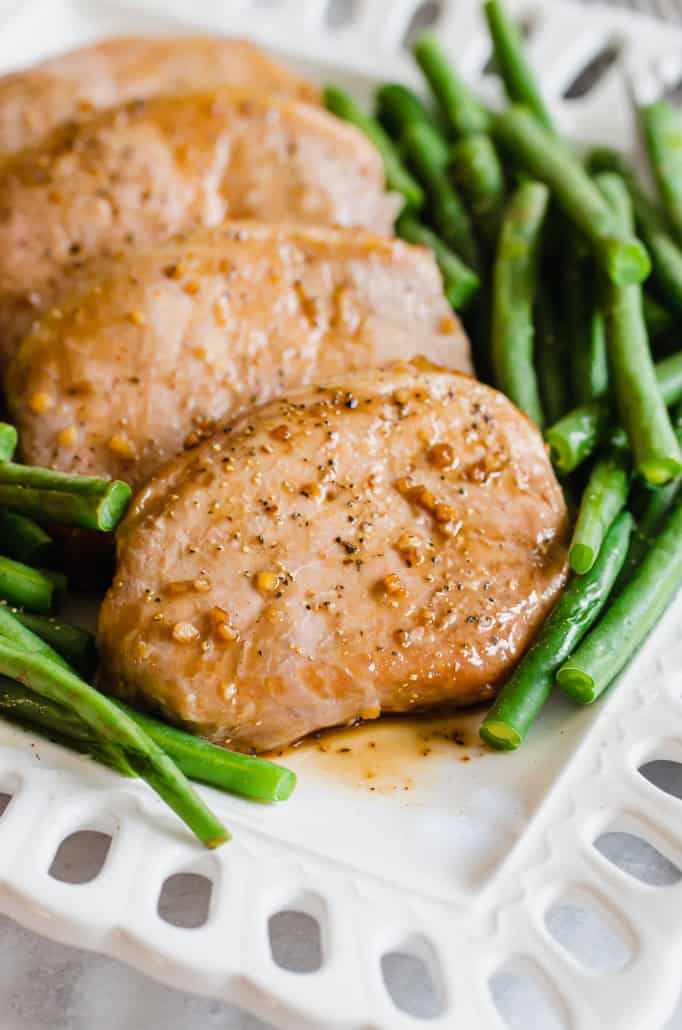 How to freeze pork chops
You've come to the right place if you're looking for make-ahead freezer meals.
Not only have we written two freezer meal cookbooks but we also have some amazing 1 Hour Freezer Prep Plans that walk you through how to make 6 meals in one hour.
Like so many of our freezer meal recipes, these boneless pork chops work beautifully as a freezer meal.
TO FREEZE: Instead of placing the marinating pork chops in the fridge, freeze them in a gallon-size freezer bag.
TO PREPARE: Let the pork chops and marinade thaw in the fridge for 24 hours. Prepare as directed.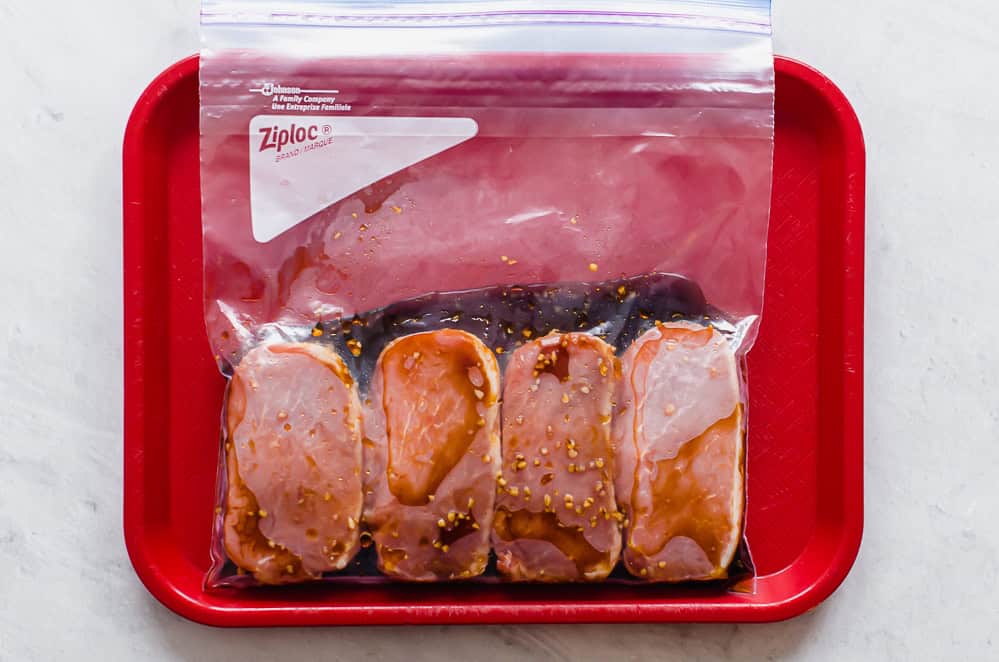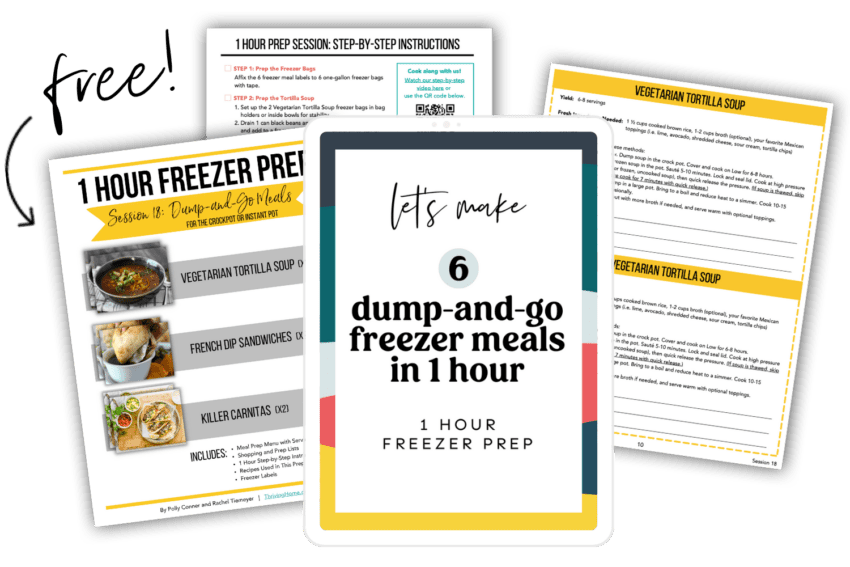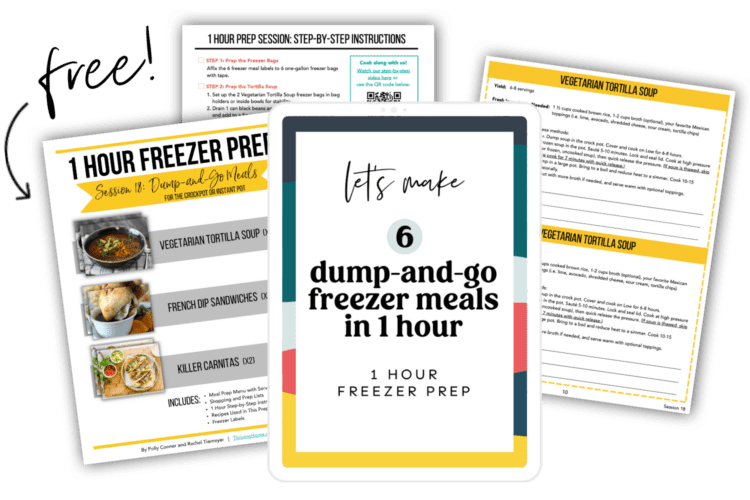 Make 6 Dump-and-Go Freezer Meals in 1 Hour!
Try a 1 Hour Freezer Prep Session ($6.99 value) for FREE!
Includes:
Shopping & equipment lists
Step-by-Step instructions & video tutorial
Serving suggestions & dietary substitutions & more
Side Dish Ideas
Sweet & Savory Pork Chops will play nice with all sorts of side dishes. Here are a few to get you started:
Recipe Variations
Here are a few different ways to use this recipe.
Use this same marinade and sauce for pork tenderloin. Bake at 450°F for about 20 minutes or grill using this recipe.
Use this same marinade and sauce for boneless, skinless chicken thighs. Bake at 425°F for 20-25 minutes.
Dice the cooked pork chops and toss into our Fried Rice with Sweet Soy Sauce.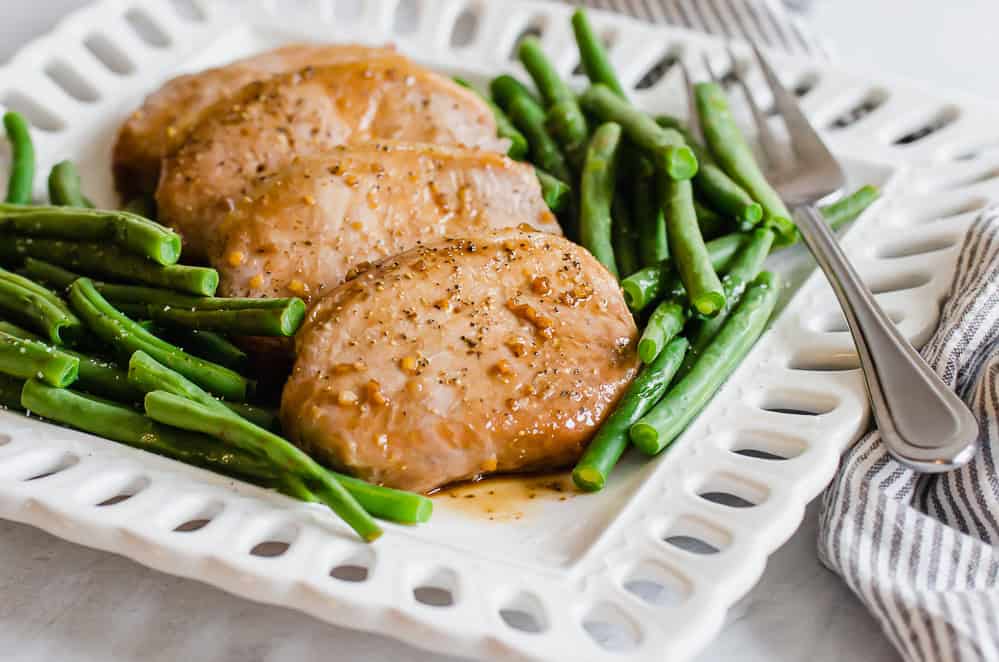 FAQ
Can I use bone-in pork chops?
Yes, bone-in will work. They will take a little longer to cook so just use your meat thermometer to know when they are done.
Yes, this recipe is naturally dairy free. No substitutions needed.
Can I make these gluten-free?
Yes. All you need to do is substitute the soy sauce for coconut aminos.
Can I cook these pork chops on the stovetop instead?
Yep! We have a recipe for Pan Seared Pork Chops here.
Simply put: Heat oil over medium-high heat. Place pork chops in the pan and sear each side for 60-90 seconds. Reduce the heat to medium-low and cook 6-8 minutes (for 1 inch) and 10-12 minutes (for 1 1/2 inch), flipping halfway through until the internal temperature reads 145°F.
Did you make this? Snap a photo and tag us on Instagram at @thrivinghome so we can see your creations and cheer you on!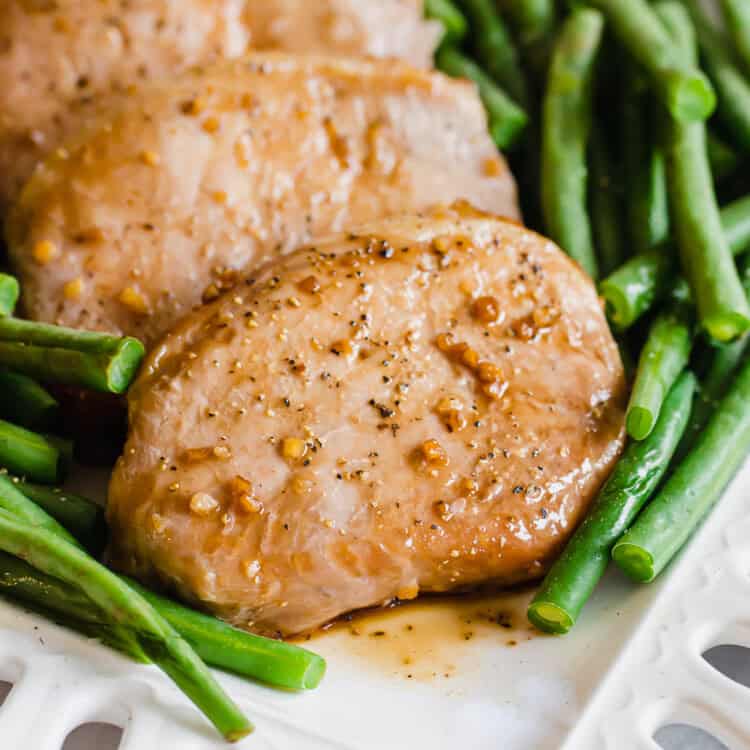 Sweet and Savory Baked Boneless Pork Chops
A few simple ingredients (honey, soy sauce, and garlic) can bring a simple pork chop to life in about 30 minutes! These pork chops not only come together in a flash but can also be prepped as a make-ahead freezer meal. Make sure to reduce the marinade into a delectable, sticky sauce to drizzle over the top just before eating. A great weeknight meal that everyone will love!
Prep:
5 min
Cook:
30 min
Total:
35 minutes