How to Grill Asparagus
Updated: 6/13/22
This post may contain affiliate or sponsored links. Please read our disclosure policy.
Wondering how to grill asparagus? Use this simple, grilled asparagus recipe that yields crispy, slightly charred and perfectly seasoned asparagus. In less than 10 minutes, you can serve up one of nature's healthiest foods to your family all summer long.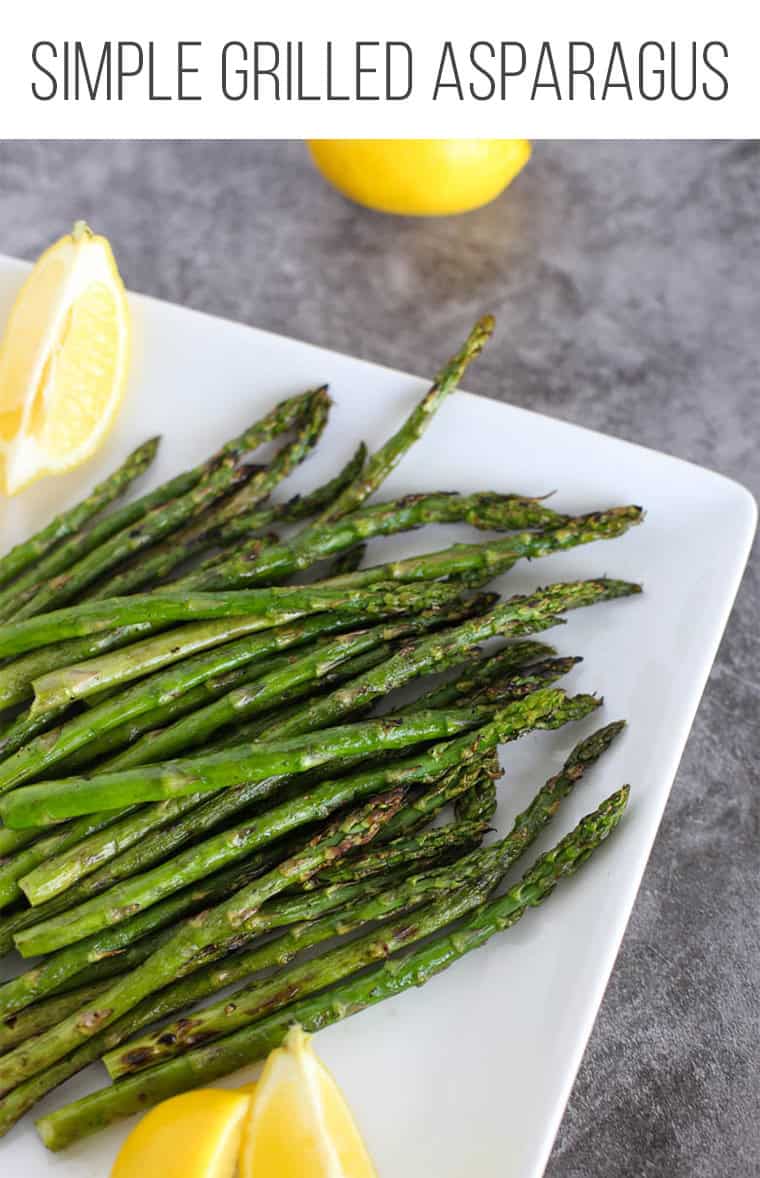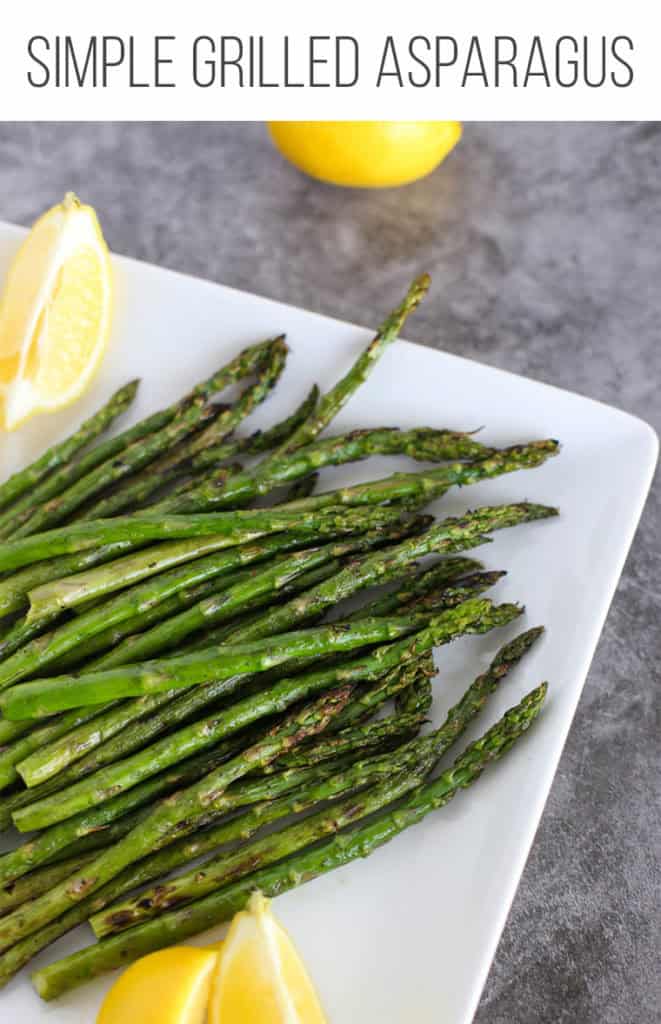 Is Asparagus Good for You?
Let's start with some good news! This veggie is a nutritional POWERHOUSE. No wonder my parents were always trying to get us to eat it as kids. Asparagus is low in calories, high in fiber, and packed with antioxidants. (Antioxidants prevent the accumulation of harmful free radicals and may reduce your risk of chronic disease.)
Get this, mamas: asparagus is also high in folate, a nutrient that is vital for a healthy pregnancy and many important processes in the body, including cell growth and DNA formation. If you're in the baby-making stage of life, eat your asparagus! If you're not, eat your asparagus! It's really an amazing vegetable for anyone.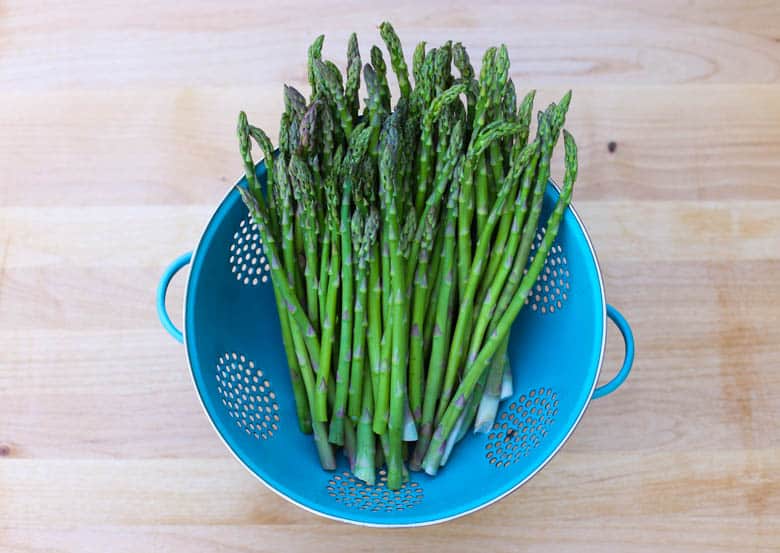 Now, let me show you the very BEST way to prepare that super healthy asparagus.
Why Grill Asparagus?
It wasn't until I learned how to grill asparagus and roast it in the oven that I realized I actually liked it. Like, REALLY like it. In my opinion, the way I grew up eating it (boiled or steamed) just made it…icky.
The flavor that comes from grilled asparagus is distinctly different. The open flames from a grill char the ends, giving it a smokey crispness that serves as a perfect contrast to those tender stalks. I could eat perfectly grilled asparagus like french fries.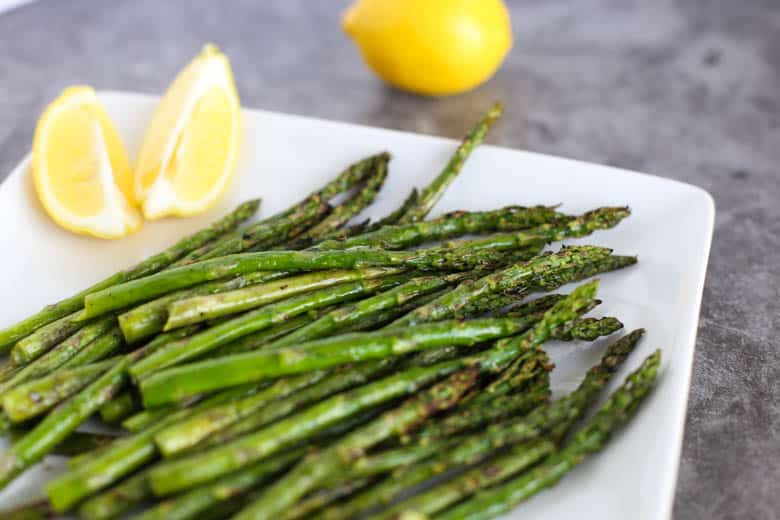 How to Grill Asparagus: Video Tutorial
Convinced that grilling is the way to go? Check out how easy it is to grill asparagus…
How Long to Grill Asparagus
This is where great asparagus can live and die. A few minutes makes all the difference. Overcooked = womp womp. Undercooked = biting into a stick.
Since every grill is going to be a bit different, you're going to have to see this as more of an art, not a science. I have found that medium-high heat works best (or, for my gas grill that runs really hot, medium worked well). You'll know when the heat level is just right because you can hold your hand about 5 inches above the grate for only 3-4 seconds.
Then, grill the asparagus for 4-7 minutes, pulling them off when they are just crisp-tender. The thinner the stalks are, the faster they will cook.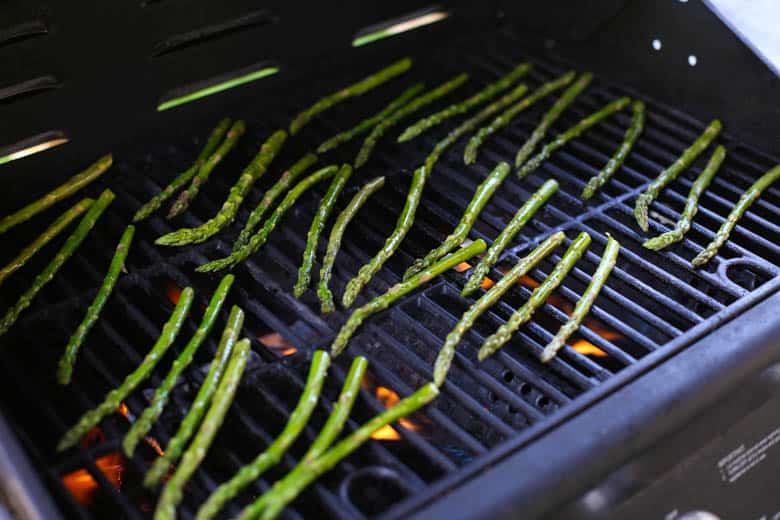 How to Season Grilled Asparagus
You'll be amazed at how the simple ingredients in this recipe (oil, salt, and pepper) will be all you need. But, if you'd like to tinker with the recipe, I think that dried Italian seasoning, garlic powder, onion powder, or lemon pepper would be fun playmates with asparagus.
For this recipe though, we kept it simple and plenty delicious. Toss the stalks with oil and season with salt and freshly ground black pepper. If you'd like (and I think you will!), squeeze a fresh lemon over the top before serving.
How to Cook Asparagus in the Oven
Alas, if you are unable to grill your asparagus, it is still absolutely delicious in the oven. Hop over to this post to see our recipe for Oven Roasted Asparagus.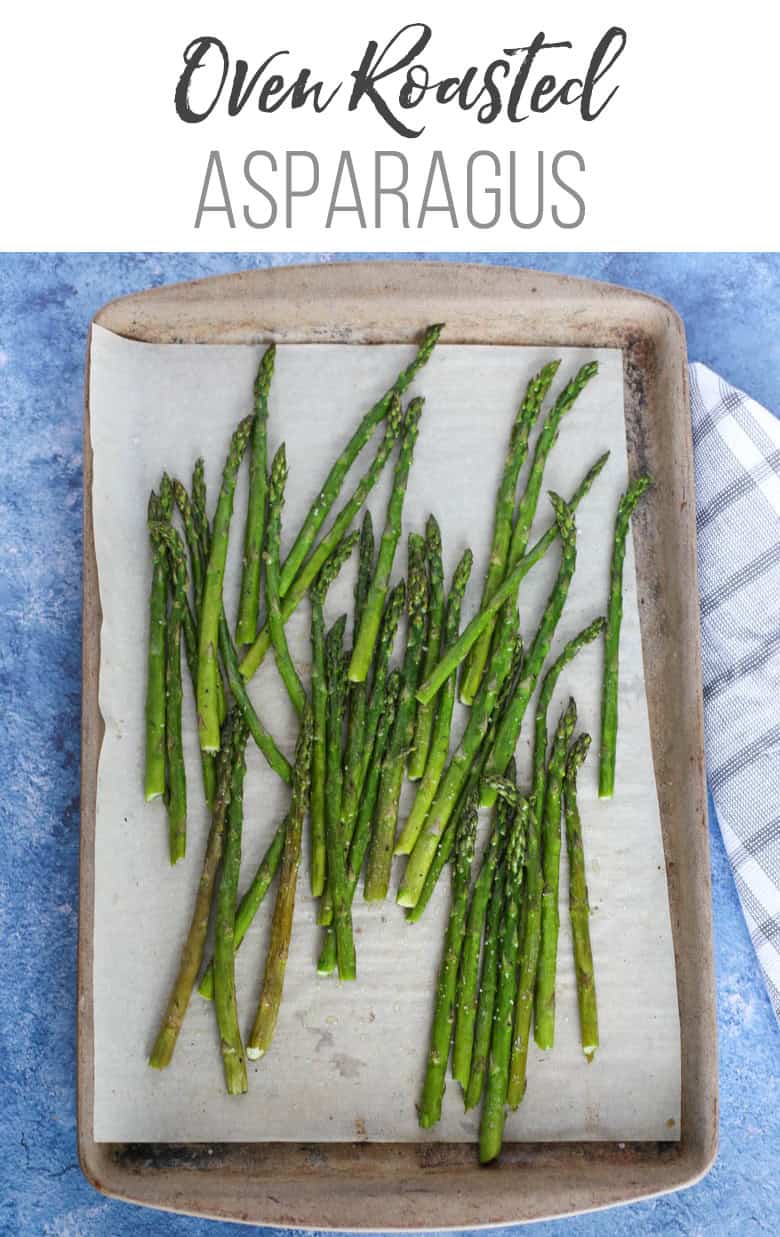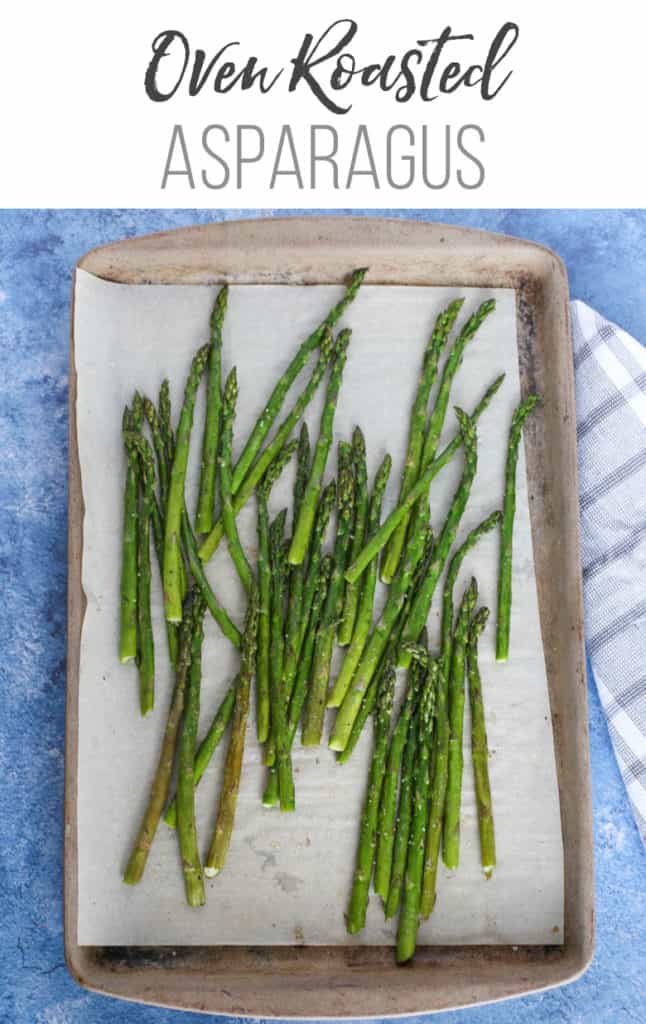 Recipes That Pair Well with Grilled Asparagus
Grilled asparagus makes a wonderful side dish for grilled entrees like these:
Did you make this? Snap a photo and tag us on Instagram at @thrivinghome so we can see your creations and cheer you on!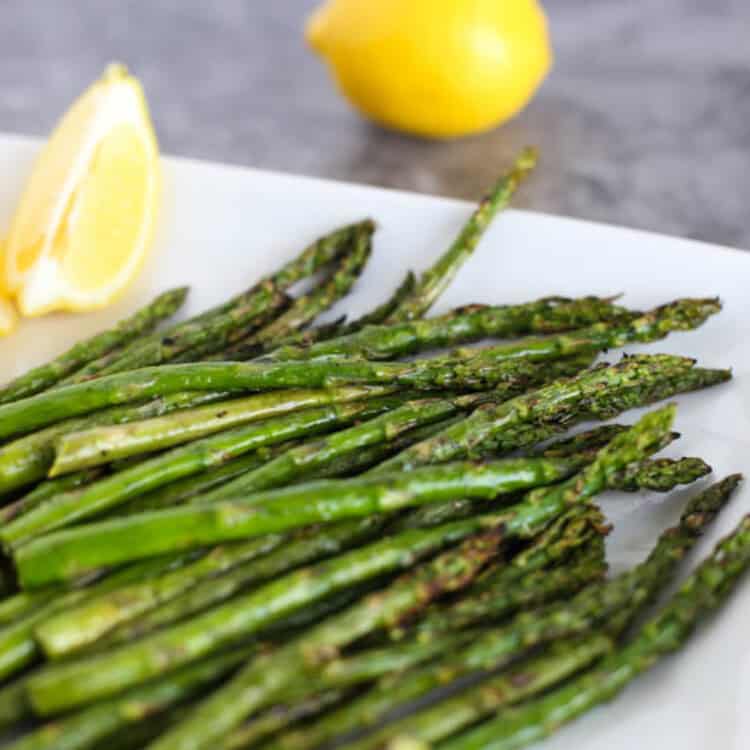 How to Grill Asparagus
Tender, fresh asparagus stalks become crispy, slightly charred, and perfectly seasoned in this simple grilled asparagus recipe.
Prep:
3 minutes
Cook:
6 minutes
Total:
9 minutes
Ingredients
1 1/2

–

2

pounds

asparagus, tough ends snapped off*

1

–

2

tablespoons avocado oil or olive oil
Salt and ground black pepper
Lemon wedges, for serving (optional)
*To prep the asparagus: Rinse them and then snap off the lower 2 inches or so, wherever they bend and break naturally. You can save these in the fridge or freezer and use in a soup later.
Before You Begin! If you make this, please leave a review and rating letting us know how you liked this recipe! This helps our business thrive & continue providing free recipes.
Preheat your grill or grill pan to medium-high heat. (You should be able to hold your hand about 5 inches above it for 3-4 seconds.)
In a baking dish or bowl, toss the asparagus with the oil. Season with salt and pepper lightly and toss again. 
Using tongs, place the asparagus directly on the grill. Cook for 4-7 minutes, turning a few times to evenly char the stalks. Remove while they are crisp-tender. Keep in mind that thinner stalks will cook faster.
Taste and season with more salt and pepper, if desired. Serve with a squeeze of lemon (optional).
---