Slow Cooker Crispy Carnitas
This post may contain affiliate or sponsored links. Please read our disclosure policy.
This is the type of recipe our readers go crazy over. Slow Cooker Carnitas are a dump-and-go crock pot meal that is easy, freezes well before or after cooking, and feeds an army.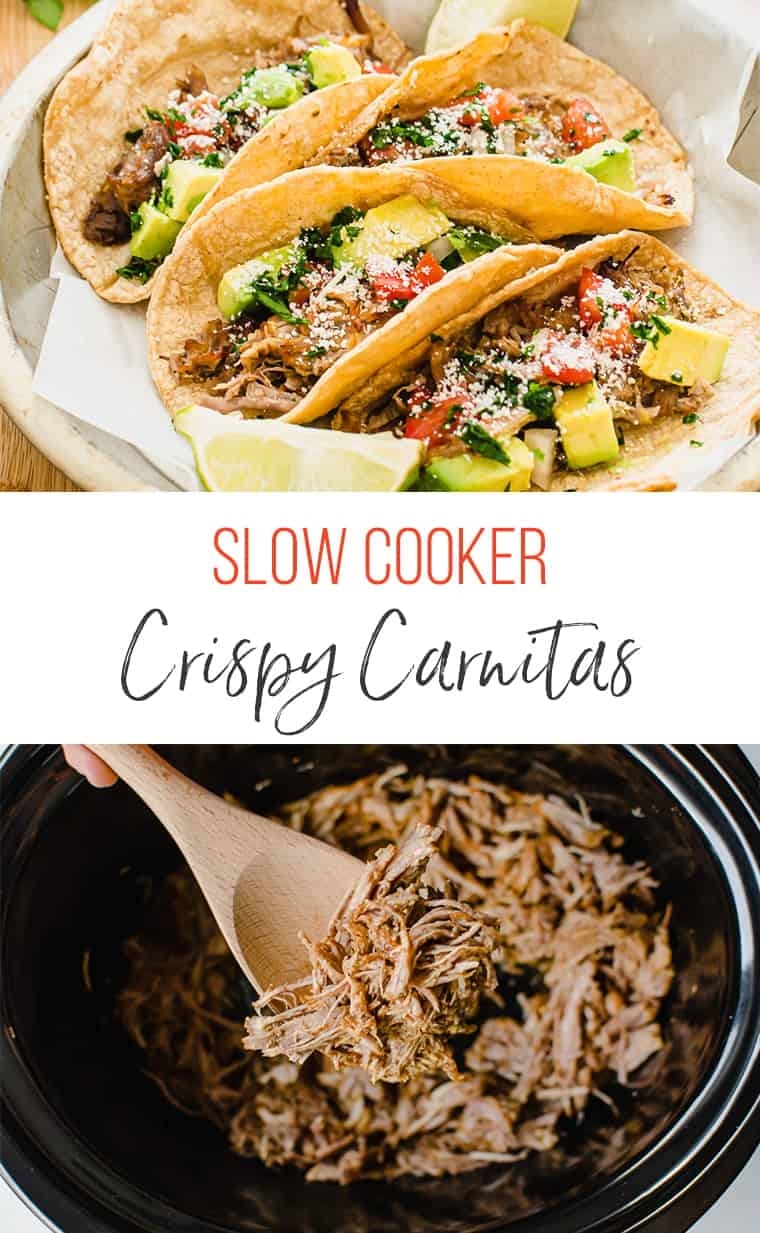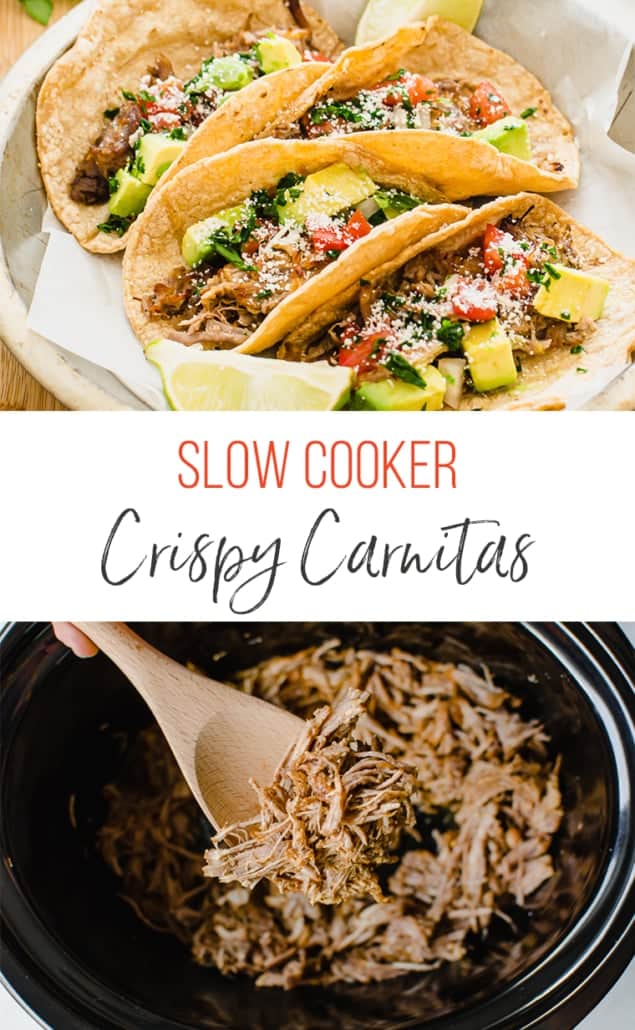 Reasons You'll Love this Recipe
It's EASY! Simply season the pork and cook it in the Crock Pot with the simple marinade.
It's freezer friendly. Carnitas are a great recipe to double and freeze. You can also fully cook it and freeze it in small portions. So many options!
It feeds a lot of people. This recipe can easily feed 10+ people. Here are 25+ Slow Cooker Recipes for a Crowd if you want more ideas.
It's a Dump & Go Recipe. You do have to give it a quick broil at the end but that's it!
It can also be made in the Instant Pot or Dutch Oven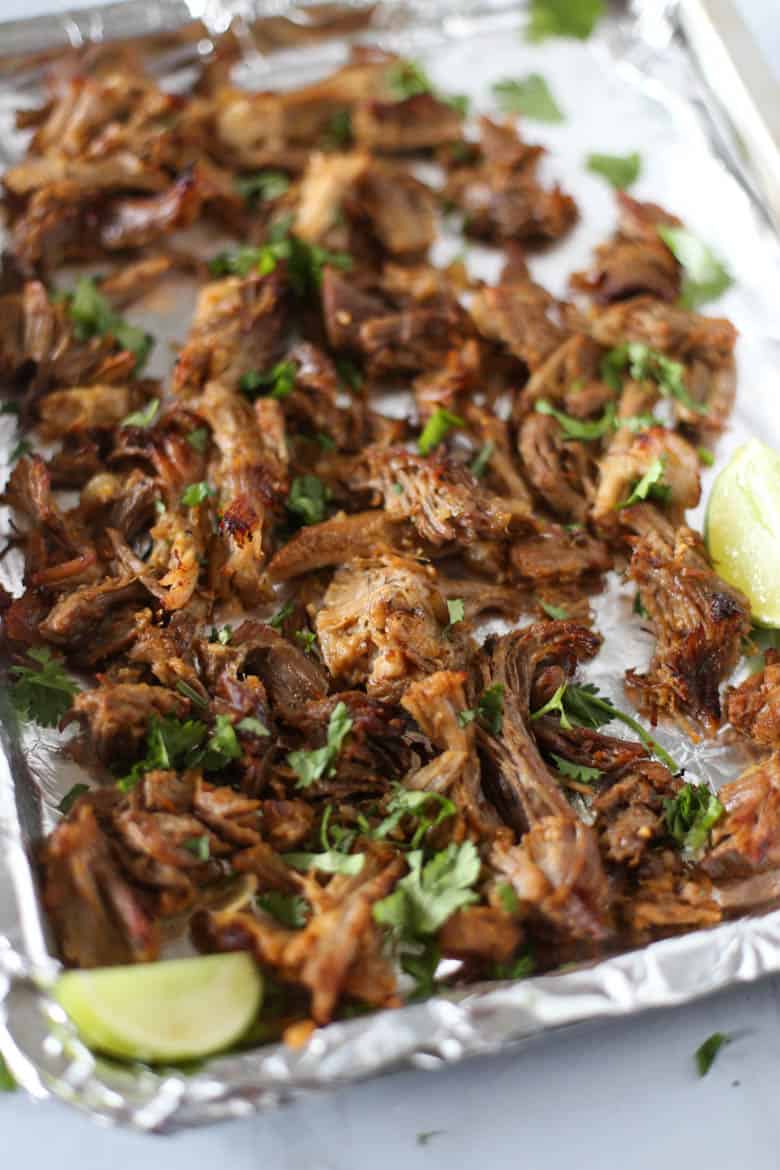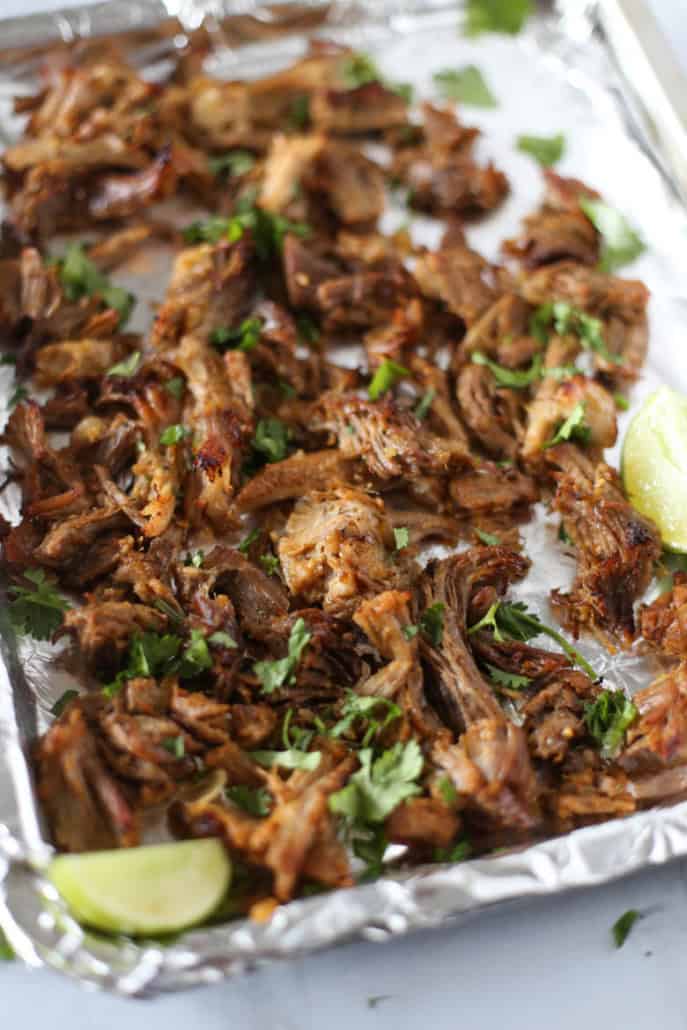 Like most of our recipes, the ingredients are fairly simple. To make Slow Cooker Carnitas, you'll need:
Olive oil – Avocado oil will also work
1 white or yellow onion
5 cloves garlic – Save time and use pre-minced garlic.
1 (3-4 pound) pork shoulder (also known as pork butt or Boston butt), trimmed of excess fat – Here is where we get meat you can trust.
Seasonings – oregano, cumin, chili powder, salt & pepper
Lime juice – Fresh is best!
Orange juice
Hot Sauce
How Long Do I Cook Pork Shoulder in the Slow Cooker?
After testing hundreds of recipes for our slow cooker cookbook, From Freezer to Cooker, we found that cooking one (3-4 pound) pork shoulder should take 7-9 hours depending on your slow cooker.
Oftentimes, people take the pork out too early because it appears to be tough and dry. However, the pork needs lots of time to break down the fibers holding the meat together.
When cooked correctly, pork shoulder in the slow cooker should be tender, juicy, and shred easily.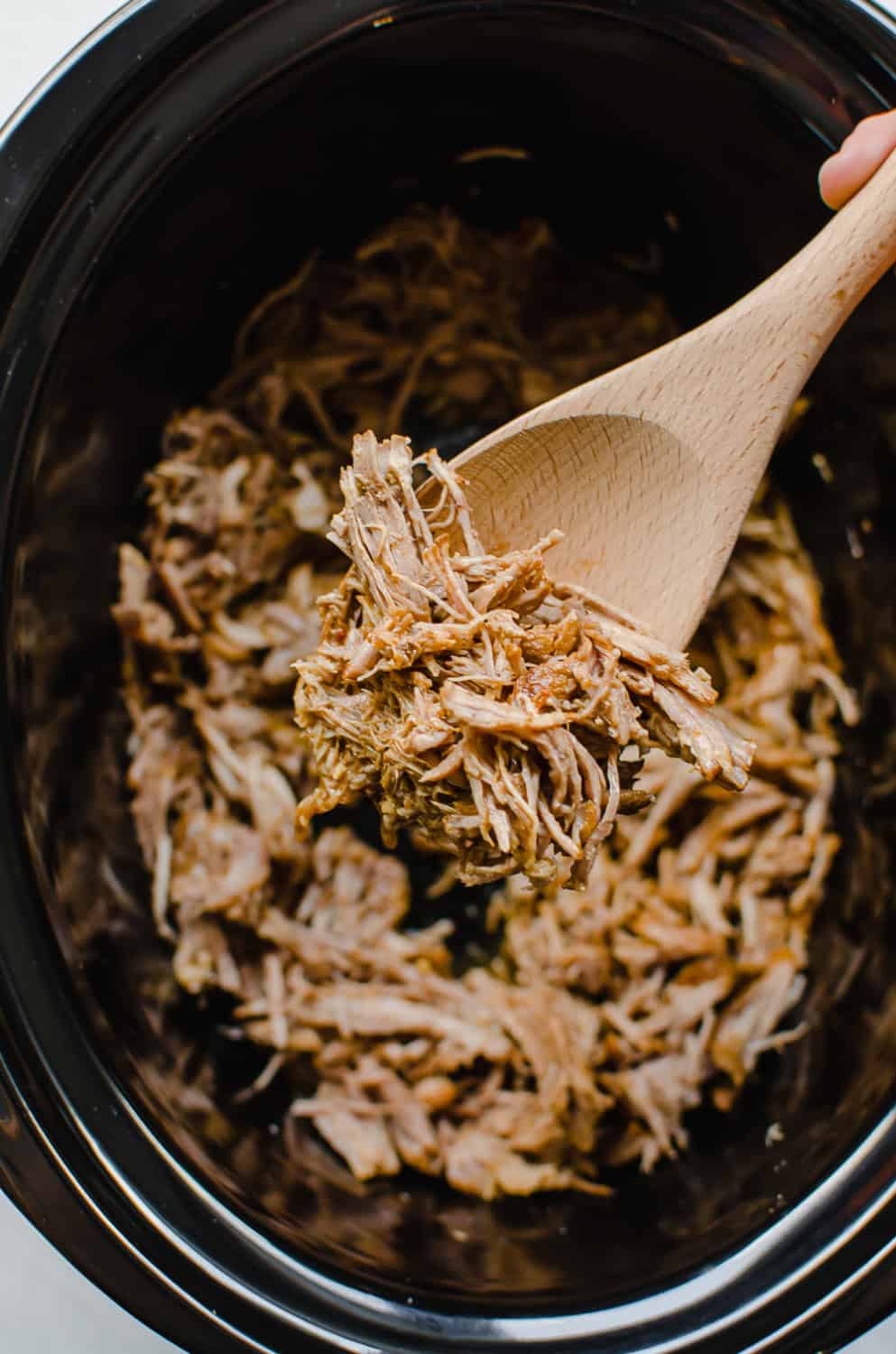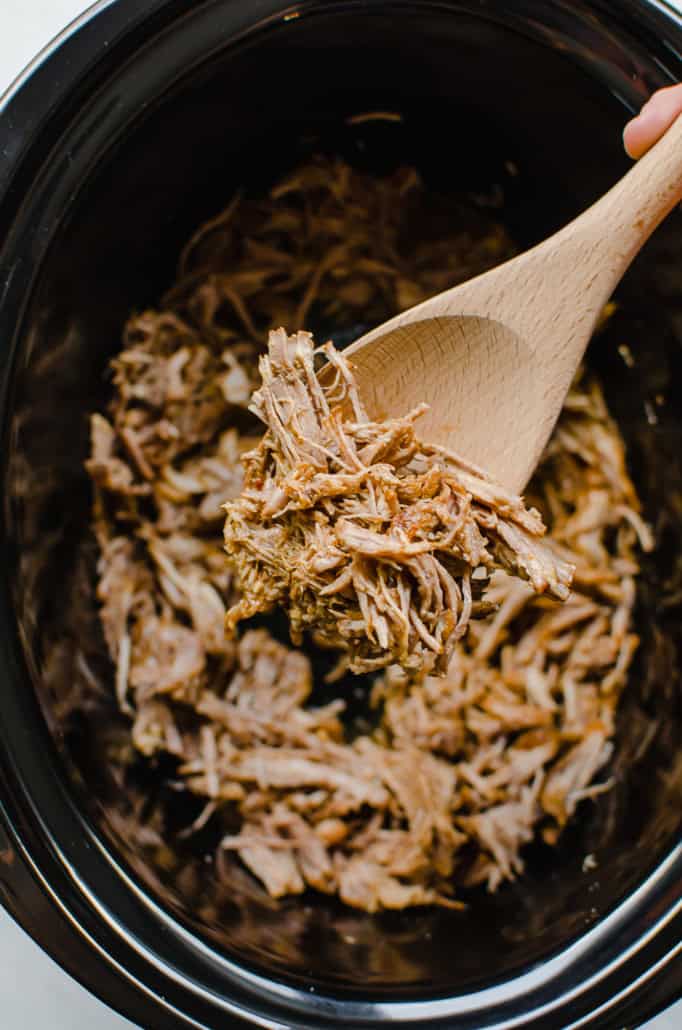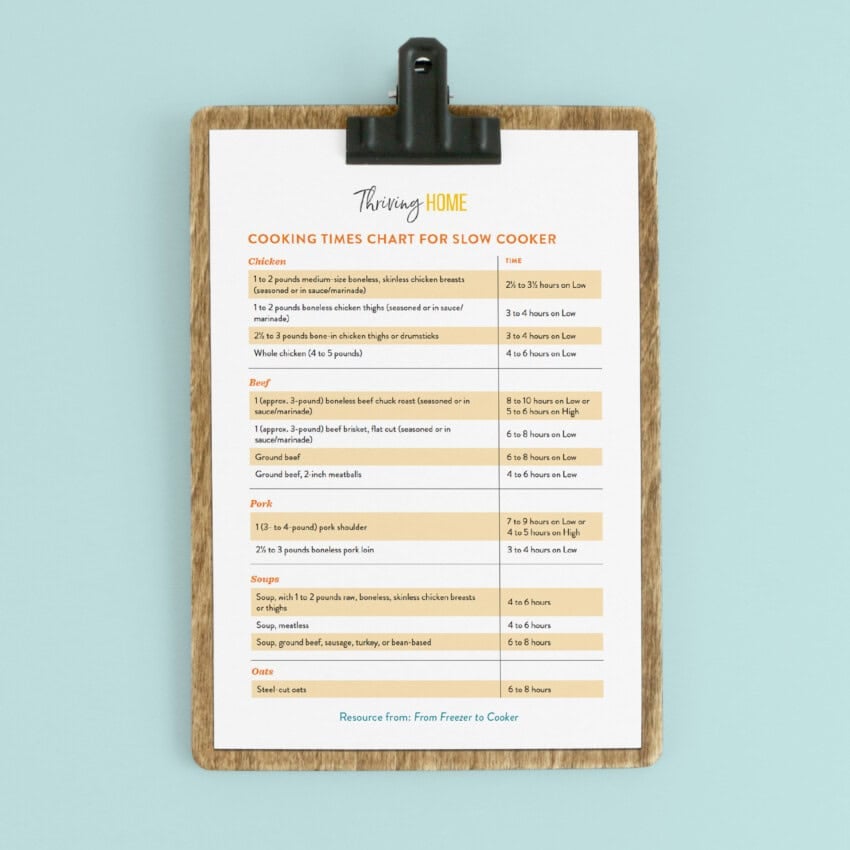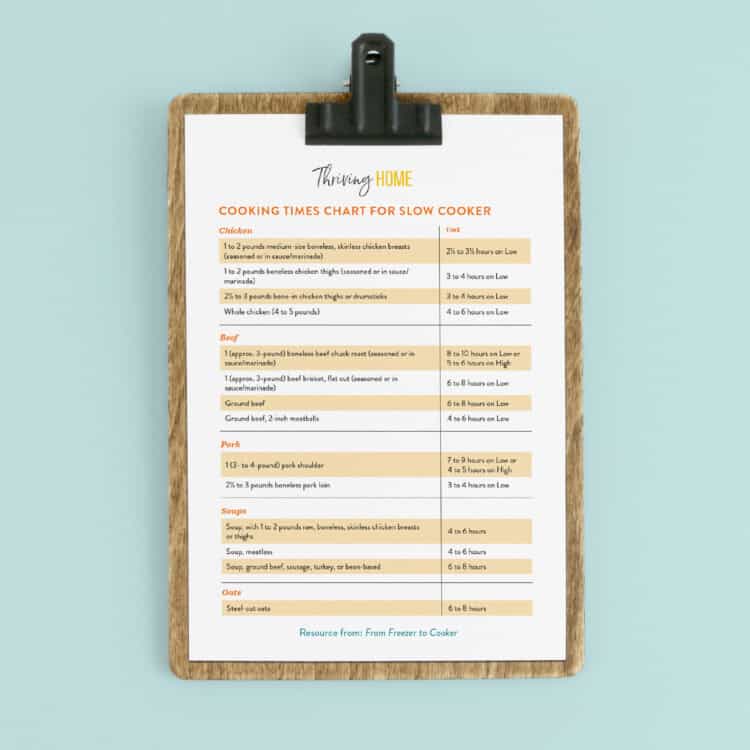 Slow Cooker Cooking Times Chart
We spent years testing slow cooker timing for various recipes for our second cookbook. We put all our knowledge into one handy printable cheat sheet for you. Never overcook (or undercook) a crock pot meal again!
Download Now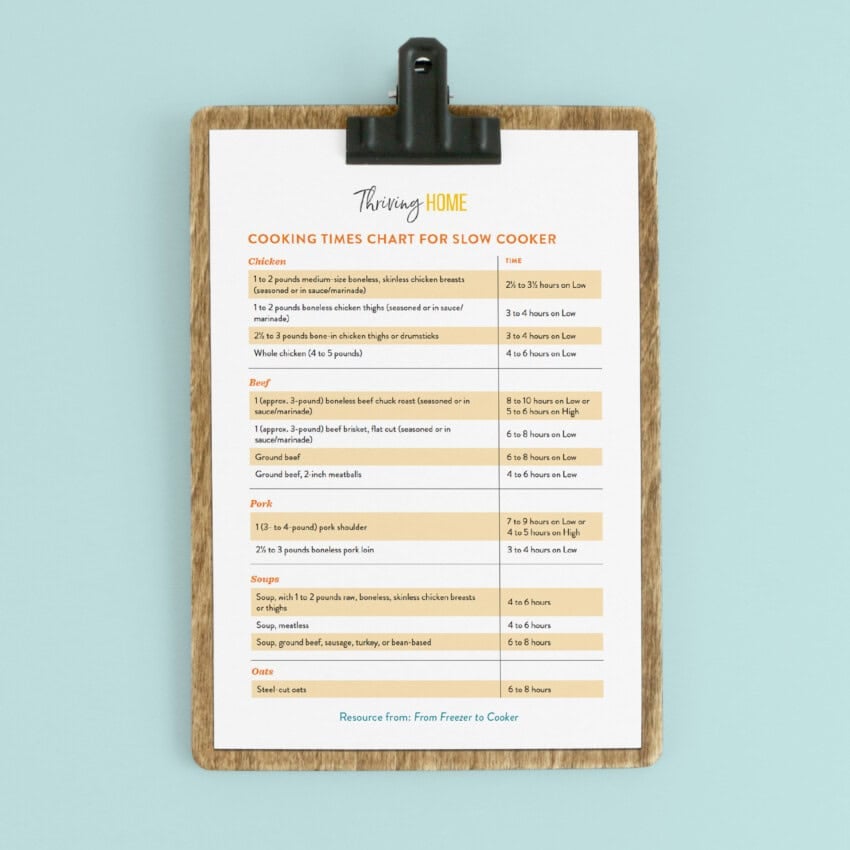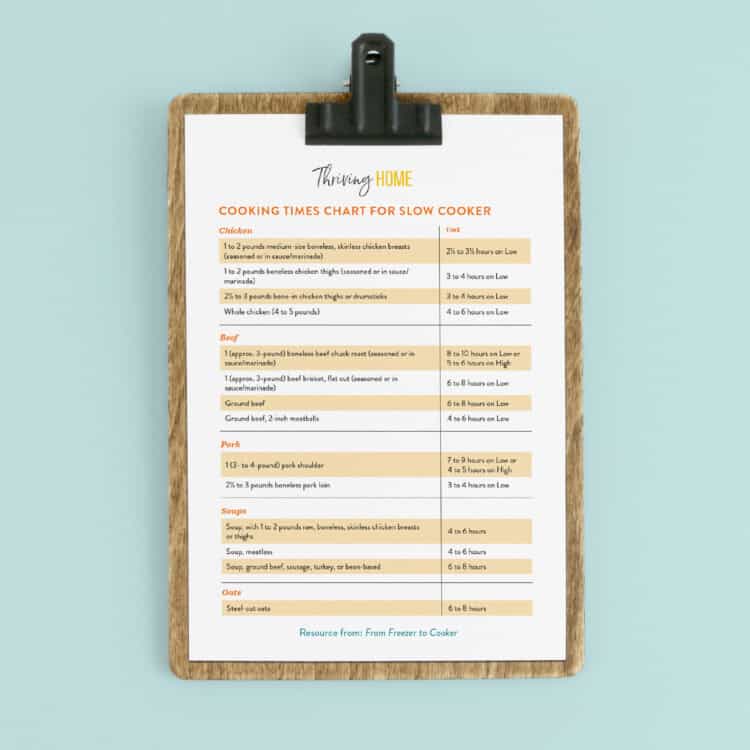 Make it a Freezer Meal
Method 1: Freeze Before Cooking
Freeze For Later: Follow Steps 1-3 but place all of the ingredients into a gallon-sized freezer bag. Seal and freeze.
Prepare From Frozen: Thaw 24-48 hours. Follow steps 5-8.
Method 2: Freeze After Cooking
Freeze For Later: Fully cook, shred, and freeze the carnitas meat.
Just make sure the meat is cooled and then place it in a freezer bag/container with the juices from the slow cooker.
Prepare From Frozen: When you're ready to eat it, thaw and rewarm over low heat or in the microwave.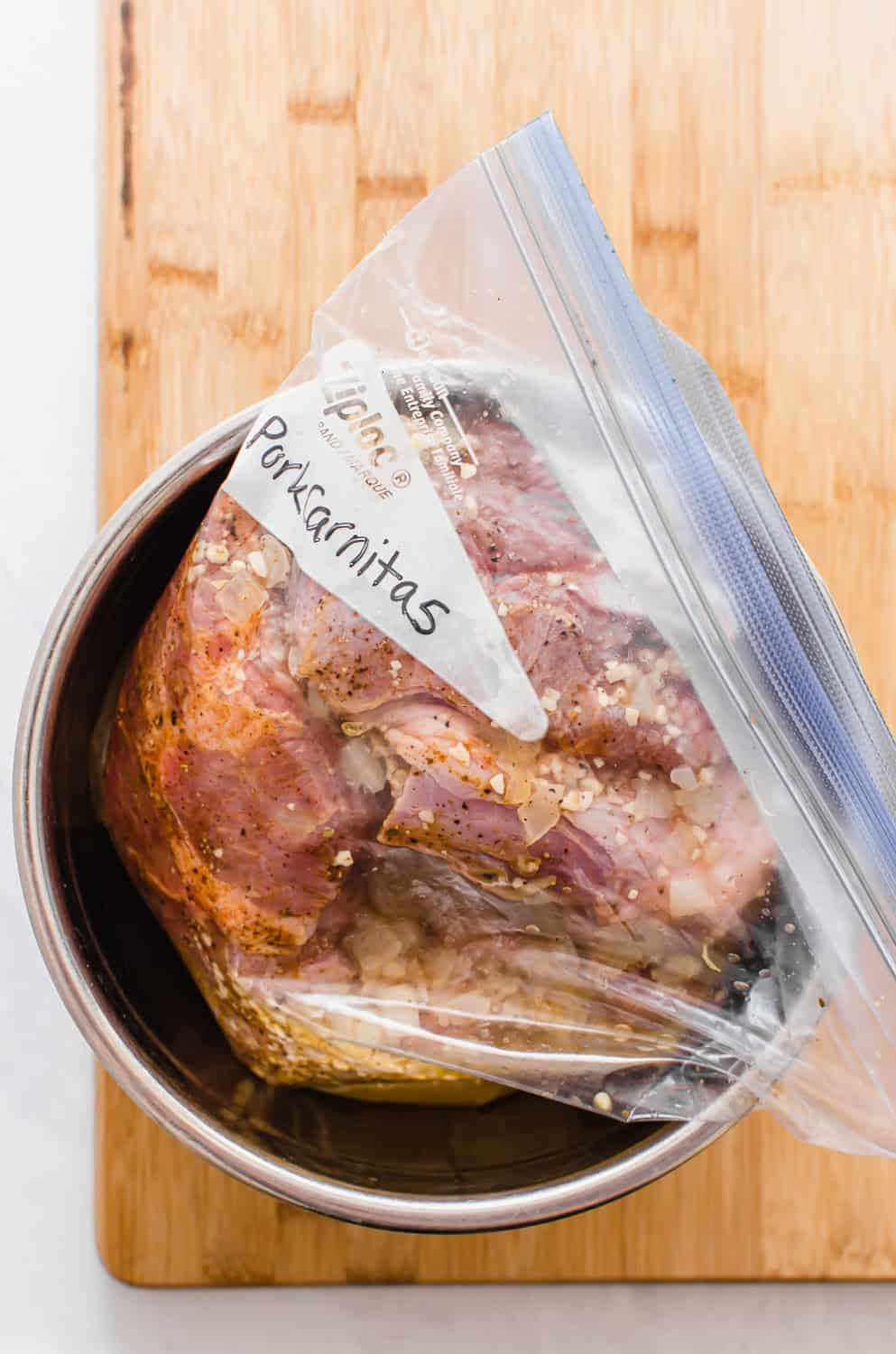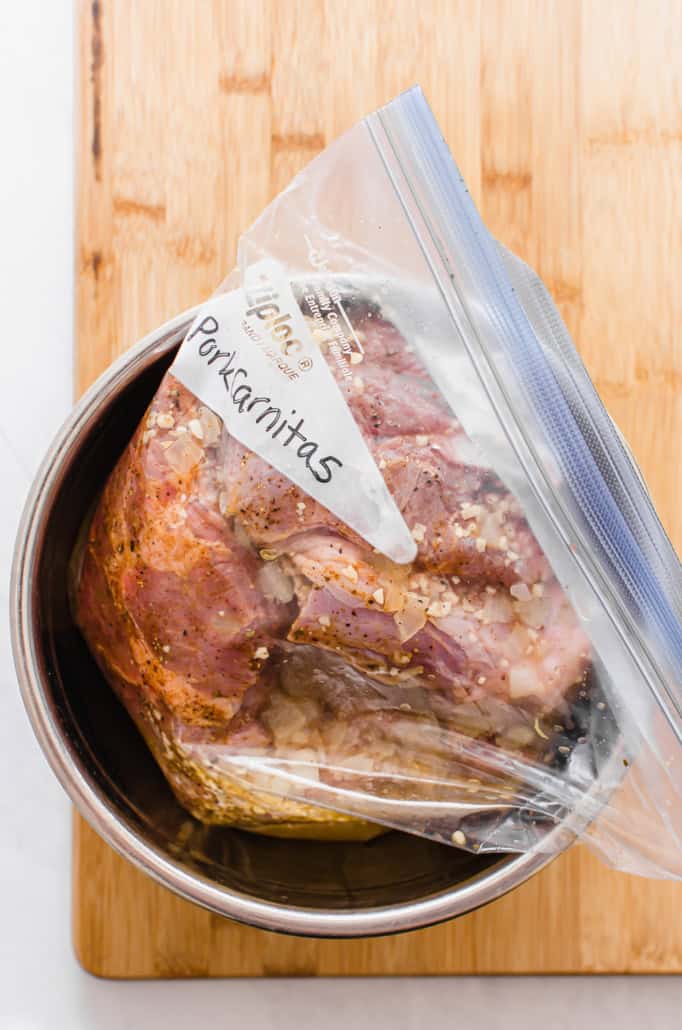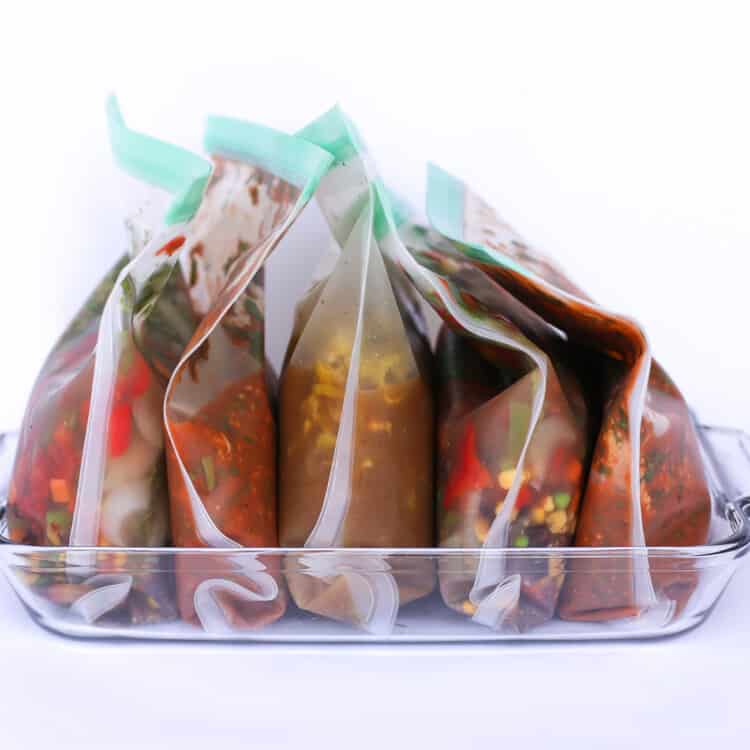 Want More Crock Pot Freezer Meals
We have tested and re-tested hundreds of slow cooker recipes over the years. We wanted to narrow down the best of the best. Here they are!
See Crock Pot Freezer Meals
How to Serve Pork Carnitas
One of the beauties of this meal is that it can be customized and served in so many different ways. That's why I love making carnitas for large groups. Here are some ideas of how to serve them.
Change up taco night by using this filling instead of ground beef. To take these OVER THE TOP, make our Cilantro Lime Aioli and Easy Pickled Red Onions to serve as a garnish–YUM!
Top a leafy green salad with it and other toppings like roasted fresh corn shaved off the cob, diced bell peppers, red onion, and crunched-up tortilla chips.
Throw this shredded pork in a quesadilla or on top of a "burrito bowl" with brown rice, beans, and your favorite Mexican toppings.
So many options! I personally almost always serve it with our Avocado Lime Salsa.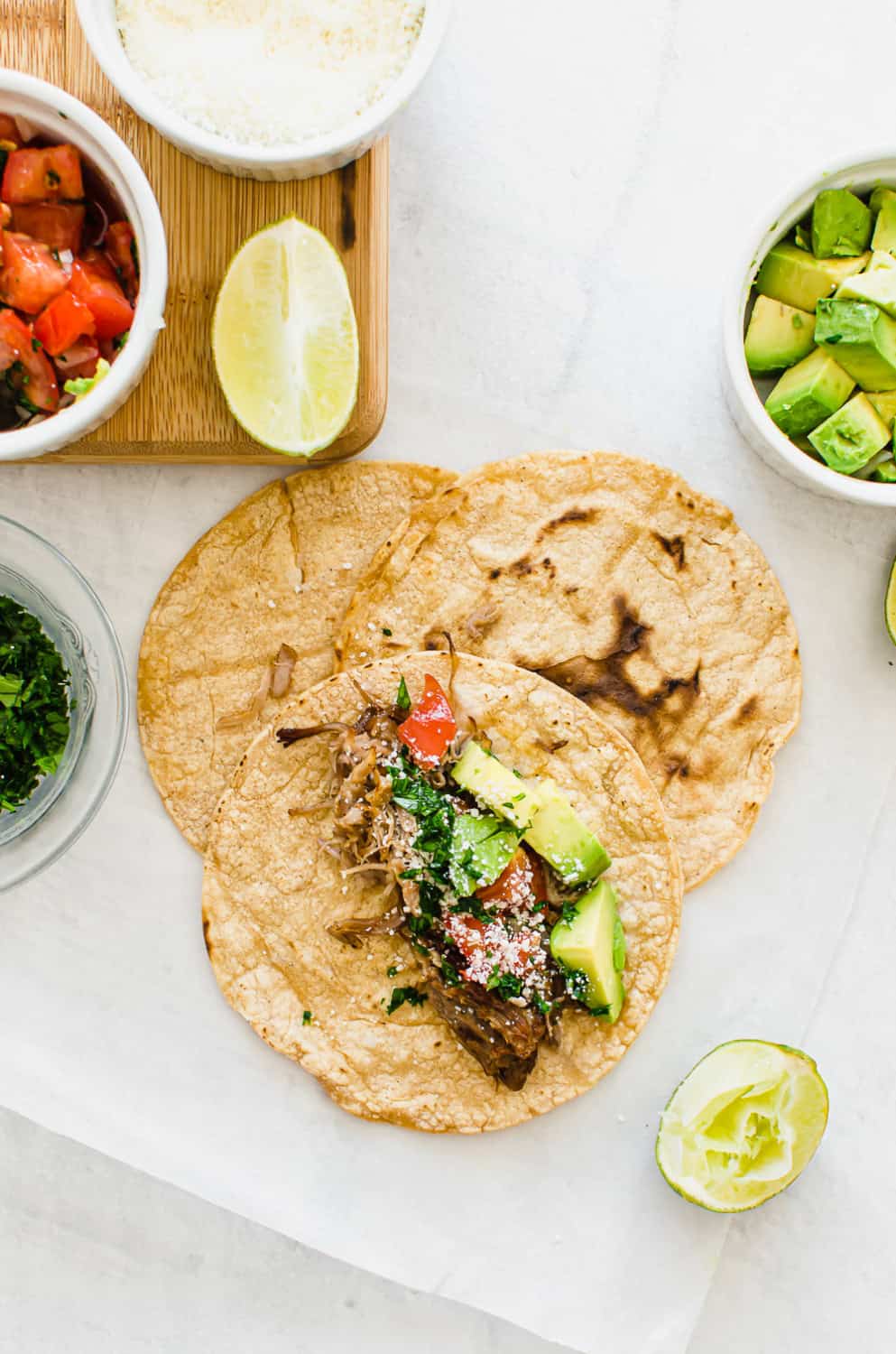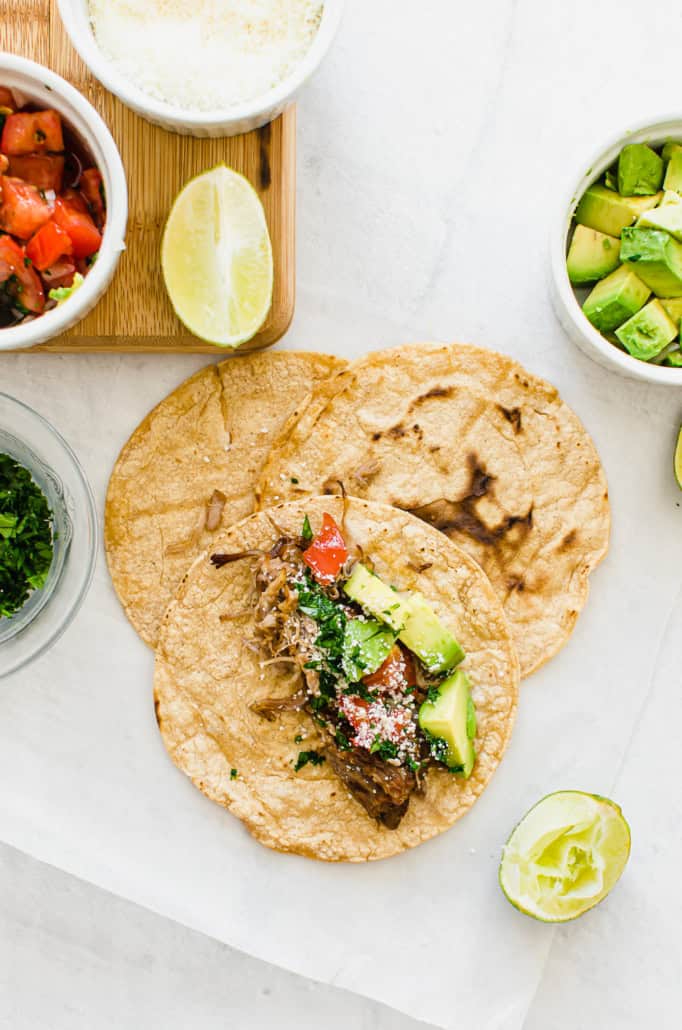 FAQ
What kind of hot sauce do I use?
Any hot sauce will work. Most people have a favorite that they keep on hand. Personally, I use Frank's brand, but I see Tabasco at most restaurants.
Can I cook the pork on high in the Crock Pot?
Yes, this recipe will work to cook on high in the Crock Pot. It should be done in 4-5 hours.
Do I use bone-in or boneless pork shoulder?
Both will work. I have found that using a bone-in pork shoulder does yield more tender pork but you don't get as much meat from the cut.
Did you make this? Snap a photo and tag us on Instagram at @thrivinghome so we can see your creations and cheer you on!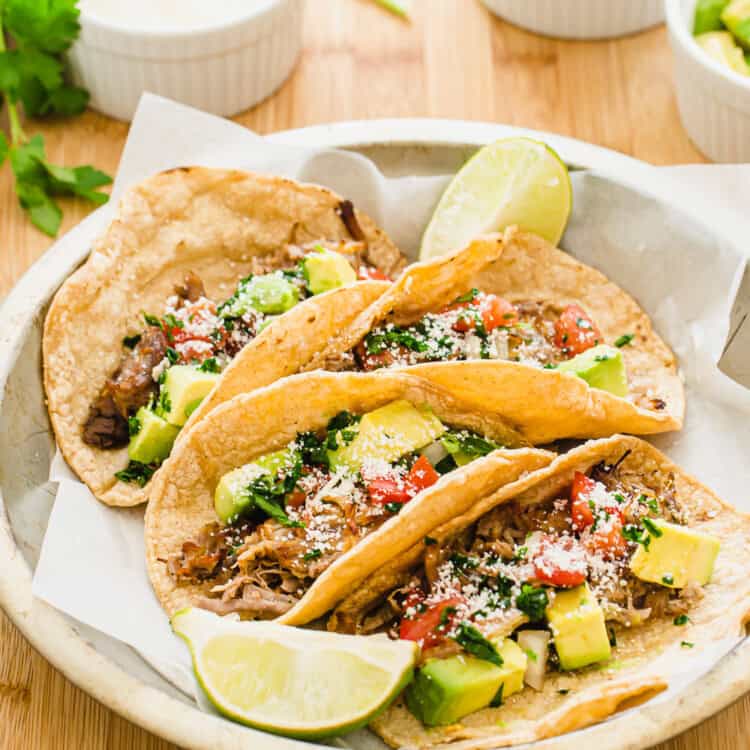 Slow Cooker Crispy Carnitas
The seasoning and marinade, plus the slow cooking method, pack some serious tangy-smoky-citrusy flavor into the meat. You'll find yourself going back to this recipe again and again!
Prep:
10 minutes
Cook:
9 hours
Total:
9 hours 10 minutes