The Ultimate Grilled Chicken Sandwich
This post may contain affiliate or sponsored links. Please read our disclosure policy.
A flavor-packed marinade and the best toppings make this the Ultimate Grilled Chicken Sandwich recipe. After marinating for a few hours, your chicken breasts will pick up loads of flavor. Serve it on a toasted bun with your favorite toppings for a quick weeknight dinner. This is also a great recipe to serve to groups of people!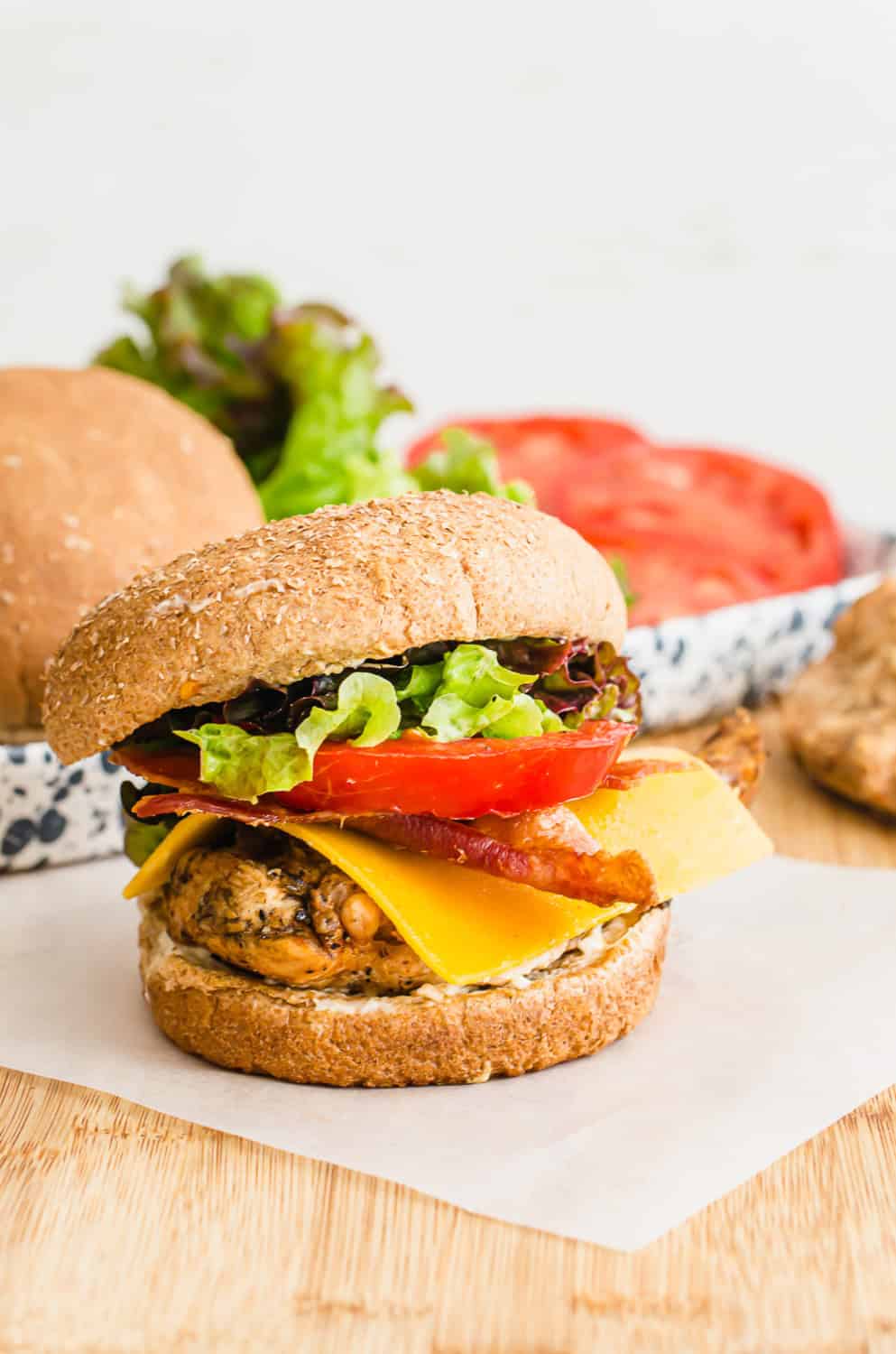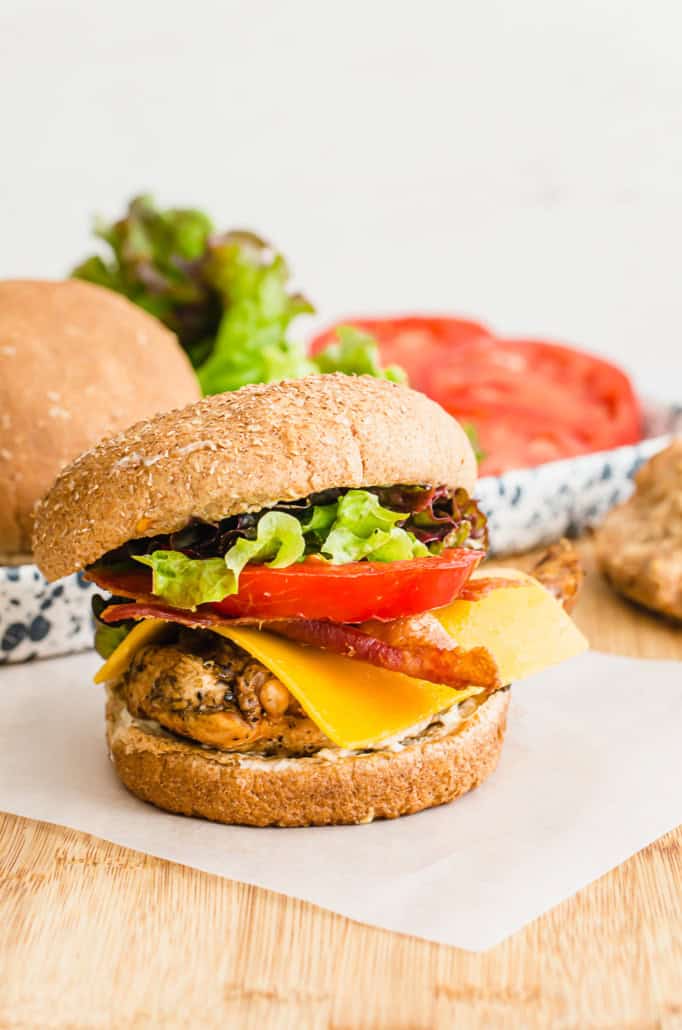 Not only is this an incredible family meal, but it works well to serve to groups of people. Simply double or triple the recipe, grill or bake a large amount of chicken at once, and serve in a buffet style with the buns and all the toppings. Your guests can customize their own sandwiches.
Ingredients Needed
Now it's time for a store run. Here's what you'll need on hand to make this super flavorful grilled chicken sandwich.
Olive oil
Apple cider vinegar
Garlic powder
Salt & pepper
Powdered ginger (Yep, unusual but trust us.)
Paprika
Boneless, skinless chicken breasts (about 1 1/2 pounds)
Cheddar cheese slices
Bacon, cooked and broken in half (try our No Fail Way to Cook Bacon)
Whole wheat hamburger buns (or make your own Homemade Hamburger Buns)
Optional toppings: BBQ sauce, lettuce, tomato slices, mayonnaise, Dijon mustard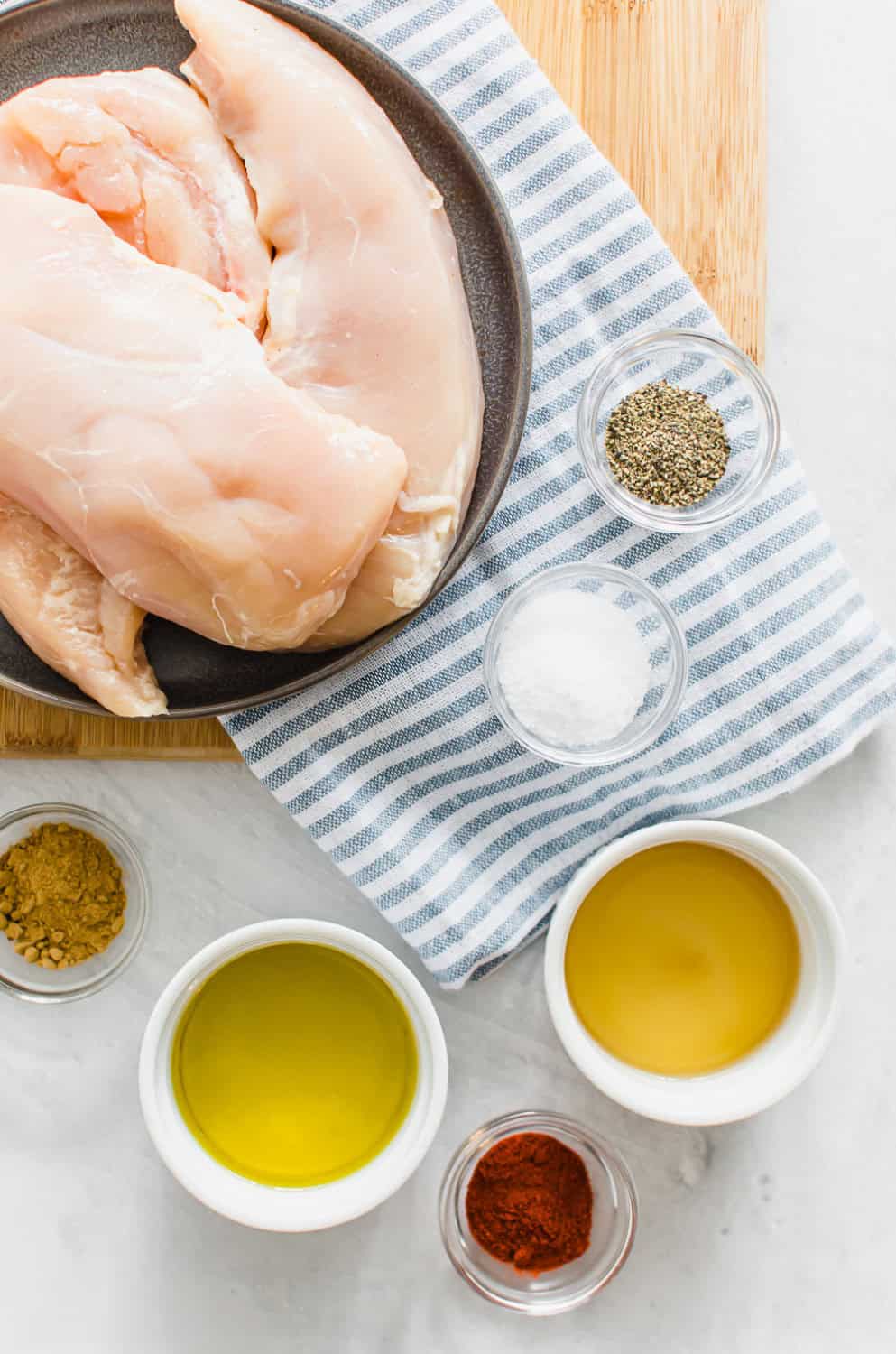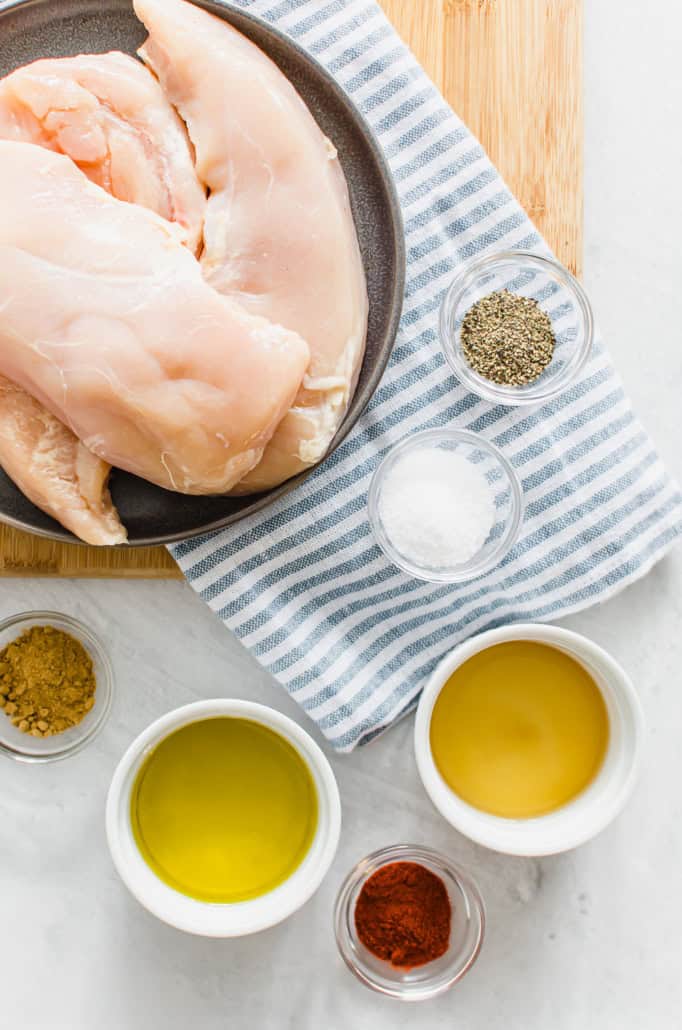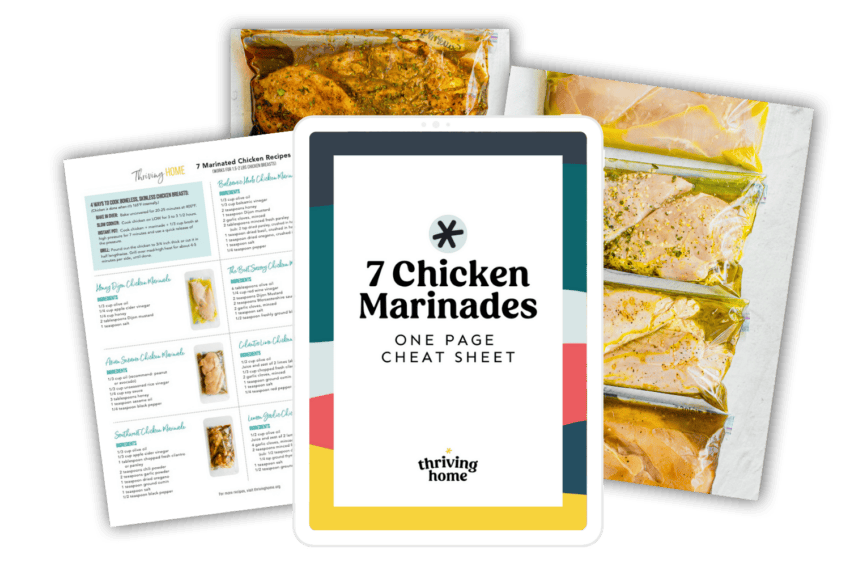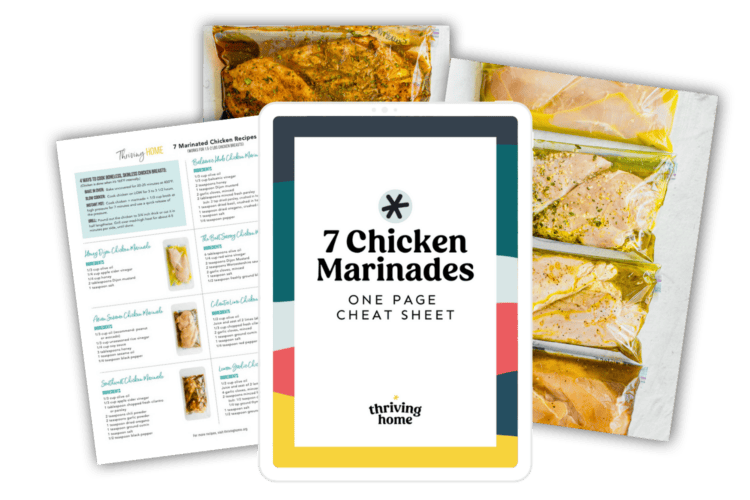 Get 7 of Our BEST Chicken Marinades Sent to Your Inbox!
How to Make a Grilled Chicken Sandwich
Peruse this quick overview of how the recipe comes together. Specific directions are in the printable recipe card at the bottom of this post.
In a gallon-sized freezer bag, combine the oil, vinegar, garlic powder, salt, pepper, ginger, and paprika. Gently shake the bag to mix. Then set aside.
Slice the Chicken into Cutlets
Next, carefully cut the chicken breasts lengthwise through the center to create two thin halves out of each breast. To do this, place your hand firmly on top of the chicken and slice back and forth lengthwise using a sawing motion. Make sure to use a sharp knife! You can find one of our favorites here.
There are two reasons we cut the chicken like this: 1) more surface area for the marinade to reach (meaning more flavor infusion), and 2) the chicken will cook faster and more evenly.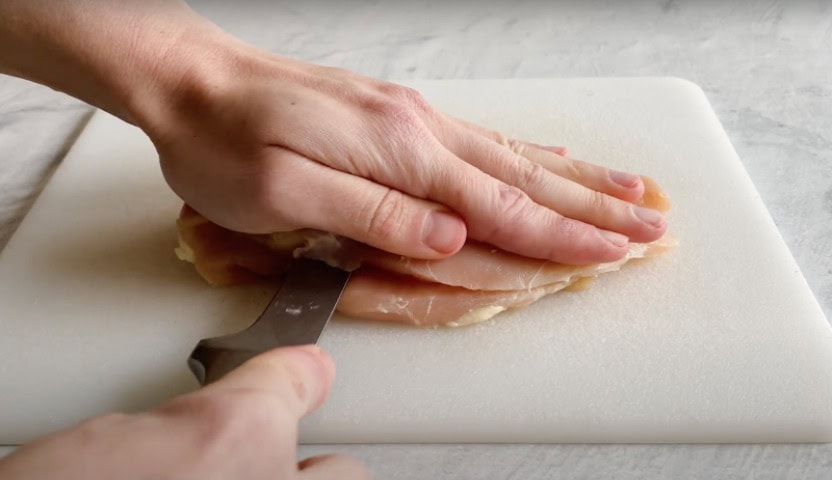 Marinate (or Freeze) the Chicken
Place the 6 chicken cutlets in the bag with the marinade, seal the bag, and shake to ensure the breasts are coated. (Freezing instructions begin here.) Set in the refrigerator for at least 2 hours and up to 24 hours to marinate.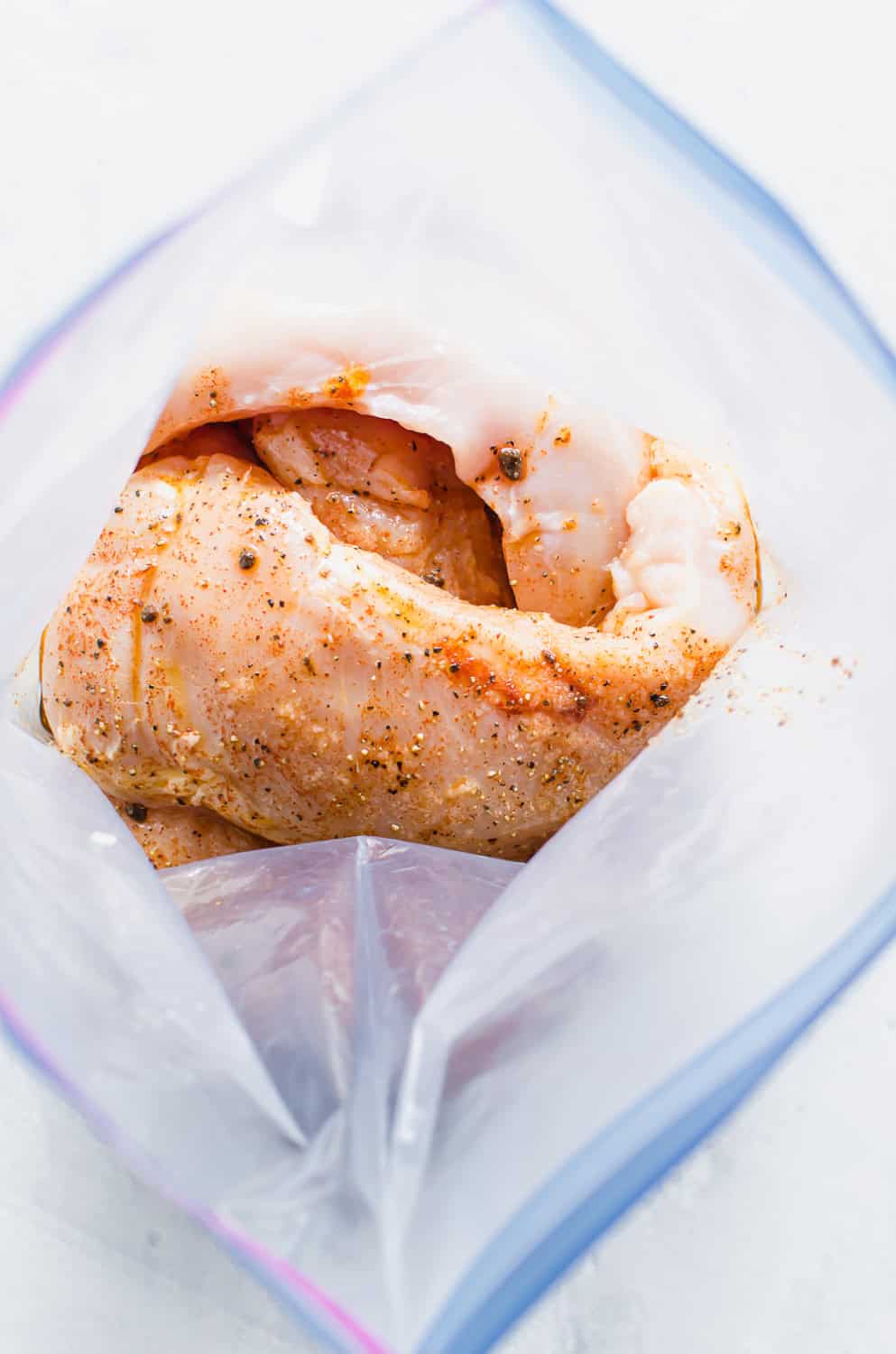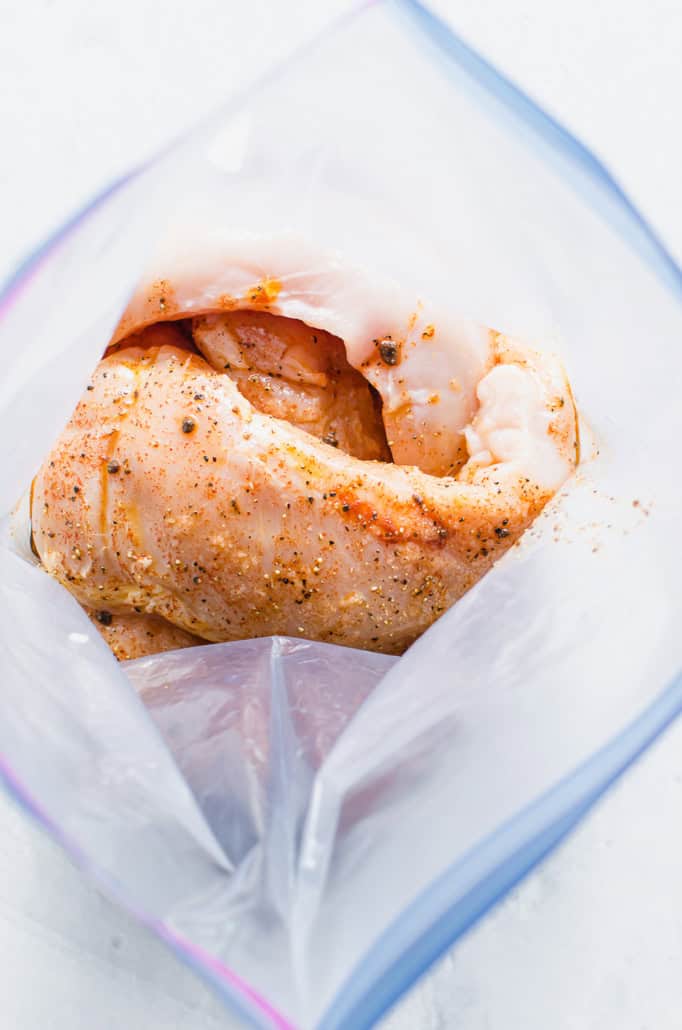 We prefer grilled chicken for this recipe, but you can also use our baking instructions in the recipe card below.
Preheat a grill over medium-high heat. Remove the chicken from the marinade using tongs and add to grill. Discard remaining marinade. Grill for about 4-5 minutes per side or until done. (Chicken is done when juices run clear or the internal temperature is 165° F.)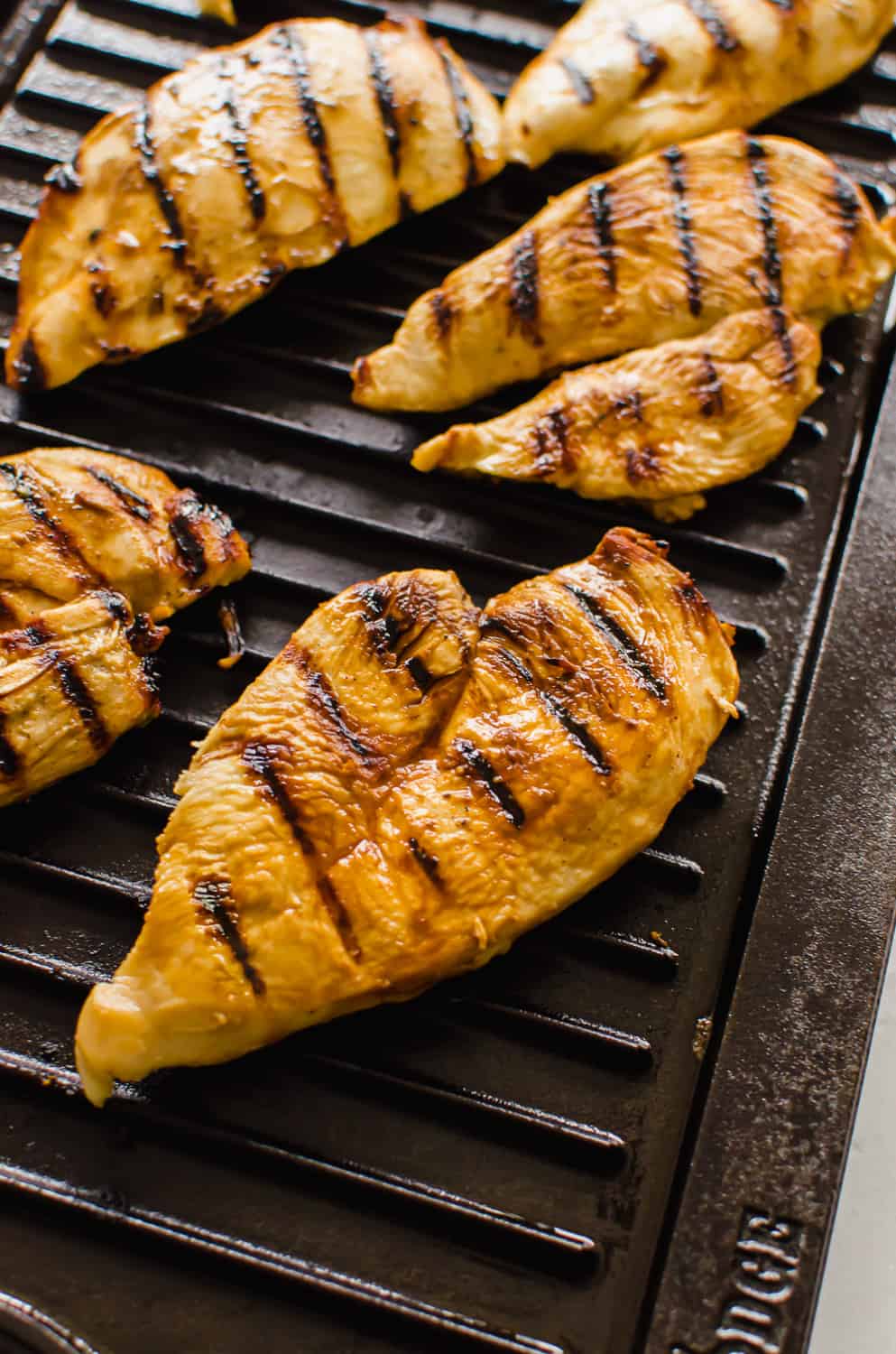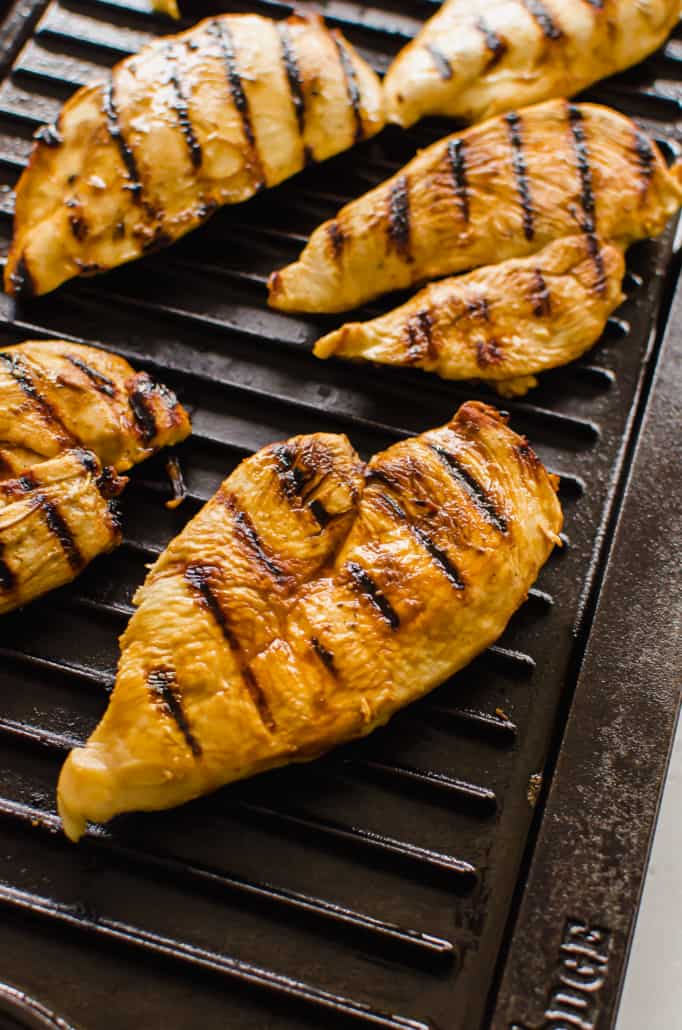 On top of a bun, place 1 chicken breast, 1 slice cheese, some bacon, and optional toppings.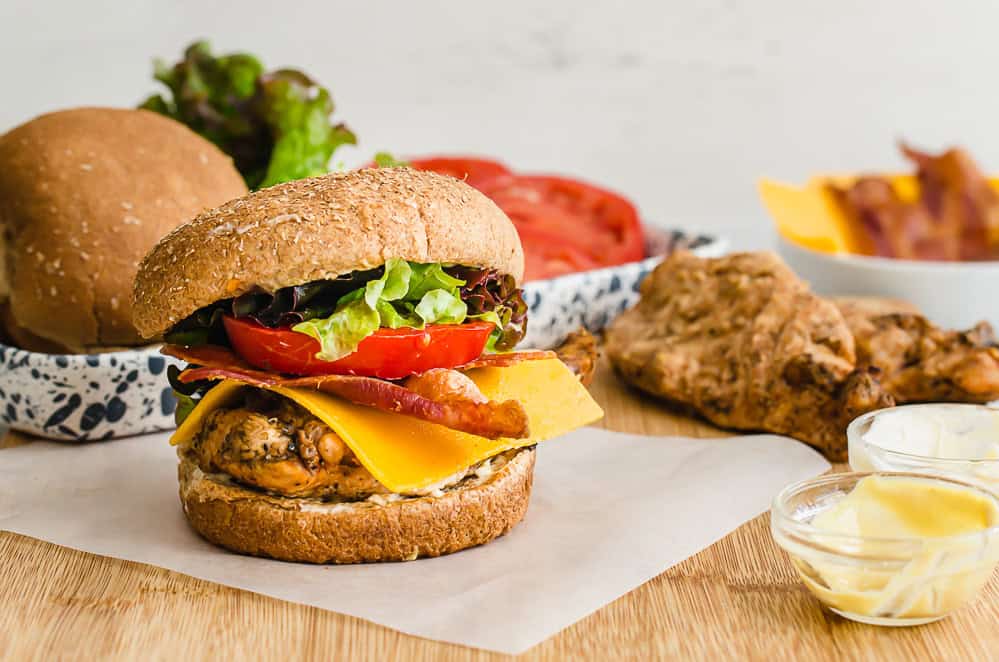 Make It a Freezer Meal Kit
Not only are these Grilled Chicken Sandwiches great for a group, but they also work as a make ahead freezer meal or a meal to take to a friend in need. I like to pack mine up as little kit and freeze it all together. That way I have everything I need on a busy night!
Freeze For Later: Follow steps 1-3 in the recipe (do not marinate in refrigerator though). Package the bacon and cheese slices separately in small freezer bags. To make a freezer meal kit, freeze the chicken in marinade alongside the bacon, cheese, and buns.
Prepare From Frozen: You'll need the sandwich toppings on hand to complete this meal. Thaw the meal kit in the refrigerator using one of our safe thawing methods for chicken. Follow the recipe beginning with Step 4.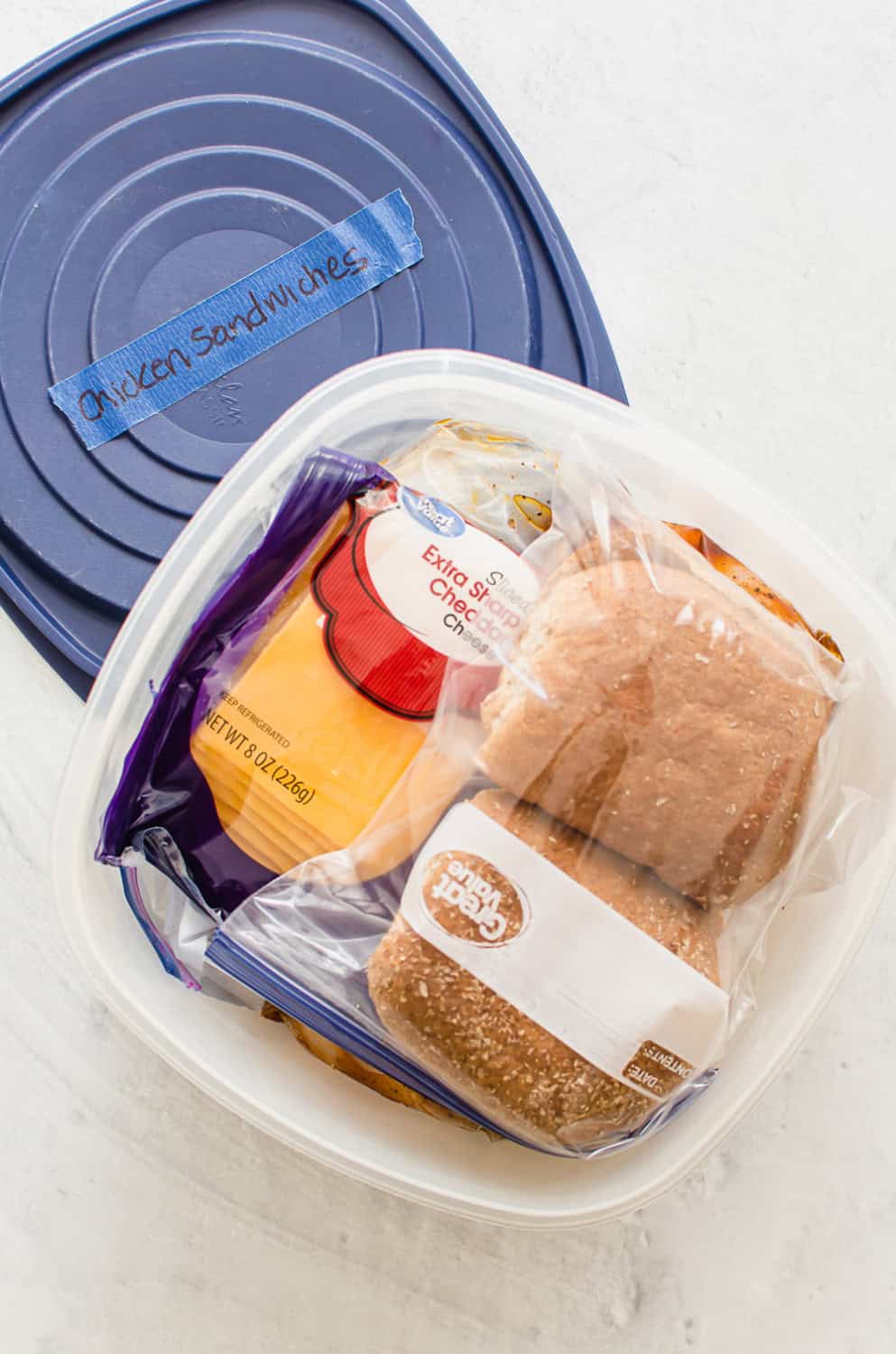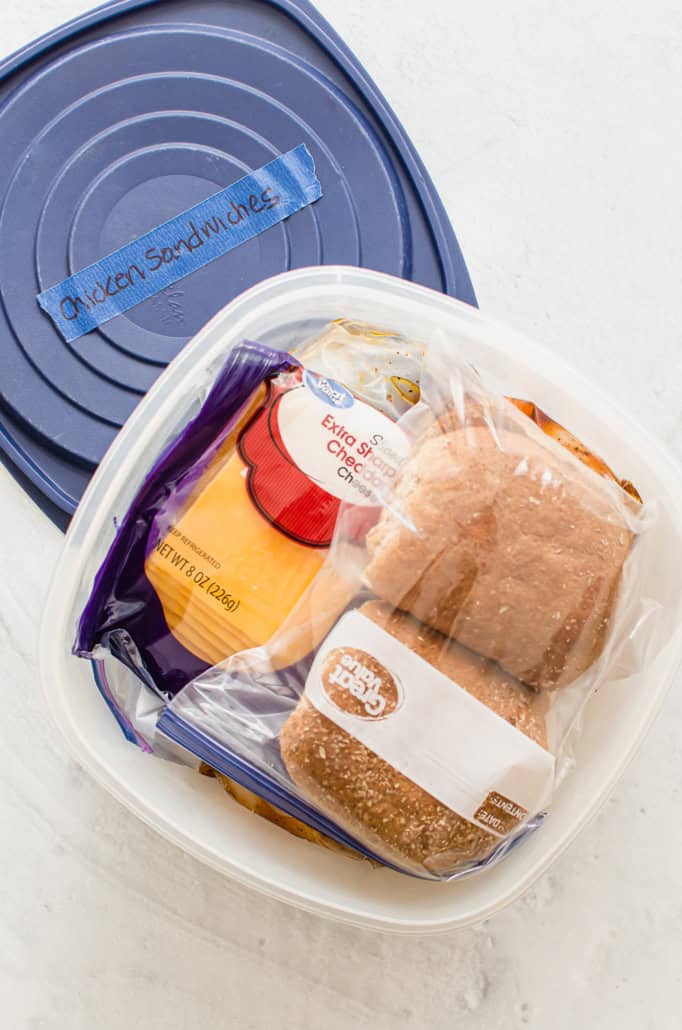 How to Serve This Sandwich
If you serve as a sandwich, here are some toppings you'll want to have on hand:
Another idea is to serve this chicken on top of a salad. It would be delicious on a recipe like our Cobb Salad!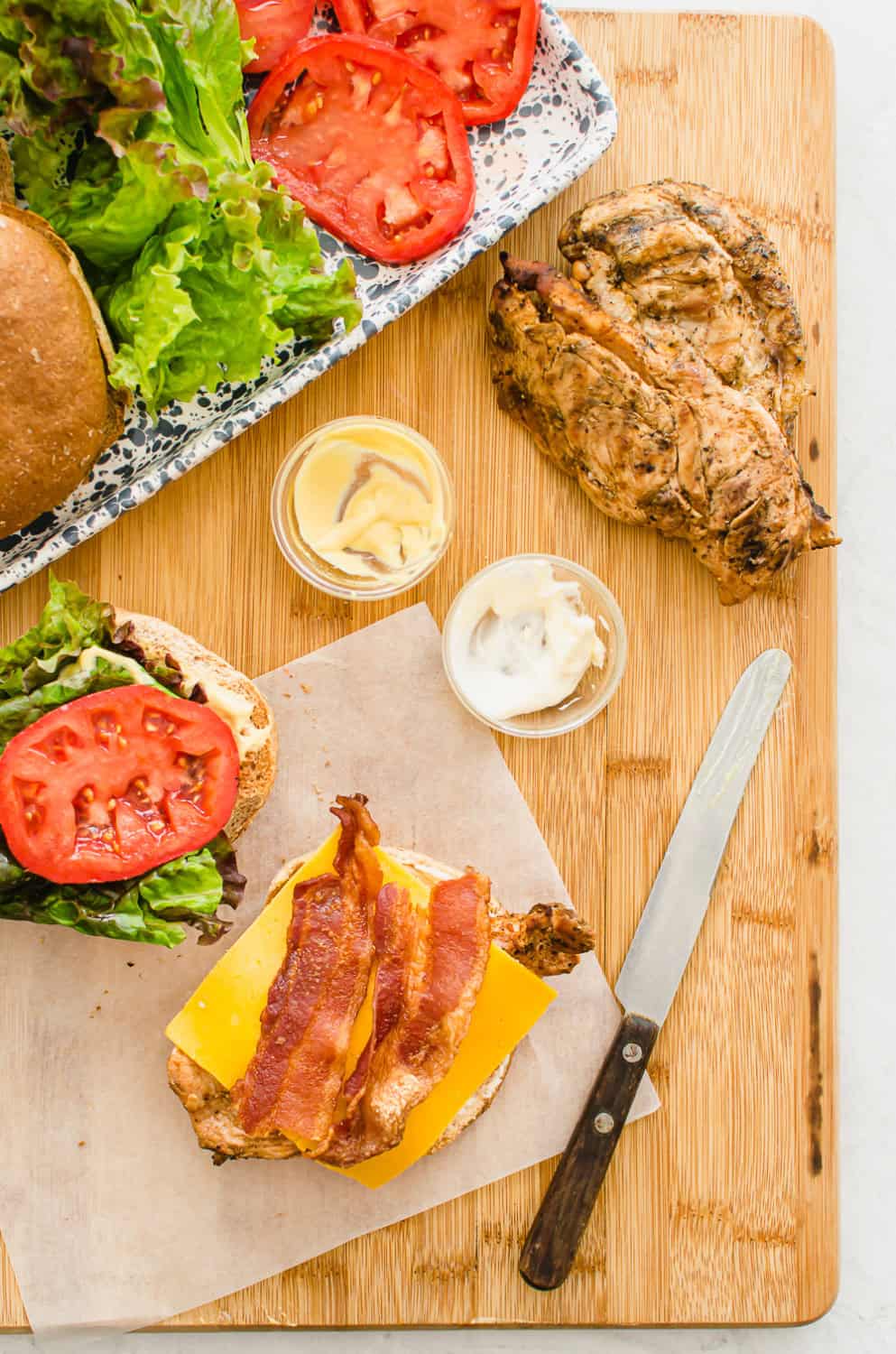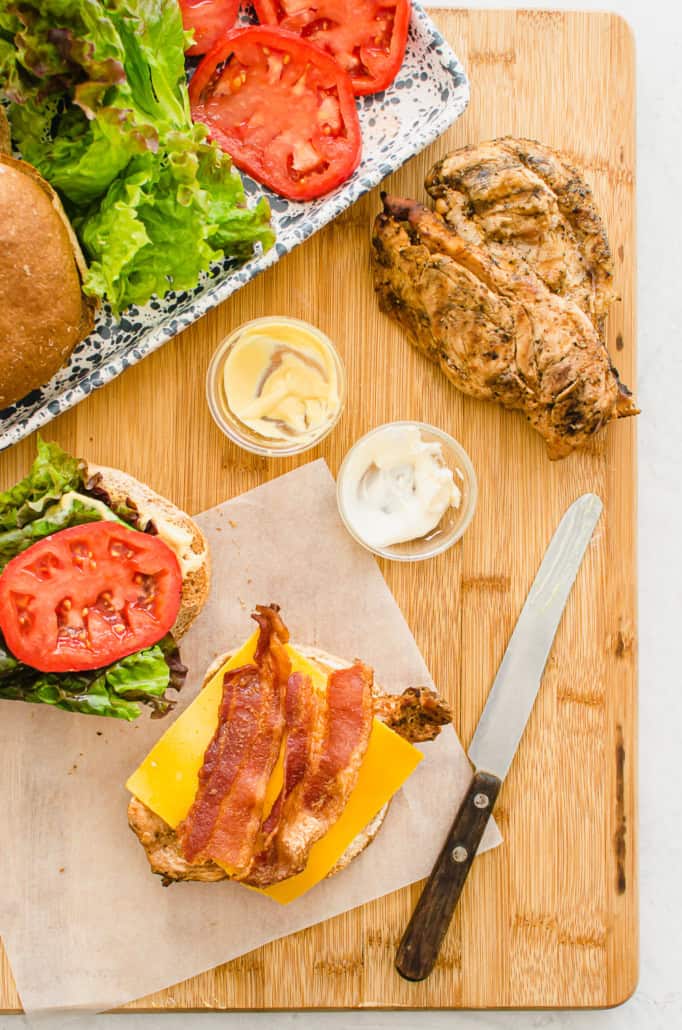 What to Serve with Grilled Chicken Sandwiches
Oh man, I have so many great ideas for you! Here are a few side dishes that would go well with this recipe…
Did you make this? Snap a photo and tag us on Instagram at @thrivinghome so we can see your creations and cheer you on!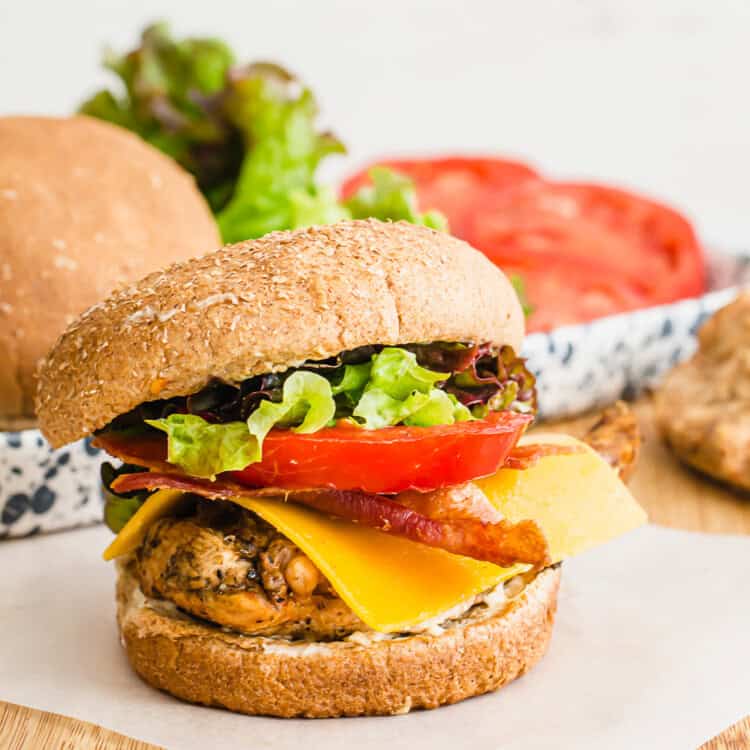 The Ultimate Grilled Chicken Sandwiches
Create the ultimate grilled chicken sandwiches for any weeknight by prepping and freezing all the components ahead of time. This well-seasoned, versatile grilled chicken also works to top pasta or salads.
Prep:
2 hours
Cook:
10 minutes
Total:
2 hours 10 minutes