This post may contain affiliate or sponsored links. Please read our disclosure policy.
In about 45 minutes, you can make this incredibly easy, homemade calzone dough recipe to use right away or later. The best part is that this dough is made with nutritious white whole wheat flour while remaining light and tasty. Freezing instructions included.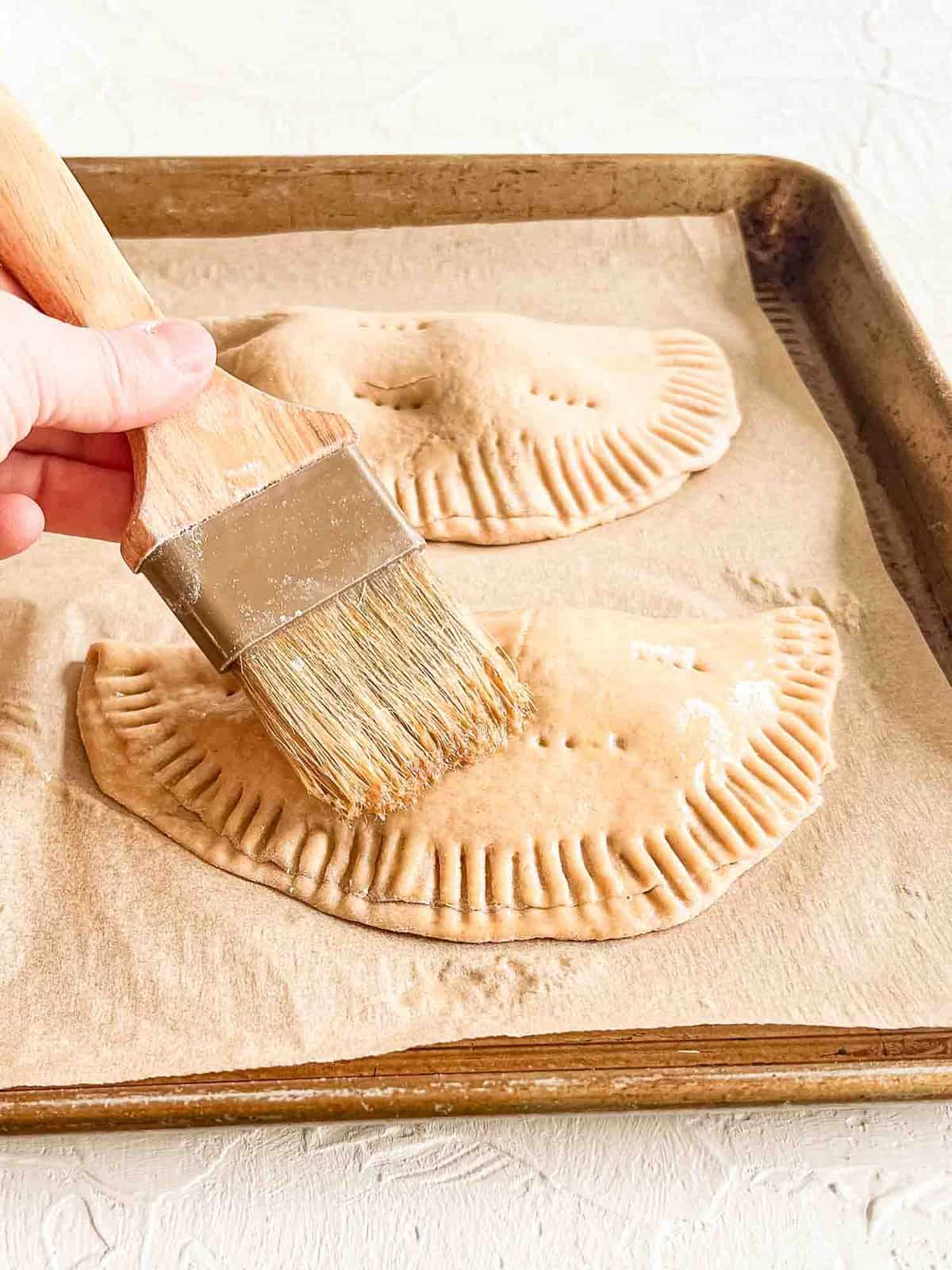 Calzone dough is quite simple and cheap to make at home. With just a few pantry ingredients, you'll be rolling out your own from-scratch Cheese Calzones or Pepperoni Calzones like a pro!
Ingredients Needed
The ingredients in homemade calzone dough recipe are simple. I bet you have most in your pantry already!
Active dry yeast
Sugar
Olive Oil
Honey
Salt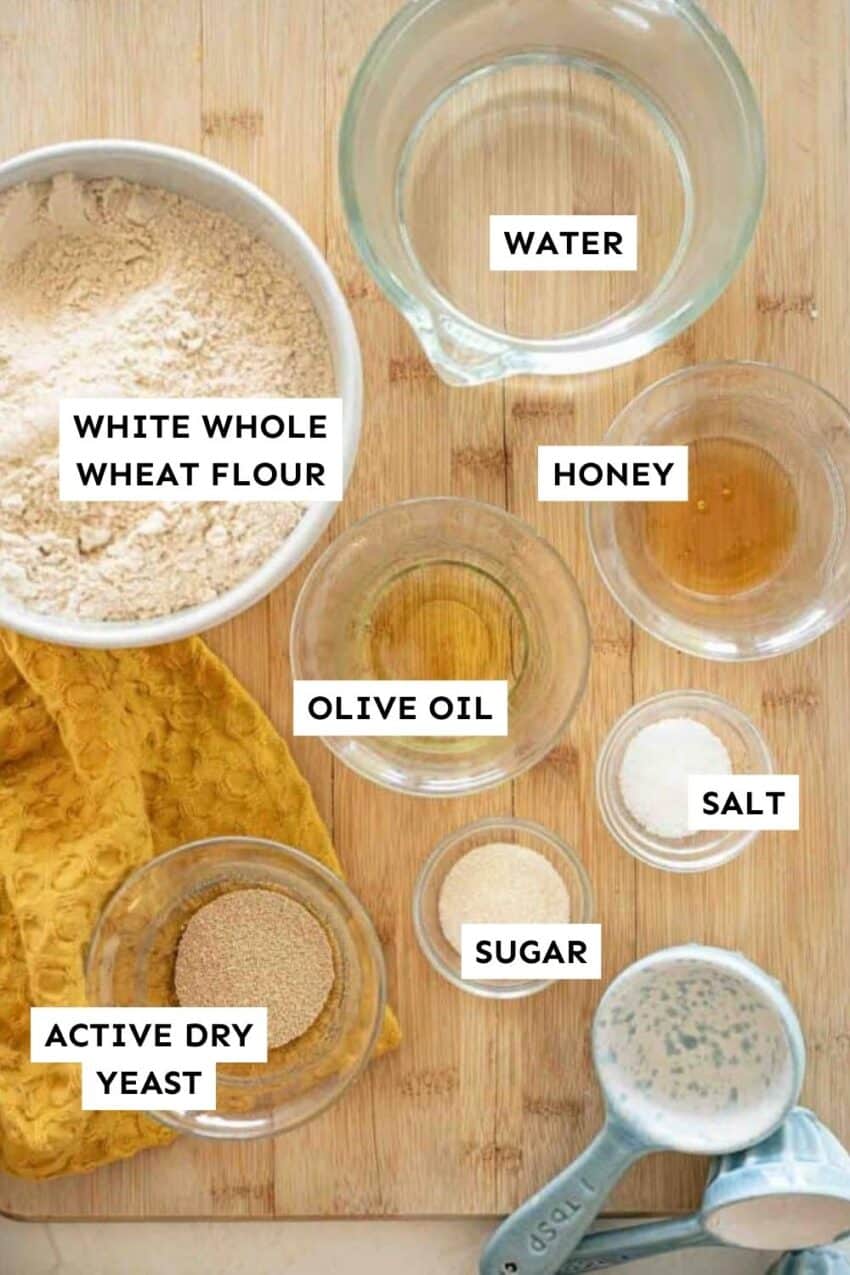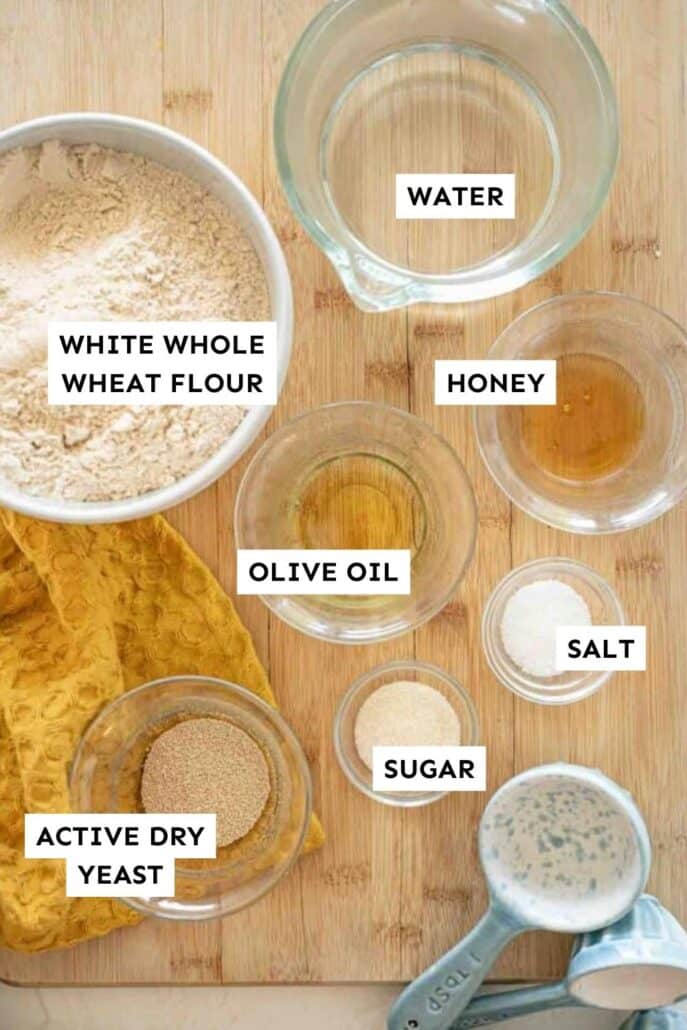 The secret to making a light whole wheat dough is using the white whole wheat flour variety, which is now available in most major grocery stores. Important: If you can't find that specific kind of flour, use half whole wheat and half unbleached, all-purpose flour instead.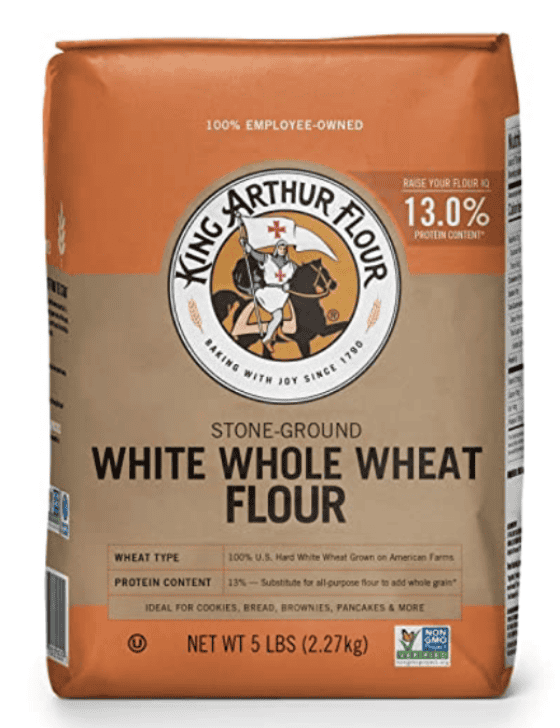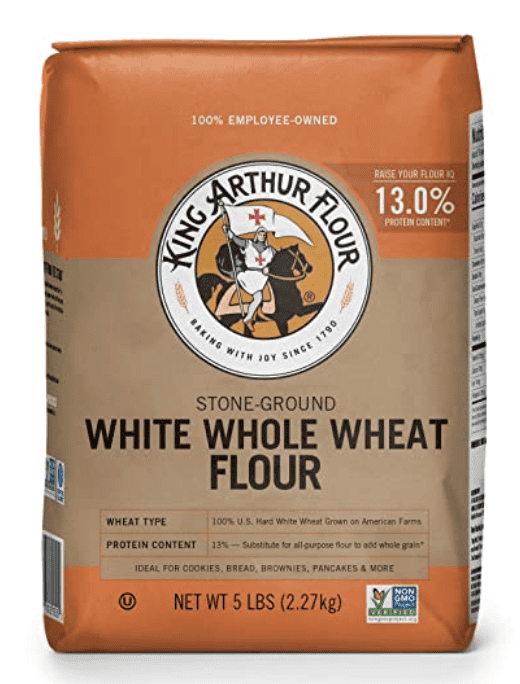 How to Make Calzone Dough
Many people shy away from making dough at home because they think it is a complicated, all-day affair. This couldn't be further from the truth! Look how easy this is to make in just 45 minutes.
In the bowl of a stand mixer, combine the warm water, yeast, and sugar. Stir and let sit until the yeast starts to foam and bubble, 5 to 7 minutes.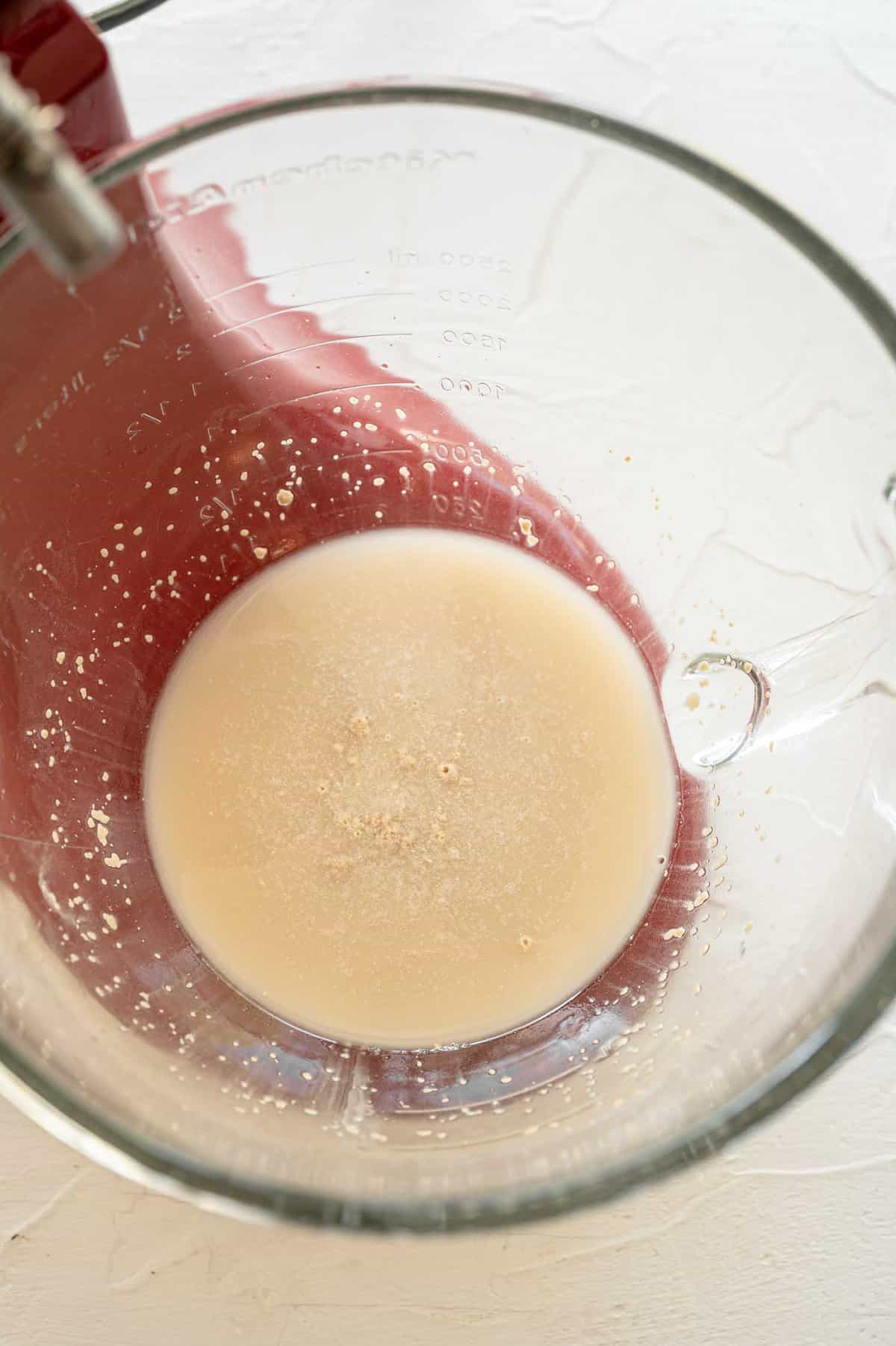 Add the olive oil, honey, and salt to the bowl and stir. Using the dough hook, turn the mixer on low and add the flour in 1-cup increments until all is added. Once the dough starts to form, increase the speed to medium. If the dough is too sticky, add a little more flour. Mix for 5 minutes or until the dough is well combined. Scrape down the sides halfway through the mixing time.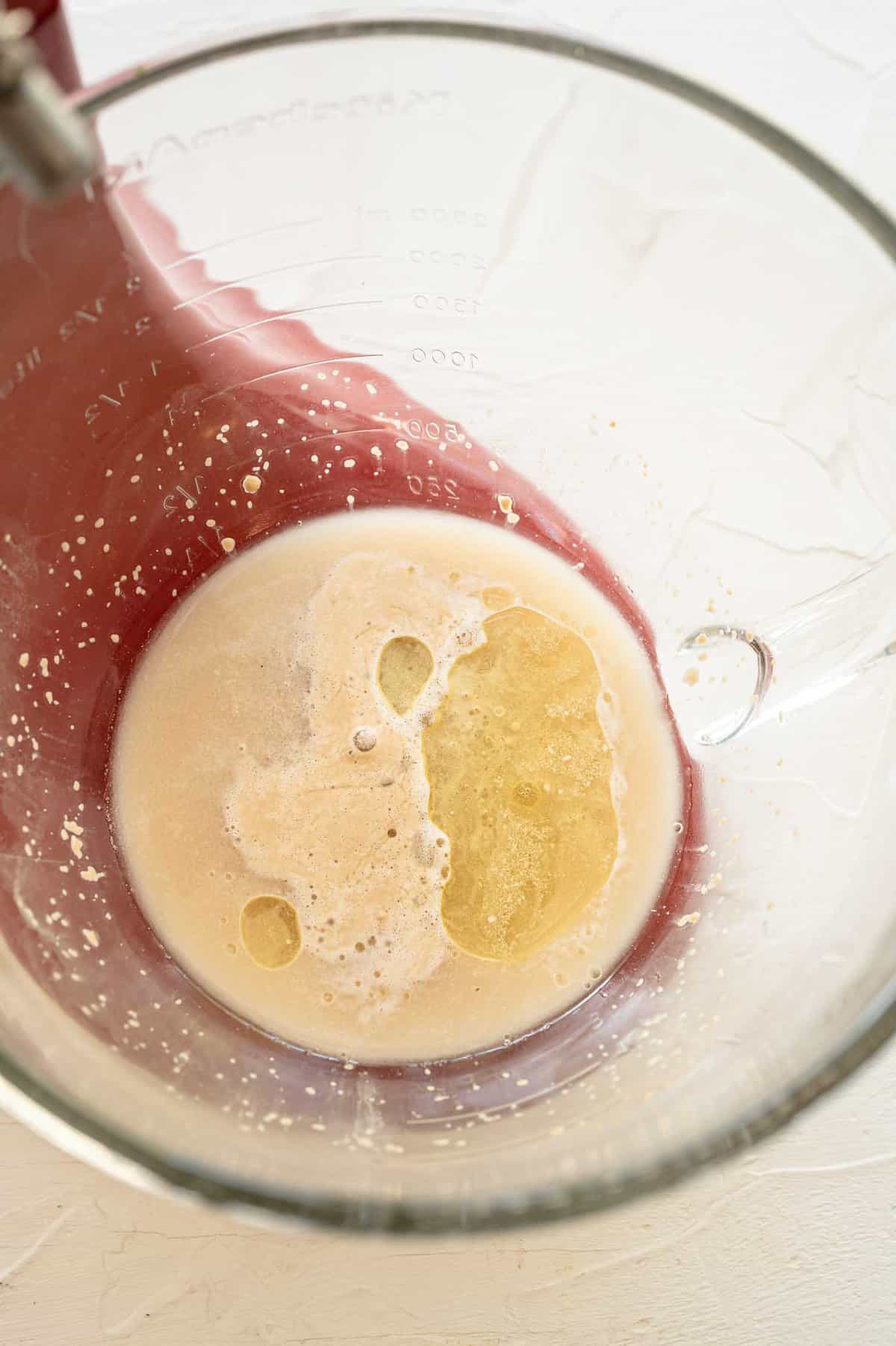 Dust the (clean) counter with flour to use as a work surface. Remove the dough and knead on the counter a few times and then form a ball. Place the dough ball in a well-greased bowl, cover loosely with a towel, and let rise for 30 minutes in a warm place.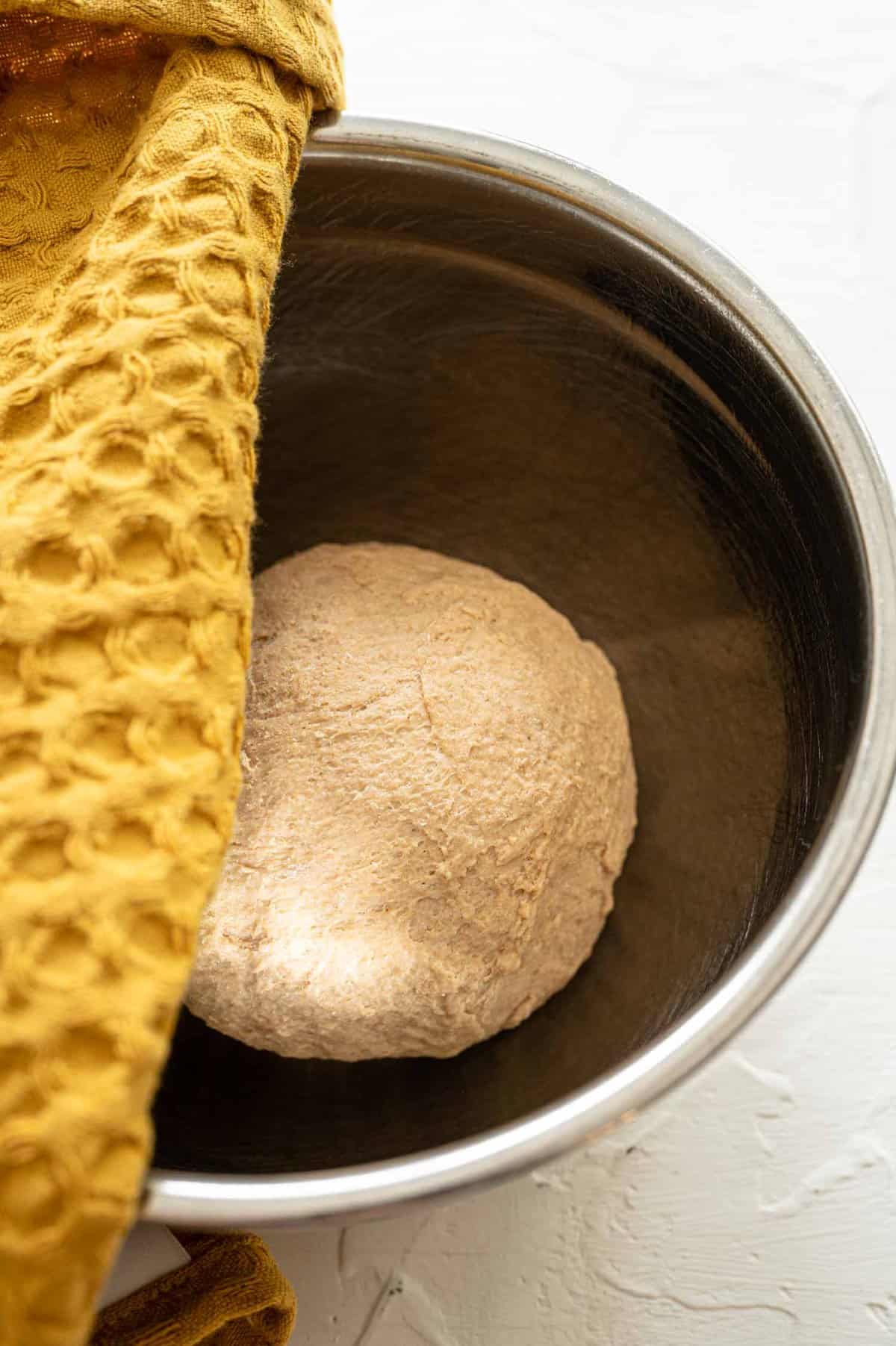 At this point, the dough is ready to use for pizza, calzones, or stromboli pizza or to freeze for later use. If you want to use it later, wrap it in plastic wrap and refrigerate for 2-3 days. See freezing instructions below.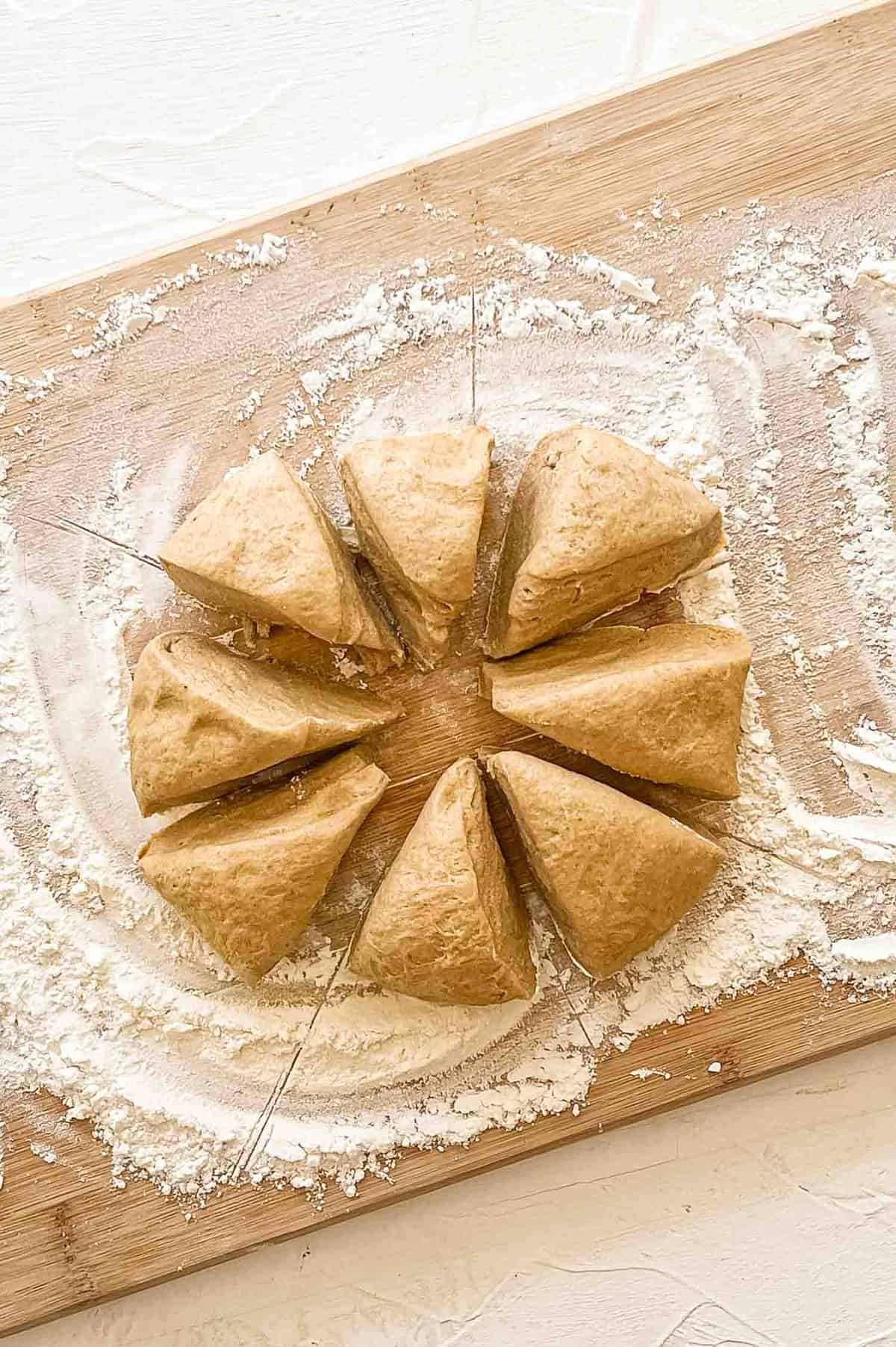 Can You Freeze Calzone Dough?
Yes! This is one of the best parts about homemade calzone dough. It works well to make ahead of time and then pop in the freezer until you want to roll out calzones (or pizza).
TO FREEZE: After assembling your dough and letting it rise, place it in a freezer bag, making sure to squeeze out all excess air before sealing. Alternately, you can divide the dough into smaller dough balls and freeze.
TO PREPARE FROM FROZEN: Thaw the dough in the refrigerator completely. Use within 2-3 days.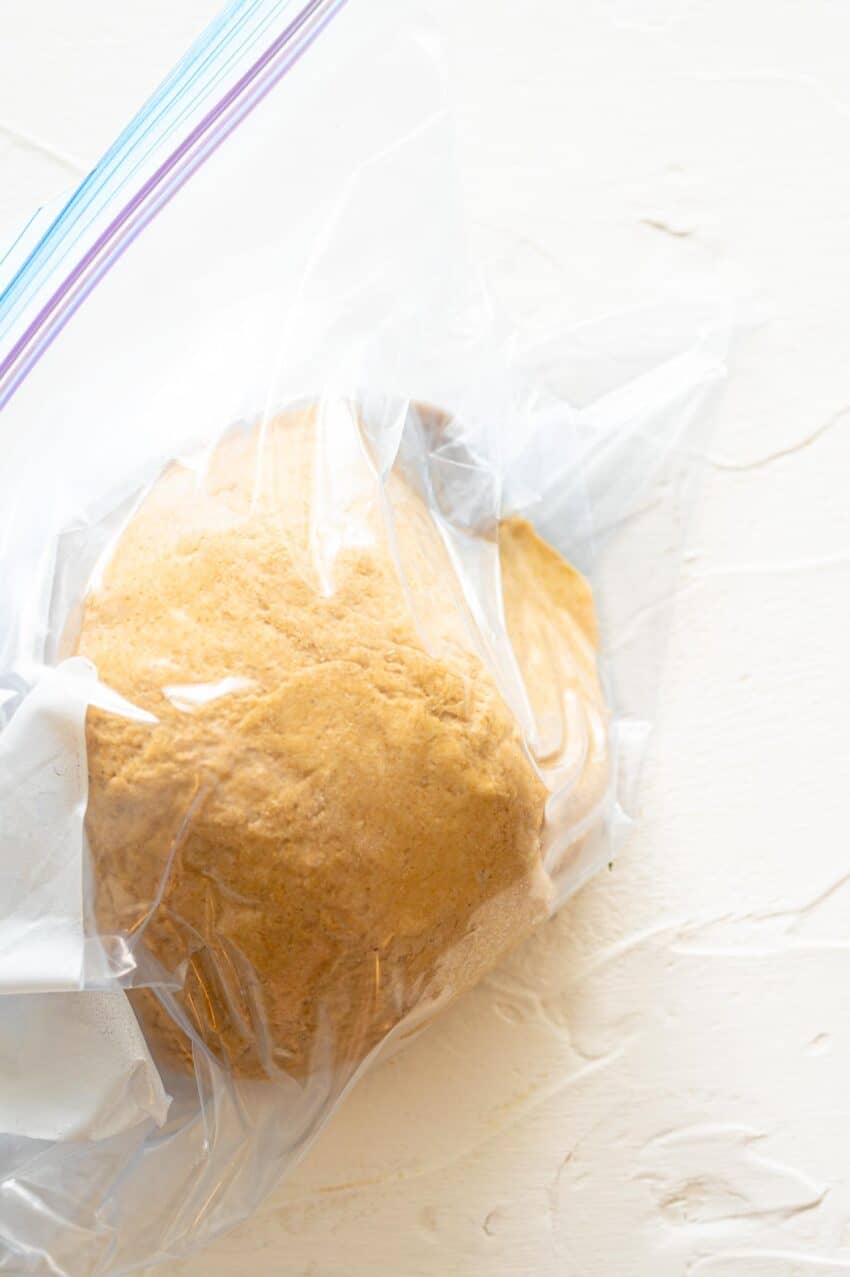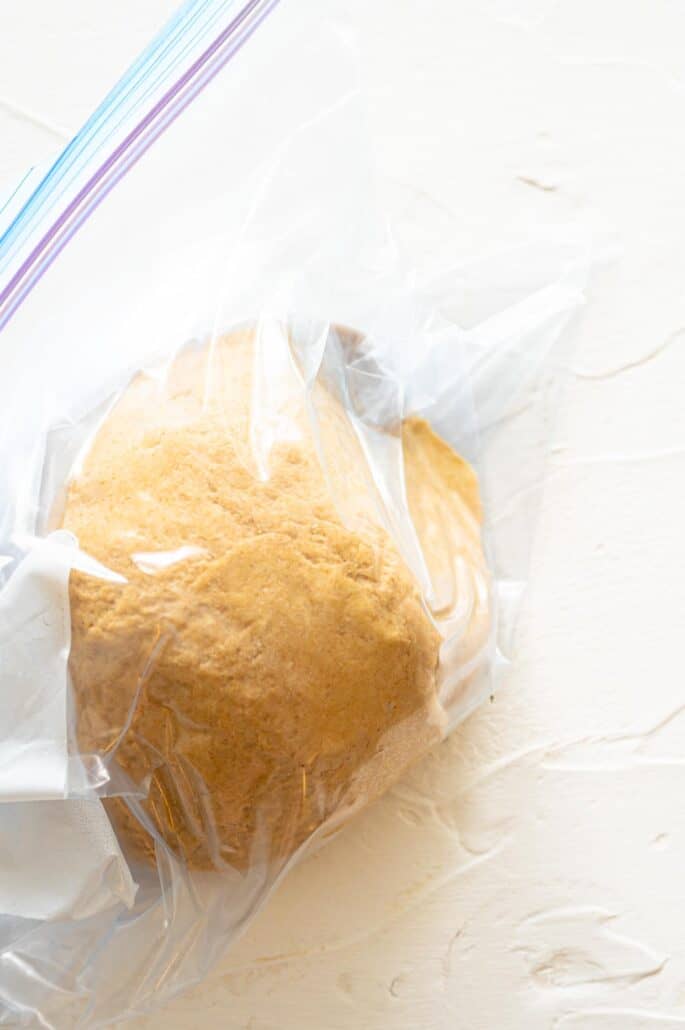 Recipes Using Calzone Dough
Now it's time to use your light, flavorful dough for calzones and more. Make sure to make our easy Homemade Pizza Sauce for dipping, too! Try these recipes: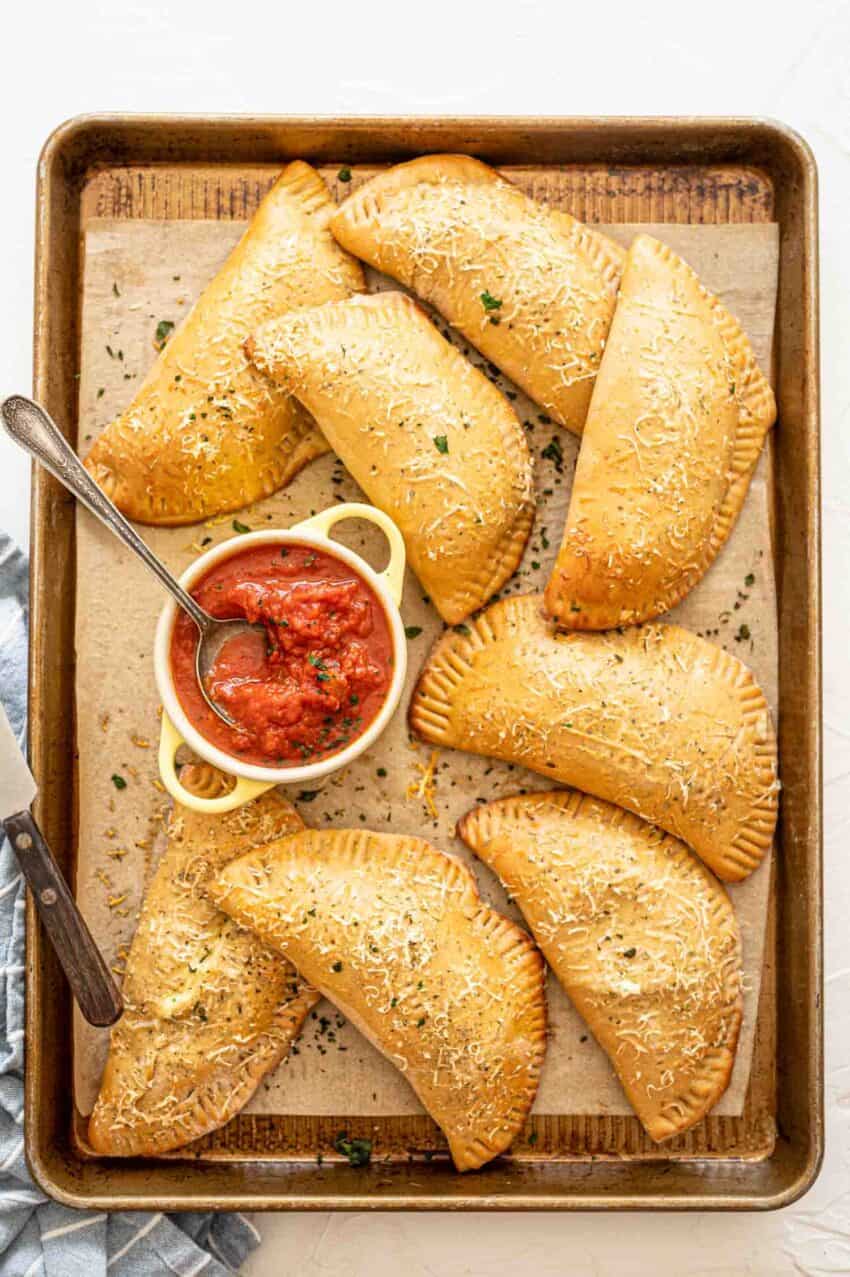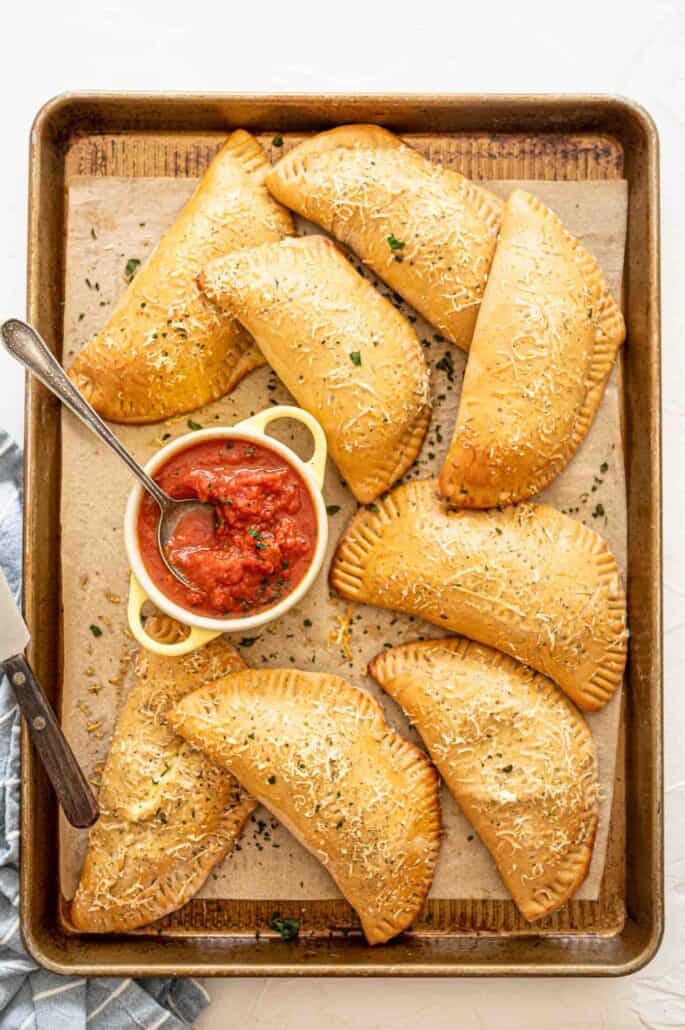 Did you make this? Snap a photo and tag us on Instagram at @thrivinghome so we can see your creations and cheer you on!
Calzone Dough Recipe
In about 45 minutes, you can make this incredibly easy, homemade calzone dough recipe to use right away or later. It's nutritious yet light and tasty. Freezing instructions included.
Yield:
1

large dough ball (enough for

8

calzones)

1

x
Prep:
45 minutes
Cook:
0 minutes
Total:
45 minutes
Photos and video by Whitney Reist of Sweet Cayenne.