This post may contain affiliate or sponsored links. Please read our disclosure policy.
Our Cheese Calzone recipe is simply the best! This portable pizza pocket has been tested over and over and is made with a blend of creamy ricotta, gooey mozzarella, and savory Parmesan cheese. In case they aren't devoured on the spot (doubtful!), we've also included freezing instructions.
Or try our Pepperoni Calzones instead.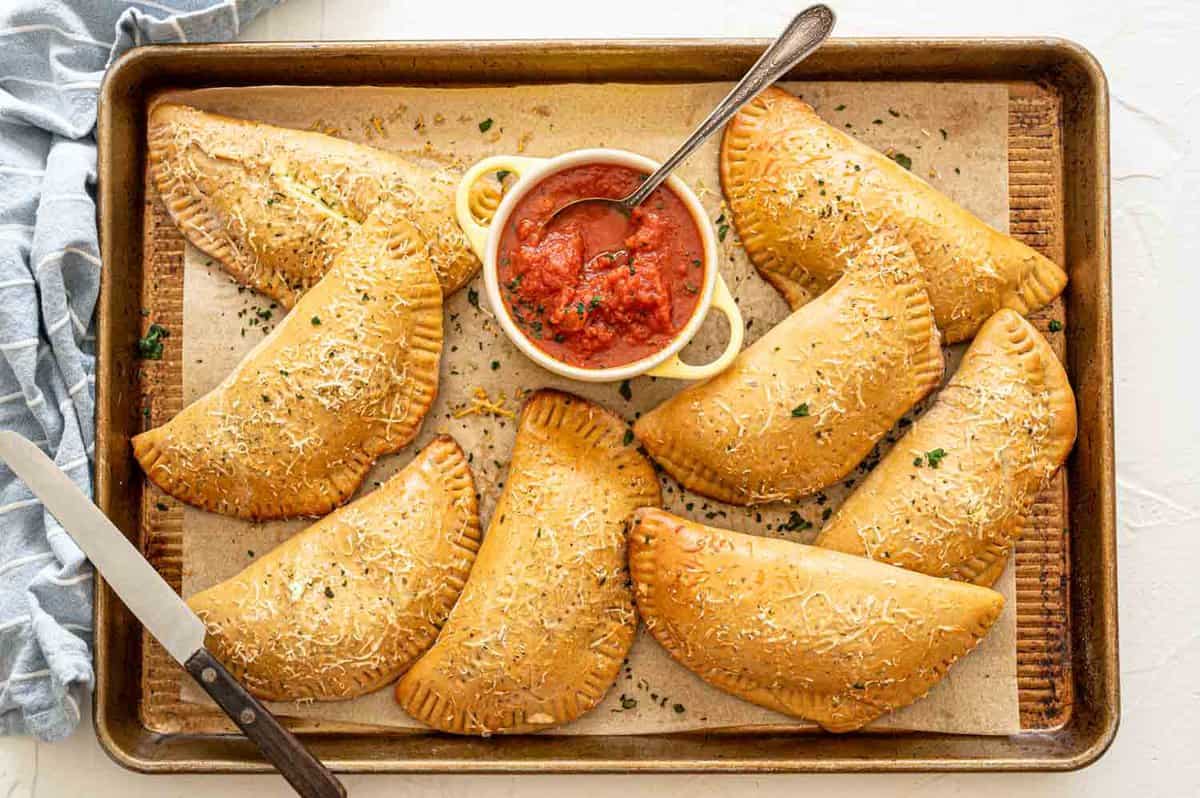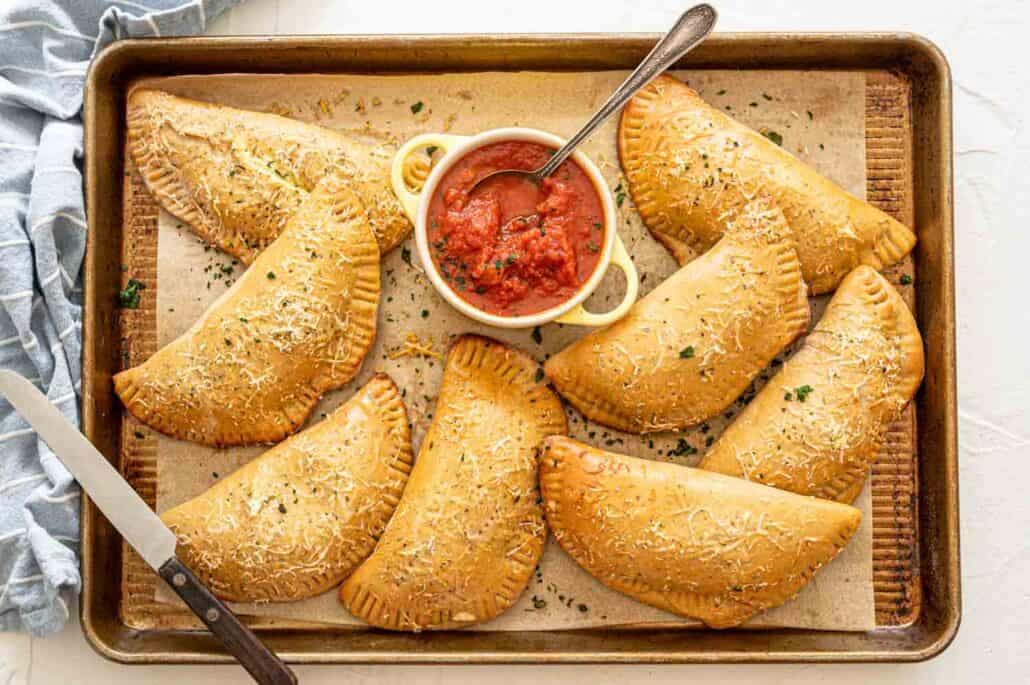 A calzone is an Italian turnover made of pizza dough, filled with ingredients like cheese, vegetables, and meats. It is folded over, sealed, and baked (or fried) until crispy. It's like a portable pizza pocket.
Now, what's inside this calzone, you ask? This one is similar to a lasagna filling–gooey, comforting, and just plain yummy. Here's what you'll need to make these:
1 batch of calzone dough (or a large dough ball from a local pizzeria)
Ricotta cheese
Grated Parmesan cheese
Shredded mozzarella cheese
Eggs
Minced fresh parsley
Italian seasoning
Salt & Pepper
Marinara Sauce, for serving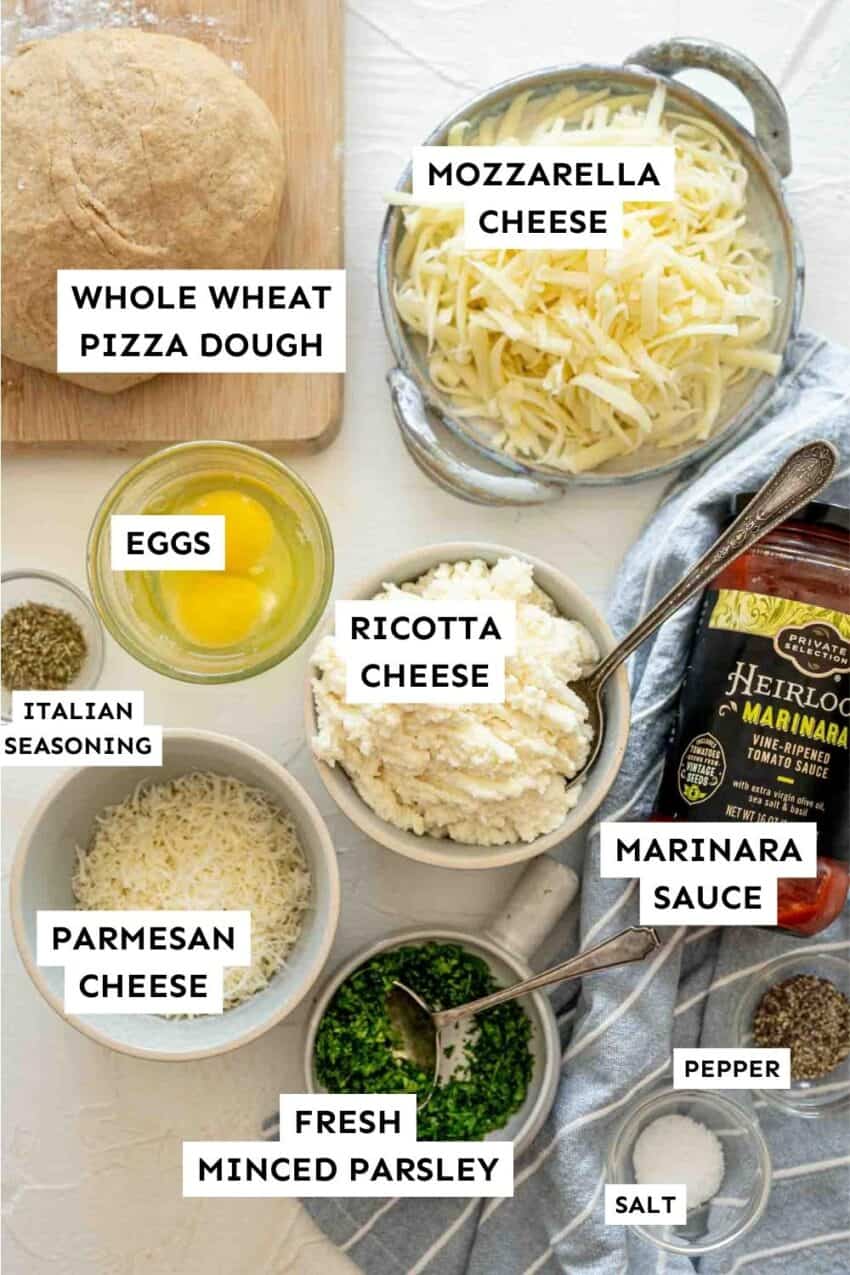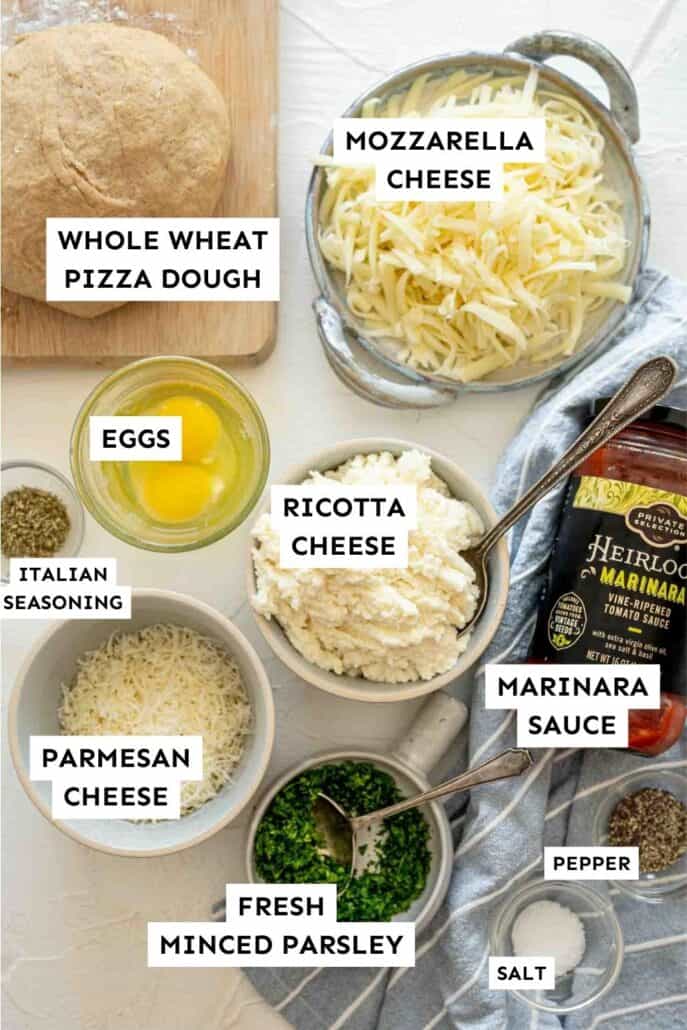 How to Make Cheese Calzones
Before beginning, be sure to prep your Calzone Dough. This will take about 45 minutes and can be done a few days in advance. Or, take a shortcut and get a large dough ball from your favorite local pizzeria.
Preheat oven to 400°F degrees. Adjust oven racks to be equidistant from the middle. Line two sheet pans with parchment paper (or foil).
In a medium bowl, combine ricotta, Parmesan, mozzarella, 2 eggs, parsley, Italian seasoning, salt, and pepper. Set aside.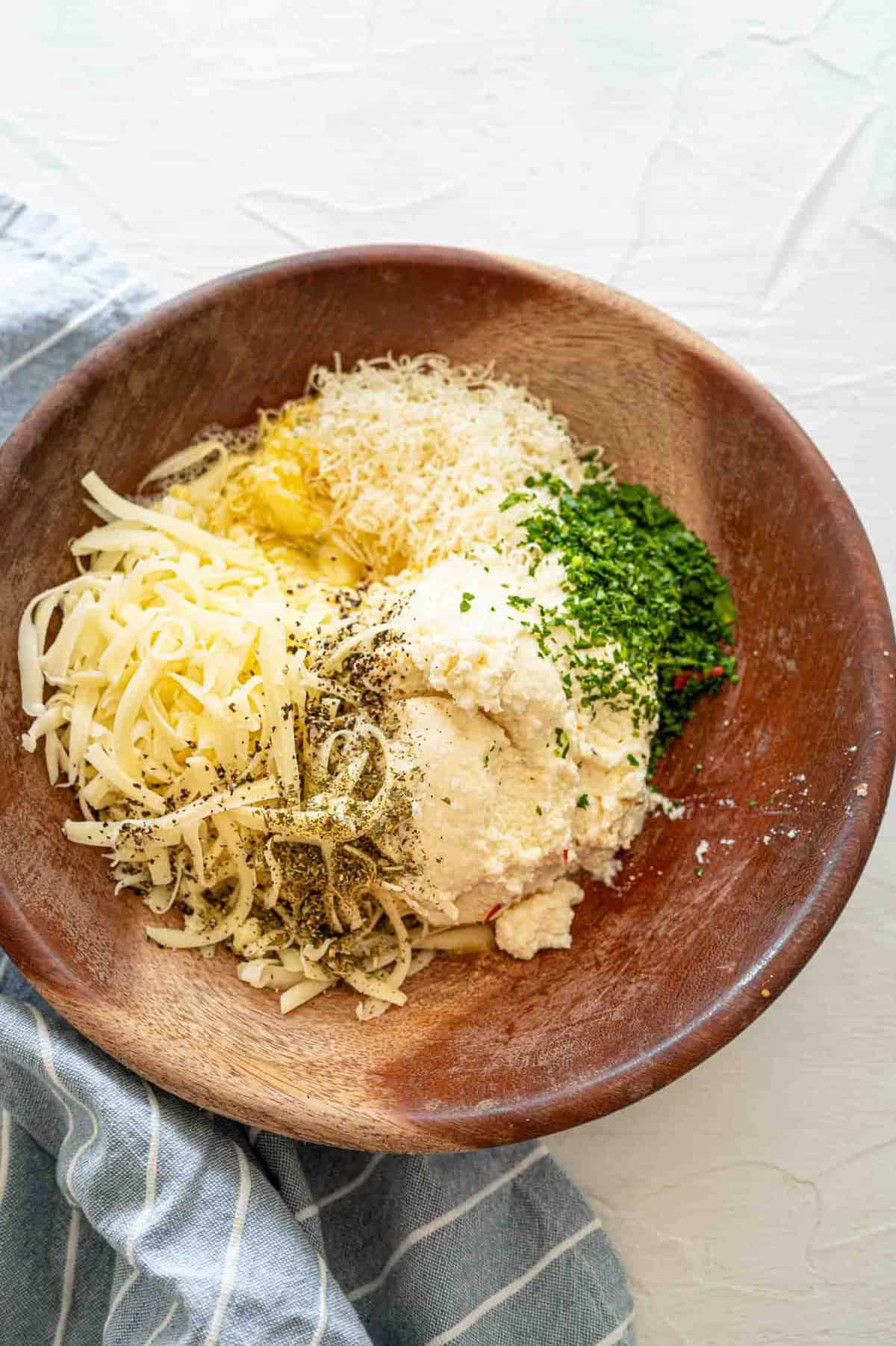 Dust flour on a clean surface to work with the dough on. Divide the dough ball into 8 equal pieces. Working with one piece at a time, roll it into a ball and then roll it out into a very thin circle, about 1/4 inch thick.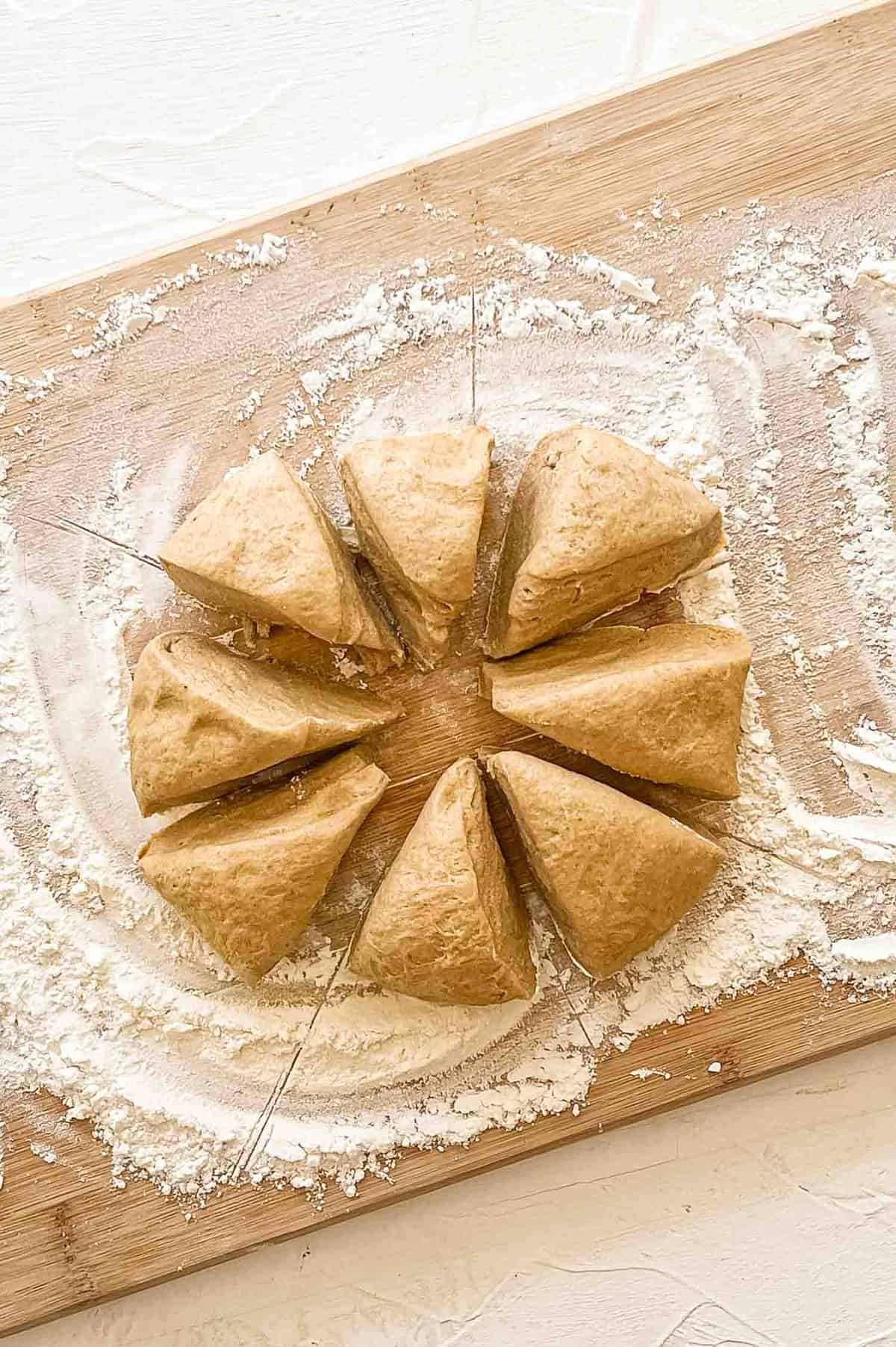 Spoon 3-4 tablespoons filling onto half of each dough circle, leaving a little room around the edges. Fold half of the dough over itself to close it, then press edges to seal. Use the back of a fork or roll and pinch the edges to make sure it's sealed well. Poke a few holes with a fork in the top of each calzone. Transfer them to the two lined baking sheets.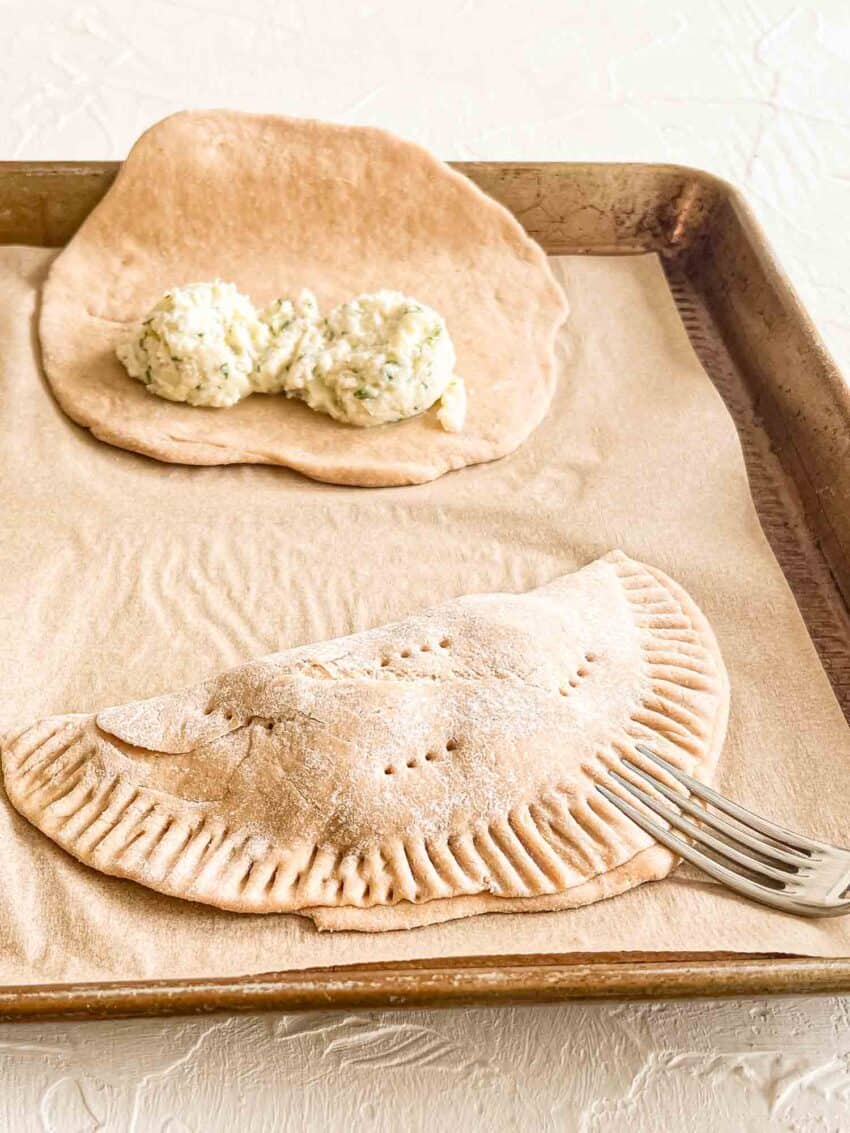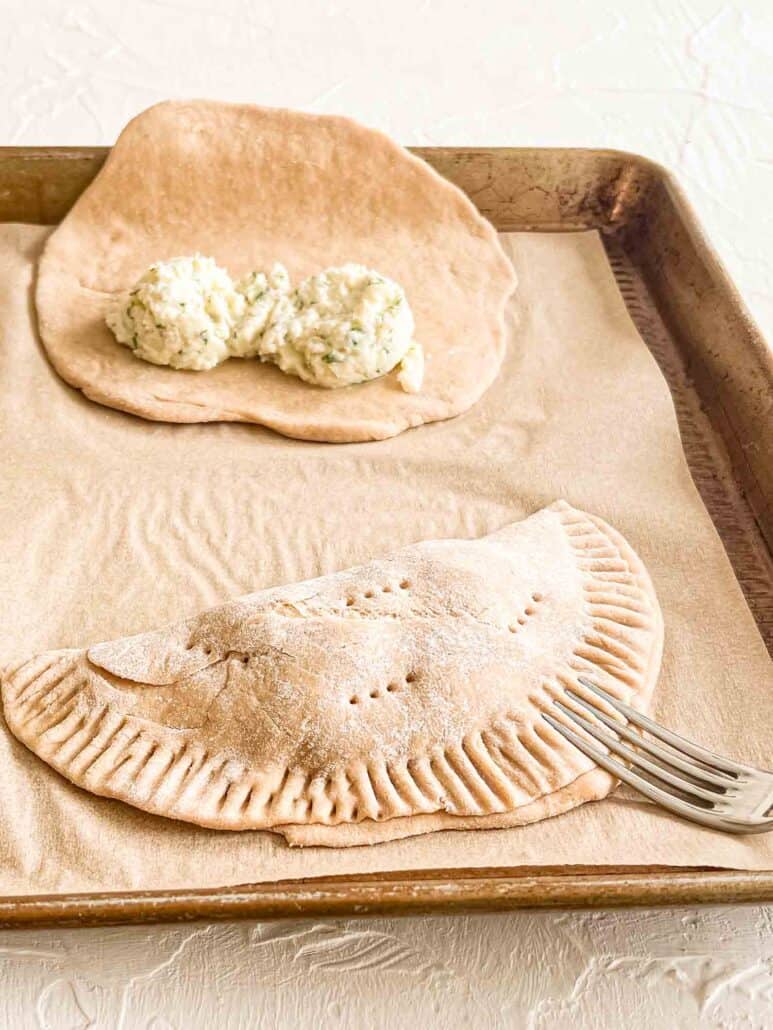 In a small bowl, whisk together the remaining egg and a splash of water. Brush the surface of each calzone with the egg wash using a pastry brush (or your fingers if you don't have one!). Optional: Sprinkle a little grated Parmesan and Italian seasoning over the top of each one.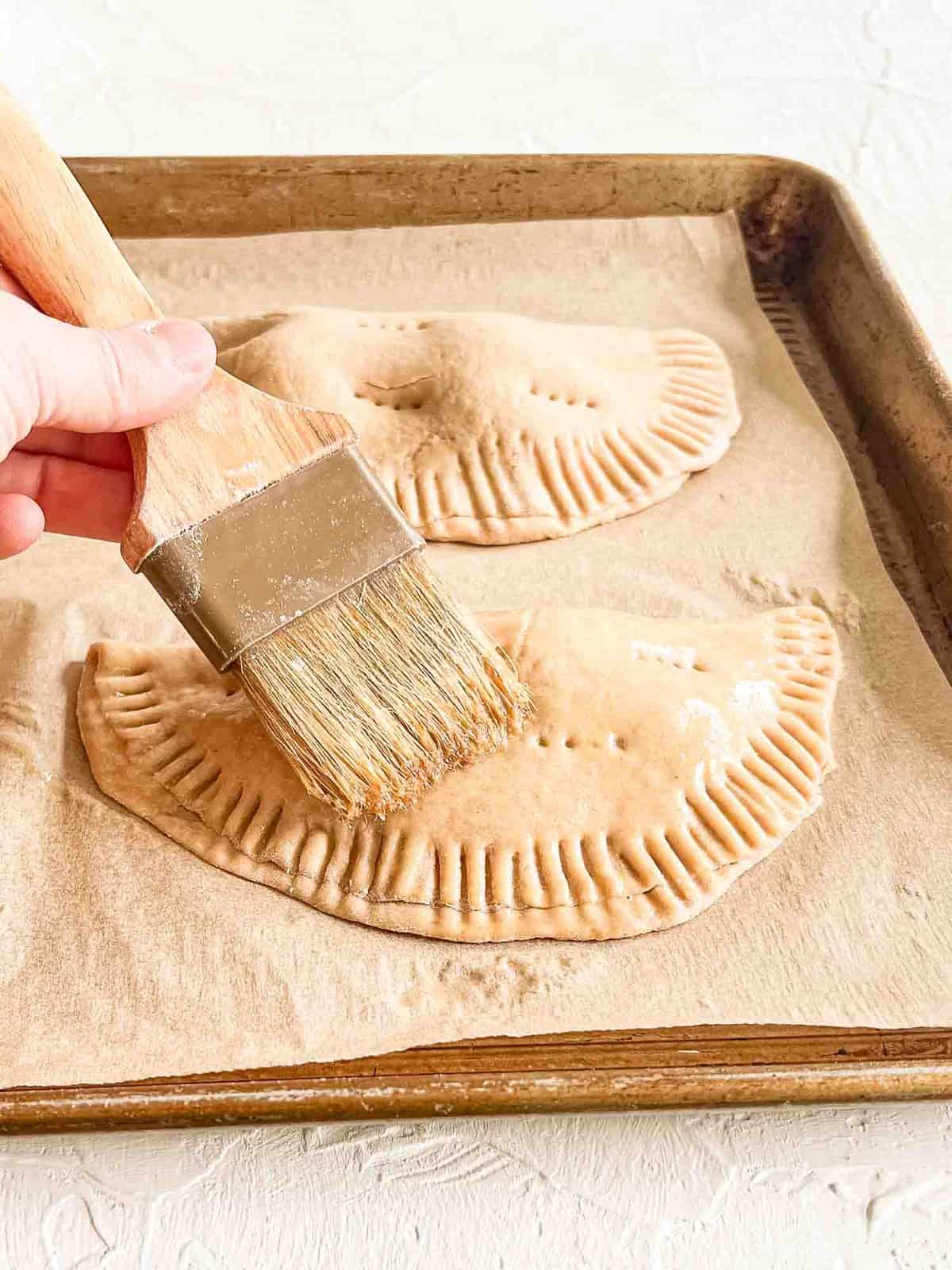 Place the pans in the oven and bake for 10-15 minutes, until nice and golden brown, rotating the pans halfway through the bake time. Let cool for about 10 minutes and serve with ramekins of warm marinara sauce for dipping.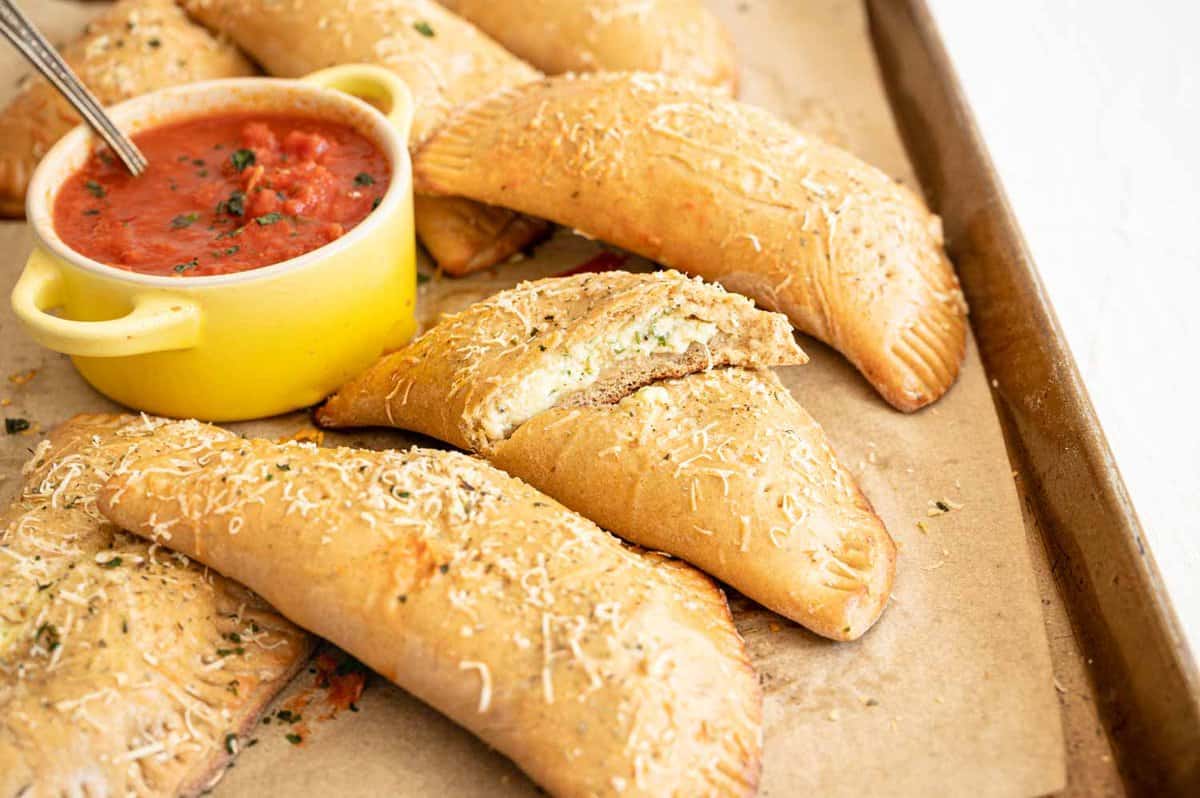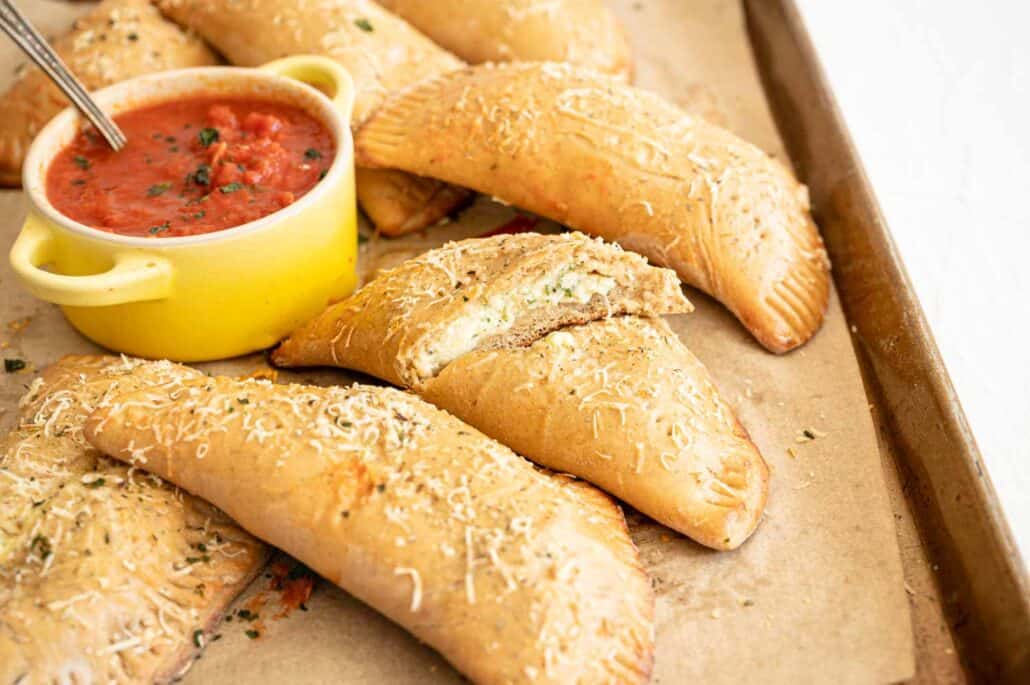 Can You Freeze Calzones?
We're often asked if you can freeze calzones, and the answer is a resounding yes! I LOVE doubling a batch and freezing them for my family. They make for an easy lunch or weeknight dinner, because you can rewarm from frozen in the microwave in minutes.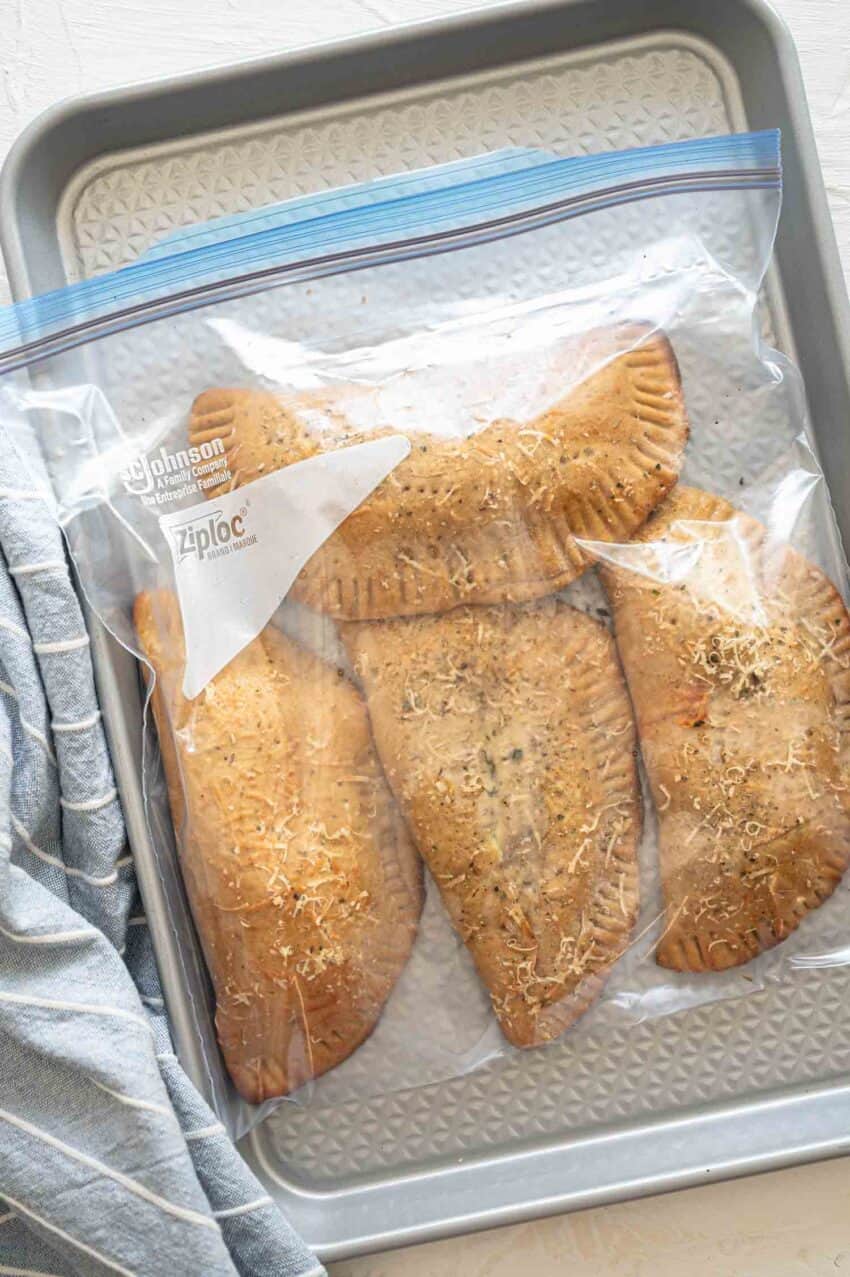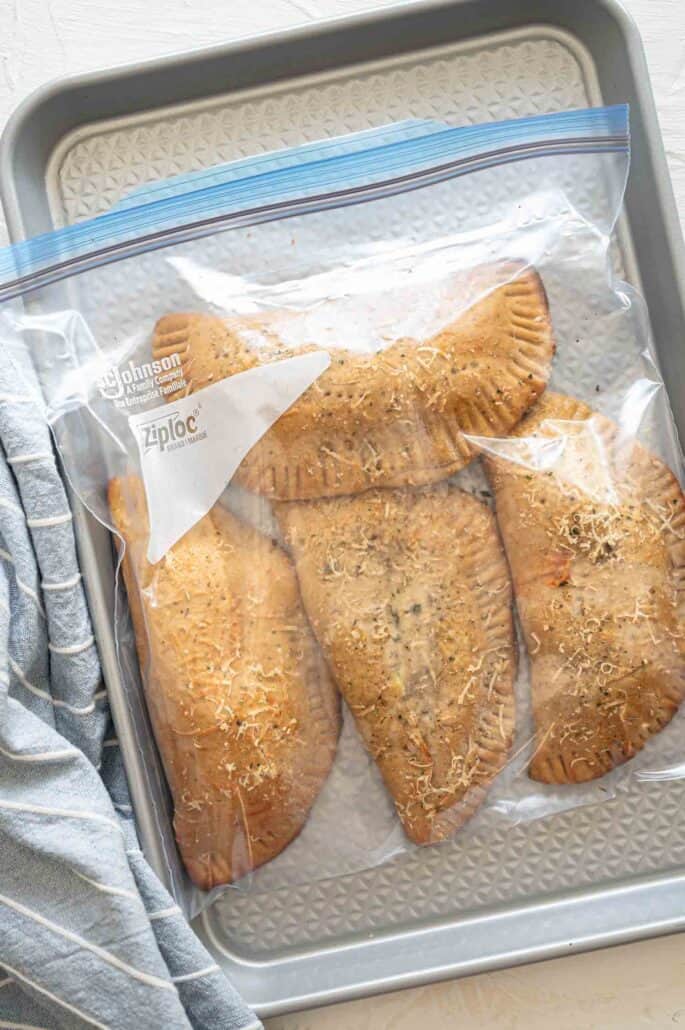 Here are the simple steps to freeze calzones…
Freeze For Later: Cook according to instructions and let calzones cool completely. Place in an airtight freezer bag or container, dividing layers with parchment paper. Seal, squeezing out any extra air, and freeze.
Prepare From Frozen: Wrap a frozen calzone in moist paper towel. Microwave on defrost setting until warmed through. Or, let the calzone thaw in the refrigerator, place on a baking sheet, and warm in a 350°F oven for about 5-10 minutes, just until warmed through.
Side Dishes That Go With a Cheese Calzone
Definitely serve your calzones with a side of Pizza Sauce or Marinara Sauce for dipping. Then, try one of these salads to round out your meal.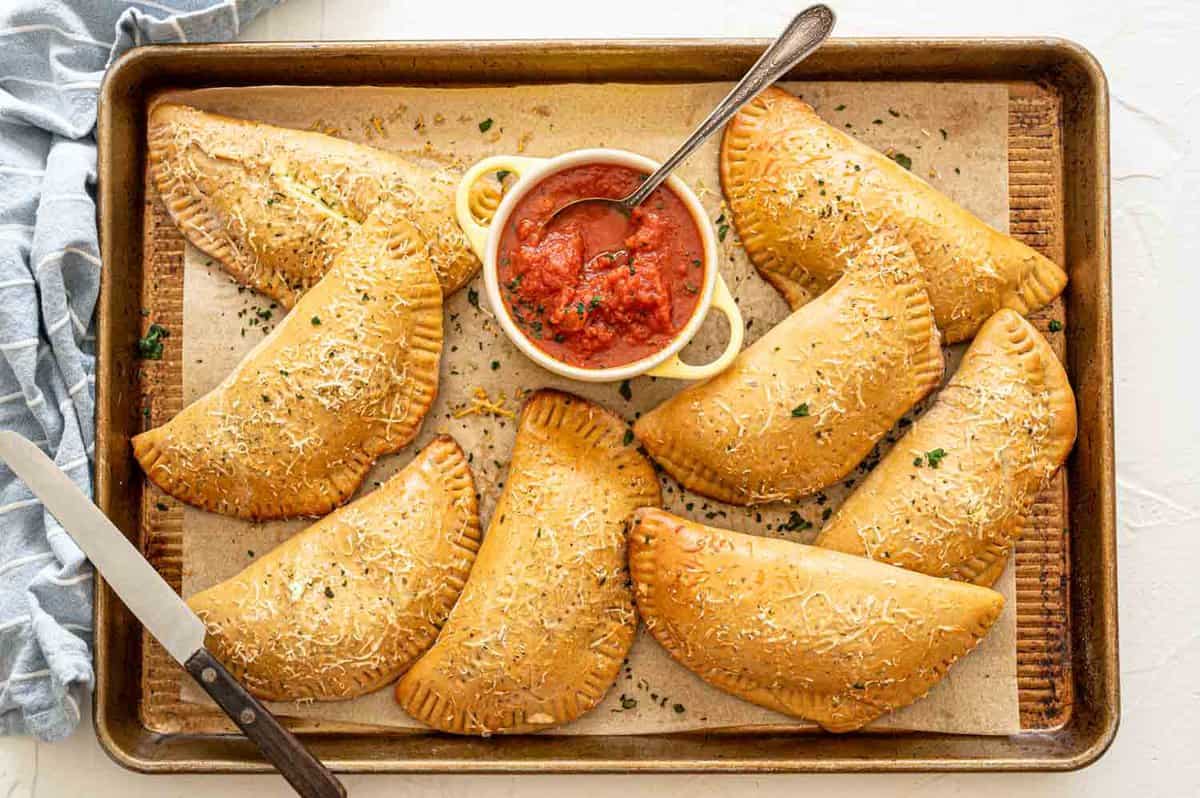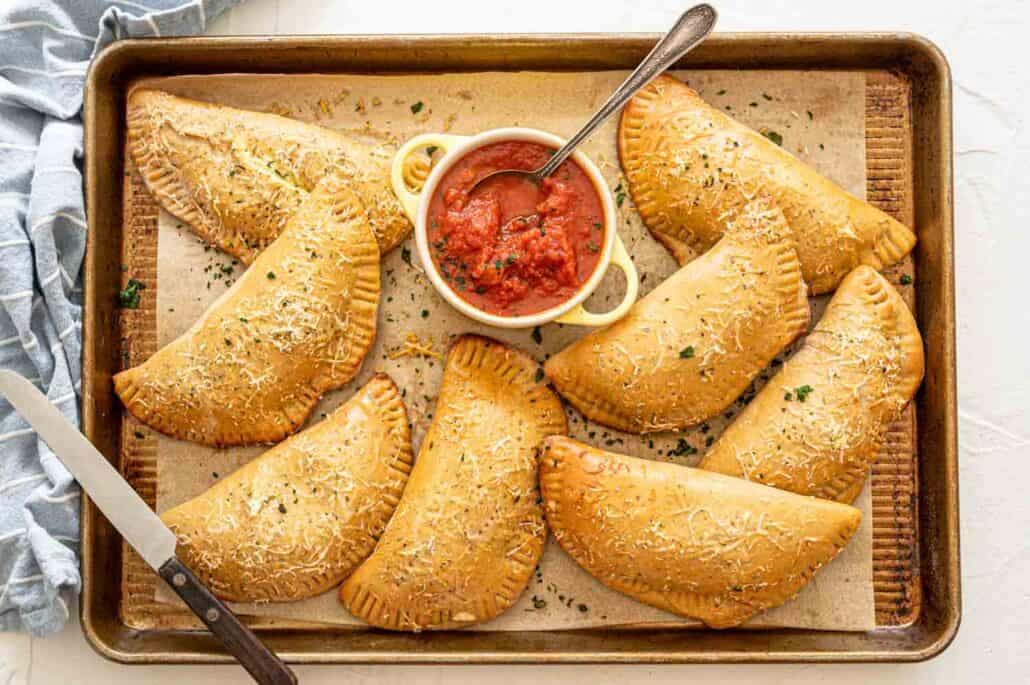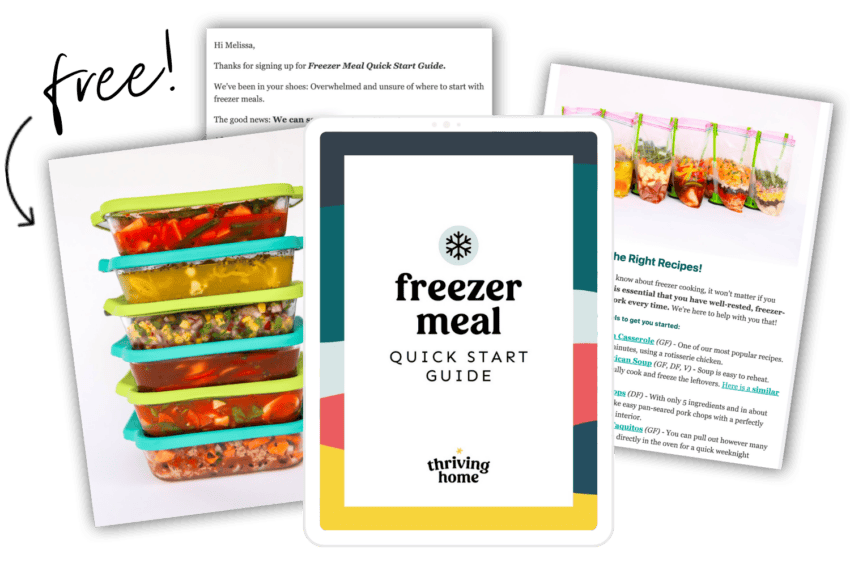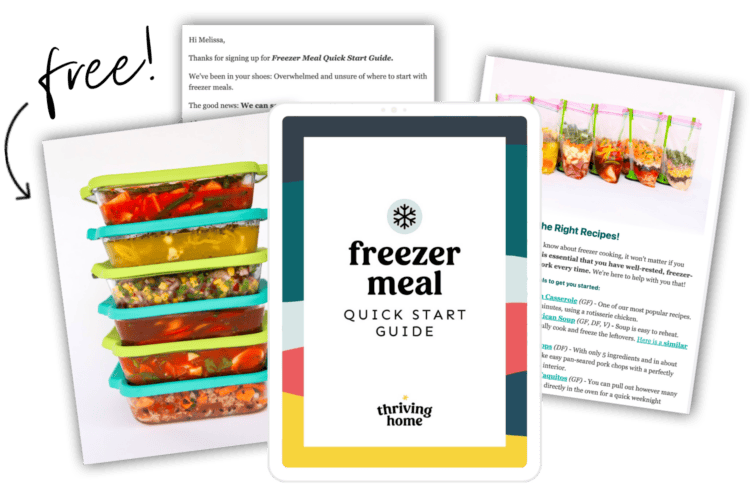 Start Here!
Freezer Meal Quick Start Guide
Get the best of the best recipes, tutorials, and freezer meal expertise straight to your inbox. A $9.99 value for free!
Did you make this? Snap a photo and tag us on Instagram at @thrivinghome so we can see your creations and cheer you on!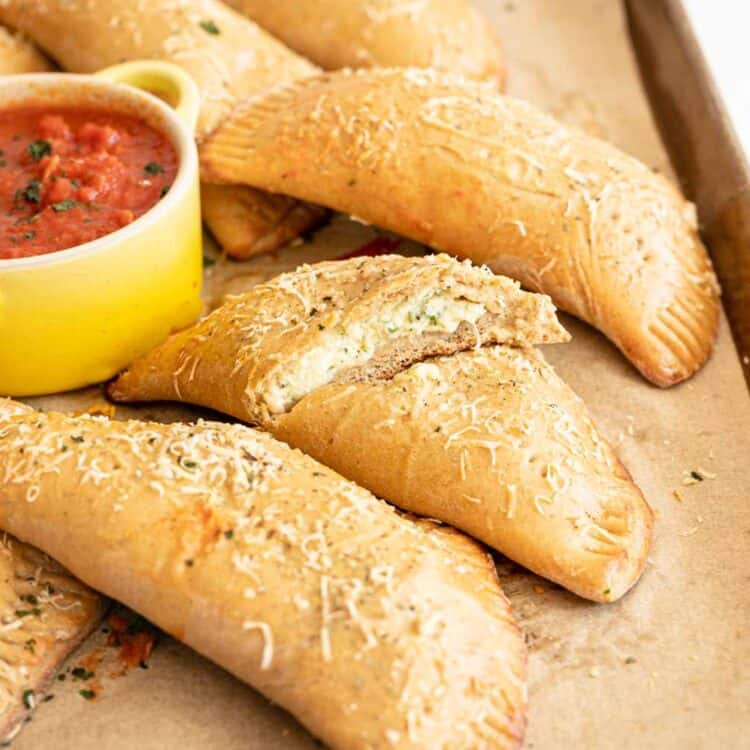 The BEST Cheese Calzones
Indulge in cheesy goodness with our delectable Cheese Calzone recipe, made with a blend of creamy ricotta, gooey mozzarella, and savory Parmesan cheese. We've given it a healthier twist by using white whole wheat flour in the quick homemade dough and including some tasteless, chopped parsley in the filling.
Yield:
8

large calzones (or

16

small calzones)

1

x
Prep:
45 minutes
Cook:
15 minutes
Total:
1 hour
Photos and video by Whitney Reist of Sweet Cayenne.