This post may contain affiliate or sponsored links. Please read our disclosure policy.
In the food industry, convenience, quality, and clean ingredients rarely seem to go hand in hand. That's why it's a delight to stumble upon a brand that offers all of this (plus a good dose of comfort too!). I recently had the opportunity to try a WildGrain subscription box, and I'm excited to share my honest Wildgrain review with you.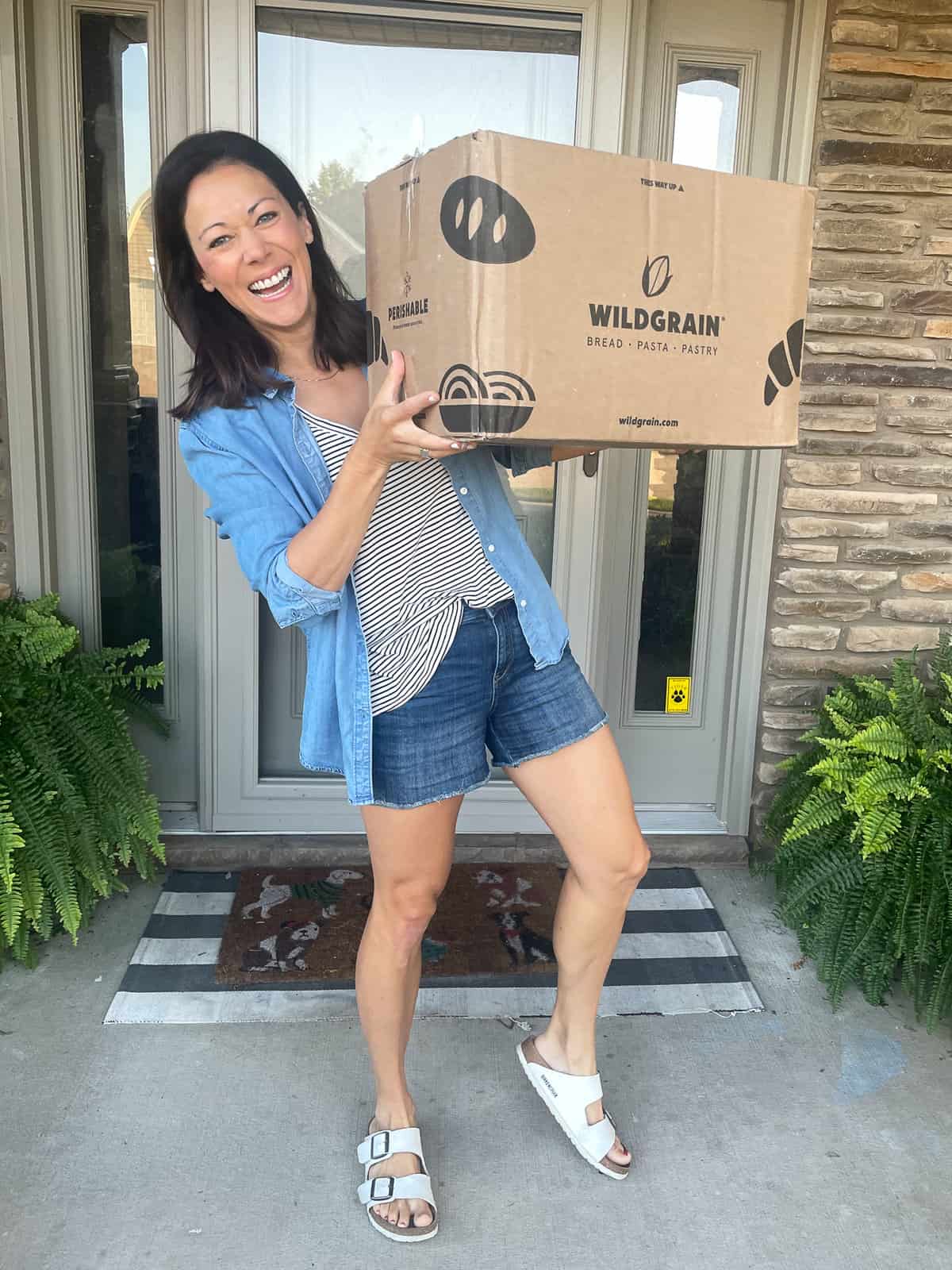 Deal Alert: Free Croissants
Before I get started, I just wanted to make sure you know about an incredible deal Wildgrain is offering our readers. Use WELCOME30 to get FREE Croissants in every box + $30 off your first box! Grab this deal now!
Disclaimer: This post was created in partnership with Wildgrain. Affiliate links included.
What is Wildgrain?
Wildgrain is the first bake-from-frozen membership for sourdough bread, fresh pastas, artisanal pastries, and so much more. Once your box is delivered, you just stash the goodies in the freezer until you're ready to cook or bake — no thawing necessary.
My Wildgrain Review
Let me walk you through how this baked goods and pasta subscription service works and what my thoughts were along the way.
Signing up for Wildgrain is a straightforward process.
Their website is user-friendly
There are various box plans to choose from.
You can customize the contents of each box based on dietary preferences and portion sizes.
You can also customize the frequency of your subscription.
You can pick 6 products or upgrade to a box of 12.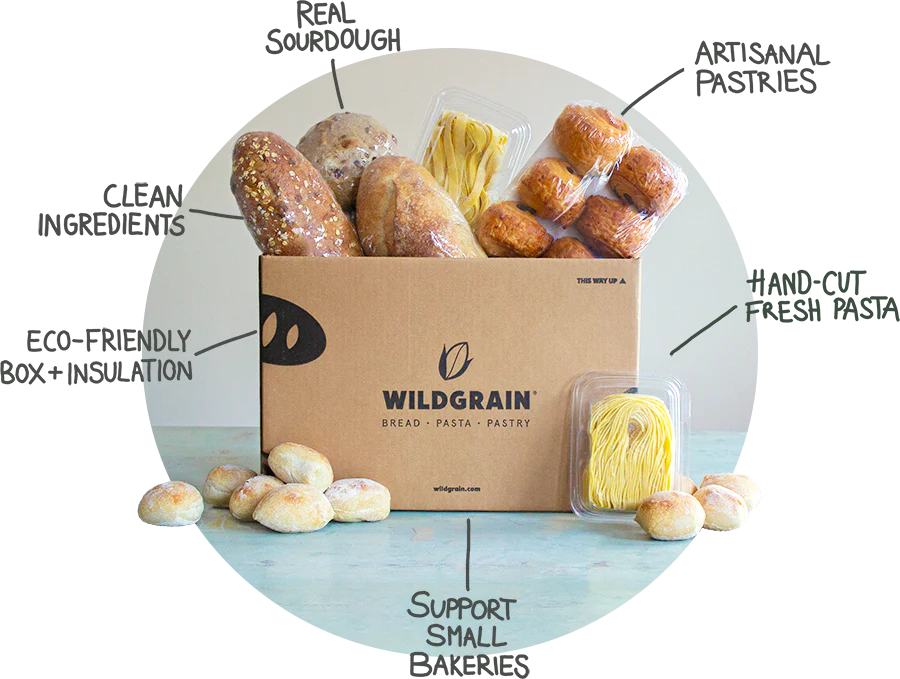 When I ordered, I opted in to receive updates about the status of my box.
I wanted to know right when it was delivered so it didn't sit on my porch all day. Their communications were accurate and minimal which I appreciated.
When my first WildGrain box arrived on my doorstep, I saw the packaging was similar to ButcherBox. The contents were packed with dry ice to keep them frozen and the materials were recyclable.
Everything was still frozen and in good shape.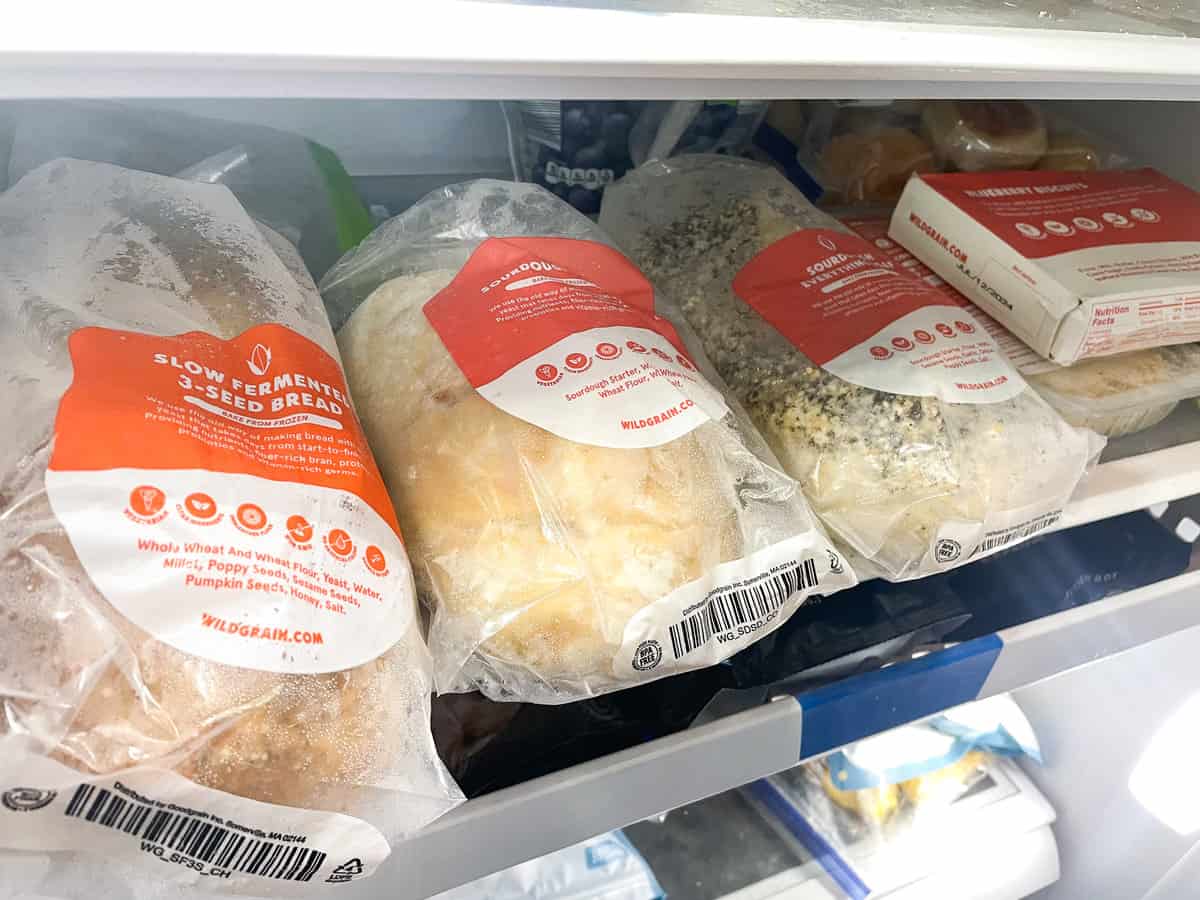 I also quickly noticed that the baked goods were all made with real food ingredients. That is so hard to find in the grocery store.
The baking instructions vary depending on the product but they are incredibly clear and no-brainer.
Here is an example of the Blueberry Biscuits (which were absolutely delicious by the way.)
Everything can go right from the freezer to the oven to bake. No thawing necessary!
Everything I've tried so far has been amazing.
The crust on the sourdough bread was crunchy and the bread inside was light, fluffy, and chewy just like a good sourdough should be.
The croissants were out of this world. We're talking straight from the bakery flavor and texture.
The hand-cut, fresh pasta was delicious. While it did take a little extra work to break apart when boiling, it all cooked evenly and far surpasses the quality of boxed pasta.
In Conclusion
The main selling point for me is the convenience and time-saving aspects of having high-quality baked goods made from whole food ingredients delivered to my doorstep.
However, let's acknowledge the obvious: The price of $89 per box isn't cheap. (Remember, these are artisan products with high-quality ingredients crafted by hand after all.) So, it's probably not the best fit for the family trying to save money on groceries.
But, I could see the cost of a Wildgrain subscription being worth it if:
You value high-quality, from-scratch baked goods with clean ingredients…but don't have the time to make them yourself
You love the convenience of bake/cook-from-frozen baked goods and pastas to go with your meals.
You want to prep ahead for the holidays or a busy season
You're looking to treat yourself or ask for it as a gift
You want to gift it to others (See our gift guides for more ideas.)
Don't Forget: Free Croissants!
Wildgrain is offering our readers FREE Croissants in every box + $30 off your first box! Use promo code WELCOME30. Grab this deal now!
How much is a Wildgrain Subscription?
The price of a membership is $89 per Wildgrain Box. Free shipping. 
You can change your delivery frequency, reschedule your next charge date, or cancel your membership at any time via your Member Account.
What comes in each Wildgrain box?
You can pick 6 products or upgrade to a box of 12. If you use our promo code (WELCOME30), you'll also get FREE Croissants in every box for life + $30 off your first box. Grab this deal now!
How long do Wildgrain products last in the freezer?
Wildgrain products can stay in your freezer for up to 6 months! However, for optimal taste and quality, we recommend eating the Wildgrain products in your freezer within 3 months.
Do I have to sign up for a subscription or can I just order 1 box?
They only offer subscriptions, and they explain why here: "Sourdough breads take 20+ hours to make, compared to 20 minutes for a typical supermarket bread. It's difficult for an artisan-driven company like ours to source high-quality ingredients, staff our bakeries, and hand-shape each loaf without knowing roughly how many members we need to serve each month which is why we offer subscription services only. By becoming a member, you'll get to enjoy healthier products, support a small business, and help reduce food waste!"
Is there a Wildgrain discount code?
Yep! Use WELCOME30 to get FREE Croissants in every box + $30 off your first box. Grab this deal now!
I hope my Wildgrain review was helpful to you. If you have more questions, feel free to leave a comment below.