Egg-in-a-Hole: A Classic Breakfast Idea
This post may contain affiliate or sponsored links. Please read our disclosure policy.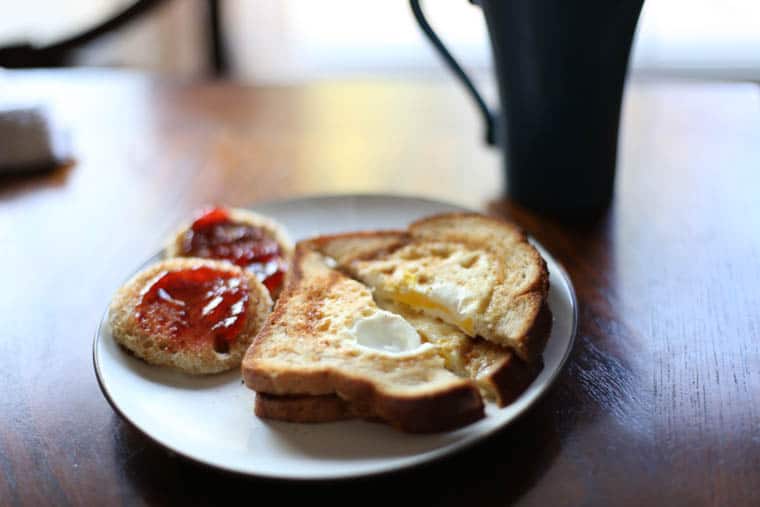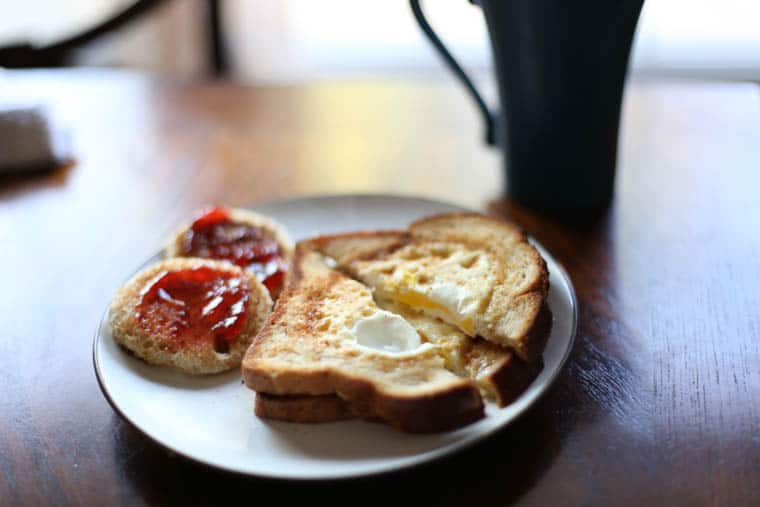 Why I love Eggs-in-a-Hole
There are quite a few reasons this mama loves a good 'ol egg-in-a-hole for breakfast.
It's quick and easy to make. It's one of my go-to weekday breakfasts.
It's cheap. All you need are a few pantry ingredients: eggs, butter and bread.
It's got protein. I find it hard to get healthy protein in the morning and I know that a crash will come mid-morning if I only eat carbs for breakfast.
If you use whole wheat bread, it is an entire breakfast of real food ingredients. No additives or mystery ingredients.
Lastly, my whole family likes it! It's a recipe that any age can be happy about.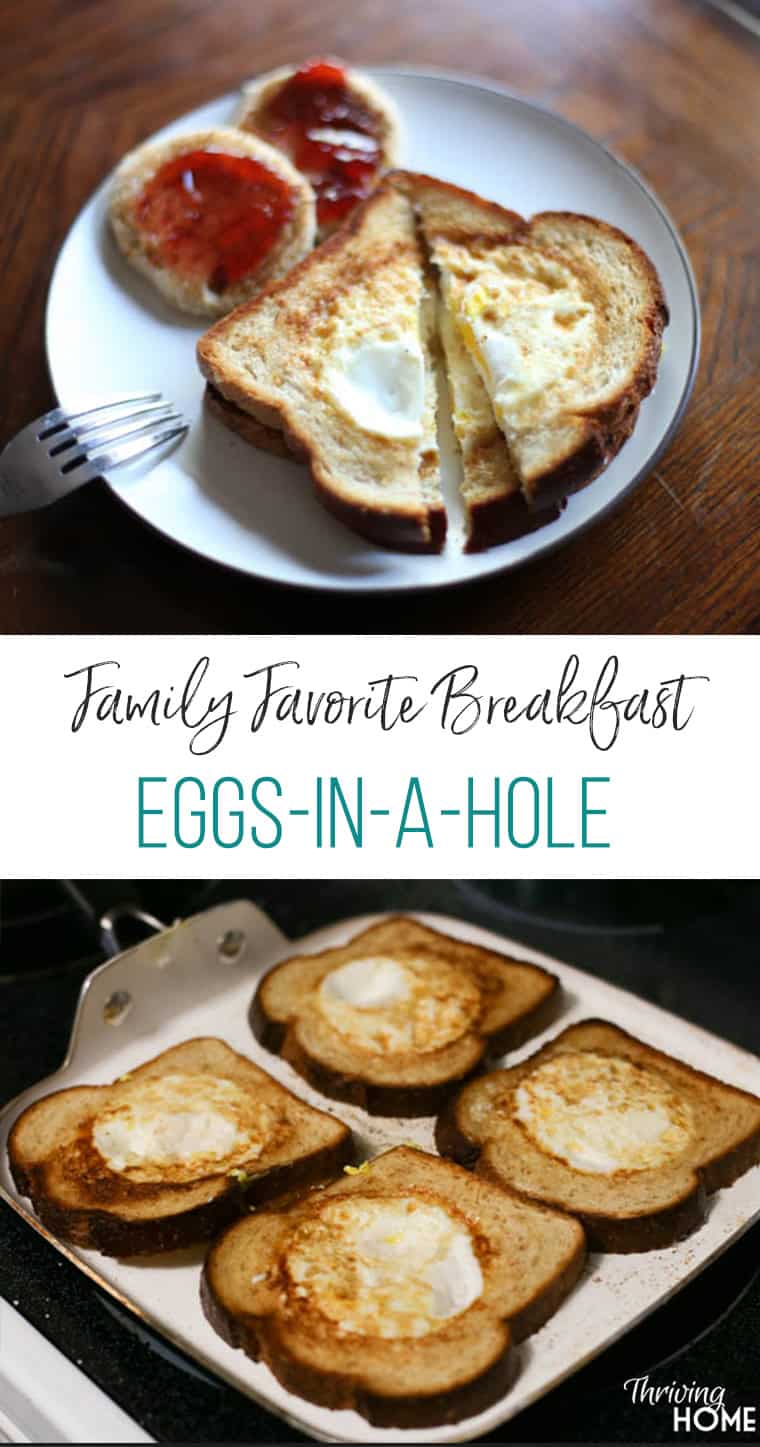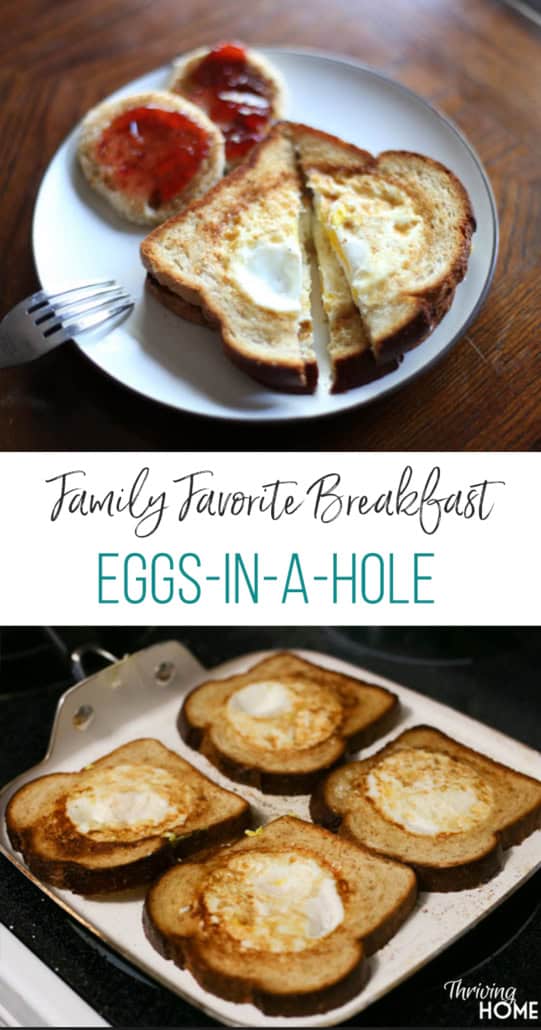 Making an egg-in-a-hole is very simple. Just fry an egg inside of a piece of bread.
However, since I have made eggs-in-a-hole seemingly hundreds of times, I've learned a few tricks that have perfected the process. The detailed instructions below are to help you see exactly what I do when I make them but I wanted to make sure you knew it doesn't have to be complicated AND you don't have to do it exactly like me.
Onward!
How to Make a Great Egg-in-a-Hole (+ some pro tips!)
Using a round cutter of some type, remove a circle from the inside of a piece of bread. (Tip: if you don't have a cutter, you can use the top of a drinking glass or mason jar!)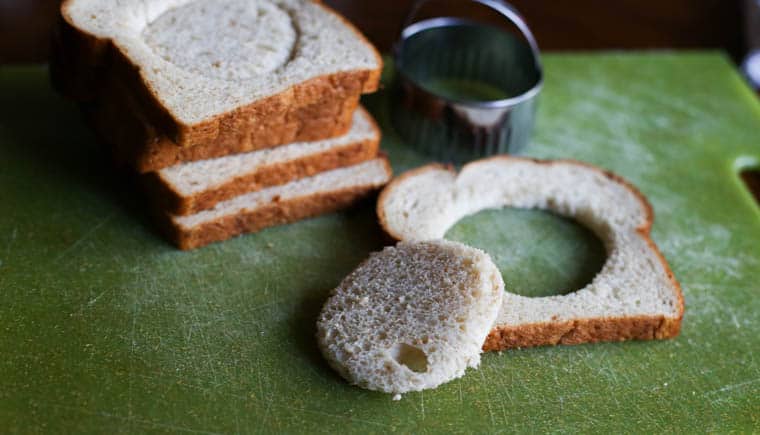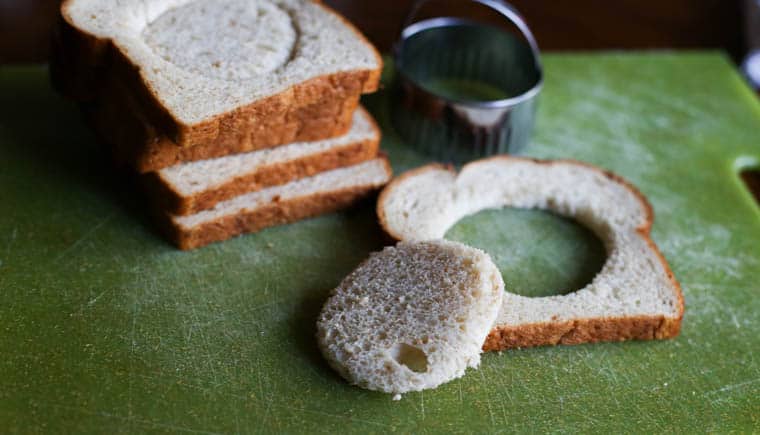 Set your "roundies" (as we like to call them) aside.
Now this tip is very important for the next step: use softened butter. We always have some out on our counter and it comes in handy!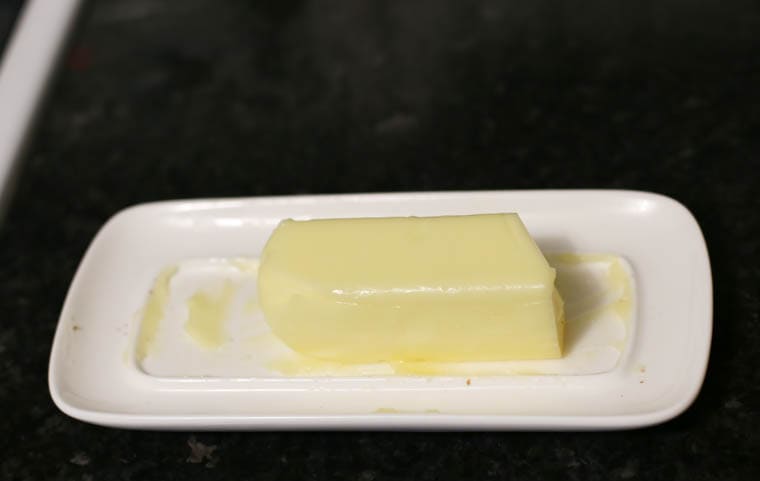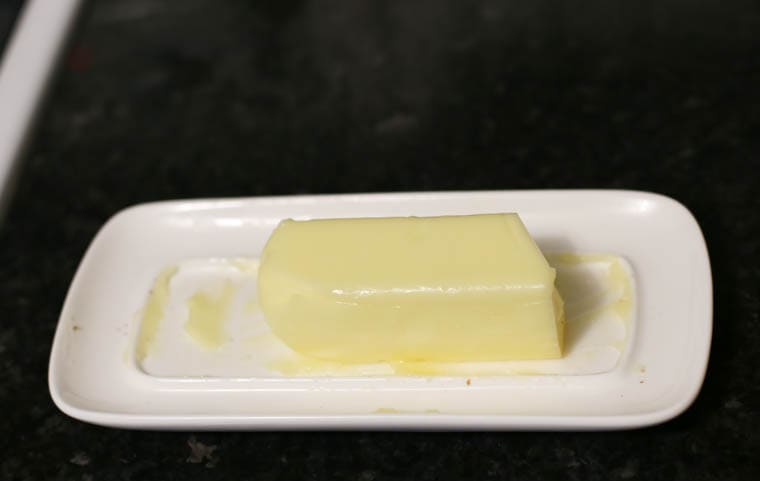 Spread the softened butter on ONE side of your bread. Just one. Trust me. You'll understand later.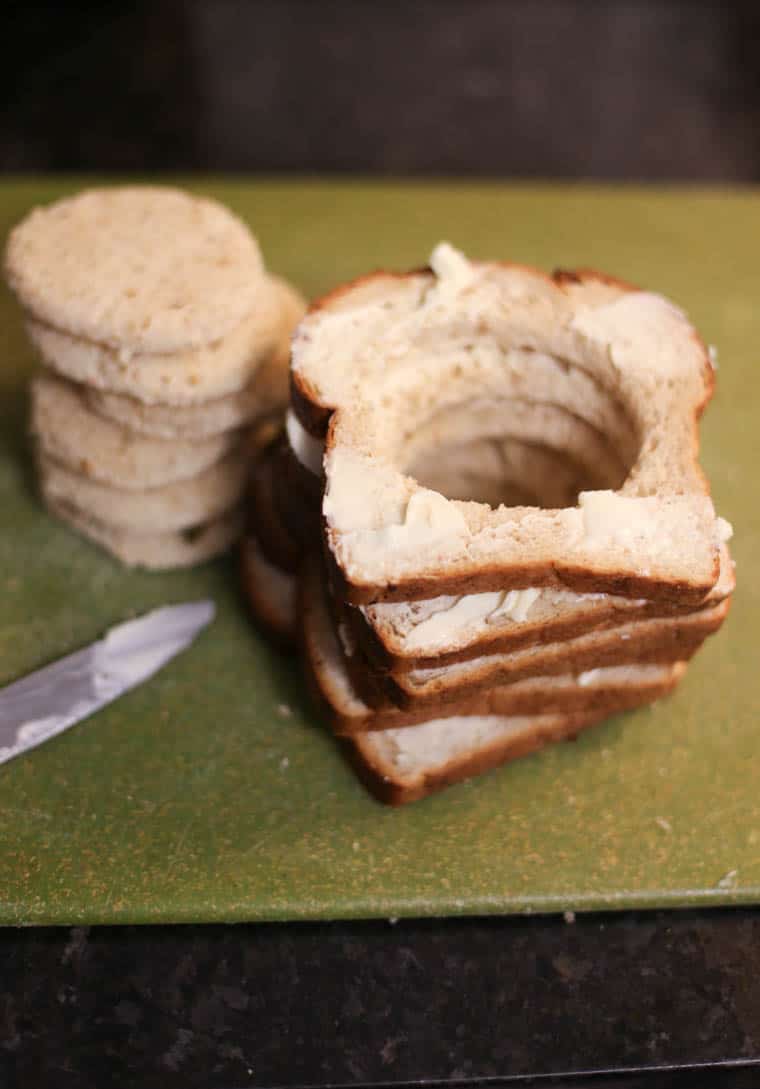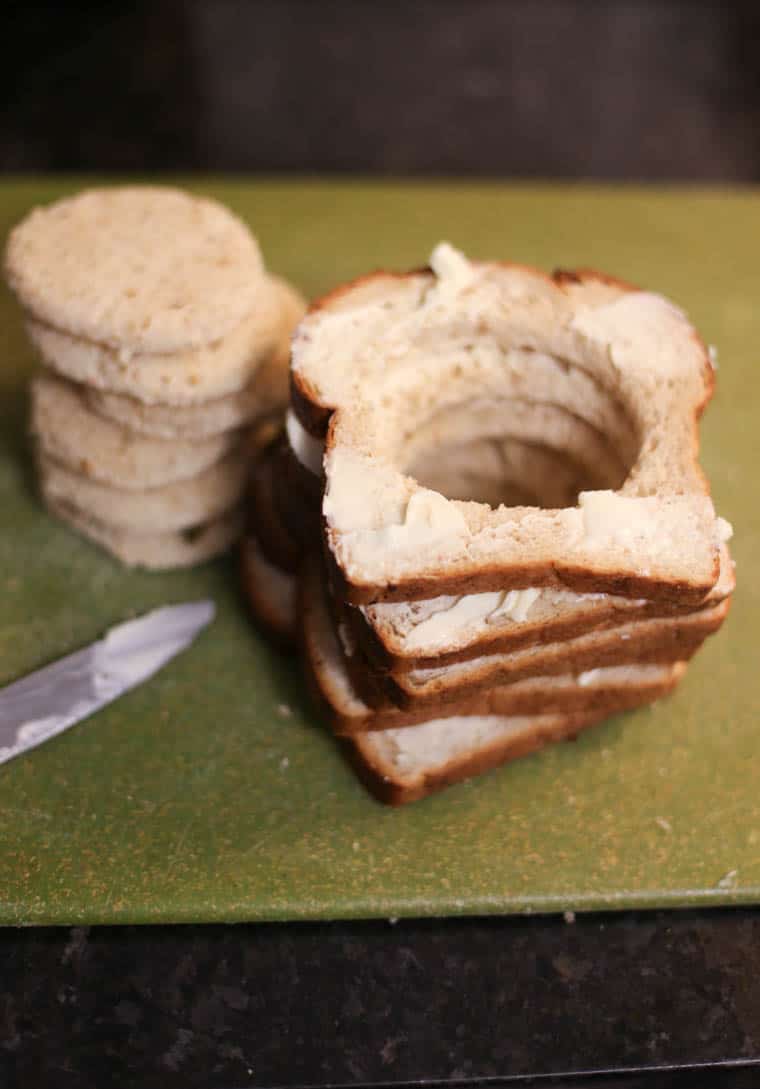 Depending on the size of your skillet or pan, warm 1-2 tablespoons of butter on medium-high heat. It should be to the point that it will sizzle when you put something on it. Mine usually takes about 5 minutes on medium to get to this point. If it starts smoking, remove it from the heat and let it cool down a touch.
You want to have enough butter to coat the majority of the pan's surface. Once it starts melting, tip your pan around so the butter spreads all over it.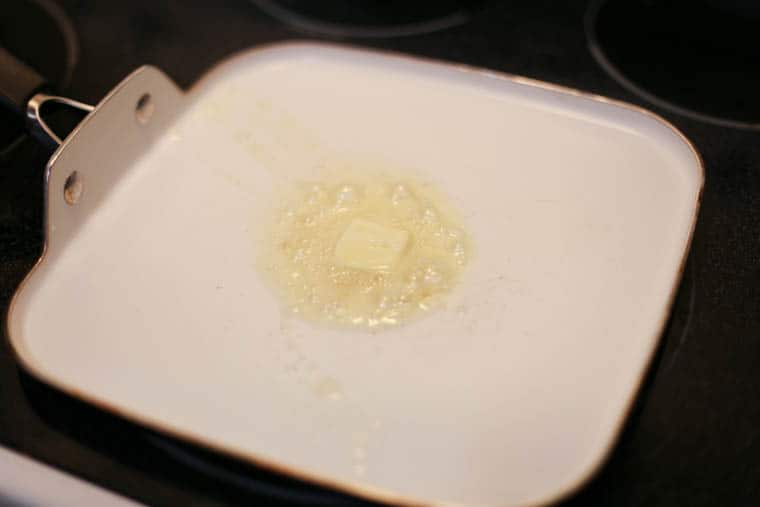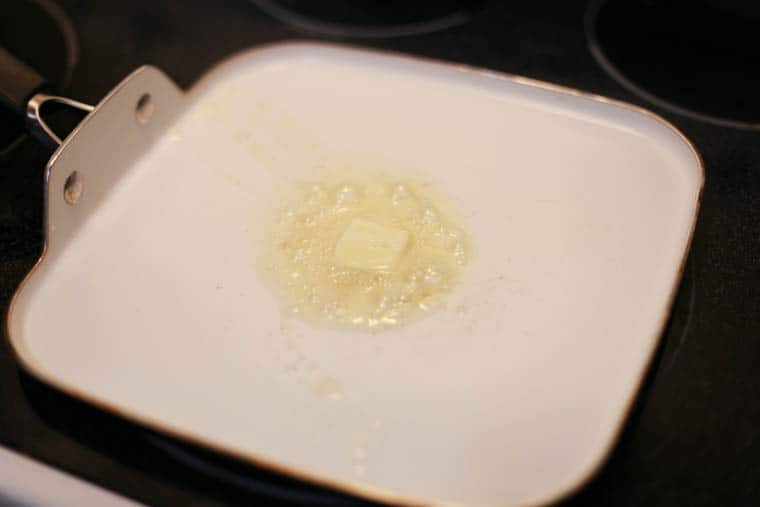 Now, place your bread, butter side up on the pan.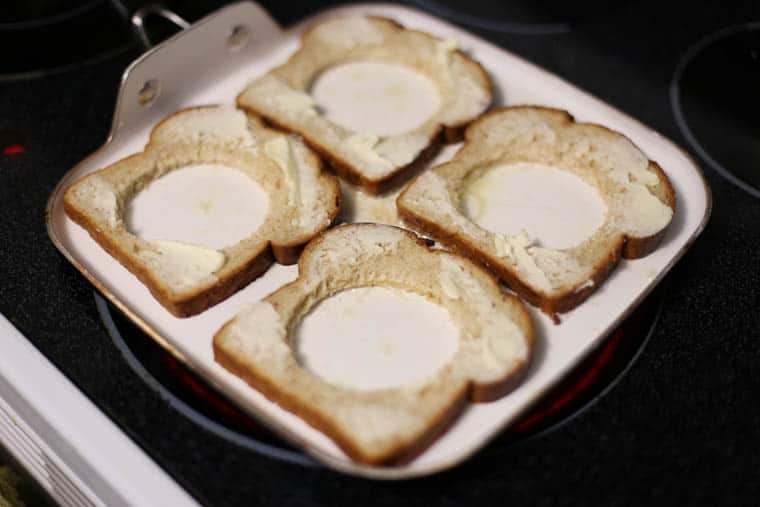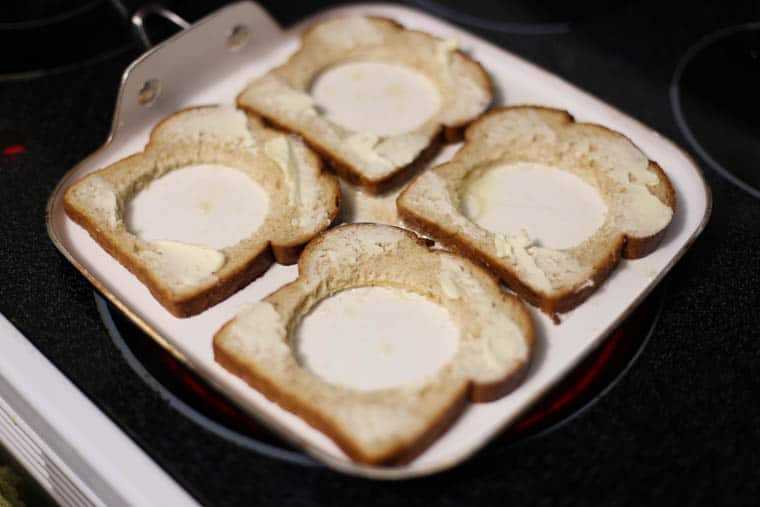 Crack an egg into each of the holes.
It is at this point that you have options.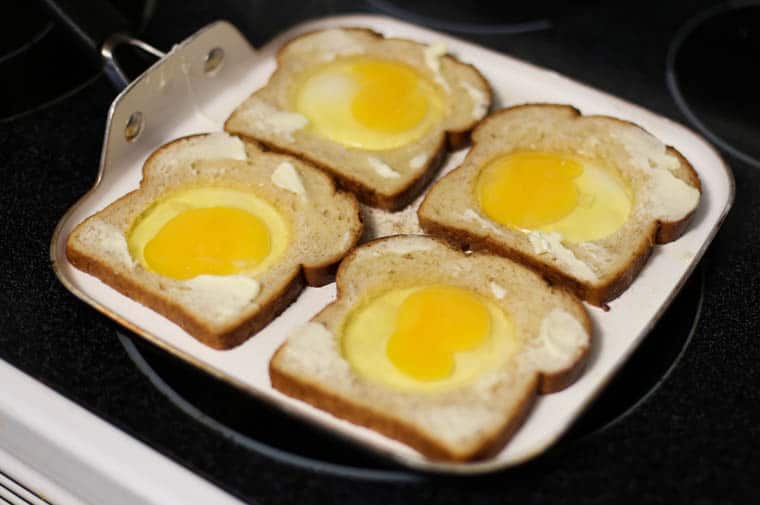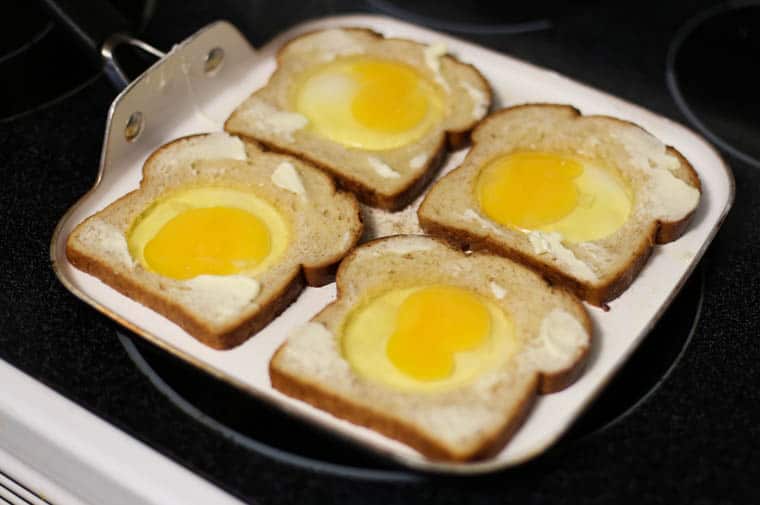 I know as an adult, I'm supposed to like runny yolks but I just don't and neither do my kids. So when I make them for us, after I crack the egg, I break the yolk of the egg open and let it spill out.
If I'm making them for my husband, I let the yolk remain intact because he likes it a little oozy.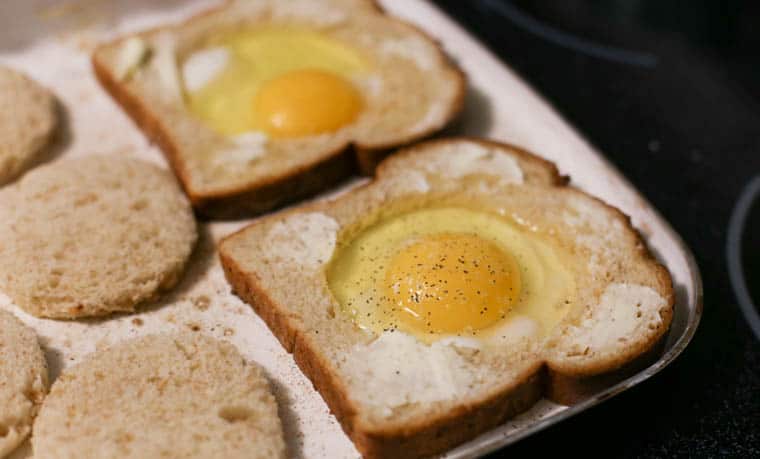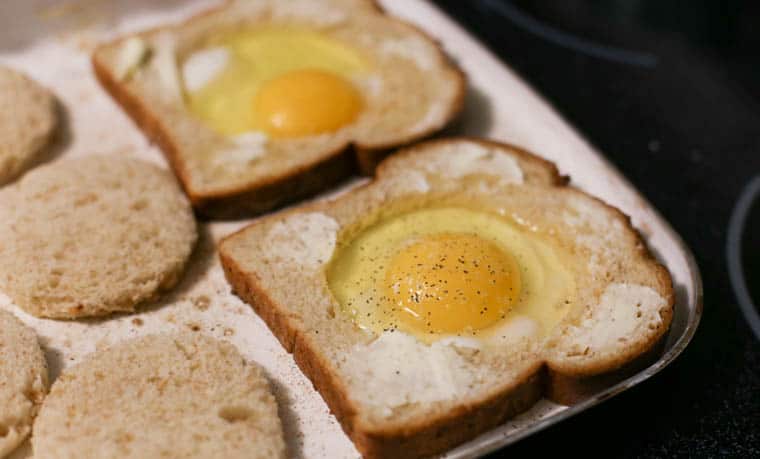 Sprinkle each piece with salt and pepper.
After a few minutes, flip and cook the other side to your desired level of doneness.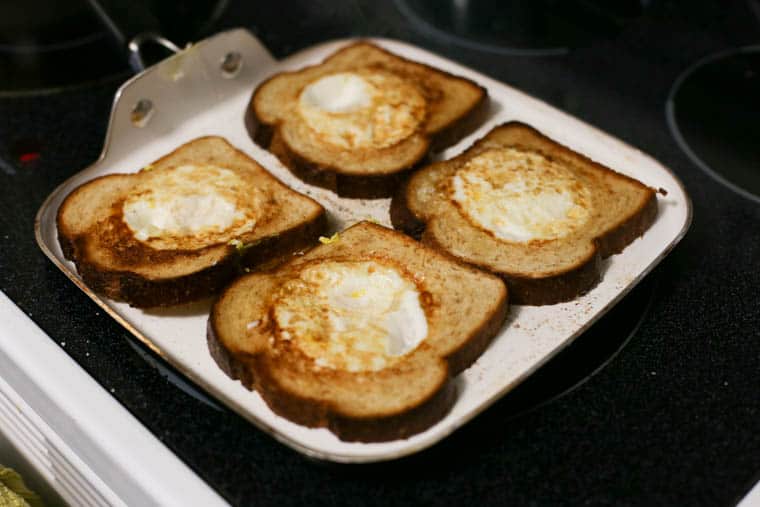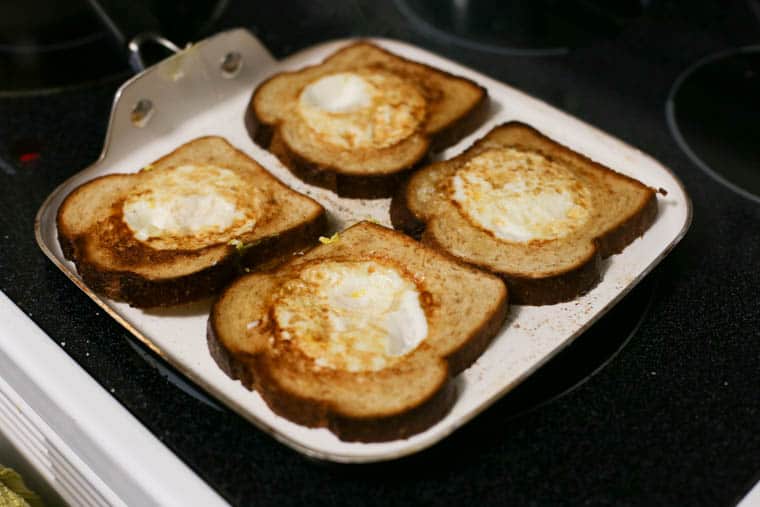 Don't forget to cook up your roundies as well! If you have extra butter in the pan, use them to soak it up. I usually have to add more to the pan and even to the roundies. Let them toast on the pan and then give them a flip after a few minutes.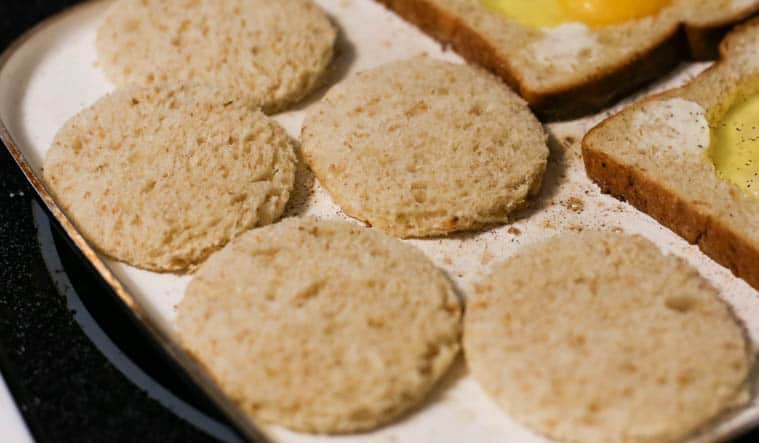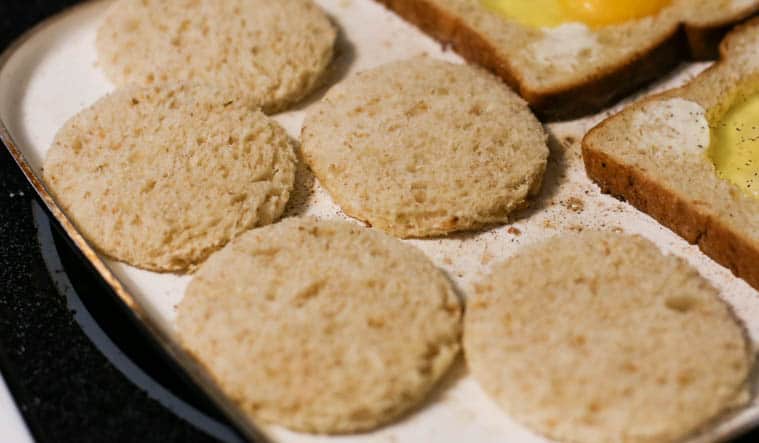 Customize your roundies to what you typically like on toast.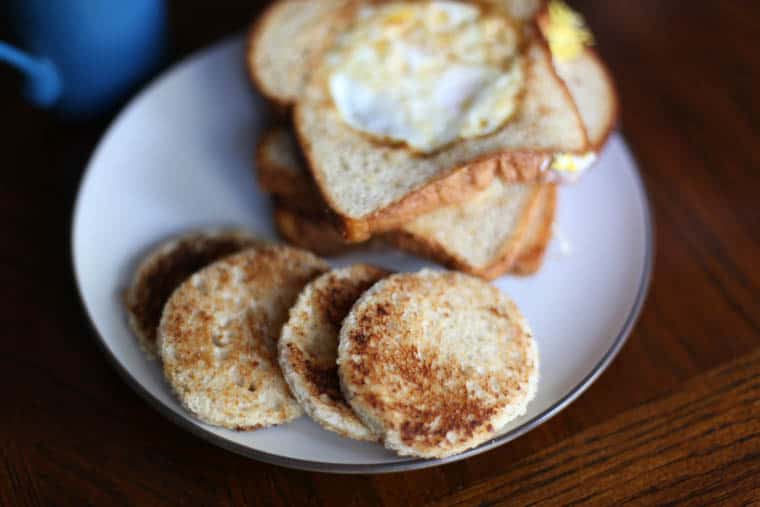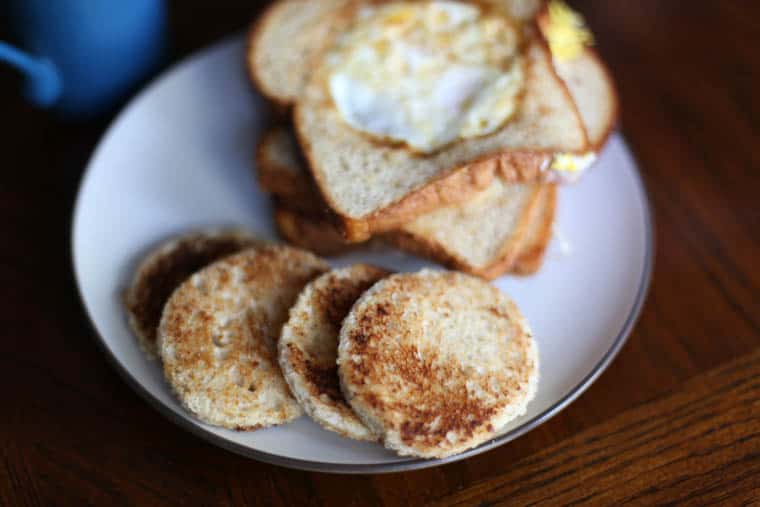 I like Strawberry Freezer Jam or apple butter. My daughter likes honey. Some may like cinnamon sugar. Or you can just be boring and eat them plain. They are still delicious. It's up to you!

I like to add avocado slices to my eggs-in-a-hole too sometimes!
That's it! Told you it was super simple. Now just serve it with some perfectly cooked bacon and you'll be dominating breakfast time!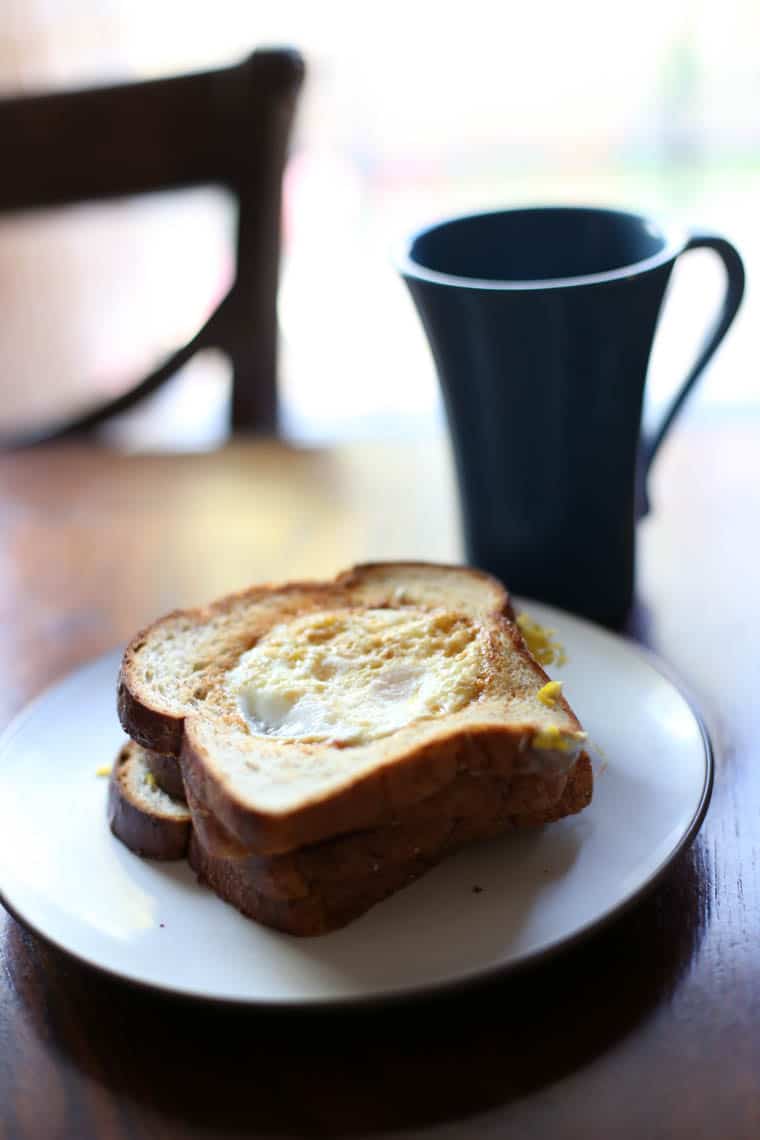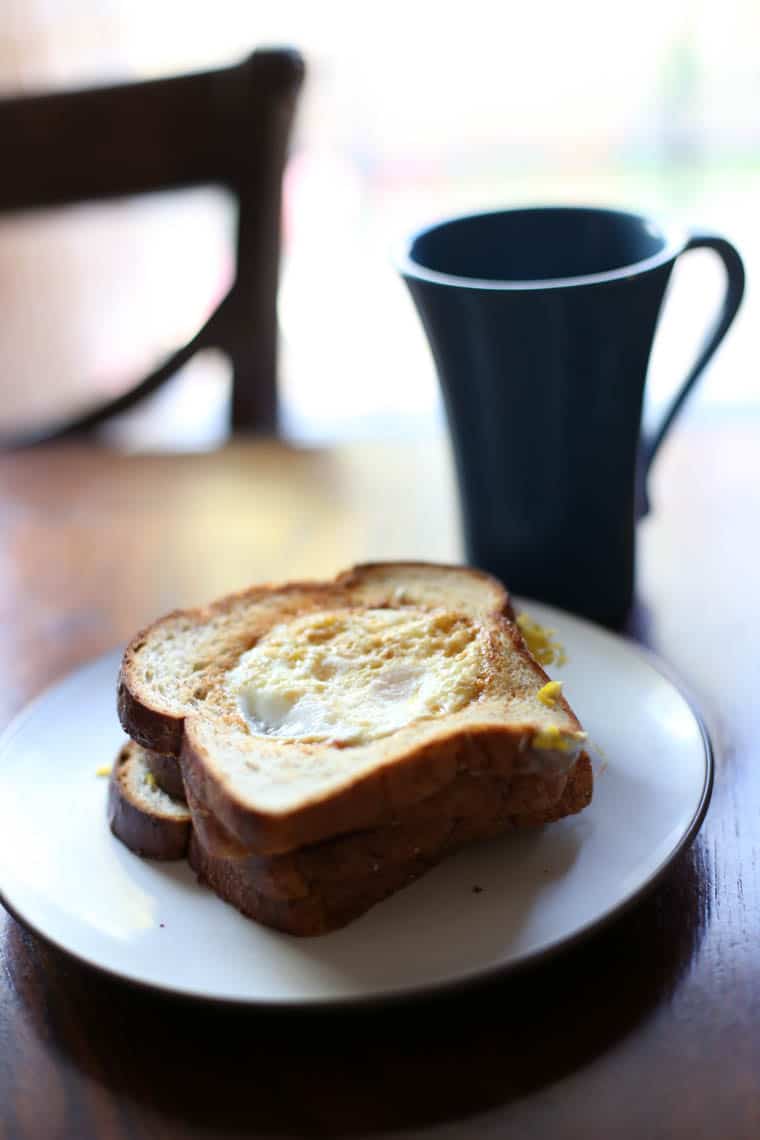 Did you make this? Snap a photo and tag us on Instagram at @thrivinghome so we can see your creations and cheer you on!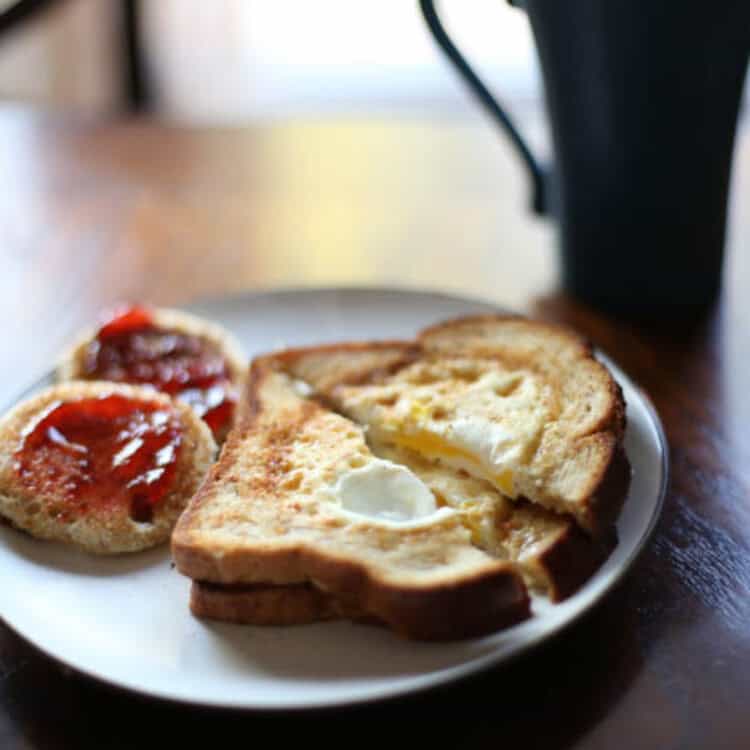 Egg-in-a-Hole: A Classic Breakfast Idea
A cheap, simple and easy breakfast idea that the whole family will enjoy. Try these and they're sure to become your new family favorite.
Prep:
3 minutes
Cook:
5 minutes
Total:
8 minutes
Ingredients
Softened butter
Eggs
Whole wheat bread
Salt & pepper to taste
Before You Begin! If you make this, please leave a review and rating letting us know how you liked this recipe! This helps our business thrive & continue providing free recipes.
Instructions
Using a biscuit cutter, remove a circle out of the middle of a piece of bread and set it aside.
Generously butter one side of the bread.
Warm 1-2 tablespoons of butter in a skillet. (The more the better!)
Place bread on skillet, butter side up.
Crack an egg into the middle of the circle.
Sprinkle with salt and pepper and let it cook a few minutes on each side.
---
Notes/Tips
Don't forget to toast the round circles you cut out!
Add some sliced avocado over your egg-in-a-hole for some extra nutrition.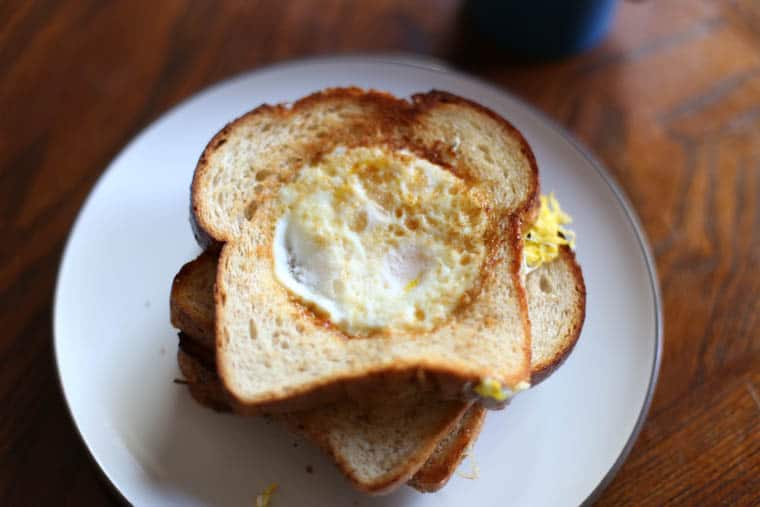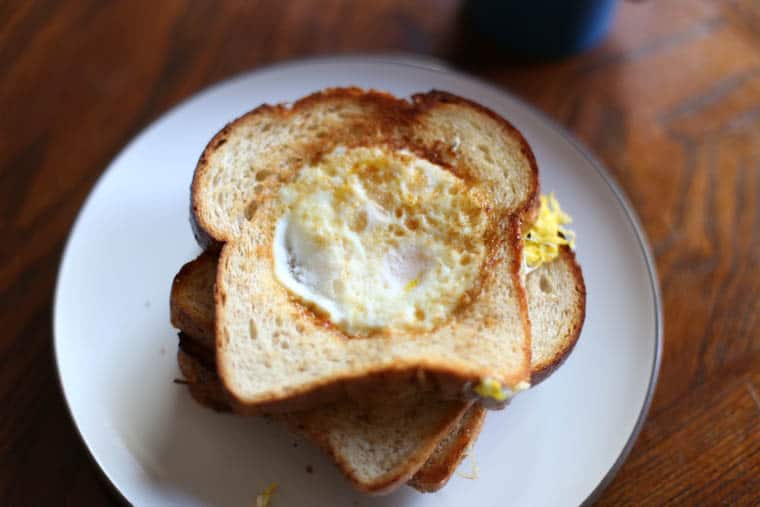 More Easy Breakfast Ideas You'll Love