Slow Cooker Pot Roast
Updated: 9/20/22
This post may contain affiliate or sponsored links. Please read our disclosure policy.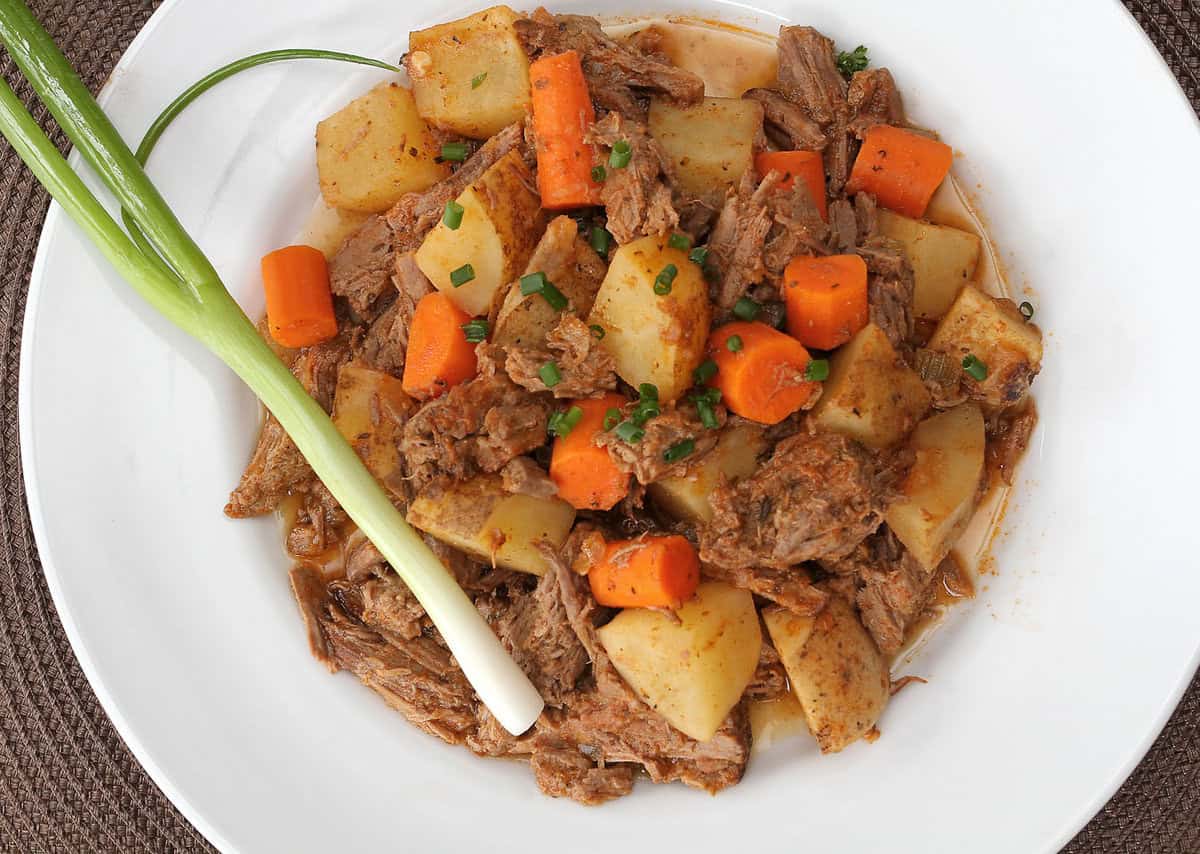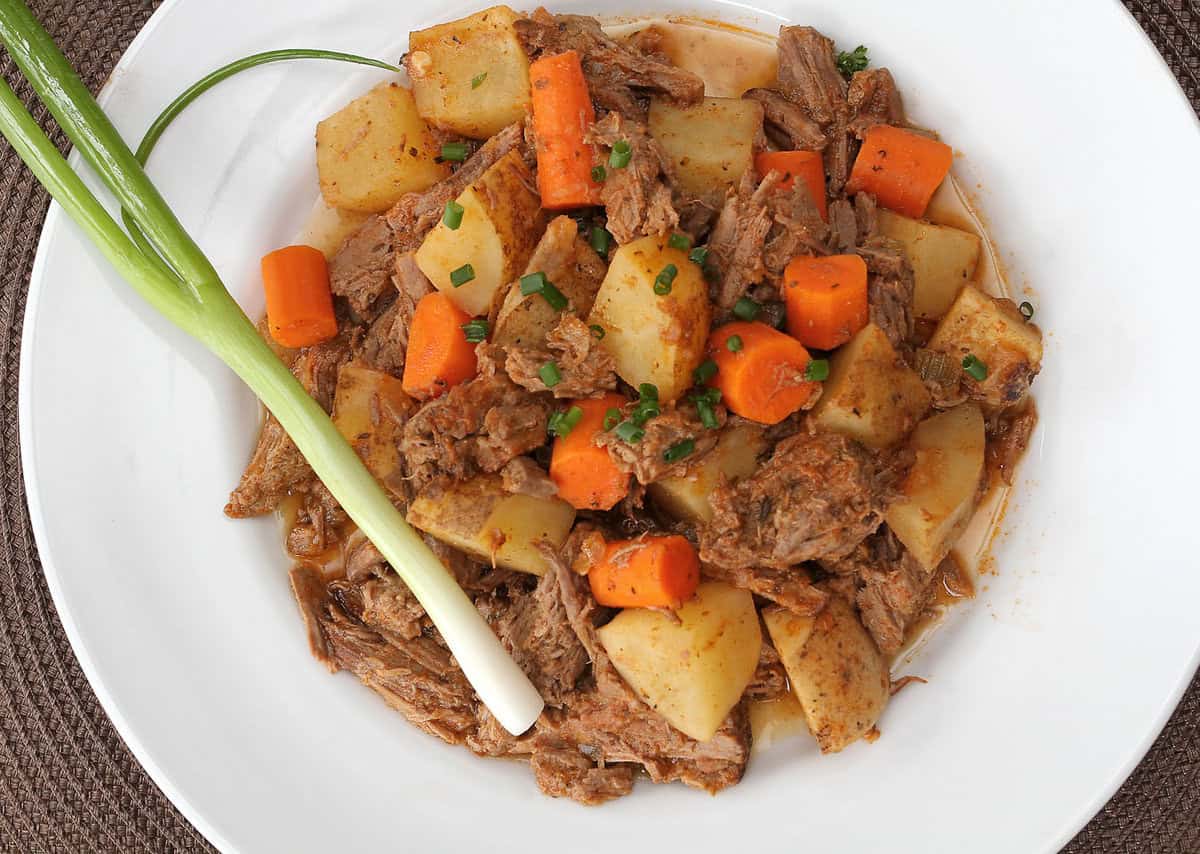 I try my hardest to cook from scratch and avoid processed foods when possible.  My favorite Pot Roast recipe from the past included a brown gravy packet mix and Italian dressing packet mix…bummer! So, I began the search for how to create one without the use of those packets (full of MSG, sodium, and who knows what) or a "cream of something" soup, which is what 99% of the recipes online call for.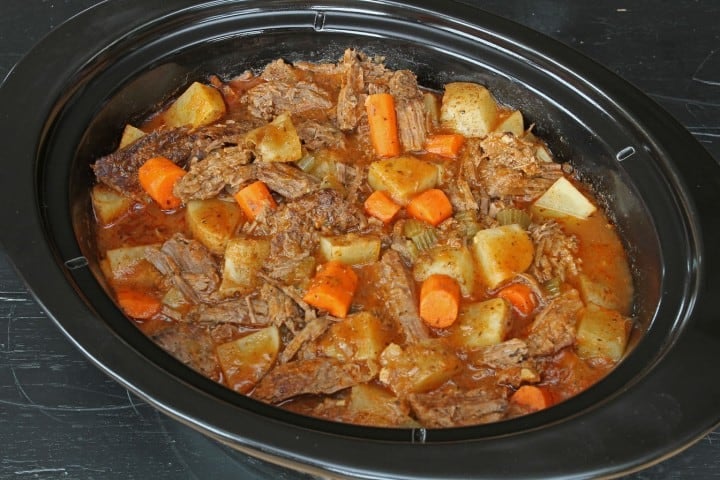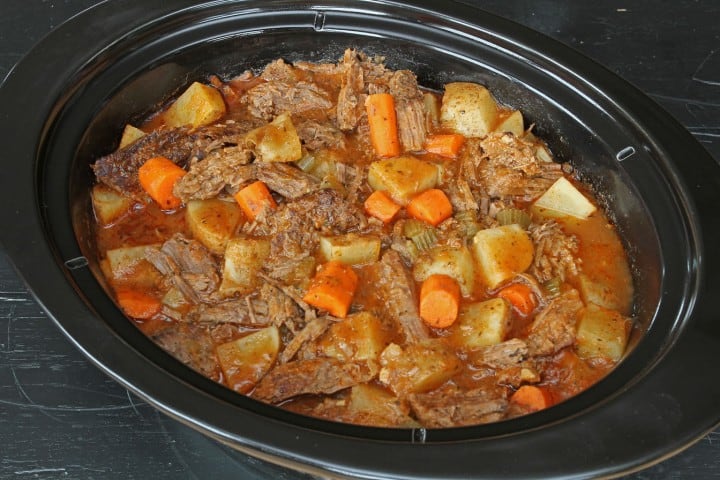 I realize there are many paths to an excellent homemade roast, but I have researched and tested this one MANY times over the years. This real food Pot Roast, along with some Homemade Wheat Sandwich Bread to sop up the sauce, might well be my favorite comfort meal of all time.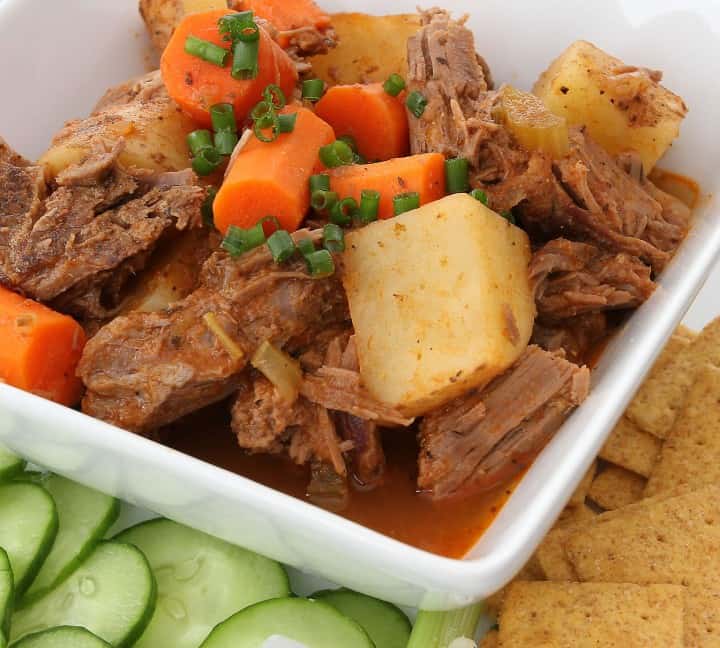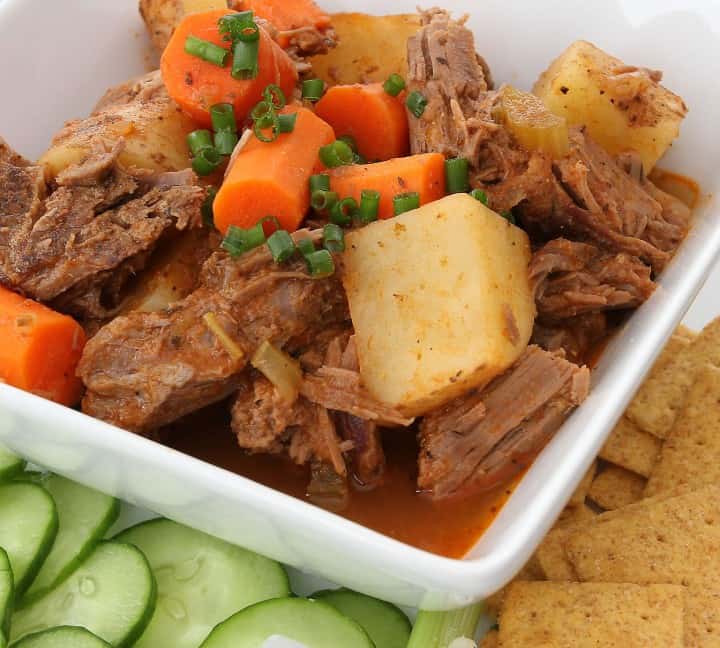 Photo credit: My dad, Curt
Did you make this? Snap a photo and tag us on Instagram at @thrivinghome so we can see your creations and cheer you on!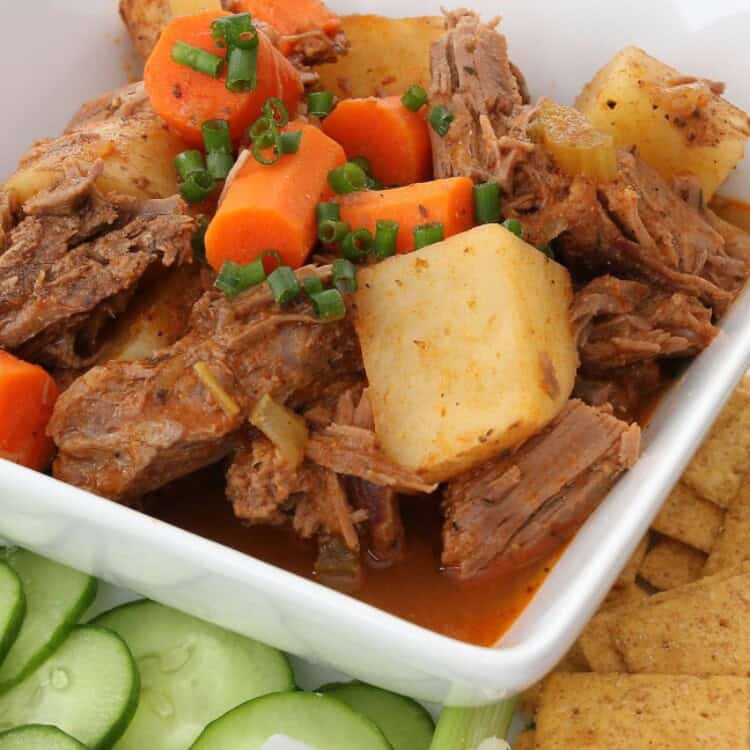 Slow Cooker Pot Roast
Slow cooker pot roast is a comforting one pot dinner that's wonderful to serve to a group.
Prep:
20 minutes
Cook:
8 hours
Total:
8 hours 20 minutes
Ingredients
1

(8 ounce) can no-salt tomato sauce (sub:

1 cup

fire-roasted crushed tomatoes)

1/4

cup

dry red wine (recommended: Cabernet Sauvignon)

1

cup

low sodium chicken broth (sub: low sodium beef broth)

2 tablespoon

whole wheat flour (Gluten-free substitution: Use gluten-free 1:

1

flour)

1 tablespoon

Italian seasoning, crushed in hand

1/2 teaspoon

salt

1/4 teaspoon

black pepper

1/4 teaspoon

garlic powder

1

bay leaf

3 tablespoons

avocado or olive oil, divided

1

(2-3 pound) chuck or rump roast, trimmed of visible fat
Steak seasoning, to taste

1

large onion, diced (

1

–

1 1/2

cups)

4

celery stalks, leaves and all, chopped (

1

–

1 1/2

cups)

3

garlic cloves, minced (or

1 1/2 teaspoons

pre-minced garlic)

3

–

5

carrots, chopped into 1-inch pieces (about

2 cups

)

1 1/2

–

2

pounds

baby gold or baby red potatoes, cut into 1-inch pieces (about 5 cups)
Before You Begin! If you make this, please leave a review and rating letting us know how you liked this recipe! This helps our business thrive & continue providing free recipes.
Make It Now:
In the slow cooker, whisk together the tomato sauce, red wine, chicken broth, flour, Italian seasoning, salt, pepper, and garlic powder until combined. Add in the bay leaf.
Heat 2 tablespoons of oil in a large skillet over medium-high heat. Season the roast on all sides with steak seasoning and then sear on all sides in the hot pan. This takes about 2 minutes per side. Place roast in slow cooker.
Next, 1 more tablespoon of oil (if necessary) to the pan and sauté the onions and celery just until tender, about 4 minutes. Add in the garlic during the last 30 seconds of cook time, so it doesn't burn. Be sure to use a wooden spoon to scrape up the brown bits in the bottom, as this adds flavor. Add these to the slow cooker.
Add the carrots and potatoes to the crockpot. Stir everything around in the slow cooker, making sure all the veggies and meat are coated with sauce. Cover and cook on LOW for about 8 hours (or HIGH for 4-5 hours), or until the meat shreds easily.
Remove the roast to a wooden cutting board and let it rest for about 10 minutes (or turn off slow cooker, remove lid and let rest). Then shred using two forks. Gently stir the meat back into the veggies and sauce. Taste and adjust seasoning, if needed.
Freeze For Later:
Method #1 (Uncooked): Follow Step 2 and set the veggies aside to cool. To a gallon-sized freezer bag, add the tomato sauce, red wine, chicken broth, flour, Italian seasoning, salt, pepper, garlic powder, and 2 teaspoons steak seasoning. Seal and shake and massage until combined. Add in the bay leaf, roast*, carrots, potatoes, and cooled veggies. Seal and massage the bag and make sure the potatoes are fully submerged in the liquid (they will turn brown if not). Freeze.
Method #2 (Fully Cooked): Fully cook and cool the pot roast (do not leave out of refrigerator or freezer more than 2 hours). Place in a freezer bag or freezer-safe container. Try to remove as much air as possible and seal and/or wrap it well before placing in the freezer.
*Note: You cannot partially cook a piece of meat and freeze it safely, so you'll skip the searing step when freezing. It will still taste good.
Prepare From Frozen:
Method #1 (Uncooked): Thaw completely in the refrigerator (place in a dish to prevent spills). Add to the slow cooker, cover, and cook on LOW for 8-10 hours, or until the meat shreds easily
Method #2 (Fully Cooked): To reheat, thaw for 24-48 hours in the refrigerator (preferred method) or in the microwave using the defrost setting. Then, warm over low to medium-low heat on the stove, gently stirring occasionally.