This post may contain affiliate or sponsored links. Please read our disclosure policy.
This Slow Cooker Pot Roast yields a tender, shredded chuck roast with baby Yukon gold potatoes and carrots smothered in a velvety, complex-tasting brown gravy. No cream soups or gravy packets here! Just real food goodness that'll have you asking for seconds!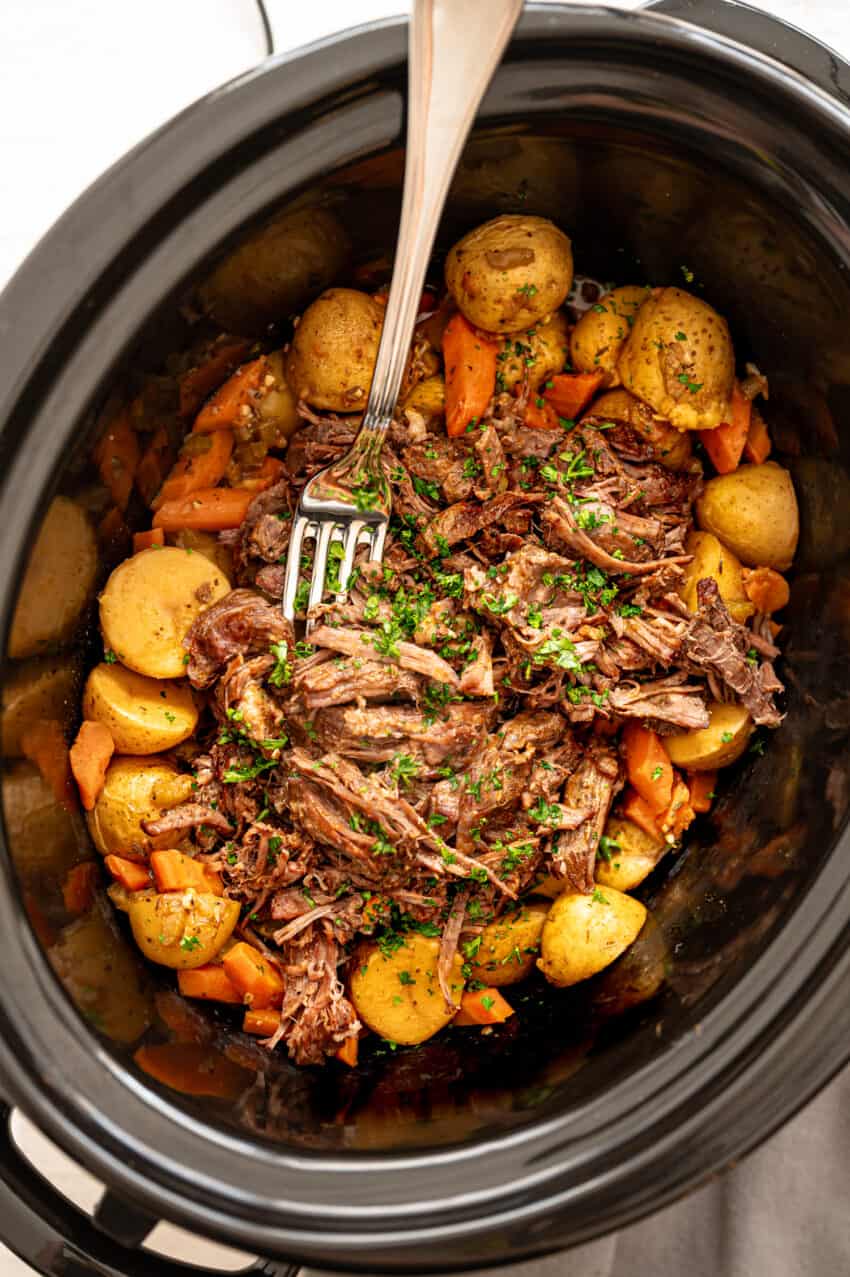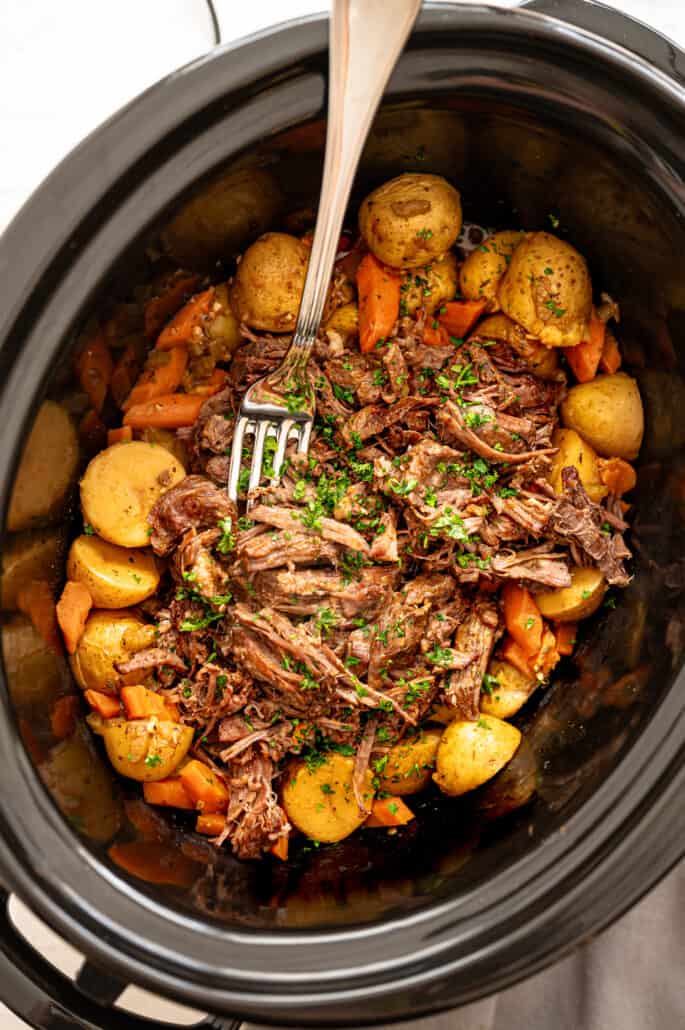 About My Recipe
Two things are important to me: 1) delicious pot roast (comfort food at its best!) and 2) cooking from scratch and avoiding processed foods for my family. My favorite pot roast recipe from the past included a brown gravy packet mix and Italian dressing packet mix (aka processed junk)…bummer!
So I got to work making an even better version with all real food ingredients. After testing and tweaking this recipe MANY times over the years, I think this Slow Cooker Pot Roast–along with some Homemade Wheat Sandwich Bread to sop up the sauce–might well be my favorite comfort meal of all time.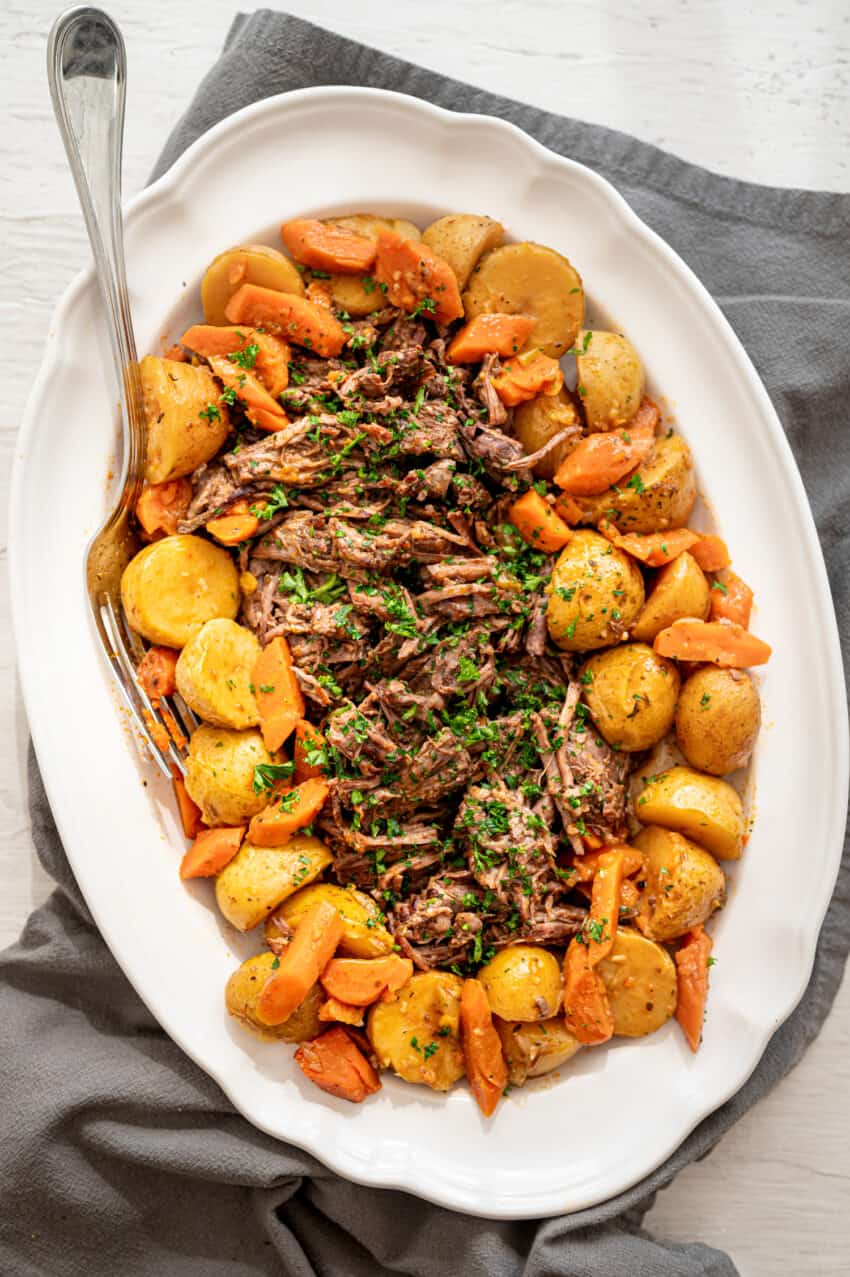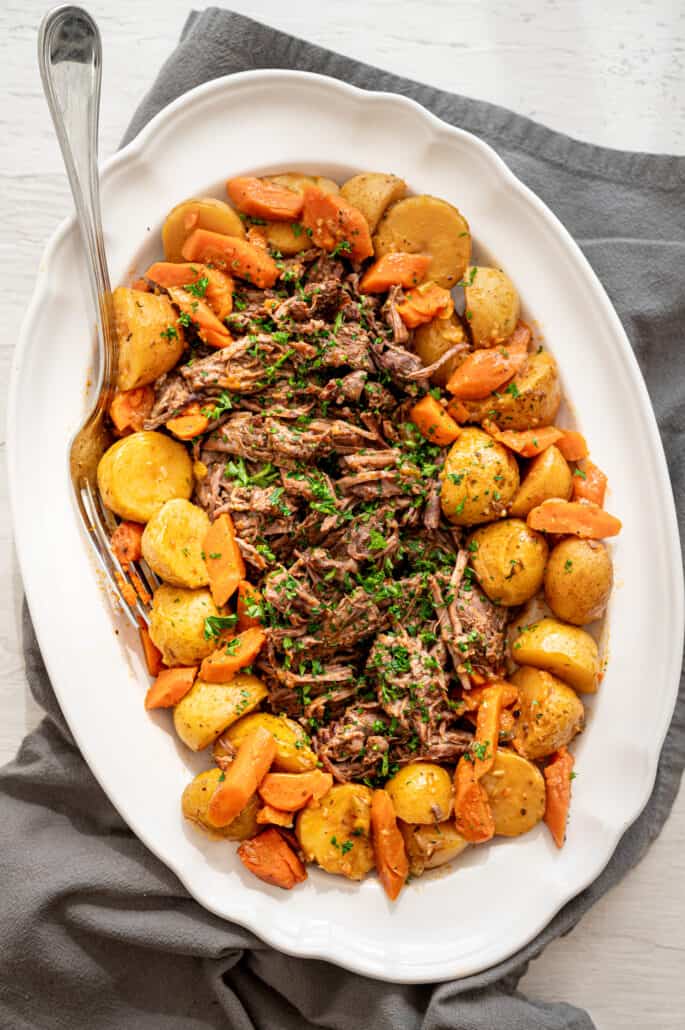 Video: How to Make Slow Cooker Pot Roast
First let's start with a peek at how easily this recipe comes together…
Looks good, right? Here are the real food ingredients you'll need to build a complex-tasting pot roast that you'll be so proud of:
No-salt tomato sauce (sub: fire-roasted crushed tomatoes)
Dry red wine (recommended: Cabernet Sauvignon)
Low-sodium chicken broth or beef stock
Flour
Italian seasoning
Salt and pepper
Bay leaf
Avocado or olive oil
1 (2-3 pound) chuck or rump roast, trimmed of visible fat
Steak seasoning, to taste (sub: salt and pepper)
Large onion, diced (1 – 1 1/2 cups)
Celery stalks, leaves and all
Garlic cloves
Large carrots
Baby gold or baby red potatoes (cut into 1-inch pieces if they aren't already this size)
Optional: 2-4 stems of fresh thyme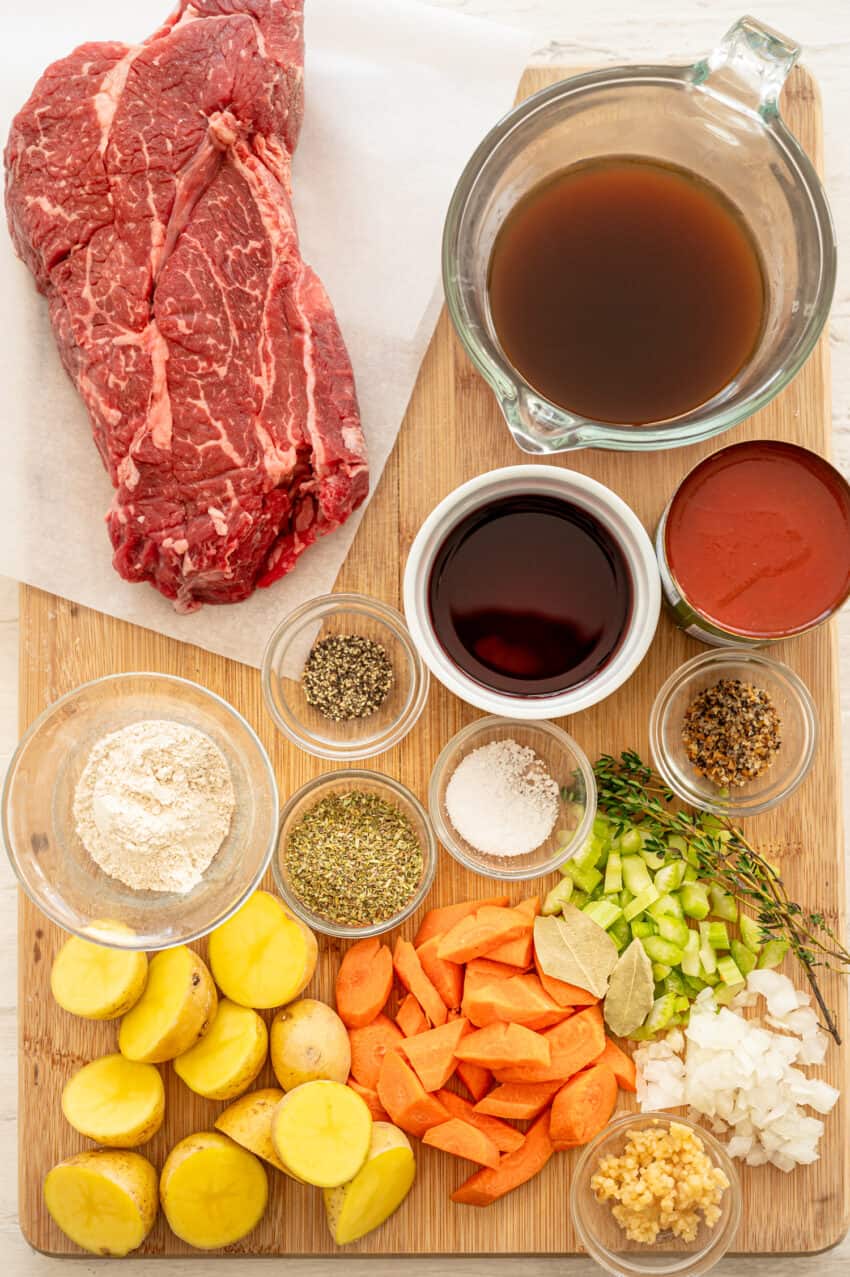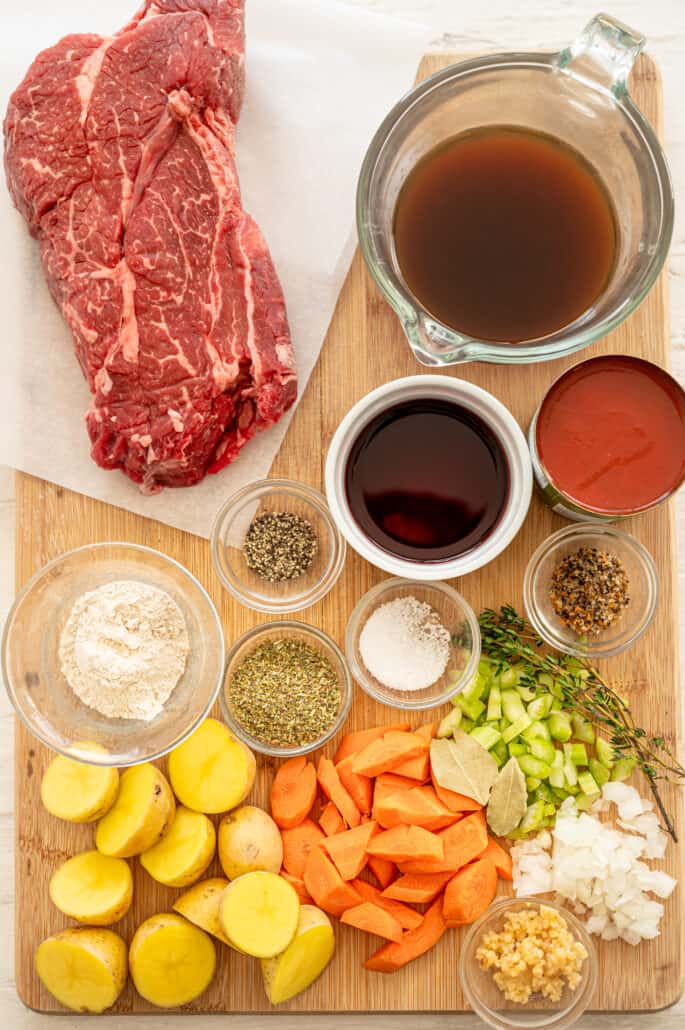 Step-by-Step Tutorial
Now, let's walk through how to make pot roast in a crock pot with all real food ingredients together.
This is optional but highly recommended for the best flavor. After seasoning your beef chuck roast on all sides with steak seasoning, sear in a hot pan on all sides.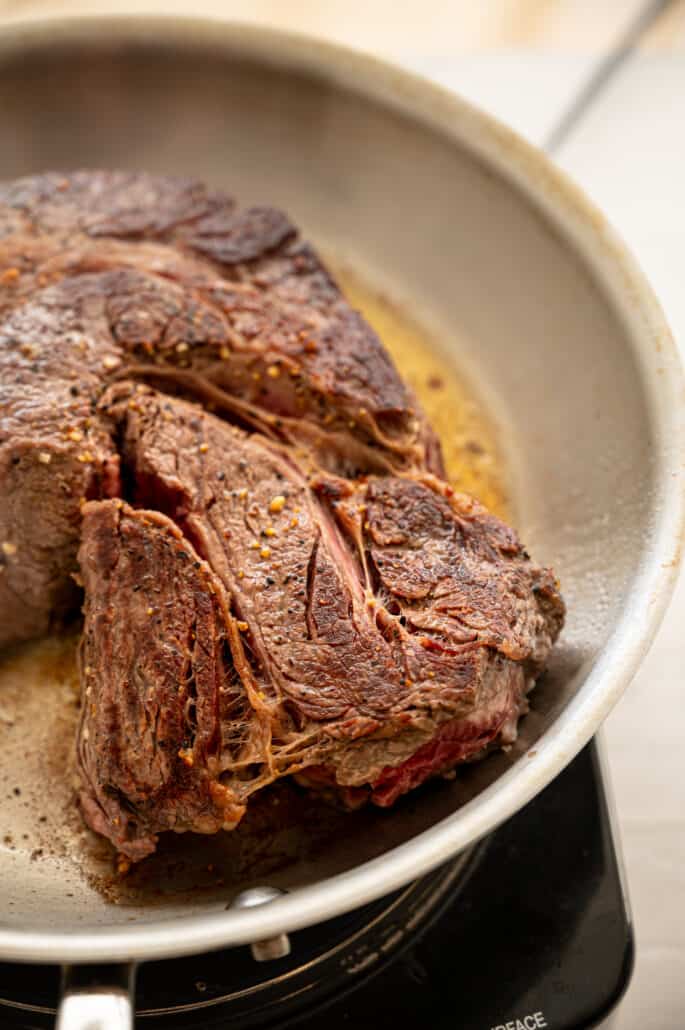 In that same pan, saute the onions, celery, and garlic.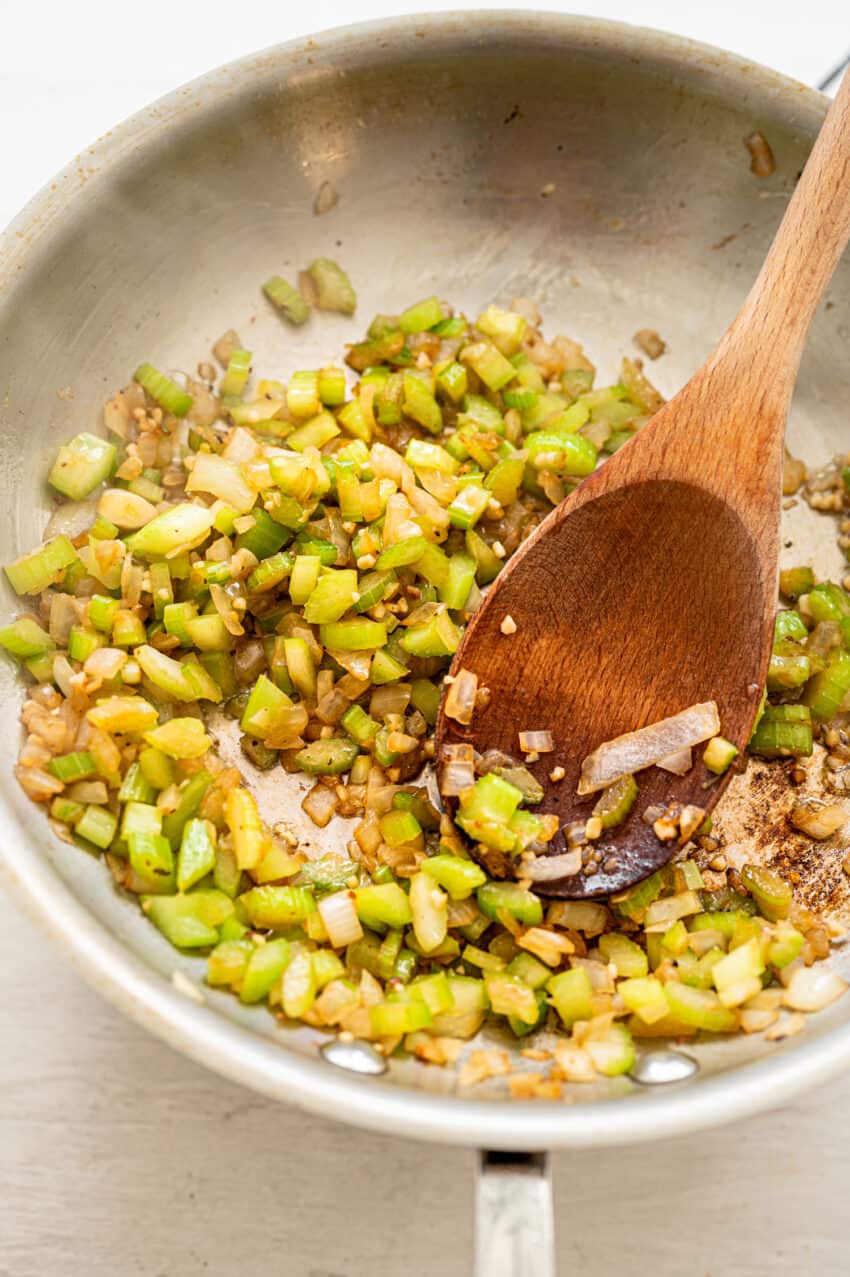 Add the beef, sautéed veggies, and all other ingredients to the crock pot. Stir together and cover. Cook on Low for 8-10 hours or High for 4-5 hours, until the beef shreds easily and the root vegetables are tender.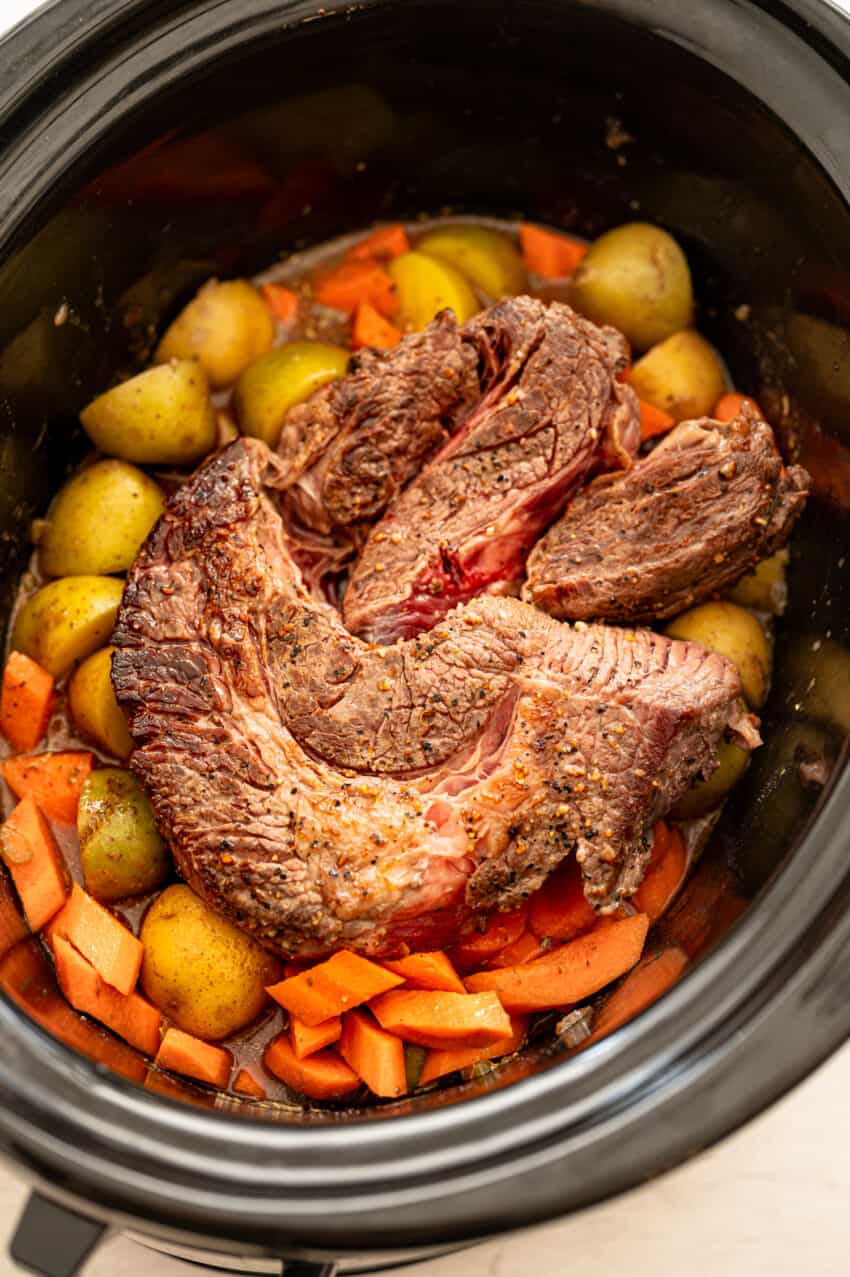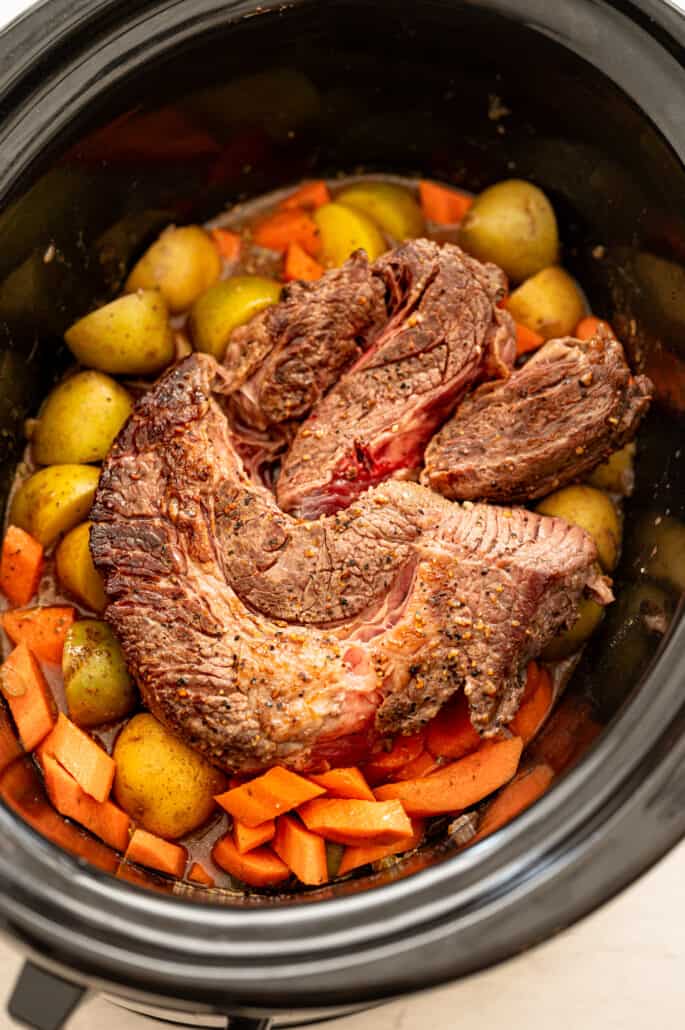 Remove the roast to a wooden cutting board and shred with two forks.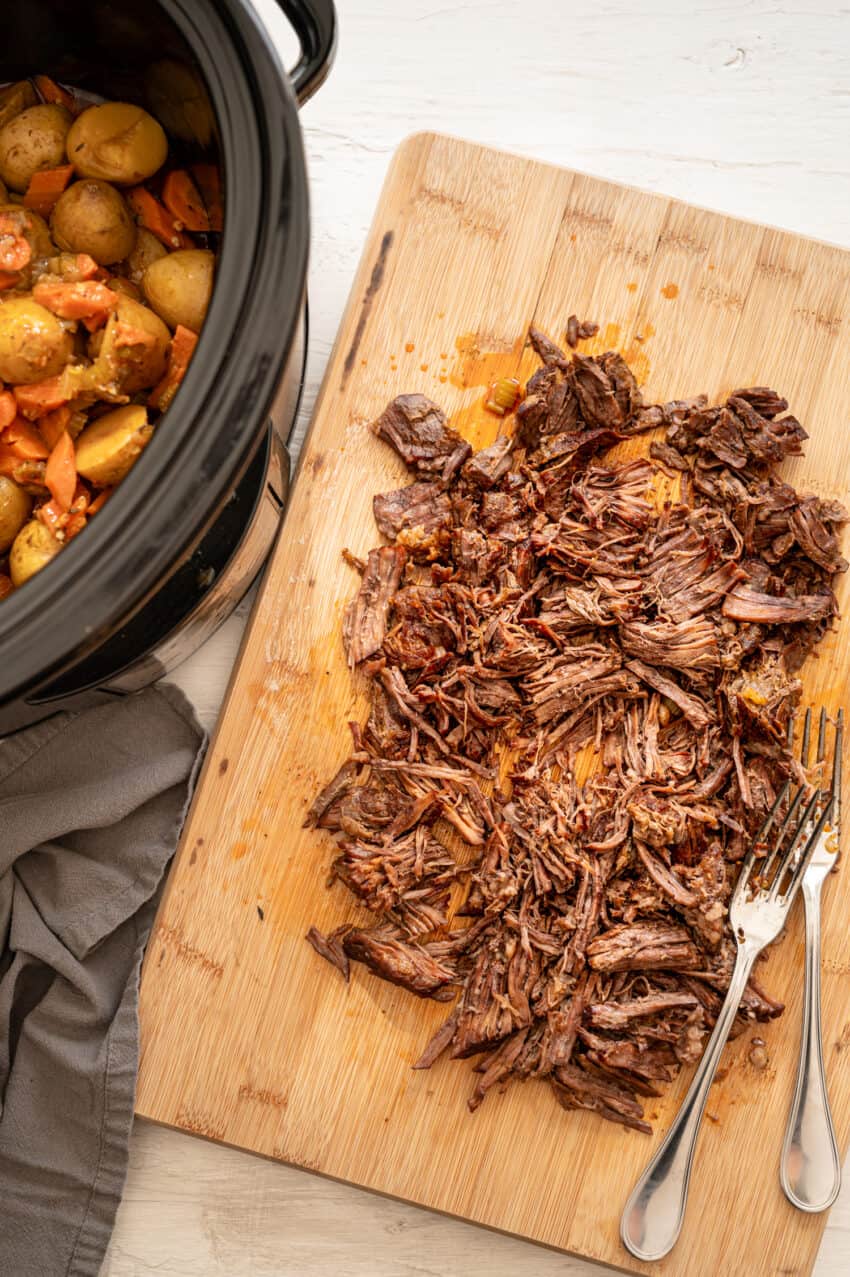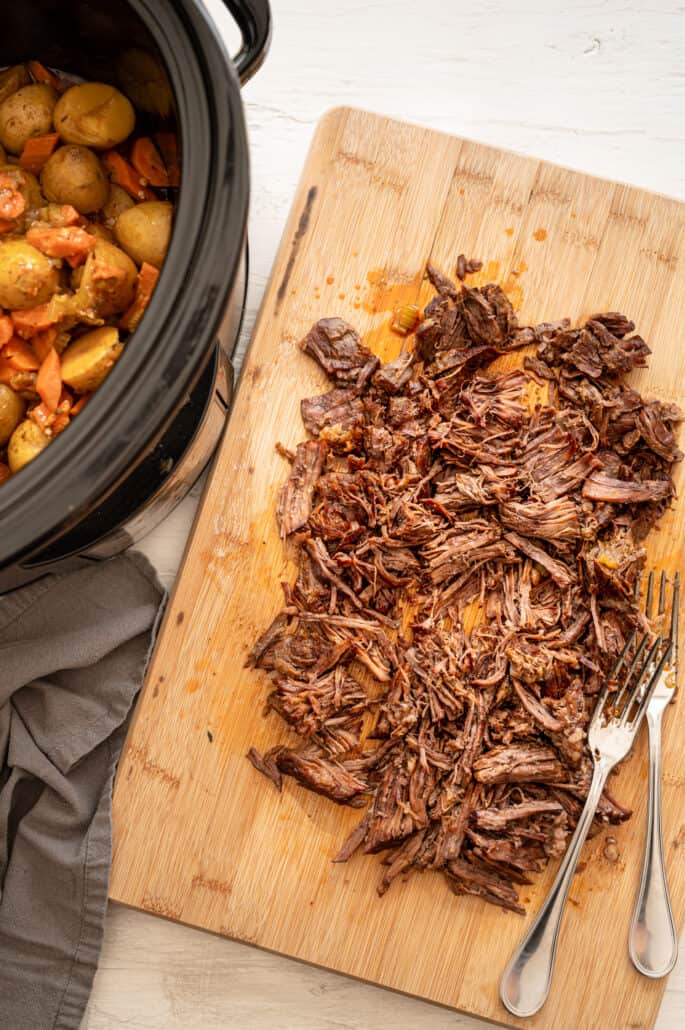 Either stir the meat and everything else altogether in the crock pot to serve…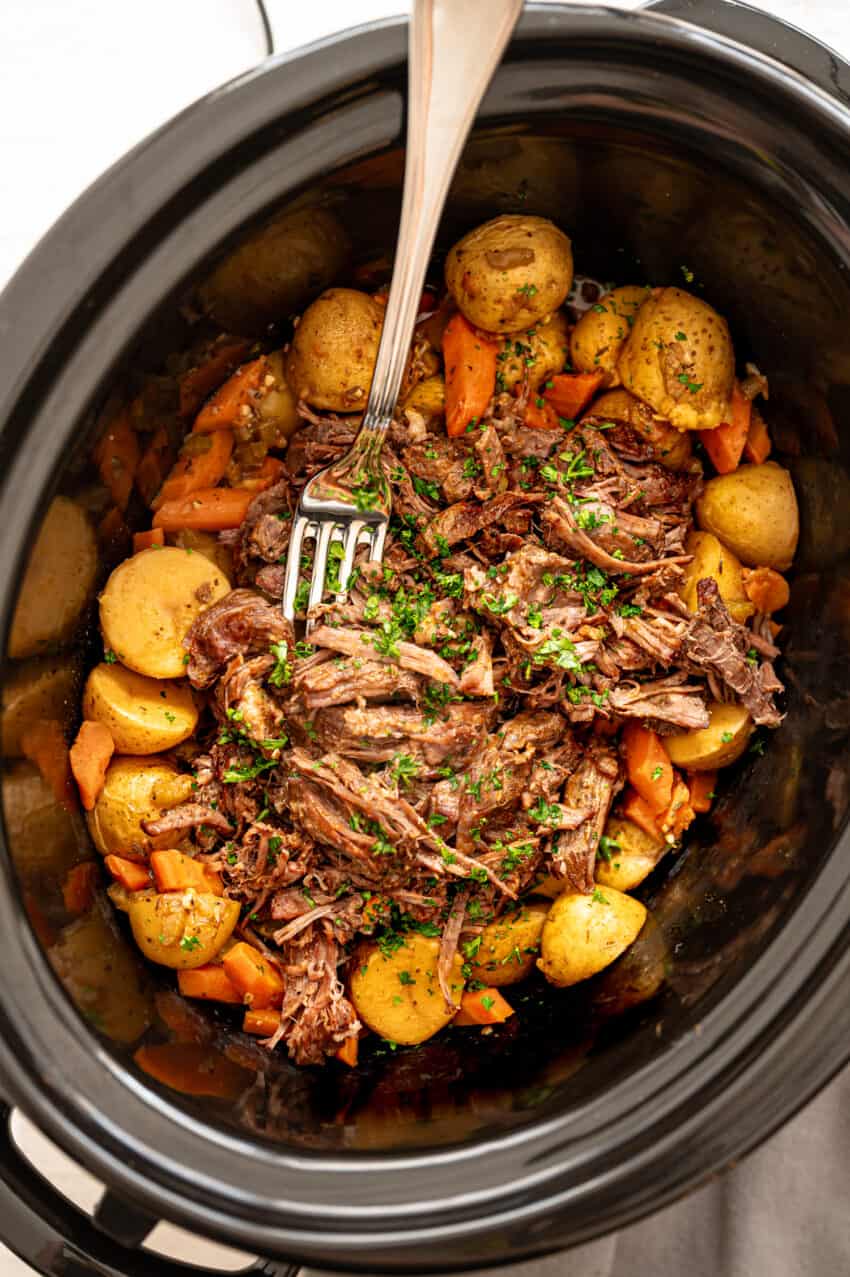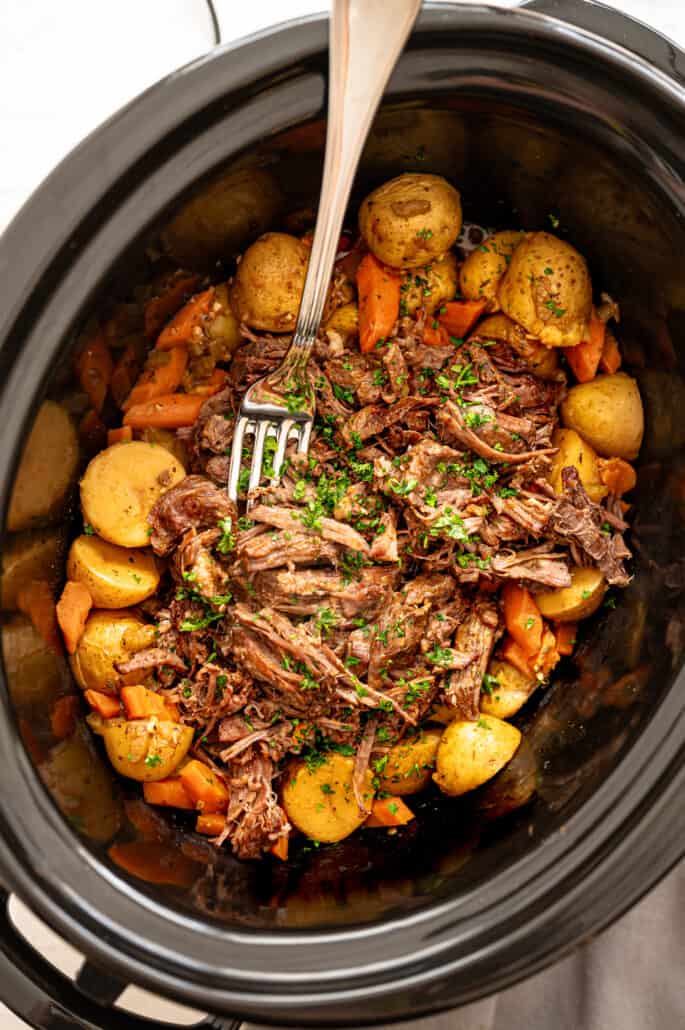 …or transfer the meat to the middle of a platter and surround it with the veggies around the perimeter. Be sure to drizzle the remaining sauce over the top. Add chopped parsley for garnish.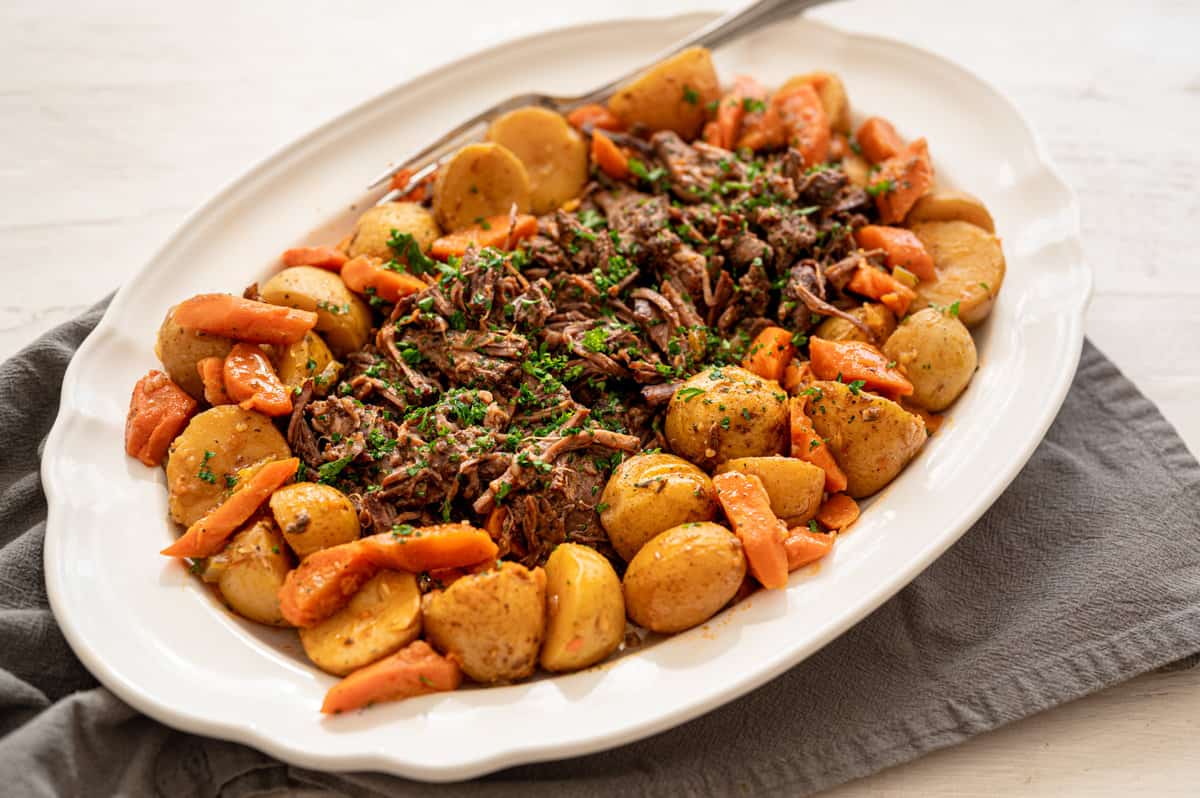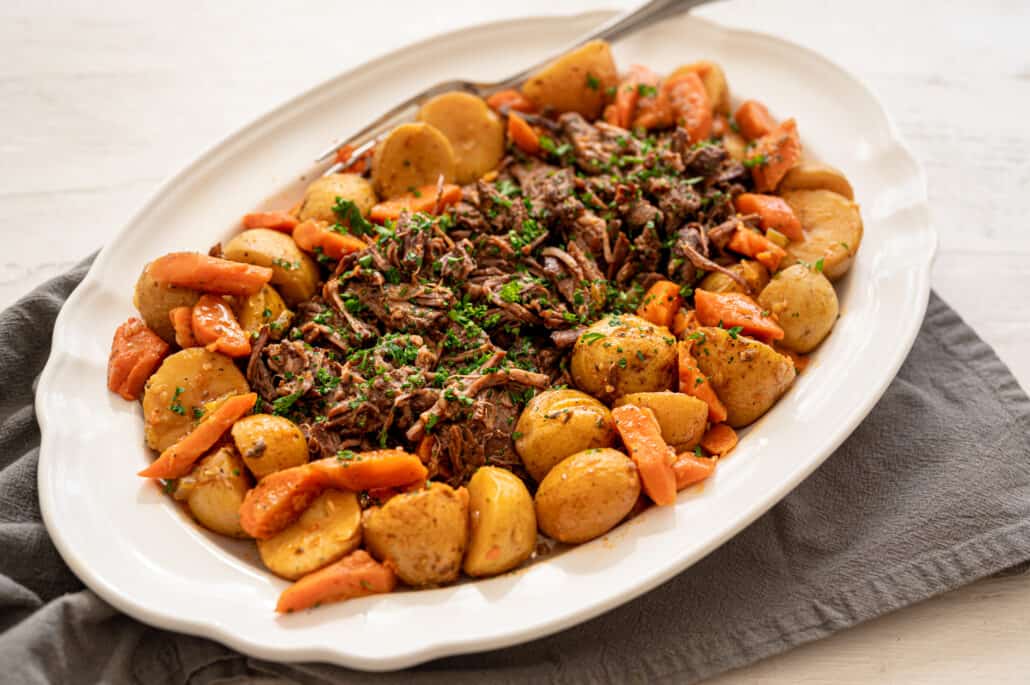 Side Dishes That Go Well With Pot Roast
While Pot Roast is technically a one-pot wonder and works perfectly fine on it's own in my opinion, here are a few ideas to expand on your meal.
How to Freeze Pot Roast
Leftovers of this Pot Roast freeze well for later. I like to freeze them in individual containers for lunches. Here's how to freeze leftovers:
Freeze For Later: After the roast has fully cooled, place in an air-tight freezer container or bag.
Prepare From Frozen: Thaw in the refrigerator or microwave using the defrost setting. Warm in the microwave or on the stove top over low heat, stirring regularly.
If you want to prep this meal ahead of time (before cooking), find those detailed freezing instructions in the recipe below.
Check out all of our delicious, easy, and healthy freezer meals.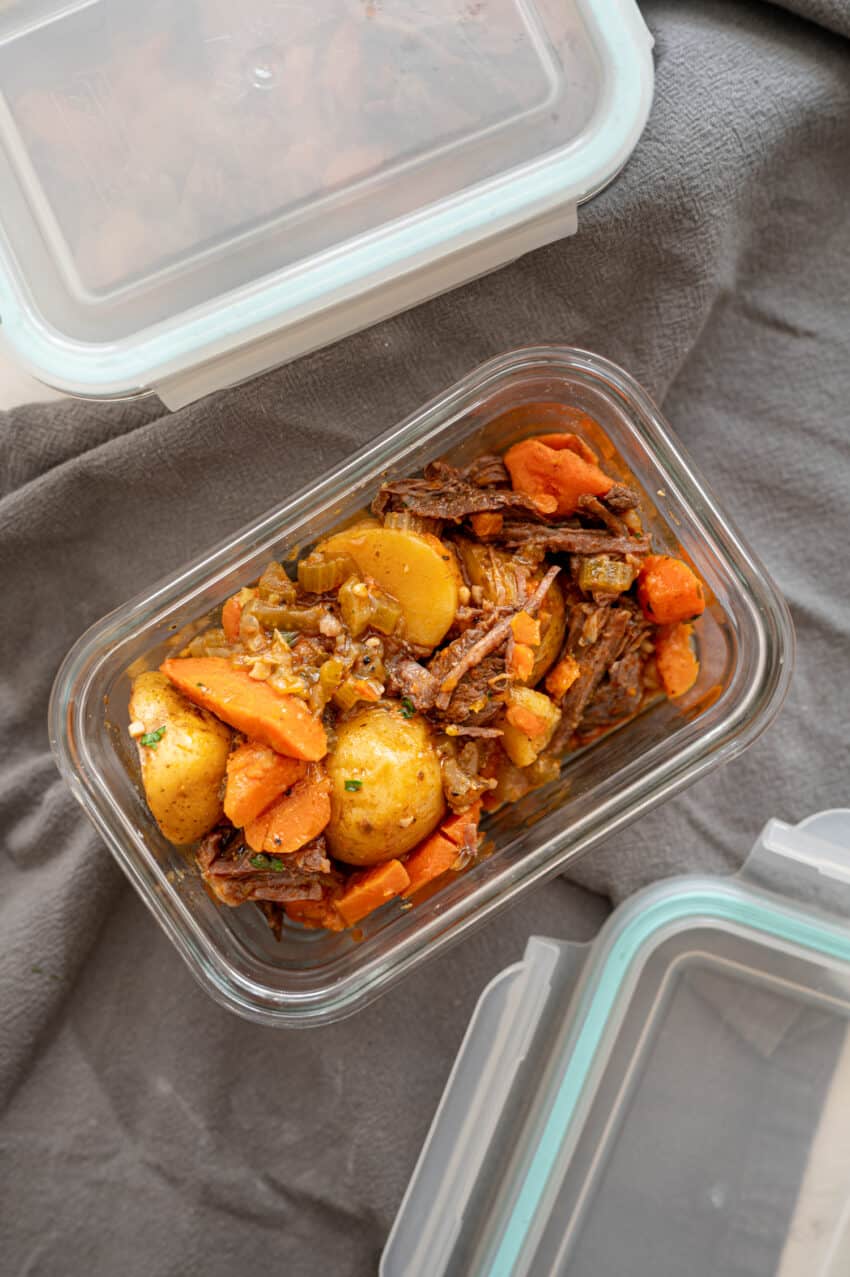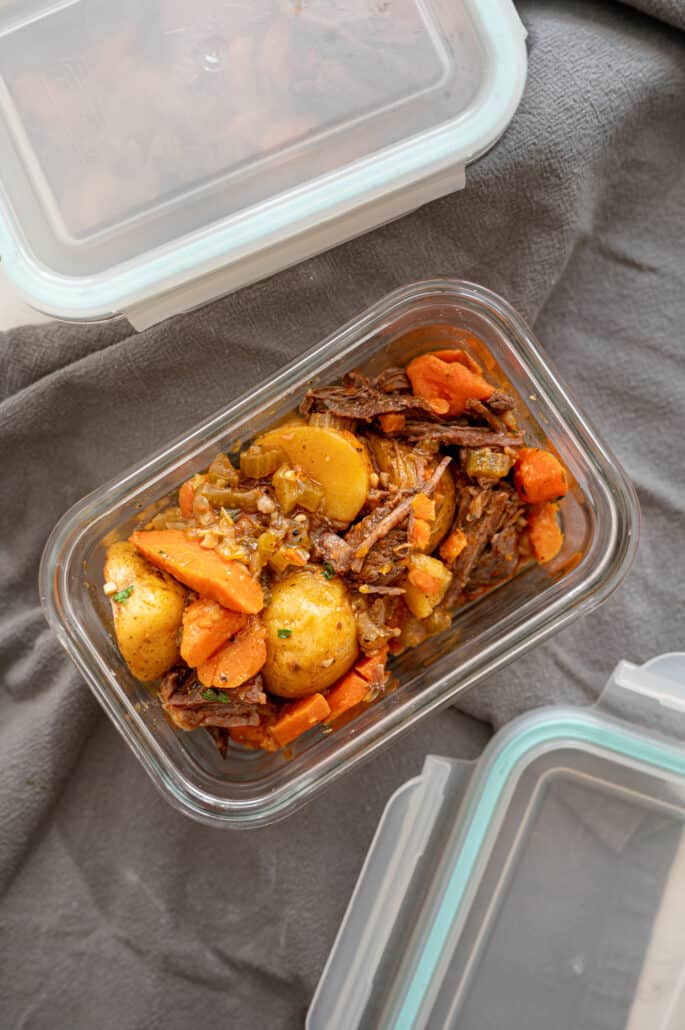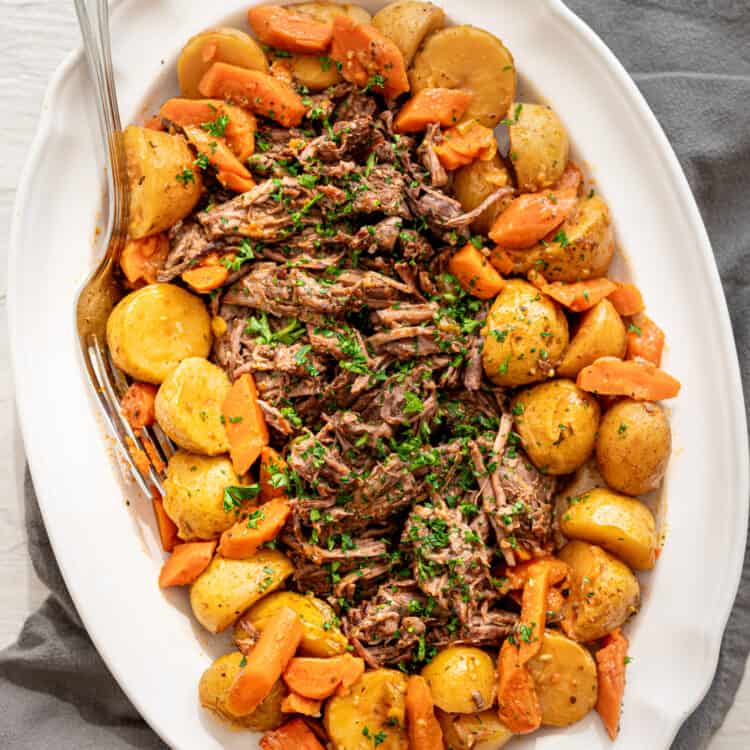 Tip: Shortcuts for Slow Cooker Pot Roast
If you want to make this recipe even faster, try a few of these tips…
Use pre-chopped celery and onions from the grocery store (look in the fresh produce area or frozen food section).
Ask your butcher to trim off the visible fat from the roast.
Skip Step 2 (pan-searing the roast). That step adds flavor but is not required.
Instead of sautéing the veggies, add the chopped onions, celery, garlic, and 1 teaspoon oil to a microwave safe bowl and stir. Cover with a napkin or plate and cook for 4-6 minutes or until very tender.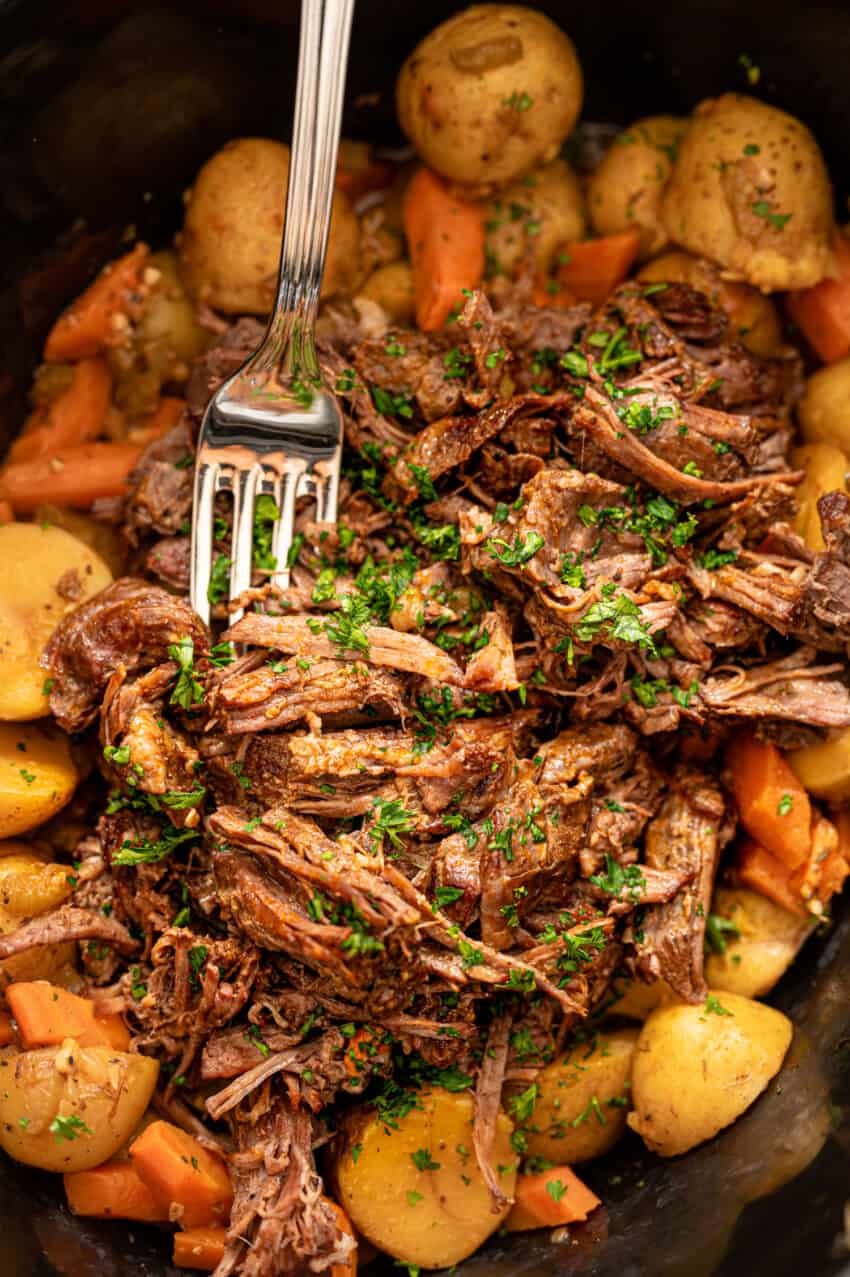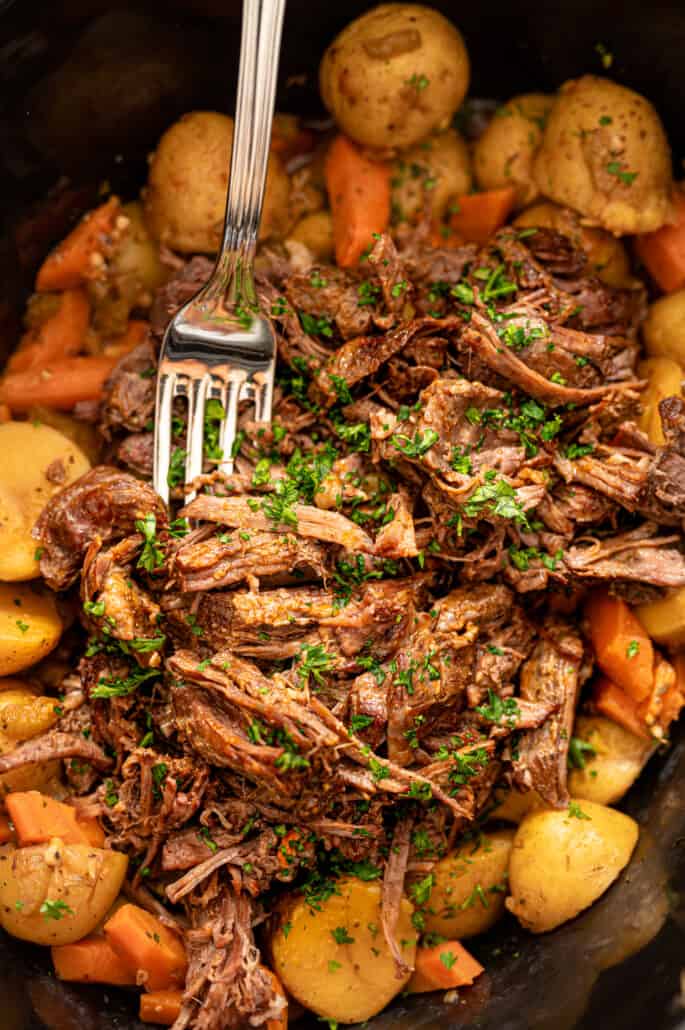 Did you make this? Snap a photo and tag us on Instagram at @thrivinghome so we can see your creations and cheer you on!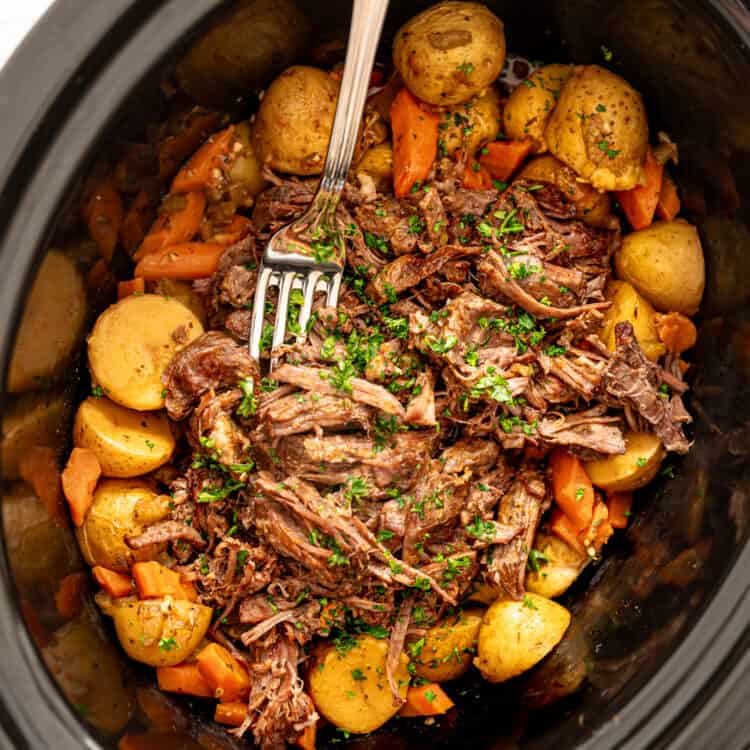 Slow Cooker Pot Roast
Slow cooker pot roast is a comforting one pot dinner that's wonderful to serve to a group.
Prep:
20 minutes
Cook:
8 hours
Total:
8 hours 20 minutes