Nutr Machine Review and Recipe
This post may contain affiliate or sponsored links. Please read our disclosure policy.
This article gives an overview of how to make almond milk in just minutes using an almond milk machine–the best way in my opinion! Detailed review of the Nutr Machine and a Nutr recipe included.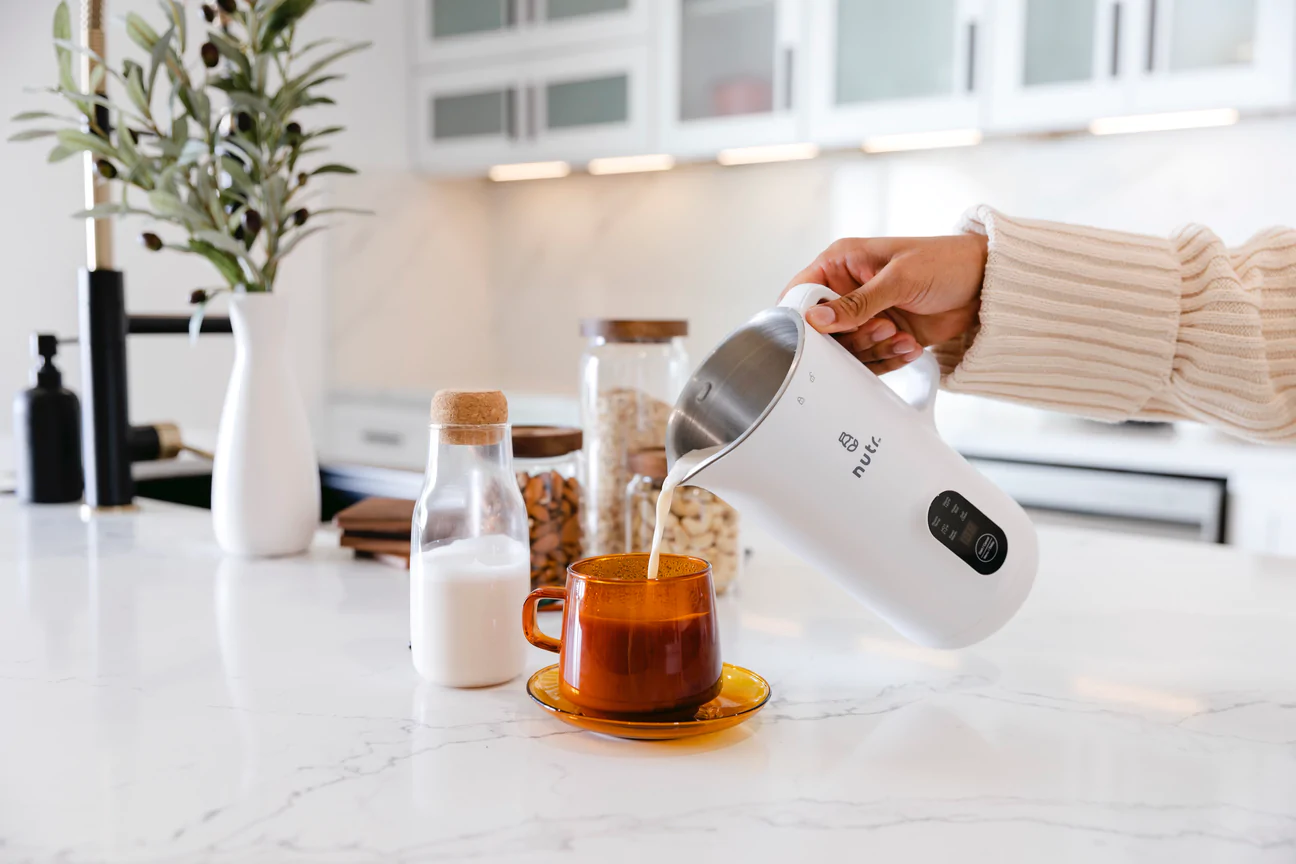 What is Almond Milk?
Almonds obviously can't be milked like an animal, so what the heck is almond milk?
It's a beverage that's made by blending together raw almonds and water, then the mixture is strained. The liquid that's left behind looks like milk and has a mild nutty flavor to it.
Additionally, this non-dairy milk can be used as a substitute for cow's milk in a wide variety of recipes from baked goods to smoothies to coffee creamer. While you can buy it at the store, I want to make a case for why making your own is the best way to go!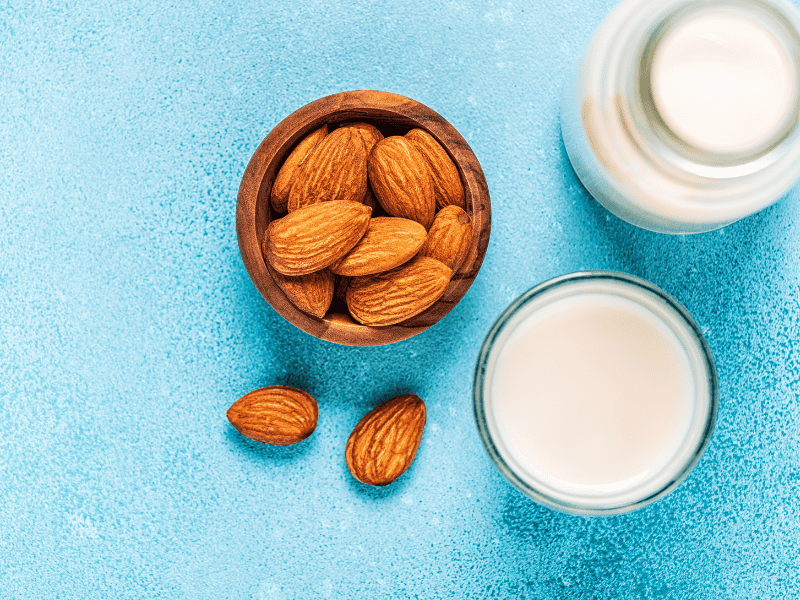 Not only is homemade almond milk a cleaner beverage, it also tastes SO much better when it's fresh. You just need two main ingredients to make it:
Raw, unsalted almonds
Water (preferably filtered)
Also, you can add a little cinnamon, pure vanilla extract, and some pure maple syrup to add depth of flavor and/or sweetness.
There are two main methods to make almond milk, which each require different equipment.
Method 1: Blender + Nut Milk Bag Method
The first way is to use a high powered blender and a nut milk bag or sieve with a few layers of cheese cloth.
The upside with this method is you can make a large quantity at one time and drink it all week long. The downside is that it's more time-consuming, a little messier, and the blender takes up a larger footprint in your kitchen.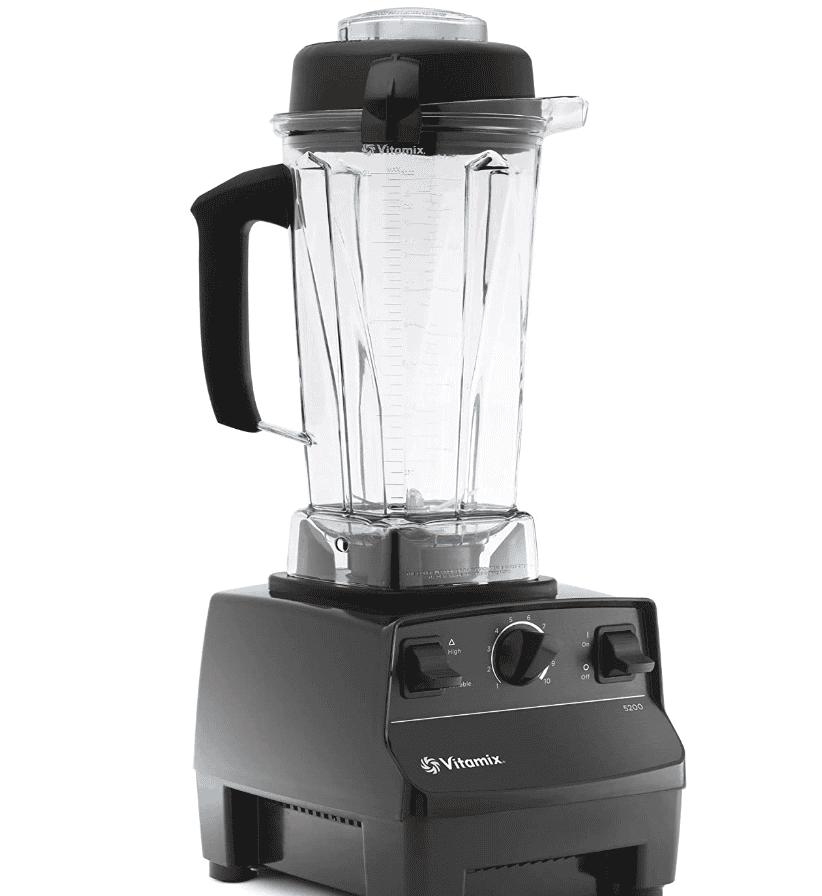 Method 2: Nutr Almond Milk Machine Method
Using a nut milk machine like a Nutr Machine (which I own and use) means you can whip up a single batch of fresh, creamy almond milk in just minutes. Because the Nutr Machine is small, easy to use, and a cinch to clean, this is how I opt to make my almond milk. The results are SO TASTY, too!
P.S. This machine can be utilized to make other kinds of non-dairy beverages too, like oat milk and cashew milk.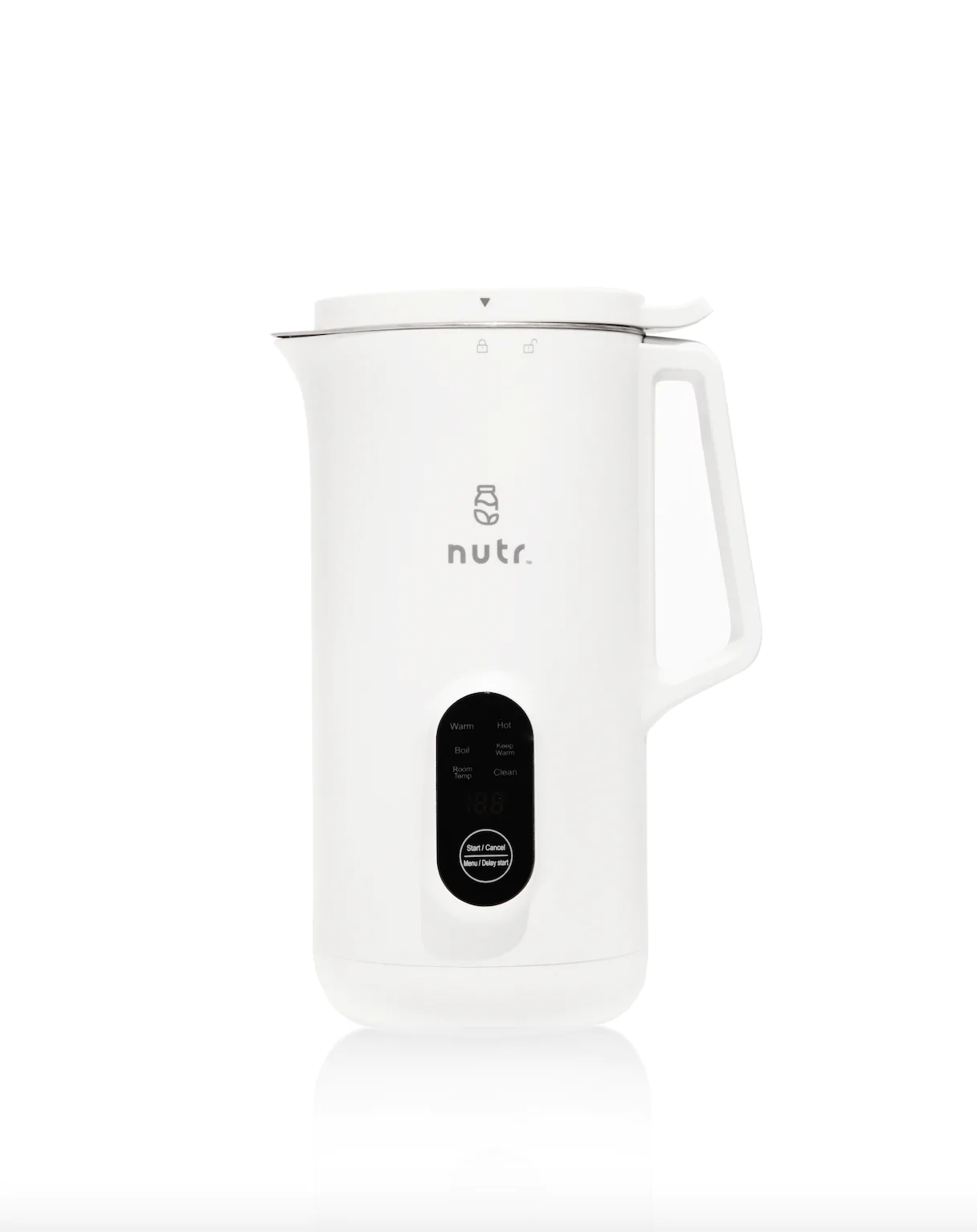 Step-by-Step: How To Make Almond Milk
For this article and my recipe below, I'll show you how to make almond milk using the Nutr Machine. If you'd like a tutorial for the blender and nut milk bag method, watch this video.
Step 1: Add Almonds to the Nutr Machine
First, add 1 or 2 scoops (your preference) of almond nuts OR your preferred nuts, seeds, or grain. I tested almonds and oats and both worked in this machine. I liked the almond milk better, though.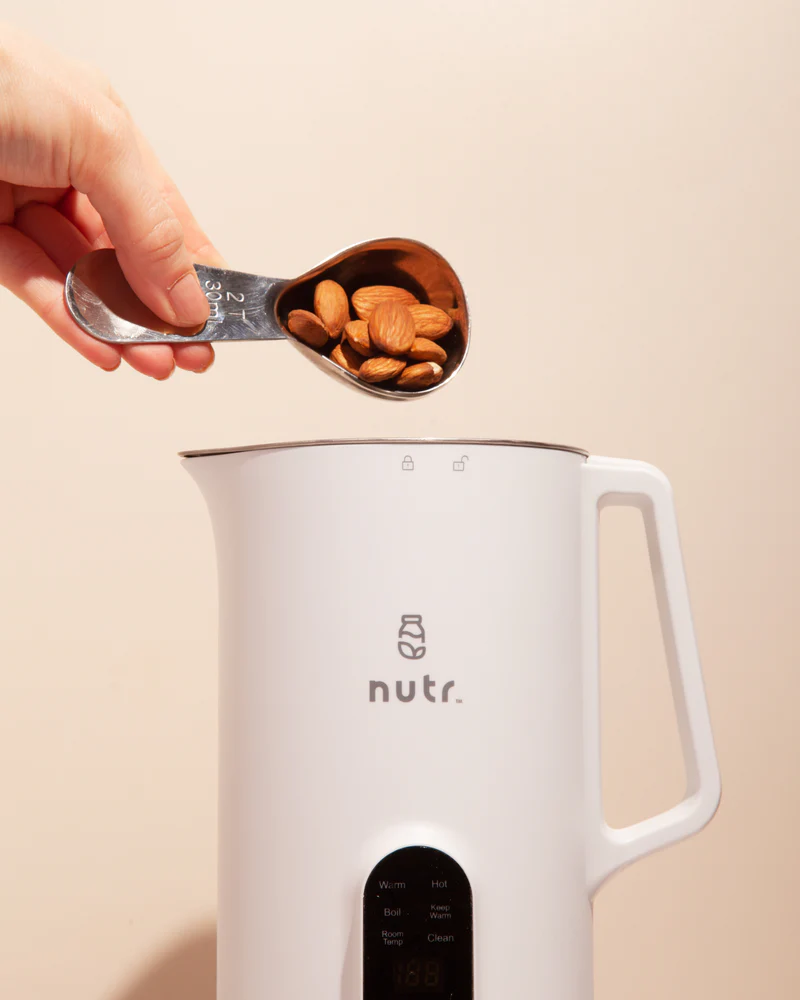 Step 2: Add Filtered Water
Second, fill the Nutr Machine with water between min and max line, based on your preference of creaminess and quantity. This takes a little trial and error. I like more almonds to water ratio and have found that makes for a creamier milk.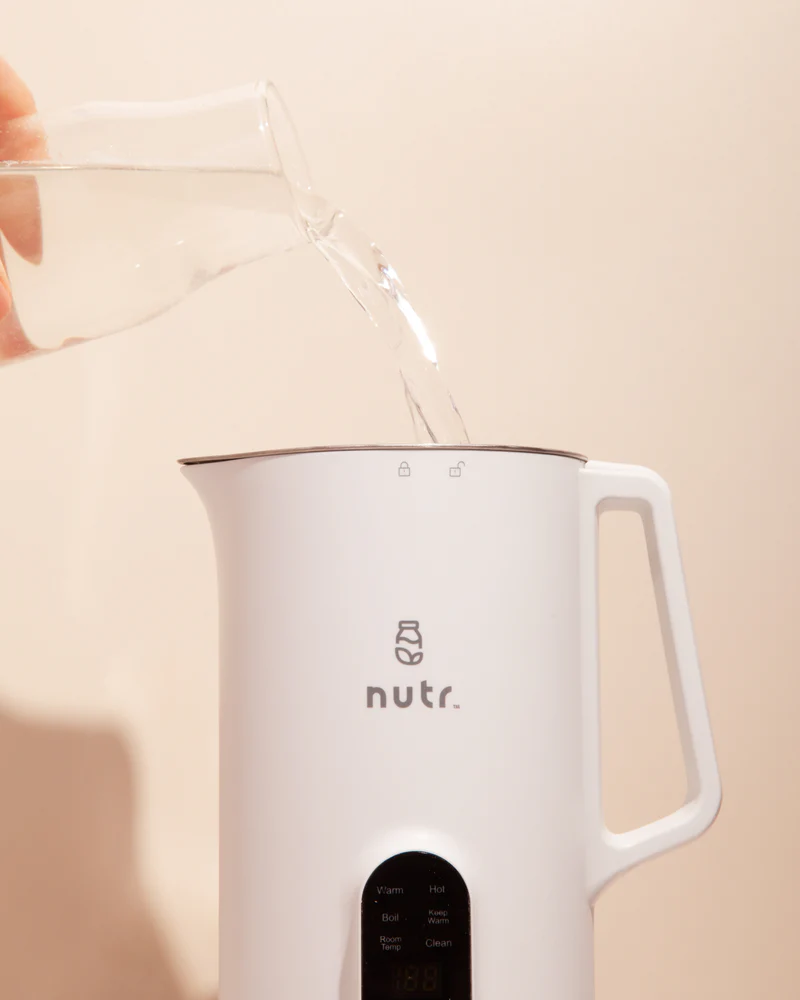 Step 3: Set and Blend
Third, choose the temperature (hot, warm, room temp) and blend for a few minutes!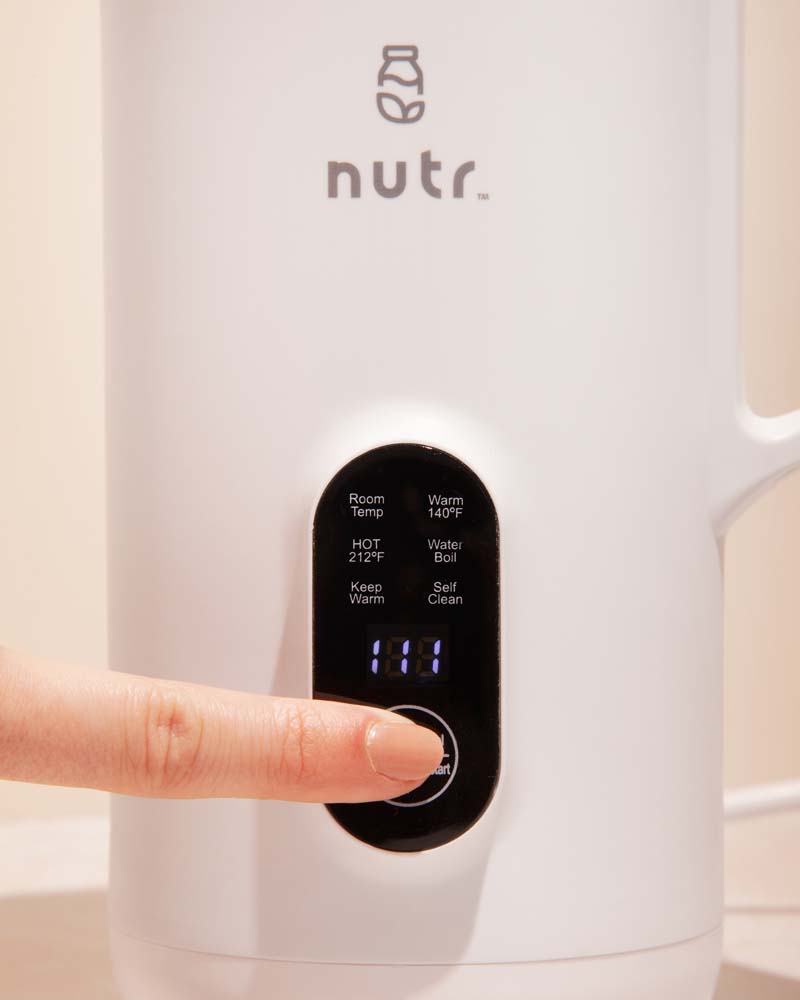 Step 4: Strain the Milk
Last, to remove pulp, pour the milk through the provided strainer – or enjoy your milk with the nutritious pulp!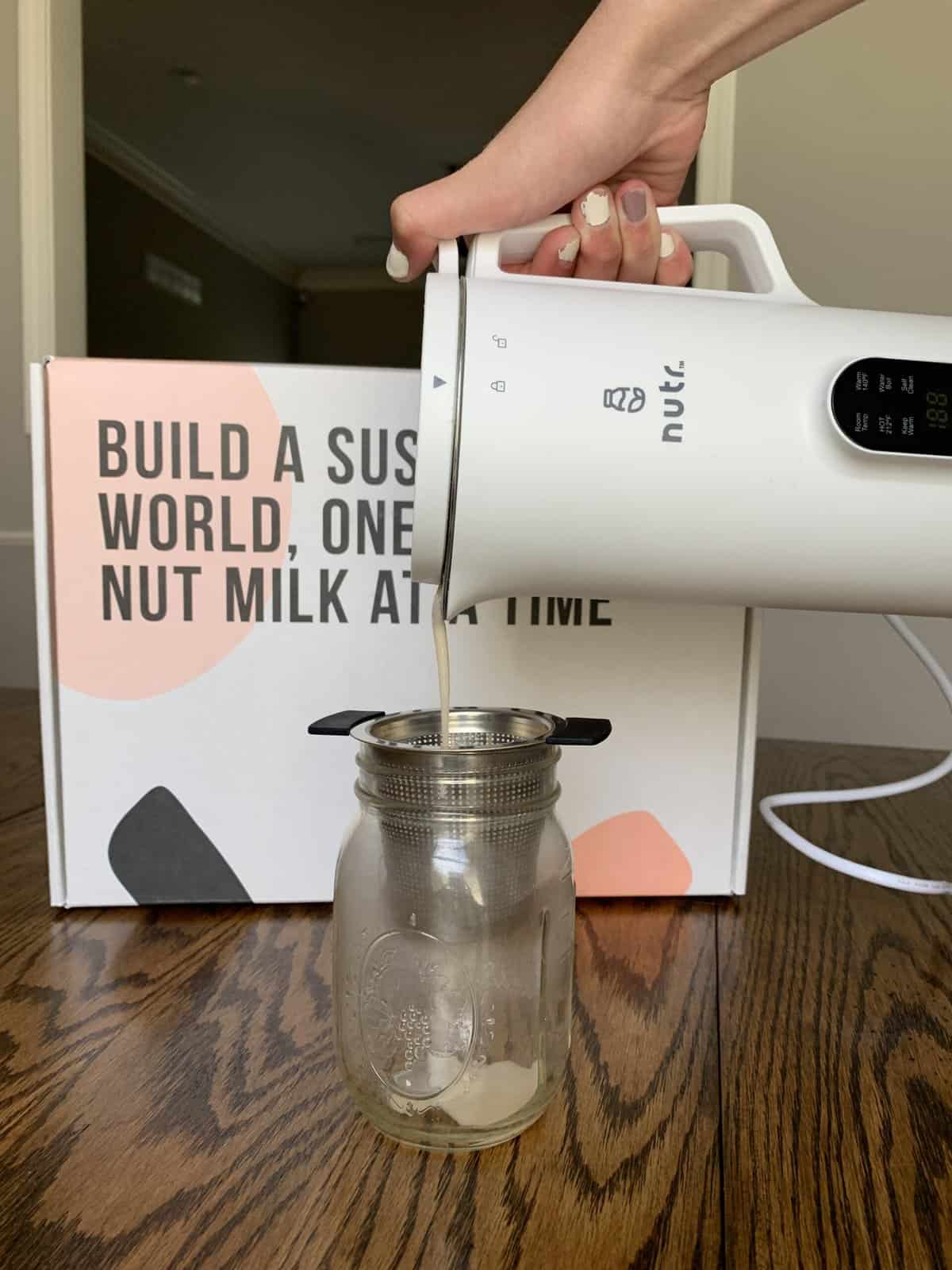 How long does it take to make a batch of almond milk in the Nutr Machine?
The time it takes to make a single batch depends on if you want your milk to be cold (about 1 minute), warm (about 2 1/2 minutes), or piping hot (about 5 minutes).

I opt for the warm or hot setting when making a batch for my coffee, which is the perfect amount of time to get my morning pour over going. If I intend to make the milk for my morning Chocolate Covered Cherry Smoothie, I use the cold setting.
Should I soak the almonds first?
The answer isn't totally clear. Soaking the almonds in water for several hours will soften them, resulting in less almond pulp after blending and straining. So that's a positive!
Additionally, some online sources say that soaking the nuts gets rid of phytic acid that can inhibit absorption of nutrients. But, there doesn't seem be good evidence for this claim.
Because it doesn't seem to matter nutritionally, I don't usually take the time to do this step if making a small batch in my Nutr Machine.
Can almond milk go bad?
Yes, almond milk can go bad. You can tell that it's no longer good if it's curdled, fully separated, or tastes overly bitter or acidic. Store in the refrigerator to keep it fresh the longest.

For store-bought almond milk, do not use beyond the expiration date. Once it's opened, consume within 2 weeks according to this article.

The homemade version won't last quite as long. Expect a shelf life of 5-7 days according to MSN. It will probably taste best within 3-5 days.
Is almond milk gluten-free or dairy-free?
Yes, this dairy-free milk is both gluten-free and dairy-free.
Can you substitute almond milk for cow's milk?
In many recipes you can easily sub it for cow's milk. Be sure to use unsweetened, unflavored almond milk in savory recipes. You can use plain almond milk in all kinds of recipes–smoothies, oat recipes, baked goods, soups, and more.
What should I do with the leftover pulp?
After straining your milk, you'll have leftover pulp. Don't toss it! Store leftover pulp in an air-tight container in the fridge or freezer. I use mine in smoothies for added nutrition, but you can also use the pulp in recipes like these.
Is almond milk good for you?
The almond milk you buy in the store is a processed beverage that's filled with additives, thickeners, and preservatives that keep it shelf stable.

The good news is that when you make your own nut milk at home, you control what goes in it (see ya additives!). Plus, it's high in Vitamin E, includes omega 3 fatty acids, is low in sugar and calories, and avoids dairy.
Recipes That Use Almond Milk
You can use plain almond milk in all kinds of recipes–smoothies, oat recipes, baked goods, soups, and more.
Did you make this? Snap a photo and tag us on Instagram at @thrivinghome so we can see your creations and cheer you on!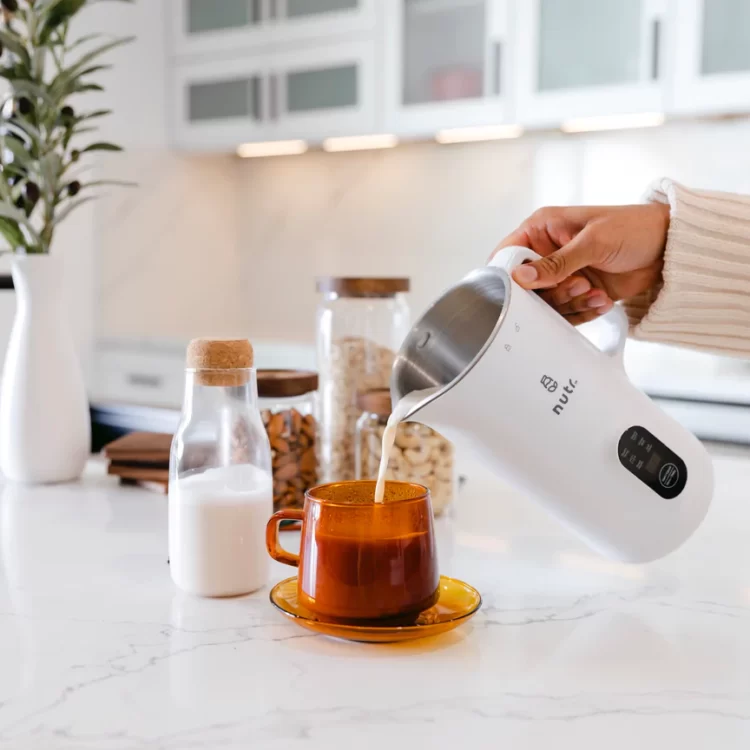 Homemade Almond Milk (Recipe for Nutr Machine)
Whether you use this basic recipe or try some of the add-ins I suggest, you'll love this  fresh-tasting almond milk straight from the Nutr Machine.
Prep:
1 minute
Cook:
2 minutes
Total:
3 minutes
Ingredients
2

–

4

tablespoons raw, unsalted almonds (I prefer to use more for a creamier result)

1

cup

filtered water
Optional Add-Ins: a pinch of cinnamon, a splash of pure vanilla extract, and 1-2 teaspoons pure maple syrup
Before You Begin! If you make this, please leave a review and rating letting us know how you liked this recipe! This helps our business thrive & continue providing free recipes.
Instructions
Add the nuts to the Nutr Machine.
Pour in the filtered water and any of your add-ins.
Lock the lid in place. Select cold, warm, or hot setting and it will start to blend. (I prefer to use cold setting for smoothies and warm or hot setting for coffee.) This will take anywhere from 1-5 minutes depending on the setting.
When the machine is done, open the lid. Place the included filter over a glass and pour the milk through the filter.
Enjoy your fresh almond milk in coffee, over cereal, or in recipes. Store in the fridge for 5-7 days. Save the pulp in the fridge or freezer to use in smoothies or other recipes. (See article above for lots of recipe ideas!)