This post may contain affiliate or sponsored links. Please read our disclosure policy.
I have been using Bombas Socks for YEARS. My family has used all different heights, materials, and styles of their socks. Since I now consider myself an unofficial Bombas Socks Evangelist, it is long overdue that I write an official Bombas Socks Review.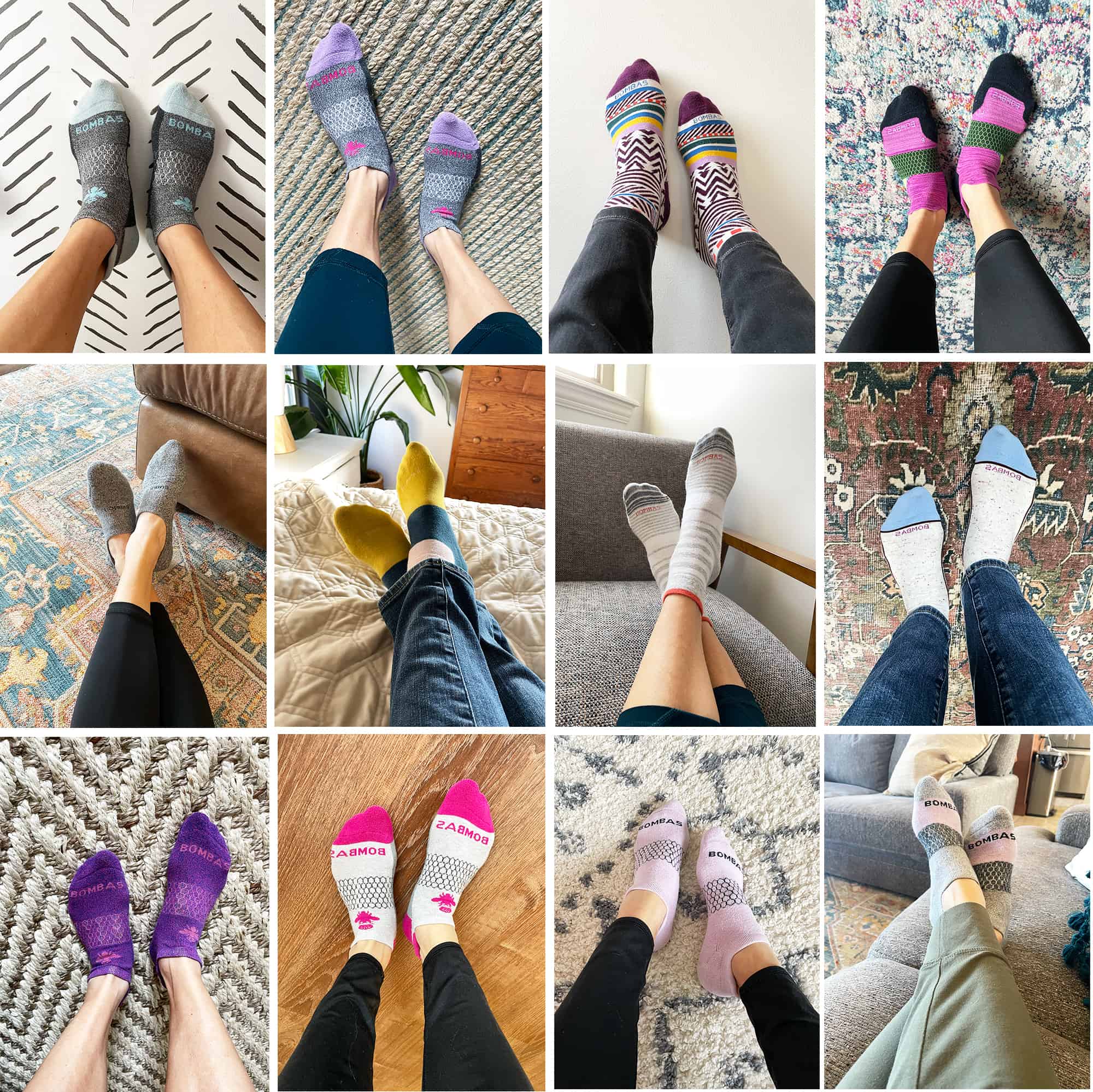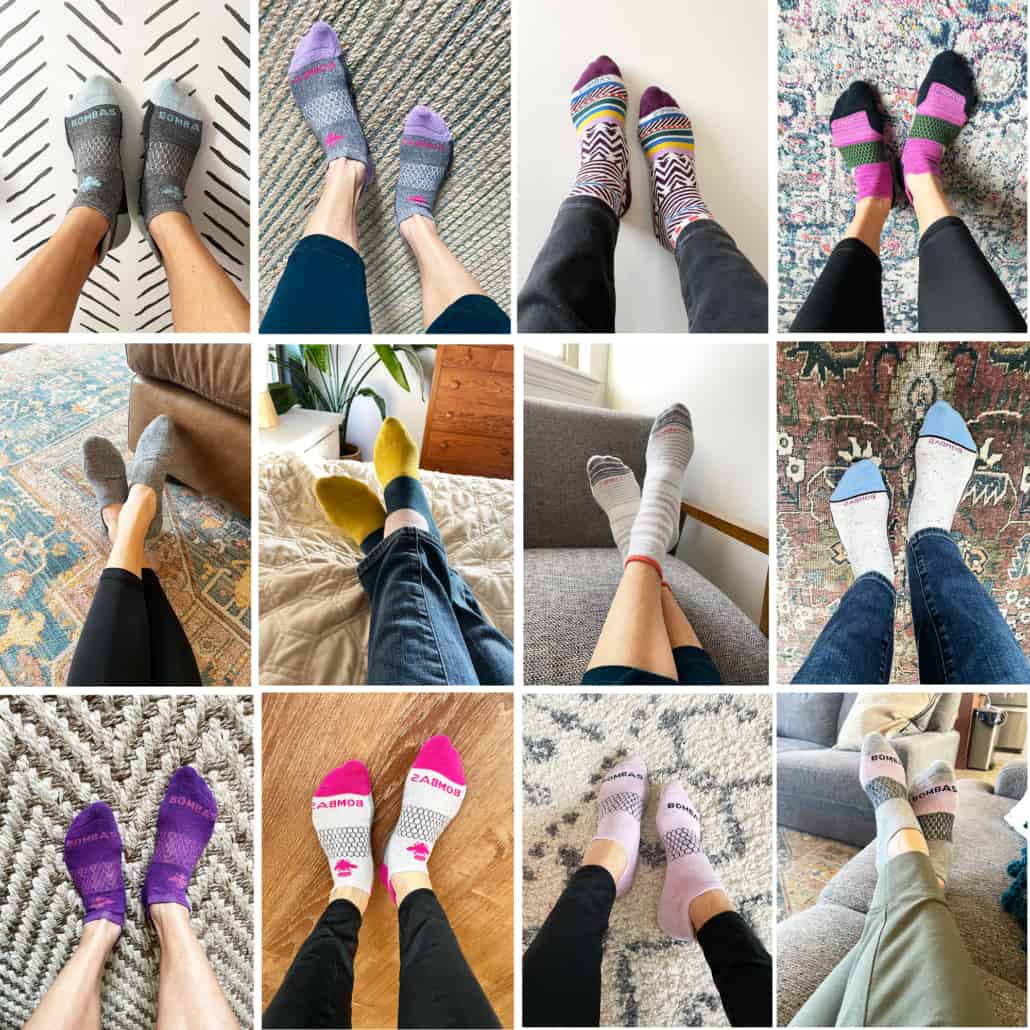 Bombas to the Rescue!
A few years ago, when one of my children was having some sensory issues, particularly with how his socks felt, an Instagram follower recommended trying out Bombas Socks for him.
I'll be honest. The sticker shock of high-quality socks was a deterrent at first. Up until this point, my mantra on socks was, "The cheaper, the better." I mean, they're socks. You can probably guess how the story plays out, right?
I got my hands on some socks for my kids and then wanted to try a pair for myself. And then another pair for myself. And then another style. And then my husband wanted a pair for himself. And so the story goes.
I now regularly recommend them to people, have them in our Holiday Gift Guides, and wear them almost 90% of the time. Over the years, I've been slowly building up my stash of all types of Bombas Socks and hope this honest and thorough review helps you decide if Bombas is for you.
About Bombas
Bombas launched in 2013, after founders Randy Goldberg and David Heath learned that socks are the most requested clothing item in homeless shelters. They established the brand's mission to donate one pair of socks for every pair purchased. They've donated over 50 million items to more than 3,500 community organizations to date.
The company started with a crowdfunding website. A year later, the company raised $1 million in seed funding from friends and family. The founders appeared on a September 2014 episode of ABC's Shark Tank and secured a deal with Daymond John.
Bombas is Quality Obsessed. The duo spent years in research and development, so you can spend years wearing your Bombas. Each item the company makes is rigorously tested for comfort and durability. They took the time to pinpoint all the small issues with socks and t-shirts: the painful toe seams; annoying pilling; no shows that slip. Then they tweaked and tweaked until they reached total perfection.
100% Happiness is Guaranteed. I can personally vouch for this too. They even replaced socks that my son tore open on a scooter ride without shoes!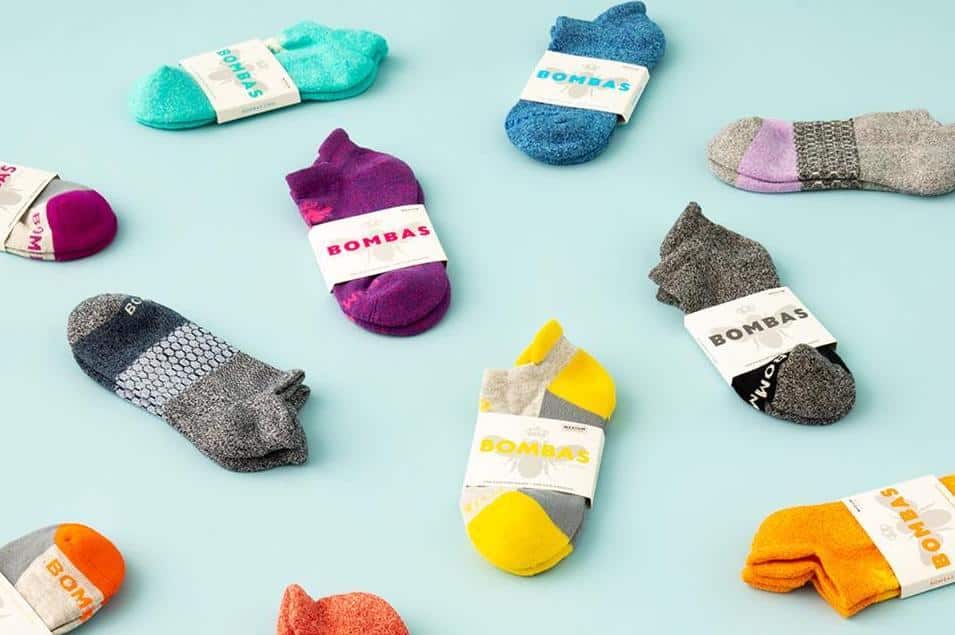 Are Bombas Socks Worth the Money?
I bought my first pair of Bombas Socks over 4 years ago. That same pair of socks is still in my drawer and in the regular rotation. They are still in good shape, have kept their fit, and show very little sign of their age despite their frequent use. There are very few clothing items that I can say that about.
Simply put, you get what you pay for. Bombas socks will LAST. On top of that, they are ethically made and have a generous give back model.
Dollar for dollar, it's worth spending more money on higher quality items that you will use over and over again. Quality socks fall into that category for me.
When you're used to the prices of low-quality socks, the sticker shock of a premium brand like Bombas can make you hesitate to pull the trigger. The good news is we have a coupon code for you!
Bombas Socks Review: My Personal Favorites
For Exercise
Bombas socks are 100% my go-to socks anytime I am going to exercise. When I branch out, I always regret it! I love the lightweight fabric in the Hex Tec socks. Here is my go to: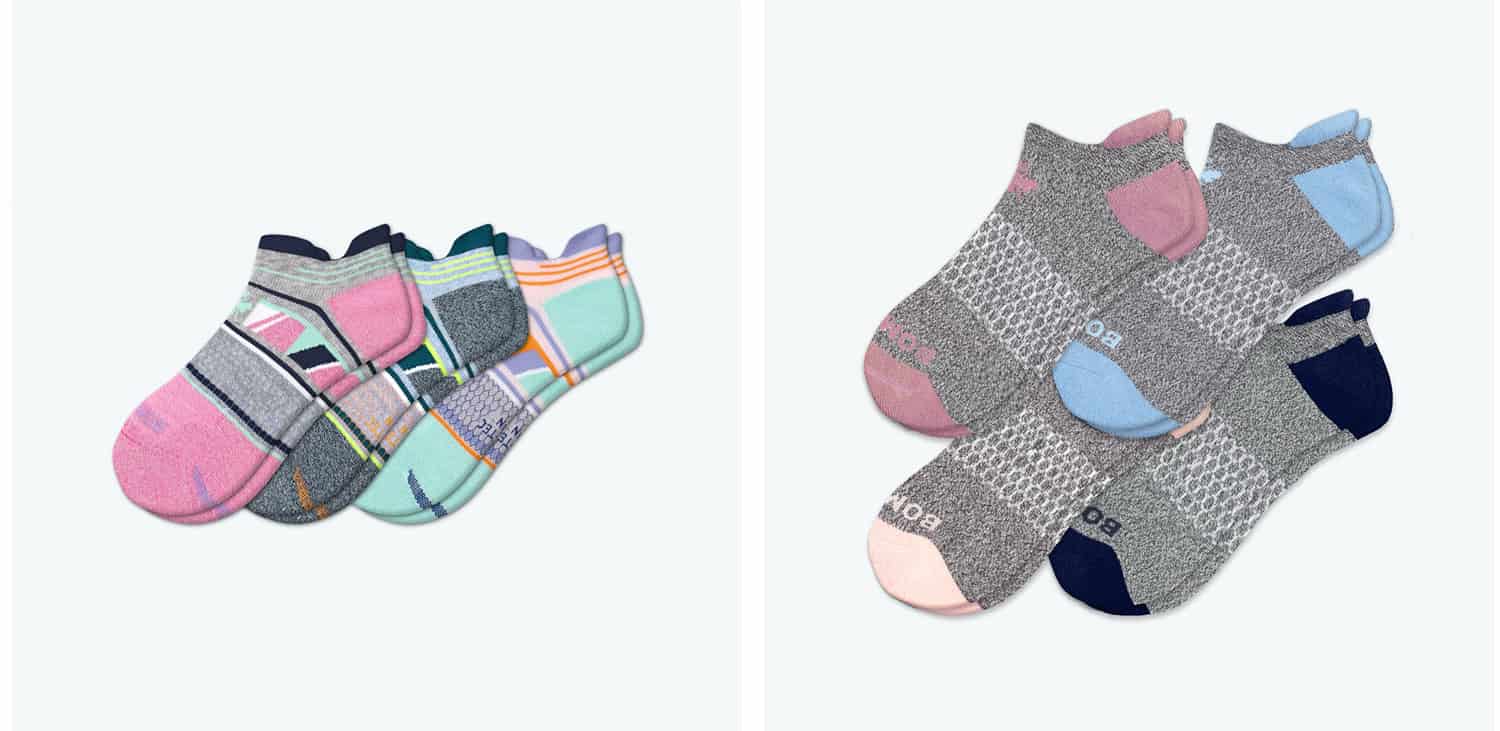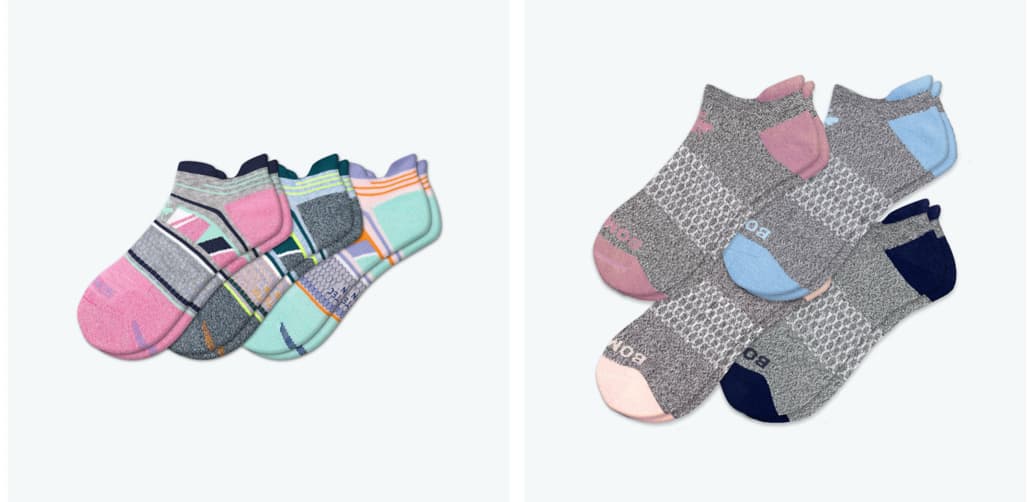 Performance Ankle Sock – Probably my absolute favorite sock they offer. Lightweight, purpose-built socks for running, working out and movement. Bombas Hex Tec construction for breathability and moisture-wicking. I'm not a runner but I've heard they like the quarter length in this over the ankle. I'm an ankle girl myself.
Original Tri-Block Marl Ankle Sock – I have by far the most of this type of sock in my stash. I have them in so many different colors. Architectural in design and pure Bombas in comfort, with the same high quality soft cotton yarn-work as the core ankle collection.
---
For Everyday Use
While I initially bought Bombas socks for exercising, I found myself gravitating towards them for non-active times too. I began to branch out and try different fits and styles. Here are my current favorites:


Donegal Ankle Sock – These everyday socks keep your feet soft and cushioned, while letting your ankles breathe easy. They even have a soft little pillow that helps to protect your ankle from uncomfortable shoe-contact (and just feels nice). I love the little specks of festive color.
All Purpose Performance Quarter Socks – When wearing boots, I like to wear these vs ankle socks. All-Purpose Performance Socks are designed to keep your feet cool, dry, and always comfortable. They're designed to wick sweat and breathe easy
No Show Socks – Do yourself a favor and buy the 4 pack. They are the BEST no shows I've ever worn. Designed for comfort while being specially engineered to never fall down, they provide maximum coverage and stay in place just below the edge of your shoe, exactly where they're supposed to be.
---
For Kids
I was hesitant to spend a lot of money on kid socks because they can be really hard on them. In fact, my son managed to put a hole in one of his quickly after riding his scooter in his socks (mom fail). BUT, I reached out to Bombas and their customer service sent me a new pair super fast.
My kids don't have as big of a stash as I do, but when their Bombas socks are clean, they are the go-to sock choice. Here is what they love: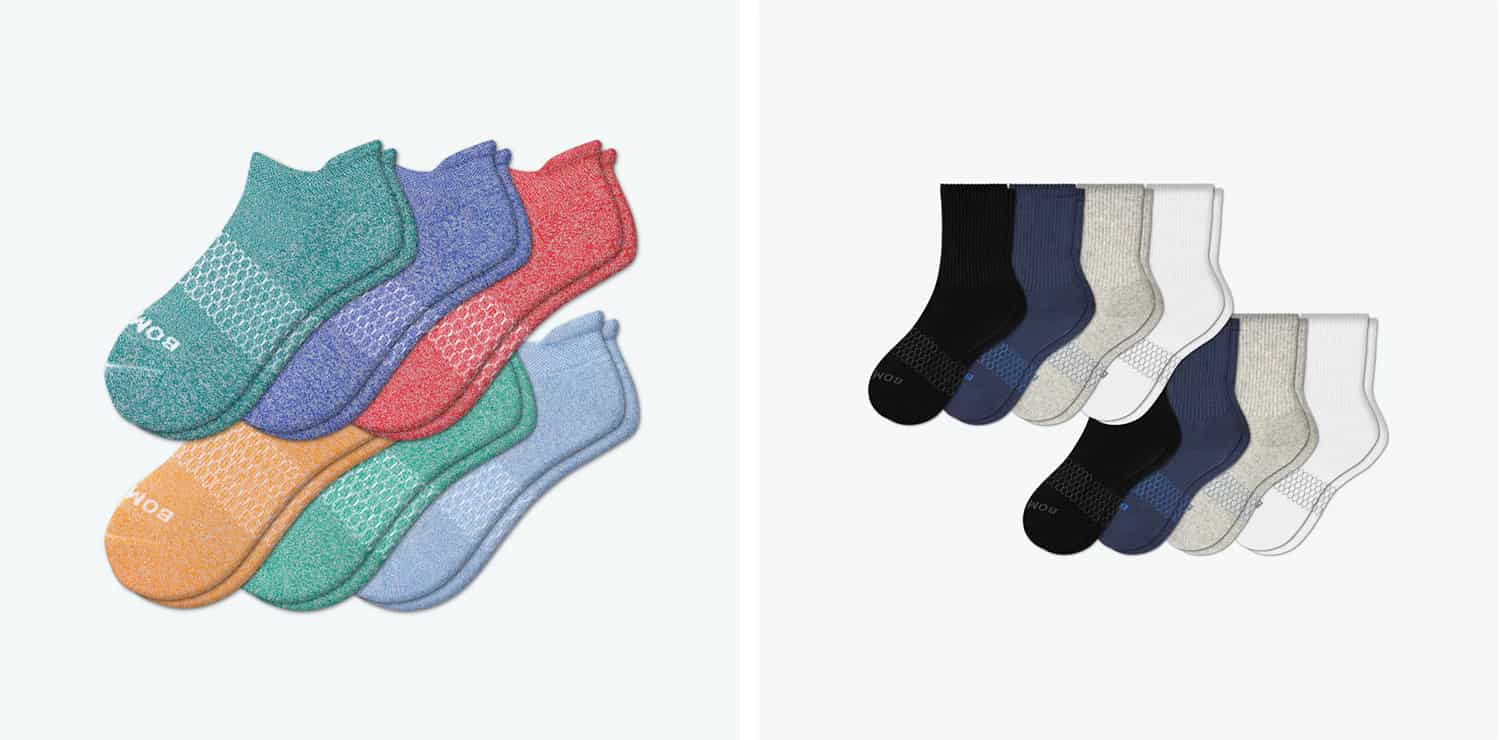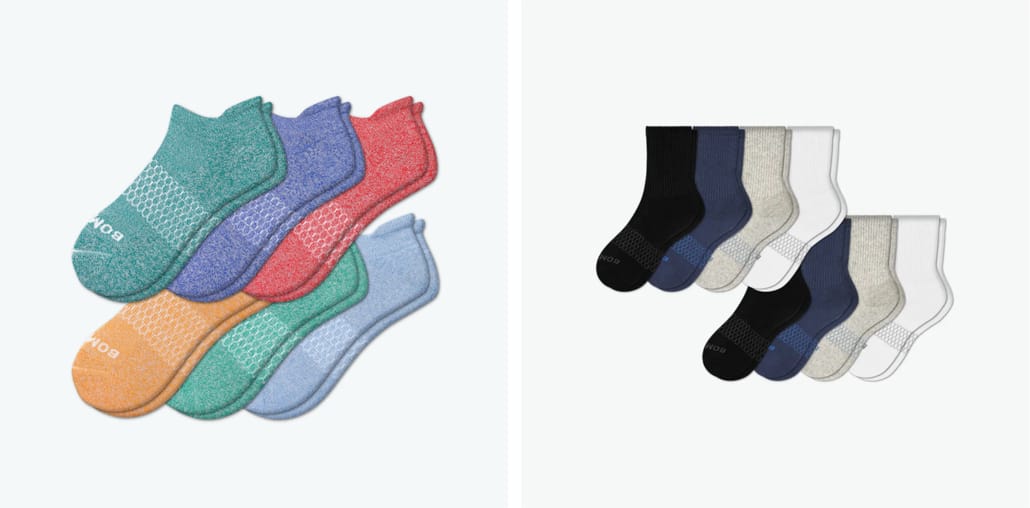 Youth Marls Ankle Sock – My 10 year old loves these! Classic colors, marl weave. Marls get their distinctive look by weaving two different-colored strands of yarn together giving them a texture and depth. Marls feel and perform just like our other cotton socks, just with a bit more pizzazz, oomph, panache…you get it.
Youth Calf Size – This pack of Bombas youth socks comes with eight pairs of the most comfortable socks in the history of feet. We use the softest, most durable cotton, and link the toe seam with a special knit stitch to get rid of that annoying bump across the top.
---
For Men
My husband used to be a Nike socks guy. Knowing he doesn't branch out much, I took a risk and bought him a pair of Bombas socks in the same style of his coveted Nike socks. He was a quick convert. Since then, these two types of socks are his go-to. He's not an ankle sock guy but there are plenty of options for guys who are. There are also a lot of options for dress socks as well.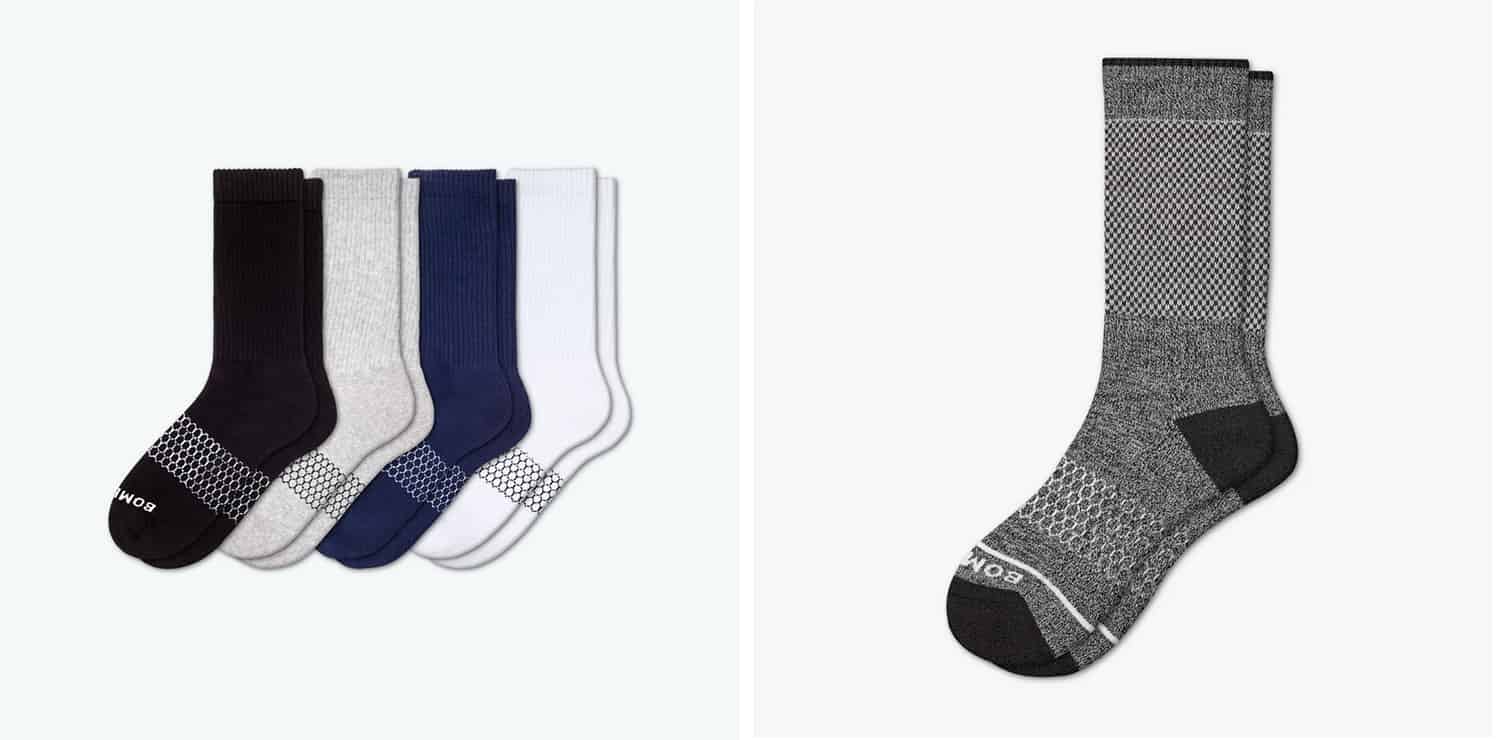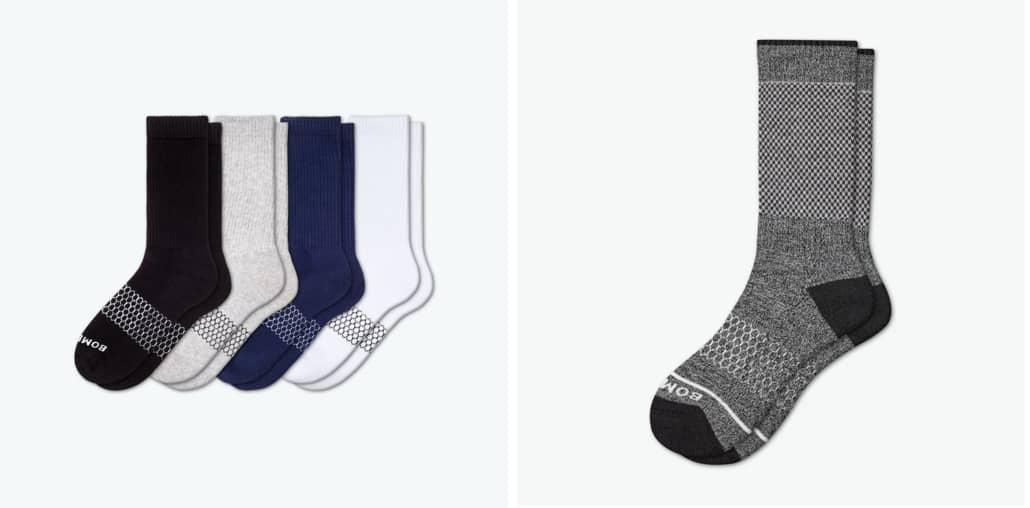 Classic Calf Socks – My husband wears these almost every day now. They have classic colors and are super a super comfortable everyday sock.
Men's Merino Wool Calf Socks – Merino wool is a natural wonder that is soft, warm, and naturally moisture-wicking to keep your feet dry and cozy. Originally made for winter days but can be worn year round!
---
Least Favorite
Cushioned No Shows – I promised to be honest so I will. I'm not a fan of the cushioned no show socks. Reason is, most of the time when I need a no show sock, the shoe is already snug. I need a light weight, thinner sock for this type of shoe. While the cushioned no show sock sounds yummy, it actually made my feet feel almost too snug in my shoes.
---
Summarizing the Bombas Socks Review
Here is What's to Love About Bombas Socks
High Quality: I've yet to meet a sock that can beat Bombas' quality. They last for years and years. Once you try them, you won't go back.
Purchase-Matched Donations: Bombas matches every purchase with a donation to someone in need. As of today, Bombas has donated over 50 million items.
100% Happiness Guarantee: Don't like it? Slips a lot? Ordered the wrong size? Talk to their Happiness Team. I've personally done this and walked away, well, happy!
The Perfect Mid-Weight sock: Bombas feature extra padding on the footbed, but the unique design ensures they are not too thick and still super comfortable in shoes.
Honeycomb Arch Support System: I love this small touch. It hugs the arch of your foot, offering much-needed support and boosting the shape and fit of the sock.
Seamless Toe & Y-Stitched Heel: These adjustments are all about maximizing comfort. By reducing the number of seams in high-friction areas, they can boost the barely-there feel which is a big deal to sensory sensitive kids!
Stay-Up Technology: I've never had problems with their socks slipping down. Even with the no show socks!
Blister Tab: No matter how far you run, Bombas' innovative blister tab will keep your ankles safe from any and all friction.
Merino Wool: A super-soft natural fiber, merino wool is naturally moisture-wicking, eliminating sweat and smell like it's his job.
Here's What's NOT to Love About Bombas
Overwhelming amount of options – When you start shopping on the site, you can easily become paralyzed by choice. This is especially true since you aren't able to see & touch the products. Keep in mind that if you don't like what you order, they will make it right!
Price point – When you're used to paying a few bucks for a pair of socks, making the leap to a premium brand can be a bit painful. A few things to keep in mind when deciding if it's worth it:

It's worth spending more on quality items you use the most!
They will last for YEARS.
Build up your stash slowly. Stock up when you have a coupon or when they run sales, or ask for them as gifts.
Your purchase will equal another pair of socks being donated to someone who desperately needs them.
You can use our coupon code to get that price down quite a bit today!