Air Fryer Italian Chicken Thighs
This post may contain affiliate or sponsored links. Please read our disclosure policy.
Air fryer chicken thighs are a delicious and healthier alternative to traditional fried chicken. By using hot air circulation, an air fryer cooks bone-in thighs in a way that yields a crispy outer layer and tender, juicy meat inside. Plus, our simple Italian seasoning rub takes this chicken recipe over the top.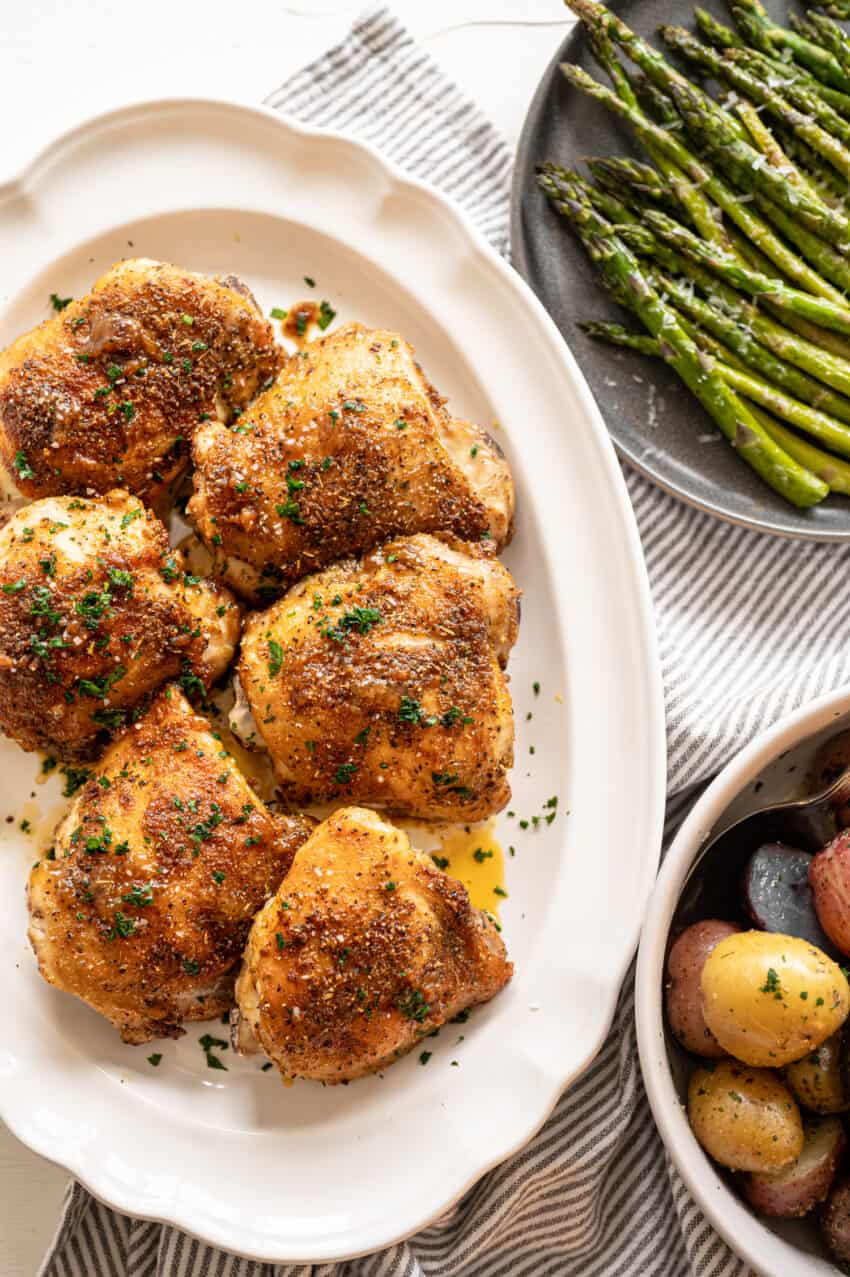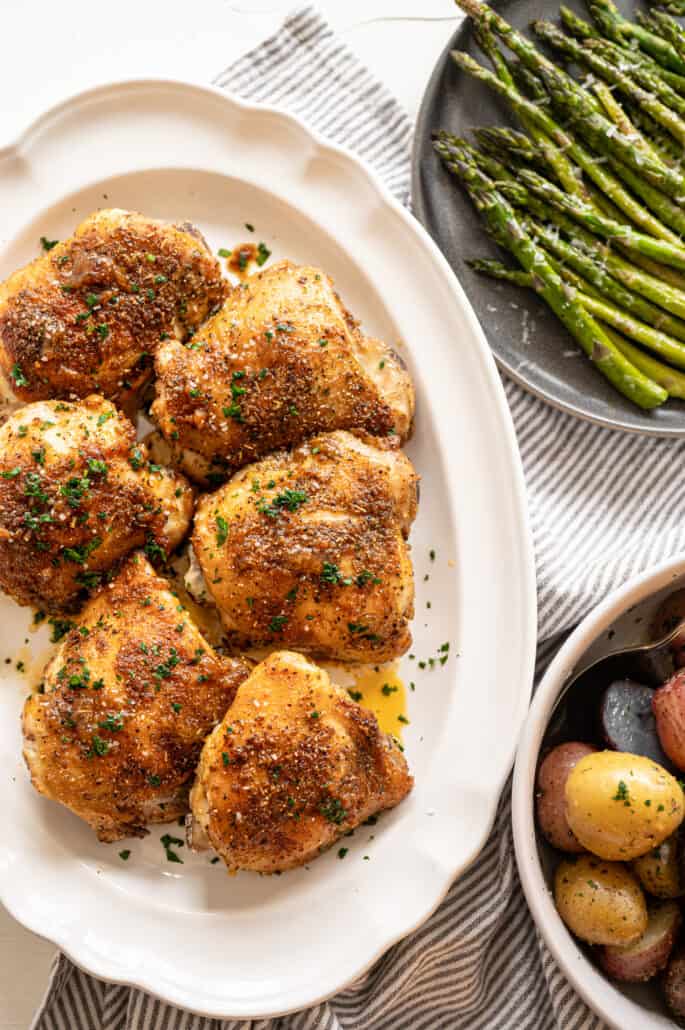 Reasons to Cook Chicken Thighs in the Air Fryer
While you can certainly make our Italian Baked Chicken Thighs in the oven, there are several reasons to make this recipe in the air fryer instead.
The air fryer can cook chicken thighs to a crispy and golden brown texture without the need for excess oil, making it a healthier alternative to traditional frying methods.
It helps retain the natural juices and flavors of the chicken, resulting in a tender and juicy meat.
It can cook bone-in thighs relatively quickly and with minimal cleanup, making it an ideal cooking method for those with busy lifestyles.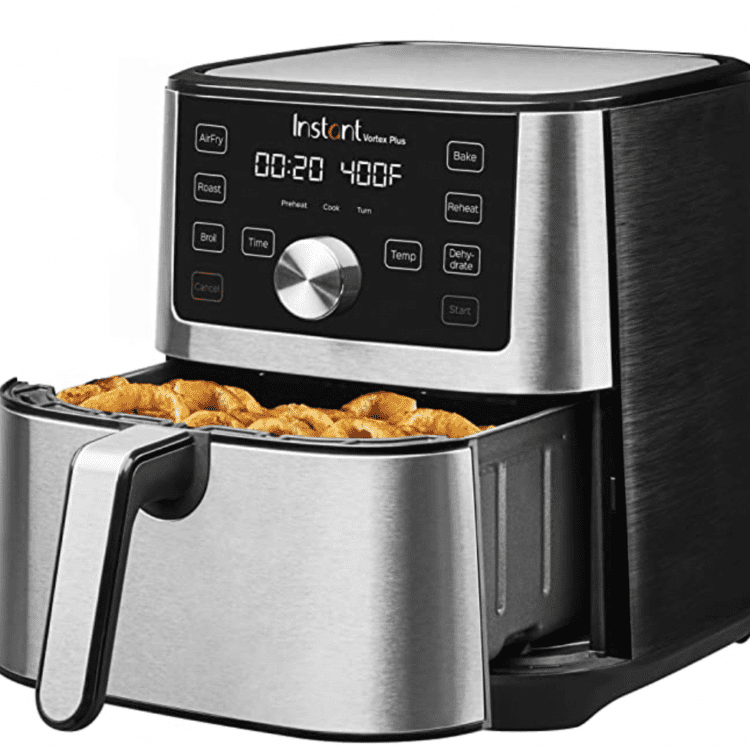 What kind of air fryer do you use?
We both use the 6 quart Instant Pot Vortex Plus Air Fryer and highly recommend it.
Here's what we love about it:
America's Test Kitchen said it's #1 in their tests.
Extra-large capacity. (I fit 12+ meatballs in it.)
Wide drawer-style basket that is easy to remove and insert.
The drawer and cooking rack are dish washer safe.
Super easy to use digital controls.
It cooks food to perfection!
BUY NOW
As promised, the ingredients in this recipe are simple. Here's what you'll need on hand:
Bone-in, skin-on chicken thighs (Bone-in thighs turn out much more juicy than boneless.)
Olive oil or avocado oil
Garlic powder
Onion powder
Italian seasoning
Poultry seasoning
Paprika
Salt & Pepper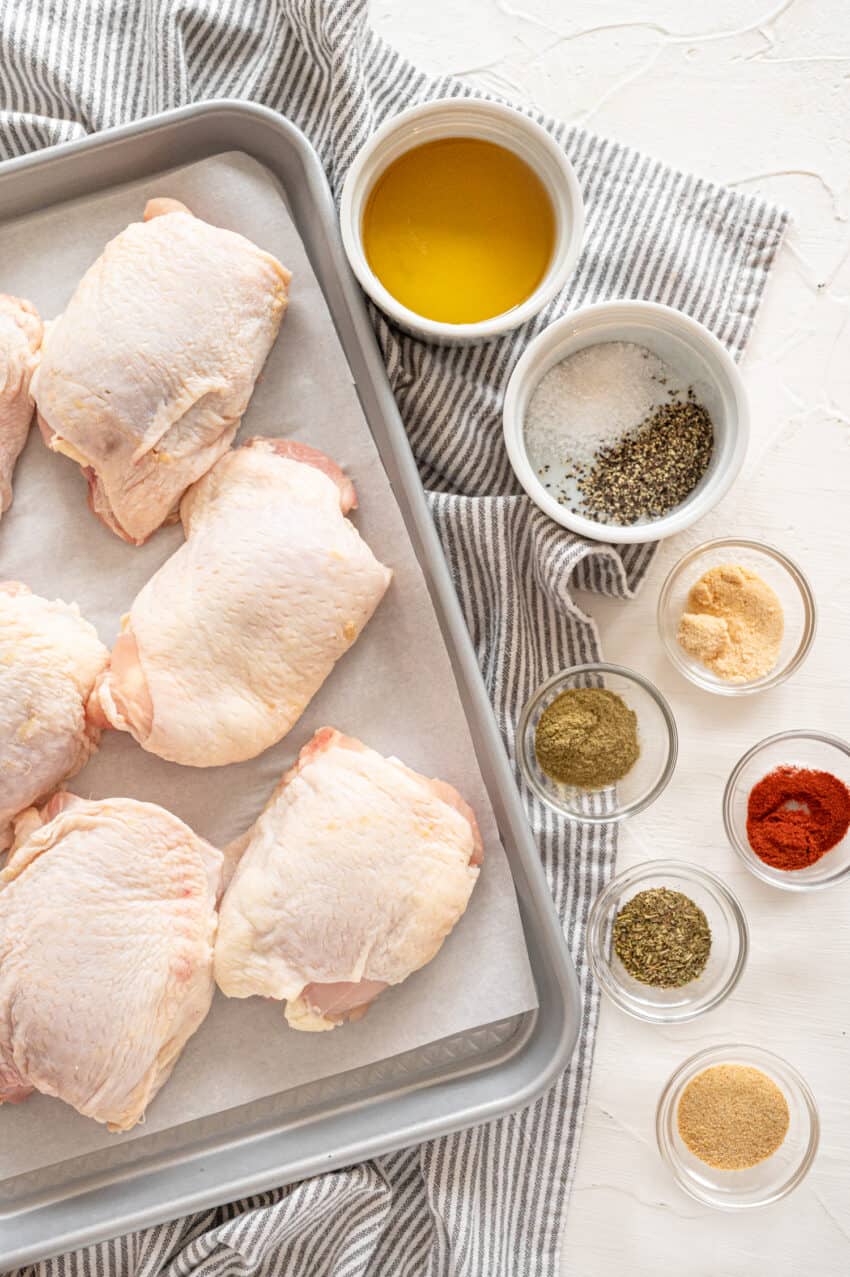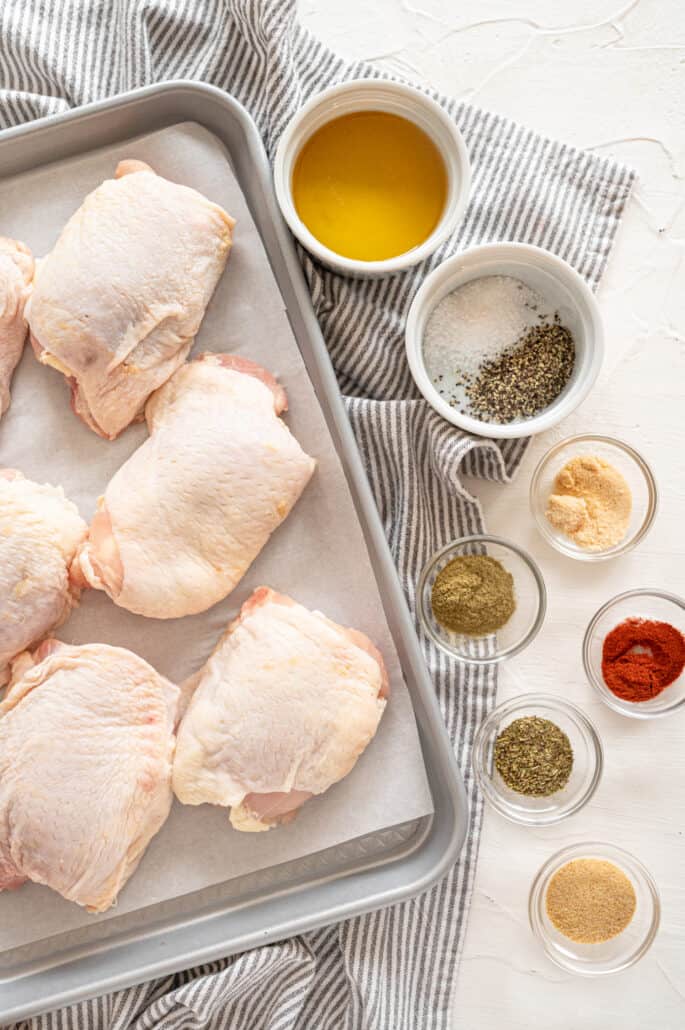 How to Make Air Fryer Chicken Thighs
In a small bowl, mix together the garlic powder, onion powder, salt, pepper, Italian seasoning, poultry seasoning, and paprika.
If you think you'll be making this recipe frequently, scale the seasonings up 3-4x and save the mix in a mason jar in your spice cabinet. I do this often with our Taco Seasoning Mix.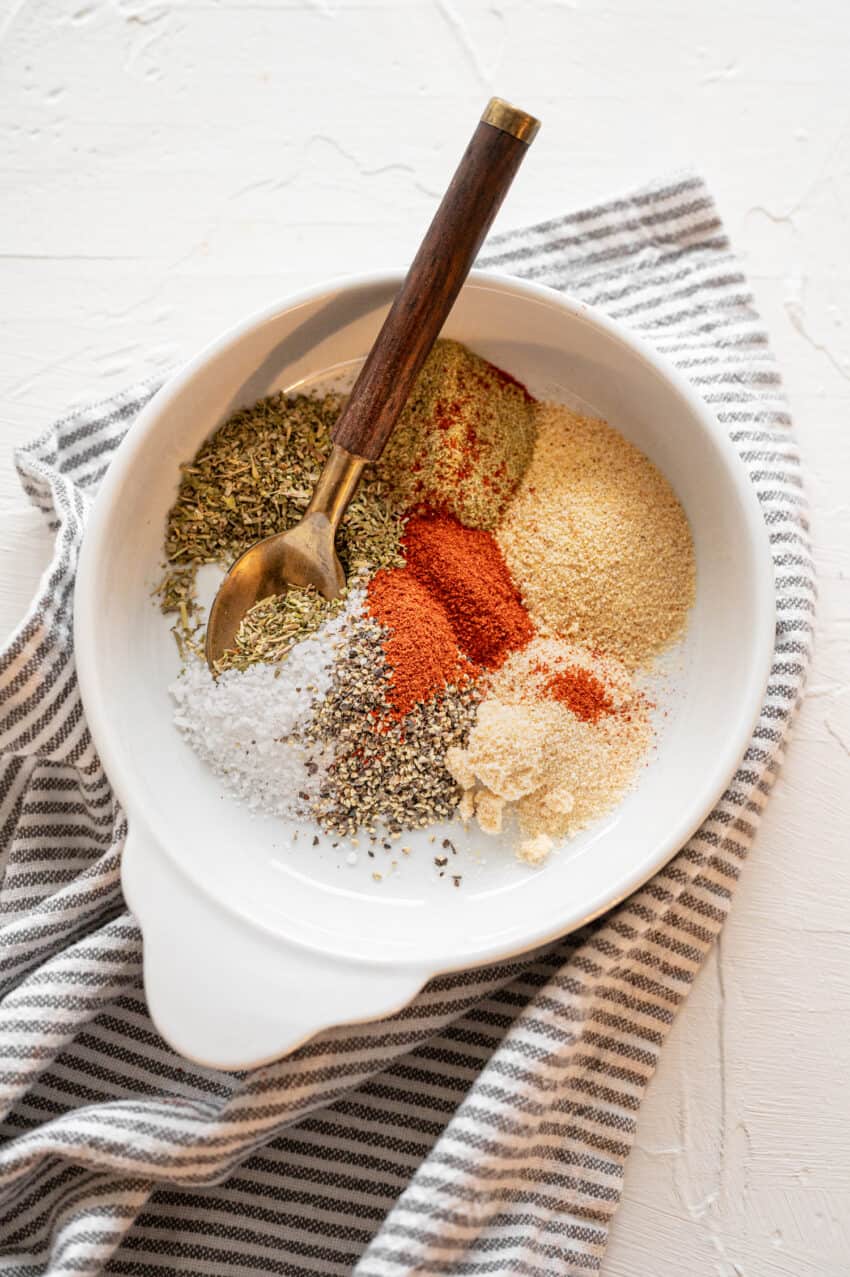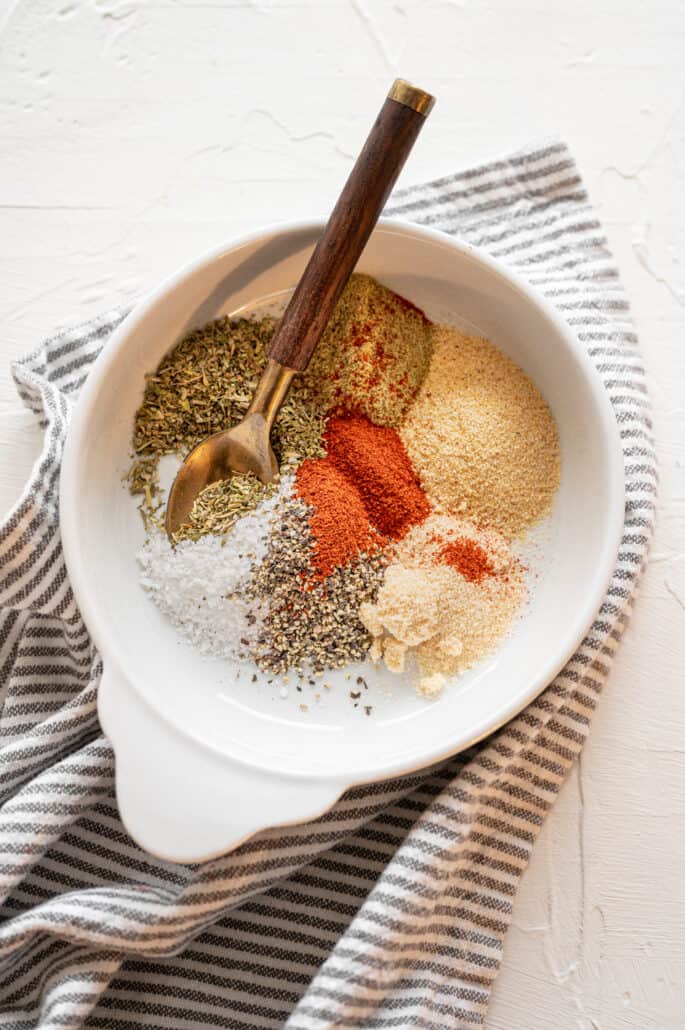 Season the Chicken Thighs
Arrange the chicken on the baking sheet. Pat dry with paper towels and trim off any excess skin/fat.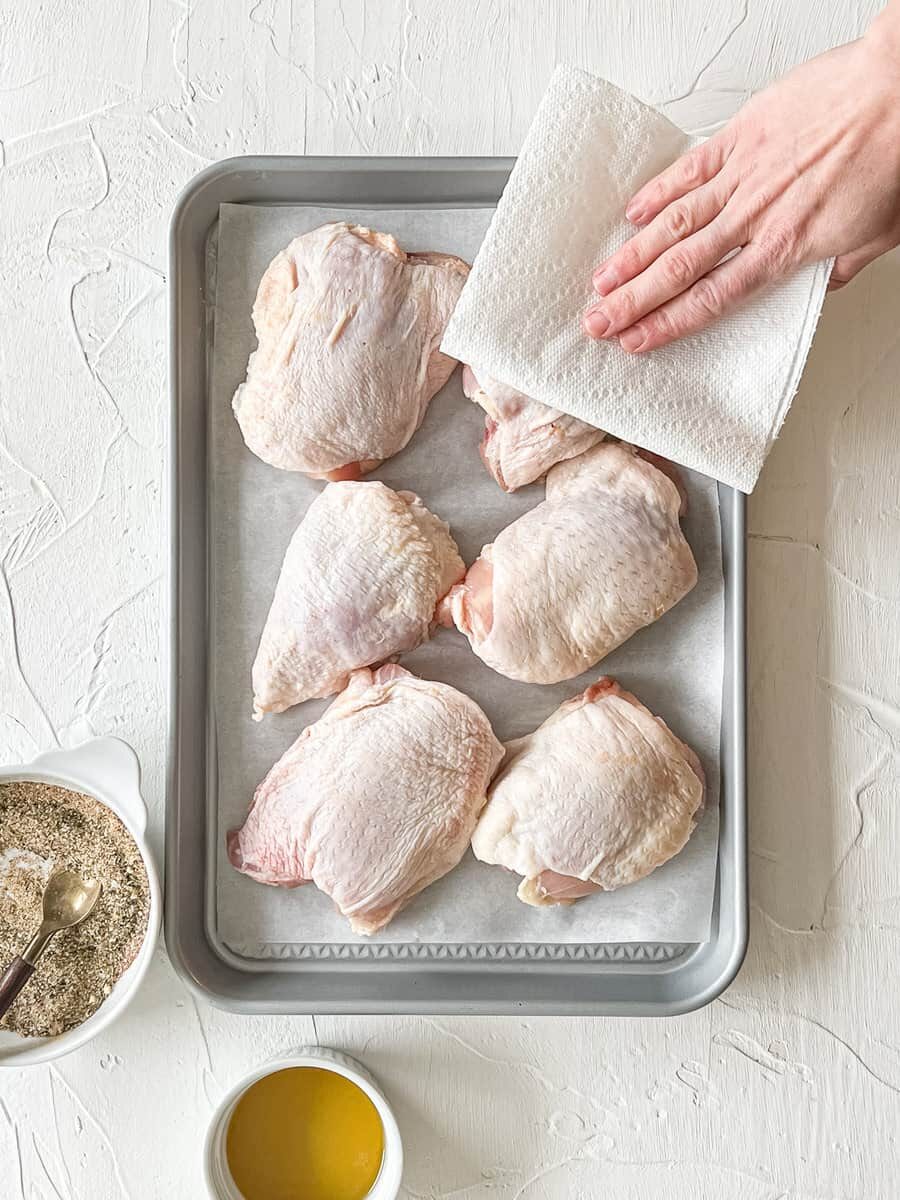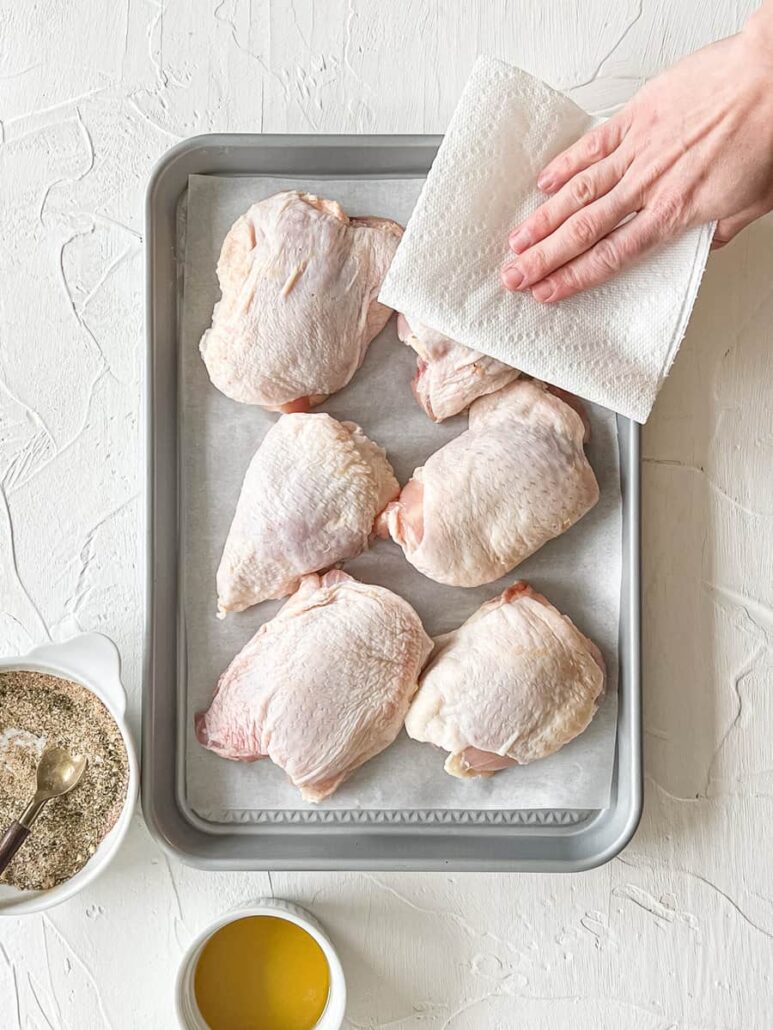 Drizzle the oil evenly over the chicken and rub in on all sides. Sprinkle the seasoning evenly over the chicken and rub in on all sides.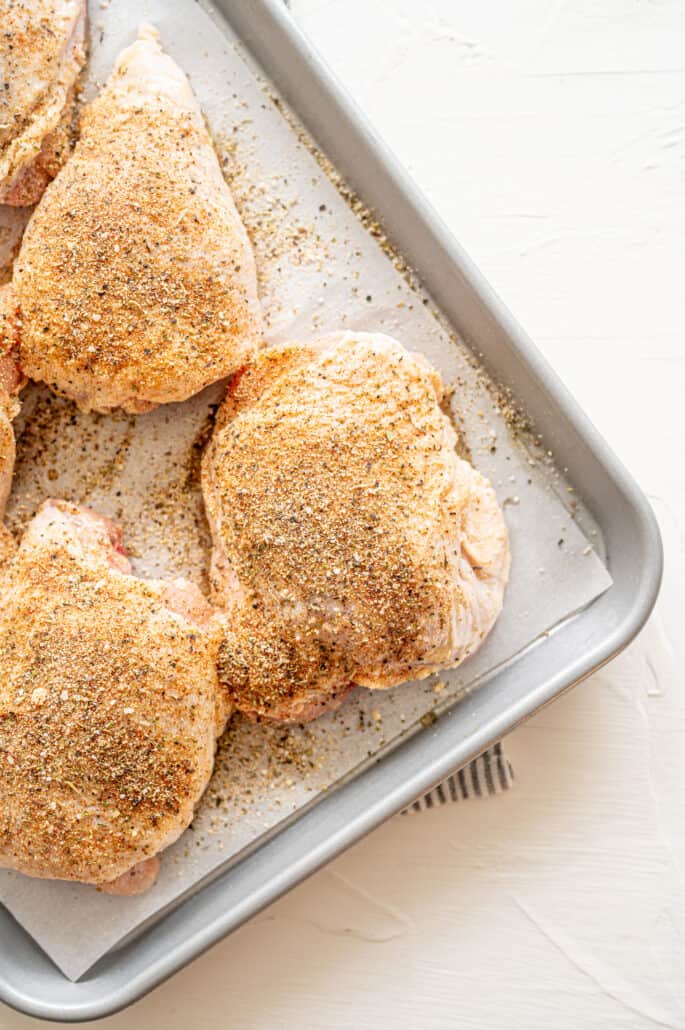 Air Fry the Chicken Thighs
The cooking time for bone-in chicken thighs in an air fryer can vary depending on the size and thickness of the meat, as well as the specific model of the air fryer.
However, a general guideline for cooking bone-in chicken thighs in an air fryer is to preheat the air fryer to 400°F and cook for approximately 18-20 minutes. It is important to use a meat thermometer to ensure that the internal temperature of the chicken reaches at least 165°F.
As with most air fryer recipes, it is recommended to flip the food about halfway through the cooking time.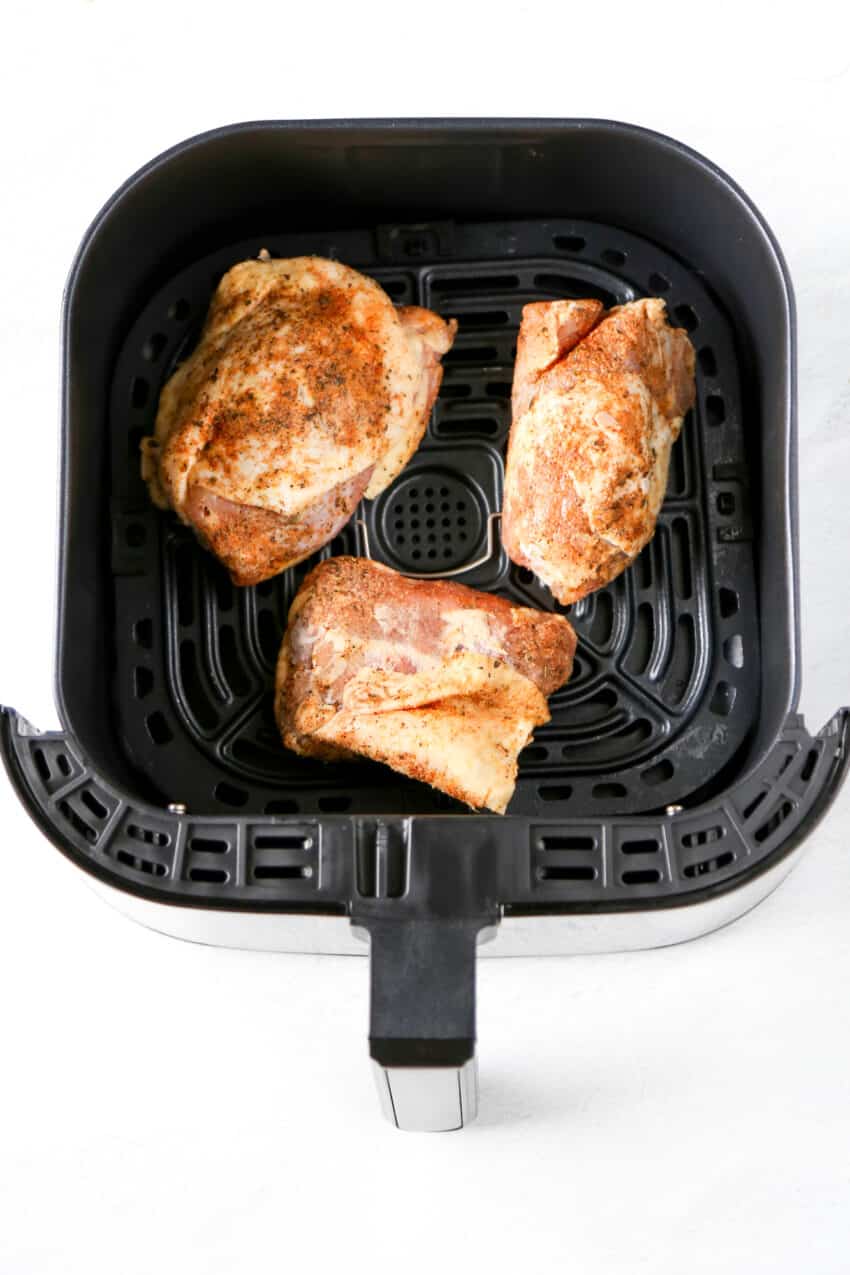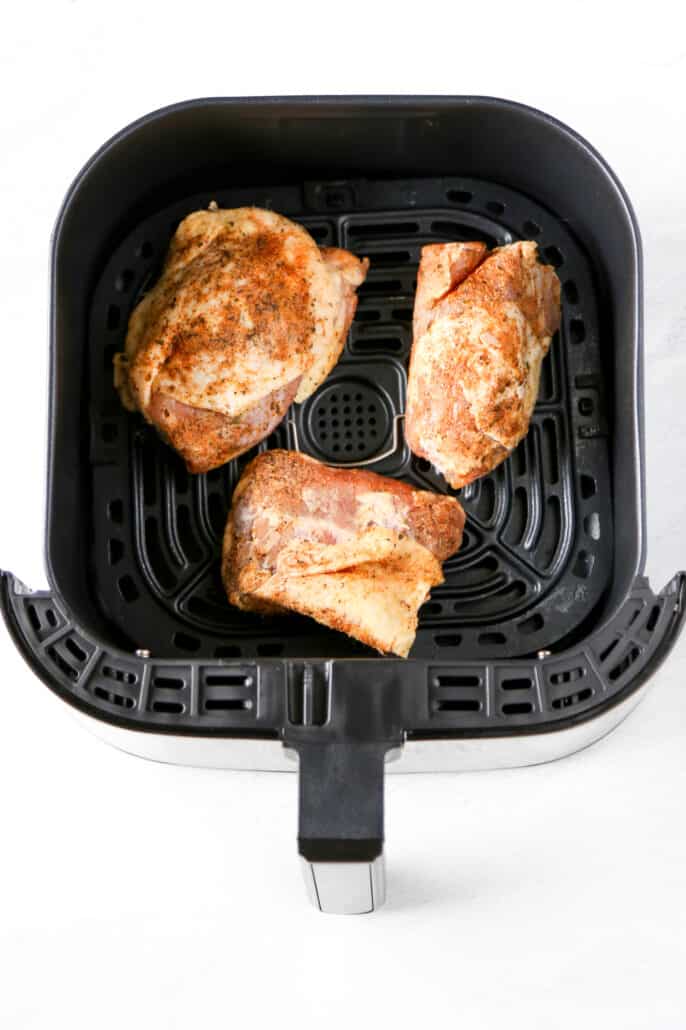 Freezing Instructions
As self-proclaimed freezer cooking evangelists, we can't help ourselves from sharing how to turn these chicken thighs into a freezer meal. Again, it's SO easy.
Freeze For Later: Place the seasoned, raw chicken thighs into a gallon-sized freezer bag in a single layer. Seal and freeze flat.
Prepare From Frozen: Thaw using one of these safe methods for thawing chicken and then cook as directed.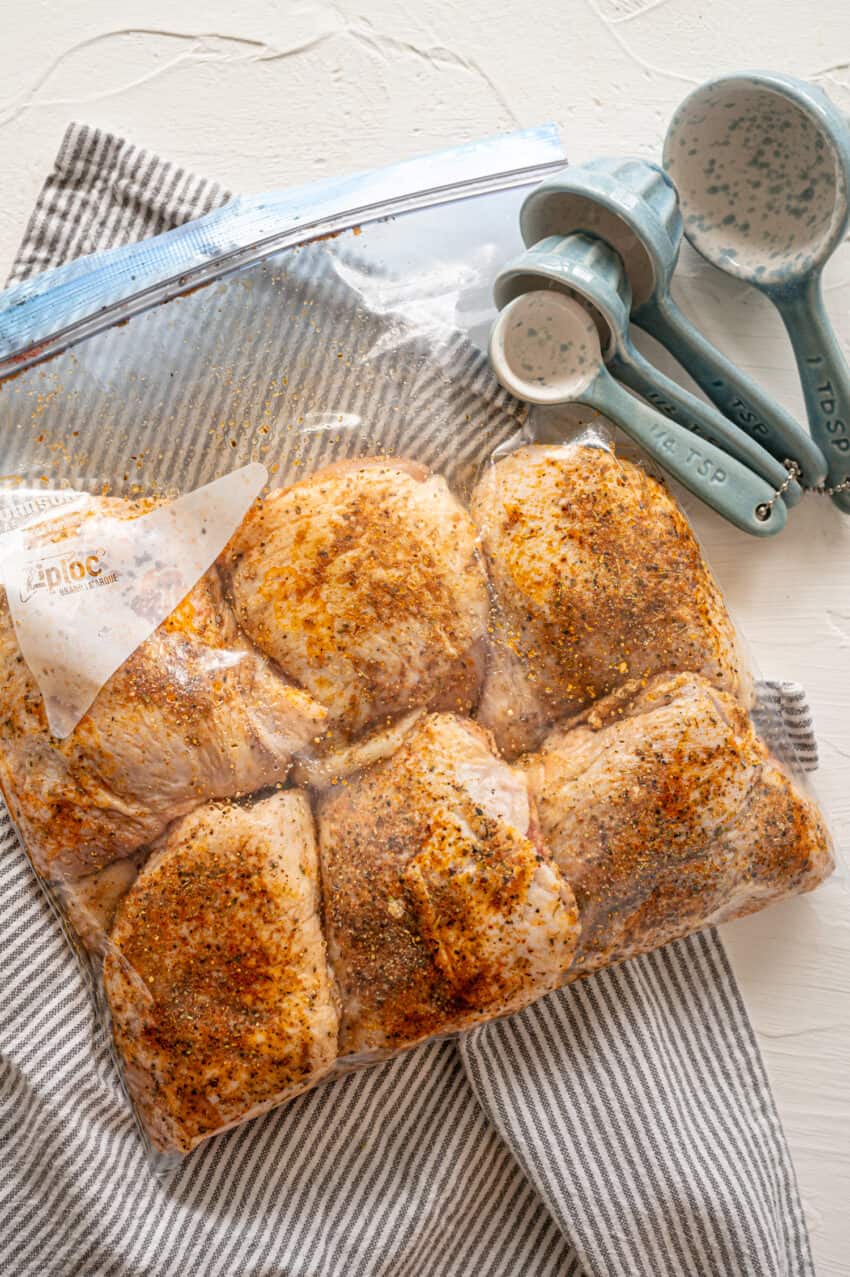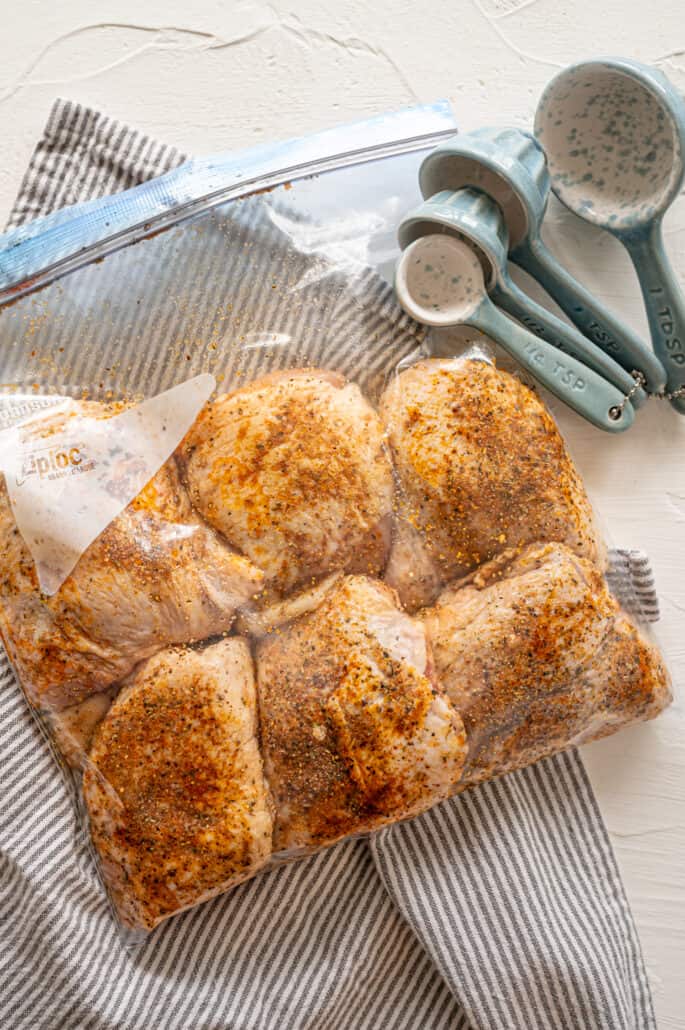 Air Fryer Tips
Try these tips to get the best results when using an air fryer:
Preheat your air fryer: Preheating your air fryer can help ensure that your food cooks evenly and becomes crispy.
Use the right amount of oil: While air fryers require less oil than traditional frying methods, it is still important to use some oil to achieve a crispy texture. Use a small amount of oil (1-2 teaspoons) or cooking spray to coat your food before cooking.
Don't overcrowd the basket: It is important to leave some space between the food in the air fryer basket to ensure that the hot air can circulate around the food and cook it evenly.
Shake the basket: Shaking the basket halfway through the cooking time can help ensure that your food cooks evenly on all sides.
Use a meat thermometer: Use a meat thermometer to check the internal temperature of your food to ensure that it is cooked through and safe to eat.
Experiment with cooking times and temperatures: Every air fryer is different, so it may take some trial and error to find the best cooking time and temperature for your favorite foods.
Clean your air fryer regularly: Regular cleaning can help ensure that your air fryer operates at its best and that your food doesn't pick up any off flavors or odors from previous cooking sessions.
Side Dish Ideas
Any of these sides would go well with our Italian Chicken Thighs.
Did you make this? Snap a photo and tag us on Instagram at @thrivinghome so we can see your creations and cheer you on!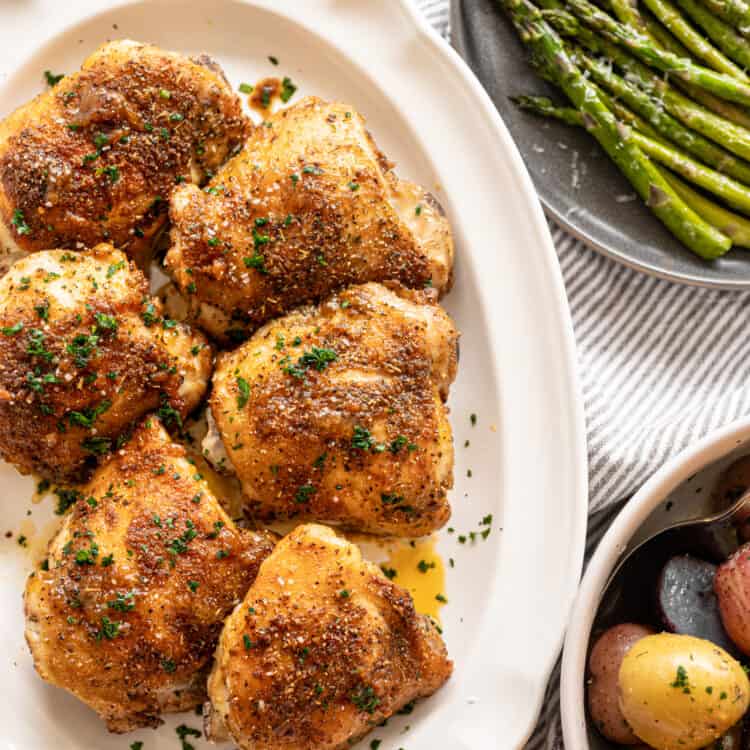 Air Fryer Italian Chicken Thighs
Air fryer chicken thighs are a delicious and healthier alternative to traditional fried chicken. This method of cooking plus our simple Italian seasoning combination yields an amazing recipe that it is done in a flash.
Prep:
5 minutes
Cook:
20 minutes
Total:
25 minutes