Apple Cinnamon Steel Cut Oats (in the Instant Pot)
This post may contain affiliate or sponsored links. Please read our disclosure policy.
With just 5 main ingredients, Apple Cinnamon Steel Cut Oats deliver sweet, warm flavors in every bite. We love an easy Instant Pot recipe that makes both adults and kids happy. Steel cut oatmeal even works beautifully to prep ahead for the freezer.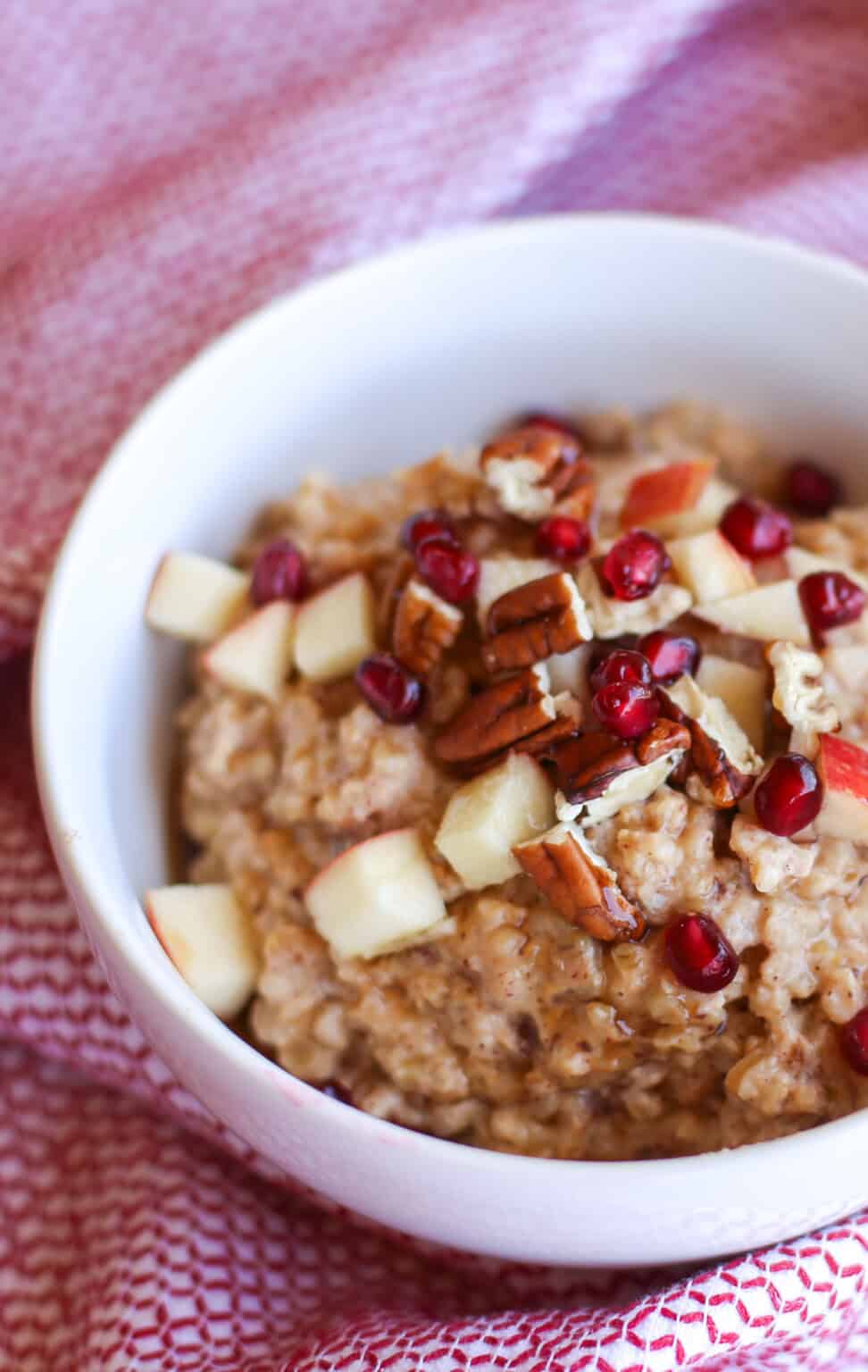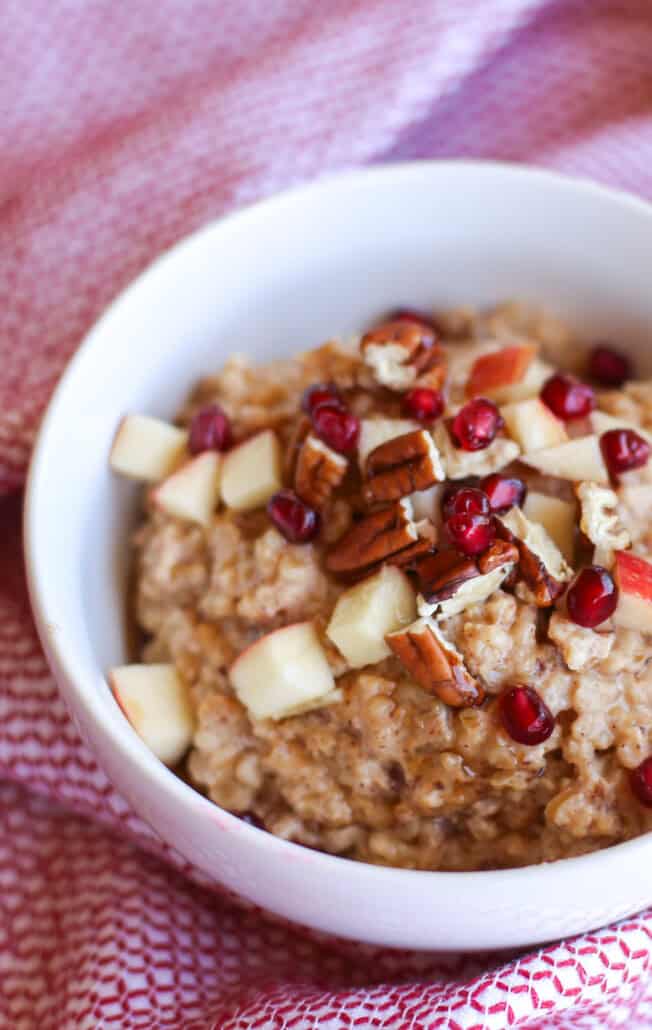 Why You'll Love This Recipe
You can't beat a wholesome breakfast that smells like heaven. The beauty of this apple cinnamon steel cut oatmeal is that you can easily adjust it at the end to your preferences. Add toasted pecans for a little crunch or additional maple syrup to sweeten it up to your heart's delight.
Here are the 5 main ingredients you'll need to whip up this recipe:
Steel cut oats – Look for gluten free variety, if needed. Don't use rolled oats in the Instant Pot. They won't hold up well in a pressurized environment
Apples – Any variety will work. No need to peel them. The peel adds a little more nutritious and it softens a lot during cooking.
Pure maple syrup – You can substitute brown sugar or coconut sugar. Under no circumstances do we approve of the fake syrup for this recipe. 😉
Ground cinnamon
Pure vanilla extract
Of course, you'll also need liquid which can just be water. However, we've tested this with whole milk and almond milk, and they work well too. Milk produces a little creamier outcome.
Butter is optional. This is for toasting the oats. You can omit this step if you want or use ghee or avocado oil if avoiding lactose.
Step-by-Step Tutorial
Toast the Steel Cut Oats (Optional)
Toasting the steel cut oats at the get-go isn't a necessity, but it gives them a nutty flavor that sets them apart from other types of oats. I really like it this way!
If you'd like to toast the oats, set the Instant Pot to "Sauté."
Place the butter (or ghee or avocado oil) in the pot.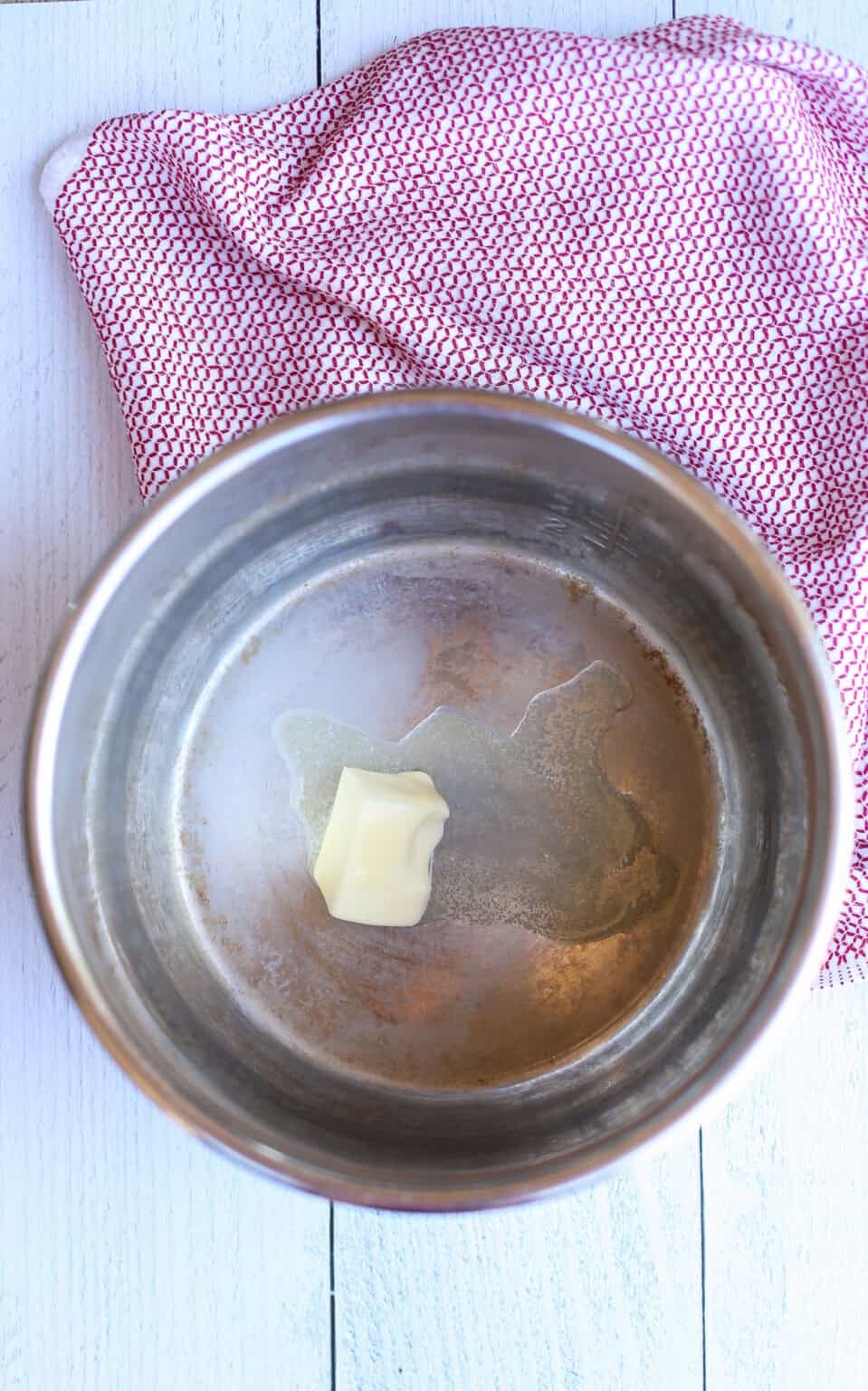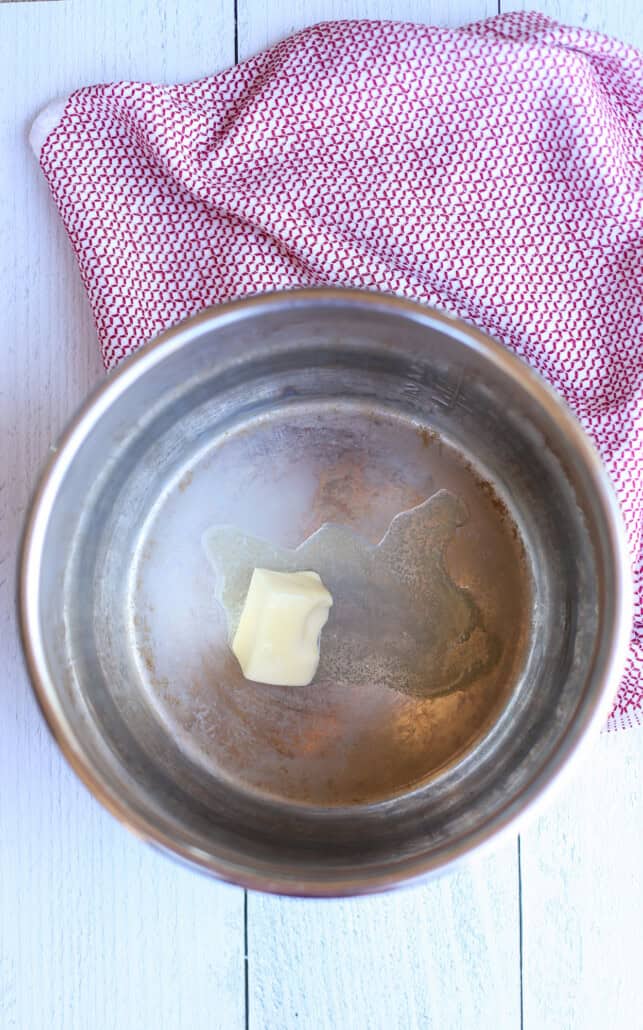 When the butter has melted, add the oats and cook, stirring often, for about 5 minutes, until fragrant. I LOVE this smell.
Press "Cancel" once they are done.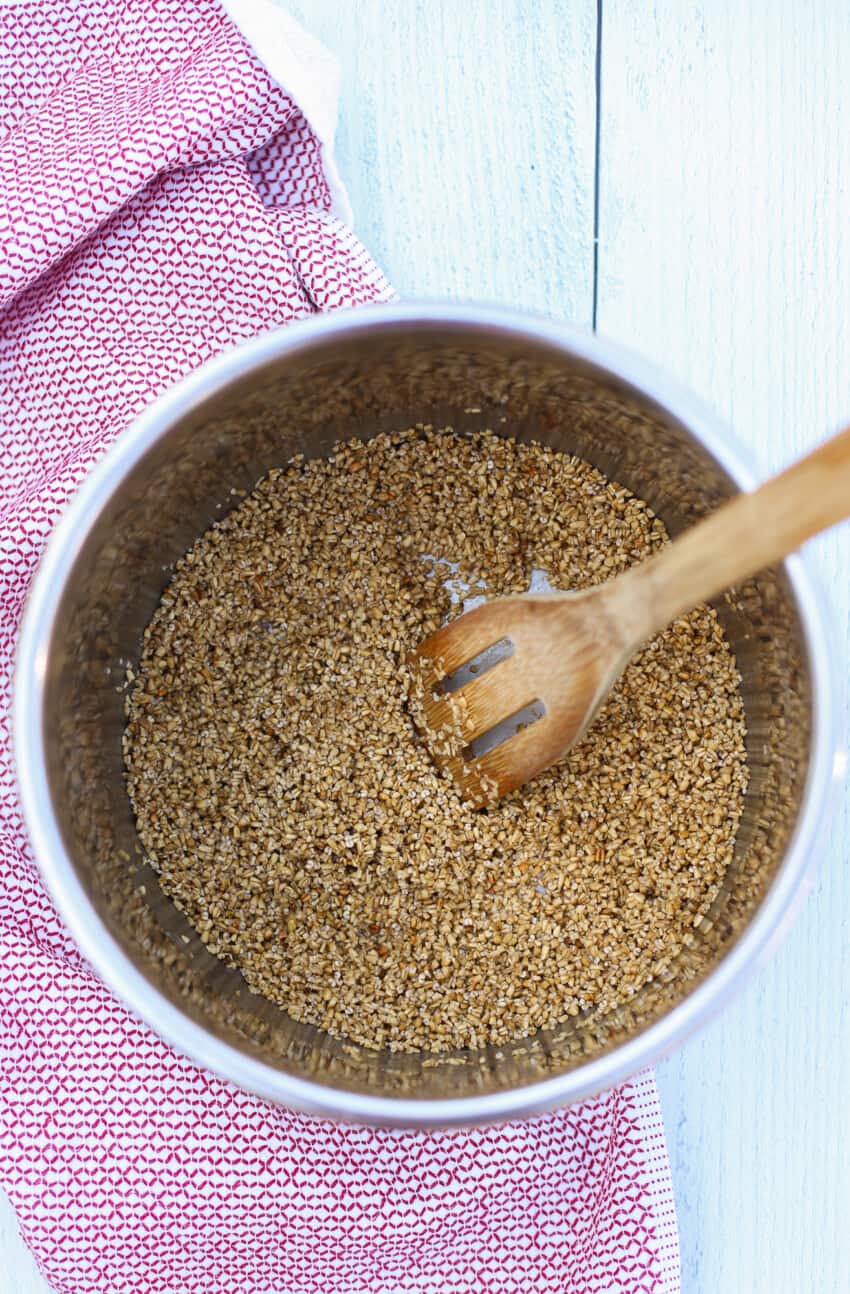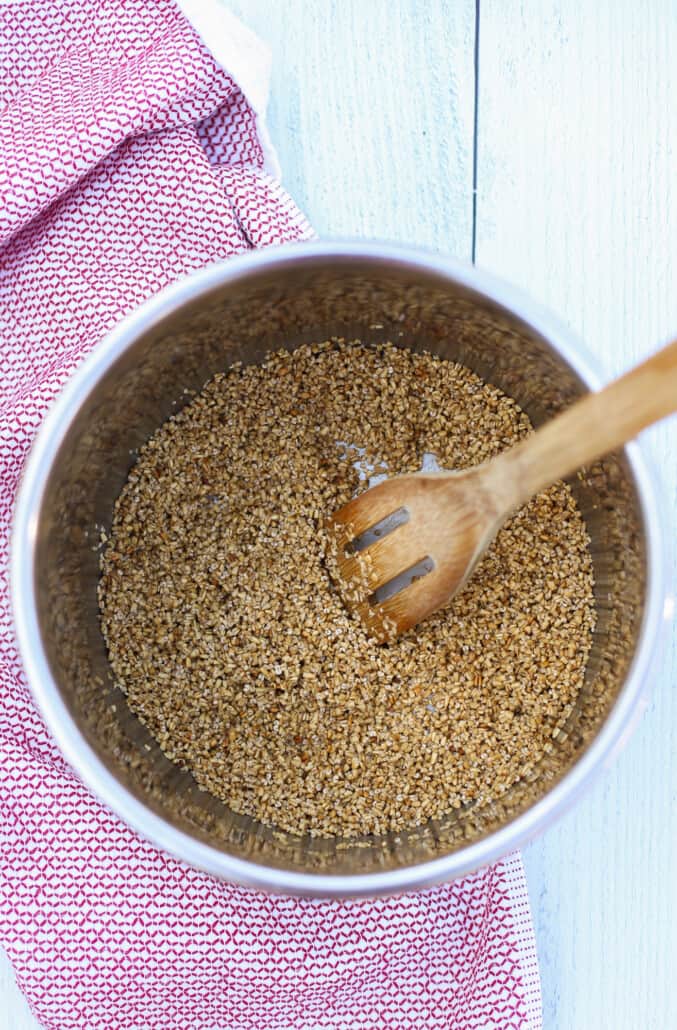 Add the water or milk, apples, maple syrup, cinnamon, and vanilla to the pot and stir until well combined.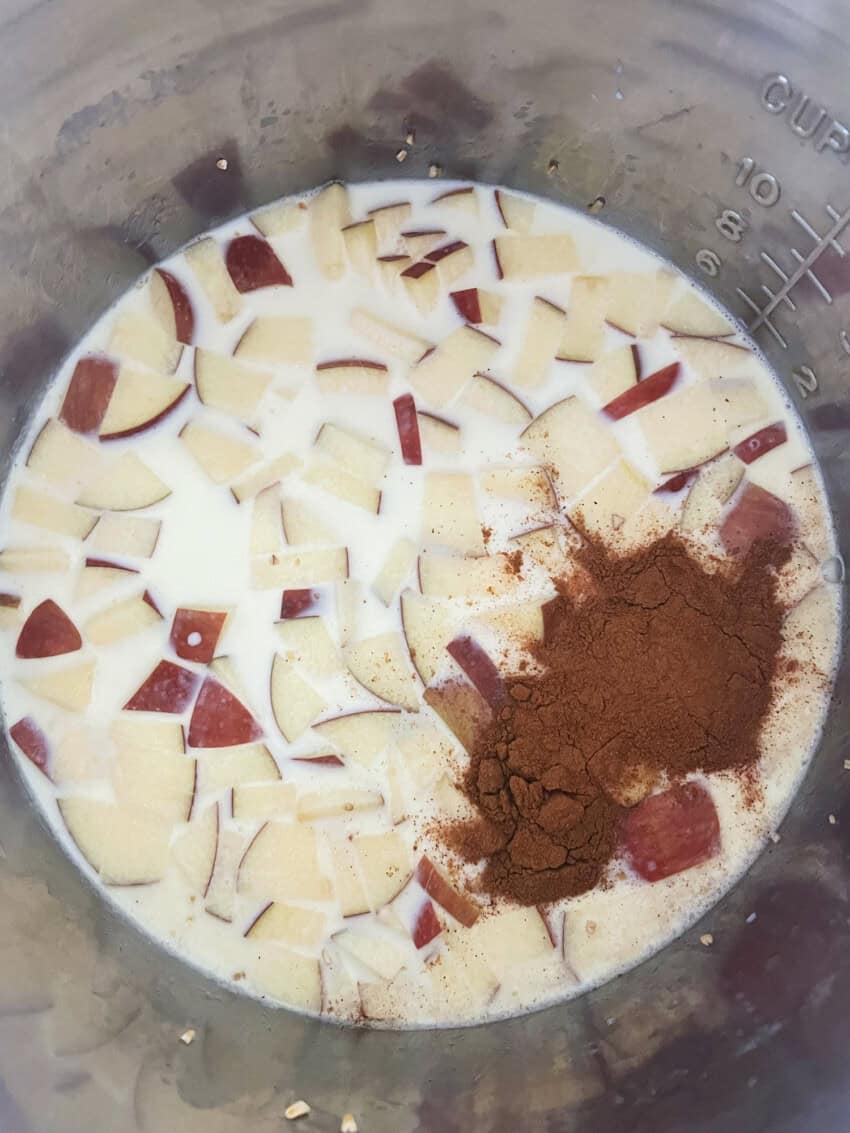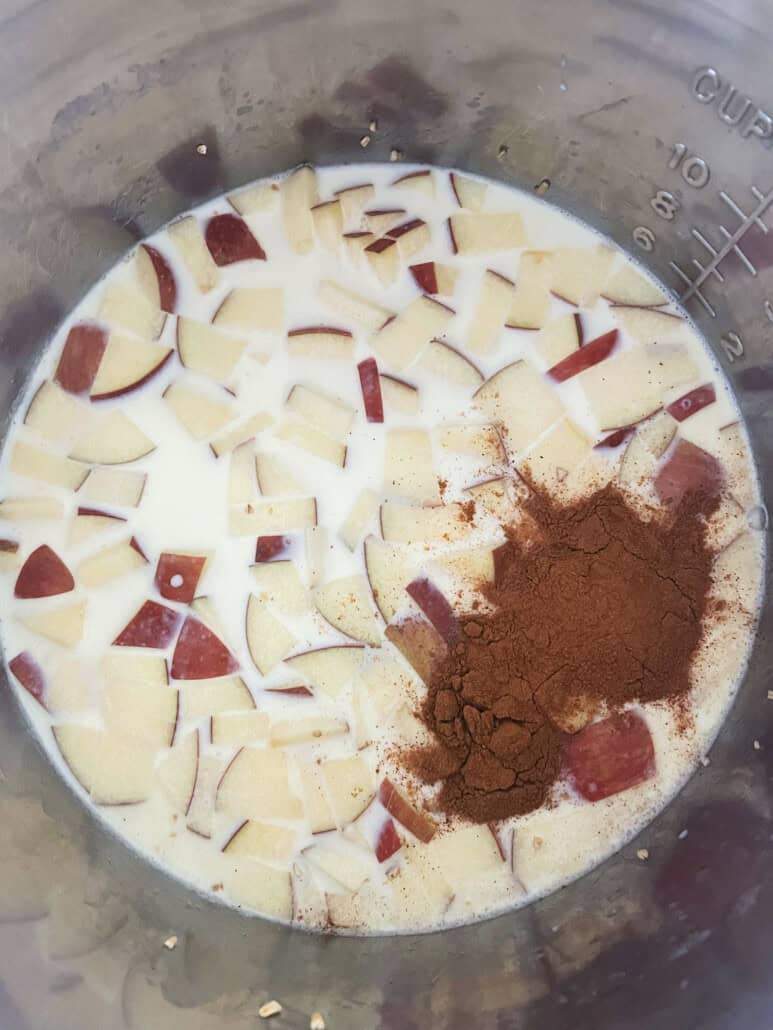 Lock and seal the Instant Pot lid.
Cook the oats at high pressure for 12 minutes. It's important to allow the pressure to release naturally for 10 minutes after the cook time is up. After this, you can quickly release the remaining pressure.
When you open the pot, you'll notice there is excess liquid. Give it a stir to incorporate.
You can stir in additional milk to reach the desired consistency. In my opinion, this recipe needs a drizzle of maple syrup at the end to make it extra tasty.
I also like to sprinkle pomegranate seeds and extra fresh apple pieces and toasted pecans for some crunch. Yum!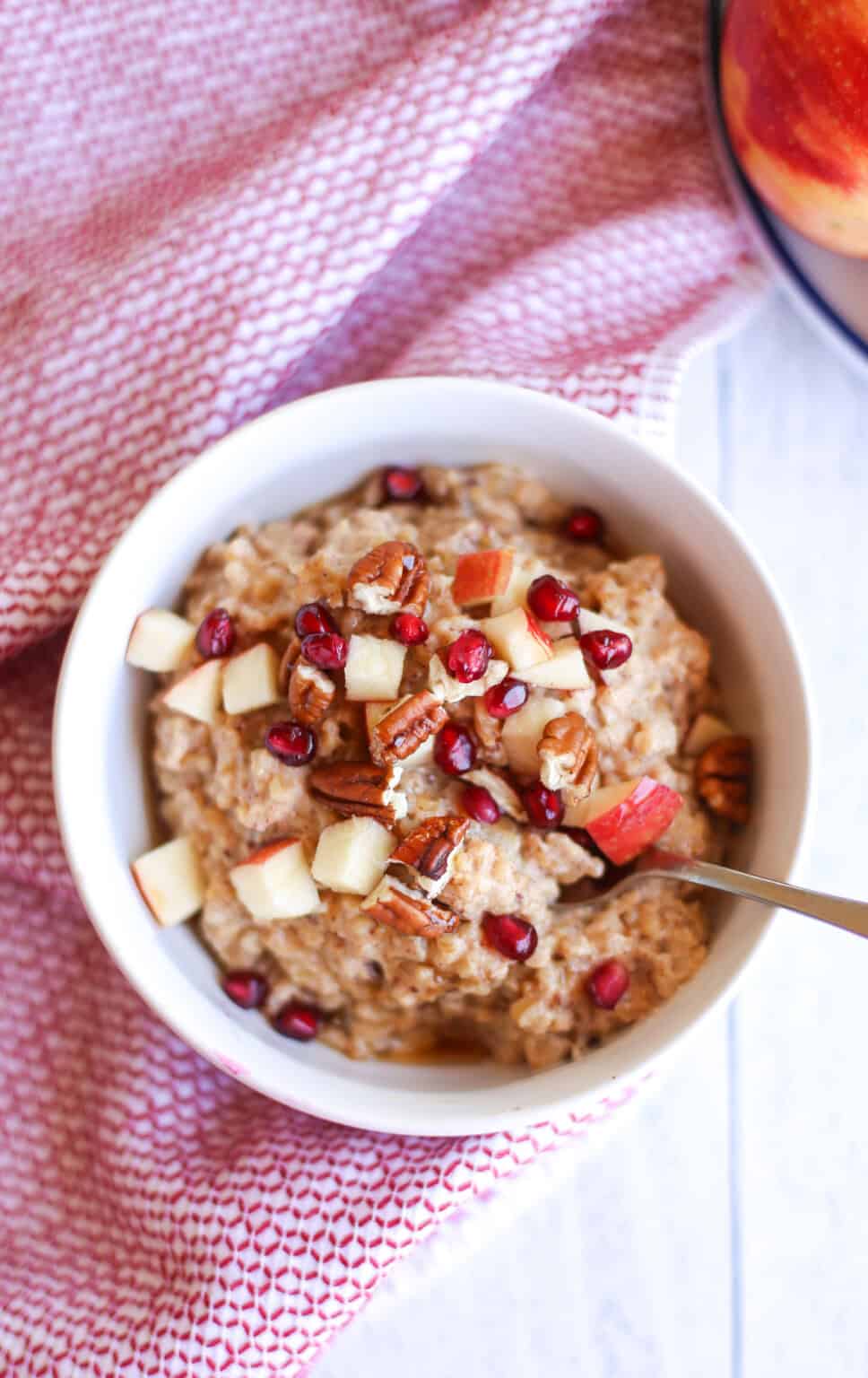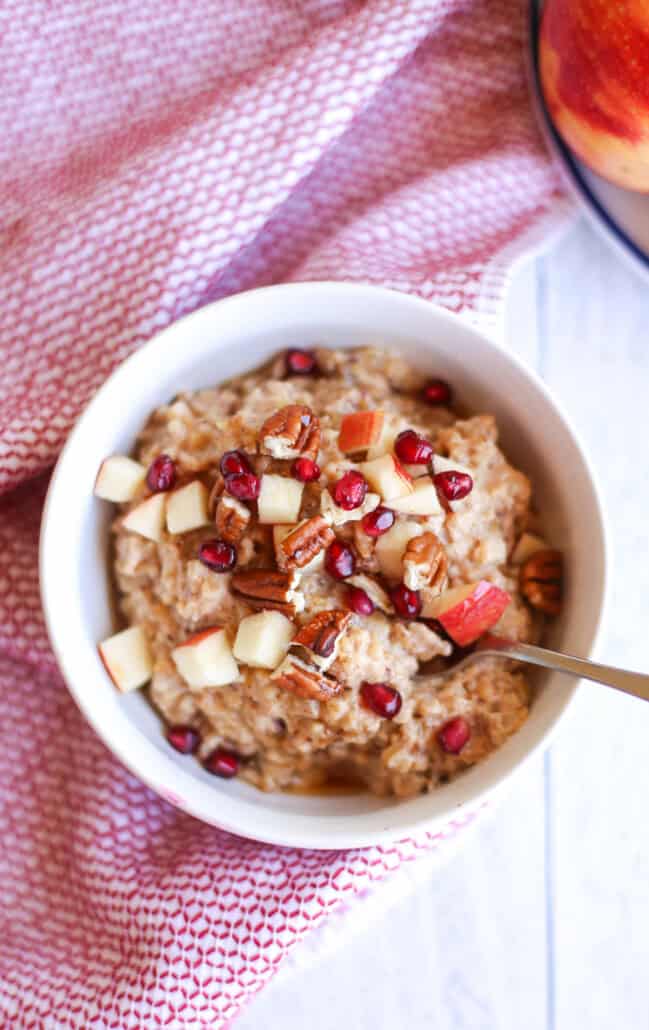 How to Freeze Steel Cut Oats
A wise use of your time in the kitchen is to prep all or at least part of this batch for the freezer. That way you have a fast, healthy breakfast on hand anytime.
Here's how to best freeze these oats…
Freeze for Later: Fully cook the oatmeal as directed. Let the oatmeal cool, then divide it evenly among two 6-cup jumbo muffin tins that have been greased (or 12 jumbo silicone muffin liners) to create single-serving portions. Freeze until frozen solid, then pop out the oatmeal portions and transfer them to a gallon-size freezer bag or container. Seal and freeze.
Prepare from Frozen: Place a serving of frozen oatmeal in a microwave-safe bowl. Add about 1/3 cup milk and microwave in 30-second intervals, stirring between each, until warmed through. Follow step 4 in the recipe for serving.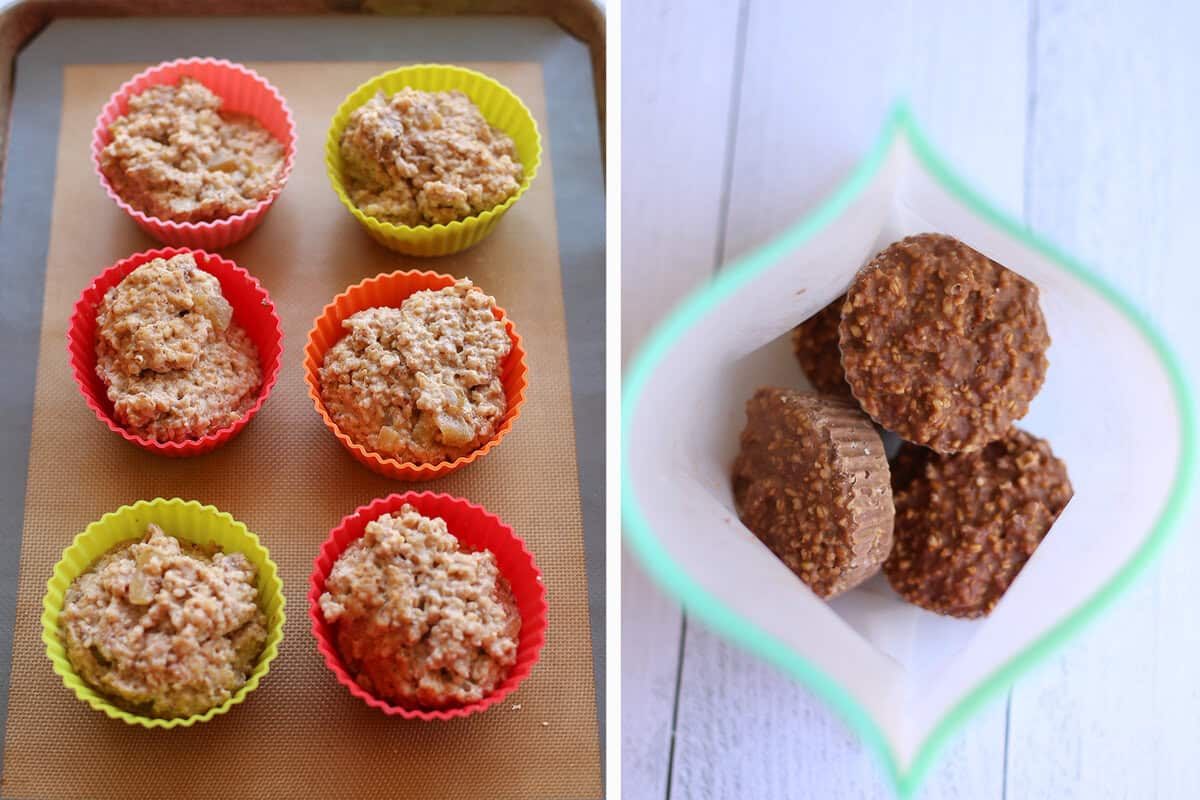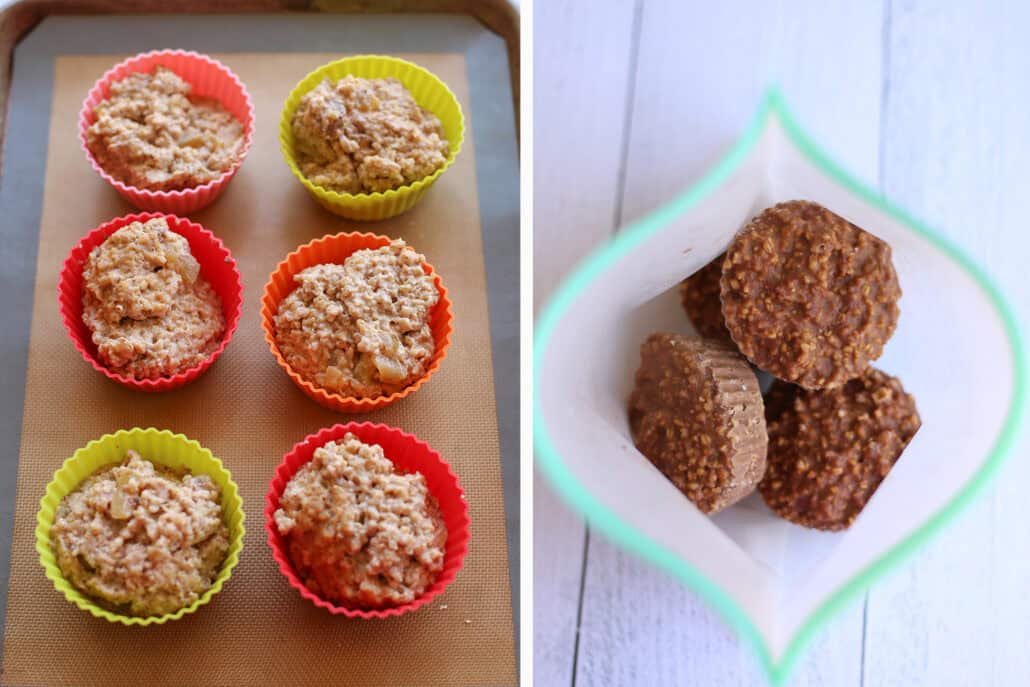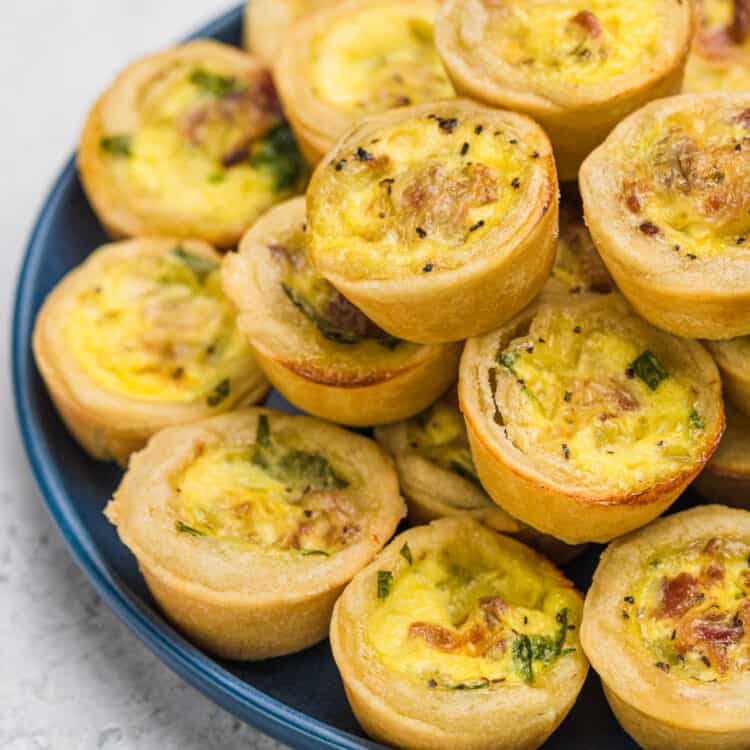 Want More Make Ahead Breakfast Ideas?
Foolproof make-ahead breakfast recipes that will help you start the morning the right way.
See Top 10 Make Ahead Breakfasts
Can I Double the Recipe in the Instant Pot?
I recently tested doubling this recipe for the Instant Pot and am happy to report that it works beautifully to double!
No need to change any of the cook time either. It does take a bit longer to come to pressure but, other than that, you can double all of the ingredients, follow the cooking instructions, and have twice as many steel cut oats!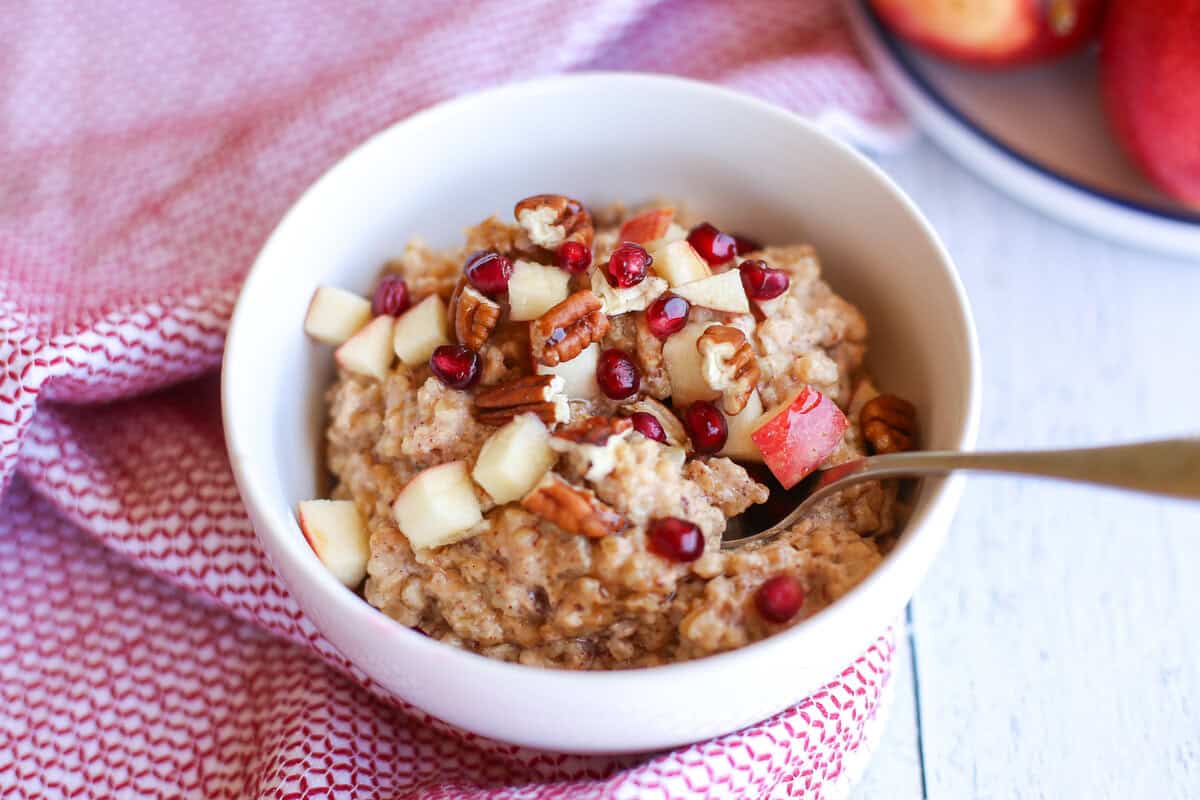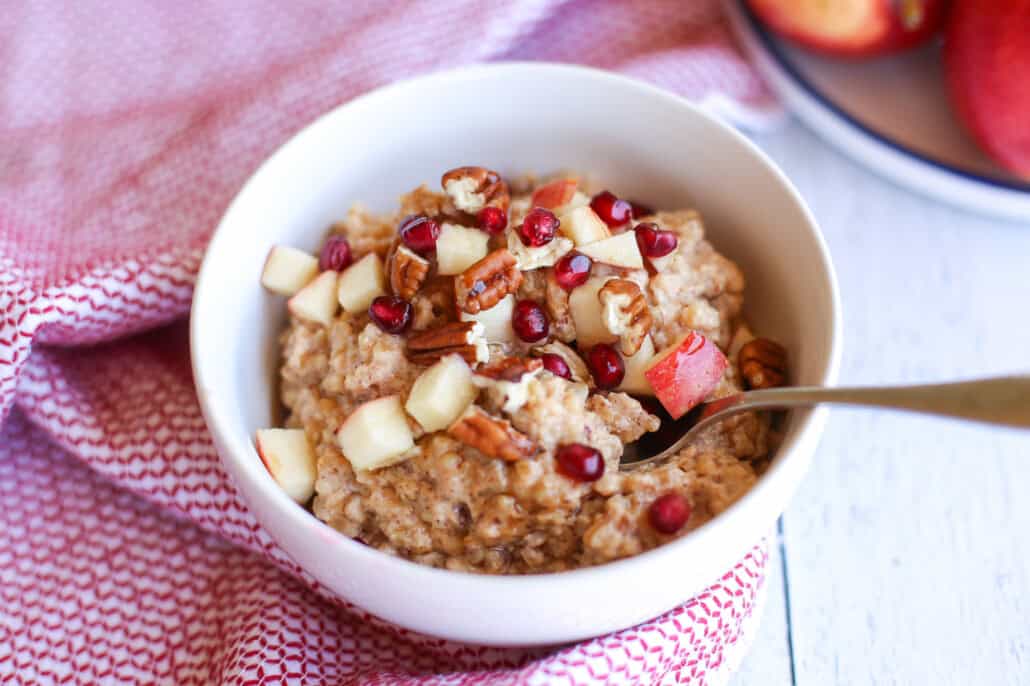 Did you make this? Snap a photo and tag us on Instagram at @thrivinghome so we can see your creations and cheer you on!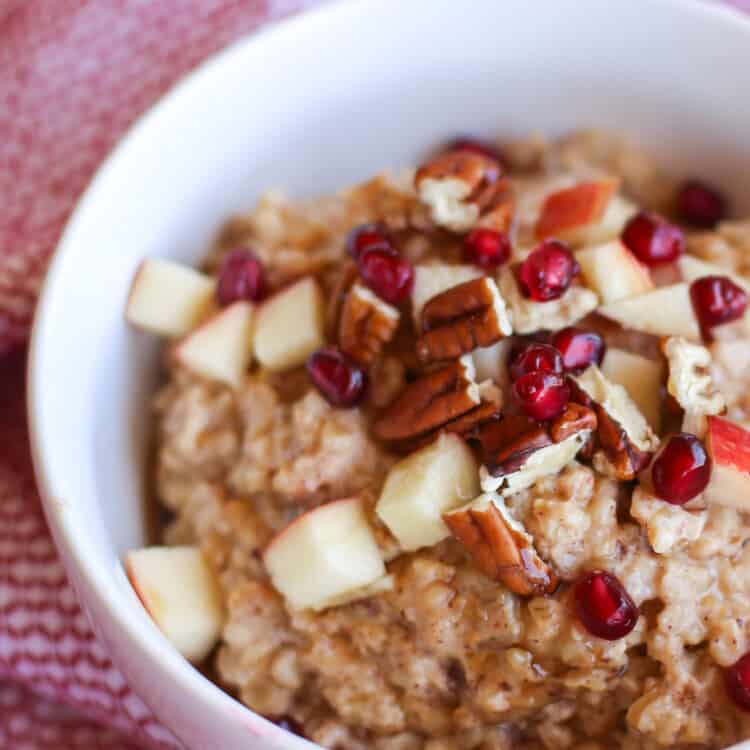 Apple Cinnamon Steel Cut Oats
Apple Cinnamon Steel Cut Oats delivers the classic fall flavors into every bite. We love a recipe that makes both adults and kids happy. Steel cut oatmeal even works beautifully to prep ahead for the freezer.
Prep:
5 minutes
Cook:
22 minutes
Total:
27 minutes