Turkey and Veggie Meatballs
This post may contain affiliate or sponsored links. Please read our disclosure policy.
Looking for a delicious and healthy twist on traditional meatballs? Look no further than our mouth-watering turkey meatballs! Made with lean ground turkey, a blend of savory herbs, and sneaky veggies, these meatballs are a nutritious and flavorful addition to any meal.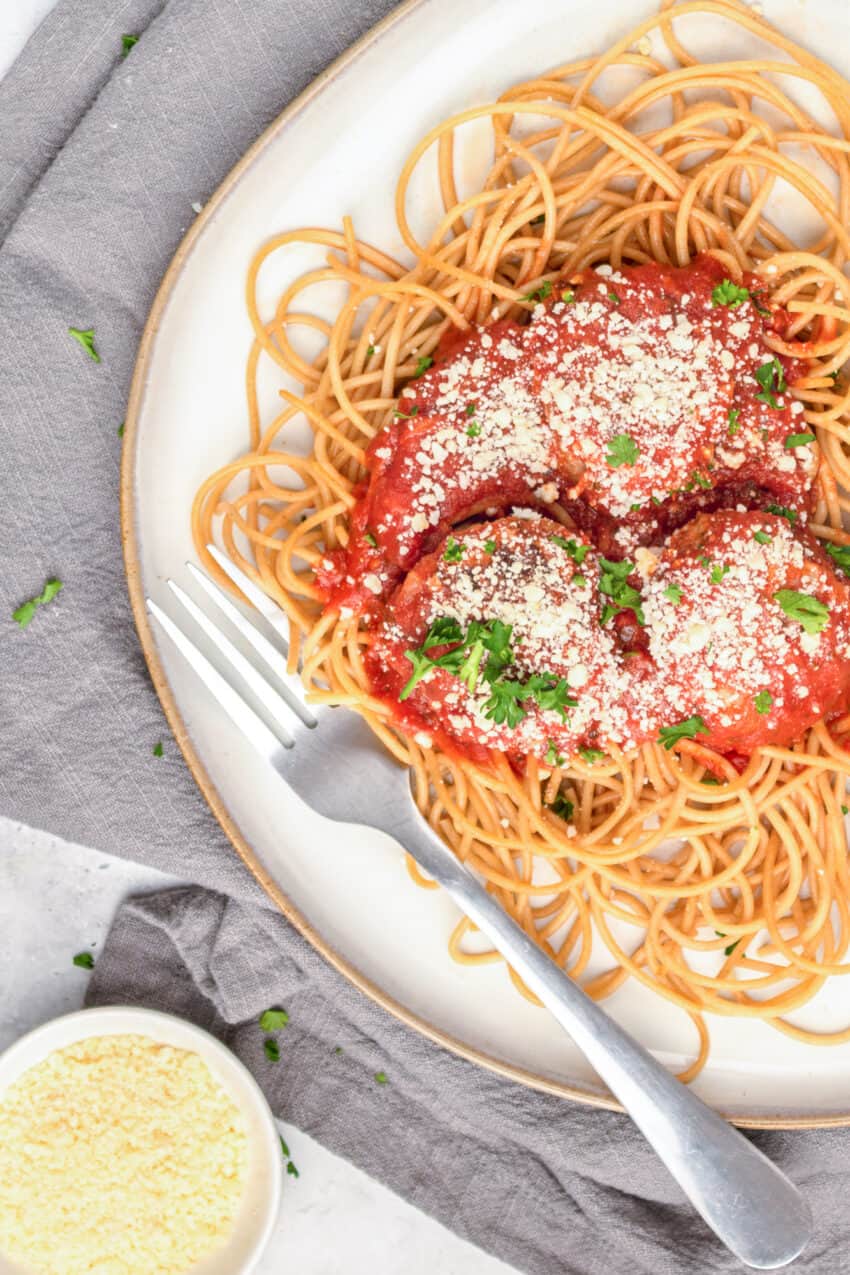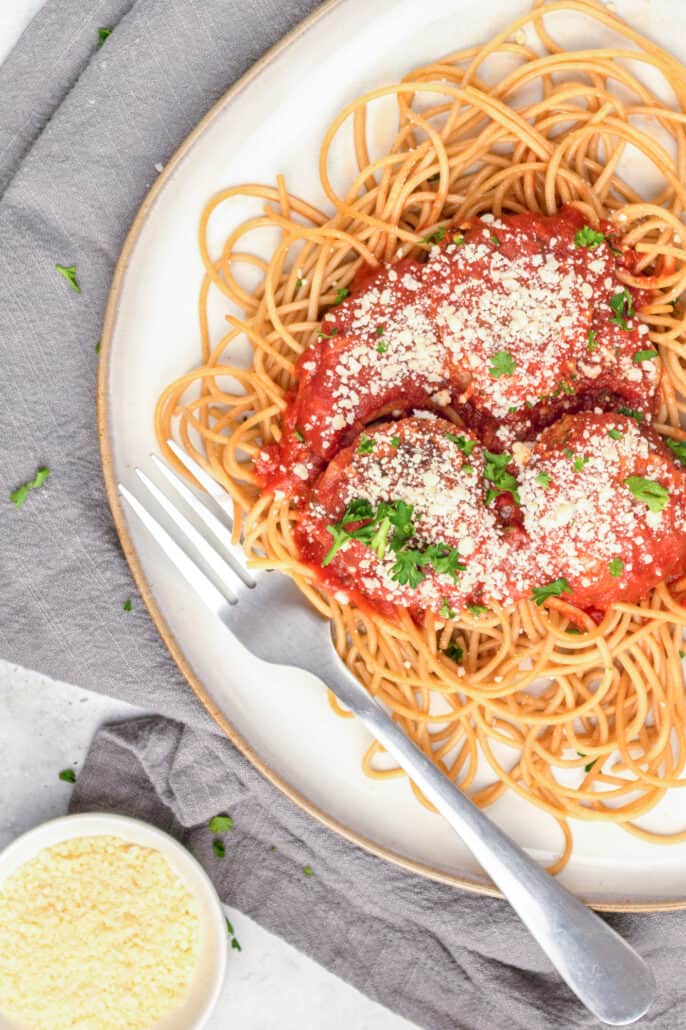 "These were absolutely fantastic! I used your homemade marinara sauce as well and both were amazing! ⭐️⭐️⭐️⭐️⭐️" – Jenny
Reasons You'll Love this Recipe
It's SO easy. Even a beginner cook could make these meatballs.
It's healthy. Ground turkey is much leaner than other meats. Plus we sneak in some extra veggies that even the pickiest eater won't notice.
Turkey meatballs are freezer-friendly. This is such a great recipe to prep ahead for the freezer or to prep as a meal to take to others.
This recipe can be used in many different ways: Over pasta, in a sub, as an appetizer and so much more!
It's family-friendly. This recipe is one that all ages will enjoy.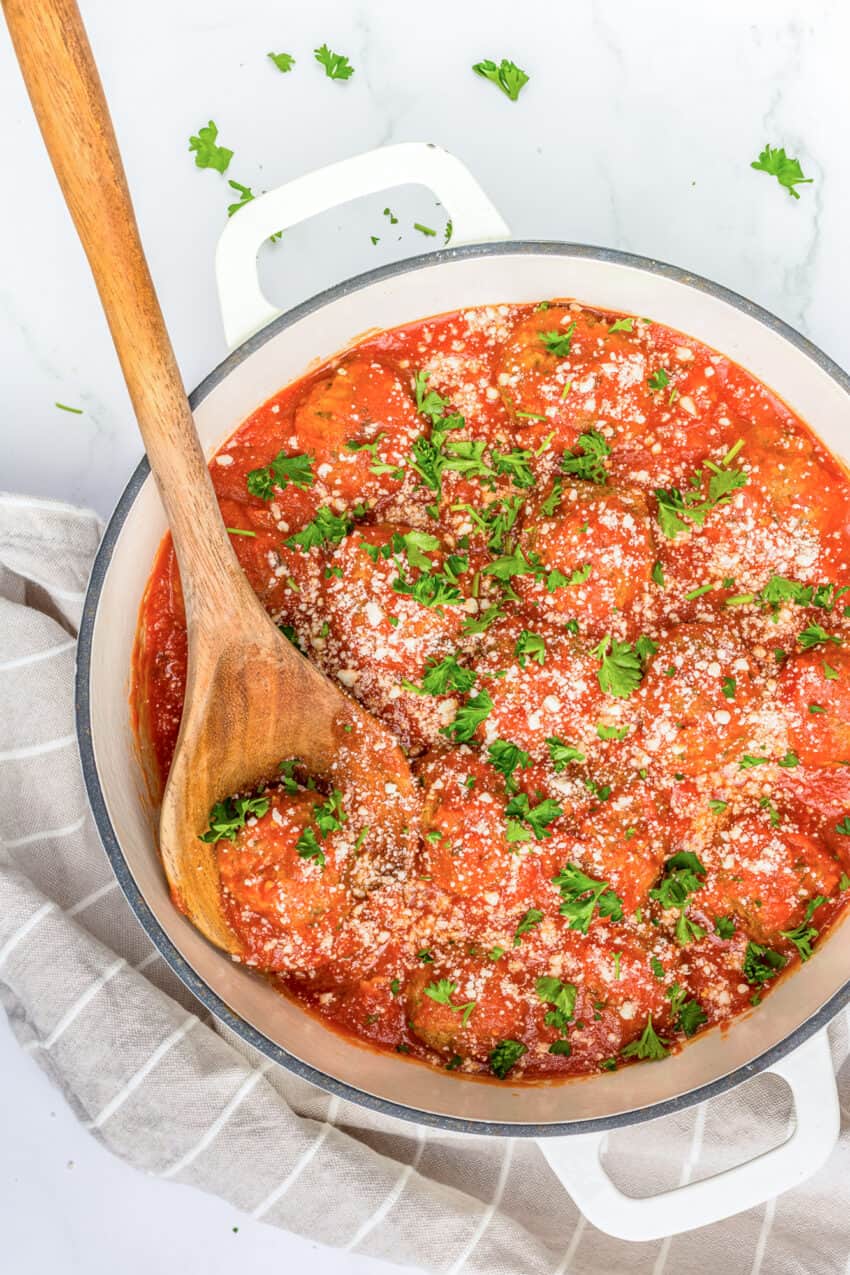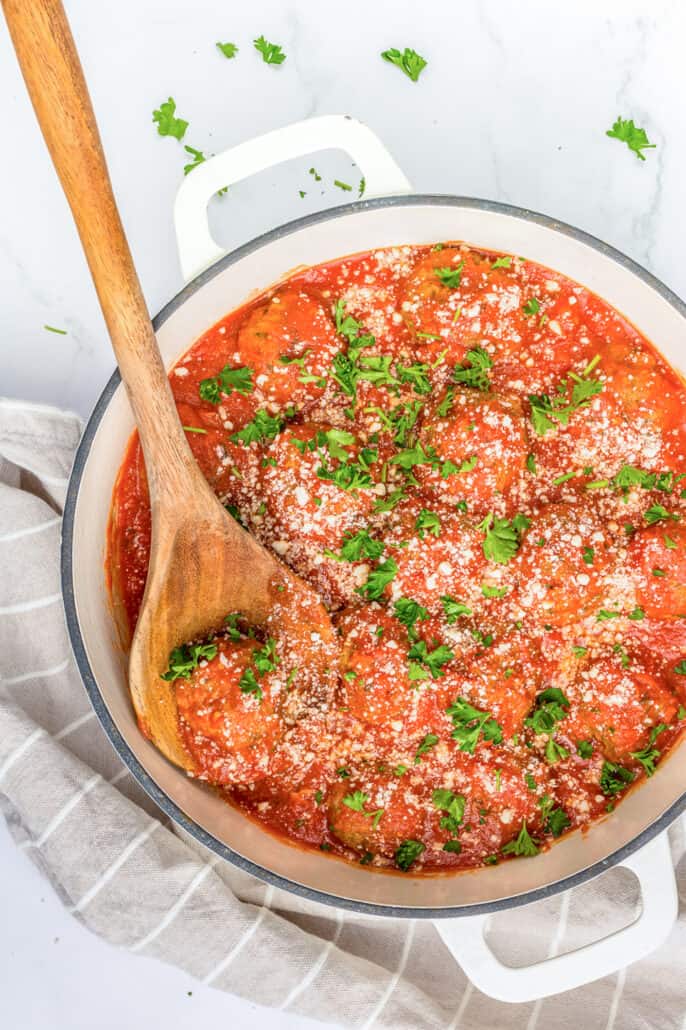 Lean ground turkey* – you can also sub ground chicken. *We recommend NOT using the 99% lean ground turkey. It's much better to get turkey that's less lean, so the meatballs are more moist and flavorful.
Shredded zucchini or carrots – Use a food processor to make the job easier and to blend up the veggies even more
Grated Parmesan cheese
Panko bread crumbs – preferably whole wheat
Minced fresh parsley
Minced garlic
Egg – this helps hold the meatballs together
Ketchup – organic is preferred
Salt & Pepper
Marinara sauce – You can make your own or buy it from the store.
Optional for serving: 1 pound whole grain spaghetti or angel hair pasta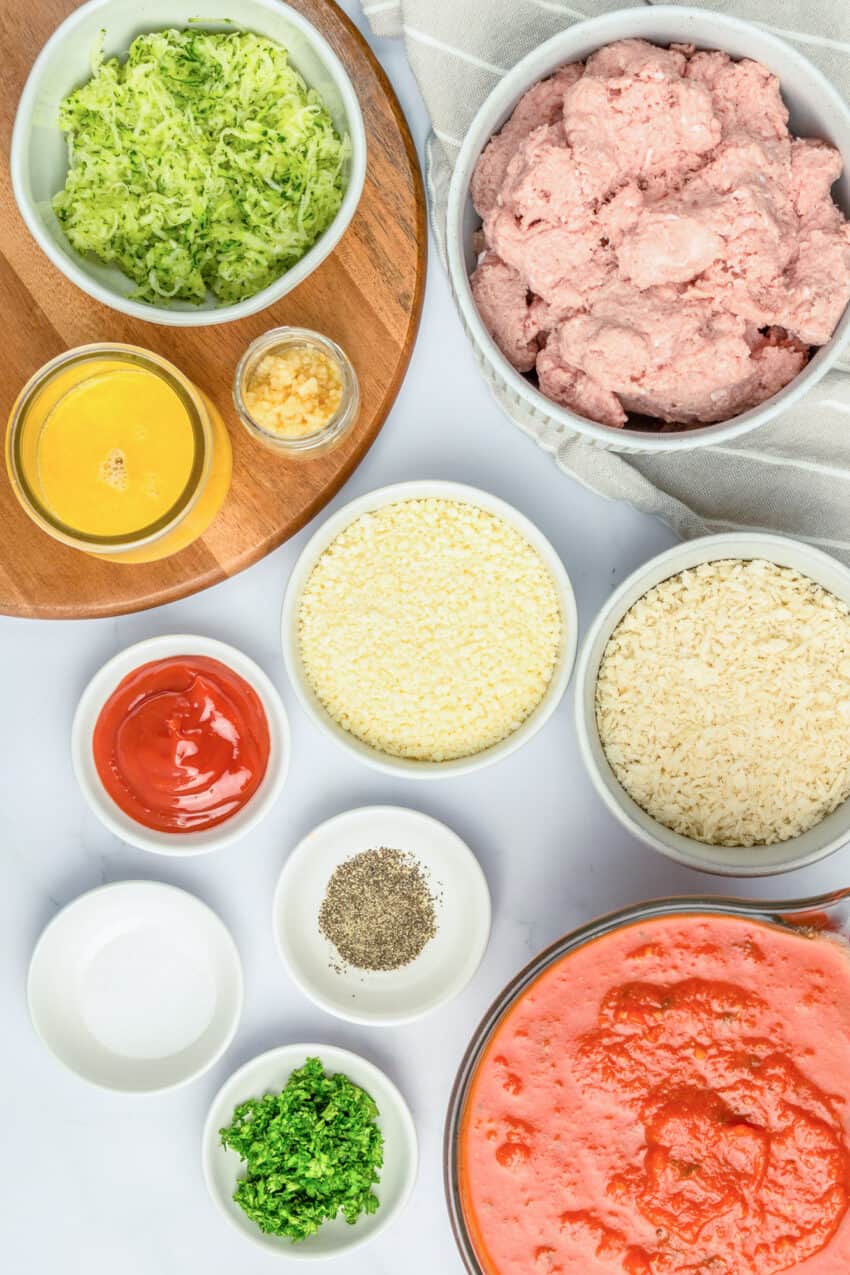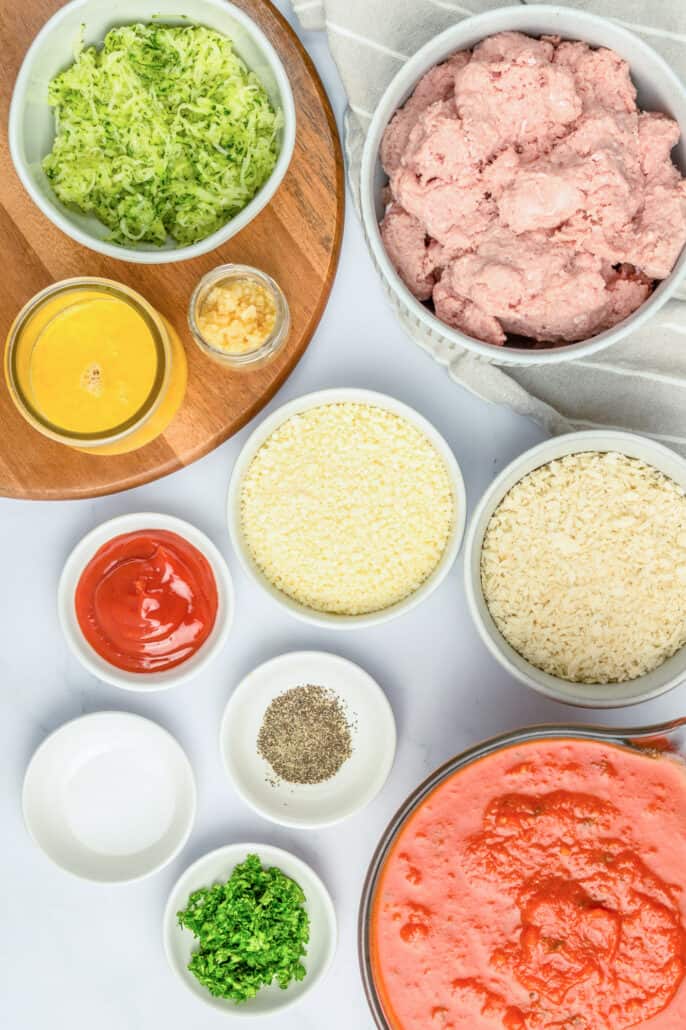 Form the Turkey Meatballs & Bake
In a large mixing bowl, you will add all of the meatball ingredients and mix them together. I use a small ice cream scoop and then my hands to form its shape.
Place baking sheet on the middle rack in the oven. Bake for about 15-20 minutes or until internal temp reaches 165°F.
Tip: Don't roll the turkey meatballs too tightly or they will be too dense in the end. Roll them firmly enough so they stick together but gently enough where they aren't too compact.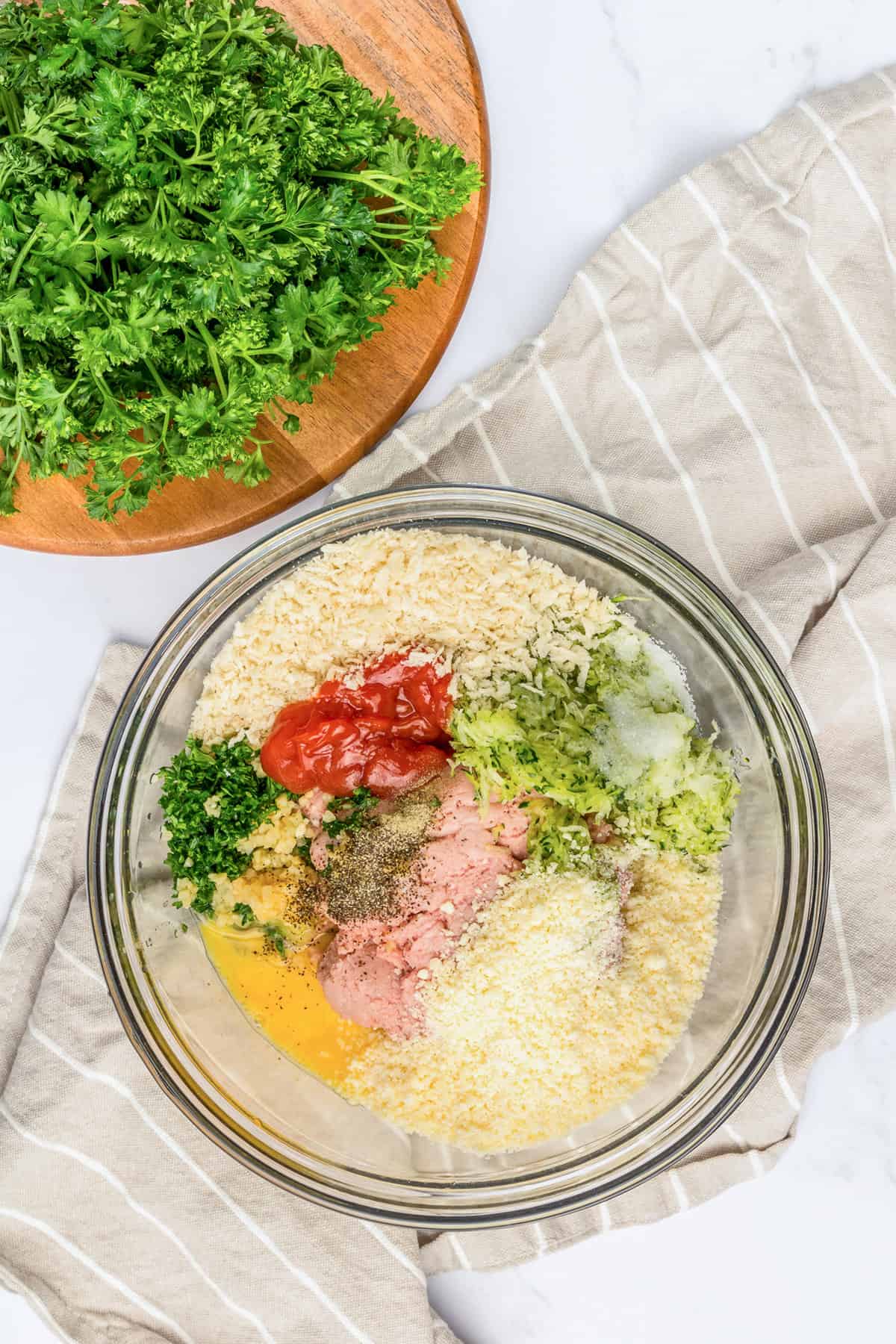 Warm in Sauce
Place all the cooked meatballs and marinara sauce in a large pot. Turn the heat to medium-low and simmer until the sauce is warmed through and the flavors blend, about 10 minutes, stirring occasionally.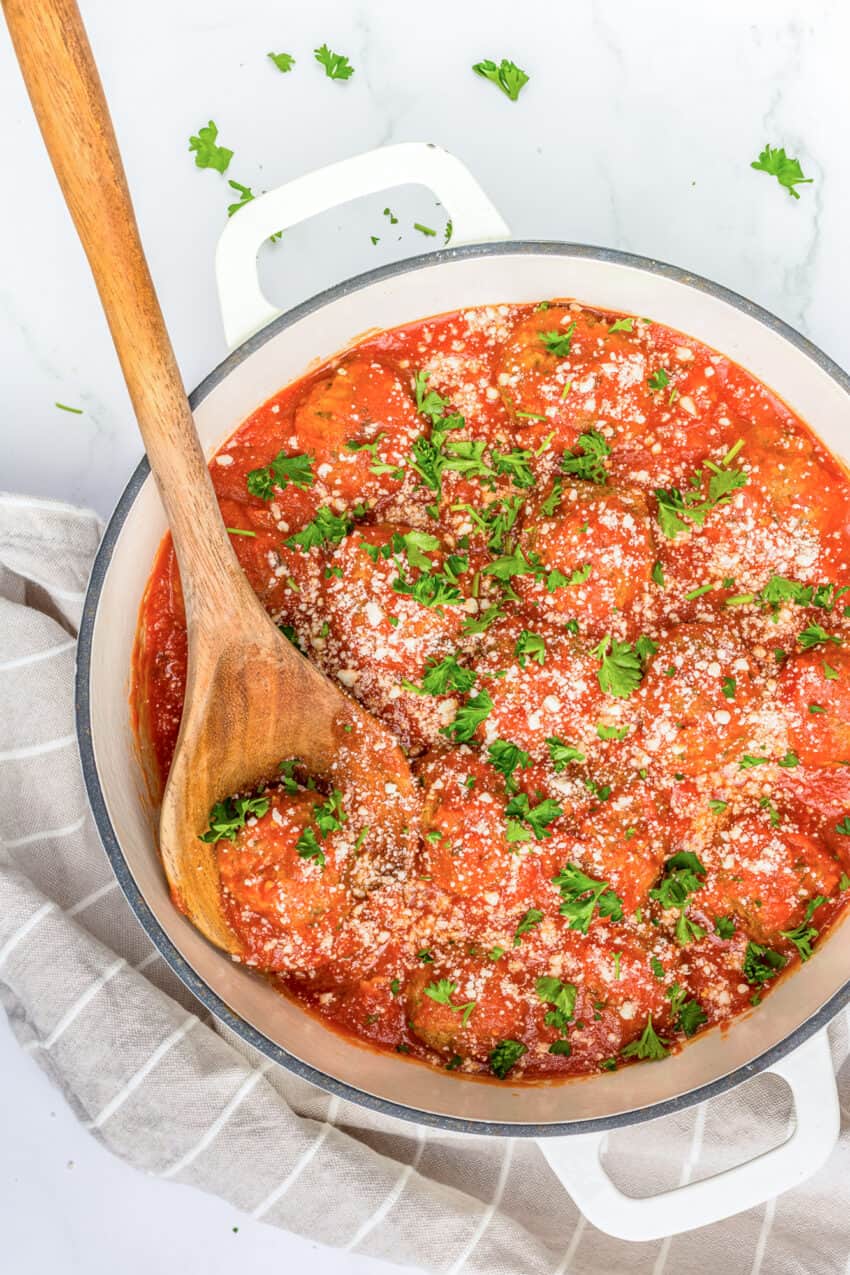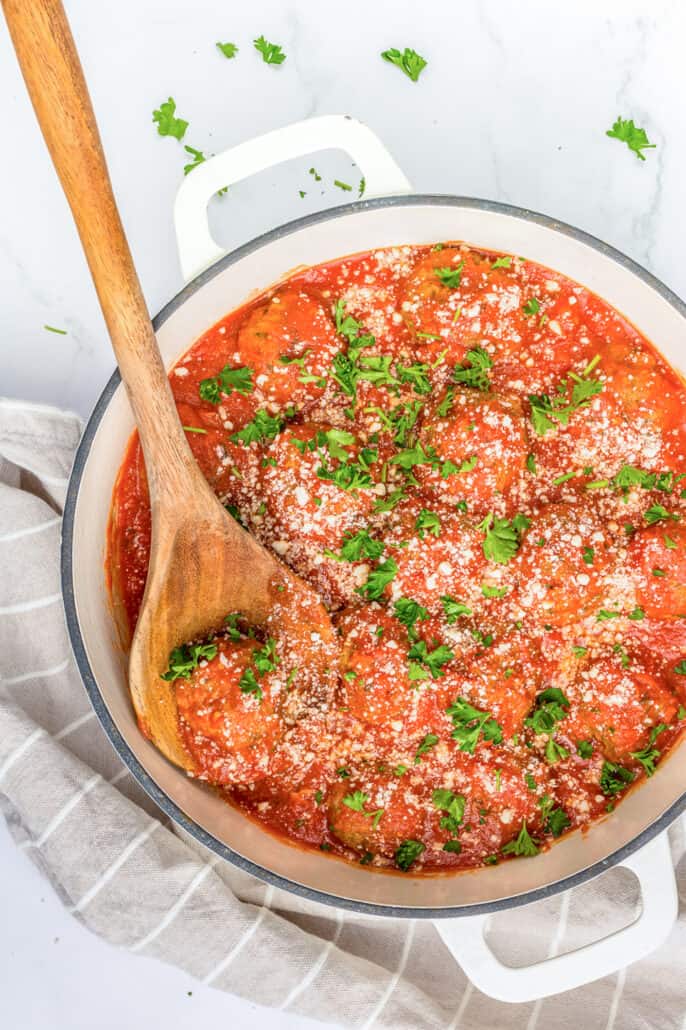 Serve and Enjoy!
There are many ways you can serve your turkey meatballs.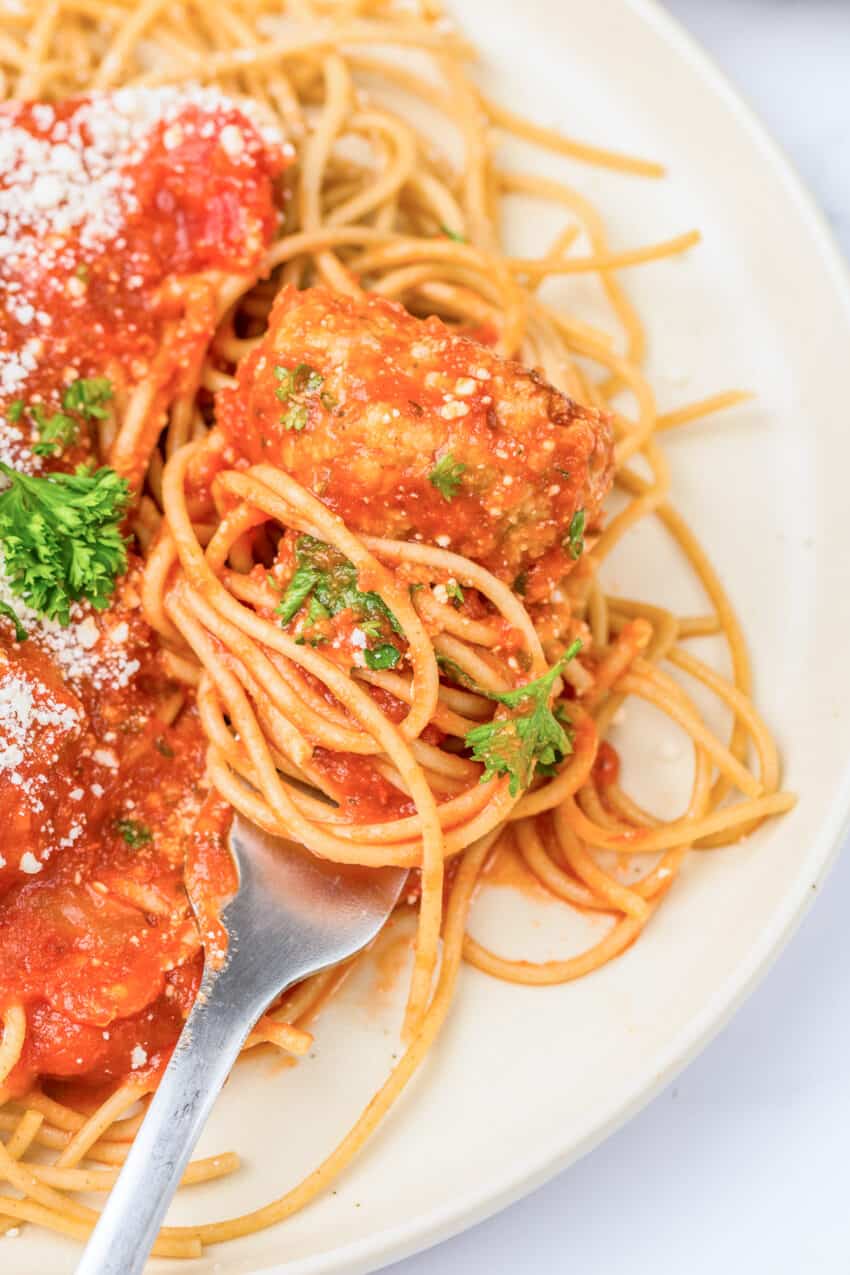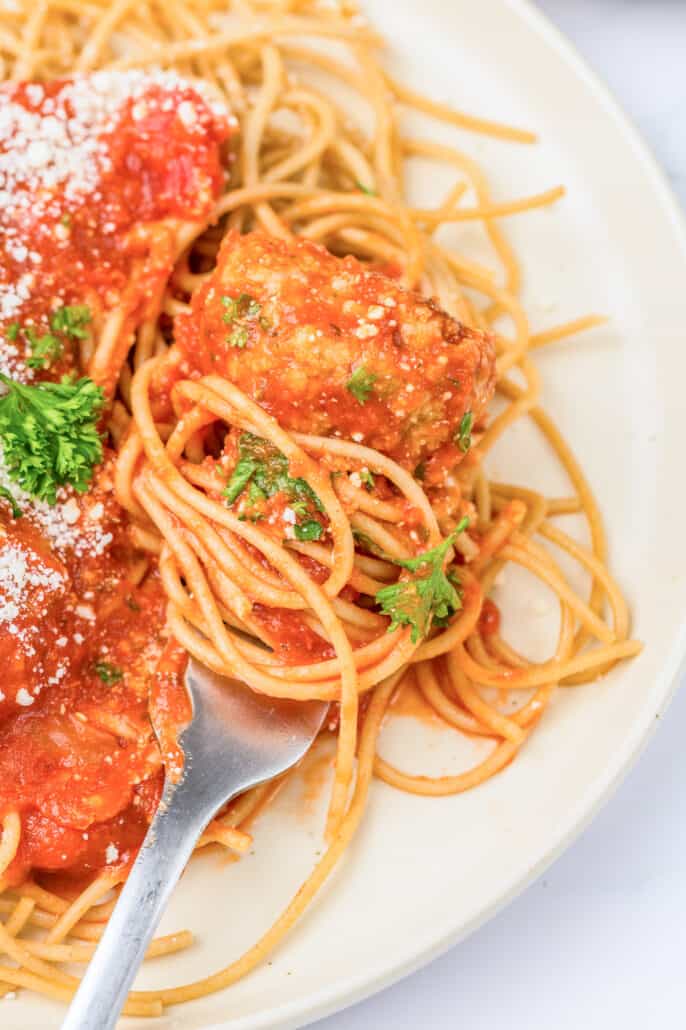 How to Freeze Turkey Meatballs
You've come to the right place if you're looking for make-ahead freezer meals.
Not only have we written two freezer meal cookbooks, but we also have some amazing 1 Hour Freezer Prep Plans that walk you through how to make 6 meals in one hour.
Freeze For Later: Roll meatball mixture into 1 1/2-inch meatballs and store in single layers in a freezer container or bag. Divide layers by parchment paper. Seal well and freeze.
Prepare From Frozen: Thaw in the refrigerator for about 24 hours. Cook according to instructions.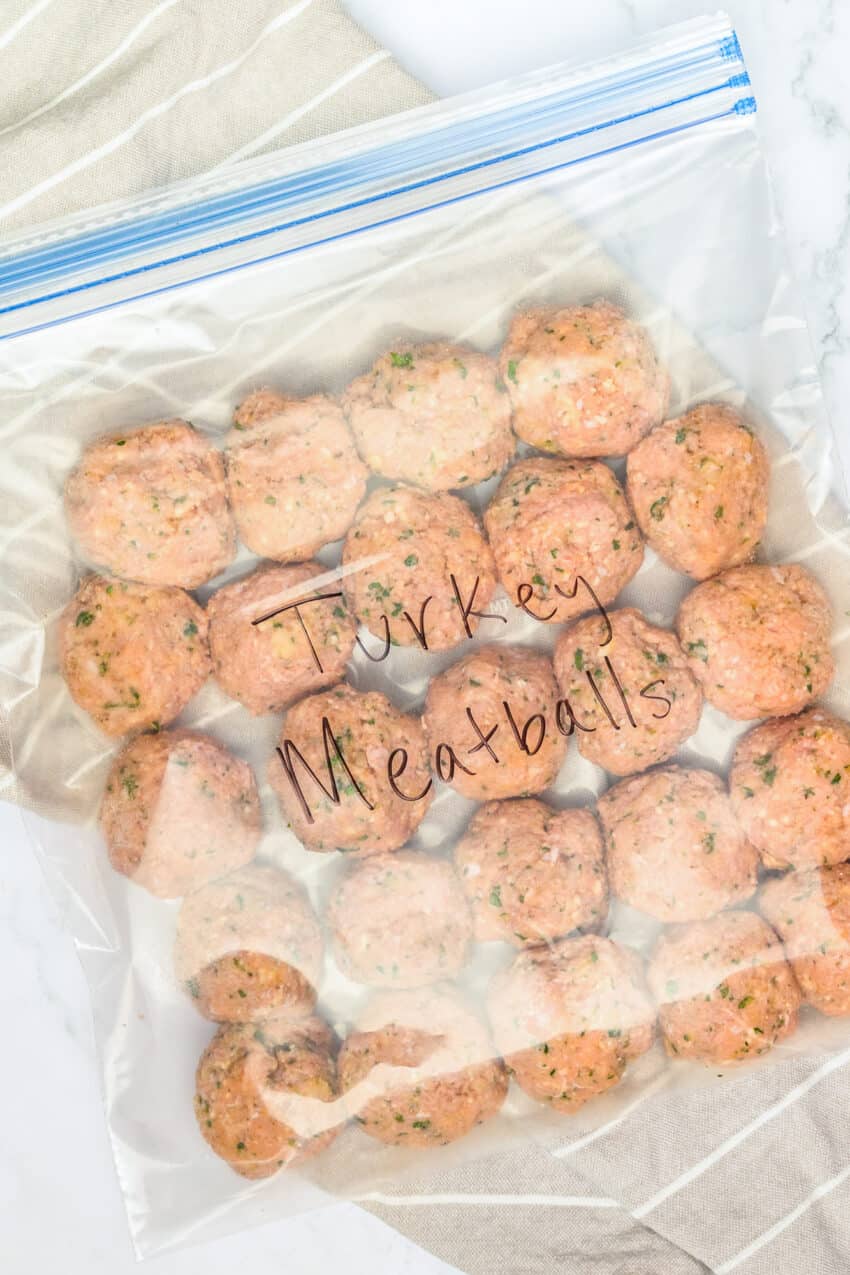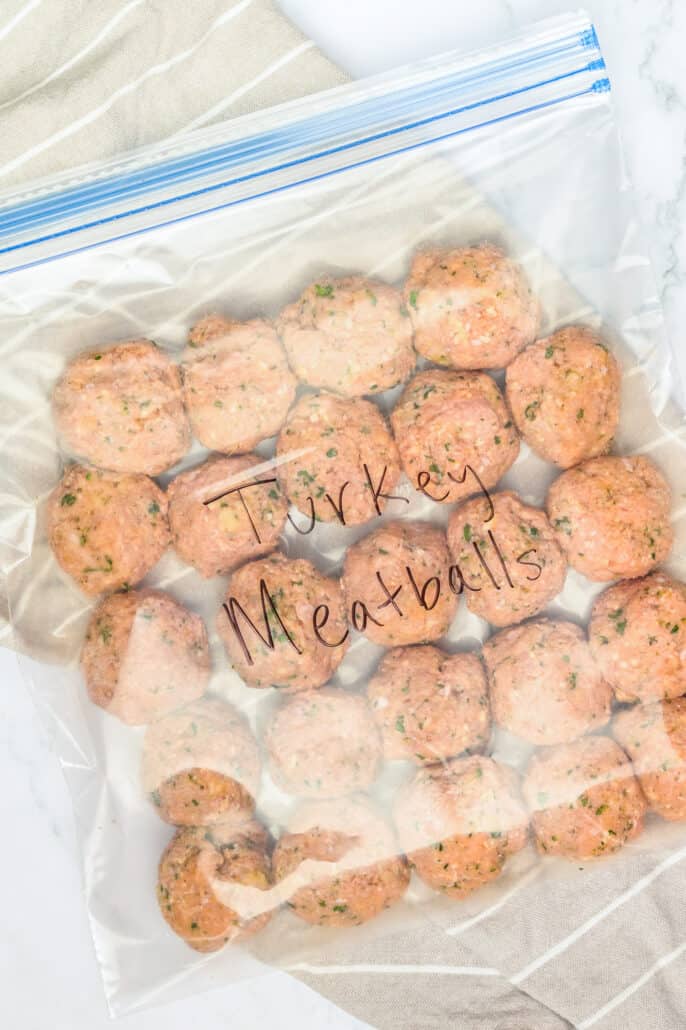 FAQs
What type of ground turkey should I use?
We recommend NOT using the 99% lean ground turkey. It's much better to get turkey that's less lean, so the meatballs are more moist and flavorful. If you can get organic meat, that is also preferable.
Can I substitute ground chicken?
Yes, you can absolutely substitute ground chicken in this recipe without making any other recipe changes.
What is the benefit of using turkey instead of beef or pork for meatballs?
Turkey is a leaner meat than beef or pork, meaning it has less fat and fewer calories. This makes it a healthier choice for those watching what they eat.
How do you keep the meatballs from drying out?
Turkey meatballs can dry out quickly if overcooked or if the mixture is too lean. To prevent this, we have moist shredded veggies and egg in our recipe. Also, be sure not to overcook the meatballs – they should be cooked through but still moist and tender.
At what temperature are turkey meatballs safe to eat?
The safe cooking temperature for turkey meatballs (and all ground poultry) is 165°F. This is the temperature at which harmful bacteria like salmonella are destroyed. Use a meat thermometer to check the internal temperature of the meatballs.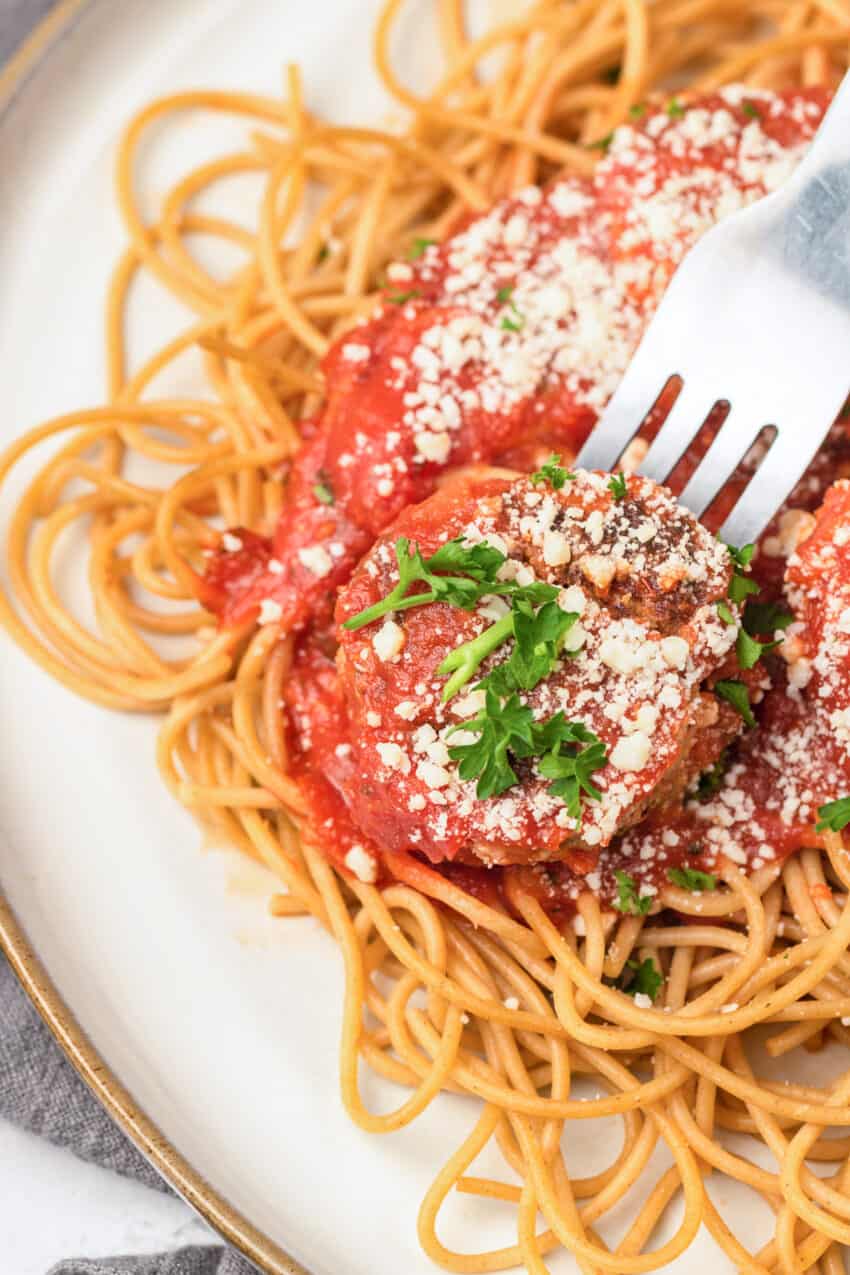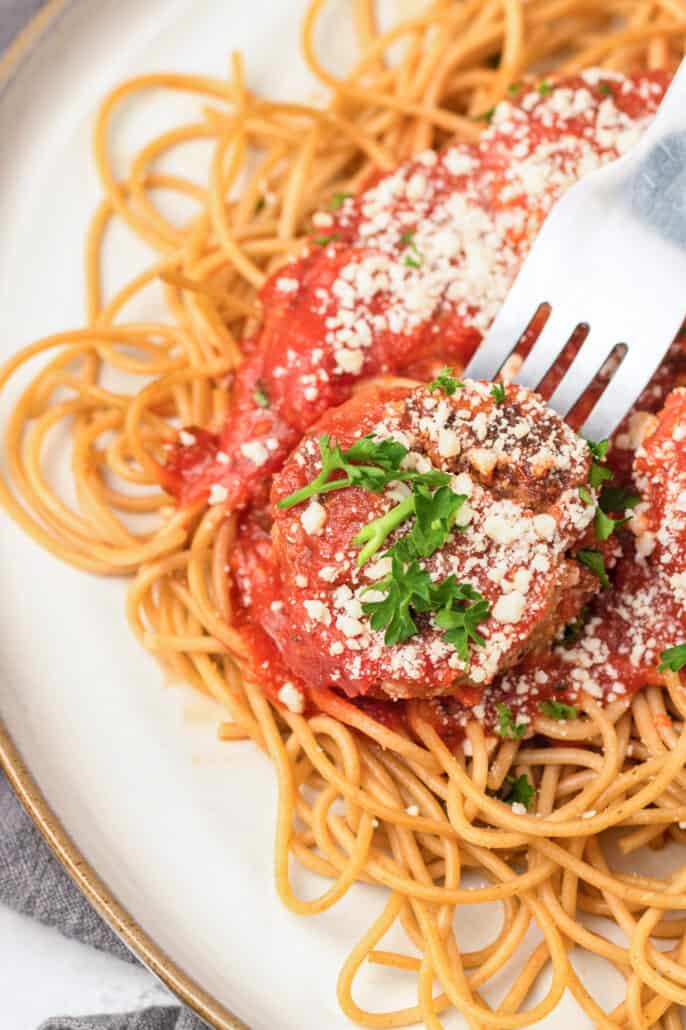 Did you make this? Snap a photo and tag us on Instagram at @thrivinghome so we can see your creations and cheer you on!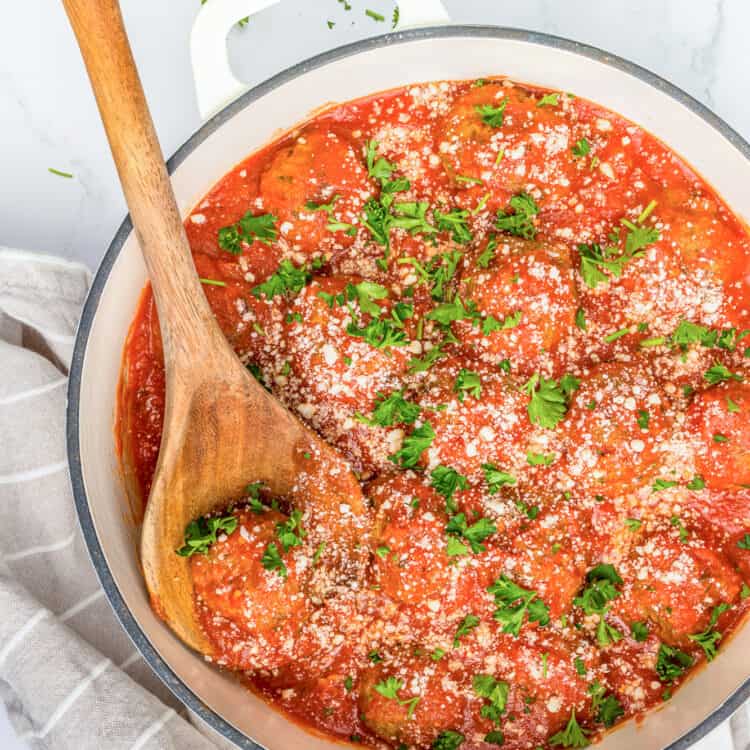 Mini Turkey and Veggie Meatballs
This little meatball is full of zucchini, whole wheat bread crumbs, ground turkey, and Parmesan cheese. They are sure to become a family favorite!
Yield:
About

32

(1 1/2-inch) meatballs (

6

–

8

servings)

1

x
Prep:
15 minutes
Cook:
25 minutes
Total:
40 minutes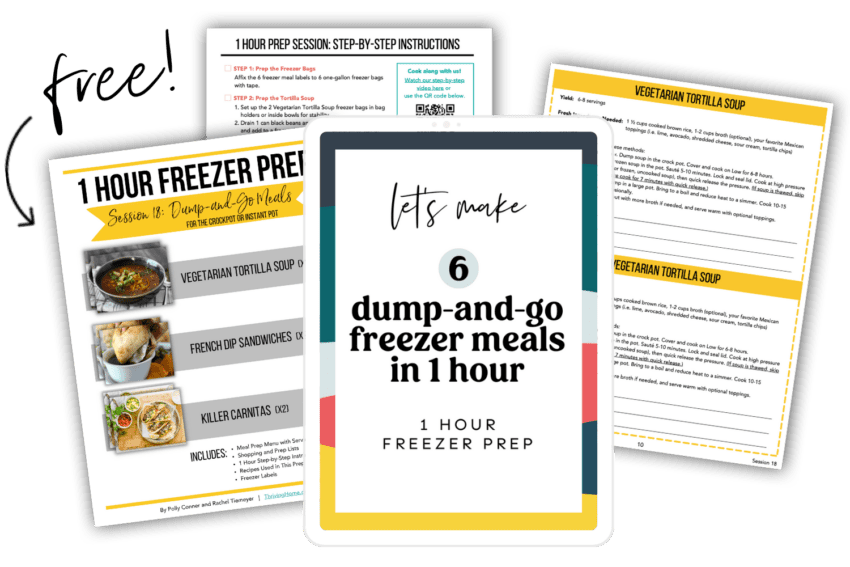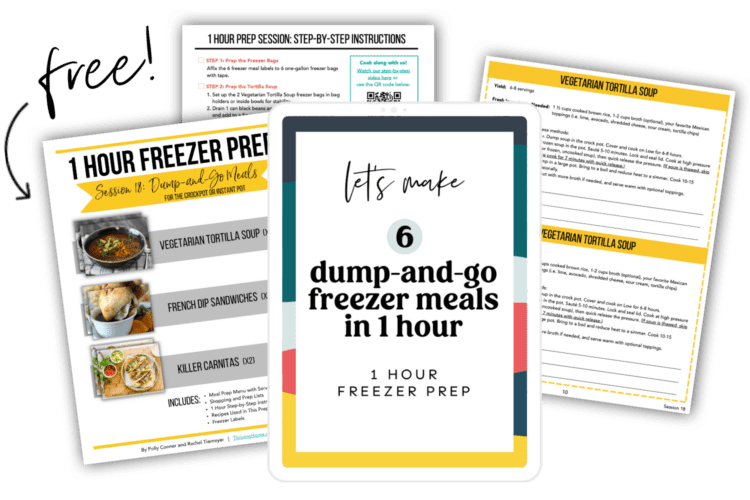 Make 6 Dump-and-Go Freezer Meals in 1 Hour!
Try a 1 Hour Freezer Prep Session ($6.99 value) for FREE!
Includes:
Shopping & equipment lists
Step-by-Step instructions & video tutorial
Serving suggestions & dietary substitutions & more