Honey Mustard Chicken Marinade
Updated: 5/27/22
You had me at 5 ingredients! That's right. This Honey Mustard Chicken Marinade only requires 5 pantry staple ingredients for a delicious sweet and savory result.
Making Honey Dijon Chicken has never been so easy. Check out our storage tips & tricks as well as recipe ideas on how to use the marinade.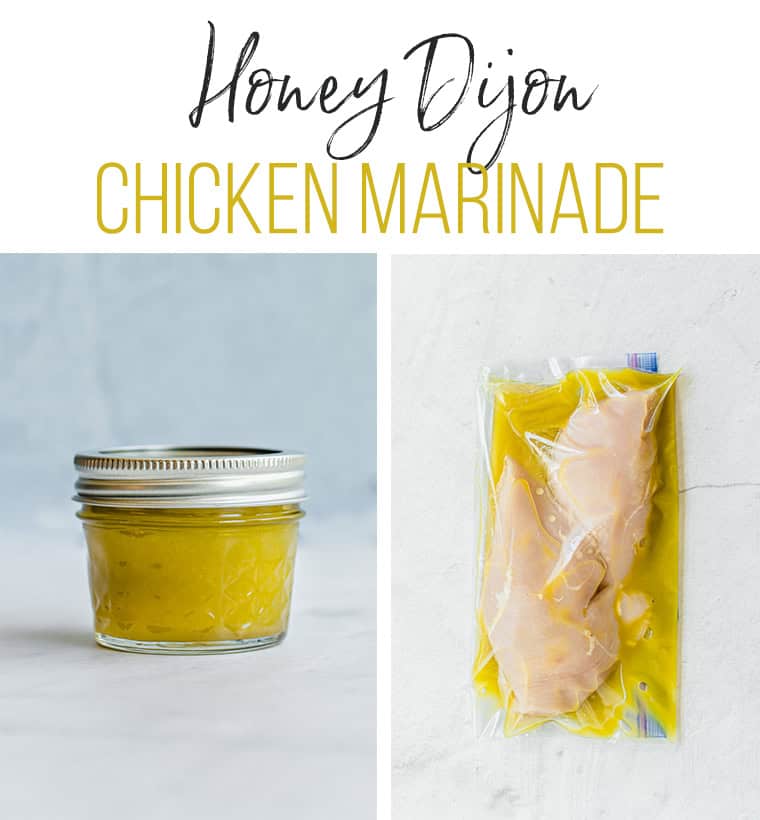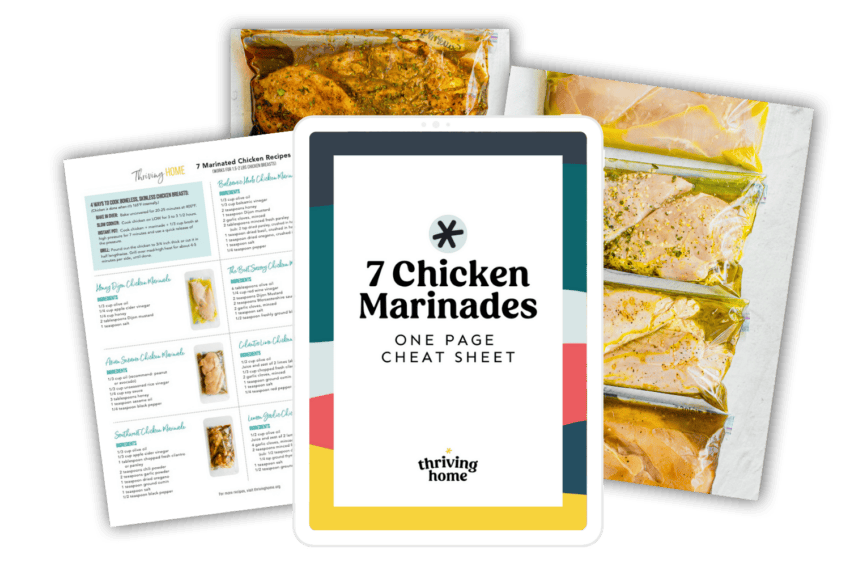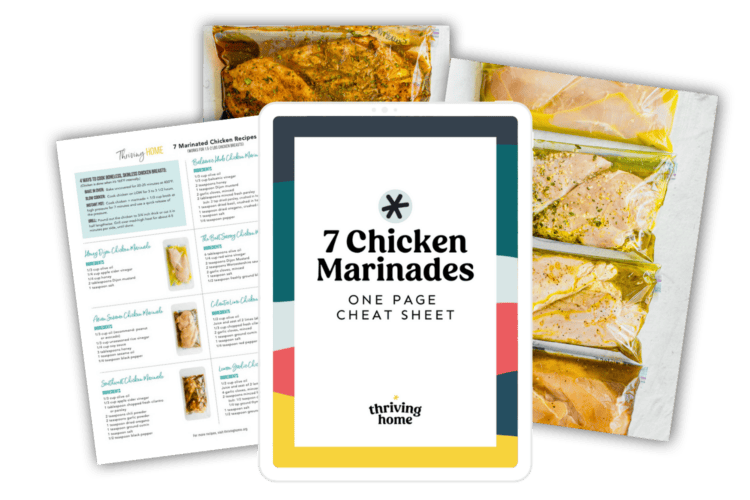 Get 7 of Our BEST Chicken Marinades Sent to Your Inbox!
*Disclaimer: We are an affiliate of ButcherBox and have included links in this post.
Ingredients in Honey Mustard Chicken Marinade
Marinating chicken is THE key to infusing flavor into typically lean, bland poultry cuts. This simple Honey Dijon Chicken Marinade requires only 5 pantry staples to turn that lackluster cut into something super tasty!
Let's meet the key ingredients to making the best Honey Dijon Chicken on earth!
Avocado Oil or Olive oil – The base for almost all of our chicken marinades.
Apple cider vinegar

– Cider vinegar adds a delicious twist on the acid component of this marinade.

Dijon mustard – There isn't too much in this recipe, but it's enough to give it that signature Dijon flavor.
Honey – This all-natural sweetener balances out the tartness from the vinegar and mustard.
Salt – A must in any chicken marinade.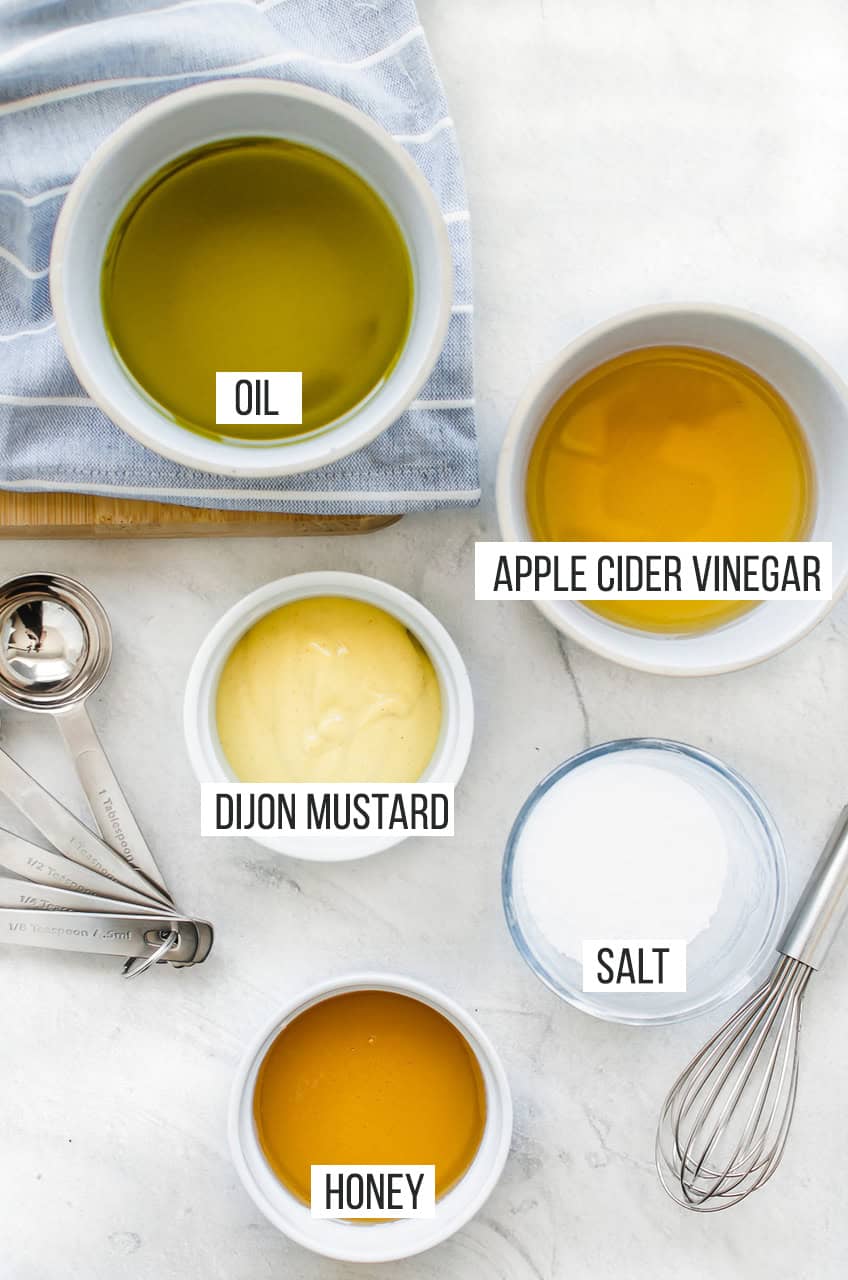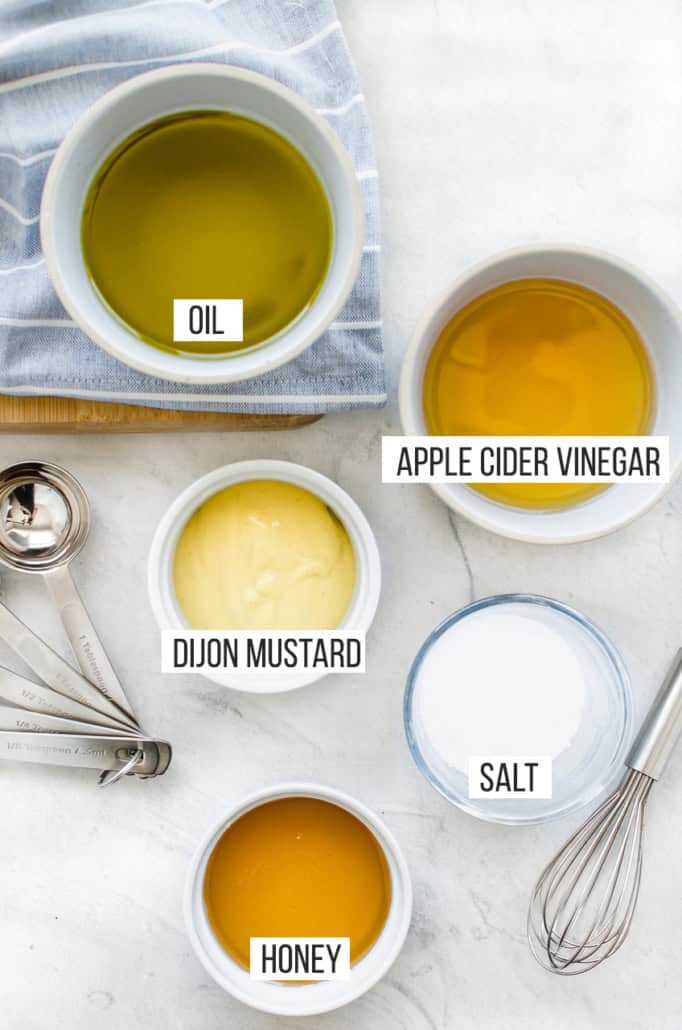 How to Make and Store the Marinade
If you find that you are using this chicken marinade frequently, you could make a large batch of it (scale it up 2-3x) and store it for future use. There are two main ways to store the marinade: The refrigerator or the freezer.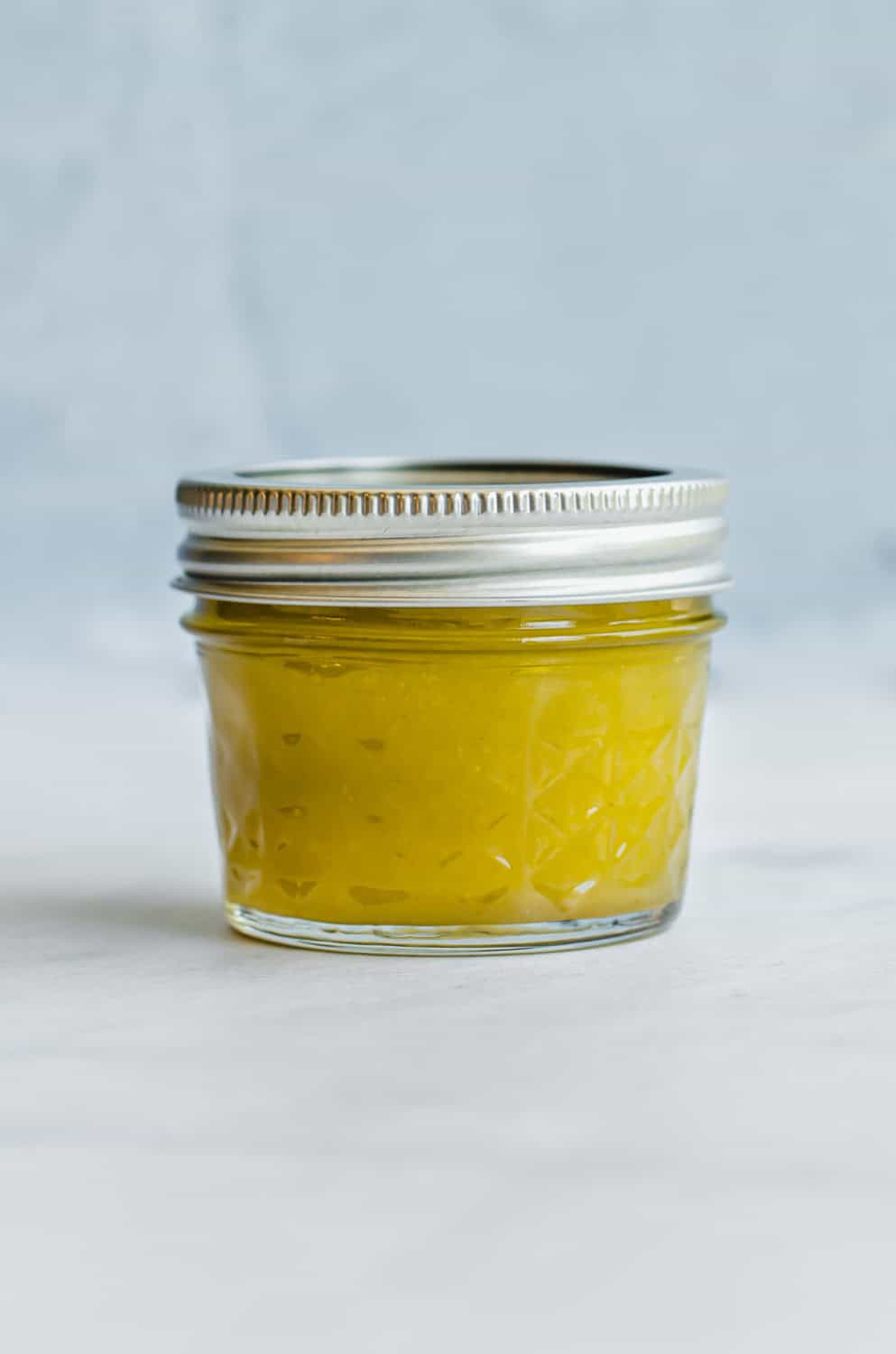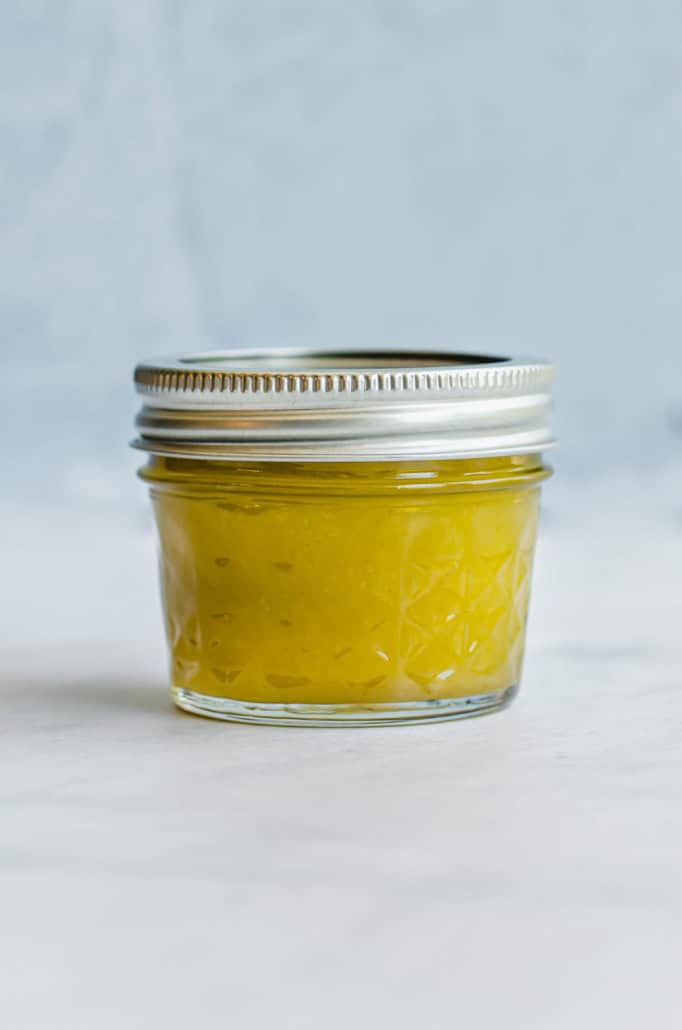 Store it in the Refrigerator
The marinade will store in the refrigerator for up to 5 days in a jar to use when ready.
Store it in the Freezer
Here is an out of the box idea: make a big batch of Honey Mustard Chicken Marinade and freeze it in small portions! If you freeze it in a mason jar, be sure to allow at least 1 inch of headspace at the top because the contents will expand.
Scaling up the recipe is a great use of time and resources too. Just one of the many reasons we love freezer meals!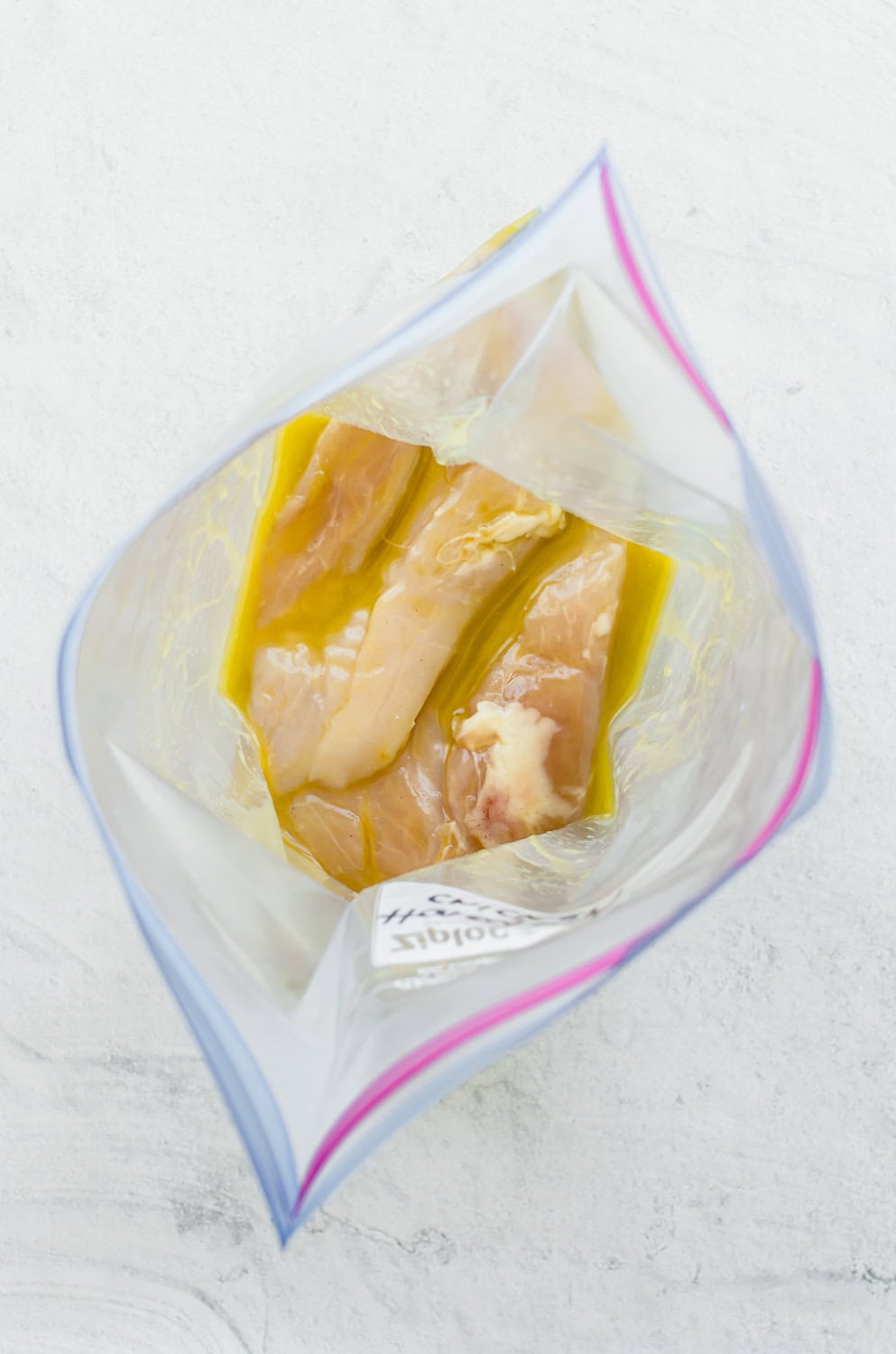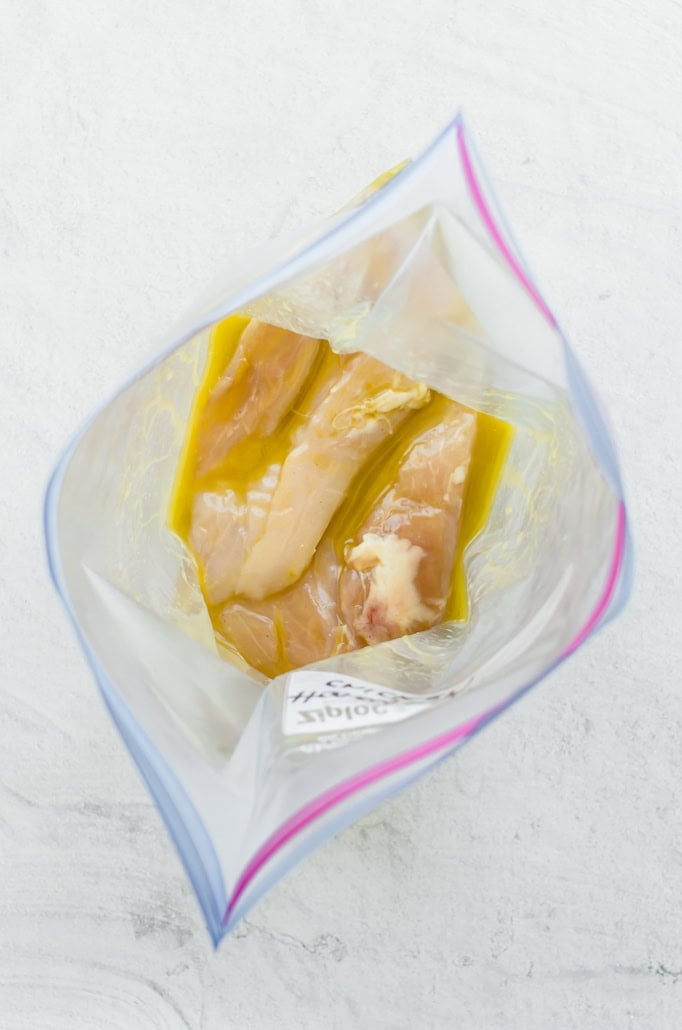 When ready to use the marinade, let it thaw (if necessary) and pour it over chicken in a zip-top bag or container with a lid. Let it marinate for at least 2 hours and up to 24 hours to infuse flavor.
Use Honey Dijon Chicken Marinade as a Freezer Meal
Another great use of your time is prep a few freezer meals out of this marinade. Like most of our chicken freezer meals, simply combine the ingredients (the marinade & the chicken) and freeze for later. No need to let the chicken marinate before freezing either. When you want to use it, let the chicken thaw one of these safe ways.
Then, grill, slow cook, pressure cook, or bake your marinated Chicken. You choose your method! We've included instructions for how to cook boneless chicken breasts any of these ways in the recipe below.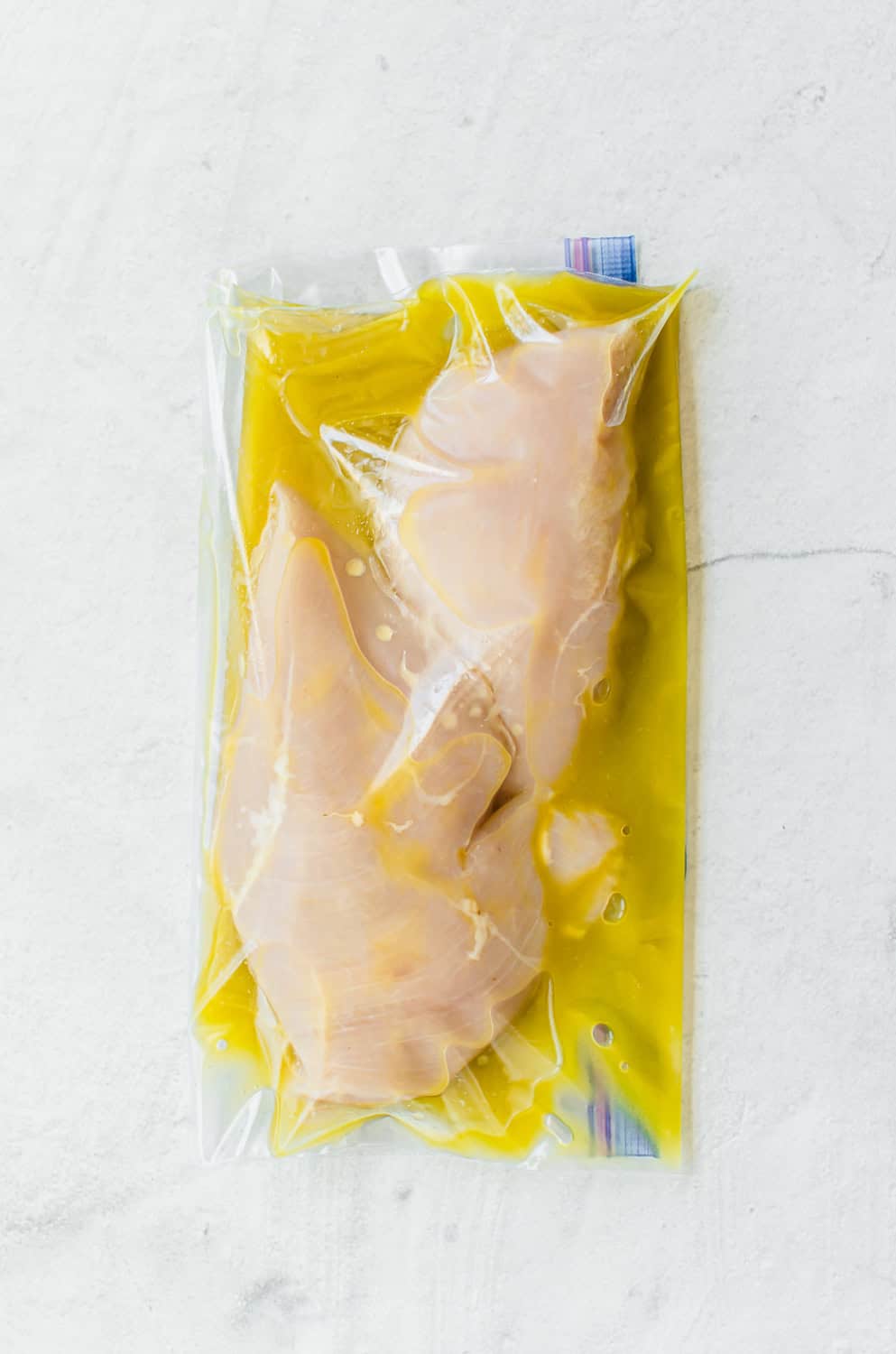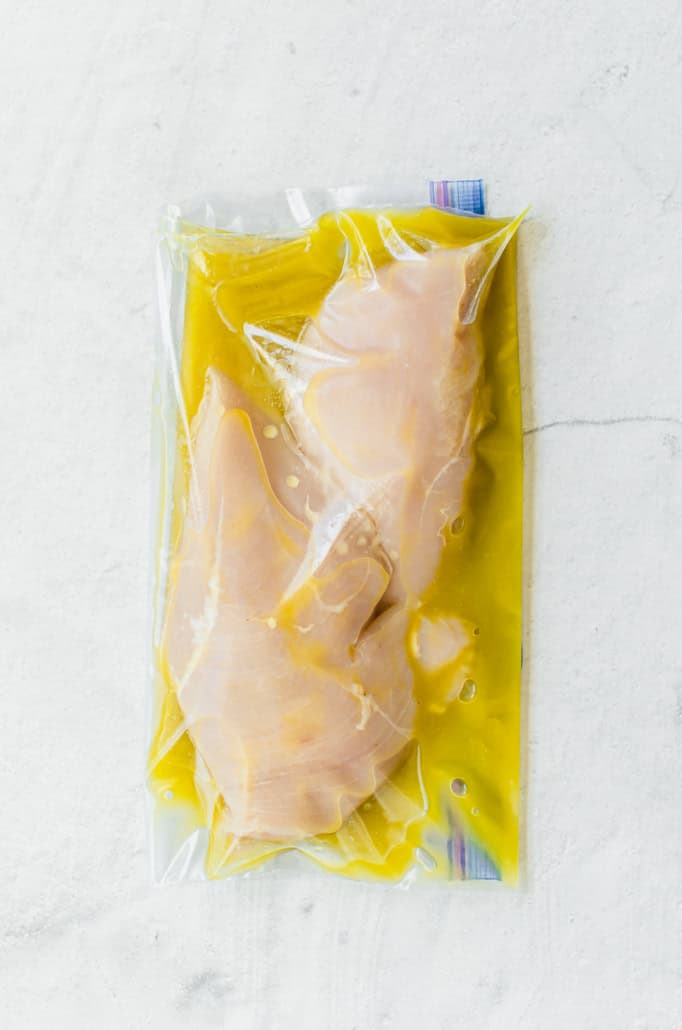 Ways to Cook Chicken Breast
There are so many ways to cook your marinated chicken. Here are some basic guidelines.
Bake Chicken Breast in the Oven
Preheat oven to 400°F. Place chicken in a casserole dish or on a rimmed baking sheet. Bake uncovered for about 20-25 minutes, until done.
Cook Chicken Breast in the Slow Cooker
Place chicken and marinade in slow cooker. Cover and cook on LOW for 3 to 3 1/2 hours. Really! That's all it takes to get it done, otherwise you'll overcook and dry it out. Here is a whole post about how long to cook chicken in the Crockpot if you're interested!
Cook Chicken Breast in the Instant Pot
Place chicken, marinade, and 1/3 cup chicken broth in a 6 quart Instant Pot. (Note: If using an 8 quart, add an additional 1/2 cup of broth.) Lock and seal the lid. Cook at high pressure for 7 minutes and use a quick release of the pressure when the cook time is up. (Note: It will take 10-15 minutes to come to pressure before the cook time starts.)
How to Grill Chicken Breast
Pound out the chicken to about 3/4 inch thick (or cut it in half lengthwise) to help with fast and even cooking. Preheat grill to medium-high heat and clean the grates well. Grill for about 4-5 minutes per side, maybe longer depending on the thickness, until done.
Ideas for Serving Honey Dijon Chicken
Idea #1: A La Carte with Sides
Grill or bake and serve a la carte with Grilled Asparagus or Roasted Asparagus and Grilled Corn on the Cob (or try this microwave trick!).
Idea #2: Salad
Slice the cooked chicken and serve on salad with our Honey Dijon Vinaigrette.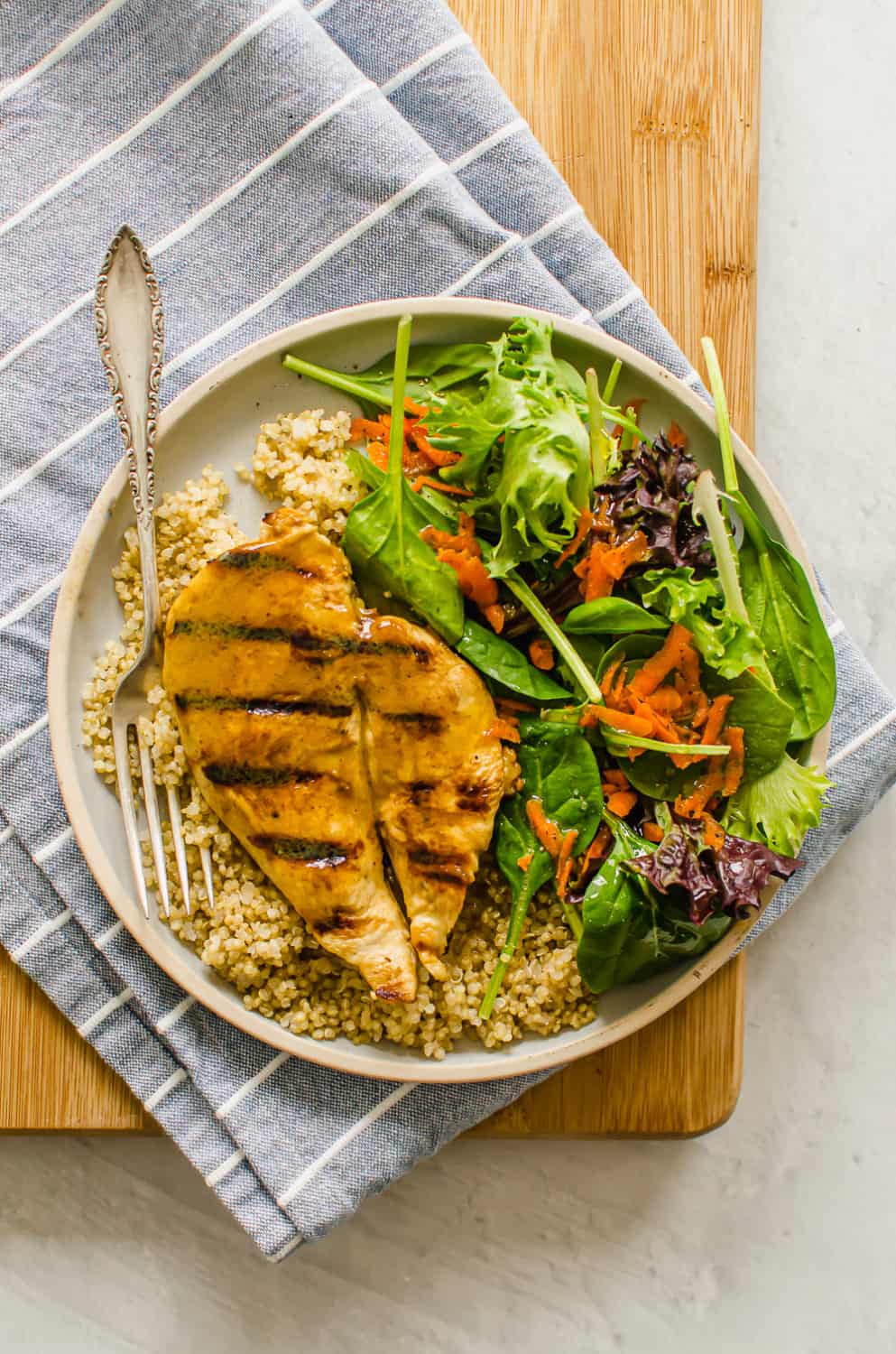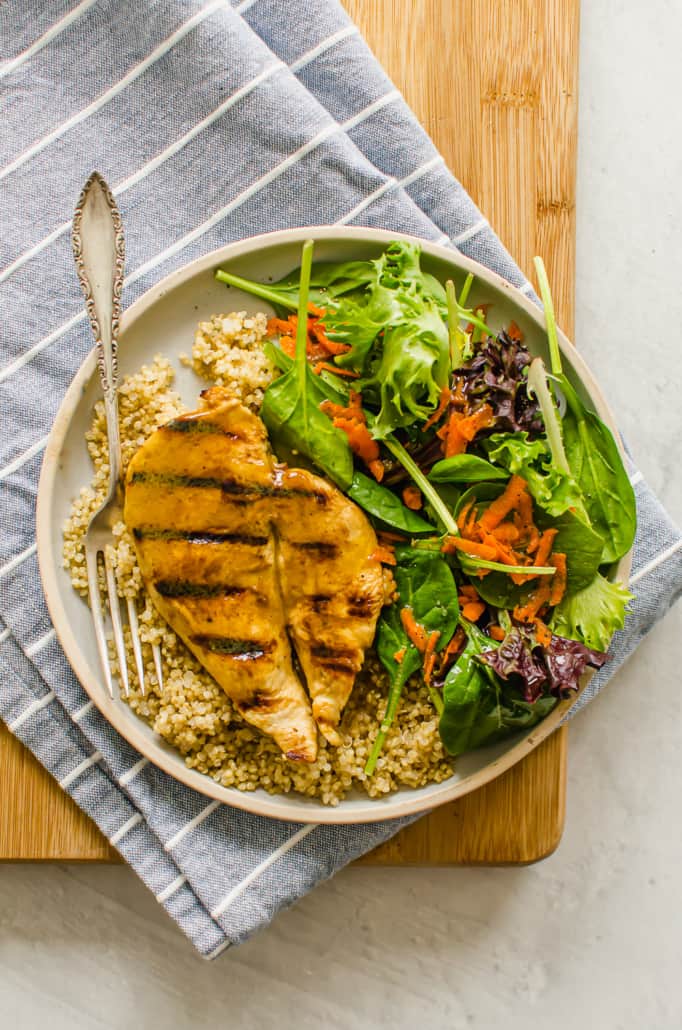 Grill and serve on a pretzel bun with your favorite cheese, lettuce, tomato, and condiments. Add bacon to take it over the top!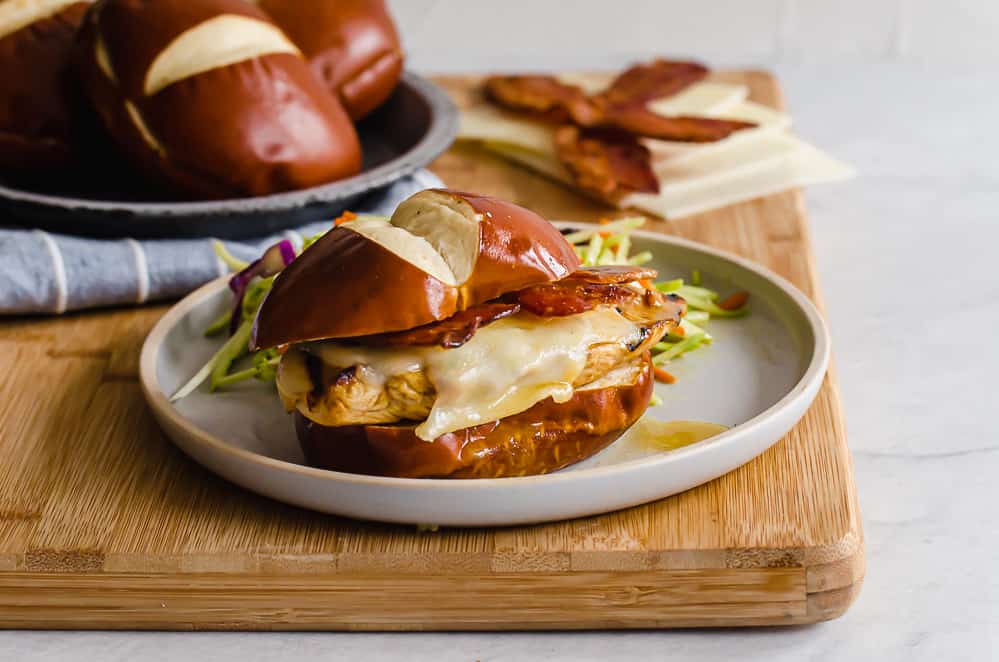 More Chicken Marinades You Must Try!
Try some of our other favorite healthy chicken marinades to mix things up:
Want these marinade recipes emailed to you?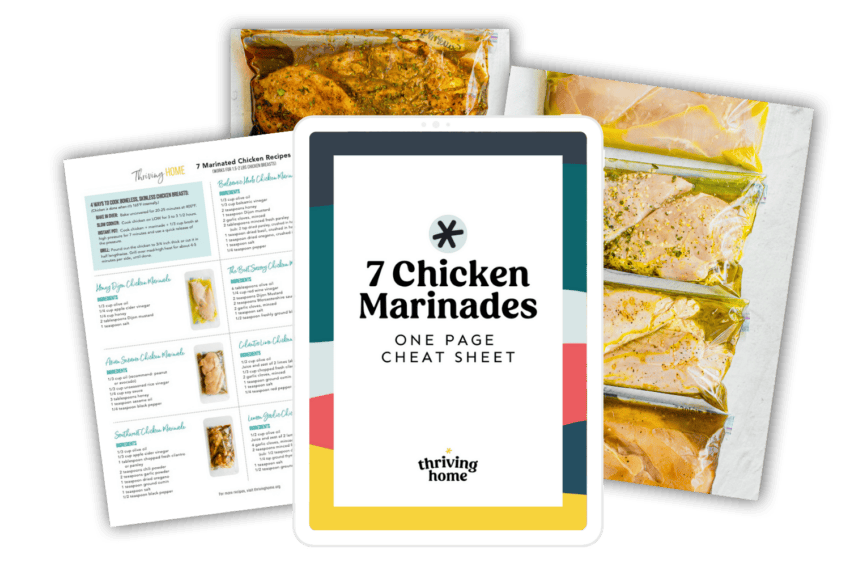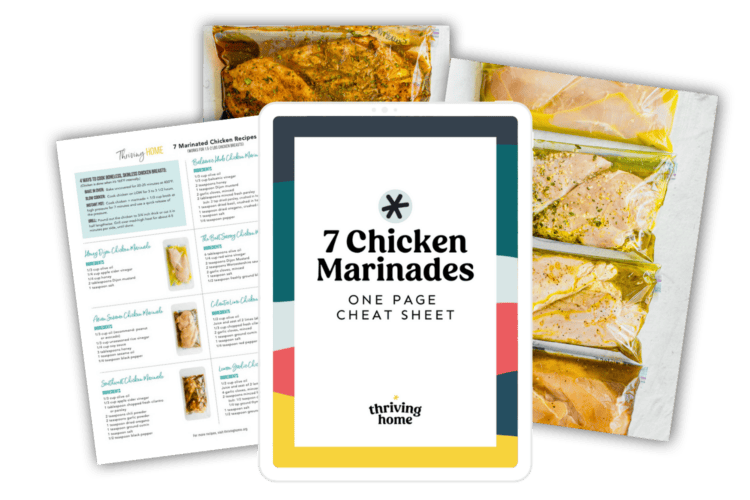 Get 7 of Our BEST Chicken Marinades Sent to Your Inbox!
Did you make this? Snap a photo and tag us on Instagram at @thrivinghome so we can see your creations and cheer you on!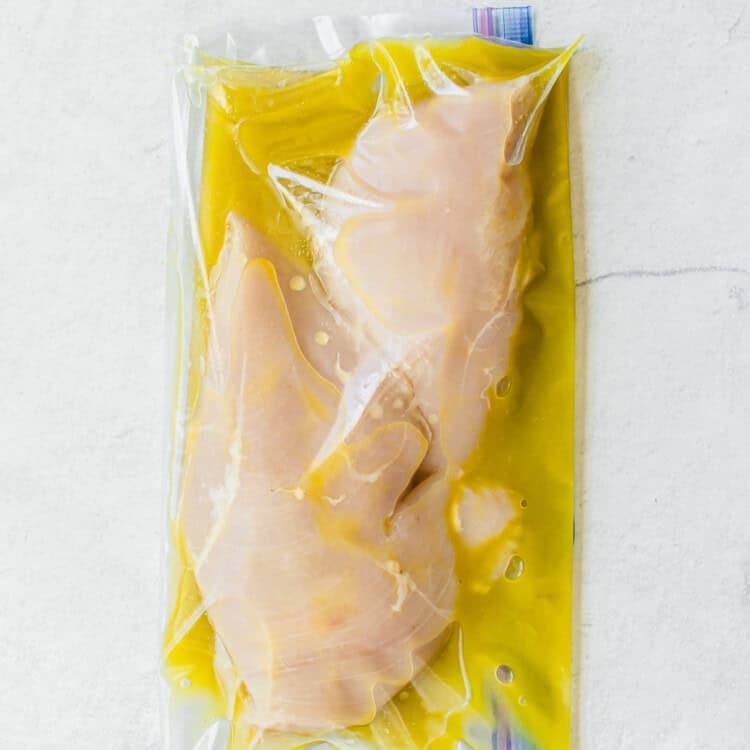 Honey Dijon Chicken Marinade
With only 5 ingredients, you can create this deliciously simple Honey Dijon chicken marinade in no time.
This marinade amount works for 1 1/2 – 2 pounds of chicken breasts.